Vorletzte Runde und alles sollte sich in Salt Lake City Nummer 6 entscheiden. Doch Tomac hat einen extrem schlechten Start und musste erneut das Feld von hinten aufrollen. Während Zach Osborne einen hervorragenden Start hinlegte gefolgt von Roczen's Teamkollege Brayton und Roczenn selbst. Aus der ersten Runde kam Tomac auf Rang 12 zurück und schnappte sich alle Fahrer bis er auf Platz zwei durchs Ziel fuhr. Cooper Webb holte sich den Sieg vor Tomac und Osborne während Ken Roczen auf Platz vier den Ziel-Table übersprang. In der Gesamtwertung bedeutet das Platz 1 für Tomac mit 366 Punkten, gefolgt von Cooper Webb mit 344 und 338 auf Platz drei für Ken Roczen. Wenn nichts mehr schief läuft, sollte sich Eli Tomac seinen ersten Supercross-Titel am Sonntag holen. Um Platz zwei wird am Sonntag sicherlich noch ein heißer Kampf zwischen Roczen und Webb entbrennen – es bleibt also spannend!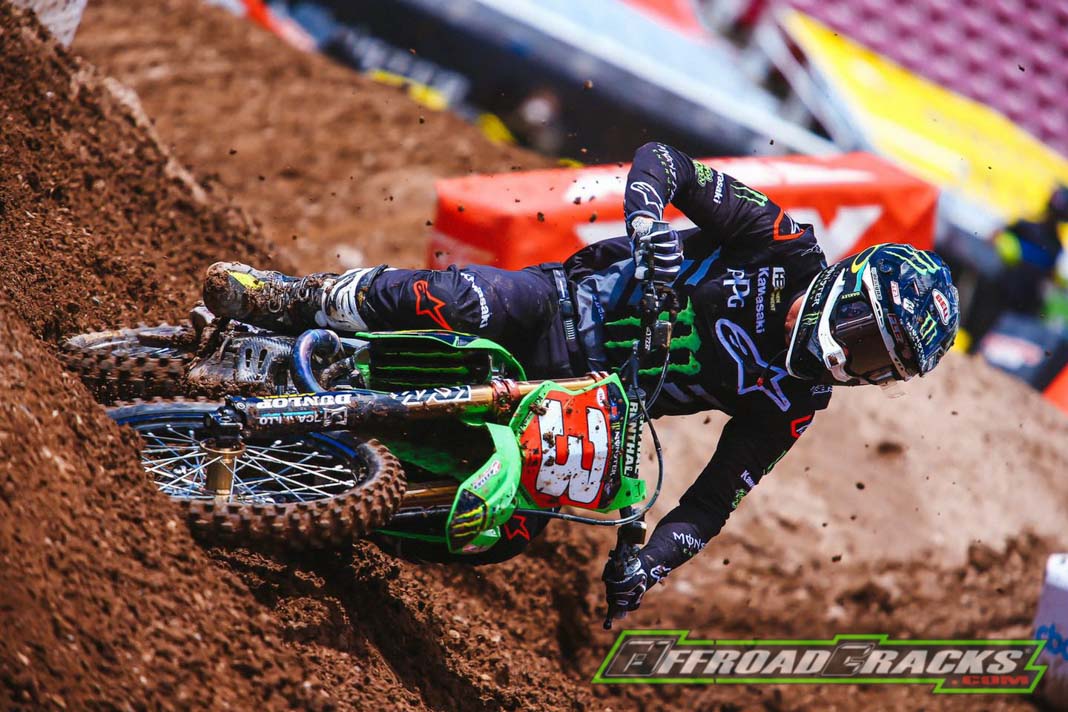 In der 250er Klasse trafen die zwei härtesten Konkurrenten im Fight um den Meisterschafts-Titel Chase Sexton und Shane Mcelrath aufeinander und schenkten sich keinen Meter. Doch Chase Sexton holte sich mit einem gekonnten Block die Führung und letztendlich den Tagessieg. Das bedeutet 192 Punkte in der Meisterschaft für ihn gefolgt von Mcelrath mit 186 – noch ist alles offen. Platz drei Overall hat Marchbanks mit 119 Punkten inne, der für den Kampf um den Titel allerdings schon zu weit zurück liegt.

The penultimate lap and everything should be decided in Salt Lake City number 6. But Tomac has an extremely bad start and had to roll up the field from behind again. While Zach Osborne got off to an excellent start, followed by Roczen's team-mate Brayton and Roczenn himself. From the first lap Tomac came back in 12th place and grabbed all the drivers until he finished in second place. Cooper Webb won ahead of Tomac and Osborne while Ken Roczen skipped the finish table in fourth place. In the overall ranking, this means first place for Tomac with 366 points, followed by Cooper Webb with 344 and 338 in third place for Ken Roczen. If nothing goes wrong, Eli Tomac should take his first Supercross title on Sunday. A hot fight between Roczen and Webb will certainly ensue for second place on Sunday – so it remains exciting!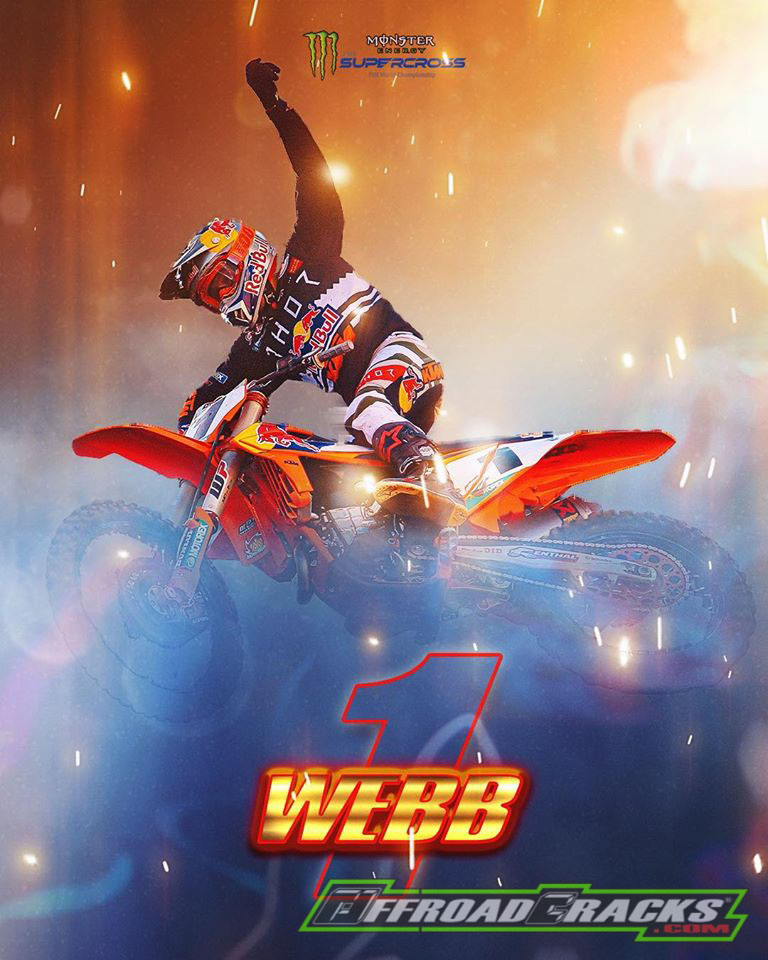 In the 250cc class, the two toughest competitors in the fight for the championship title Chase Sexton and Shane Mcelrath met and did not give each other a meter. But Chase Sexton took the lead with a skilful block and ultimately the day's victory. That means 192 points in the championship for him, followed by Mcelrath with 186 – everything is still open. Overall, Marchbanks holds third place with 119 points, which is already too far behind for the battle for the title.
ERGEBNISSE / RESULTS – Salt Lake City SX 450 – Runde 16 / Round 16
| POS. | # | RIDER | HOMETOWN | BIKE | INTERVAL | BEST TIME | TEAM/SPONSORS |
| --- | --- | --- | --- | --- | --- | --- | --- |
|  1 | 1 | Cooper Webb | Clermont, FL | KTM 450SX-F FE | 29 Laps | 0:43.216 | KTM/RED BULL/MOTOREX/AKRAPOVIC/WELLS FARGO/DUNLOP |
|  2 | 3 | Eli Tomac | Cortez, CO | Kawasaki KX450 | 2.214 | 0:42.926 | MONSTER ENERGY KAWASAKI |
|  3 | 16 | Zach Osborne | Clermont, FL | Husqvarna FC450 FE | 5.291 | 0:43.448 | Rockstar Energy Husqvarna Factory Racing |
|  4 | 94 | Ken Roczen | Clermont, FL | Honda CRF450R WE | 5.888 | 0:43.274 | Team Honda HRC, Red Bull, Fox Racing, GoPro, Art of Sport, Breitling |
|  5 | 21 | Jason Anderson | Rio Rancho, NM | Husqvarna FC450 FE | 7.744 | 0:43.246 | Rockstar Energy Husqvarna Factory Racing |
|  6 | 10 | Justin Brayton | Charlotte, NC | Honda CRF450R | 21.078 | 0:43.888 | Honda HRC |
|  7 | 27 | Malcolm Stewart | Haines City, FL | Honda CRF450R | 22.491 | 0:43.922 | Smartop/Bullfrog Spas/Motoconcept Honda, Seven, Shoei,Scott Goggles, Garnae Boots, Toyota Escondido |
|  8 | 37 | Martin Davalos | Tallahassee, FL | KTM 450SX-F FE | 24.906 | 0:44.055 | Team Tedder / Monster Energy Racing |
|  9 | 51 | Justin Barcia | Greenville, FL | Yamaha YZ450F | 26.242 | 0:43.968 | Monster Energy Yamaha Factory Racing |
|  10 | 4 | Blake Baggett | Grand Terrace, CA | KTM 450SX-F FE | 27.859 | 0:43.802 | Team rocky mountain/WPS/KTM |
|  11 | 50 | Benny Bloss | Oak Grove, MO | KTM 450SX-F FE | 30.567 | 0:44.061 | Rocky Mountain WPS KTM |
|  12 | 46 | Justin Hill | Yoncalla, OR | Honda CRF450R | 46.968 | 0:44.486 | Smartop/MotoConcepts/Bullfrog Spas Honda |
|  13 | 15 | Dean Wilson | Murrieta, CA | Husqvarna FC450 FE | 28 Laps | 0:44.195 | Rockstar Energy Husqvarna Factory Racing |
|  14 | 7 | Aaron Plessinger | Hamilton, OH | Yamaha YZ450F | 1.451 | 0:43.566 | Monster Energy Yamaha Factory Racing |
|  15 | 22 | Chad Reed | Cornelius, NC | Honda CRF450R | 2.280 | 0:44.786 | Mountain Motorsports, cbdMD, Fox, Arma, Boost, Knobby |
GoPro Onboard KEN ROCZEN #94 – SLC Round 16 / Runde 16
---
HINWEIS: Mit Anklicken des Videos stellen sie automatisch eine Verbindung zu Youtube/Google her, was einen ungewünschten personenbezogenen Datenaustausch mit sich bringen kann. Weitere Infos unter: www.google.de/privacy
---
TABELLENSTAND / RIDE POINT STANDINGS – SX 450 nach 16 Rennen / after Round 16
| POS. | # | RIDER | HOMETOWN | TOTAL POINTS | 1 | 2 | 3 | 4 | 5 | 6 | 7 | 8 | 9 | 10 | 11 | 12 | 13 | 14 | 15 | 16 |
| --- | --- | --- | --- | --- | --- | --- | --- | --- | --- | --- | --- | --- | --- | --- | --- | --- | --- | --- | --- | --- |
|  1 | 3 | Eli Tomac | Cortez, CO | 366 | 16 | 19 | 26 | 23 | 26 | 19 | 26 | 26 | 19 | 26 | 26 | 23 | 26 | 21 | 21 | 23 |
|  2 | 1 | Cooper Webb | Clermont, FL | 344 | 21 | 11 | 21 | 19 | 23 | 26 | 23 | 11 | 21 | 21 | 23 | 26 | 23 | 26 | 23 | 26 |
|  3 | 94 | Ken Roczen | Clermont, FL | 338 | 17 | 26 | 23 | 26 | 21 | 17 | 21 | 23 | 26 | 23 | 21 | 18 | 13 | 18 | 26 | 19 |
|  4 | 51 | Justin Barcia | Greenville, FL | 269 | 26 | 23 | 14 | 18 | 17 | 18 | 19 | 19 | 23 | 18 | 15 | 15 | 14 | 2 | 14 | 14 |
|  5 | 21 | Jason Anderson | Rio Rancho, NM | 264 | 18 | 21 | 18 | 21 | 18 | 9 | 13 | 21 | 12 | 19 | 19 | 19 | 21 | 16 | 1 | 18 |
|  6 | 27 | Malcolm Stewart | Haines City, FL | 233 | 14 | 17 | 15 | 16 | 13 | 15 | 16 | 16 | 15 | 15 | 12 | 16 | 18 | 1 | 18 | 16 |
|  7 | 16 | Zach Osborne | Clermont, FL | 226 | 9 | 18 | 19 | 5 | 12 | 12 | 12 | 18 | | | 18 | 21 | 19 | 23 | 19 | 21 |
|  8 | 15 | Dean Wilson | Murrieta, CA | 218 | 10 | 10 | 13 | 10 | 16 | 10 | 17 | 14 | 13 | 16 | 13 | 17 | 17 | 15 | 17 | 10 |
|  9 | 10 | Justin Brayton | Charlotte, NC | 216 | 15 | 15 | 16 | 17 | 10 | 16 | 14 | 2 | 11 | 13 | 14 | 14 | 16 | 11 | 15 | 17 |
|  10 | 46 | Justin Hill | Yoncalla, OR | 199 | 12 | 12 | 11 | 11 | 15 | 14 | 18 | 17 | 17 | 14 | 7 | 13 | 8 | 10 | 9 | 11 |
VIDEO-HIGHLIGHTS – SX 250 Salt Lake City (SLC 6) Round 16 / 16. Rennen
---
HINWEIS: Mit Anklicken des Videos stellen sie automatisch eine Verbindung zu Youtube/Google her, was einen ungewünschten personenbezogenen Datenaustausch mit sich bringen kann. Weitere Infos unter: www.google.de/privacy
---
ERGEBNISSE / RESULTS – Salt Lake City SX 250 – Round 16 / Runde 16
| POS. | # | RIDER | HOMETOWN | BIKE | QUAL | HOLESHOT | LAPS LED | FINISH | POINTS |
| --- | --- | --- | --- | --- | --- | --- | --- | --- | --- |
|  1 | 1E | Chase Sexton | Clermont, FL | Honda CRF250R | 2 | – | 18 | 1 | 26 |
|  2 | 12 | Shane Mcelrath | Murrieta, CA | Yamaha YZ250F | 1 | – | 4 | 2 | 24 |
|  3 | 13 | Colt Nichols | Murrieta, CA | Yamaha YZ250F | 4 | – | 0 | 3 | 21 |
|  4 | 163 | Pierce Brown | Sandy, UT | KTM 250SX-F | 6 | – | 0 | 4 | 19 |
|  5 | 84 | Jo Shimoda | Irvine, CA | Honda CRF250R | 3 | – | 0 | 5 | 20 |
|  6 | 38 | Kyle Peters | Greensboro, NC | Honda CRF250R | 8 | – | 0 | 6 | 17 |
|  7 | 66 | Enzo Lopes | Huntersville, NC | Yamaha YZ250F | 19 | – | 0 | 7 | 30 |
|  8 | 49 | Chris Blose | Phoenix, AZ | Honda CRF250R | 17 | – | 0 | 8 | 24 |
|  9 | 47 | Lorenzo Locurcio | Groveland, FL | Kawasaki KX250 | 7 | – | 0 | 9 | 18 |
|  10 | 73 | Chase Marquier | Newcastle, OK | Honda CRF250R | 14 | – | 0 | 10 | 13 |
|  11 | 981 | Curren Thurman | Rosharon, TX | KTM 250SX-F | 11 | – | 0 | 11 | 18 |
|  12 | 56 | Justin Starling | Deland, FL | Husqvarna FC250 | 12 | – | 0 | 12 | 11 |
|  13 | 77 | Kevin Moranz | Topeka, KS | KTM 250SX-F | 18 | – | 0 | 13 | 10 |
|  14 | 352 | Jalek Swoll | Belleview, FL | Husqvarna FC250 | 5 | – | 0 | 14 | 12 |
|  15 | 157 | Darian Sanayei | Murrieta , CA | Kawasaki KX250 | 9 | – | 0 | 15 | 13 |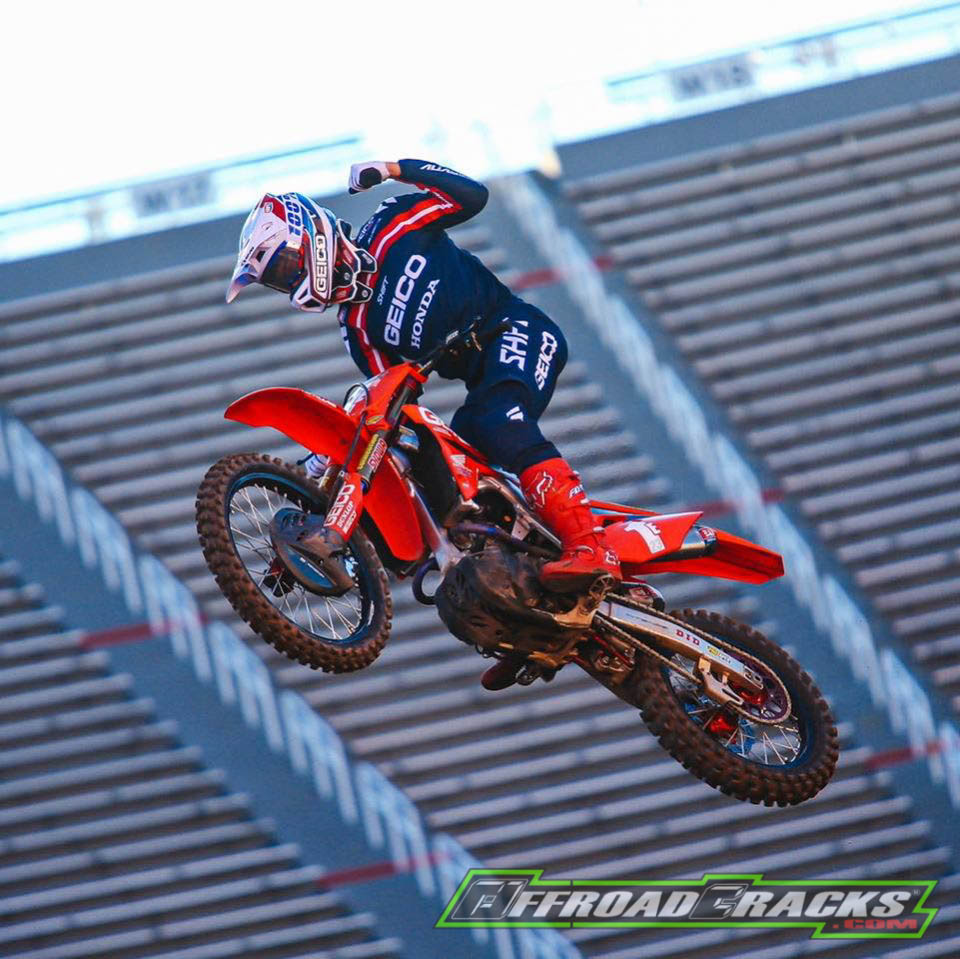 TABELLENSTAND / RIDE POINT STANDINGS – SX 250 (WEST) nach 16 Rennen / after Round 16
| POS. | # | RIDER | HOMETOWN | TOTAL POINTS | 1 | 2 | 3 | 4 | 5 | 6 | 7 | 8 |
| --- | --- | --- | --- | --- | --- | --- | --- | --- | --- | --- | --- | --- |
|  1 | 1E | Chase Sexton | Clermont, FL | 192 | 23 | 26 | 26 | 23 | 23 | 19 | 26 | 26 |
|  2 | 12 | Shane Mcelrath | Murrieta, CA | 186 | 26 | 23 | 21 | 18 | 26 | 26 | 23 | 23 |
|  3 | 36 | Garrett Marchbanks | Coalville, UT | 119 | 19 | 18 | 16 | 26 | 21 | 18 | 1 | |
|  4 | 84 | Jo Shimoda | Irvine, CA | 107 | 13 | 13 | 18 | 16 | 2 | 15 | 12 | 18 |
|  5 | 6 | Jeremy Martin | Rochester, MN | 105 | 21 | 19 | 4 | 21 | 19 | 21 | | |
|  6 | 352 | Jalek Swoll | Belleview, FL | 100 | | 14 | 14 | 14 | 16 | 16 | 17 | 9 |
|  7 | 66 | Enzo Lopes | Huntersville, NC | 97 | 4 | 15 | 17 | 15 | 15 | 0 | 15 | 16 |
|  8 | 163 | Pierce Brown | Sandy, UT | 92 | | | 6 | 17 | 18 | 13 | 19 | 19 |
|  9 | 38 | Kyle Peters | Greensboro, NC | 86 | 16 | 1 | | | 17 | 17 | 18 | 17 |
|  10 | 24 | Rj Hampshire | Minneola, FL | 80 | 17 | 21 | 23 | 19 | | | | |
PRESSEKONFERENZ / Press conference
---
HINWEIS: Mit Anklicken des Videos stellen sie automatisch eine Verbindung zu Youtube/Google her, was einen ungewünschten personenbezogenen Datenaustausch mit sich bringen kann. Weitere Infos unter: www.google.de/privacy
---
Impressionen / Impressions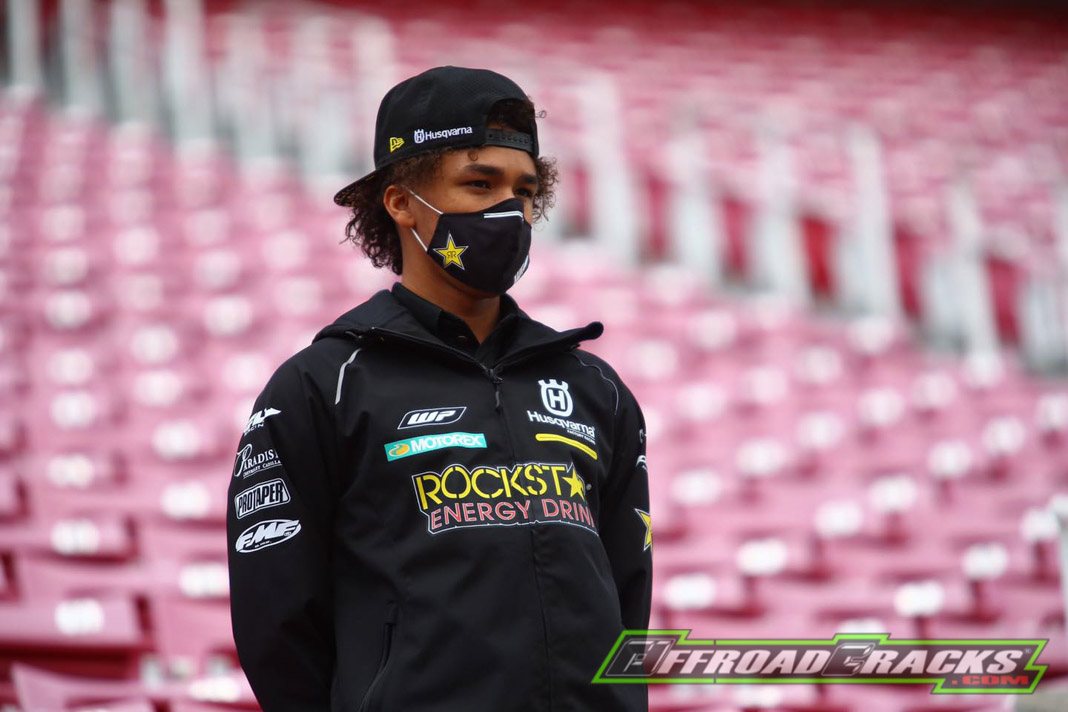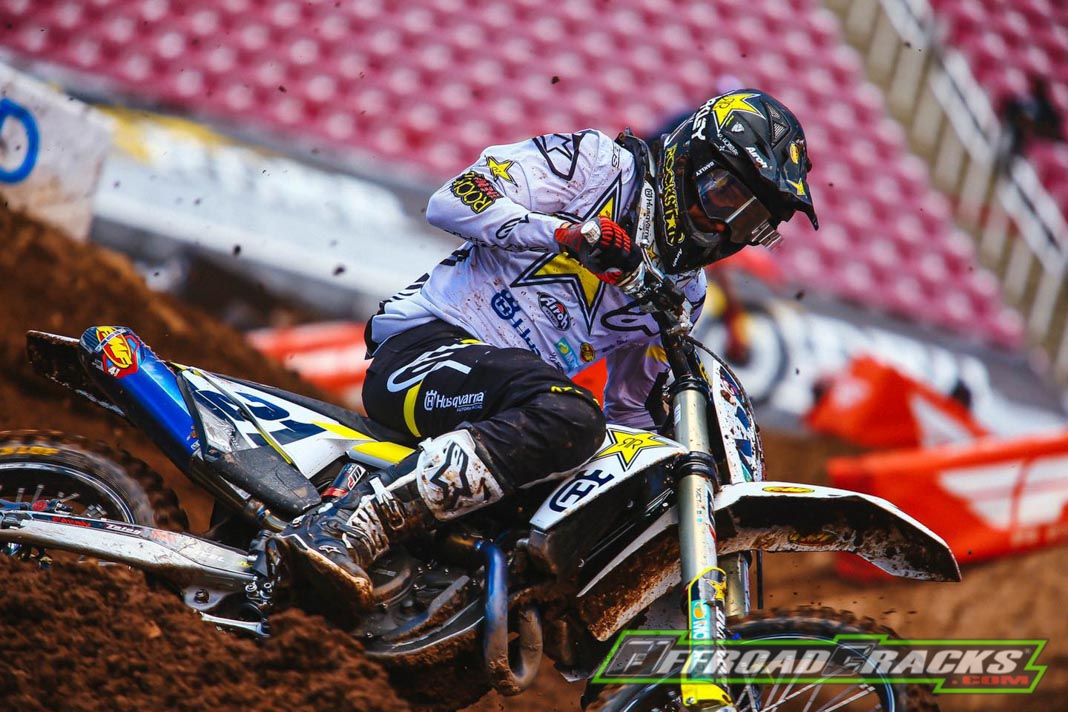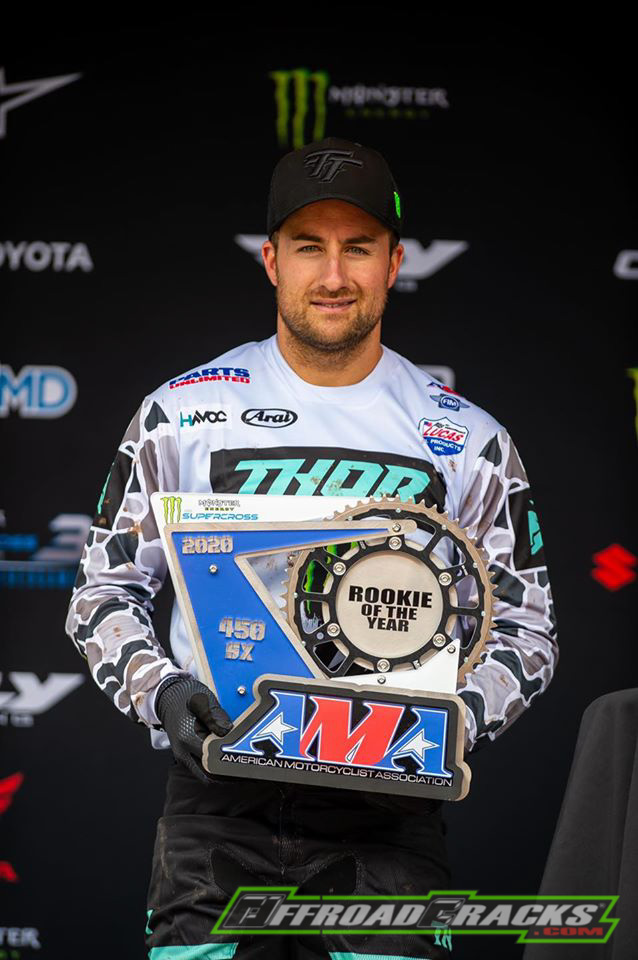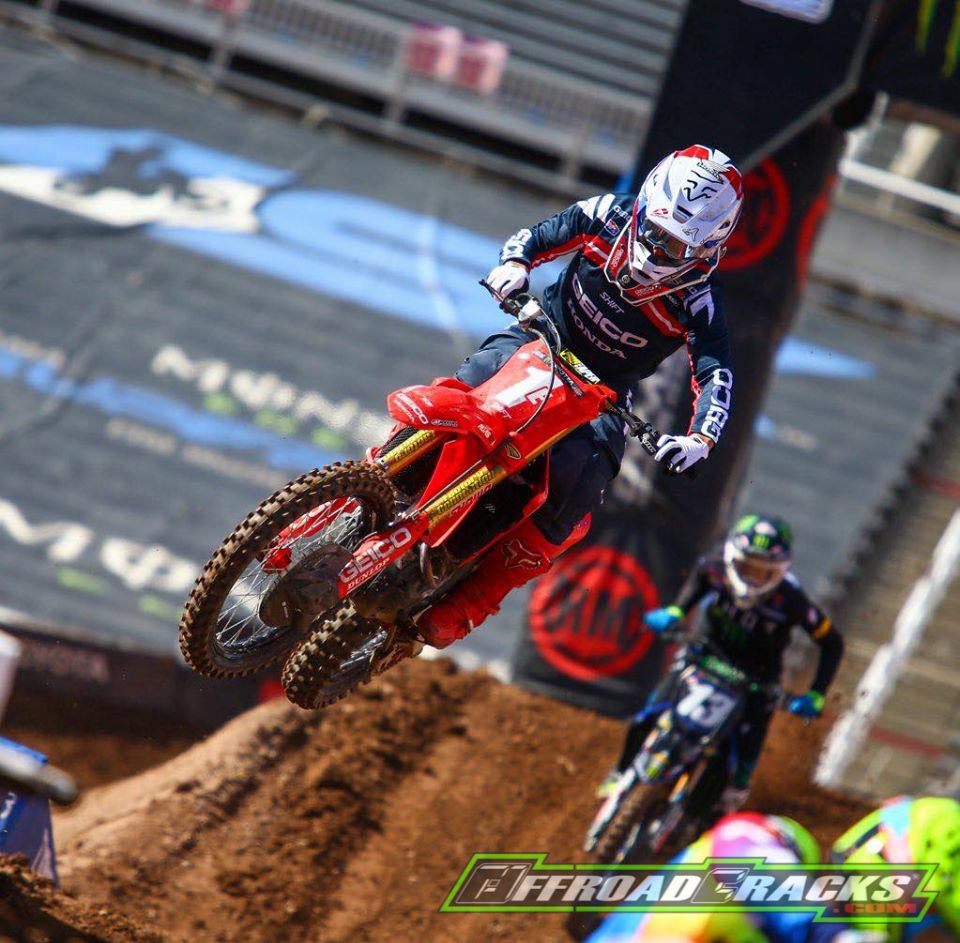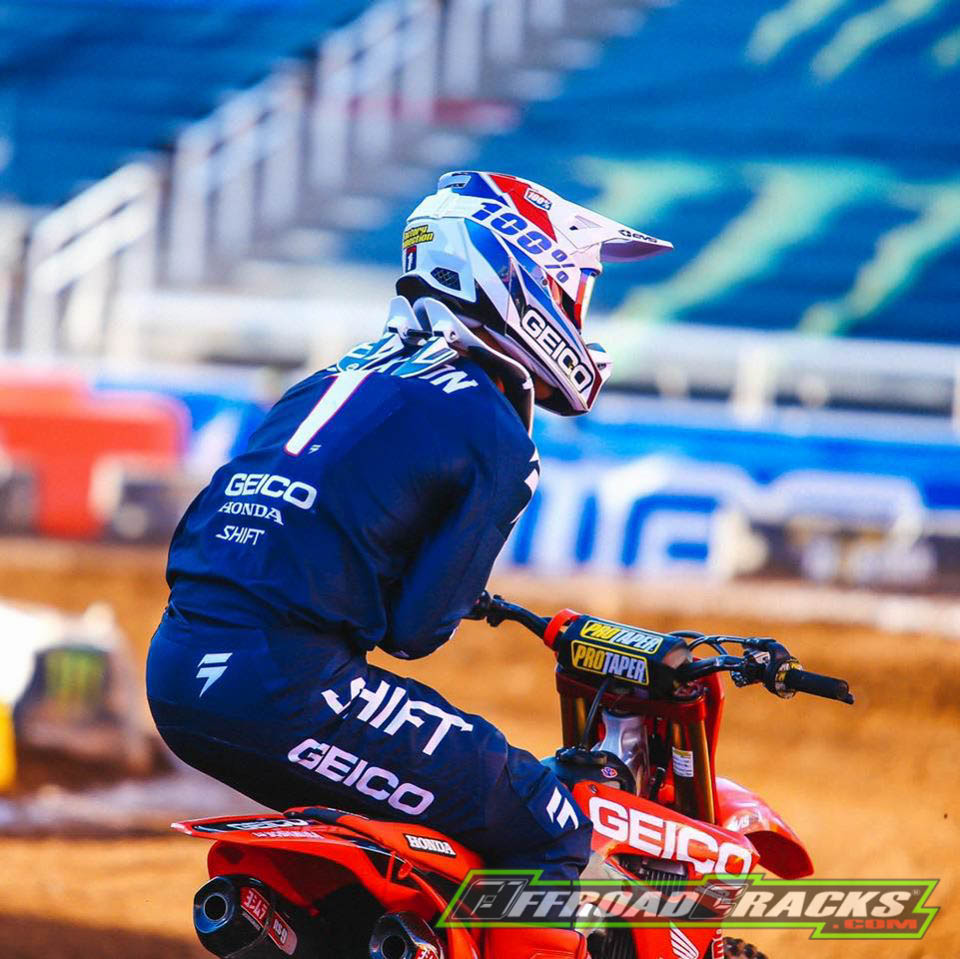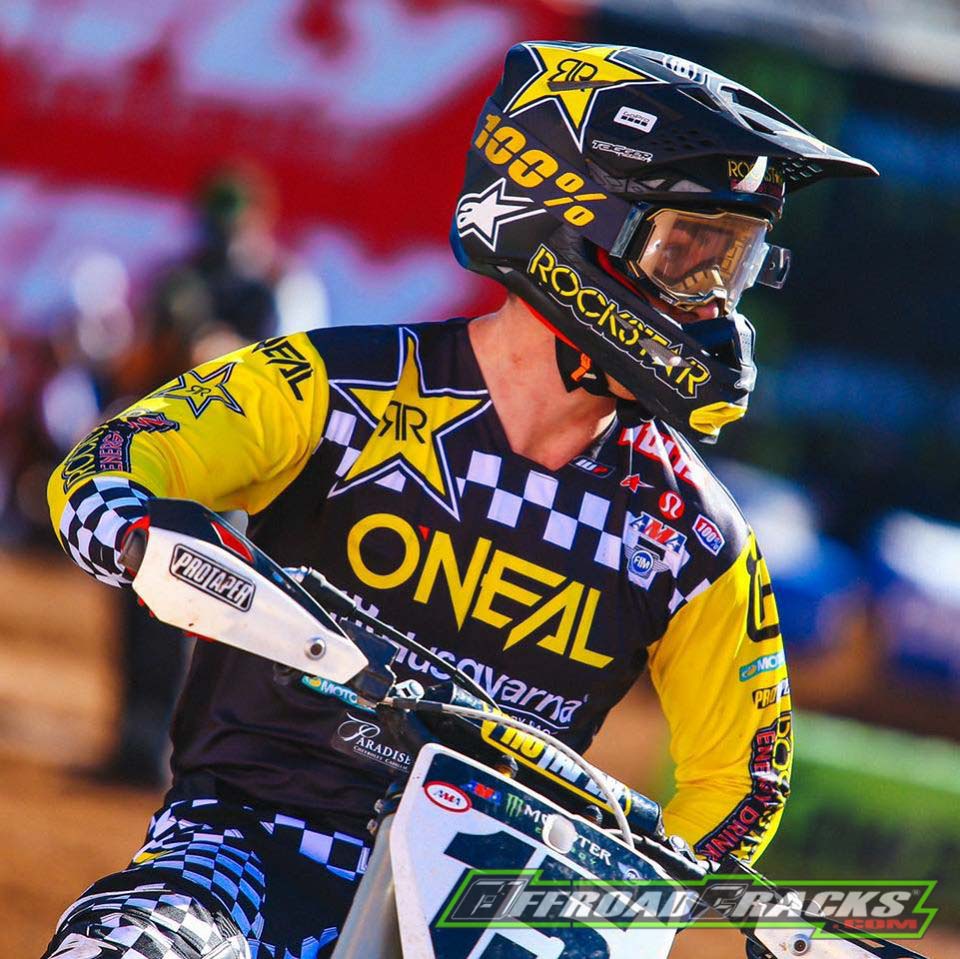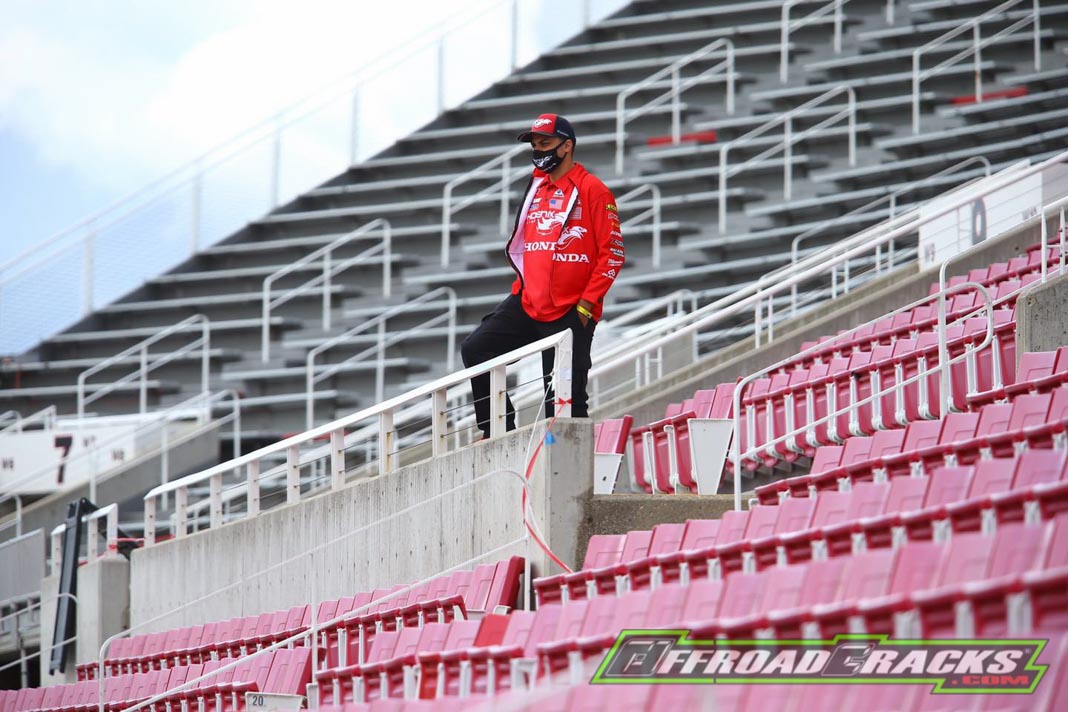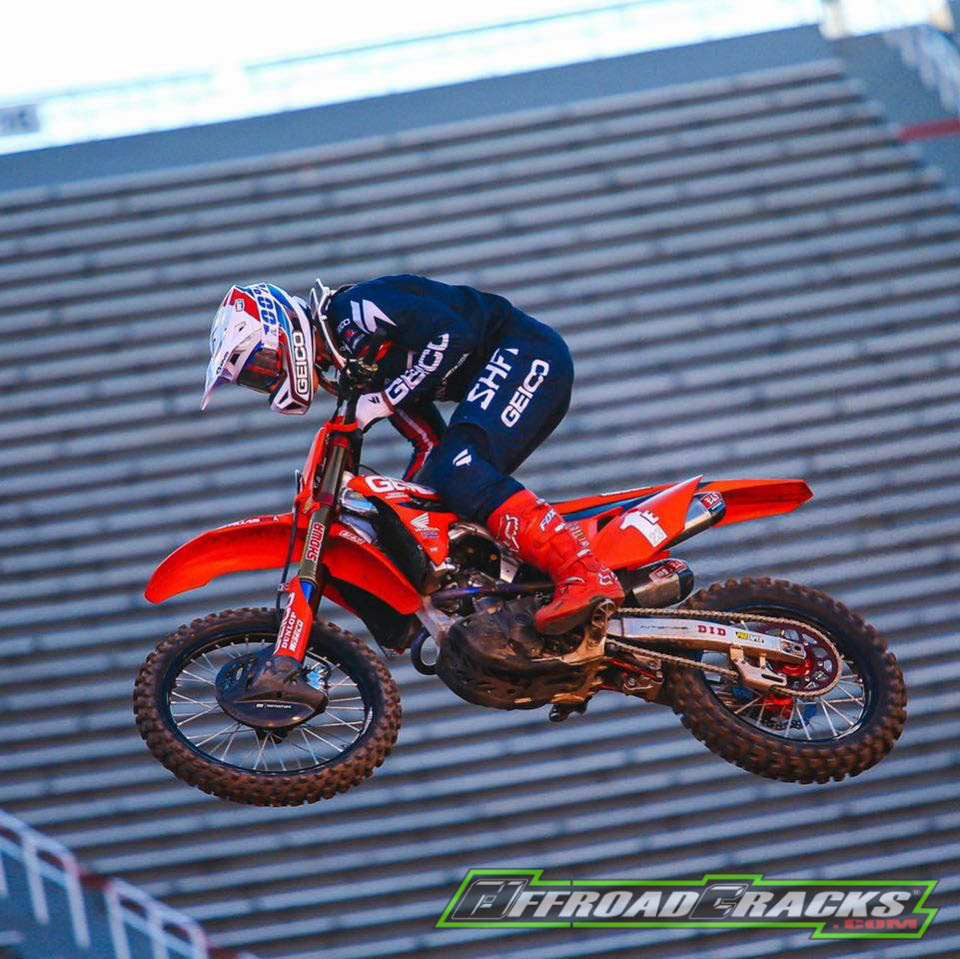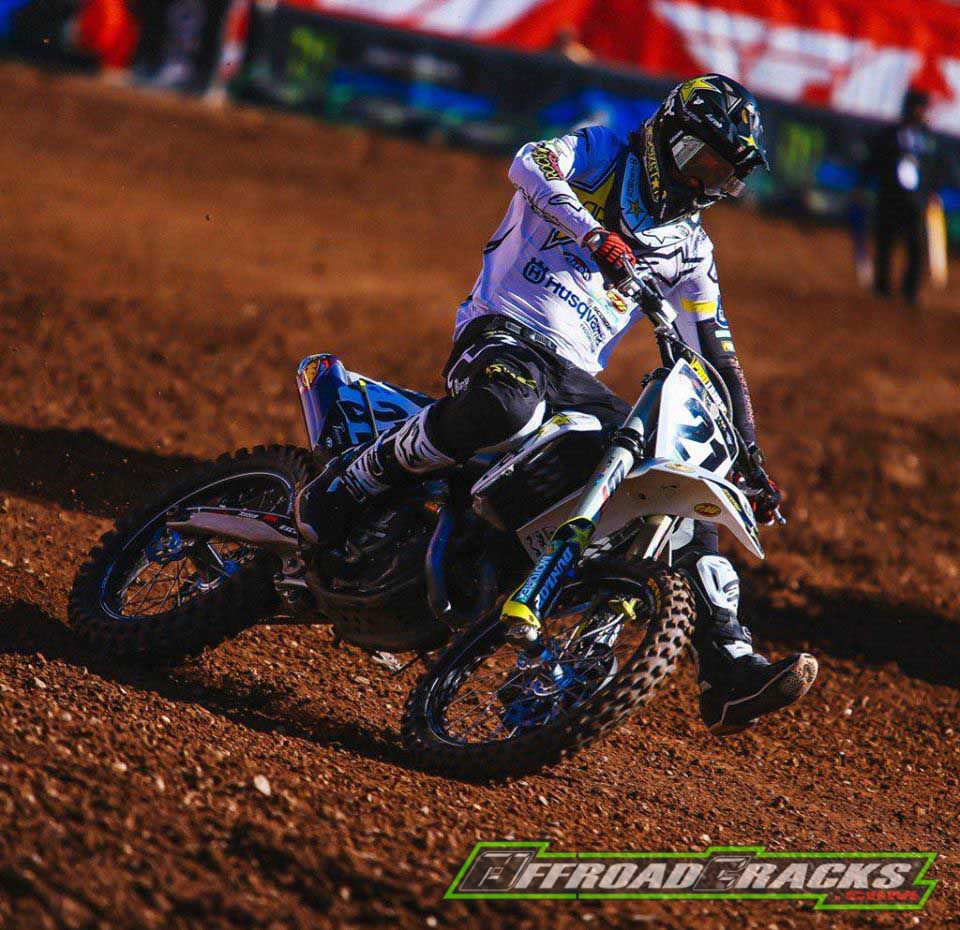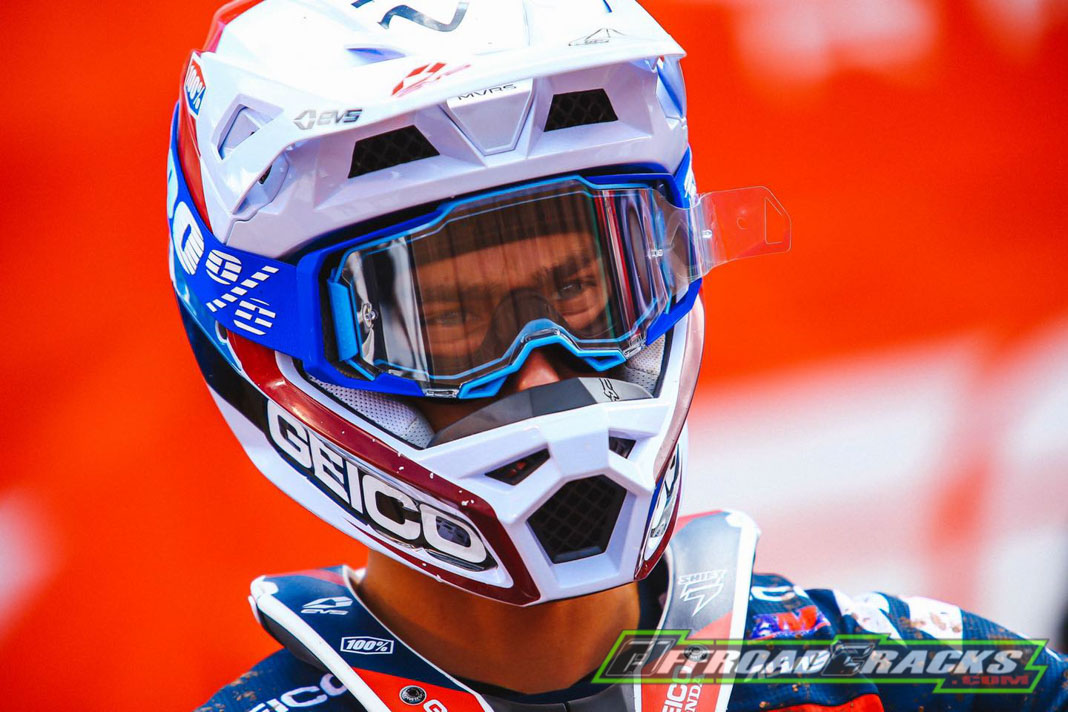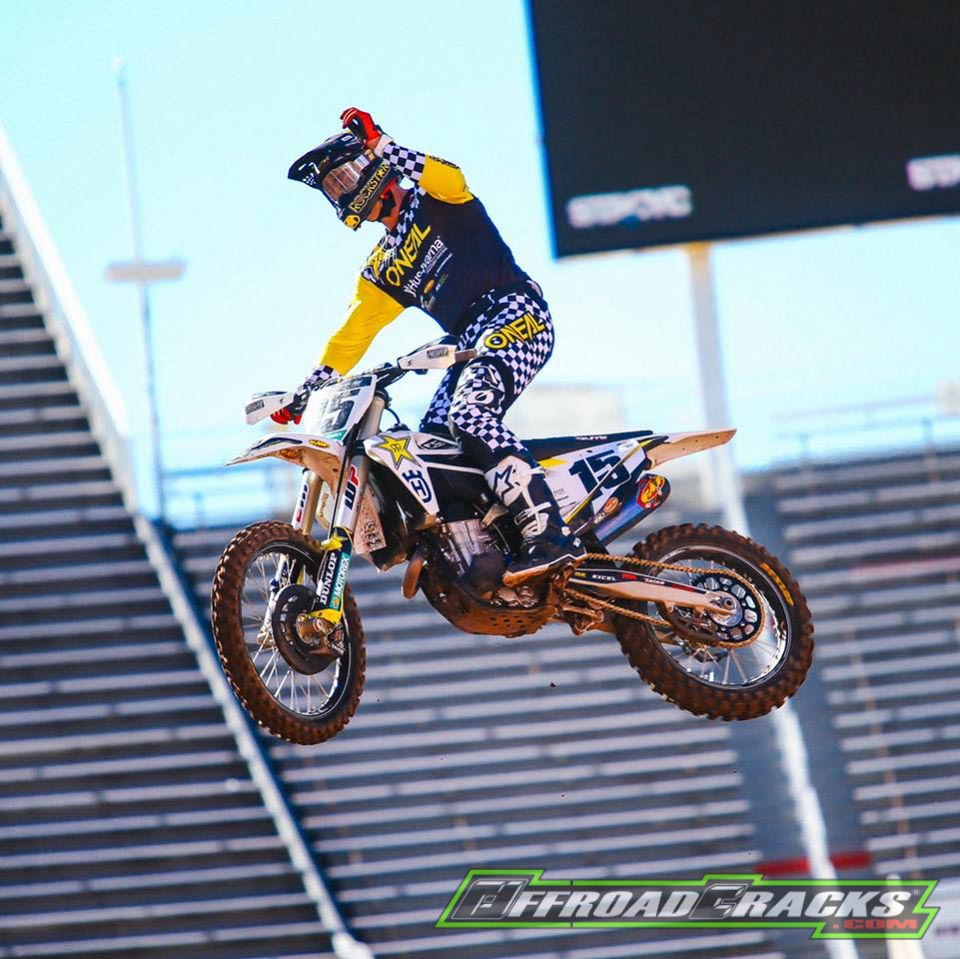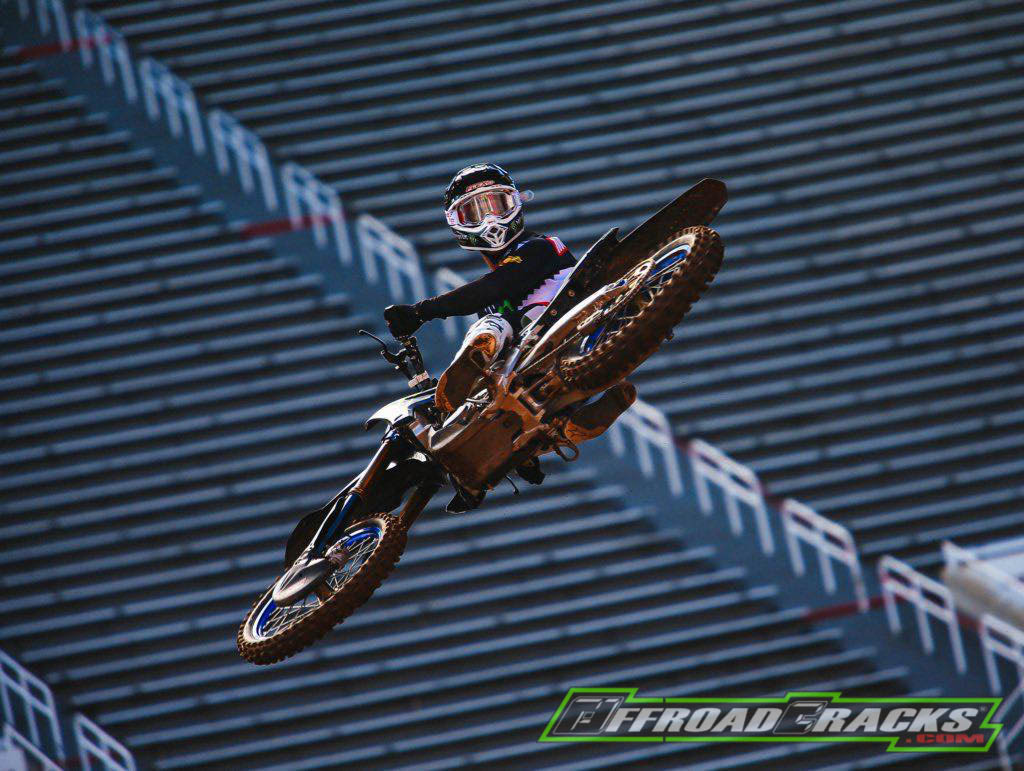 Quelle / Source: Monster Energy Supercross, Feld Entertainment