Die Yamaha Ténéré 700 hat im Einzeltest bewiesen, dass sie für mehr gut ist. Hier die ersten Maßnahmen zur Erlangung der vollen Rallye-Tauglichkeit in der Langzeitbetrachtung.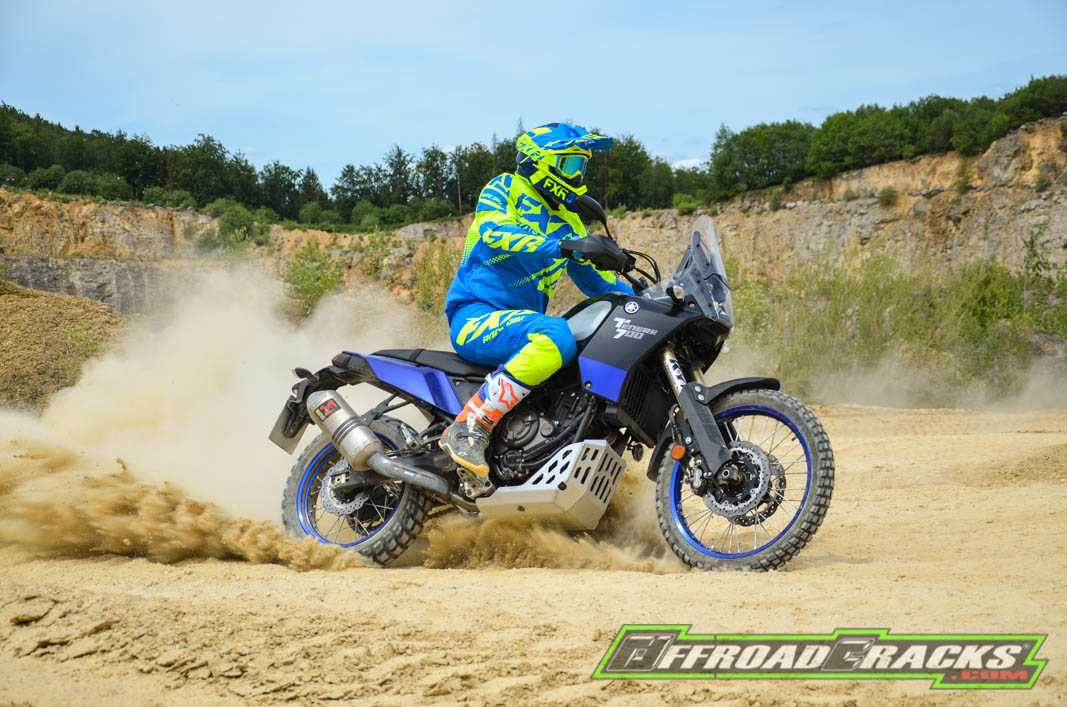 Mit den ersten Modifikationen in die richtige Richtung
Die Yamaha Ténéré 700, kurz T7, hat ihr Talent bereits im ersten Teil unseres Langzeittests für den echten Offroad-Einsatz aufblitzen lassen (LINK), so dass wir ihr dank der gemachten Erfahrungen noch intensiver auf den Zahn fühlen werden. Das heißt in diesem Fall wird die T7 nicht einem üblichen 50.000km-Dauerlauf unter klassischen Adventure-Bike-Bedingungen unterworfen, sondern muss sich bei drei großen Offroad-Rallyes, zahlreichen Tests und kleineren Sporteinsätzen beweisen – so der Plan.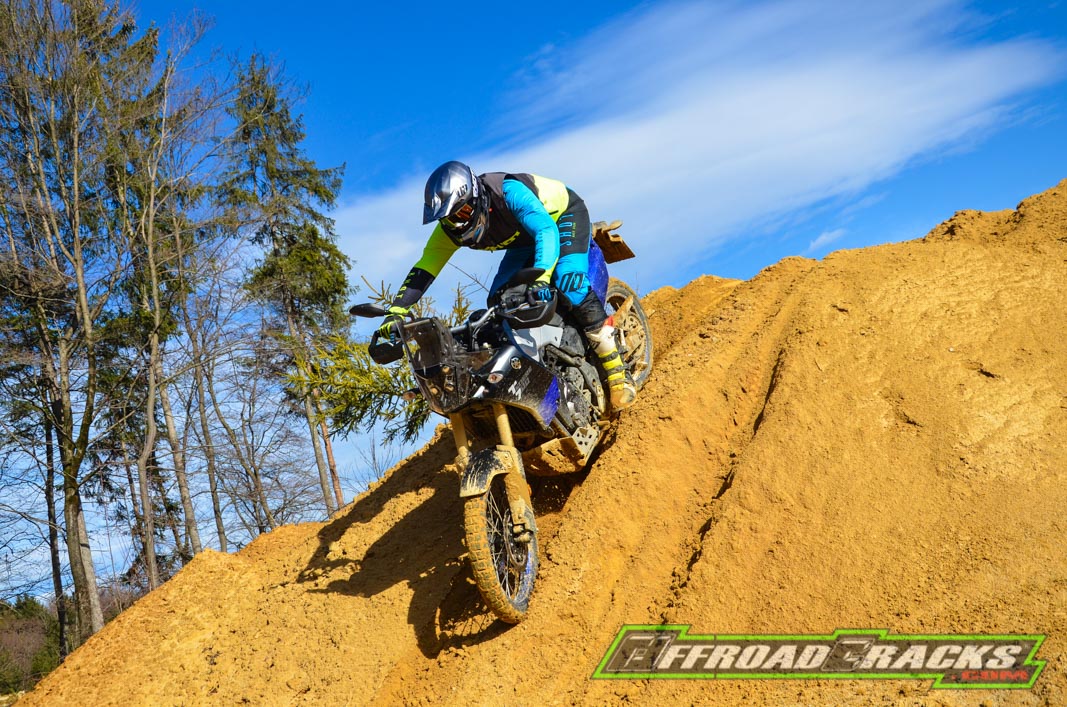 Schon im Original-Zustand begeistert die T7 durchweg
Das bedeutet zwei Einsätze auf dem europäischen Kontinent und einmal in Afrika, worauf wir zu einem späteren Zeitpunkt noch näher eingehen werden. Von Haus aus ist die T7 für einen derartigen Einsatz schon gut konzipiert. Um jedoch die notwendigen Reserven für eine derartigen sportlichen Einsatz zu gewährleisten müssen die einen oder anderen Umbau- und Optimierungsmaßnahmen durchgeführt werden, will man zum einen nicht das Material überbeanspruchen und zum anderen bei hohem Tempo im Gelände nicht Gefahr laufen, das Motorrad zu überfahren und sich dadurch stets über dem Limit mit erhöhtem Sturz-Potenzial zu bewegen. Wie bereits ausführlich im ersten Teil beschrieben ist die allererste und wichtigste Maßnahme die Anpassung des Fahrwerks.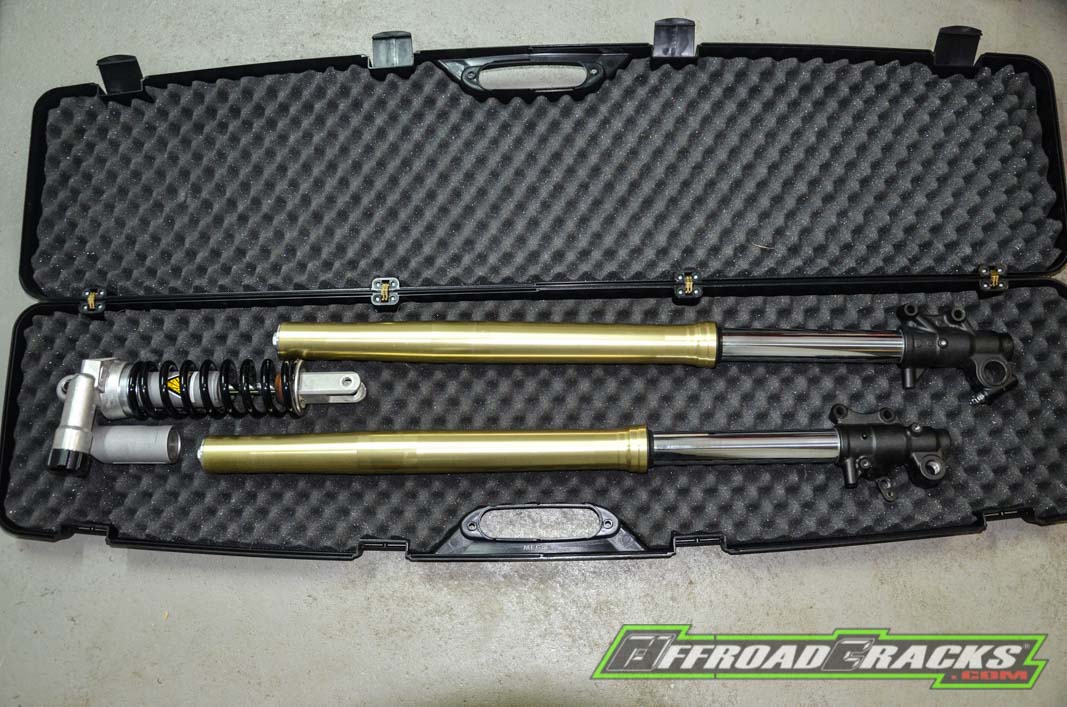 Demontierte OEM Fahrwerks-Komponenten fertig zum verschicken
Hierzu haben wir unter anderem den wohl bekanntesten und seit Jahren erfolgreichsten Fahrwerks-Spezialisten der Offroad-Szene mit ins Boot geholt, der für dieses neuartige Projekt ebenso schnell zu begeistern war: Technical Touch aus Lommel in Belgien. Natürlich ist diese Art von Fahrwerk in Form der 43er Kayaba-Upsidedown-Gabel mit nur 210 Millimeter Hub und einen Federbein gleichen Herstellers mit 200 Millimeter Hub nicht gerade mit den für unser Einsatzspektrum notwendigen Fahrwerks-Reserven bestückt. Obwohl die Gabel im Test bereits mit einer überraschend guten Abstimmung glänzen konnte, muss dennoch zwingend nachgebessert werden. Für unser sehr spezielles Testprogramm wird deutlich mehr notwendig sein, was ebenso auf das gefühlt zu weich abgestimmte Federbein zutrifft.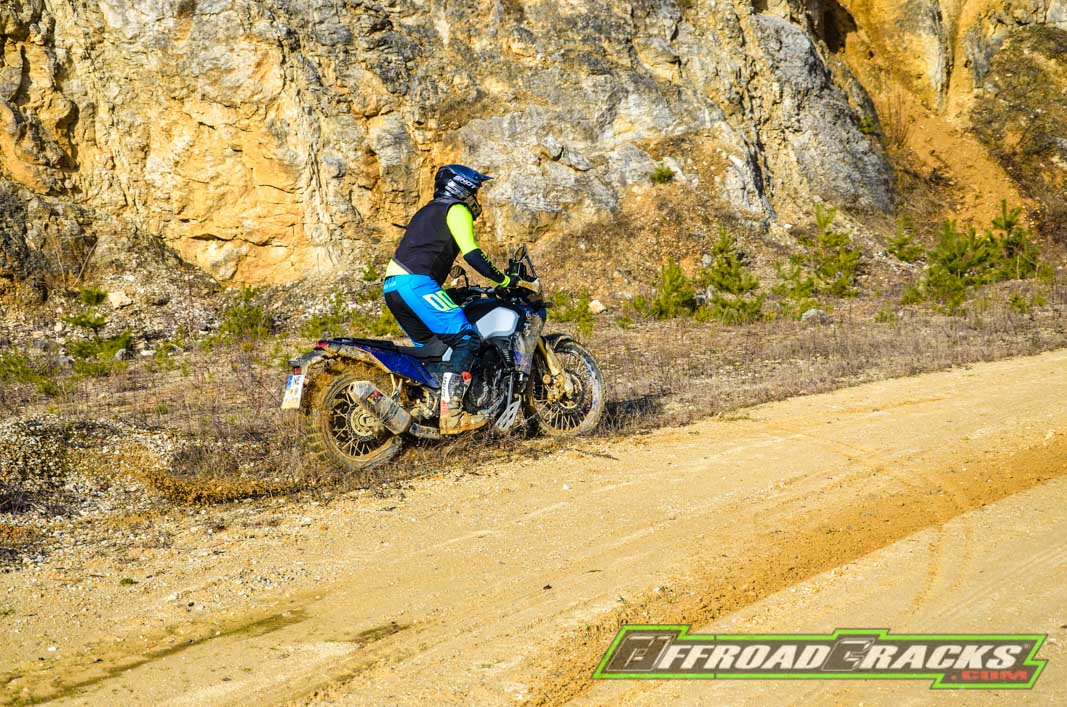 Durschlagendes Ergebnis nach einem ordentlichen Sprung mit satten 200kg Startgewicht
Benötigt man stets die üblichen 300 Millimeter Federweg der Sportenduro-Kategorie? Hinsichtlich des Setups bietet mehr Hub logischerweise einen größeren Abstimmungsbereich und damit die notwendigen Reserven. Weshalb wir zunächst mit den OEM-Komponenten arbeiten werden, um deren maximale Performance anhand angepasster Federrate und Shim-Belegung erfahren zu können.
Sollte dies nicht greifen sind weitere Maßnahmen in Form von Zubehör-Federbeinen und separaten Cartridges für die Gabel geplant, um zu sehen, was die Zubehör-Industrie in diesem Fall für Möglichkeiten mit Mehrwert offenbart.
Sollte das dann noch immer nicht reichen – wir haben immerhin über 200 Kilogramm am Start – sind drastische Maßnahmen in Form einer neuen Gabel samt Federbein geplant, was mit erheblichem Mehraufwand verbunden ist, da hierfür eigens Bauteile angefertigt werden müssen – doch eins nach dem anderen.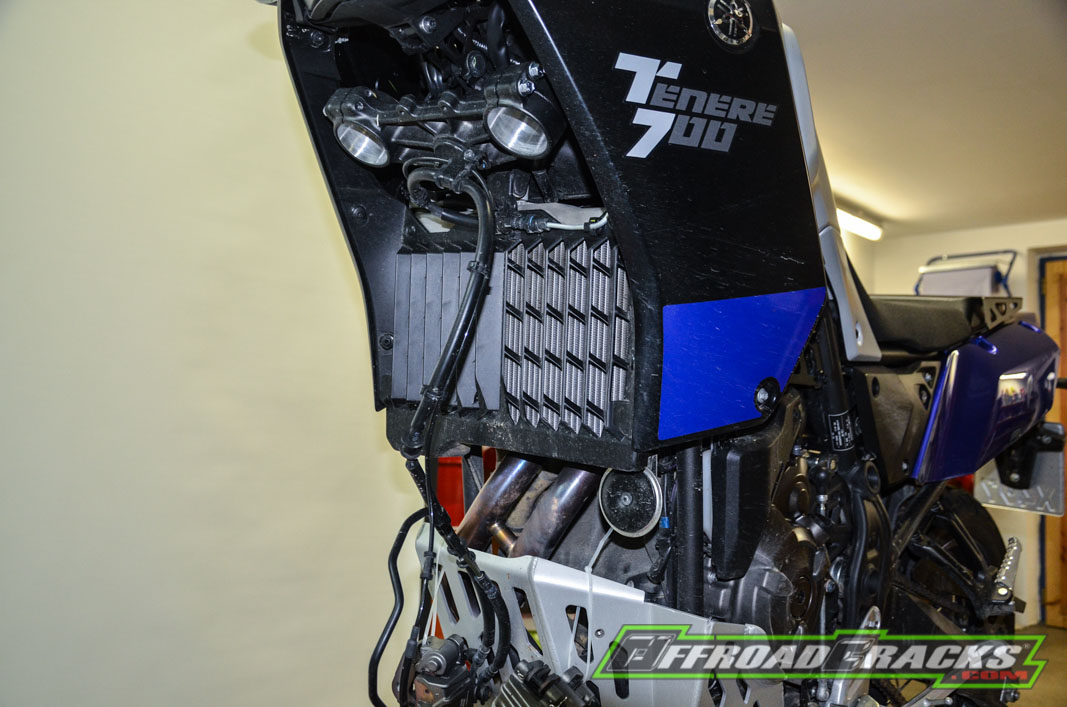 Demontierte Gabel
Als unbedingt zwingend zu bezeichnen ist der Wechsel der Serien-Sitzbank gegen die von Yamaha angebotene Rallye-Sitzbank, die bereits bei der Weltpremiere in Spanien überzeugte. Auch das Thema Fußrasten wird intensiv bearbeitet, da die Serien-Ausführungen für den knallharten Offroad-Einsatz einfach zu wenig Grip für die Stiefel bieten und sich bei widrigen Bedingungen zu schnell zusetzt.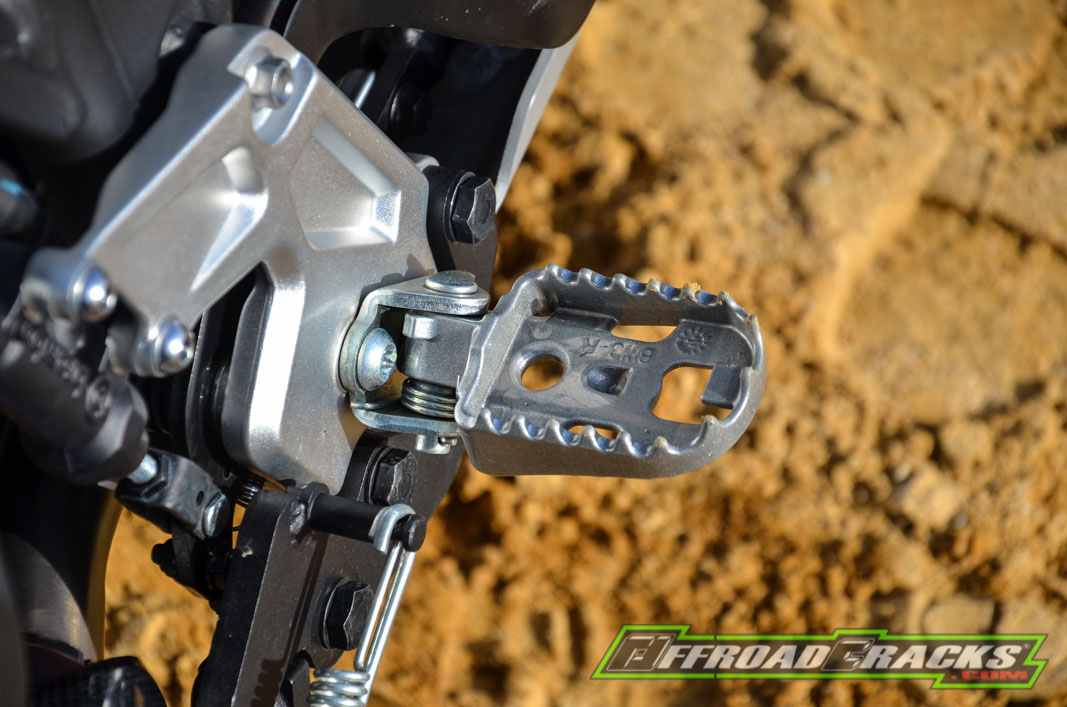 OEM-Fußrasten mit herausgenommenem Gummi-Einsatz – zu wenig Grip und Öffnungen für den Hardcore-Einsatz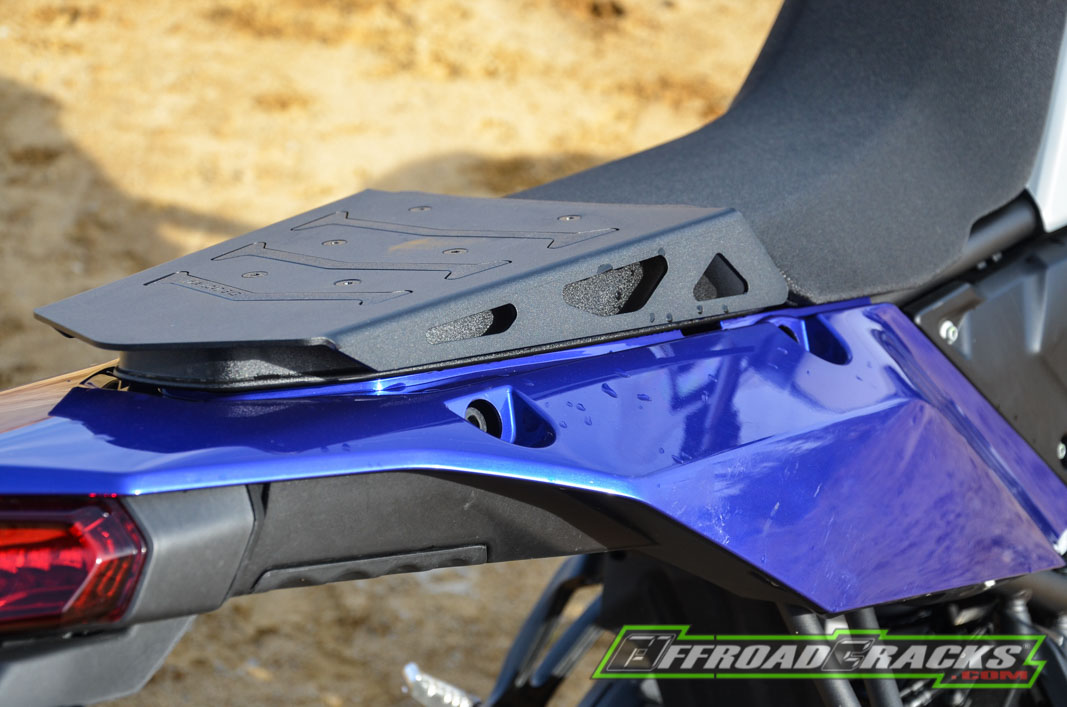 Hier noch der montierte Einzelsitz mit Gepäckbrücke von der ursprünglichen Explorer-Ausstattung
Zum Thema Haltbarkeit der Serien-Räder können wir noch nichts sagen, außer das sie im normalen Adventure-Einsatz aus der Erfahrung heraus eine äußerst hohe Widerstandsfähigkeit aufweisen. Hier werden wir trotzdem sicherheitshalber auf Wettbewerbs-Felgen mit verstärkten Speichen von SMPro Wheels aus England zurückgreifen.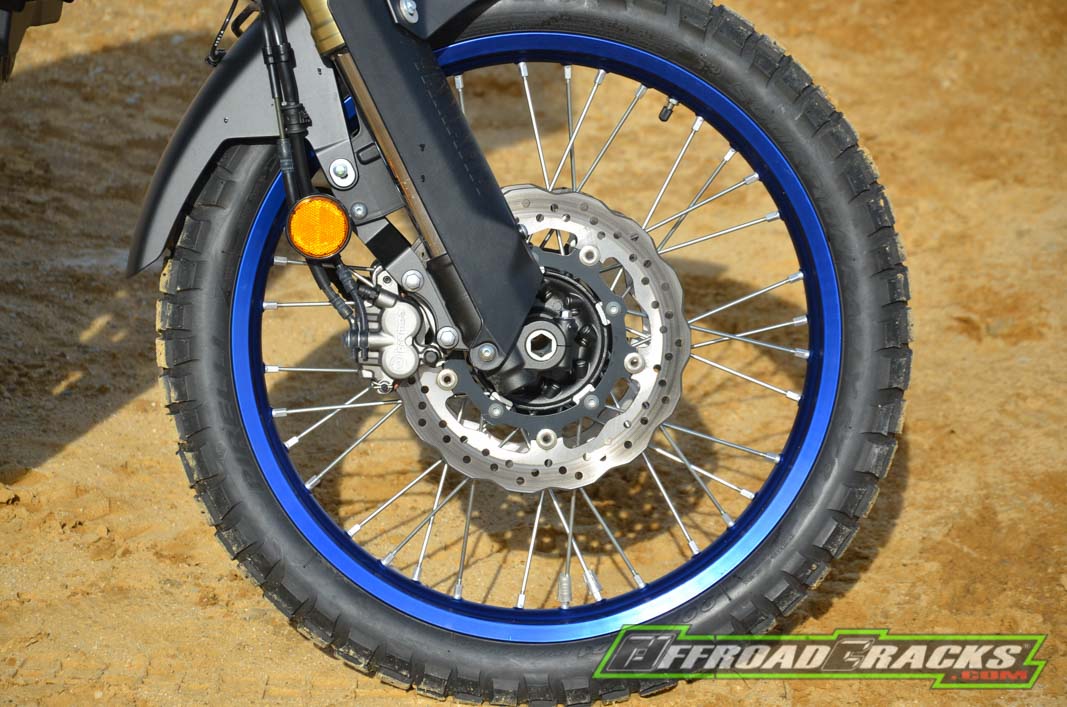 Was das Thema Sekundärtrieb betrifft hat man bei Yamaha einen guten Job gemacht, da der erste kurze Gang in technisch anspruchsvollem Gelände durchweg passend ist und dem einer Sportenduro tatsächlich hinsichtlich dem Übersetzungsverhältnis ähnelt. Ob man natürlich mit der restlichen Getriebeabstimmung die auf der Straße mögliche Spitzengeschwindigkeit von 200km/h auch Offroad benötigt, darf man klar bezweifeln. Da aber der CP2-Motor mit seinem spontanen Antrieb und dem großen nutzbaren Drehzahlbereich in allen Lagen Leistung satt bereit stellt, kommt die Frage nach einer kürzeren Übersetzung noch nicht wirklich auf. Denn kürzere Übersetzung heißt bei gleicher Fahrweise und Tempo früher Schalten, da zeitlich gesehen die Höchstleistung noch früher bei gleichem Tempo erreicht wird und somit auch den Wheelspin begünstigt. Hier bleibt noch abzuwarten, was die Tests mit klassischer Stollenbereifung offenbaren.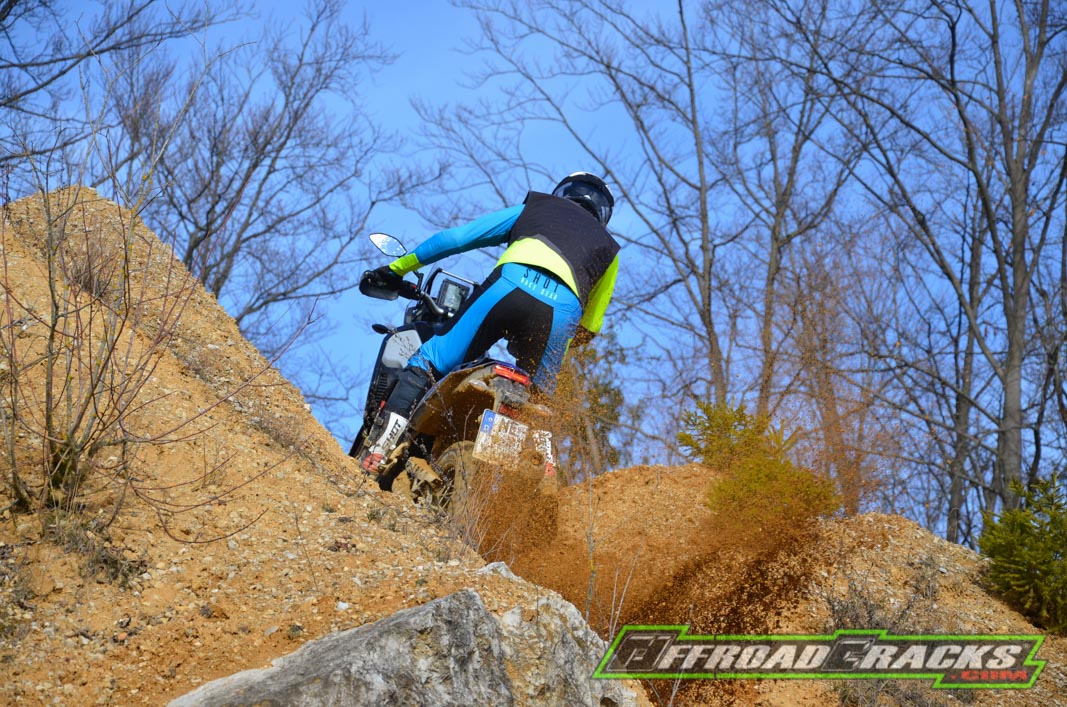 Ein weiteres Muss bei 200 Kilogramm Startgewicht ist der Einsatz von Mousse, um Plattfüße zu vermeiden. In diesem Fall ist es natürlich notwendig ein passendes Produkt ausfindig zu machen, da die Belastung auf Grund des im Schnitt 70 Prozent höheren Gewichts als bei einer Sportenduro – wir nehmen als Mittelwert 120 Kilogramm – auch eine höhere Belastung als gewöhnlich hervorruft und unweigerlich für verfrühten Verschleiß sorgen wird.
Auch das Thema Lenkungsdämpfer wird trotz des hervorragenden Geradeauslaufs nicht unberücksichtigt bleiben. Hierfür sind einige Bauteile anzufertigen, worüber aber noch im Detail berichtet werden wird. Ähnlich verhält es sich im Fall der für die Rallye notwendigen Navigations-Geräte wie beispielsweise GPS, Roadbook, Tripmaster und Sentinel. Hier muss der Navigations-Tower adaptiert werden, was wir möglichst ohne Abänderung der Original-Verkleidung umsetzen wollen, was sich jedoch als einer der schwierigsten Punkte in der Umsetzung erweisen wird. Notfalls bleibt nur noch der Griff zu einer klassischen Plexiglas-Verkleidung und separater Beleuchtungseinheit.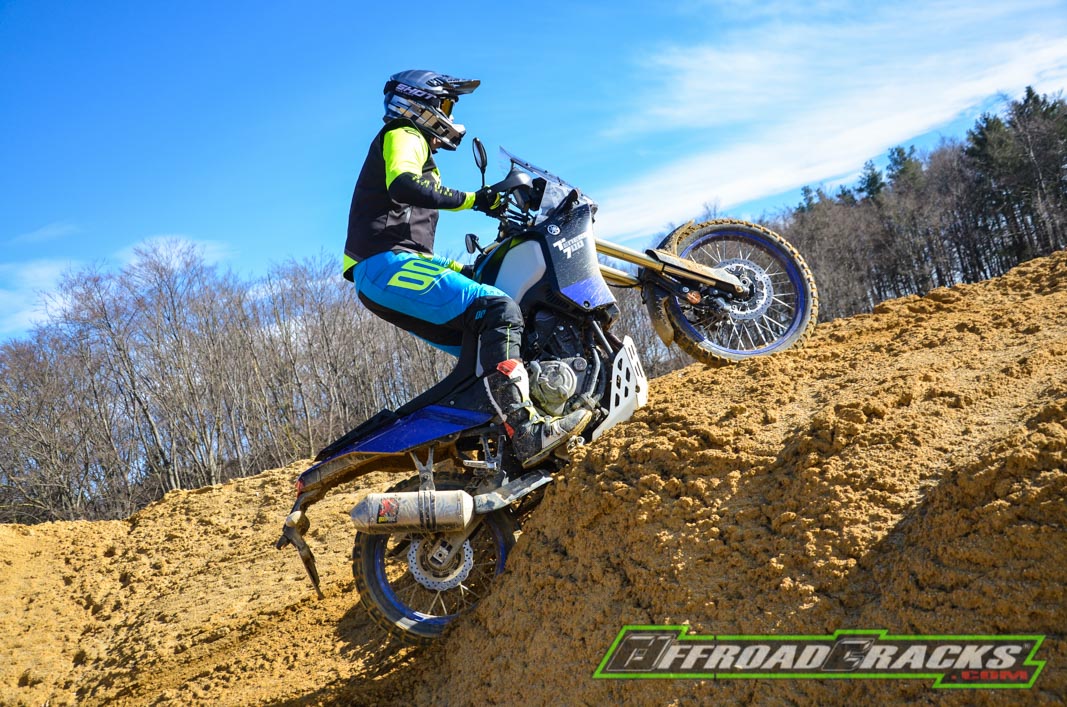 Ein Muss ist natürlich eine angemessene Soundkulisse, die in diesem Fall durch einen Akrapovic-Titan-Slip-On-Schalldämpfer realisiert wird, der zudem eine Straßenzulassung hat und das Startgewicht der T7 sogleich um 2,3 Kilogramm reduziert. Das ist ebenso ein wichtiger Aspekt, denn die Gewichtsreduzierung bei diesem Startgewicht liegt natürlich ebenfalls im Fokus unserer Modifikationen.
Ob mit dem Akrapovic-Slip-On-Schalldämpfer der versprochene Leistungszuwachs des Hersteller – 2,3 PS und 2,3 Newtonmeter – eingehalten wird ist noch zu prüfen. Doch vorher wurde eine Eingangsmessung auf dem Prüfstand durchgeführt, um den Ist-Zustand festzuhalten, was in der nebenstehenden Grafik dargestellt ist. Natürlich werden wir auch prüfen, was leistungstechnisch noch möglich ist, wenn auch die 73,4 PS Höchstleistung im Gelände aus unserer Sicht schon vollkommen ausreichen, wie der Praxistest gezeigt hat. Wir zielen hierbei primär auf eine Steigerung des Drehmoments ab, was logischerweise auch eine Veränderung der Leistungskurve mit sich bringt, wofür wir noch das eine oder andere heiße Eisen in Hinterhand haben.
LEISTUNGS- und DREHMOMENT-DIAGRAMME – Original-Auspuffanlage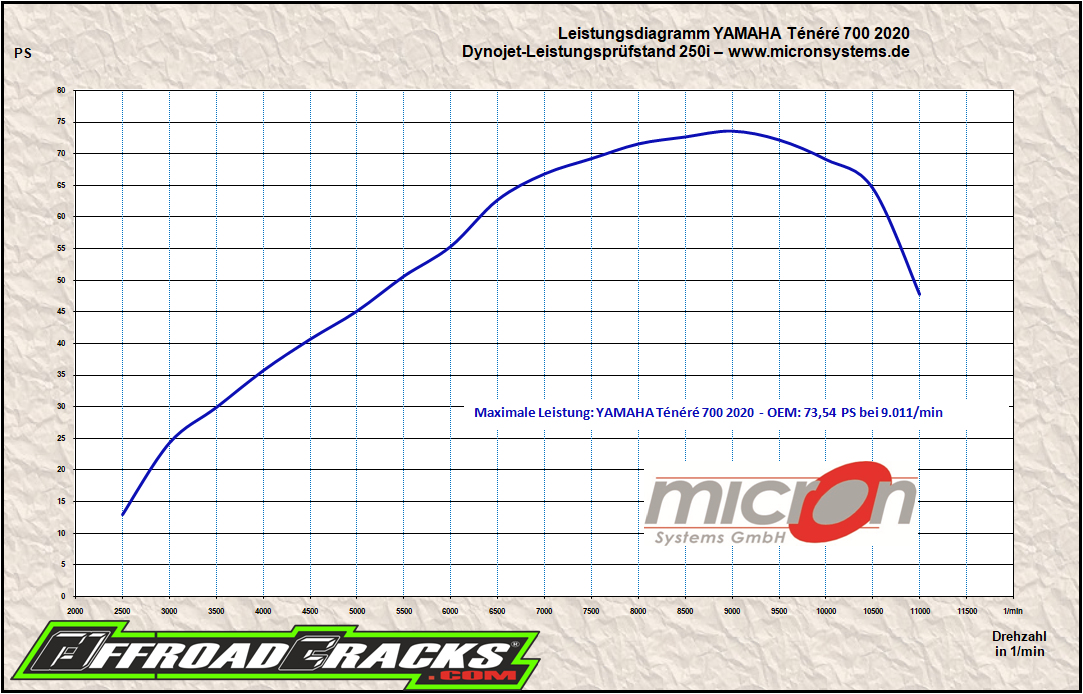 LEISTUNGSMESSUNG – VIDEO
---
HINWEIS: Mit Anklicken des Videos stellen sie automatisch eine Verbindung zu Youtube/Google her, was einen ungewünschten personenbezogenen Datenaustausch mit sich bringen kann. Weitere Infos unter: www.google.de/privacy
---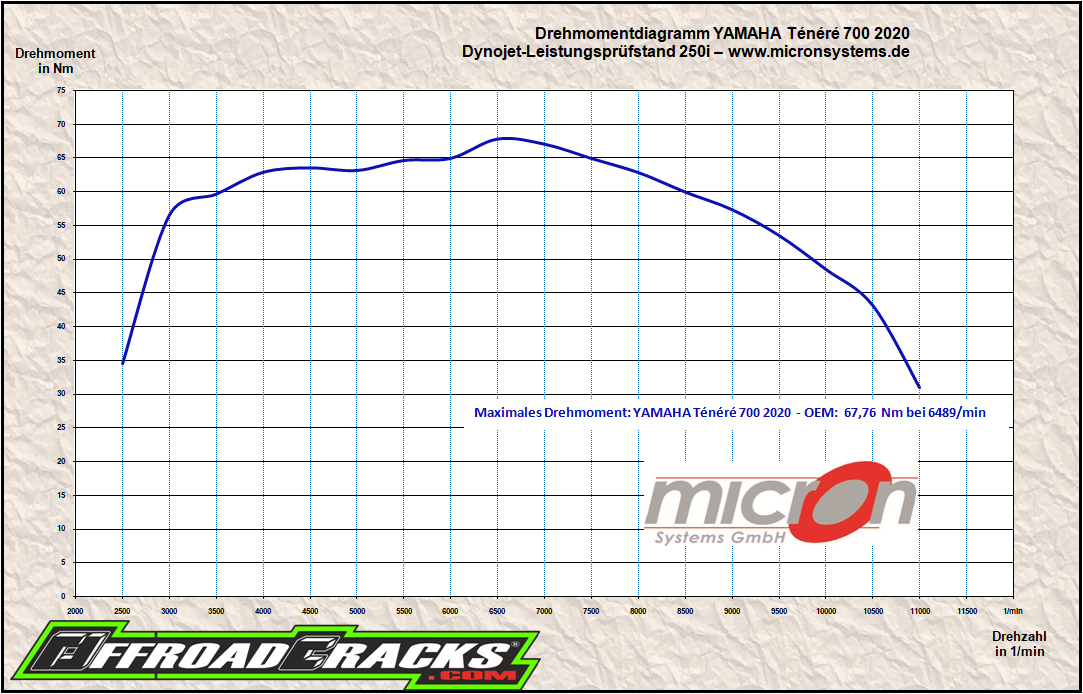 Leider hat sich wegen der Covid-19 Pandemie einiges zeitlich verschoben, so dass natürlich viele der geplanten Maßnahmen auf Grund des Lock-Downs und übergangsweisen Schließungen der europaweiten Industrie und damit auch unserer Partner massiv verzögert. Deshalb wird es in 2020 nicht wie geplant zu einem Rallye-Einsatz kommen, dafür aber im März 2021 in Form der Fenix-Rallye in Tunesien, der Baja Poland und der legendären Rallye-Breslau, so dass wir nun fleißig am Setup feilen und weitere Modifikationen erarbeiten werden.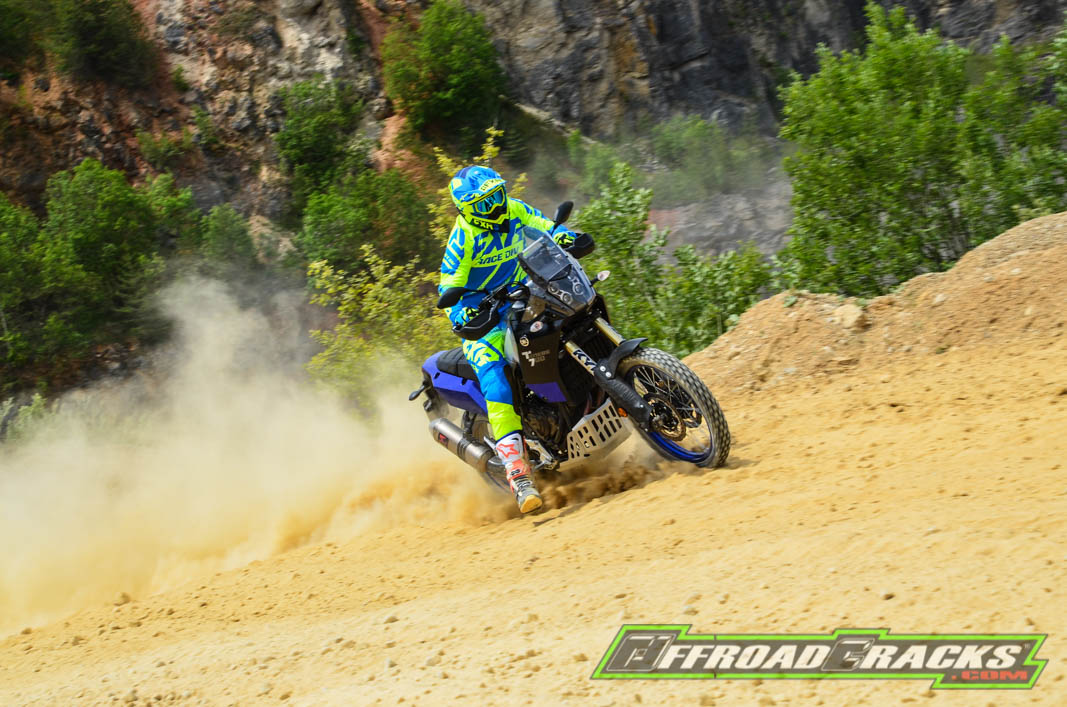 Neue Reifen, neues Glück
Die bereits umfangreich eingesetzte und mit einer erstaunlichen Leistungsfähigkeit trotz des vergleichsweise einfachen Profilaufbaus gesegnete Original-Bereifung wird durch die Reifenpaarung Michelin Anakee Wild mit auffälligem Blockprofil ersetzt, die vor allem die im Gelände notwendige Seitenführung steigern soll. Damit muss der Pirelli Scorpion Rally STR vorerst das Feld räumen und wird durch einen 90/90-21 54 vorn und einen 150/70 R18 70R hinten in Radial-Bauweise ersetzt, der von Michelin mit folgendem Leitsatz beworben wird: Verlassen sie die ausgetretenen Pfade mit Michelin Anakee Wild! Will so viel heißen, dass man sich mit diesem Reifen für neue Wege öffnen sollte und auf gute Lebensdauer mit Traktion im Gelände, Grip auf der Straße und präzisem Lenkverhalten sowie guter Spurhaltung und Widerstandsfähigkeit Offroad vertrauen kann. Zusammengefasst sollte das wohl heißen, dass es sich um die eierlegende Wollmichsau handeln müsste.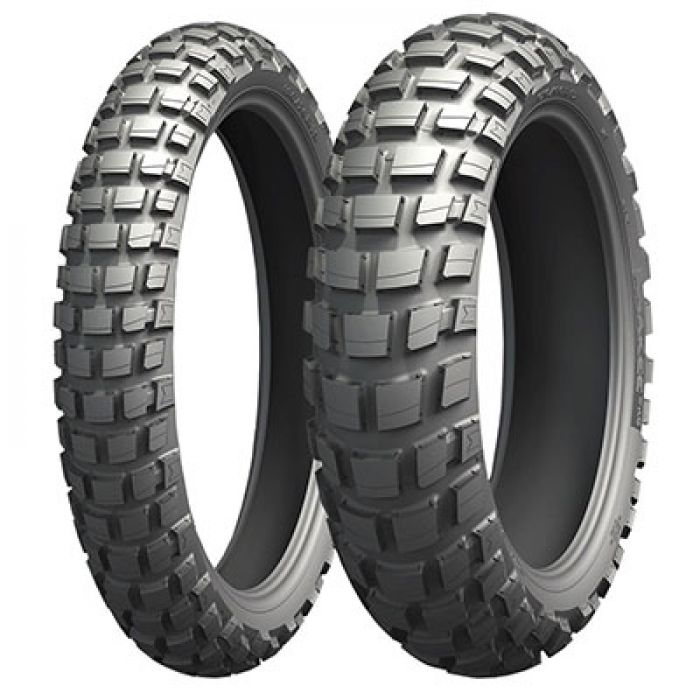 Außerdem wollte wir genau wissen zu was die Serien-Fahrwerkskomponenten in Form der 43er Upsidedown-Kayaba-Gabel und dem Federbein fähig sind, so dass diese vom Fahrwerksspezialisten Technical Touch in Belgien eine Überarbeitung erfuhren, wie bereits eingangs erwähnt. Will heißen im Fall der Gabel wurde eine komplett neue Shim-Belegung montiert sowie ein Gleitring in seinen Dimensionen verändert, um dadurch die notwendige Straffheit und Durchschlagssicherheit zu erhöhen. Das bedeutet der Öldurchfluss wurde durch weniger Flexible Shims reduziert, was auch die Fließgeschwindigkeit betrifft. Die Federrate blieb unangetastet und nur die Gesamt-Ölmenge wurde etwas reduziert. Beim Federbein verhält es sich ähnlich nur hat man sich hier auf eine nachhaltige Shim-Änderung fokusiert. Was bedeutet das in der Folge?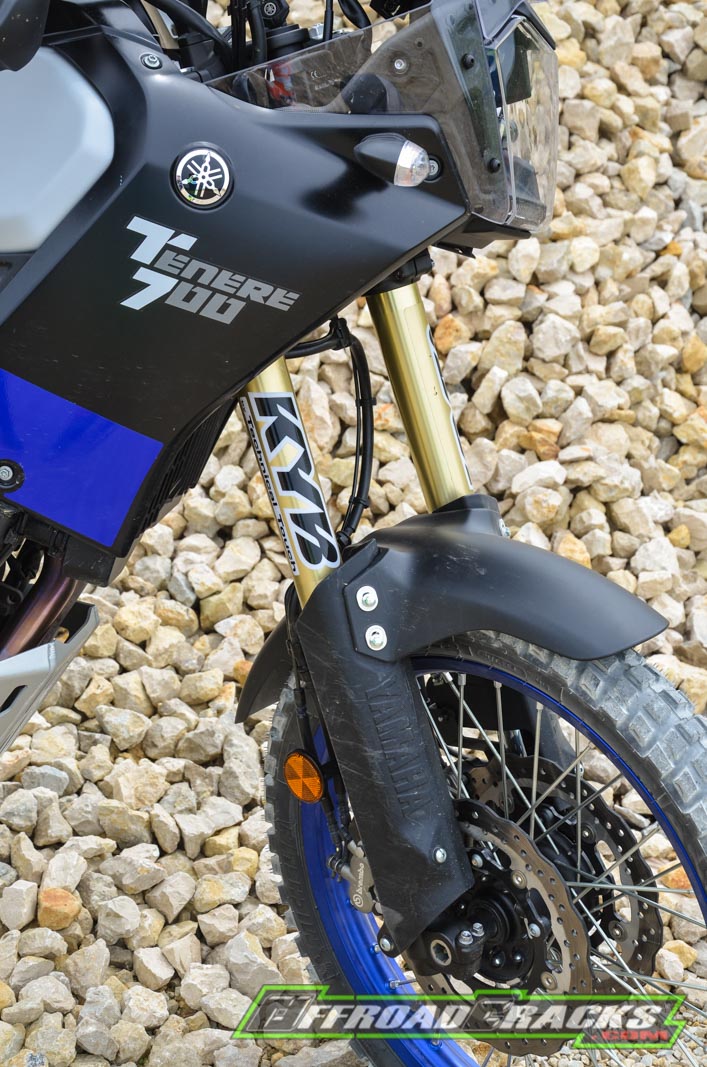 Neues Setup mit optimierter Performance!
Das Heck steht bei voller Ausnutzung der hydraulischen Federvorspannung nun deutlich höher und sinkt bereits im Stand durch Fahrzeuggewicht und Fahrer weniger tief ein als im Serienzustand.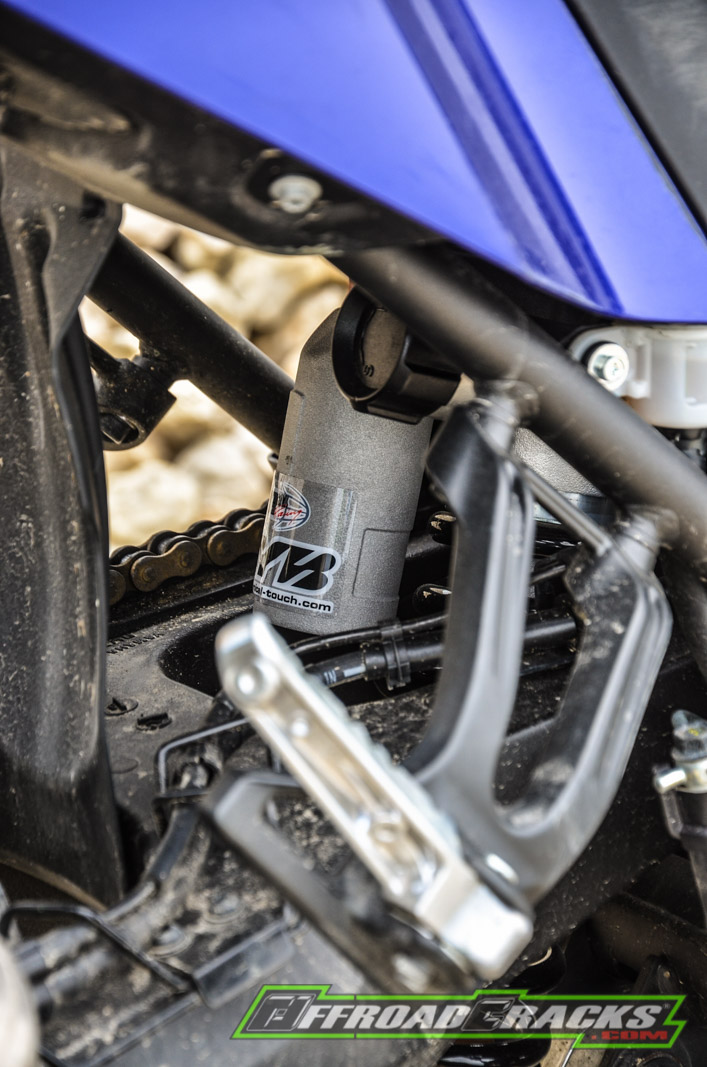 Auch der Dämpfungsgrad an Gabel und Dämpfer ist spürbar straffer und die Durchschlagssicherheit konnte deutlich gesteigert werden, wie die nebenstehenden Sprungeinlagen beweisen. Auch der klassische Drift, der ohnehin schon auffällig einfach mit der T7 möglich ist, läuft nun noch sicherer ab, so dass dem Spieltrieb mit knapp 200kg Masse kaum Grenzen gesetzt sind.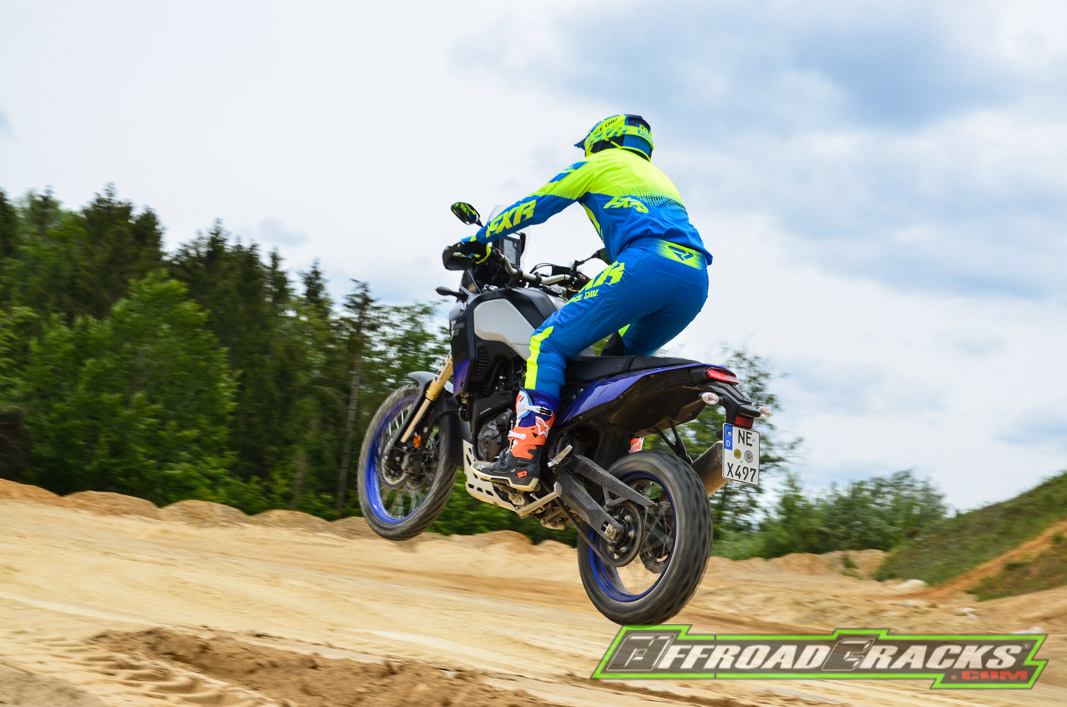 Ja, die Tenere kann jetzt auch fliegen, ohne das die Fahrwerks-Komponenten an ihre Grenzen kommen!
Für eine optimale Sitzposition kommt die einteilige Yamaha Rallye-Sitzbank zum Einsatz, die zugleich die Einmann-Sitzplatte samt Kofferträger des Explorer-Modells ersetzt. Da sie auch die Sitzhöhe um zirka 35 Millimeter erhöht ist sie gerade für Großgewachsene und Komfort verwöhnte Fahrer die erste Wahl. Für den Rallye-Einsatz empfiehlt sich das Sitzmöbel ohne jegliche Kritik, da sich dadurch der Kniewinkel vergrößert und zudem die T7 besser zwischen den Knien stehend auf den Fußrasten einklemmen und führen lässt. Verarbeitungstechnisch ist sie top und hält sogar einen Halteriemen für den Soziusbetrieb samt Grip steigernde Querlamellen auf.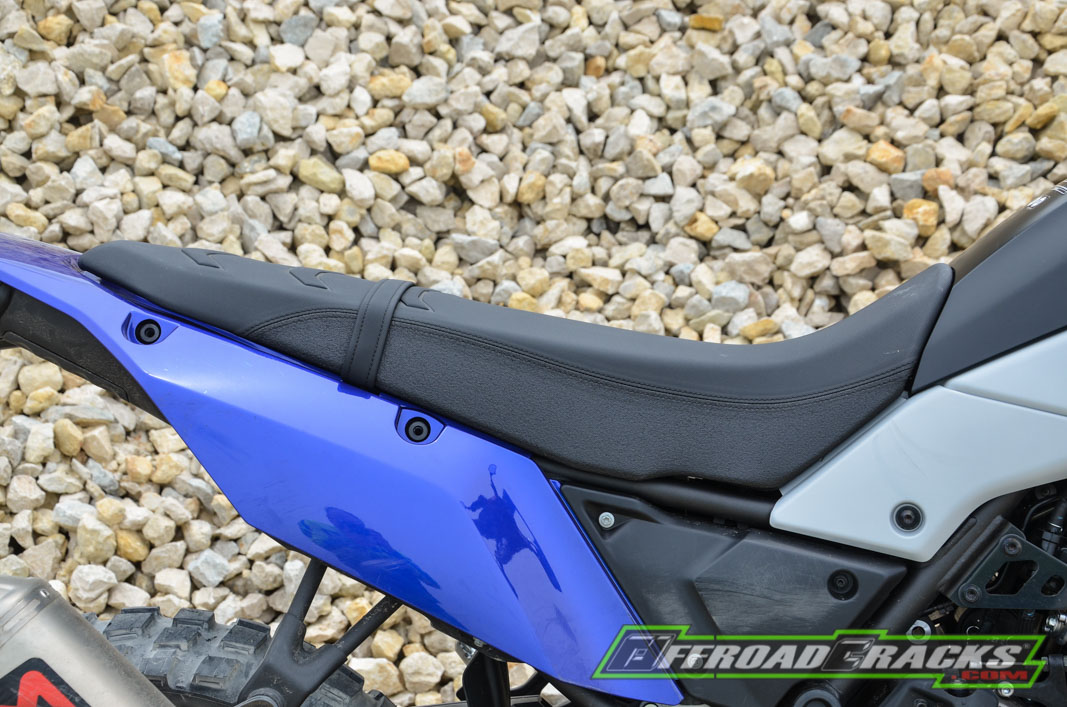 Deutlich höher als der Original-Sitz der Explorer-Version und mit spürbar mehr Komfort gesegnet

In der Summe wächst damit fahrerisch das Vertrauen in die Ténéré nochmals nachhaltig, so dass der Speed Offroad stetig zunimmt. Dies fordert auch seinen Tribut, will man den klassischen Enduropfaden mit ebenbürtigem Tempo einer Sportenduro folgen, denn dann offenbart sich das vorhanden Mehrgewicht über das Vorderrad relativ schnell und lässt den euphorischen Fahrer mangels Grip schon mal eine Bodenprobe nehmen. Da dies aber nur einmal auf sandigem Boden der Fall war wird dieser Ausrutscher eher wenig Beachtung finden, so dass das Tempo nach wie vor beachtlich hoch bleibt.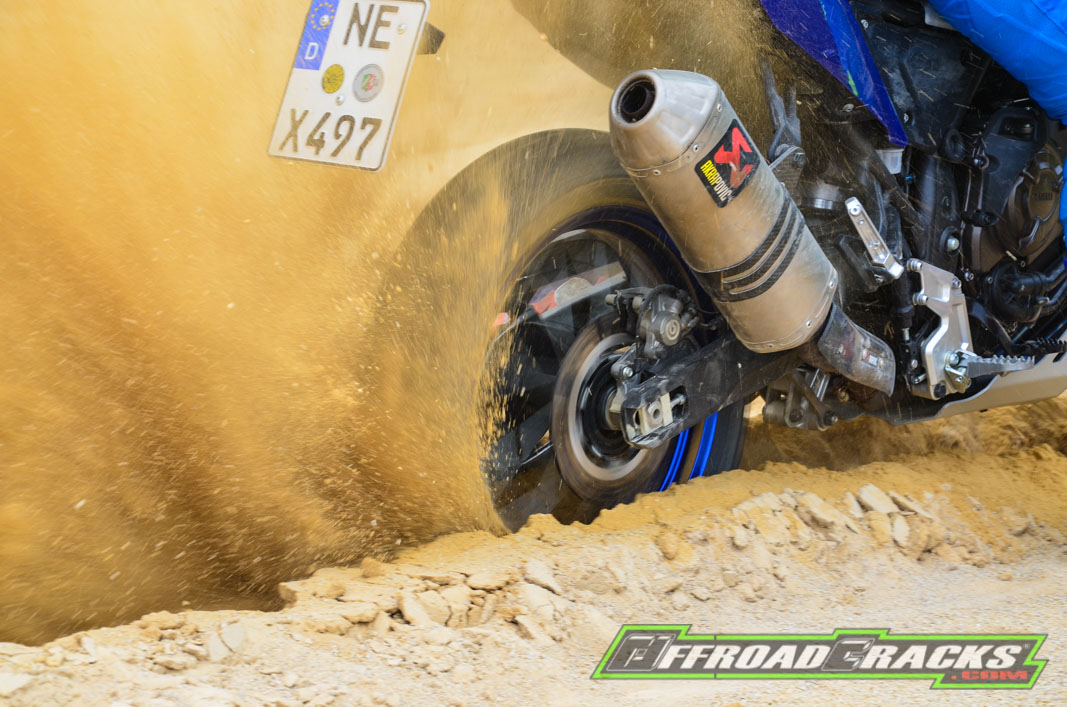 Nochmal zurück zum Michelin Anakee Wild der eine gelungene Offroad-Lösung darstellt, will man nicht den OEM-Radsatz umbauen. Sein auffälliges Blockprofil in bekanntem Stollen-Design bietet deutlich mehr Abstand je Stolle als alle bisher dagewesene Profile für derartige Adventure-Bikes und deren Reifengrößen. Das bedeutet mehr Traktion durch tieferes Eingreifen in den Untergrund, verbesserte Selbstreinigung, was das Zusetzen des Profils weitgehends verhindert und für den Mischbetrieb – also auch Straße – eine erhöhte Geräuschkulisse.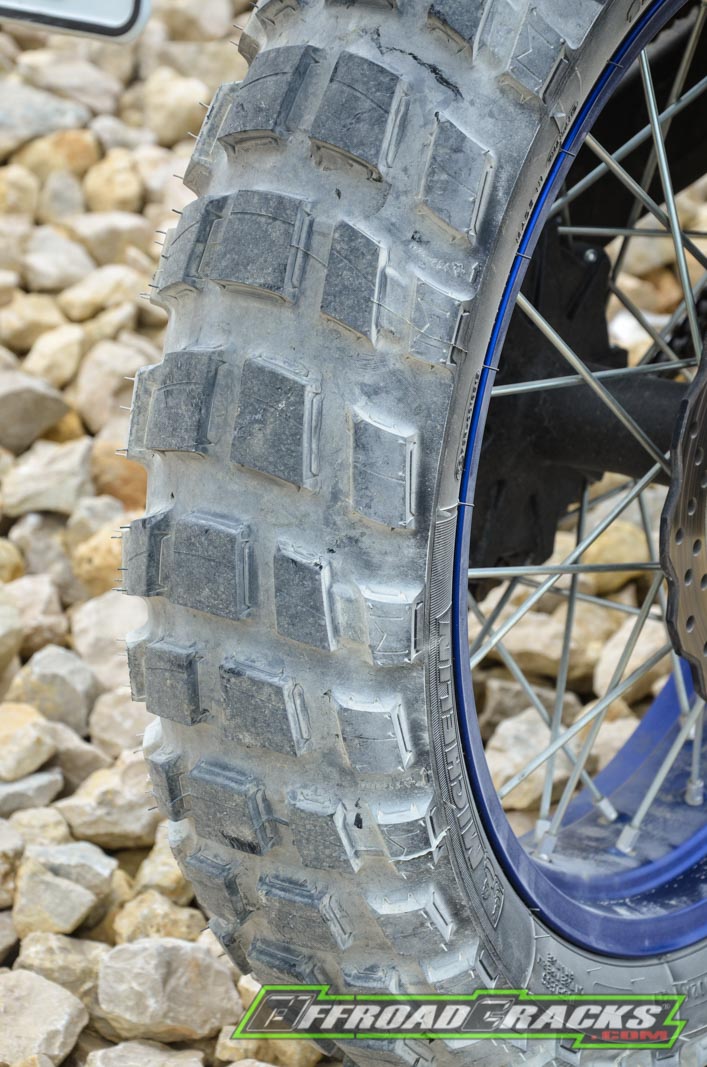 Markantes Stollenprofil für die notwendige Traktion Offroad
Zunächst geht es auf öffentlichen Straßen zum angepeilten Testgelände. Bereits ab gut 90km/h, was eine bekannte Schwelle für Unwucht-Verhalten und Geräuschkulisse eines Reifens darstellt, verschafft sich der Anakee Wild wie erwartet so langsam Gehör und vermeldet damit, dass er für Gröberes geschnitzt wurde. Überraschend hoch präsentiert sich das Gripniveau in Schräglage und bei Vollgas-Orgien, doch wollen wir die frische Stollenkante nicht schon auf festem Untergrund ruinieren und lassen es etwas gemächlicher Angehen, denn für uns zählt primär der Offroad-Einsatz.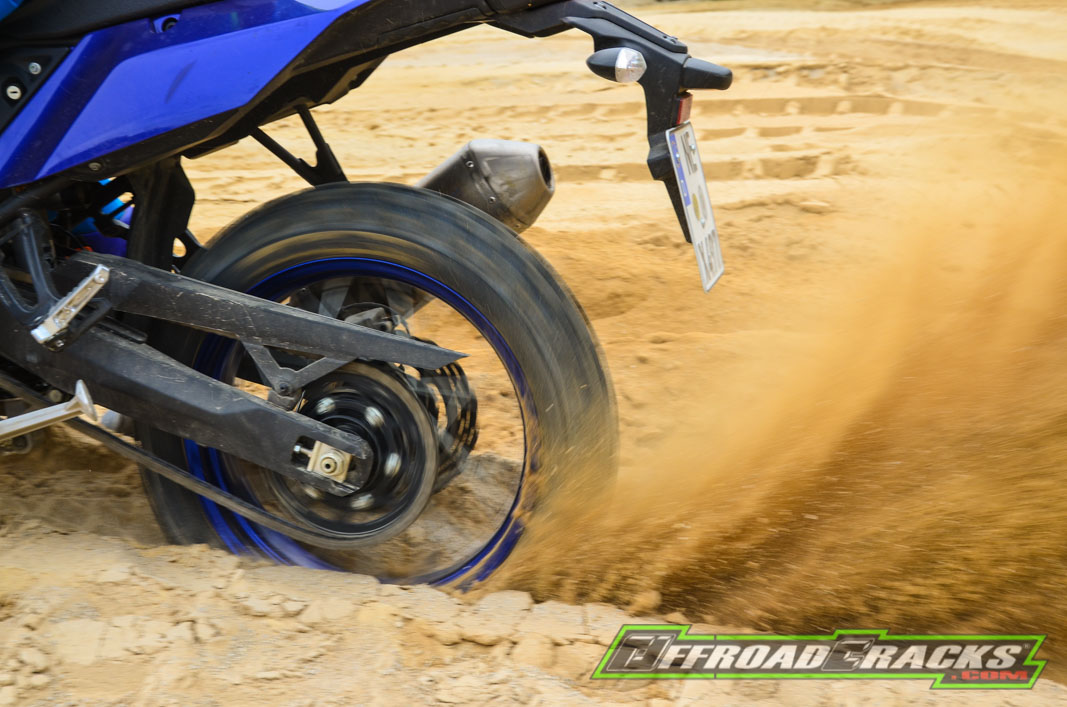 Zweiter Gang und schon greifen die mächtigen Stollen in den weichen Boden und sorgen für vehementen Vorschub bei gleichzeitiger meterhoher Heckfontäne. Hier begünstigt das hohe Fahrzeuggewicht die Traktion und sorgt für überraschend guten Vortrieb. Auch das Driftverhalten ist erstaunlich, da das Vorderrad nun deutlich besser die angepeilte Linie hält und sich in den Untergrund verbeißt, was fahrerisch deutliche mehr Sicherheit mit 200 Kilogramm Masse beschert. Auch Highspeed-Passagen in Schräglage sind problemlos möglich, denn das Gefühl für den notwendigen Grip ist da und der Grenzbereich ist frühzeitig erfühlbar.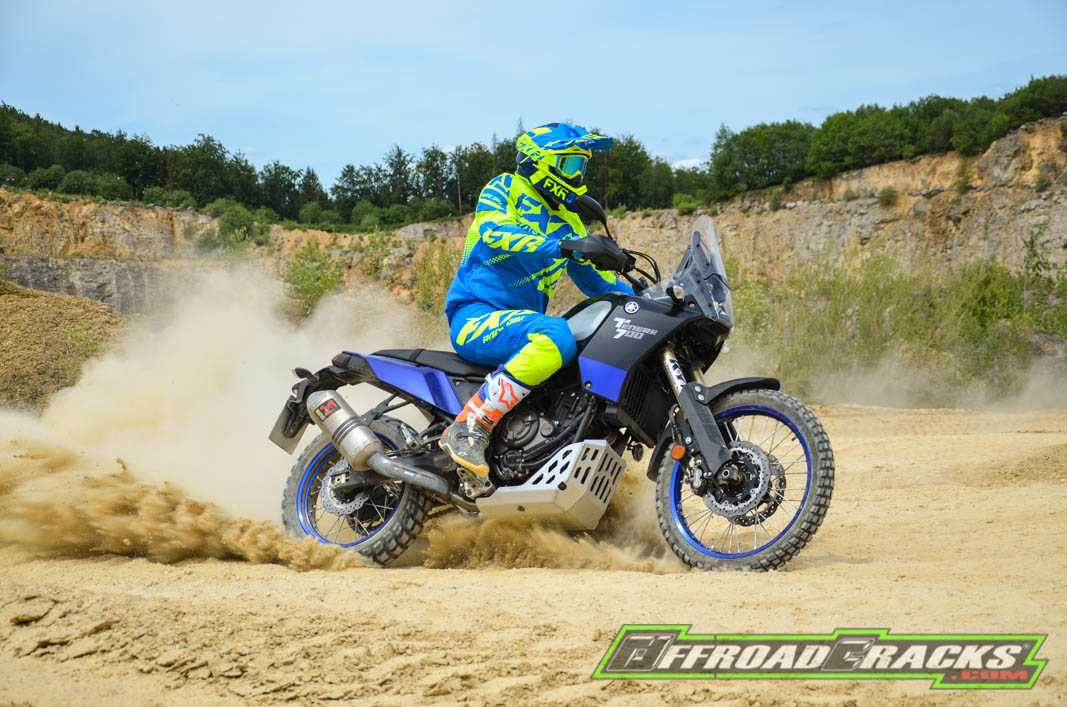 Insgesamt haben wir mit diesem Pneu eine deutliche Performance-Steigerung Offroad erhalten, was in diesem Maße nicht wirklich erwartet wurde. Daher heißt es volle Punktzahl für den Anakee Wild, den wir für den Geländeeinsatz voll und ganz empfehlen können. Was sich dieser Reifen auf nasser Fahrbahn leistet oder wie er sich in der Langzeitbetrachtung verhält müsste separat getestet werden, was aber für unseren Einsatz weniger interessant ist und daher unberücksichtigt bleibt.
Weiter geht es nun mit der Leistungsoptimierung in verschiedenen Stufen, was unterschiedliche Optimierungen nach sich zieht und den obligatorischen Nachweis auf dem Leistungsprüfstand mit sich bringt. Natürlich wird auch das Thema Rallye-Dekor im Hintergrund massiv bearbeitet – mehr dazu in Teil 3 unseres Dauertests.
Angebautes Zubehör
• Akrapovic Titan Slip-On Schalldämpfer, Yamaha 850 Euro – LINK
• Leistungsmessung, Micronsystems ab 59 Euro – LINK
• Rallye Sitzbank, Yamaha 382 Euro – LINK
• Neues Fahrwerks-Setup, Technical Touch 333,20 Euro – LINK
• Hinterradreifen Ankaee Wild 150/70 R17 69R, Michelin ab 105 Euro – LINK
• Vorderradreifen Ankaee Wild 90/90 R21 54R, Michelin ab 65 Euro – LINK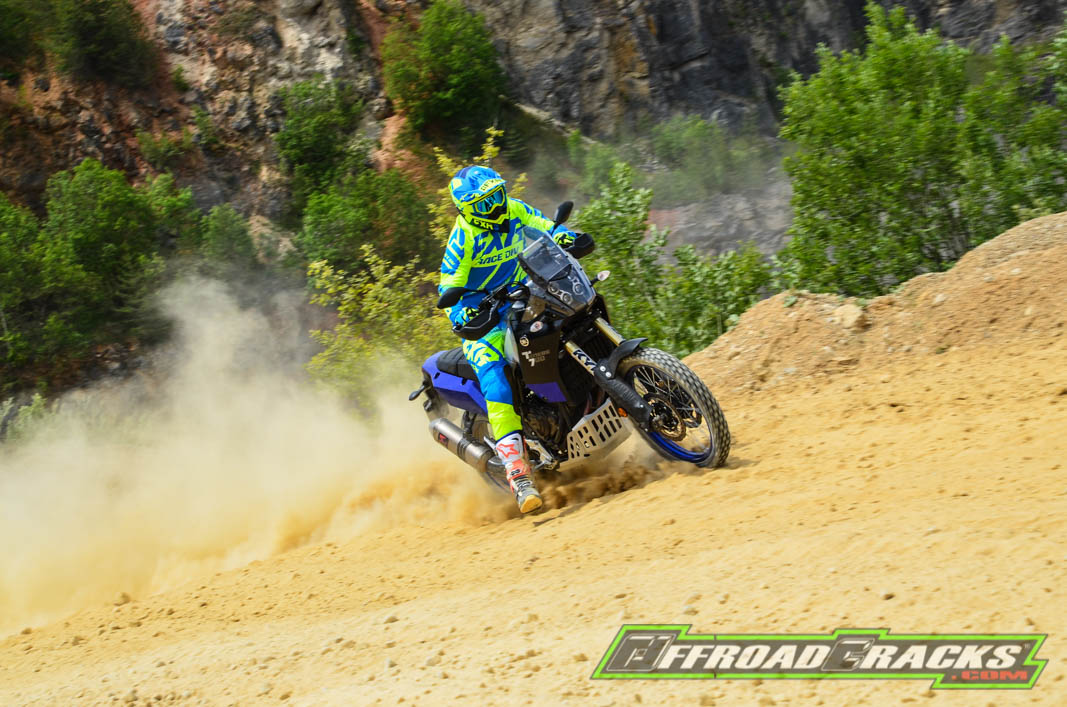 Harter Untergrund mit sandiger Oberfläche und derart viel Leistung und Drehmoent mahnen zur Vorsicht
Bilder: OFFROADCRACKS.com
Kleidung & Protektion: FXR RACING, ALPINESTARS, ORTEMA, YAMIBRACE
Fahrzeug-Vorbereitung: OFFROADCRACKS.com
"Wir bedanken uns für die professionelle Zusammenarbeit bei…
…Yamaha Deutschland, FXR Racing, Alpinestars, Ortema…
…Yamibrace und Micronsystems."
---

The Yamaha Ténéré 700 has proven in its individual tests that it is good for more. Here are the first measures to achieve full rally suitability in the long-term view.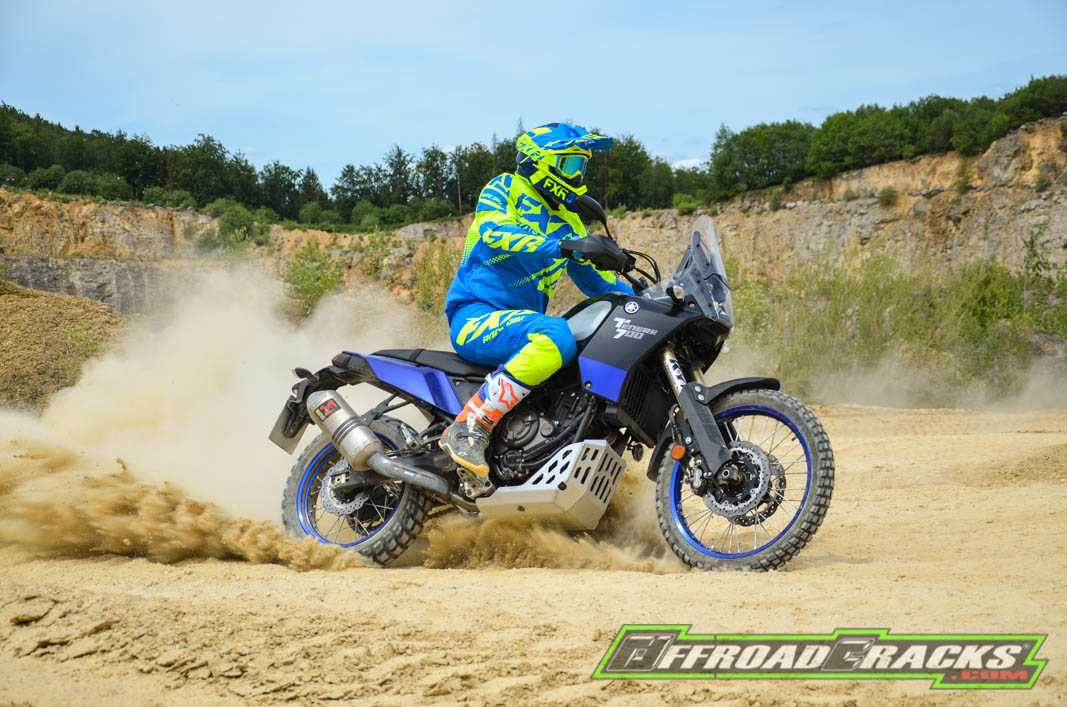 With the first modifications in the right direction
The Yamaha Ténéré 700, or T7 for short, already flashed its talent in the first part of our long-term test for real off-road use (LINK), so that thanks to the experience we have gained, we will test it even more intensively. In this case, the T7 is not subjected to a usual 50,000km endurance run under classic adventure bike conditions, but has to prove itself in three large off-road rallies, numerous tests and smaller sports events – so the plan.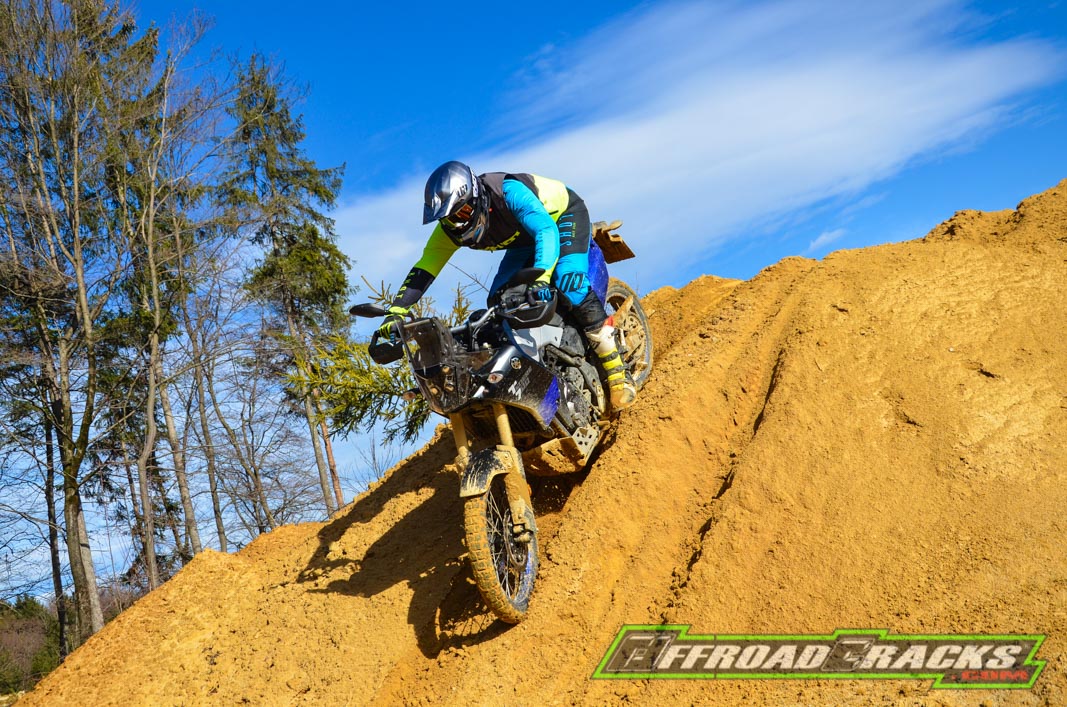 Already in its original condition, the T7 thrilled throughout
That means two missions on the European continent and one in Africa, which we will discuss later more detailed. The T7 is already well designed for such an application. However, in order to ensure the necessary reserves for such a sporty use, one or the other conversion and optimization measures must be carried out, on the one hand you do not want to overuse the material and on the other hand you do not run the risk of running over the motorcycle and yourself at high speeds in the field thereby always moving over the limit with increased fall potential. As already described in detail in the first part, the very first and most important measure is the adjustment of the suspension setup.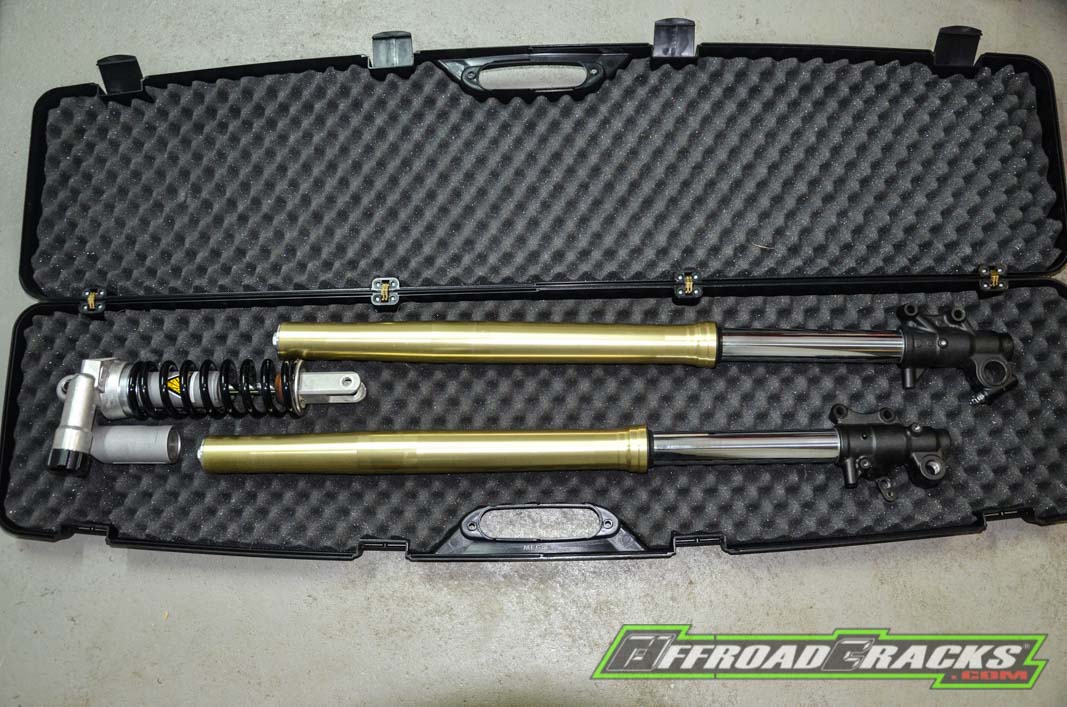 Disassembled OEM suspension components ready to be sent
For this purpose, we have brought on board the probably best known and most successful suspension specialist of the off-road scene, who was just as quick to get enthusiastic about this new project: Technical Touch from Lommel in Belgium. Of course, this type of suspension in the form of the 43 mm Kayaba upsidedown fork with a stroke of only 210 millimeters and a shock absorber from the same manufacturer with a stroke of 200 millimeters is not exactly equipped with the suspension reserves necessary for our range of applications. Although the fork already shone surprisingly well in the test, it is still imperative to make improvements. For our very special test program, significantly more will be necessary, which also applies to the shock, which feels too soft.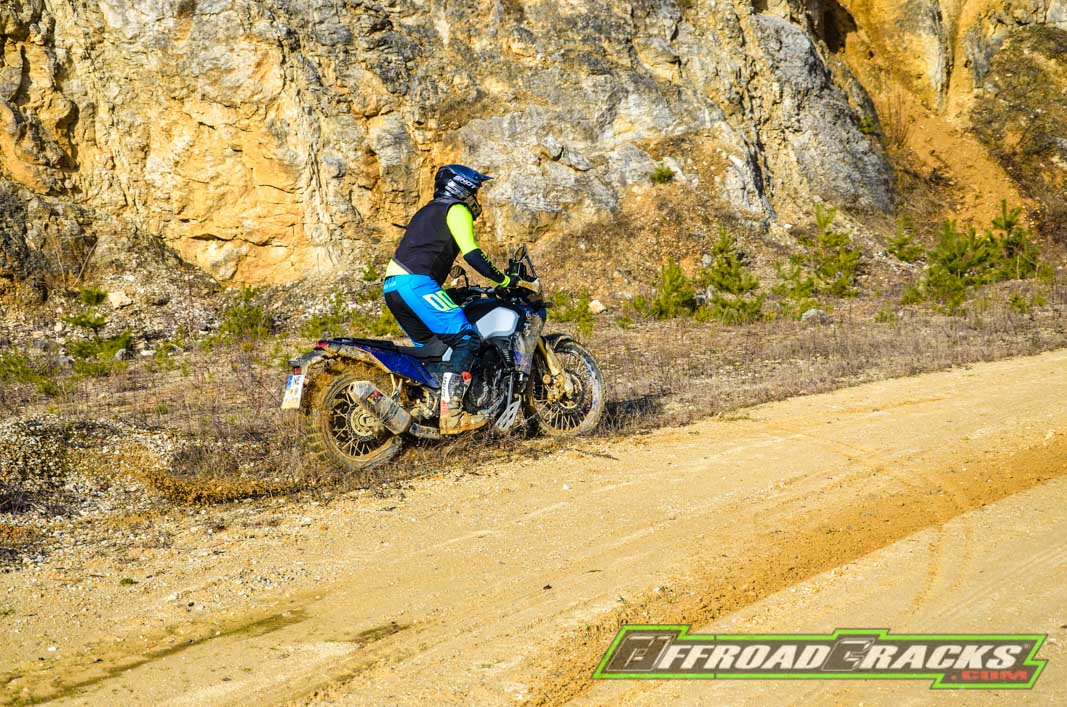 Impressive result after a decent jump with a hefty 200kg take-off weight
Do you always need the usual 300 millimeters of travel in the sports enduro category? In terms of setup, more hub logically offers a larger tuning range and thus the necessary reserves. Which is why we will first work with the OEM components in order to experience their maximum performance based on the adjusted spring rate and shim assignment.
If this does not work, further measures in the form of accessory shocks and separate cartridges for the fork are planned to see what the accessory industry reveals in this case for possibilities with added value.If that is still not enough – after all, we have more than 200 kilograms at the start – drastic measures in the form of a new fork with shock absorber are planned, which is associated with considerable additional effort, since components have to be specially manufactured for this – one after the other.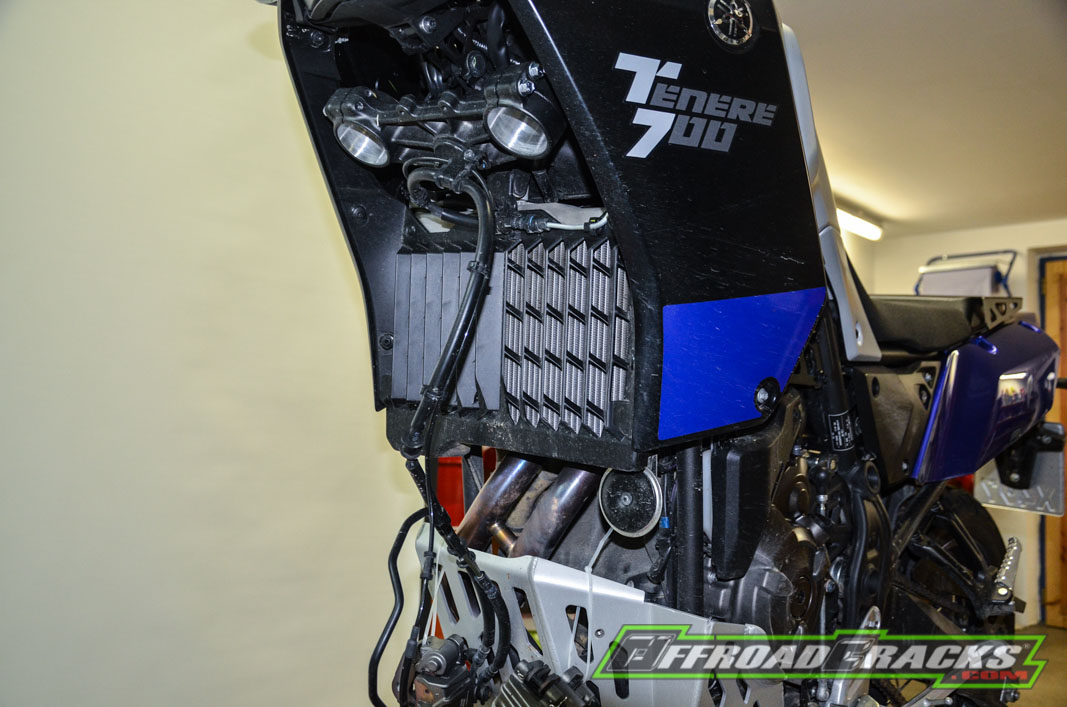 Disassembled fork
The change of the standard seat to the rally seat offered by Yamaha, which was already convincing at the world premiere in Spain, is absolutely essential. The topic of footrests is also intensively dealt with, since the oem versions for tough off-road use simply offer too little grip for the boots and clog too quickly in adverse conditions.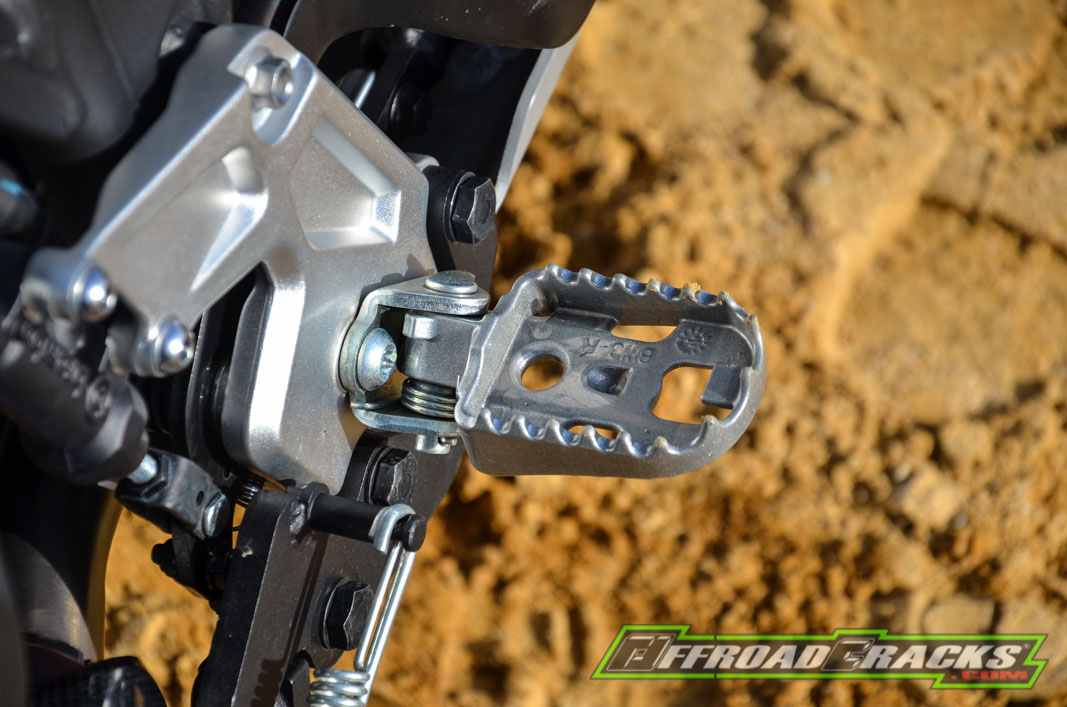 OEM footrests with rubber insert removed – too little grip and openings for hardcore use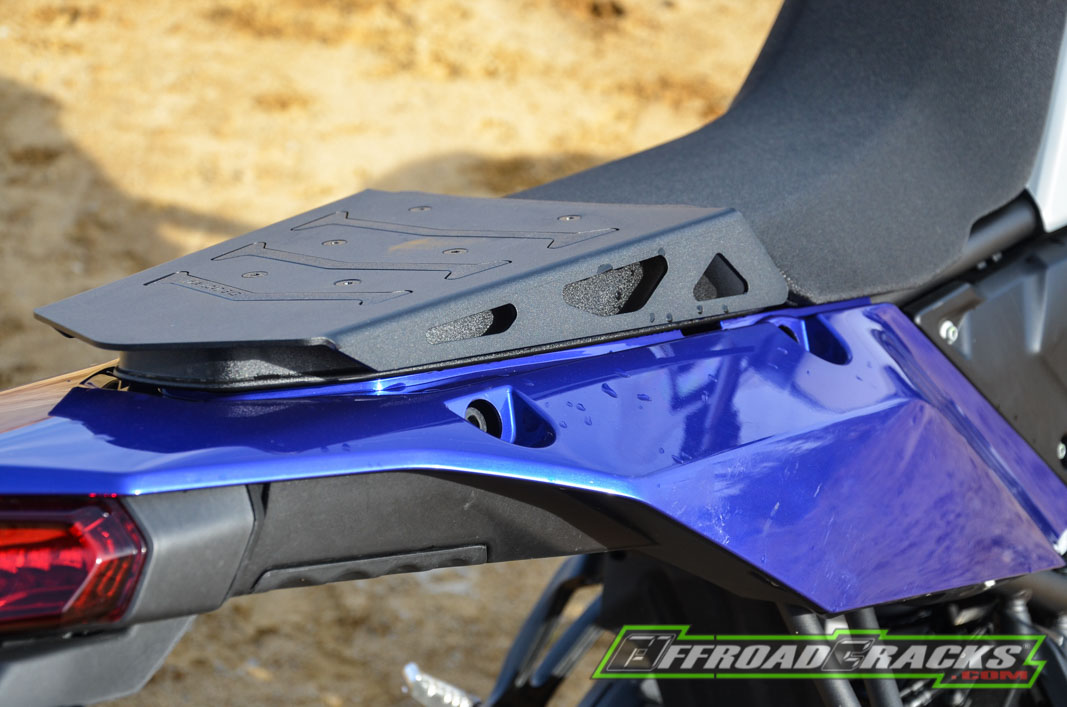 Here is the assembled single seat with luggage rack from the original Explorer equipment
We cannot say anything about the durability of the standard wheels, except that experience shows that they have an extremely high level of resistance in normal adventure use. For safety's, we will still use competition rims with reinforced spokes from SMPro Wheels from England.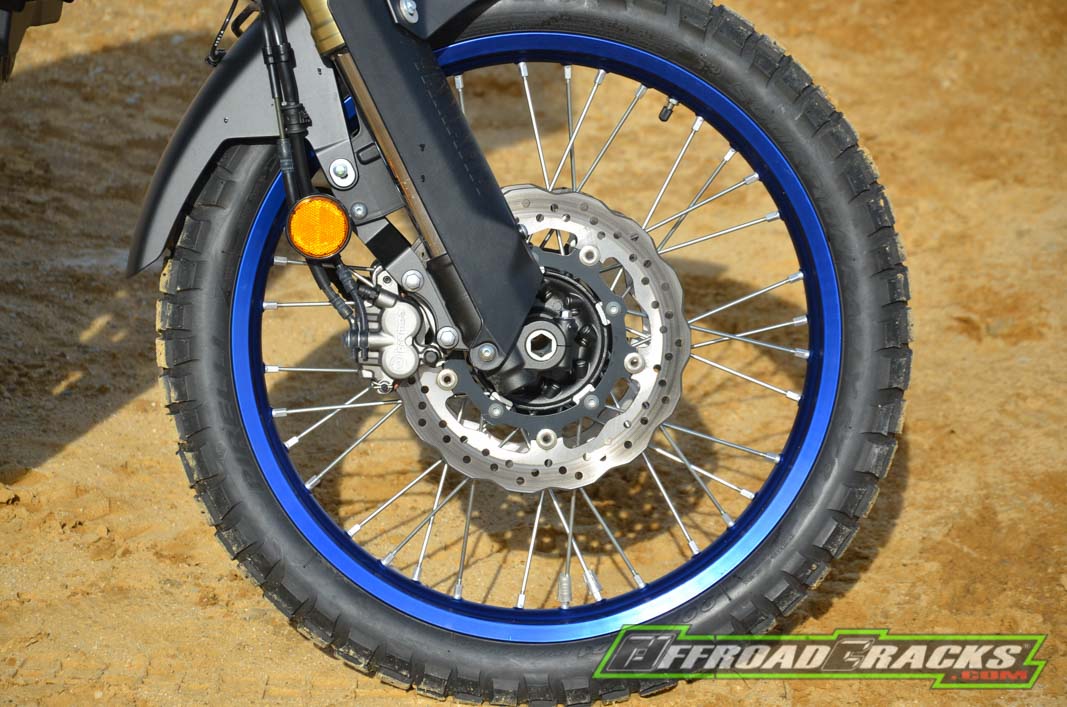 As far as secondary drive is concerned, Yamaha has done a good job because the first short gear is consistently suitable in technically demanding terrain and is actually pretty similar to a sports enduro in terms of the gear ratio. Of course, with the rest of the gearbox set-up, the top speed of 200km / h is possible on the road which we definitely do not need. Because the CP2 motor with its spontaneous drive and the large usable rev range provides plenty of power in all situations, so the question of a shorter gear ratio does not really arise. Because a shorter gear ratio means shifting earlier with the same driving style and speed, because in terms of time the maximum output is reached even earlier at the same speed and thus also favors wheelspin. It remains to be seen what the tests with classic offroad tires reveal.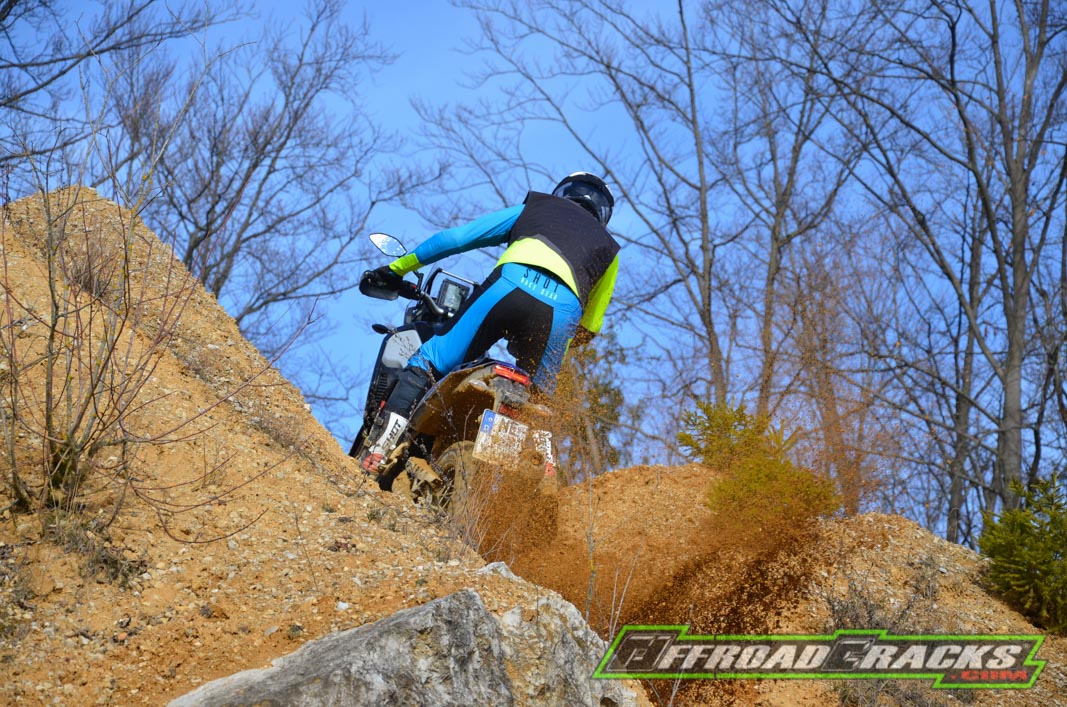 Another must with a starting weight of 200 kg is the use of mousse to avoid flat feet. In this case, it is of course necessary to find a suitable product, because the load due to the on average 70 percent higher weight than a sports enduro – we take an average of 120 kilograms – also causes a higher load than usual and inevitable for premature wear will worry.
The topic of steering dampers will not be ignored either, despite the excellent straight running. Some components have to be made for this, but will be reported in detail later. The situation is similar in the case of the navigation devices required for the rally, such as GPS, Roadbook, Tripmaster and Sentinel. Here the navigation tower has to be adapted, which we want to implement without changing the original cladding, which will prove to be one of the most difficult points in the implementation. If necessary, all that is left is to reach for a classic plexiglass panel and separate lighting unit.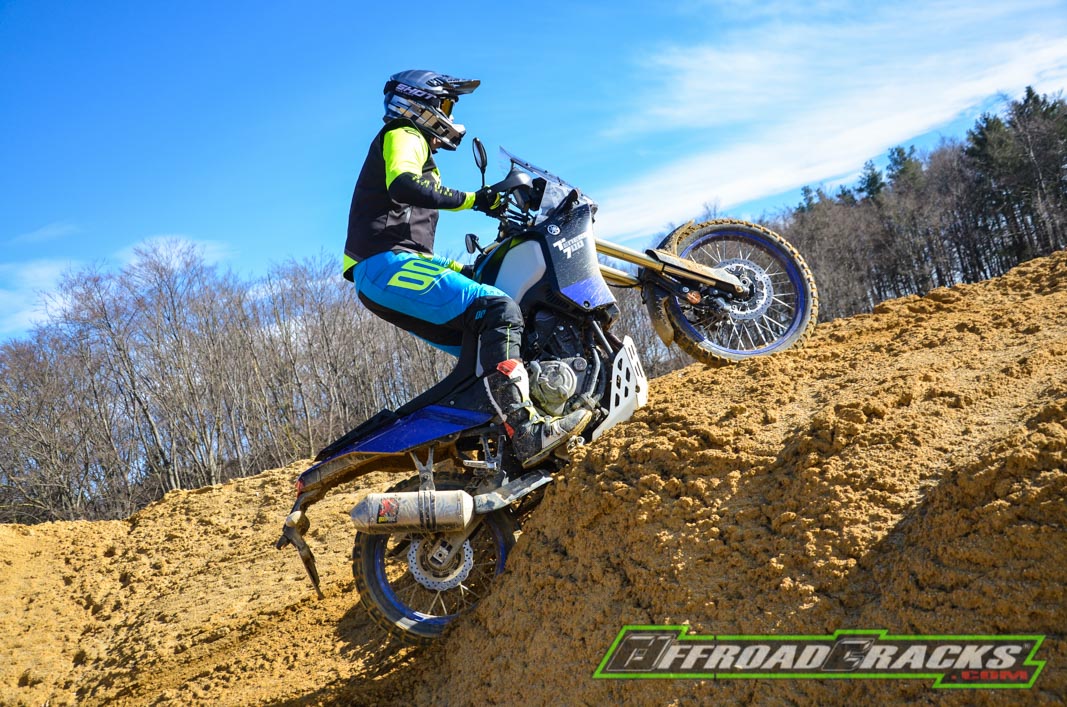 A must is of course an adequate soundscape, which in this case is realized by an Akrapovic titanium slip-on muffler, which also has road approval and immediately reduces the takeoff weight of the T7 by 2.3 kilograms. This is also an important aspect, because the weight reduction with this starting weight is of course also the focus of our modifications.
It has to be checked whether the Akrapovic slip-on silencer meets the promised performance increase of the manufacturer – 2.3 HP and 2.3 newtonmeters for torque. Before that, however, an input measurement was carried out on the test bench in order to record the actual state, which is shown in the adjacent graphic! Of course, we will also check what is still possible in terms of performance, even if the 73.4 hp maximum off-road performance is from our point of view completely sufficient, as the practical test has shown. We primarily aim to increase the torque, which logically also involves a change in the power curve, for which we still have a few hot irons in hand.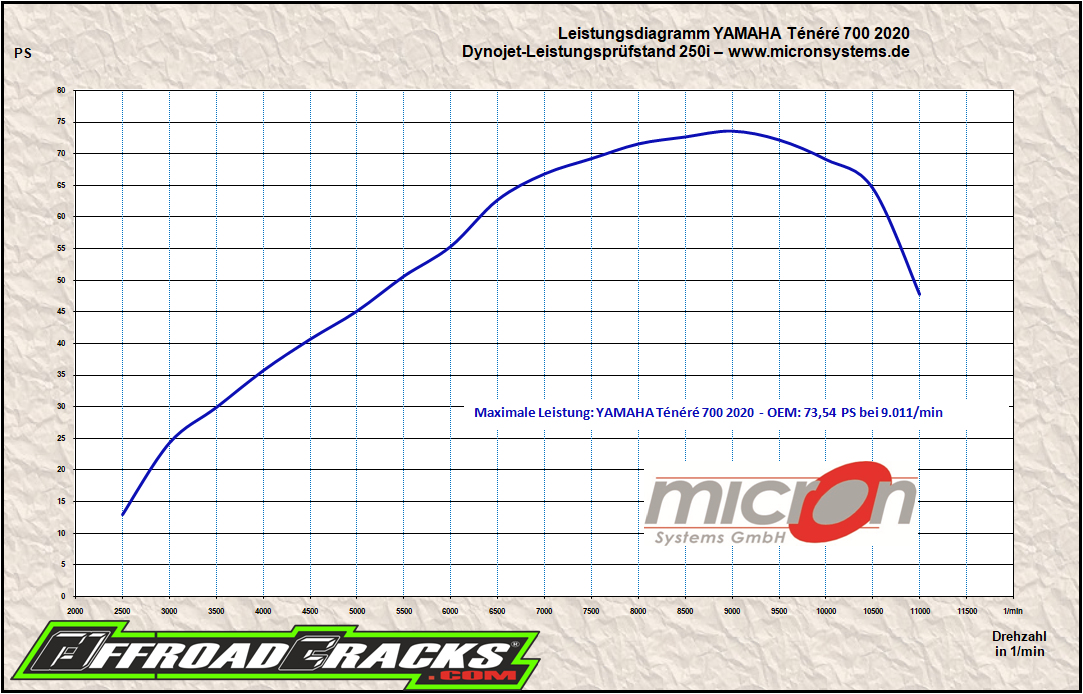 Performance test – dynometer
---
NOTE: When you click on the video, you establish a connection to YouTube / Google automatically, which can result in an undesired personal data exchange. Further information at: www.google.de/privacy
---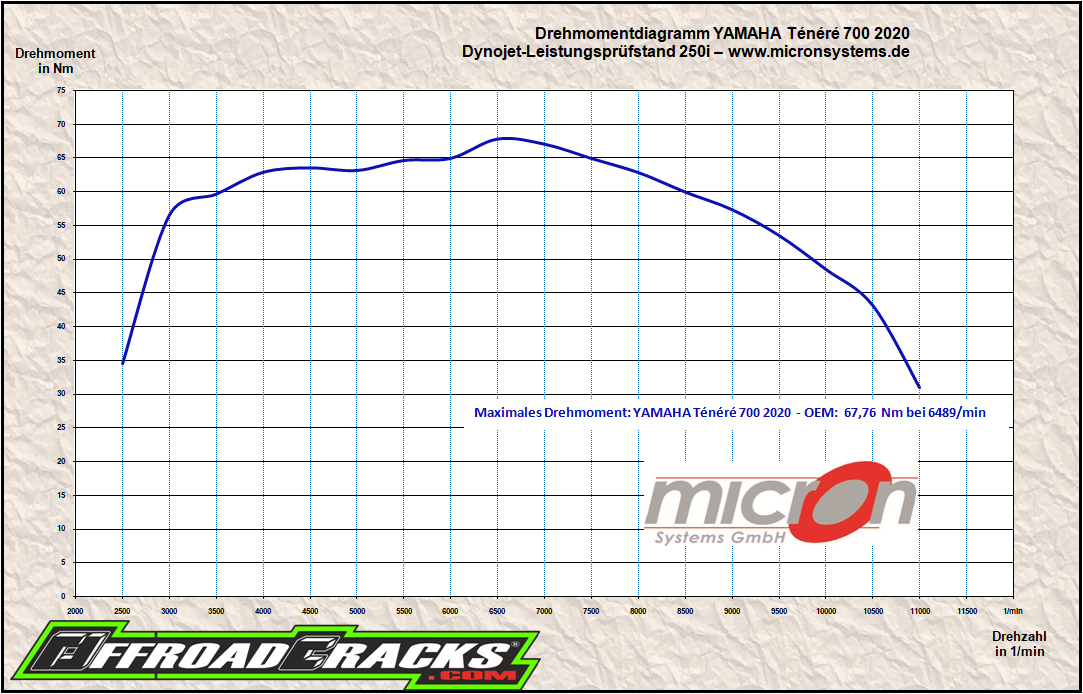 Unfortunately, due to the Covid-19 pandemic, there have been some delays, so that of course many of the planned measures will be massively delayed due to the lock-down and temporary closings of Europe-wide industry and thus also of our partners. That is why there will not be a rally in 2020 as planned, but in March 2021 in the form of the Fenix ​​rally in Tunisia, the Baja Poland and the legendary rally Breslau, so that we can now work diligently on the setup and other modifications which will be worked out.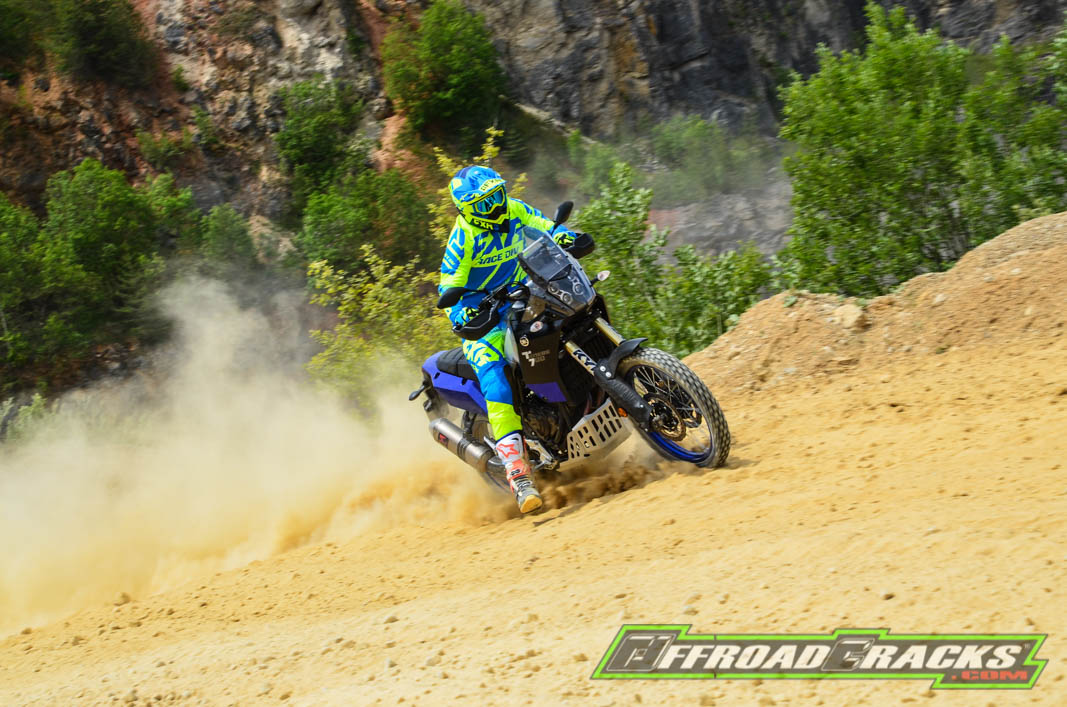 New tires, new luck
The original tires, which have already been used extensively and are blessed with an astonishing performance, despite the comparatively simple tread structure, are being replaced by the Michelin Anakee Wild pair of tires with a noticeable block tread pattern, which is primarily intended to increase the lateral support required on the terrain. This means that the Pirelli Scorpion Rally STR has to clear the field for the time being and will be replaced by a 90 / 90-21 54 at the front and a 150/70 R18 70R at the rear in radial design, which is advertised by Michelin with the following principle: Leave the beaten path with Michelin Anakee Wild! That means so much that you should open up new paths with this tire and be able to rely on a long service life with off-road traction, grip on the road and precise steering behavior as well as good tracking and durability off-road. In summary, this should probably mean that it should be the the best alternative for everybody.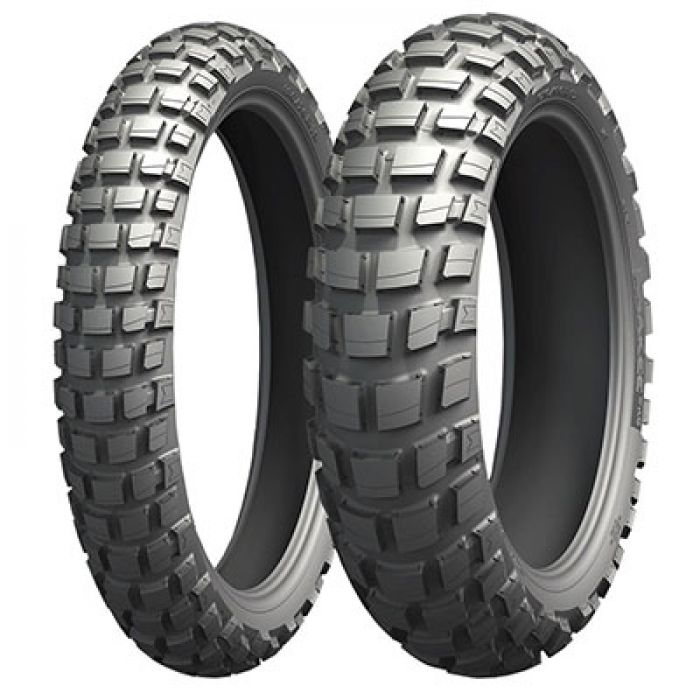 We also wanted to know exactly what the standard suspension components in the form of the 43s upside-down Kayaba fork and the shock absorber are capable of, so that they were revised by the suspension specialist Technical Touch in Belgium, as already mentioned at the beginning. In the case of the fork, a completely new shim setup was installed and the dimensions of a slide ring changed in order to increase the necessary tightness and puncture resistance. That means the oil flow was reduced by less flexible shims, which also affects the flow rate. The spring rate remained unchanged and only the total amount of oil was reduced somewhat. The situation with the shock absorber is similar, but here one has focused on a sustainable shim change. What does that mean as a result?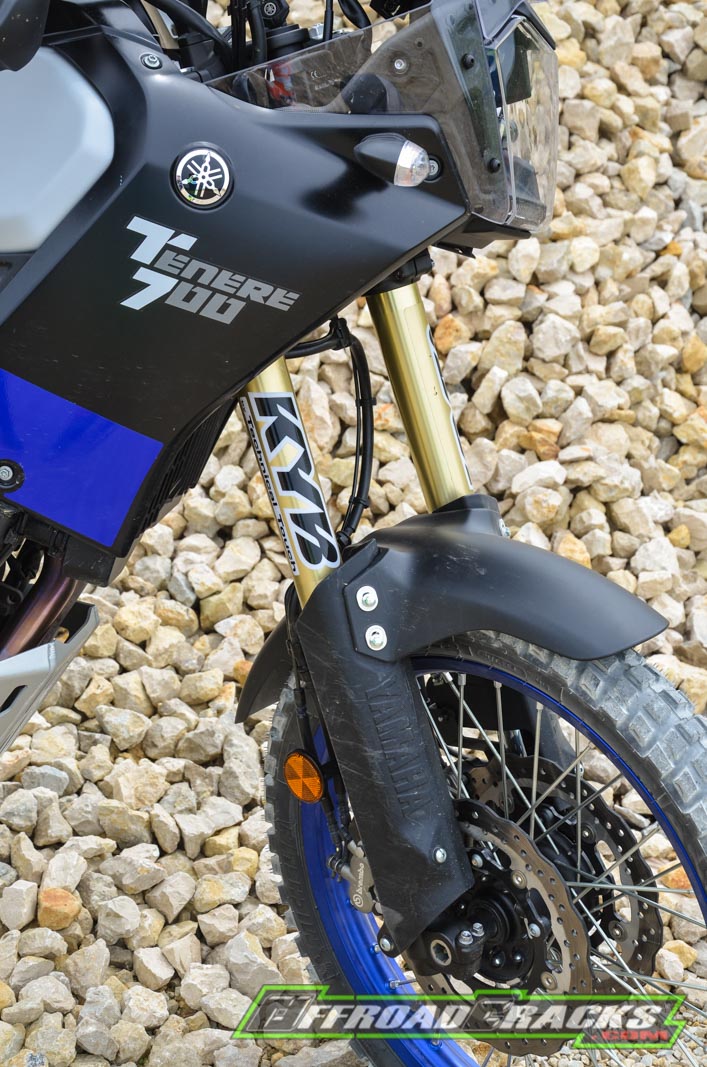 New fork setup with optimized performance!
When the hydraulic spring preload is fully utilized, the rear frame is now significantly higher and sinks less deeply when the vehicle is charged by its own vehicle weight plus driver, than in standard condition.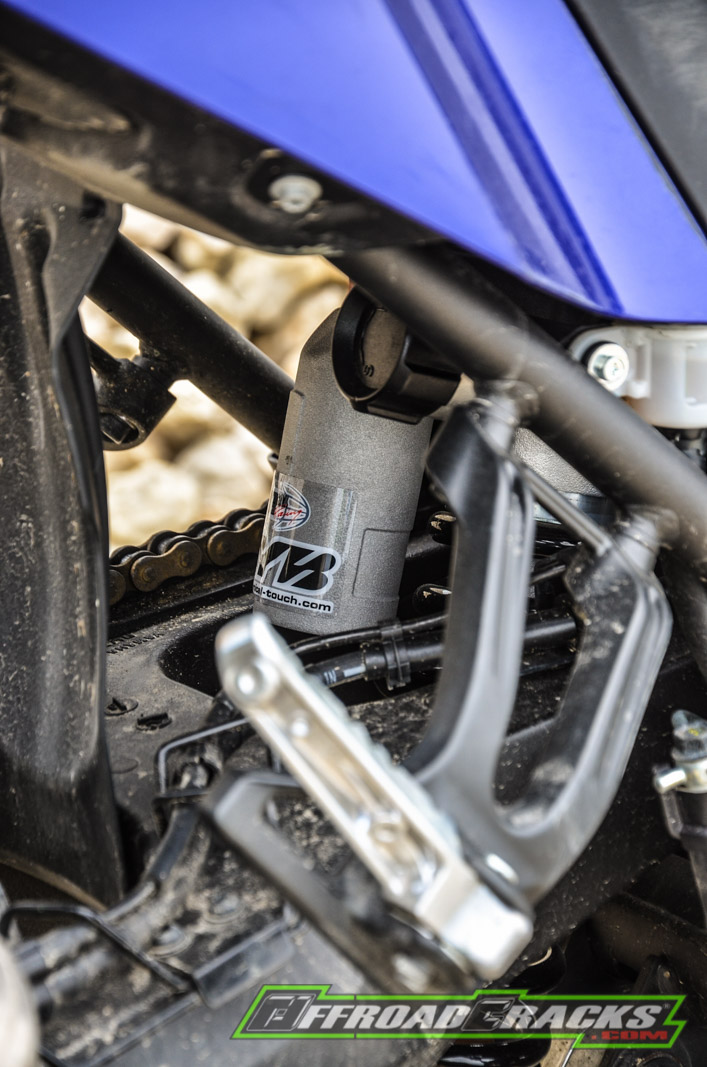 The degree of damping on the fork and damper is also noticeably tighter and the puncture resistance has been significantly increased, as the adjacent jump proves – see above! Even the classic drift, which is already conspicuously easy with the T7, is now even safer, so that there are hardly any limits to the play instinct with a mass of just under 200kg.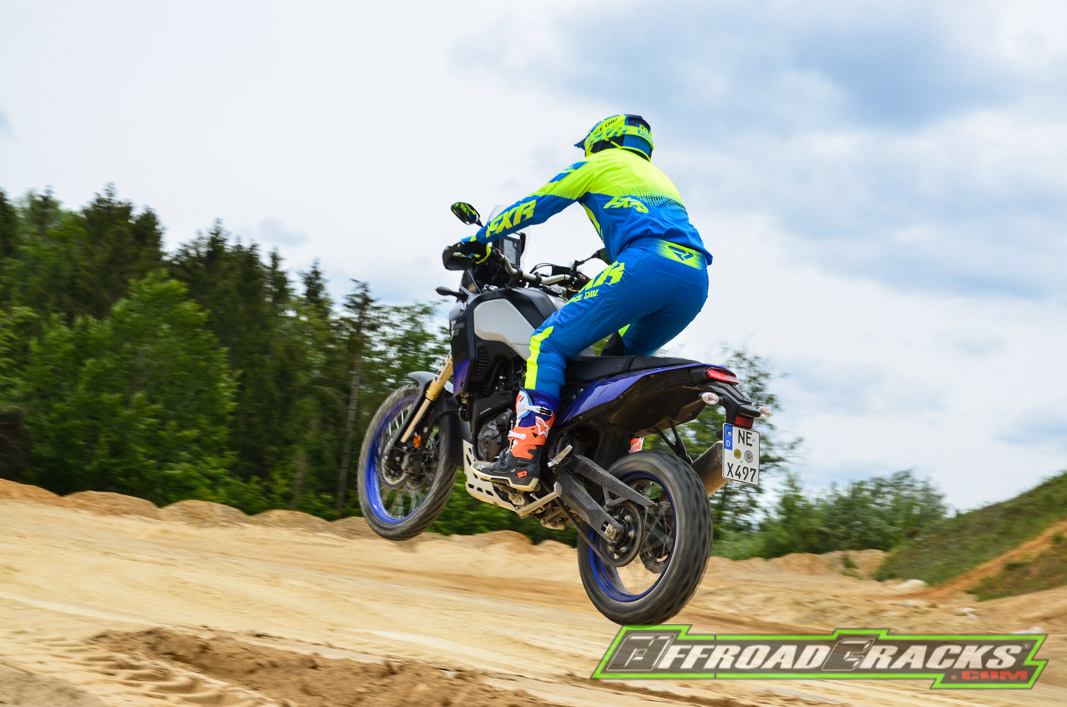 Yes, the Tenere can fly now without reaching the limits of the suspension components!
The one-piece Yamaha rally seat is used for an optimal seating position, which at the same time replaces the one-man seat plate and luggage rack of the Explorer model. Since it also increases the seat height by approximately 35 millimeters, it is the first choice for tall and comfort-spoiled riders. For rally use, the seating is recommended without any criticism, as this increases the knee angle and also allows the T7 to be clamped and guided better between the knees standing on the footrests. In terms of processing technology, it is top-notch and even holds a strap for passenger operation, including cross-slats that increase the grip on the seat surface.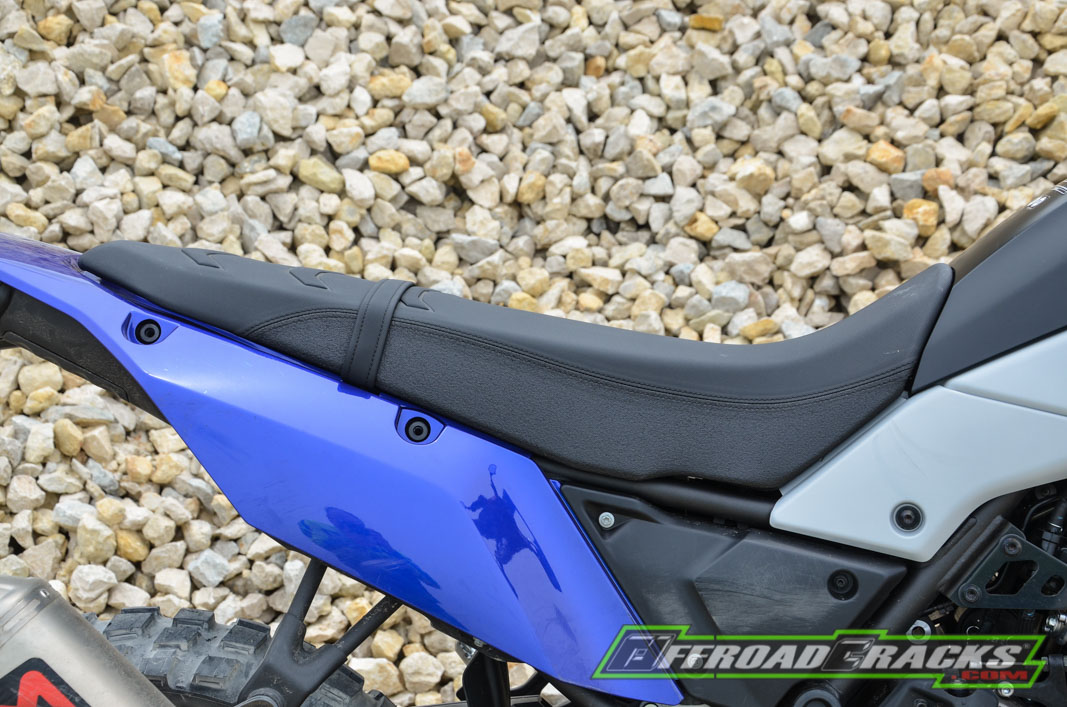 Significantly higher than the original seat of the Explorer version and blessed with noticeably more comfort
All in all, driver confidence with the Ténéré increases sustainably, so that the speed off-road increases steadily. This also takes its toll, if you want to follow the classic enduro paths at the same pace as a sports enduro, because then the existing extra weight over the front wheel becomes apparent relatively quickly and lets the euphoric driver take a soil test due to lack of grip. Since this was only the case once on sandy ground, this slip will get little attention, so that the pace remains remarkably high.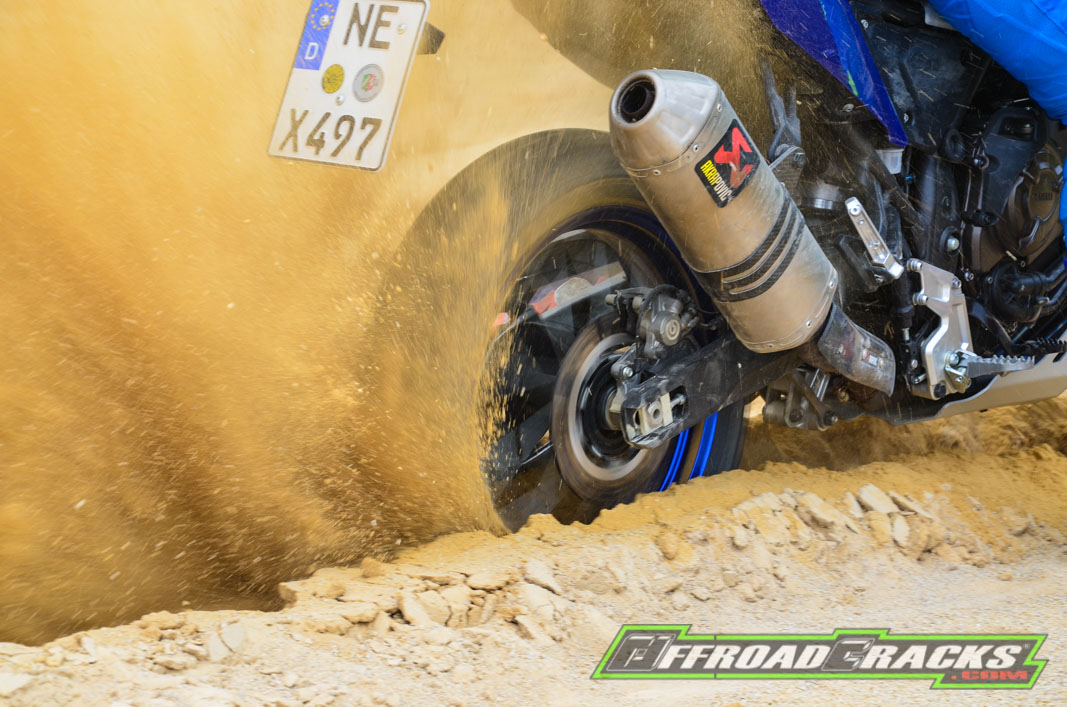 Back to the Michelin Anakee Wild, which is a successful off-road solution, if you do not want to convert the OEM wheelset. Its striking block profile in the well-known cleat design offers significantly more clearance than any profile for adventure bikes of this type and their tire sizes. This means more traction due to deeper intervention in the ground, improved self-cleaning, which largely prevents clogging of the profile and, for mixed operation – also on the road – an increased background noise.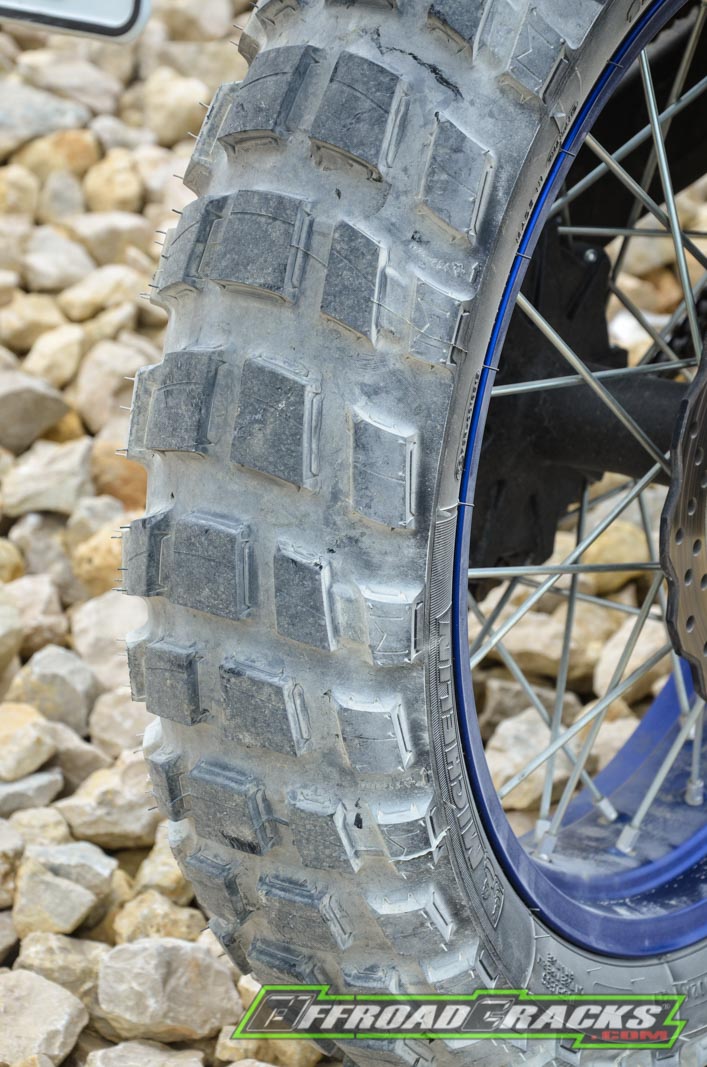 Striking cleat profile for the necessary off-road traction
The first step is on public roads to the targeted test area. From as little as 90 km/h, which is a well-known threshold for unbalance behavior and the background noise of a tire, the Anakee Wild is slowly making itself heard as expected and announces that it was carved for coarser things. The grip level is surprisingly high in an inclined position and at full throttle orgies, but we don't want to ruin the fresh cleat edge on firm ground and take it a bit more leisurely, because off-road use counts for us.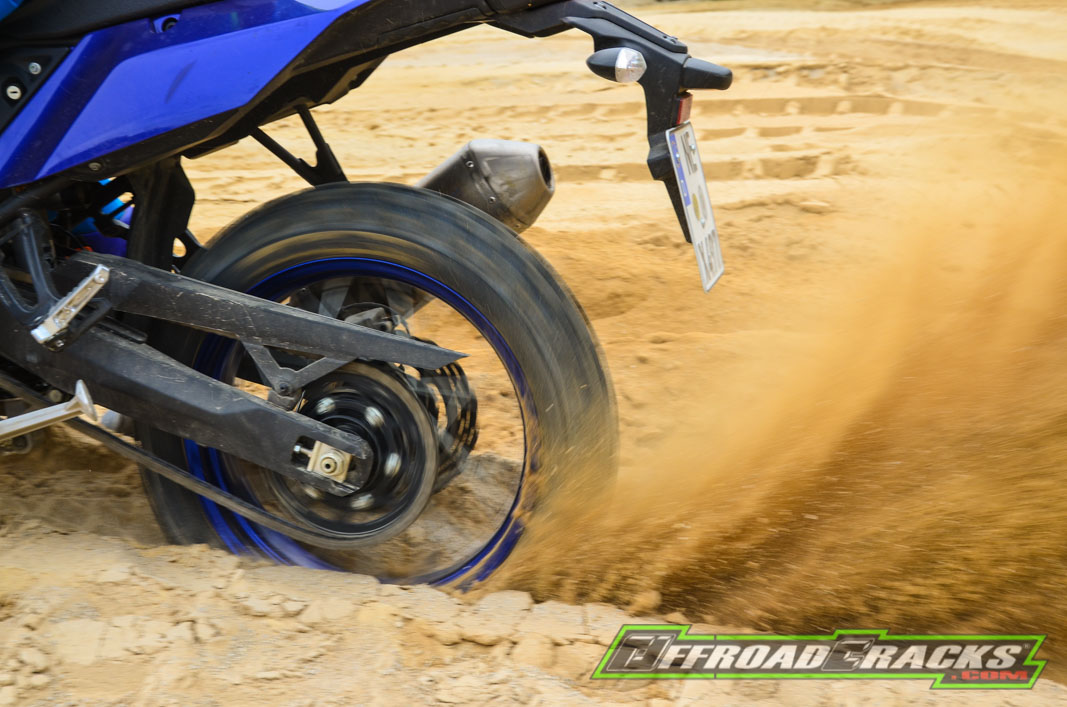 Second gear and the mighty cleat reach into the soft ground and ensure a boost with a meter-high rear fountain. Here the high vehicle weight favors traction and provides surprisingly good propulsion. The drift behavior is also astonishing, since the front wheel now holds the targeted line much better and bites into the ground, which gives the driver significantly more safety with a mass of 200 kilograms. Even high-speed passages in an inclined position are easily possible, because the feeling for the necessary grip is there and the limit area can be felt early on.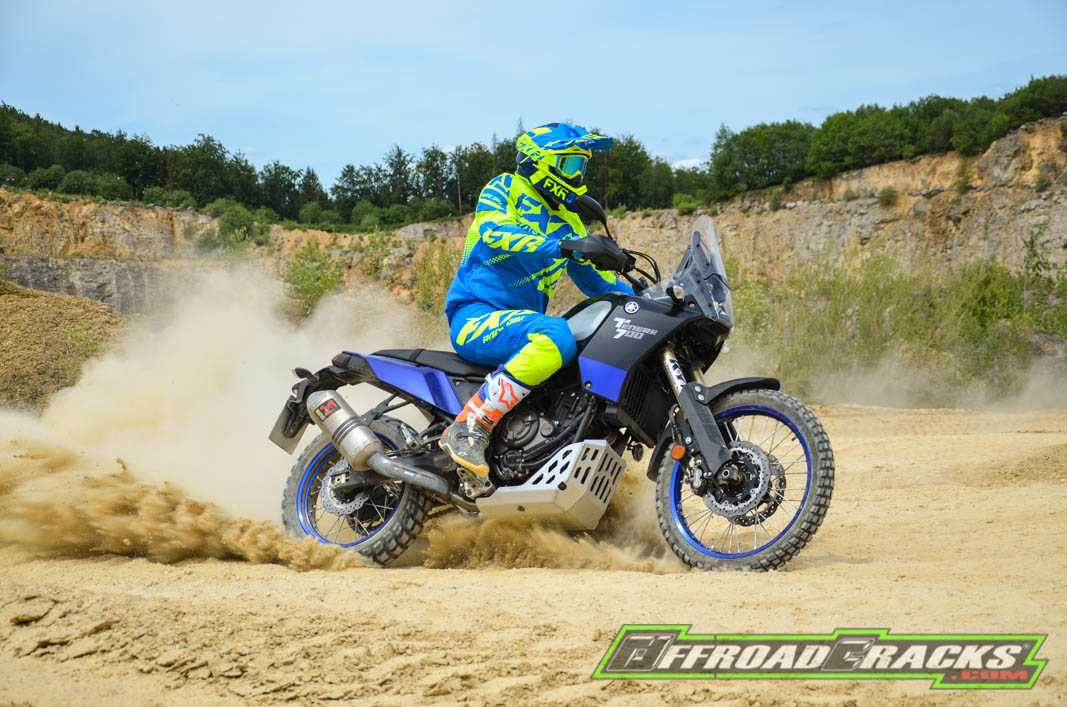 Overall, we got a significant increase in performance off-road with this tire, which was not really expected to this extent. Therefore, it means full points for the Anakee Wild, which we can fully recommend for off-road use. What this tire does on wet roads or how it behaves in the long-term view would have to be tested separately, but this is less interesting for our use and is therefore not taken into account.
It continues with the performance optimization in different stages, which leads to different optimizations and brings with it the obligatory proof on the dynamometer. Of course, the theme of rally decor is also dealt with in the background – more on this in part 3 of our endurance test.
Attached accessories
• Akrapovic Titan Slip-On muffler, Yamaha 850 Euros – LINK
• Dynometer test, Micronsystems from 59 Euros – LINK
• Rallye seat, Yamaha 382 Euros – LINK
• New Suspension setup, Technical Touch 333,20 Euros – LINK
• Back tyre Ankaee Wild 150/70 R17 69R, Michelin from 105 Euro – LINK
• Front tyre Ankaee Wild 90/90 R21 54R, Michelin from 65 Euro – LINK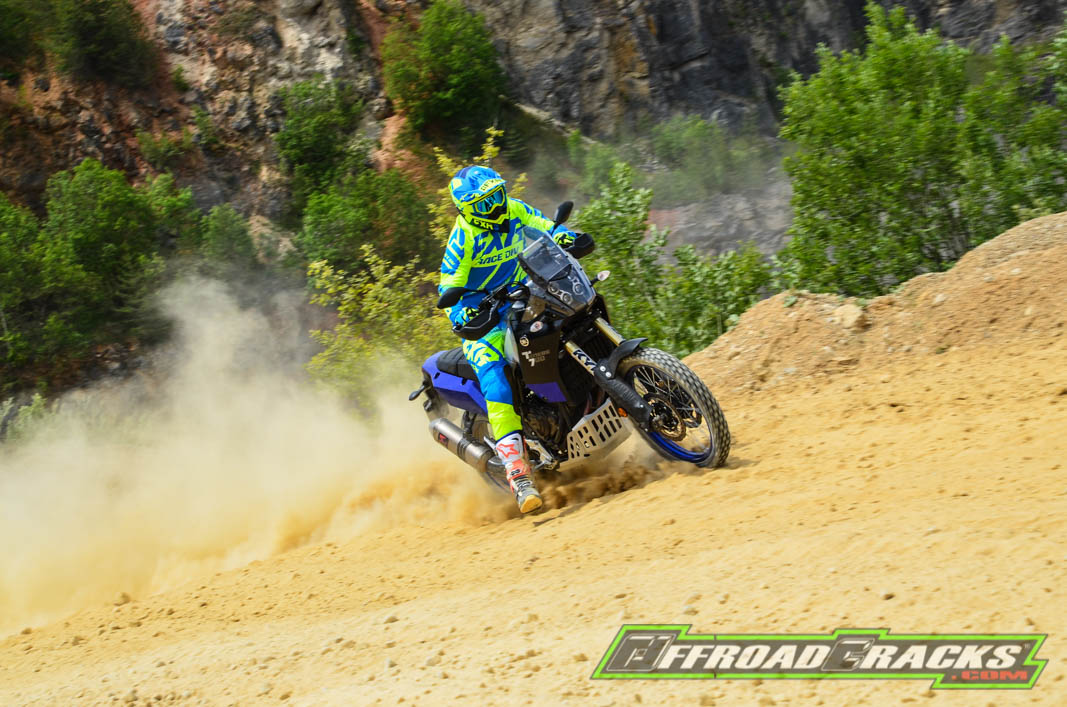 Hard ground with a sandy surface and so much power and torque require caution
 More information at: www.Yamaha-Motor.eu/de
Images: OFFROADCRACKS.com
Gear & protection:FXR RACING, ALPINESTARS, ORTEMA, YAMIBRACE
Vehicle preperation: OFFROADCRACKS.com
"We say thank you for the professional cooperation with…
…Yamaha Deutschland, FXR Racing, Alpinestars, Ortema…
…Yamibrace and Micronsystems."