DAY 1 – HARDENDURO-WM 2023: Lettenibichler ist zurück!
Regengüsse, Matsch und rutschige Felspassagen sorgten für maximalen Schwierigkeitsgrad am ersten Tag der Xross Hardenduro Rally in Serbien. Das bedeutet für die Teilnehmer einen knüppelharten Einstieg in die Hardenduro Weltmeisterschaft 2023.
Nach der Action beim gestrigen AKRAPOVIC-Prolog in Zlatibor, ging es endlich zur Sache. Denn es lagen gut 100 Kilometer vor den Teilnehmern. Dass dies kein einfacher Tag werden würde war sofort klar, nachdem der Himmel seine Schleusen geöffnet hatte.
Mit seinem Sieg im gestrigen Prolog war Billy Bolt von Husqvarna Factory Racing von Anfang an super schnell unterwegs und führte den ersten Zeitsektor wie erwartet an. Jedoch war der Abstand zum Verfolger Manuel Lettenbichler mit nur zwei Sekunden dahinter nicht wirklich groß. Dann machte unser Deutsches Super-Talent kurzen Prozess und ging mit der schnellsten Zeit im zweiten Sektor in Führung.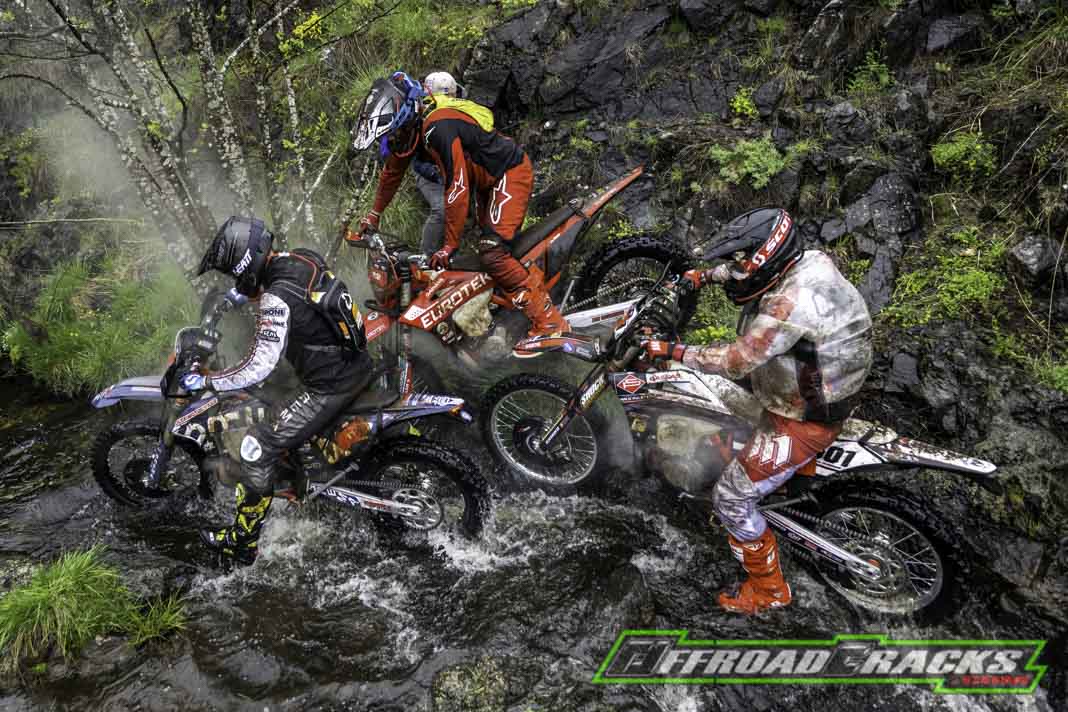 Mani baute diesen Vorsprung im dritten gezeiteten Sektor auf fast zwei Minuten aus und war eindeutig in seinem Element. Am Kontrollpunkt Nummer fünf sollte der längste gezeitete Abschnitt folgen. Manuel Lettenbichler passierte diesen unter der Ein-Stunden-Marke und setzte sich damit deutlich von seinen Konkurrenten ab. Letztendlich hatte er einen beeindruckenden Vorsprung von satten 13 Minuten an diesem Tag herausgefahren.
Hinter Lettenbichler änderte sich nach dem siebten Sektor nahezu alles. Ein Navigationsfehler von Billy Bolt warf ihn zwangsläufig aus dem Rennen an der Spitze. so dass Mario Roman von Sherco Factory Racing der Weg auf den zwei Platz frei war. Dabei blieb der Spanier auf seiner Sherco den Rest des Tages fehlerfrei und wurde für seine Bemühungen mit einem zweiten Platz belohnt.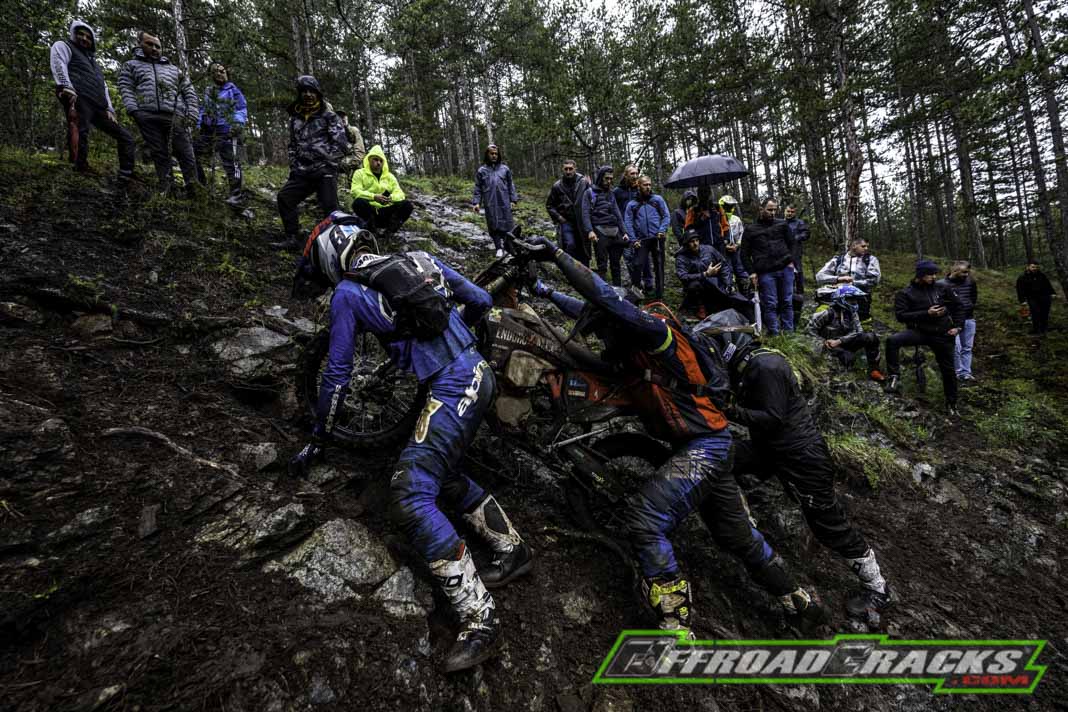 Der Kampf um den dritten Platz zwischen Teodor Kabakchiev von ECONT Bulgaria, Michael Walkner von GASGAS und Graham Jarvis von Jarvis Magpul Racing war wie ein Krimi und es wurde um jeden Meter gekämpft. Am Ende setzte sich Kabakchiev nach über vier Stunden Rennzeit mit nur 30 Sekunden vor Walkner durch und belegte damit den dritten Platz. Während Walkner sich am ersten Offroad-Tag mit dem vierten Platz begnügen musste, komplettierte Jarvis die Top Fünf – was für eine Leistung des Engländers.
VIDEO HIGHLIGHTS
Mitch Brightmore (GASGAS) von der TTR Squadra Corse beeindruckte unter den schwierigen Bedingungen und war der Beste der von KLIM unterstützten Junioren. Da der Brite heute den 10. Gesamtrang belegte, hat er nun einen Vorsprung von fast 10 Minuten auf Matthew Green von Rigo Racing. Der Spanier Marc Fernandez (KTM) liegt auf dem dritten Gesamtrang.
Manuel Lettenbichler (KTM): "Ich bin mit diesem Start in die Saison äußerst zufrieden. Ich habe einen guten Tag hingelegt, obwohl es mir schwerfiel, bequem durch die Flussbetten zu fahren. Manchmal rutschte ich weg und es war wie auf Eis. Nach den technischen Abschnitten war es cool, zum Abschluss des Tages noch einen vollgasigen Schotterabschnitt zu haben."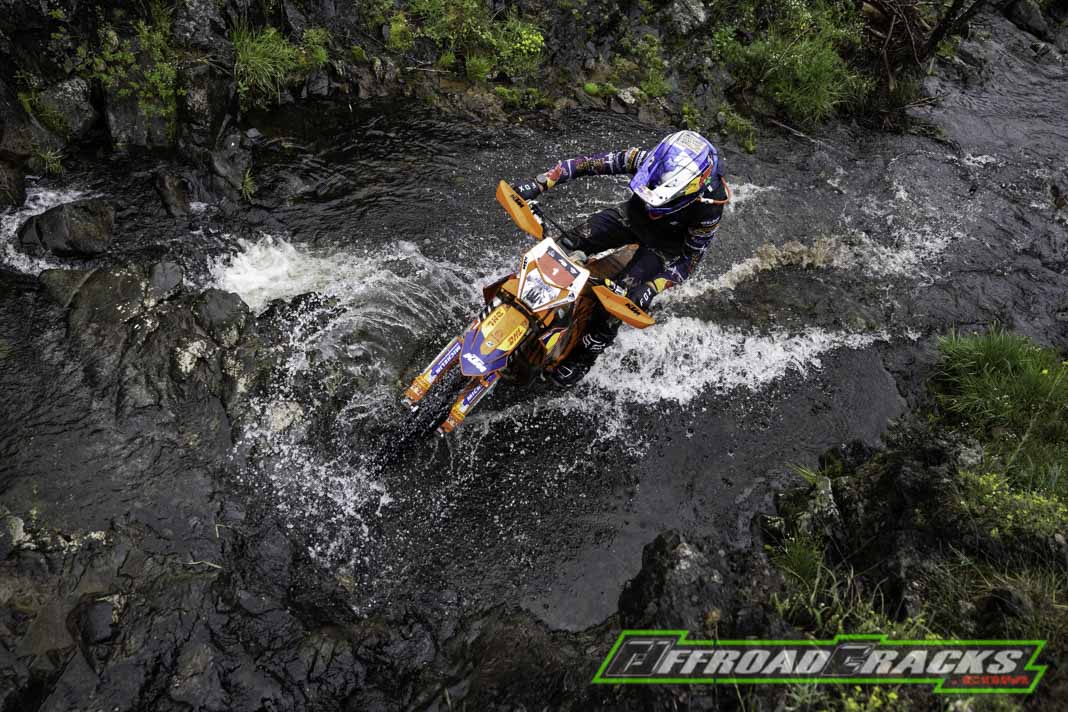 Mario Roman (Sherco): "Es war trotz der nassen und schlammigen Bedingungen ein wirklich guter Tag. Ich hatte das Gefühl, dass mein Tempo hoch war und dass ich auf dem rutschigen Gelände viel Spaß hatte. Natürlich liegt noch ein langer Weg vor uns, aber ich werde weiter Druck machen."
Michael Walkner (GASGAS): "Nach dem Servicepunkt ist mir die Hinterradbremse kaputt gegangen, was das Fahren erschwert hat. Ich musste in den Abfahrten sehr vorsichtig sein und verlor einen Teil der Zeit, die ich am Morgen herausgefahren hatte. Trotzdem bin ich froh, heute mit einer starken Platzierung ins Ziel gekommen zu sein. Morgen wird weiter gekämpft!"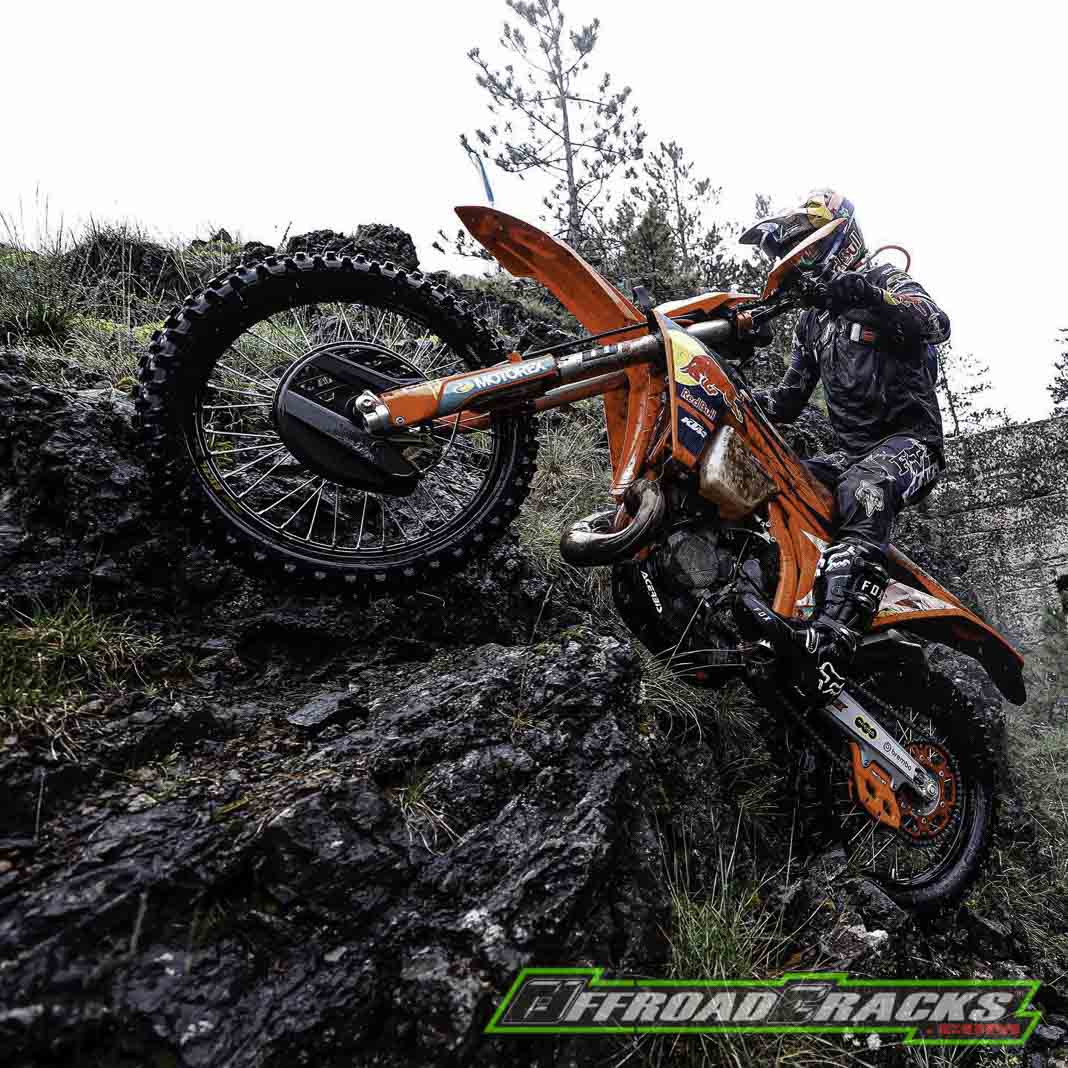 Ergebnisse: Runde 1 – Xross Hard Enduro Rally DAY 1
Manuel Lettenbichler (KTM) 3:56:01,44
Mario Roman (Sherco) 4:08:48,09
Teodor Kabakchiev (KTM) 4:15:29,44
Michael Walkner (GASGAS) 4:16:01,59
Graham Jarvis (Husqvarna) 4:17:27,35
Trystan Hart (KTM) 4:20:07,84
David Cyprian (KTM) 4:25:15,11
Will Hoare (GASGAS) 4:26:43,49
Dominik Olszowy (GASGAS) 4:33:20,85
Billy Bolt (Husqvarna) 4:33:39,81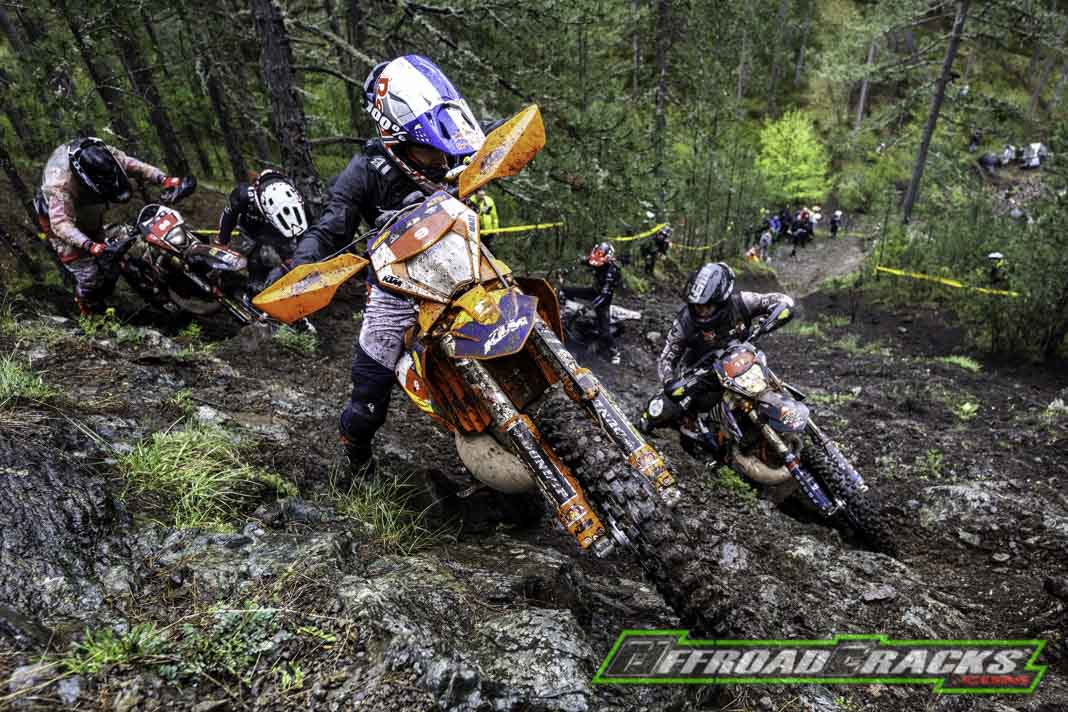 Gesamtergebnisse (nach Tag 1 + Prolog)
Manuel Lettenbichler (KTM) 3:59:01,44
Mario Roman (Sherco) 4:15:18,09
Michael Walkner (GASGAS) 4:21:46,59
Trystan Hart (KTM) 4:22:07,84
Teodor Kabakchiev (KTM) 4:22:07,84
Graham Jarvis (Husqvarna) 4:24:27,35
Will Hoare (GASGAS) 4:31:43,49
David Cyprian (KTM) 4:32:15,11
Billy Bolt (Husqvarna) 4:33:39,81
Dominik Olszowy (GASGAS) 4:37:20,85
Xross Hardenduro Rally 2023
2023 FIM Hardenduro World Championship
Round 1: Xross, Serbia – May 17/18/19/20 *
Round 2: Red Bull Erzbergrodeo, Austria – June 8/9/10/11 *
Round 3: Red Bull Abestone, Italy – July 7/8/9 *
Round 4: Red Bull Romaniacs, Romania – July 25/26/27/28/29
Round 5: Red Bull Outliers, Canada – August 26/27
Round 6: 24MX Hixpania Hard Enduro, Spain – October 13/14/15
Round 7: 24MX GetzenRodeo, Germany – November 3/4 *
* FIM Hard Enduro Junior World Championship supported by KLIM – Camp
---

DAY 1 – HARDENDURO-WM 2023: Lettenbichler is back!
After the excitement of yesterday's AKRAPOVIC Prologue in Zlatibor, Serbia, the opening round of the FIM Hard Enduro World Championship got down to business at Xross Hard Enduro Rally with competitors facing a 100-kilometre-long day of racing. Wet and rainy weather conditions were the order of the day. With nowhere to hide from the mud, it was a true-to-form tough day in the saddle for the world's best Hard Enduro riders.
With his win in yesterday's prologue, Husqvarna Factory Racing's Billy Bolt was fast from the off and duly topped the opening timed sector. It wasn't by much though, with Red Bull KTM Factory Racing's Manuel Lettenbichler just two seconds behind in second. Lettenbichler took over the race lead with the fastest time on the second timed sector.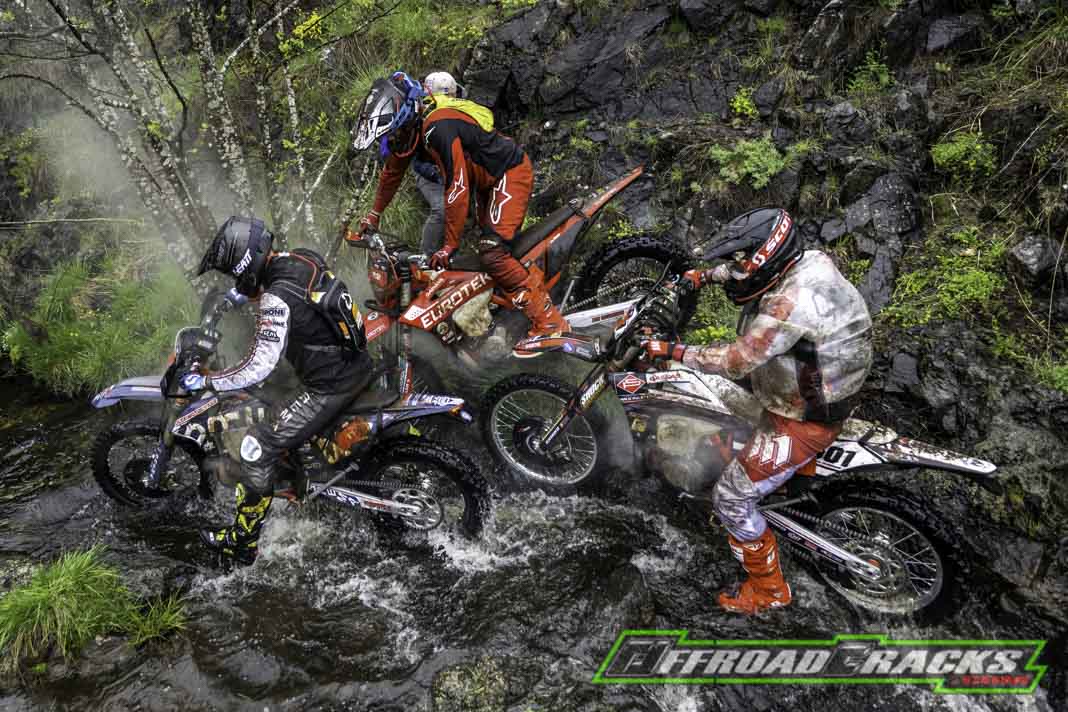 Increasing that advantage by nearly two minutes on the third timed sector, Lettenbichler was clearly in his element. With the day's longest sector coming at checkpoint five, the KTM rider dipped inside the one-hour mark to pull away from his rivals. Pushing on he eventually topped the day by almost 13 minutes.
Behind Lettenbichler, it was all change after the seventh timed sector. A navigation error by Bolt dropped him out of the running for second and opened the door for Sherco Factory Racing's Mario Roman to capitalise. Mistake-free for the remainder of the day, Roman was rewarded with a runner-up result for his efforts.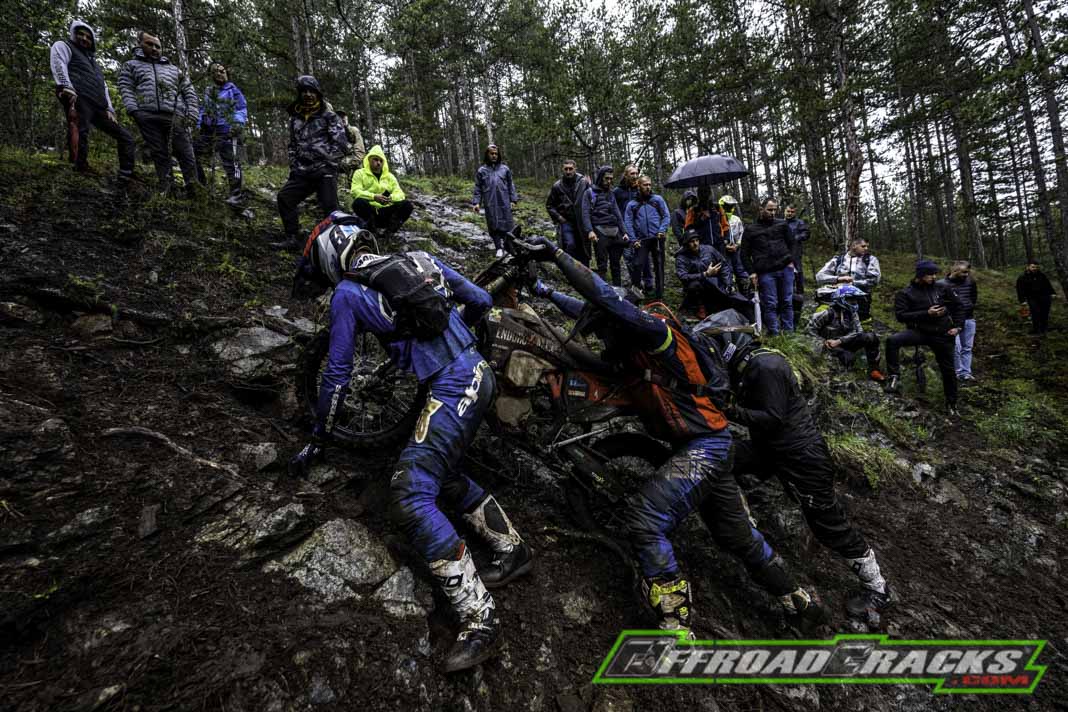 The battle for third was tight between ECONT Bulgaria's Teodor Kabakchiev, GASGAS' Michael Walkner, and Jarvis Magpul Racing's Graham Jarvis. In the end, Kabakchiev edged out Walkner by just 30 seconds following over four hours of timed racing to take third. With Walkner having to settle for fourth on offroad day one, Jarvis completed the top five.
VIDEO HIGHLIGHTS
Impressing in the difficult conditions, TTR Squadra Corse's Mitch Brightmore (GASGAS) was best of the FIM Hard Enduro Junior World Championship supported by KLIM riders. With the Brit finishing 10th overall today, he holds an almost 10 minute lead over Rigo Racing's Matthew Green. Spain's Marc Fernandez (KTM) lies third overall.
Manuel Lettenbichler (KTM): "I'm happy with that start. I put in a solid day, although I was struggling to ride the riverbeds comfortably. At times I was slipping and sliding about. After the technical sections, it was cool to have a full gas gravel section to sign off the day."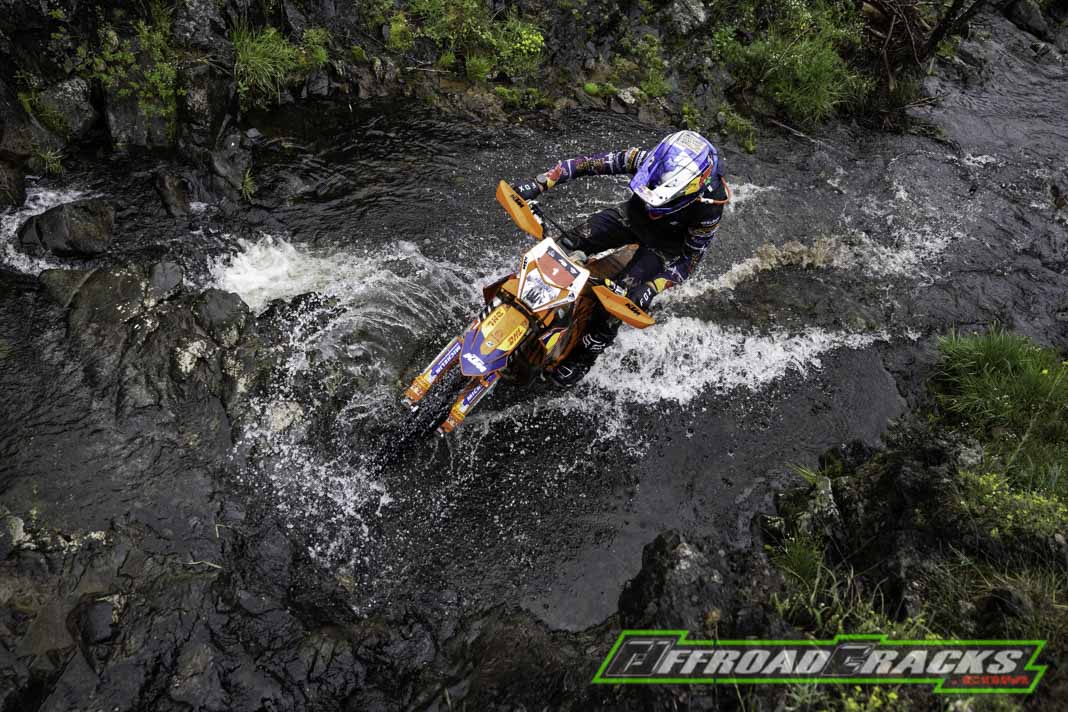 Mario Roman (Sherco): "It's been a really good day despite the wet and muddy conditions. I felt my pace was strong and I was having a lot of fun in the slippery terrain. Of course, there's still a long way to go, but I'll keep pushing."
Michael Walkner (GASGAS): "After the service point, I broke my rear brake and that made it tough to ride. I had to be super careful in the downhills and lost some of the time I had gained in the morning. Despite that I'm happy to be home today in a strong position and will fight again tomorrow!"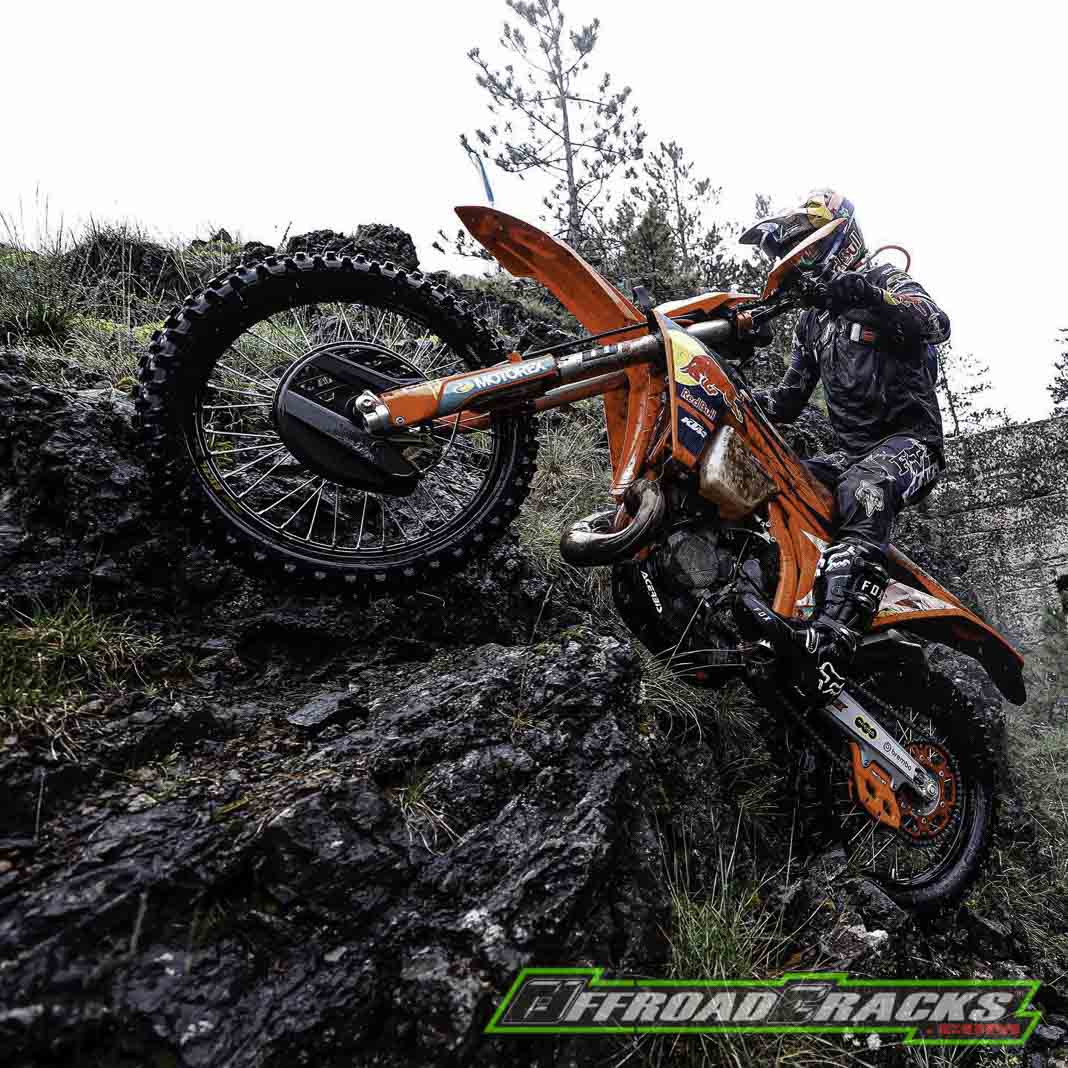 Results: Round 1 – Xross Hard Enduro Rally DAY 1
Manuel Lettenbichler (KTM) 3:56:01,44
Mario Roman (Sherco) 4:08:48,09
Teodor Kabakchiev (KTM) 4:15:29,44
Michael Walkner (GASGAS) 4:16:01,59
Graham Jarvis (Husqvarna) 4:17:27,35
Trystan Hart (KTM) 4:20:07,84
David Cyprian (KTM) 4:25:15,11
Will Hoare (GASGAS) 4:26:43,49
Dominik Olszowy (GASGAS) 4:33:20,85
Billy Bolt (Husqvarna) 4:33:39,81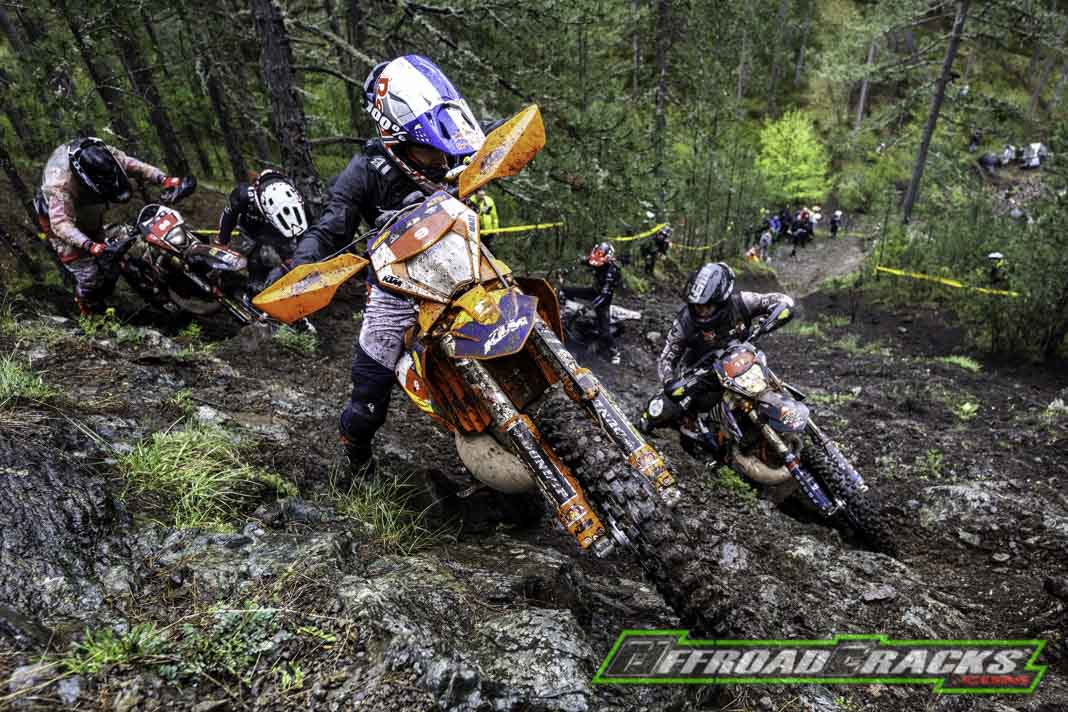 OVERALL RESULTS (after DAY 1 + Prolog)
Manuel Lettenbichler (KTM) 3:59:01,44
Mario Roman (Sherco) 4:15:18,09
Michael Walkner (GASGAS) 4:21:46,59
Trystan Hart (KTM) 4:22:07,84
Teodor Kabakchiev (KTM) 4:22:07,84
Graham Jarvis (Husqvarna) 4:24:27,35
Will Hoare (GASGAS) 4:31:43,49
David Cyprian (KTM) 4:32:15,11
Billy Bolt (Husqvarna) 4:33:39,81
Dominik Olszowy (GASGAS) 4:37:20,85
Xross Hardenduro Rally 2023
2023 FIM Hardenduro World Championship
Round 1: Xross, Serbia – May 17/18/19/20 *
Round 2: Red Bull Erzbergrodeo, Austria – June 8/9/10/11 *
Round 3: Red Bull Abestone, Italy – July 7/8/9 *
Round 4: Red Bull Romaniacs, Romania – July 25/26/27/28/29
Round 5: Red Bull Outliers, Canada – August 26/27
Round 6: 24MX Hixpania Hard Enduro, Spain – October 13/14/15
Round 7: 24MX GetzenRodeo, Germany – November 3/4 *
* FIM Hard Enduro Junior World Championship supported by KLIM – Camp
Quelle / Source: FIM Hardenduro, Red Bull