EnduroGP Portugal – Day 1 Video-Highlights
---
HINWEIS: Das Video ist noch deaktiviert, damit keine unerwünschte Datenübertragung zu Youtube stattfindet. Zur Aktivierung bitte auf das Vorschaubild/Video-Link klicken. Damit werden Daten übermittelt, zu deren Art, Umfang und Verwendungszweck wir keineAuskünfte geben können.
---
NOTE: The video is still deactivated so that no unwanted data transfer to YouTube takes place. To activate, please click on the preview image / video link. This transmits data about the type, extent and purpose of which we cannot provide any information.
---

Results / Ergebnisse – EnduroGP Day 1
FOCGP

Results / Ergebnisse – E1 Day 1
FOCE1

Results / Ergebnisse – E2 Day 1
FOCE2

Results / Ergebnisse – E3 Day 1
FOCE3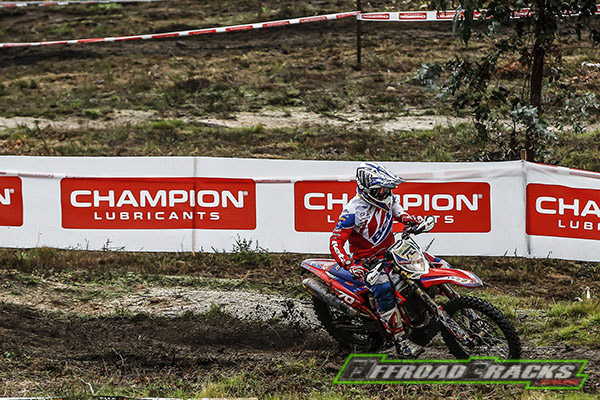 Alle Ergebnisse / All results: LINK
---

The first day of the Acerbis GP of Portugal was action-packed and it promises yet more to come! Three special tests perfectly carved out by Moto Clube Marco, drier weather than expected, and riders all keen to do battle after more than a month and a half of break – everything was in place to have a hell of a day of racing!
And that's what we got in EnduroGP! While Brad FREEMAN (GB – Beta) started out very strong and took the lead on the first lap his great rival Steve HOLCOMBE (GB – Beta) was closing in. The dark horse of weekend, the returning Josep GARCIA (E – KTM) was also pushing hard, ready to jump on the slightest mistake from the defending champion. The second lap went in favour of HOLCOMBE who took the lead in the category by 2.96 seconds from FREEMAN. The third lap got extremely intense as the result came down to the very last special test! Indeed, FREEMAN had dominated the morning head and shoulders over his rivals, but he set off into the last Technomousse Xtreme Test with just a 2.17 second advantage. However, his Factory Beta team-mate and compatriot threw everything into this final special and finally won the day by 1.76 seconds, to the detriment and disappointment of FREEMAN. Today's drama could well long stay in the mind of each of the two protagonists…
GARCIA Back With A Bang!
For his part, GARCIA made some mistakes on the second lap, and the Spaniard therefore had to settle for an excellent podium finish on his return to EGP after three years of absence. In any case, there is no doubt that the 2017 E2 World Champion has everything he needs to come and fight for victory with the two Brits, an exciting prospect! Andrea VERONA (I – TM) never really had to worry about defending his comfortable 4th position overall and he was able to continue gaining valuable experience in first season in Senior, while keeping an eye on the Top 3. Finally, Antoine MAGAIN (B – Sherco) is certainly one of the riders of the day as he came up from 14th on the first special, and headed straight for the Top 5 with test times at the same level as FREEMAN and HOLCOMBE .
As for Enduro 1, with his new victory coupled with the third place of his rival Thomas OLDRATI (I – Honda), VERONA now has a 7 point lead overall. The Factory TM rider, in addition to his own excellent performance, can also thank the good pace of Antoine MAGAIN who got between the two Italians.
Eero REMES (SF – Yamaha) and the local Diogo VENTURA (P – Beta) completed the Top 5.
In Enduro 2, Steve HOLCOMBE therefore remains undefeated despite the presence of Josep GARCIA who finished second on his EnduroGP comeback. Danny MCCANNEY (GB – Honda) completed the Top 3, to the detriment of reigning E2 Champion Loïc LARRIEU (F – TM) and Matteo CAVALLO (I – Sherco).
Like HOLCOMBE in E2, FREEMAN also remains at the top of his E3 class. He dominated his category, more than one and half minutes ahead of runner-up Jaume BETRIU (E – KTM)! Antoine BASSET (F – Beta) completed the podium ahead of his compatriot David ABGRALL (F – Beta), and Rudy MORONI (I – KTM) closed the day in 5th.
MACDONALD The New Leader In Junior!
In the often hotly-contested Junior class, we didn't have to wait long for the first moment of drama! Provisional title leader Théo ESPINASSE (F – Sherco) was forced to retire from the start due to a spark plug problem. The task of regaining control of the standings will be very difficult even if the Frenchman will be able to start tomorrow morning. Even more so due to the fact that his teammate at Sherco Factory and title rival, Hamish MACDONALD (NZ) won the day after a magnificent Southern Hemisphere duel with Wil RUPRECHT (AUS – Beta Boano)!
The Kiwi has therefore seized the title leadership in Junior with only three days of racing to go. Behind him, it was Finland's Roni KYTÖNEN (SF – Honda) who snatched the last step of the podium after a nice comeback following a big mistake in the first Technomousse Xtreme Test of the day. Chile's Ruy BARBOSA (CL – Husqvarna) took 4th place by 7 seconds ahead of the Czech Republic's Krystof KOUBLE (Sherco)!
In J1, Roni KYTÖNEN won once again, and consolidates his position as leader, ahead of Ruy BARBOSA and Antoine CRIQ (F – Sherco), who took a great podium. While in J2 MACDONALD naturally takes the lead while winning the day ahead of RUPRECHT and KOUBLE.
As for the exciting Youth 125cc class, for a long time it seemed Sergio NAVARRO (E – Husqvarna) could win the day but that was without counting on the sensation of the season, Jed ETCHELLS (GB – Fantic)! The Fantic D'Arpa Racing rider took his 4th victory of the season, more than 30 seconds ahead of his Spanish rival. Italy's Claudio SPANU (I – Husqvarna) completed the podium ahead of Harry EDMONDSON (GB – Fantic). Hermanni HALJALA (SF – Beta Boano) completed the Top 5.
Finally, in the Champion Lubricants Enduro Open World Cup, Gonçalo REIS (P – KTM) remains undefeated in Open 2-Stroke class as he wins the day ahead of compatriot Gonçalo SOBROSA (P – Beta) and the Czech rider Robert FRIEDRICH (CZ – KTM). In battle of the Belgians, Damiaens DIEGTER (KTM) got the better of Mathias VAN HOOF (Husqvarna) in Open 4-Stroke. They were joined on the podium by Jorge PARADELO (E – KTM). Alessio PAOLI (I – Husqvarna) meanwhile took a third straight victory in the Open Senior class ahead of David MARTINEZ (E – KTM) and Duccio GRAZIANI (I – Beta).
The first day of the Acerbis GP of Portugal was thrilling from the get go, and tomorrow promises more of the same – as well as some rain!
HOLCOMBE is now 9 points ahead of FREEMAN in the big EnduroGP battle, but tomorrow is shaping up to be explosive as FREEMAN seeks revenge and GARCIA comes out fighting and determined to prove that he can win in EGP despite his 3-year absence.
What they said
Steve HOLCOMBE: "I was slow to get into action this morning and then I regained my feeling on the second lap, which showed in my results. After that, Brad was really strong on the last lap but I decided to switch off my brain in the last special and it paid off! Too many times this season, I didn't want to take any risks and I ended up regretting it. This time, no regrets!"
Brad FREEMAN: "I'm so upset and disappointed! I really thought I'd set a good time on the last special test, or at least enough to ensure the victory. And then Steve arrived and set a crazy-fast time! I'm really disillusioned because I rode well all day despite a few mistakes here and there. I must try to get past the disappointment and refocus for tomorrow."
Josep GARCIA: "I am so happy to be back in the paddock and seeing everyone from EnduroGP! As for the race, I knew I could come and fight at the front with these guys and I wanted to prove it. I fell twice on the second lap so I lost time there, but I'm still happy with this first day and I look forward to fighting for the win tomorrow."
Antoine MAGAIN: "The objective at the start of the season was to be able to fight at the front in the last GPs of the year, so I'm quite satisfied with today because I took a nice Top 5 finish, and some of my test times were up there with the best of them! We must continue to dream and keep looking higher!"
Quelle / Source: EnduroGP