Rheinmetall hat erneut einen Großauftrag im Bereich der militärischen Logistikfahrzeuge erhalten. So hat das Bundesamt für Ausrüstung, Informationstechnik und Nutzung der Bundeswehr (BAAINBw) mit der Rheinmetall MAN Military Vehicles (RMMV) einen Rahmenvertrag zur Lieferung von bis zu 4.000 Wechsellader-LKW geschlossen, wobei ein großer Teil der Fahrzeuge über gepanzerte Kabinen verfügen wird. Mit dem Rahmenvertrag verbindet sich für Rheinmetall über die Laufzeit von 2021 bis 2027 ein Gesamtvolumen von bis zu 2 MrdEUR.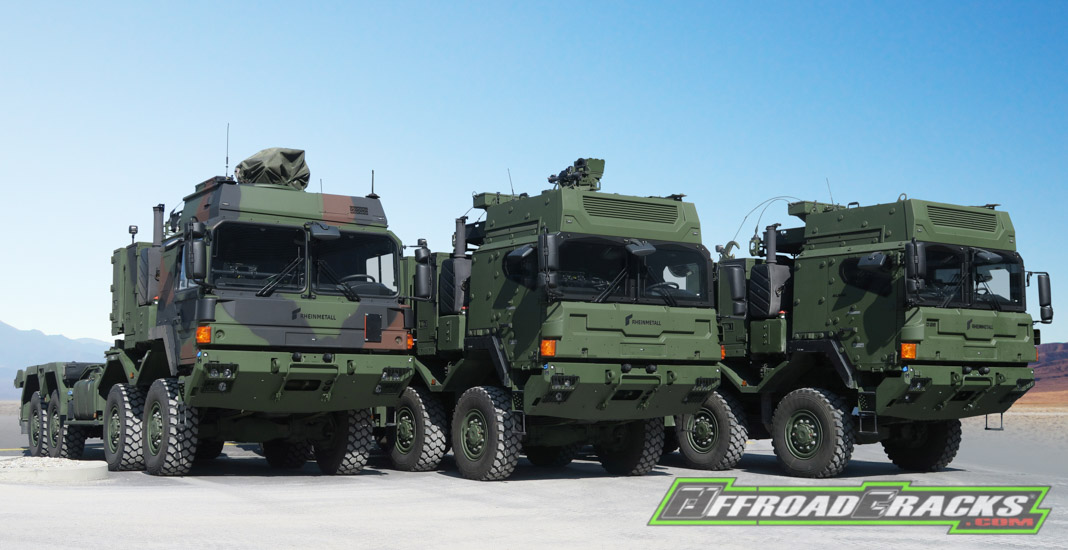 In einem ersten Abruf wurde die Produktion von 540 Fahrzeugen in Auftrag gegeben, davon 230 mit geschützten Kabinen. Dieses erste Los hat einen Auftragswert von 348 MioEUR brutto, wobei die Auslieferung Anfang 2021 beginnen soll. Ziel ist es dabei, dass die Truppe über eine ausreichende Anzahl an Fahrzeugen verfügt, wenn Deutschland 2023 die Führung der NATO-Speerspitze VJTF übernimmt.
Die geschützten Wechselladersysteme erhöhen Überlebens- und Durchhaltefähigkeit sowie die taktische Flexibilität der Nachschubtruppe erheblich. Im Gegensatz zu den ebenfalls von der RMMV gelieferten Ungeschützten Transportfahrzeugen (UTF) bewegen sie sich auch stark in den vorderen Bereichen der Einsatzräume, etwa beim Munitionsnachschub für Kampf- und Kampfunterstützungstruppen.
Die robusten und geländegängigen HX 8×8-Fahrzeuge der RMMV zeichnen sich durch hohe Mobilität auch im Gelände aus und lassen sich  wahlweise mit einer geschützten Kabine ausstatten. Kernausstattung ist das von Hiab entwickelte Hakenladegerät, mit dem sich die zugehörigen Wechselladerpritschen (Flatracks) schnell aufnehmen und absetzen lassen. Zusätzlich können die Fahrzeuge auch eine Wechselpritsche oder einen Container über die standardisierten 20 Fuß ISO-Schnittstellen aufnehmen.
Identische Bedienung und hohe Gemeinsamkeit sowie Teilegleichheit mit der UTF-Fahrzeugfamilie erleichtern Ausbildung, Einsatz und Logistik. Durch die signifikante Reduzierung der Ausbildungszeit von Besatzung und Instandsetzungspersonal sowie durch die große Gleichheit von Ersatzteilen und Sonderwerkzeugen lässt sich der flächendeckende Einsatz schneller erreichen – und das bei hoher Wirtschaftlichkeit für Beschaffer und Nutzer.
Mit dem neuerlichen Auftrag kann Rheinmetall seine Position als führender Hersteller von Logistiksystemen und -fahrzeugen weiter ausbauen. So sind aus dem am 5. Juli 2017 durch das BAAINBw erteilten und auf sieben Jahre angelegten UTF-Rahmenvertrag von 2.271 Fahrzeugen bereits 1.250 ausgeliefert worden. Der überwiegende Teil der wesentlichen Komponenten – Motoren, Achsen, Getriebe und Aufbauten – entstammt deutscher Fertigung, die Montage der Fahrzeuge wird im Wiener RMMV-Werk erfolgen.
Die hohe weltweite Verbreitung von RMMV-Fahrzeugen bringt gerade im Hinblick auf multinationale Einsätze große Vorteile bei Interoperabilität und Logistik. Aktuell gehören unter anderem Großbritannien, Australien, Neuseeland und Dänemark zum Nutzerkreis. Norwegen und Schweden haben ebenfalls LKW-Aufträge in nennenswerten Größen bei Rheinmetall platziert.
---
HINWEIS: Mit Anklicken des Videos stellen sie automatisch eine Verbindung zu Youtube/Google her, was einen ungewünschten personenbezogenen Datenaustausch mit sich bringen kann. Weitere Infos unter: www.google.de/privacy
---

Rheinmetall has won another major order for logistic vehicles. Germany's Federal Office for Bundeswehr Equipment, Information Technology and In-Service Support (BAAINBw) has entered a framework contract with Rheinmetall MAN Military Vehicles (RMMV) for delivery of up to 4,000 swap body systems, many of which will feature armoured driver's cabs. Running from 2021 to 2027 for Rheinmetall the framework contract represents around €2 billion in total sales volume. To begin with, the Group will supply the Bundeswehr with an initial tranche of 540 vehicles. Worth around €348 million including VAT, they have now been taken under contract.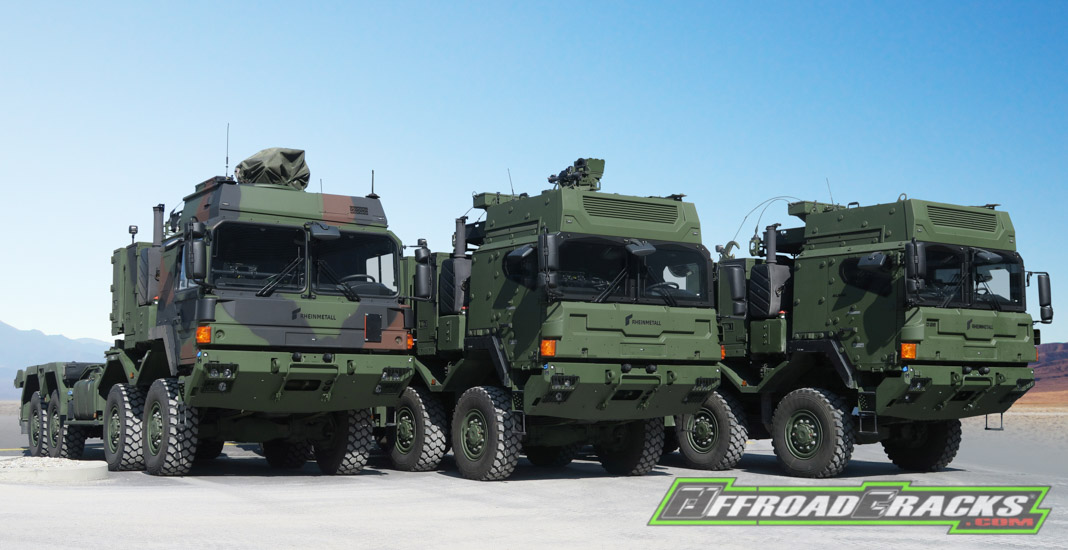 Of these 540 vehicles, 230 will be protected. Delivery will start early next year, making sure that the Bundeswehr has an adequate number of vehicles in 2023 when Germany takes over leadership of NATO's spearhead: the Very High Readiness Joint Task Force, or VJTF.
The protected swap body systems enhance the survivability and sustainment capability of the Logistics Corps, as well as strengthening its tactical flexibility. Unlike the Unprotected Transport Vehicle (UTF), likewise supplied by RMMV, these systems will be predominately deployed in forward operating areas, where, for instance, they will be used for supplying ammunition to frontline combat units, e.g. artillery batteries.
Assuring excellent off-road mobility, RMMV's robust, all-terrain-capable HX 8×8 vehicles can be optionally fitted with a protected cab. Standard features include a hook loader developed by the Hiab company, which can quickly lift and set down the accompanying flat racks. In addition, the vehicles can accommodate an interchangeable platform or a container via the standardized 20-foot ISO interfaces. Identical operator interfaces and a high degree of commonality and component uniformity with the UTF vehicle family facilitate training, operations and logistics. Owing to the significant reduction in training time for crewmembers and maintenance personnel as well as the extensive commonality of spare parts and special tools, full utilization can be achieved faster – coupled with greater economic efficiency for the procurement authorities and user alike.
This new order widens Rheinmetall's lead as one of the world's foremost makers of logistic systems and vehicles. Since the award of the 7-year UTF framework by BAAINBw on 5 July 2017, 1,250 out of a total of 2271 vehicles have already been shipped. Most of the principal components – the engines, axles, transmissions and build-ons – are made in Germany; assembly of the vehicles takes place at the RMMV plant in Vienna.
Especially when it comes to multinational operations, the extensive global presence of RMMV vehicles offers major advantages with regard to interoperability and logistics. The current circle of user nations includes – among others – the United Kingdom, Australia, New Zealand and Denmark. Norway and Sweden have also placed substantial truck orders with Rheinmetall.
---
NOTE: When you click on the video, you establish a connection to YouTube / Google automatically, which can result in an undesired personal data exchange. Further information at: www.google.de/privacy
---
Quelle / Source: Rheinmetall