---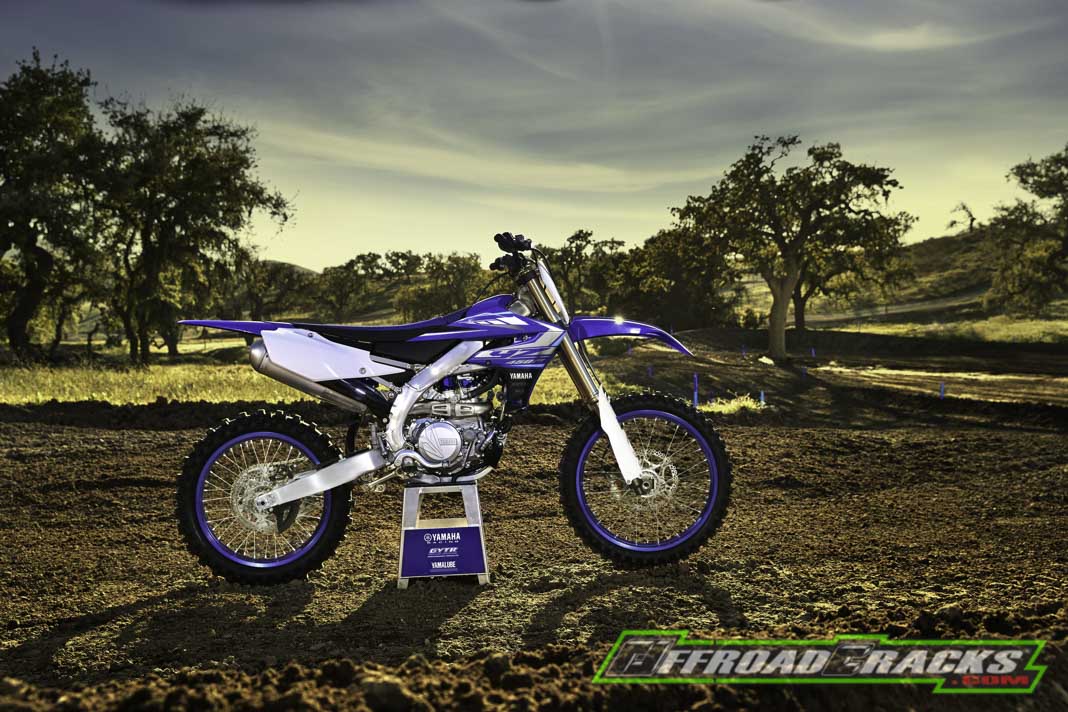 Der neuen YZ450F spendierte man eine komplett überarbeiteten Motor sowie ein optimiertes Fahrwerk. Dass dieses anfänglich umstrittene Konzept nun alle anderen Mitstreiter in Atem hält, zeigt einmal wieder, dass es trotz aller Negativ-Publicity von Außen manchmal sinnvoll sein kann an etwas festzuhalten von dem man absolut überzeugt ist. Und was soll man mehr sagen, sobald man sich Platzierungen in der MXGP oder den US-Outdoors näher betrachtet – es spricht Bände und damit ist Yamaha definitiv auf dem richtigen Weg.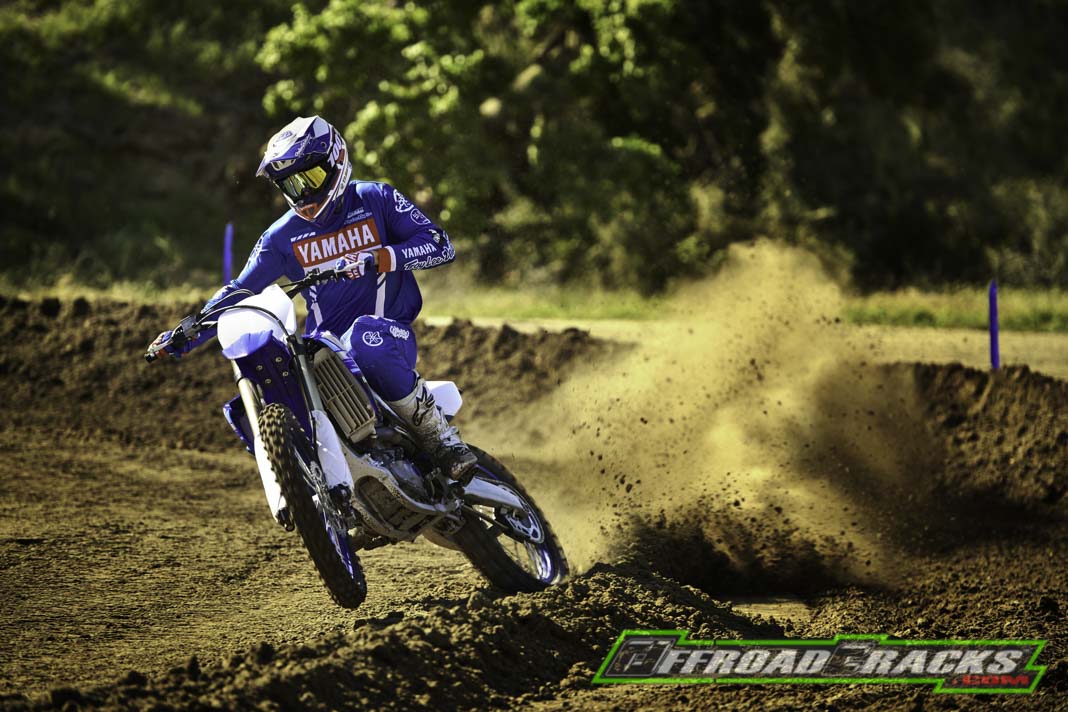 Neuerungen Yamaha YZ450F 2020
Kompakter neuer Motor mit höherer Leistung
Gewichtsreduzierter Motor
Nach hinten geneigter Zylinder zur Optimierung des Massenschwerpunkts sowie Steigerung des Handlings
Leistungsstarker Lithium-Akku
Sensibel dosierbare Leistungsabgabe
Neue Zylinder-Positionierung – nach hinten geneigt
Yamaha Power Tuner App zur Feinabstimmung des Motors auf der Strecke
Mappingschalter
Launch Control (LCS)
Optimierte Kraftstoffeinspritzung
Leichte und ultrakompaktes 44mm Drosselklappengehäuse
Elektronische Hochdruckpumpe für ein optimales Zerstäubungsbild des Kraftstoffs via Einspritzdüse
Abgewinkelte Kühler zu Optimierung der Kühlleistung
Widerstandsfähigeres Getriebe samt Kupplung
Kürzere Schaltwege, neue Schaltwalze und Schalthebel
Kompakter Schalldämpfer, der zu Massenzentralisierung in Richtung Fahrzeugschwerpunkt montiert wurde
Gewichtsoptimierter Aluminium-Rahmen mit schlankeren Hauptholmen, dickeren Unterzügen und neue Motorhalterungen
Schlankes Bodywork für eine hervorragende Ergonomie dank neuem Tank und überarbeiteter Sitzbank
48er Kayaba Upsidedown-Gabel und gleichnamiges Federbein mit angepasstem Setup
Leichtere blaue beschichtete Räder mit neuem computergestütztem Design und gesteigerter Stabilität
270mm große Bremsscheibe vorn
Gewichtsreduzierter Hinterradbremssattel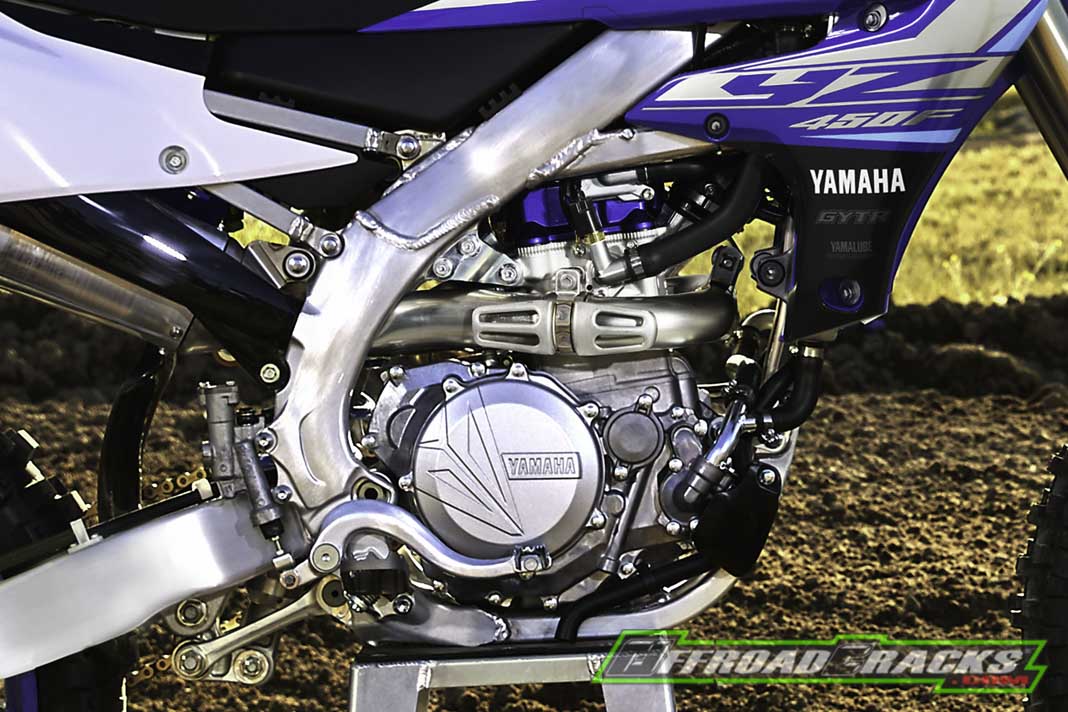 Neuerungen Yamaha YZ250F 2020
Diese fallen natürlich relativ dünn aus, da man bereits fürs Modelljahr 2019 einige intensive Überarbeitungen vorgenommen hat. Hier nochmal die Übersicht: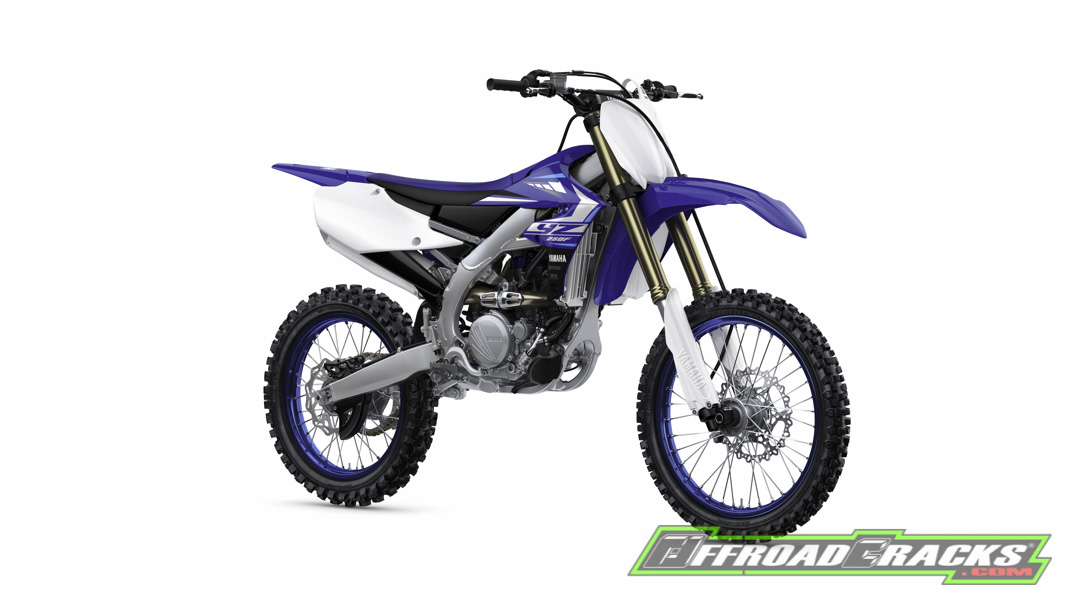 Mapping-Schalter
Leichte Lithium-Batterie
Gewichtsoptimierter Elektrostarter
DOHC-Motor mit erstaunlich gut verwertbarem Drehmoment
Um 180-Grad gedrehter Zylinder mit effizientem gerade geführten Einlass
Power-Tuner-App Kompatibilität
Schlankes Bodywork
Doppelschleifen Aluminium-Rahmen
Kayaba-Fahrwerkskomponenten
Widerstandsfähige Kupplung mit reduzierter Bedienkraft
Effiziente abgewinkelte Kühler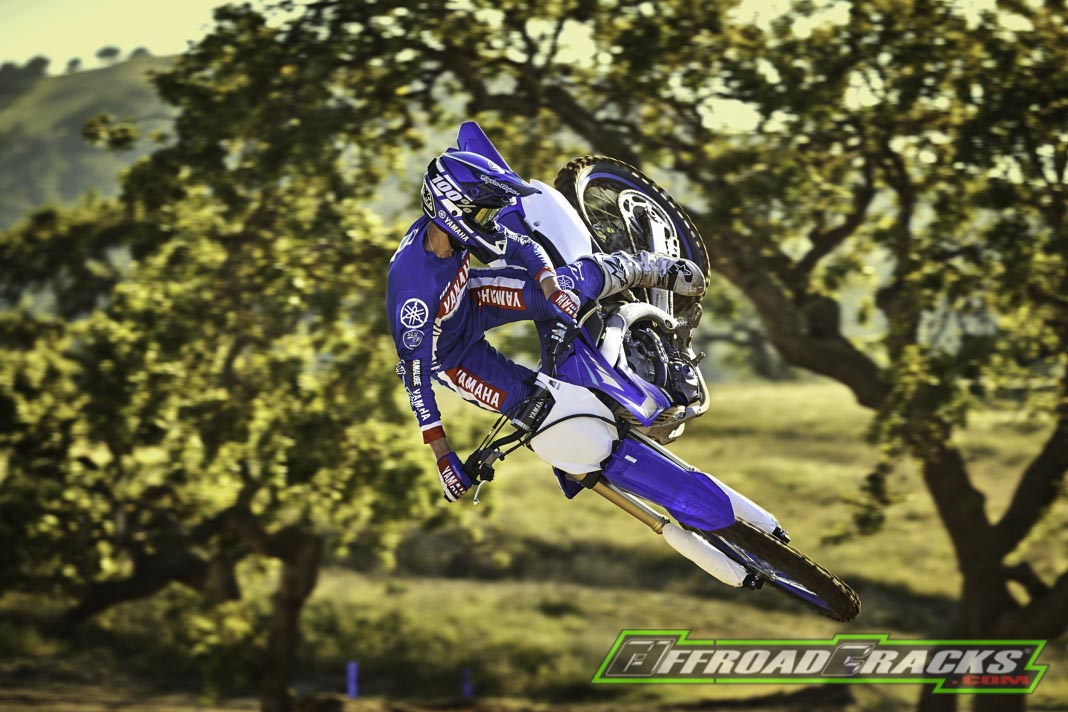 PREISE
Diese stehen leider noch nicht fest werden aber wie üblich baldmöglichst nachgereicht.
Verfügbarkeit 2020er Modelle
YZ450F Racing Blue 08/2019
YZ250F: Racing Blue 07/2019
YZ250: Racing Blue 07/2019
YZ125: Racing Blue 07/2019
YZ85LW: Racing Blue 07/2019
YZ65: Racing Blue 07/2019
TT-R110E/50E: Racing Blue 09/2019
TT-R50E: Racing Blue 11/2019
PW50: Racing Blue 08/2019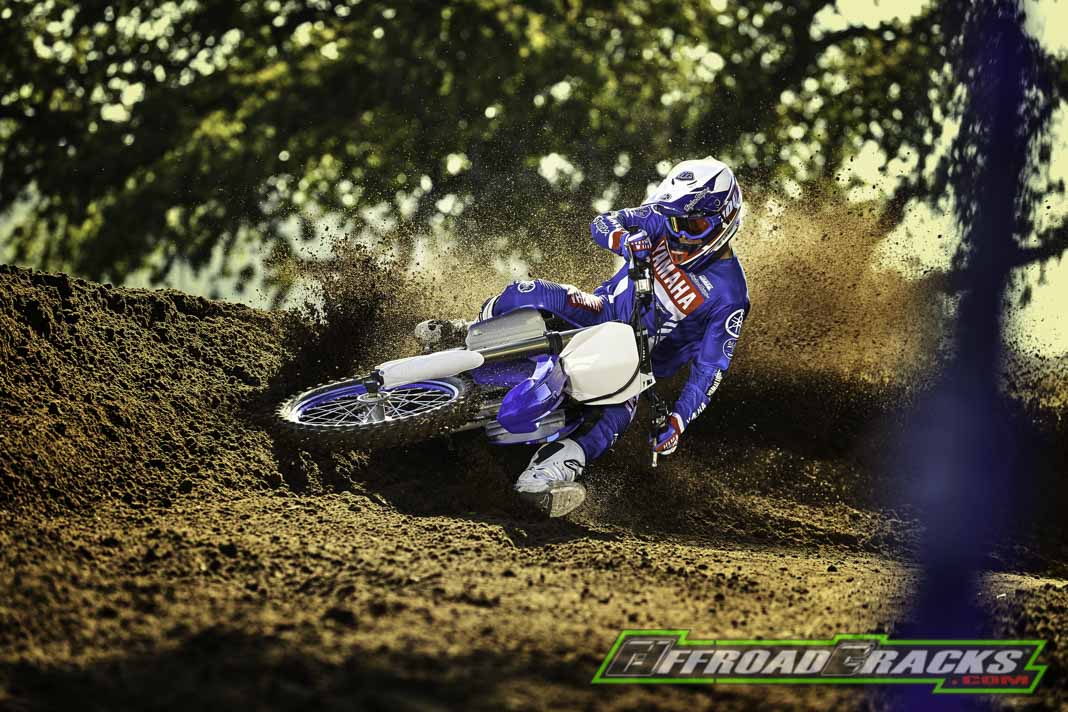 Wer nach noch mehr Power und Fahrperformance sucht, sollte sich die hochwertigen GYTR-Kits näher anschauen. Ob für die Viertaker oder die Zweitakter – für jeden ist das passende dabei. Und wir können behaupten, dass diese KITS tatsächlich vielversprechend sind und jeden Fahrer voll und ganz überzeugen werden, da wir selbst beim letzten Test mit GYTR-Kits ausgestatteten Modellen auf dem Track unterwegs waren und die Leistungsfähigkeit und vor allem die Dosierbarkeit der Motorleistung ein absoluter Zugewinn waren.
Wer sich noch im Yamaha eigenen Look zeigen möchte, kann auf einer neuen MX-Kollektion zurückgreifen, die ab Juli 2019 verfügbar sein wird.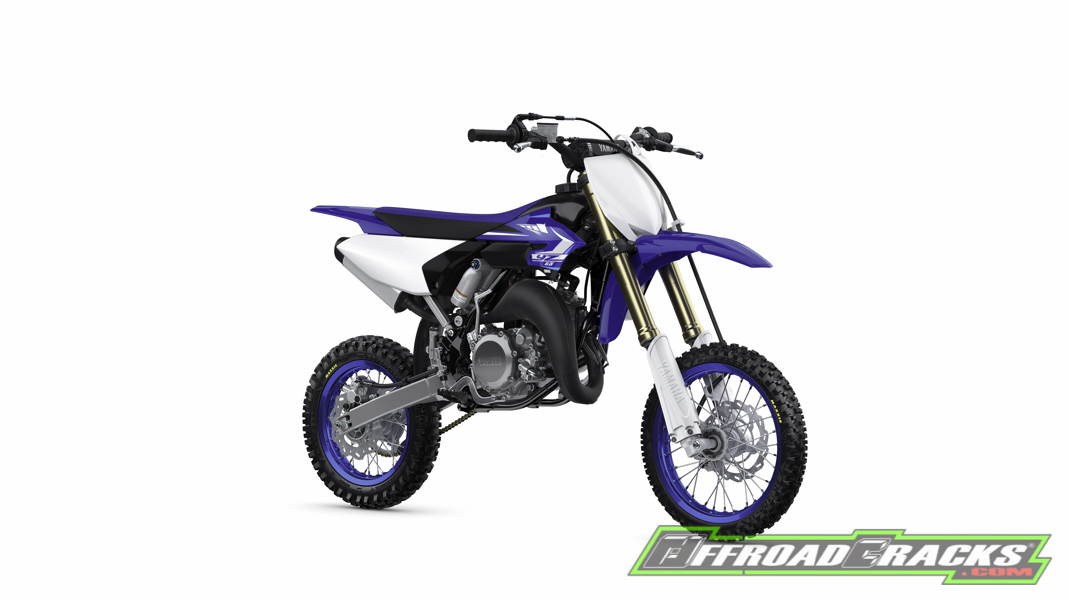 NACHWUCHSFÖRDERUNG: bLU cRU Masterclass
Um neue Talente zu entwickeln und zu fördern, hat Yamaha kürzlich das bLU cRU-Programm erweitert und deckt jetzt alle drei Jugend-Klassen ab. Der bLU cRU Cup 2019 steht in Europa jugendlichen Fahrern der Modelle YZ65, YZ85 und YZ125 offen. Die besten 40 Fahrer aus jeder Kategorie messen sich dann beim Monster Energy FIM Motocross of Nations 2019 in Assen.
Yamaha lädt dann die drei Gewinner jeder Klasse sowie zwei weitere Wildcard-Fahrer zur exklusiven bLU cRU Masterclass ein, wo sie unter Aufsicht eines Teams von bLU cRU-Botschaftern, zu denen auch Yamaha MX-Rennstars gehören, an einem 3-tägigen Trainingslager teilnehmen. Die Yamaha-Jury wählt dann drei glückliche Fahrer aus, die bei der Europameisterschaft die offizielle Unterstützung von Yamaha erhalten.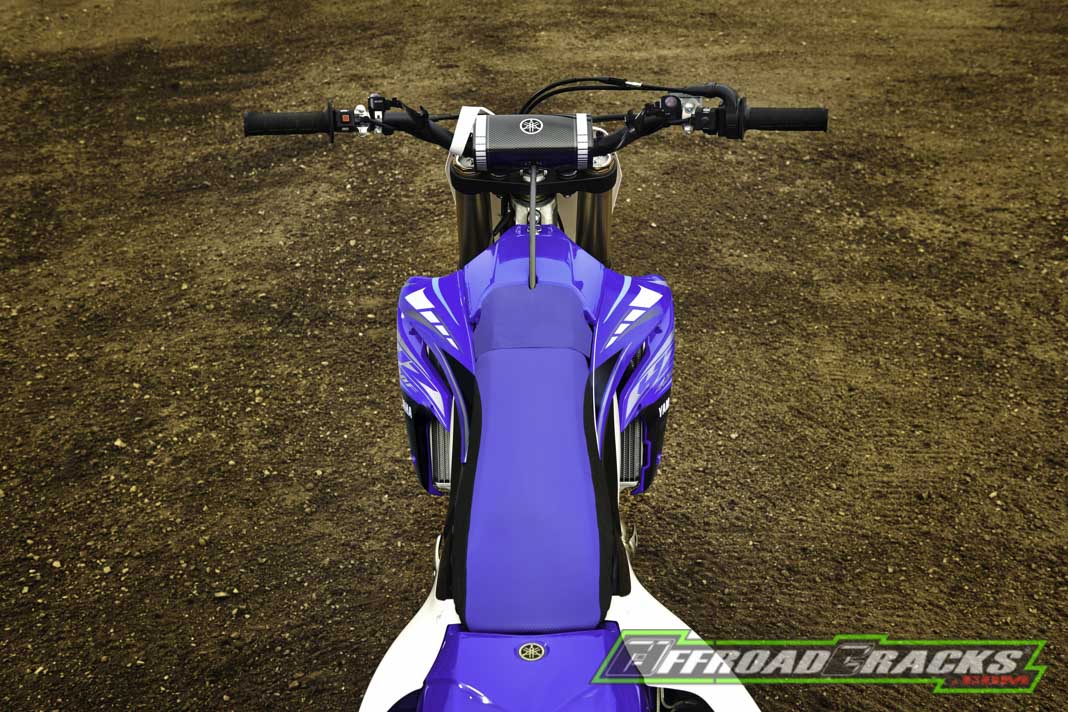 Testen sie die 2020er YZ-Modelle auf der MX Pro Tour
Yamaha wird auch 2019 auf verschiedenen europäischen Rennstrecken anzutreffen sein und den Kunden Gelegenheit geben, die 2020er YZF- und YZ-Modelle zu testen, hautnah zu erleben und sich ausführlich zu informieren, wobei sie auch das Yamaha-Originalzubehör und die GYTR® High Performance-Produkte besser kennenlernen können. Weitere Informationen zu den Terminen und Veranstaltungsorten sind ab Juni 2019 auf den nationalen Yamaha-Websites verfügbar.
WEITERE BILDER   LINK
Weitere Infos unter: www.Yamaha-motor.de
---

Yamaha reveals the 2020 Off-Road YZ range
All-new YZ450F: Tune in to Victory
For 2020 the all-new YZ450F comes with less weight, more power and sharper handling, making it the most competitive 450cc model that Yamaha has ever produced. In order to create a motocross bike that can race and win at every level against the toughest opposition, Yamaha's engineers have analysed every single component and made a wide range of major and minor improvements wherever possible.
As a result of this intensive part-by-part analysis the entire motorcycle has been subject to an extensive redesign, and the team of engineers has succeeded in achieving significant weight savings together with power gains and enhanced handling performance for the 2020 YZ450F.
More powerful and compact new 450cc engine
Already renowned for its enormous power output, the YZ450F engine has been thoroughly redesigned for 2020 to deliver stronger and more controllable performance. The new engine is significantly more compact and lighter, and the revised configuration enhances the bike's mass centralized design to make it one of the easiest-handling open class motocross machines.
Featuring a high compression reverse cylinder head as well as a durable forged piston and aggressive cam profiles, the compact new 450cc engine is designed to deliver the best balance of race-winning performance together with ultimate controllability.
All-new rearward-slanted cylinder
One of the key engine improvements for 2020 is the new rearward-slanted cylinder that is both lighter and more compact. Because this innovative design is positioned closer to the bike's mid-section it helps to achieve an idealized mass centralization, and this contributes enormously towards the YZ450F's dynamic handling characteristics.
The new rearward-slanting cylinder is equipped with a high compression bridge-box design piston, and together with the high-efficiency reverse cylinder head with its long and straight inlet, this industryleading design produces a fine balance of 450-class power combined with exceptional controllability.
Yamaha Power Tuner
The Yamaha YZ450F was the first motocross bike with inbuilt connectivity, that enables remote wireless tuning using a smartphone, and the 2020 model continues to lead the field in terms of digital technology.
By downloading the free Power Tuner app for IOS or Android devices, YZ450F riders or mechanics can easily adjust the fuel/air mix and ignition timing to set the bike up for different tracks and changing riding conditions. This feature makes the 2020 YZ450F the most adaptable motocross machine that can be tuned instantly at the trackside, enabling its rider to master a wide range of surfaces and weather conditions.
In addition to its engine re-mapping function, the Power Tuner app can also record race log information and monitor a range of data, including system diagnosis, engine run time and more, making it an indispensable part of every rider's toolkit.
Handlebar-mounted adjustable mapping switch
After pre-programming the 2020 YZ450F with the Power Tuner in the paddock, there's a handlebarmounted mapping switch that enables the rider to select the map of their choice. This simple on-thefly adjustment allows instant mapping changes to suit changing track or weather conditions, from a super-aggressive map for fast dry tracks to a more useable map on muddy surfaces.
Compact electric starter
The new 450 engine is equipped with a compact and lightweight electric starter that gives pushbutton convenience and saves valuable seconds when restarting under pressure during a race. Powered by a high capacity four-cell lithium-ion battery, it keeps the 2020 YZ450F's weight down to a minimum.
Launch Control System
The YZ450F's Launch Control System (LCS) optimizes the engine's power output and running characteristics during the first few seconds of the race after the gate drops. By helping to transmit power more efficiently, the LCS gives greater controllability and traction off the line, increasing the rider's holeshot-winning performance and giving a real advantage in the crucial charge to the first corner.
Advanced fuel injection system
The compact new engine is equipped with a highly advanced Mikuni® fuel injection system that features a light and ultra-compact 44mm throttle body. Delivering the fuel/air mix via a long and straight forward facing inlet, this advanced fuel injection system benefits from a high pressure electric pump that ensures optimum atomization for excellent running performance in a wide range of riding conditions
High efficiency angled radiators
To ensure that the new more powerful engine runs efficiently in all conditions, Yamaha's engineers have developed enhanced radiators that are angled to directly face the incoming air. By maintaining a consistent airflow, this angled radiator layout delivers more effective engine cooling for winning performance.
Robust 5-speed transmission
The YZ450F's robust 5-speed transmission is built to handle even the most aggressive left foot. The specially-developed gears feature a large surface area that spread the load, and together with an updated clutch this delivers high levels of durability – while the shift drum and selectors are designed to give improved feel and a shorter stroke when shifting gear.
Mass-centralized wraparound exhaust
A key feature of the YZ450F is its mass centralized design, in which major components are located as close to the bike's centre of gravity as possible. One example of this is the wraparound exhaust that snakes around the cylinder, and this design also enables the fitment of a muffler that is mounted further forwards and closer to the bike's centre.
Combined with the new rearward-slanted cylinder, this centralizes the mass which contributes significantly towards achieving lightweight and dynamic handling performance.
Lighter aluminium frame for sharper handling
The YZ450F is already regarded as being one of the best handling bikes in the open class, and for 2020 the compact aluminium frame has been carefully retuned to match the new more powerful engine. To reduce weight and fine tune the bike's instinctive handling performance, the new bilateral frame features thinner main spars together with thicker down tubes and new engine mounts. These significant changes – together with the mass centralized design and class-leading suspension – help to deliver even sharper handling for reduced lap times.
Slimline body and seat
The YZ450F's compact fuel tank and radiator shrouds as well as the slim seat not only enhance rider mobility and enable an effective knee grip, they also underline the bike's feeling and impression of lightness and maneuvrability to give the rider a psychological advantage before the race even starts. By enabling the rider to shift their body weight quickly and easily, the ergonomic design helps to improve controllability and reduce fatigue.
Industry-leading suspension systems
The YZ450F is equipped with fully adjustable coil spring KYB® forks that are widely regarded as being the ultimate in off road suspension design. Featuring speed sensitive damping that gives the idealized balance between handling and bump absorption, these exceptional front forks deliver best-in-class performance.
The fully-adjustable link-type rear end features a specially tuned KYB® shock that delivers high levels of traction together with smooth suspension action at low and high speeds, giving exceptional handling in a range of track conditions.
Lightweight wheels Featuring factory-bike style blue anodized rims, the wheels have been refined using computer aided design to create a lighter design for lower unsprung weight, while maintaining their renowned durability.
Uprated brakes
A more rigid front caliper with an aggressive pad material works with the 270mm front disc for outstanding braking performance, while a new lightweight rear caliper and new rear disc reduce unsprung weight.
YZ450F Technical Highlights
Ultra-compact new 450cc engine, increased power with total control
Lighter and more compact rearward-slanted cylinder
Mass centralised design
Yamaha Power Tuner for instant track-side tuning via a smartphone
Handlebar switch for easily adjustable mapping
Compact electric starter with ultra-light battery
Launch Control System (LCS) optimises engine output for quicker starts
Advanced fuel injection system for optimum power
Angled radiators ensure effective engine cooling
Robust transmission and clutch for positive shifting
Compact mass-centralised wraparound exhaust
Forward mounted muffler
Lighter aluminium bilateral frame delivers sharper handling
Slimline body and seat for ultimate ergonomics
Class-leading KYB® coil spring-type speed sensitive front suspension
Link-type rear suspension with specially-tuned KYB® shock
Lightweight wheels with blue rims
270mm front disc with uprated caliper aggressive pad material
New rear disc and more compact caliper
4-position adjustable rubber-mounted handlebar clamp
Embedded graphics give extended durability
Tapered aluminium handlebars with quick-adjust clutch perch
Wider and lighter footrests
YZ250F: Tune, Race, Win
Following its complete redesign for 2019, the YZ250F is proving to be one of the most competitive 250cc 4-strokes, with Dylan Ferrandis winning the AMA Supercross West Championship. In the 2019 MX2 World Championship Yamaha YZ250F riders Jago Geerts and Ben Watson are amongst the main contenders, and at local and national level the YZ250F continues to impress.
Sporting an electric start, and a 250cc, liquid-cooled, four-stroke engine housed in an aluminum bilateral beam frame, as well as being suspended by industry leading KYB spring type forks and KYB rear shock, the 2020 YZ250F provides the ultimate balance of race-winning performance, rideability and comfort. It also continues to feature Yamaha's advanced racing technology including dual-mode switchable engine mapping and wireless connectivity for the Yamaha Power Tuner App.
YZ250F Technical Highlights
DOHC 250cc liquid cooled 4-stroke engine
Reverse cylinder head with high-efficiency straight inlet tract
Power Tuner smartphone app for trackside tuning
'On the fly' 2-position engine mapping switch
Lightweight electric starter with lithium-ion battery
Slim and compact bodywork and seat
Strong bilateral aluminium beam frame
Class-leading KYB® coil sprint front forks with speed sensitive damping
Link-type rear suspension with lightweight KYB® rear shock
Heavy-duty clutch with lighter feel at lever
High-efficiency angled radiator design
Other models in the 2020 Off Road range
Yamaha's 2020 range is designed to give everybody the chance to enjoy the thrill of leisure riding and off road racing, whatever their age or experience level. In addition to the YZ65, YZ85 and YZ125 youth MX bikes and the YZ250F, YZ450F and YZ250 adult race bikes, the 2020 Off Road range also includes the PW and TTR kids' bikes. Aimed at younger riders from
4 years upwards, the PW and TTR models are the ideal way to get into two wheels, and many of today's champions started with one of these user-friendly models.
2020 Colours
YZ450F: Racing Blue with new graphics
YZ250F: Racing Blue with new graphics
YZ250: Racing Blue with new graphics
YZ125: Racing Blue with new graphics
YZ85LW: Racing Blue with new graphics
YZ65: Racing Blue with new graphics
TT-R125LWE/110E/50E: Racing Blue with new graphics
PW50: Racing Blue with new graphics
2020 Model availability
YZ250F will be available from July 2019.
YZ450F will be available from August 2019.
GYTR race part kits
Yamaha produce a range of dedicated GYTR (Genuine Yamaha Technology Racing) High Performance kits specifically designed for the YZF 4-stroke and 2-stroke models. Individual GYTR performance parts are available for the YZ450F and YZ250F, while YZ125 riders can order a dedicated GYTR YZ125 kit for their bike containing all the necessary parts required to achieve optimum performance. Both the 2018 European 125 Champion Thibault Benistant and 2018 World 125 Champion Bailey Malkiewicz won
their titles using GYTR kits on their YZ125 motocross bikes, underlining the high performance and durability of these purpose-made components.
YZ65 and YZ85 riders will have the possibility to order a GYTR High Performance Kit as well to reach an even higher winning performance. The YZ65 High Performance kit features a new cylinder head, exhaust system, CDI unit, reed valve, radiator hose and cap, and a manual, while the YZ85 High Performance kit includes a new cylinder head, ported cylinder, exhaust system, CDI unit, reed valve, radiator hose and cap, Vforce reeds, needle kit and a manual. Both of these GYTR High Performance kits substantially boost high rpm power and torque with a stronger over rev character, whilst maintaining Yamaha's high levels of reliability and durability.
New 2020 MX riding gear
Yamaha has developed a new range of blue/black/fluo green MX riding gear that will be available from July 2019 onwards. The new line includes jerseys, pants, gloves, bodywarmers and caps, as well as body armour for adults and kids, and also enduro gloves.
Test the 2020 YZ models at the MX Pro Tour
Yamaha will once again visit various tracks around Europe during 2019 where customers will be able to test, feel and gain knowledge about the 2020 YZF and YZ range, as well as find out more about Genuine Yamaha accessories and GYTR high performance products. Details about dates and venues will be live on national Yamaha websites in June 2019.
bLU cRU Masterclass – developing future talent
In order to develop and encourage new talent, Yamaha recently expanded the bLU cRU programme to encompass all three youth classes. Open to YZ65, YZ85 and YZ125 youth riders in Europe, the 2019 bLU cRU Cup sees the top 40 riders in each category racing in the 2019 Monster Energy FIM Motocross of Nations at Assen.
The top three riders plus two wildcards in each class from the MXoN event will be invited by Yamaha to attend the exclusive bLU cRU Masterclass where they will participate in a 3 day training camp under the supervision of a team of bLU cRU ambassadors including Yamaha MX racing superstars. The Yamaha jury will then select 3 lucky riders who will receive official factory support in the European Championships.
The bLU cRU programme offers every rider the chance to realise their dreams, and when the time comes to move on up to the adult classes, Yamaha once again offer the ultimate choice of MX weaponry.
---
Impressionen / Impressions…