---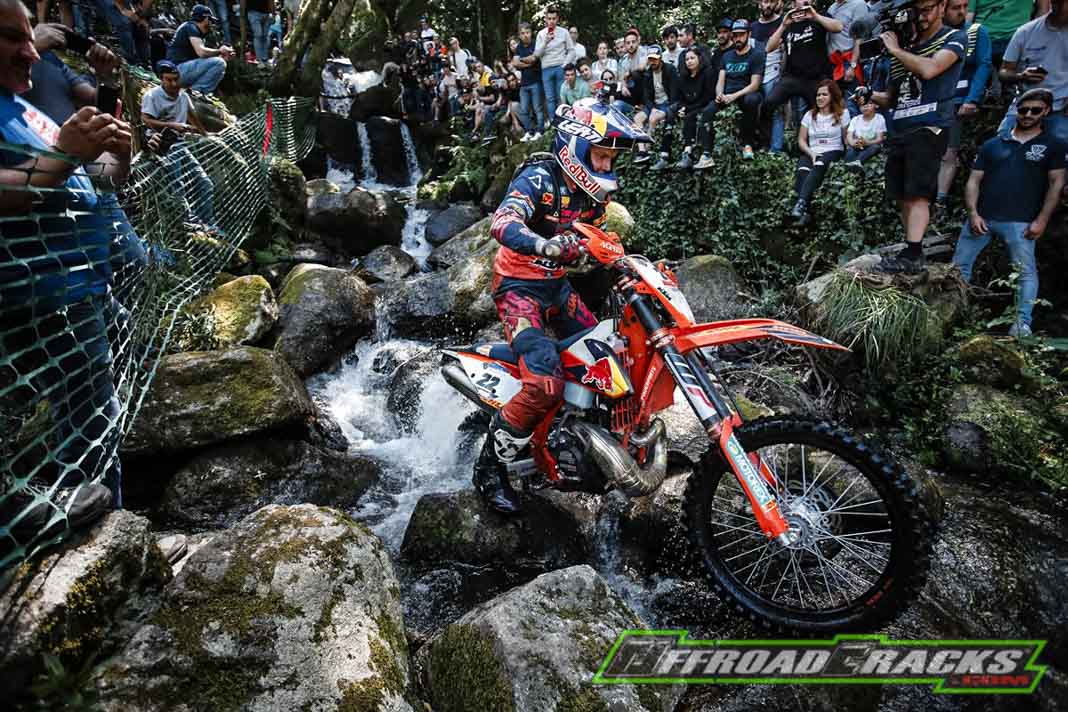 Die totale Überraschung! Mario Roman siegt beim ersten WESS-Lauf in Portugal. Noch hatte Jonny Walker beim Endurocross den ersten Platz belegt und Alfredo Gomez den Hafen-Prolog gewonnen. Da kommt der junge Spanier Mario Roman auf seiner Sherco daher und macht mal so mir nichts dir nichts die komplette Weltelite des Extrem-Enduro-Sports blatt. Wir sprechen hier von Größen wie Blazusiak, Walker, Jarvis, Lettenbichler und Co!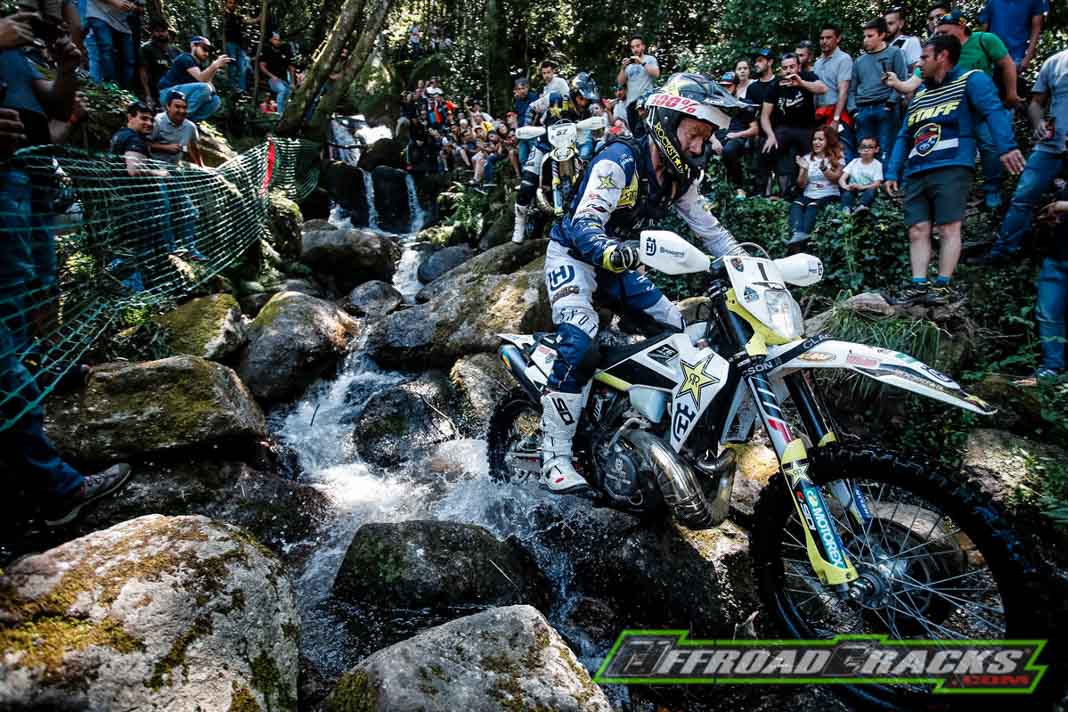 Die 50 Pro's mussten zweimal einen zweistündigen sehr anspruchsvollen Hardenduro-Rundkurs absolvieren. Alfredo Gomez führte mit 15 Sekunden Vorsprung vor Taddy Blazusiak das gesamt Feld an. In der ersten schwierigen Bachbett-Sektion mit einer steilen Felsauffahrt konnte Taddy Alfredo überholen und die Führung übernehmen. Lettenbichler war beiden auf den Fersen und knackte mal schnell Gomez, um sich auf Platz zwei einzureihen. Er hatte richtig Feuer unterm Hinter, denn er überholte mit einem unglaublichen Speed Blazusiak und übernahm die Führung. Dabei baute er einen fünf Minuten Vorsprung auf Billy Bolt, Jonny Walker und Graham Jarvis aus. Mario Roman ließ indessen dieses Vierergespann nicht aus den Augen.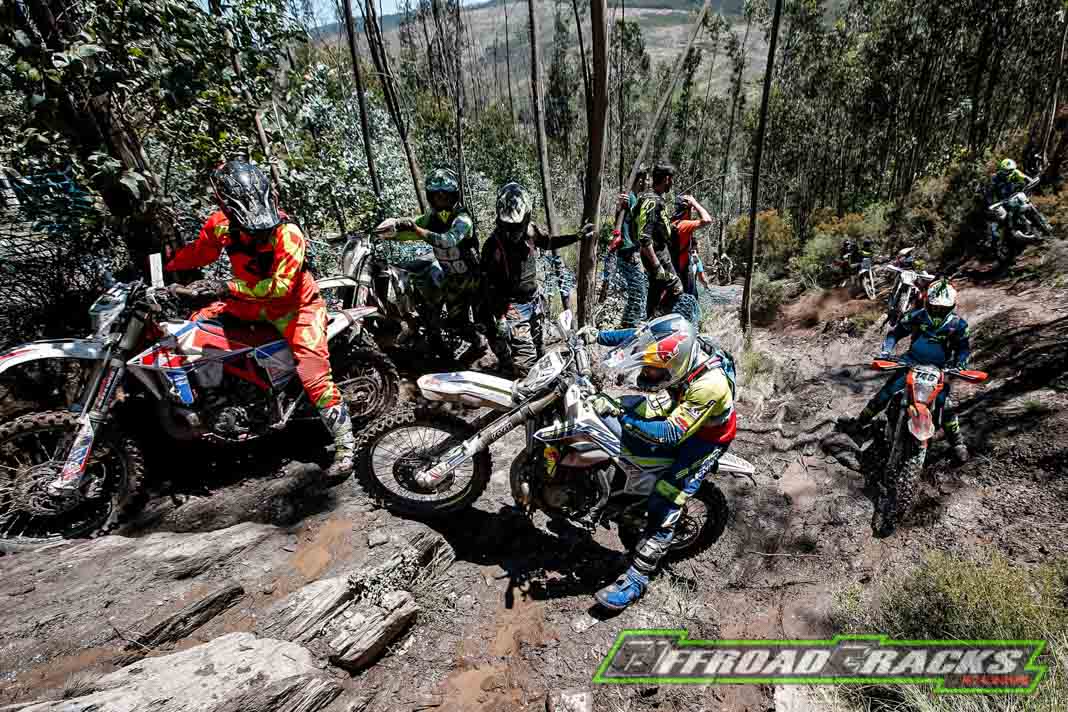 Auch in der zweiten Runde führte Lettenbichler mit sechs Minuten Vorsprung dank einer fehlerfreien Vorstellung und man hatte das Gefühl, dass es sein Tag werden könnte. Doch die Sherco-Truppe bestehend aus Roman und Young hatte etwas dagegen und konnte unter den nun erheblich schwerer werdenden Bedingungen ihr Tempo anziehen und Lettenbichler einholen. Es sah so aus als hätte Lettenbichler etwas überzogen, denn Roman schnappte sich kurzerhand den Bayer und Young und gab die Führung bis ins Ziel nicht mehr ab.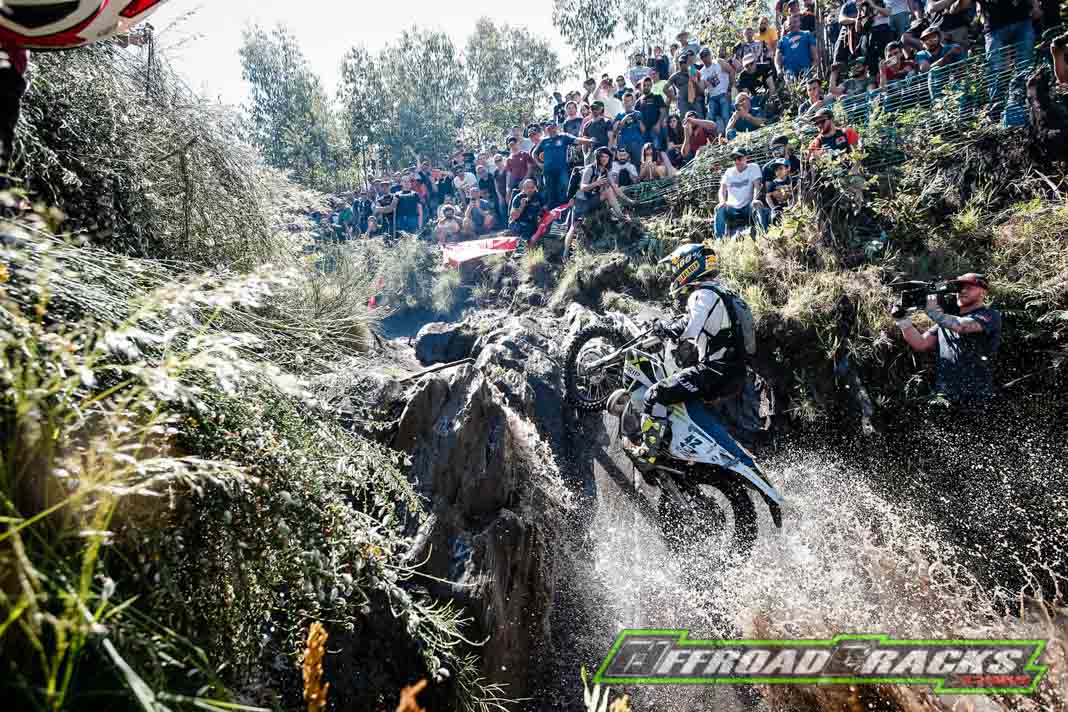 Währenddessen pirschte sich Jarvis an Lettenbichler heran, überholte ihn und war damit auf Platz drei unterwegs, was er bis ins Ziel hielt. Doch letztendlich wurde er auf den vierten Platz zurück gestuft, da Lettenbichler eine Zeitgutschrift wegen einer falschen Wegmarkierung und die damit verbundenen Zeitverlust erhielt, so dass er letztendlich als Dritter gewertet wurde. Auf Platz fünf reihte sich Billy Bolt und Walker auf Rang sechs ein. Taddy Blazusiak hatte in den sehr rutschigen Bachbett-Sektionen seine Probleme und ein Stein flog ihm ins Auge, so dass er stark gehandicapt war. Doch immerhin reichte es noch für Platz acht hinter Alfredo Gomez.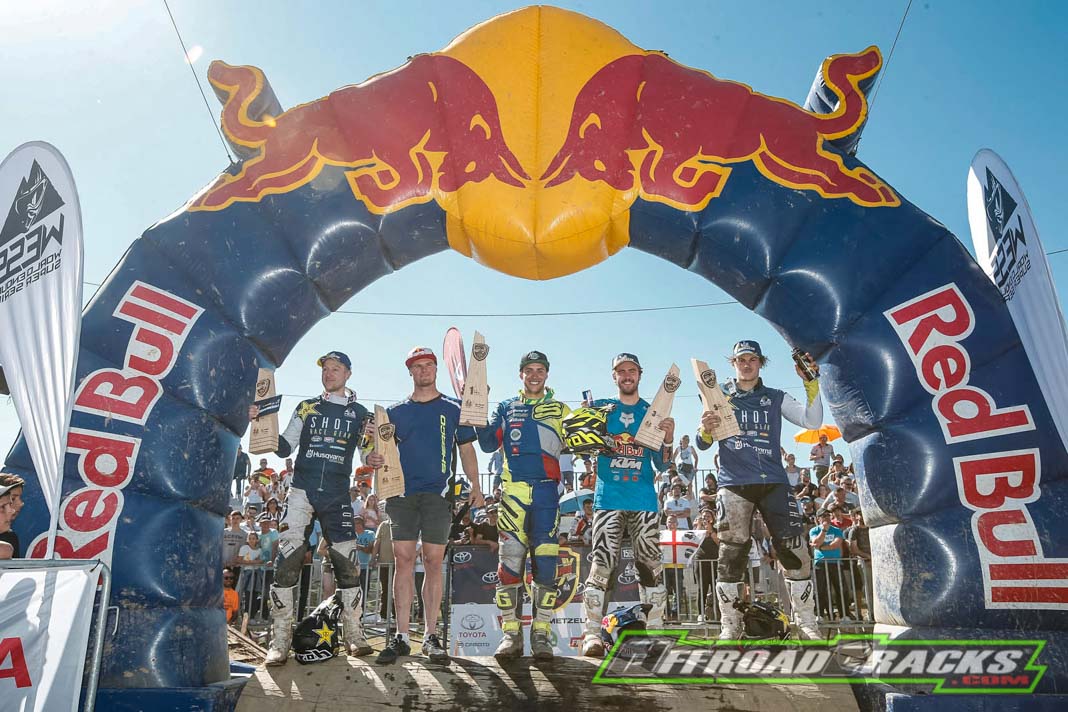 Der zweite Lauf zur WESS-Meisterschaft, das Trèfle LozérienAMV, findet in Frankreich am 17. Mai statt.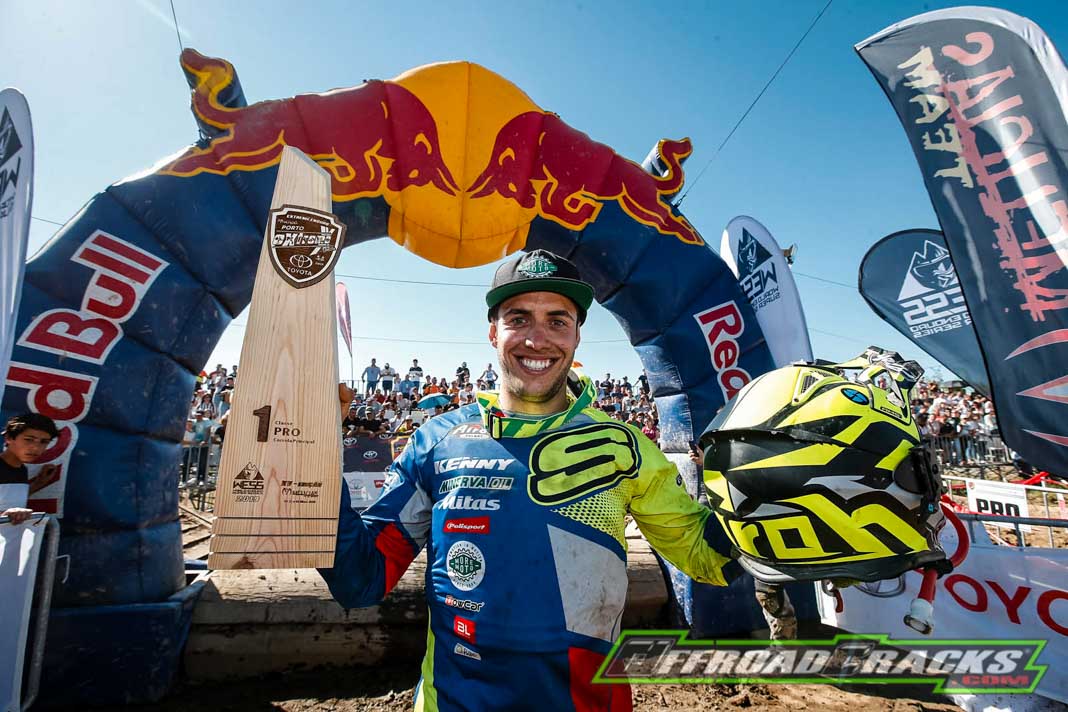 FAHRERSTIMMEN
Mario Roman: "Ich fühle mich großartig mit diesem Sieg! 2016 kam ich eine Minute hinter Gomez ins Ziel. Die zwei darauffolgenden Jahre hatte ich jedes Mal technische Probleme mit dem Material, aber ich wusste, dass ich das Zeug dazu habe hier zu gewinnen. Und dieses Jahr hatte ich keine Zweifel daran, dass es klappt. In der ersten Runde war ich auf Platz fünf oder sechs und konnte keine der Führenden ausmachen. Aber während des Rennens fühlt ich mit von Kilometer zu Kilometer besser und konnte so kontinuierlich Mann für Mann überholen. Da die Strecke in der zweiten Runde so kaputt war, wusste ich, dass ich unter diesen schweren Bedingungen Zeit gut machen konnte, was sich mit diesem Ergebnis auch bewahrheitet hat."
Wade Young: "Ich bin mit dem zweiten Platz heute überglücklich. Als ich im Rennen auf Platz sechs unterwegs war hatte ich etwas Probleme in einer Bachbett-Sektion, was mir extrem viel Energie gekostet hatte. Aber ich konnte mich erholen und kam stark zurück. Denn die anderen Fahrer wurden so langsam müde und ich konnte noch nachlegen und meinen Speed letztendlich hoch halten."
Manuel Lettenbichler: "Ich bin absolut glücklich mit meinem Gesamtergebnis und ich hatte in der Gesamtbetrachtung ein ziemlich gutes Rennen. Am Anfang hatte ich nicht realisiert, dass die Lücke zu den anderen so groß war. Ich versuchte in Runde zwei den gleichen Speed wir Mario und Wade zu geben, doch die beiden flogen sprichwörtlich über die Hindernisse. Ich denke, dass sie sich gegenseitig gepusht und bei den schwierigen Hindernissen geholfen haben, so dass sie dadurch das enorm hohe Tempo halten konnten. Graham konnte mich an einigen Stellen einholen, doch ich blieb vor ihm. An einer Stelle musste ich anhalten und eine Brücke richtig hinlegen, was mir auf der ersten Runde richtig Zeit gekostet hat, aber im Nachhinein gutgeschrieben wurde. Ein Sieg wäre natürlich schön gewesen, nachdem ich das halbe Rennen angeführt hatte. Wichtiger ist, das ich sehr glücklich mit meiner Fahr-Performance bin und es einen guten Start in die neue WESS-Saison darstellt."
VIDEO – ENDURORACE 3. Tag / Day 3
Ergebnisse – Round 1: Toyota Porto Extreme XL Lagares
1. Mario Roman (Sherco – ESP) 4:01:43.21
2. Wade Young (Sherco – RSA) 4:05:59.04 +4:15.83
3. Manuel Lettenbichler (KTM – GER) 4:07:09.68 +5:26.47
4. Graham Jarvis (Husqvarna – GB) 4:07:16.12 +5:32.91
5. Billy Bolt (Husqvarna – GB) 4:15:19.68 +13:36.47
6. Jonny Walker (KTM – GB) 4:29:26.58 +27:43.37
7. Alfredo Gomez (Husqvarna – ESP) 4:34:51.08 +33:07.87
8. Taddy Blazusiak (KTM – POL) 4:53:58.02 +52:14.81
9. Travis Teasdale (KTM – RSA) 5:01:43.91 +1:00:00.70
10. Jonathan Richardson (Husqvarna – GB) 5:11:22.83 +1:09:39.70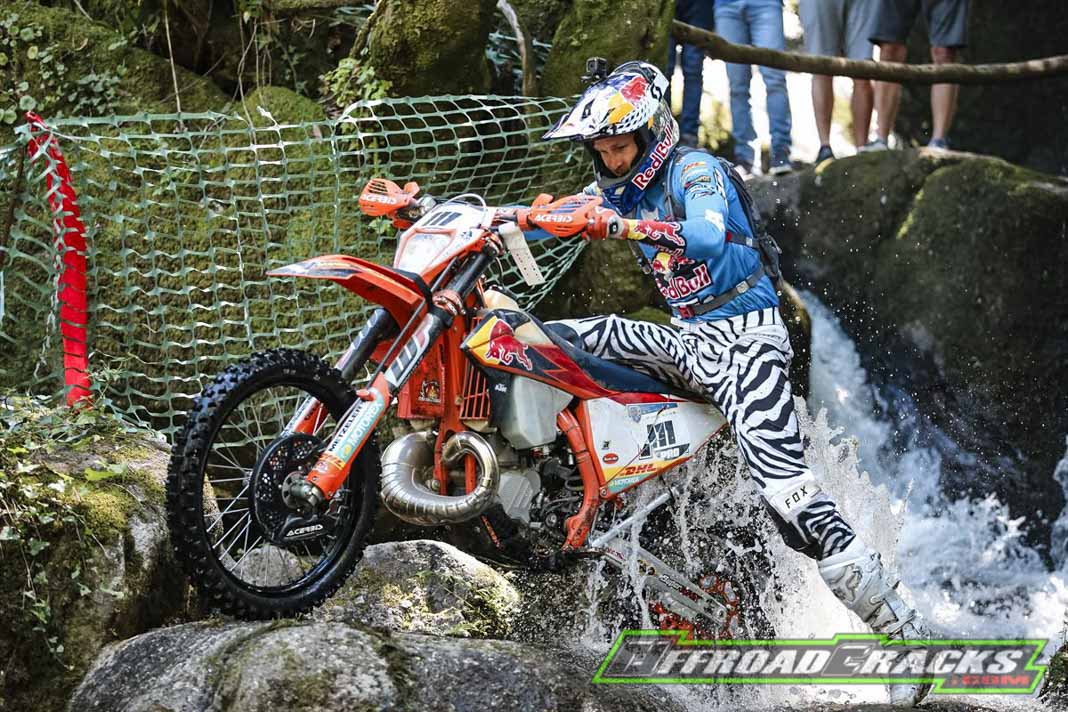 2019 World Enduro Super Series Tabellenstand nach der ersten Runde
1. Mario Roman (Sherco – ESP) 1000 points
2. Wade Young (Sherco – RSA) 850 pts
3. Manuel Lettenbichler (KTM – GER) 770 pts
4. Graham Jarvis (Husqvarna – GBR) 690 pts
5. Billy Bolt (Husqvarna – GB) 610 pts
6. Jonny Walker (KTM – GB) 570 pts
7. Alfredo Gomez (Husqvarna – ESP) 530 pts
8. Taddy Blazusiak (KTM – POL) 490 pts
9. Travis Teasdale (KTM – RSA) 460 pts
10. Jonathan Richardson (Husqvarna – GB) 430 pts
Quelle/Source: WESS, Red Bull, Future7Media
Weitere Infos unter: www.iRideWESS.com
WORLD ENDURO SUPER SERIES – Termine 2019
1. Runde: Toyota Porto Extreme XL Lagares (Portugal) 10. – 12. Mai
2. Runde: Trèfle Lozérien AMV (France) 17. – 19. Mai
3. Runde: Erzbergrodeo Red Bull Hare Scramble (Austria) 30. Mai – 2. Juni
4. Runde: Hixpania Hard Enduro (Spain) 21. – 23. Juni
5. Runde: Red Bull Romaniacs (Romania) 30. July – 4. August
6. Runde: Hawkstone Park Cross Country (United Kingdom) 21. – 22. September
7. Runde: BR2 Enduro Solsona (Spain) 5. – 6. August
8. Runde: GetzenRodeo (Germany) 2. November
Weitere Imperssionen…
---

Spain's Mario Roman has taken an early lead in the battle to become this year's ULTIMATE ENDURO CHAMPION, claiming victory at round one of the 2019 World Enduro Super Series – the Toyota Porto Extreme XL Lagares, in Portugal. Putting in a determined display of riding, the Sherco Factory Racing star produced a terrific late race charge to top the podium ahead of teammate Wade Young (RSA) with early race leader Manuel Lettenbichler (KTM – GER) third.
Following two days of action-packed Endurocross and City Prologue racing, the stage was set for Sunday's Hard Enduro feature race. Among the 300 competitors entered, over 50 Pro riders took to the start line of the demanding two-hour long course, which was to be completed twice. Notoriously difficult, the addition of blisteringly hot sunshine ensured a punishing start to the 2019 WESS championship.
Lettenbichler Sets The Pace On Lap One
Fastest seeded, Rockstar Energy Husqvarna Factory Racing's Alfredo Gomez (ESP) led the field away, with Red Bull KTM Factory Racing's Taddy Blazusiak (POL) following suit 15 seconds later.
At the first major riverbed rock step, Blazusiak had reeled Gomez in and led from the front, with Lettenbichler hot on his heels having also caught and overtaken the Spaniard.
Midway through lap one the running order changed. Setting an insanely fast pace, Lettenbichler moved into the lead and opened up a five-minute advantage over Young with Billy Bolt (Husqvarna – GB), Jonny Walker (KTM – GB) and Graham Jarvis (Husqvarna – GB) all in tow. Just behind them sat Roman.
Roman Makes His Charge
Heading out for lap two, Lettenbichler was now six minutes clear and looking strong. But Roman and Young had other ideas and impressively upped their pace in the deteriorating conditions. The duo reeled in the young German, who appeared to have run out of steam at the crucial moment.
Breaking both Young and Lettenbichler, Roman put his Sherco in front and, in charging all the way to the finish, claimed a memorable victory and the opening win of the WESS season. Young finished four minutes behind as runner-up.
Jarvis initially looked to have snatched third from Lettenbichler on corrected time, but the German was awarded time he lost on lap one due to a track marking error and finished on the podium. With Jarvis content in fourth, Bolt completed the top five, while Walker rounded out the top six.
Expert Victory For Carlos Ordoa
In the one-lap Expert class race, Carlos Ordoa secured a commanding victory beating nearest rival Nuno Pereira by 31 minutes. Alberto Aramburu completed the top three.
Jose Ferreira was the winner of the Hobby class. Finishing 17 minutes behind, Ricardo Cerqueira was second with Tiago Oliveira third.
The World Enduro Super Series continues with round two, the Trèfle Lozérien AMV in France, next weekend, May 17-19.
What They Said…
Mario Roman: "I feel amazing, it's so good to get the win. In 2016 I finished about a minute behind Alfredo and then two years in a row I had mechanical issues with my bike, but I always believed in myself and knew I could do it this year. On the first lap I was lying fifth or sixth and I couldn't see the top two guys, but as the race went on, I started to feel stronger and was able to push 100% and pass the others one-by-one. The track was so much more difficult on the second lap and I knew I would be able to make up time on those tricky sections."
Wade Young: "It feels great to get second today. At one point I was down in sixth and I was lacking some confidence after struggling in one of the rivers – that spent a lot of my energy. I came back strong though and towards the end people were starting to get tired and I was able to dig a little deeper and keep going."
Manuel Lettenbichler: "I am so happy with my result and overall I had a really good race. I didn't realise at first the gap to the others was so big. I tried to stick to the same pace on the second lap, but Mario and Wade must have been flying. I think they probably pushed each other on the difficult stuff and were able to maintain a good speed when it got really tough. Graham also caught me at a few places, but I was able to stay ahead. I had to stop to move a bridge on the first lap so that cost me some time, but thankfully they have awarded that back to me and I have come away with third. It would have been nice to get the win, especially after leading for over half of the race. But whatever the result, I am happy with my riding and it's been a good start to this year's WESS championship."
Results – Round 1: Toyota Porto Extreme XL Lagares
1. Mario Roman (Sherco – ESP) 4:01:43.21
2. Wade Young (Sherco – RSA) 4:05:59.04 +4:15.83
3. Manuel Lettenbichler (KTM – GER) 4:07:09.68 +5:26.47
4. Graham Jarvis (Husqvarna – GB) 4:07:16.12 +5:32.91
5. Billy Bolt (Husqvarna – GB) 4:15:19.68 +13:36.47
6. Jonny Walker (KTM – GB) 4:29:26.58 +27:43.37
7. Alfredo Gomez (Husqvarna – ESP) 4:34:51.08 +33:07.87
8. Taddy Blazusiak (KTM – POL) 4:53:58.02 +52:14.81
9. Travis Teasdale (KTM – RSA) 5:01:43.91 +1:00:00.70
10. Jonathan Richardson (Husqvarna – GB) 5:11:22.83 +1:09:39.70
2019 World Enduro Super Series Standings (after round 1)
1. Mario Roman (Sherco – ESP) 1000 points
2. Wade Young (Sherco – RSA) 850 pts
3. Manuel Lettenbichler (KTM – GER) 770 pts
4. Graham Jarvis (Husqvarna – GBR) 690 pts
5. Billy Bolt (Husqvarna – GB) 610 pts
6. Jonny Walker (KTM – GB) 570 pts
7. Alfredo Gomez (Husqvarna – ESP) 530 pts
8. Taddy Blazusiak (KTM – POL) 490 pts
9. Travis Teasdale (KTM – RSA) 460 pts
10. Jonathan Richardson (Husqvarna – GB) 430 pts
Website: www.iRideWESS.com
WORLD ENDURO SUPER SERIES – 2019 SCHEDULE
Round 1: Toyota Porto Extreme XL Lagares (Portugal) May 10-12
Round 2: Trèfle Lozérien AMV (France) May 17-19
Round 3: Erzbergrodeo Red Bull Hare Scramble (Austria) May 30-June 2
Round 4: Hixpania Hard Enduro (Spain) June 21-23
Round 5: Red Bull Romaniacs (Romania) July 30-August 4
Round 6: Hawkstone Park Cross Country (United Kingdom) September 21-22
Round 7: BR2 Enduro Solsona (Spain) October 5-6
Round 8: GetzenRodeo (Germany) November 2