English text version link
---
Der 6. Lauf der WESS 2019 im traditionsreichen Hawkstone Park stellt den regulären Serienablauf auf den Kopf. Denn der Organisator Paul Edmondson teilt das Event auf zwei Tage auf. Das bedeutet, dass nur die Schnellsten 250 Fahrer aus dem Fast Eddy Sprint Enduro am Samstag die Lizenz für das zweieinhalb Stunden dauernde Cross-Country-Finale am Sonntag erhalten. Am Samstag wird quasi ein Qualifikationsrennen gegen die Uhr gefahren, um sich unter den besten 250 Finalisten für Sonntag zu qualifizieren. Das 2,5h-Finale wird dann auf einer physisch stark fordernden 15-Minuten-Runde abgehalten, die sowohl Abschnitte der legendären Motocross-Strecke als auch Passagen im Waldgebiet einschließt.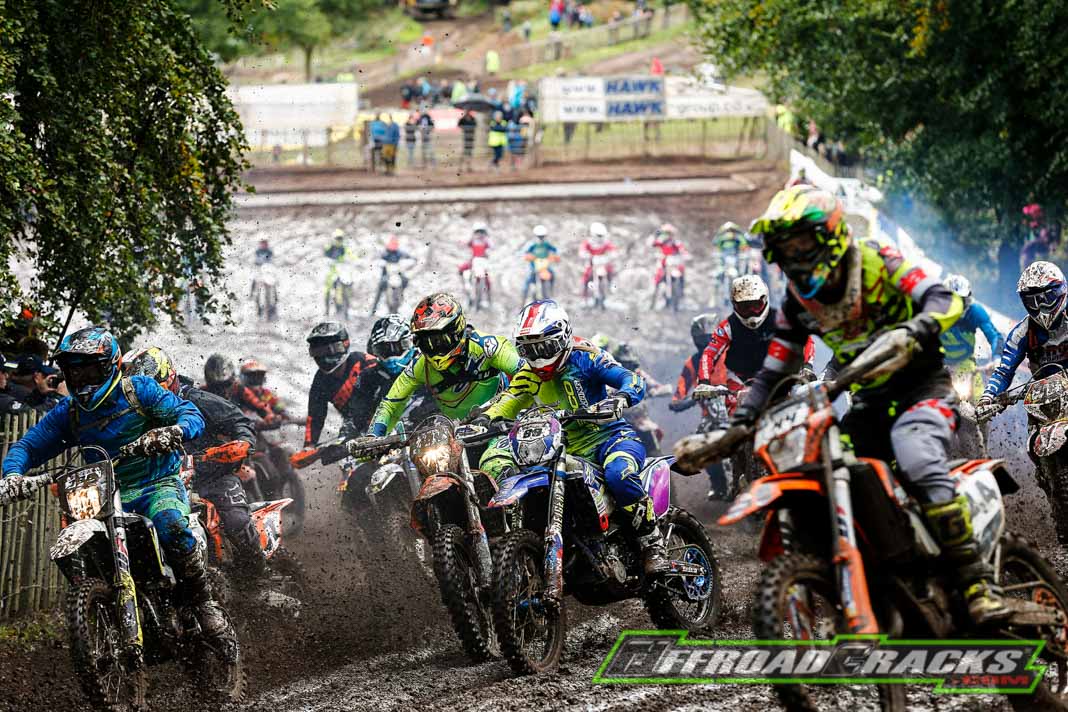 Der Deutsche Manuel Lettenbichler wird mit erheblichem Selbstvertrauen nach England anreisen, zumal er nicht nur die Romaniacs gewonnen hat, sondern auch als Führender die WESS-Wertung mit 110 Punkten Vorsprung vor Graham Jarvis anführt. Da sich die WESS-Serie 2019 fast auf der Zielgeraden befindet – es stehen ja nur noch zwei Rennen aus – werden alle Augen auf den legendären Shropshire-Kurs gerichtet sein, um zu sehen, ob Lettenbichler (KTM) seinen Meisterschaftsvorsprung gegenüber den Teamkollegen von Rockstar Energy Husqvarna Factory Racing, Graham Jarvis (GB) und Alfredo Gomez (ESP) ausbauen kann oder nicht. Josep Garcia (ESP) und Nathan Watson (GB) von Red Bull KTM Factory Racing, die 2018 auf den ersten und zweiten Plätzen landen, werden das Hochgeschwindigkeits-Cross-Country-Rennen nutzen, um sich wieder in den Titelkampf zu katapultieren, während sich Jonny Walker (GB) und Taddy Blazusiak (POL) darauf konzentrieren werden wieder zurück aufs Podium zu fahren.
RÜCKBLICK 2018
HINWEIS: Das Video ist noch deaktiviert, damit keine unerwünschte Datenübertragung zu Youtube stattfindet. Zur Aktivierung bitte auf das Vorschaubild/Video-Link klicken. Damit werden Daten übermittelt, zu deren Art, Umfang und Verwendungszweck wir keineAuskünfte geben können. NOTE: The video is still deactivated so that no unwanted data transfer to YouTube takes place. To activate, please click on the preview image / video link. This transmits data about the type, extent and purpose of which we cannot provide any information.
---
HINWEIS: Mit Anklicken des Videos stellen sie automatisch eine Verbindung zu Youtube/Google her, was einen ungewünschten personenbezogenen Datenaustausch mit sich bringen kann. Weitere Infos unter: www.google.de/privacy
---
Der Hawkstone Park erwartet epische WESS-Schlachten
In der sechsten Runde macht die WESS einen Zwischenstopp auf einer der berühmtesten Rennstrecken weltweit. Der Hawkstone Park ist ein Synonym für Motocross, Trial und Enduro. Seit Anfang der 1950er Jahre hat es hier legendäre Kämpfe zwischen den größten Ikonen des Motorradfahrens gegeben. Dank des Einsatzes von Paul Edmondson – dem mehrfachen Enduro-Weltmeister – und seinem Fast Eddy Racing-Organisationsteam können sich Teilnehmer und Zuschauer auf ein Enduro-Festival von Weltklasse freuen. Während des gesamten Wochenendes, an den bis zu 500 Fahrern an den Start gehen werden, finden am Sonntagnachmittag Rennen für Jugendliche und Amateure statt, bevor das Finale "Original Fast Eddy" stattfindet. Im Rennen um den diesjährigen ULTIMATIVEN ENDURO-WELTMEISTER ist Manuel Lettenbichler an der Spitze der Rangliste angekommen und will seinen Vorsprung noch ausbauen. Der junge Deutsche ist nach seinem WESS-Debütsieg bei den Red Bull Romaniacs hochmotiviert und wird ordentlich pushen.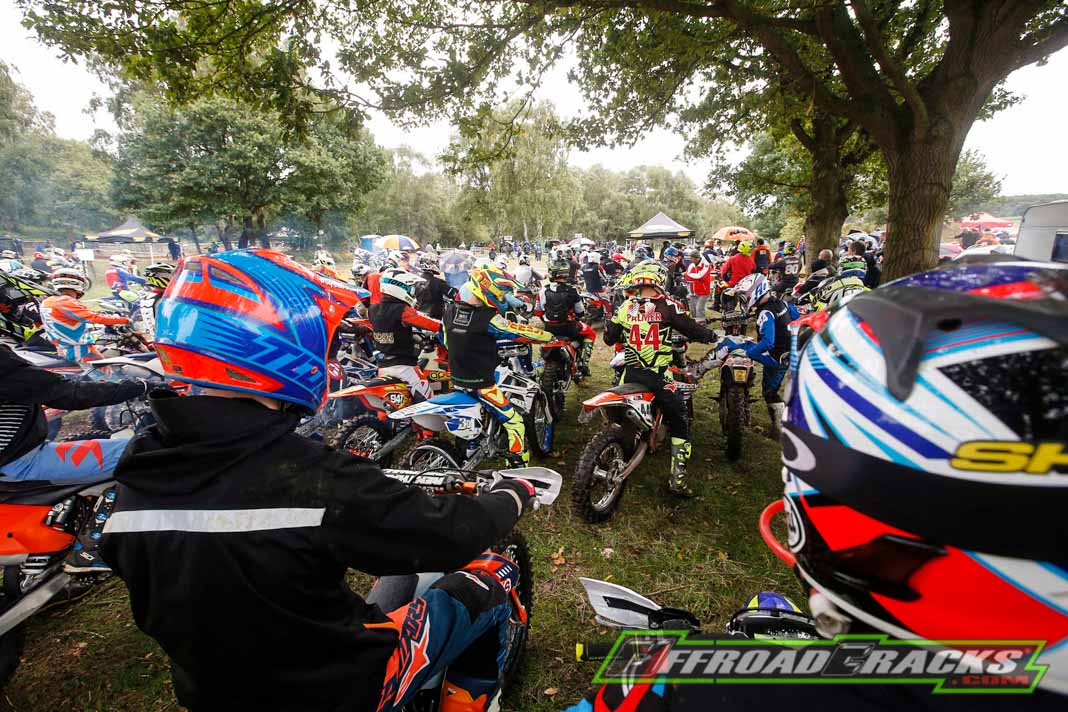 Garcia und Watson-Angriffe garantiert
Die sechste Runde ist sicherlich nicht das bevorzugte Terrain von Lettenbichler, der gegen seine Konkurrenz aus dem klassischen Enduro-Lager Josep Garcia (KTM – ESP) und Nathan Watson (KTM – GB) sicherlich stark ins Schwitzen kommen wird. Das Duo von Red Bull KTM Factory Racing zeigte bereits im vergangenen Jahr seine Klasse und belegte Platz 1 und 2. Garcia's kürzliche Handverletzung hat seine Vorbereitung auf dieses Rennen stark eingeschränkt. Aber er wird dennoch auf Sieg fahren, schon allein um seine Bilanz im Hawkstone Park um einen weiteren Sieg zu ergänzen. Nachdem Watson im letzten Jahr gegen Garcia die zweite Geige gespielt hat, ist er fest entschlossen dieses Ergebnis für 2019 umzudrehen. Als bekennender Sand-Spezialist dürfte Nathan Watson für außerordentlichen Speed sorgen.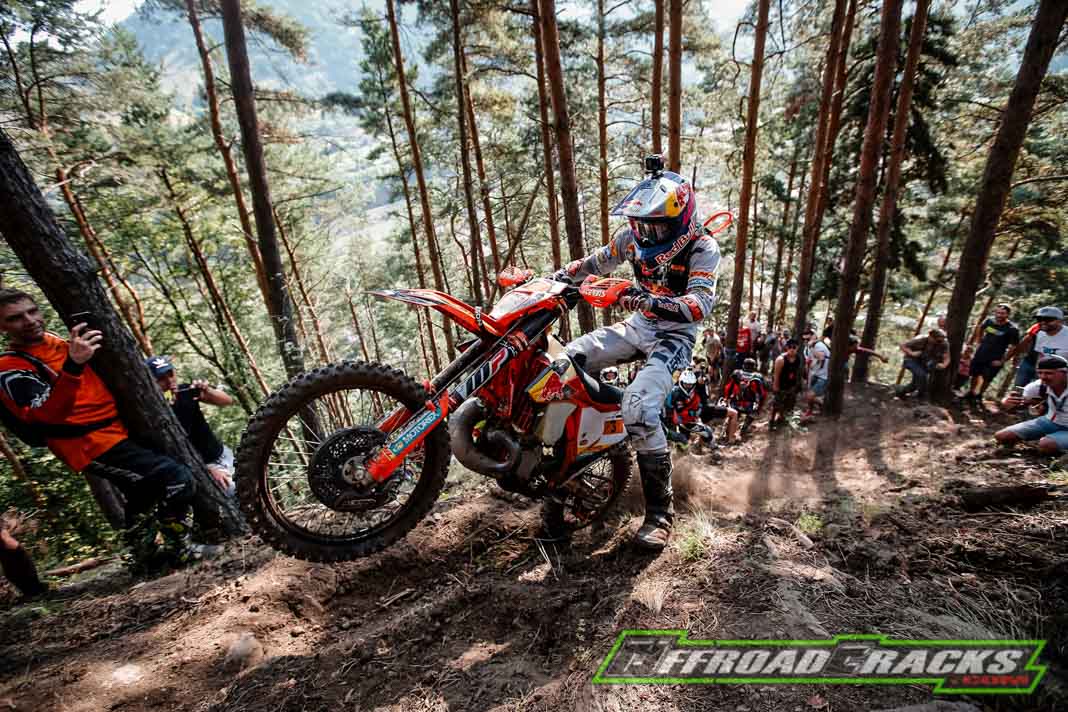 Auch Jonny Walker möchte beweisen, dass er bei seinem Heimrennen mit vorn dabei ist, da er ja 2018 verletzungsbedingt pausieren musste. Diese Ambitionen wird auch Taddy Blazusiak verfolgen, da er sich diese Saison in einer sehr guten Verfassung befindet.
Jarvis und Gomez, die Experten für Hardenduro, die im Meisterschaftskampf auf den Plätzen zwei und drei liegen, wissen das die Cross-Country-Disziplin der sechsten Runde sie enorm fordern wird. Da beide Fahrer 2018 in den Top-10 landeten werden sie alles geben um erneut eine starke Leistung zu zeigen. Neben Billy Bolt (wir berichteten: LINK) wird auch Paul Bolton wegen Verletzung pausieren.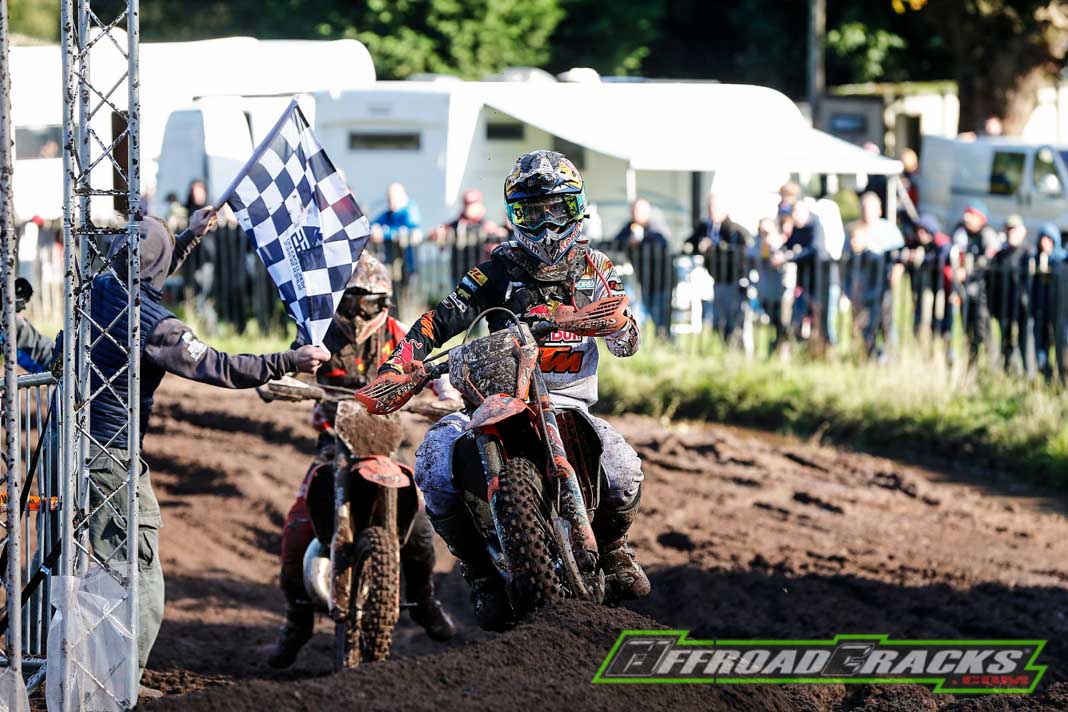 Ein besonderes Augenmerk sollte auf dem Wildcard-Fahrer Alex Snow (GB) gelegt werden was ebenso auf den SuperEnduro Junioren-Weltmeister Will Hoare zutrifft. Dazu kommen noch Sam Winterburn, James Dent und Mark Robert, die ebenfalls bei ihrem Heimrennen Spitzensport bieten wollen.
WESS Championship Standings (Nach 5 Runden)
1. Manuel Lettenbichler (KTM – GER) 3570 pts
2. Graham Jarvis (Husqvarna – GB) 3460 pts
3. Alfredo Gomez (Husqvarna – ESP) 3164
4. Mario Roman (Sherco – ESP) 2940 pts
5. Billy Bolt (Husqvarna – GB) 2725 pts
6. Jonny Walker (KTM – GB) 2700 pts
7. Josep Garcia (KTM – ESP) 2615 pts
8. Taddy Blazusiak (KTM – POL) 2590 pts
9. Nathan Watson (KTM – GB) 2091 pts
10. Pol Tarres (Husqvarna – ESP) 1965 pts
Bilder: WESS, Red Bull, Media7

WORLD ENDURO SUPER SERIES – 2019er Termine
Round 1: Toyota Porto Extreme XL Lagares (Portugal) May 10-12
Round 2: Trèfle Lozérien AMV (France) May 17-19
Round 3: Erzbergrodeo Red Bull Hare Scramble (Austria) May 30-June 2
Round 4: Hixpania Hard Enduro (Spain) June 21-23
Round 5: Red Bull Romaniacs (Romania) July 30-August 3
Round 6: Hawkstone Park Cross Country (United Kingdom) September 21-22
Round 7: BR2 Enduro Solsona (Spain) October 5-6
Round 8: GetzenRodeo (Germany) November 2
---

Germany's Manuel Lettenbichler leads the charge to the Hawkstone Park Cross-Country, near Shrewsbury, England, for round six of the World Enduro Super Series.
With the 2019 WESS season firmly on the home straight, all eyes will be fixed on the legendary Shropshire circuit to see if Lettenbichler (KTM) can increase his championship lead over Rockstar Energy Husqvarna Factory Racing teammates Graham Jarvis (GB) and Alfredo Gomez (ESP).
Finishing first and second in 2018, Red Bull KTM Factory Racing's Josep Garcia (ESP) and Nathan Watson (GB) will aim to use the high-speed Cross-Country race to catapult themselves back into the title fight, while Jonny Walker (GB) and Taddy Blazusiak (POL) focus in on round six as their return to the podium.
Epic Battles Await At Hawkstone Park
For round six, WESS makes a welcome stop at one of motorcycling's most iconic venues. Synonymous with Motocross, Trials and Enduro, Hawkstone Park has witnessed legendary battles between motorcycling's greatest icons since the early 1950s.
Thanks to the efforts of Paul Edmondson – a multiple world enduro champion in his own right – and his Fast Eddy Racing organisational team, competitors and spectators alike will be treated to a world-class festival of Enduro. Throughout the weekend, where up to 500 riders are set to compete, there will be races for Youth and Amateur competitors before the feature 'Original Fast Eddy' Cross-Country on Sunday afternoon.
At the head of the standings in the race to become this year's ULTIMATE ENDURO WORLD CHAMPION, Manuel Lettenbichler arrives at Hawkstone Park focused on extending his lead. Highly motivated following his debut WESS victory last time out at Red Bull Romaniacs, the young German will be pushing hard.
Garcia And Watson Attack
However, round six isn't Lettenbichler's favoured discipline and with Classic Enduro specialists Josep Garcia (KTM – ESP) and Nathan Watson (KTM – GB) itching to show their speed, the young German will have a fight on his hands. The Red Bull KTM Factory Racing duo stole the show in 2018 finishing a commanding 1-2.
For Garcia, a recent hand injury has hampered his preparations, but already a winner in 2019, he is hungry to add to that tally. After playing second fiddle to Garcia last year, Watson is determined to make it a home round to remember this time around. As a world-renowned sand specialist, expect Watson to come out all guns blazing.
Motivated to use his home race to good effect, Jonny Walker (KTM – GB) will have a wealth of support behind him. Walker missed out on last year's title battle due to injury, so will arrive at round six with a point to prove.
Despite missing the podium in 2018, Poland's Taddy Blazusiak (KTM) produced an incredible second half to his race. Feeling fast, fit and strong following a fourth-place ride at round five, Blazusiak will look to make amends for his mistakes this time around.
Sitting second and third in the championship fight, Hard Enduro experts Jarvis and Gomez know the Cross-Country discipline of round six will push them outside their comfort zones. But with both riders finishing inside the top-10 in 2018, they will give it everything for another strong showing.
Fresh off his ninth-place result at Red Bull Romaniacs and sitting 10th in the championship standings, TTR Officine Rigamonti Husqvarna's Pol Tarres (ESP) makes his Hawkstone Park Cross-Country debut. Israeli 16-year-old Suff Sella (KTM) – who ended round five in 24th – will look to build on his 19th place finish from 2018.
Sitting fifth overall in the championship, defending WESS champion Billy Bolt (Husqvarna – GB) will be missing in action as he recovers from a recent knee surgery. A podium finisher in 2018, he will be in attendance to watch the race action unfold from the sidelines this weekend, along with Paul Bolton.
British Interest Rides Strong
Placing sixth in 2018, now Gas Gas mounted Alex Snow (GB) will be a wildcard rider to watch out for. The former Motocross star proved incredibly fast in the demanding conditions as he challenged the world's elite Enduro riders. Seventeenth earlier this year at Trefle Lozerien AMV, Snow will be looking to break inside the top-five on home soil.
Naturally British interest rides high for round six. Eagerly awaiting their home round of the series, Eurotek KTM will be out in force with a full team line up. Missing in action for round five, South Africa's Travis Teasdale returns to racing. A strong rider capable of pushing for a competitive finish, Teasdale will be eager to deliver a memorable result for Eurotek KTM on home soil.
Will Hoare (GB) – currently 18th in standings – will look to build on his top-15 result in 2018. The SuperEnduro Junior World champion has grown in confidence as the year's progressed and with the full support of a home crowd will fight hard.
With a full line of Eurotek KTM taking to the iconic Shropshire circuit, Teasdale and Hoare are joined by teammates Charlie Frost (GB), Joe Deakin (GB), Joe Westgarth (GB) and James Jackson (GB).
As Silver class runner-up at Red Bull Romaniacs, Triple D Motorsports Sam Winterburn (GB) will also be pushing to finish inside the top-15, or better. Additional British wildcard interest includes James Dent (Sherco) and Mark Robert (KTM).
Although competing in the Expert class, Jane Daniels finished 21st overall in 2018 and will look to secure herself a top-20 result this time around. Harry Edmondson, Aled Price and Marc Vardy are among the stacked field of Expert riders eager to make their mark in WESS.
What To Expect At The Hawkstone Park Cross-Country?
Staged over two days, the Motocross circuit and its surrounding sandy woodland will become a mecca for Enduro racing this weekend. On Saturday the feature event will be the Fast Eddy Sprint Enduro. A Motocross and Enduro special test will see competitors go against the clock as they battle for one of the 250 places available for Sunday's 'Original Fast Eddy' Cross-Country. A two-and-a-half-hour race, Sunday's main event will see riders tackle a physically demanding 15-minute long course that utilises the best features of both the Motocross track and woodland.
The World Enduro Super Series continues with round six, the Hawkstone Park Cross-Country, on September 21-22.
WESS Championship Standings (After round 5 of 8)
1. Manuel Lettenbichler (KTM – GER) 3570 pts; 2. Graham Jarvis (Husqvarna – GB) 3460 pts; 3. Alfredo Gomez (Husqvarna – ESP) 3164; 4. Mario Roman (Sherco – ESP) 2940 pts; 5. Billy Bolt (Husqvarna – GB) 2725 pts; 6. Jonny Walker (KTM – GB) 2700 pts; 7. Josep Garcia (KTM – ESP) 2615 pts; 8. Taddy Blazusiak (KTM – POL) 2590 pts; 9. Nathan Watson (KTM – GB) 2091 pts; 10. Pol Tarres (Husqvarna – ESP) 1965 pts…
2018 Hawkstone Park Cross-Country Podium
1. Josep Garcia (KTM – ESP); 2. Nathan Watson (KTM – GB); 3. Billy Bolt (Husqvarna – GB)
Hawkstone Park Cross-Country Schedule
Saturday, 22 September
Open Practice: 09.00 – 12.00hrs
Fast Eddy Sprint Enduro: 12.30 – 17.30hrs
Sunday, 23 September
Rock Oil XC Youth Race: 09.00 – 10.00hrs
Steady Eddy Race: 10.30 – 12.30hrs
Original Fast Eddy: 13.00 – 15.30hrs