---
VIDEO-HIGHLIGHTS – Spring Creek Nationals
HINWEIS: Das Video ist noch deaktiviert, damit keine unerwünschte Datenübertragung zu Youtube stattfindet. Zur Aktivierung bitte auf das Vorschaubild/Video-Link klicken. Damit werden Daten übermittelt, zu deren Art, Umfang und Verwendungszweck wir keineAuskünfte geben können. NOTE: The video is still deactivated so that no unwanted data transfer to YouTube takes place. To activate, please click on the preview image / video link. This transmits data about the type, extent and purpose of which we cannot provide any information.
---
HINWEIS: Mit Anklicken des Videos stellen sie automatisch eine Verbindung zu Youtube/Google her, was einen ungewünschten personenbezogenen Datenaustausch mit sich bringen kann. Weitere Infos unter: www.google.de/privacy
---
ALLE RENNEN in volle Länge – LINK
Die Lucas Oil Pro Motocross-Meisterschaft bot den Fahrern im Spring Creek MX Park für den Frescados Tortillas Spring Creek National herausfordernde Bedingungen für das achte Saisonrennen. Eine Reihe von Gewittern, begleitet von Blitzen in der Nähe brachten heftige Regenfälle. Auf der matschigen Strecke siegten Cooper Webb von Red Bull KTM Factory Racing und Adam Cianciarulo von Monster Energy / Pro Circuit / Kawasaki. Webbs dominierendes 1:1-Ergebnis machte ihn zum 69. Fahrer, der ein Rennen in der Premier 450 Class gewann.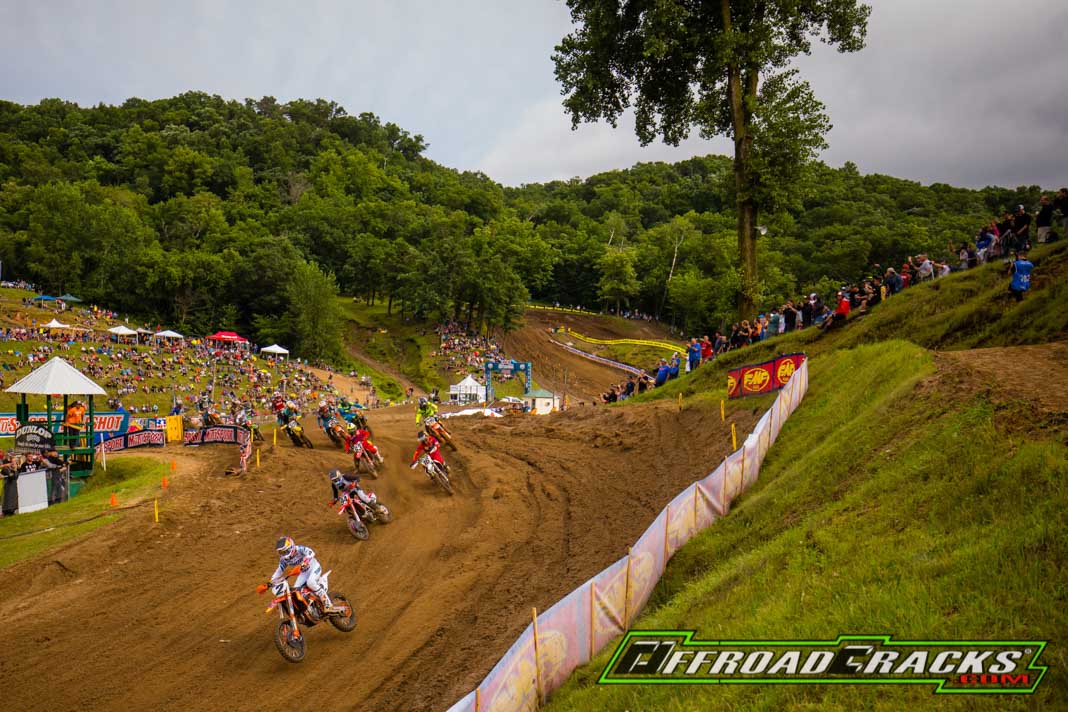 Eli Tomac von Monster Energy Kawasaki nutzte einen dritten Platz (2-5), um seinen Vorsprung in der Meisterschaft auf 38 Punkte gegenüber Marvin Musquin von Red Bull KTM Factory Racing auszubauen, der Vierter wurde (3-7). Cianciarulo musste sich auf dem Weg zu seinem sechsten Gesamtsieg (3:1) der Saison über den ganzen Tag extrem anstrengen, um den Herausforderungen des harten Wettbewerbs zu bestehen. Alex Martin von JGRMX / Yoshimura / Suzuki Factory Racing wurde Zweiter (2-3) vor heimischem Publikum und holte sein erstes Gesamtpodium der Saison. Cianciarulo liegt nun 36 Punkte vor dem Franzosen Dylan Ferrandis, der den Tag mit seinem Monster Energy / Star / Yamaha als Vierter (5:4) beendete.
125 All Star Race – Spring Creek Nationals
HINWEIS: Das Video ist noch deaktiviert, damit keine unerwünschte Datenübertragung zu Youtube stattfindet. Zur Aktivierung bitte auf das Vorschaubild/Video-Link klicken. Damit werden Daten übermittelt, zu deren Art, Umfang und Verwendungszweck wir keineAuskünfte geben können. NOTE: The video is still deactivated so that no unwanted data transfer to YouTube takes place. To activate, please click on the preview image / video link. This transmits data about the type, extent and purpose of which we cannot provide any information.
---
HINWEIS: Mit Anklicken des Videos stellen sie automatisch eine Verbindung zu Youtube/Google her, was einen ungewünschten personenbezogenen Datenaustausch mit sich bringen kann. Weitere Infos unter: www.google.de/privacy
---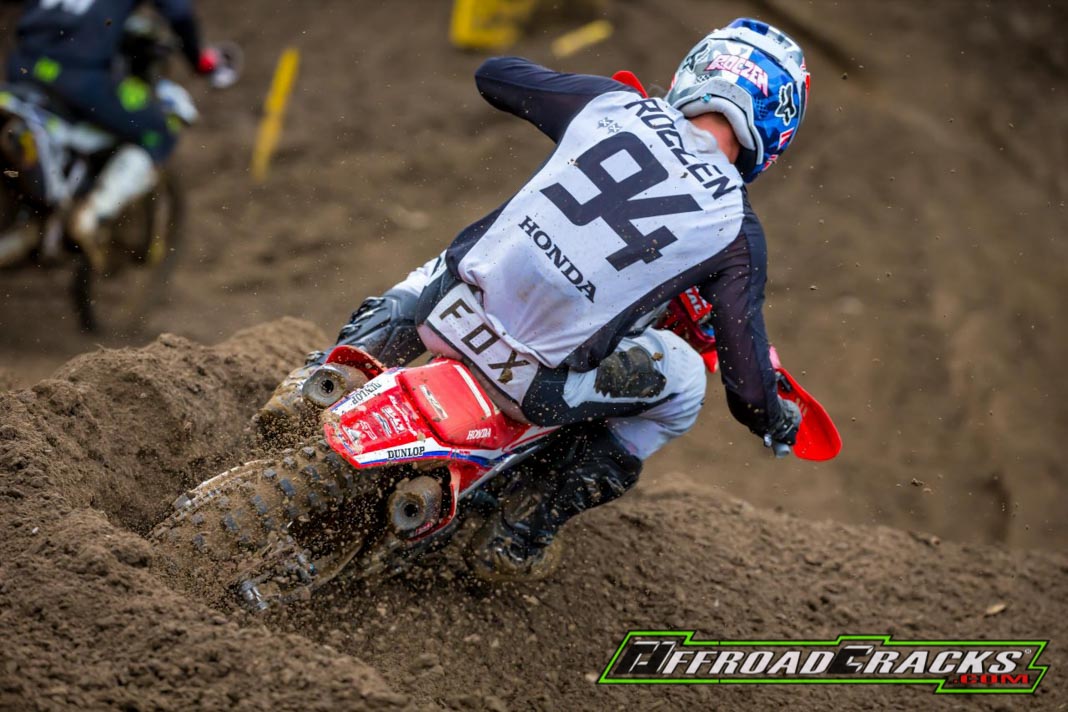 HONDA & KEN ROCZEN Statement
Achterbahn Fahrt für Roczen in Spring Creek
Es war ein regnerischer und wilder Tag in Minnesota für das achte Rennen der AMA Pro Motocross Championship in Millville, Minnesotas Spring Creek MX Park. Blitzschlag und starker Regen verursachten Verspätungen und herausfordernde Streckenbedingungen. Ken Roczen vom Team Honda HRC hatte Mühe seinen Rhythmus auf der rutschigen Strecke zu finden, aber er fand im zweiten Durchgang einen Weg und führte den Großteil des Rennens an, bevor er auf dem zweiten Platz ins Ziel kam. Mit 14: 2 landete er an diesem Tag auf dem fünften Gesamtrang.
Ken Roczen hatte einen guten Start in Race 1, aber als die 40 Rennfahrer in die erste Kurve rasten, wurde er mit Matsch überzogen und fiel dadurch auf den 17. Platz zurück. Während er sich nach vorn arbeitete, ging ein anderer Fahrer vor ihm zu Boden und auch Ken musste sich daraufhin in den Matsch legen. Der Deutsche arbeitete sich erneut durch das Feld und rückte in Runde vier auf Rang 12 vor. Sieben Minuten vor Schluss geriet Roczen unter Beschuss und fiel zwei Plätze zurück, bevor er als 14. die Ziellinie überquerte.
Im zweiten Race holte sich Ken Roczen beim Start den zweiten Platz. Er fing schnell an, den Führenden unter Druck zu setzen bis diesem ein Fehler unterlief, was er sofort ausnutzen konnten und das Rennen anführte. Roczen fuhr einen Großteil des Rennens an der Spitze, konnte aber in den letzten Runden sein Tempo nicht halten und gab schließlich die Führung an Cooper Webb ab.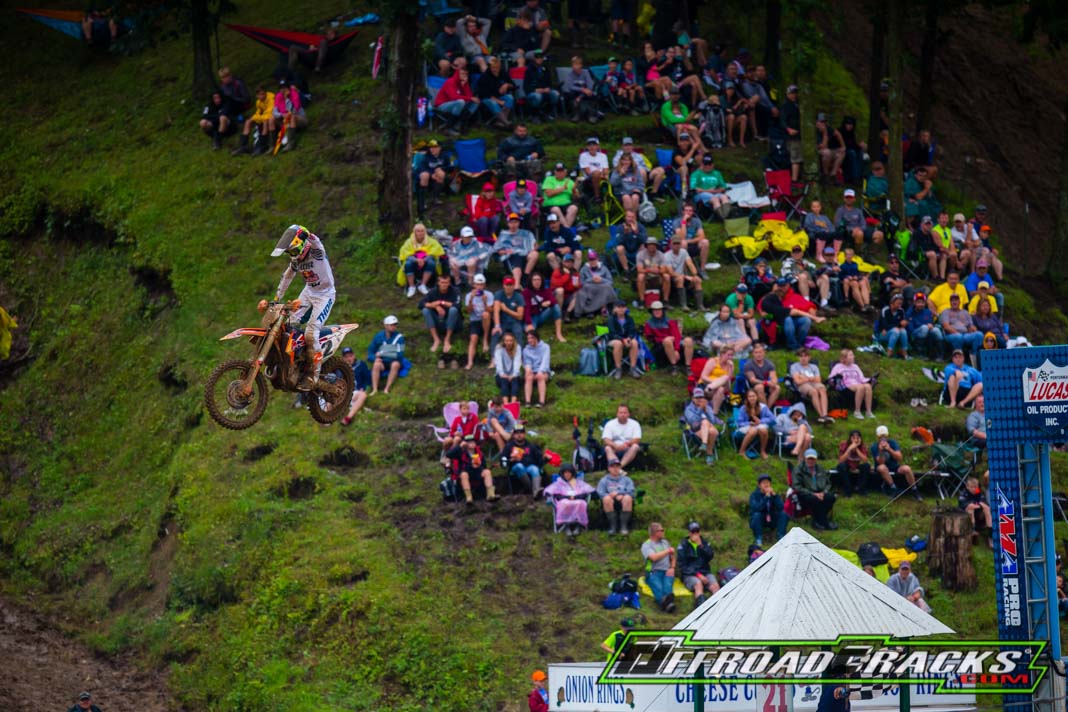 Background-Infos
Am Freitag nahmen Ken Roczen von Team Honda HRC, Chase Sexton von GEICO Honda, Christian Craig, RJ Hampshire und Hunter Lawrence in Cycle City von Rochester an einem Händlerauftritt teil, bei dem sie Autogramme gaben und Fotos mit begeisterten Fans machten.
Starker Regen durch den Morgen zwang die Offiziellen, das erste Qualifying abzusagen und das zweite zu verschieben. Als Roczen endlich auf die Strecke kam, konnte er nur vier Runden fahren, bevor ein Blitzeinschlag das Training vorzeitig beendete. Er sicherte sich die sechstschnellste Runde in der verkürzten Session mit einer 2: 2,265.
Im Laufe des Tages fand Roczen sein Tempo im zweiten Rennen wieder und legte mit 2'10.701" die schnellste Runde zurück
Der private Honda-Fahrer John Short zeigte in Millville eine Karriere-Bestleistung, erzielte zwei starke Starts und fuhr mit seinem CRF450R mit 6-8 Finishs einen beeindruckenden siebten Gesamtrang ein
Nach acht Runden bleibt Roczen mit 293 Punkten auf dem dritten Gesamtrang, elf hinter dem Zweiten und fünf vor dem Dritten
In der 250er-Klasse feierte der GEICO Honda-Team einen Sieg und den dritten Gesamtrang des jungen australischen Fahrers Hunter Lawrence, der seine MXGP-Erfahrung auf der matschigen Strecke nutzte und die Platzierungen 1-6 holte. RJ Hampshire überwand seine Start-Problematik und belegte mit 6-11 den achten Gesamtrang. Die Teamkollegen Chase Sexton und Christian Craig kehrten beide nach Millville zurück, haderten aber mit technischen Problemen. Sexton erholte sich mit einem siebten Rang im zweiten Rennen und landete damit auf dem zwölften Rang, während Craig den zwanzigsten Platz belegte.
Das nächste Rennen für das Team Honda HRC ist der neunte Lauf der AMA Pro Motocross-Serie, die am 27. Juli im malerischen pazifischen Nordwesten im Washougal MX Park im US-Bundesstaat Washington stattfindet.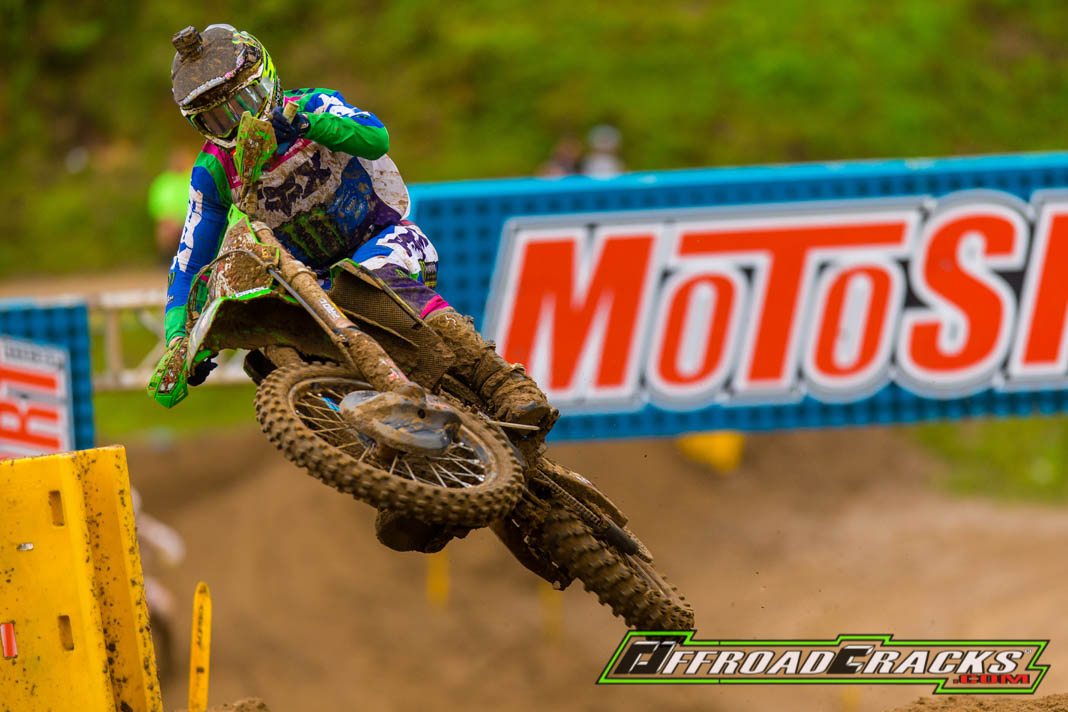 KEN ROCZEN STATEMENT
"Es war ein verrückter Tag. Zumindest für die erste Tageshälfte war das Wetter nicht auf unserer Seite. Wir hatten nur ungefähr 10 Minuten Training. Mein erstes Moto war schrecklich. Ich hatte auf der Startgeraden keine guten Start und fiel weit außerhalb der Top 15 zurück. Gleich nach der Ziellinie ging ein anderer Fahrer vor mir runter und ich konnte ihm nicht ausweichen, also musste ich auch zu Boden. Ich habe eine neue Einstellung ausprobiert, konnte mich aber überhaupt nicht damit anfreunden. Deshalb haben wir beim zweiten Rennen wieder auf mein Basis-Setup umgestellt, mit dem ich am besten vertraut bin. Daraufhin habe ich mich im Race 2 von Anfang an sehr gut geschlagen und kam in der ersten Kurve als zweiter heraus. Cooper [Webb] und ich haben ein paar Mal hin und her gewechselt, bevor ich den entscheidenden Überholvorgang durchgezogen habe. Ich blieb die meiste Zeit des Rennens an der Spitze, wurde aber in den letzten Runden leider ziemlich müde und er konnte wieder an mir vorbei. Ich habe in der letzten Runde versucht nochmal den Nachbrenner einzuschalten, trotz engem Zieleinlauf reichte es dann nur für den zweiten Platz. Das war insgesamt ein gutes Ergebnis, womit ich mit dem Desaster aus dem 1. Lauf dann auch zufrieden bin."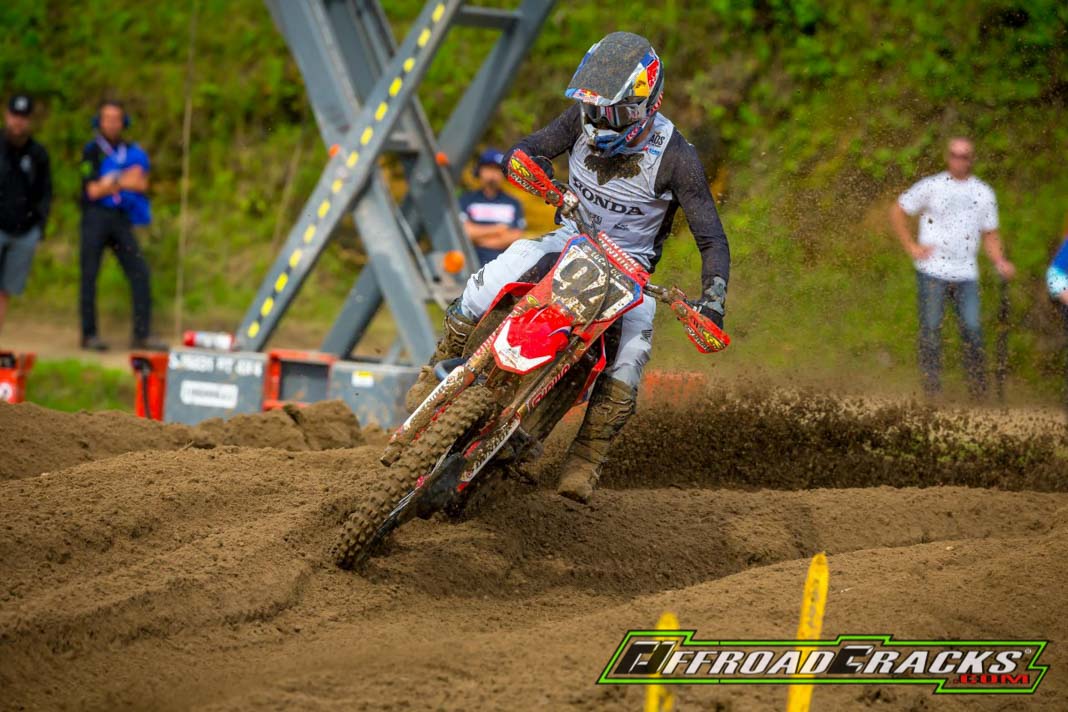 ---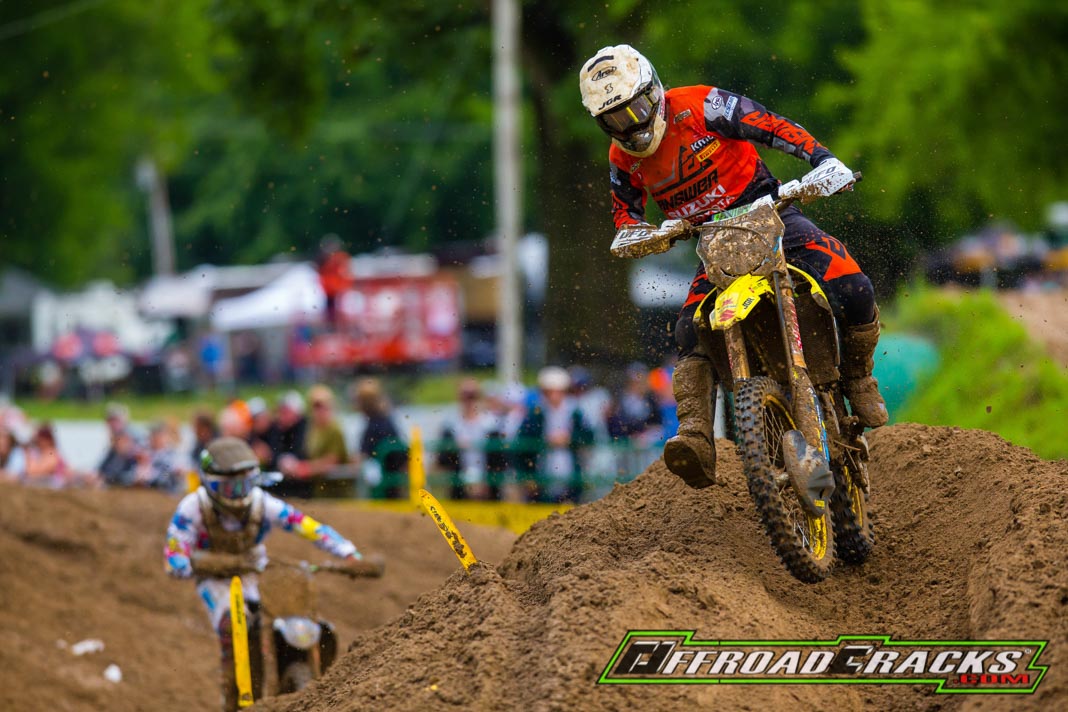 MILLVILLE, Minn. (July 20, 2019) – The Lucas Oil Pro Motocross Championship, sanctioned by AMA Pro Racing, held its eighth round of the 2019 season at Spring Creek MX Park for the 37th running of the Frescados Tortillas Spring Creek National on Saturday. A series of thunderstorms, accompanied by nearby lightning, forced race officials to adjust the race day schedule, which ultimately delayed the start time of the opening moto one hour. The heavy rainfall provided riders with challenging track conditions throughout the afternoon, where the 450 Class saw Red Bull KTM Factory Racing's Cooper Webb sweep both motos for his first career victory in the premier class. In the 250 Class, Monster Energy/Pro Circuit/Kawasaki's Adam Cianciarulo prevailed to take his sixth victory of the season, extending his lead in the championship standings.
As the gate dropped on the opening 450 Class moto, JGRMX Suzuki support rider Isaac Teasdale emerged with the first MotoSport.com Holeshot of his career over Webb and Paulson Rock/FXR Racing's local hero Henry Miller. As the 40-rider field charged out of the first turn, Webb blasted by Teasdale to take over the top spot and lead the opening lap. Miller was credited in second, while TPJ Racing rider John Short moved into third, just ahead of Teasdale.
Webb immediately took advantage of a clear track and quickly opened a gap over his competition, while Miller maintained his hold of second. Teasdale managed to get back around Short for third, however, it would be short lived as Monster Energy Kawasaki's Eli Tomac was on the move and wasted no time overtaking both riders.
Tomac's march to the front continued as he tracked down Miller and took over the second position with an aggressive move around the outside of the first turn. Shortly after, Miller had company from Red Bull KTM Factory Racing's Marvin Musquin, who made the pass for third, shuffling Miller to fourth.
Over the ensuing laps Tomac used every inch of the racetrack to close in on Webb, and as the moto neared its completion Tomac found himself searching for a way past the race leader. However, Webb withstood the challenge and responded by picking up his pace, which kept Tomac at bay. When the checkered flag waved, it was Webb who held on to take the first 450 Class moto victory of his career by 11.8 seconds over Tomac. Musquin remained unchallenged en route to third. Rockstar Energy Husqvarna Factory Racing's Zach Osborne was fourth, while Miller finished an impressive fifth in front of the home crowd.
Moto 2 saw Webb carry the momentum from his first moto win to take his class-leading sixth MotoSport.com Holeshot over Team Honda HRC's Ken Roczen and Short. As Webb and Roczen set the pace out front, several riders found themselves collected in a first turn pileup, including championship contender Musquin. Tomac was mired deep in the field as well, and fought to put himself inside the top-10 at the end of the opening lap.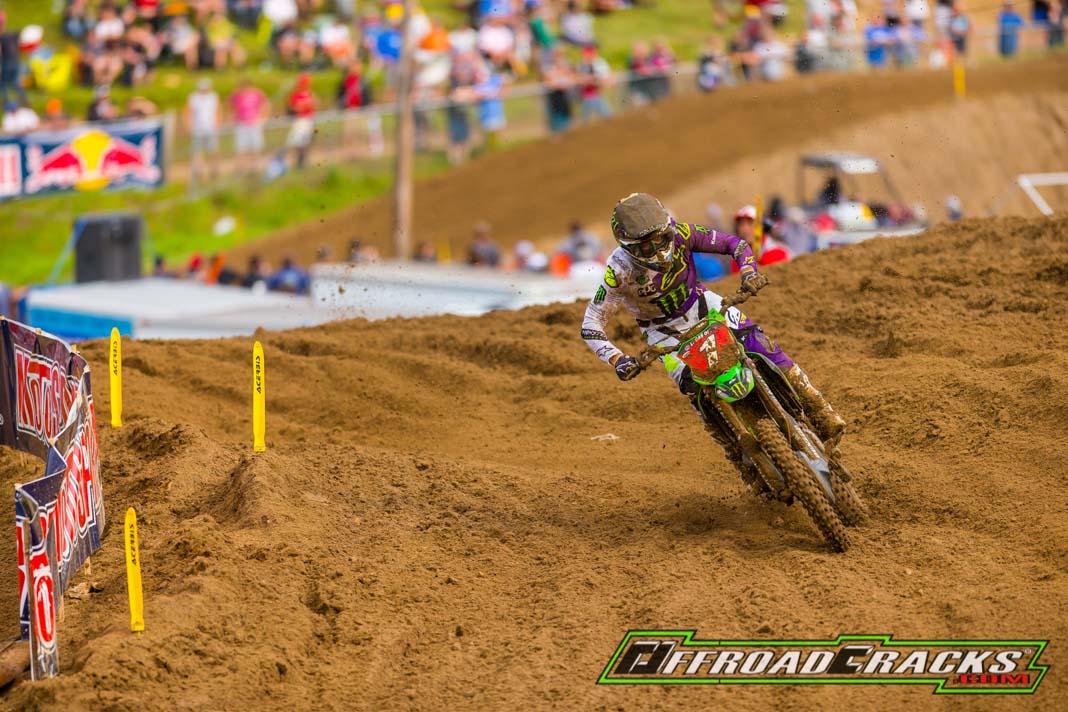 Behind the lead duo, the battle for third began to heat up as Osborne closed in on Short, and eventually made the pass stick for third. Despite Webb's strong riding out front, Roczen started bridging the gap and was able to make a successful pass attempt for the lead. Just a few corners later, Webb aggressively dove to the inside of Roczen to retake the lead.
While pushing the pace up front, Webb came up short on the landing of one of the uphill jumps, which forced him to the ground and allowed Roczen to inherit the lead. Webb was able to remount in second with Osborne just behind. As the race entered its final stages, Webb was relentless and chipped away at Roczen's advantage. He soon found himself once again contending for the moto win and set his sights on the lead. With just two laps remaining, Webb made the pass stick on Roczen navigating the sand rollers. He quickly distanced himself, but Roczen laid it all on the line on the final lap to close to within less than a bike length as they navigated the final few corners.
Webb pushed all the way until the checkered flag, and was able to narrowly edge out Roczen by 0.3 of a second. Osborne finished in a distant third. Tomac, who endured through a tip over of his own, only managed to fight his way up to fifth in the conditions.
The 1-1 moto scores by Webb netted him both the first overall podium and overall victory of his career. He becomes the 69th different 450 Class winner in Pro Motocross history, and just the second to do so at Spring Creek MX Park.
"I really wanted that second moto win," explained Webb. "I definitely put on a hard charge in Moto 2, but it was really nice to get the job done with a 1-1 and take both motos. With the success I had earlier this year [in AMA Supercross], it definitely elevated my expectations. There was a lot of stuff to figure out at the beginning of the outdoor season with setup, but I feel like we're in a good position with where we're at now. The break allowed me to get the bike in a good spot and kind of get myself mentally recharged."
Osborne (4-3) and Tomac (2-5) ended up in a tie for the runner-up spot. However, Osborne's better second moto finish of third gave him the tiebreaker, dropping Tomac to third.
Tomac's unblemished podium streak in 2019 was good enough to extend his lead in the 450 Class standings to 38 points. Musquin, who finished fourth overall (3-7), remains second. Roczen, who finished fifth (14-2), continues to hold onto third and trails Musquin by 11 points.
The first 250 Class moto saw Cianciarulo prevail with his third MotoSport.com Holeshot while battling alongside GEICO Honda's Hunter Lawrence, and just ahead of Monster Energy/Star/Yamaha Racing's Justin Cooper. Lawrence was able to edge out into the lead, where he and Cianciarulo quickly set the pace out front. Behind them, JGRMX/Yoshimura/Suzuki Factory Racing's Alex Martin began to apply pressure on Cooper for third, taking control of the position in front of his hometown crowd before the end of the opening lap.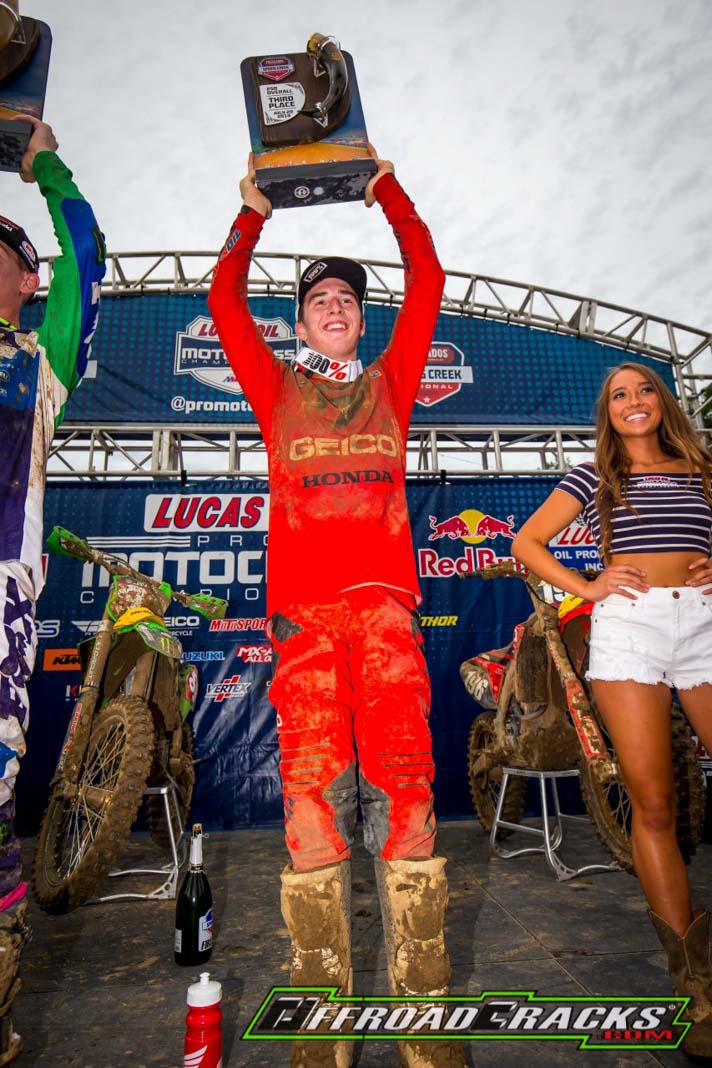 As Lawrence continued to ride strong and attack the muddy conditions, Cianciarulo gave chase and matched the leaders pace for the first half of the 30-minute-plus-two-lap moto. Martin started to find his pace and slowly began closing the gap to Cianciarulo, but every time he would look to make a move, Cianciarulo responded and pulled back away. With just four minutes remaining, Cianciarulo lost the front end and found himself on the ground, allowing Martin to take over second. Cianciarulo was able to quickly remount in third.
Out front, Lawrence remained consistent to take his second moto win of the season. He crossed the line 13.4 seconds ahead of Martin, who matched a season-best moto finish. Cianciarulo rebounded from his late-race dismount to complete the podium in third. Troy Lee Designs/Red Bull/KTM's Shane McElrath was fourth, while Monster Energy/Star/Yamaha Racing's Dylan Ferrandis rounded out the top five.
Cooper launched out of the gate to take his class-leading fifth MotoSport.com Holeshot to start Moto 2, followed by Cianciarulo and JGRMX/Yoshimura/Suzuki Factory Racing's Kyle Peters. Lawrence, who won the opening moto, was credited with 10th at the end of the opening lap, while Martin started just outside of the top five after running off of the track in the first turn.
A clear track allowed Cianciarulo to go on the attack early. He made an assertive pass on Cooper to grab the lead and proceeded to break away from the riders behind him, opening a comfortable lead in the early part of the moto. While Cooper continued in second, Martin began to pick riders off one-by-one and soon moved into third. The Millville native then set his sights on Cooper for second, latching onto the Yamaha rider as he looked for a way around.
With eight minutes remaining, Martin and Cooper came together, which sent Cooper to the ground and caused him to lose several positions. Martin continued on in second, while Monster Energy/Star/Yamaha Racing's Colt Nichols moved up to third. Just moments later, a miscue by Martin allowed Nichols to take over second, but a persistent Martin struck back to retake the position with just three laps to go.
Cianciarulo carried on to take his sixth moto win of the season by 11.7 seconds over Martin, while Nichols finished in a strong third. At the completion of the moto, race officials announced that Martin would get a one-position penalty for his off-track excursion in the first turn at the start of the race, which moved Nichols into season-best finish of second and dropped Martin to third.
Cianciarulo's 3-1 scores gave him the seventh overall victory of his career, and his sixth in eight rounds this season. It's the fifth time this summer that Cianciarulo has used a second-moto win to carry him to the overall victory.
"I'm not really an angry person, but after that first moto I was mad," exclaimed Cianciarulo. "I just put my music on and focused on coming back for redemption in Moto 2. The second moto went much better and I just put my head down and kept focused the entire moto. It's incredible to get a sixth overall win of the season, and I'm just looking forward to keeping the momentum rolling as we finish off the summer."
Martin earned his first overall podium result of the season at his home track in second (2-3), edging out Lawrence in third (1-6).
Cianciarulo continues to lead the 250 Class standings and extended his lead to 36 points over Ferrandis, who finished fourth (5-4). Cooper, who finished seventh (7-10), sits third, 46 points out of the championship lead.
HONDA & KEN ROCZEN STATEMENT
It was a wet and wild day in Minnesota for round eight of the AMA Pro Motocross Championship at Millville, Minnesota's Spring Creek MX Park, as lightning and heavy rain throughout the day caused delays and challenging track conditions. Team Honda HRC's Ken Roczen struggled to find his rhythm on the slick track in the opening 450 class moto, but he found redemption in the second outing, leading for the majority of the 30-minute-plus-two-lap-race before he took the checkered flag in second. His 14-2 scores slated him fifth overall on the day.
Moto one saw Roczen get a good jump off the line, but as the 40 racers careened into the first turn, he was covered in mud and shuffled back to 17thplace. While working his way forward, another rider went down in front of him, leaving Roczen nowhere to go and taking him down too. The German once again began working his way through the field, advancing to 12thon lap four. With seven minutes remaining, Roczen came under fire, relinquishing two spots before crossing the line in 14th. When the gate dropped on moto two, Roczen rocketed his CRF450R down the straight to a second-place start. He quickly began stalking the leader, and the two swapped positions several times before Roczen was able to capitalize on a mistake by his rival, allowing him to gain control of the front spot. Roczen rode strong up front for much of the 30-minute-plus-two-laps race, but he was unable to maintain his pace in the closing laps, ultimately relinquishing the lead and finishing second.
NOTES
On Friday, Team Honda HRC's Ken Roczen was joined by GEICO Honda's Chase Sexton, Christian Craig, RJ Hampshire and Hunter Lawrence at Cycle City of Rochester for a dealer appearance, where they signed autographs and took photos with eager fans.
Severe rain through the morning forced officials to cancel the first qualifying session and delay the second. When Roczen finally took to the track, he was only able to complete four laps before lightning prompted the red flag to end practice. He secured the sixth-quickest lap in the shortened session with a 2'12.265".
As the day progressed and the track developed, Roczen found his speed in the second race, laying down the fastest lap of the moto at 2'10.701".
Privateer Honda rider John Short had a career-best performance in Millville, notching two strong starts and riding his CRF450R to an impressive seventh overall with 6-8 finishes.
After eight rounds, Roczen remains third overall in the championship standings with 293 points, 11 behind second and five in front of third.
In the 250 class, the GEICO Honda squad celebrated a moto win and third-place overall finish by young Australian rider Hunter Lawrence, who put his MXGP experience to good use on the muddy track, riding strong to secure 1-6 finishes. RJ Hampshire overcame inconsistent starts to finish eighth overall with 6-11 marks. Teammates Chase Sexton and Christian Craig both returned to action in Millville, but it was not the day either rider had hoped for, as both suffered mechanical issues in the opening moto. Sexton recovered with a seventh in the second race, landing him 12thoverall, while Craig finished 20th.
Next up for Team Honda HRC is round nine of the AMA Pro Motocross series, which takes place in the scenic Pacific Northwest at Washington State's Washougal MX Park on July 27.
KEN ROCZEN Statement
"It was a crazy day. The weather wasn't on our side, at least for the first half of the day. We only had about 10 minutes of practice and then it was a waiting game for the motos. My first moto was terrible, so not much to say other than that. I didn't have a good drive down the start straight and fell way back outside the top 15. Then right after the finish line, another rider went down in front of me and I was unable to avoid him so I went down too. I tried a new setting but just couldn't get comfortable at all, so for the second race we switched back to my base setup, which is what I'm most familiar with. I hooked up great off the start and came around the first turn in second. Cooper [Webb] and I swapped back and forth a few times before I made the pass. I stayed in the lead for most the race but unfortunately got pretty tired those last few laps and he was able to get back by me. I tried to make a final charge on the last lap and we were right together across the finish, but I ended up second. It was good redemption from the first race, so I'm happy with how it ended."
Quelle/Source: Promotocross