GAERNE präsentiert pünktlich zur größten Motorradmesse in Europa einen neues Design für den SG12 sowie zahlreiche Optimierungen. Sofort fällt das neue designte "G" ins Auge. Das ist aber noch nicht alles laut Gaerne, die in Mailand auf der EICMA alle Stiefel präsentieren werden.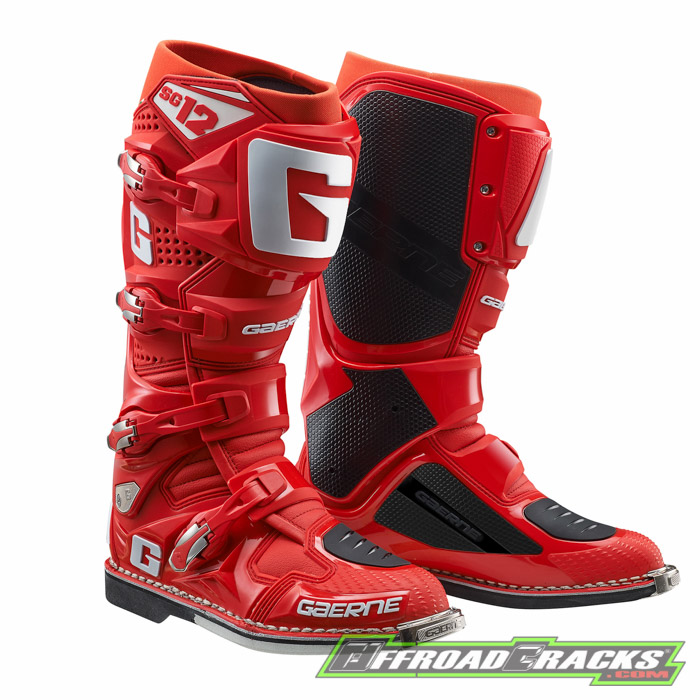 Die Farbegebung ROT und WEISS-GOLD-SCHWARZ stellen das diesjährige Highlight der Kollektion dar.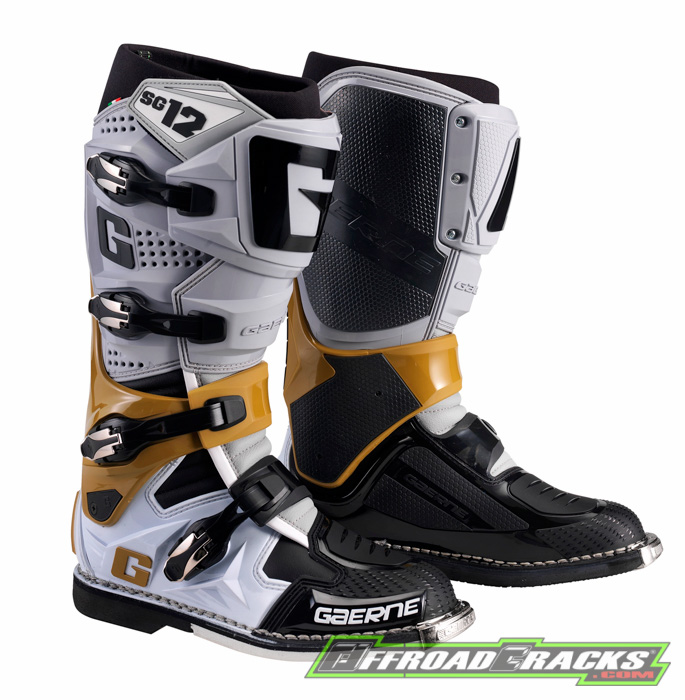 FEATURES
Dual Stage Pivot System – Dieses revolutionäre neue System ist exklusiv für Gaerne patentiert: Seitenhalt und eine feste aufrechte Position werden über eine Gleitplatte garantiert
Grip Guard – Auf der Innenseite des Schuhs befindet sich der brandneue 'Grip Guard' aus Gummi
Frontplatte / Schienbeinschutz – Diese neue thermoplastische Schienbeinplatte ist anatomisch geformt und bietet eine perfekte Passform. Durch Entfernen von drei Schrauben kann die Öffnung vergrößert werden, um ein stärkeres Bein oder auch eine größere Knee-Orthese aufnehmen zu können
Schnallensystem – Beim SG-12 verwendet man vier leichte Aluminiumschnallen, die an einem verstellbaren Riemen befestigt sind. Dies ist ein 'Tried and True' -System, das dem Fahrer ein 'Easy in' – und ein 'Easy out' im Einsatz garantiert
Faltenbalg – Hergestellt aus einem neuen atmungsaktiven Schweizer Gewebe namens Acronos. Die Faltenbalg ist extrem dehnbar, hat aber die perfekte Form, um Sand und Schmutz fernzuhalten
Innenfutter – Auf der Innenseite befindet sich der berühmte 'Gaerne Memory Cell Foam' – bekannt für das angenehmste Gefühl und die beste Passform in einem Offroad-Stiefel
Fersenschale – Die neue Fersenschale wurde entwickelt, um Stöße im Fall einer Kompression von hinten abzufedern. Sie ist auch ein guter Ort, um das neue 'G' -Logo zu präsentieren
Toe-Box – Das neue Design verfügt über eine schlankere Form im Zehenbereich für ein verbessertes Gefühl des Schalthebels und der Motorrad-Kontrolle. Der gesamte Bereich ist von einem neuen Kunststoffmaterial umhüllt, das leichter ist und mehr Komfort und Gefühl für das Motorrad bietet
Zehenkappe – Eine völlig neue Form – Die Zehenkappe wurde überarbeitet und verstärkt, um einen neuen 'härteren' Look zu erzielen
Sohle – Beim SG-12 wird man ein neues Design bemerken. Diese Sohle hat eine optimierte OPtik, aber man verwendet immer noch den Gaerne 'Dual Composite' -Antischockgummi, der die Gaerne-Sohlen auf der ganzen Welt berühmt gemacht hat
Innensohle – Im Inneren des Schuhs befindet sich ein völlig neues Fußbett, das speziell geformt wurde, um den Fuß richtig zu stützen. Im hinteren Teil des Fußbettes wurde ein neues stoßdämpfendes Material verwendet. Und im vorderen Bereich wurde die Konstruktion so ausgeführt, dass der Fuß entlüftet werden kann
Hier die vollständige Kollektion des SG12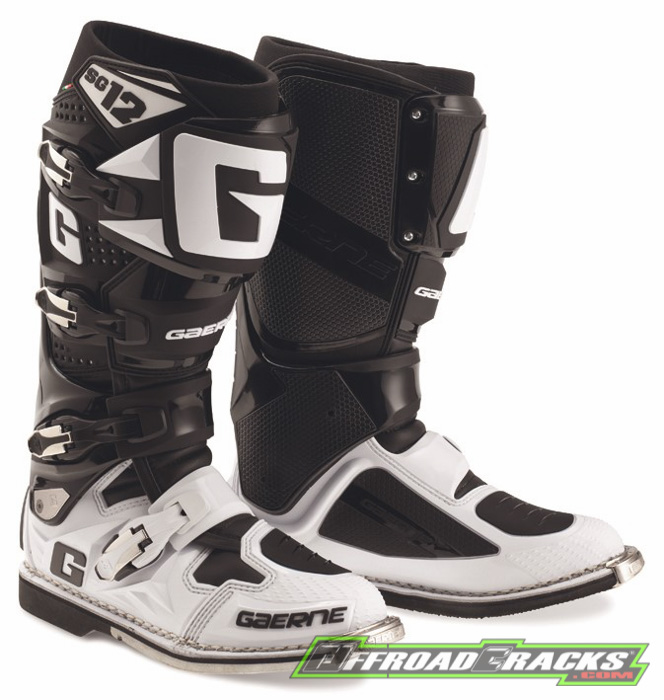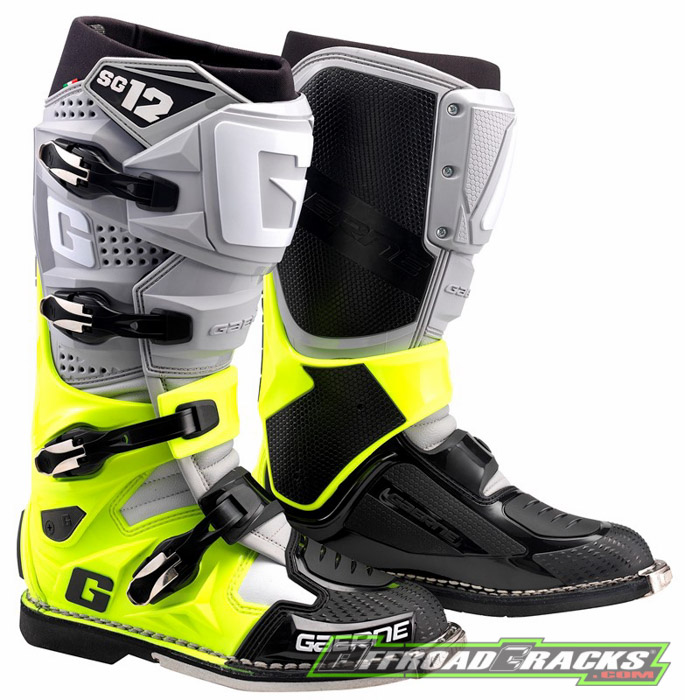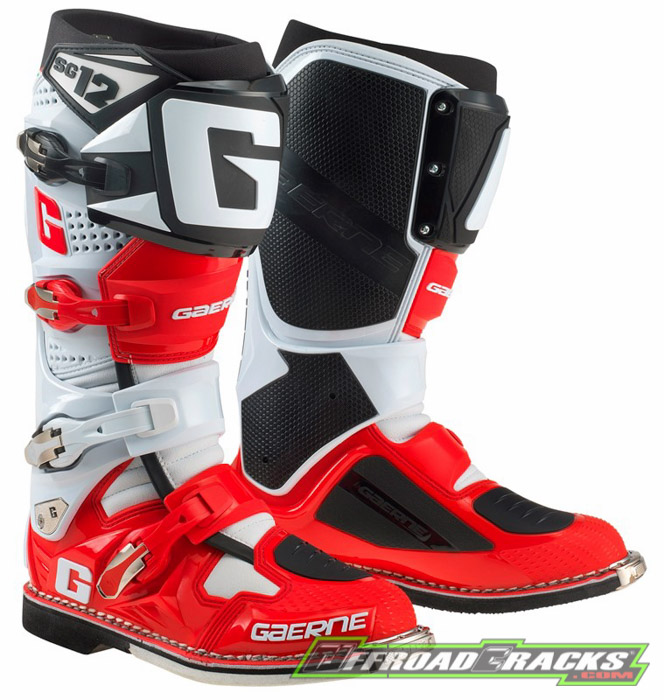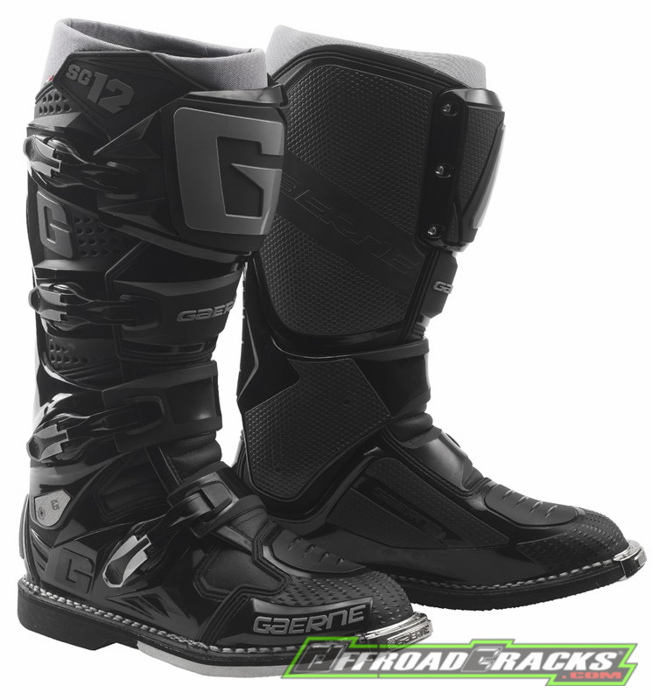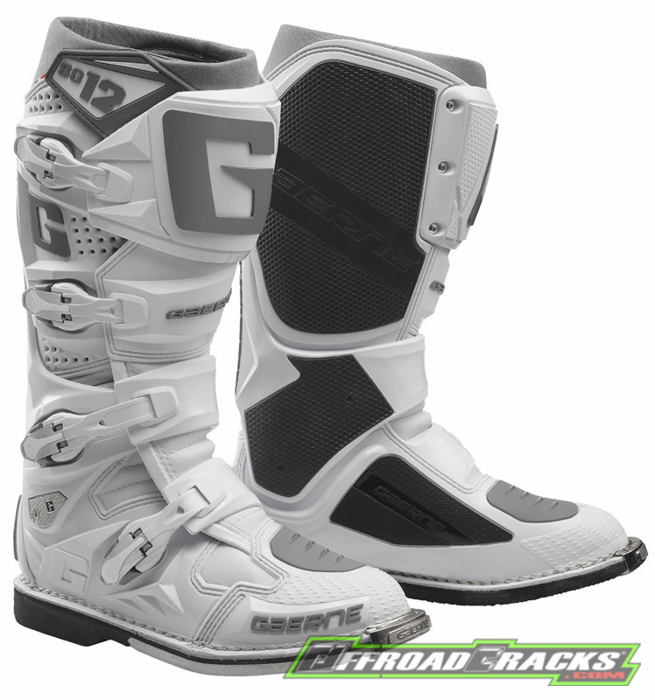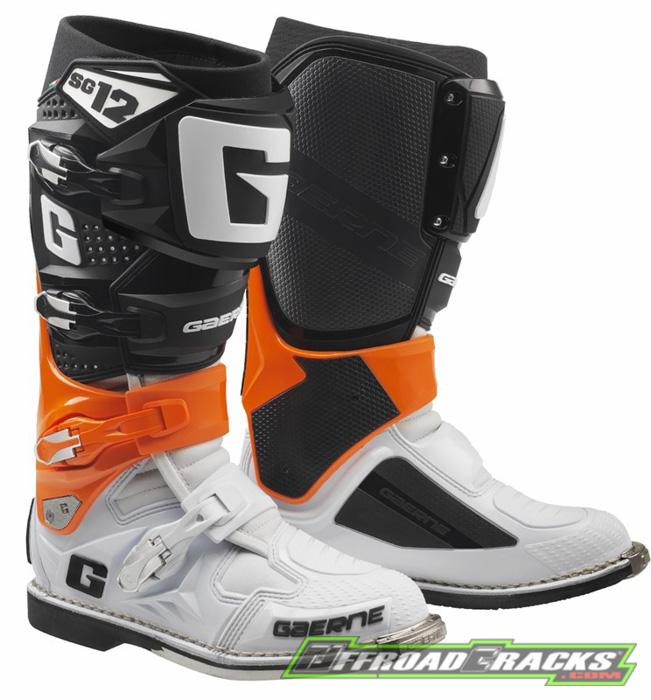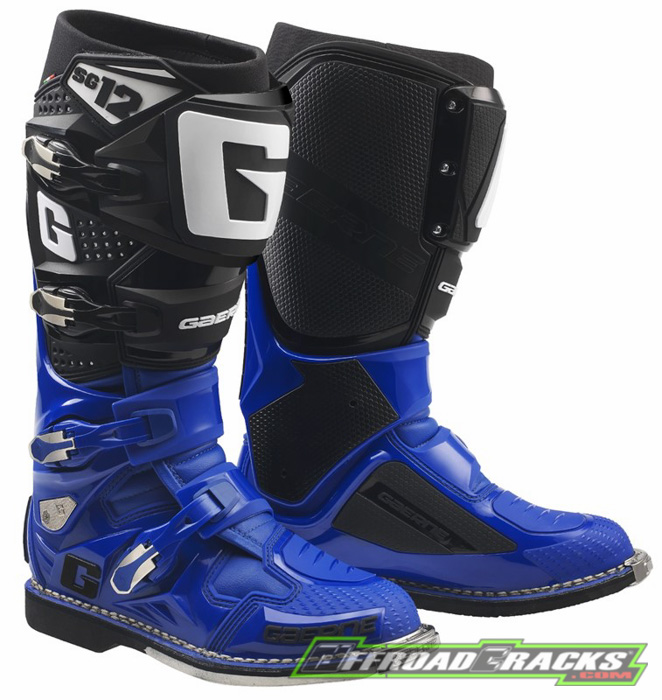 ---

* New look Introducing the all new SG-12 from Gaerne. The best off road motorcycle boot on the planet! The Gaerne Sg-12 features a new "G" for an exciting first impression. Don't think we stopped there, that is just the beginning. Check out the new features–
*Dual Stage Pivot System–This revolutionary new system is patented and exclusive to Gaerne and is certainly going to be a hit. The first pivot is attached to the "Razorback". This provides a rigid component that offers a strong lateral support while a glide-plate keeps the upper in a firm and upright position.
The second pivot is fixed on a sliding glide that allows the riders foot to feel natural while on the peg in a shifting or breaking situation–However, it will "bottom out" and absorb shock in the case of over-jumping a jump or in the case of unwanted compression.
*Grip Guard–On the inner side of the boot is the all new rubber "Grip Guard". You can feel the exceptional grip of the bike, as well as offering a heat resistant padding against your inner leg.
*Front Plate/Shin Guard–This new Thermoplastic shin plate is anatomically shaped for a perfect fit. By removing three screws a rider can also make the opening wider to accommodate a bigger leg or knee-brace.
*Buckle system–The SG-12 utilizes four lightweight alloy buckles that attach to an adjustable strap. This is a "Tried and True" system that provides the rider "Easy in" and "Easy out" non failure system. Keeping it simple!
*Gaiter--Made of a new Swiss breathable fabric called Acronos, the gaiter is extremely stretchy but has the perfect shape to keep the sand and debris out.
Interior Lining–On the inside you will find the famous "Gaerne Memory Cell Foam" –Known for the most comfortable feel and fit ride after ride.
*Heel Cup–The new Heel cup has been designed to absorb shock in the case of a rear compression–It also doubles as a nice place to showcase the new "G" logo !!
*Toe-Box–This new design features a slimmer shape in the toe area for an improved feel of the shift lever and the bikes controls. The entire area is wrapped by a new plastic material which is lighter and provides more comfort and feel for the bike as well.
*Toe cap–The all new shape –the toecap has been re-designed and reinforced to provide a new "tougher" look.
*Sole– For the SG-12 you will notice a new design. This sole is new in look, but still uses the Gaerne "Dual Composite" anti-shock rubber that has made Gaerne soles famous around the world.
Insole–Inside the boot you will find an all new foot-bed which has been specially molded to correctly support the foot. In the rear portion of the foot-bed, a new shock absorbing material has been used. And in the front portion the construction has been made to allow the foot to vent.
* Gaerne Supercross  Shank–This is the best shank money can buy–lighter–stronger
Quelle / Source: Gearne