DAY 3 – HARDENDURO-WM 2023: Billy Bolt mit Problemen, Lettenbichler wie vom anderen Stern!
Nach drei Renntagen ging die erste Runde der FIM Hardenduro-Weltmeisterschaft bei der Xross Hardenduro Rally am 3. Fahrtag auf spannende Weise zu Ende. Denn es ging darum zu beweisen, dass im Rennsport nie Schluss ist, bis man die Ziellinie überquert hat. Und diese Erwartungshaltung erzeugte einen wahren Krimi bis zum Schluss.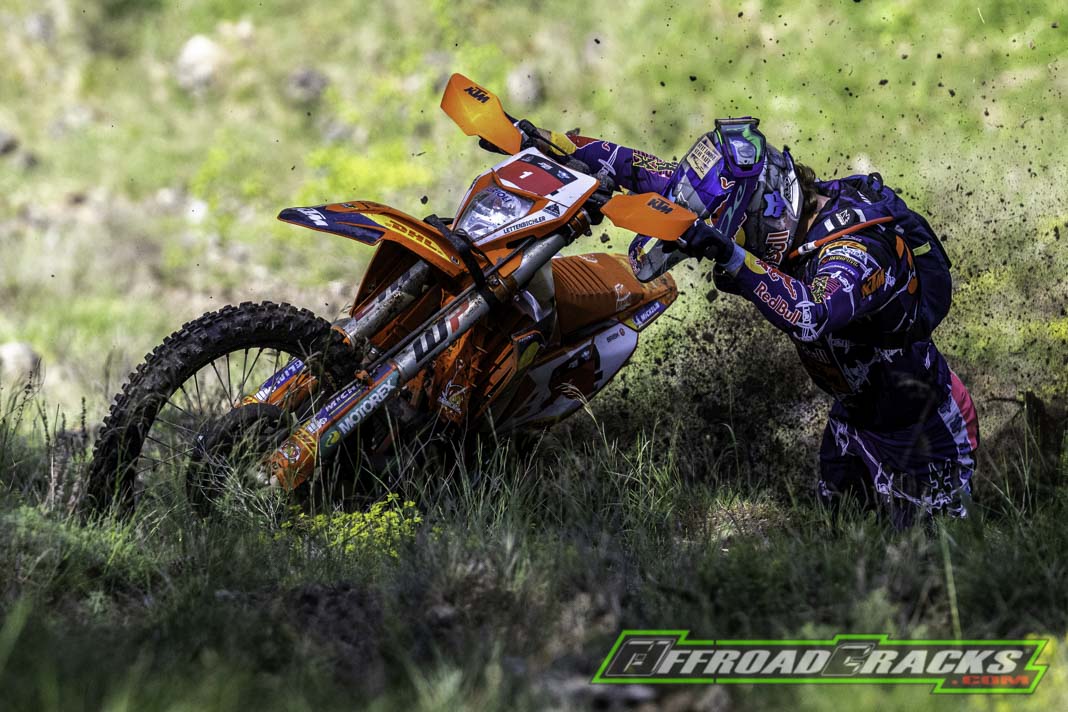 Während Manuel Lettenbichler gechillt an der Spitze in den dritten Fahrtag startete, sah es so gut wie sicher aus, dass er als absoluter Spitzenreiter den Gesamtsieg erringen würde. Der Deutsche hatte einen 25-minütigen Vorsprung vor Mario Roman (Sherco) auf dem zweiten Platz herausgefahren und konnte dadurch auf ein komfortables Polster für den sicheren Sieg setzen. Mani hatte jedoch nie die Absicht, Tempo rauszunehmen und drückte von Beginn mächtig auf die Tube. Mit nur zwei Minuten und 37 Sekunden Vorsprung beendete Manuel Lettenbichler die Xross Hardenduro Rally zum zweiten Mal in Folge als Sieger.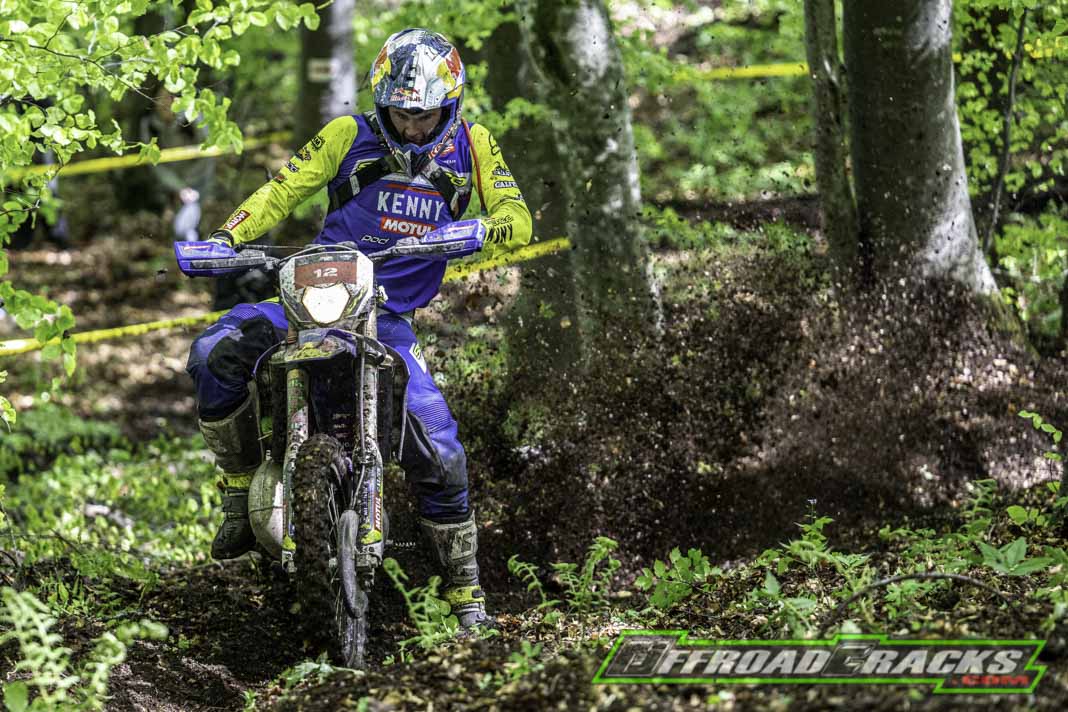 Für Mario Roman von Sherco war die Taktik für heute klar. Da er wusste, dass es eine große Herausforderung sein würde, Mani in der Gesamtwertung noch einholen zu können, ging der Spanier mit dem Ziel ins Rennen seinen zweiten Platz zu verteidigen. Da er den größten Teil des Tages mit seinen Rivalen zusammen fuhr, verteidigte er damit seinen zweiten Gesamtrang taktisch klug. Den dritten Fahrtag selbst beendete er als Dritter und sicherte sich damit den zweiten Gesamtrang hinter Lettenbichler.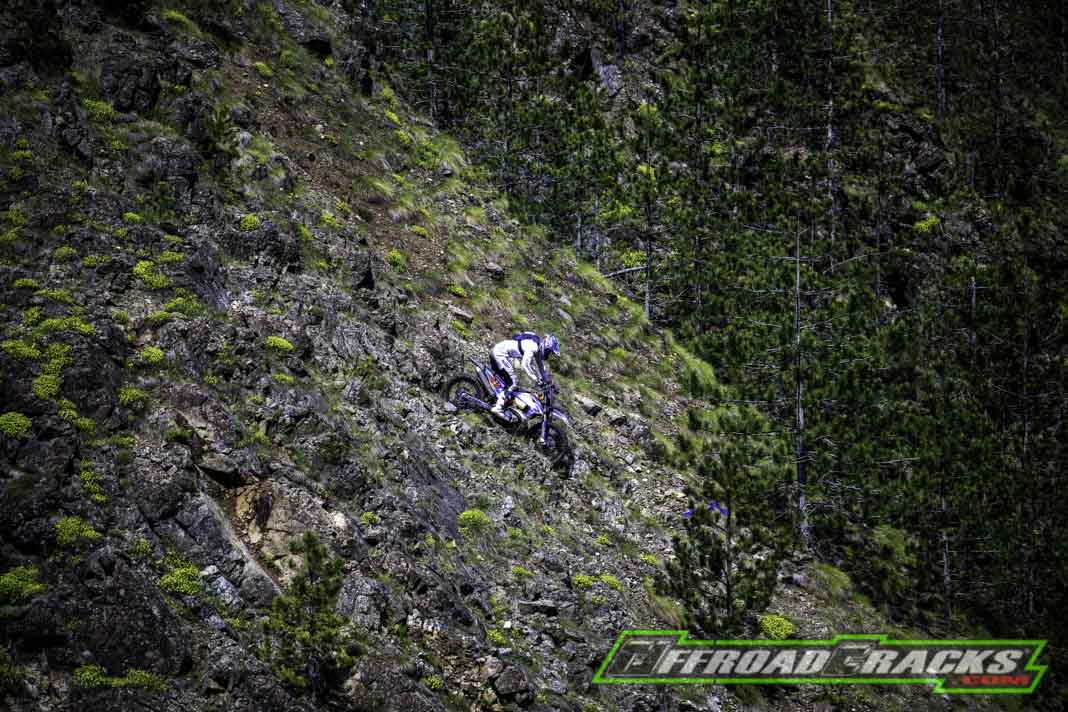 Hinter den beiden Erstplatzierten wurde der sicher geglaubte Kampf um den dritten Platz nochmal völlig auf den Kopf gestellt. Nach der gestrigen Siegesfahrt hatte Billy Bolt von Husqvarna Factory Racing einen unglaublichen Sprung vom neunten auf den dritten Platz gemacht und hatte noch immer das Bedürfnis die Silbermedaillen anzugreifen. Doch eine Reihe von Problemen zu Beginn des dritten Fahrtags machte er seine Chancen auf ein Top-Drei-Ergebnis zunichte und fiel tragisch auf die hinteren Plätze zurück. Teodor Kabakchiev (KTM), Michael Walkner von GASGAS und Trystan Hart von FMF KTM Factory Racing waren nun alle plötzlich Kandidaten für den dritten Gesamtrang.
Der Bulgare Kabakchiev mach sich auf zu seiner Mission. Mit seiner wohl besten Leistung der Woche setzte er sich in zahlreichen gezeiteten Sektoren eindrucksvoll gegen seine direkte Konkurrenz durch und belegte am dritten Tag den sensationellen zweiten Platz. Er schlug Hart und Walkner um mehr als fünf Minuten und landete damit auf dem dritten Gesamtrang.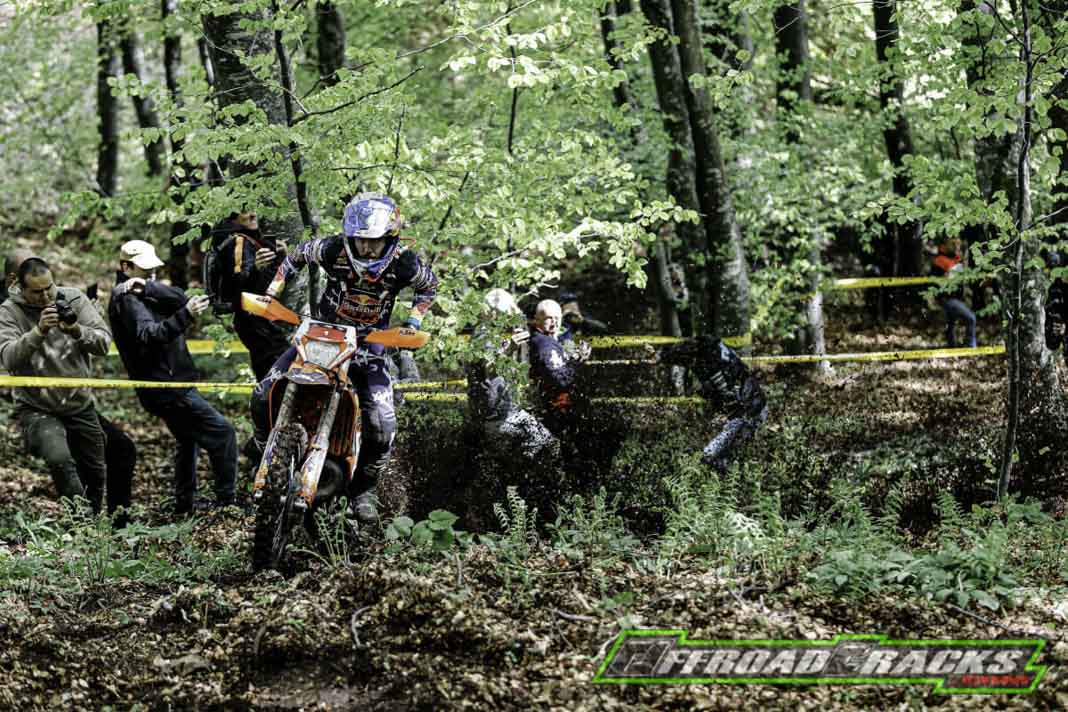 Mit einer weiteren starken Leistung auf dem vierten Platz belegte der Kanadier Trystan Hart auch den vierten Gesamtrang, während Walkner, der heute Fünfter wurde, die Top 5 der Gesamtwertung komplettierte.
In der FIM Hardenduro Junior World Championship gehörte die erste Runde Matthew Green von Rigo Racing. Als amtierender Junioren-Weltmeister hätte sich Green keinen besseren Saisonstart wünschen können. Beim Sieg bei den Junioren belegte er zudem den 11. Platz in der klassenübergreifenden Wertung.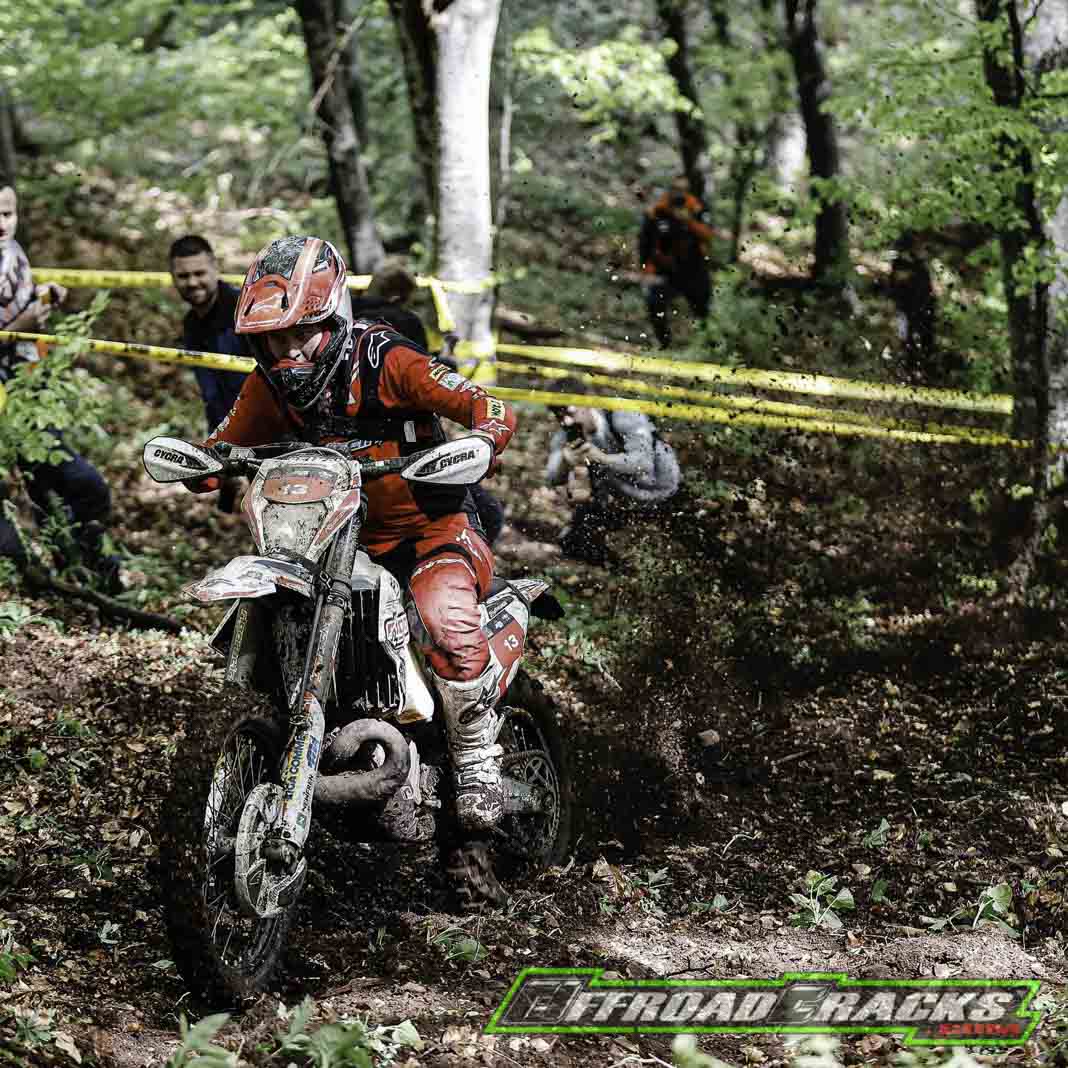 Nachdem Mitch Brightmore von TTR Squadra Corse am ersten Tag die Junioren angeführt hatte, wurde sein Streben nach dem Titel am zweiten Tag zunichte gemacht. Der junge britische Fahrer, der sich heute wieder erstarkt von seiner besten Seite zeigt, holte sich mit seinem 13. Gesamtsieg in der Hardenduro WM den zweiten Platz bei den Junioren. Robert Crayston von Baydale D3 KTM beendete seine Xross Hardenduro Rally mit einem unglaublichen dritten Gesamtrang. Aus deutscher Sicht, natürlich neben Manuel Lettenbichler, platzierte sich Felix Bähker in der Junior-Wertung auf Platz 6, gefolgt von Lenny Geretzky auf dem siebten Platz – eine tolle Leistung im internationalen Vergleich auf WM-Niveau!
VIDEO HIGHLIGHTS
Die FIM Hardenduro-Weltmeisterschaft geht vom 8. bis 11. Juni am Erzberg in die zweite Runde.
1. Manuel Lettenbichler (KTM): "Hier in Serbien zum zweiten Mal in Folge den Gesamtsieg zu holen, ist großartig. Ich bin wirklich begeistert von meinem fahrerischen Erfolg. Ich habe das Gefühl, dass ich jeden Tag konstant und stark war und es dort draußen sehr genossen habe. Natürlich ist es nur die erste Runde einer langen Saison, aber ich möchte diesen Schwung unbedingt aufrechterhalten."
VIDEO – Letti (coming soon/bald…)
2. Mario Roman (Sherco): "Heute war ein intensiver Kampf, viele von uns waren sehr eng beieinander. Aber im Großen und Ganzen wusste ich, dass ich mir den zweiten Platz sichern konnte, solange ich sicher und konstant fuhr. Hut ab vor Mani diese Woche, er ist förmlich durch die Berge geflogen. Aber ich bin zufrieden mit dem, was ich hier erreicht habe und es gibt mir ein gutes Gefühl für den weiteren Verlauf der Saison."
VIDEO – Mario (coming soon/bald…)
3. Teodor Kabakchiev (KTM): "Heute war es ein Kampf um das Podium. Drei von uns waren in der Wertung sehr knapp beisammen, also musste ich mich wahnsinnig anstrengen, um es noch zu schaffen. Darüber bin ich superglücklich. Es hat ein paar Tage gedauert, bis ich mein Motorrad richtig eingestellt hatte, aber die Änderungen, die wir gestern vorgenommen haben, haben mir wirklich geholfen heute kampfbereit zu sein. Ich kann meinem Team ECONT Bulgaria nicht genug für die Unterstützung danken und hoffe, für den Rest der Saison weitere Ergebnisse dieser Art zu erzielen!"
VIDEO – Teodor (coming soon/bald…)
1. Junior – Matthew Green (KTM): "Ich bin super glücklich, die erste Runde der Junior Hardenduro WM gewonnen zu haben und um ein Top-10-Ergebnis bei den PROS zu kämpfen. Ich hatte diese Woche ein paar Fehler fabriziert, aber insgesamt lief es ziemlich gut. Heute war es eine tolle Strecke. Wir waren hoch oben in den Bergen über der Wolkengrenze und es war unglaublich."
Ergebnisse: Xross Hardenduro Rally – 3. Fahrtag
1. Manuel Lettenbichler (GER) 3:18:33,90
2. Teodor Kabakchiev (BGL) 3:21:11,86
3. Mario Roman (ESP) 3:26:40,56
4. Trystan Hart (CAN) 3:27:02,21
5. Michael Walkner (AUT) 3:28:43,25
6. Wade Young (RSA) 3:35:23,57
7. Alfredo Gomez (ESP) 3:38:00,79
8. David Cyprian (CZE) 3:39:36,96
9. Will Hoare (UK) 3:41:07,78
10. Graham Jarvis (UK) 3:42:53,27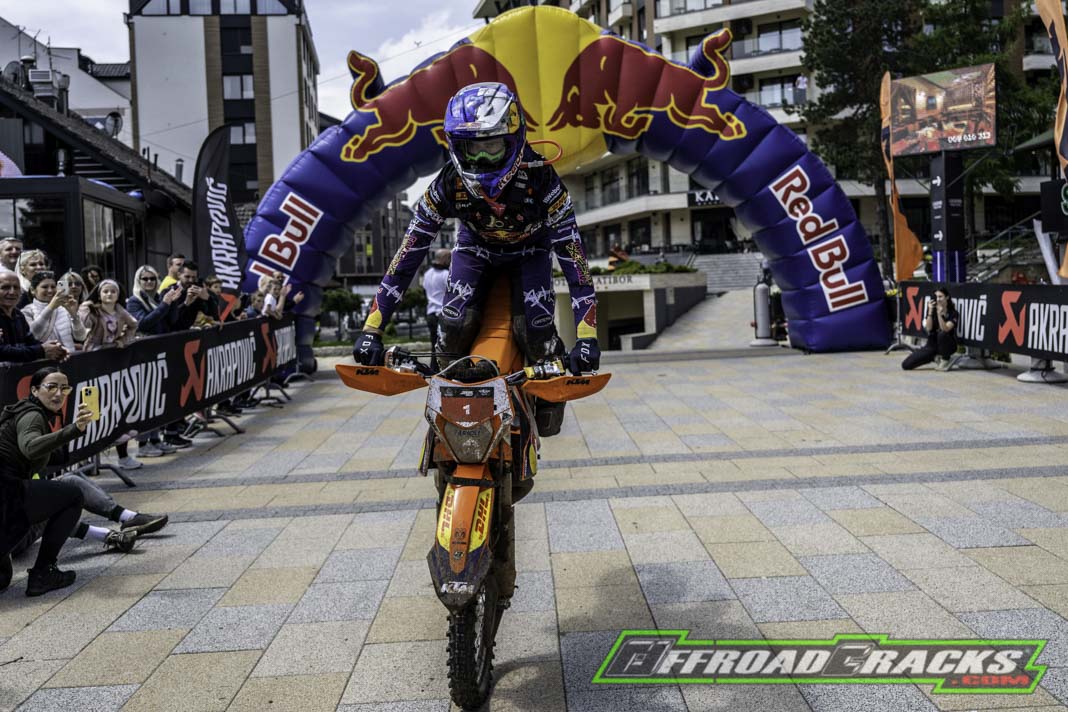 Inoffizielle Gesamtklassifizierung
1. Manuel Lettenbichler 9:49:28.60
2. Mario Roman 10:22:38.10
3. Teodor Kabakchiev 10:29:04.12
4. Trystan Hart 10:33:04.42
5. Michael Walkner 10:36:49.98
6. Graham Jarvis 11:10:00.80
7. Alfredo Gomez 11:16:53.92
8. David Cyprian 11:24:27.03
9. Will Hoare 11:29:22.13
10. Billy Bolt 11:41:41.05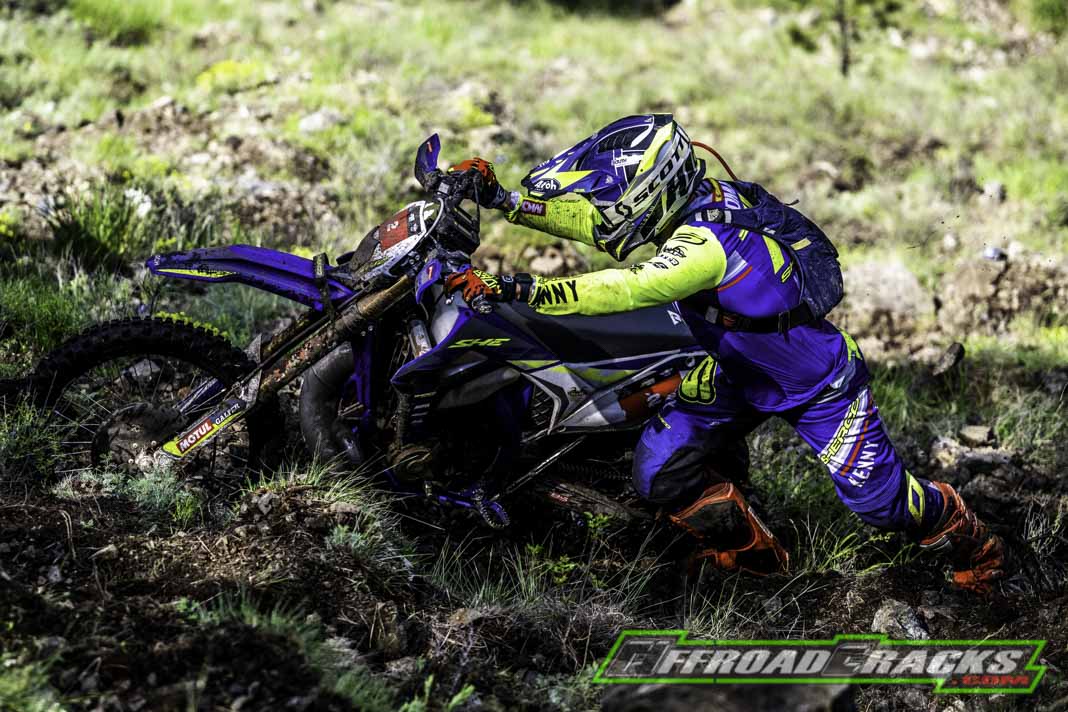 Meisterschaftsstand nach dem 1. Rennen
1. Manuel Lettenbichler 20pts
2. Mario Roman 17pts
3. Teodor Kabakchiev 15pts
4. Trystan Hart 14pts
5. Alfredo Gomez 11pts
5. Michael Walkner 11pts
7. Graham Jarvis 10pts
8. Billy Bolt 9pts
9. David Cyprian 8pts
10. Will Hoare 7pts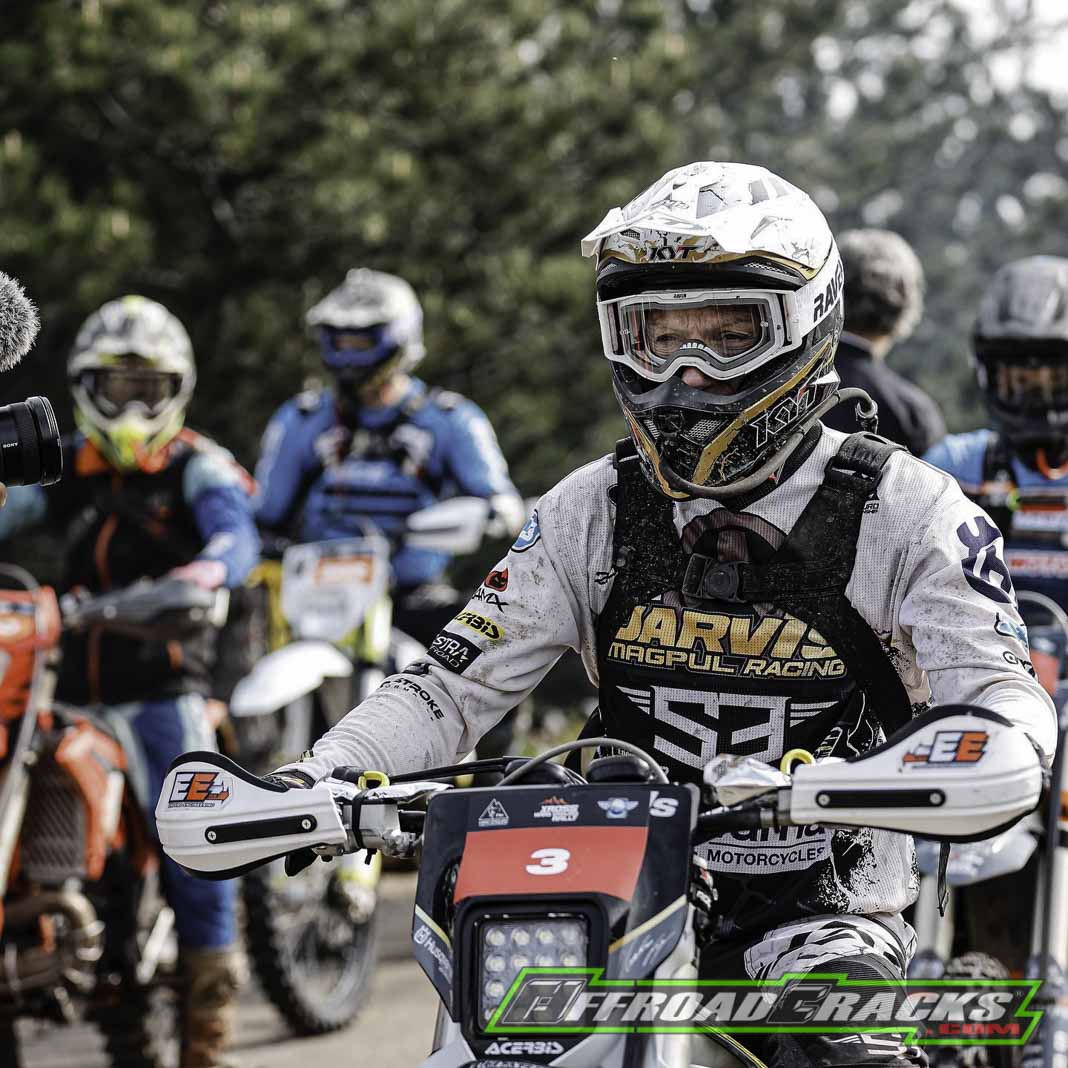 Junior Championship nach dem 1. Rennen
1. Matthew Green (RSA) 20pts
2. Mitch Brightmore (UK) 20pts
3. Robert Crayston (UK) 15pts
4. Marc Fernandez (ESP)(13pts
5. Richard Moorhouse (UK) 11pts
Xross Hardenduro Rally - Day 3 2023
2023 FIM Hardenduro World Championship
Round 1: Xross, Serbia – May 17/18/19/20 *
Round 2: Red Bull Erzbergrodeo, Austria – June 8/9/10/11 *
Round 3: Red Bull Abestone, Italy – July 7/8/9 *
Round 4: Red Bull Romaniacs, Romania – July 25/26/27/28/29
Round 5: Red Bull Outliers, Canada – August 26/27
Round 6: 24MX Hixpania Hard Enduro, Spain – October 13/14/15
Round 7: 24MX GetzenRodeo, Germany – November 3/4 *
* FIM Hard Enduro Junior World Championship supported by KLIM – Camp
---

DAY 3 / FINAL – HARDENDURO-WM 2023: Billy Bolt with bad luck, Lettenbichler on top level!
After three days of racing, the first round of the FIM Hard Enduro World Championship at Xross Hard Enduro Rally was brought to a close in thrilling fashion with Offroad Day 3. Proving that in racing it's never over until you cross the finish line, today's action was a nail biter for the final step of the podium.
Lettenbichler rides to victory in Serbia
Comfortably out front as he started the day, it looked all but certain that race leader Manuel Lettenbichler (KTM) would march clear to the overall victory. The German had racked up a 25-minute lead over Mario Roman (Sherco) in second and barring any mishaps had a comfortable cushion in hand as he looked to take the win. Mani had no intentions of slowing up though and pushed hard from the off. Eventually riding on to take a two minute and 37 second margin of victory on Offroad Day 3, the KTM rider ended the Xross Hard Enduro Rally as the winner for the second year running.
For Sherco's Mario Roman, his tactics for today were clear. Knowing that catching Mani in the overall classification would be a tall ask, the Spaniard rode to defend his runner-up position. Bunched together with his rivals for the majority of the day, Mario rarely put a foot out of place. Ending his day third, he more importantly finished the race second overall to Lettenbichler.
Fight for third heats up
Behind the top two, the outcome of the final step of the podium was turned on its head. After yesterday's winning ride, Husqvarna Factory Racing's Billy Bolt had leap frogged from ninth to third and was eager for silverware. However, a string of problems early on ultimately ruined his chances of a top-three result and he dropped off the leaderboard. Teodor Kabakchiev (KTM), GASGAS' Michael Walkner and FMF KTM Factory Racing's Trystan Hart were now all suddenly in the running for third.
The Bulgarian Kabakchiev was on a mission. Putting in arguably his best performance of the week, he topped numerous timed sectors to claim second on Offroad Day 3. Beating Hart and Walkner by over five minutes lifted him to third overall.
Another strong ride for fourth saw Hart take fourth overall, while Walkner, who ended today in fifth, completed the top five in the overall classification.
VIDEO HIGHLIGHTS
Green takes Junior victory
In the FIM Hard Enduro Junior World Championship supported by KLIM, round one belonged to Rigo Racing's Matthew Green. As the defending Junior World Champion, Green couldn't have asked for a better start to his season. Winning the Juniors he also finished 11th outright.
After leading the Juniors on Offroad Day 1, TTR Squadra Corse's Mitch Brightmore's bid for glory came undone on Offroad Day 2. Regrouping today, the young British rider bounced back with 13th outright, which was enough to secure him the runner-up result in Juniors. Baydale D3 KTM's Robert Crayston ended his Xross Hard Enduro Rally on a high to finish third overall.
The FIM Hard Enduro World Championship continues with round two at Austria's Red Bull Erzbergrodeo on June 8-11.
1st – Manuel Lettenbichler (KTM): "To take the overall win here in Serbia for the second time in a row is awesome. I'm really stoked with my riding. I feel like I was consistent and strong each day and was enjoying it a lot out there. Obviously, it's just the first round of a long season, but I really want to keep this momentum rolling along."
VIDEO – Letti (coming soon…)
2nd – Mario Roman (Sherco): "Today was an intense battle, there were a bunch of us really close together. But I knew for the overall that as long as I kept it safe and steady then I could secure second. Hats off to Mani this week, he was flying. But I'm happy with what I achieved here and it's given me a good feeling for the rest of the season."
VIDEO – Mario (coming soon…)
3rd – Teodor Kabakchiev (KTM): "Today was a battle for the podium. Three of us were really tight in the classification, so I had to push like crazy to get it. I'm super happy about that. It took a couple of days to get my bike setup right, but the changes we made yesterday really helped me to come out fighting today. I can't thank my team ECONT Bulgaria enough for the support and hope to bring more results like this for the rest of the season!"
VIDEO – Teodor (coming soon…)
1st Junior – Matthew Green (KTM): "I'm super happy to come away from round one winning the Junior class and fighting for a top-10 result. I had a few errors this week, but overall it went pretty good. Today was an awesome track. We were high up in the mountains above the cloud line and it was incredible to see."
Results: Round 1 – Xross Hard Enduro Rally Offroad Day 3
1. Manuel Lettenbichler (KTM) 3:18:33.90
2. Teodor Kabakchiev (KTM) 3:21:11.86
3. Mario Roman (Sherco) 3:26:40.56
4. Trystan Hart (KTM) 3:27:02.21
5. Michael Walkner (GASGAS) 3:28:43.25
6. Wade Young (Sherco) 3:35:23.57
7. Alfredo Gomez (Rieju) 3:38:00.79
8. David Cyprian (KTM) 3:39:36.96
9. Will Hoare (GASGAS) 3:41:07.78
10. Graham Jarvis (Husqvarna) 3:42:53.27
Unofficial Event Classification
1. Manuel Lettenbichler (KTM) 9:49:28.60
2. Mario Roman (Sherco) 10:22:38.10
3. Teodor Kabakchiev (KTM) 10:29:04.12
4. Trystan Hart (KTM) 10:33:04.42
5. Michael Walkner (GASGAS) 10:36:49.98
6. Graham Jarvis (Husqvarna) 11:10:00.80
7. Alfredo Gomez (Rieju) 11:16:53.92
8. David Cyprian (KTM) 11:24:27.03
9. Will Hoare (GASGAS) 11:29:22.13
10. Billy Bolt (Husqvarna) 11:41:41.05
Championship Standings (After round 1)
1. Manuel Lettenbichler (KTM) 20pts
2. Mario Roman (Sherco) 17pts
3. Teodor Kabakchiev (KTM) 15pts
4. Trystan Hart (KTM) 14pts
5. Alfredo Gomez (Rieju) 11pts
5. Michael Walkner (GASGAS) 11pts
7. Graham Jarvis (Husqvarna) 10pts
8. Billy Bolt (Husqvarna) 9pts
9. David Cyprian (KTM) 8pts
10. Will Hoare (GASGAS) 7pts
Junior Championship Standings (After round 1)
1. Matthew Green (KTM) 20pts
2. Mitch Brightmore (GASGAS) 20pts
3. Robert Crayston (KTM) 15pts
4. Marc Fernandez (KTM) 13pts
5. Richard Moorhouse (GASGAS) 11pts
Xross Hardenduro Rally - Day 3 2023
2023 FIM Hardenduro World Championship
Round 1: Xross, Serbia – May 17/18/19/20 *
Round 2: Red Bull Erzbergrodeo, Austria – June 8/9/10/11 *
Round 3: Red Bull Abestone, Italy – July 7/8/9 *
Round 4: Red Bull Romaniacs, Romania – July 25/26/27/28/29
Round 5: Red Bull Outliers, Canada – August 26/27
Round 6: 24MX Hixpania Hard Enduro, Spain – October 13/14/15
Round 7: 24MX GetzenRodeo, Germany – November 3/4 *
* FIM Hard Enduro Junior World Championship supported by KLIM – Camp
Quelle / Source: FIM Hardenduro, Red Bull