Sherco hat sein massives Engagement amerikanischen Enduro- und Cross-Country-Rennsport mit der ersten großen Verplichtung des mehrmaligen AMA EnduroCross-Siegers Cody Webb in Novmeber dieses Jahre begonnen. Er wird die gesamten amerikanischen Hard Enduro- und AMA EnduroCross-Meisterschaften sowie die US-Meisterschaften bestreiten und das Kenda Tennessee Knockout sowie bei ausgewählten europäische Hard-Enduro Rennen starten. Auch die komplette AMA EnduroCross Saison 2020 steht auf der To-Do-Liste.
Heute gab Sherco seine nächsten Fahrer bekannt: Stew und Grant Baylor
FactoryONE Sherco hat Steward Baylor Jr. und Grant Baylor ins FactoryONE Sherco Enduro-Team geholt. Die aus South Carolina stammenden Spitzenpiloten haben vor kurzem eine mehrjährige Vertrag unterzeichnet, um die SEF 450 Factory ab Januar 2020 sowohl in der GNCC- als auch in der NEPG-Serie zu fahren.
"Für mich ist das eine große Veränderung für 2020 im FactoryONE Sherco Team zu fahren", sagte Grant Baylor. "Ich freue mich darauf, auf dieses neue Bike zu steigen und es wird spannend sein, was wir damit alles anstellen können."
"Mit dem neuen Team habe ich das Gefühl, dass diese Jungs alles geben und ich bin bereit einige Rennen auf diesen neuen fantastischen Maschinen zu gewinnen", sagte Steward Baylor Jr.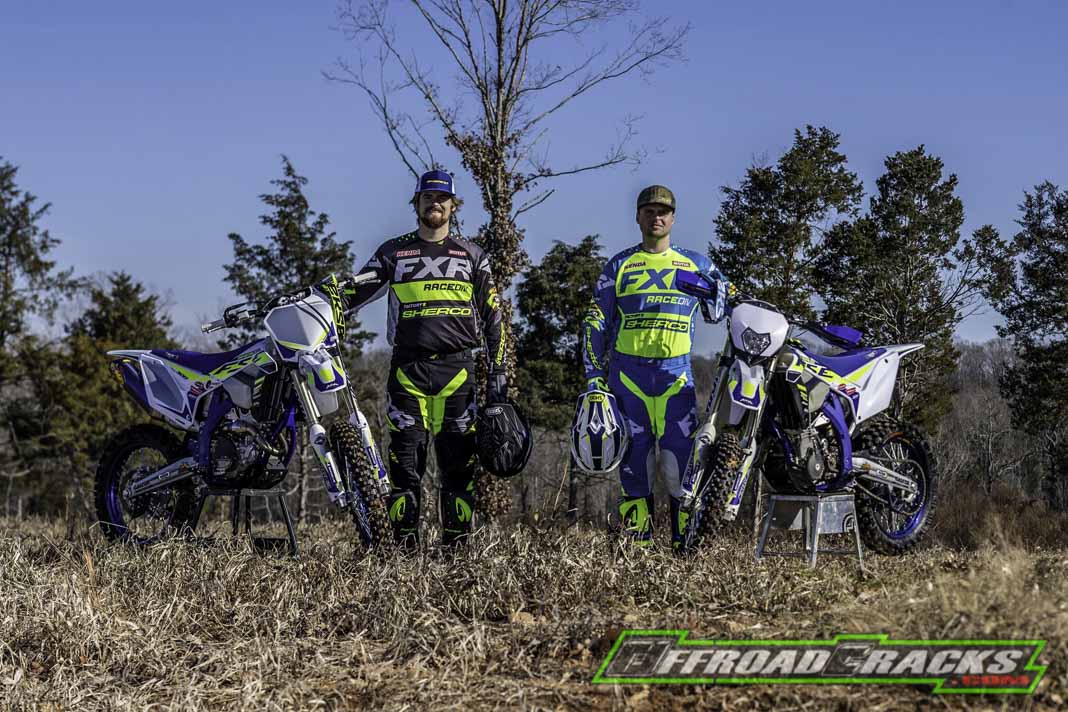 Die Baylor Brothers haben schon unzählige nationale und internationale Meisterschaften gewonnen!
STEWARD BAYLOR
2011 GNCC XC2 Champion
2012 National Enduro Champion
2014 ISDE Junior World Champion
2015 OMA Champion
2016 OMA Champion
2017 National Enduro Champion
2017 Full Gas Champion
2018 National Enduro Champion
2019 National Enduro Champion
2019 ISDE World Champion
GRANT BAYLOR
2013 GNCC XC2 Champion
2014 GNCC XC2 Champion
2014 ISDE Jr. Champion
6x ISDE Competitor
2014 Tennessee Knockout Hard Enduro third place
2019 NEPG Runner Up
"Ich bin ehrlich gesagt immer noch in einem Schockzustan"', sagte Ron Sallman, Teambesitzer. "Zuerst Cody Webb, jetzt Steward und Grant Baylor! Die Brüder bieten FactoryONE Sherco die sofortige Gelegenheit Meisterschaften zu gewinnen und bei zwei prestigeträchtigen Offroad-Serien auf dem Podium zu stehen. Stew hat gerade die NEPG-Meisterschaft gewonnen und liegt nur wenige Punkte vor Grant auf dem zweiten Platz. Zudem hatten beide einen starken Auftritt bei der ISDE. Ich bin sehr gespannt darauf, was sie alles im Jahr 2020 erreichen werden."
---
HINWEIS: Mit Anklicken des Videos stellen sie automatisch eine Verbindung zu Youtube/Google her, was einen ungewünschten personenbezogenen Datenaustausch mit sich bringen kann. Weitere Infos unter: www.google.de/privacy
---

Sherco has begun its push in American enduro and cross country racing, as the company announced its first big signing in November in multi-time AMA EnduroCross Champion Cody Webb, who will race the entire American Hard Enduro and AMA EnduroCross championships, as well as the Kenda Tennessee Knockout and select European hard enduros. He will also race the full AMA EnduroCross season.
Today, Sherco announced its next pair of riders: Stew and Grant Baylor.
FactoryONE Sherco is proud to announce that Steward Baylor Jr. and Grant Baylor have joined the FactoryONE Sherco Enduro team. The South Carolina natives recently signed a multi-year agreement to ride the SEF 450 Factory Sherco in both the GNCC and NEPG series starting in January 2020.
"Here in 2020 I've got some big changes as I am switching to FactoryONE Sherco," said Grant Baylor. "I am excited to get on this new bike and see what we can do with it and put it on the box."
"With the new team, I feel like these guys are putting everything in and I am ready to go win some races on these new amazing machines," said Steward Baylor Jr.
The Baylor Brothers have seen success at every level. They have won national championships and international championships.
STEWARD BAYLOR
2011 GNCC XC2 Champion
2012 National Enduro Champion
2014 ISDE Junior World Champion
2015 OMA Champion
2016 OMA Champion
2017 National Enduro Champion
2017 Full Gas Champion
2018 National Enduro Champion
2019 National Enduro Champion
2019 ISDE World Champion
GRANT BAYLOR
2013 GNCC XC2 Champion
2014 GNCC XC2 Champion
2014 ISDE Jr. Champion
6x ISDE Competitor
2014 Tennessee Knockout Hard Enduro third place
2019 NEPG Runner Up
"I am honestly still in a bit of shock" said Ron Sallman, team owner. "First Cody Webb, now Steward and Grant Baylor? The brothers provide FactoryONE Sherco with an immediate opportunity to chase championships and be on the box often in two prestigious off-road series. Stew is fresh off winning the NEPG championship, finishing only a few points ahead of Grant in second place. They both had strong showings at ISDE. I am really looking forward to seeing what they will do in 2020."
Quelle / Source: Sherco