GRINDING Extremenduro USA

---
HINWEIS: Das Video ist noch deaktiviert, damit keine unerwünschte Datenübertragung zu Youtube stattfindet. Zur Aktivierung bitte auf das Vorschaubild/Video-Link klicken. Damit werden Daten übermittelt, zu deren Art, Umfang und Verwendungszweck wir keineAuskünfte geben können.
---
NOTE: The video is still deactivated so that no unwanted data transfer to YouTube takes place. To activate, please click on the preview image / video link. This transmits data about the type, extent and purpose of which we cannot provide any information.
---

Auch in den USA nimmt die Kategorie Extrem-Enduro immer mehr Fahrt auf, weshalb die AMA eine Extreme-Meisterschaft unterteilt in West- und Ostküste für 2021 ins Leben gerufen hat. Vor wenigen Tagen startete der erste Westküsten-Lauf beim Grinding Stone Enduro in Page (Arizona), mit einer Streckenlänge von 25 Kilometern. Der Gewinner der 180 Starter musste so viele Runden wie möglich in einem Zeitrahmen von vier Stunden zurücklegen.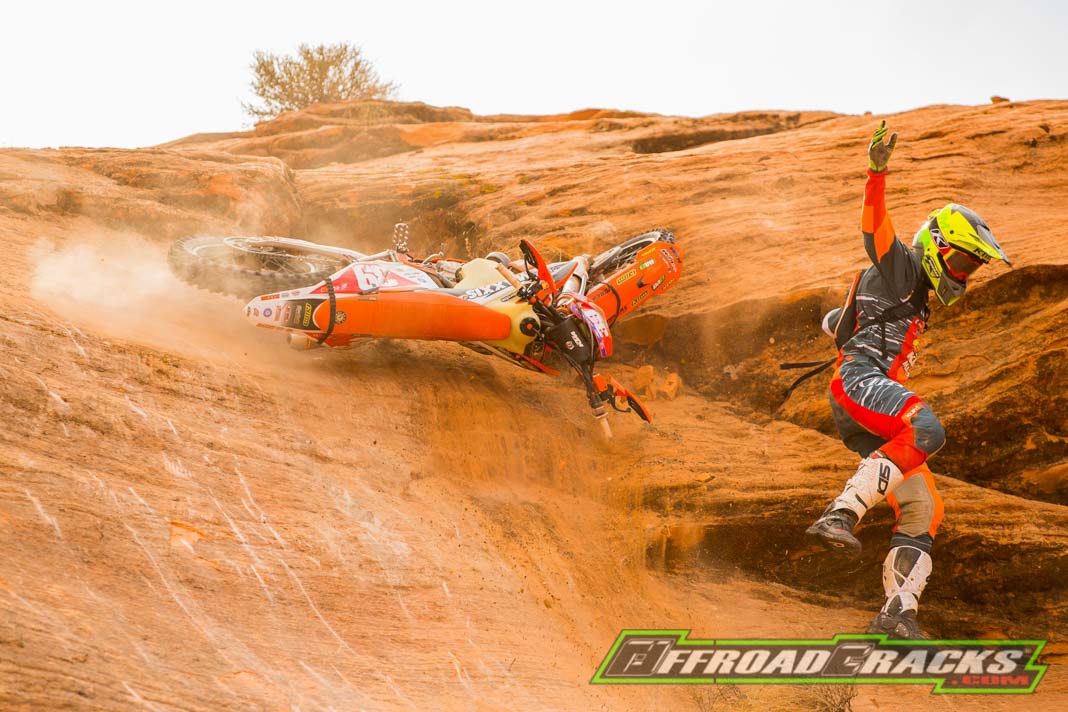 Betrachtet man nur die Bilder und dann auch noch das Video, so wird einem schnell klar, dass diese fahrerischen Herausforderungen auch für einen Spitzenpiloten wie Cody Webb kein Zuckerschlecken war. Er konnte sich mit vier Runden und über 40 Sekunden Vorsprung auf seiner Sherco vor Trystan Hart und Taylor Robert, jeweils auf KTM, den Sieg sichern.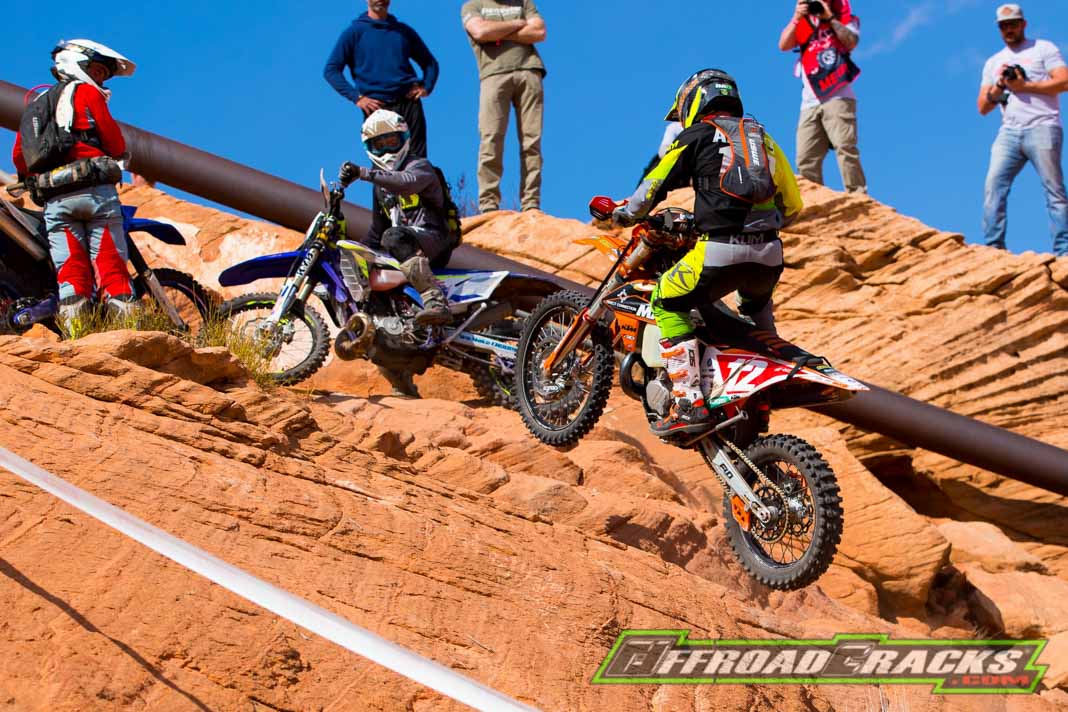 Das bedeutet in der Zeitrechnung, dass man für eine Runde gut eine Stunde Fahrzeit benötigte, was ausschließlich den ersten fünf Top-Piloten vorbehalten war. Zunächst führte Taylor Robert das Feld in der ersten Runde an, bis Webb und Hart sich in der zweiten Runden daran machten Robert auf den dritten Platz zu verweisen, wo er sich dann auch bis zum Schluss halten konnte.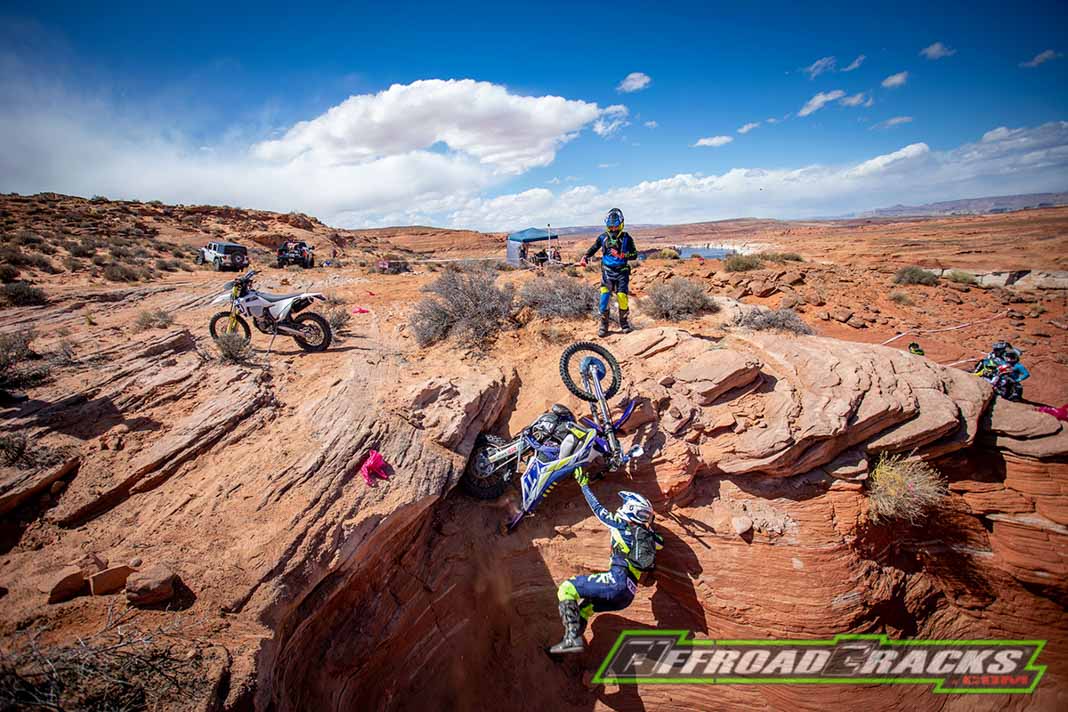 Das diese Streckenführung nicht nur den Piloten forderte, sondern auch das Material erkannte man nicht nur an den fahrerischen Herausforderungen, sondern auch an den zahlreichen Stürzen und den daraus resultierenden Defekten wie abgebrochene Handschützer, Schalthebel oder Bremshebel bis hin zu verlorenen Sitzbänken. Wegen dem hohen Felsen-Anteil, waren die Anforderungen an die Reifen enorm hoch, so dass sich Webb während des Rennens für einen Reifenwechsel entschied, was man als Fahrer selbst durchführen musste, da Hilfe von außen verboten war. Nur das Befüllen des Tanks durfte von einer zusätzlichen Person durchgeführt werden.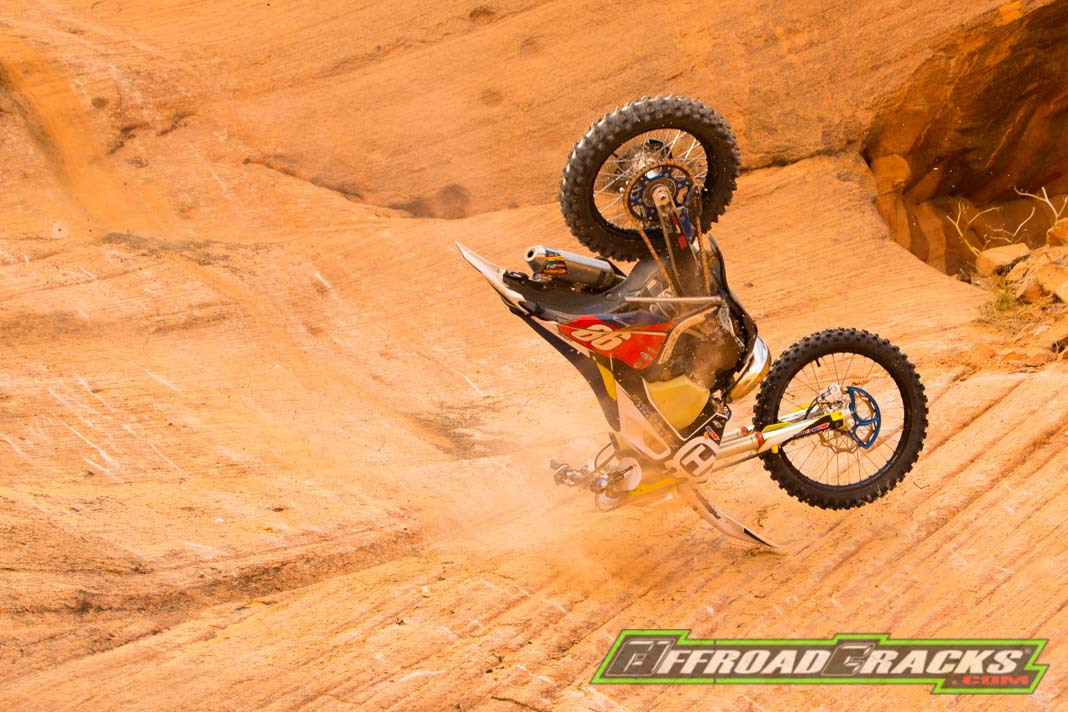 Während Hart auf Webb in der zweiten Runde einige Meter verloren hatte und einen Rückstand von über fünf Minuten mit sich herumschleppte, schlug der Kanadier in der dritten Runde mit aller Macht zurück und konnte bis auf 40 Sekunden an Webb wieder heranfahren. Somit blieb es auch im Ziel bei dieser Reihenfolge, so dass folgendes Gesamtergebnis heraus kam: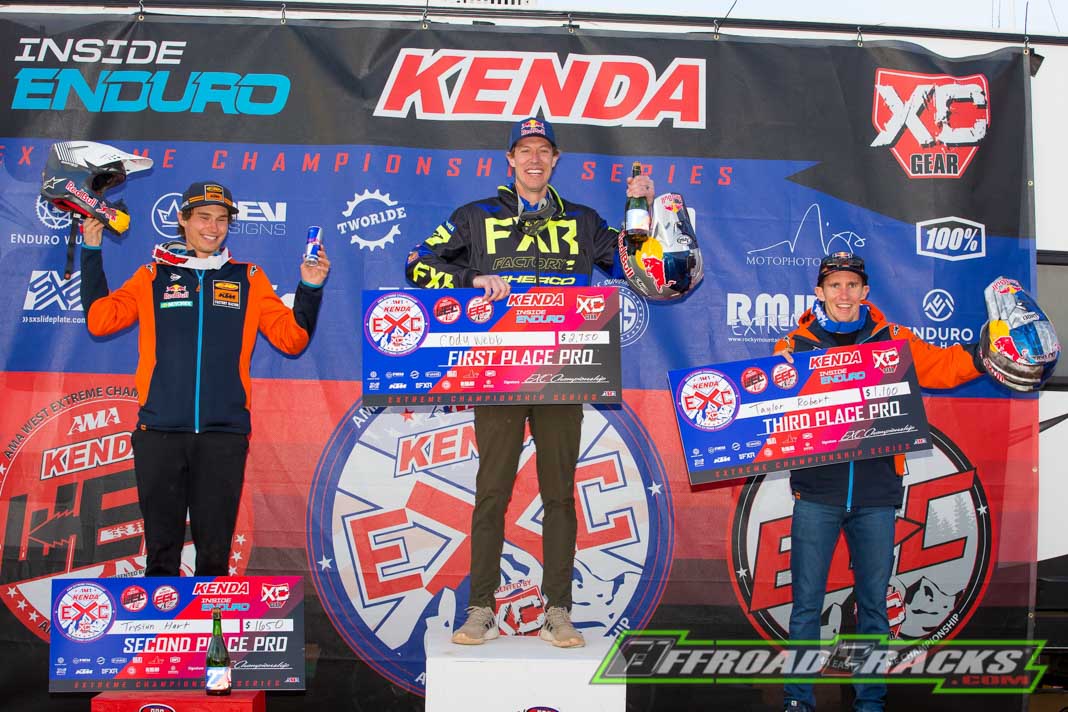 1. Cody Webb, Sherco, 4 Runden
2. Trystan Hart, KTM, 4 Runden +39,6s
3. Taylor Robert, KTM, 4 Runden + 4m 47,5s
4. Colton Haaker, Husky, 4 Runden +14m 36,1s
5. Cooper Abbot, KTM, 4 Runden +11m 57,3s
6. Ryder Leblond, AJP, 3 Runden
7. Will Riordan, KTM, 3 Runden +12m 39s
8. Max Gerston, GasGas, 3 Runden
9. David Garza, Beta, 3 Runden
10. Noah Kepple, Husky, 3 Runden
18. Quinn Wentzel, Rieju, 2 Runden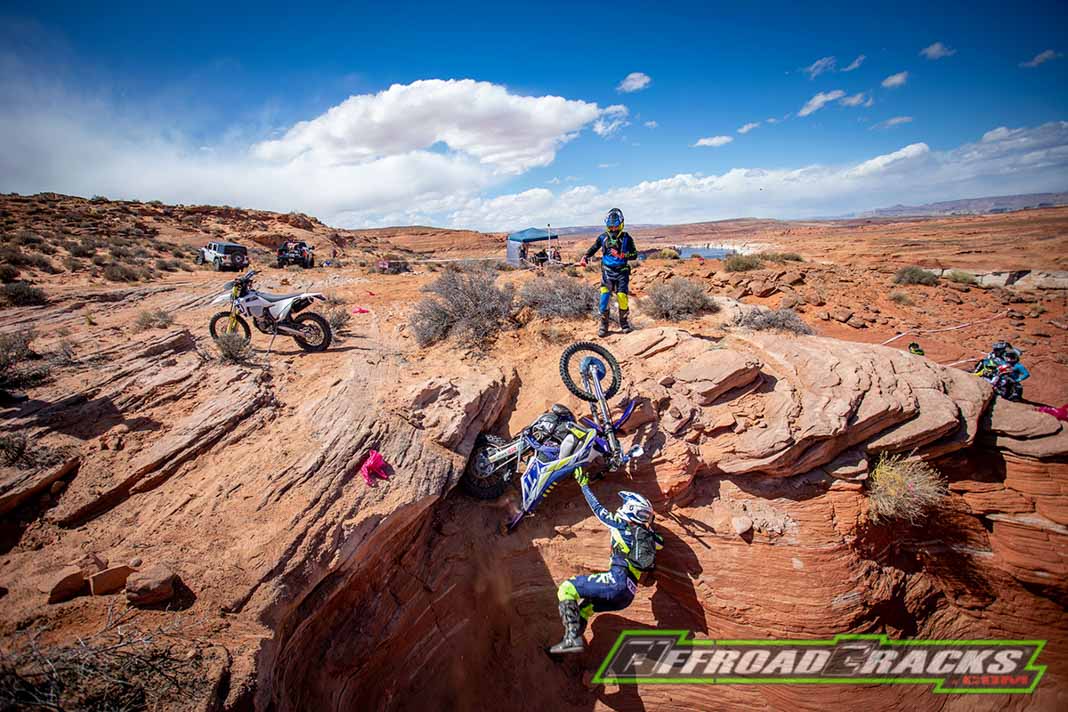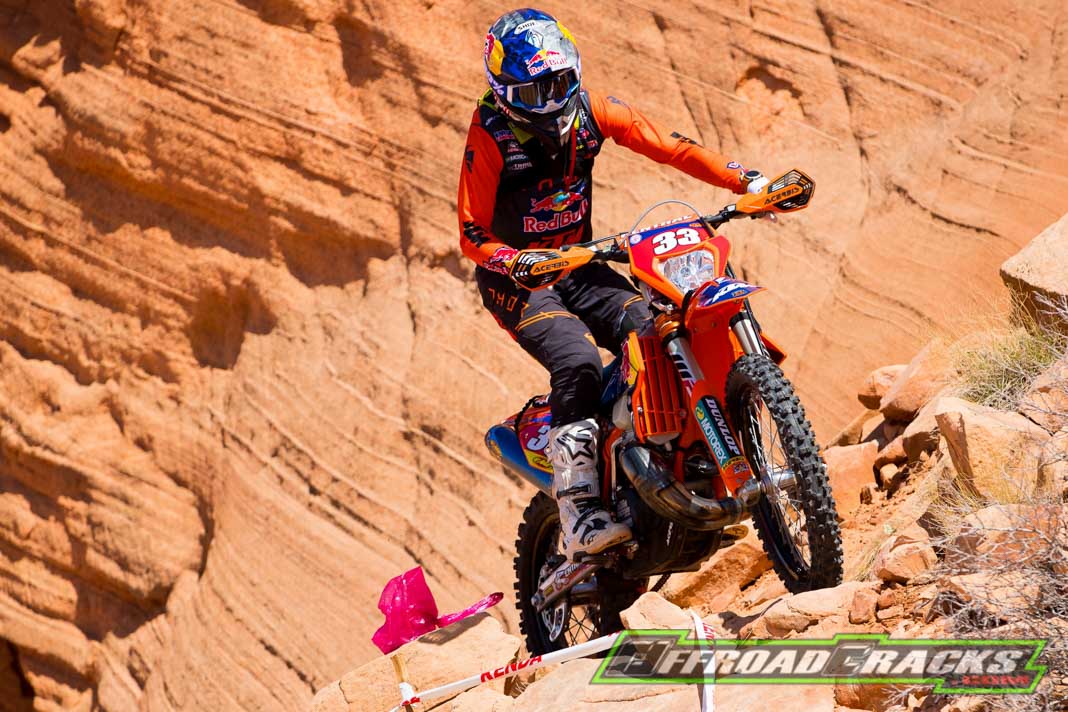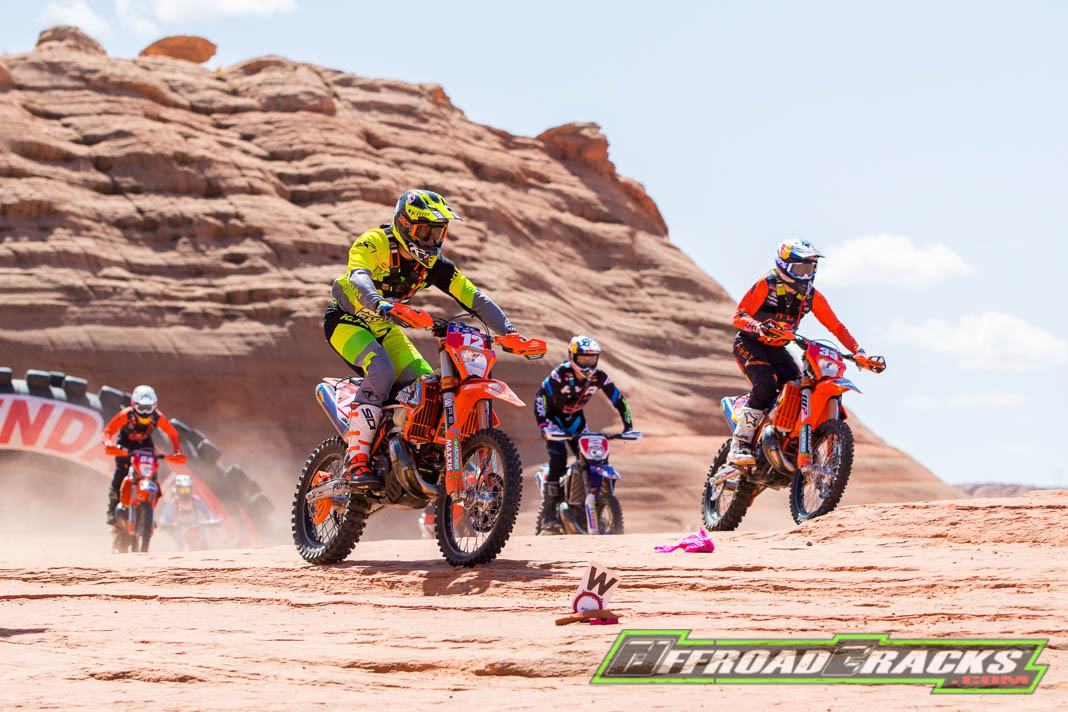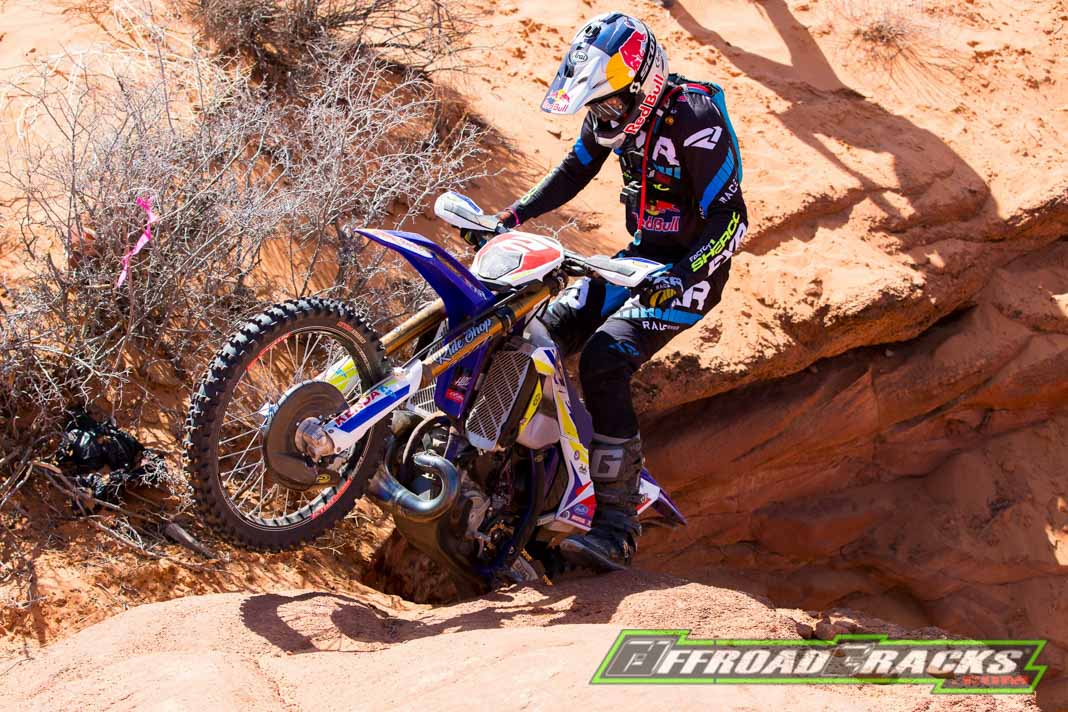 ---

The Extreme Enduro category is also picking up speed in the USA, which is why the AMA has launched an Extreme Championship divided into West and East Coast for 2021. A few days ago the first west coast run started at the Grinding Stone Enduro in Page (Arizona), with a distance of 25 kilometers. The winner of the 180 starters had to complete as many laps as possible in a time frame of four hours.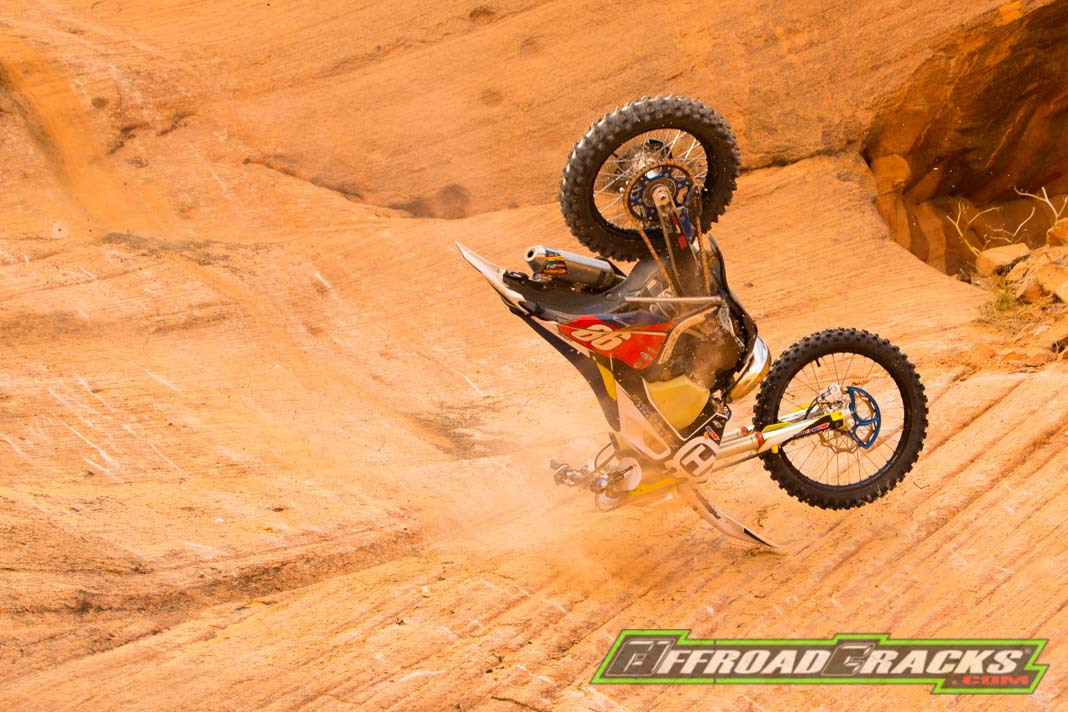 If you only look at the pictures and then also at the video, it quickly becomes clear that these driving challenges were no picnic for a top driver like Cody Webb. He was able to secure victory with four laps and over 40 seconds ahead on his Sherco ahead of Trystan Hart and Taylor Robert, each on a KTM.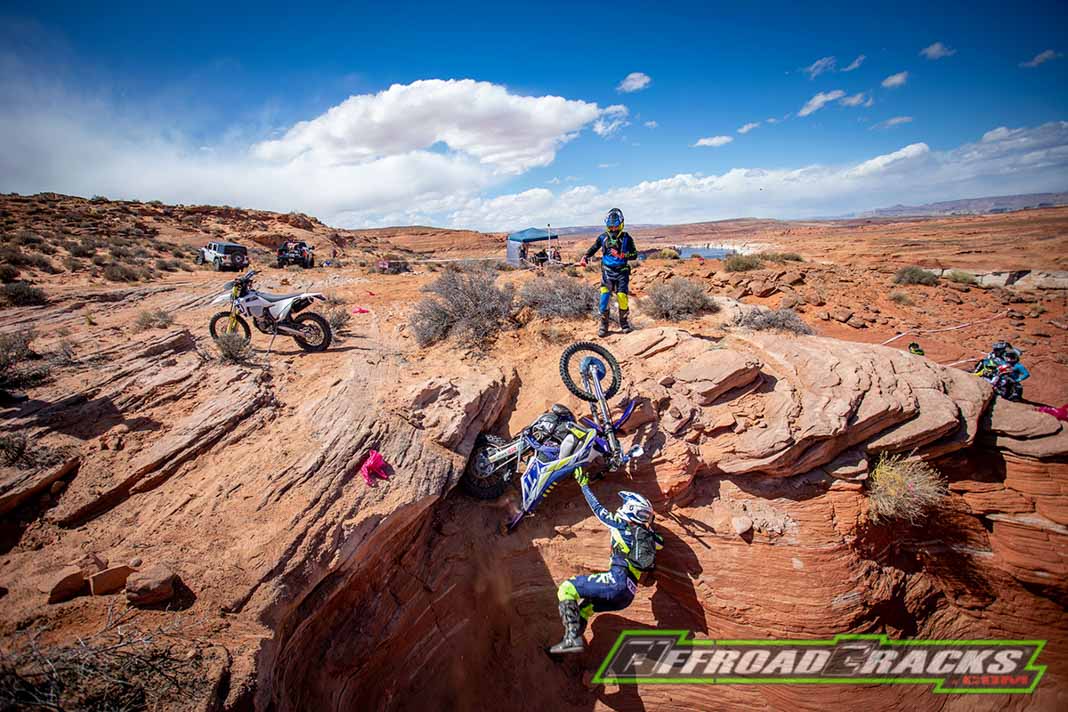 In terms of time, this means that you needed a good hour of driving time for one lap, which was reserved exclusively for the first five top drivers. Initially, Taylor Robert led the field in the first lap, until Webb and Hart began to relegate Robert to third place in the second lap, where he was able to hold onto until the end.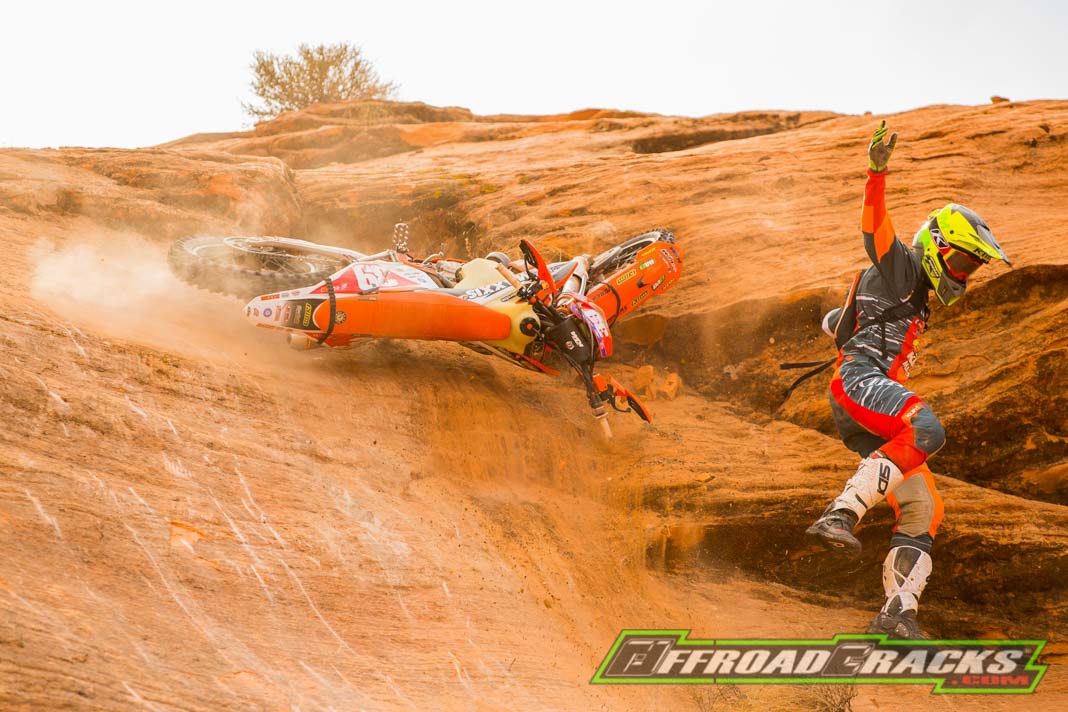 That this route not only challenged the pilot, but also the material was not only recognized by the driving challenges, but also by the numerous falls and the resulting defects such as broken hand guards, gear levers or brake levers to lost seats. Because of the high proportion of rocks, the demands on the tires were extremely high, so that Webb decided to change tires during the race, which the driver had to do himself, as outside help was forbidden. Only one additional person was allowed to fill the tank.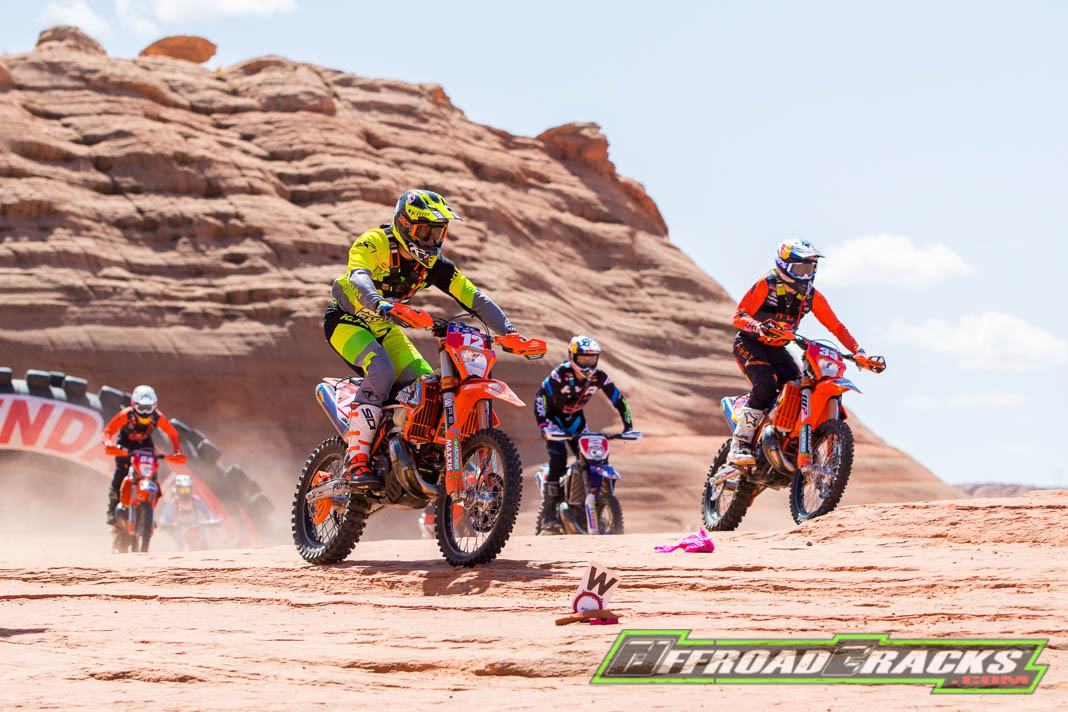 While Hart on Webb had lost a few meters in the second lap and was more than five minutes behind with him, the Canadian struck back with all his might on the third lap and was able to approach Webb within 40 seconds. So it remained in this order at the finish, so that the following overall result came out: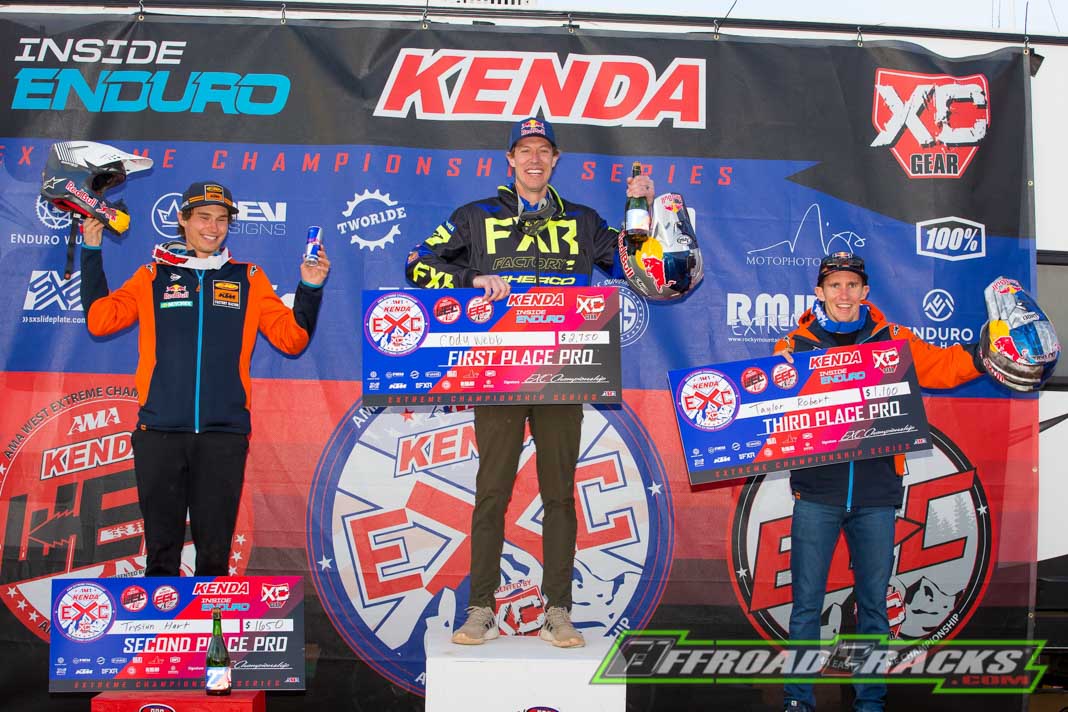 1. Cody Webb, Sherco, 4 rounds
2. Trystan Hart, KTM, 4 laps + 39.6s
3. Taylor Robert, KTM, 4 laps + 4m 47.5s
4. Colton Haaker, Husky, 4 laps + 14m 36.1s
5. Cooper Abbot, KTM, 4 laps + 11m 57.3s
6. Ryder Leblond, AJP, 3 rounds
7. Will Riordan, KTM, 3 laps + 12m 39s
8. Max Gerston, GasGas, 3 laps
9. David Garza, Beta, 3 rounds
10. Noah Kepple, Husky, 3 rounds
18. Quinn Wentzel, Rieju, 2 rounds
Quelle / Source: DBM, Sean Finley, Grinding Stone Enduro