Elektrifizierte Kraft und die elektrisierende Leistung moderner Verbrennungsmotoren kombinieren sich mitten auf der Bühne der diesjährigen Easter Jeep Safari mit Geländefähigkeit und Fahrspaß-Freiheit. Teams der Marke Jeep® und Jeep Performance Parts (JPP) haben sich erneut zusammengetan, um mit einer Reihe von Sonderanfertigungen die ikonischen Strecken in Moab, Utah zu erobern. Enthusiasten aus aller Welt treffen sich vom 27. März bis 4. April in Moab für ein verlängertes Wochenende voller Geländefahrten auf einigen der anspruchsvollsten und malerischsten Strecken.
"Die Moab Easter Jeep Safari ist seit Langem unser Testgelände für die neuesten 4×4 Modelle und die Showbühne für unsere neuen Jeep-Konzeptfahrzeuge, Jeep Performance Parts und Ideen, all die knallharten Offroad-Fans ansprechen, die diese Veranstaltung jedes Jahr besuchen – unsere leidenschaftlichsten Kunden," sagte Jim Morrison, Vice President, Jeep North America. "Diese Safari richtet die Schweinwerfer einmal mehr auf all das, was Jeep und seine Fahrzeuge so unmissverständlich einzigartig und unbestreitbar fähig macht — eine Vielfalt von Antriebssystemen mit überlegener Kraft, Leistung, Drehmoment, und, vor allem, Spaß. Moab's anspruchsvolle Strecken sind einer wahrer Herausforderer für unsere Jeep Wrangler und Jeep Gladiator Konzeptfahrzeuge."
Dieses Jahr sind sieben Jeep- und Jeep Performance Parts-Konzeptfahrzeuge in Moab dabei, als Highlight gilt der erste batterieelektrische (BEV) Jeep als weiterer Meilenstein auf dem Weg der Marke zur grünsten SUV-Marke. Zusätzlich zeigen die Konzeptfahrzeuge Prototypen-Teile von Mopar's Jeep Performance Parts (JPP), entwickelt mit strikten Spezifikationen und legendärer 4×4 Fähigkeit im Sinn.
"Moab ist der perfekte Ort, unsere neuesten authentischen, qualitätsgetesteten Jeep Performance Parts von Mopar zu zeigen," sagte Mark Bosanac, North America Vice President, Mopar Service, Parts & Customer Care. "Anders als alle anderen Zubehör-Angebote im Markt, sind unsere werksunterstützten Jeep Performance Parts konstruiert und gebaut, um exakte Passform und Funktion für Jeep-Fahrzeuge abzuliefern."
Die Easter Jeep Safari Konzeptfahrzeuge 2021: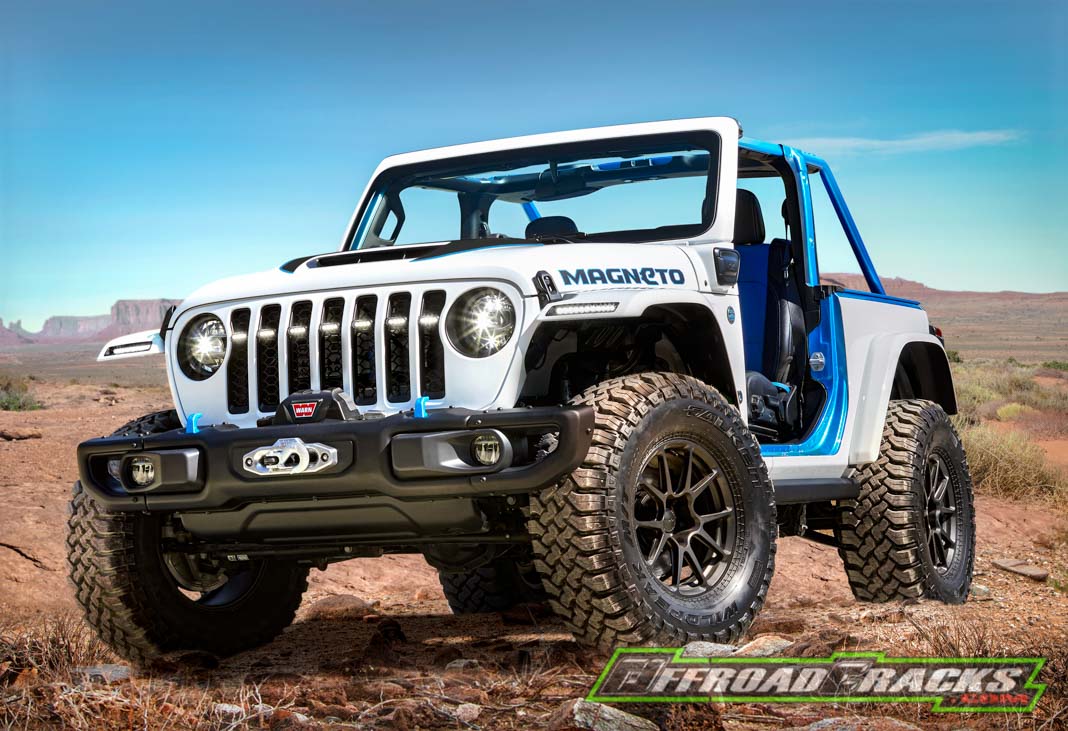 Jeep Magneto
Das Konzeptfahrzeug Jeep Wrangler Magneto ist ein uneingeschränkt einsetzbares BEV, unauffällig, flink, leise und ein unmissverständliches Klettertalent. Jeep Ingenieure und Designer haben ein lokal emissionsfreies Fahrzeug auf vier angetriebene Räder gestellt, das ein neues Niveau an Effizienz, Umweltverantwortung und Leistung auf- und abseits der Straßen bietet.
Basierend auf einem zweitürigen Jeep Wrangler Rubicon nutzt der Jeep Magneto einen axialen Strömungs-Elektromotor1 mit einer Nenndrehzahl von 6000 Umdrehungen pro Minute. Der E-Motor ist mit einem Sechsgang-Schaltgetriebe verbunden und bildet so einen einzigartigen manuell-elektrischen Antrieb mit einer Trockenkupplung wie bei einem Verbrennungsmotor. Bei schnellen Schaltvorgängen nutzt der E-Motor bei Kupplungsbetätigung Regeneration, um Drehzahlunterschiede beim Einkuppeln zu vermeiden.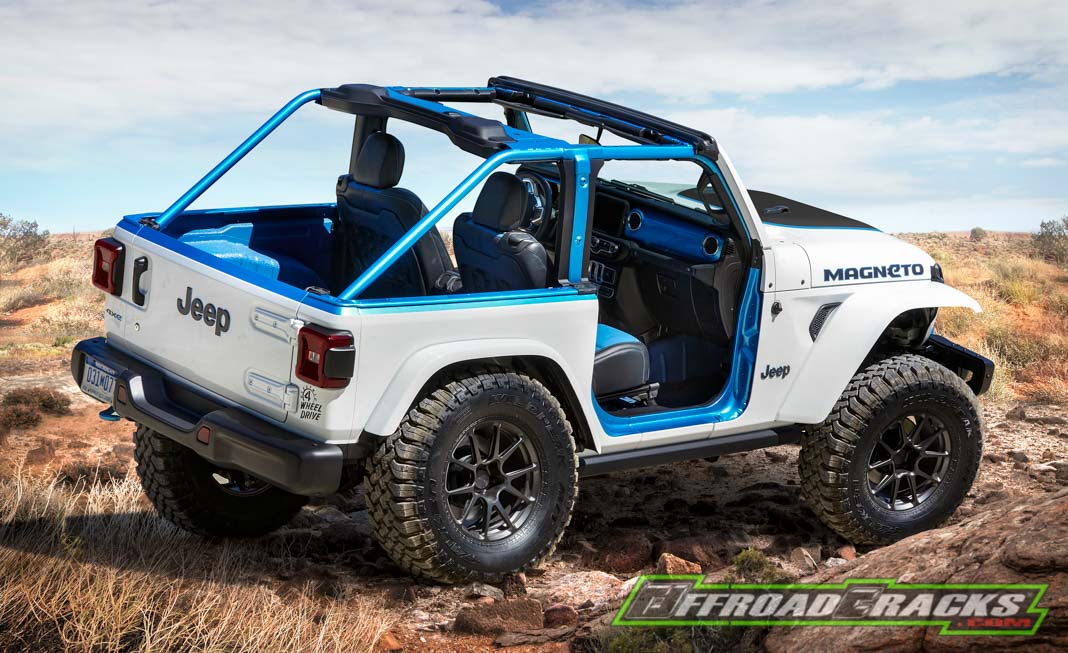 Vergleichbar mit dem 3.6 V6 Pentastar-Benziner ist der kompakte E-Motor auf 370 Newtonmeter Drehmoment und 285 PS1 eingestellt. Während der Testfahrten gesetzte Kalibrierungen helfen dem Magneto-Antrieb dabei, das Fahr-Erlebnis des V6 abzubilden, nicht nur beim Drehmoment, sondern auch bei der Leistung. Während ruhiger Fahrt ist der Unterschied zwischen dem V6 und Magneto's manuell-elektrischem Antrieb vernachlässigbar, bis auf den fast geräuschlosen Betrieb.
Wenn mehr Beschleunigung gefragt ist, liefert der E-Motor die gesamten 370 Newtonmeter sofort und ohne die Notwendigkeit, dafür erst Drehzahl aufbauen zu müssen. So beschleunigt Magneto in 6,8 Sekunden von Null auf 96 Kilometer pro Stunde.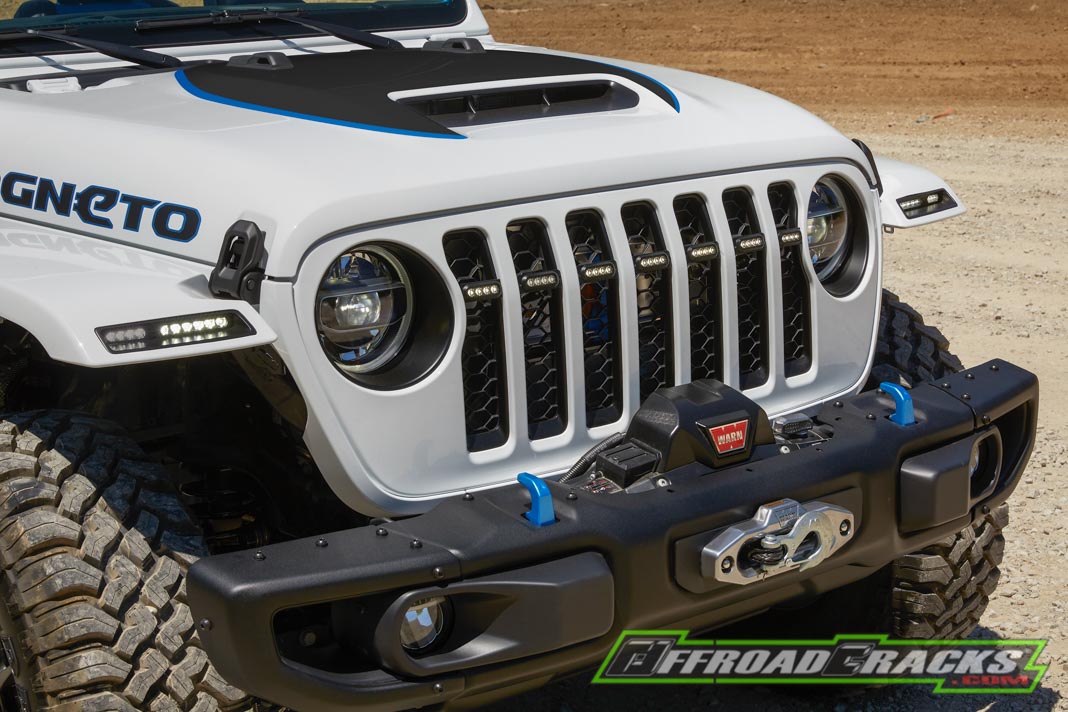 Vier Batteriepakete befeuern den E-Motor des Jeep Magneto mit insgesamt 70 Kilowattstunden in einem 800 Volt-System. Die Lithium-Ionen-Batterien sind aus Gründen gleichmäßiger Gewichtsverteilung auf die vier Räder an verschiedenen Stellen im Wrangler untergebracht. Ein Batterie-Paket ersetzt den Treibstofftank des Wrangler, ein anderes ist genau gegenüber des Tanks eingebaut, ein drittes sitzt oberhalb des E-Motors unter der Motorhaube und das vierte dort, wo sonst der hintere Auspuffschalldämpfer Platz findet.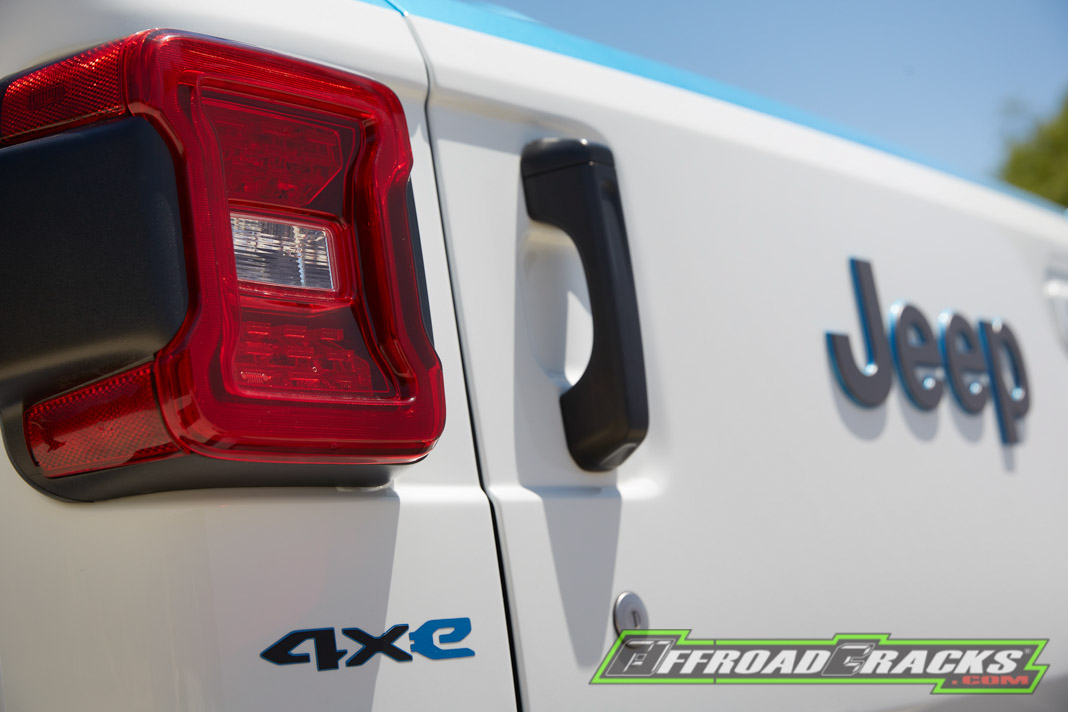 Ein Inverter aus dem Rennsport wandelt Gleichstrom in Wechselstrom für den High-Tech E-Motor. Die Batterien, ein Schnittstellen-Gehäuse und das Batterie-Kontrollmodul sind wasserdicht versiegelt, um die Wat-Tiefe des Wrangler von 76 Zentimetern zu erhalten. Bordsysteme wie Infotainment oder Beleuchtung versorgt eine herkömmliche zwölf Volt Batterie, eine zweite kümmert sich um Zusatzgeräte wie zum Beispiel die Seilwinde. Ein DC/DC-Wandler lädt die beiden zwölf Volt Batterien und erlaubt damit lange Nutzung elektrischer Geräte zum Beispiel beim Camping oder während unerwartet langer Seilwinden-Einsätze. Unterfahrschutz-Bleche bewahren die Hochvoltbatterie-Pakete vor möglichen Remplern beim harten Geländeeinsatz. Ein zehn Kilowatt starker Heizer sorgt für Komfort im offenen Wrangler-Innenraum.
Die beliebte Power Dome Motorhaube des Wrangler ziert auch den Magneto, zusammen mit einer dramatischen Leuchtleiste im Kühlergrill zwischen den Scheinwerfern und einer neu gestalteten Hecktür. Ledersitze in Custom Royal Blue und Schwarz geben dem Innenraum zusammen mit einer Lackierung in Surf Blue für Überrollbügel, Türeinstiege, Beifahrer-Panel und Ladeflächenumrandung seine elektrisierende Atmosphäre.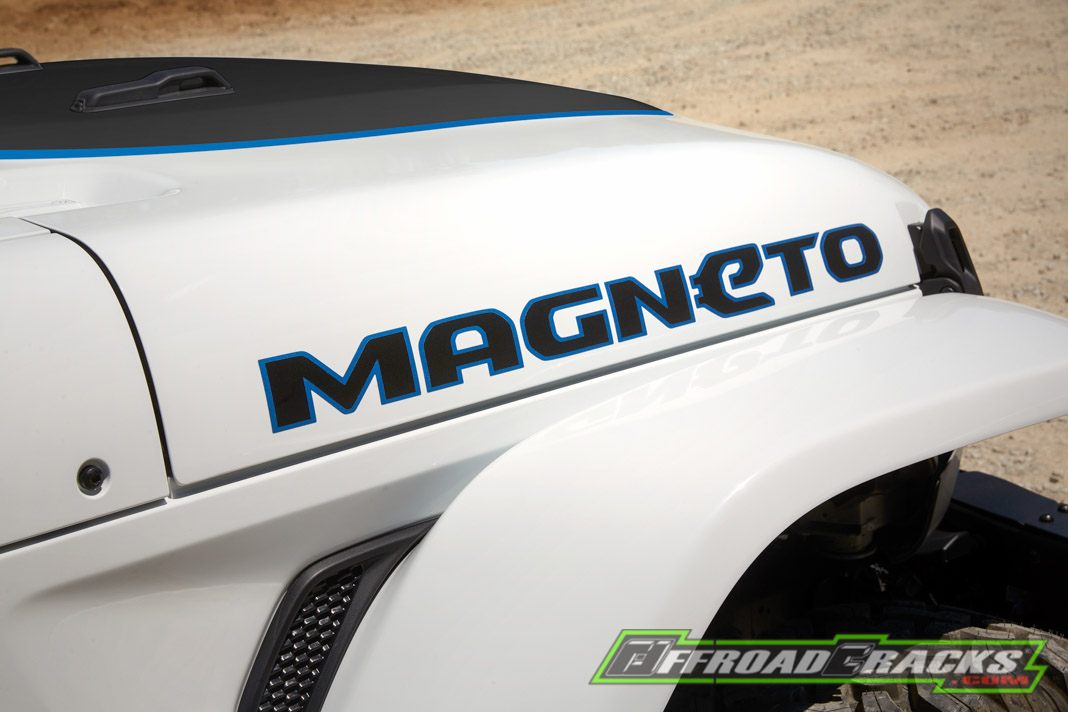 Ein JPP-Höherlegungs-Satz um fünf Zentimeter, 17 Zoll große, metallicschwarze Räder mit 35 Zoll großen Mud-Terrain Reifen, der Rollkäfig, Mopar Aufsetzschutz-Rohre, Stahl-Stoßfänger mit Warn-Seilwinde und ein Unterflurschutz aus Stahl vervollständigen die Geländefähigkeiten des Magneto.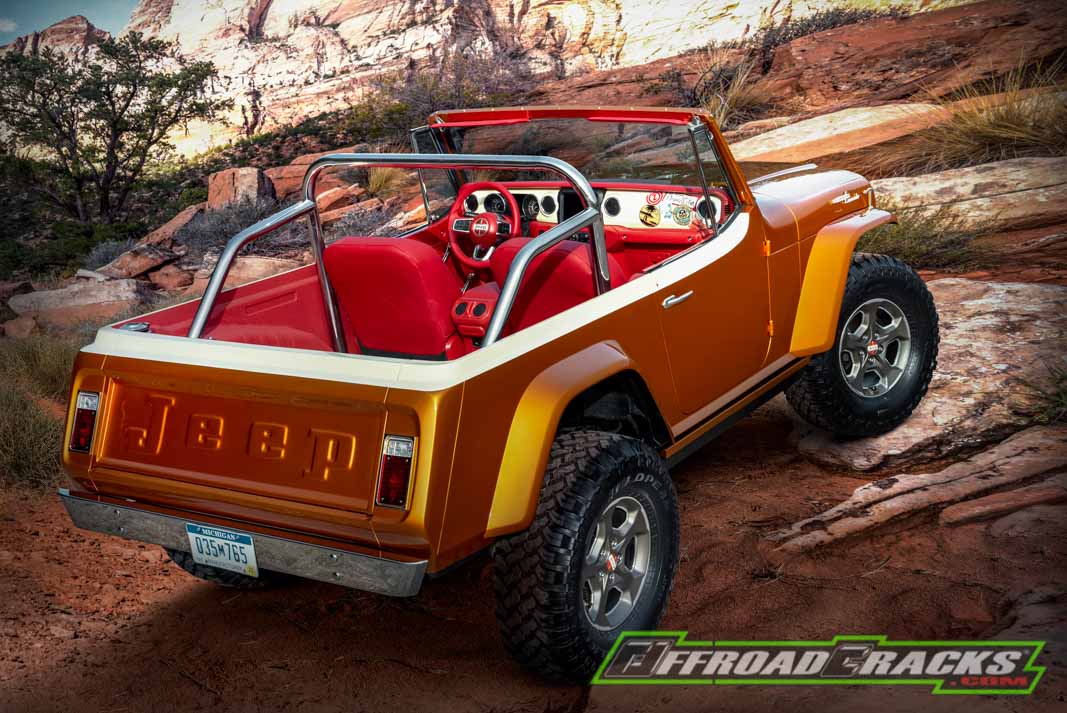 Jeepster Beach
Die Easter Jeep Safari wäre nicht komplett ohne Hommage an historische Jeep-Modelle. Der "Resto-Mod" dieses Jahres ist ein Rückblick auf die zweite Jeepster-Generation.
Ursprünglich gebaut für das wachsende Kundeninteresse an 4×4-Freizeitfahrzeugen, war der Jeepster Commando das erste kompakte Vierradantriebs-Fahrzeug mit Automatikgetriebe und, anders als die CJ-Modelle dieser Tage, mit modernen Annehmlichkeiten wie Türen, versenkbaren Seitenfenstern, Heizung und einem Dach als Serienausstattung.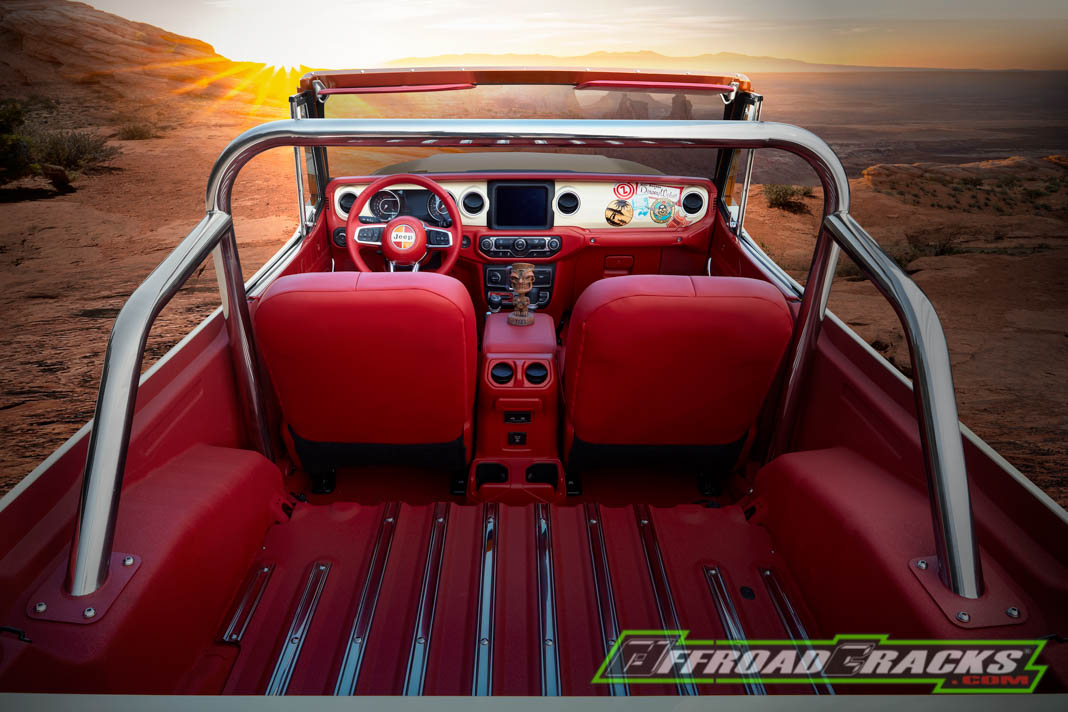 Das Konzeptfahrzeug Jeepster Beach startete 1968 als Jeepster Commando (C-101) und wurde nun mit einem Jeep Wrangler Rubicon von 2020 kombiniert. Jeepster Commando waren gebaut für fun in the sun, und dieser ultimativ auf Strand ausgerichtete Cruiser setzt diese Tradition fort.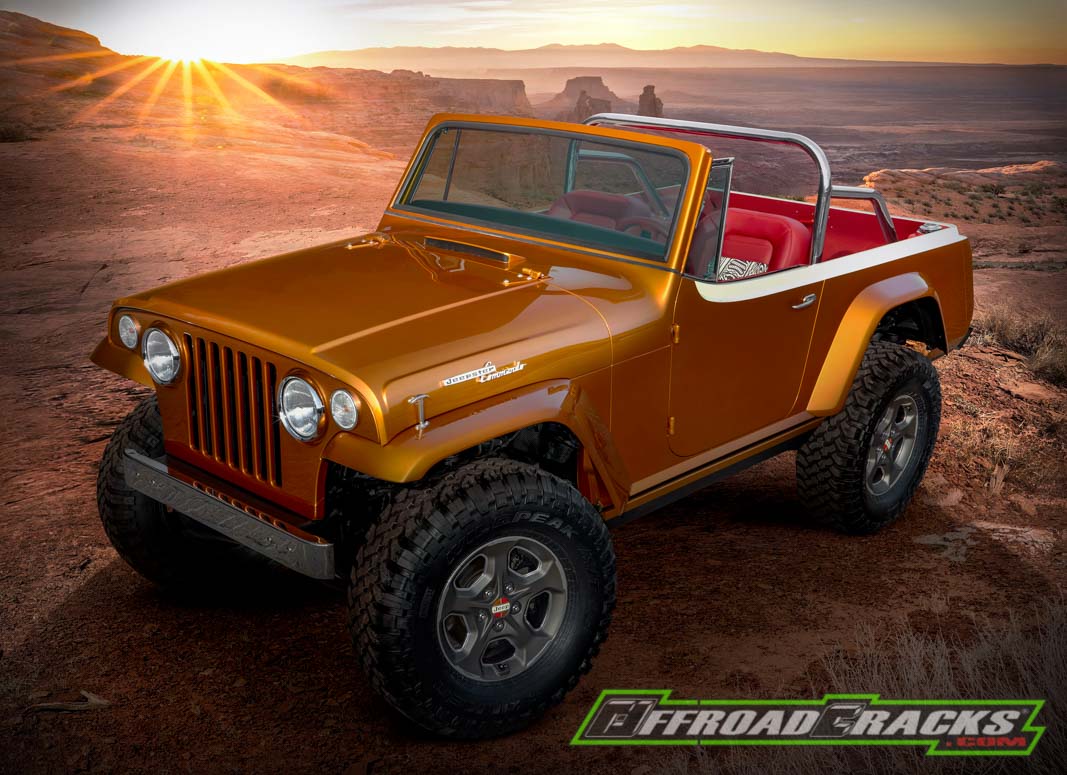 Die Originalkarosserie erhielt einige Modifikationen, behielt aber ihre originalen Chrom-Akzente, ergänzt mit einer modernen Zweiton-Lackierung mit Hazy IPA und Zinc Oxide. Auch wenn der Jeepster Beach aussieht wie ein historischer Jeepster, trägt er unter dem Blech die Leistungsfähigkeit eines modernen Jeep Wrangler.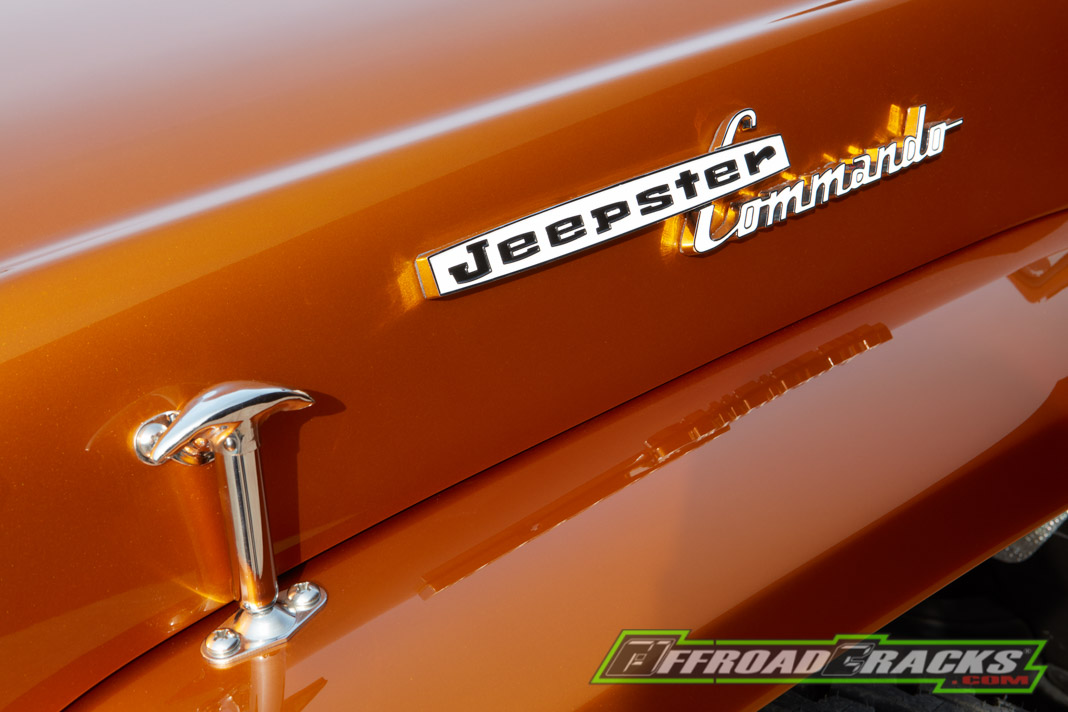 Unter der Motorhaube arbeitet ein Hightech-Vierzylindermotor mit zwei Litern Hubraum und Turboaufladung, der in seiner Kalibrierung für das Konzeptfahrzeug mit 340 PS und 500 Newtonmetern1 25 Prozent mehr Leistung und Drehmoment erreicht als seine Serienversion. Der Motor mit Direkteinspritzung verwendet einen Twin-Scroll-Turbolader mit geringem Trägheitsmoment, der direkt am Zylinderkopf montiert ist, sowie einen eigenen Kühlkreislauf für Turbolader, Ansaugluft und Drosselklappe für außergewöhnliches Ansprechverhalten, Leistung und Kraftstoffeffizienz. Ein Achtgang-Automatikgetriebe in Verbindung mit einem 4:1 untersetzten Verteiler-Getriebe bringt die Kraft auf 35 Zoll großen Reifen.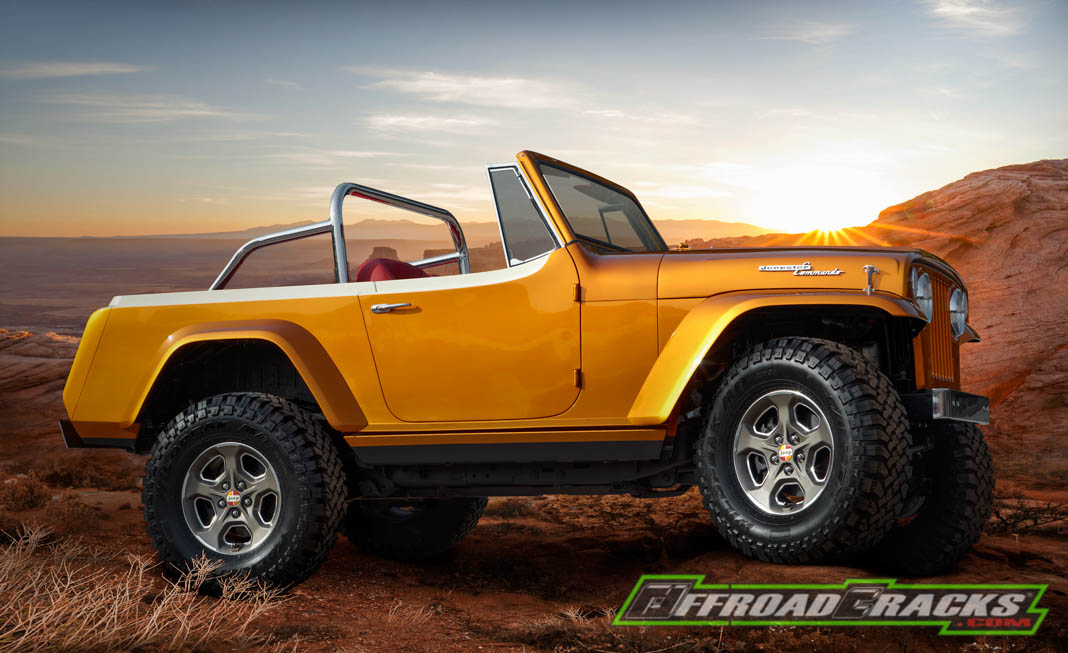 Der Innenraum des Jeepster Beach zeigt Einzelsitze in rotem Leder. Statt der Rücksitze glänzt hinten ein verchromter Überrollbügel.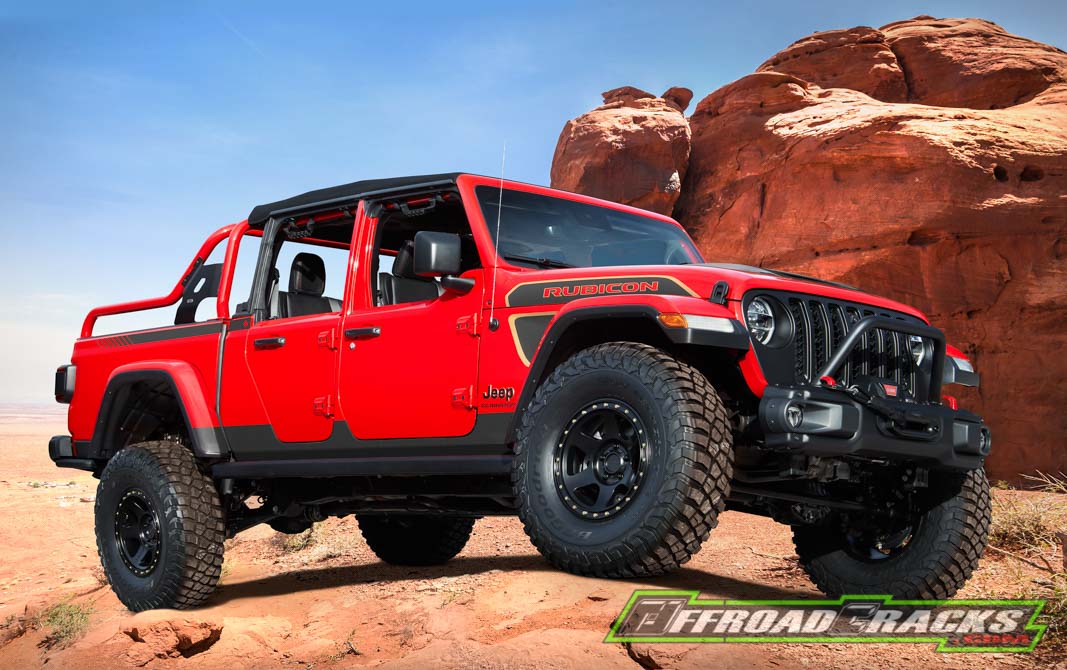 Jeep Red Bare
Hartes Terrain verlangt nach einem ebenso harten Antriebsstrang. Das Konzeptfahrzeug Jeep Red Bare Gladiator Rubicon baut auf der langjährigen Tradition hart arbeitender Trucks auf, gepaart mit den legendären Jeep 4×4-Fähigkeiten.
Angetrieben wird der Red Bare von einem aufgeladenen Dreiliter-V6-EcoDiesel-Motor mit einer Leistung von 260 PS und einem Drehmoment von 442 Newtonmetern1. Das stattliche Drehmoment setzt ein TorqueFlite 8HP75-Achtgang-Automatikgetriebe über Dana 44-Hochleistung-Differentiale vorn und hinten in Vortrieb um. Die höchste Untersetzung des zweistufigen Verteiler-Getriebes liegt bei 4,88, was das beeindruckende Gesamt-Untersetzungsverhältnis von 91:1 ergibt.
Der Gladiator Red Bare ist feuerrot lackiert und trägt mattschwarze Grafiken mit Akzenten in Goldton. Die Mojave-Motorhaube mit ihren Kühllufteinlass-Einsätzen und der Motorhauben-Grafik harmoniert mit den mattschwarzen Kühlergrill-Einsätzen. Ein schwarzes Softtop und Halbtüren für die ultimative Open-Air-Freiheit runden das robuste Erscheinungsbild ab.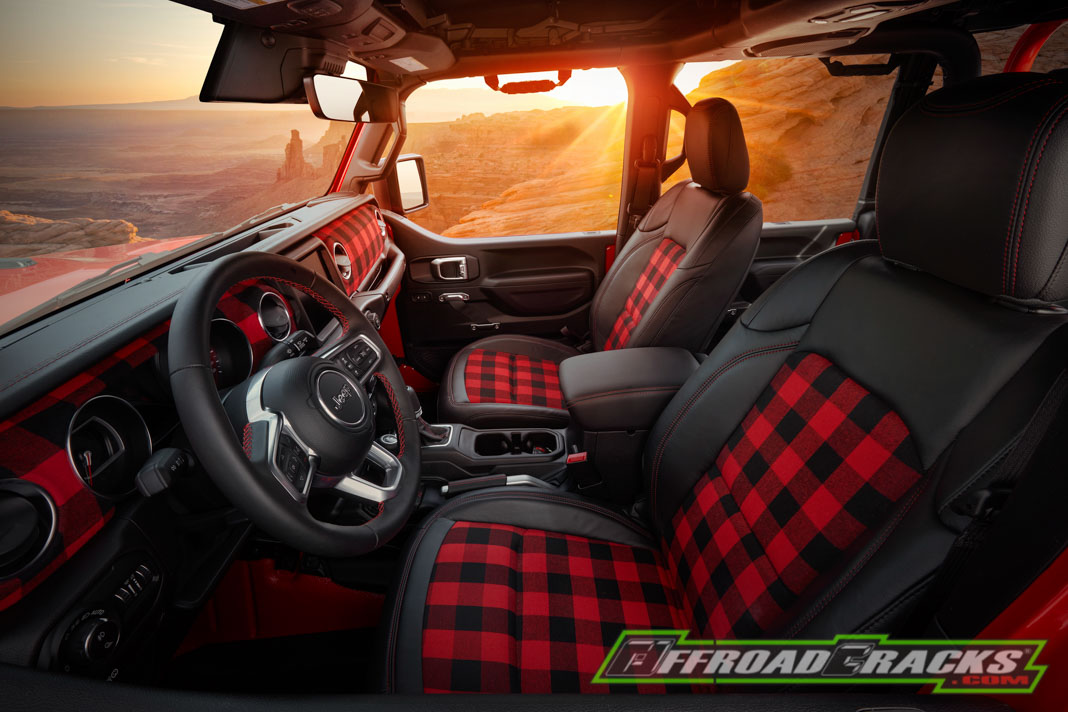 Das Interieur besteht aus schwarzen Katzkin-Ledersitzen mit roten Nähten und roten Flanell-Einsätzen. Die Instrumententafel mit dem gleichen Flanell-Bezug verleiht dem Innenraum ein ebenso außergewöhnliches wie rustikales Finish.
Der Gladiator Red Bare rollt auf einem JPP-Höherlegungs-Satz um fünf Zentimeter und 17 Zoll großen, metallicschwarzen Rädern mit 37 Zoll großen BF Goodrich Mud-Terrain Reifen. Auf der Ladefläche ist ein Rollbügel montiert, dazu eine aufrollbare Ladeflächen-Abdeckung und ein Trägersystem. Die Türschweller schützen JPP Sand Slider Rock Rails, der vordere Stahl-Stoßfänger nimmt eine Warn-Seilwinde auf.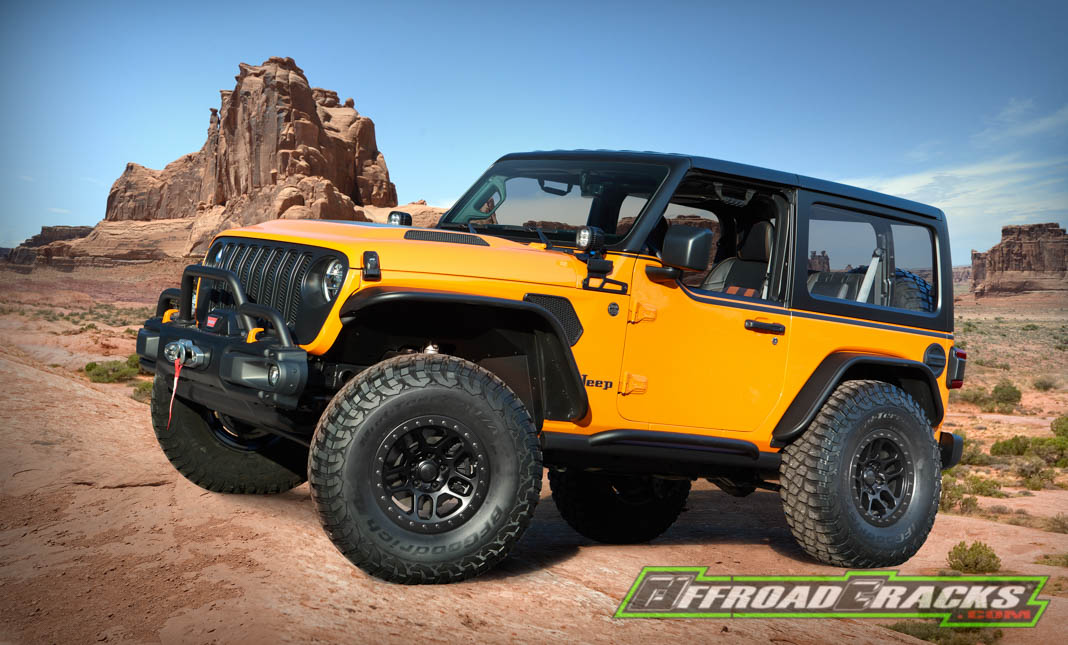 Jeep Orange Peelz
Auf der Basis eines zweitürigen Wrangler ist das Konzeptfahrzeug Jeep Orange Peelz ein Tribut an den langjährigen Lifestyle von Open air fun-and-freedom, der den Wrangler zur globalen Ikone werden ließ.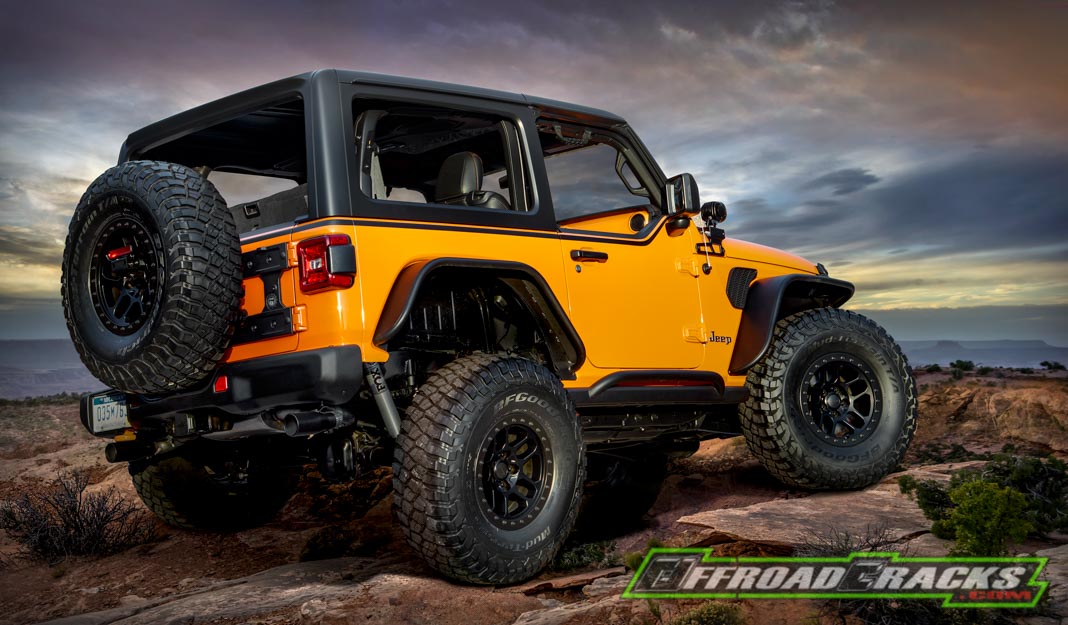 Prototyp-Halbtüren von JPP, ein Hardtop ohne Scheiben und ein abnehmbares, einteiliges Freedom Top-Glasschiebedach sind die open-air-Kennzeichen des Konzeptfahrzeugs Jeep Orange Peelz.
Die Off-Road-Performance erhöht der bewährte JPP Höherlegungs-Satz um fünf Zentimeter mit FOX-Stoßdämpfern. Unter den "High-Top"-Kotflügelverbreiterungen aus Stahl sorgen 17 Zoll große Beadlock-Aluminiumräder von JPP in 37 Zoll großen BF Goodrich KM3 Geländereifen für ordentlich Abstand zwischen Differentialen und Boden.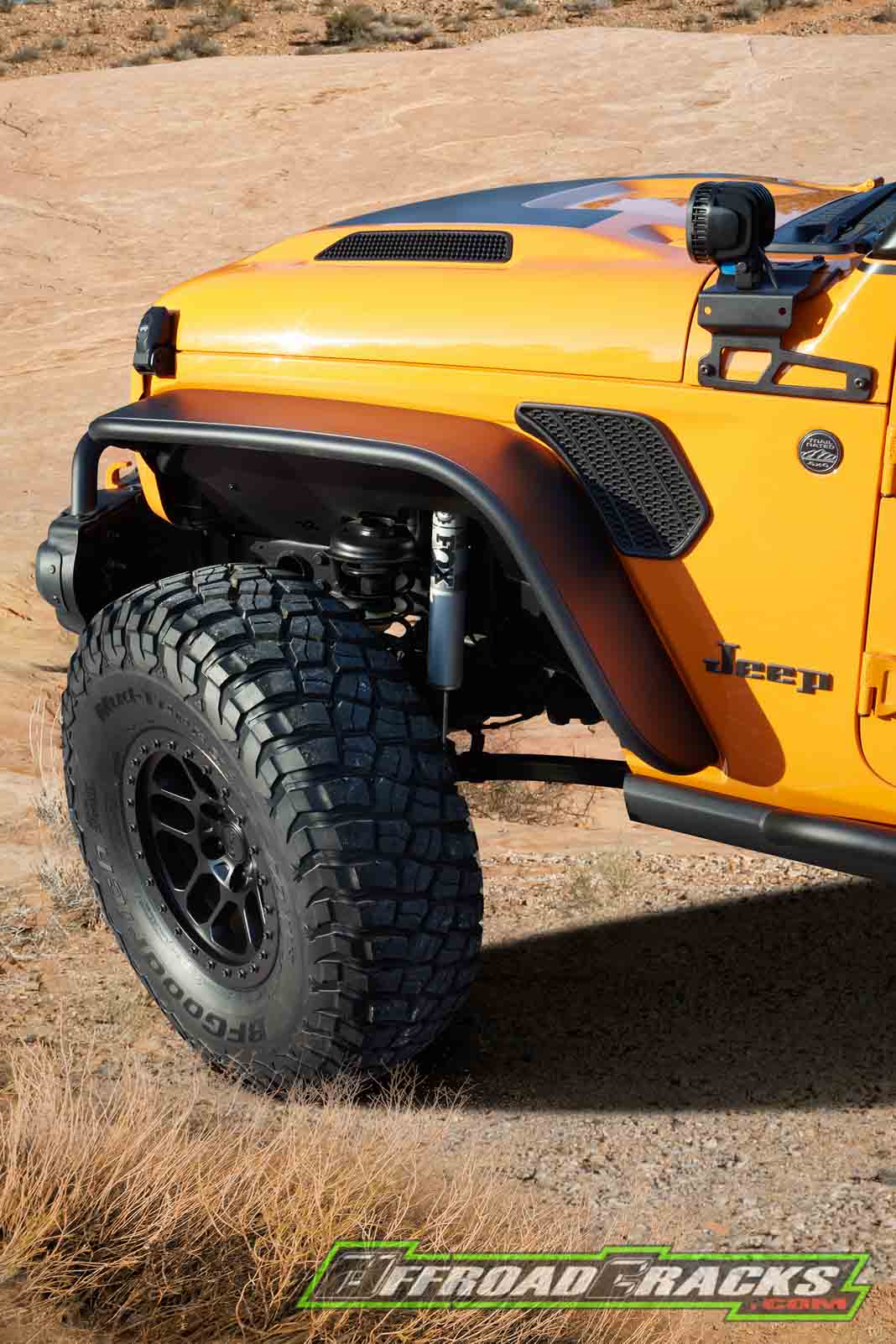 Den Look unterstreichen eine mattschwarze umlaufende Grafik an der Gürtellinie und gleichfarbige Vintage-Jeep-Embleme seitlich hinter den vorderen Kotflügeln, was die auffällige Außenfarbe Orange Peelz zusätzlich betont.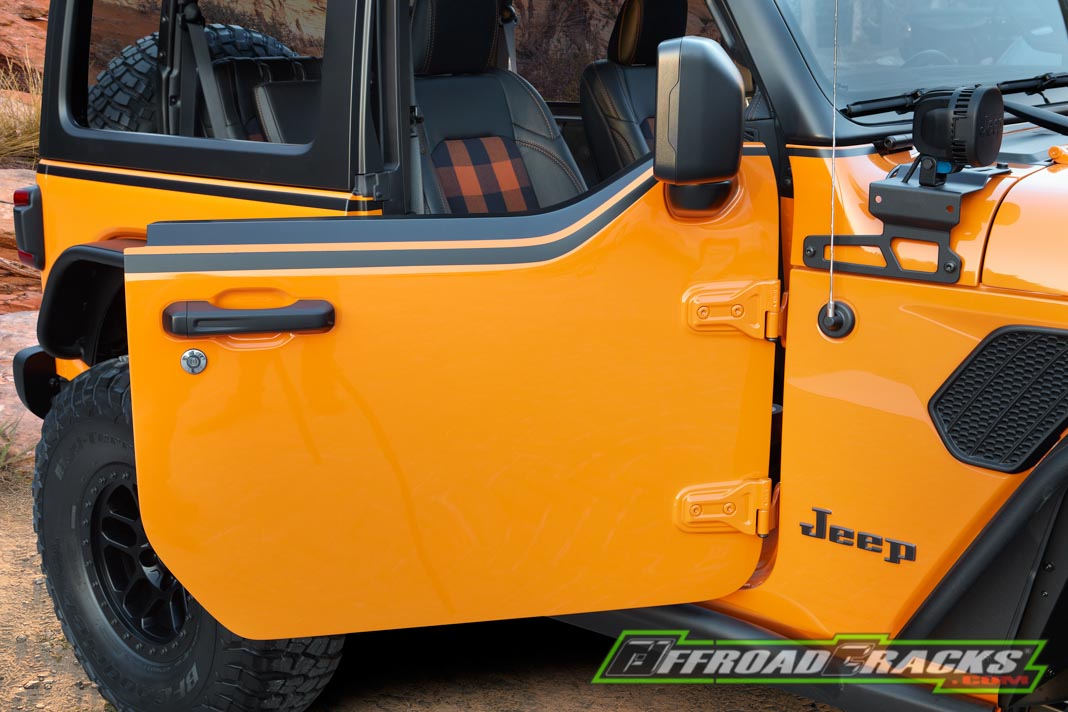 Die Motorhaube mit schwarzen Mopar-Haubenverschlüssen und Jeep Willys-Logo flankieren zwei Offroad-LED-Scheinwerfer von JPP, die an der Basis der A-Säulen montiert sind und die jeweils 4.800 Lumen Lichtleistung liefern. Die Mopar-Frontscheibe aus Corning Gorilla Glas sorgt für zusätzlichen Schutz gegen Splitter und Risse während der Fahrt.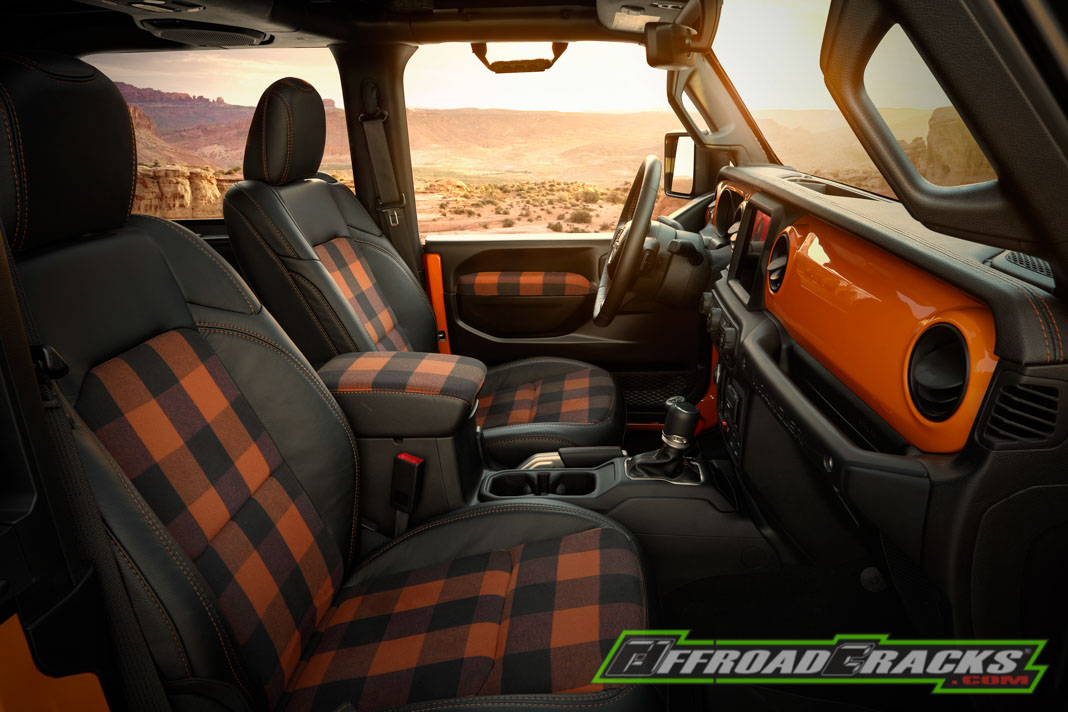 Der JPP Rubicon-Stahlstoßfänger mit fünf Zentimeter starkem Schutzbügel ist mit einer JPP Rubicon-Warn-Seilwinde mit über 3,6 Tonnen Zugkraft ausgestattet. Am Heck des Fahrzeugs ermöglicht die JPP Reserveradhalter-Verstärkung die Montage eines größeren Ersatzrades
Im Innenraum passen die karierten Armlehnen und Sitzeinlagen sowie die Lackierung des Armaturenbretts zum Orange Peelz-Exterieur.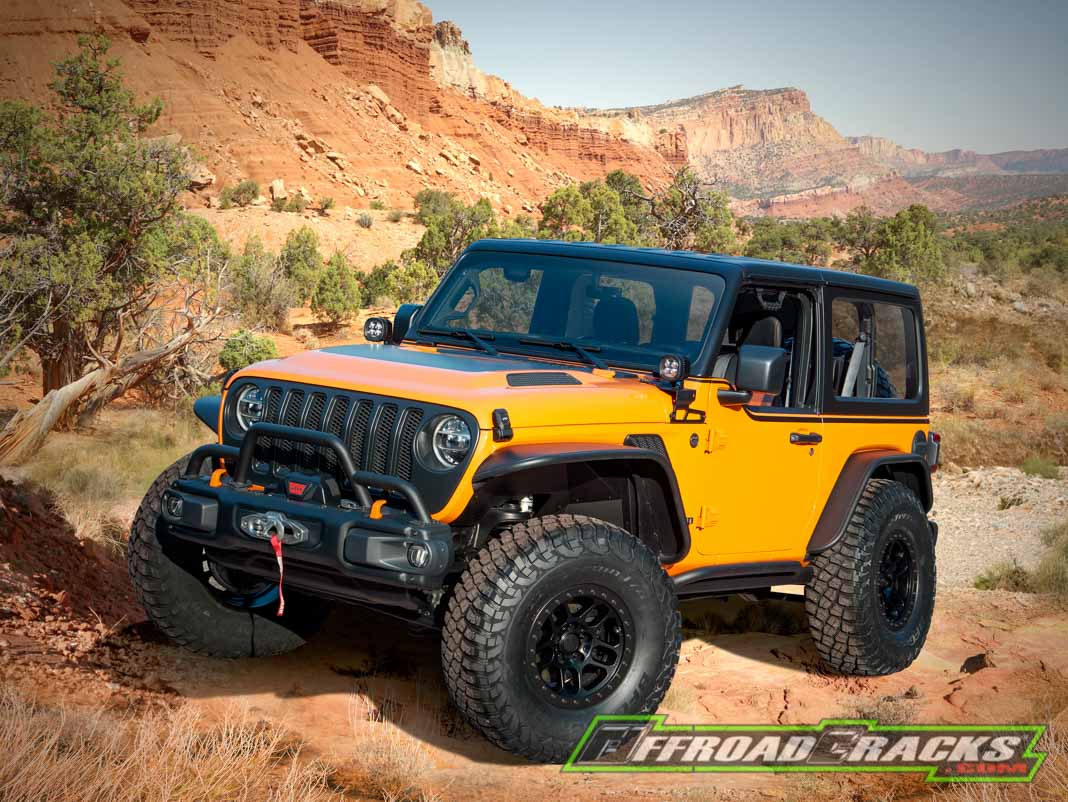 Den Antrieb des Jeep Orange Peelz Konzeptfahrzeugs übernimmt der 3.6 Pentastar V6 mit 285 PS und 352 Newtonmetern Drehmoment1, gepaart mit TorqueFlite Achtgang-Automatikgetriebe. Der bewährte Antrieb profitiert von einem JPP-Ansaugtrakt und einer JPP-Katalysator-Abgasanlage
---


Electrified power and the electrifying performance of today's internal combustion engines combine with off-road capability and fun-to-drive freedom to take center stage during this year's Easter Jeep Safari. The Jeep® brand and Jeep Performance Parts (JPP) teams again join forces to create a lineup of custom-built concept vehicles to conquer the iconic trails in Moab, Utah. Enthusiasts from all over the world will gather March 27 to April 4 in Moab for an extended holiday week of trail rides and technical off-roading on some of the most challenging and picturesque terrain.
"The Moab Easter Jeep Safari has long been our testing ground for both our newest Jeep 4x4s and for showcasing new Jeep brand concepts, Jeep Performance Parts and ideas that truly resonate with our most passionate customers — the die-hard off-road enthusiasts who attend this event every year," said Jim Morrison, Vice President, Jeep Brand North America. "This year's Safari shines a spotlight on what makes Jeep vehicles unmistakably distinctive and undeniably capable, a variety of powertrains that deliver superior power, performance, torque and, above all, fun. Moab's demanding trails are a worthy opponent for our Jeep Wrangler and Jeep Gladiator concept vehicles. Each is certain to prove that Jeep's legendary 4×4 capability reigns supreme on any terrain."
This year, seven distinctive Jeep brand and JPP concept vehicles are equipped with an array of advanced and potent powertrains – highlighted by the first battery electric vehicle (BEV) from Jeep, another milepost on the brand's "Road Ahead" to becoming the greenest SUV brand. Additionally, the concepts feature production and prototype JPP from Mopar, developed with rigorous specifications and legendary 4×4 capability in mind.
"Moab is the perfect place to showcase the latest selection of authentic, quality-tested Jeep Performance Parts from Mopar," said Mark Bosanac, North America Vice President, Mopar Service, Parts & Customer Care. "Unlike any other aftermarket offering, our factory-backed Jeep Performance Parts are specifically designed and engineered to deliver exact fit, form and function for Jeep vehicles."
The 2021 Easter Jeep Safari concept vehicles include: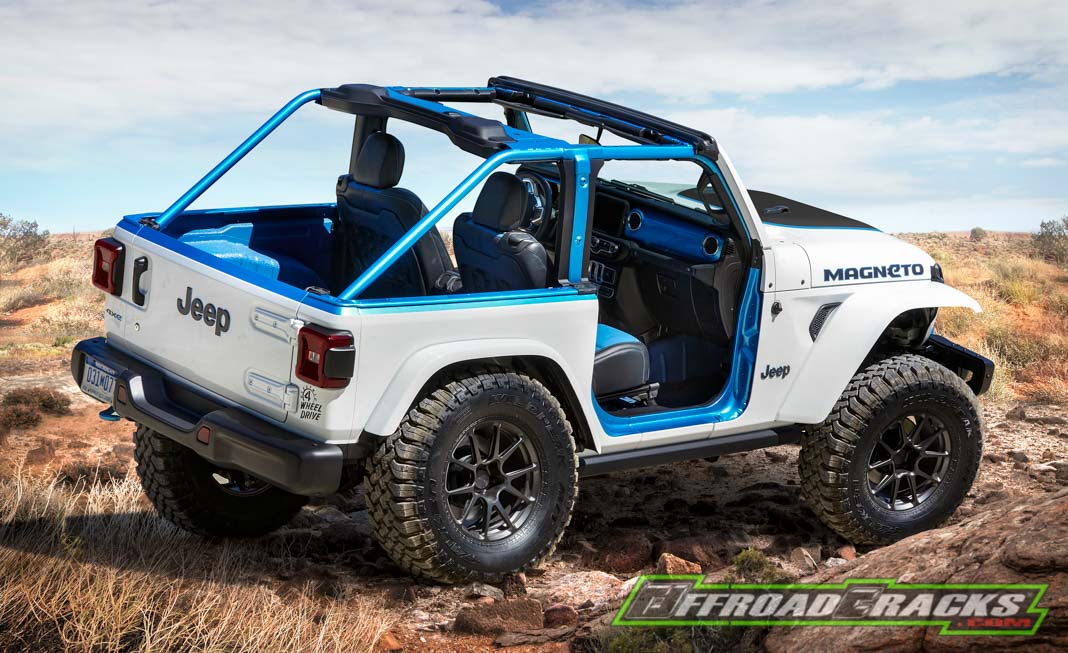 Jeep Magneto
The Jeep Wrangler Magneto concept is a fully capable BEV that is stealthy, quiet, quick and an unmistakable rock-climbing force. Jeep brand engineers and designers have created a zero-emission vehicle with Jeep 4×4 capability that provides new levels of efficiency, environmental responsibility, and performance on- and off-road.
Based on a two-door 2020 Jeep Wrangler Rubicon, the Jeep Magneto uses a custom-built axial flux electric motor that operates up to 6,000 rpm. The e-motor is connected to a six-speed manual transmission, creating a unique manual-electric powertrain with a clutch that operates as it would with an internal combustion engine. In quick-shift scenarios, the e-motor engages regen upon clutch engagement to prevent rev-hang.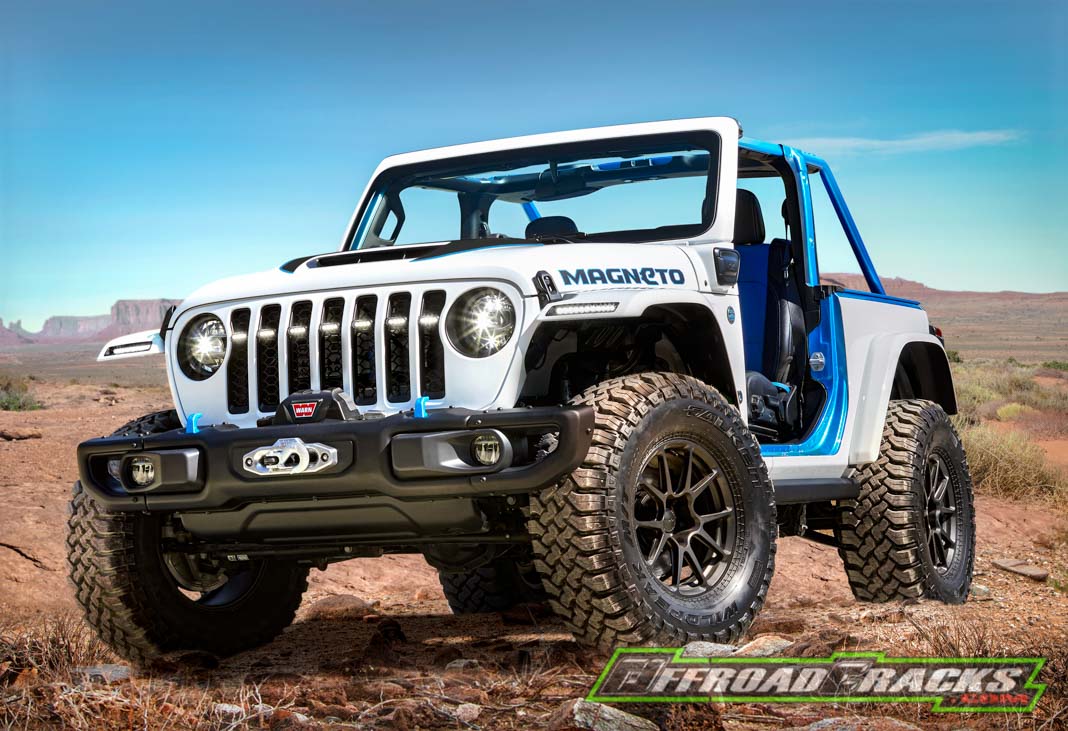 Comparable to the 3.6-liter Pentastar V-6, the compact e-motor is tuned to deliver up to 273 lb.-ft. of torque and 285 horsepower. Intentional calibrations developed during testing help the Magneto's powertrain emulate the driving experience of the V-6, matching not only torque but also horsepower. During moderate driving, the performance difference between the V-6 and the Magneto's unique manual-electric powertrain is negligible except for near-silent operation.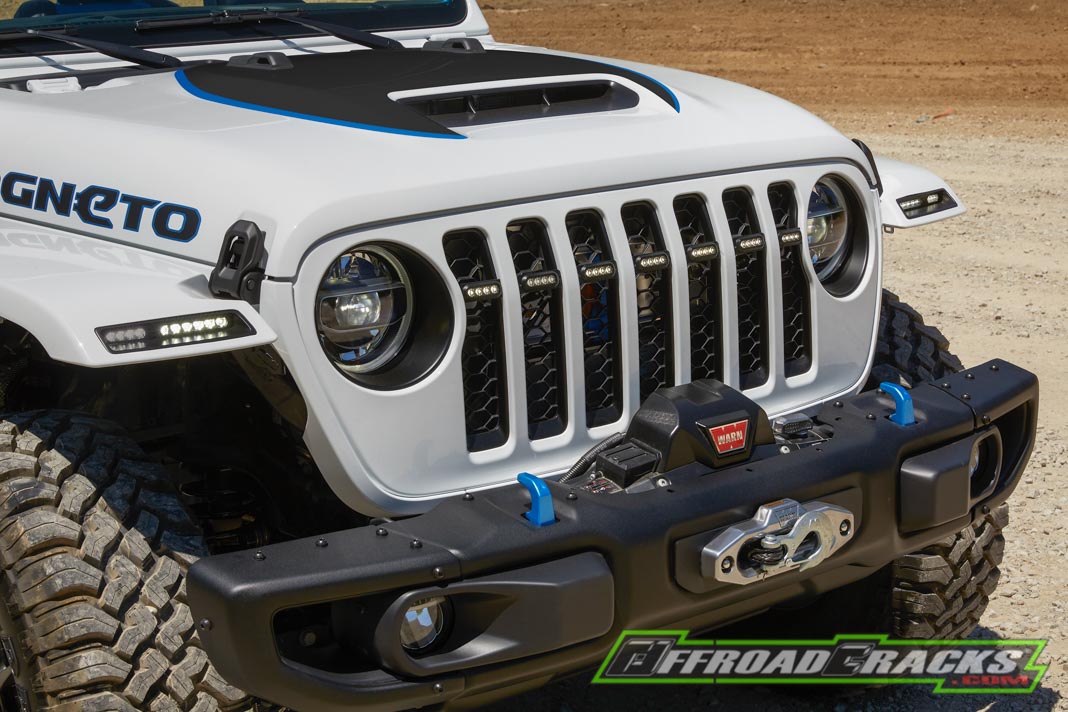 When greater acceleration is needed, the e-motor delivers all 273 lb.-ft. of torque without the need to build up revolutions per minute. The Magneto concept runs 0-60 mph in 6.8 seconds.
Powering the Jeep Magneto's e-motor are four battery packs with a combined power of 70 kW/h, running an 800-volt system. The lithium-ion batteries are distributed around the Wrangler to balance weight on the four wheels. One pack replaces the Wrangler's mid-ship fuel tank, another is mounted opposite the fuel tank location, the third pack sits atop the e-motor under the hood and the fourth pack mounts in the space normally used for a rear storage compartment, also using space typically occupied by the exhaust muffler.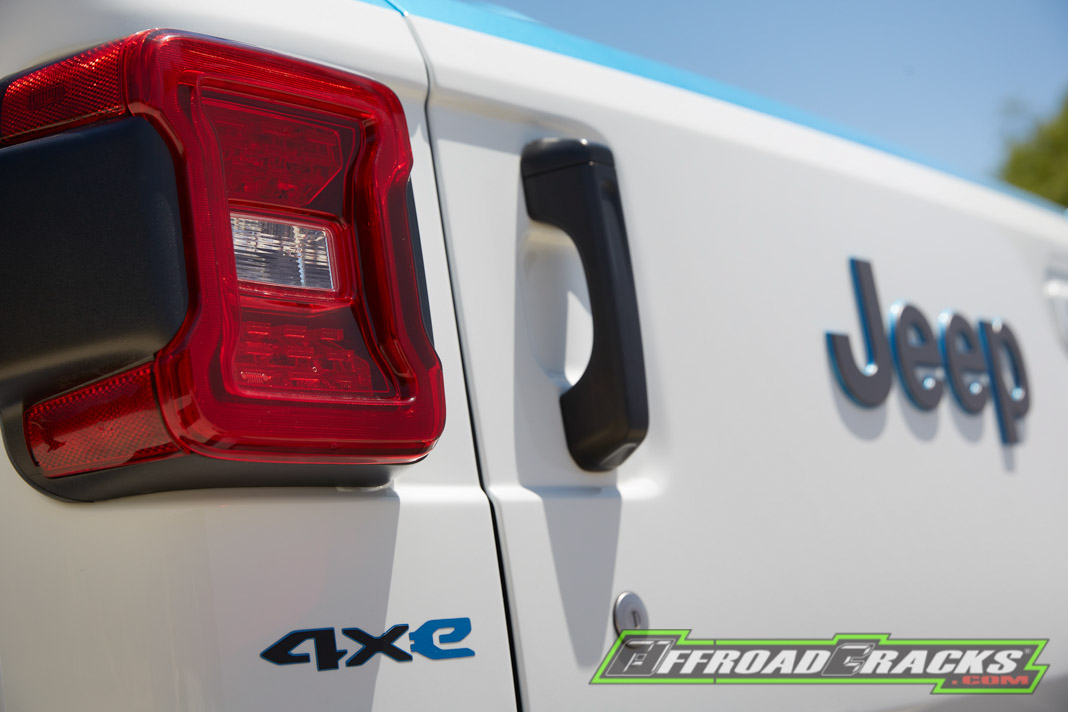 An inverter derived from race cars converts DC power to AC for the high-tech motor. The batteries, a vehicle interface box and the battery control module all reside in waterproof enclosures to maintain the Wrangler's 30-inch water-traversing capability. A 12-volt battery powers existing systems, such as the radio and lighting. A second 12-volt battery serves as an auxiliary power unit (APU) for accessories, such as the winch. A DC-to-DC converter charges both 12-volt batteries, allowing long-term operation of accessories to power a campsite or an unexpectedly long winch operation. Unique mounts secure the battery packs for harsh driving and custom skid plates protect the packs from potential strikes to the undercarriage while traversing harsh terrain.
A 10-kw high-voltage heater keeps the fully open-air passenger compartment comfortable.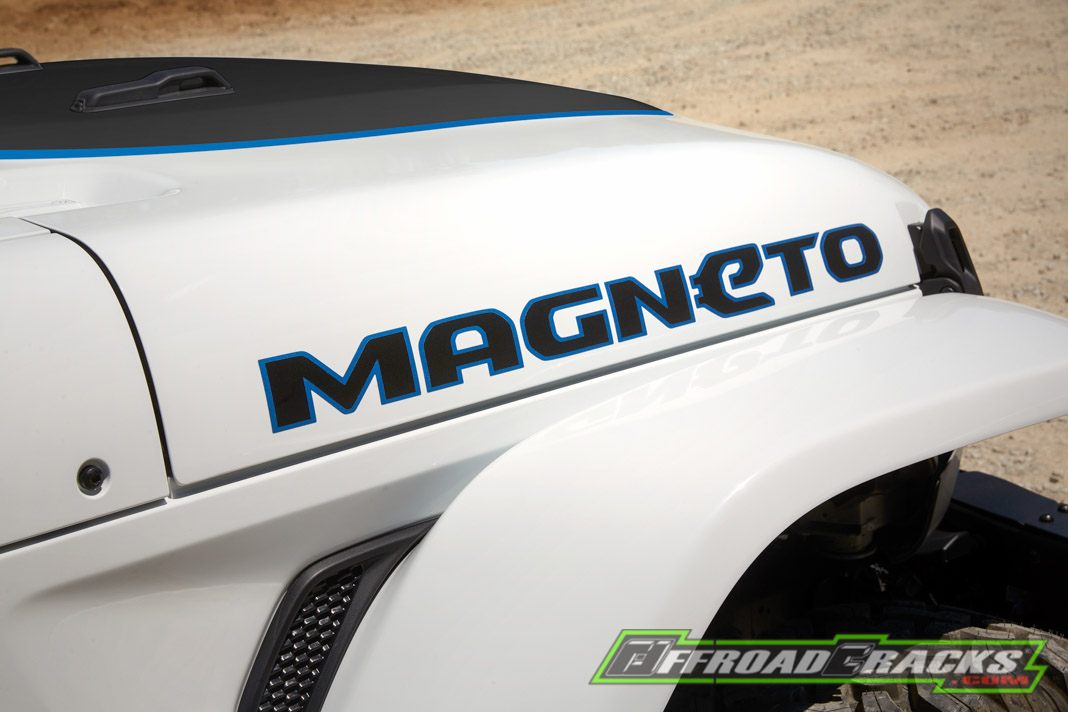 The exterior of the Magneto features a Bright White color with Surf Blue accents, along with a heavy-duty performance hood with center scoop and custom decal, redesigned rear gate and dramatic full-width forward lighting. Custom Royal Blue and Black leather seats with Sapphire-colored inserts and straps, Surf Blue truck bed liner and Mopar slush mats give the Magneto's interior design an electrified appearance.
The Jeep Magneto comes equipped with a JPP 2-inch lift kit, 17-inch Lights Out black metallic wheels with 35-inch mud-terrain tires, custom roll cage, Mopar Rock Rails, steel bumpers with a Warn winch and a steel belly pan for added off-road capability.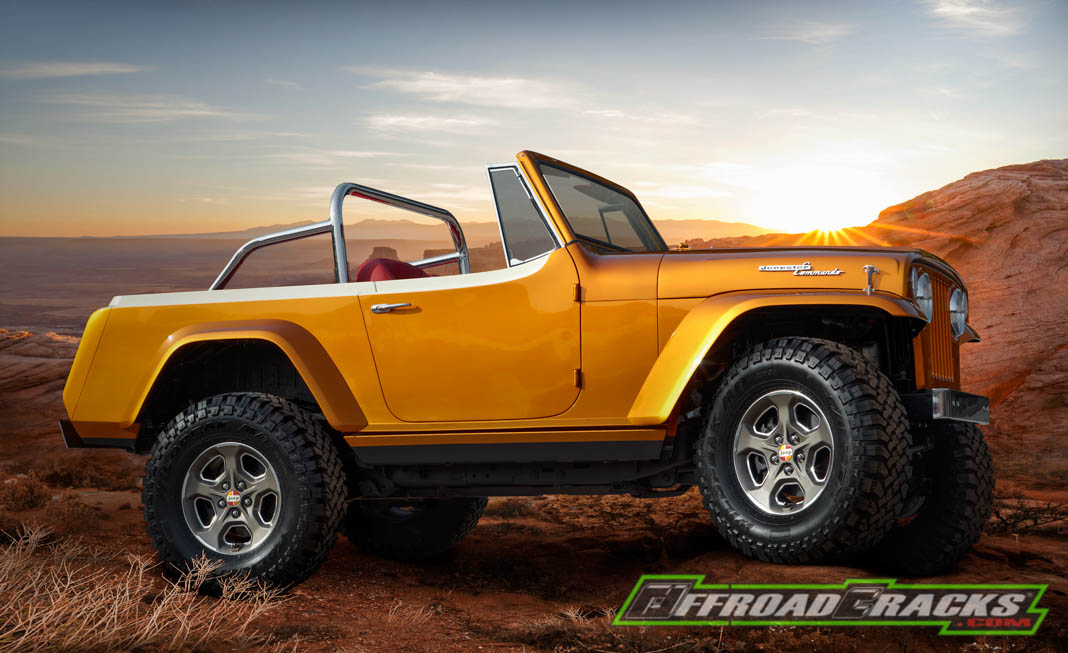 Jeepster Beach
Easter Jeep Safari wouldn't be complete without paying homage to Jeep off-road vehicles of the past. This year's "Resto-Mod" is a throwback to the second-generation Jeepster.
Originally designed around the growing interest in leisure time use of 4×4 vehicles, the Jeepster Commando was the first compact four-wheel-drive vehicle with an automatic transmission and, unlike the Jeep CJs of its day, it boasted modern amenities, such as doors, roll-up side glass, a heater and roof, as standard equipment.
The Jeepster Beach concept started as a 1968 Jeepster Commando (C-101) and was seamlessly blended with a 2020 Jeep Wrangler Rubicon. Jeepster Commandos were made for fun in the sun, and this ultimate beach-themed cruiser continues that tradition by embodying a spirited, carefree attitude.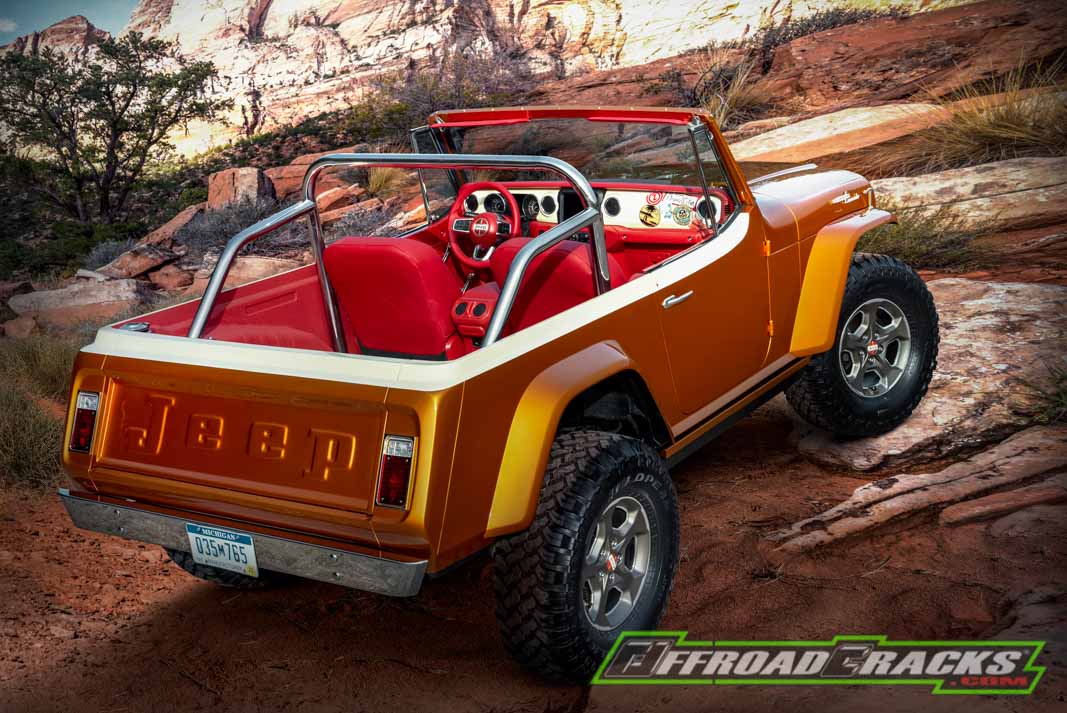 The body was modified and the exterior fuses original chrome trim with an updated, brightly colored two-tone paint scheme of Hazy IPA and Zinc Oxide. While the Jeepster Beach maintains the outward appearance of a vintage Jeepster, it commands peak performance both on- and off-road delivered by the modern-day Jeep Wrangler.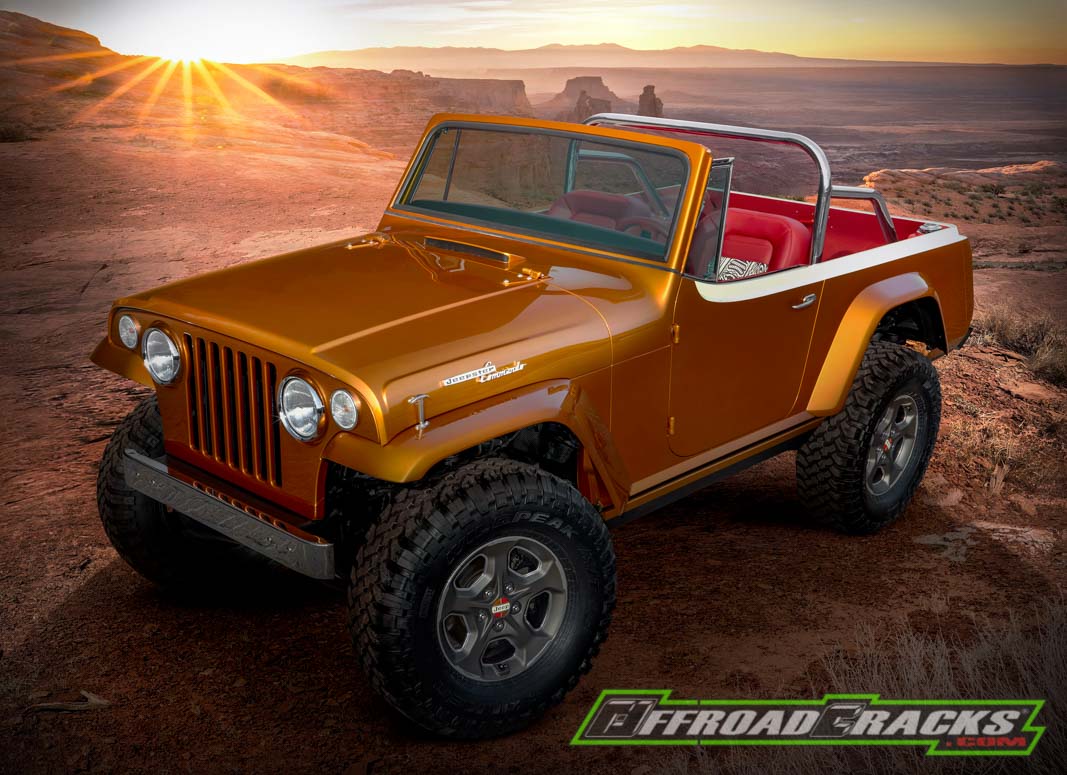 Under the hood, it uses a high-tech 2.0-liter turbocharged four-cylinder engine with a custom, concept calibration that increases the engine output about 25 percent above the production version to 340 horsepower and 369 lb.-ft. of torque. The direct-injection engine uses a twin-scroll, low-inertia turbocharger mounted directly to the cylinder head, along with a dedicated cooling circuit for the turbocharger, intake air and throttle body for exceptional responsiveness, performance and fuel efficiency. An eight-speed automatic transmission mated to a 4:1 transfer case delivers power to 35-inch tires.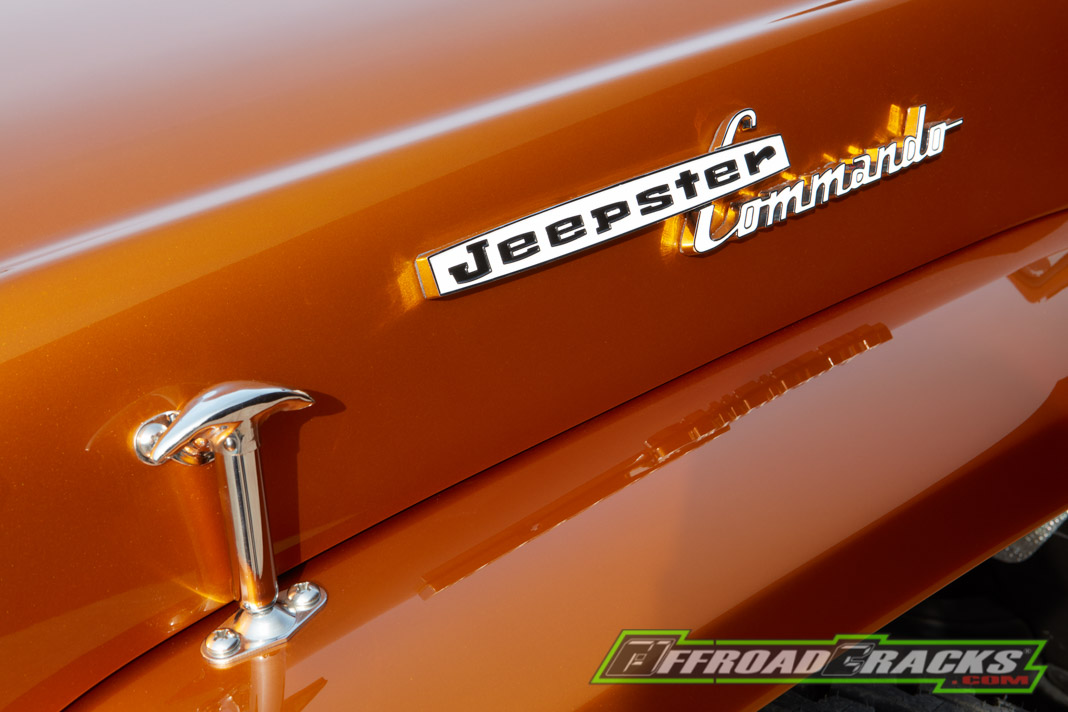 Jeepster Beach's custom interior features low-back bucket seats trimmed in red leather. The rear seat was replaced with a chrome, four-point safety cage and the carpets were removed to make cleaning out sand a breeze.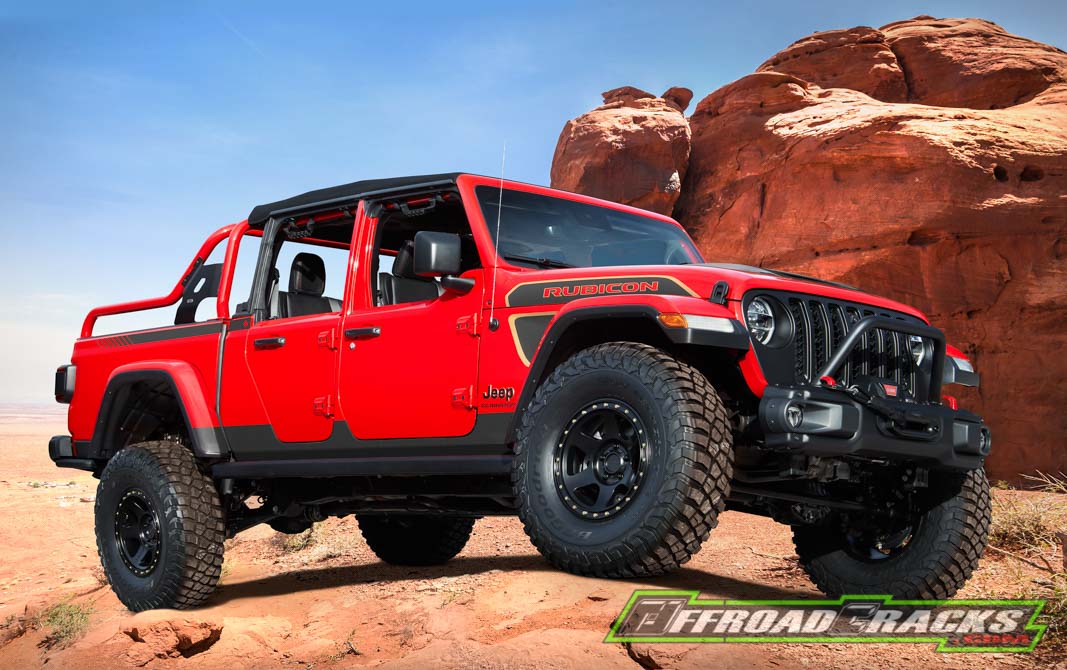 Jeep Red Bare
Tough terrain calls for an equally tough powertrain. The Jeep Red Bare Gladiator Rubicon concept builds upon a long-standing heritage of hardworking trucks, paired with legendary Jeep 4×4 capability to deliver ultimate performance, fuel efficiency and driving range.
Powering the Red Bare concept is the turbocharged 3.0-liter EcoDiesel V-6 engine, rated at 260 horsepower and 442 lb.-ft. of torque, with engine stop-start (ESS) technology standard. To handle greater torque loads, the EcoDiesel V-6 connects to a TorqueFlite 8HP75 eight-speed automatic transmission, calibrated for low RPM shifts and to easily maneuver rigorous ground.
The Red Bare features Dana 44 front and rear heavy-duty axles that have been upgraded with 4.88 axle ratios for optimum performance.
The Red Bare Gladiator delivers an impressive 91:1 crawl ratio to tackle the toughest trails that Moab has.
The overall design inspiration behind the Red Bare concept builds on the passion and enthusiasm of Jeep SUV owners who spend countless hours creating customized looks and modifications to express the unique personality of their trusty off-roading vehicle.
Gladiator Red Bare boasts a Fire Cracker Red exterior with custom Matte Black graphics and gold accents, along with the Mojave hood and cowl pieces, custom hood graphic and Matte Black signature seven-slot grille insert. Adding to its rugged appearance is a black factory soft-top and half doors for ultimate open-air freedom.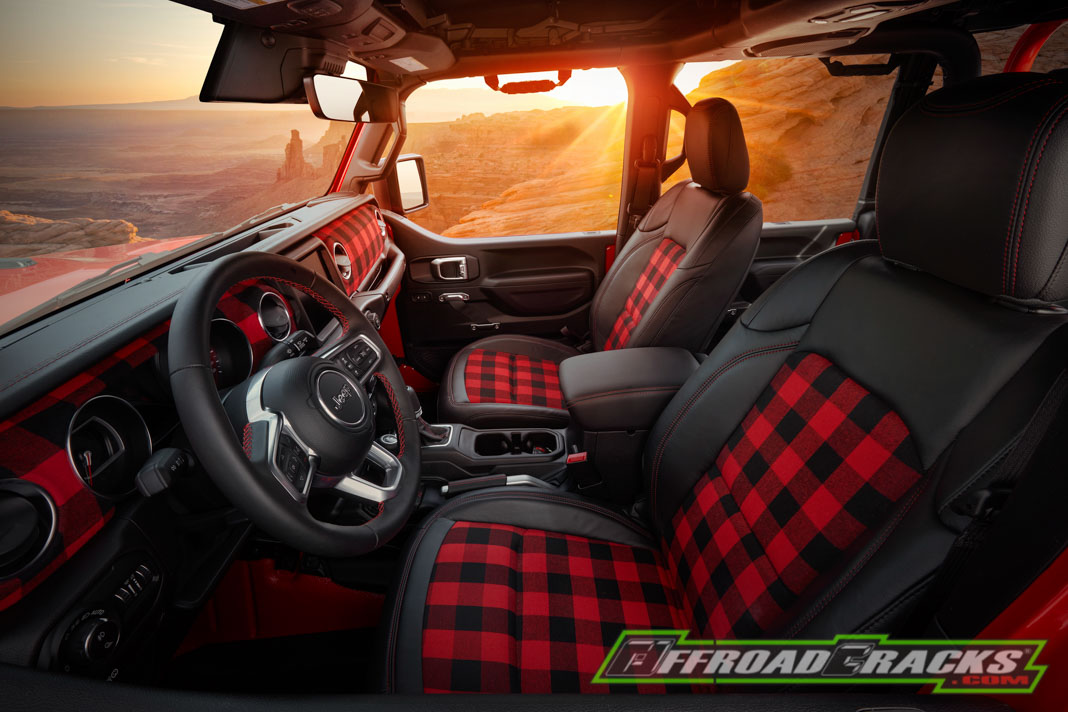 The interior incorporates custom Katzkin Black leather seats with red stitching and custom red flannel inserts. The instrument panel has been wrapped in the same red flannel material, giving the interior a bold, rustic finish. Rounding out the interior accents are body-color matched truck-bed lined floors with Mopar slush mats.
The Gladiator Red Bare concept also comes equipped with a JPP 2-inch lift kit, 17-inch Matte Black wheels with 37-inch BFG mud-terrain tires, cargo bed-mounted sport bar, JPP Sand Slider rock rails, bed cover and rack system, factory steel bumpers with a Warn winch and front bumper grille guard for added off-road protection.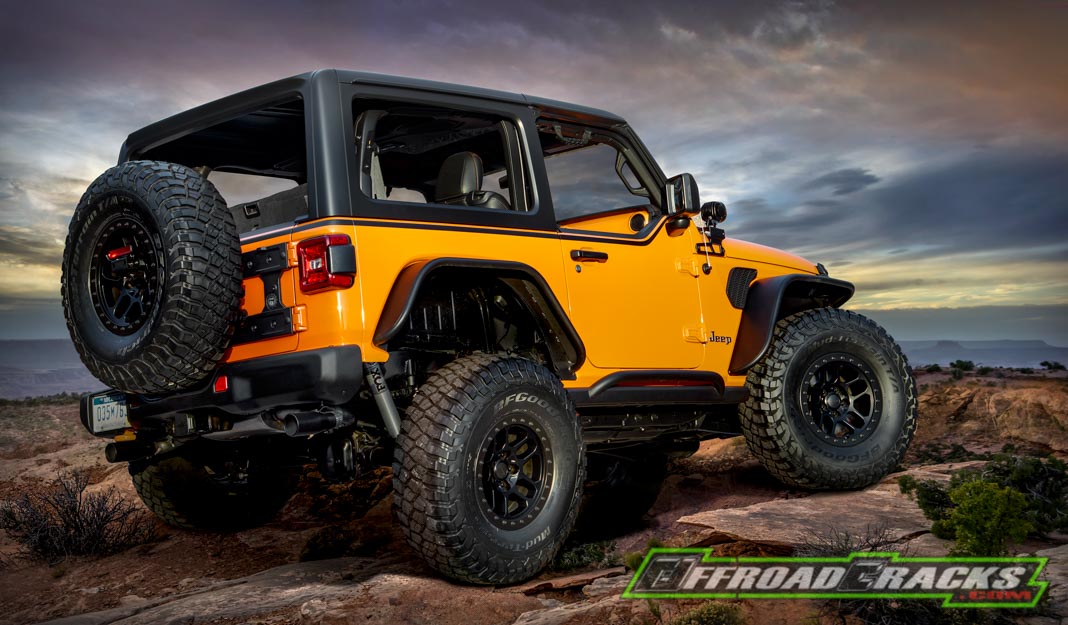 Jeep Orange Peelz
Based on a two-door Wrangler, the Jeep Orange Peelz concept pays tribute to the long-standing, open-air, fun-and-freedom lifestyle that makes the Jeep Wrangler a global icon.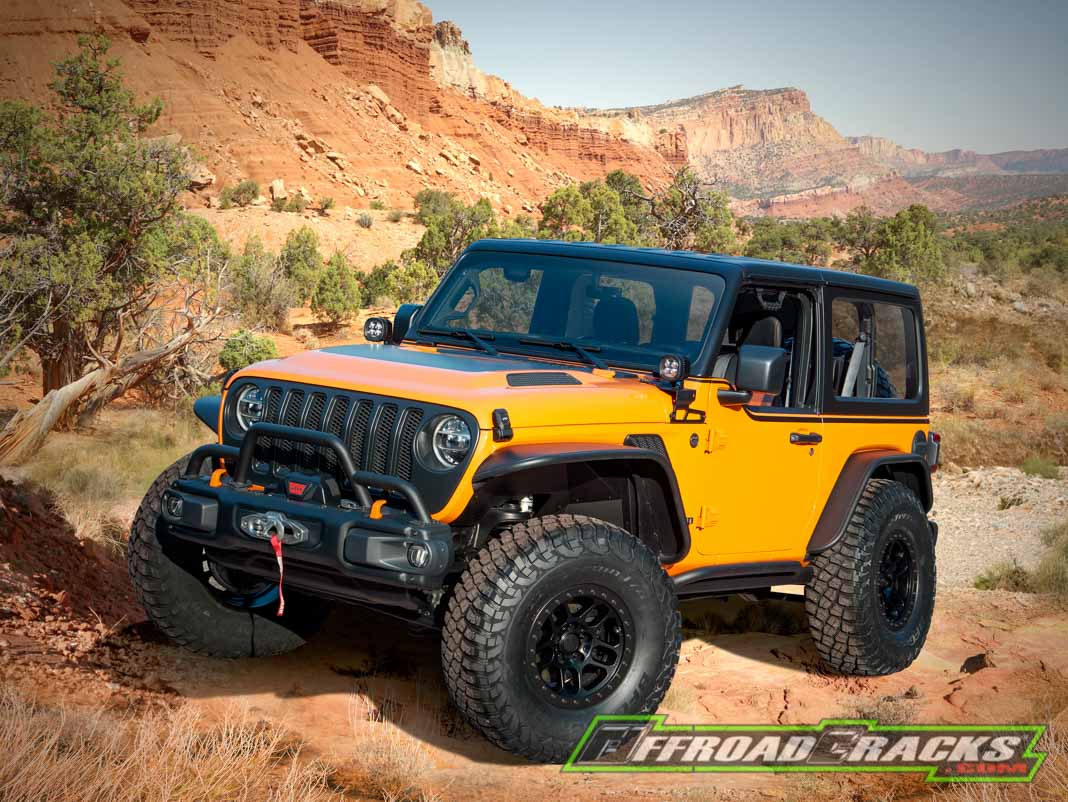 Mopar designers have vastly enhanced the Wrangler's open-air heritage by removing side and rear windows, installing prototype JPP half doors and a custom removable one-piece Freedom Top glass sunroof.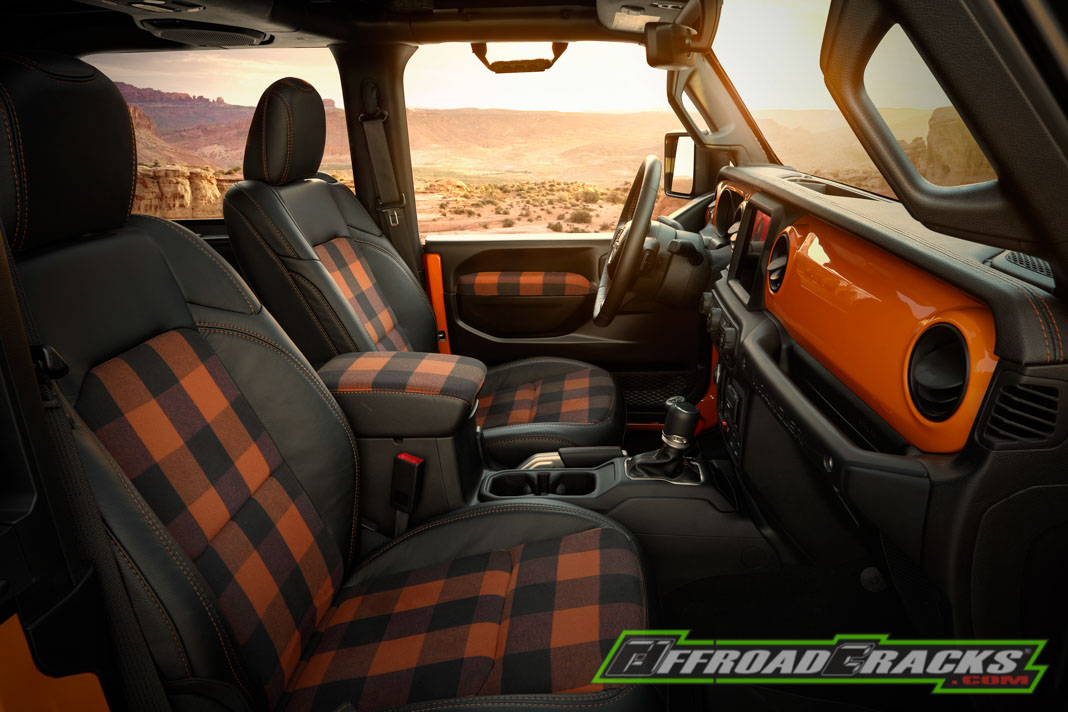 Off-road performance comes from the proven JPP 2-inch lift kit with FOX shocks that increases ground clearance. Just below the concept steel "high-top" fender flares are 17-inch JPP beadlock-capable aluminum wheels riding on 37-inch BF Goodrich KM3 mud-terrain tires with Mopar valve stem caps carrying the Jeep logo.
Enhancing the look is a Satin Black 360-degree custom beltline graphic and Satin Black vintage Jeep fender badges, which further highlight the eye-catching Orange Peelz exterior color.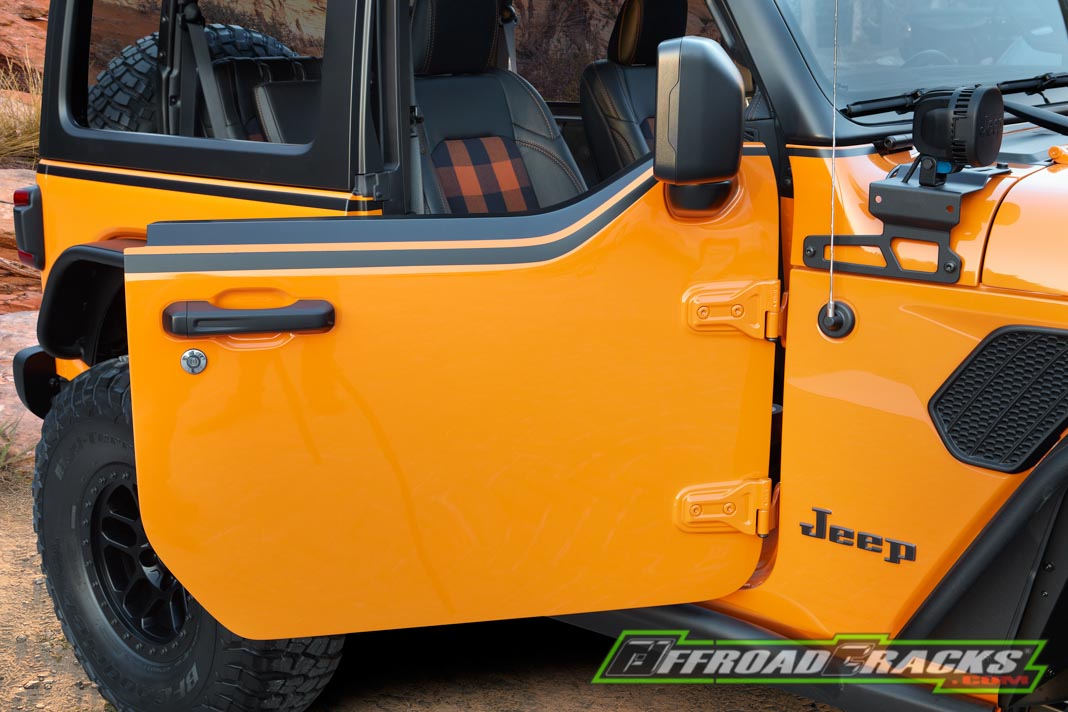 The concept hood features custom black Mopar hood latches with the Jeep Willys logo and is flanked by JPP 5-inch off-road LED lights mounted at the base of the A-pillars, each providing 4,800 lumens of power to help light the trail ahead. For additional protection against windshield chips and cracks while driving on- or off-road, the Jeep Orange Peelz concept is equipped with a factory-backed Mopar windshield made with Corning Gorilla Glass.
A custom JPP Rubicon steel bumper includes a prototype 2-inch steel grille guard and the exclusive JPP 8,000-lb capacity Rubicon Warn winch. Custom rock rails provide superior protection and durability for serious off-roading.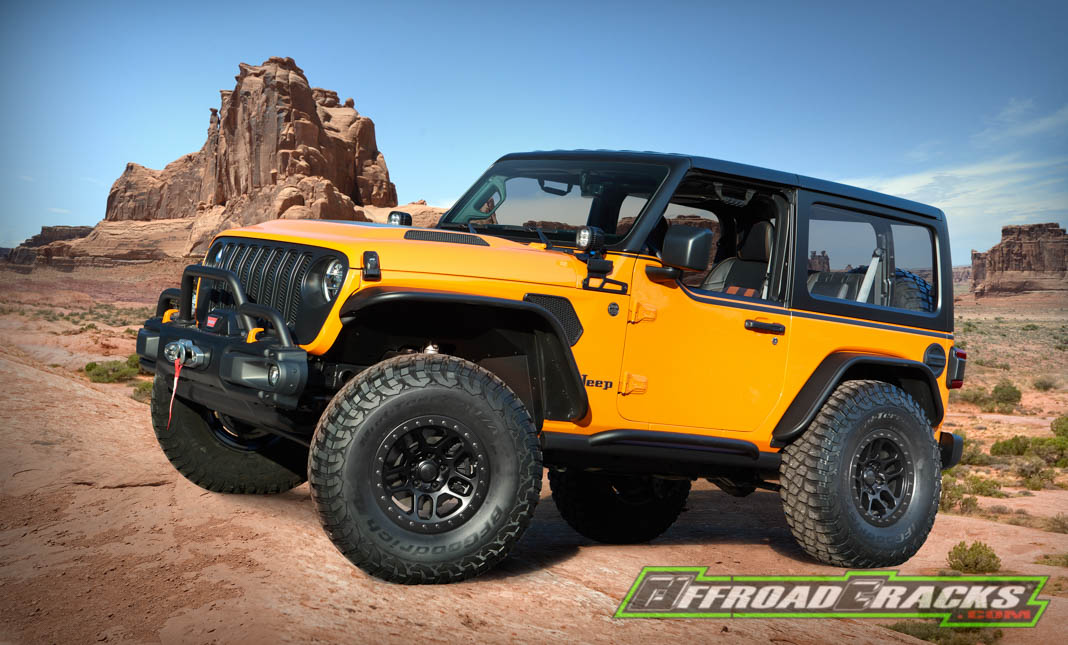 On the rear of the vehicle, the JPP Swing Gate Hinge Reinforcement allows for a larger spare tire. The reinforcement is powder-coated black and works with the production hinge for easy installation. A JPP CHMSL (Center High-Mount Stop Lamp) Relocation Kit mounts the third brake light in the center of the spare tire. Body-color tow hooks on the rear and front complete the exterior.
Entry to the lifted Orange Peelz concept is made easy by JPP grab handles. On the inside of the cabin, plaid armrests, upper and lower seat inserts and the mid-instrument panels match the Orange Peelz exterior. Accent-orange stitching completes the steering wheel, shifter boots and the parking-brake handle.
Mopar stainless steel pedal covers add a bold statement and feature rubber pads to provide plenty of positive traction for drivers. Door sills are protected by black sill guards that feature the vehicle's logo.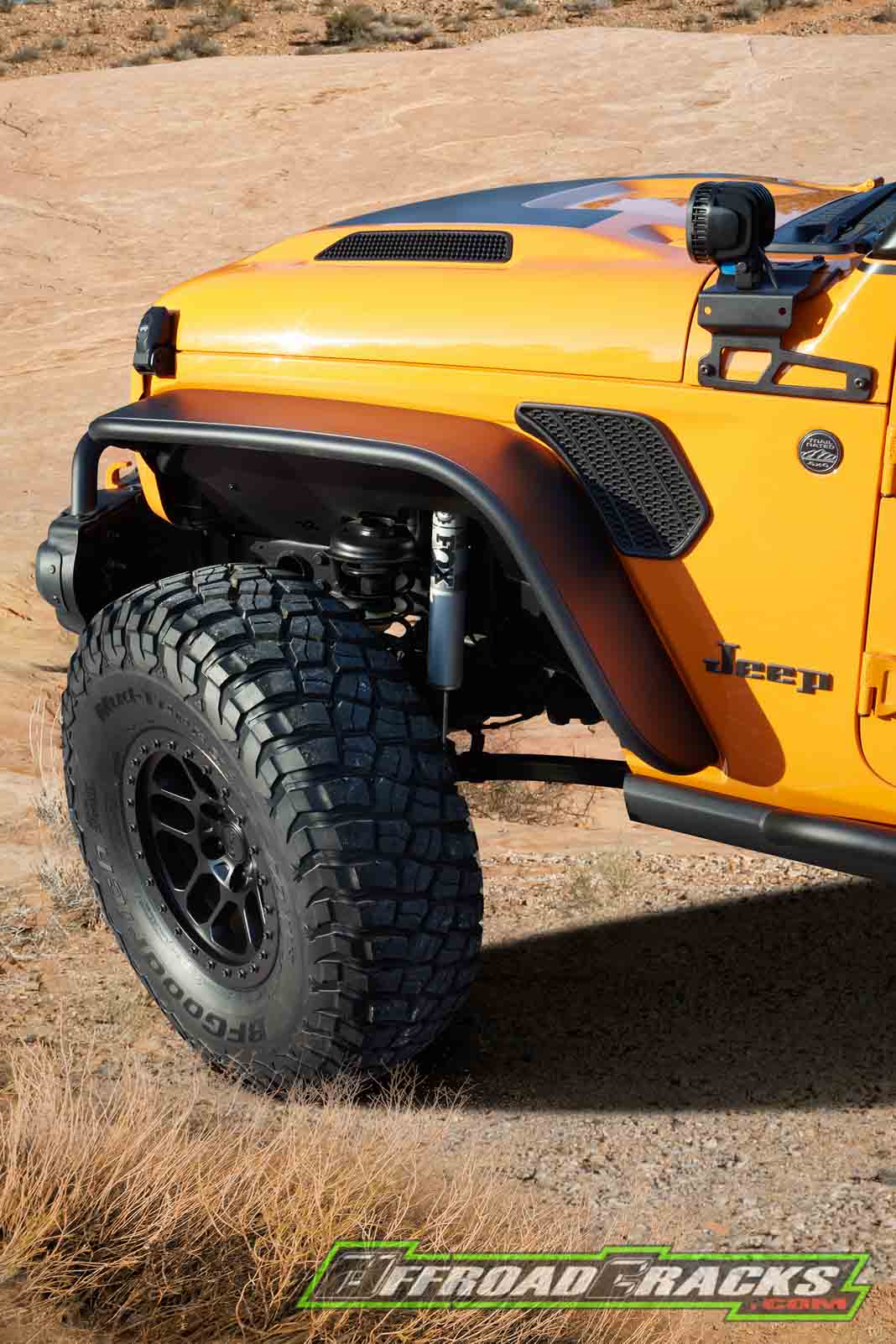 Standard Mopar all-weather floor mats are injection molded and designed with deep rigid sidewalls and advanced reservoir systems that contain liquids, preventing them from leaking onto the floor. Front mats feature a patented drain plug that covers floor drain holes, which allow draining without mat removal for easy cleaning.
The Jeep Orange Peelz concept is powered by the 3.6-liter Pentastar V-6 with 285 horsepower and 260 lb.-ft. of torque, mated to a TorqueFlite eight-speed automatic transmission. The proven powertrain is upgraded with a JPP cold-air intake and JPP cat-back exhaust system.
Quelle / Source: Jeep