English text version link
---
Was für ein unglaublicher Tag, um die EnduroGP-Saison 2019 zu beenden! Brad FREEMAN (GB-Beta) gab alles, um den Titel des EnduroGP-Gesamtsiegers zu gewinnen. Im zarten Alter von 23 Jahren hat er den ersten EnduroGP-Titel seiner Karriere gewonnen. An diesem unglaublichen Tag im Sport wurden auch die E2-Krone sowie die Frauen-Weltmeisterschaft vergeben.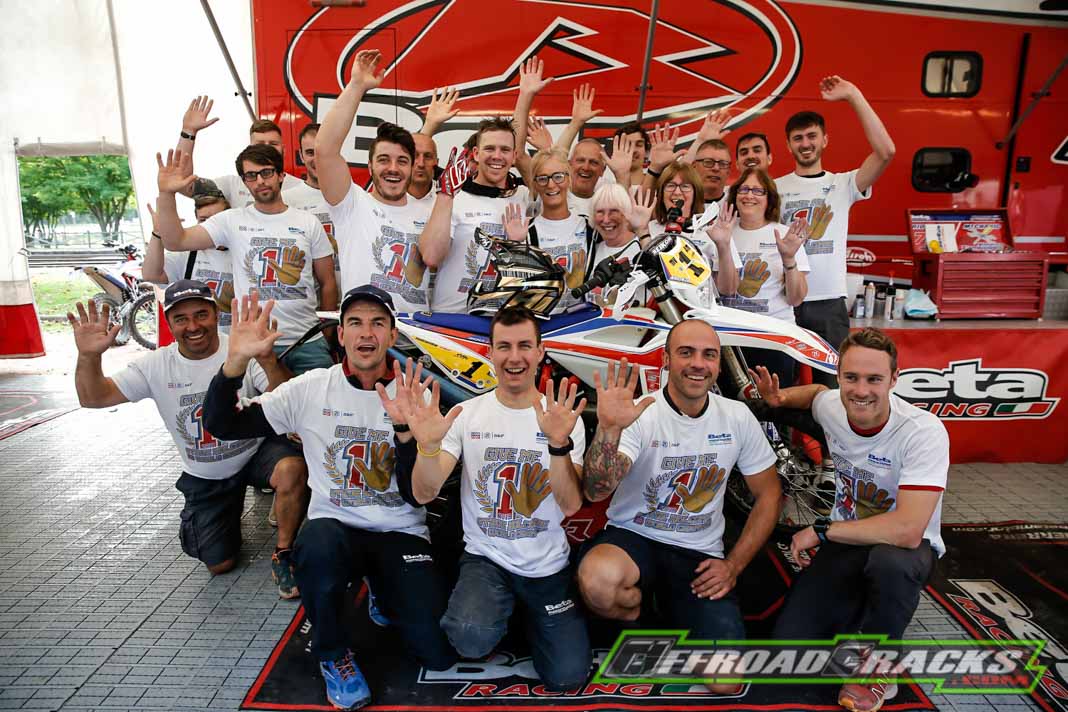 Brad FREEMAN (GB-Beta) hält den Union Jack weiterhin hoch. Er ist auch der erste Fahrer, der die Herrschaft von Steve HOLCOMBE (GB-Beta) beendet hat, auch wenn dieser die ganze Saison mit einer Erkrankung kämpfte. Der junge Brite Brad, der erst in seiner zweiten Saison in der Seniorenklasse angetreten ist hat eine Reife und Schnelligkeit bewiesen, die die vieler seiner älteren Rivalen übertrifft. Wir dürfen auch nicht vergessen, dass FREEMAN diese Saison nicht leicht gefallen ist. Der Beta Boano-Pilot hat sich beim GP von Griechenland das Schlüsselbein gebrochen und musste stark gehandicapt um den Titel kämpfen. Zusätzlich zu seinen E1-Titeln 2018 und 2019 und seinem Junior-Titel 2017 fügt FREEMAN seiner Erfolgsliste einen 4. Titel hinzu. Das unglaubliche Talent eines Brad Freeman wird noch vielerorts für Aufsehen erregen – auch in der Zukunft – wir sind uns sicher!
Was für ein Auftritt von Loïc LARRIEU (FRA-TM)! Von den französischen Fans ermutigt und gepushed attackierte er am Sonntag den ganzen Tag lang und gewann nicht weniger als 6 Tests. Der TM-Fahrer baute seinen Vorsprung auf intelligente Weise aus, behielt das Tempo seines Gegners im Auge und erhöhte es nur bei Bedarf. LARRIEU holt damit seinen ersten Weltmeistertitel in der E2-Klasse auf heimischem Boden – geht's nochbesser?
LARRIEU verdankt seine Leistung auch einem außergewöhnlich fahrenden Alex SALVINI (ITA-Honda), der sich fahrerisch an seine éigenen Grenzen brachte. SALVINI fuhr mit dem Messer zwischen den Zähnen und  gewann den ersten Test des Tages und setzte am Sonntag durch. Der Italiener machte nur sehr wenige Fehler und ging mit mit allem was er hatte in die Höhle der LARRIEU-Fans. "Rocky" belegte den 2. Gesamtrang in einem Grand Prix, der leicht zu seinen Gunsten ausfallen hätte können.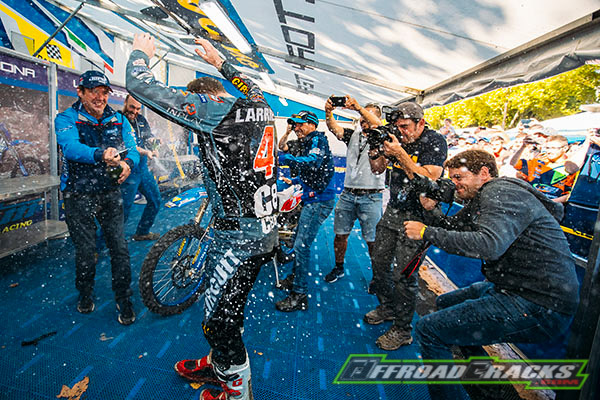 Steve HOLCOMBE kämpfte ebenfalls den ganzen Tag. Steve wurde in der E3-Klasse bereits am ersten Fahrtag mit einem Titel belohnt und versprach nochmals alles für den Overall-Sieg in der EnduroGP-Klasse zu geben. Steve, der am Ende der zweiten Runde an der Spitze der Tageswertung stand konnte nichts tun, um die Angriffe von Loïc LARRIEU und Alex SALVINI zu stoppen. In diesem letzten GP belegt er nach einer schwierigen Saison 3 Platz. Während Brad FREEMAN Gesamtvierter wurde und sich so den EndurGP-Titel sicherte.
Der Junioren-Weltmeister von 2018, Matteo CAVALLO (ITA-Sherco), beeindruckte alle in seiner ersten Seniorensaison und belegte heute einen weiteren Top-5-Platz. Die E2-Klasse war an diesem zweiten Renntag in Frankreich äußerst aufregend. Loïc LARRIEU wurde zum ersten Mal in seiner Karriere auf beeindruckende Weise Weltmeister. Er beherrschte das französische Terrain und gab zu, den ganzen Tag gepusht zu haben. "Alex SALVINI war ein fantastischer Gegner, er gibt immer alles und kämpft mit Biss und Finesse", so Loic Larrieu. Doch der Italiener musste am letzten Tag des Jahres erneut eine Niederlage einstecke. Hinter diesem Paar auf dem E2-Podium stand ein immer besser werdender Joe WOOTTON (GB-Husqvarna).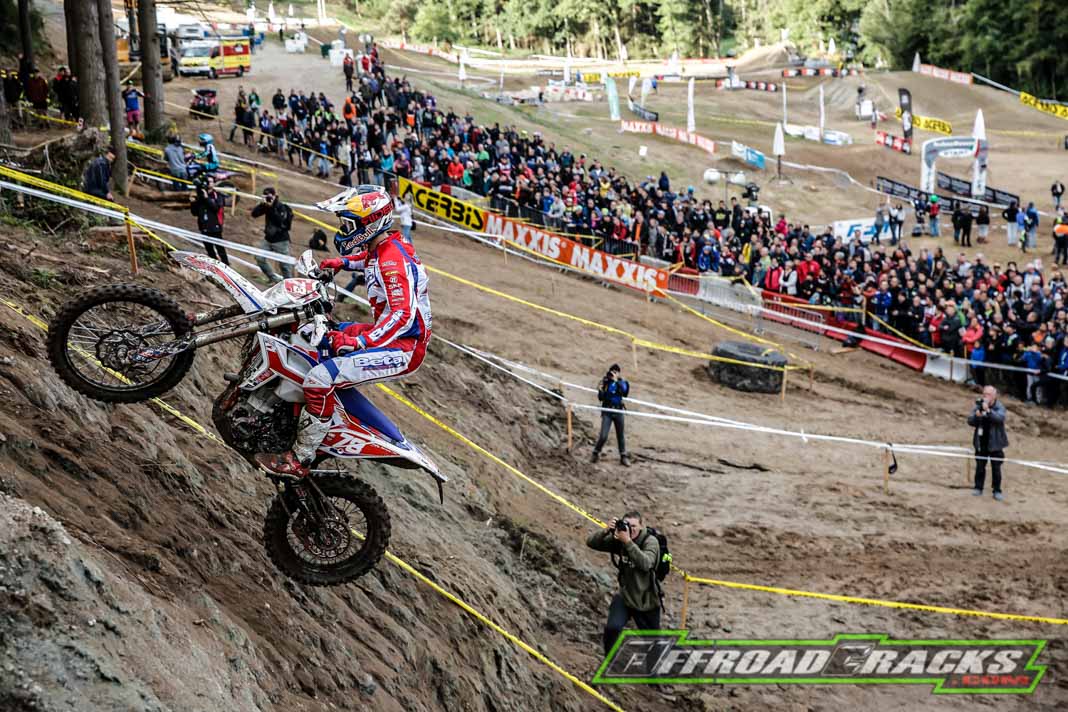 In E1 siegte FREEMAN vor CAVALLO und Davide GUARNERI (ITA-Honda).In der Zwischenzeit gewann Steve HOLCOMBE das letzte E3-Rennen des Jahres vor seinem beständigen Landsmann Danny MCCANNEY (GB-TM) und dem legendären Champion Christophe NAMBOTIN (FRA-Gas Gas), der seinen letzten GP gefahren ist und nun von seiner mehr als beeindruckenden aktiven Laufbahn zurücktritt.
Unser deutsches Aushängeschild Eddie Hübner schaffte es in der E2-Wertung 2019 auf einen soliden 10. Platz, zumal er die italienische Runde pausieren musste – GLÜCKWUNSCH!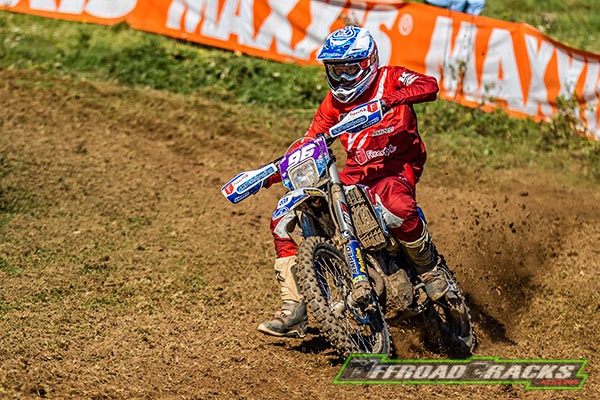 E1 Ergebnisse / Results Day 2 – EnduroGP of France 2019 + OVERALL

FOCE1

E1

E2 Ergebnisse / Results Day 2 – EnduroGP of France 2019 + OVERALL

FOCE2

E2

E3 Ergebnisse / Results Day 2 – EnduroGP of France 2019 + OVERALL

FOCE3

E3

Women Ergebnisse / Results Day 2 – EnduroGP of France 2019 + OVERALL

FOCEW

EW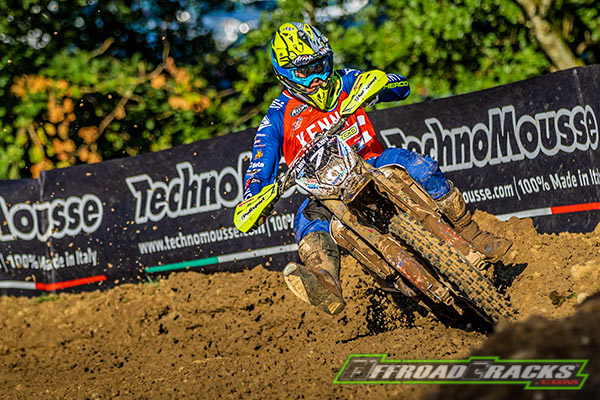 Youth Ergebnisse / Results Day 2 – EnduroGP of France 2019 + OVERALL

FOCEY

EY

EnduroGP Ergebnisse / Results Day 2 – EnduroGP of France 2019 + OVERALL

FOCGP

GP

Junior 1 Ergebnisse / Results Day 2 – EnduroGP of France 2019 + OVERALL

FOCJ1

J1

Junior 2 Ergebnisse / Results Day 2 – EnduroGP of France 2019 + OVERALL

FOCJ2

J2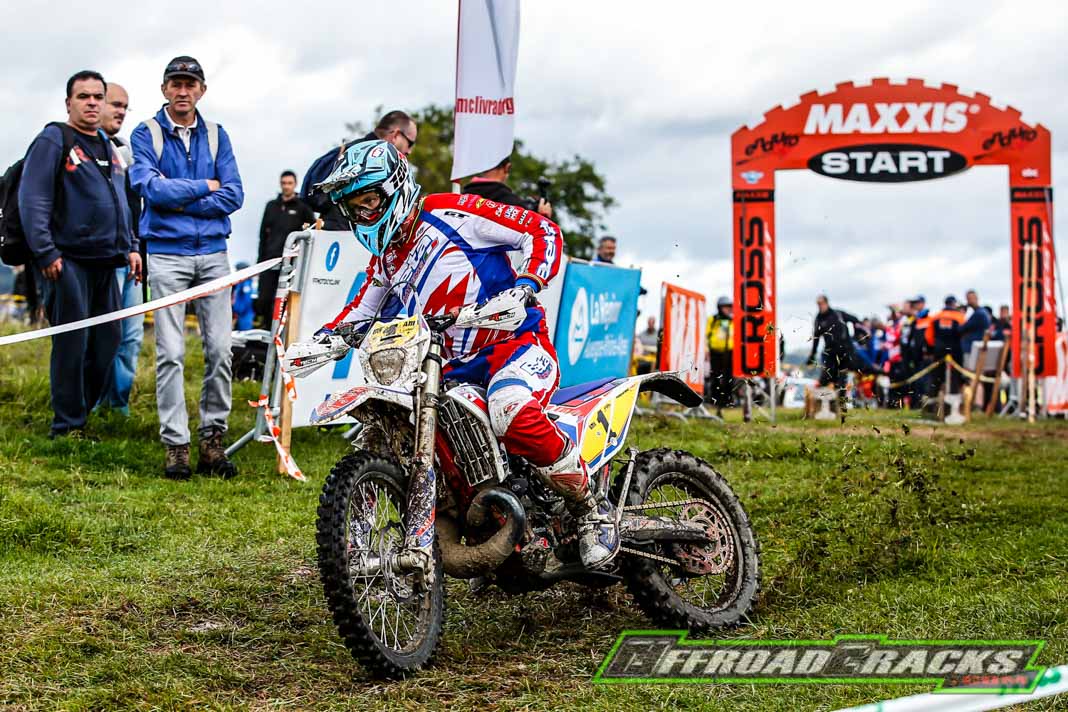 Open 2s Ergebnisse / Results Day 2 – EnduroGP of France 2019 + OVERALL

FOCO2

O2

Open 4s Ergebnisse / Results Day 2 – EnduroGP of France 2019 + OVERALL

FOCO4

O4

Open Senior Ergebnisse / Results Day 2 – EnduroGP of France 2019 + OVERALL

FOCOS

OS

"Brave One" Ergebnisse / Results Day 2 – EnduroGP of France 2019
GAH

---

Brad FREEMAN – 2019 EnduroGP World Champion!
What an incredible day to end the 2019 EnduroGP season! With the supreme title of EnduroGP – overall Champion – still to be decided, Brad FREEMAN (GB-Beta) gave it his all. And at the tender age of  23 he has taken the first EnduroGP title of his career. This incredible day in the sport also saw the world E2 crown awarded, as well as the Women's World Cup.
Brad FREEMAN (GB-Beta) continues to fly the Union Jack high. He is also the first rider to end Steve HOLCOMBE (GB-Beta)'s reign. The young Brit, who is participating in only his second season in the senior classes, has shown a maturity and speed beyond that of many of his older rivals. We must also remember that this season has not been easy for FREEMAN, the Beta Boano rider broke his collarbone at the GP of Greece and had to ride in searing in pain to conquer this supreme title. In addition to his E1 crowns in 2018 and 2019, and his Junior crown in 2017, FREEMAN adds a 4th star to his list. All this bodes well for the future of the incredibly talented young rider.
What a performance from Loïc LARRIEU (FRA-TM) today! Encouraged and boosted by the French fans, he attacked all day on Sunday, winning no fewer than 6 tests. The TM rider intelligently built up his lead and kept an eye on his opponent's pace, upping his pace only when needed. LARRIEU takes his first world title, in E2, on home soil – what better way to do it?
LARRIEU also owes his performance to an exceptional Alex SALVINI (ITA-Honda), who pushed him to his absolute limits. SALVINI put the knife between his teeth, winning the first test of the day and pushing throughout Sunday's long and challenging race. The Italian made very few mistakes, and went into the lion's den of LARRIEU fans with all the bravery we would expect from him. 'Rocky' finished 2nd overall in a Grand Prix that could easily have turned out in his favour.
Steve HOLCOMBE also fought gallantly all day. Freshly crowned in the E3 class, Steve promised to throw everything into the ring to try and beat FREEMAN, but this year it simply wasn't enough. Steve at the head of the day's standings at the end of the second lap, could do nothing to stop the charge of Loïc LARRIEU and Alex SALVINI. He finished 3rd in this last GP of a difficult season.
Brad FREEMAN was 4th overall, doing 'just enough'. Meanwhile, 2018 Junior World Champion Matteo CAVALLO (ITA-Sherco) impressed everyone in his first Senior season, taking another Top 5 spot overall today.
The E2 class was extremely exciting on this second day of racing in France. Loïc LARRIEU became World Champion for the first time in his career, and in impressive fashion. Mastering the French terrain, he admitted he had to push all day. Alex SALVINI was a fantastic rival for LARRIEU, he always gives his all and fights with aggression and finesse. But the Italian once again had to swallow the heartbreak of losing out on the last day of the year. Behind this pair on the E2 podium was an ever-improving Joe WOOTTON (GB-Husqvarna).
In E1, FREEMAN won at the expense of CAVALLO and Davide GUARNERI (ITA-Honda).
Meanwhile, Steve HOLCOMBE won the last E3 race of the year in front of his super-consistent compatriot, Danny MCCANNEY (GB-TM) and the legendary champion Christophe NAMBOTIN (FRA-Gas Gas), who has just taken part in his last GP.
Junior & Youth 125: ESPINASSE & NAVARRO Winners
Theo ESPINASSE (FRA-Sherco) ends his 2019 season like a cannonball. The Sherco rider pocketed another win following his success in Uhlirske Janovice two weeks ago. He took today's victory ahead of Ruy BARBOSA (CHI-Husqvarna) and a quick Dan MUNDELL (GB-Sherco). ESPINASSE also won the J1 class in front of MUNDELL and Antoine MAGAIN (BEL-KTM). While J2 went to BARBOSA, in front of wildcard Jed ETCHELLS (GB-Sherco) and Léo LE QUÉRÉ (FRA-Sherco).
In Youth 125, Sergio NAVARRO (ESP-KTM) wins in the last round against Nathan BERERD (Fra-Husqvarna) by a second and a half. 2019 EY Champion Hamish MCDONALD (NZ-Sherco) closed out the podium positions.
Jane DANIELS On Top of the World. 
Shy and quiet off the bike, Britain's Jane DANIELS (GB-Husqvarna) is absolutely ferocious on the tests. After a flawless weekend, she wins the Enduro Women's World Cup. As modest as talented, DANIELS was finally able to claim a title that has eluded her in the past due to misfortune or bad luck. In 2019, she proved she is the fastest woman in the world on an enduro machine. 2018 champion Sanna KARKKAINEN (FIN-KTM) didn't have an answer for DANIELS this weekend. Third on this world podium was Spain's Mireia BADIA (ESP-Beta).
In the Champion Lubricants Enduro Open World Cup, the 2019 season has been a great success. The category gave a chance for a large number of riders who dreamed of rubbing shoulders with the best in the world, on the same course! It is mission accomplished for the first year of the Open Cup!
For this last round of the season in Open 4-Stroke we saw the same winner as the day before: Belgium's Mathias VAN HOOF on his Beta. He took victory ahead of Robert RIEDEL (GER-KTM) and Dylan LEVESQUE (FRA-Honda). In Open 2-Stroke Gonçalo REIS (PRT-Gas Gas) concludes a brilliant season with another win. He was accompanied on the final podium of the year by Gomez BENET (ESP-Gas Gas) and Jorge PARADELO RODRIGUEZ (ESP-Gas Gas). In Senior, Andrea BELOTTI (ITA-KTM) doubled up and won for the second time this weekend. The same duo as the day before; Enrique GONZALEZ VEGA (ESP-KTM) and Patrik ANDERSSON (SWE-Yamaha) accompanied him on this Sunday podium.
The Acerbis Grand Prix of France brilliantly concluded an EnduroGP season that was in every respect remarkable. Given the level of competition, excitement, and unpredictability shown this year, all eyes are already on 2020!
What They Said:
Brad FREEMAN (GB-Beta): "That's it! We did it! I do not have a lot of words to describe what I'm feeling. This season was so complicated and tough, I can tell you that it took a lot of will to fulfil this dream. I am EnduroGP World Champion and it feels great!"
Loic LARRIEU (FRA-TM): "To win this title in front of the French public is something really special. This title represents a lot for me. I want to thank the entire TM Racing team, my entourage and my partners. It's a great reward after a year that was difficult with a new constructor and little preparation. It's just perfect, it's my year."
Alex SALVINI (ITA-Honda): "I got beaten again at the last race of the year, but this time it was nothing like what happened in 2018. This year the fight was really beautiful with Loic, and even though I am very disappointed not to be champion, I realised what I am capable of. This year was tough but I am happy to have managed to run my own team – we will come back even stronger."
Jane DANIELS (GB- Husqvarna): "At last I have won this title that I have been waiting for so long! I am really happy and I am very proud to bring this trophy home with me!"
Quelle / Source: EnduroGP