Es stand nach der Absage des DEM-Laufes in Streitberg zur Diskussion, doch nun bleibt alles beim Alten: Die "68. Mittelrheinische ADAC Geländefahrt Kempenich" am 25. Oktober bleibt zwar als Wertungslauf für alle DMSB-Enduro-Cup-Klassen einschließlich Damen, Senioren, Super-Senioren und dem Klassik-Pokal erhalten, wird allerdings nicht die entstandene Lücke im DEM-Kalender füllen.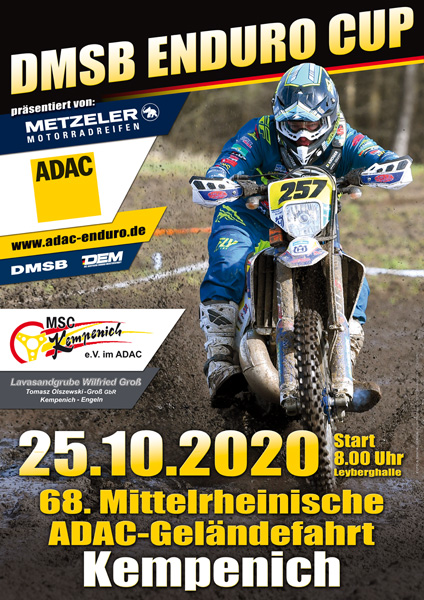 "Die Entscheidung gegen das DEM-Prädikat fiel uns keineswegs leicht", betont Mitorganisator Damoon Keschawarz vom ausrichtenden ADAC Mittelrhein e.V., "doch mit Blick auf die aktuelle Gesamtsituation mit ihrer durch Corona verursachten allgemein schwierigen Lage und den damit verbundenen Bestimmungen sehen wir diesen Schritt für unsere Veranstaltung am sinnvollsten an. Wir möchten alles so klein wie möglich halten." Dies bedeutet, dass zusätzliche Wertungsklassen und das damit größere Starterfeld die Organisatoren vor weitere Hürden stellen würden. Hinzu kommt, dass der Platz für das Fahrerlager im Stadtkern von Kempenich schon unter normalen Bedingungen begrenzt ist. Mit den allgemein geltenden Abstandsregeln stellt die Unterbringung zwar noch kein Problem dar, doch mit zusätzlichen Teams aus der Int. Deutschen Enduro Meisterschaft würde sich die Situation unnötig verschärfen.
Trotz dieser außergewöhnlichen Umstände, die leider immer mehr zur Normalität werden, "laufen die Vorbereitungen für die traditionsreiche Geländefahrt in der Eifel soweit reibungslos", berichtet Fahrtleiter Ralf Caspers vom MSC Kempenich e.V. im ADAC. Höhepunkt der Veranstaltung ist auch in diesem Jahr die Sonderprüfung in der spektakulären Lava-Grube in Engeln, die immer wieder durch ihre absolute Vielseitigkeit an Anforderungen und abwechslungsreichen Bodenbeschaffenheiten besticht.
---
HINWEIS: Mit Anklicken des Videos stellen sie automatisch eine Verbindung zu Youtube/Google her, was einen ungewünschten personenbezogenen Datenaustausch mit sich bringen kann. Weitere Infos unter: www.google.de/privacy
---

It was up for discussion after the DEM run in Streitberg was cancelled, but now everything stays the same: The '68. Mittelrheinische ADAC Geländefahrt Kempenich 'on October 25th will remain as a race for all DMSB Enduro Cup classes including women, seniors, super seniors and the Classic Cup, but will not fill the gap in the DEM calendar.
"The decision against the DEM rating was by no means easy for us," emphasizes co-organizer Damoon Keschawarz from the organizing ADAC Mittelrhein eV, "but in view of the current overall situation with its generally difficult situation caused by Corona and the associated regulations, we see this step as a good one our event makes the most sense. We want to keep everything as small as possible. "This means that additional valuation classes and the larger starting field would pose further hurdles for the organizers. In addition, the space for the paddock in the city center of Kempenich is limited under normal conditions. With the generally applicable distance rules, accommodation is not yet a problem, but with additional teams from the Int. German Enduro Championship would unnecessarily worsen the situation.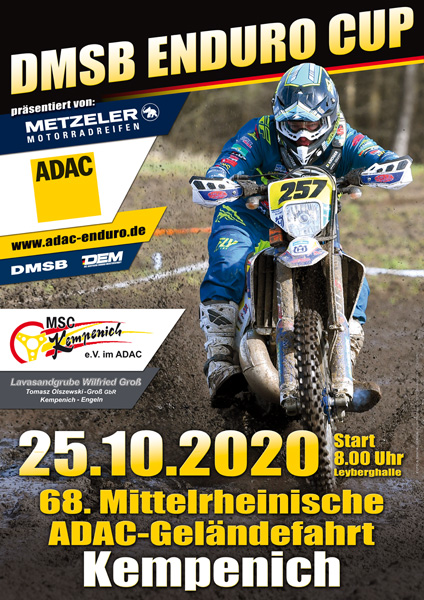 Despite these extraordinary circumstances, which are unfortunately becoming more and more normal, 'the preparations for the traditional off-road trip in the Eifel are going so smoothly', reports chief scientist Ralf Caspers from MSC Kempenich e.V. in ADAC. The highlight of the event this year is the special test in the spectacular lava pit in Engeln, which always impresses with its absolute versatility in terms of requirements and varied soil conditions.
---
NOTE: When you click on the video, you establish a connection to YouTube / Google automatically, which can result in an undesired personal data exchange. Further information at: www.google.de/privacy
---
Quelle / Source: Enduro DM