Betamotor ENDURO 2022
---
HINWEIS: Das Video ist noch deaktiviert, damit keine unerwünschte Datenübertragung zu Youtube stattfindet. Zur Aktivierung bitte auf das Vorschaubild/Video-Link klicken. Damit werden Daten übermittelt, zu deren Art, Umfang und Verwendungszweck wir keineAuskünfte geben können.
---
NOTE: The video is still deactivated so that no unwanted data transfer to YouTube takes place. To activate, please click on the preview image / video link. This transmits data about the type, extent and purpose of which we cannot provide any information.
---

BETAMOTOR lud zur Präsentation des Jahrgangs 2022 nach Österreich ein, um nahezu alle Sportenduros unter verschärften Bedingungen auf den Zahn fühlen zu können. Organisiert wurde diese Testmöglichkeit von Export-Manager F. Schröder, der sich seit einiger Zeit wieder primär um den deutschen und österreichischen Markt kümmert.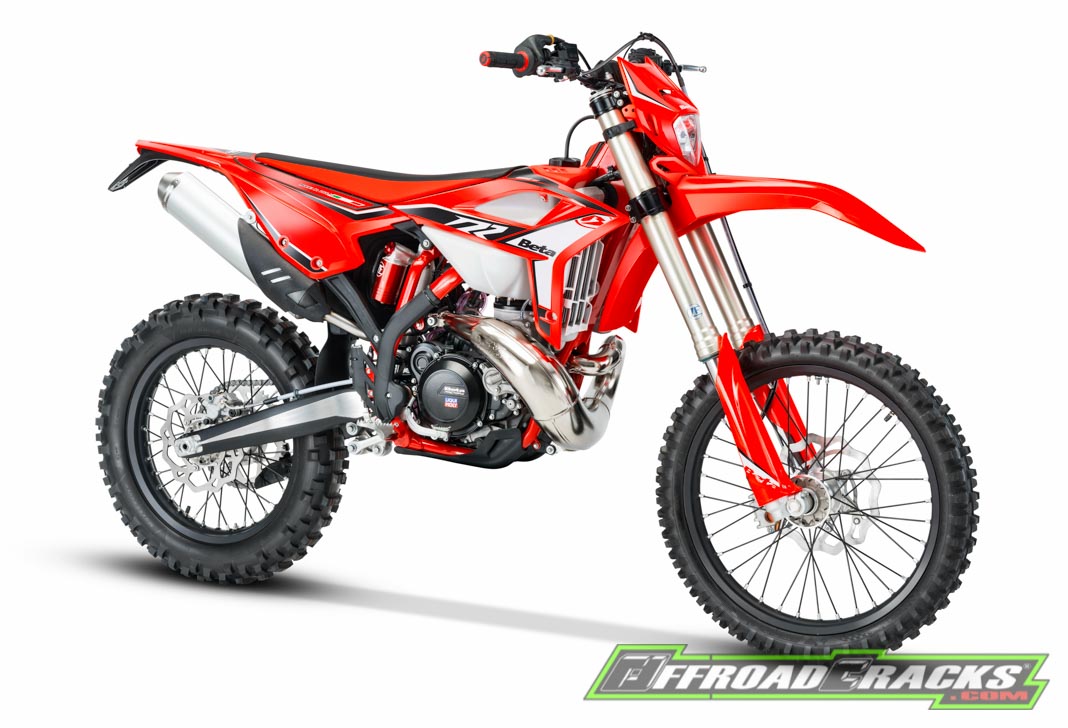 Die wohl größte Neuerung für 2022 von den Roten aus Florenz dürfte wie bereits im Detail berichtet (LINK) die Komplett-Überarbeitung der RR 300 darstellen. Sie erhielt einen neuen Motor mit veränderter Bohrung und neuem Hub gepaart mit einem neuen Kolben und einer passenden Auslasswalze samt angepasstem Mapping. Als Ergebnis spricht der Hersteller von einer gesteigerten Motorleistung und linearem Leistungsverlauf für das Zweitakt-Spitzenmodell.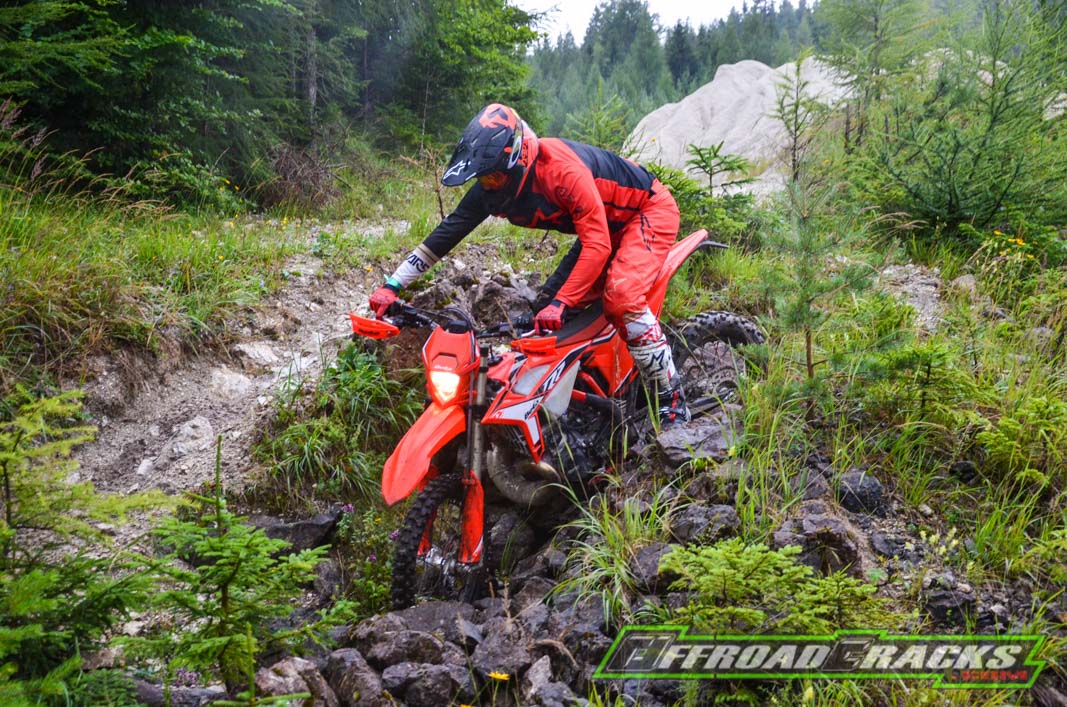 Und genau das haben wir in Österreich, genauer gesagt im Örtchen Rohr im Gebirge, bei regnerischem Wetter in einem einmaligen Offroad-Gelände testen dürfen. Denn hier ging es einfach nur immer steil bergauf und danach wieder elend steil bergab, gespickt mit unzähligen Wurzeln, rutschigen Felsplatten, nicht endenden Steinfeldern, Bachbetten sowie Wellen und Berggipfeln und das mit einem Sahnehäubchen in Form von Dauerregen und Wind oben drauf. Besser könnten die Bedingungen für einen echten Enduro-Test eigentlich nicht sein, auch wenn man sich gerne ab und zu ein paar wärmende Sonnenstrahlen gewünscht hätte.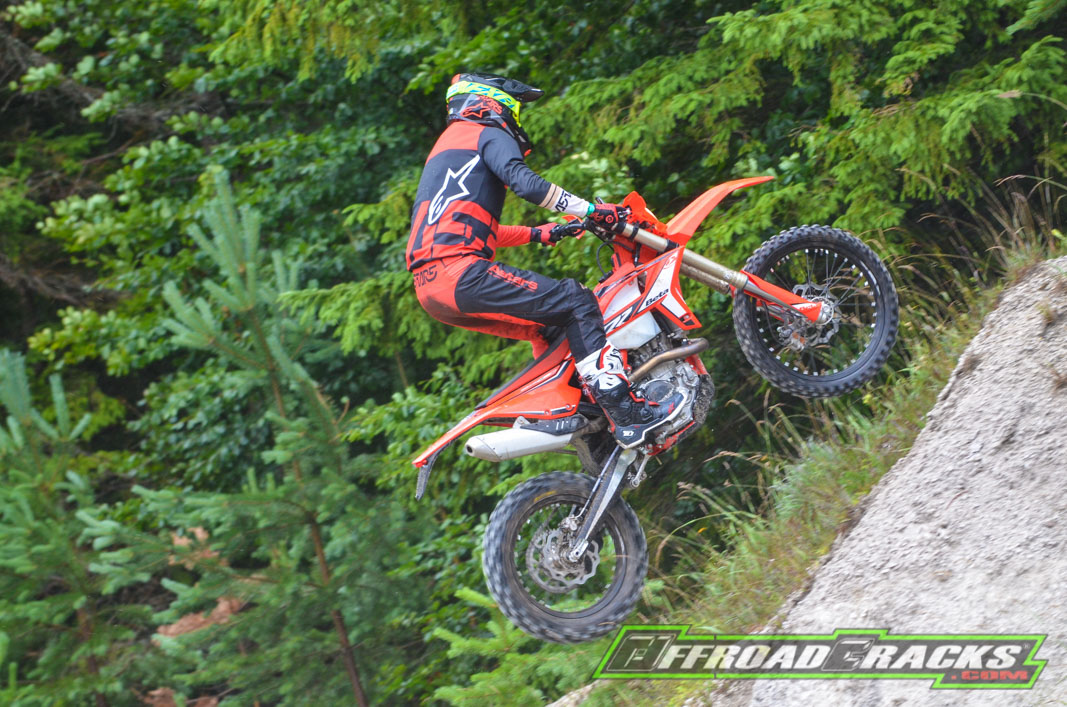 Als erstes ging es in Zweier-Gruppen auf eine fast einstündige Runde (Onboard-VIDEO folgt in Kürze auf unserem Youtube-Channel), bei der die Journalisten die Testenduros untereinander tauschten. Von Anfang an hat mir bergauf die RR 430 am Besten gefallen. Warum? Die Leistungsdosierbarkeit war für diese speziellen Verhältnisse einfach perfekt. Genug Drehmoment und Leistung in allen Lagen, die zudem immer gut dosierbar blieb und keine aggressiven Drehzahlorgien notwendig machte. Somit klettert ich mit der RR 430 sogar an der stets für das Hardenduro favorisierten RR 300 Zweitakt vorbei und hatte sichtlich weniger Mühen als mein Kollege. Das Fahrwerk-Setup war natürlich für dieses Gelände extrem weich voreingestellt, so dass das bis zu einem gewissen Tempo Komfort und erstaunlich gute Traktion bedeutete, aber bei höher werdenden Geschwindigkeiten schnell die Durchschlagsreserven ins Gebet nahm. Da die unterschiedlichen Enduros ständig untereinander getauscht wurden, machte eine individuelle Einstellung des Fahrwerks-Setups natürlich keinen wirklichen Sinn.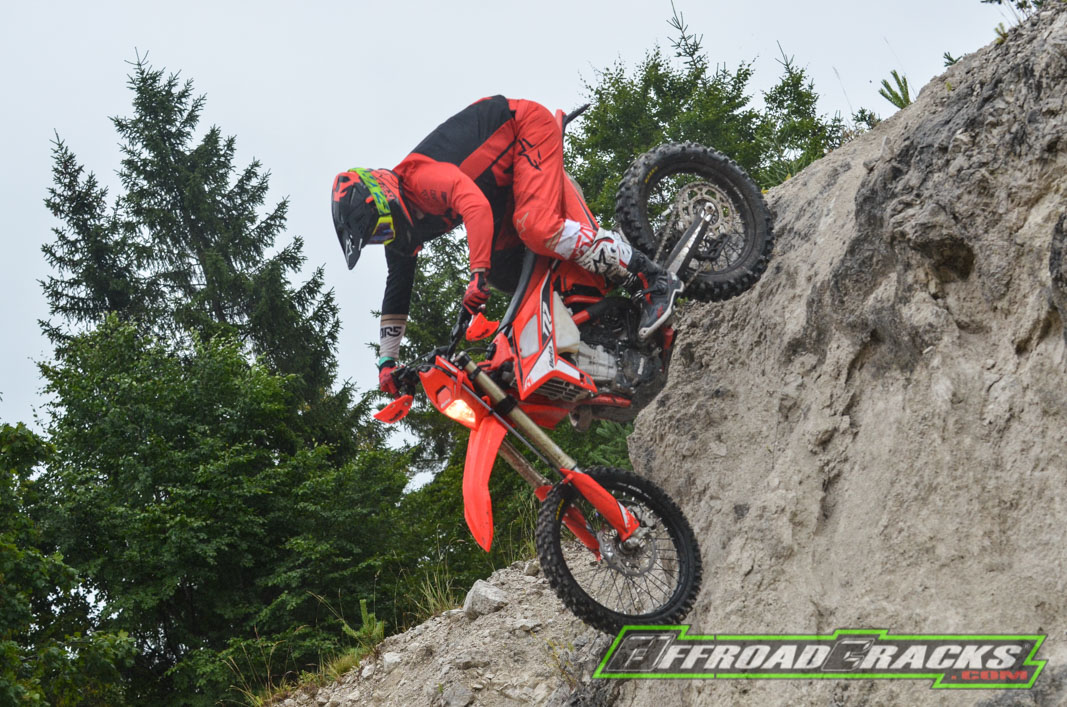 Runter von der 430er und rauf auf die 350er. Mit ihr durfte ich im dritten Gang in flotter Gangart ein Bachbett hinunter heizen, das abschnittsweise wegen großer Flesblöcke, massiven Wurzelwerk und steilen Stufen mit Vorsicht zu genießen war. Viel interessanter war es bergauf, da der zweite Gang mit Mapping "Wolke" und bei niedrigsten Drehzahlen eigentlich massiven Kupplungseinsatz bei einer 350er erwarten ließ. Doch das Gegenteil war der Fall und die 350er Beta zog ihre Spur bergauf, als wäre es das Einfachste der Welt und sie hätte massenhaft Drehmoment zu Verfügung – was für eine positive Überraschung.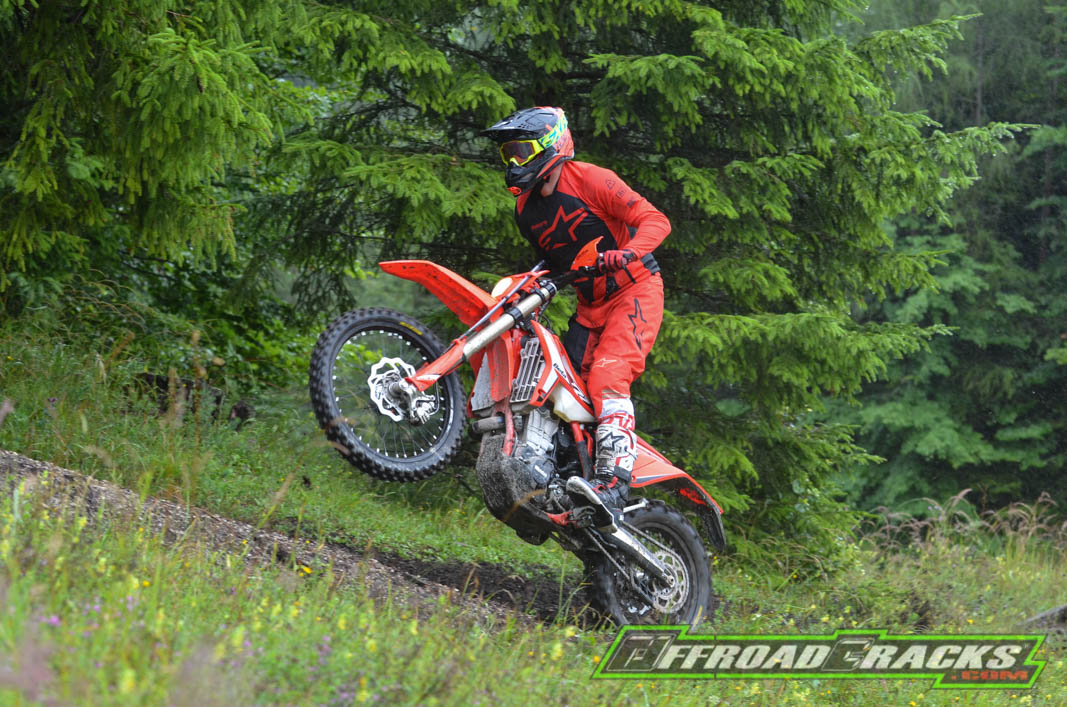 Erneut ging es Schlag auf Schlag. Schon bewegte ich auf steile Singletrails bergauf den Donnerbolzen RR 480 – das hubraumstärkste Exemplar ihrer Gattung aus Italien. Die oszillierende Masse, trotz gleichem Chassis wie bei der 430er, war sofort zu spüren. An Stellen an denen die 430er um die Ecken zirkelten, musste mit der 480er der Richtungswechsel mit Nachdruck eingeleitet werden. Der Motor überraschte auch bei ihr mit einer durchweg guten Dosierbarkeit. Allerdings kam ich hier mit der weichen Voreinstellung des Fahrwerks bei höherem Tempo früher an die Grenzen. Dafür funktionierte es bergauf dank reichlich Traktion fast schon perfekt, was sich eigentlich durch die ganze Modellpalette zog.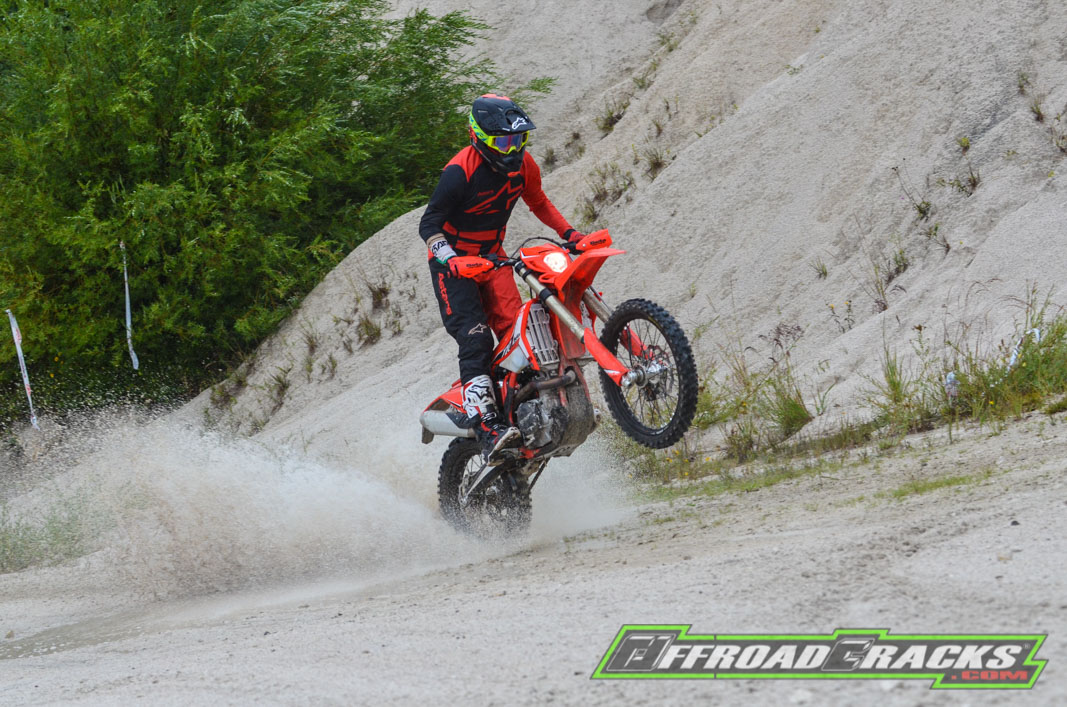 Nachdem die RR 300 von den Kollegen Zweitakt gerecht freigeblasen wurde, übernahm ich sie für die nächsten zwei bis drei Kilometer. Das bedeutet einen Umstellung des Fahrstils, da das geringere Gewicht mit dem soften Fahrwerk anders agiert ließ. Kleine steile Anstiege wurden zum absoluten Kinderspiel. Blieb man jedoch an einer Wurzel im Hang hängen, dann war das wieder Anfahren auf dem glitschigen Untergrund unter diesen speziellen Bedingungen etwas schwieriger als mit den Viertaktern. Jedoch darf man diese Eigenheit fairerweise nicht überbewerten, da noch zu viele verschiedene Faktoren auf diese Situation eingewirkt haben, so dass ein realistisches Pro oder Kontra noch nicht möglich war.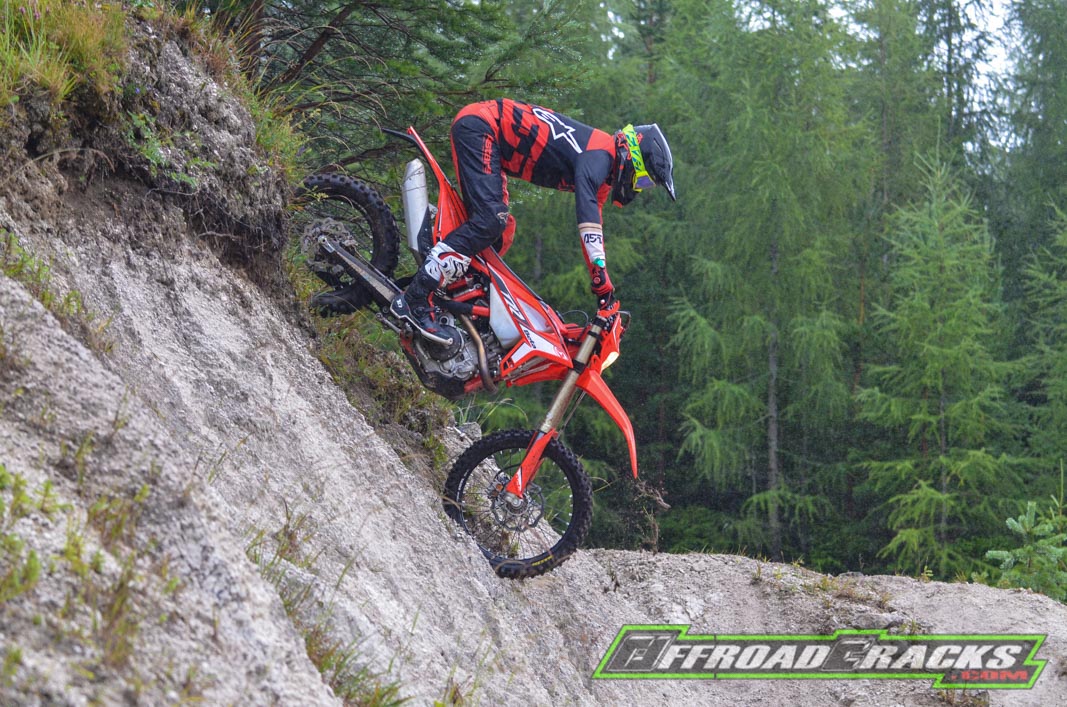 Bergab rollte die 300er wegen ihrer geringen Motorbremswirkung quasi von selbst und machte richtig Meter. Allerdings musste bei diesen Bedingungen Abstand auf den Vordermann eingehalten werden, da ansonsten stets eine unfreiwillige Schlammpackung im Anflug war.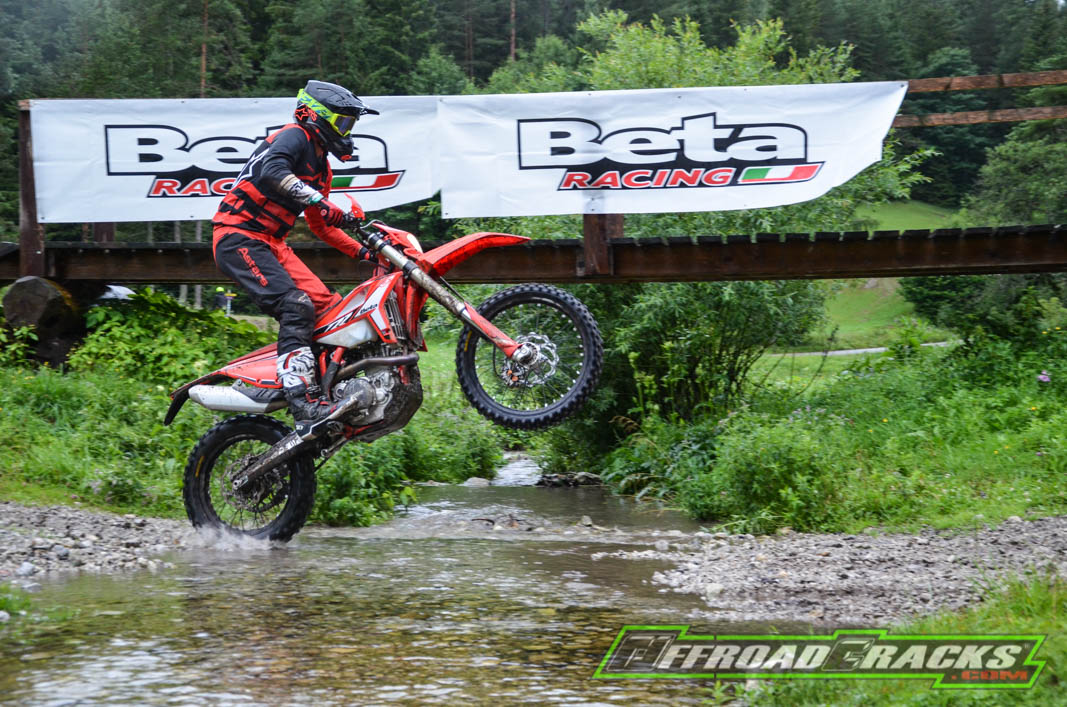 Das Handling des Zweitakters war natürlich genial einfach, so dass an der einen oder anderen Stelle der Spieltrieb mit einem durchging. Eine Steilabfahrt auf einer Felsplatte, gut zehn Meter lang, die in der Mitte einen Absatz hatte und danach einen leichten Überhang besaß, war eine der Schlüsselstellen. Hier musste man den Dingen einfach freien Lauf lassen. Weder links noch rechts gab es Alternativ-Routen, so dass am Absatz ein kleiner Gasstoß durchaus nützlich war. Im direkten Vergleich hat diese passende Spontanität des Zweitaktmotors in manchen Situationen bei der 350er Viertakter logischerweise Konzept bedingt gefehlt und man musste seinen Fahrstil darauf frühzeitig anpassen. Die 300er machte dagegen alles richtig und das neue Bohrung-Hub-Verhältnis erwies sich als echter Glücksgriff. Mit dieser technischen Veränderung ist die RR 300 noch exakter und einfacher zu dosieren und das Handling befindert sich nach wie vor auf Referenz-Niveau.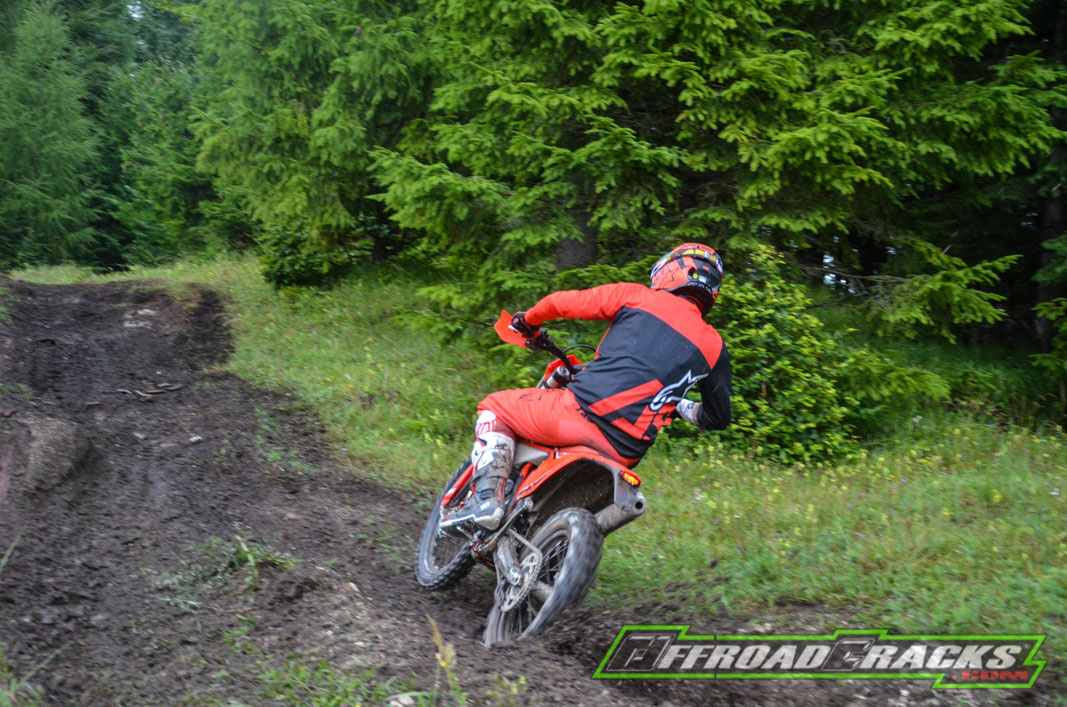 Zu guter Letzt durfte der heutzutage ungewöhnliche 200er Hubraum ran, der mich von Anfang an begeisterte. Er hat nicht das sehr schmale Drehzahlband einer 125er früherer Tage, sondern überrascht mit einem durchaus nutzbaren Drehmoment über ein deutlich breiteres Drehzahlband als erwartet. Lässt man dem Motor freien Lauf, so offenbart sich ein perfekt darauf abgestimmtes Getriebe mit passender Abstufung, was für genialen Fahrspaß bis zur Höchstdrehzahl sorgt. Auf Grund des geringen Gewichts muss man aufpassen, dass der emotionale Fahrspaß die physikalischen Grenzen nicht zu stark verschiebt. Mehr dazu folgt demnächst, da wir die RR 200 bald ausführlich mit Leistungsmessung und Co testen werden.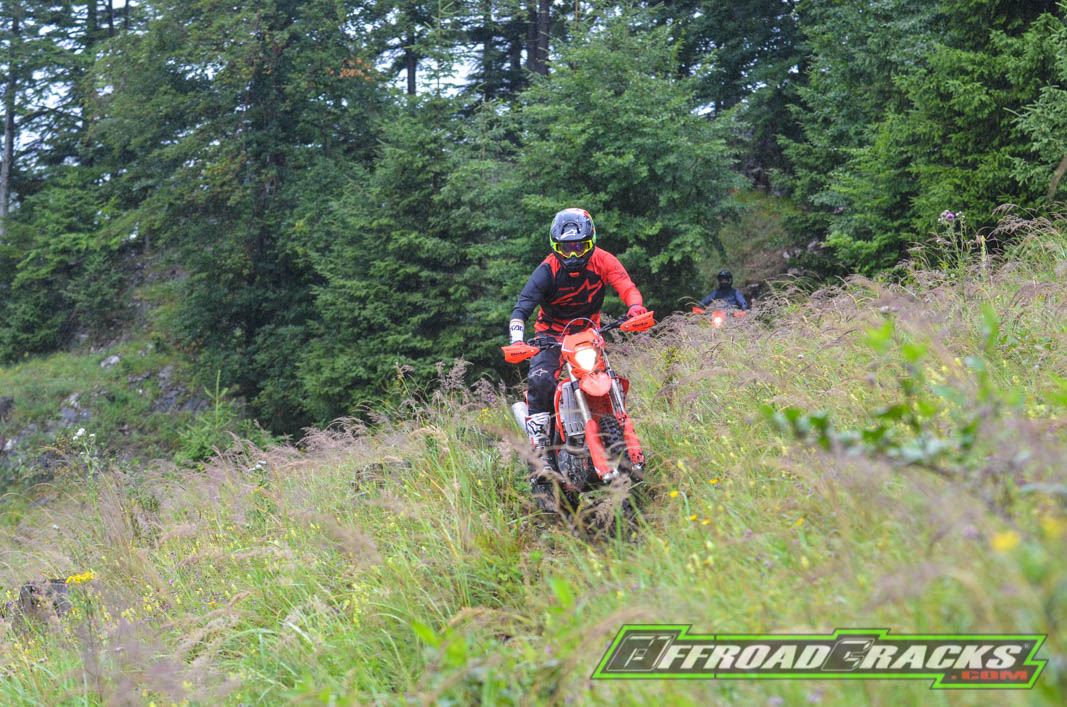 Natürlich war es unter diesen Bedingungen nicht möglich ein allumfassendes Fazit für jedes Modell zu generieren. Dazu bedarf es logischerweise einfach eine längere Fahrzeit auf dem jeweiligen Hubraum samt Fahrwerks-Anpassung und unter unterschiedlichen Bedingungen. Doch für diese geniale Hatz in den Bergen von Niederösterreich hat Beta ein überragendes Terrain für solch einen breitbandigen Modell-Test ausgewählt. Das Handling, die Dosierbarkeit der Motorleistung der von uns getesteten Modelle sowie das Zusammenspiel aller Komponenten unter diesen speziellen Bedingungen hat in der Summe auffällig gut harmoniert.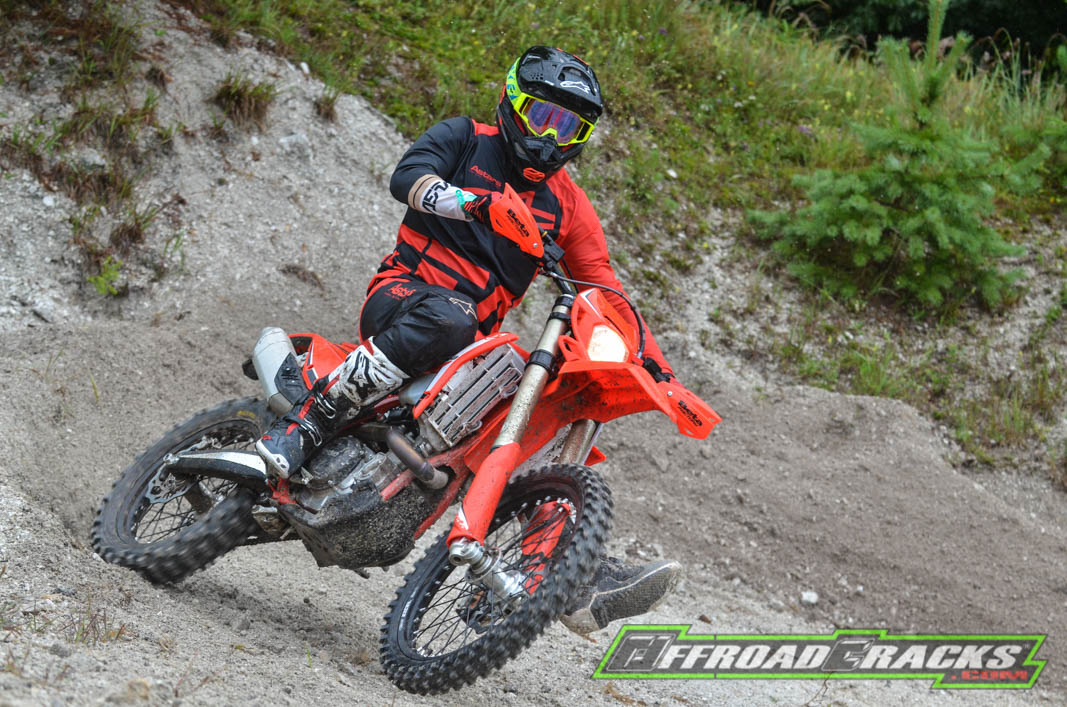 Festzustellen bleibt die Tatsache, dass die Beta-Modelle absolut ernstzunehmende Gegner für ihre Konkurrenz in 2022 darstellen werden – keine Frage. Wir sind gespannt, was die Zukunft bringt, denn vor 2024 denkt man auch bei Beta nicht über eine elektronische Zweitakt-Einspritzung nach. Da für die Euro-5 Einstufung seitens des Gesetzgebers keine Verschärfung der Emissions-Grenzwerte vorgesehen ist und für Euro-6 bislang noch keine Informationen vorliegen.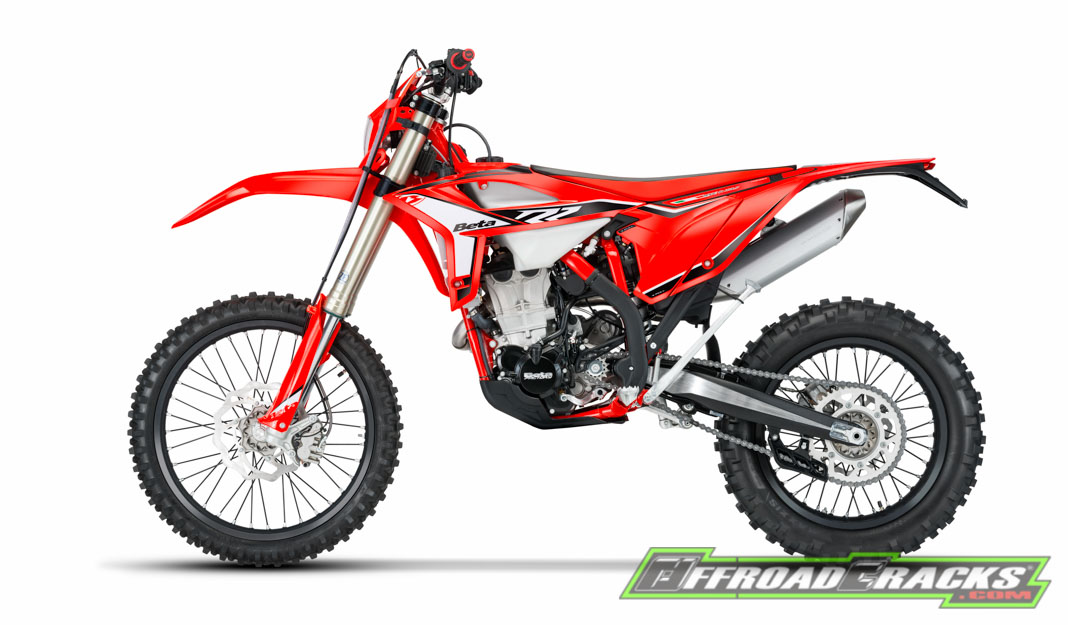 Seit 1984 wird Deutschland mit Beta-Modellen versorgt. Die Direktlieferung, also ohne Importeur, läuft seit 2003 über mittlerweile gut 180 Händler, die zirka 3.600 Fahrzeuge jährlich unters Volk bringen. Auch hat man sich die Vertriebsrechte des Herstellers Zontes aus Fernost gesichert, dessen Straßenmotorräder mit einem unbeschreiblichen Preis-Leistung-Verhältnis begeistern.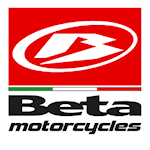 Weitere Infos:

www.BETAMOTOR.com

Ausführliche Infos zu den Neuerungen der 2022er Modelle samt Preise:

LINK

Fahrerausrüstung: Alpinsestars Tech 10 vented Stiefel, Alpinestars Racer Combo, Alpinsters Supertech M8 Echo Helm, FXR Racer Google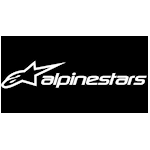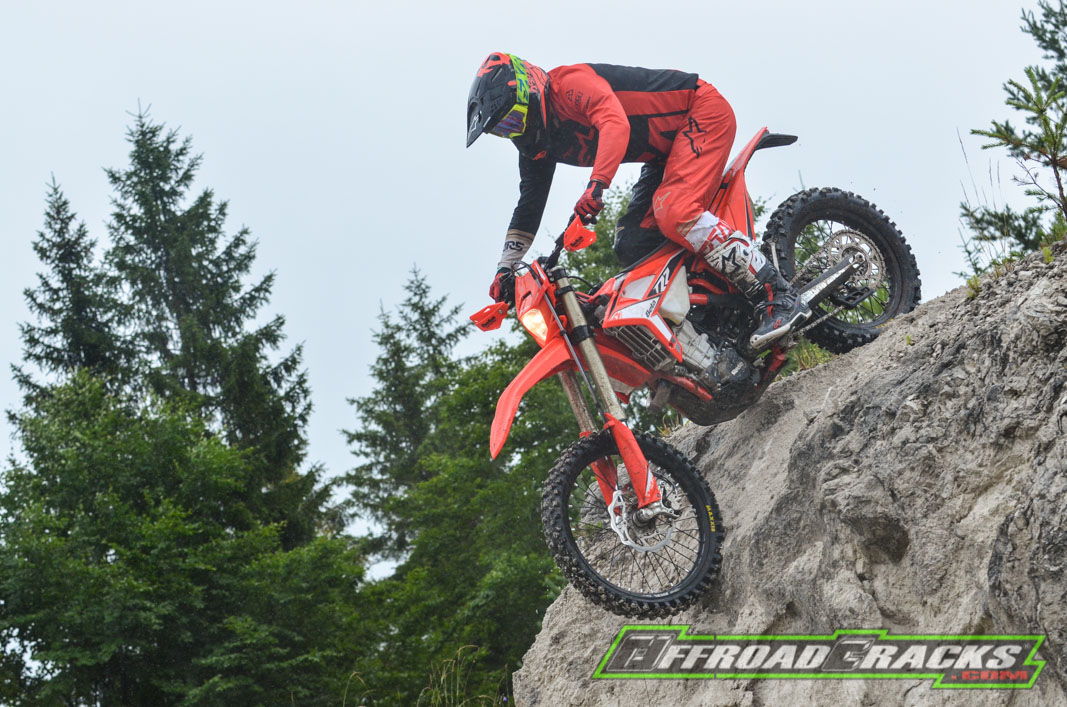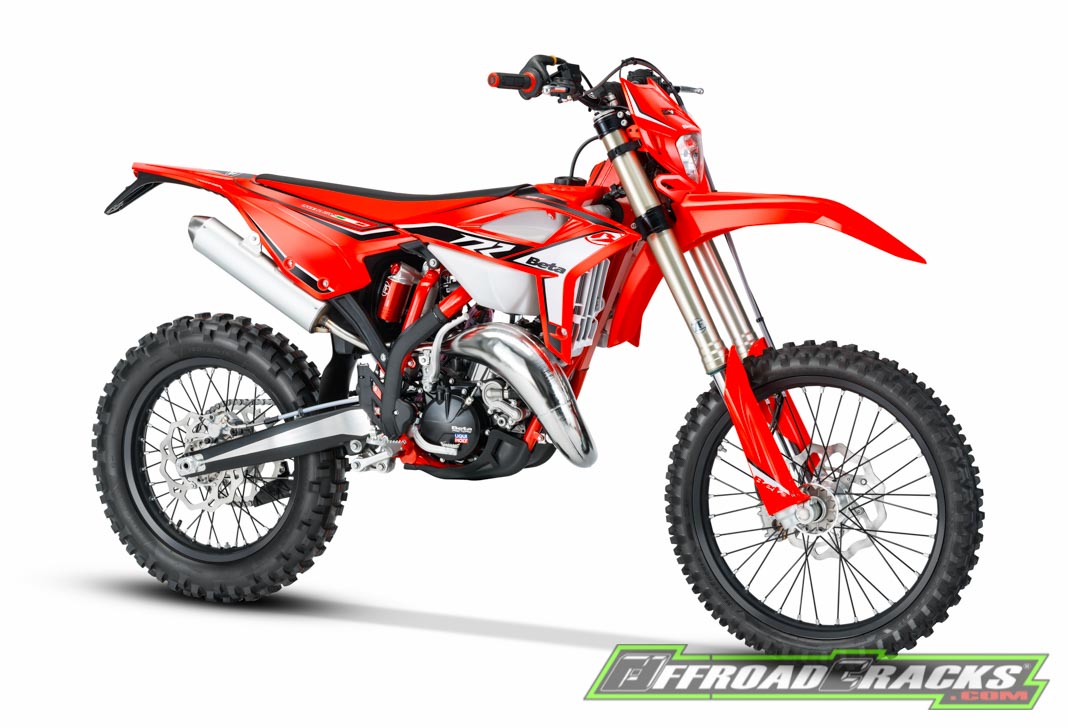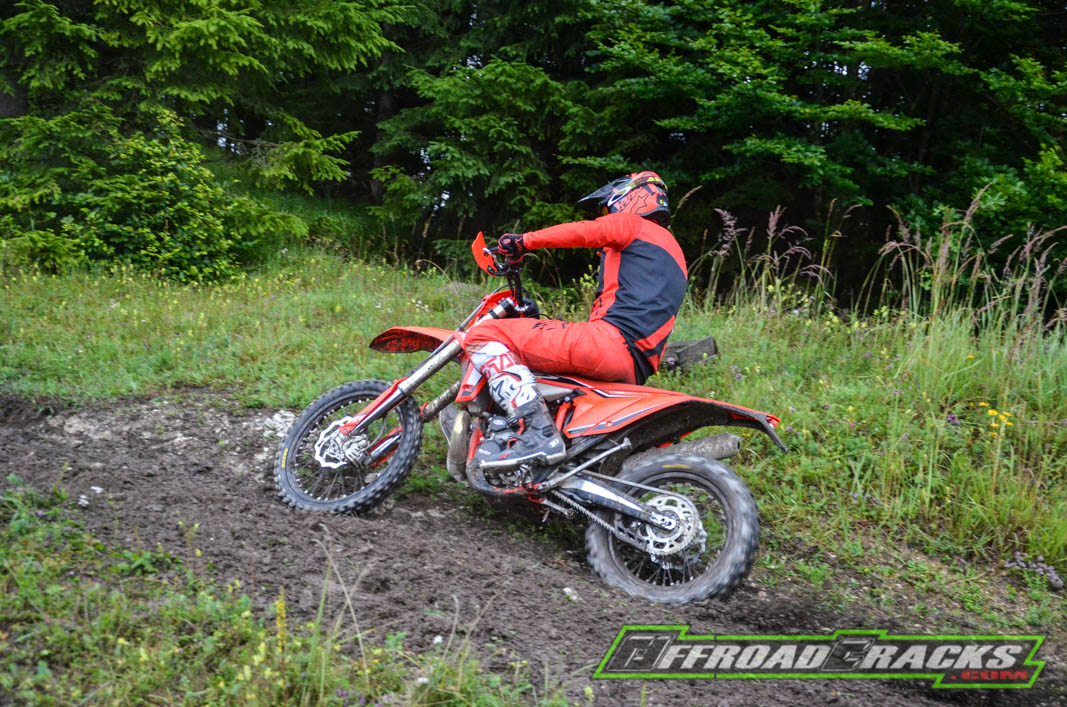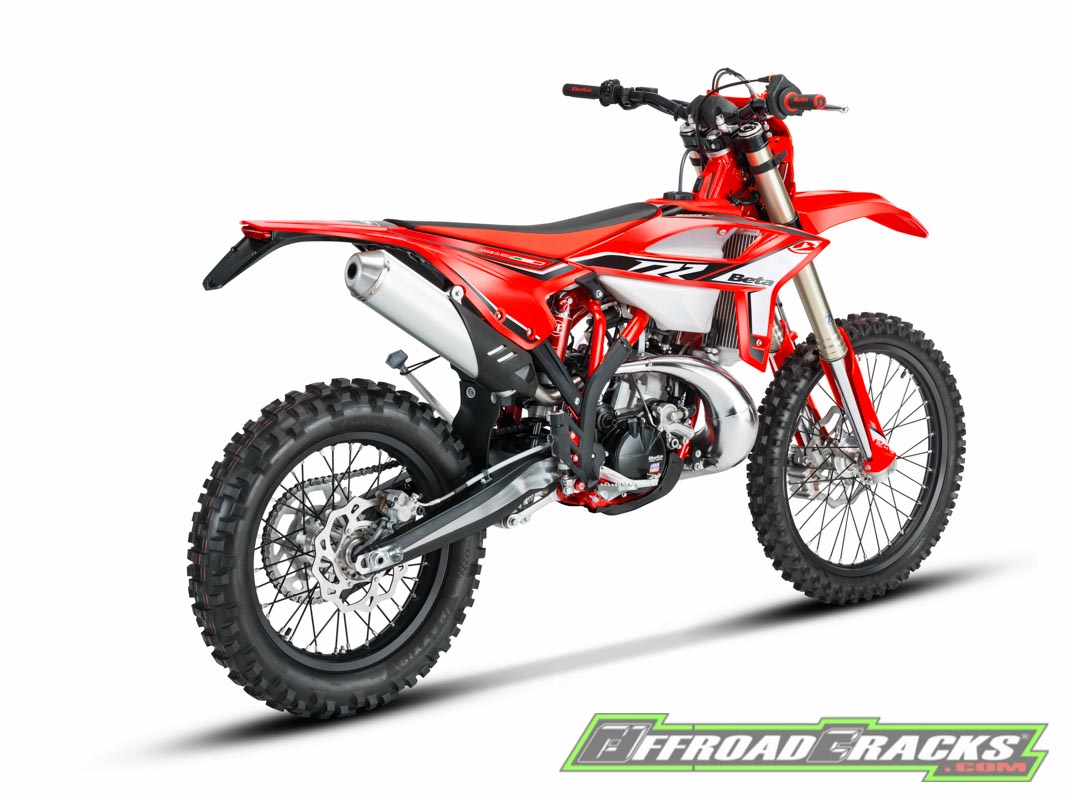 ---

BETAMOTOR invited to the presentation of the model year 2022 to Austria, to be able to test almost all bikes under the toughest conditions. This test option was organized by export manager F. Schröder.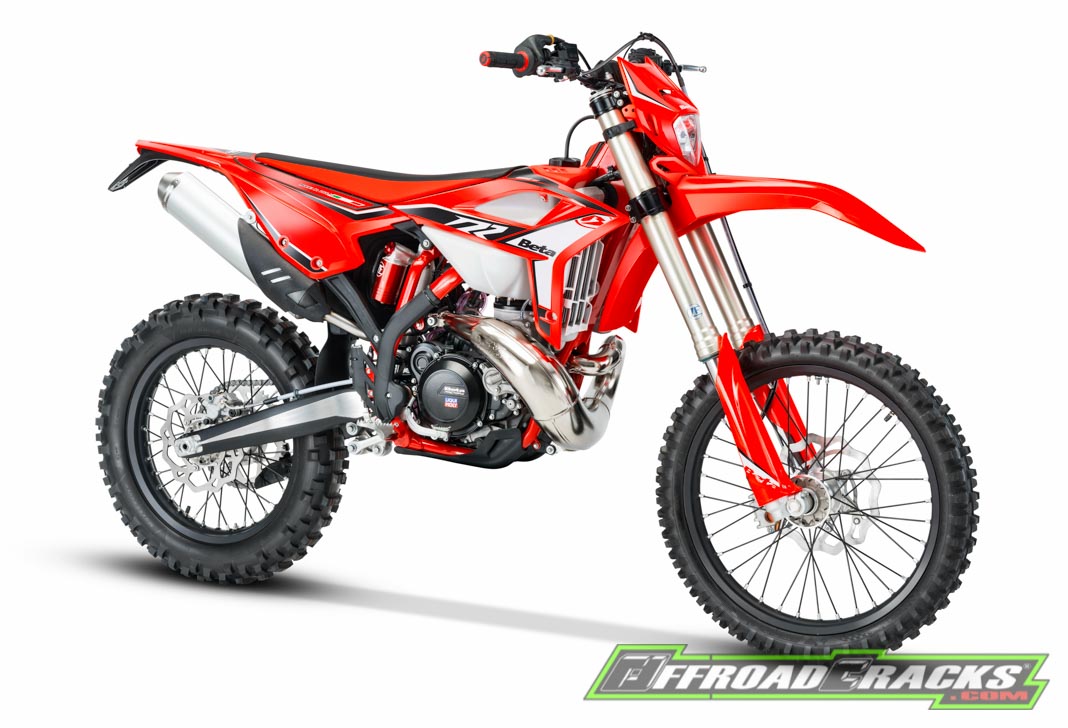 Probably the biggest innovation for 2022 from the Reds from Florence, as already reported in detail (LINK), is the complete optimization of the RR 300. It received a new engine with a modified bore and a new stroke paired with a new piston and a matching exhaust system including adapted mapping. As a result, the manufacturer speaks of increased engine power and a linear performance curve for the two-stroke top model.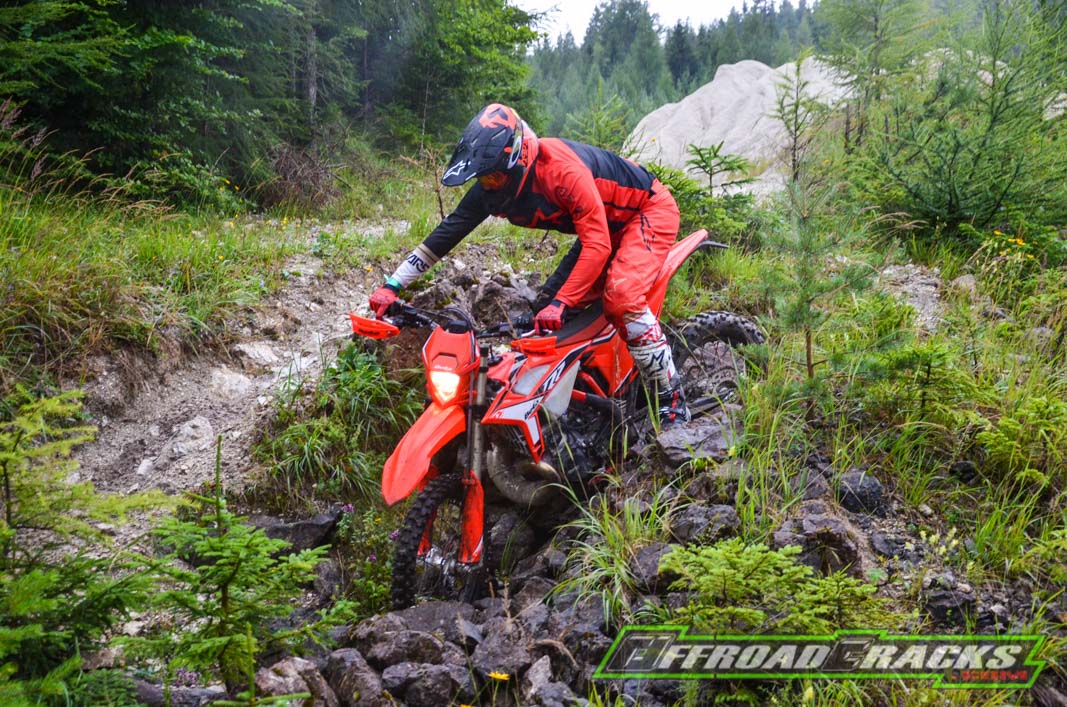 And that's exactly what we were able to test in Austria, more precisely in the village of Rohr im Gebirge, in rainy weather in a unique off-road area. Because here it was just always steep uphill and then again miserably steep downhill, peppered with countless roots, slippery rock slabs, never-ending stone fields, river beds as well as mountain peaks and that with the icing on the cake in the form of continuous rain and wind on top. The conditions for a real enduro test couldn't be better, even if you would have liked to have a few warm rays of sunshine every now and then.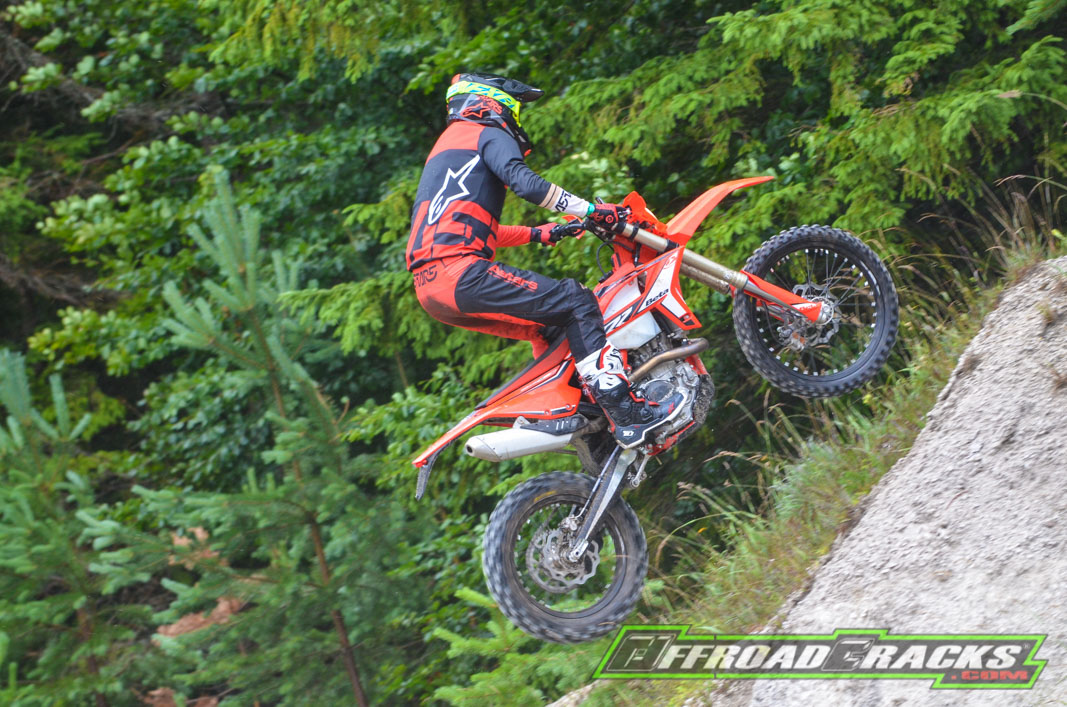 The first thing was riding in two groups an almost one-hour round (the onboard VIDEO will follow shortly on our YouTube channel), which the journalists exchanged the test bike with each other. Right from the start I liked the RR 430 best uphill. Why? The power delivery was simply perfect for these special conditions. Enough torque and power in all situations, which was always easy to dose and made no aggressive speed orgies necessary. So with the RR 430 I even overtook in a climb the RR 300 two-stroke, which was always favored for the hardenduro, and clearly had less effort than my colleague with the twostroke. Of course, the chassis setup was extremely soft for this terrain, so up to a certain speed it delivered comfort and surprisingly good traction, but at higher speeds it quickly took the end stop into prayer. Since the different models were constantly being swapped with one another, an individual setting of the suspension setup made no real sense, of course.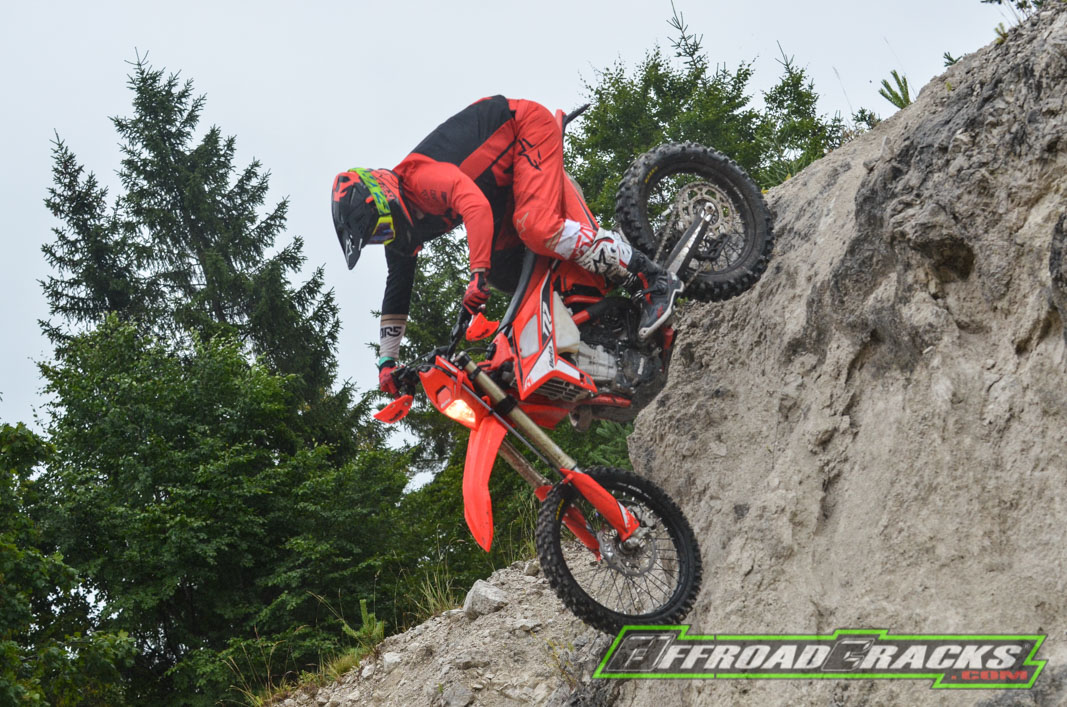 Down from the 430 and up on the 350. With the 350 I was allowed to heat down a creek bed in third gear at a brisk pace, which was to be enjoyed with caution in several sections because of the large flesh boulders, massive roots and steep steps. It was much more interesting uphill, as the second gear with mapping 'cloud' and at the lowest engine revs actually meant massive clutch use with a 350cc. The opposite was true, however, and the 350 Beta started climbing like it was the easiest thing in the world and had tons of torque – what a positive surprise.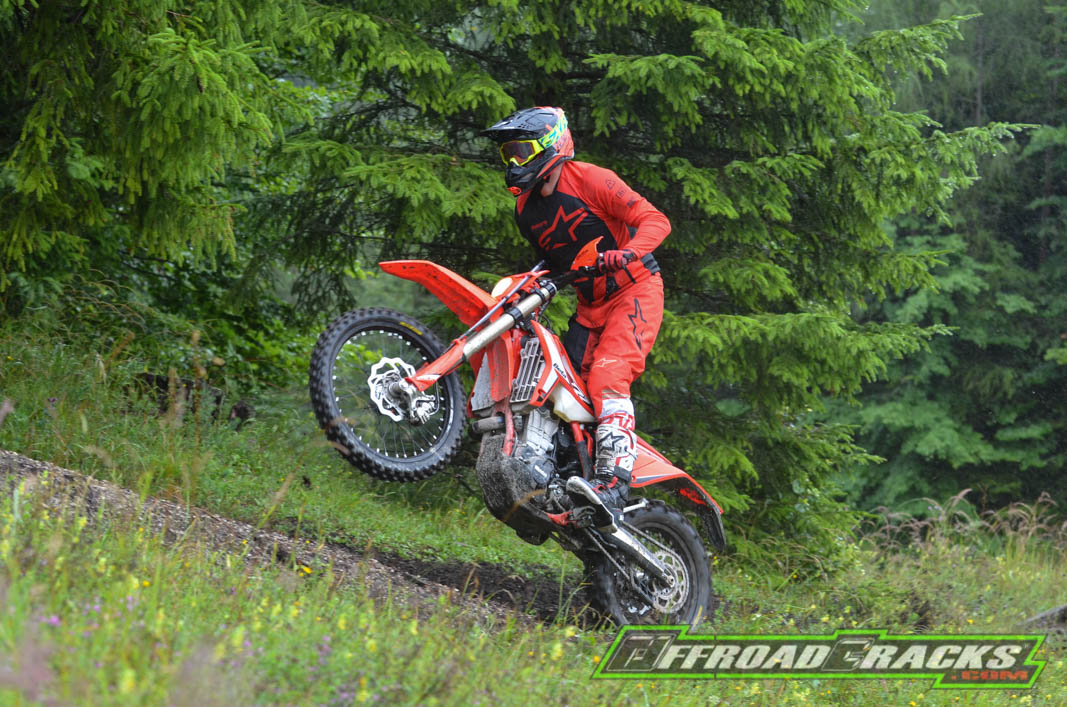 Again things happened in quick succession. I was already moving the big bore RR 480 on steep single trails uphill – the most powerful example of its kind from Italy. The oscillating mass, despite the same chassis as the 430, was felt immediately. In places where the 430 circled around the corners, the change of direction had to be initiated with the 480. The motor also surprised her with its consistently good controllability. However, with the soft pre-setting of the suspension, I reached my limits earlier at higher speeds. On the other hand, it worked almost perfectly uphill thanks to plenty of traction, which actually applies to the entire model range.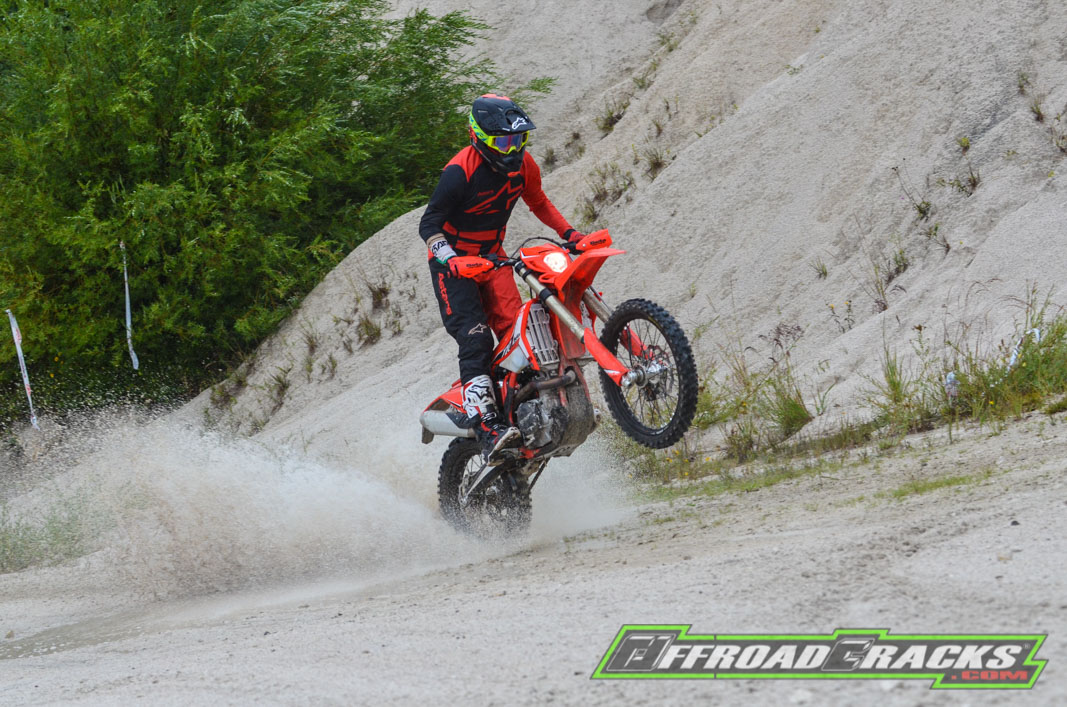 After the RR 300 had been blown free by my colleagues, I took it over for the next two to three kilometers. This means a change in driving style, as the lower weight with the soft chassis means that it acts differently. Small, steep climbs became absolutely child's play. However, if you got stuck on a root in the slope, then starting again on the slippery surface was a little more difficult under these special conditions than with the four-stroke engines. However, to be fair, this peculiarity should not be overestimated, since too many different factors have influenced this situation, so that a realistic pro or con was not possible, yet.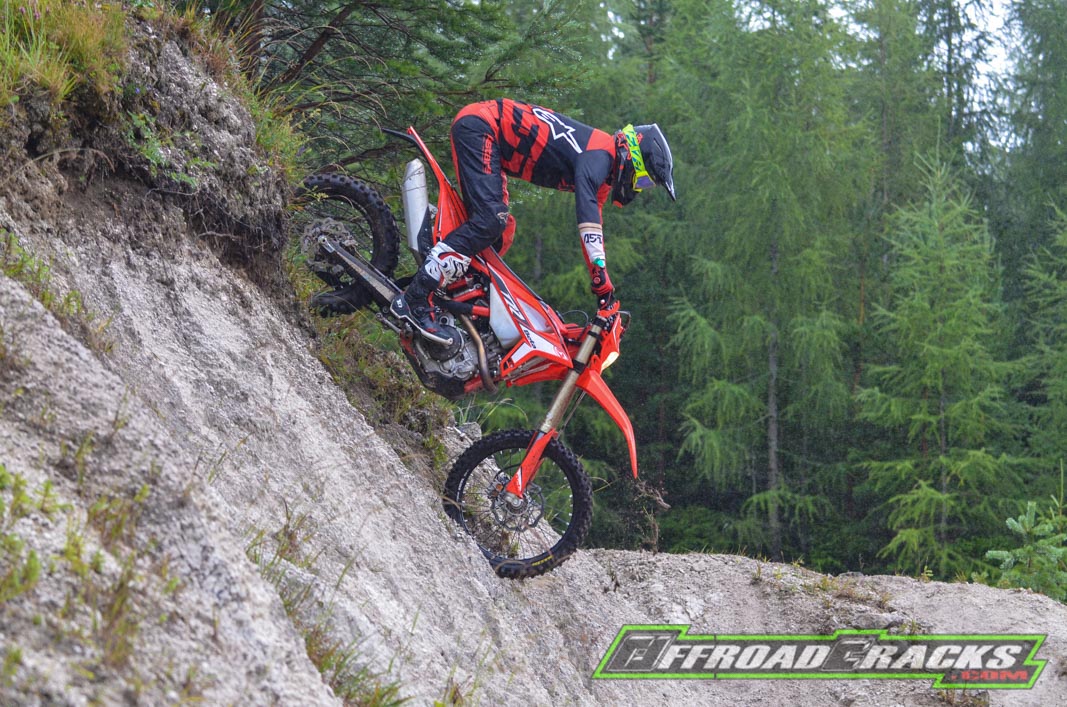 The 300 series rolled downhill almost by itself because of its low engine braking effect and made a lot of meters. However, under these conditions, one had to keep a distance to the man in front, otherwise an involuntary mud pack was always on the approach.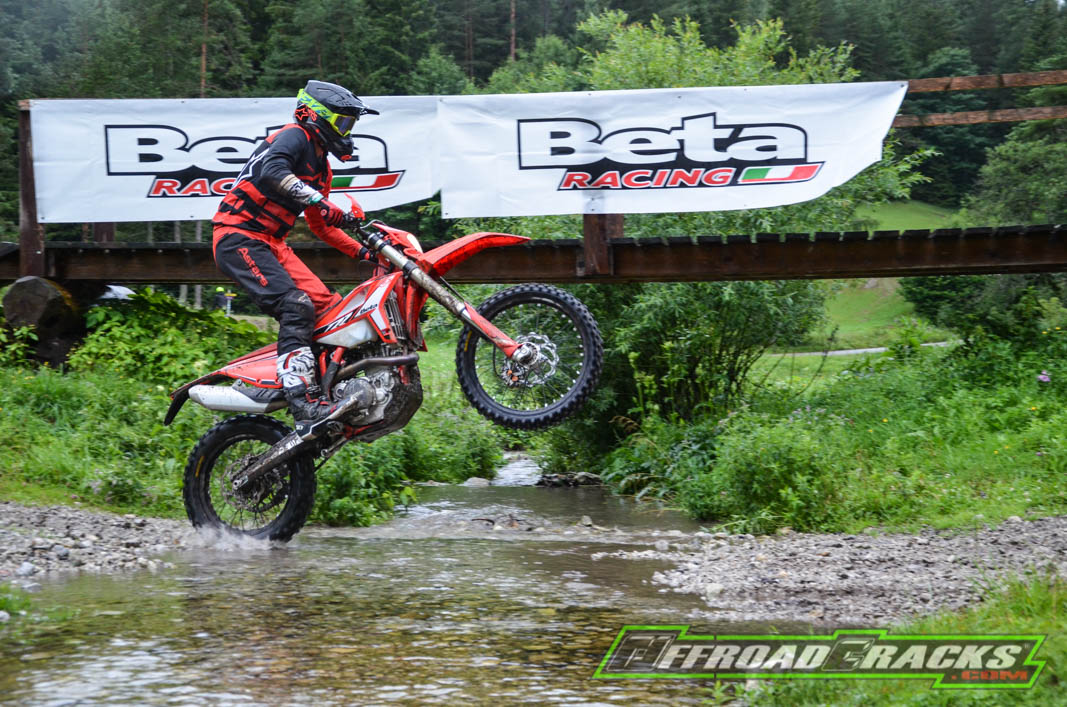 The handling of the two-stroke was of course ingeniously simple, so that at one point or another the instinct to play went through with you. A steep descent on a rock slab, a good ten meters long, which had a ledge in the middle and then had a slight overhang, was one of the key points. Here you just had to let things run free. There were no alternative routes either left or right, so a little acceleration at the heel was quite useful. In a direct comparison, this appropriate spontaneity of the two-stroke engine was logically lacking in some situations in the 350 four-stroke concept and you had to adapt your driving style to it at an early stage. The 300, on the other hand, did everything right and the new bore-to-stroke ratio turned out to be a real stroke of luck. With this technical change, the RR 300 is even more precise and easier to dose and handling is still at the reference level.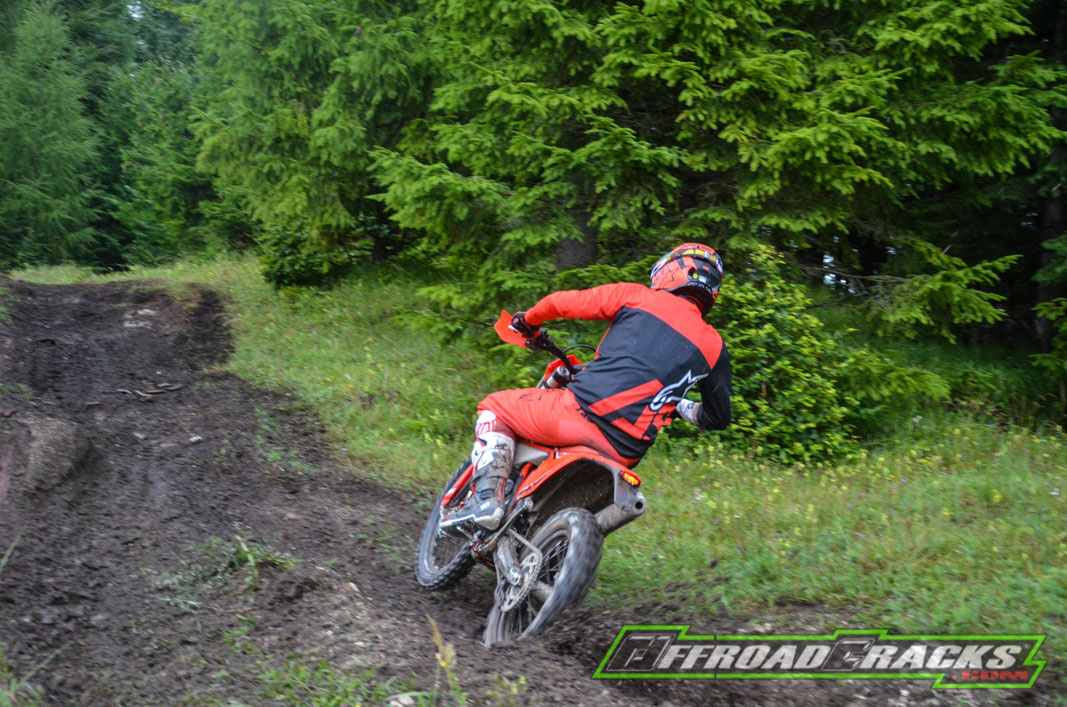 Last but not least, the nowadays unusual 200 cubic capacity was allowed to run, which inspired me from the start. It does not have the very narrow rev range of a 125cc of earlier days, but surprises with a quite usable torque over a significantly wider rev range than expected. If you let the engine run, a perfectly matched gearbox with the right ratio for each gear reveals itself, which ensures ingenious driving fun up to maximum speed. Due to the low weight, you have to be careful that the emotional driving pleasure does not push the physical limits too much. More on this will follow soon, as we will be testing the RR 200 extensively with performance measurement and everything else.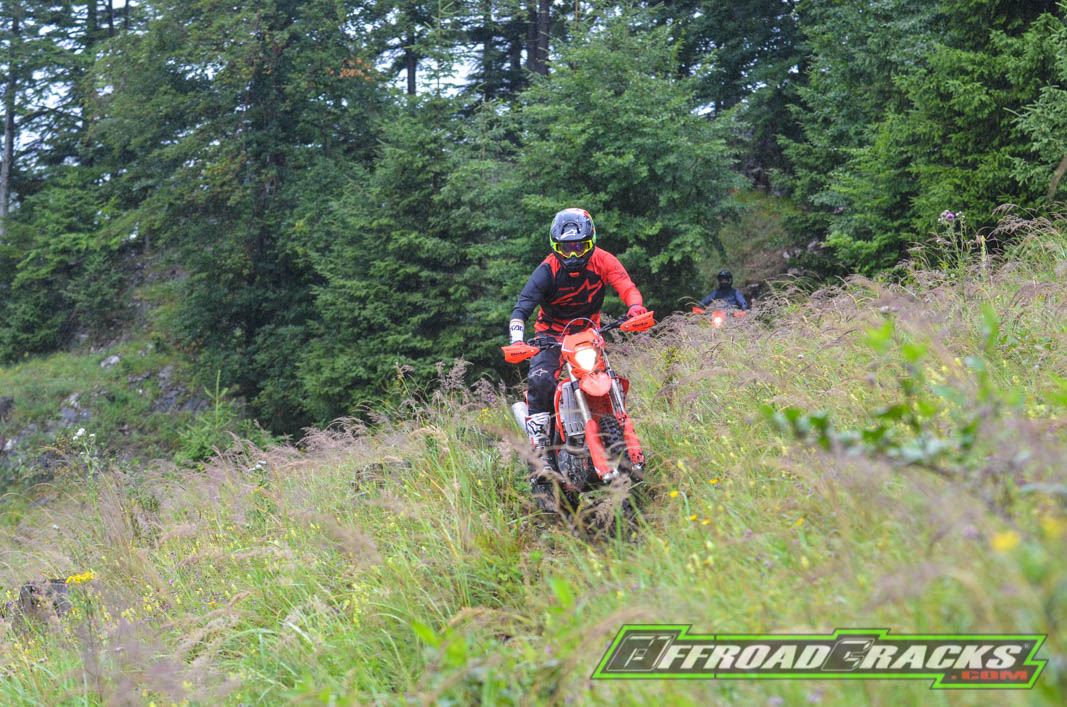 Of course, under these conditions it was not possible to generate an all-encompassing conclusion for every model. Logically, this simply requires a longer driving time on the respective model including chassis adjustment and under several conditions. But for this ingenious chase in the mountains of Austria, Beta has selected an outstanding terrain for such a broadband model test. The handling, the controllability of the engine power of the models we tested and the interaction of all components under these special conditions worked together remarkably well.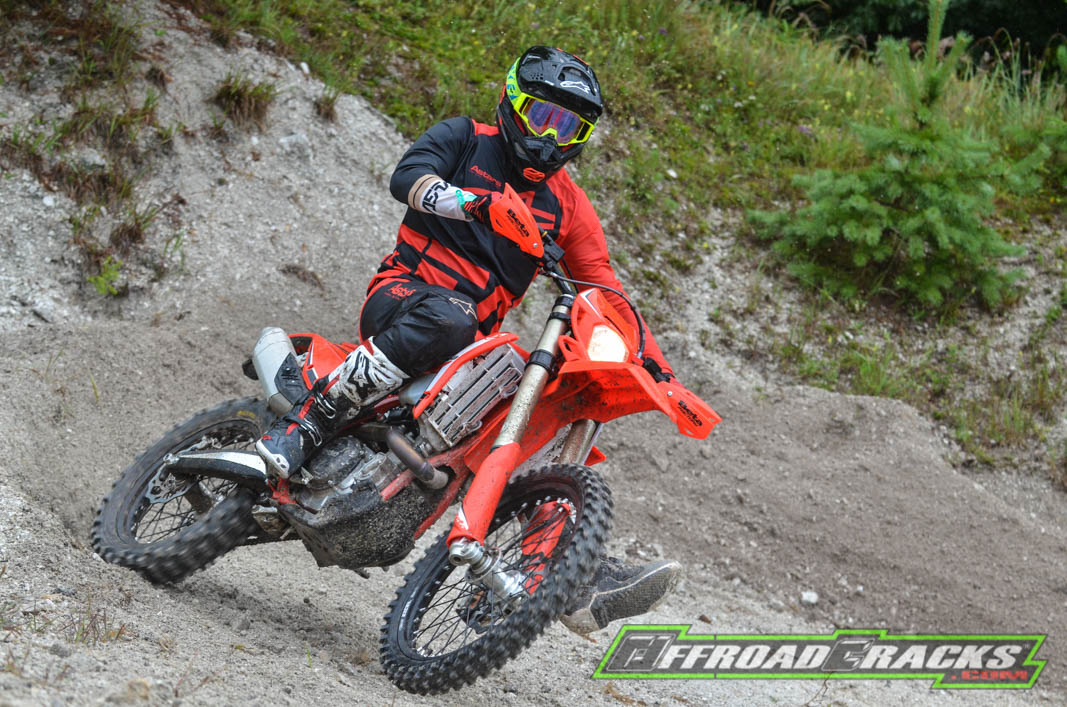 The fact remains that the beta models will be absolutely serious opponents for its competitiors in 2022 – no question about it. We are excited to see what the future will bring, because before 2024, even at Beta, no one thinks about electronic two-stroke injection. Since the legislature does not intend to tighten the emission limit values ​​for the Euro5 classification and no information for Euro6 is yet available .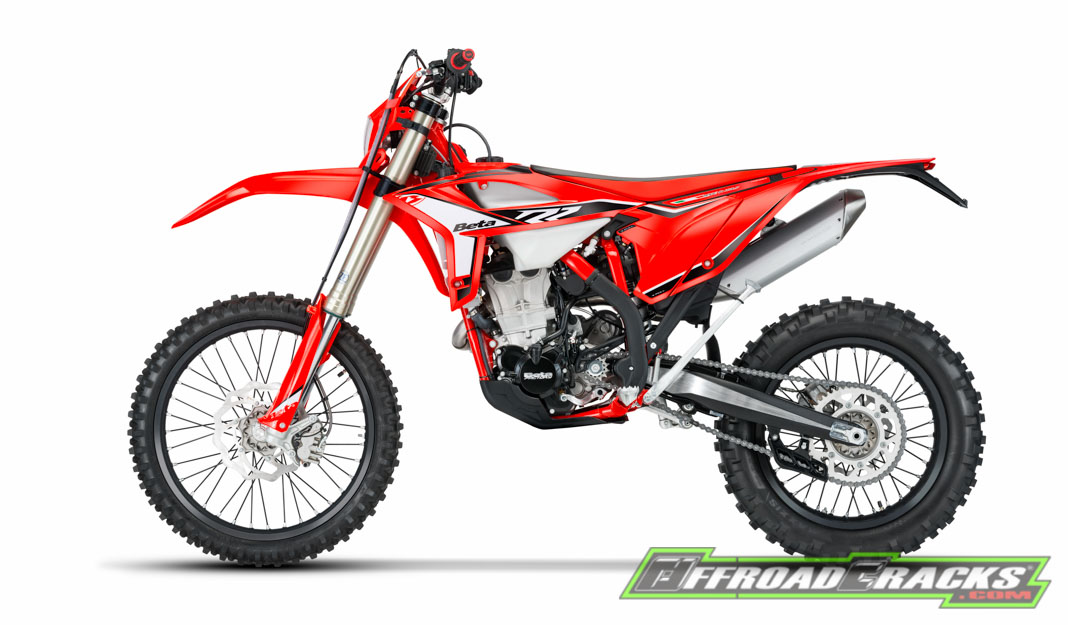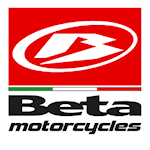 More infos:

www.BETAMOTOR.com

Detailed information on the innovations of the 2022 models including prices:

LINK

Rider equipment: Alpinsestars Tech 10 vented boots, Alpinestars Racer Combo, Alpinsters Supertech M8 Echo helmet, FXR Racer Google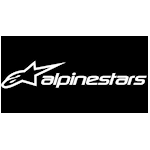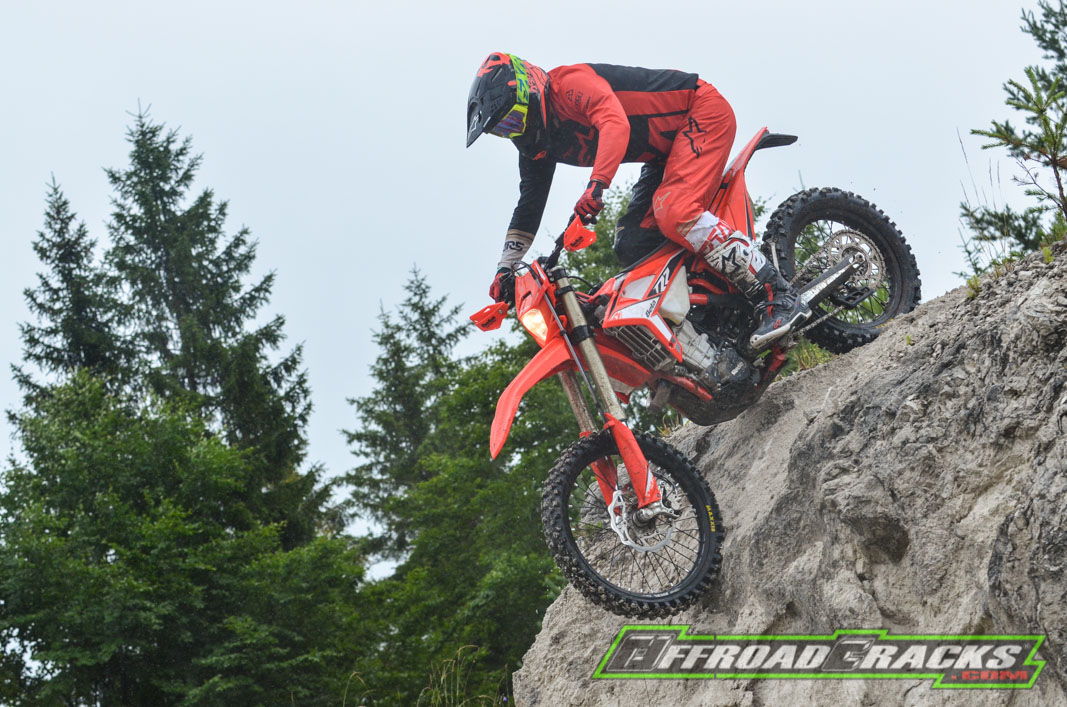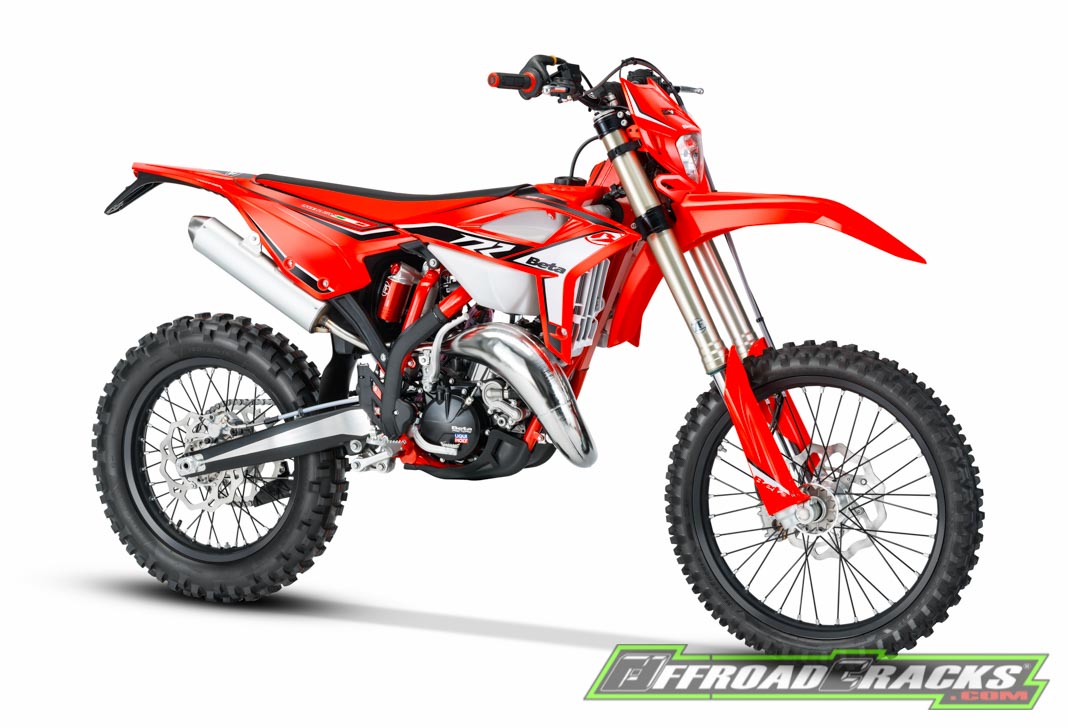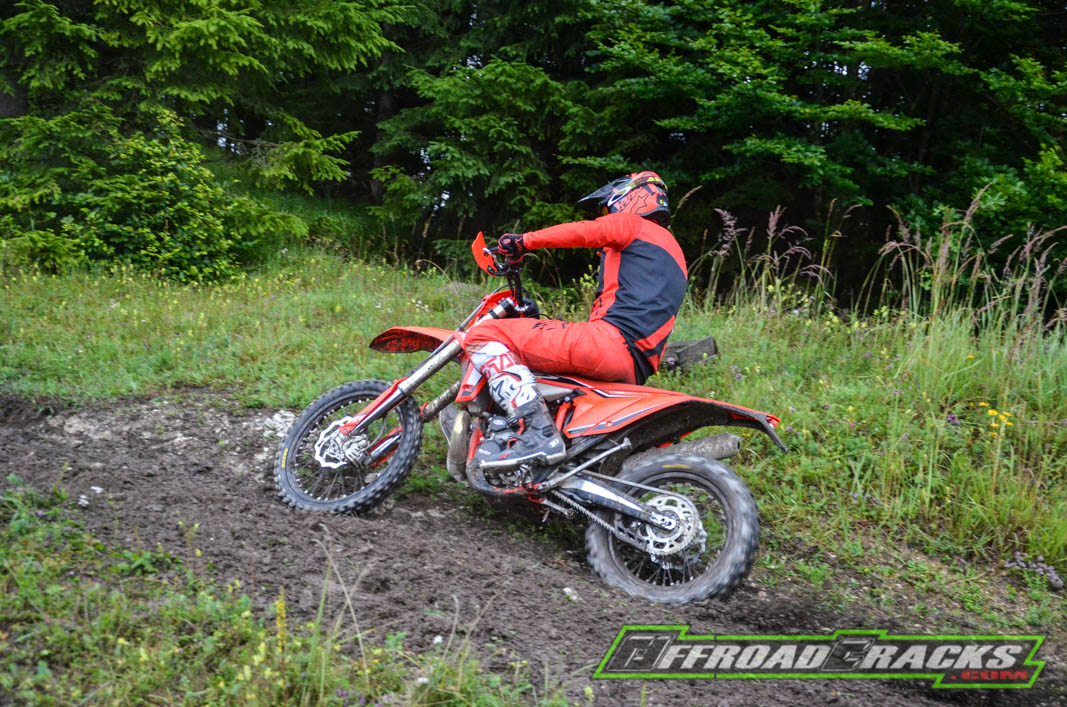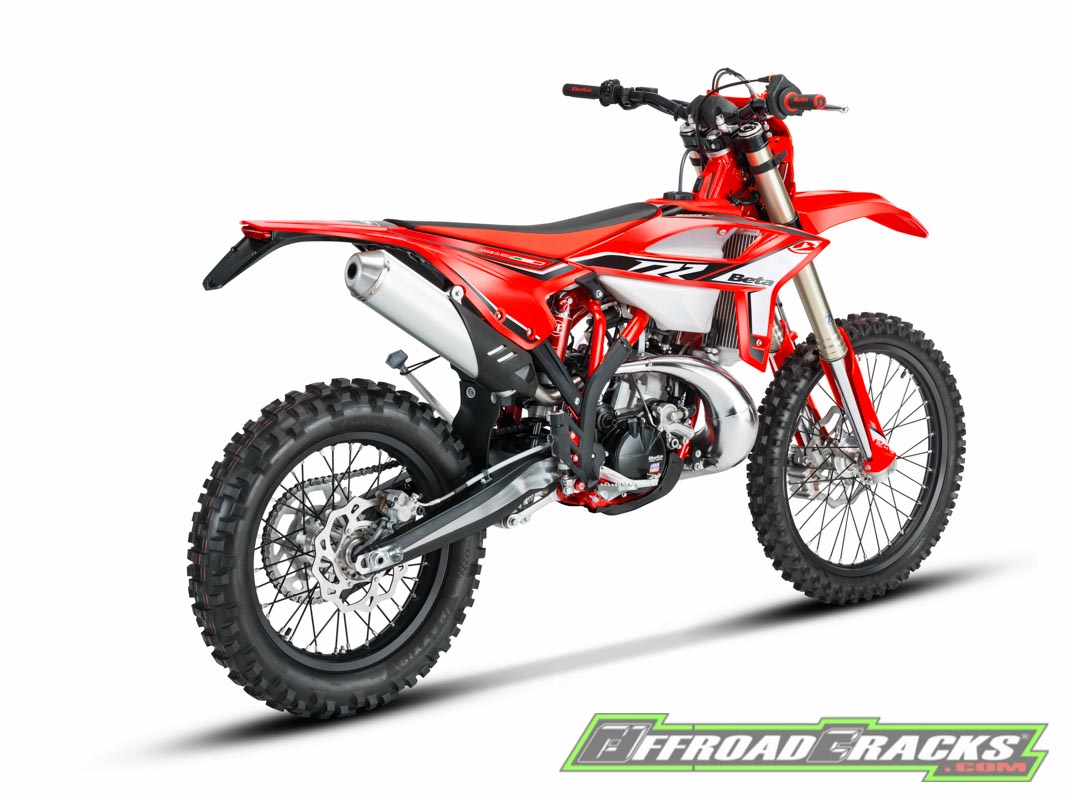 Quelle / Source: Beta, OFFROADCRACKS