Hennessey Performance Engineering (HPE) wird den neuen Ford Bronco auf die nächste Stufe heben, sobald er nächstes Jahr in Produktion geht: Die Rese ist vom VelociRaptor V8 Bronco. Es wird von einem aufgeladenen 5,0-Liter-Ford-V8-Motor mit 750 PS angetrieben und mit einem Ford-10-Gang-Automatikgetriebe kombiniert. HPE schätzt, dass die gesteigerte Leistung des Fahrzeugs seien Beschleunigung von 0-100km/h auf nur 4,5 Sekunden senken wird. Weitere Verbesserungen sind eine benutzerdefinierte Motorhaube mit Einlässen, größeren Rädern und Reifen, ein verbessertes Fahrwerk, eine Hennessey-Lederausstattung, eine VelociRaptor V8-Rennlackierung, ein verbesserter Edelstahlauspuff und vieles mehr.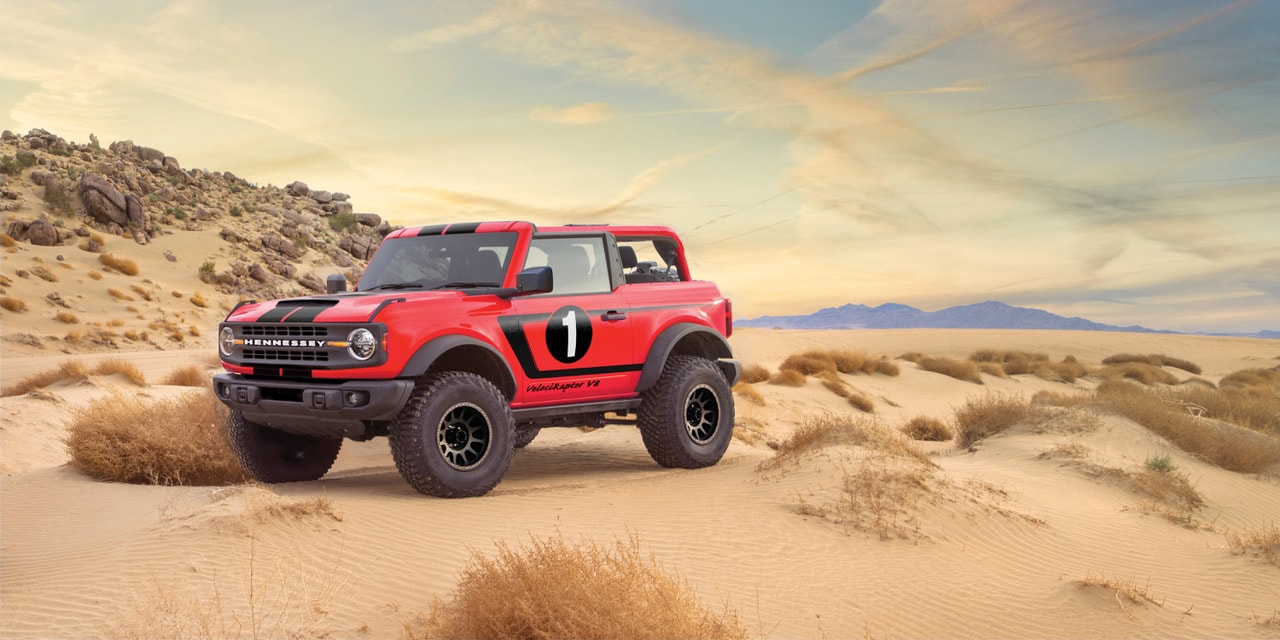 "In den letzten zwei Jahren haben wir über 70 Ford Raptors der 2. Generation für unsere Kunden gebaut, indem wir den EcoBoost V6 entfernt und durch denselben 750 PS starken 5.0 V8 mit Kompressor ersetzt haben. Ich wollte den ultimativen Ford Bronco für mich und unsere Kunden bauen ", sagte Firmengründer und CEO John Hennessey. "Der 2021 Bronco ist möglicherweise eines der begehrtesten Fahrzeuge seit Einführung des Ford GT. Wir freuen uns darauf, den neuen Bronco auf die nächste Stufe zu heben."
Die Produktion wird für das Modelljahr 2021 auf insgesamt 24 Einheiten begrenzt. Der VelociRaptor V8 Bronco ist sowohl als 2-Türer als auch als 4-Türer erhältlich und wird von Hennessey mit einer Garantie von 3 Jahren / 36.000 Meilen geliefert. Die Gesamtkosten einschließlich des neuen Bronco betragen 225.000 USD zuzüglich Fahrzeugversand. Der VelociRaptor V8 Bronco kann direkt bei Hennessey oder über autorisierte Hennessey / Ford-Händler bestellt werden.
VELOCIRAPTOR V8 BRONCO SPEZIFIKATIONEN
• Neuer 2021 Ford Bronco (2D oder 4D)
• 5,0 l V8 Ford Motor
• Neue Motorhaube mit Einlässen
• 10-Gang Ford Automatikgetriebe
• Ford Kabelbäume & ECU
• 3,0-Liter-Kompressorsystem
• Luft-Wasser-Ladeluftkühler
• Luftansaugung mit hohem Durchfluss
• Upgrade der Einspritzventile
• Kraftstoffsystem-Upgrade
• Cat-Back-Auspuff aus Edelstahl
• VelociRaptor Stoßstangen vorn und hinten mit LED-Leuchten
• Neue Aluminiumräder
• Neues Offroad-Federungssystem
• Passende Offroad-Reifen
• VelociRaptor V8 Custom Interior
• Hennessey-Branding
• Hennessey Custom Frontgrill
• Hennessey Custom Lackierung
• VelociRaptor V8-Branding
• Hennessey bestickte Kopfstützen
• Limited Edition Nr. 1 bis 24 Nummerierung
• Plaques mit Seriennummer
• Professionelle Installation
• HPE Engine Management-Kalibrierung
• Chassis Dyno Tuning & Road Testing
• 3 Jahre / 36.000 Meilen eingeschränkte Garantie
---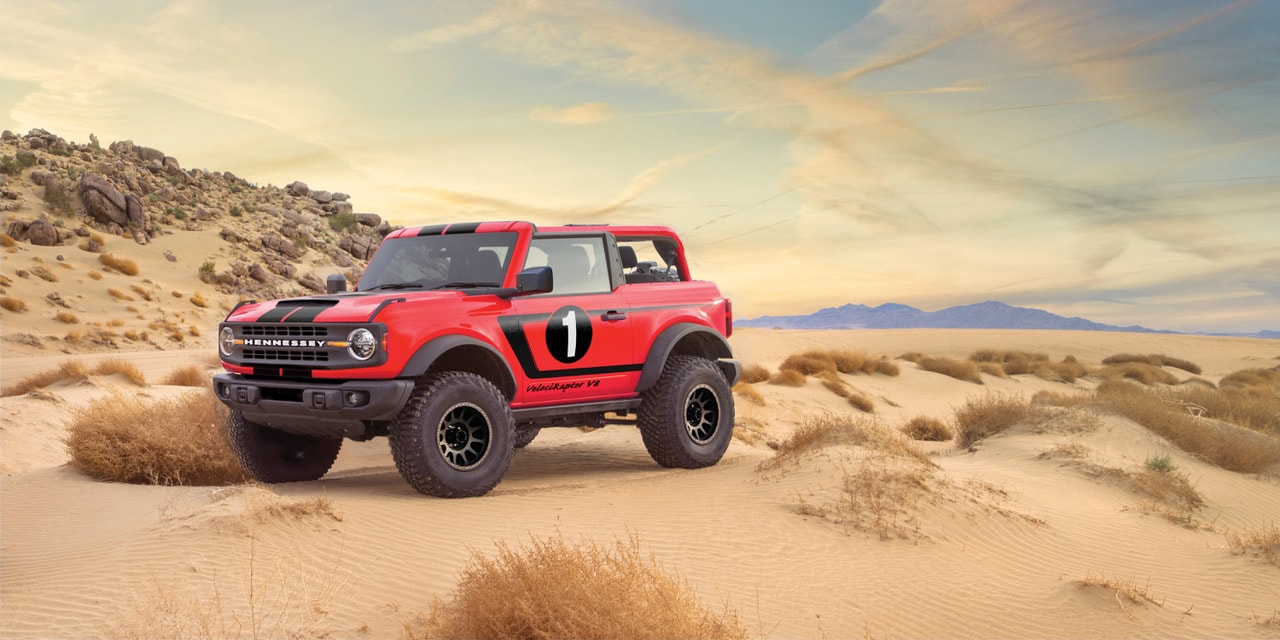 Hennessey Performance Engineering (HPE) will be taking the new Ford Bronco to the next level when it goes into production next year: The VelociRaptor V8 Bronco. It will be powered by a supercharged 5.0 liter Ford V8 engine producing 750 hp and mated to a Ford 10-speed automatic transmission. HPE estimates that the increased power and performance will lower the vehicle's 0-60 mph time to just 4.5 seconds. Other upgrades include custom hood with scoop, larger wheels and tires, upgraded suspension system, custom Hennessey leather interior, VelociRaptor V8 racing livery graphics, upgraded stainless steel exhaust and more.
"Over the past two years we have built over 70 Gen 2 Ford Raptors for our customers by removing the EcoBoost V6 and replacing it with the same 750 HP supercharged 5.0 V8. I wanted to build the ultimate Ford Bronco for myself and for our customers," said company founder and CEO, John Hennessey. "The 2021 Bronco may be one of the most highly desired vehicles since the introduction of the Ford GT. We look forward to taking the new Bronco to the next level and beyond."
Production will be limited to a total of 24 units for the 2021 model year. The VelociRaptor V8 Bronco is available in both 2-door and 4-door configurations and comes with a 3 year / 36,000 mile warranty from Hennessey. The complete cost including the new Bronco is $225,000 plus vehicle shipping costs. The VelociRaptor V8 Bronco can be ordered directly from Hennessey or through authorized Hennessey / Ford dealers.
VELOCIRAPTOR V8 BRONCO SPECIFICATIONS
• New 2021 Ford Bronco (2D or 4D)
• 5.0L V8 Ford Engine
• Custom Hood with Scoop
• 10-Speed Ford Automatic Transmission
• Ford Wiring Harnesses & ECU
• 3.0 Liter Supercharger System
• Air-to-Water Intercooler
• High-Flow Air Induction
• Fuel Injector Upgrade
• Fuel System Upgrade
• Stainless Steel Cat-Back Exhaust
• VelociRaptor Front & Rear Bumpers with LED Lights
• Upgraded Aluminum Wheels
• Upgraded Off-Road Suspension System
• Upgraded Off-Road Tires
• VelociRaptor V8 Custom Interior
• Hennessey Exterior Badges
• Hennessey Custom Front Grille
• Hennessey Custom Livery
• VelociRaptor V8 Exterior Badges
• Hennessey Embroidered Headrests
• Limited Edition 1 of 24
• Serial Numbered Plaques
• Professional Installation
• HPE Engine Management Calibration
• Chassis Dyno Tuning & Road Testing
• 3 year/36,000 Mile Limited Warranty
Quelle / Source: Hennessey