Das letzte Mal, dass das bekannteste Fahrzeug der Welt mit einem V-8-Motor angeboten wurde, war der 1981er Jeep® CJ mit seinem 5,0-Liter-V-8, der 125 PS und 220 lb.-ft. (298,3 Nm)  Drehmoment. Jeep-Enthusiasten haben in den letzten Jahren immer wieder nach einem Wrangler mit V-8-Antrieb verlangt und die neue Jeep Wrangler Rubicon 392 Studie ist ein Hinweis darauf, dass sich bald ihr Wunsch erfüllen könnten.
Die Marke Jeep hat ihr neues Wrangler Rubicon 392 Concept vorgestellt, der von einem 6,4-Liter-V-8-Motor mit 450 PS und 450 lb.-ft. (610 Nm) angetrieben wird. Er schafft die Beschleunigung von 0-100 km/h in weniger als fünf Sekunden. Dana 44-Achsen, ein Full-Time Zweigang-Verteilergetriebe, elektrische Sperren an Vorder- und Hinterachse, 37-Zoll-Mud-Terrain-Reifen und ein Zwei-Zoll-Lift-Up von Jeep Performance Parts/Mopar ergeben deutliche Fahrwerksverbesserungen. Zudem setzt man auf ein 8-Gang-Automatik-Getriebe das zusammen mit dem kräftigen V8-Motor den ultimativen Fahrspaß und eine bislang noch nie dagewesene Geländetauglichkeit eines Jeep Wrangler offeriert.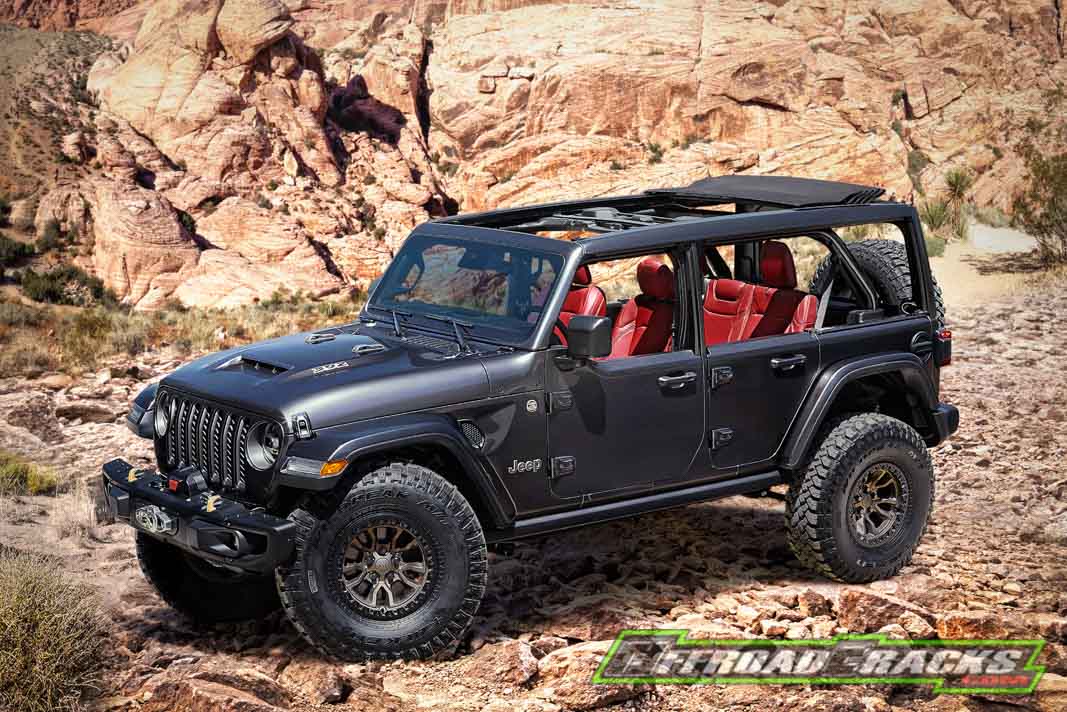 "Jeep Wrangler-Enthusiasten haben uns nach einem Wrangler V8 gefragt und unser neues Wrangler Rubicon 392-Konzept zeigt, dass wir in der Lage sind, dies zu realisieren", sagte Jim Morrison, Leiter Jeep Brand – FCA North America. "Vom kürzlich vorgestellten 29-mpg-Wrangler-EcoDiesel über unseren preisgekrönten Jeep-Gladiator bis zum kommenden Plug-in-Hybrid-Elektrofahrzeug Wrangler 4xe hört Jeep zeigt, dass Jepp seine Kunden beim Wort nimmt. Wir sind gespannt auf die Reaktionen dieses neue Wrangler Rubicon 392 Concept – ein Fahrzeug, das auf der Straße und im Gelände ein unglaubliches und unübertroffenes Maß an Fahrspaß und Leistungsfähigkeit bietet."
Leistung, Leistung und Leistungsfähigkeit auf der Straße und im Gelände
Um seinen 6,4-Liter-V8-Motor und ein stärkeres Achtganggetriebe unterzubringen, verfügt der Jeep Wrangler Rubicon 392 Concept über verbesserte Motorlager und einen modifizierten Rahmen. Zu den Aufrüstungen der Federung gehören neue Fox-Stoßdämpfer für eine verbesserte Dämpfung und Wärmeableitung. Ein Two-Mode-Auspuff verändert den Performance-Sound auf Knopfdruck.
Der Jeep Wrangler Rubicon 392 Concept bietet dank der Dana 44-Achsen der dritten Generation, eines Vollzeit-Zwei-Gang-Verteilergetriebes von Selec-Track, elektrischer Tru-Lok-Sperrdifferentiale für Vorder- und Hinterachse und 37-Zoll-Schlammreifen noch mehr Offroad-Leistung. Dazu kommen 17-Zoll-Beadlock-Felgen wickeln, die einen verringerten Reifendruckbetrieb zulassen und dadurch zusätzliche Traktion generieren.
Ein werksseitiger Zwei-Zoll-Lift (50,8mm) von Jeop Performance Parts/Mopar sorgt für zusätzliche Bodenfreiheit und verbesserte Böschungswinkel. Das Wrangler Rubicon 392 Concept verfügt außerdem über Rubicon-Rock-Rails (seitlicher Schweller-Schutz), Stahlstoßstangen mit einer Warnwinde und eine Motorschutzwanne (Unterfahrschutz), was diese Conzept-Fahrzeug für härtesten Geländearten prädestiniert.
Das robustere Achtgang-Automatikgetriebe und das 4x4-Verteilergetriebe verbessern das allgemeine Fahrverhalten. Das hohe Drehmoment im unteren Drehzahlbereich wird durch ein Übersetzungsverhältnis 3,73 realisiert, was eine verbesserte Effizienz auf der Autobahn und eine verbesserte Geländetauglichkeit.
Verbesserte Jeep Offroadtauglichkeit
Die Traktion wird dank 450 lb.-ft. Drehmoment und 17-Zoll-Beadlock-Rädern verbessert
Der 2-Zoll-Lift und 37-Zoll-Reifen verbessern die Wattfähigkeit (34 Zoll = 863mm) und Bodenfreiheit (13,25 Zoll = 336,3mm) sowie Böschungswinkle von (51,6 Grad) und hinten (40,1 Grad).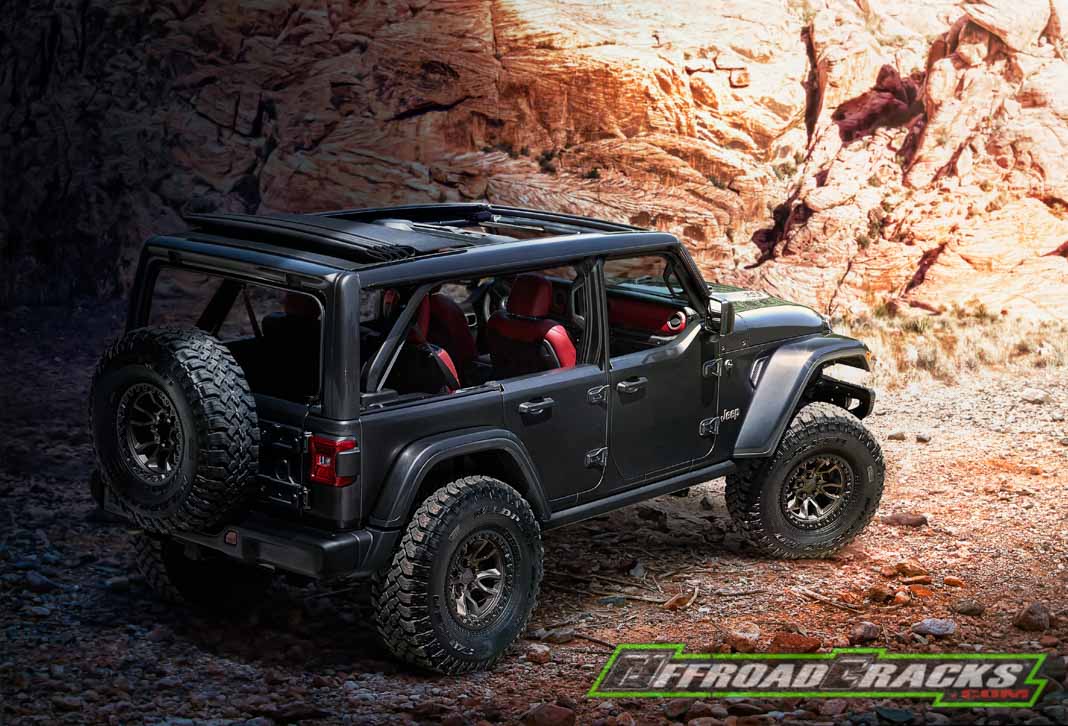 Einzigartiges, individuelles Design innen und außen
Der neue Jeep Wrangler Rubicon 392 Concept verfügt über eine Außenfarbe aus Granitkristall, die von bronzefarbenen Abschlepphaken, Typenschildern, Federn, Stoßdämpfern und Rädern komplettier wird. Er verfügt über eine robuste Hochleistungshaube mit aggressivem Erscheinungsbild, speziellen Halbtüren und Wranglers Sky One-Touch Powertop mit abnehmbaren Seitenteilen für völlige Freiheit unter freiem Himmel.
Im Inneren des Wrangler Rubicon 392 Concept befinden sich gepolsterte Ledersitze in Rot-Rock-Farbe mit Goldnähten sowie ein Performance-Lenkrad.
Das liest sich natürlich alles sehr lecker und macht Lust auf mehr. Ob der Jeep Rubicon V8 gebaut wird und wann ist noch offen, denn das ist bis jetzt nur ein Konzeptauto! Dennoch versteht man es in Übersee einen Hauch besser den Kunden in den Bann seiner Marke zu ziehen. Vor allem sobald man solche Wünsche erfüllt und nicht auf unnützes Downsizing eingeht, das nachweislich die Umweltbilanz alles andere als verbessert. Denn nur das Fahrzeug, dass am längsten störungsfrei bewegt werden kann hat auch die beste Umweltbilanz.
VIDEO-HIGHLIGHTS
JEEP RUBICON V8 392 - 450 PS und 610Nm - ein OFFROAD-TRAUM!
---
HINWEIS: Mit Anklicken des Videos stellen sie automatisch eine Verbindung zu Youtube/Google her, was einen ungewünschten personenbezogenen Datenaustausch mit sich bringen kann. Weitere Infos unter: www.google.de/privacy
---

The last time the most recognizable vehicle on the planet was offered with a V-8 engine was in the 1981 Jeep® CJ, with its 5.0-liter V-8 that delivered 125 horsepower and 220 lb.-ft. of torque. Jeep enthusiasts have been clamoring for a V-8-powered production Wrangler in recent years and the new Jeep Wrangler Rubicon 392 Concept is an indication they may soon get their wish.
The Jeep brand has introduced its new Wrangler Rubicon 392 Concept, powered by a 6.4-liter (392-cubic-inch) V-8 engine that delivers 450 horsepower and 450 lb.-ft. of torque, and a 0-60 mph time of less than five seconds. Dana 44 axles, a full-time two-speed transfer case, electric front and rear axle lockers, 37-inch mud-terrain tires and a Jeep Performance Parts two-inch lift kit from Mopar combine with suspension enhancements, a more robust eight-speed transmission and the massive V-8 power plant to deliver the ultimate fun-to-drive Jeep vehicle with more off-road capability than ever in a Jeep Wrangler.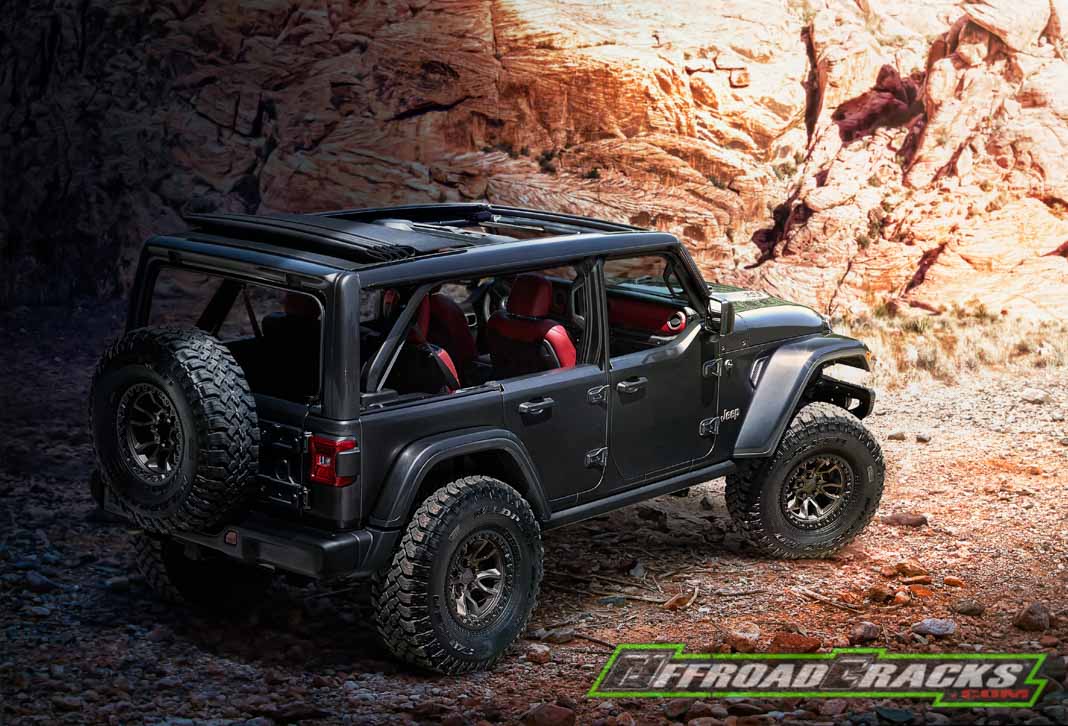 "Jeep Wrangler enthusiasts have been asking us for a Wrangler V-8 and our new Wrangler Rubicon 392 Concept proves that we have the ability to make that happen," said Jim Morrison, Head of Jeep Brand – FCA North America. "From the recently introduced 29-mpg Wrangler EcoDiesel to our award-winning Jeep Gladiator, and the upcoming Wrangler 4xe plug-in hybrid electric vehicle, Jeep is clearly listening to its customers. We are anxious to gauge their reaction to this new Wrangler Rubicon 392 Concept, a vehicle that delivers an incredible and unmatched level of fun-to-drive performance and capability, on- and off-road."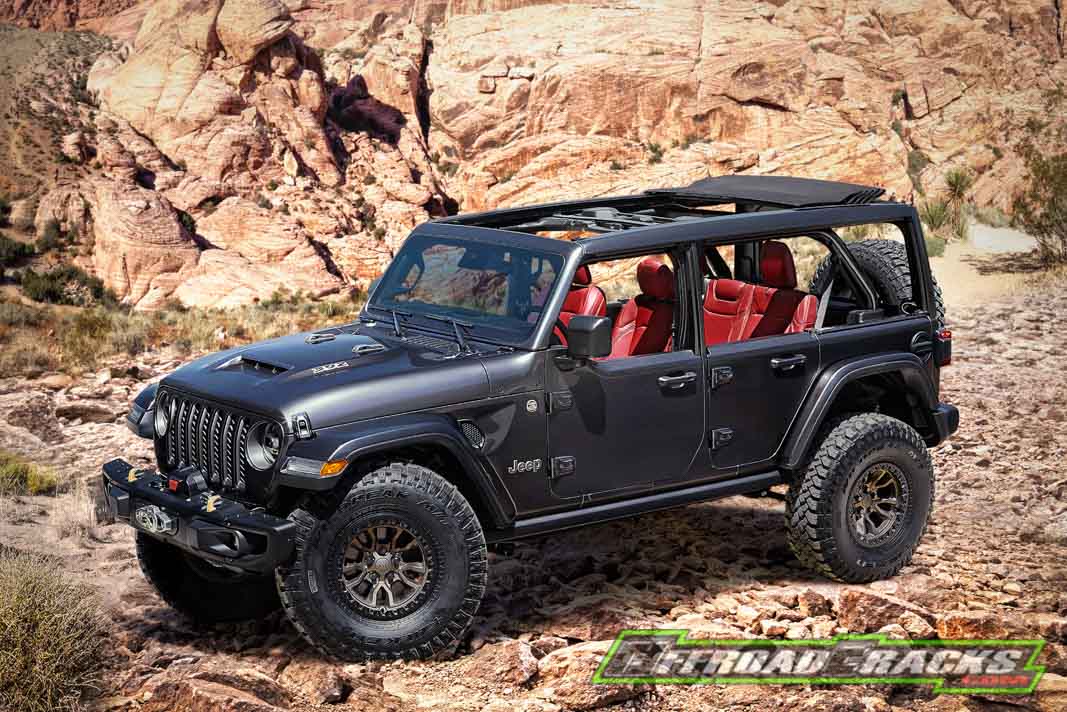 Power, performance and capability on- and off-road
To accommodate its 6.4-liter V-8 engine and a stronger eight-speed transmission, the Jeep Wrangler Rubicon 392 Concept features upgraded engine mounts and a modified frame. Suspension upgrades include new aluminum, monotube Fox shocks for improved damping and heat dissipation. A two-mode exhaust alters the performance sound at the touch of a button.
The Jeep Wrangler Rubicon 392 Concept boasts even more capability courtesy of third-generation Dana 44 axles, a Selec-Track full-time two-speed transfer case, Tru-Lok electric front- and rear-axle locking differentials and 37-inch mud-terrain tires that wrap around custom 17-inch beadlock wheels that hold the tires to the rims under extreme lateral loads, allowing for reduced tire pressure operation and added traction.
A factory Jeep Performance Parts two-inch lift kit from Mopar makes way for additional suspension articulation and improved approach, breakover and departure angles. The Wrangler Rubicon 392 Concept also features Rubicon rock rails, steel bumpers with a Warn winch and a steel belly pan – all added to help navigate the toughest off-road terrains.
The more robust eight-speed automatic transmission and full-time 4x4 transfer case improve overall drivability, and massive amounts of low-end torque allow for a 3.73 gear ratio, which delivers improved highway efficiency and a greater range of off-road capability.
Enhanced Jeep Trail Rated capability
The Jeep brand boasts several Trail Rated criteria, which are improved on the Wrangler Rubicon 392 Concept, specifically:
Traction is improved courtesy of 450 lb.-ft. of torque and custom 17-inch beadlock wheels
A factory Jeep Performance Parts two-inch lift kit and 37-inch tires combine to improve articulation and contribute to unprecedented levels of water fording capability (34 inches) and ground clearance (13.25 inches), as well as improved approach (51.6 degrees), breakover (29.5 degrees) and departure (40.1 degrees) angles.
Unique, custom design inside and out
The new Jeep Wrangler Rubicon 392 Concept features Granite Crystal exterior paint adorned with Bronze accentuated tow hooks, badging, springs, shocks and wheels, while featuring a heavy-duty raised performance hood with an aggressive appearance, custom half doors and Wrangler's Sky One-touch powertop, with removable side panels for complete open-air freedom.
Inside, the Wrangler Rubicon 392 Concept features rich Red Rock-colored leather bolstered seats with gold stitching, along with a performance steering wheel.
Of course, this all reads very tasty and makes you want more. Whether the Jeep Rubicon V8 will be built and when is still open, because so far this is only a concept car! Nevertheless, overseas knows how to draw customers under the spell of his brand. Especially as soon as one fulfills such wishes and does not go into unnecessary downsizing, which demonstrably does not improve the environmental balance at all. Because only the vehicle that can be driven without technical problems for the longest period has the best environmental balance.
VIDEO-Highlights
JEEP RUBICON V8 392 - 450 PS und 610Nm - ein OFFROAD-TRAUM!
---
NOTE: When you click on the video, you establish a connection to YouTube / Google automatically, which can result in an undesired personal data exchange. Further information at: www.google.de/privacy
---
Quelle / Source: JEEP, FCA