Ken Roczen kommt trotz Gürtelrose mit einem Paukenschlag zurück an die Spitze und holt sich einen Sieg – was für eine Leistung! Anderson nahm bereits in der ersten Runde eine Bodenprobe, während Roczen Cooper Webb die Krallen zeigte. Tomac hat einen äußerst schlechten Start und musste sich von weit hinten im Feld mal wieder bis auf Platz 3 vorarbeiten. Damit holt sich Ken Roczen seinen zweiten Rang in der Meisterschaft zurück während Tomac mit 24 Punkten Platz eins anführt.
In der 250er Klasse war erneut Dylan Ferrandis das Maß der Dinge während das Supertalent Jett Lawrence seine Extra-Klasse mit nur 16 Jahre aublitzen und Fahrer wie McAdoo alt aussehen ließ. Forkner holte sich den Sieg und und damit Tabellenrang zwei Overall vor Dylan Ferrandis, während Jett Lawrence mit Rang drei seinen ersten Podiumsplatz feieren durfte – was für eine Leistung!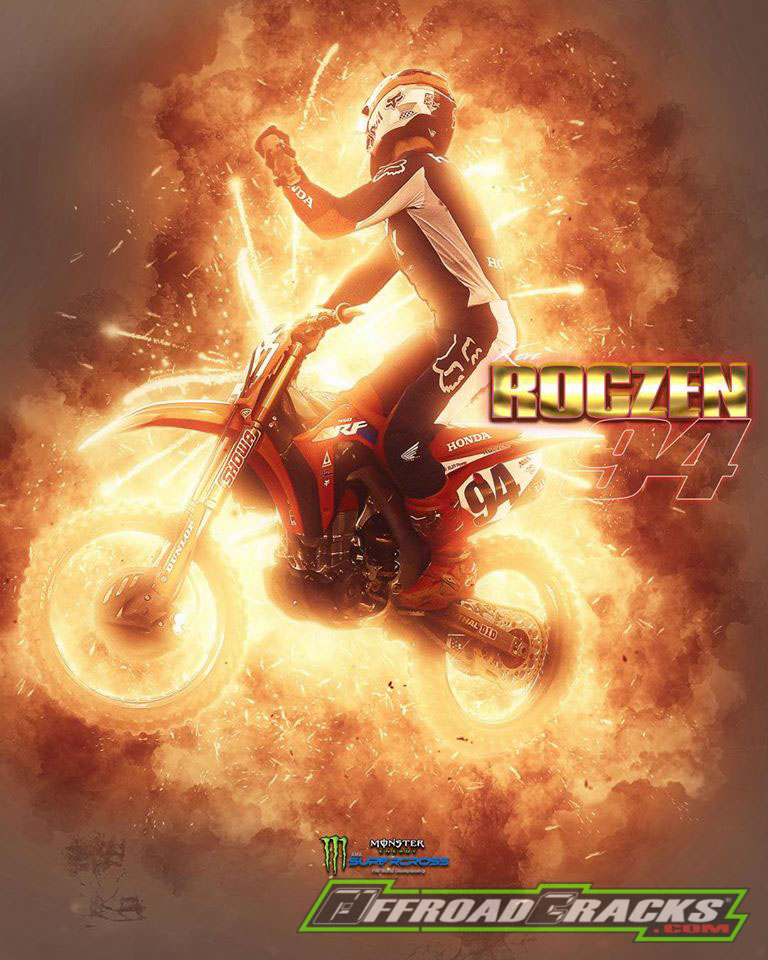 Despite zoster, Ken Roczen comes back to the top with a bang and wins – what an achievement! Anderson took a soil test in the first round, while Roczen showed Cooper Webb the claws. Tomac got off to an extremely bad start and had to work its way back to third place from far behind in the field. This brings Ken Roczen back in second place in the championship while Tomac leads with 24 points.
In the 250cc class, Dylan Ferrandis was again the measure of things, while the super talent Jett Lawrence flashed his extra class with only 16 years and made riders like McAdoo look old. Forkner took the win and thus ranked two overall ahead of Dylan Ferrandis, while Jett Lawrence was able to celebrate his first podium with third place – what an achievement!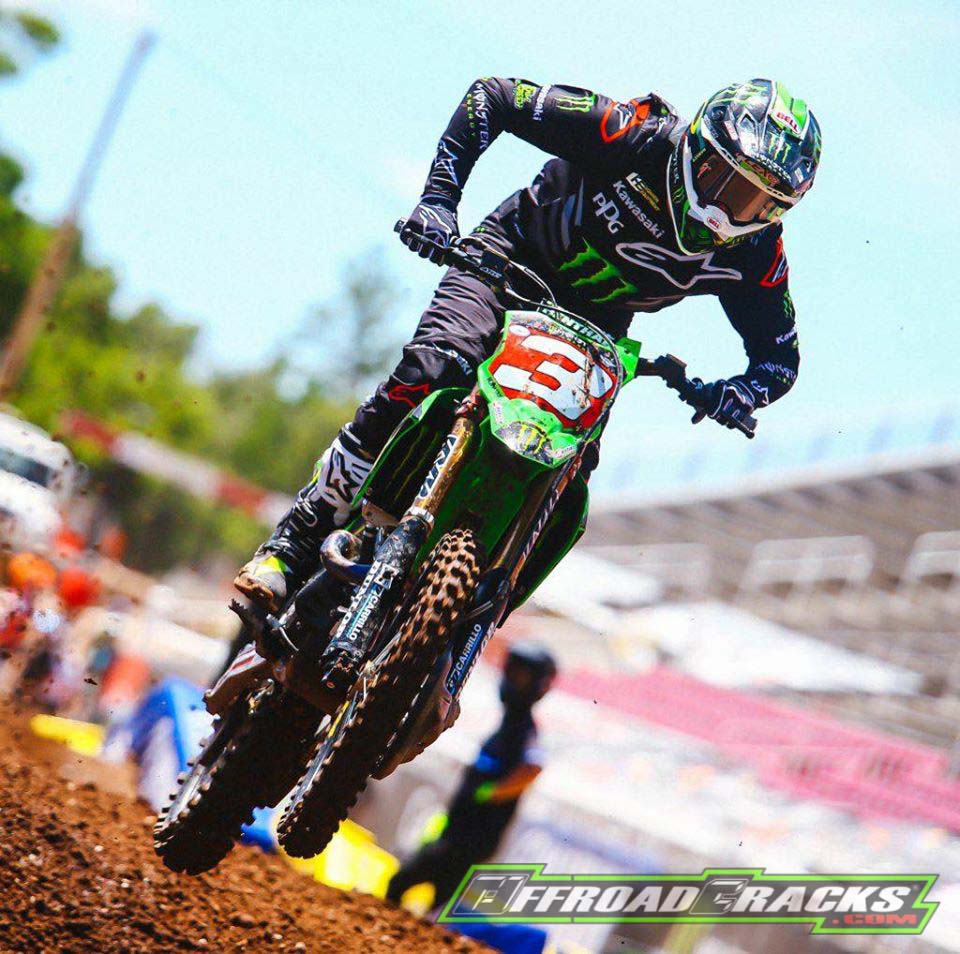 ERGEBNISSE / RESULTS – Salt Lake City SX 450 – Runde 15 / Round 15
| POS. | # | RIDER | HOMETOWN | BIKE | QUAL | HOLESHOT | LAPS LED | FINISH | POINTS |
| --- | --- | --- | --- | --- | --- | --- | --- | --- | --- |
|  1 | 94 | Ken Roczen | Clermont, FL | Honda CRF450R WE | 1 | – | 26 | 1 | 26 |
|  2 | 1 | Cooper Webb | Clermont, FL | KTM 450SX-F FE | 9 | X | 3 | 2 | 23 |
|  3 | 3 | Eli Tomac | Cortez, CO | Kawasaki KX450 | 3 | – | 0 | 3 | 21 |
|  4 | 16 | Zach Osborne | Clermont, FL | Husqvarna FC450 FE | 10 | – | 0 | 4 | 19 |
|  5 | 27 | Malcolm Stewart | Haines City, FL | Honda CRF450R | 5 | – | 0 | 5 | 18 |
|  6 | 15 | Dean Wilson | Murrieta, CA | Husqvarna FC450 FE | 4 | – | 0 | 6 | 17 |
|  7 | 4 | Blake Baggett | Grand Terrace, CA | KTM 450SX-F FE | 19 | – | 0 | 7 | 16 |
|  8 | 10 | Justin Brayton | Charlotte, NC | Honda CRF450R | 12 | – | 0 | 8 | 15 |
|  9 | 51 | Justin Barcia | Greenville, FL | Yamaha YZ450F | 6 | – | 0 | 9 | 14 |
|  10 | 7 | Aaron Plessinger | Hamilton, OH | Yamaha YZ450F | 11 | – | 0 | 10 | 13 |
|  11 | 22 | Chad Reed | Cornelius, NC | Honda CRF450R | 8 | – | 0 | 11 | 12 |
|  12 | 20 | Broc Tickle | Holly, MI | Suzuki RMZ450 | 20 | – | 0 | 12 | 11 |
|  13 | 50 | Benny Bloss | Oak Grove, MO | KTM 450SX-F FE | 2 | – | 0 | 13 | 10 |
|  14 | 46 | Justin Hill | Yoncalla, OR | Honda CRF450R | 14 | – | 0 | 14 | 9 |
|  15 | 34 | Tyler Bowers | Lake Elsinore, CA | Kawasaki KX450 | 15 | – | 0 | 15 | 8 |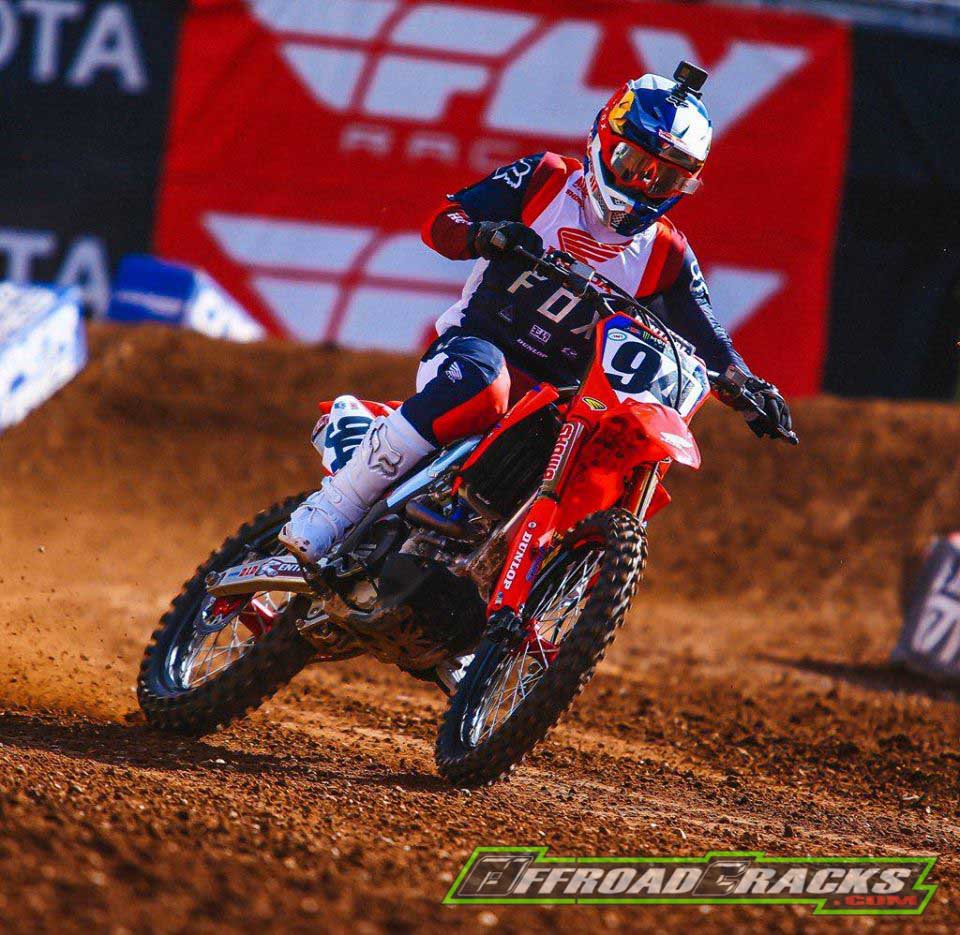 GoPro Onboard KEN ROCZEN #94 – SLC Round 15 / Runde 15
---
HINWEIS: Mit Anklicken des Videos stellen sie automatisch eine Verbindung zu Youtube/Google her, was einen ungewünschten personenbezogenen Datenaustausch mit sich bringen kann. Weitere Infos unter: www.google.de/privacy
---
TABELLENSTAND / RIDE POINT STANDINGS – SX 450 nach 15 Rennen / after Round 15
| POS. | # | RIDER | HOMETOWN | TOTAL POINTS | 1 | 2 | 3 | 4 | 5 | 6 | 7 | 8 | 9 | 10 | 11 | 12 | 13 | 14 | 15 |
| --- | --- | --- | --- | --- | --- | --- | --- | --- | --- | --- | --- | --- | --- | --- | --- | --- | --- | --- | --- |
|  1 | 3 | Eli Tomac | Cortez, CO | 343 | 16 | 19 | 26 | 23 | 26 | 19 | 26 | 26 | 19 | 26 | 26 | 23 | 26 | 21 | 21 |
|  2 | 94 | Ken Roczen | Clermont, FL | 319 | 17 | 26 | 23 | 26 | 21 | 17 | 21 | 23 | 26 | 23 | 21 | 18 | 13 | 18 | 26 |
|  3 | 1 | Cooper Webb | Clermont, FL | 318 | 21 | 11 | 21 | 19 | 23 | 26 | 23 | 11 | 21 | 21 | 23 | 26 | 23 | 26 | 23 |
|  4 | 51 | Justin Barcia | Greenville, FL | 255 | 26 | 23 | 14 | 18 | 17 | 18 | 19 | 19 | 23 | 18 | 15 | 15 | 14 | 2 | 14 |
|  5 | 21 | Jason Anderson | Rio Rancho, NM | 246 | 18 | 21 | 18 | 21 | 18 | 9 | 13 | 21 | 12 | 19 | 19 | 19 | 21 | 16 | 1 |
|  6 | 27 | Malcolm Stewart | Haines City, FL | 217 | 14 | 17 | 15 | 16 | 13 | 15 | 16 | 16 | 15 | 15 | 12 | 16 | 18 | 1 | 18 |
|  7 | 15 | Dean Wilson | Murrieta, CA | 208 | 10 | 10 | 13 | 10 | 16 | 10 | 17 | 14 | 13 | 16 | 13 | 17 | 17 | 15 | 17 |
|  8 | 16 | Zach Osborne | Clermont, FL | 205 | 9 | 18 | 19 | 5 | 12 | 12 | 12 | 18 | | | 18 | 21 | 19 | 23 | 19 |
|  9 | 10 | Justin Brayton | Charlotte, NC | 199 | 15 | 15 | 16 | 17 | 10 | 16 | 14 | 2 | 11 | 13 | 14 | 14 | 16 | 11 | 15 |
|  10 | 46 | Justin Hill | Yoncalla, OR | 188 | 12 | 12 | 11 | 11 | 15 | 14 | 18 | 17 | 17 | 14 | 7 | 13 | 8 | 10 | 9 |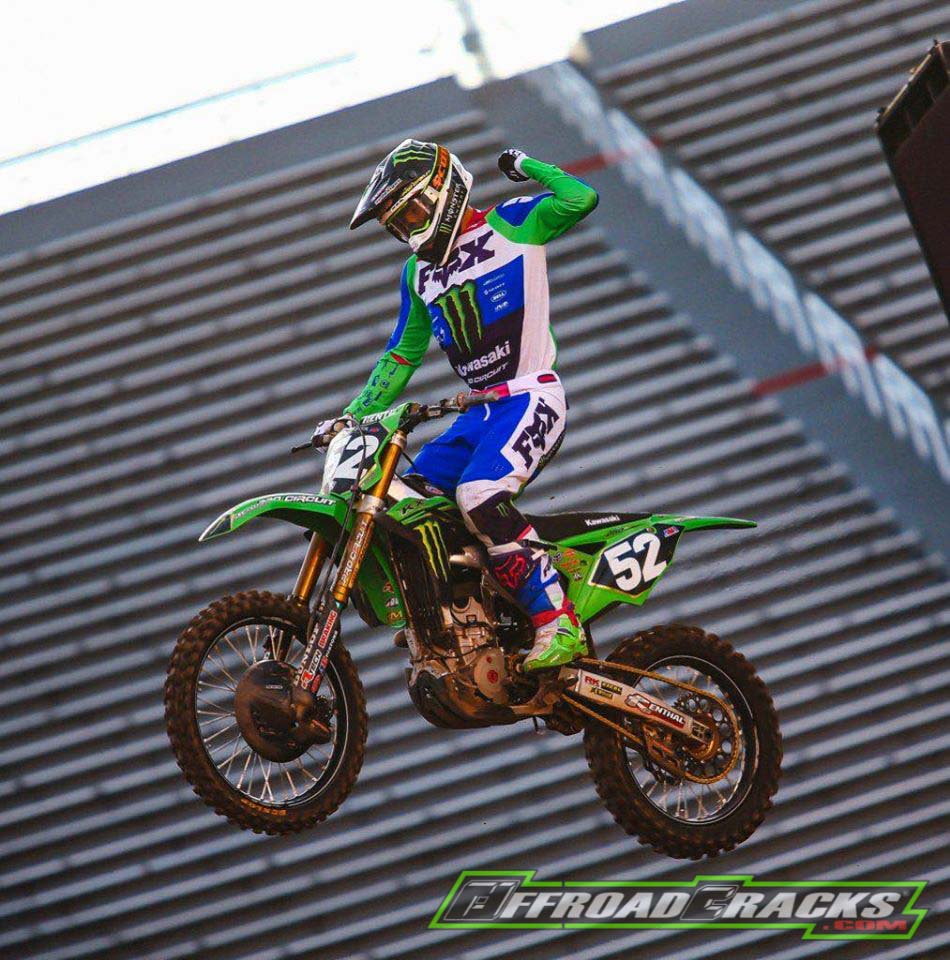 VIDEO-Highlights SX 250 – Salt Lake City #5 – 15. Rennen / Round 15

---
HINWEIS: Mit Anklicken des Videos stellen sie automatisch eine Verbindung zu Youtube/Google her, was einen ungewünschten personenbezogenen Datenaustausch mit sich bringen kann. Weitere Infos unter: www.google.de/privacy
---
ERGEBNISSE / RESULTS – Salt Lake City SX 250 (WEST) – Round 15 / Runde 15
| POS. | # | RIDER | HOMETOWN | BIKE | QUAL | HOLESHOT | LAPS LED | FINISH | POINTS |
| --- | --- | --- | --- | --- | --- | --- | --- | --- | --- |
|  1 | 52 | Austin Forkner | Richards, MO | Kawasaki KX250 | 8 | – | 8 | 1 | 26 |
|  2 | 1W | Dylan Ferrandis | Lake Elsinore, CA | Yamaha YZ250F | 13 | X | 14 | 2 | 23 |
|  3 | 83 | Jett Lawrence | Wesley Chapel, FL | Honda CRF250R | 12 | – | 0 | 3 | 21 |
|  4 | 29 | Cameron Mcadoo | Sioux City, IA | Kawasaki KX250 | 3 | – | 0 | 4 | 19 |
|  5 | 28 | Michael Mosiman | Menifee, CA | Husqvarna FC250 | 11 | – | 0 | 5 | 18 |
|  6 | 32 | Justin Cooper | Menifee, CA | Yamaha YZ250F | 2 | – | 0 | 6 | 17 |
|  7 | 35 | Hunter Lawrence | Wesley Chapel, FL | Honda CRF250R | 6 | – | 0 | 7 | 16 |
|  8 | 30 | Brandon Hartranft | Brick, NJ | KTM 250SX-F | 7 | – | 0 | 8 | 15 |
|  9 | 57 | Derek Drake | San Luis Obispo, CA | KTM 250SX-F | 5 | – | 0 | 9 | 14 |
|  10 | 62 | Christian Craig | Orange, CA | Honda CRF250R | 1 | – | 0 | 10 | 13 |
|  11 | 101 | Luke Clout | Hemet, CA | Honda CRF250R | 10 | – | 0 | 11 | 12 |
|  12 | 40 | Mitchell Oldenburg | Godley, TX | Honda CRF250R | 9 | – | 0 | 12 | 11 |
|  13 | 60 | Mitchell Falk | Costa Mesa, CA | Honda CRF250R | 15 | – | 0 | 13 | 10 |
|  14 | 55 | Martin Castelo | Murrieta, CA | Husqvarna FC250 | 16 | – | 0 | 14 | 9 |
|  15 | 90 | Killian Auberson | Winchester, CA | Husqvarna FC250 | 18 | – | 0 | 15 | 8 |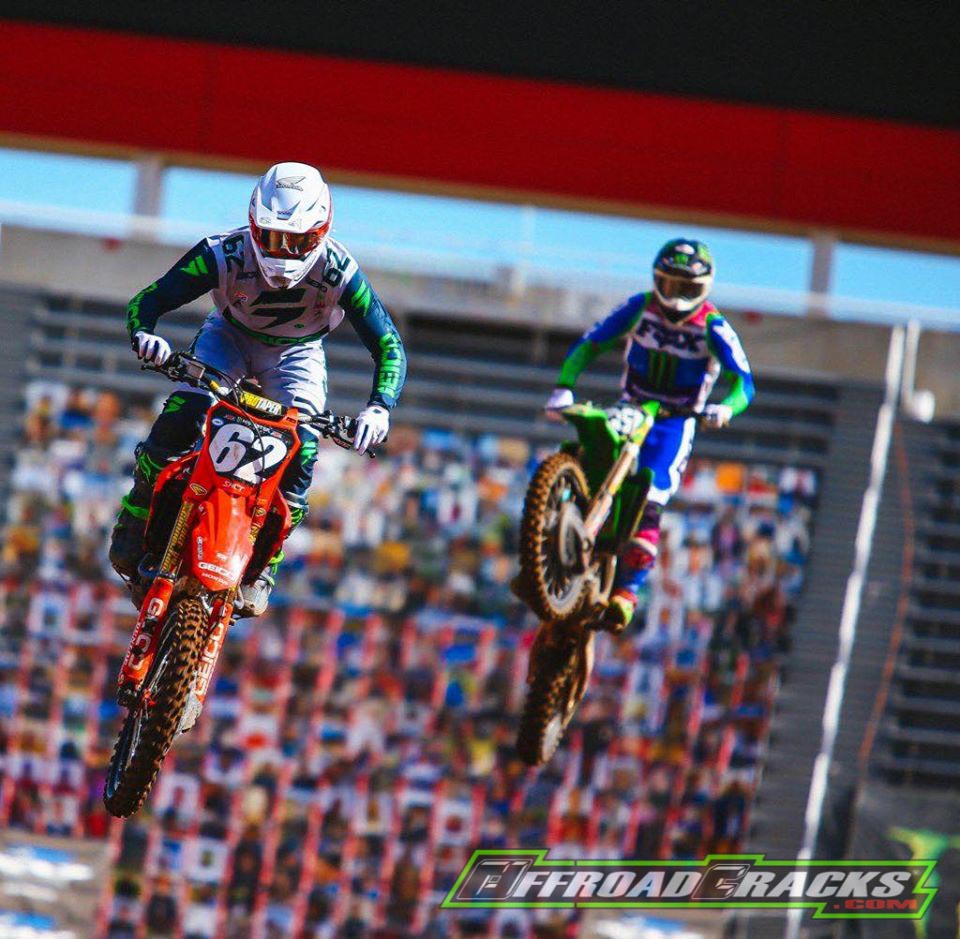 TABELLENSTAND / RIDE POINT STANDINGS – SX 250 (WEST) nach 15 Rennen / after Round 15
| POS. | # | RIDER | HOMETOWN | TOTAL POINTS | 1 | 2 | 3 | 4 | 5 | 6 | 7 | 8 |
| --- | --- | --- | --- | --- | --- | --- | --- | --- | --- | --- | --- | --- |
|  1 | 1W | Dylan Ferrandis | Lake Elsinore, CA | 181 | 23 | 11 | 26 | 23 | 26 | 26 | 23 | 23 |
|  2 | 52 | Austin Forkner | Richards, MO | 174 | 18 | 26 | 6 | 26 | 23 | 23 | 26 | 26 |
|  3 | 32 | Justin Cooper | Menifee, CA | 164 | 26 | 23 | 23 | 14 | 21 | 21 | 19 | 17 |
|  4 | 30 | Brandon Hartranft | Brick, NJ | 141 | 16 | 21 | 21 | 19 | 15 | 18 | 16 | 15 |
|  5 | 28 | Michael Mosiman | Menifee, CA | 118 | 19 | 3 | 19 | 21 | 1 | 19 | 18 | 18 |
|  6 | 26 | Alex Martin | Clermont, FL | 117 | 13 | 19 | 18 | 16 | 19 | 13 | 17 | 2 |
|  7 | 101 | Luke Clout | Hemet, CA | 106 | 2 | 16 | 17 | 13 | 18 | 17 | 11 | 12 |
|  8 | 57 | Derek Drake | San Luis Obispo, CA | 106 | 15 | 13 | 5 | 15 | 16 | 14 | 14 | 14 |
|  9 | 40 | Mitchell Oldenburg | Godley, TX | 96 | 7 | 15 | 16 | 17 | 17 | | 13 | 11 |
|  10 | 45 | Jacob Hayes | Lodi, CA | 89 | 12 | 17 | 15 | 18 | 11 | 16 | | |
|  11 | 83 | Jett Lawrence | Wesley Chapel, FL | 79 | 14 | 18 | 14 | | | | 12 | 21 |
|  12 | 95 | Carson Brown | Ravensdale, WA | 74 | 8 | 14 | 11 | 12 | 12 | 15 | 2 | |
|  13 | 55 | Martin Castelo | Murrieta, CA | 70 | | 12 | 7 | 10 | 13 | 11 | 8 | 9 |
|  14 | 29 | Cameron Mcadoo | Sioux City, IA | 67 | 17 | | | | 9 | 1 | 21 | 19 |
|  15 | 90 | Killian Auberson | Winchester, CA | 65 | 9 | 8 | 13 | 9 | 2 | 10 | 6 | 8 |
PRESSEKONFERENZ / Press conference
---
HINWEIS: Mit Anklicken des Videos stellen sie automatisch eine Verbindung zu Youtube/Google her, was einen ungewünschten personenbezogenen Datenaustausch mit sich bringen kann. Weitere Infos unter: www.google.de/privacy
---
Impressionen / Impressions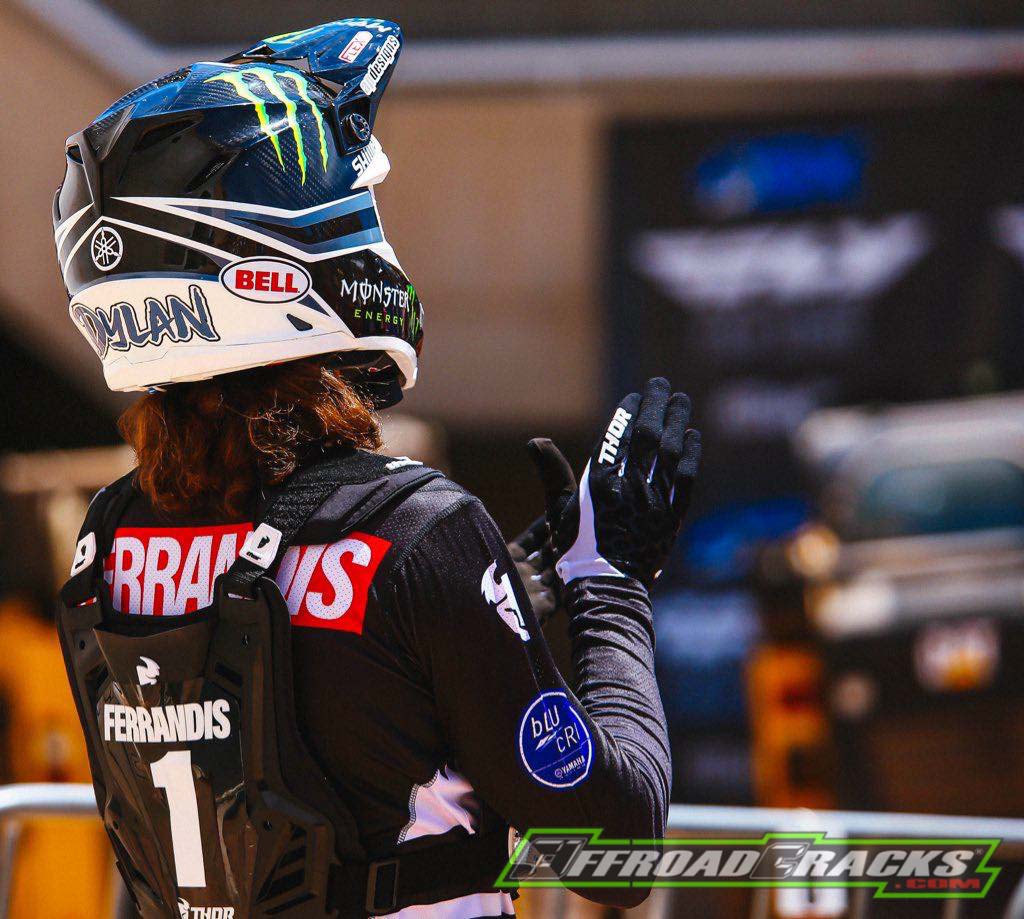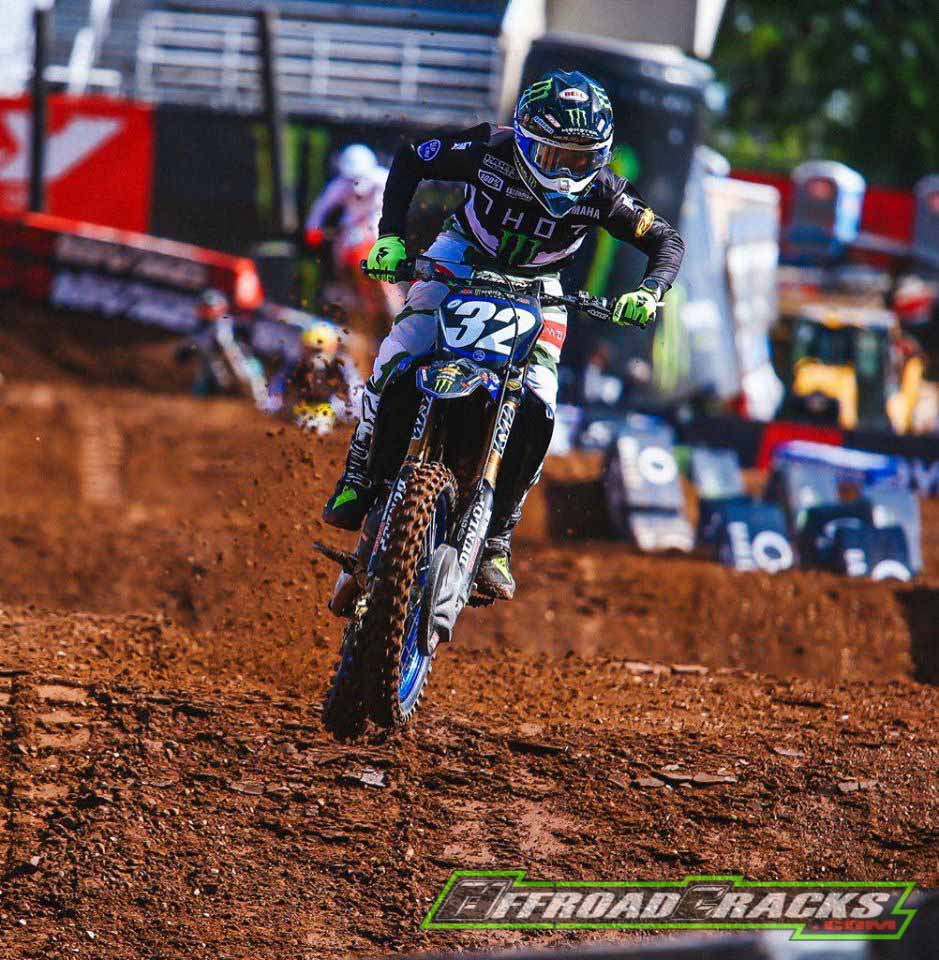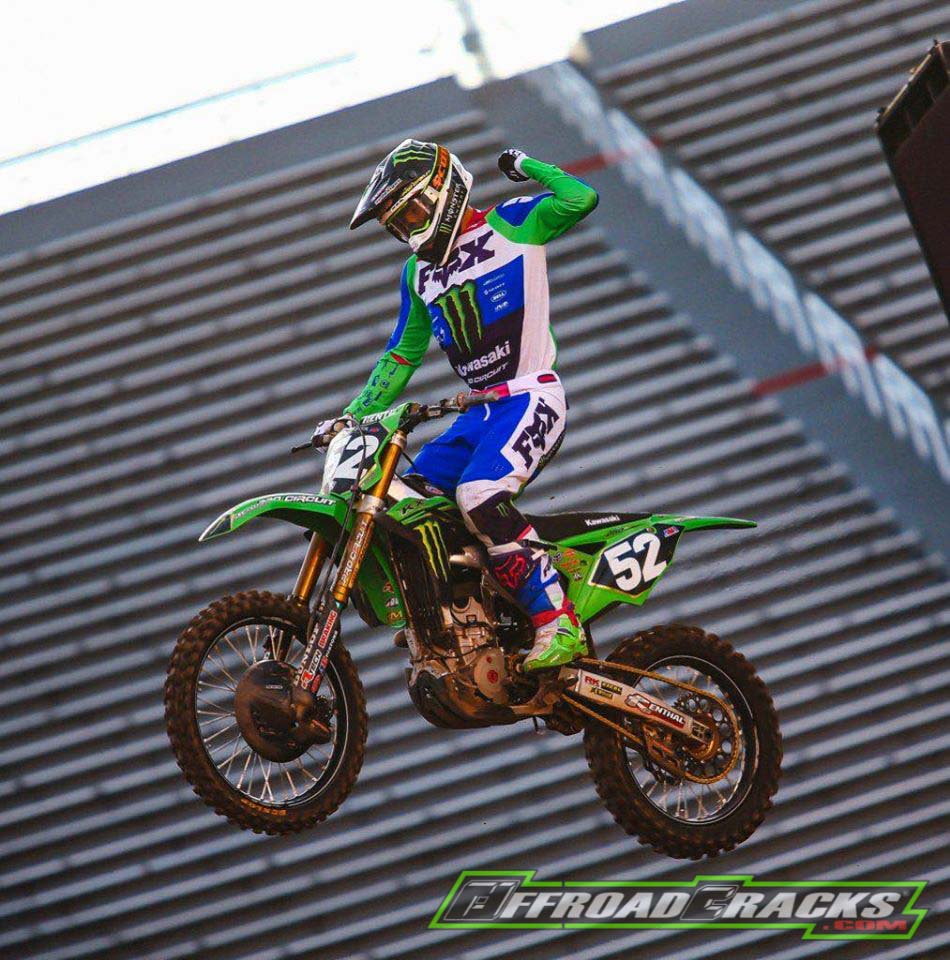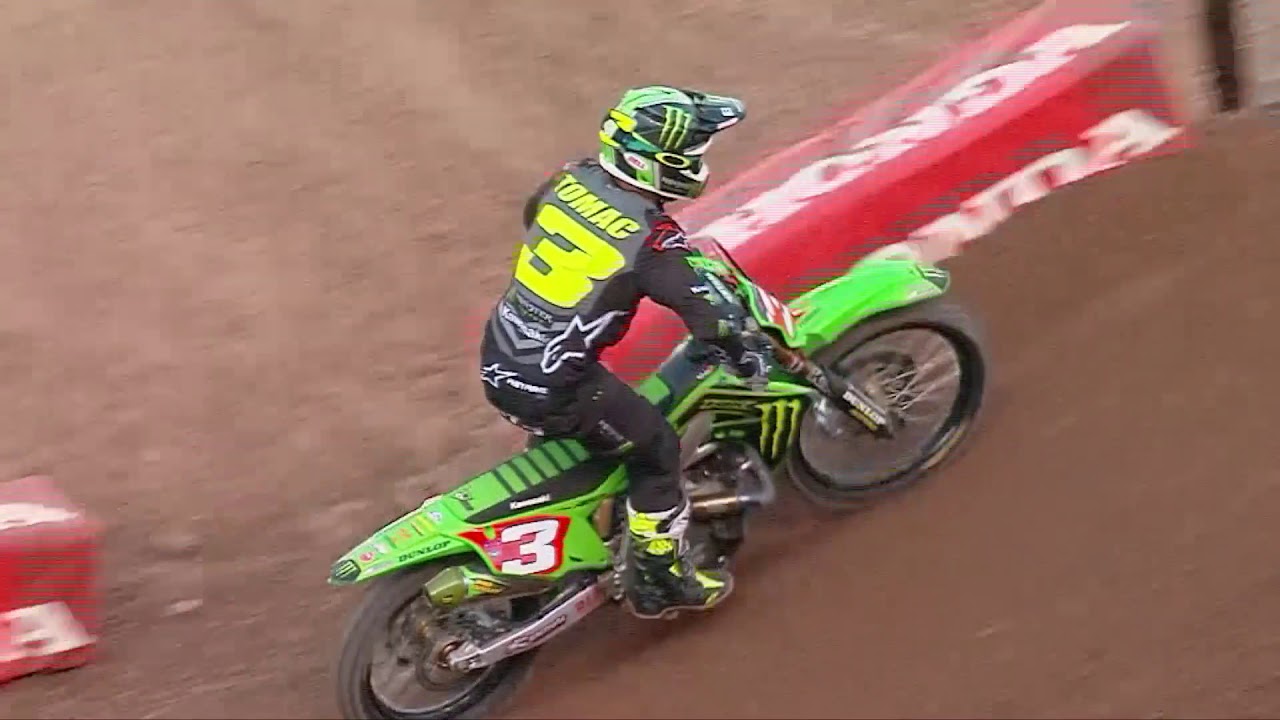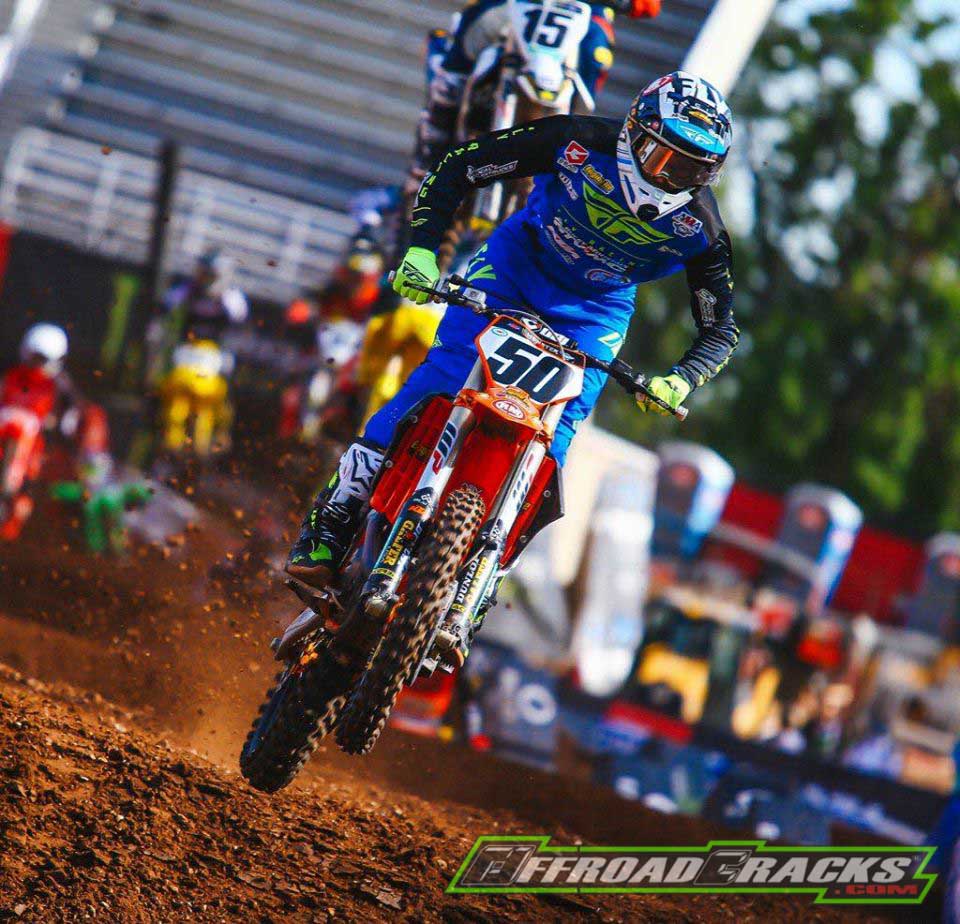 Quelle / Source: Monster Energy Supercross, Feld Entertainment