DAY 3 – GOLD CLASS 2021
---
HINWEIS: Das Video ist noch deaktiviert, damit keine unerwünschte Datenübertragung zu Youtube stattfindet. Zur Aktivierung bitte auf das Vorschaubild/Video-Link klicken. Damit werden Daten übermittelt, zu deren Art, Umfang und Verwendungszweck wir keineAuskünfte geben können.
---
NOTE: The video is still deactivated so that no unwanted data transfer to YouTube takes place. To activate, please click on the preview image / video link. This transmits data about the type, extent and purpose of which we cannot provide any information.
---

Als Martin Freinademetz im Vorfeld der 18. Red Bull Romaniacs auf einmal eine Marathon Etappe mit Übernachtung im Zelt angekündigte, haben ihn einige endgültig für verrückt erklärt. Wie immer ließ er sich davon nicht abhalten seine Idee in die Tat umzusetzen und siehe da, die Biwak Übernachtung wurde zum Hit. Sie ermöglichte es noch tiefer in die Karpaten vorzudringen und atemberaubend schönes Hard Enduro Terrain zu erschließen. Nachdem Manuel Lettenbichler (GER) den ersten Teil der Marathon-Etappe dominieren konnte, war der zweite Teil ganz nach dem Geschmack von Wade Young (ZAF). Teodor Kabakchiev (BGR) beeindruckt weiter und konnte am dritten Offroad Tag den Speed der Spitzengruppe bis ins Ziel mitgehen. Dafür wurde er mit dem ersten Tages-Podium seiner Romaniacs-Karriere belohnt.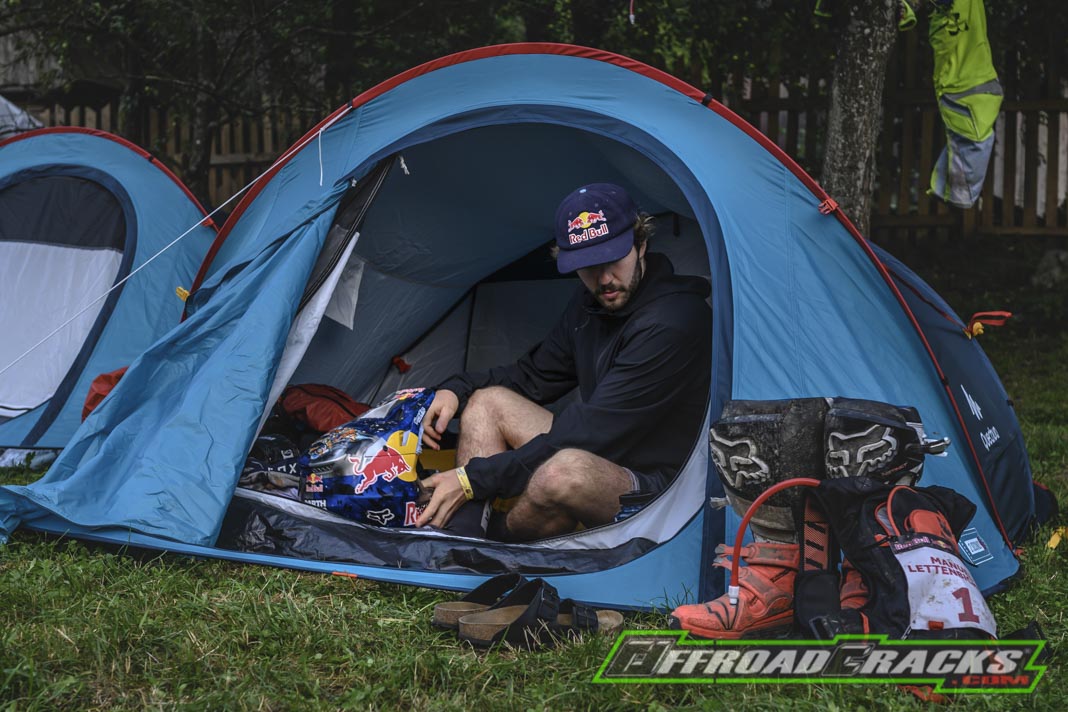 Die Veranstalter hatten sich richtig ins Zeug gelegt, den Fahrern die Nacht im Camp so angenehm wie möglich zu machen. Die Location im "Alba County" hätte nicht schöner gewählt werden können. Die Zelte standen in einem grünen Tal umgeben von Wäldern und Bergen der Karpaten. Die Teilnehmer konnten sich nach der heißen Rennaction im kühlen Fluss erfrischen, bevor sie sich zum Abendessen im großen Gemeinschaftszelt versammelten. Traditionelle transsylvanische Küche und ein ganzes Kalb vom Grill sorgten für die nötige Stärkung.
Manuel Lettenbichler: "Die Nacht im Biwak ist vorbei. Es war ein cooles Erlebnis und die Stimmung unter den Fahrern sehr gut. Ich habe erstaunlich gut geschlafen und bin bereit für den dritten Offroad Tag."
FAHRERLAGER-STIMMEN
---
HINWEIS: Das Video ist noch deaktiviert, damit keine unerwünschte Datenübertragung zu Youtube stattfindet. Zur Aktivierung bitte auf das Vorschaubild/Video-Link klicken. Damit werden Daten übermittelt, zu deren Art, Umfang und Verwendungszweck wir keineAuskünfte geben können.
---
NOTE: The video is still deactivated so that no unwanted data transfer to YouTube takes place. To activate, please click on the preview image / video link. This transmits data about the type, extent and purpose of which we cannot provide any information.
---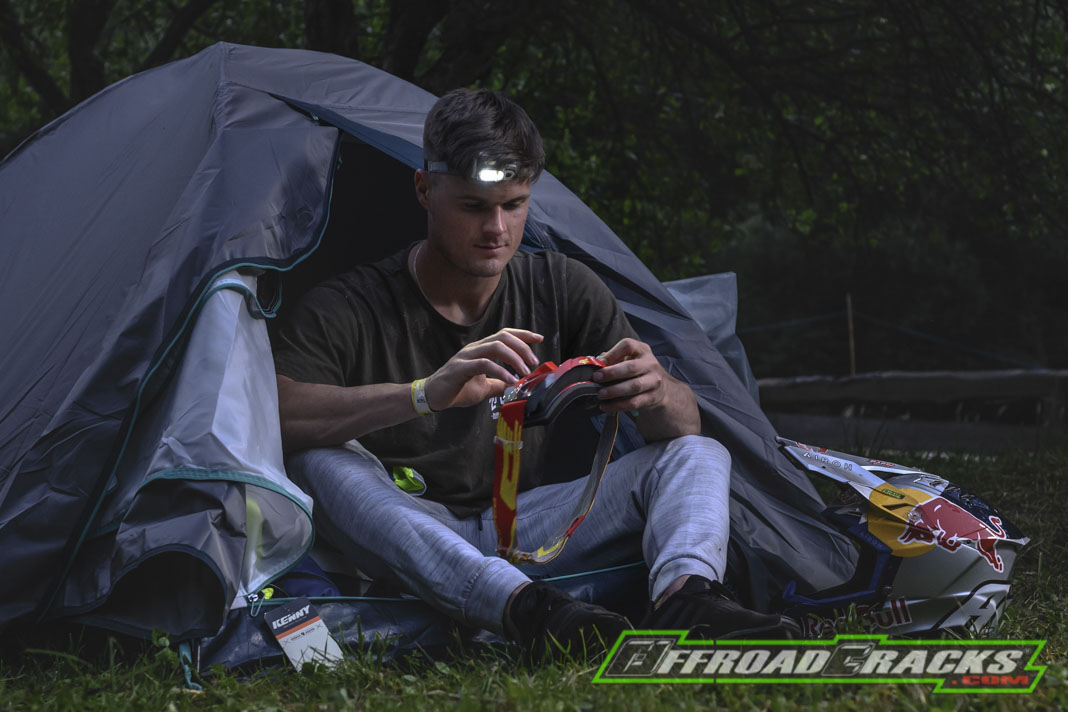 Die verschiedenen Klassen starteten von drei unterschiedlichen Locations in den dritten Offroad Tag. Nach einer knallharten Strecke gestern, begann der Tag für die Gold-Klasse heute mit schnelleren Abschnitten. Nach einer angenehmen Aufwärmphase wurden sie mit den Sektionen "AK47" und "Bastard" konfrontiert. Wer schon einmal selbst am Start der Romaniacs stand, weiß dass diese Namen zu Beginn einer Sektion nie etwas gutes verheißen. Der Führende Manuel Lettenbichler startete heute als Erster und musste die Strecke eröffnen. Hinter ihm jagten Wade Young, Billy Bolt (GBR) und Mario Roman (ESP) seinen Spuren hinterher. Diese erleichterten ihnen die Navigation und so konnten sie bis zum Service-Punkt etwas Zeit gut machen.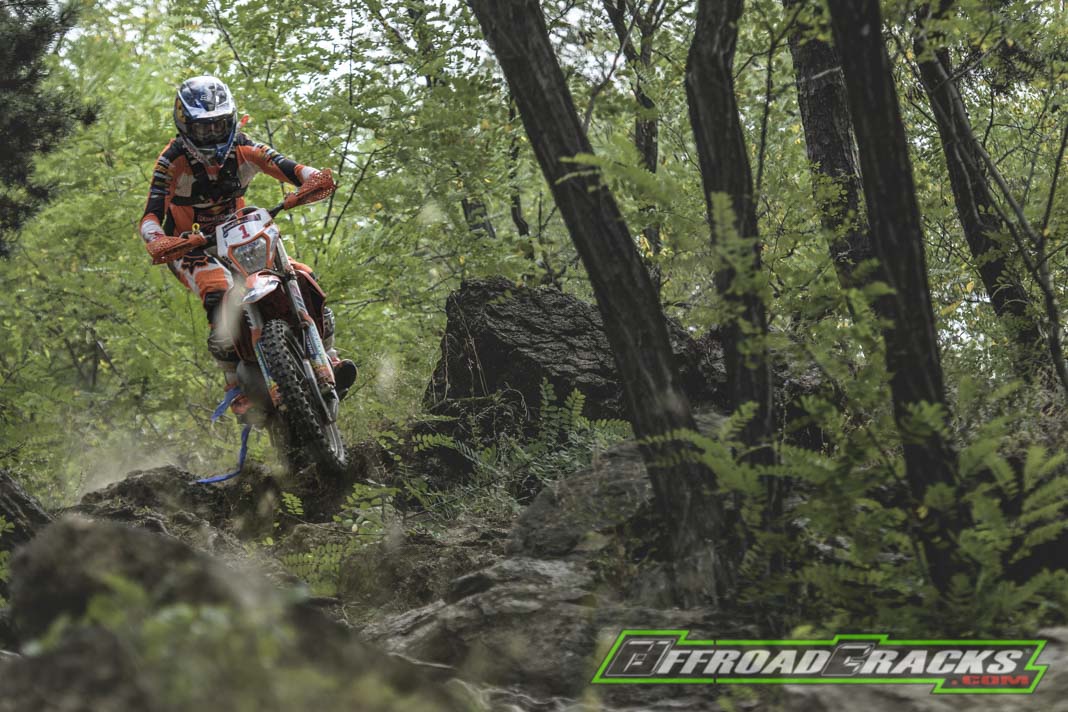 Hier wurden die Fahrer und ihre Teams zum ersten Mal seit dem gestrigen Service-Punkt wieder vereint (das Camp war nur für Fahrer). Die Mechaniker und Helfer bekamen satte 40 Minuten Zeit dafür, ihre Schützlinge für den restlichen Tag wieder fit zu machen.
Das war auch gut so, schließlich lauerten danach die Knackpunkte des Tages. Im bekannten "Decebal" Gebiet wartete mit "Brother of K2" ein weitere ikonische Romaniacs-Sektion. Insgesamt war der Tag für die Gold-Fahrer weniger anstrengend als die Tage zuvor. Für viele war es nach den Qualen vorm Vortag ein Schritt zur Versöhnung mit Martin Freinademetz und seinen Strecken-Managern. Wade Young gab zwischen den harten Abschnitten alles und konnte das hohe Tempo bis ins Ziel durchziehen, dafür wurde er mit dem Tagessieg belohnt. Mit derselben Taktik fuhren einige junge Fahrer ihr bislang bestes Tagesergebnis ein: Michael Walkner (AUT), Dominik Olszowy (POL) und Trystan Hart (CAN) belegten die Plätze 8 bis 10.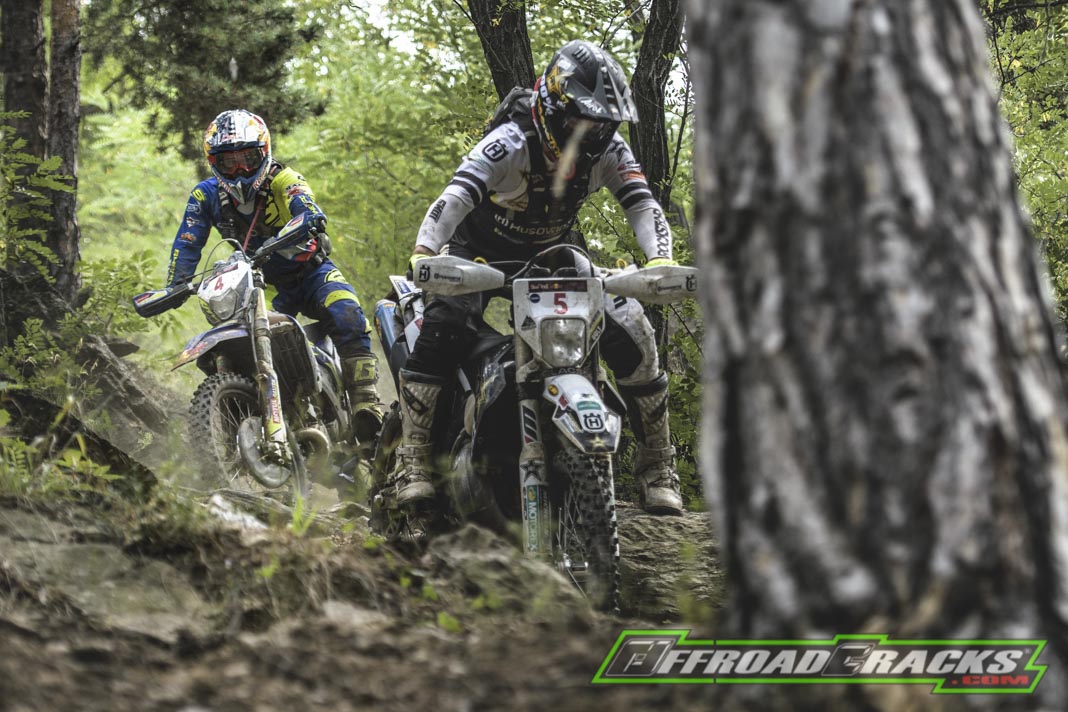 Teodor Kabakchiev mischte sich die letzten Tage regelmäßig unter die Führungsgruppe, schaffte es jedoch nicht deren Pace bis zum Ende mit zu gehen. Das sollte sich heute ändern, im Ziel markierte der junge Bulgare die drittschnellste Zeit. Billy Bolt scheint sich endgültig mit den Romaniacs angefreundet zu haben und wurde Zweiter. Manuel Lettenbichler wurde zwar bis ins Ziel nicht überholt, seine Zeit reichte jedoch nur zum vierten Platz. Das wird er jedoch verschmerzen können, schließlich führt er die Gesamtwertung immer noch mit 23 Minuten vor Wade Young an.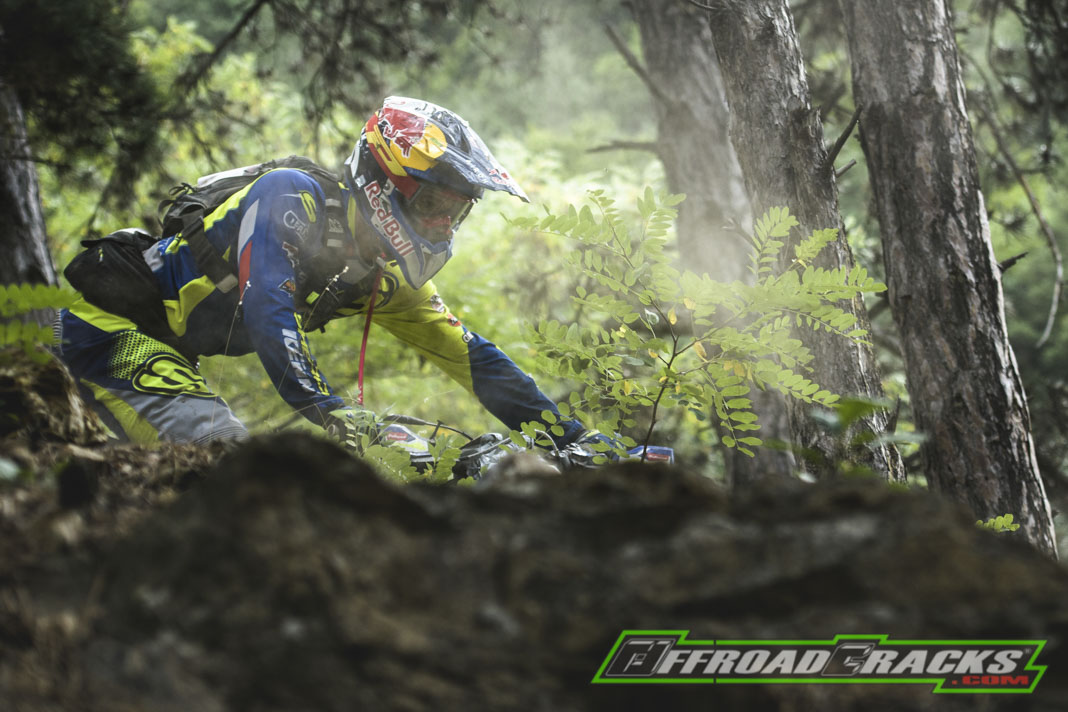 Auch die Fahrer der Silber-Klasse mussten heute nicht ganz so tief in die Trickkiste greifen und durften die meiste Zeit über das schöne Terrain auf dem Rückweg in die Zivilisation genießen. Der Einstieg in die Sektion "Cambodia" sorgte dann doch noch für das gewohnte Hard Enduro Chaos. Wie in den letzten Tagen wurde die Klasse auch heute wieder von Nick Fahringer (USA) dominiert. Dahinter beanspruchten Toni Mulec (SVN) und Jamie Lewis (GBR) die Plätze 2 und 3 für sich.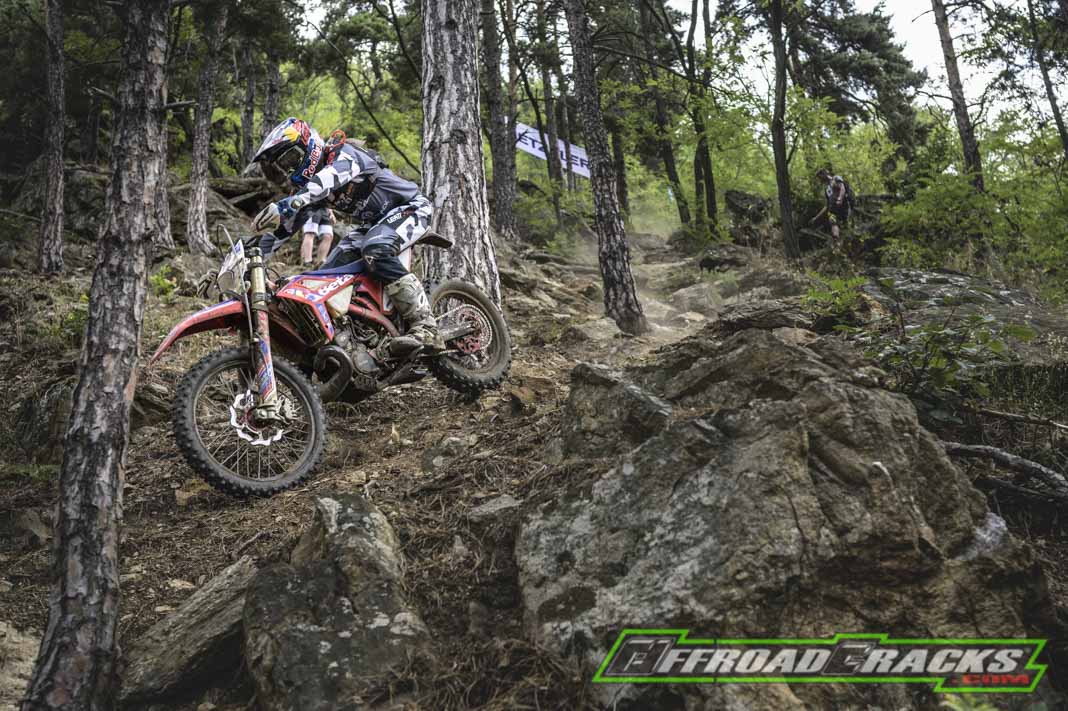 Pol Tarres konnte sich ein Lächeln nicht verkneifen, er erlebte den bisher besten Tag mit seiner Yamaha Tenere 700 und kam auf Platz 24 von 197 ins Ziel: "Ich konnte es heute wirklich geniessen und habe einen guten Flow gefunden. Jede Auf- und Abfahrt bleibt aber eine Herausforderung und ich frage mich immer was wohl passieren wird. Ich fühle mich sehr gut auf dem Bike und will morgen den Gusterita Hill Climb versuchen. Ich weiß zwar nicht ob es machbar ist, aber ich will  es auf jeden Fall versuchen, wir werden sehen!"  Artem Kuncevich (BLR) hatte am Ende des Tages die schnellste Zeit der Bronze Klasse vorgelegt.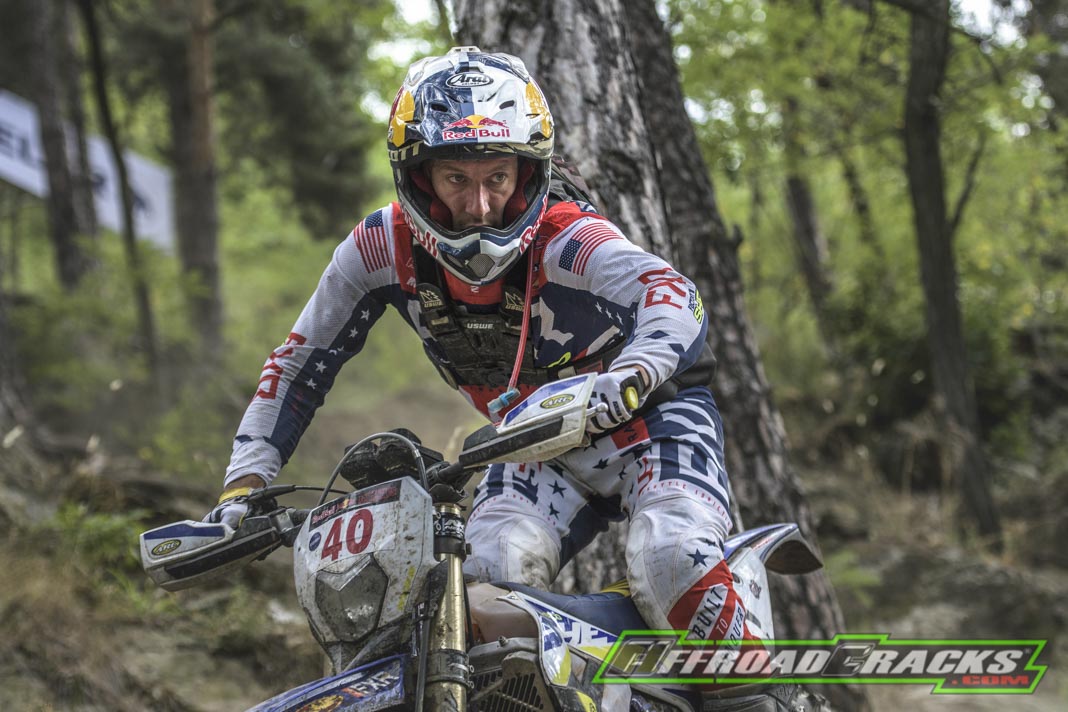 Die Iron- und Atom-Klasse fuhren durch das schöne Cindrel-Gebirge und hatten es in den Wäldern immer wieder mit nassen Baumstämmen und Wurzeln zu tun. Tjaša Fifer (SVN) kennt sich als Mountainbike Rennfahrerin mit nassen Wurzeln bestens aus, kam mit den Bedingungen gut zurecht und gewann die Iron-Klasse. In der Gesamtwertung hat sie jetzt einen Vorsprung von fünf Minuten, Dmitry Akhmanaev (RUS) war in der Atom-Klasse heute nicht zu schlagen und holte sich mit knapp 4 Minuten Vorsprung den Tagessieg.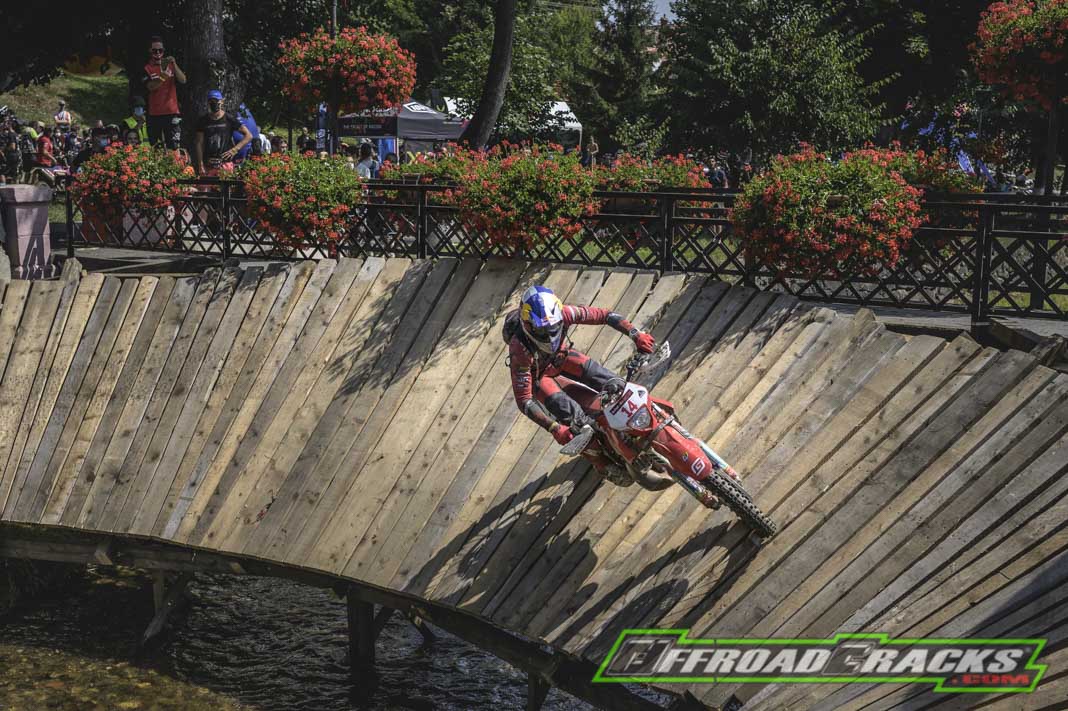 Mit dem heutigen Zieleinlauf waren alle zurück in der Zivilisation angelangt. Vorbei an einer Festung ging es hinunter in die Stadt Saliste. Dort wurde eine spektakuläre Zieleinfahrt inklusive Wallride über einen Fluss aufgebaut. Zum ersten Mal kamen die Fahrer vor den Augen der Zuschauer im Red Bull Zielbogen an.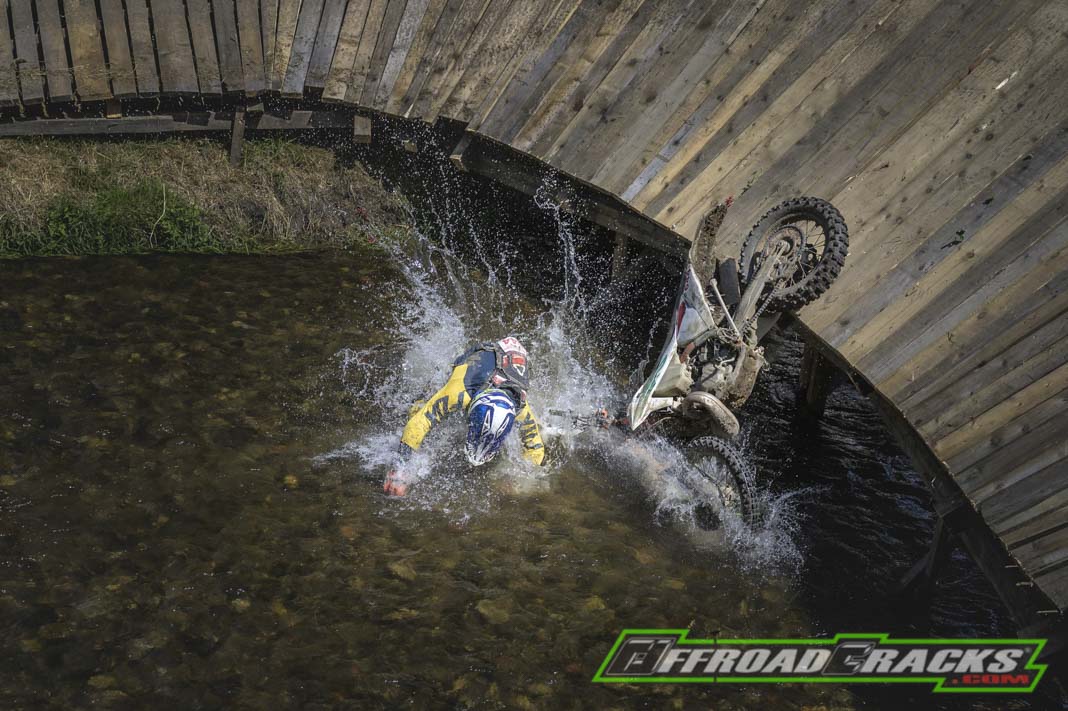 Nach dem Tag heute, sollte allen klar sein, dass es morgen kein Spaziergang ins Ziel geben wird. Auf die Fahrer der Gold-Klasse warten wieder rekordverdächtig viele Sektionen wie zum Beispiel: "Kiwi Hill", "F*#k you Teo", "Antifreeze" und das "Wolfsnest". Strecken-Manager Teo Isac und sein Team haben auf dem Weg zum Service-Punkt in die Arena Platos noch ein paar weitere Asse im Ärmel versteckt. Von dort aus geht es dann zurück nach Sibiu. Das Ziel der Rallye befindet sich wieder am legendären "Gusterita Hillclimb", der letzten Herausforderung der 18. Red Bull Romaniacs "Vertical Madness Reloaded".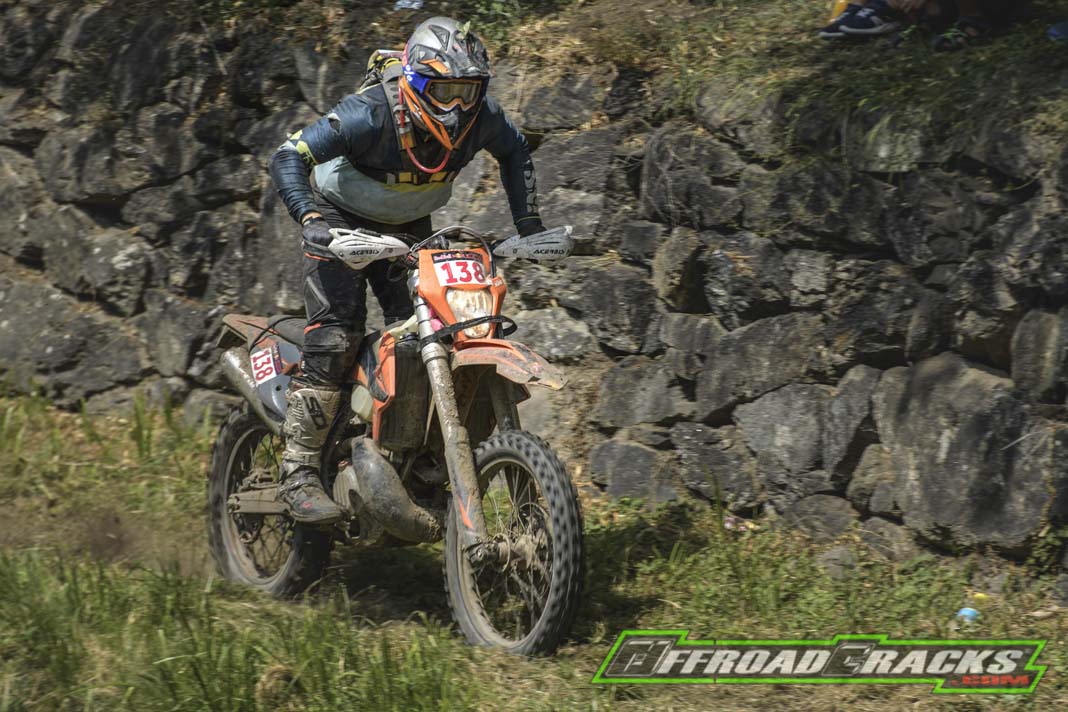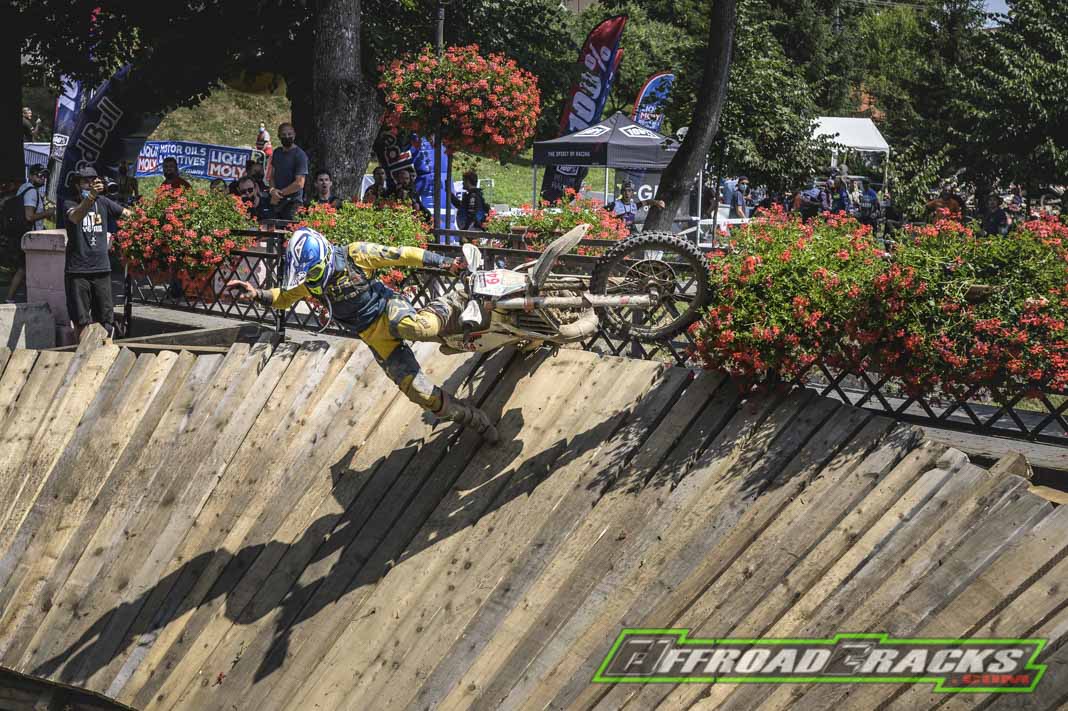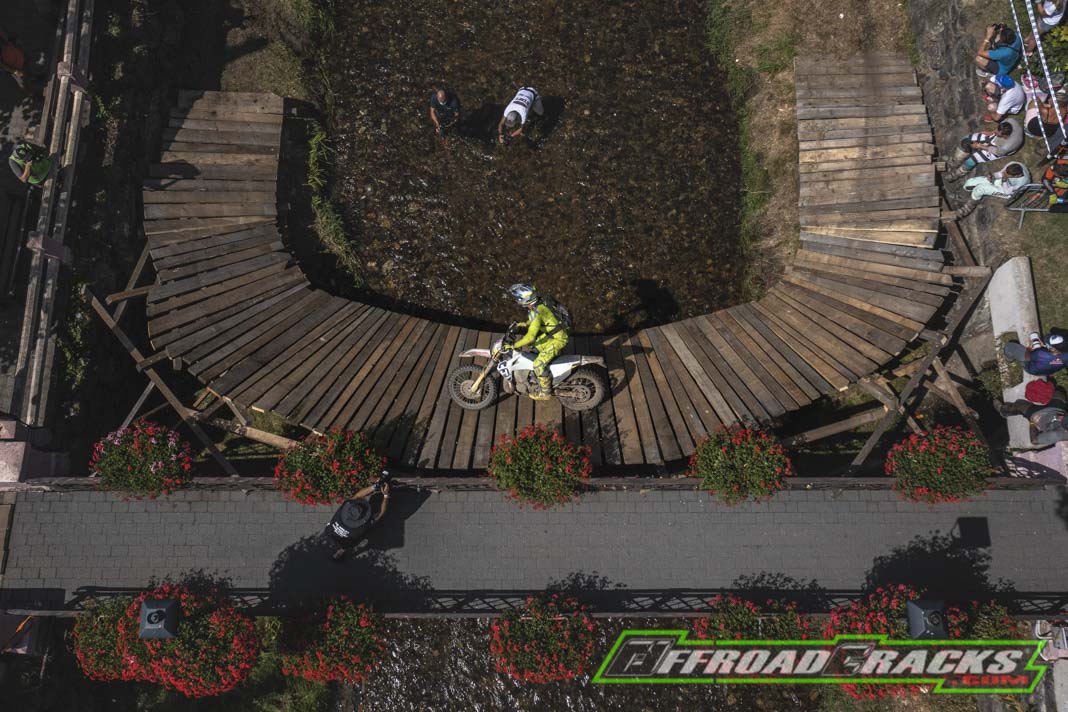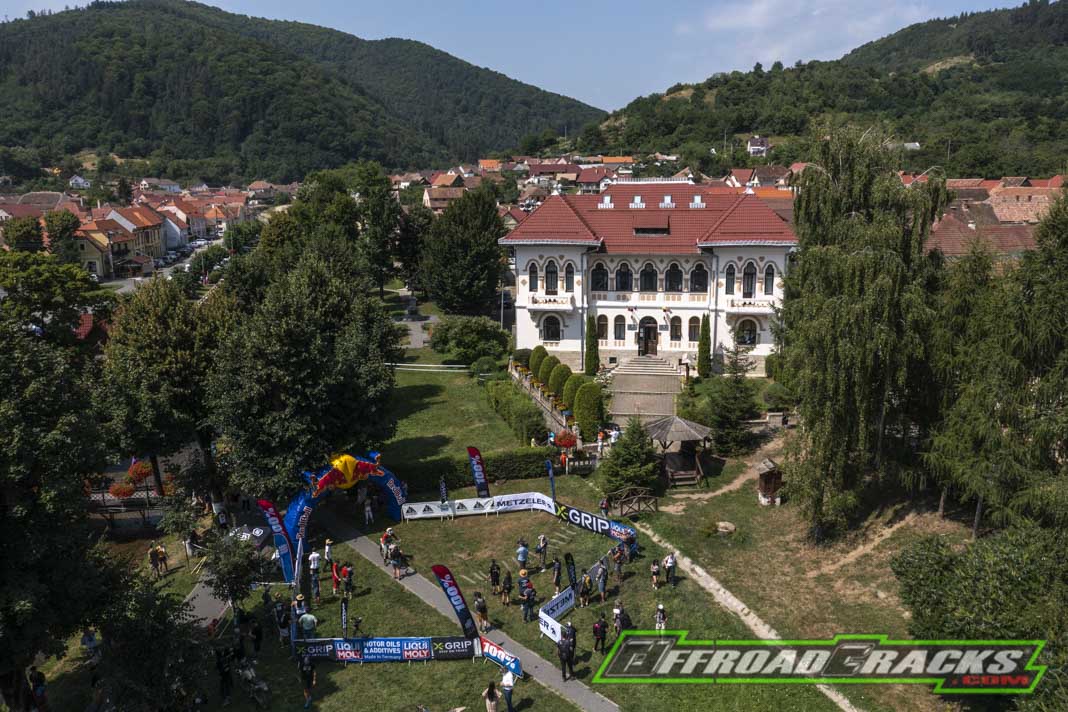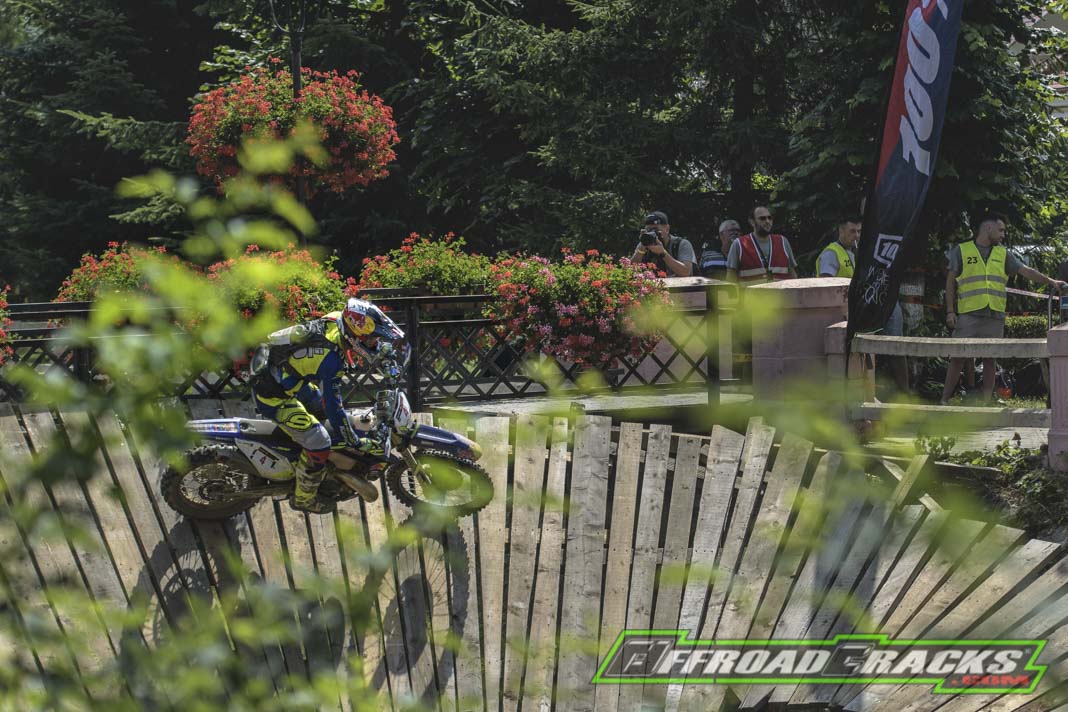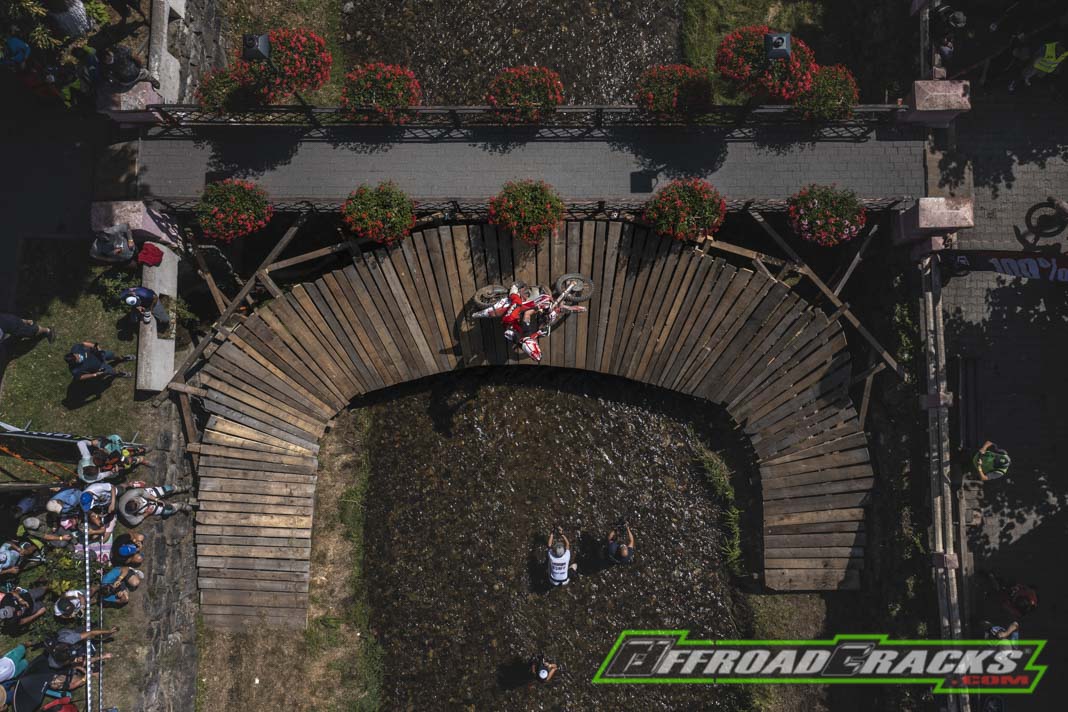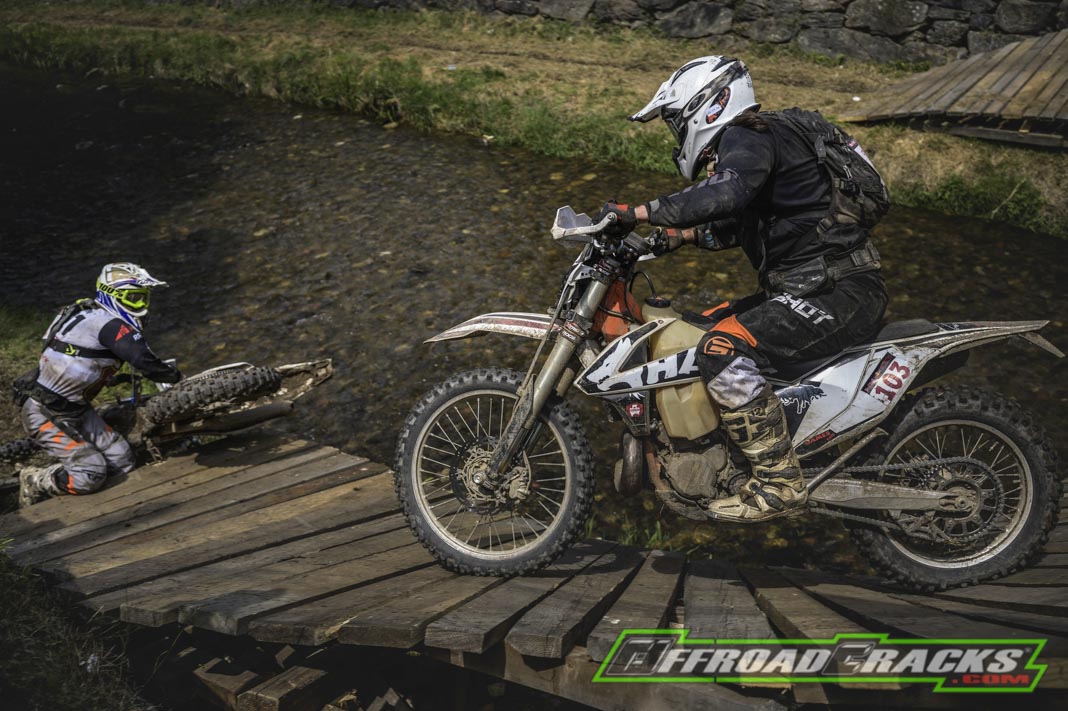 Alle Ergebnisse / Alle results: LINK
---

Some may have questioned the sanity of Martin Freinademetz when he announced he was introducing a marathon stage to the Red Bull Romaniacs, something that has never been done before, especially considering it is already the toughest 5 day hard enduro rallye out there. Had he lost it? Was it a crazy idea or a brilliant one? All doubts were put to rest after this unique marathon stage between Offroad Day 2 and Offroad Day 3 at the Vertical Madness Reloaded edition was more than a hit.
Situated in Alba Country deep in the mountains, tucked in a remote valley surrounded by forests the riders came across their overnight "lodgings". It was a step above what most had expected, with communal dining marquees, beer tents, entertainment areas and campfire pits. The fresh water "bathtub", taking the form of a river, flowed next to the site and riders could take a refreshing soak after yesterday's hot, gruelling race day. The weather was perfect, riders ate traditional cuisine with veal roasts on the menu and the overall feeling was that the marathon stage was a huge success.
At dawn riders packed up and at 07:00 am they were ready to race directly out from the "one night stand" bivouac location. For the Gold class it was quite a different morning as they found themselves on faster, more fluid tracks than the onslaught of extreme terrain they were dealt yesterday.
With his riding buddy out of the race, Mani Lettenbichler (DEU) set out at the start of the day as a lone wolf in the lead. While still being presented with a fair share of technical sections, such as "AK-47" and the "Bastard" the Gold tracks were faster in the morning and the rest of the pack were able to close the gap. Wade Young (ZAF), Billy Bolt (GBR), Mario Roman (ESP) were battling together for most of the morning. Mani hoped to maintain his advantage after the Service Point where the tracks became more technical with the classic Red Bull Romaniacs signature section "Brother of K2" and the steep sections in the Decebal area, but most of the riders knew that today was the day to make up time, not knowing what would be in store for tomorrow. Jonny Walker (GBR) did make up some time and found his groove later in the day but it wasn't soon enough. Without the same physical exhaustion as yesterday, the young, wild ones were able to make their move and infiltrate the top dogs, finishing the day in the top ten with Teodor Kabakchiev (BGR) in 3rd place, Michael Walkner (AUT) in 8th, Dominik Olszowy (POL) in 9th, Trystan Hart (CAN) in 10th.
It was Wade Young who came through the finish first today followed by Billy Bolt and a surprising 3rd position for Teodor Kabakchiev, giving more reason for the top guns to feel the heat from the young ones. Overall lead is still in the hands of Mani by 23 minutes.
The Silver class also found that they did not have to dig quite as deep as the previous Offroad days and were able to pin it in places and follow tracks that hugged the forests. Nick Fahringer (USA) dominated in the class again today coming in first position, followed by Toni Mulec (SVN) in 2nd and Alessandro Jamie Lewis (GBR) in 3rd.
Pol Tarres could not stop smiling as he had the most enjoyable day yet, bravely piloting his Yamaha Tenere 700 to the finish in 24th position out of 197 Bronze riders who started this morning, placing him 21st overall. "I really enjoyed it today, all the time is a new challenge, every up- and downhill is like "what just happened"?! Many times in the day I can ride with a lot of flow. Today was most enjoyable, with a lot of good feelings. Tomorrow I will try the Gusterita Hill climb but I really don't know if i can do it, I'll try for sure, we'll see"
Bronze class results: 1. Artem Kuncevich (BLR), 2. Bogdan Butiu (ROU), 3. Kilian Zierer (AUT)
Iron and Atom class followed some fast tracks from Alba county and the Cindrel mountains passing through the Marginimea Sibiului area. There were some technical sections in the forests where wet logs and roots caught a few by surprise. The results were – Iron: 1. Tjaša Fifer (SVN), holding an overall 3 minutes lead, 2. Timo Hermlin (EST), 3. Artem Negrashov (RUS) and Atom: 1. Dmitry Akhmanaev (RUS), 2. Roman Kurbatov (RUS) and 3. Donald Melvin (USA)
Sandra Gomez (ESP) successfully crossed the finish line in 30th position, placing 27th overall. Meanwhile her fellow female competitors in Iron and Atom classes also reached the finish of Offroad Day 3.
Today's finish brought competitors back into civilization,  passing by a Dacian fortress and descending into the city of Saliste and finishing in front of spectators who stood cheering along the river as they crossed the finish arch.
The overall feeling after Offroad Day 3 is that Martin regained the confidence of a few Gold riders today after he tried to "Kill 'em all" yesterday! However, Offroad Day 4 is yet to come and riders realize it is not about to get any easier, signature sections like "Kiwi Hill", "F*#k you Teo", "Antifreeze" and the "Wolfsnest" will present extreme challenges and hard enduro nightmares. Service Point will be at the scenic Arena Platos ski resort and the famous Gusterita Hillclimb, with a few surprises thrown in by Andy Fazekas, will be the final challenge for this year's Vertical Madness Reloaded 18th edition of Red Bull Romaniacs.
Alle Ergebnisse / Alle results: LINK
Quelle / Source: RB Romaniacs