Bislang war es ja kein Einfaches den Zetros überhaupt in Europa aktuell noch zu bekommen, da entweder die Emissionswerte nicht mehr eingehalten wurden oder einfach zu teuer und zu selten. Ob es jetzt nun billiger in der Anschaffung wird lässt sich sicherlich bezweifeln. Doch endlich hat der Zetros eine zeitgemäße Motorisierung mit über 500 PS erhalten und generiert satte 2400 Newtonmeter Drehmoment. Ein Wort für den Rallye-Einsatz, so wie wir es schon bei der Rallye-Breslau unter polnischer Führung vor einigen Jahren geniesen durften? Man wird sehen…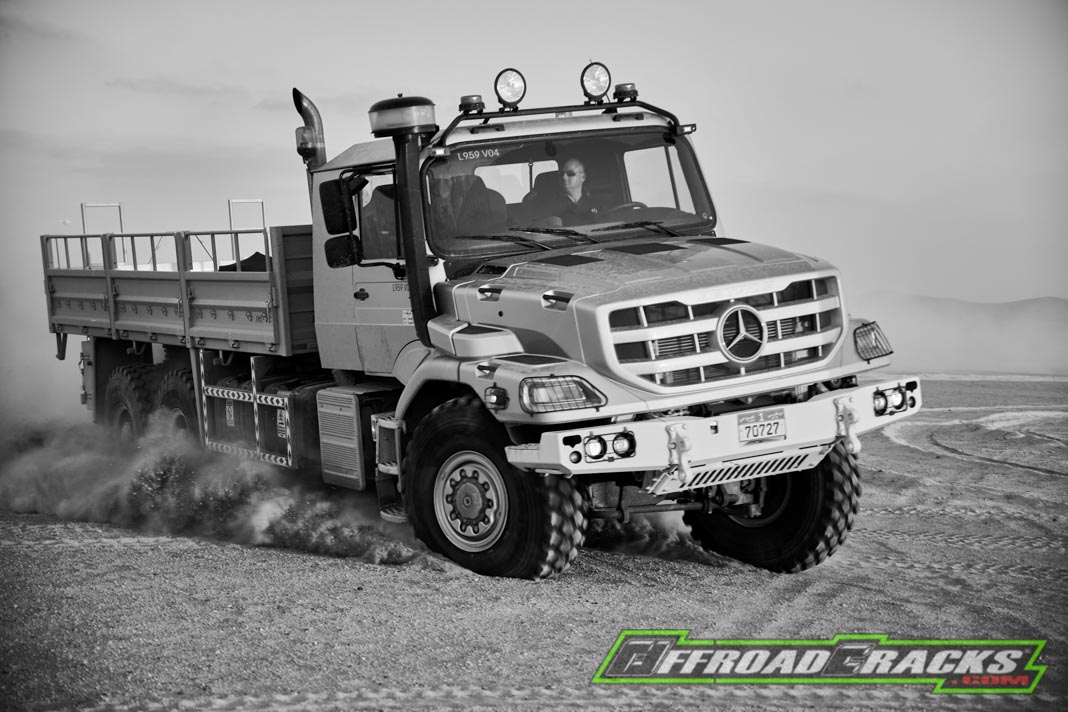 Weltpremiere der Neuen Generation des Mercedes-Benz Zetros. Der robuste Geländespezialistist geschaffen für denTransport von Gütern in schwerem und unzugänglichem Terrain. Konzipiert ist der hochgeländegängige 40-Tonnen-Lkw für den harten Einsatz in Märkten mit hohem Off-Road-Anteil. Der neue Zetrospräsentiert sich jetzt komplett runderneuert: technisch verfügt die neue Zetros Generation über stärkere Motoren bis maximal 375 kW (510 PS) und über ein sattes Drehmoment von 2400 Nm. Äußerlich erkennt man den neuen Zetros am neu gestalteten markanten Kühlergrill, der durch optimierte Luftführung eine noch effektivere Kühlung ermöglicht. Der neue Zetros zeichnet sich mit seinem permanenten Allradantrieb durch eine extreme Geländegängigkeit aus.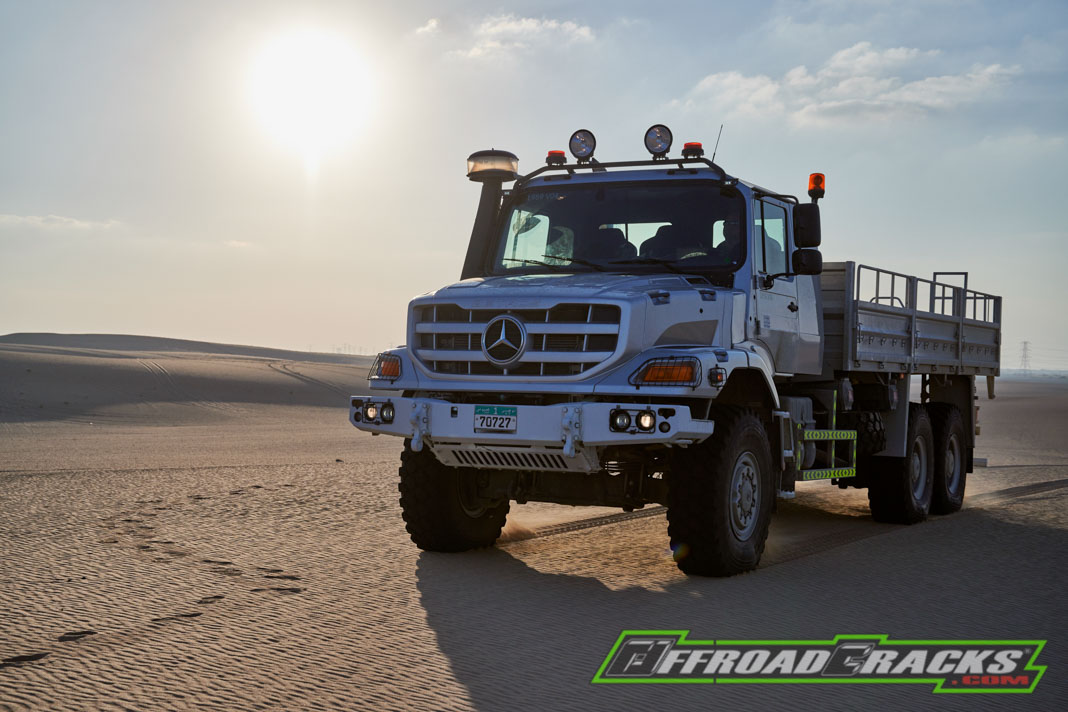 Er verfügt über zahlreiche Detailverbesserungen, wie beispielsweise einen leichteren Einstieg odereine neu gestaltete Armaturentafel.
Auch der neueZetros ist in Euro III und Euro V für Märkte mit unzureichender Kraftstoffqualität lieferbar und findet seine Hauptabsatzmärkte daher in Regionen wie Nahost, Afrika oderLateinamerika. Der Mercedes-Benz Zetros ist ein Schwerlast-Lkw, der für die anspruchsvollsten Transportaufgaben mit hoher Nutzlast ausgelegt ist. Daher findet er Anwendung in der Energieexploration, Versorgung von abgelegenen Gebietenund im Forschungseinsatz. Der neue Zetros kann weltweit in allen extremen Klimaregionenim Einsatz sein – von heißen Wüstenregionen bis zur Arktis.
---

World premiere of the new-generation Mercedes-Benz Zetros. The robust off-road specialist is made for transport goods in tough and inaccessible terrain. The highly capable 40-tonne off-roader has been designed specifically for operations in markets with a high proportion of off-road use. The new Zetros has been completely re-worked all-round: from a technical standpoint, the new-generation Zetros comes equipped with more powerful engines capable of delivering as much as 375 kW (510 hp) as well as a pleasing 2400 Nm of torque. On the outside, the new model generation is discernible from the striking, restyled radiator grille which, thanks to optimised air-flow guidance, ensures even more effective cooling. The new Zetros is characterised by extreme off-roading capabilities which result from its permanent all-wheel drive system. It features numerous detail improvements, including such things as easier access to the cab or a re-designed instrument panel.
Just as before, the new Zetros remains available in Euro III and Euro V variants for markets with poor fuel quality and thus finds its principle markets in regions like the Middle East, Africa or Latin America. The Mercedes-Benz Zetros is a heavy-duty truck which has been developed for demanding transport tasks involving high payloads. This is why it is often used for delivering supplies to remote regions, as well as in energy exploration and in forestry operations. The new Zetros can be used the world over in all manner of extreme climates – from hot desert regions right up to the Arctic.
Quelle / Source: Mercedes Benz