RALLYSCHNUPPERN – kleine Maßnahmen, großer Effekt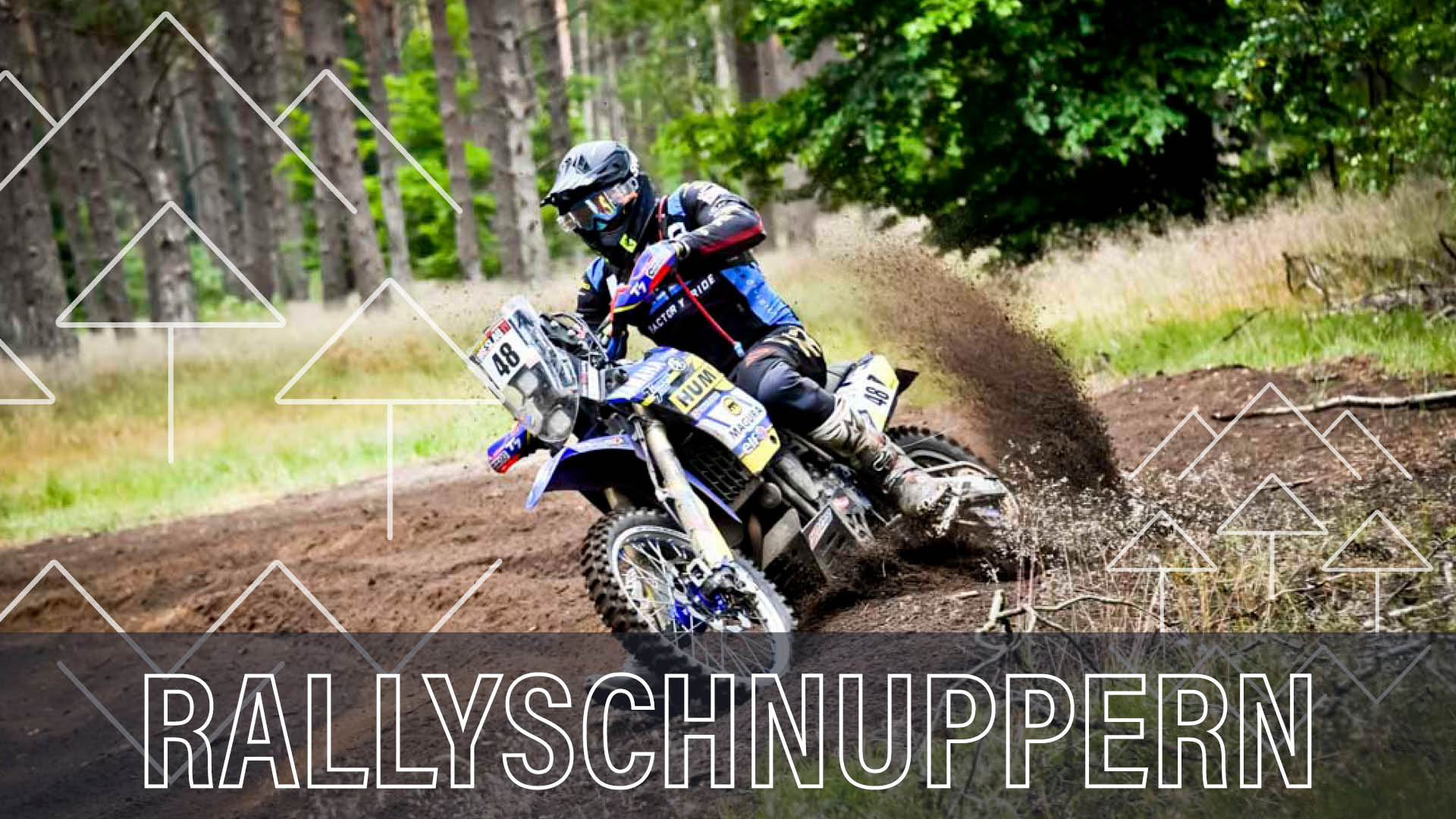 Lernen vom Profi – Rally Workshop mit Sascha Christof
Rally fahren – das klingt hart und schweißtreibend, das klingt nach Mut, Können und unerhörtem Tempo im Gelände. Klingt verlockend, aber irgendwie unerreichbar?
Na, dann schnupper doch mal! Am Touratech Travel Event vom 9. bis 11. Juni 2023 nimmt Rally Profi Sascha Christof Dich mit auf eine erste Exkursion in die Rally-Welt. Du erfährst, wie Du Dich im Gelände lockerer, flotter und gleichzeitig sicherer bewegen kannst – und was das sowohl mit Deiner Fahrtechnik als auch mit Deiner Fahrwerkseinstellung zu tun hat. Übrigens: Diese Fahrtechniken bringen Dir auch einen enormen Sicherheitsgewinn und gesteigerten Fahrspaß auch mit Gepäck und natürlich beim Fahren mit Sozius/Sozia bei gleichzeitig deutlich weniger körperlicher Anstrengung.
Spaß und Sicherheit stehen an erster Stelle, und im Schnupperkurs werden keine Höchstgeschwindigkeiten gefahren – es sei denn zu Show-Zwecken durch Sascha selbst!
Trainiert wird mit eigenem Motorrad, Bereifung mindestens 50:50 Enduro-Reifen oder Stolle.
Facts / TERMINE
Samstag, 10. Juni ➜ 9-12 Uhr ➜ Rally Schnuppern Solo
Samstag, 10. Juni ➜ 13-16 Uhr ➜ Rally Schnuppern Solo und/oder mit Sozius/mit Gepäck
Sonntag, 11. Juni ➜ 9-12 Uhr ➜ Rally Schnuppern Solo
Start:  Touratech (Einfahrt zur Fertigung, Dauchinger Straße links)
Preis: 79 EUR
Gruppengröße:  maximal 7 Fahrerinnen / Fahrer
Ausrüstung: ordnungsgemäße Motorrad-Sicherheitsbekleidung ist Vorschrift
---

RALLY TASTING – small measures, big effect!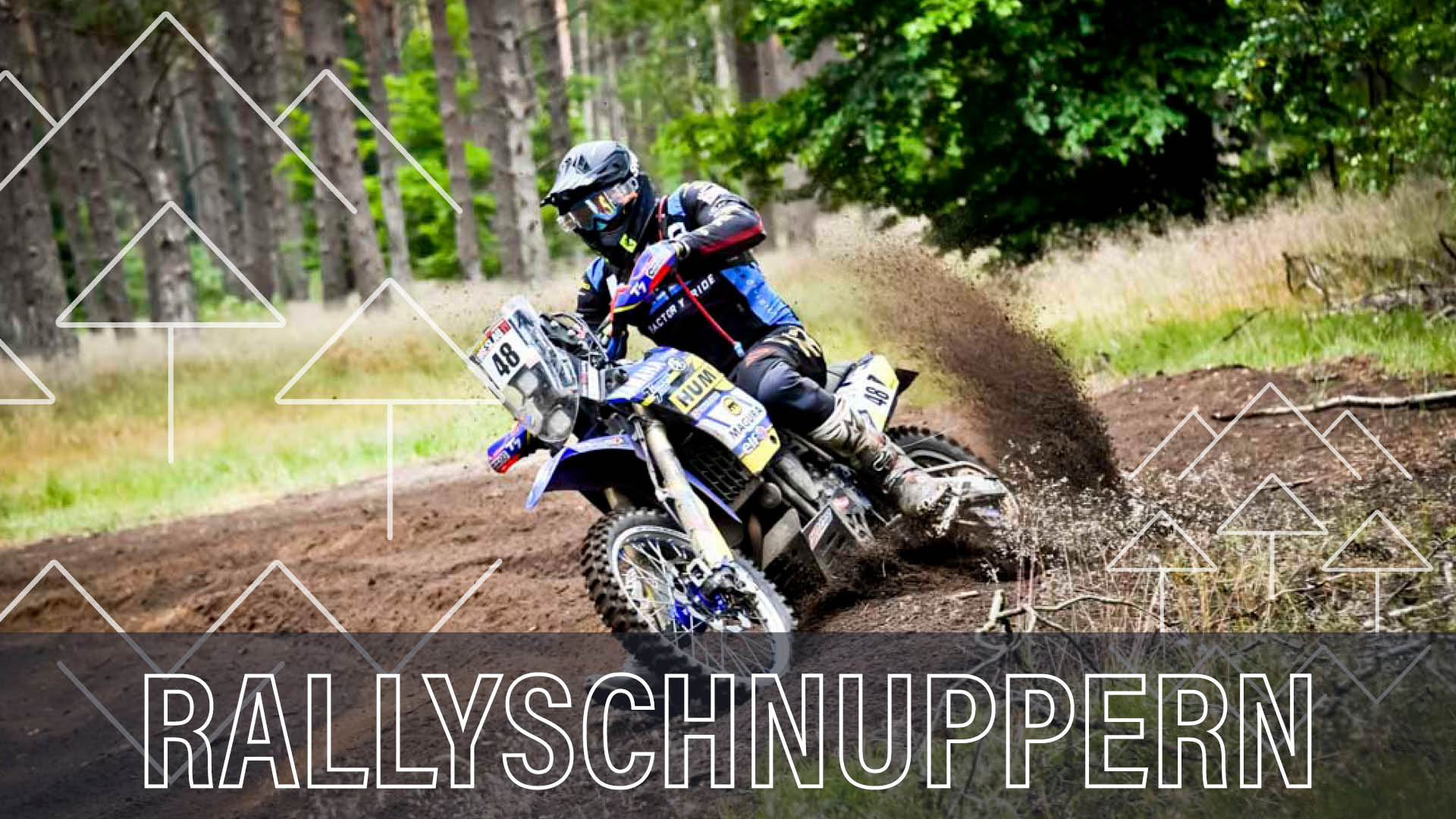 Learning from the pros – Rally Workshop with Sascha Christof
Driving a rally – that sounds hard and sweaty, that sounds like courage, skill and incredible speed off-road. Sounds tempting, but somehow unattainable?
Well, then take a sniff! At the Touratech Travel Event from June 9th to 11th, 2023, rally pro Sascha Christof will take you on a first excursion into the rally world. You will find out how you can move more easily, more quickly and at the same time more safely off-road – and what that has to do with both your riding technique and your suspension settings. By the way: These driving techniques also bring you an enormous gain in safety and increased driving fun, even with luggage and of course when driving with a passenger/pillion, with significantly less physical exertion at the same time.
Fun and safety come first, and no top speeds are driven in the taster course – unless for show purposes by Sascha himself!
You train with your own motorcycle, with at least 50:50 enduro tires or studs.
Facts / dates
Saturday, 10. Juni ➜ 9-12 o`clock ➜ Rally tasting Solo
Saturday, 10. Juni ➜ 13-16 Uhr ➜ Rally tasting Solo and/or with socius/with luggage
Sunday, 11. Juni ➜ 9-12 Uhr ➜ Rally tasting Solo
Start: Touratech (entrance to production, Dauchinger Straße left)
Price: 79 euros
Group size: maximum 7 riders
Equipment: Proper motorcycle safety clothing is mandatory
Quelle / Source: www.good-souls.com