Nun folgt der zweite Teil des Gabel-Umbaus mit weiteren heißen High-End Teilen für den exzessiven Offroad- und Rallye-Einsatz.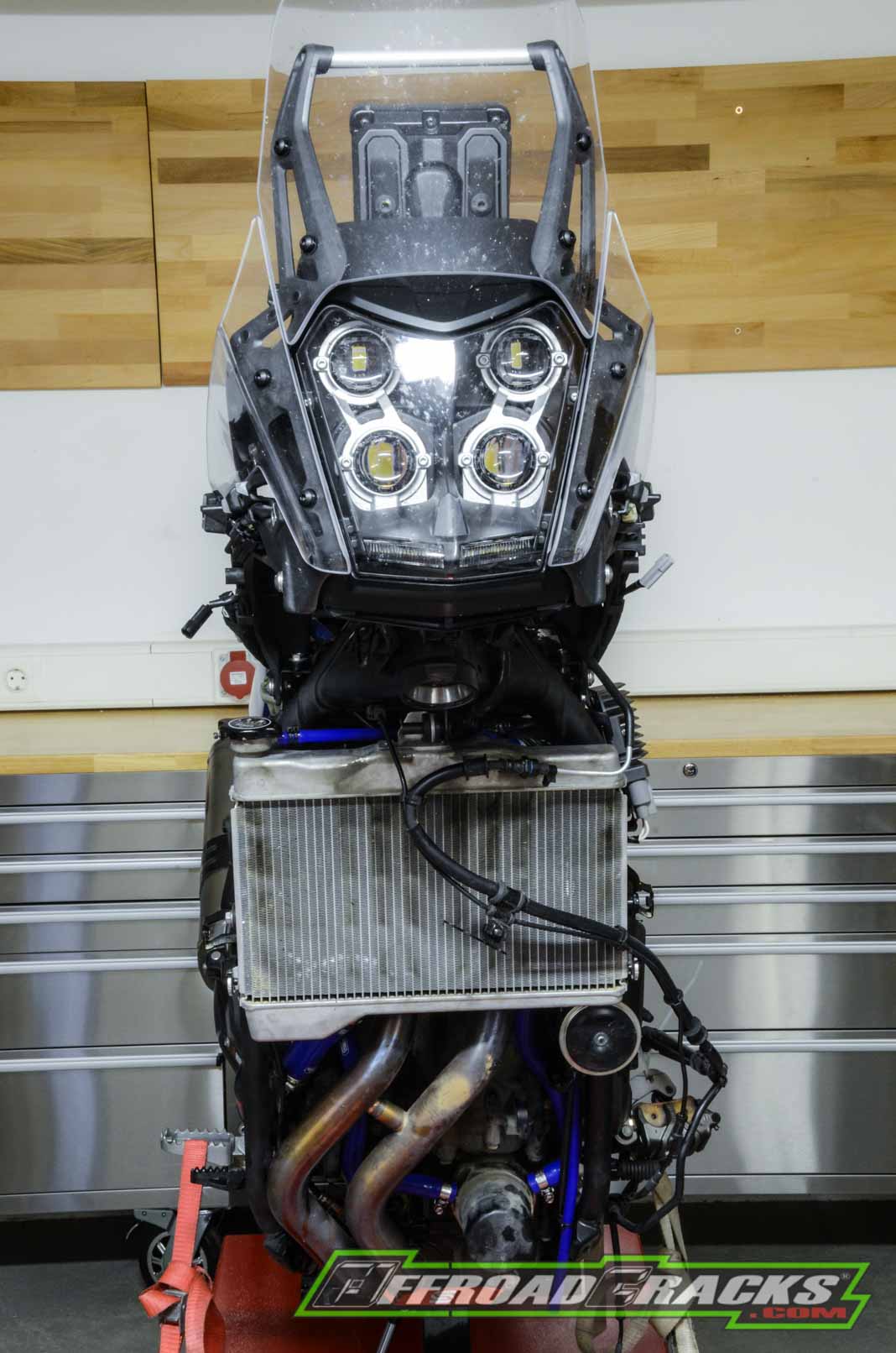 Nachdem wir im ersten Teil des Gabel-Umbaus umfangreich und im Detail alle Schritte zur Demontage von Gabel und Brücken erläutert haben, nun die ersten Modifikationen und Vergleiche von Original und Update. Nachdem wir auch noch nebenbei den Original-Kühlerschlauch-Kit gegen einen hochwertigen Samco-Silikon-Kühlerschlauch-Kit getauscht haben, montieren wir sogleich den von Yamaha angebotenen Leichtmetall-Kühlerprotektor mit integriertem Gitter zum Schutz der Lamellen. Da die Ausführung extrem leicht konzipiert ist, muss man abwarten, ob dieses Produkt dem harten Rallye-Einsatz trotzen kann.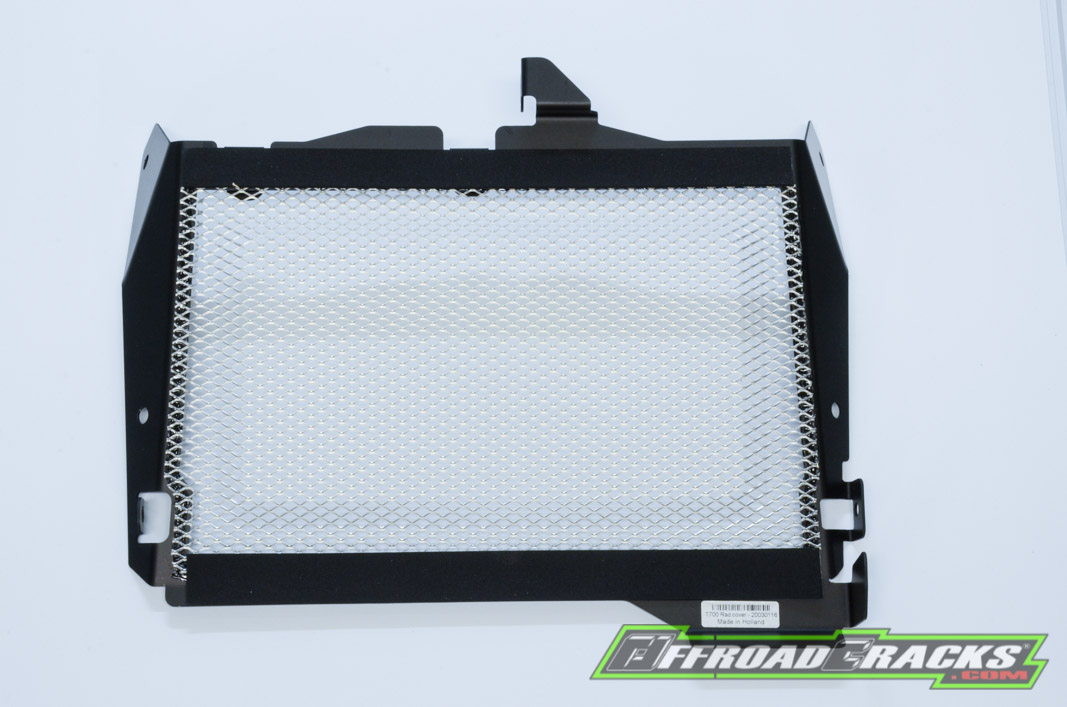 Ein weiterer wichtiger Punkt ist das Thema Fußrasten und die damit verbundene Auflagefläche. Die originalen Fußrasten sind mit einem Gummi-Einsatz für alltäglichen Einsatz konzipiert, der für den gelegentlichen Offroad-Einsatz auch herausgenommen werden kann. Für unseren Einsatzzwecks ist das natürlich zu wenig Standfläche, das Grip-Niveau für den Stiefel ist zu gering und die Selbstreinigung unter widrigen Bedingungen wegen fehlender Aussparungen quasi fast nicht vorhanden.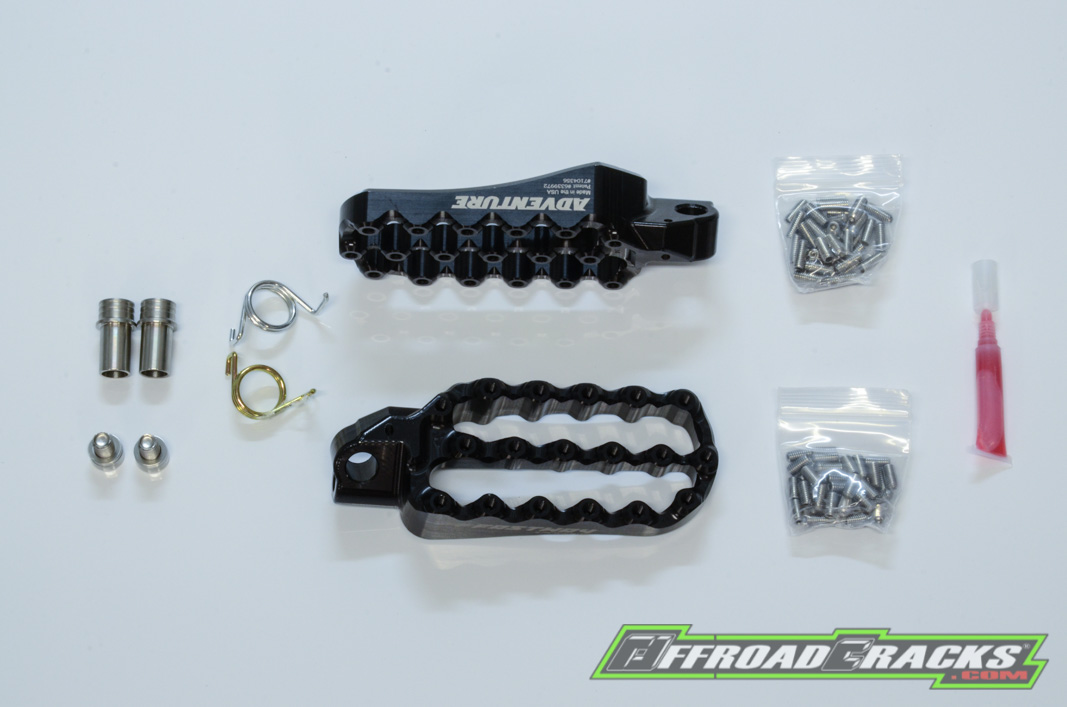 Deshalb haben wir uns von Promotobillet aus den USA voll einstellbare Fastway-Aluminium-Fußrasten mit schraubbaren Stahlpins in 10 und 12 Millimeter Länge geholt. Die Einstellbarkeit der Fußrasten bieten den Vorteil der individuellen Anpassung in der Höhe, dem Sturz zum Rahmen und das Einstellen des Gripniveaus durch verschieden lange Stahlpins in ihrer Anzahl und Position. Hinsichtlich der Verarbeitungsqualität und Funktionalität bleiben dank gut 45 Prozent größerer Standfläche und CNC-Fräsung samt farblich passender Eloxierung keine Wünsche offen.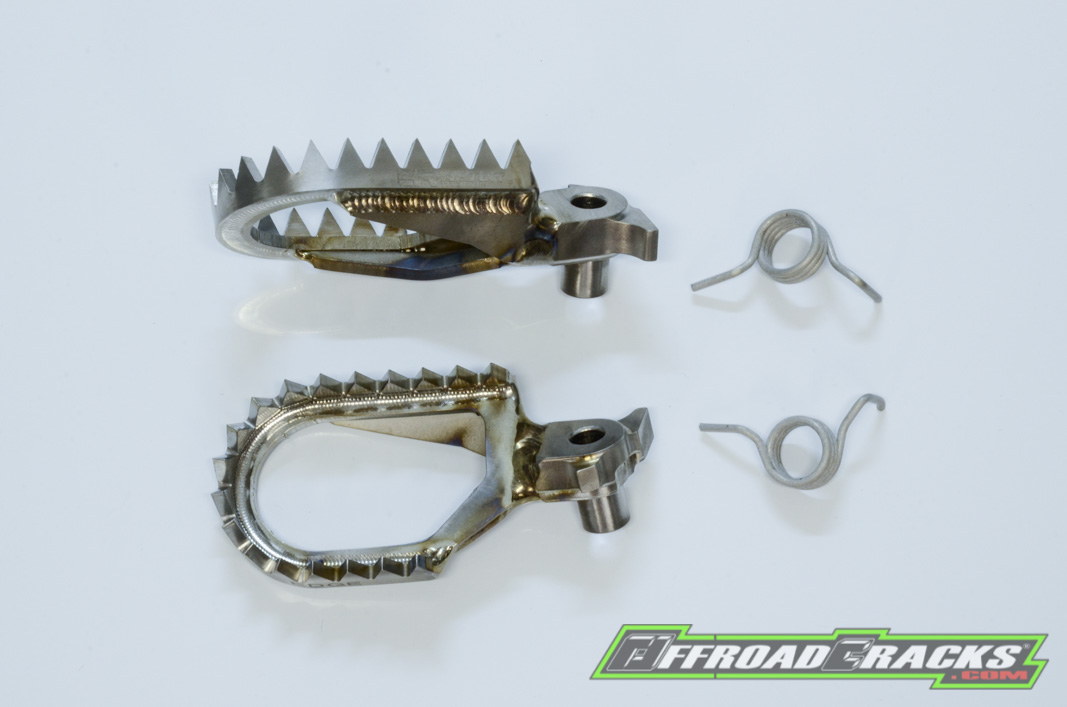 Nachdem aber auch das Thema Gewicht für Rallye-Einsätze ein nicht unerheblicher Faktor in dieser Fahrzeug-Kategorie darstellt, gehen wir parallel auch einen extremen Weg in Form der Raptor-Titan-Fußrasten aus England. Diese sind extrem leicht und bieten zudem ein außergewöhnlich hohes Gripniveau dank ihrer scharfkantigen Spitzen, was aber auch den Verschleiß der Stiefelsohle fördert und bei versehentlichem Abrutschen von selbigen im Einsatz sicherlich Equipment beschädigen kann. Dank des hochwertigen, ultrafesten und extrem leichten 6AL-4V-Titan als Basismaterial bringen es die beiden Fußrasten von Raptor gerade einmal auf 300 Gramm – was für ein Wert! Zumal sie auch noch eine hervorragende Beständigkeit gegen Korrosion aufweisen. Die Verarbeitung ist High-End, betrachtet man schon allein die handgefertigten Schweißnähte und die CNC gefräste Aufnahmen für höchste Passgenauigkeit in den Haltern am Rahmen. Dass das natürlich seine Preis hat versteht sich von selbst.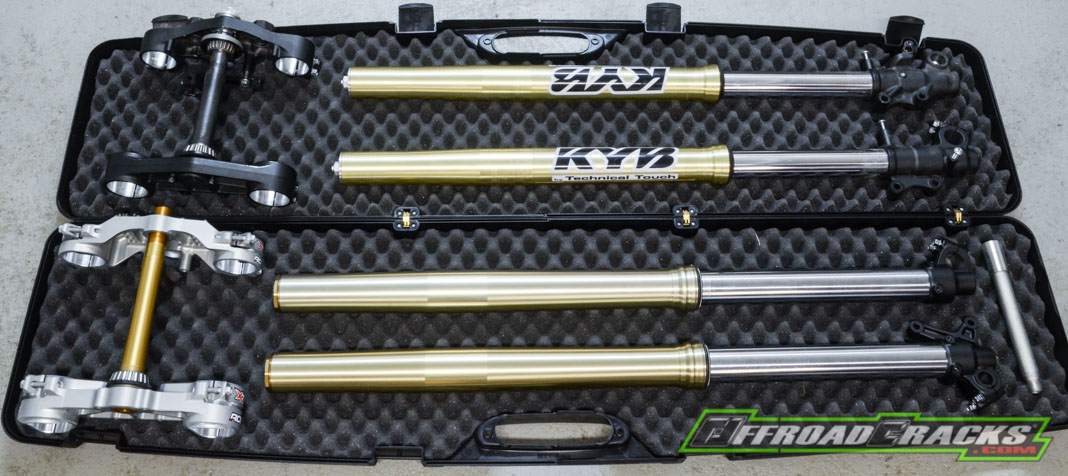 Als nächstes kommen Gabelholme des Cross-Geräts YZ450F zum Einsatz (Bild: Unten), die hinsichtlich ihrer Abstimmung angepasst werden, wobei sie für das erhöhte Fahrzeug-Gewicht schon von vornherein gut passen sollte. Eventuell ist für die Fahrzeugbalance noch eine Federweg-Kürzung im Gespräch, was aber erst noch getestet werden muss. Geführt wird die 48 Millimeter starke Gabel von einer silberfarbenen Xtrig-Rocs-Gabelbrücke für die notwendige Stabilität, Dämpfung und Flexibilität. Dank des größeren Holm-Durchmessers erhoffen wir uns eine stabilere Front für das erhöhte Offroad-Tempo, eine bessere Radführung und eine konstantere Dämpfung dank Closed-Cartridge-Technologie. Hinsichtlich der Gesamtlänge ist die 43 Millimeter Original-Open-Cartridge-Gabel gerade einmal 30 Millimeter kürzer als die Version der YZ450F. Hier steckt also noch etwas Arbeit im Detail, was ebenso für das Federbein gilt.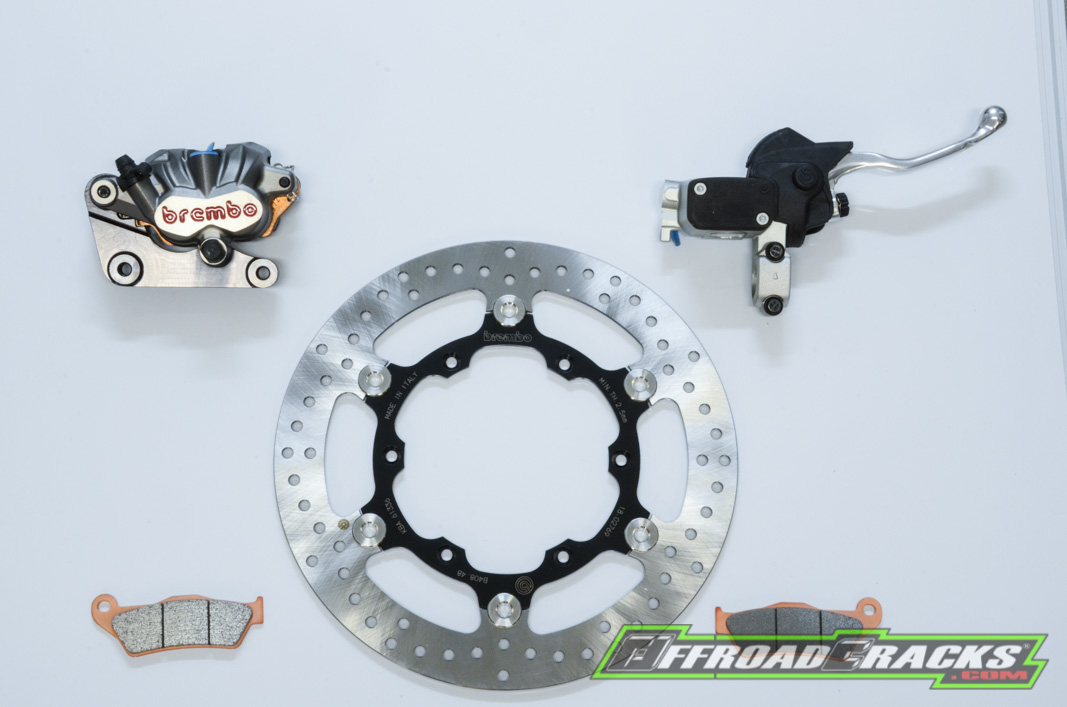 Um die 200 Kilogramm schwere T7 angemessen zu verzögern, kommt eine Brembo-Bremsen-Kit mit einem schwimmend gelagerten Bremssattel und 24 Millimeter große Aluminium-Kolben, Sinter-Bremsbelägen und gefräster Aufnahme zum Einsatz. Dazu kombinieren wir für den ersten Test diesen Kit mit einer 10 Millimeter Handbremspumpe von Brembo und einer 270 Millimeter großen schwimmend gelagerten Edelstahl-Bremsscheibe mit innen liegendem schwarz beschichtetem und gefrästem Trägerkranz. Natürlich kommen hier angepasste Stahlflexleitungen zum Einsatz. Es wird spannend sein, was dieser Brembo-Kit mit 200 Kilogramm reines Fahrzeuggewicht zu leisten vermag.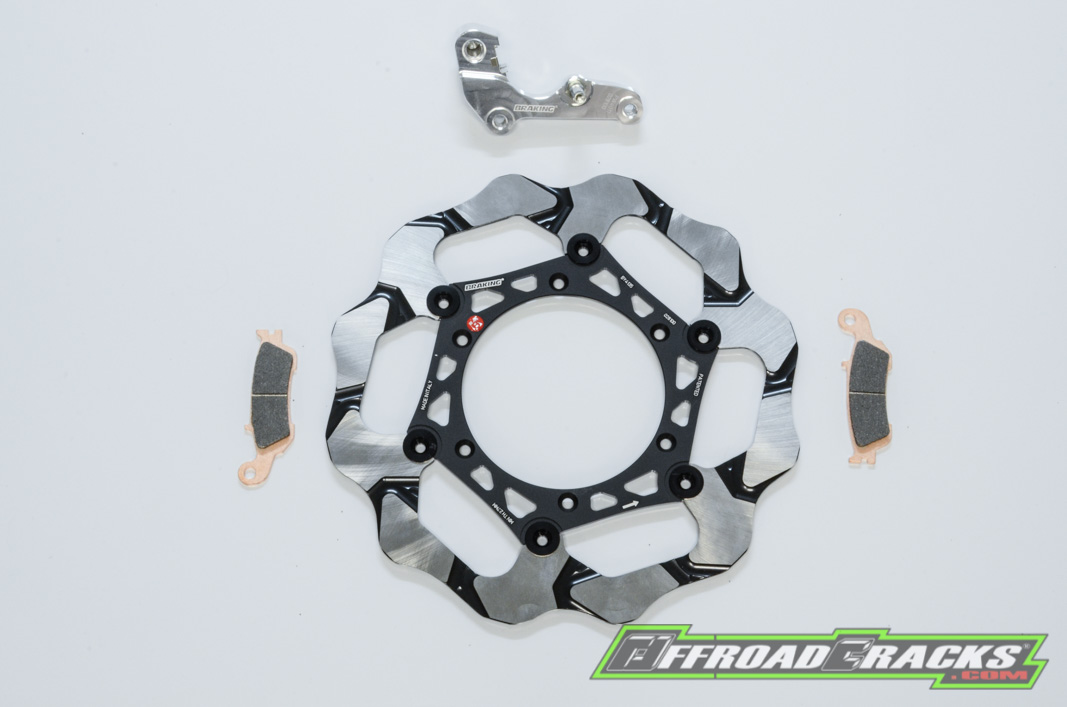 Für den Dauereinsatz ist die schwimmend gelagerte Braking-Batlfy-Oversize-Bremsscheibe mit satten 280 Millimetern Durchmesser, passendem Adapter und Sinter-Bremsbelägen vorgesehen. Der indirekte Vergleich beider Bremsscheiben wird zeigen, welche Ausführung für unseren Einsatz und unter welchen speziellen Bedingungen die bessere Lösung darstellt.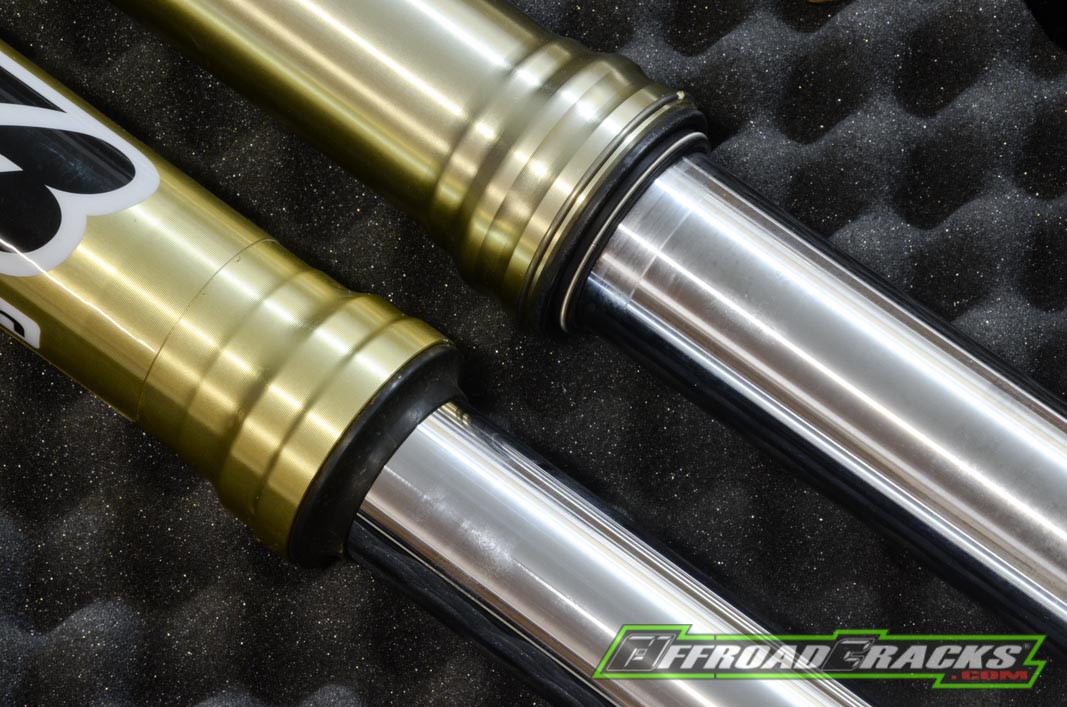 Das bedeutet insgesamt noch viel Testarbeit – neben dem redaktionellen Tagesgeschäft – bis wir das eigentliche Ziel erreicht haben, eine 200 Kilogramm schwere Adventure-Enduro artgerecht und sicher unter Rallye-Bedingungen bewegen zu können. Bis dahin sollten hoffentlich auch wieder einige Wettbewerbe stattfinden, so dass wir endlich die Yamaha Ténéré 700 in ihrem angestammten Habitat bewegen und auf den Zahn fühlen zu dürfen. Wir arbeiten mit Hochdruck an den Umbauten und werden demnächst wieder über weitere Fortschritte berichten.
Für den Anwender: Hierbei handelt es sich nur um eine Hilfestellung, die sich fahrzeugspezifisch orientiert. Wer sich mit den erklärten Arbeitsschritten in Bezug auf seine eigenen Yamaha Ténéré 700 nicht hundertprozentig sicher ist oder nicht über die passenden Werkzeuge und die notwendigen Fachkenntnisse verfügt, sollte einen Fachmann zu Rate ziehen.
Kooperationspartner
---
---
Montiertes Zubehör
280mm Braking-Batfly-Oversize-Bremsscheiben-Kit vorn, Motorrad-Ersatzteile24, 336,30 Euro
Braking 773CM 46 Race-Sinter-Bremsbelag hinten, Motorrad-Ersatzteile24, 33 Euro
Bremsattel-Kit M2-XGP, Brembo 301 Euro
Handbremspumpe Ø 10mm, 10B89610 Brembo, 201 Euro
270mm Edelstahl-Bremsscheibe ORO, 78B40848, Brembo 180 Euro
Fastway Adventure Alu-Fußrasten, Promotobillet $ 275
Leichtmetall-Kühlerschutz, Yamaha 128 Euro
Raptor Edge Tiatnium-Fußrasten RME0003, Raptortitanium £ 225
Gabelholme links und rechts YZ450F 2019, Yamaha 1840 Euro
Gabelbrückenkit T7 Sonderanfertigung, Xtrig Preis auf Anfrage
Samco-Kühlerschlauch-Kit Yamaha Ténéré 700, 159,40 Euro
Samco-Schlauchschellen-Kit Yamaha Ténéré 700, 50,60 Euro
---

Now, the second part of the fork conversion follows with further hot high-end parts for excessive off-road and rally use.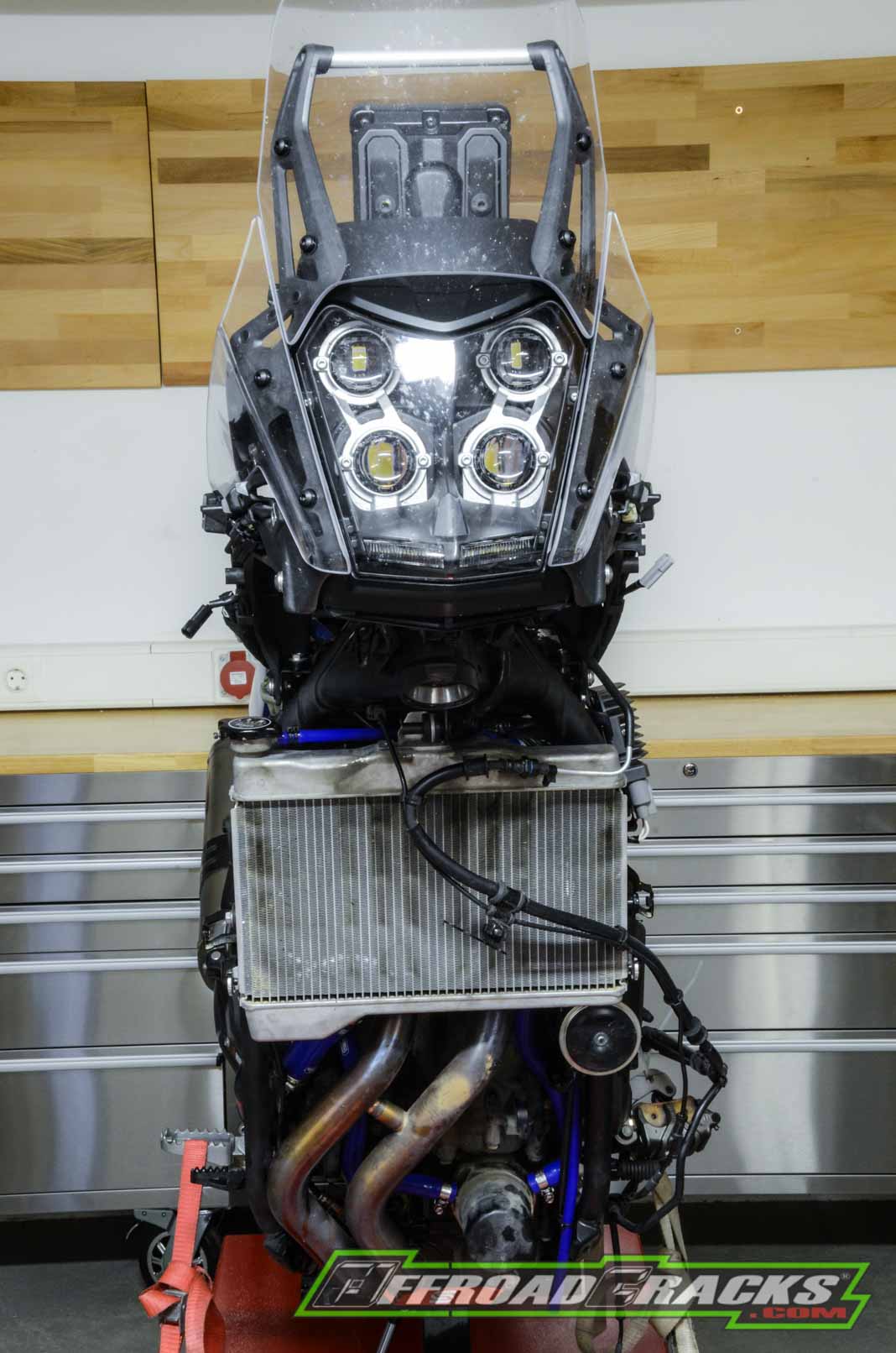 After we have explained all the steps for dismantling the fork and triple clamps in the first part of the fork conversion in detail, now the first modifications and comparisons of the original and the new parts follow. After we swapped the original radiator hose kit for a high-quality Samco silicone radiator hose kit, we immediately mounted the aluminium radiator protector offered by Yamaha with an integrated grille to protect the fins. Since the design is extremely light built, we have to wait and see whether this product can withstand the tough rally use.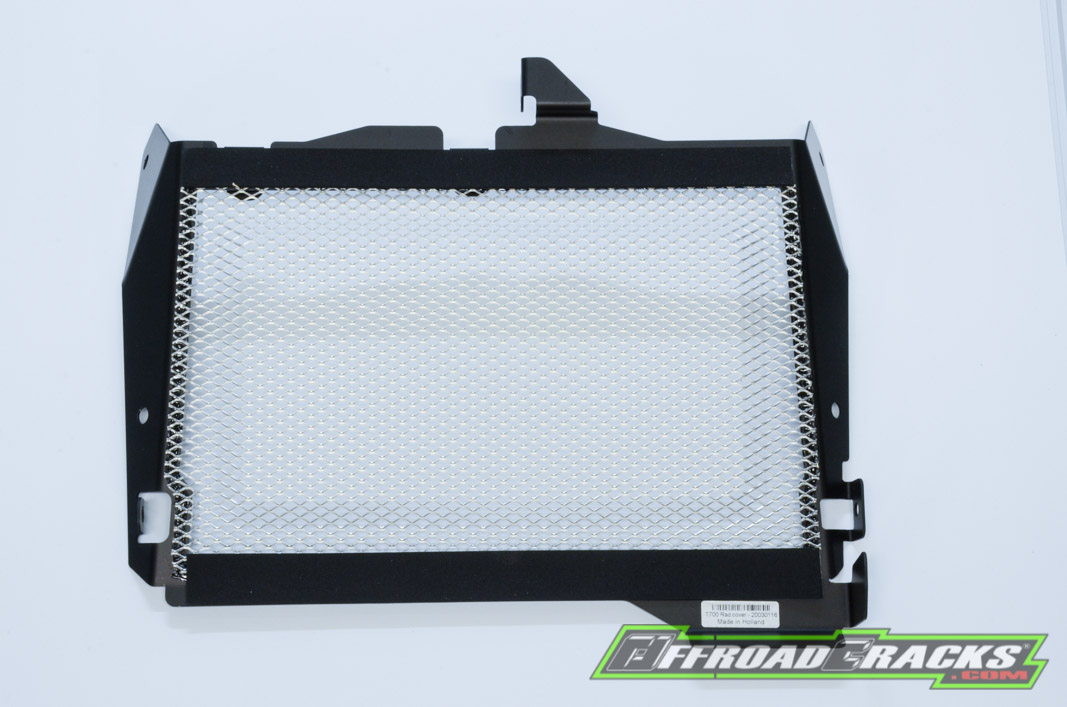 Another important point is the subject of footpegs and the associated contact surface. The original footpegs are designed with a rubber insert for everyday use, which can also be removed for occasional off-road use. For our intended use, this is of course not enough, the grip level for the boot is too low, the surface to small and self-cleaning is almost non-existent under adverse conditions due to the lack of recesses.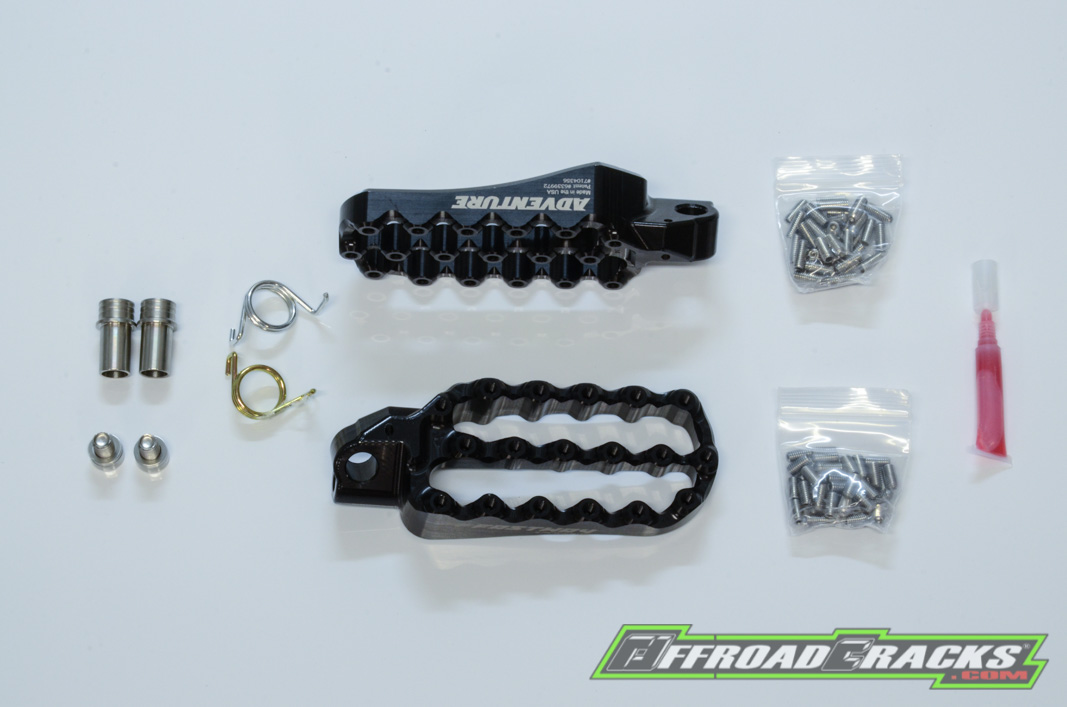 That's why we got fully adjustable Fastway aluminum footpegs with screwable steel pins in lengths of 10 and 12 millimeters from Promotobillet in the USA. The adjustability of the footrests offers the advantage of individual adjustment in height, the camper to the frame and the adjustment of the grip level by steel pins of different lengths in terms of their number and position. In terms of processing quality and functionality, thanks to a 45 percent larger surface and CNC milling with matching anodization, nothing is left to be desired.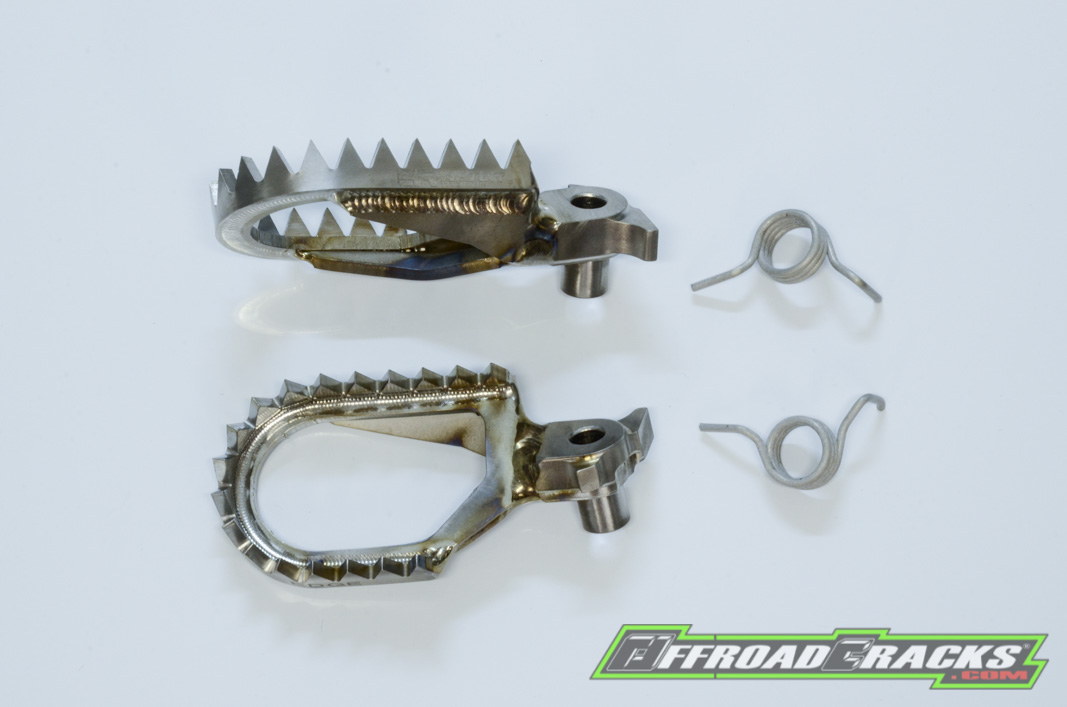 However, since weight is also a not insignificant factor in this vehicle category for rally use, we are also taking an extreme approach in the form of the Raptor titanium footpegs from Great Britain. These are extremely light and also offer an exceptionally high level of grip thanks to their sharp-edged design, which also promotes wear and tear on the boot sole and can certainly damage equipment if it accidentally slips off during use. Thanks to the high-quality, ultra-strong and extremely light 6AL-4V titanium as the base material, the two footüegs from Raptor weigh just 300 grams – what a value! Especially since they also have excellent resistance to corrosion. The workmanship is high-end, if you consider the hand-made welds and the CNC milled mountings for the highest possible accuracy in the holders on the frame. It goes without saying that this has its price.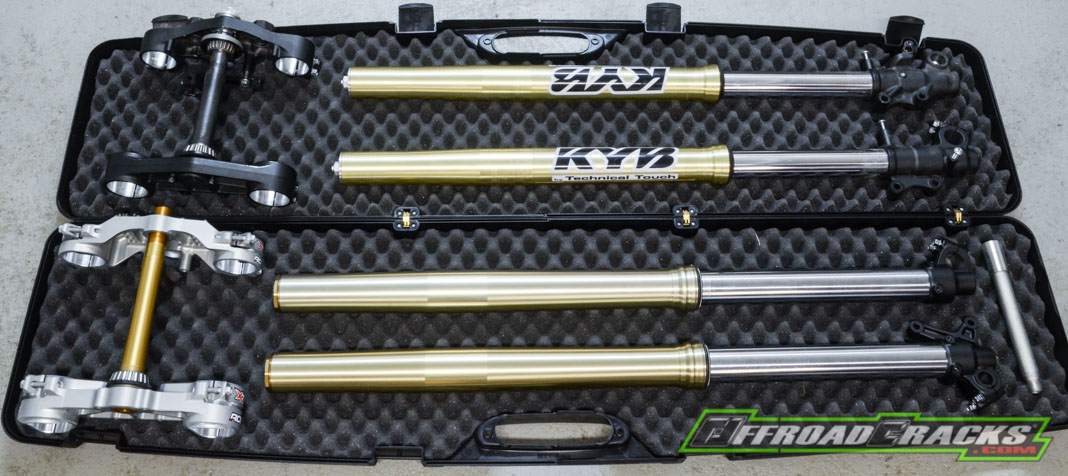 Next, the fork legs of the Yamaha YZ450F will be used (picture: below), which will be tuned, whereby they should fit well for the increased vehicle weight. A reduction in suspension travel may still be under discussion for the vehicle balance, but this has to be tested first. The 48 millimeter fork is guided by a silver-colored Xtrig-Rocs triple clamp kit for the necessary stability, cushioning and flexibility. Thanks to the larger diameter, we are hoping for a more stable front for the increased offroad speed, better wheel control and more constant damping thanks to closed cartridge technology. In terms of overall length, the 43 millimeter original open cartridge fork is just 30 millimeters shorter than the version of the YZ450F. So there is still some work in the details here, which also applies to the shock absorber.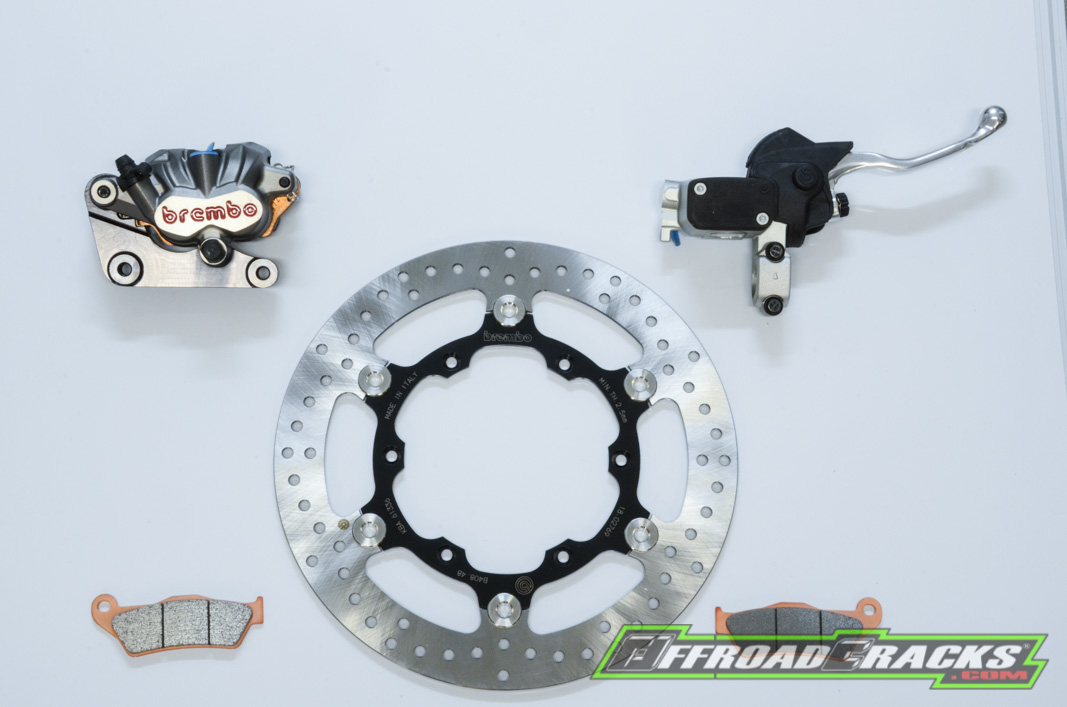 A Brembo brake kit with a floating brake caliper and 24 millimeter aluminum pistons, sintered brake pads and a milled mount is used to decelerate the 200 kilogram T7 appropriately. For the first test, we are combining this kit with a 10 millimeter master cylinder brake pump from Brembo and a 270 millimeter floating stainless steel brake disc with a milled and black coated inner ring. Of course, adapted steelfelx brake lines are used here. It will be exciting to see what this Brembo kit can do with a vehicle weight of 200 kilograms.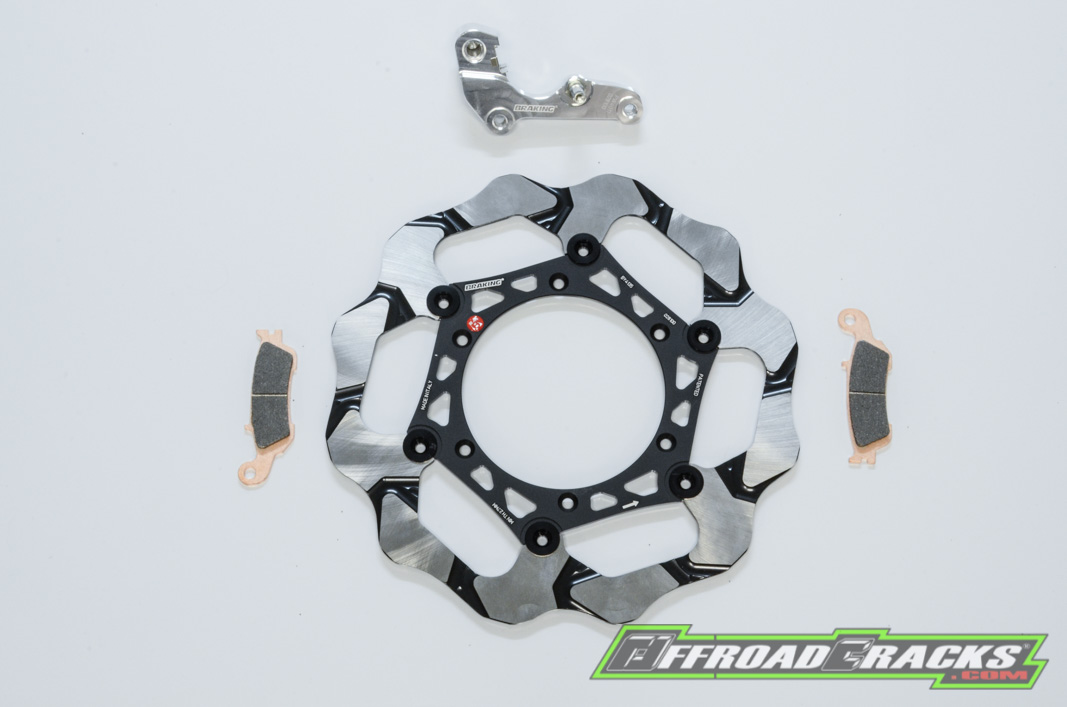 The floating Braking Batlfy oversize brake disc with a full 280 millimeters diameter, a suitable adapter and sintered brake pads is intended for continuous use. The indirect comparison of both brake discs will show which version is the better solution for our application and under which special conditions.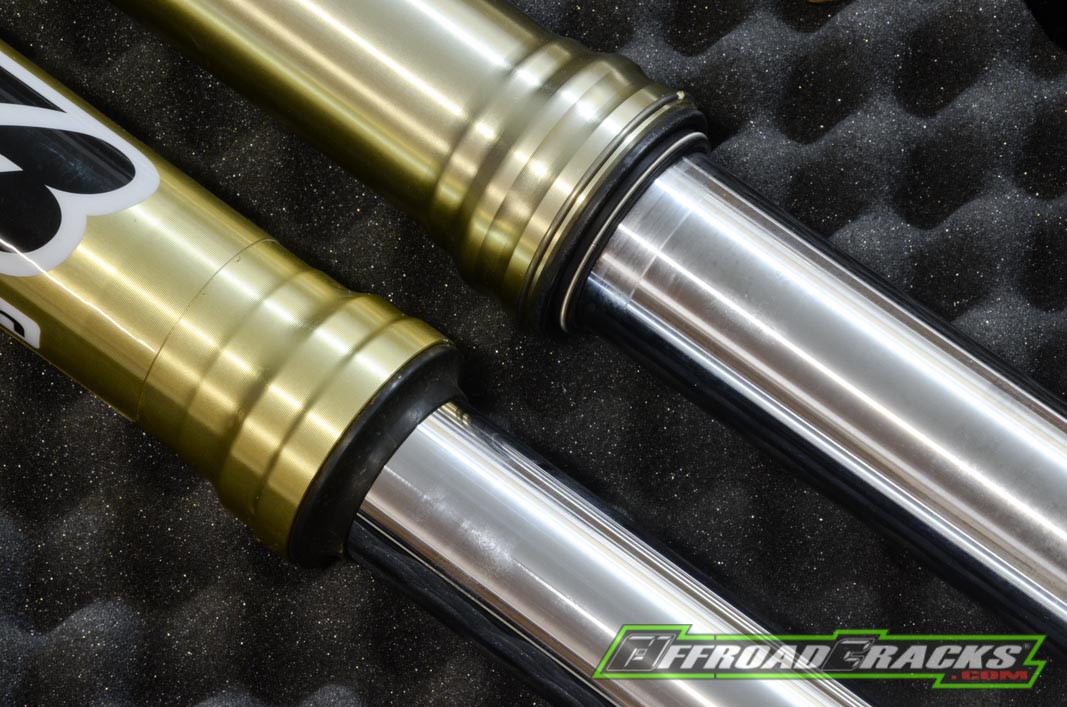 All in all, this means still a lot of test work – in addition to day-to-day editorial work – until we have achieved our actual goal of being able to move a 200 kilogram adventure enduro safely and appropriately under rally conditions. Until then, hopefully some races should take place again, so that we can finally move the Yamaha Ténéré 700 in its ancestral habitat and fell it out. We are working on the conversions flat out and will soon be reporting on further progress.
For the user: This is only an assistance that is vehicle-specific. Anyone who is not one hundred percent sure about the explained work steps in relation to their own Yamaha Ténéré 700 or does not have the appropriate tools and the necessary specialist knowledge should seek advice from a specialist.
Cooperation partners

---
---
Mounted accessoires
280mm Braking-Batfly-Oversize-Brake-Kit front, Motorrad-Ersatzteile24, 336,30 Euro
Braking 773CM 46 rear race sinter brake bads , Motorrad-Ersatzteile24, 33 Euro
Brake Caliper kit M2-XGP, Brembo 301 Euro
Front brake master cylinder Ø 10mm, 10B89610 Brembo, 201 Euro
270mm stainless steel brake disc ORO, 78B40848, Brembo 180 Euro
Fastway Adventure aluminium footpegs, Promotobillet $ 275
Aluminium cooler protector, Yamaha 128 Euro
Raptor Edge Tiatnium footpegs RME0003, Raptortitanium £ 225
Fork rods YZ450F 2019, Yamaha 1840 Euro
Triple clamp kit T7 custom build, Xtrig price on request
Samco radiator hose kit Yamaha Ténéré 700, 159,40 Euro
Samco hose clamp kit Yamaha Ténéré 700, 50,60 Euro