Die Yamaha Ténéré 700 Rallye by OFFROADCRACKS ist fertig für den Rallye-Einsatz und kann endlich unter passenden Bedingungen bei der Rallye Breslau getestet werden.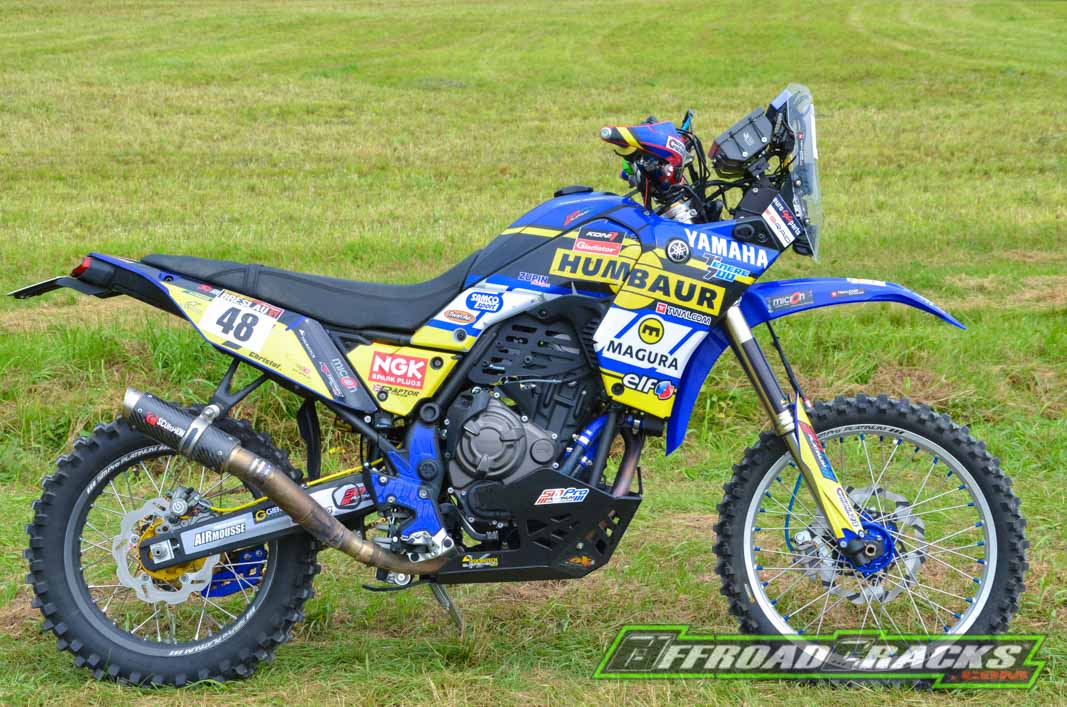 Fangen wir gleich da an, wo wir beim letzten Mal aufgehört haben. Der Yamaha-Leichtmetall-Kühlerschutz wurde auf Grund der zahlreichen Änderungen am Motorrad wieder demontiert, da einige Verkleidungsteile nicht mehr passten und das Original wieder zum Einsatz kam.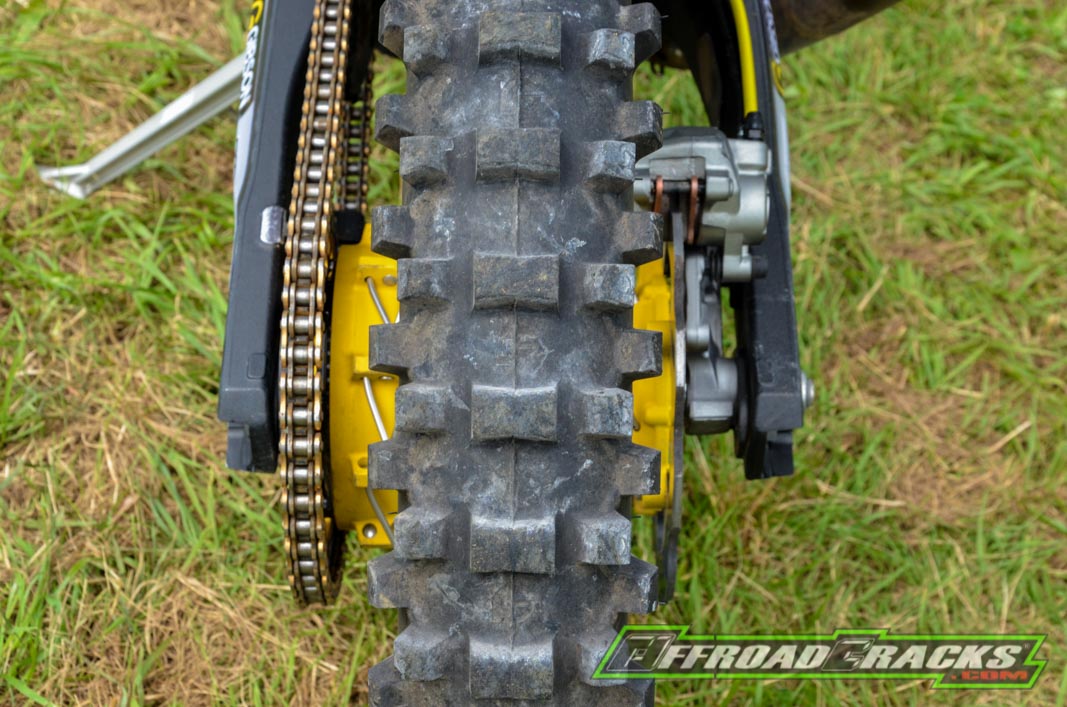 Hinsichtlich der Räder kommt hinten eine neu eingespeichte und beschichtete Original-Nabe mit Ruckdämpfer zum Einsatz, die mit extra starken Speichen und einer SMPro-Platinum-Felge ausgestattet wird. Ruckdämpfer deshalb, da dies Antrieb, Mousse und Reifen schont. Am Vorderrad ist eine YZ450F-Nabe von SMPro-Wheels mit Platinum-Felge montiert.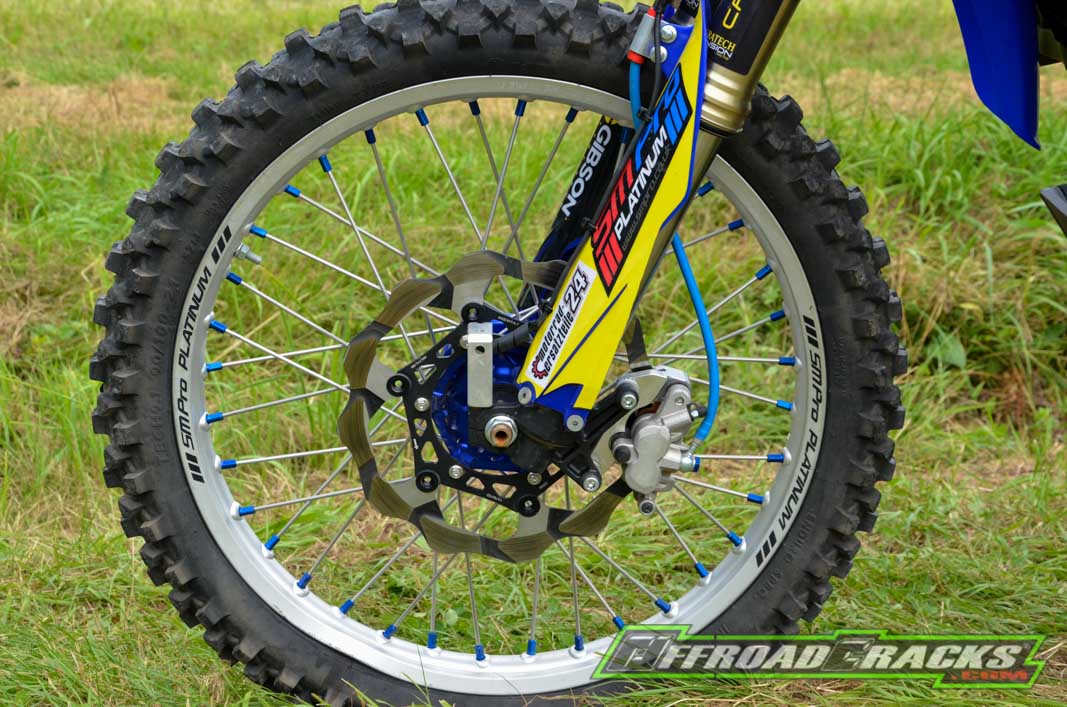 Gleichzeitig findet die große 280er Braking-Batfly-Bremsscheibe mit Adapter ihre Verwendung und wird mit einer farblich passenden Stahlflexleitung und der radialen Galespeed-Bremsarmatur mit 14 Millimeter Kolbendurchmesser und externen Ausgleichsbehälter, beides von Micronsystems, verbunden. Am Hinterrad verbleibt die originale Bremse und es wird nur die Bremsscheibe durch eine Braking-Alternative im Wave-Design ersetzt und mit einer Stahlflexleitung ausgestattet. Das ABS-System samt doppelter Bremsleitungsführung flog komplett raus, da es für diesen Einsatz in keiner Weise relevant ist und zudem ordentlich Gewicht einspart.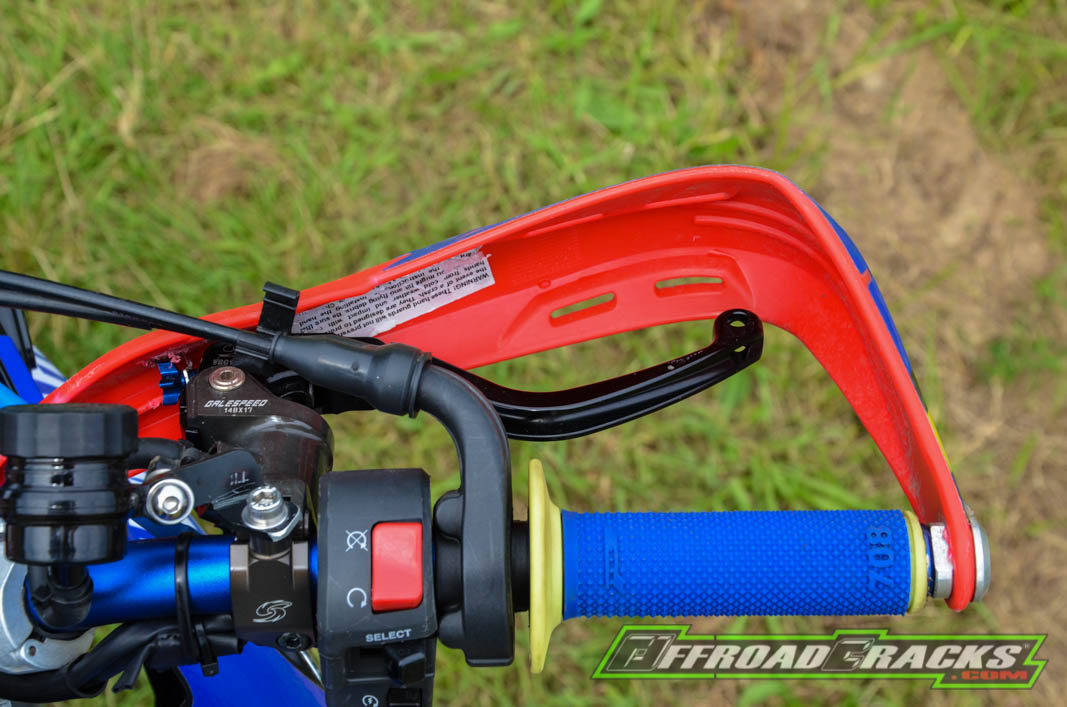 Dann hier noch eine Auflistung verschiedenster Zubehörteile: Der bereits erwähnte AXP Racing Kunststoff-Motorschutz passt auf den Millimeter genau, ebenso wie die blauen Acerbis-Rahmenschützer, die nur über O-Ring und Einrastnasen an Ort und Stelle verbleiben – ob das hält?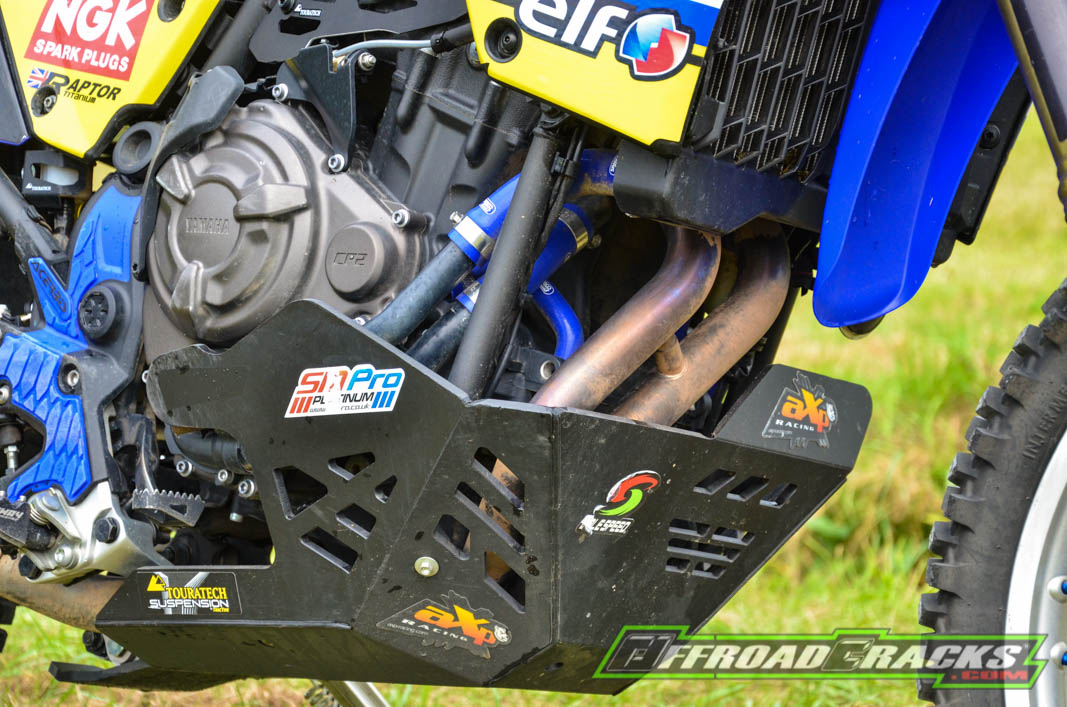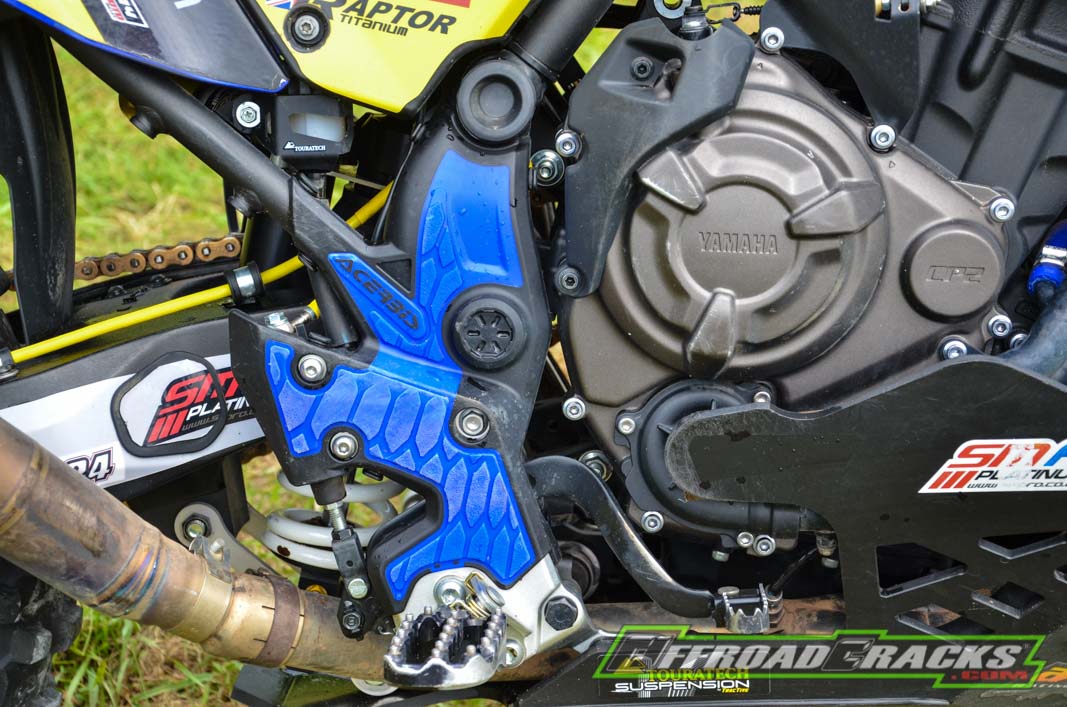 Gefolgt von einem blau eloxierten Twalcom-Ritzelschutz  aus Italien, der zeitgleich das Schaltgestänge mit abdeckt. Dann kommt ein Touratech-Wasserpumpendeckel Protektor aus Aluminium zum Einsatz, ein Schutzelement aus gleichem Hause für den hinteren externen Bremsflüssigkeit-Ausgleichsbehälter sowie zwei Schutzgitter auf Höhe der Drosselklappenkörper. Die geschlossenen Hebelschützer stammen von Polisport, die Griffe von Pro-Grip und der Lenker kommt von Renthal und wurde von Zupin-Moto-Sport gestellt.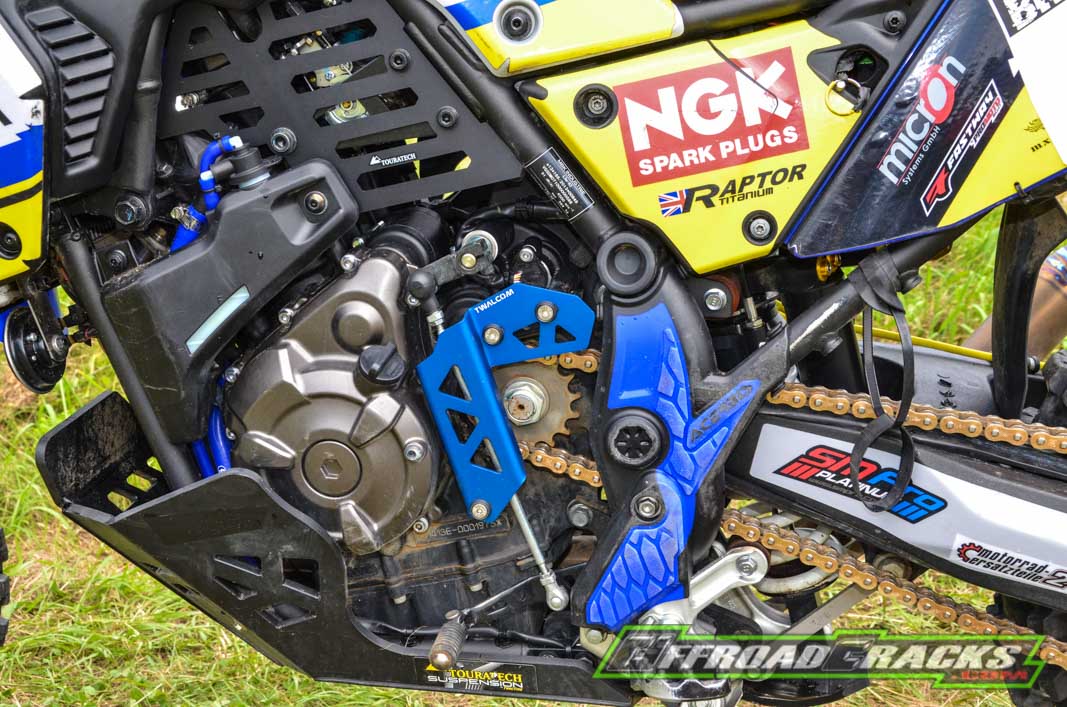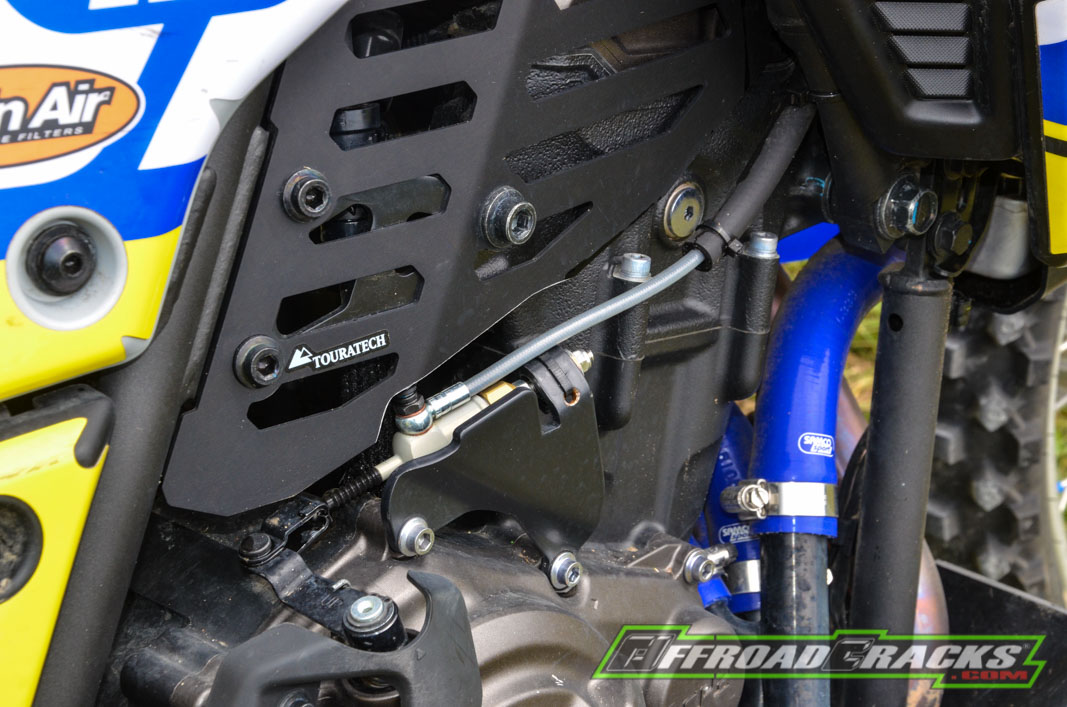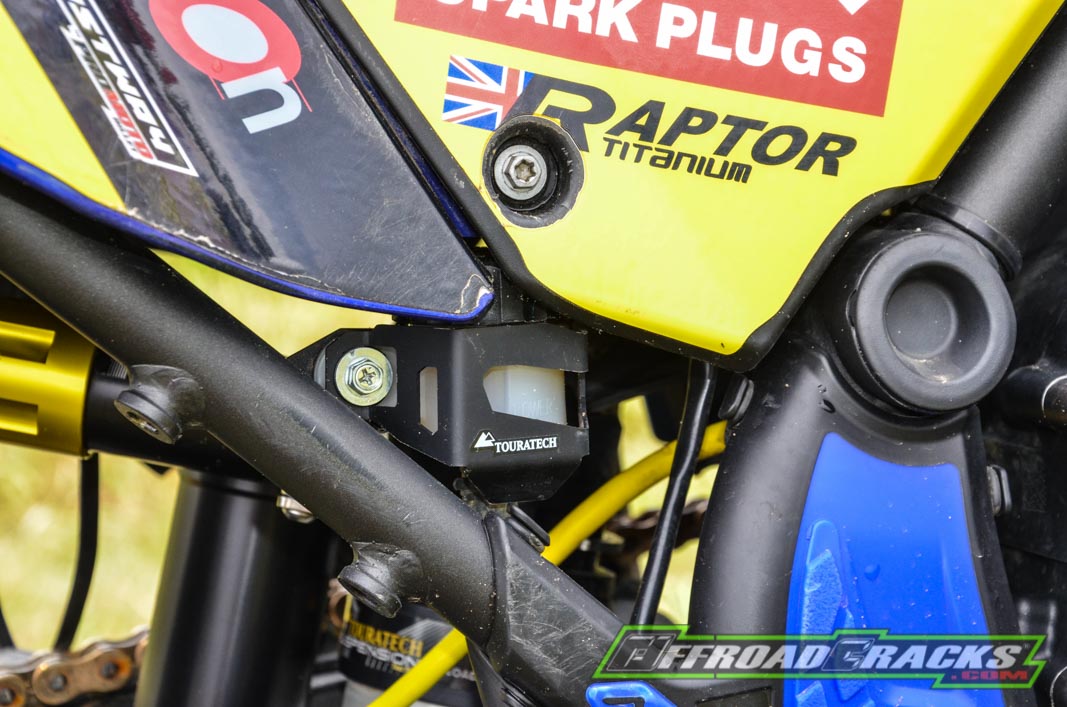 Bevor wir zur Sonderausstattung für ein Rallye-Teilnahme kommen noch ein paar Details zum Antrieb. Eine Afam-X-Ring-Kette mit originaler 525er Teilung, einen Afam-Ritzel und einem Supersprox-Stealth-Kettenrad von Motorrad-Ersateilte24 sind für die Kraftübertragung ans Hinterrad verantwortlich. Das SMPro-Hinterrad wurde mit einem AirMousse bestückt, der etwas einem Luftdruck von 1,1 bar entspricht. Dazu kommen die legendären und bewährten Adige-Reifenhalter zum Einsatz, die über jeden Zweifel erhaben sind. Ein Gibson Tech 7.1 Reifen in der Größe 110/100-18 soll für perfekte Traktion am Hinterrad sorgen. Dieser wurde auf einer für diese Fahrzeuggattung extra schmalen 2,15 Zoll Felge montiert, um die Ténéré 700 etwas flinker um die Ecken zu bekommen und das spielerische Handling zu verbessern. Für das Vorderrad gilt im Prinzip gleiches, nur das hier ein Gibson Tech 9.1 in der Größe 90/100-21 seine Arbeit verrichten wird. Noch ein Wort zum Kettenschleifblock, der durch einen Kunststoff-Version in Blau aus dem Sportsegment von Acerbis ersetzt wurde.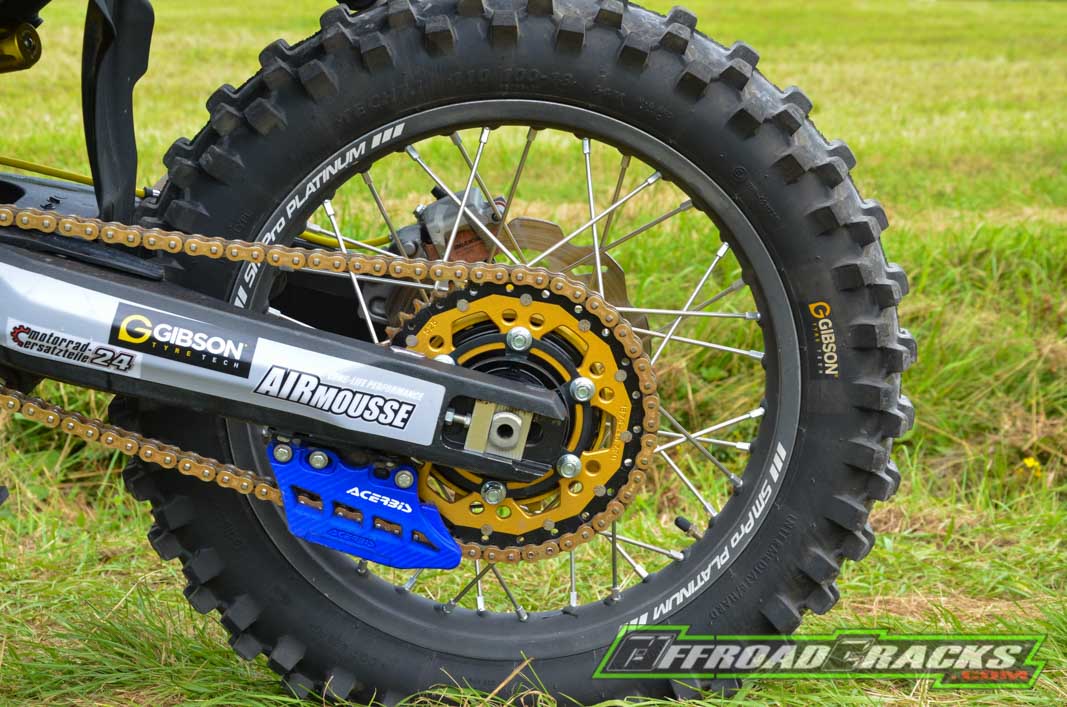 Und was dämpft die Bewegung des Hinterrads? Ein Touratech Adventure Federbein, das voll einstellbar ist und bei Touratech ein angemessenes Setup durch den erfahrenen Ex-Enduro-DM-Fahrer und Touratech-Mitarbeiter Lars Würdemann spendiert bekam.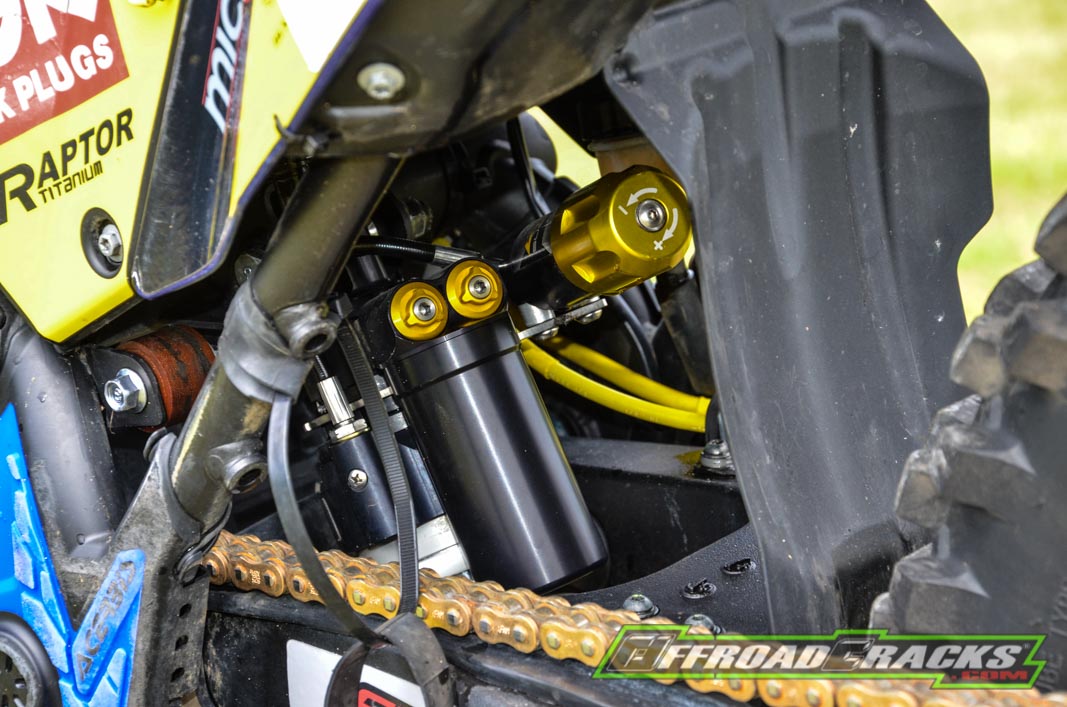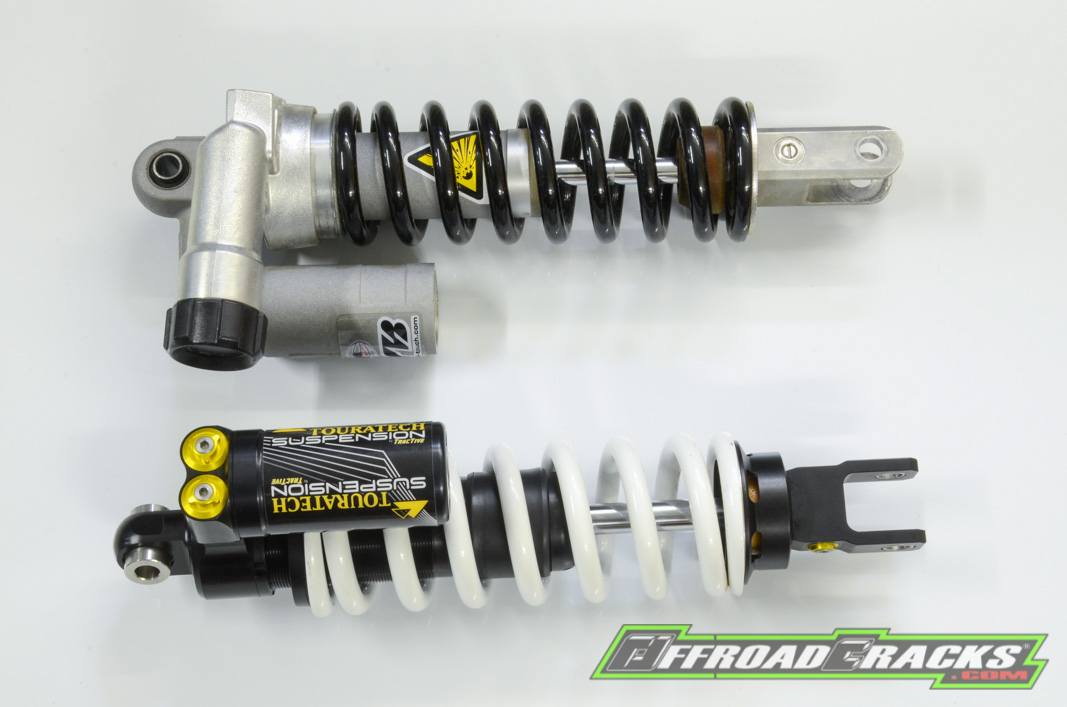 Dass man für dieses Kampfgewicht im tiefen Sand von Polen einen Lenkungsdämpfer benötigt steht außer Frage. Alles andere wäre unverantwortlich, weshalb hier GPR Stabilizer aus San Diego in den USA ein Produkt bereit gestellt hat. Der Twin-Air-Luftfilter samt GP-Abdeckung sowie die Rallye-Sitzbank von Yamaha wurden bereits ausführlich in den vorangegangenen Zwischenberichten erläutert.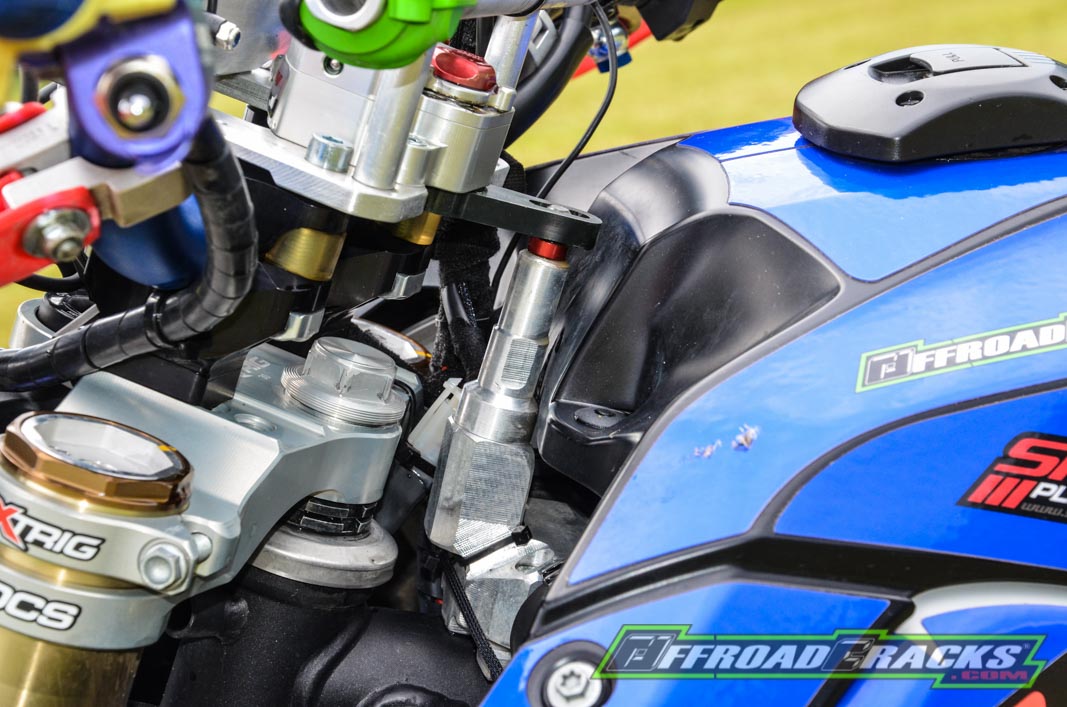 Jetzt ging es noch darum die Motorhitze passend ins Habitat entweichen zu lassen. Hierfür hat uns Micronsystem kurzer Hand einen Karbon-Titan-Schalldämpfer von Scorpion bereit gestellt, der für die T7 noch angepasst werden musste. Dadurch konnten wir erneut über zwei Kilogramm zum Akrapovic-Schalldämpfer einsparen – perfekt, denn jedes Gramm bei diesem Kampfgewicht zählt bei einer Rallye-Distanz von satten 1.500 Kilometern.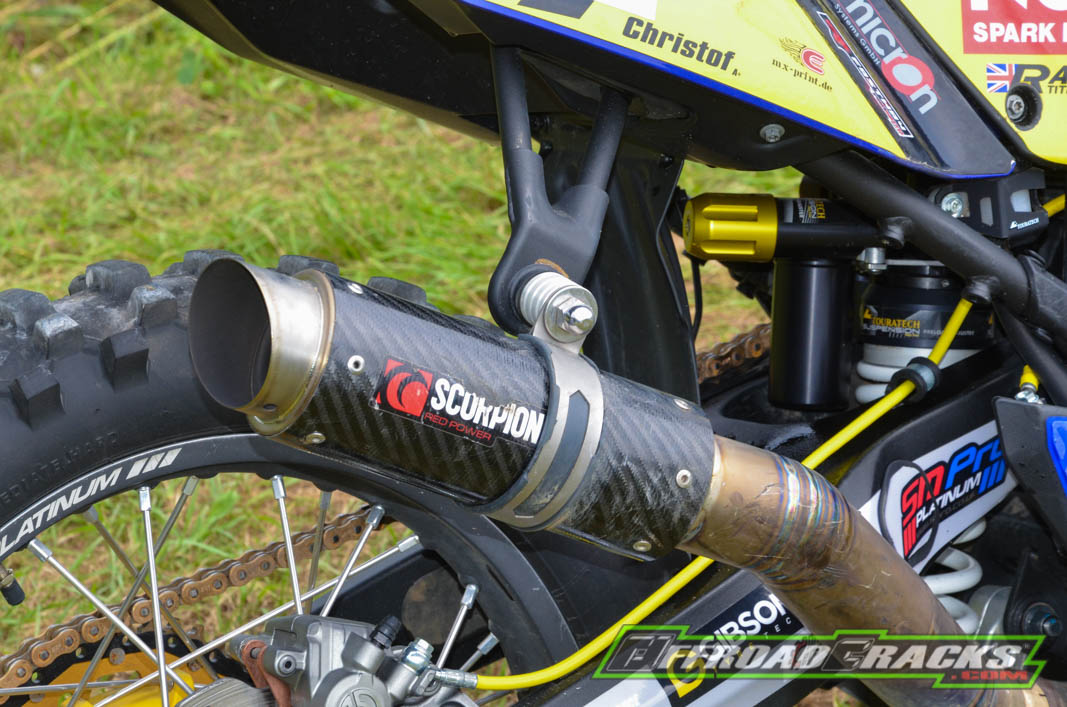 Und gleich geht es weiter mit der Gewichtsreduzierung in Form einer Shido-Lithium-Batterie, mit der wir ebenfalls satte zwei Kilogramm gegenüber der klassischen Säure-Batterie neutralisieren können.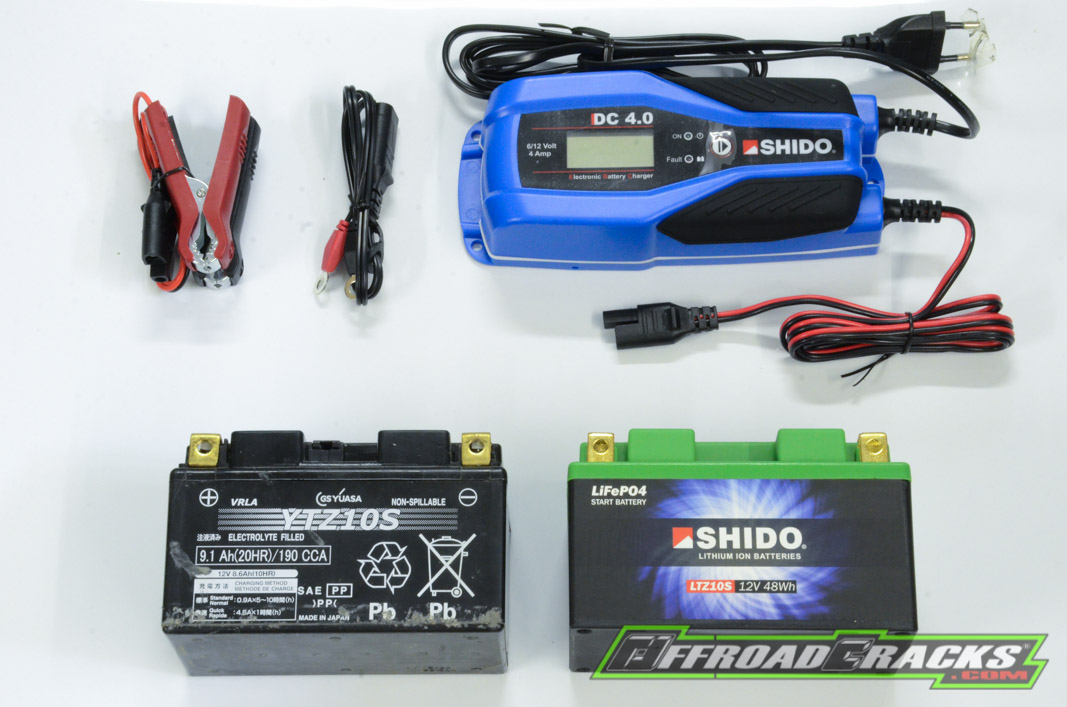 Für den Rallye spezifischen Einsatz musste eine passende Leichtmetall-Aufnahme für den Gegenhalter des Lenkungsdämpfer aus dem Vollen gefräst werden, was ein enormer Zeitaufwand mit sich brachte, aber letztendlich den Dämpfer optimal über den Drehpunkt der Gabelbrücke positioniert. Zudem musste eine passende GPS-Aufnahme aus Leichtmetall gefertigt werden, ergänzt durch einen Multihalter für Sonder-Schalter, Com-Box und Co, was jederzeit für den Notfall leicht demontiertbar sein muss. Das verlangte erneut nach Mess- und Testarbeit auf Teufel komm raus und ließ die Drehbank und Fräse heiß laufen.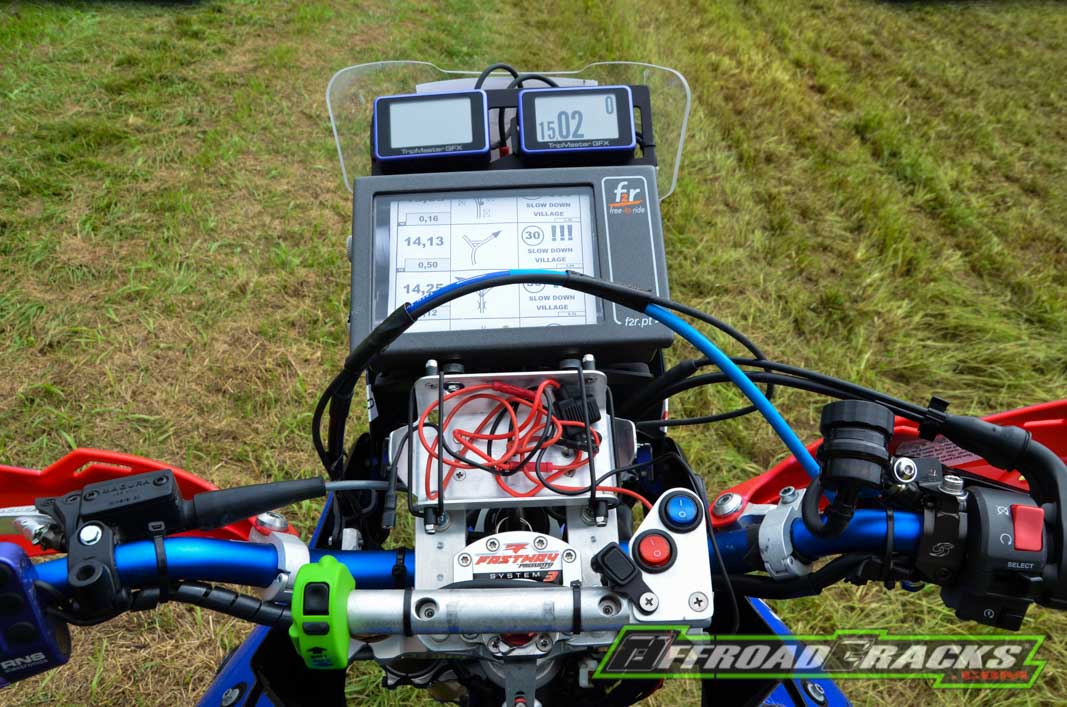 Der Rallye-Vorbau zur Aufnahme des F2R-Roadbooks stammt von Twalcom, der zugleich die beiden RNS-Electronic-Tripmaster aus Deutschland aufnimmt.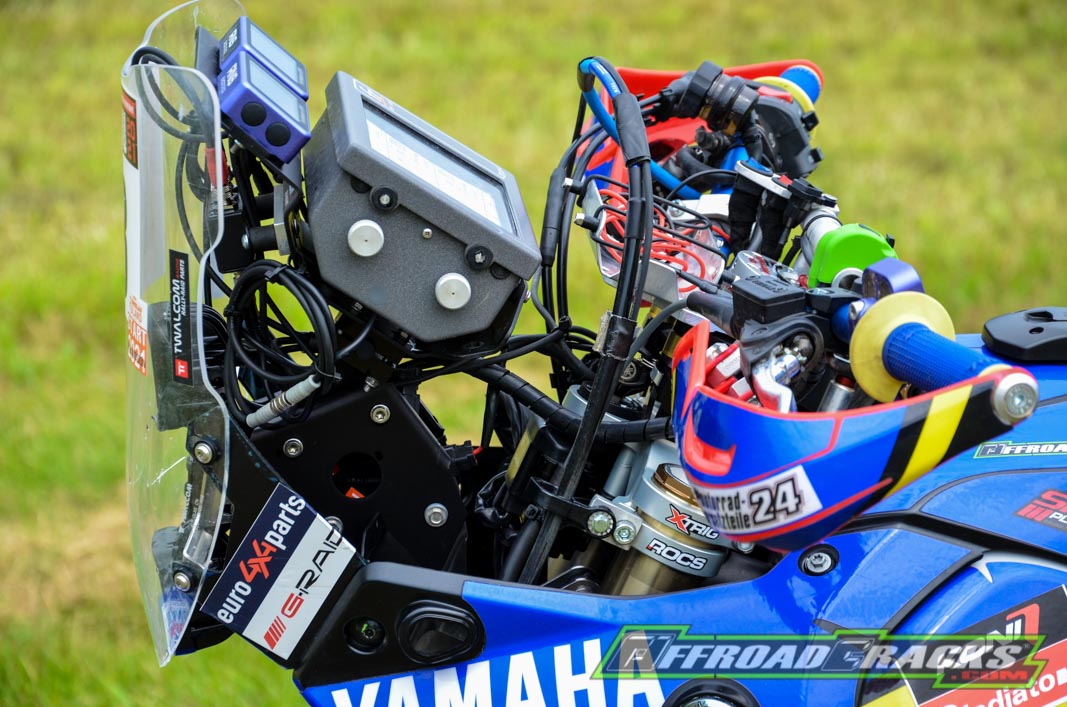 Diese werden zusammen mit dem Roadbook über einen RNS-Electronic-Multi-Schalter am linken Lenkerende bedient. Alle Produkte von RNS sind mit Silikon im Metall-Gehäuse vergossen und somit perfekt gegen äußere und Erschütterungen geschützt.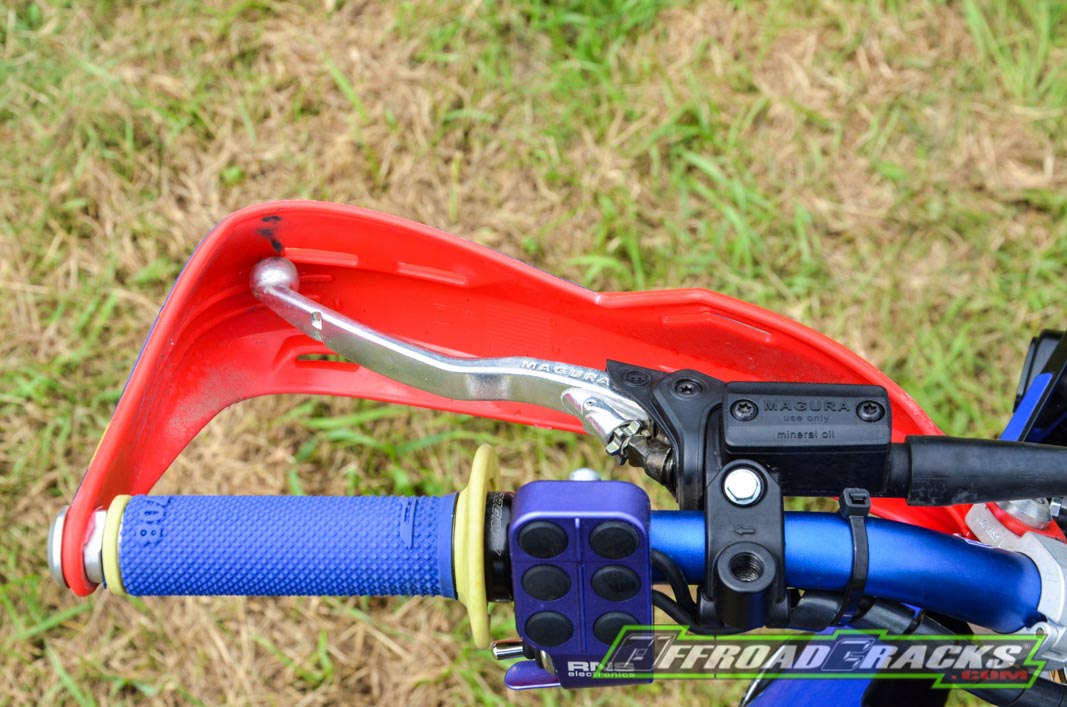 Eine passende Lichtanlage musste ebenfalls her, was durch zwei leuchtstarke Vision-X LED-Scheinwerfer umgesetzt wurde, die einen sehr geringen Strombedarf von viermal fünf Watt aufweisen und zugleich für den öffentlichen Straßenverkehr zugelassen sind. Zudem verfügen sie über ein doppelt breites Sichtfeld dank zweimal zehn und zweimal 25 Grad Ausleuchtung sowie eine beeindruckende Helligkeit von jeweils 2.115 Lumen. Geschützt wird der komplette Vorbau durch eine dicke Polykarbonat-Scheibe, die ebenfalls für den Straßenverkehr zugelassen ist.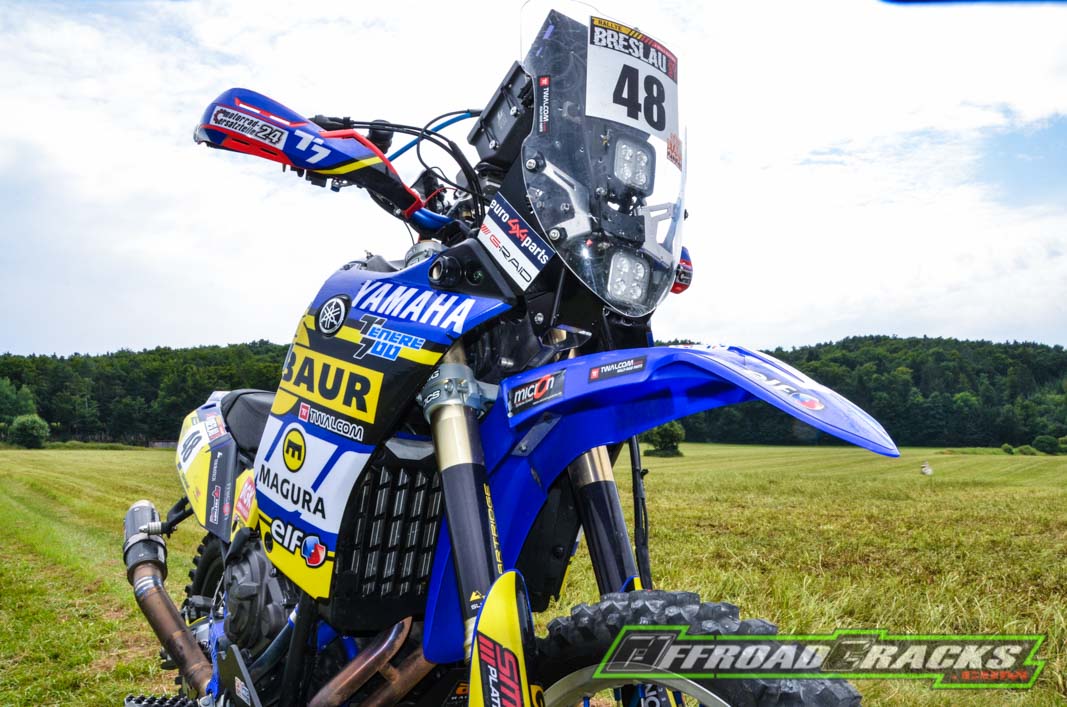 Dann musste der Kabelbaum passend modifiziert werden, ohne dabei zu tief in den Original-Kabelbaum der Ténéré einzudringen. Denn die Zugänglichkeit bei Defekt musste unter allen Bedingungen gegeben und zu reparieren sein. Das wäre im Gelände abseits jeglicher Zivilisation über den vergleichsweise aufwendigen Ténéré-Kabelbaum nicht realisierbar, so dass wir eine einfache externe Verkabelung direkt über die Batterie mit zusätzlichen Sicherungen gewählt haben. Denn dann bleibt der Original-Kabelbaum unangetastet und agiert unabhängig von den Anbauteilen. Somit dürfte die Ténéré unter allen Bedingungen problemlos laufen, sollte sich eine Fehlerquelle während des Einsatzes in unserem zweiten abschaltbaren Kabelbaum einschleichen. Denn im Fall eines Defekts wird es wegen der komplett verkleideten Ténéré extrem aufwendig, an alle notwendigen Bauteile und Bereiche zu kommen.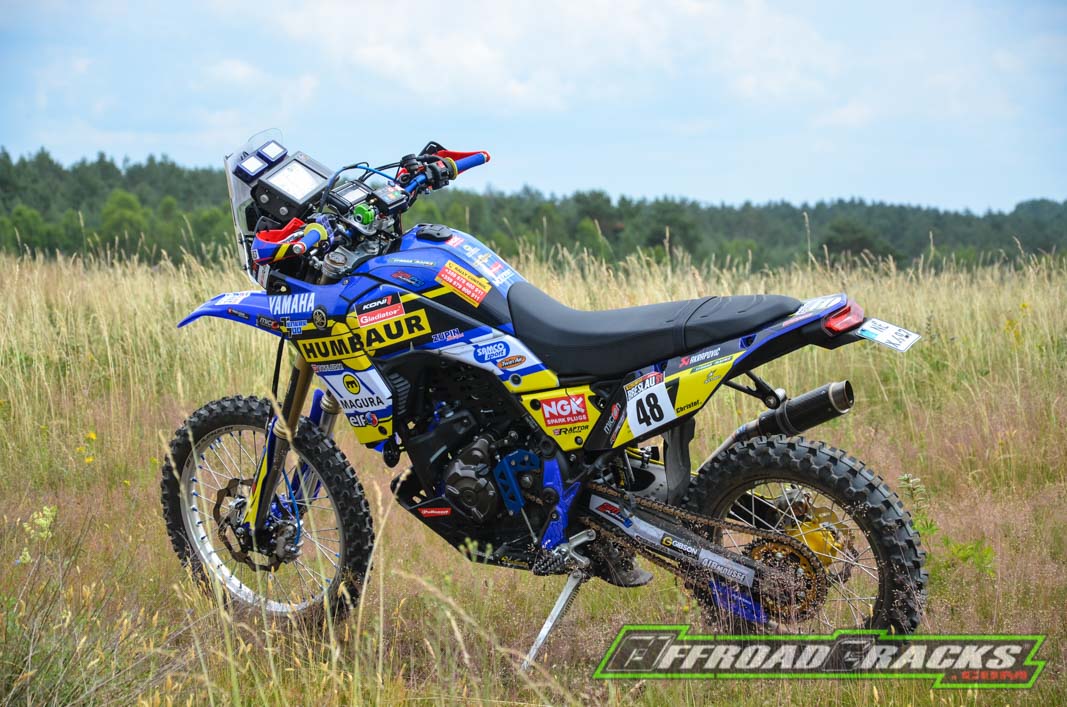 Eine intensive Testfahrt für Fahrwerk und elektronische Komponenten war vor der Rallye auf Grund der Redaktionsarbeit nicht mehr umsetzbar, was den Einsatz um so spannender machte. Denn alles muss dann auf den Tag zusammenkommen und funktionieren wie beispielsweise eine korrekt verlegte Bremsleitung oder ein einhundert prozentig funktionierendes Rad- und GPS-Signal für die beiden RNS-Tripmaster und eine passende Fahrwerksabstimmung.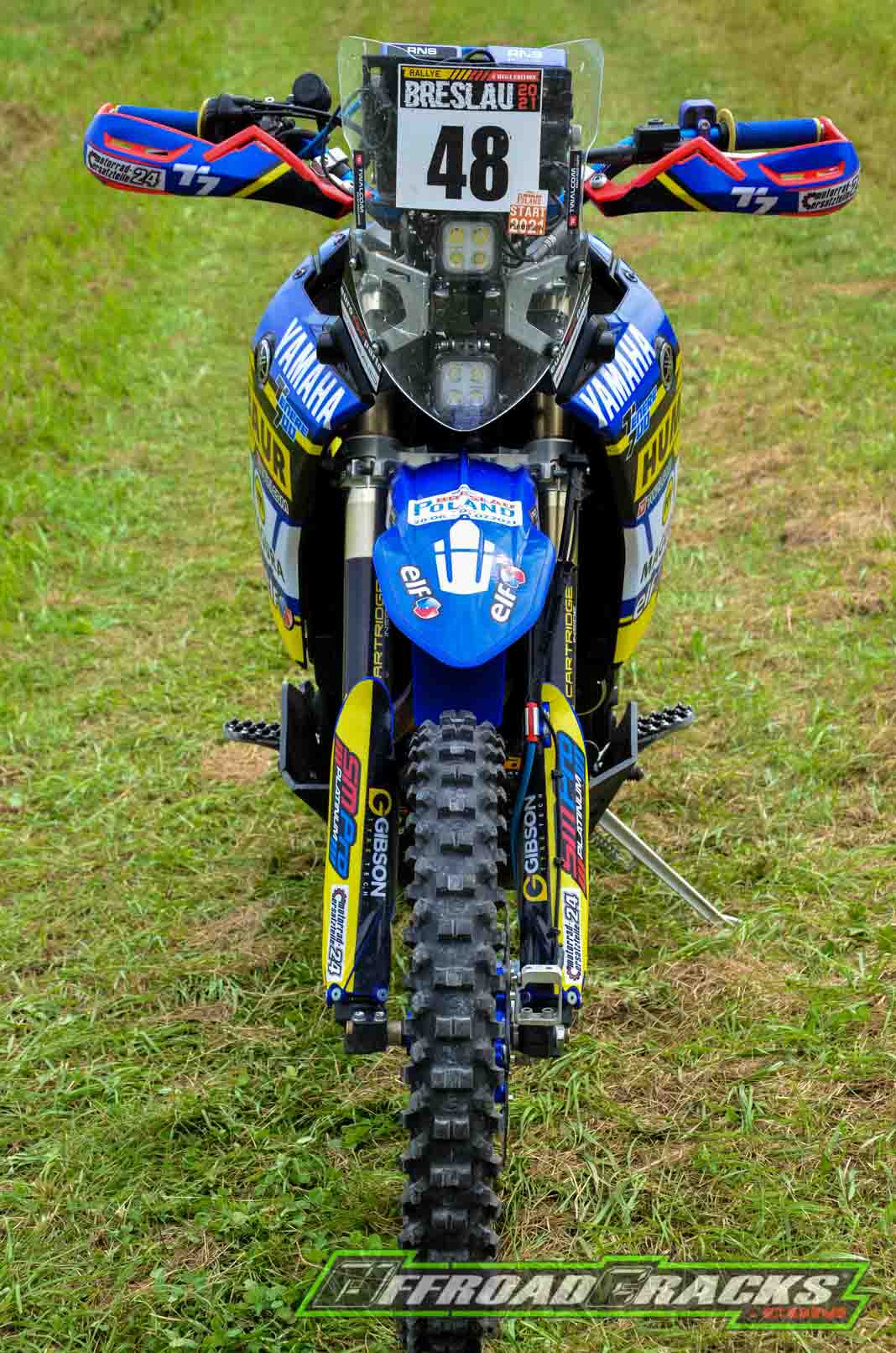 Nicht zu vergessen ist die Polisport-Vorderrad-Abdeckung von einer YZ450F, deren Gabelschützer sowie ein handliches Sportkennzeichen. Somit war laut Checkliste alles Notwendige für den Einsatz bei der Rallye-Breslau getan, so dass es nun ans Packen von Ersatzteilen, Kompressor, Stromgenerator, Zelt, Fahrerausstattung und Werkzeug ging, was nochmal gut einen Tag in Anspruch nahm. Wie es der Yamaha Ténéré 700 Rallye bei der legendären Rallye-Breslau erging, erfahrt ihr im nächsten Zwischenbericht mit all den gemachten Erfahrungen – bleibt also dran.
ACTION ONBOARD-VIDEO RALLYE BRESLAU 2021 – YAMAHA T7 Rallye Prototyp by OFFROADCRACKS.com
---
HINWEIS: Das Video ist noch deaktiviert, damit keine unerwünschte Datenübertragung zu Youtube stattfindet. Zur Aktivierung bitte auf das Vorschaubild/Video-Link klicken. Damit werden Daten übermittelt, zu deren Art, Umfang und Verwendungszweck wir keineAuskünfte geben können.
---
NOTE: The video is still deactivated so that no unwanted data transfer to YouTube takes place. To activate, please click on the preview image / video link. This transmits data about the type, extent and purpose of which we cannot provide any information.
---
Für den Anwender: Hierbei handelt es sich nur um eine Hilfestellung, die sich fahrzeugspezifisch orientiert. Wer sich mit den erklärten Arbeitsschritten in Bezug auf seine eigenen Yamaha Ténéré 700 nicht hundertprozentig sicher ist oder nicht über die passenden Werkzeuge und die notwendigen Fachkenntnisse verfügt, sollte einen Fachmann zu Rate ziehen.
Kooperationspartner
---
---
Montiertes Zubehör
TripMaster GFX v2 Pro, RNS, 595 Euro
TripMaster GXS v2 Standard, RNS 449 Euro
Multiswitch 6V, RNS 299 Euro
Multiswitch 6H, RNS 299 Euro
LED-Einheit Roadbook, F2R 18 Euro
Rallye Power Box, F2R 98 Euro
Rallye-Kit Adventure Pro-Q, Twalcom 1817,80 Euro
Mousse 1,1bar 110-120/100-18, Airmousse 161 Euro
Mousse 1,1bar 90/100-21, Airmousse 161 Euro
Tech 7.1 110/100-18, Gibson Tyre Tech 75,80 €
Tech 9.1 90/100-21, Gibson Tyre Tech 67,30 €
Adige Reifenhalter 2.15, Zupin 17 Euro
Adige Reifenhalter 1.60, Zupin 13 Euro
Progrip SCS Griffe , Ikg 26 Euro
Sportkennzeichen, Kennzeichenbiene ab 19,90 Euro
Hymec hydraulische Kupplung, Magura ab 249 Euro
Galespeed radiale Bremsarmatur, Micronsystems Preis auf Anfrage
Stahlflex-Bremsleitung vorn und hinten, Micronsystems Preis auf Anfrage
Scorpion Titan-Karbon-Schalldämpfer, Micronsystems Preis auf Anfrage
Vorderradkotflügel YZ450F, Polisport/Zupin 28,20 Euro
Gabelschützer YZ450F, Polisport/Zupin 28,20 Euro
Geschlossene Hebelschützer Evolution, Polisport/Zupin 22 Euro
Individuell erstelltes widerstandsfähiges Rallye-Dekor, MX-Print Preis auf Anfrage
Blaue Rahmenschützer, Acerbis 50 Euro
Blauer Kettenschleifklotz, Acerbis 60 Euro
525er Afam X-Ring-Antriebskette 124 Glieder, Motorrad-Ersatzteile24 123,90 Euro
Supersprox Stealth Kettenrad, Motorrad-Ersatzteile24 Preis auf Anfrage
Braking Wave-Bremsscheibe hinten, Motorrad-Ersatzteile24 104 Euro
Shido Lithium-Batterie YTZ10S, Motorrad-Ersatzteile24 124,30 Euro
Adventure Federbein Spezial, Touratech
Gabel-Abstimmung, Touratech
Led Lightbar 30°, Touratech 229 Euro
Seitenständerauflagenverbreiterung, Touratech 50 Euro
Wasserpumpenschutz, Touratech 35 Euro
Seitliche Motor-Schutzabdeckung, Touratech 100 Euro
Bremsyzlinderschutz, Touratech 35 Euro
Bremsflüssigkeitsbehälter-Schutz, Touratech 35 Euro
Werkzeugset , Touratech 189 Euro
Rallye-Sitzbank, Yamaha Preis auf Anfrage
Kühlerschutz, Yamaha 128 Euro
---

The Yamaha Ténéré 700 Rallye made by OFFROADCRACKS is ready for rally use and can finally be tested under suitable conditions at the Breslau Rally.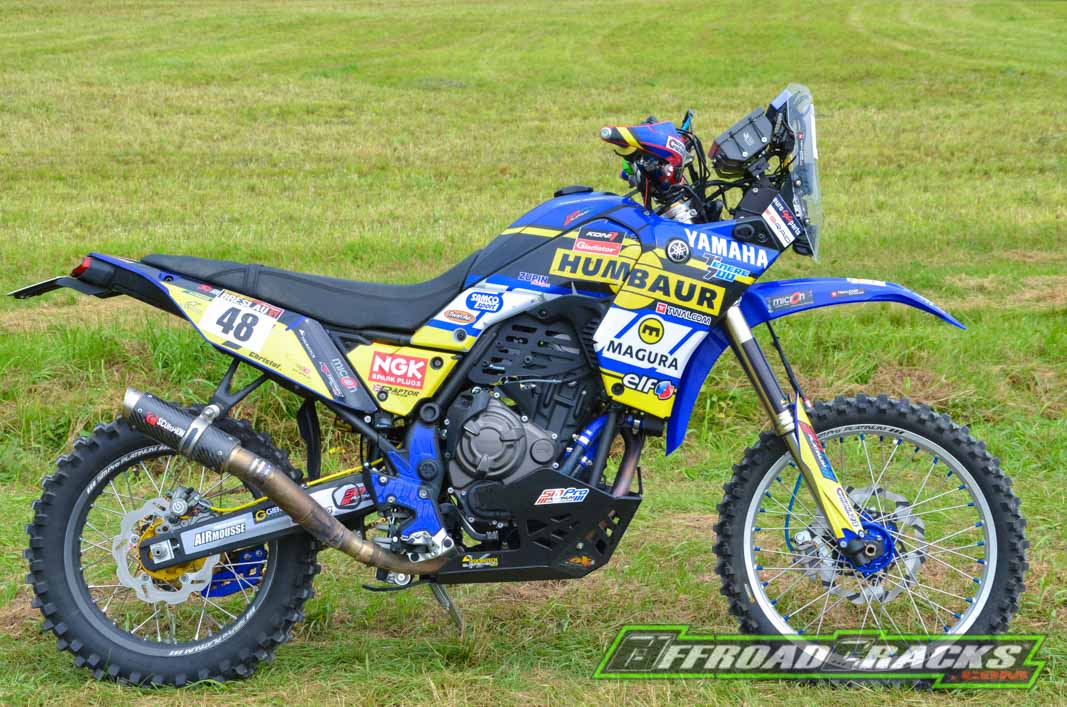 Let's start right where we left off last time. The Yamaha light metal radiator guard was dismantled again due to the numerous changes to the motorcycle, as some trim parts no longer fit and the original was used again.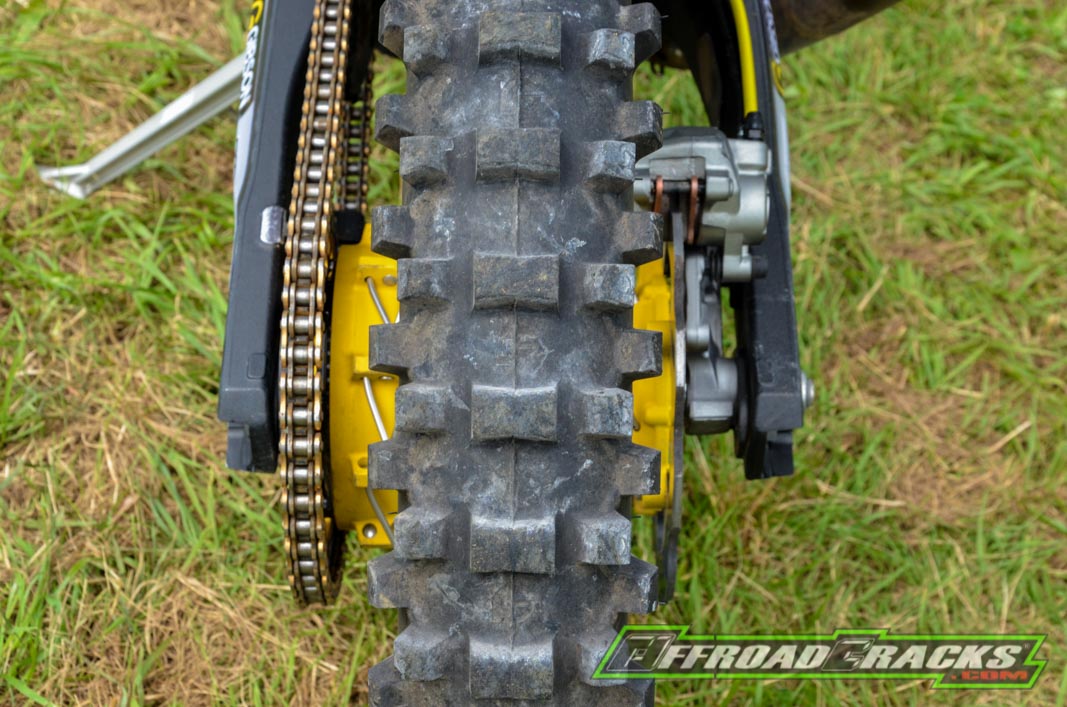 With regard to the wheels, a newly spoked and coated original hub with a shock absorber is used at the rear, which is equipped with extra strong spokes and an SMPro Platinum rim. Shock absorbers because this protects the drive, mousse and tires. A YZ450F hub from SMPro-Wheels with a platinum rim is mounted on the front wheel.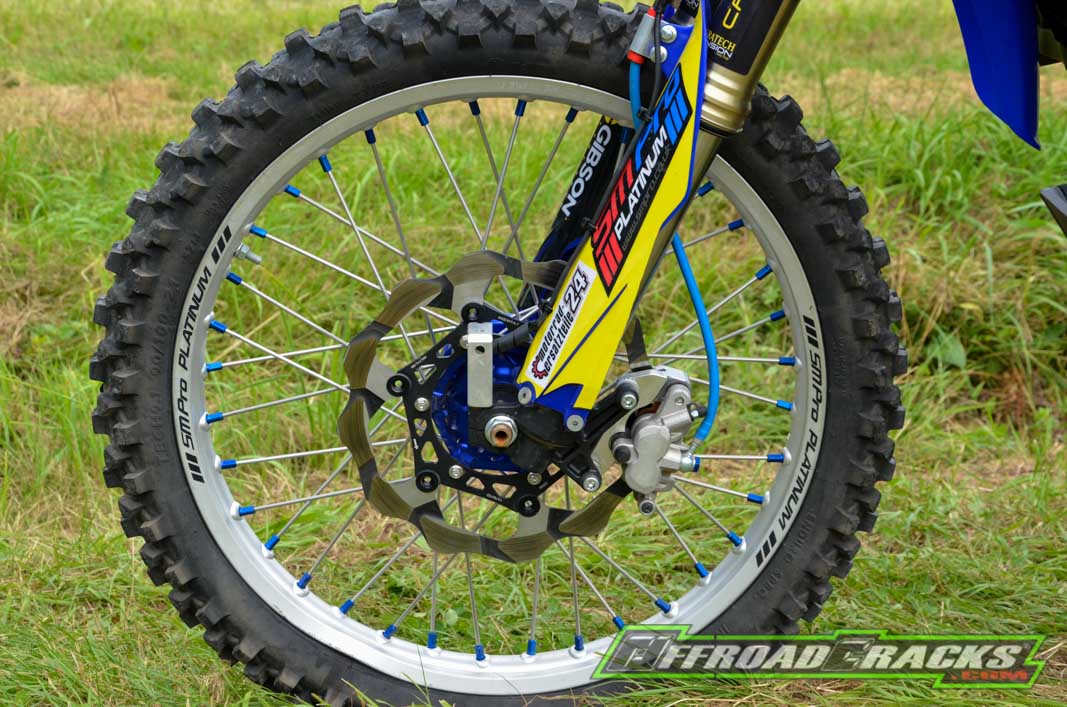 At the same time, the large 280 Braking Batfly brake disc with adapter is used and is connected with a color-coordinated steel flex hose and the radial Galespeed brake fitting with a piston diameter of 14 millimeters and an external expansion tank, both from Micronsystems. The original brake remains on the rear wheel and only the brake disc is replaced by a braking alternative in a wave design and equipped with a steel flex line. The ABS system including double brake line routing was completely thrown out because it is in no way relevant for this application and also saves a lot of weight.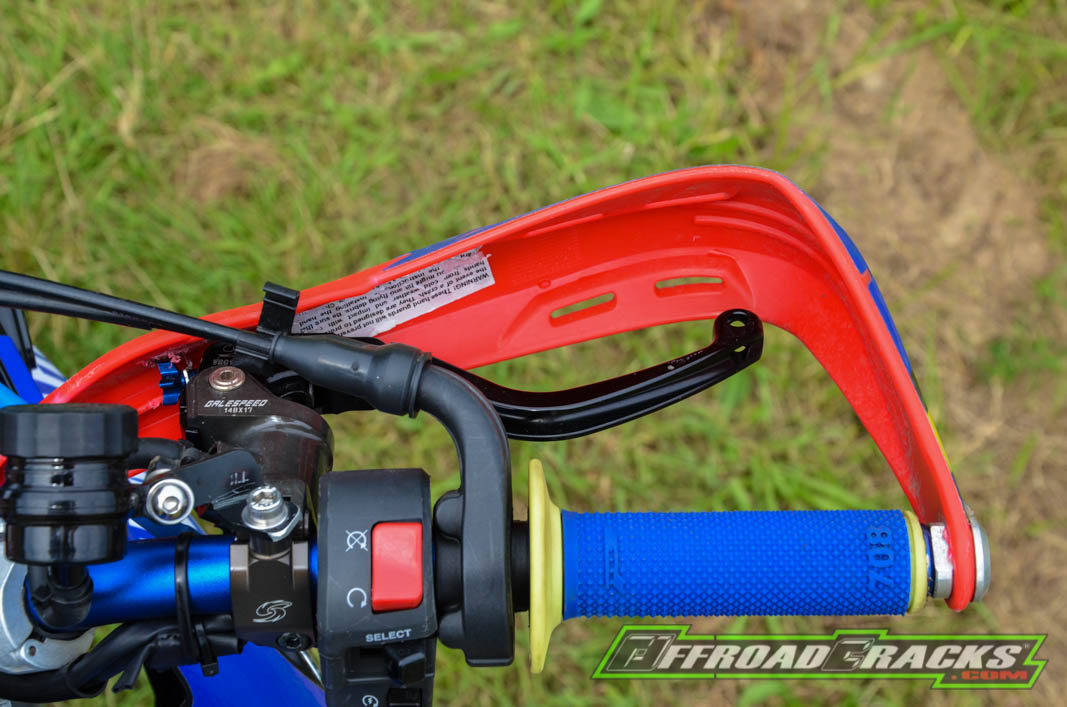 Then here is a list of various accessories: The already mentioned AXP Racing plastic engine guard fits exactly to the millimeter, as does the blue Acerbis frame guards, which only stay in place with an O-ring and snap-in lugs – will that hold?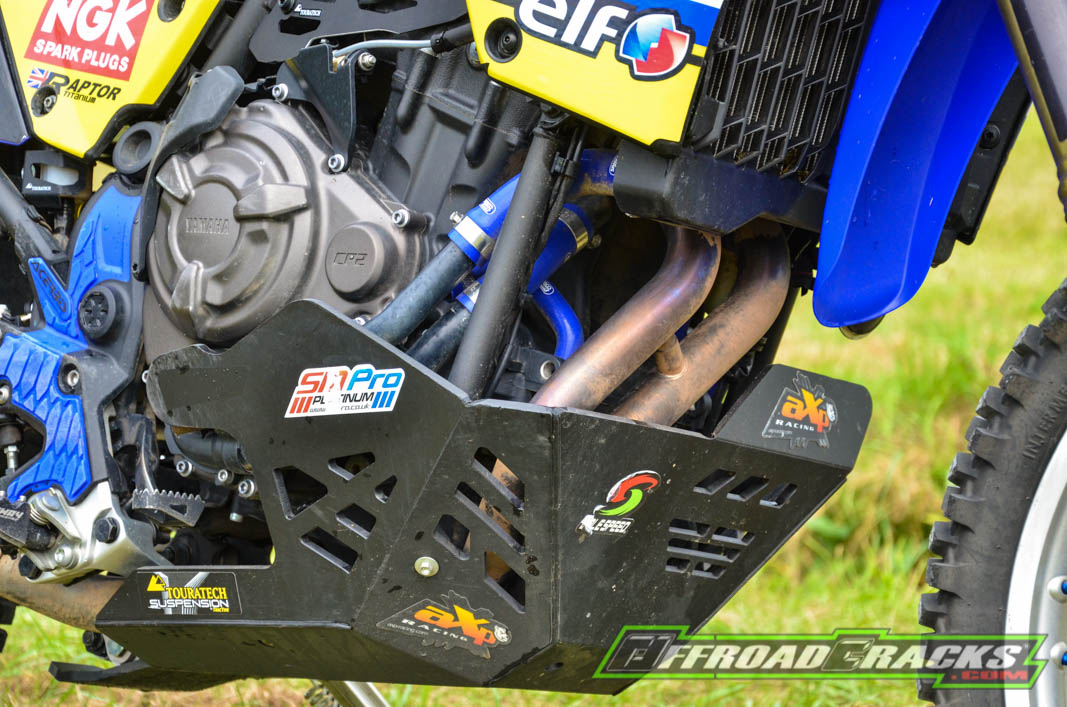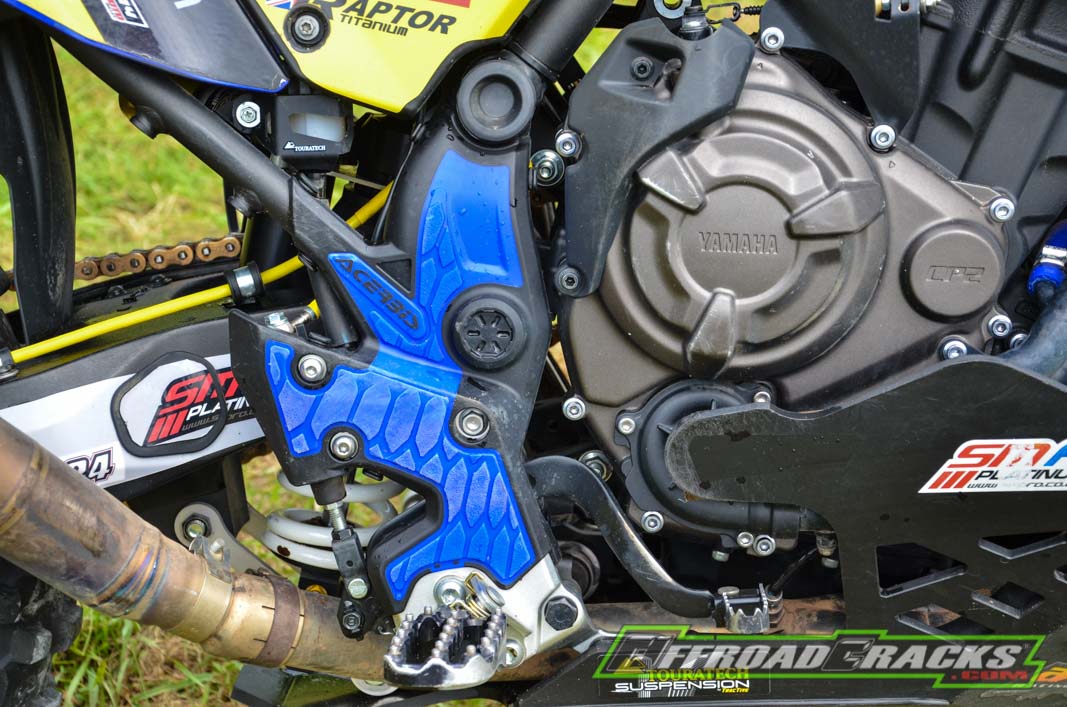 Followed by a blue anodized Twalcom chain wheel guard from Italy, which also covers the shift linkage. Then a Touratech water pump cover protector made of aluminum is used, a protective element from the same company for the rear external brake fluid expansion tank and two protective grids at the level of the throttle body. The closed lever guards come from Polisport, the handles from Pro-Grip and the handlebars come from Renthal and were provided by Zupin-Moto-Sport.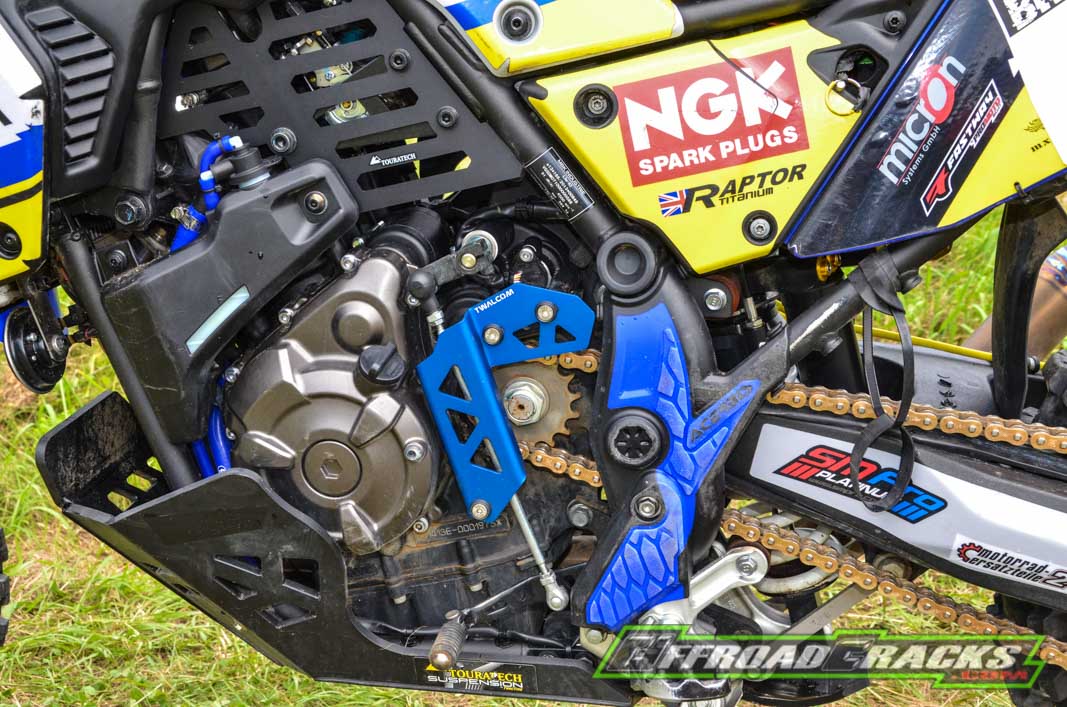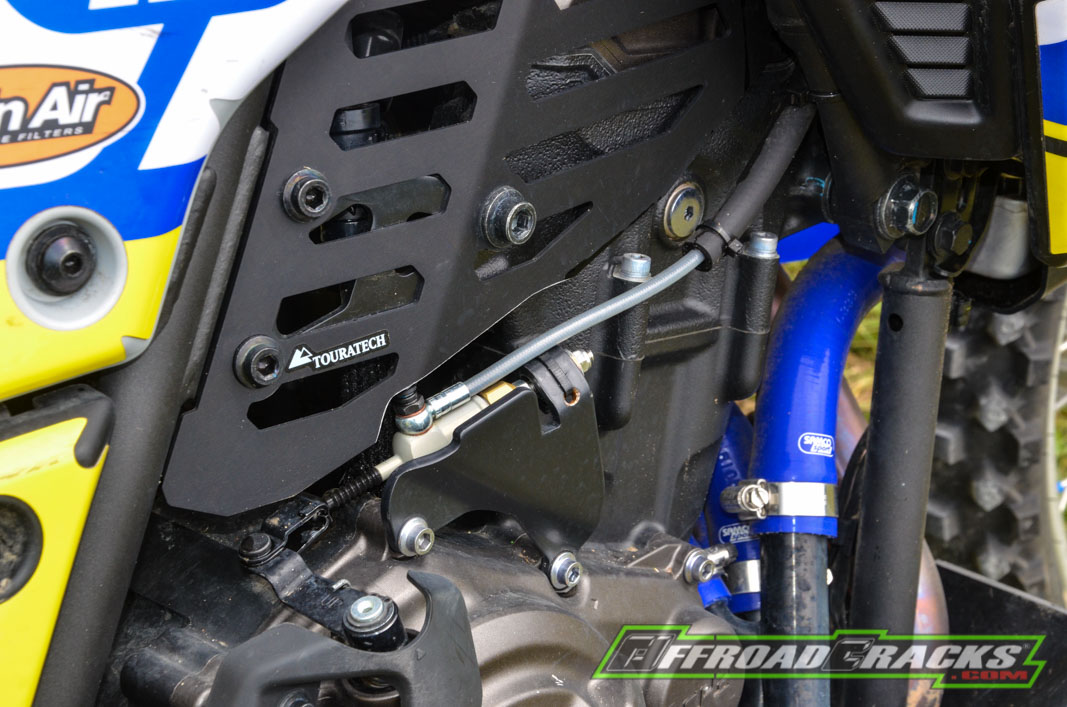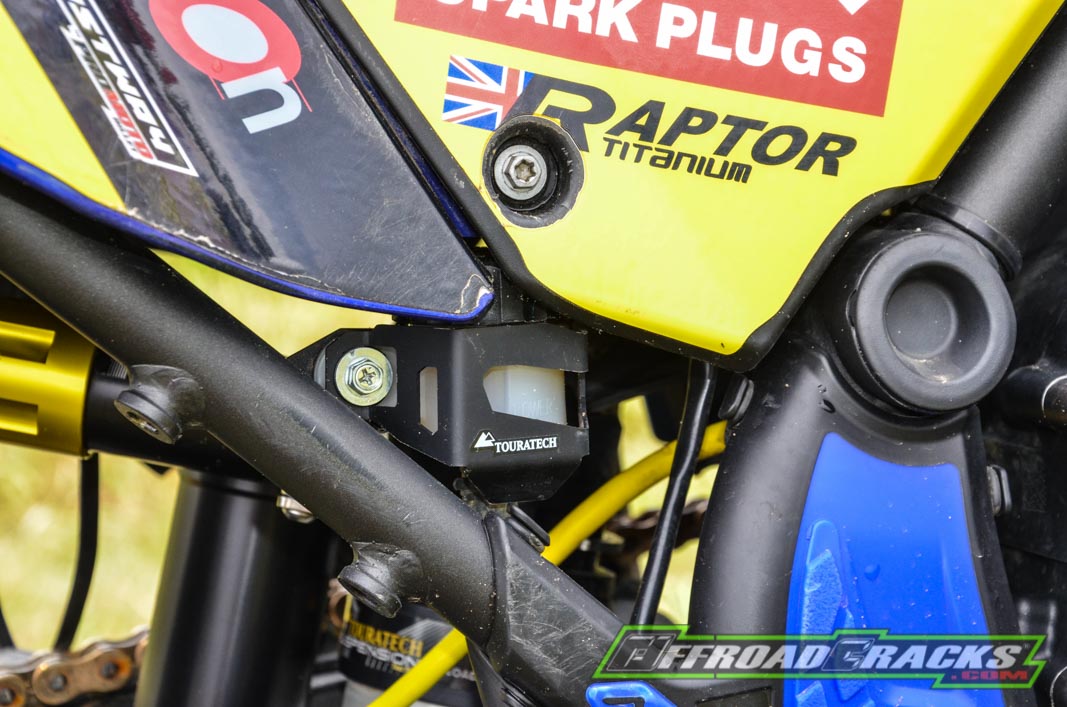 Before we get to the special equipment for a rally participation, a few details about the drive. An Afam X-ring chain with original 525 pitch, an Afam front sprocket and a Supersprox stealth sprocket from Motorrad-Ersateilte24 are responsible for the power transmission to the rear wheel. The SMPro rear wheel was equipped with an AirMousse, which corresponds to an air pressure of 1.1 bar. In addition, the legendary and proven Adige tire racks are used, which are beyond any doubt. A Gibson Tech 7.1 tire in size 110 / 100-18 should ensure perfect traction on the rear wheel. This was mounted on a 2.15 inch rim, which is extra narrow for this type of vehicle, in order to get the Ténéré 700 around the corners a little more nimble and to improve the playful handling. In principle, the same applies to the front wheel, only that a Gibson Tech 9.1 in size 90 / 100-21 will do its job. One more word about the chain guard, which has been replaced by a plastic version in blue from the Acerbis sports segment.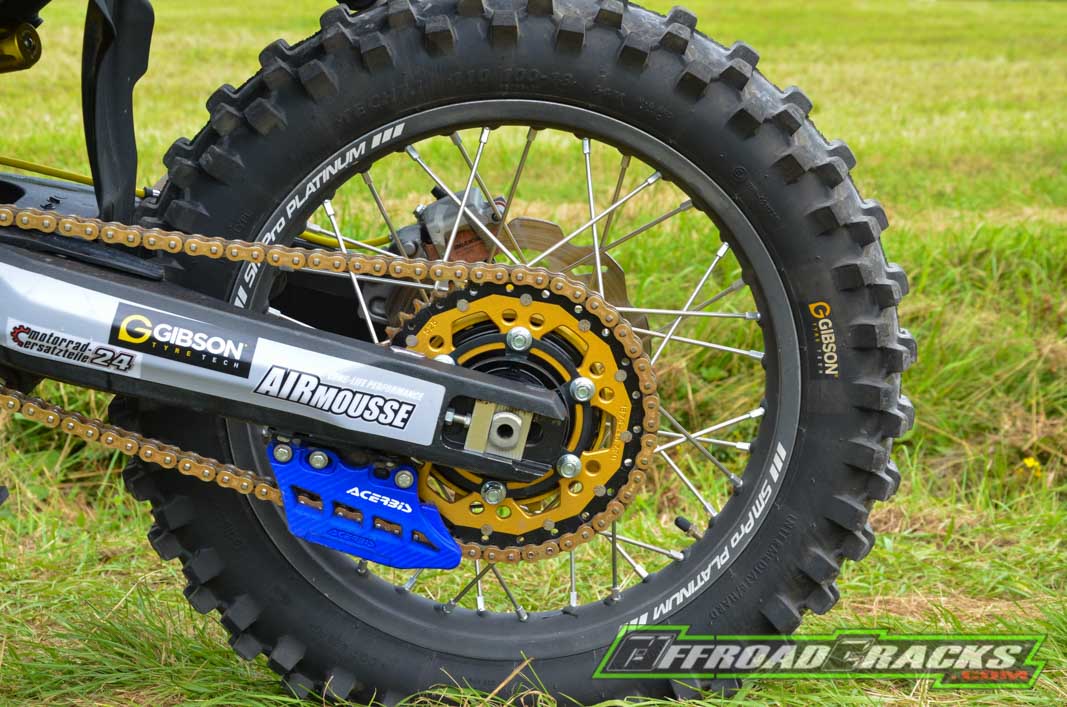 And what is damping the movement of the rear wheel? A Touratech Adventure shock absorber that is fully adjustable and that Touratech has given an appropriate setup from the experienced ex-Enduro rider and Touratech employee Lars Würdemann.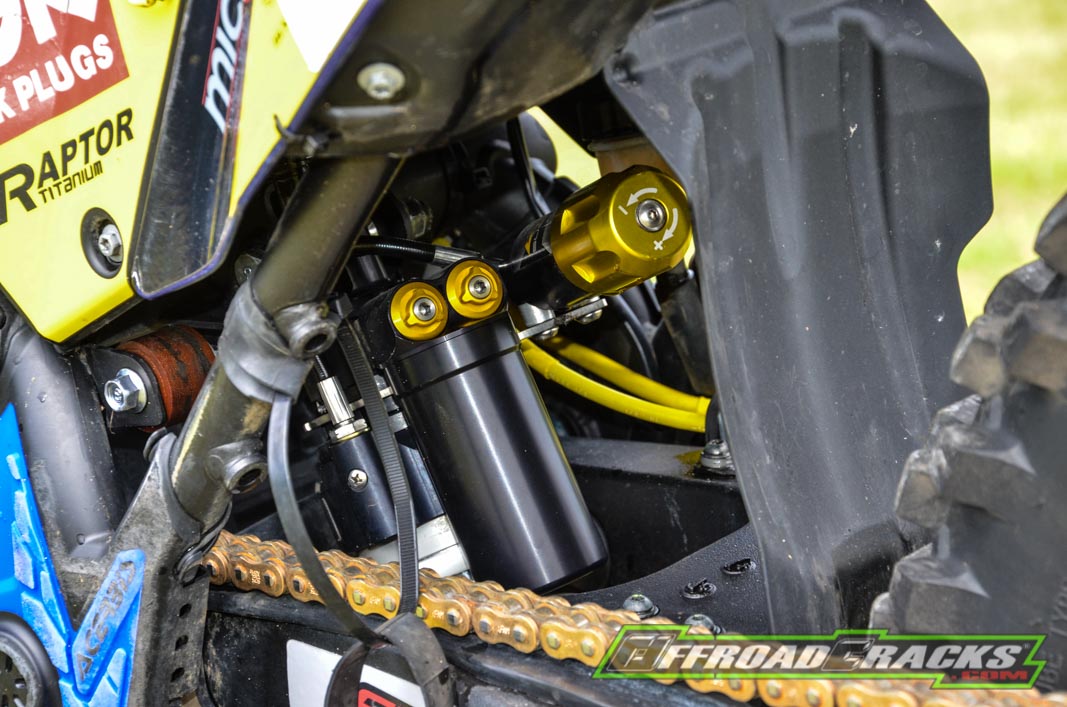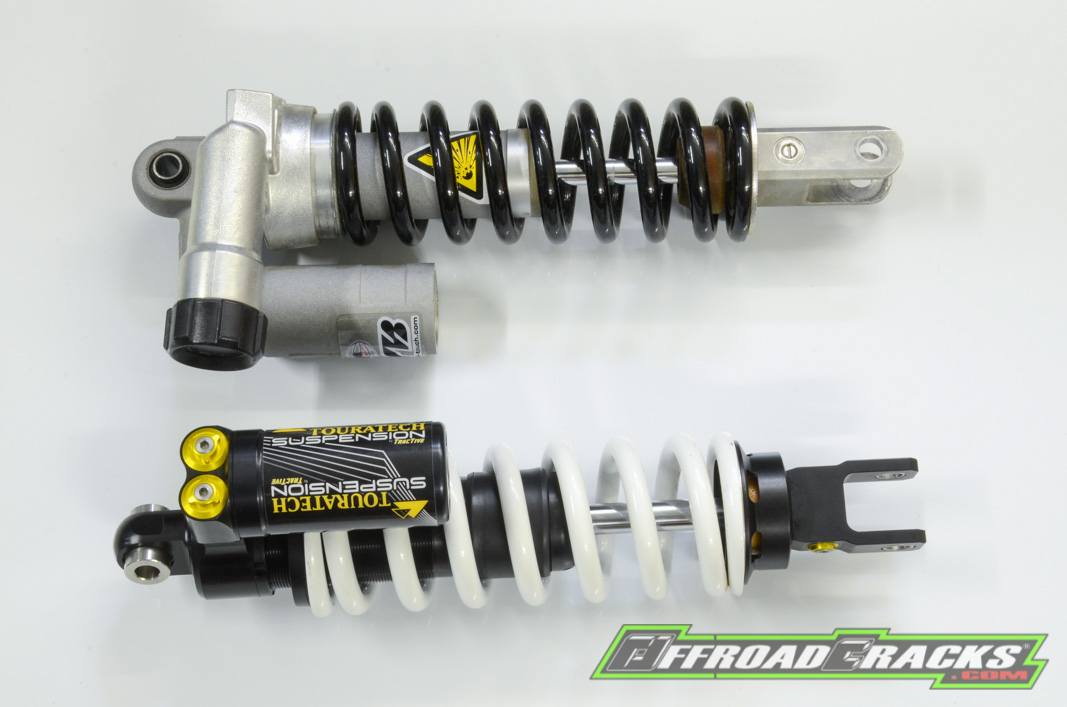 There is no question that a steering damper is needed for this fighting weight in the deep sands of Poland. Anything else would be irresponsible, which is why GPR Stabilizer from San Diego in the USA has provided a product here. The Twin-Air air filter including the GP cover and the Yamaha rally seat have already been explained in detail in the previous interim reports.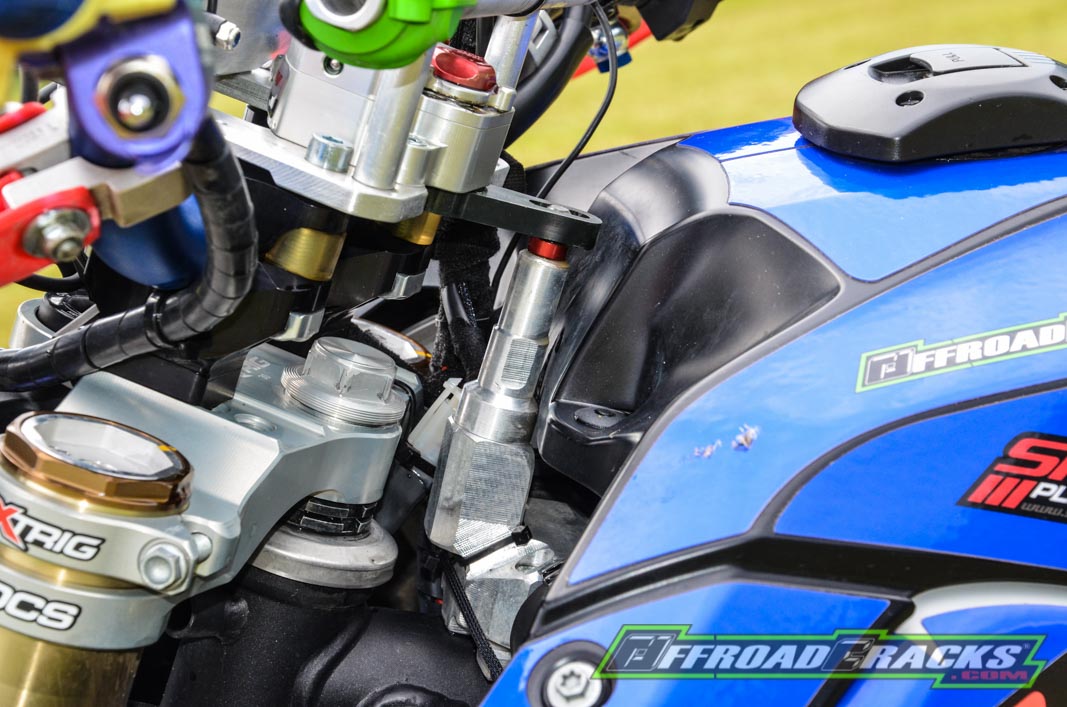 Now it was still a matter of letting the engine heat escape into the habitat. For this purpose, Micronsystem quickly provided us with a carbon-titanium silencer from Scorpion, which still had to be adapted for the T7. As a result, we were able to save over two kilograms on the Akrapovic silencer, again – perfect, because every gram at this fighting weight counts for a rally distance of a whopping 1,500 kilometers.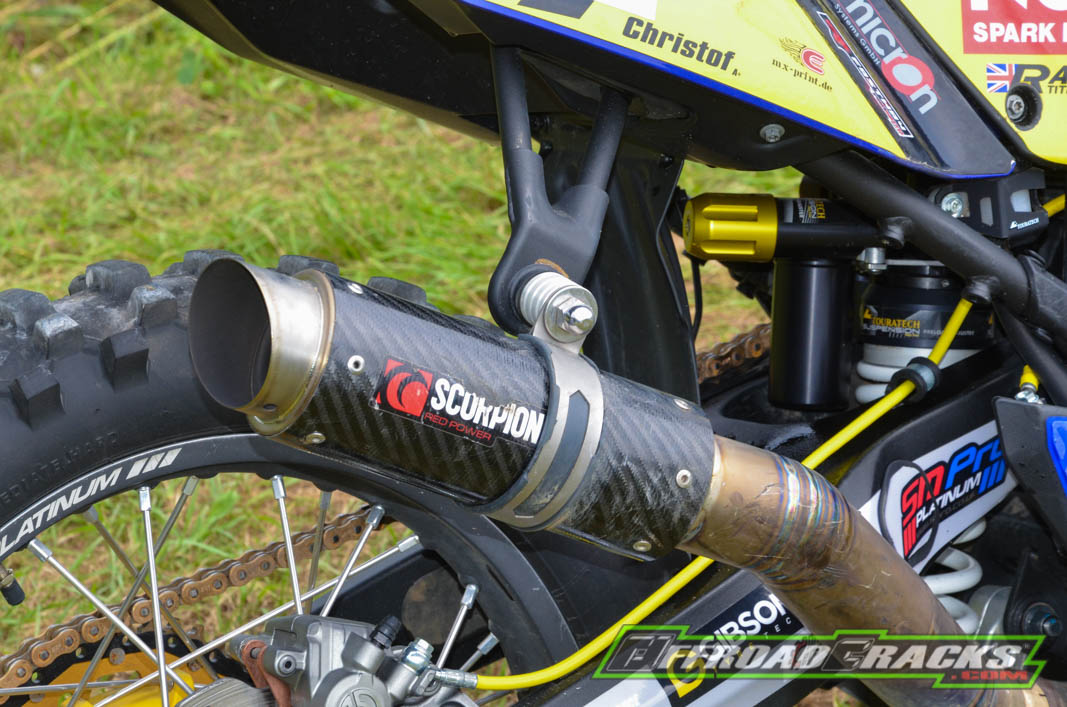 And the same goes on with the weight reduction in the form of a Shido lithium battery, with which we can also neutralize a whopping two kilograms compared to the classic acid battery.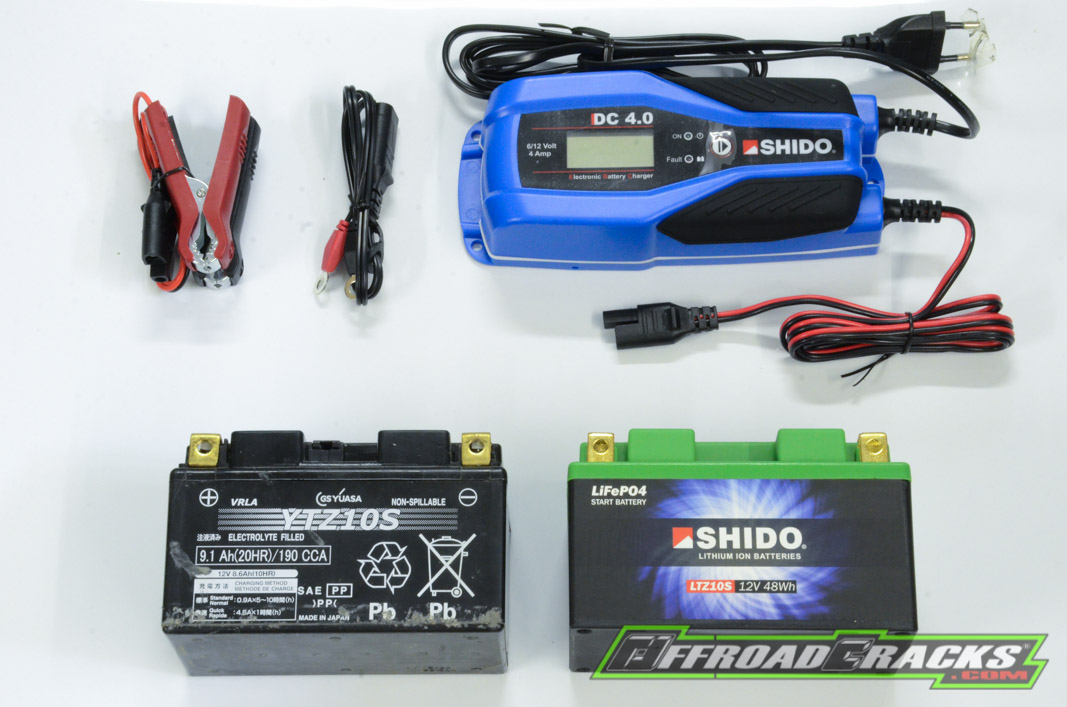 For rally-specific use, a suitable light metal mount for the counter bracket of the steering damper had to be milled from solid, which took an enormous amount of time, but ultimately positioned the damper optimally over the pivot point of the fork clamp. In addition, a suitable GPS mount had to be made of light metal, supplemented by a multi-holder for special switches, Com-Box, etc., which must be easily dismantled at any time in an emergency. That again demanded measurement and test work for the devil and made the lathe and milling machine run hot.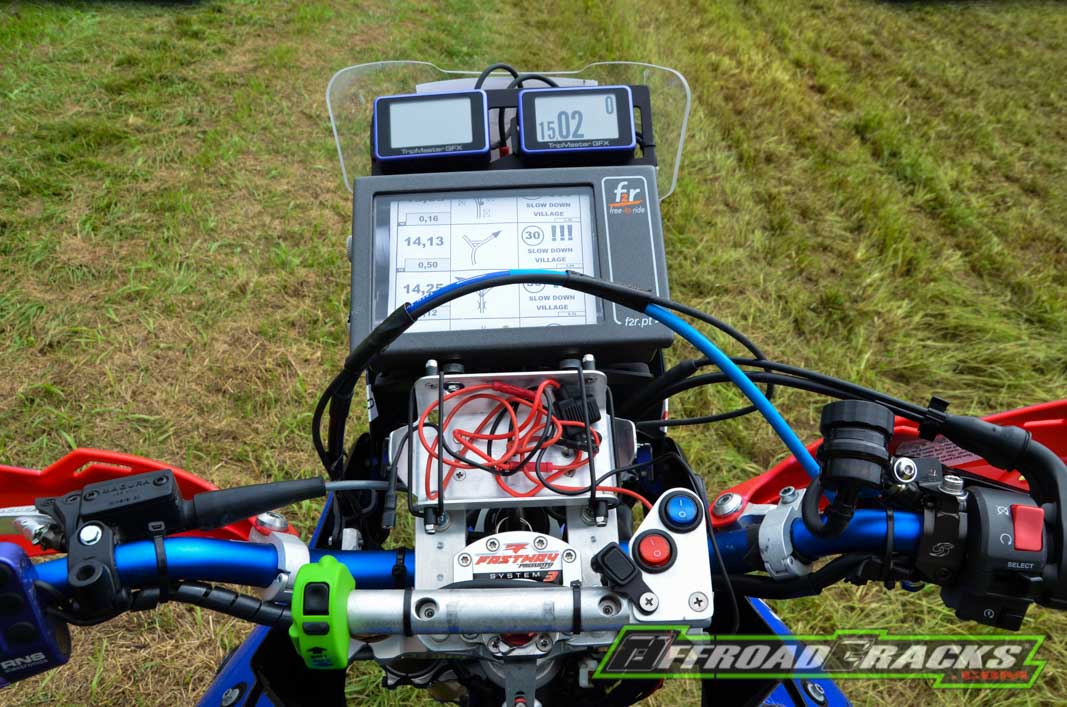 The nav tower for the F2R roadbook comes from Twalcom, which also takes the two RNS Electronic Tripmasters from Germany.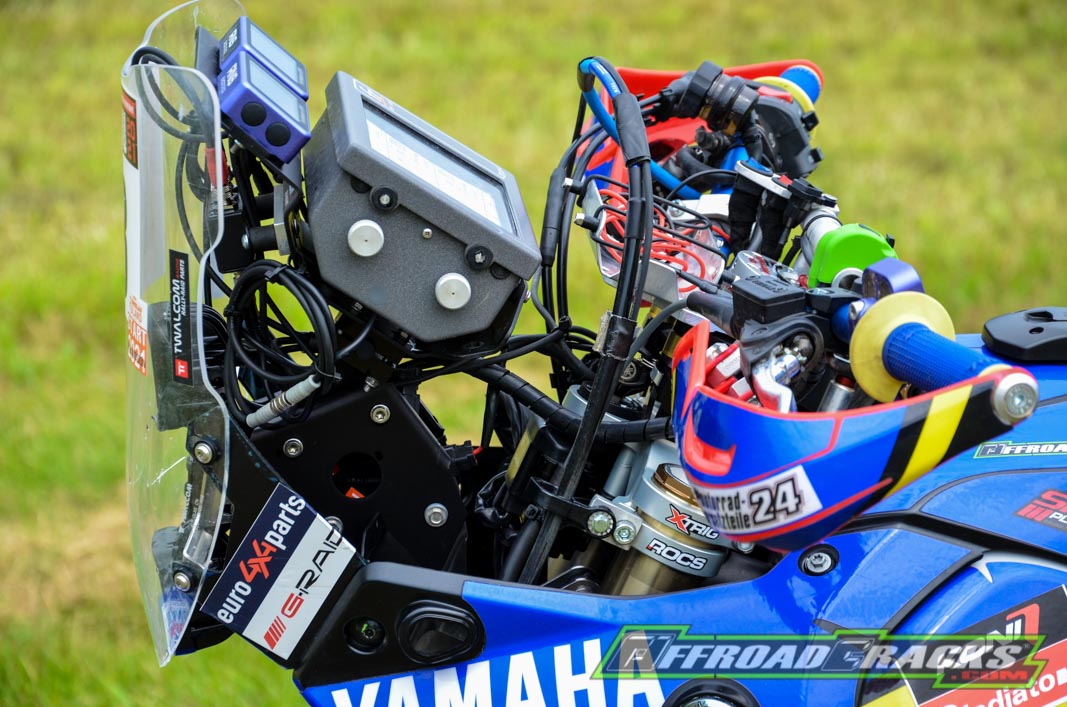 These are operated together with the roadbook via an RNS electronic multi-switch on the left end of the handlebar. All RNS products are encapsulated with silicone in a metal housing and are therefore perfectly protected against external vibrations.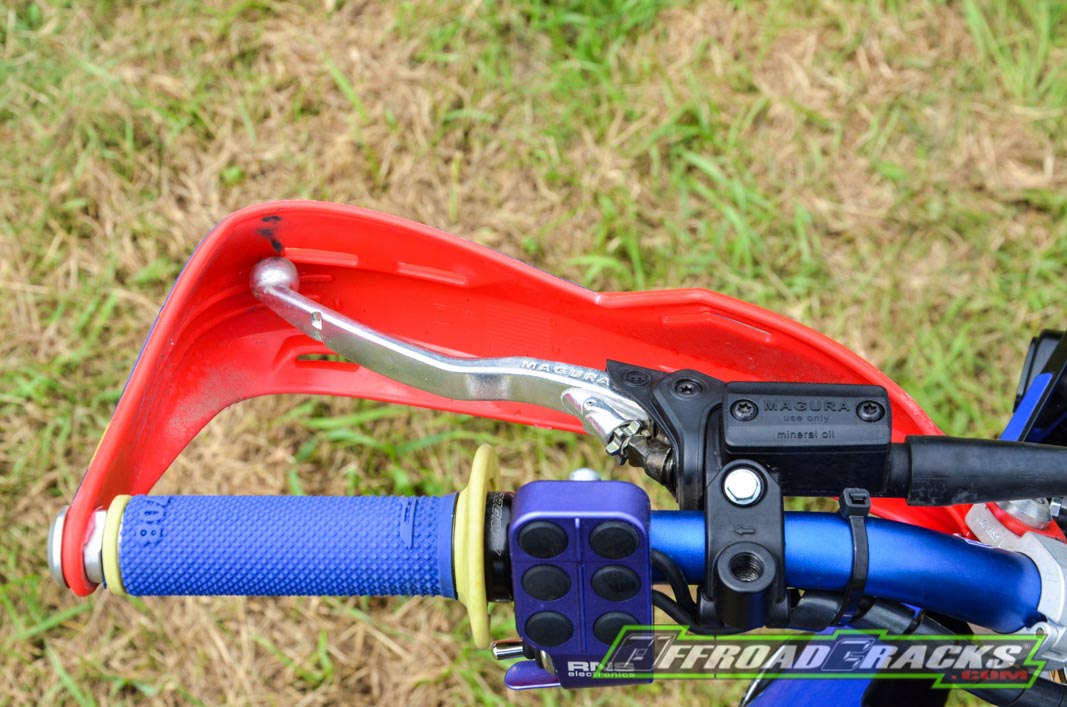 A suitable lighting system was also needed, which was implemented by using two powerful Vision-X LED headlights that have a very low power requirement of four times five watts and are also approved for use on public roads. They also have a double-wide field of vision thanks to two ten and two 25 degrees of illumination and an impressive brightness of 2,115 lumens each. The entire stem is protected by a thick polycarbonate pane, which is also approved for road traffic – thanks to Twalcom!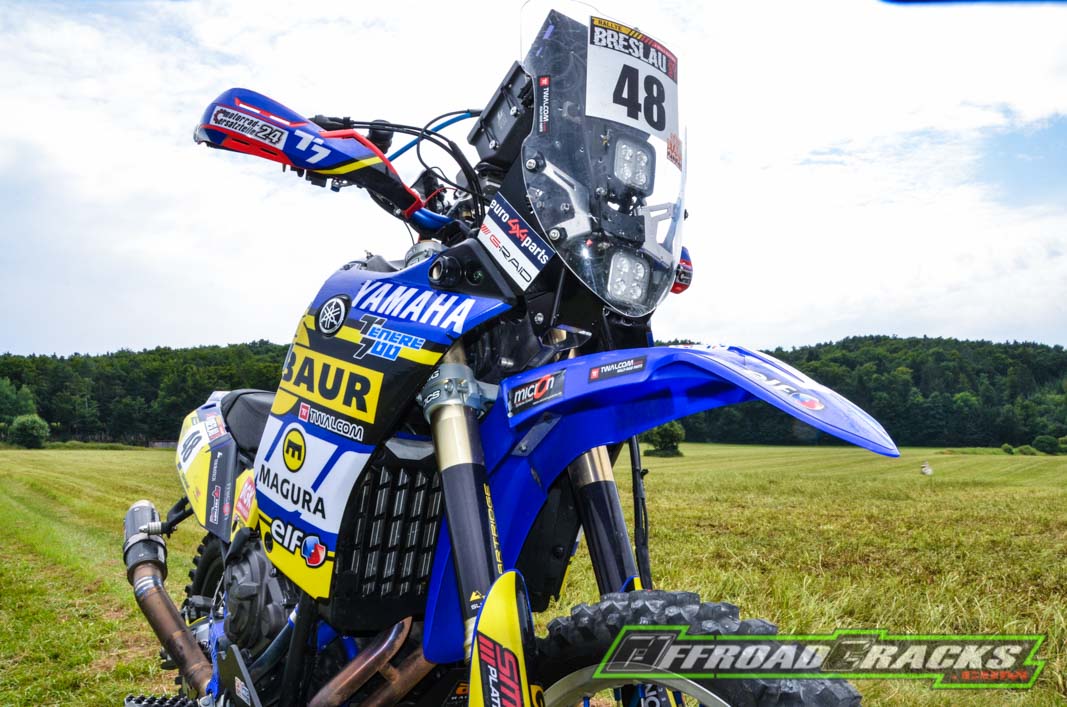 Then the wiring harness had to be modified to match without penetrating too deeply into the original wiring harness of the Ténéré. Because the accessibility in the event of a defect had to be given and repairable under all conditions. This would not be possible in the field away from any civilization using the comparatively complex Ténéré cable harness, so we chose simple external cabling directly via the battery with additional fuses. Because then the original wiring harness remains untouched and acts independently of the attachments. Thus, the Ténéré should run smoothly under all conditions, should a source of error creep into our second disconnectable cable harness during use. Because in the event of a defect, the completely clad Ténéré makes it extremely time-consuming to get to all the necessary components and areas.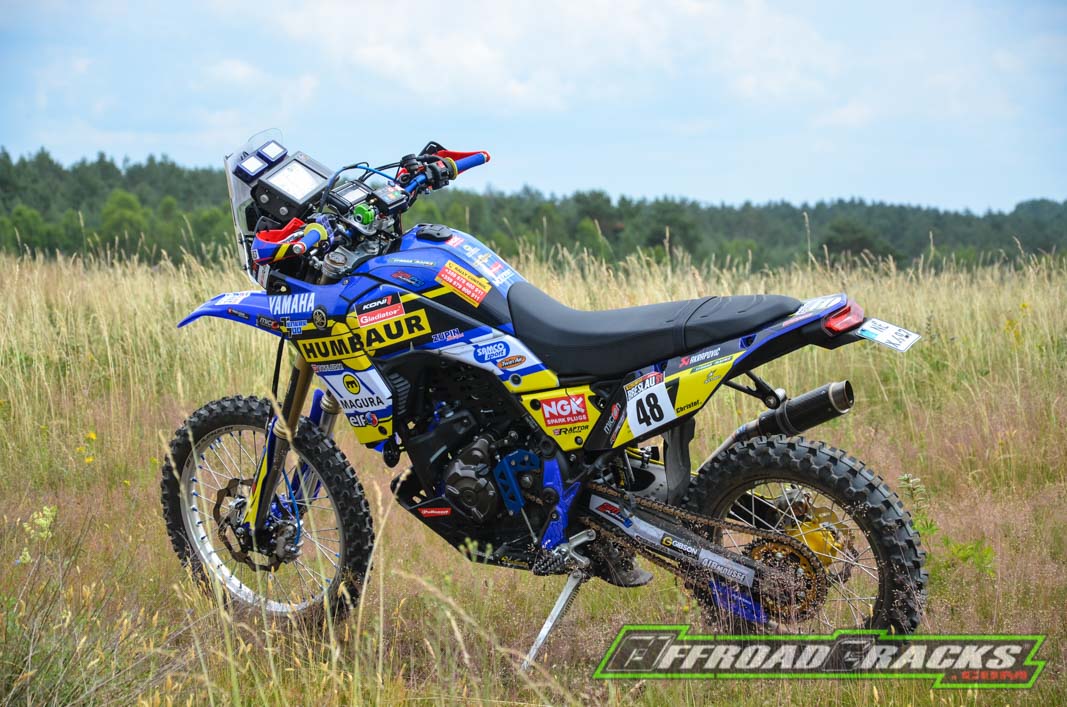 An intensive test ride for the chassis and electronic components was no longer feasible before the rally due to the editorial work, which made the mission all the more exciting. Because everything has to come together and work for the day, such as a correctly laid brake line or a one hundred percent functioning wheel and GPS signal for the two RNS tripmasters and a suitable suspension set-up.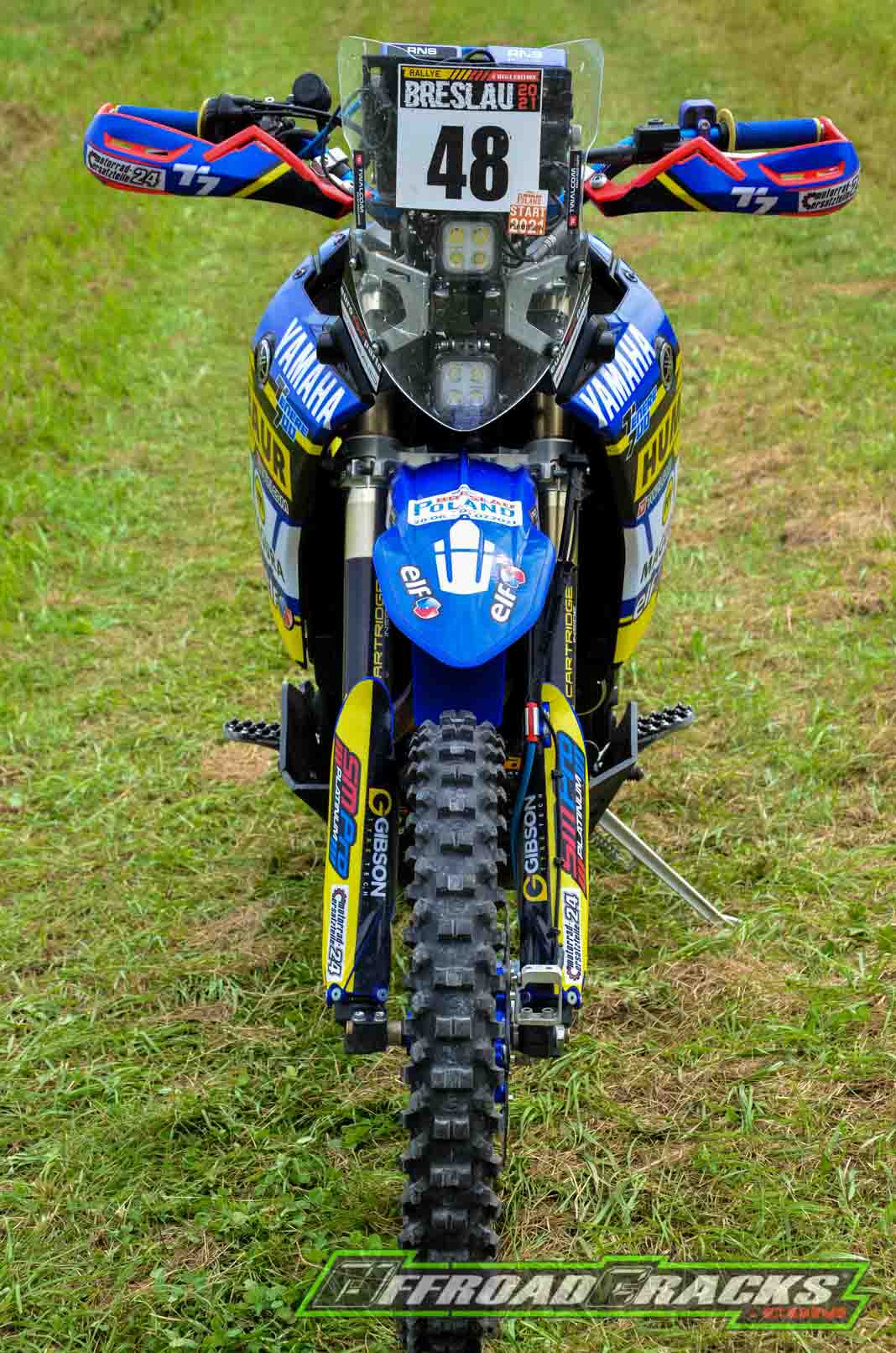 Not to be forgotten is the Polisport front wheel cover of a YZ450F, its fork protector and a handy sports license plate. Thus, according to the checklist, everything necessary for the deployment at the Rallye Breslau was done, so that it was now time to pack spare parts, compressor, power generator, tent, driver's equipment and tools, which took another day. You will find out how the Yamaha Ténéré 700 Rallye fared at the legendary Rallye Breslau in the next interim report with all the experiences – so stay tuned.
ACTION ONBOARD-VIDEO RALLYE BRESLAU 2021 – YAMAHA T7 Rallye Prototyp by OFFROADCRACKS.com
---
HINWEIS: Das Video ist noch deaktiviert, damit keine unerwünschte Datenübertragung zu Youtube stattfindet. Zur Aktivierung bitte auf das Vorschaubild/Video-Link klicken. Damit werden Daten übermittelt, zu deren Art, Umfang und Verwendungszweck wir keineAuskünfte geben können.
---
NOTE: The video is still deactivated so that no unwanted data transfer to YouTube takes place. To activate, please click on the preview image / video link. This transmits data about the type, extent and purpose of which we cannot provide any information.
---
For the user: This is only an assistance that is vehicle-specific. Anyone who is not one hundred percent sure about the explained work steps in relation to their own Yamaha Ténéré 700 or does not have the appropriate tools and the necessary specialist knowledge should seek advice from a specialist.
Cooperation partners
---
---
Mounted accessoires
TripMaster GFX v2 Pro, RNS, 595 Euro
TripMaster GXS v2 Standard, RNS 449 Euro
Multiswitch 6V, RNS 299 Euro
Multiswitch 6H, RNS 299 Euro
LED-Unit Roadbook, F2R 18 Euro
Rallye Power Box, F2R 98 Euro
Rallye-Kit Adventure Pro-Q, Twalcom 1817,80 Euro
Mousse 1,1bar 110-120/100-18, Airmousse 161 Euro
Mousse 1,1bar 90/100-21, Airmousse 161 Euro
Tech 7.1 110/100-18, Gibson Tyre Tech 75,80 €
Tech 9.1 90/100-21, Gibson Tyre Tech 67,30 €
Adige tyre rack 2.15, Zupin 17 Euro
Adige tyre rack 1.60, Zupin 13 Euro
Progrip SCS grips , Ikg 26 Euro
Number plate sport, Kennzeichenbiene from 19,90 Euro
Hymec hydraulic clutch, Magura from 249 Euro
Galespeed radial brake cylinder, Micronsystems price on request
Stahlflex brake hose front and rear, Micronsystems price on request
Scorpion Titan-Carbon muffler, Micronsystems price on request
Front fender YZ450F, Polisport/Zupin 28,20 Euro
Fork protector YZ450F, Polisport/Zupin 28,20 Euro
Handguard Evolution, Polisport/Zupin 22 Euro
Individual Rallye decals, MX-Print price on request
Blue frame protectors, Acerbis 50 Euro
Blue chain guide, Acerbis 60 Euro
525er Afam X-Ring chain 124 links, Motorrad-Ersatzteile24 123,90 Euro
Supersprox Stealth chain wheel, Motorrad-Ersatzteile24 Price on request
Braking Wave break disc rear, Motorrad-Ersatzteile24 104 Euro
Shido Lithium battery YTZ10S, Motorrad-Ersatzteile24 124,30 Euro
Adventure shock special, Touratech not available
Individuell fork setup, Touratech
Led Lightbar 30°, Touratech 229 Euro
Side stand base extension, Touratech 50 Euro
Water pump protection, Touratech 35 Euro
Engine Protection sideways, Touratech 100 Euro
Brake cylinder protection, Touratech 35 Euro
Brake fluid reservoir protection, Touratech 35 Euro
Tool set , Touratech 189 Euro
Rallye seat, Yamaha Price on request
Cooler protector, Yamaha 128 Euro