Wie bereits bekannt haben wir beim 24 Stunden Rennen der GERMAN OFFROAD MASTERS im polnischen Olszyna mit einem Yamaha YXZ1000R Side-by-Side teilgenommen (LINK). Diese Chance nutzten wir sogleich, um den neuen UTV-/Side-by-Side-Reifen aus dem Hause Maxxis mit der Bezeichnung BIGHORN 3.0 unter realistischen Bedingungen auf den Zahn zu fühlen.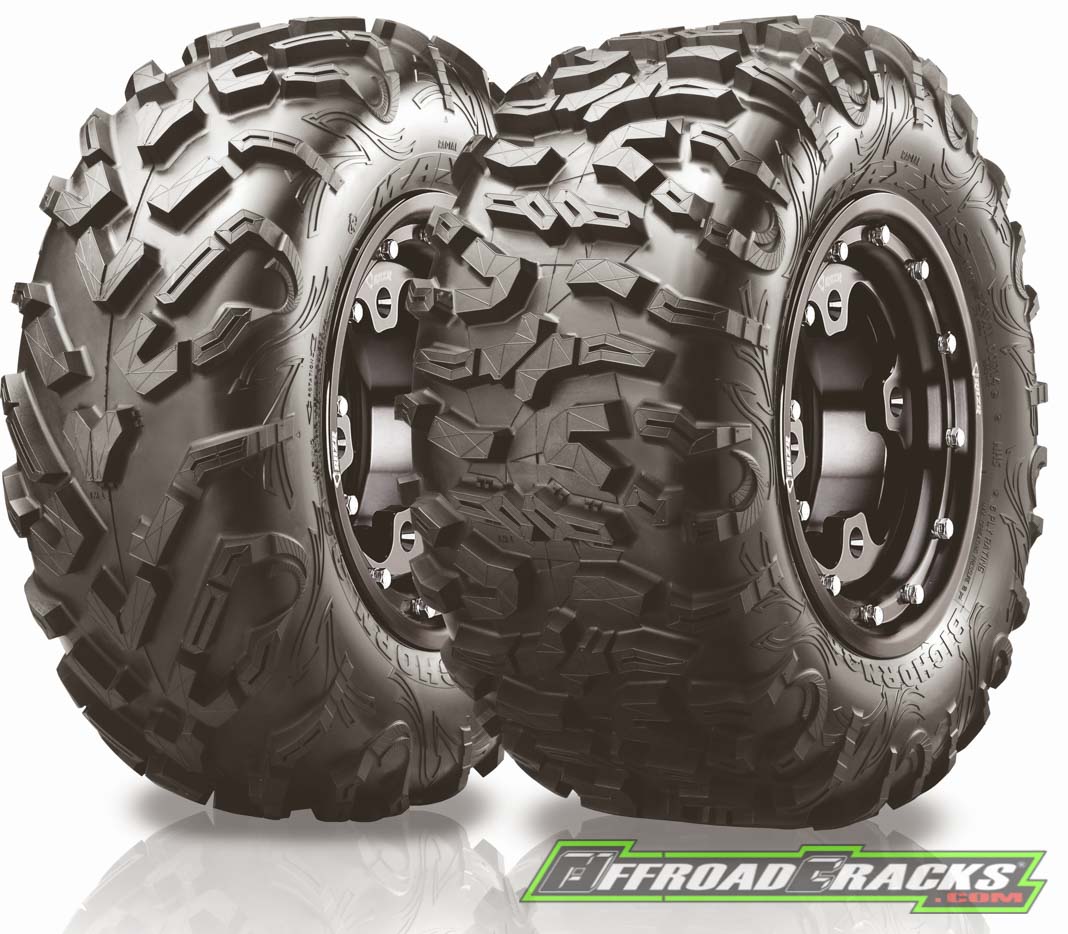 An der Vorderachse kam der Bighorn 3.0 in der Größe 29×9.00 R14 und hinten in 29×11.00 R14 zum Einsatz. Bei dem neuen Reifenmodell handelt es sich um einen 6 PR Reifen. PR bedeutet Ply Rating und beschreibt aus der Historie heraus die Anzahl der Baumwoll-Cordlagen im Reifen, was einen erheblichen Einfluss auf die Tragfähigkeit und Belastung hat. Natürlich werden heutzutage keine Baumwoll-Cordlagen mehr eingesetzt, sondern meist schon andere Werkstoffen wie Nylon und Co.

Was gibt es also besseres als einen Offroad-Reifen auf seine Haltbarkeit und Performance im Rennmodus über 24 Stunden mit einer Gesamtlaufleistung von etwas mehr als 1000 Kilometer zu testen.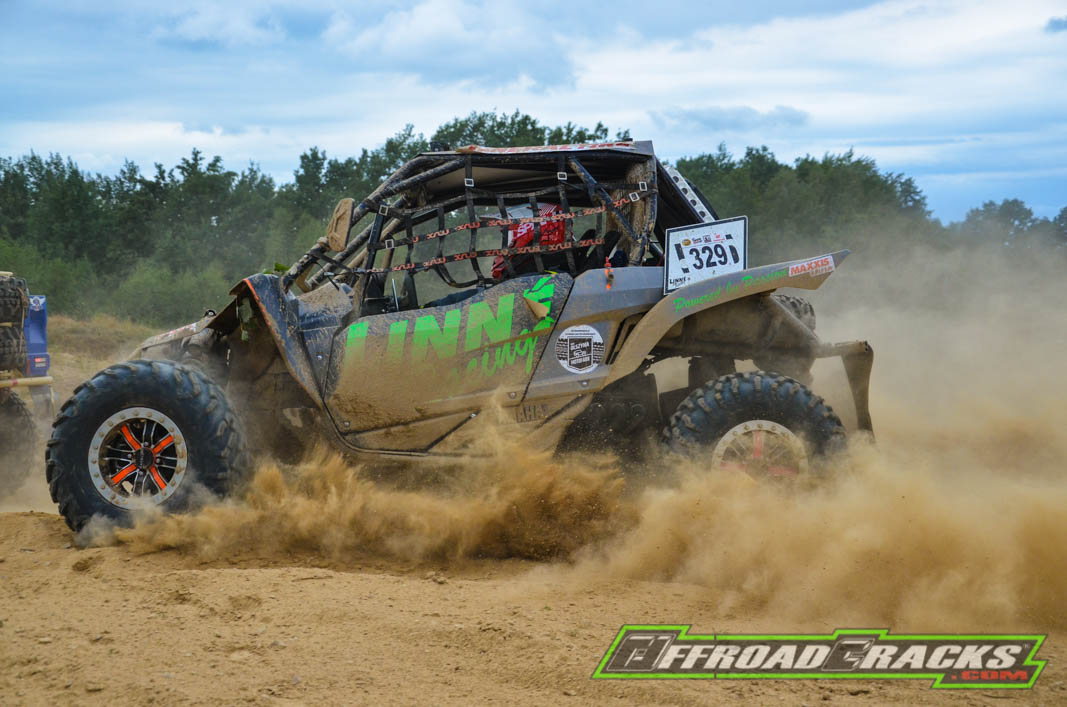 Nur Vollgas war Programm bei gut 29 Grad Lufttemperatur, einem kurzen Regenschauer, einer Nachtetappe sowie massiver Staubentwicklung
Normalerweise kommt das aktuelle Yamaha Side-by-Side YXZ 1000R serienmäßig mit 27 Zoll-Bereifung. Vorteil der von uns eingesetzten Reifengröße ist die Tatsache, dass das überhandliche Yamaha Side-by-Side dadurch etwas von seiner Nervosität beim Drift in engen Kehren verliert und eine verbesserte Seitenführung erhält, was nicht nur Sicherheit sondern auch Tempo mit sich bringt.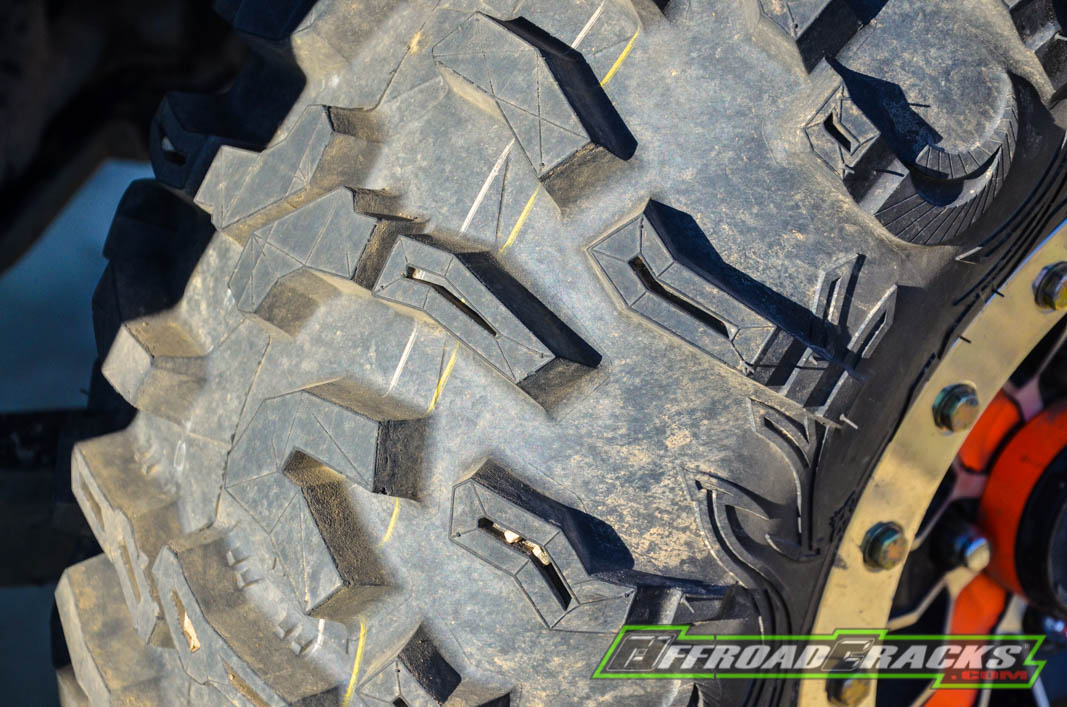 29×11.00R14 Hinterradreifen nach der Einführungsrunde
Der Nachteil daran ist, dass die auftretenden Kräfte an Nabe und Radaufhängung (A-Arms) damit deutlich zunehmen und die Aufnahmepunkte durch höhere Belastungspitzen auf längere Sicht schneller verschleißen. Im Fahrbetrieb und vor allem im Wettbewerbsstress tritt der ohnehin einzukalkulierende Umstand des Verschleißes in den Hintergrund. Natürlich immer bis zum Erreichen der Material-Belastungsgrenze, denn dann ist schnell ein Ausfall vorprogrammiert. Hier ist also etwas fahrerisches Gefühl gefragt.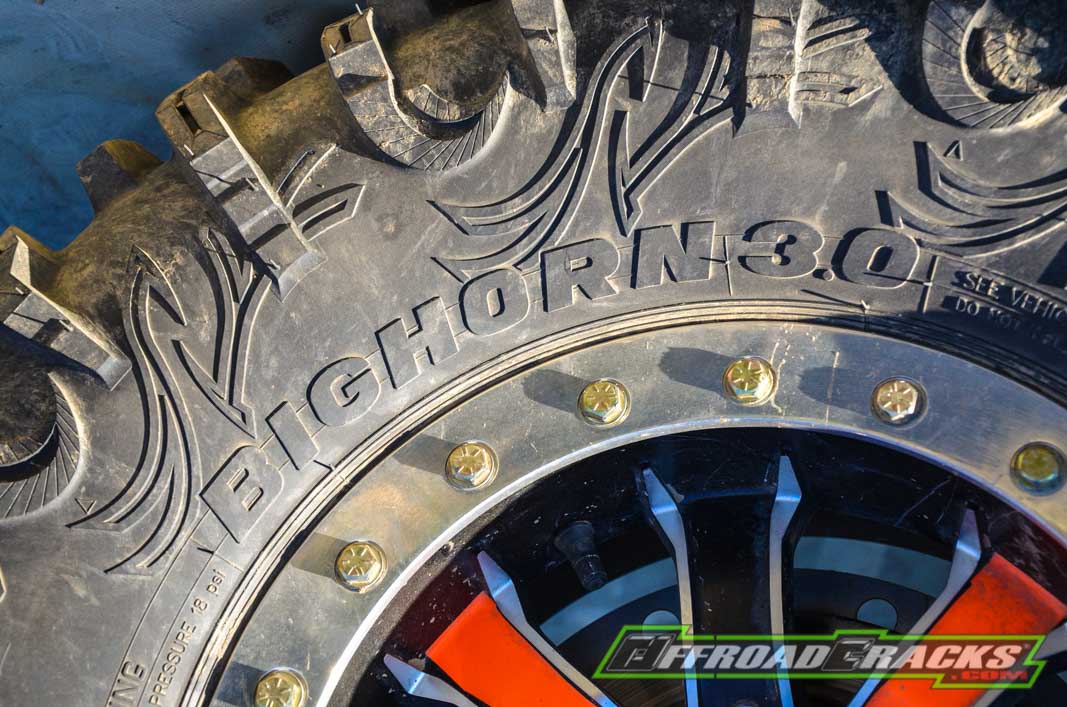 Da man bei einem 24-Stunden-Rennen immer gewisse Sicherheiten einplanen und dadurch Kompromisse eingehen muss, haben wir uns für einen Reifenluftdruck von satten zwei Bar entschieden, um unnötige Plattfüße und den damit verbundenen Zeitverlust durch Bergung und einer Reifenmontage zu vermeiden. Die Traktion des Bighorn 3.0 war sowohl auf sandigem als auch hartem bis hin zu weichem und feuchtem Untergrund als tadellos zu bezeichnen. Die Mischung aus quer und teils schräg angeordneten Stollen am Hinterrad erwies sich bei unseren Bedingungen nicht nur als idealer Kompromiss, sondern auch als absolut gut kalkulierbar.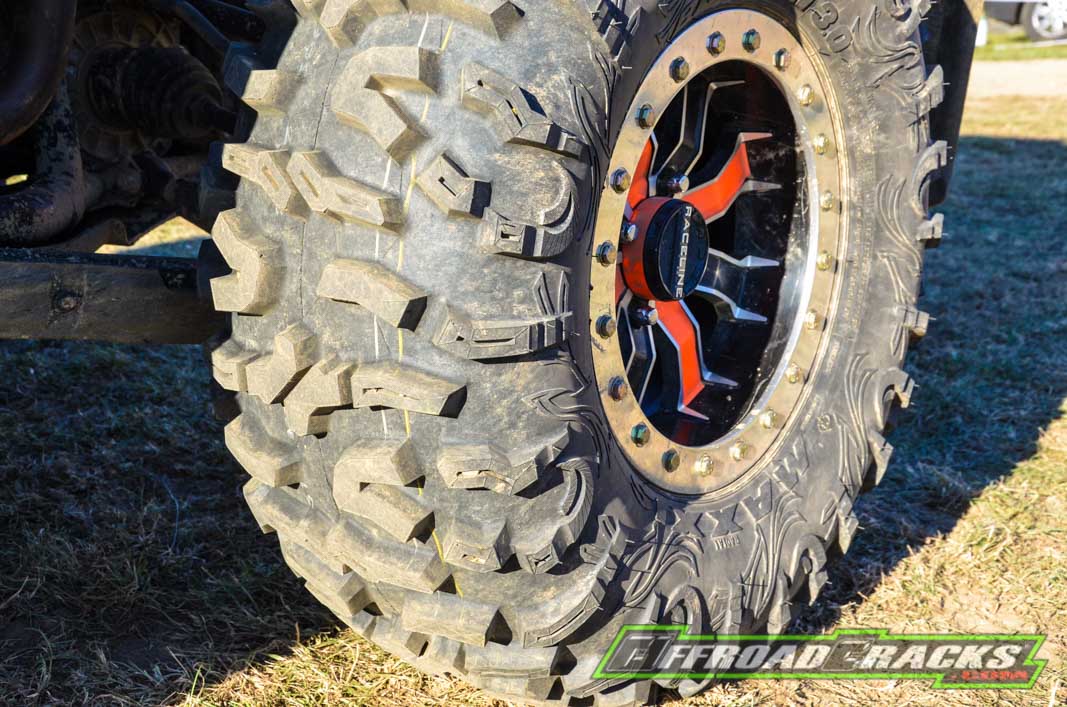 Das Driftverhalten des ohnehin vergleichsweise überhandlichen Yamaha's YXZ 1000R war durchweg gut kontrollierbar. Mit der Serienbereifung dreht es sich gerne mal in engen Kehren ein und man vollführte eine ungewollte Pirouette. Mit der 29-Zoll Bereifung ließ sich das YXZ äußerst gut dirigieren und der Grenzbereich kündigte sich dabei stets frühzeitig an, ohne davon überrascht zu werden.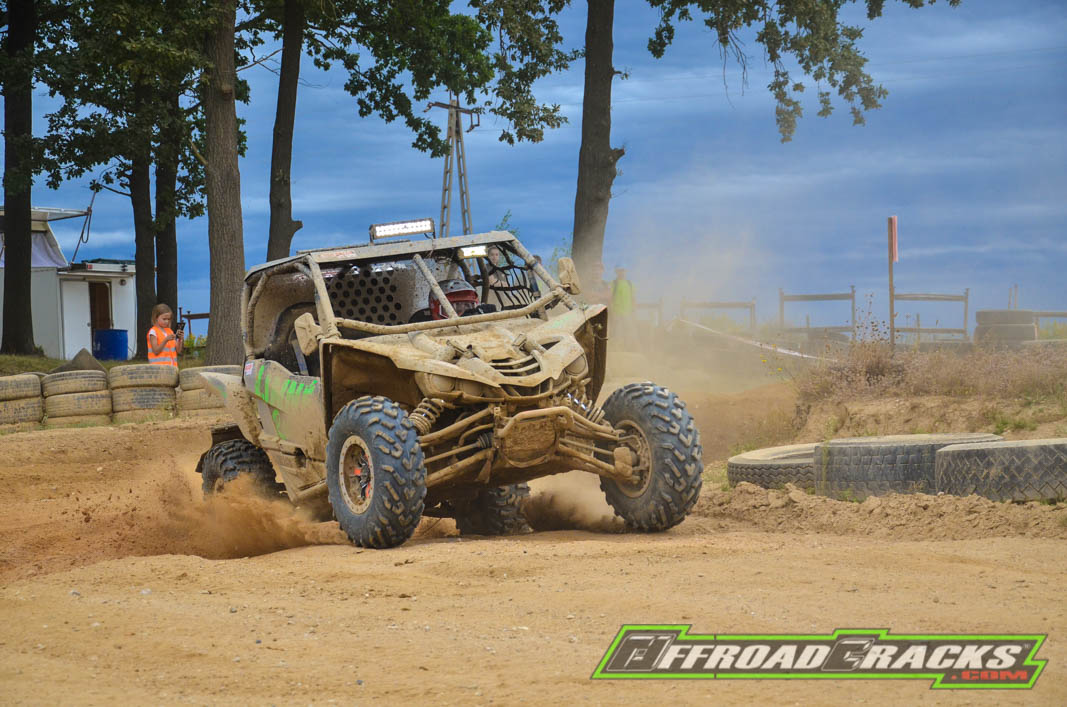 Egal ob im engen Geläuf durch den Wald mit zahlreichen Auf- und Abfahrten auf hartem teilweise mit Sand und Bodenwellen übersäten Untergrund oder mit 70 km/h über einen knackige Wellenpassage bis hin zu knapp über 100km/h Top-Speed auf einem abgeernteten Feld. Der Bighorn 3.0 beherrschte alle Disziplinen kritikfrei.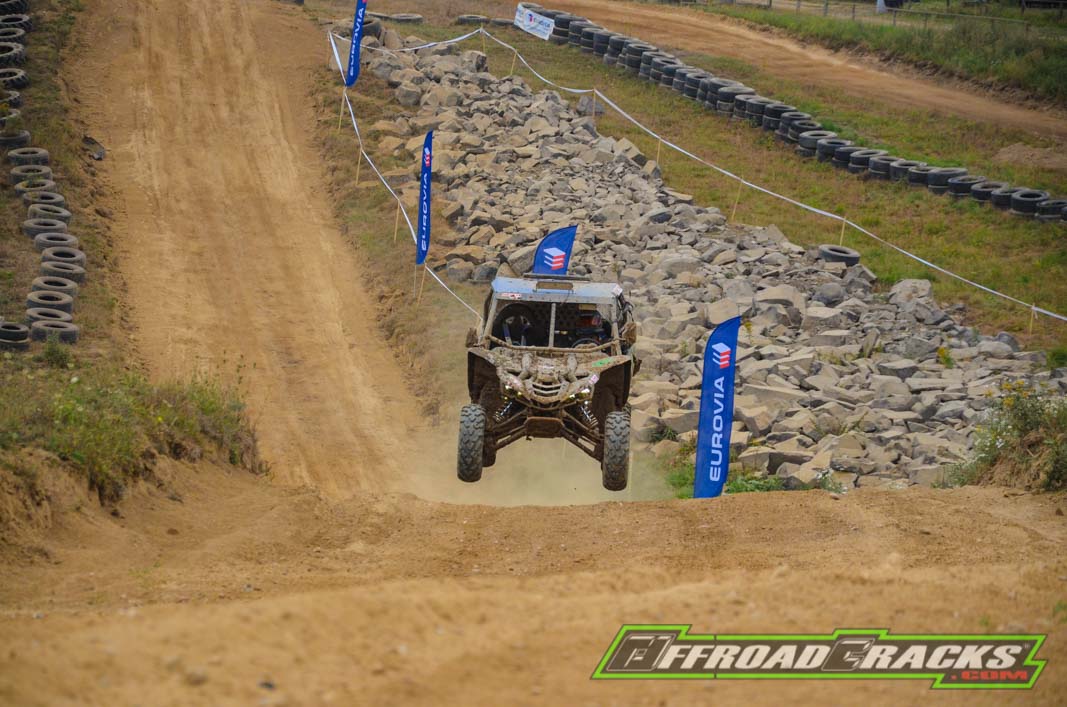 Auch die verschärfte Kompressionsphase bei der Landung konnte der Bighorn-Karkasse nichts anhaben
Der Vorderreifen in der Größe 29×9.00R14 machte seinen Job ebenfalls gut und zeigt keine Neigung zum Untersteuern. Dabei stellte er stets sicher, die angepeilte Linie auch zu halten – und das ganze 24 Stunden bei vier unterschiedlichen Fahrern.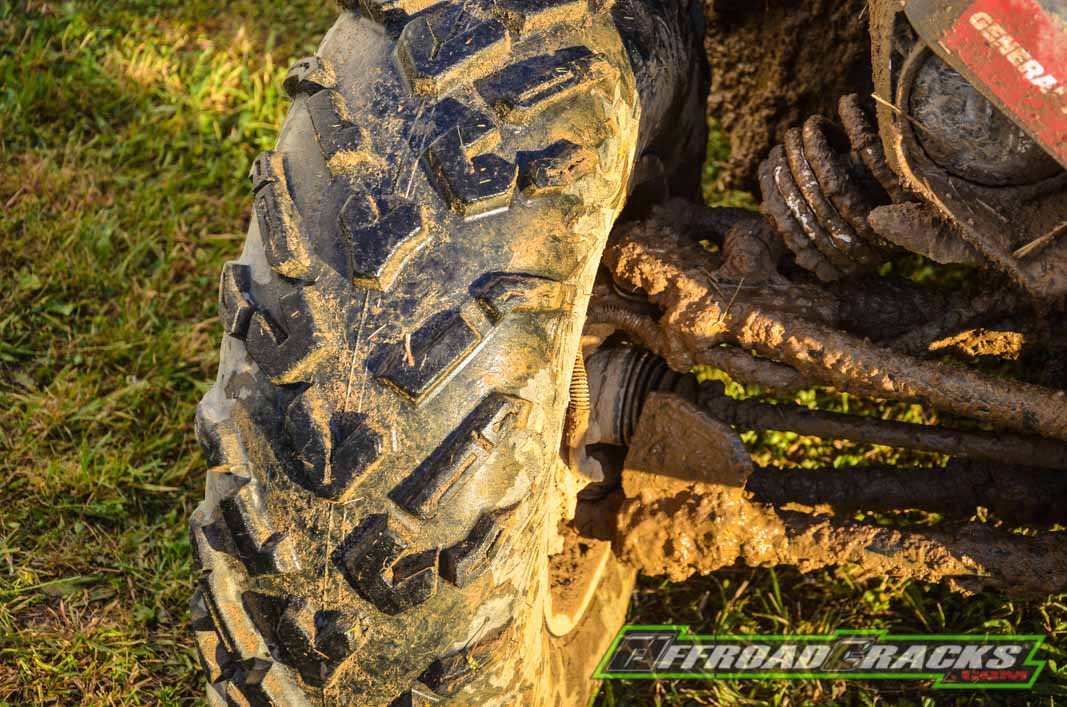 Bighorn 3.0 an der Vorderachse nach 24 Stunden Dauerbelastung
Sicherlich wäre jetzt noch das Walkverhalten und die Seitenstabilität bei niedrigerem Luftdruck zum Testen interessant gewesen, was aber unter Wettbewerbsbedingungen einfach nicht mehr möglich war. Betrachtet man den Verschleiß, so kann man feststellen, dass sich der Bighorn 3.0 von Maxxis von seiner besten Seiten gezeigt hat und keinerlei Fragen offen lässt. Nach mehr als 1000 Kilometern feinstem Offroad-Einsatz unter Ausnutzung der maximalen Motorleistung des Yamaha YXZ 1000R kann diese neue Reifengeneration Bighorn 3.0 von Maxxis als absolut empfehlenswert bezeichnet werden.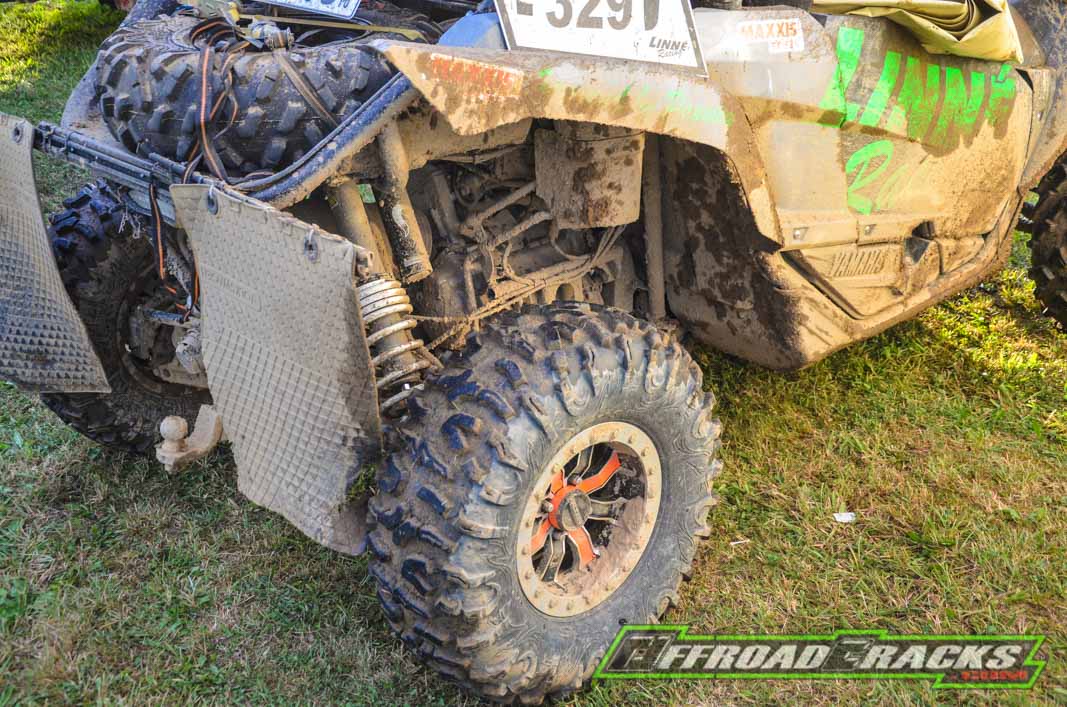 Bighorn 3.0: Nach über 1000 km noch immer ein überezugendes Profil- und Kantenbild
Reifengrößen / Tire Sizes: Maxxis BIG HORN 3.0 (M301 / M302)
26×9.00R12, Lastindex 48, Geschwindigkeitsindex M, 6 PR, E4-Kennung
26×9.00-14, Lastindex 47, Geschwindigkeitsindex M, 6 PR, E4-Kennung
27×9.00 14, Lastindex 49, Geschwindigkeitsindex M, 6 PR, E4-Kennung
29×9.00R14, Lastindex 55, Geschwindigkeitsindex M, 6 PR, E4-Kennung
26×11.00R12, Lastindex 55, Geschwindigkeitsindex M, 6 PR, E4-Kennung
26×11.00 12, Lastindex 54, Geschwindigkeitsindex M, 6 PR, E4-Kennung
27×11.00 14, Lastindex 56, Geschwindigkeitsindex M, 6 PR, E4-Kennung
29.11.00R14, Lastindex 60, Geschwindigkeitsindex M, 6 PR, E4-Kennung
Weitere Infos unter: www.maxxis.de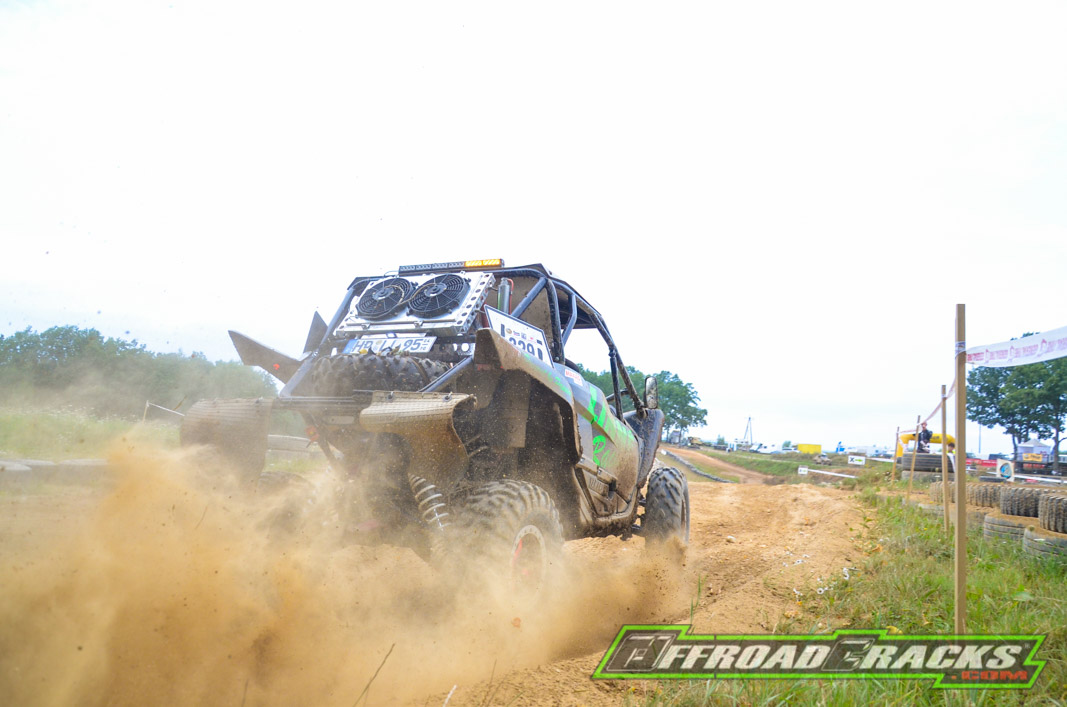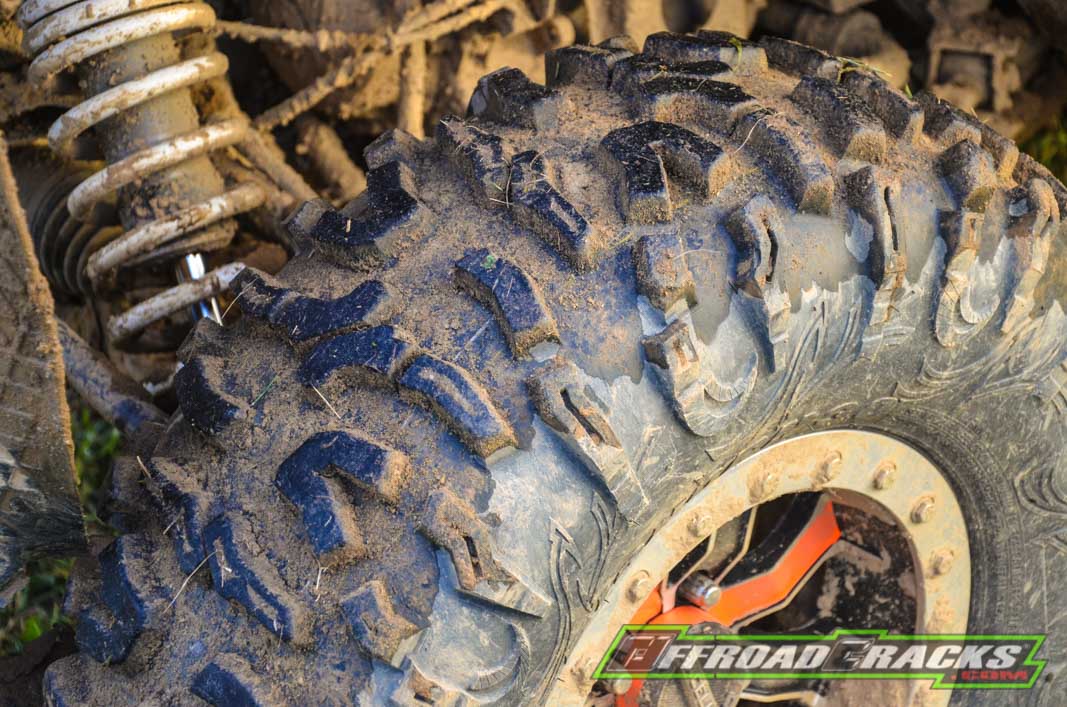 Nach 24 Stunden Dauerstress ein überzeugendes Ergebnis an der Hinterachse!
---

As already known, we took part at the 24 hour race of the GERMAN OFFROAD MASTERS in Olszyna, Poland with a Yamaha YXZ1000R side-by-side (LINK). We immediately used this opportunity to check out the new UTV / side-by-side tire from Maxxis, called BIGHORN 3.0, under realistic conditions.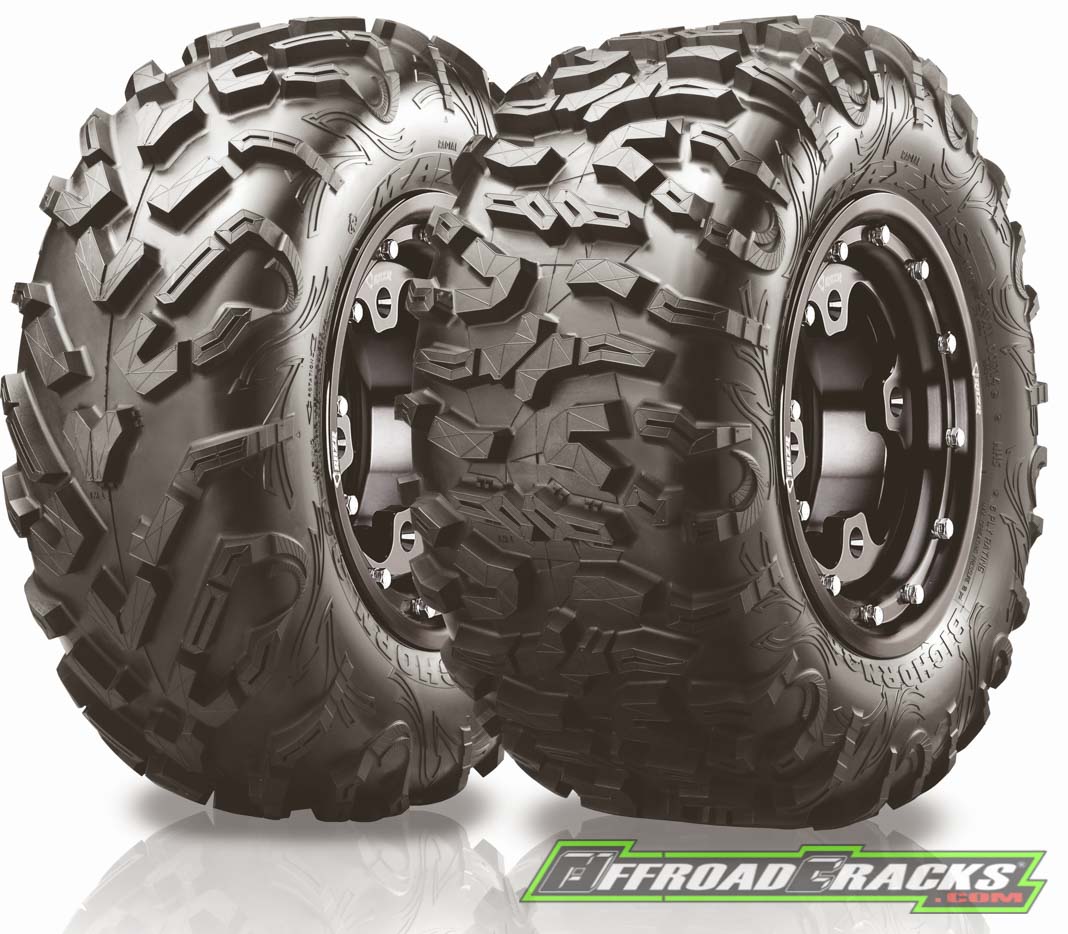 The Bighorn 3.0 in size 29×9.00 R14 was used on the front axle and 29×11.00 R14 at the rear. The new tire model is a 6 PR tire. PR means ply rating and describes out of the history the number of cotton cord layers in the tire based, which has a significant influence on the payload and resiliance. Of course, nowadays cotton cord layers are no longer used, but mostly other materials such as nylon and co.
So what could be better than testing an off-road tire for durability and performance in racing mode over 24 hours with a total distance of over 1000 kilometers.
The current Yamaha side-by-side YXZ 1000R usually comes with 27 inch tires as standard. The advantage of the tire size we use is the fact that the overhanded Yamaha Side-by-Side loses some of its nervousness when drifting in tight corners and receives improved lateral guidance, which not only brings safety but also speed.
The disadvantage of this is that the forces occurring on the hub and wheel suspension (A-arms) increase significantly and the mounting points wear out faster in the long term due to higher load peaks. In driving operations and especially in the stress of competition, the factor of wear, which must be taken into account anyway, takes a back seat. Of course, always until the material load limit is reached, because failure is then quickly inevitable. So some driving feeling is required here.
Since you always have to plan for certain safety factors in a 24-hour race and therefore have to make compromises, we decided on a tire pressure of two bars in order to avoid unnecessary flat runs and the associated loss of time. The traction of the Bighorn 3.0 could be described as impeccable on sandy and hard to soft and damp surfaces. The mixture of transversely and partly diagonally arranged studs on the rear wheel turned out not only to be an ideal compromise in our conditions, but also to be absolutely calculable.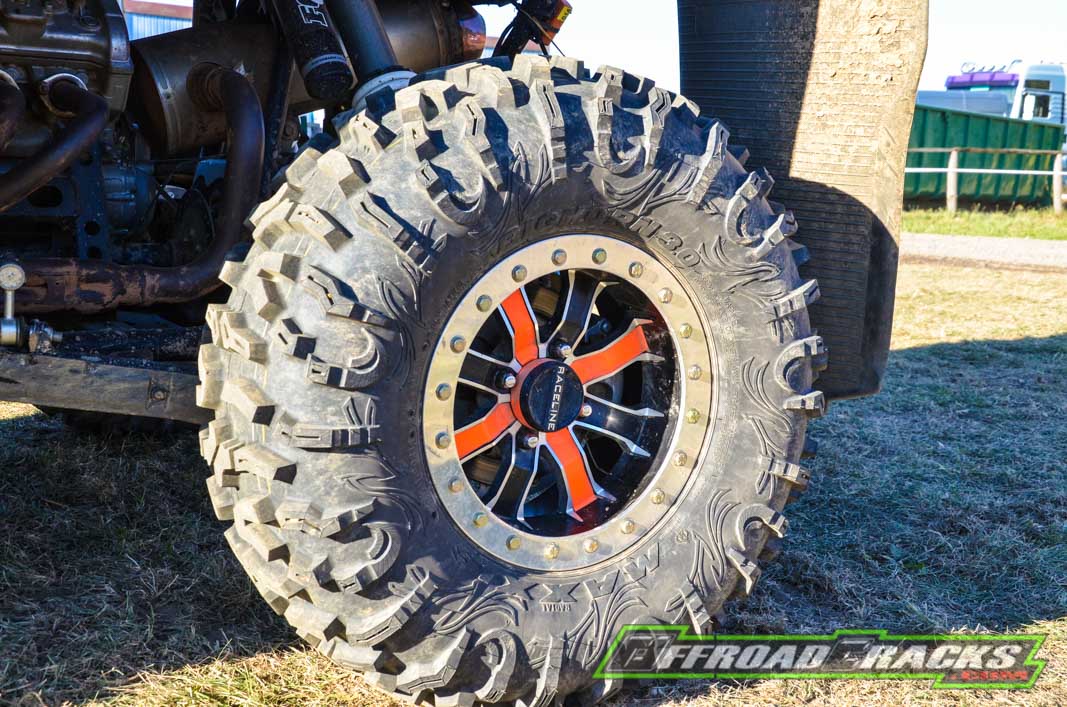 The drift behavior of the already overhandy Yamaha's YXZ 1000R was consistently easy to control. With the series tires, it tends to turn in tight corners and perform an unwanted pirouette. With the 29-inch tires, the YXZ was extremely easy to control and the limit area was always announced at an early stage without being surprised.
Regardless of whether it is in the narrow terrain through the forest with numerous up and downhill runs on hard ground, sometimes littered with sand and bumps, or at 70 km / h over a crisp wave passage up to just over 100 km / h top speed on a harvested field. The Bighorn 3.0 mastered all disciplines without criticism.
The front tire in size 29×9.00R14 also did its job well and shows no tendency to understeer. In doing so, he always made sure to keep to the line he was aiming for – and all of this for 24 hours with four different drivers.
Certainly the flexing behavior and the lateral stability at lower air pressure would have been interesting for testing, but this was simply no longer possible under competitive conditions. If you look at the wear and tear, you can see that the Bighorn 3.0 from Maxxis has shown itself from its best side and leaves no questions unanswered. After more than 1,000 kilometers of the finest off-road use using the maximum engine power of the Yamaha YXZ 1000R, this new generation of Bighorn 3.0 tires from Maxxis can be described as absolutely recommendable.