Für den jungen Briten – Billy Bolt – war es nicht einfach die Führung zu halten, denn das erste Rennen des Abends verlief mit Sicherheit nicht nach Plan. Mehrere Fehler, darunter ein schwerer Sturz über die Baumstämme führten dazu, dass er nicht den Speed von von BLAZUSIAK (POL-KTM) und WALKER mitgehen konnte. Tatsächlich dominierte WALKER das Rennen mit einem geschmeidigen und präzisen Fahrstil, vor Blazusiak. Bemerkenswerterweise holte BOLT trotz der Schwierigkeiten den dritten Platz, was wichtige Punkte für die Meisterschaft bedeuteten.
Ergebnisse / Results – Prestige Race 1
2020-02-01-prestige-lauf1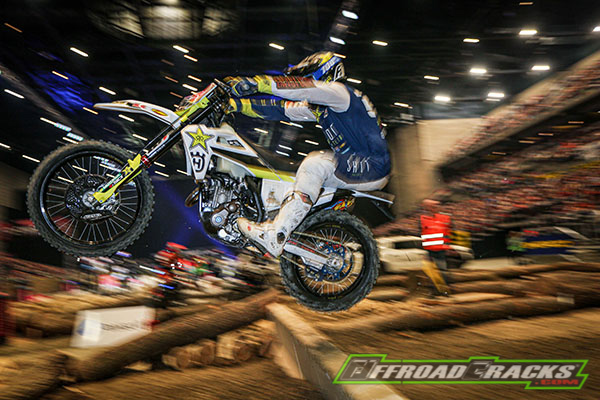 Ergebnisse / Results – Prestige Race 2
Im zweiten Rennen ging BOLT kein Risiko ein. Auch nach einem nicht ganz perfekten Start aufgrund des 'Reverse Grid' -Formats war BOLT blitzschnell vorne bei der Musik. Taddy BLAZUSIAK hatte einen schlechten Start, während er zeitgleich mit seinem missglückten Fahrwerks-Setup zu kämpfen hatte, was jedoch noch für einen beeindruckenden 3. Platz ausreichte. Indess setzte sich BOLT immer weiter von seinen Konkurrenten ab und gewann das zweite Rennen.
2020-02-01-prestige-lauf2

Ergebnisse / Results – Prestige Race 3
Im letzten Rennen kämfte sich Jonny WALKER noch einmal mit seinem temporeichen, aber präzisen Fahrstil an die Spitze. Doch diesmal konnte er BOLT nicht aufhalten. Die Nummer #22 machte im direkten Kampf einen kleinen Fehler und musste zudem mit harten Unterarmen kämpfen. Während dessen holte sich BLAZUSIAK zum ersten Mal an diesem Abend die Führung, aber BOLT war auf Sieg gepolt und legte sich mächtig ins Zeug. Unter dem Druck des wilden Briten machte Taddy einen Fehler, der es dem Factory Husqvarna-Fahrer ermöglichte die Führung zu übernehmen. BLAZUSIAK wurde auch noch von seinem Teamkollegen WALKER überholt und Alfredo GOMEZ (ESP-Husqvarna) drückte sich dann auch noch an dem Polen vorbei, der mit einer desaströsen Fahrwerksabstimmung an seiner KTM kämpfte.
2020-02-01-prestige-lauf3

Ergebnisse / Results – Prestige Race Hungary / Ungarn
2020-02-01-prestige-event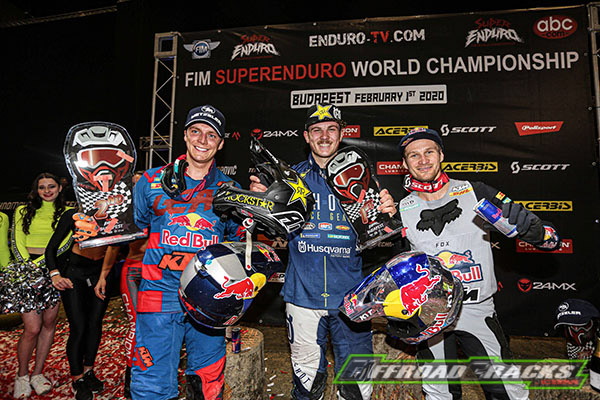 Point standings / Meisterschaftsstand
2020-02-01-prestige-meisterschaft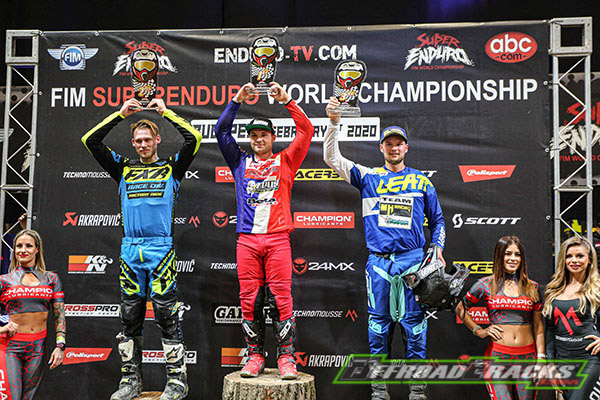 Ergebnisse / Results – JUNIOREN
2020-02-01-junior-event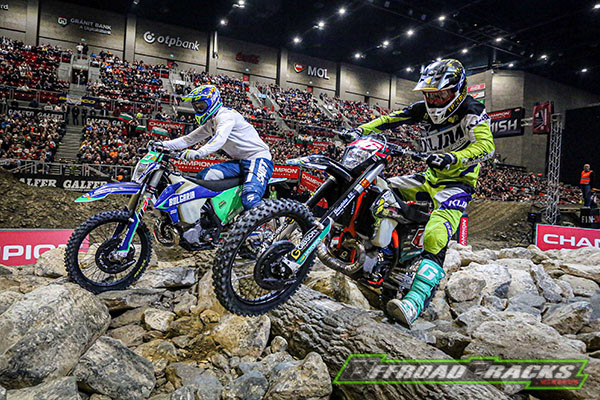 ---
HINWEIS: Mit Anklicken des Videos stellen sie automatisch eine Verbindung zu Youtube/Google her, was einen ungewünschten personenbezogenen Datenaustausch mit sich bringen kann. Weitere Infos unter: www.google.de/privacy
---

BOLT Holds Off WALKER In A Thrilling Fourth Round
However, it wasn't plain sailing for the young Brit, and the first race of the evening certainly didn't go to plan as several mistakes, including a huge over-the-bars crash, saw him fail to keep pace with the quick KTM pairing of BLAZUSIAK (POL-KTM) and WALKER. In fact, WALKER impressively dominated the race with his smooth and precise style, gapping the field and leaving BLAZUSIAK to settle for second. Remarkably, BOLT held on to third despite the difficulties, taking important points.
As Race 2 rolled around, BOLT wasn't going to take any chances. Even after a less than perfect start due to the 'reverse grid' format, BOLT was at the front in a flash. Taddy BLAZUSIAK also suffered a bad start, but as the Pole was also struggling with the bike set-up he found it difficult to make up positions, although a late charge saw him take a hard fought 3rd. BOLT, edging ever further in front of his rivals, won the second race of the night ahead of WALKER, BLAZUSIAK and Pol TARRES (ESP-Husqvarna), who took a great fourth.
In the final race of the night Jonny WALKER once again took to the front with his pacy but precise style, but this time he could not hold off BOLT. The #22 KTM rider made a small mistake in the melee and while he was also suffering with arm pump he found it hard to fight back. BLAZUSIAK was looking keen and found himself in the lead for the first time of the evening, but BOLT was neck-and-neck with the SuperEnduro 'GOAT'. Under pressure from the wild Brit, Taddy made a mistake that allowed the Factory Husqvarna rider to take the lead. BLAZUSIAK was also passed by his team-mate, WALKER, proving that KTM aren't employing team orders. Alfredo GOMEZ (ESP-Husqvarna) also snuck through to 3rd as Taddy suffered from his set-up choices again.
With 227 points already clocked up BOLT leaves Hungary 16 points ahead of BLAZUSIAK. After his excellent performance WALKER has caught up a bit, but he remains 35 points from his compatriot. The final round of the season in Lodz (Poland) will be fiery between these three superb riders.
Junior Class: The Kids Put On A Show. ​
The Junior category was one of the most lively of the night. The riders completed three fantastic races in front of a very enthusiastic Hungarian crowd. Teodor KABAKCHIEV (BGR-KTM) was the big winner in Budapest, the title hopeful took advantage of the excellent support from a large number of Bulgarian fans to win the night ahead of a keen Leon HENTSCHEL (GER-KTM) and Dominik OLSZOWY (POL-KTM), who appears to be coming back well. The three young men fought a fantastic battle during the three races, with KABAKCHIEV and HENTSCHEL exchanging the top spot several times in the last heat of the night. Ty CULLINS (USA-TM) failed to repeat the superb performance he had at Round 1 in Poland, suffering in each race in Hungary. The American seemed to be paying for a lack of experience in the discipline, but also the fatigue of his frequent trips to and from America. The Junior category will certainly be exciting in the final round as KABAKCHIEV holds just 2 points over HENTSCHEL, CULLINS is 3rd, 20 points from the leader.
European Class: Thor Puts the Hammer Down in Hungary​
Magnus THOR (SWE-Husqvarna) tonight became the first Swede to win the European SuperEnduro Cup. He had plenty of pressure coming into the evening, having failed to shine at the previous European round in Germany. He had to fight off an ever-attacking Sonny GOGGIA (ITA-BETA), and the pair were level on points coming into their final race of the night. But despite taking overall victory at the Hungarian GP, the disappointed GOGGIA had to settle for 2nd in the Championship. Pascal SPRINGMANN (GER-Beta) rounded out the Top 3 on the night. Also worth noting was the great home performance of Norbert ZSIGOVITS (HUN – KTM), the Hungarian to a win in Race 1 to the rapture of the fans.
The riders of the FIM SuperEnduro World Championship will now take a month and a half to rest before coming together for the grand finale in Lodz, Poland. We predict a riot on March 14th!
What They Said
Billy BOLT: "I am very satisfied with my evening here in Budapest. I made a lot of mistakes in the first race, so I changed my approach for thee following races. The team coached me well, telling me to calm down and relax more. Arriving in Poland with a 16 point lead seems like a lot but it's far from enough, the championship is never over until it's over and SuperEnduro is unpredictable, there is still so much that can happen."
Jonny WALKER: "It felt good to take my first race win of the year, I knew that I had a good chance here because I felt comfortable with the track and the bike. I still made some mistakes in some races, but I feel much better in general. The next step for me is to win a race overall!"
Taddy BLAZUSIAK: "It was a difficult evening, but I must admit that I chose the wrong settings for my bike, I thought that the track would evolve completely differently. I found myself in trouble all evening. However, I did what I could, and I can't wait to race in Poland in front of my home fans, I'll give it everything until the last moto!"
Quelle / Source: Super Enduro