Ein neues historisches Kapital startet für das  STANDING KONSTRUKT GASGAS FACTORY RACING TEAM  und das DIGA PROCROSS GASGAS FACTORY JUNIOR TEAM mit zwei deutschen Fahrern.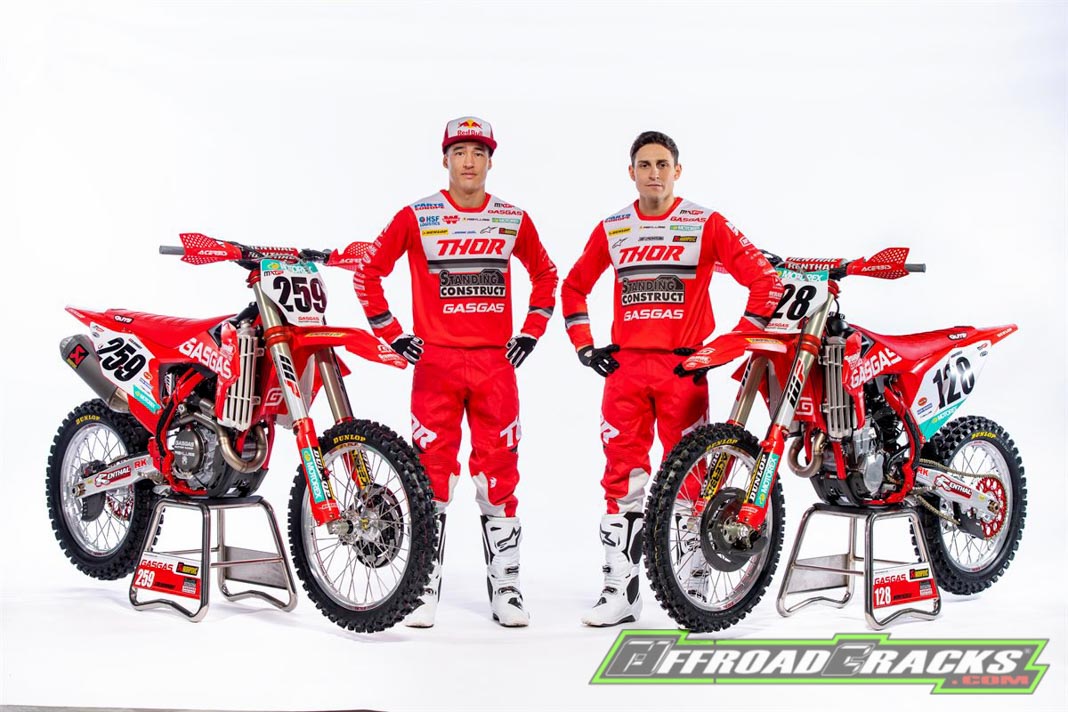 GASGAS Motorcycles schlägt an diesem Wochenende ein neues Kapitel in ihrer Offroad-Motorsportgeschichte auf, sobald sie zum ersten Mal in die FIM Motocross-Weltmeisterschaft am Start stehen. In der Eröffnungsrunde der MXGP und MX2 wird GASGAS durch Standing Construct GASGAS Factory Racing und DIGA Procross GASGAS Factory Juniors Team in den Klassen MXGP und MX2 vertreten sein.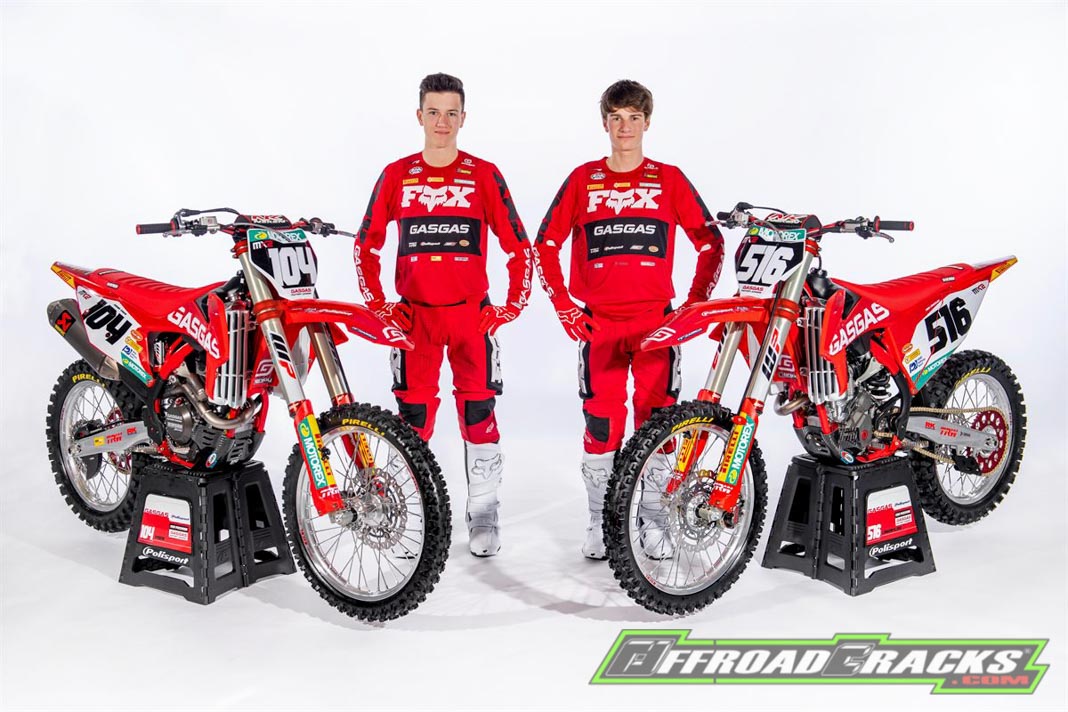 Robert Jonas, VP Motorsports Offroad: "Dies ist ein sehr stolzer und wichtiger Moment für alle, die mit GASGAS Motorcycles zu tun haben – der Beginn eines aufregenden neuen Kapitels sowie der Beginn einer besonderen Reise in den Motocross-Rennsport auf höchstem Niveau. GASGAS hat ein  großartiges Erbe im Offroad-Segment. Es ist eine Marke, bei der es darum geht den Spaß wieder in den Vordergrund zu bringen. Zusammen mit Standing Construct GASGAS Factory Racing und DIGA Procross GASGAS Factory Juniors haben wir zwei etablierte und leidenschaftliche Teams, die perfekt zu GASGAS passen. Wie immer ist der erste GP jeder neuen Saison ein besonderer Moment, aber wir können sagen, dass dies für GASGAS auch ein historischer Moment ist. Wir wissen, dass sich alle unsere Fahrer mit vollem Engagement vorbereitet haben und wir freuen uns darauf zu sehen, wie sie dieses Jahr abschneiden. Matterley Basin, der britische GP, ist ein Meilenstein für GASGAS Motorcycles. Dies ist ein entscheidender Moment, um die Marke weltweit zu etablieren."
GASGAS Motorcycles wurde Ende 2019 Teil der PIERER Mobility AG und wird neben anderen Marken des Unternehmens von der Shared-Plattform-Strategie der Gruppe profitieren. Angesichts der minimal verfügbare Zeit, die für die Vorbereitung auf den MXGP-Saisonauftakt übrig blieb, werden sich die Spezifikation der im Matterley Basin und der weiteren GPs eingesetzten MC 250F- und MC 450F-Bikes im Einklang mit den 2021er Serienmodelle von GASGAS Motorcycle befinden.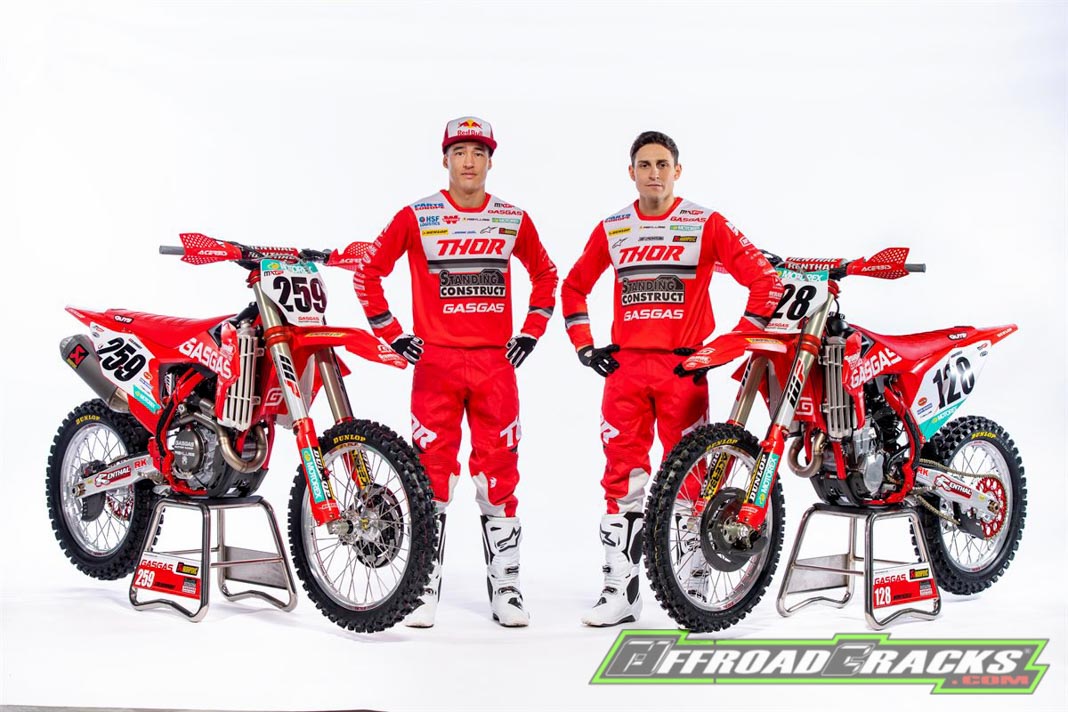 Standing Construct GASGAS Factory Racing wird die Präsenz von GASGAS in der MXGP-Klasse spürbar machen und die Marke in einen erstklassigen Wettbewerb führen. Glenn Coldenhoff, der in der letztjährigen Serie den dritten Platz belegte, kommt 2020 fit, gesund und will um Rennsiege kämpfen. Mit beeindruckender Rennerfahrung, zu denen vier GP-Gesamtsiege und zwei ungeschlagene Leistungen bei den beiden letzten Ausgaben des Motocross of Nations gehören, beginnt Coldenhoff die Saison in Hochstimmung und als MXGP-Spitzenfahrer von GASGAS.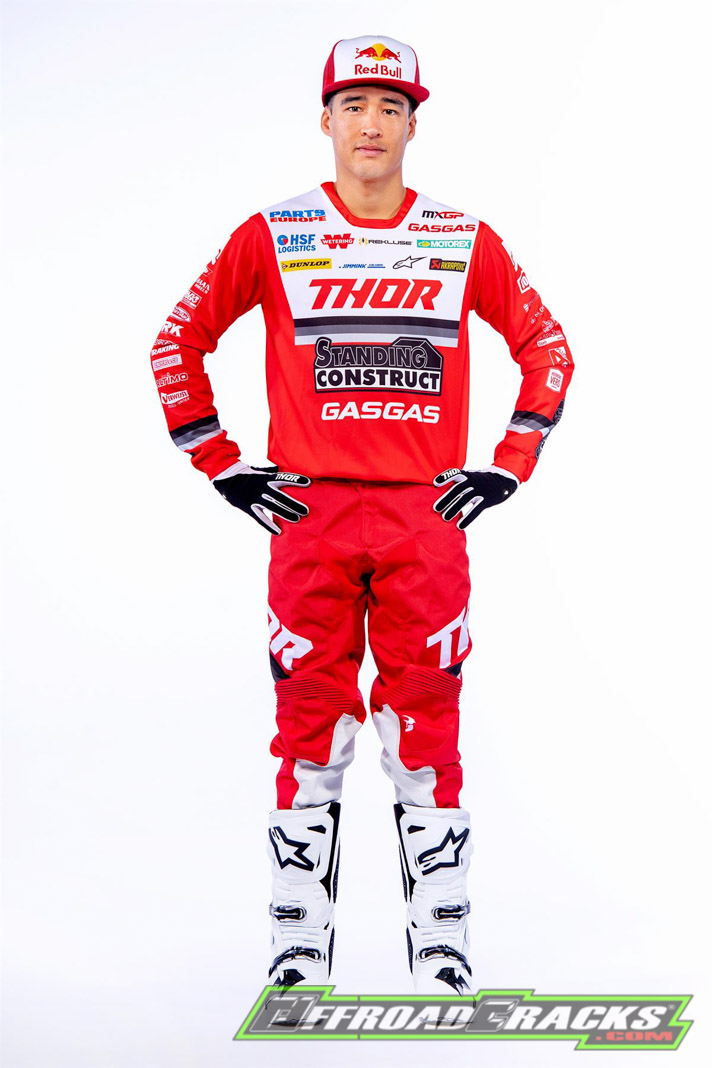 Ivo Monticelli vervollständigt das MXGP-Aufgebot von Standing Construct GASGAS Factory Racing. Ivo setzt seine zweite Saison mit Standing Construct fort und wird versuchen seinen offensiven Fahrstil zu nutzen und konstante Ergebnisse für GASGAS und sich selbst zu erzielen. Im Jahr 2019 belegte Monticelli beim MXGP im Trentino den besten fünften Gesamtrang seiner Karriere und hob hervor, wozu der Italiener in der Lage sind.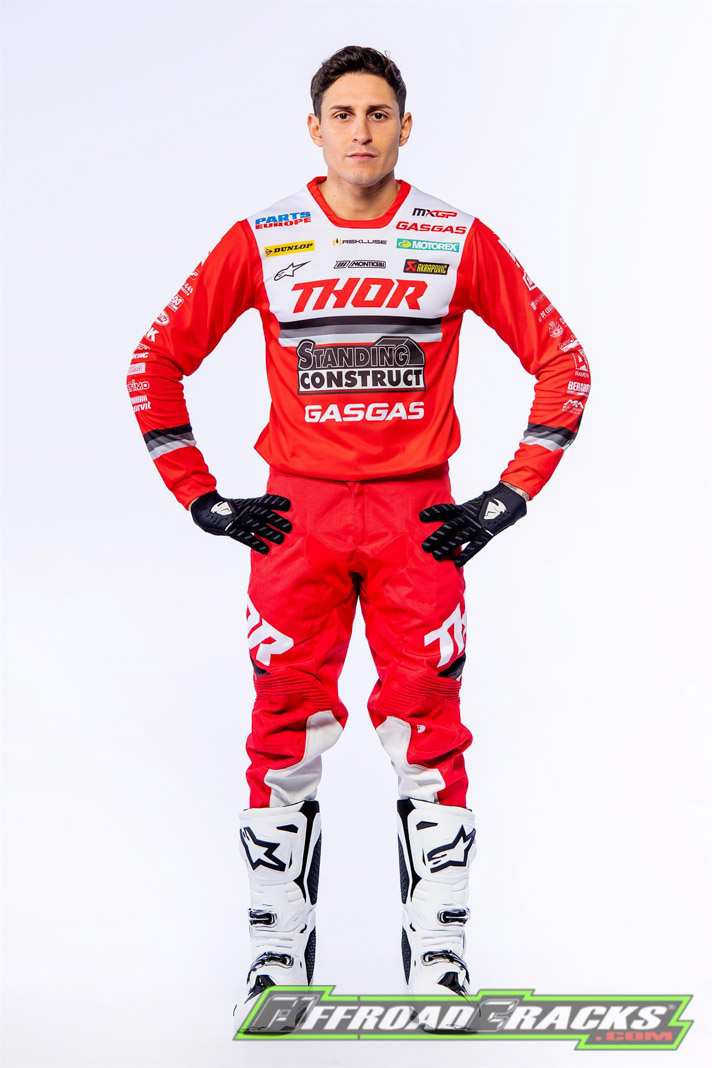 GASGAS-Motorräder werden in der MX2-Klasse vom DIGA Procross GASGAS Factory Juniors-Team vertreten. Mit einem jungen Paar talentierter Deutscher – Jeremy Sydow und Simon Langenfelder – streben der Kader und seine Fahrer in ihrer ersten vollen Saison der Teilnahme an der Weltmeisterschaft Top-10-Ergebnisse an. Sydow belegte 2019 den sechsten Platz in der endgültigen EMX 250-Meisterschaft und fuhr einen MX2 GP, bei dem er einen beeindruckenden 13. Gesamtrang erzielte.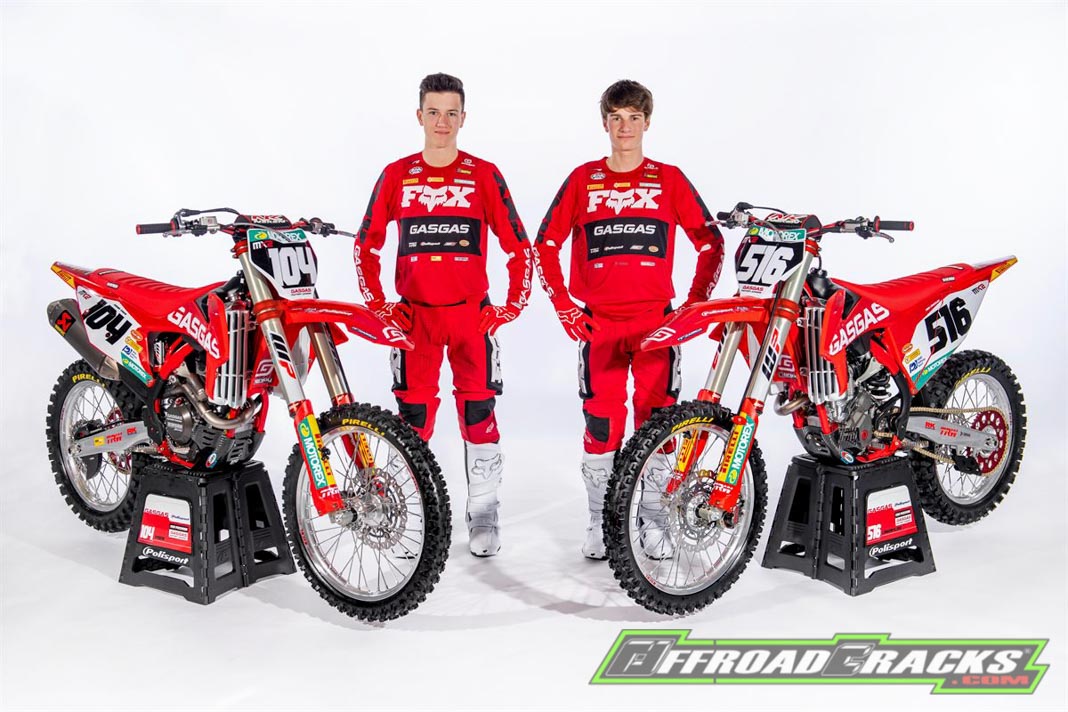 Glenn Coldenhoff: "Es ist großarti, Fahrer einer Marke zu sein, die neu bei MXGP ist und ein Teil der Geschichte von GASGAS zu sein, ist ein erstaunliches Gefühl. Ich freue mich auf gute Ergebnisse und habe in den Wintermonaten sehr hart gearbeitet. Es gibt einige Erwartungen an das Team und auch an mich selbst, aber wir fahren MXGP und das Ziel ist es, zu gewinnen. Hoffentlich können wir das schaffen. "
Ivo Monticelli: "Es ist ein neues Motorrad und ein neues Projekt und ich bin sehr zufrieden mit dem, was das Team und GASGAS mir zur Verfügung gestellt haben. Ich hatte eine großartige Nebensaison und habe mein Bestes gegeben, um sicherzustellen, dass ich für die Saison bereit bin. Ich bin bereit, Gas zu geben!"
Jeremy Sydow: "Es ist eine großartige Gelegenheit für mich Teil des DIGA Procross GASGAS Factory Juniors-Teams zu sein. Es wird mein zweites Jahr mit diesem Team und ich bin sehr zufrieden mit meinem Bike und schätze das Vertrauen, das sie in mich haben. Ich kann es kaum erwarten diese Saison zu fahren, und ich werde mein Bestes geben, um der beste Fahrer zu sein, der ich sein kann."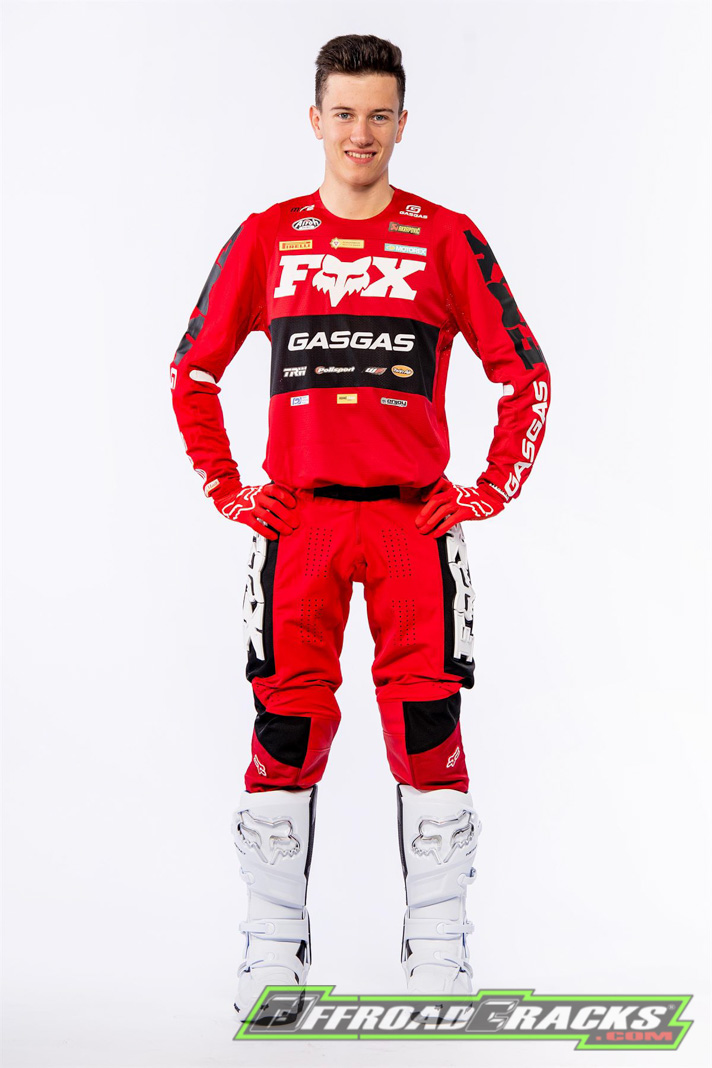 Simon Langenfelder: "Es ist super aufregend in dieser Saison ein GASGAS zu fahren. Es wird meine erste volle Saison in MX2 sein und ich weiß, dass ich das Motorrad und das Team habe, um erfolgreich zu sein. Wir hatten eine großartige Wintervorbereitung und ich bin sehr zufrieden mit meinem Bike, also erwarte ich auch eine geniale Saison."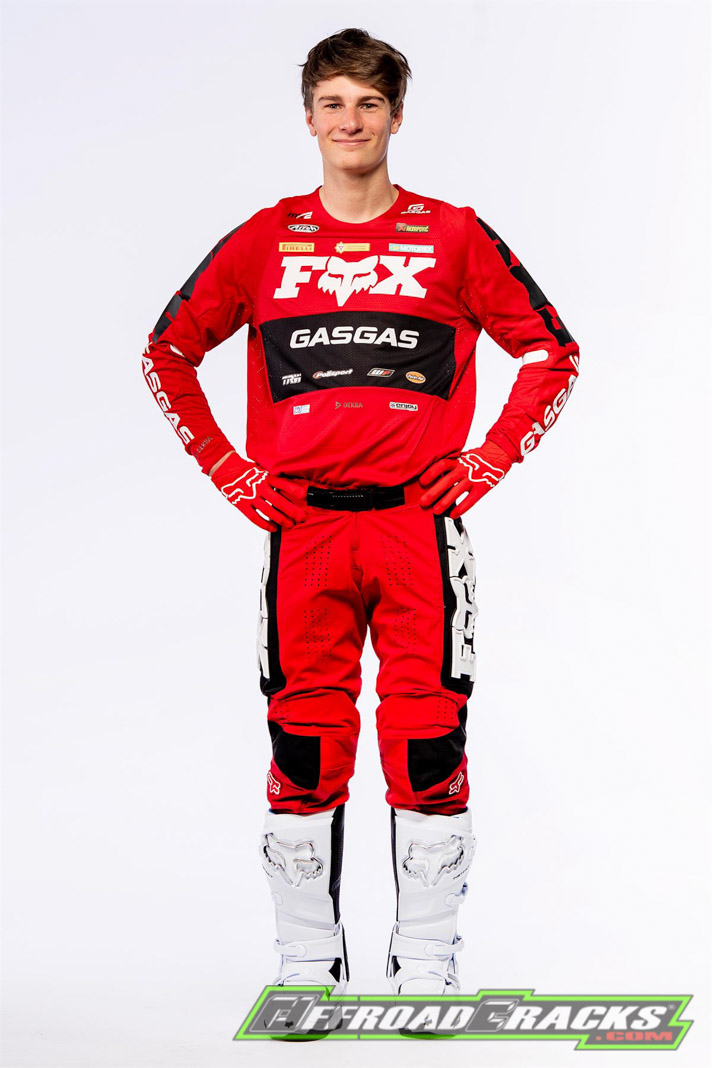 ---
HINWEIS: Mit Anklicken des Videos stellen sie automatisch eine Verbindung zu Youtube/Google her, was einen ungewünschten personenbezogenen Datenaustausch mit sich bringen kann. Weitere Infos unter: www.google.de/privacy
---

GASGAS MOTORCYCLES TAKE TO THE START OF FIM MOTOCROSS WORLD CHAMPIONSHIP
HISTORIC NEW CHAPTER BEGINS AS STANDING CONSTRUCT GASGAS FACTORY RACING AND DIGA PROCROSS GASGAS FACTORY JUNIORS CONTEST THE OPENING WORLD CHAMPIONSHIP EVENT OF 2020
GASGAS Motorcycles will start an exciting new chapter in their offroad motorsport history this weekend as they step into the FIM Motocross World Championship for the first time. In what is a key moment for the brand as it expands to compete in top-level motocross alongside its trial, rally and planned enduro activities, the opening round of the MXGP and MX2 series will see GASGAS represented by Standing Construct GASGAS Factory Racing and DIGA Procross GASGAS Factory Juniors in the MXGP and MX2 classes respectively.
Robert Jonas, VP Motorsports Offroad: "This is a very proud and important moment for all involved with GASGAS Motorcycles – the start of an exciting new chapter and the beginning of the brand's journey into top-level motocross racing. GASGAS has a rich heritage in offroad motorcycling, it's a brand that is about putting the fun back into riding, and together with Standing Construct GASGAS Factory Racing and DIGA Procross GASGAS Factory Juniors we have two established and passionate teams that perfectly fit what GASGAS is about. Like always, the first GP of every new season is a special moment, but we can say that for GASGAS this is also an historic moment. We know that all of our riders have prepared themselves with full commitment and we're looking forward to seeing how they perform this year. Matterley Basin, the British GP, is a milestone for GASGAS Motorcycles, a key moment as we start our push to establish the brand on a global scale."
Becoming a part of PIERER Mobility AG at the end of 2019, GASGAS Motorcycles will benefit from the group's shared-platform strategy, alongside other brands within the company. Faced with a minimal amount of time in which to be ready for the MXGP season opener, the specification of both the MC 250F and MC 450F machines used at Matterley Basin and throughout early-season GPs will evolve in-line with the arrival of the 2021 GASGAS Motorcycles production models.
Making GASGAS' presence felt in the MXGP class, Standing Construct GASGAS Factory Racing will lead the brand into premier class competition. Glenn Coldenhoff, who placed third in last year's series, comes into 2020 fit, healthy and looking to challenge for race wins. With impressive racing credentials, which include four overall GP wins and a pair of unbeaten performances at the two most recent editions of the Motocross of Nations, Coldenhoff begins the season in high spirits and as GASGAS' MXGP team leader.
Ivo Monticelli completes Standing Construct GASGAS Factory Racing's MXGP line-up. Continuing with Standing Construct for a second season, Ivo will look to harness his attacking riding style and post consistent results for both GASGAS and himself. During 2019, Monticelli placed a career-best fifth overall at the MXGP of Trentino, highlighting just what the Italian is capable of.
GASGAS Motorcycles are represented in the MX2 class by the DIGA Procross GASGAS Factory Juniors team. Fielding a young pair of talented Germans – Jeremy Sydow and Simon Langenfelder – the squad and their riders are aiming for top-10 results in their first full season of world championship participation. Sydow placed sixth in the final EMX 250 championship standings in 2019 and raced one MX2 GP where he posted an impressive 13th overall.
Download high-res images from the GASGAS Factory Racing Motocross Team Shoot here.
Glenn Coldenhoff: "It's great to be a rider on a brand that is new to MXGP and to be a part of GASGAS's history is an amazing feeling. I'm looking forward to making some good results and I've been working really hard over the winter months. There are some expectations from the team and also from myself, but we are racing MXGP and the goal is to win, so hopefully we can make that happen."
Ivo Monticelli: "It's a new bike and a new project and I'm really happy with what the team and GASGAS have provided me with. I've had a great off-season and I've been preparing the best that I can to ensure that I'm ready for the season. I'm ready to get on the gas!"
Jeremy Sydow: "It's a really great opportunity for me to be a part of the DIGA Procross GASGAS Factory Juniors team. It will be my second year with this team and I'm really happy with my bike and appreciate the trust that they have in me. I can't wait to race this season and I'll be giving my best effort at all times to be the best rider that I can be."
Simon Langenfelder: "It's super-exciting to be racing a GASGAS this season. It will be my first full season in MX2, and I know that I have the bike and team to succeed. We've had a great winter preparation and I'm really happy with my bike so I'm looking forward to a great season ahead."
Quelle / Source: GasGas