---
HINWEIS: Mit Anklicken des Videos stellen sie automatisch eine Verbindung zu Youtube/Google her, was einen ungewünschten personenbezogenen Datenaustausch mit sich bringen kann. Weitere Infos unter: www.google.de/privacy
---
Die Veteranen MX-Weltmeisterschaft auf dem berüchtigten Glen Helen Raceway ist schon immer eine verrückt Angelegenheit. Denn hier starten nicht nur 40 oder 50 jährige MX Fahrer, sondern auch über 75 Jahre junge Crosser-Haudegen wie Ike DeJaeger und Co es darstellen. Sogar in der Kategorie über 80 Jahre sind Fahrer an den Start gegangen – RESPEKT!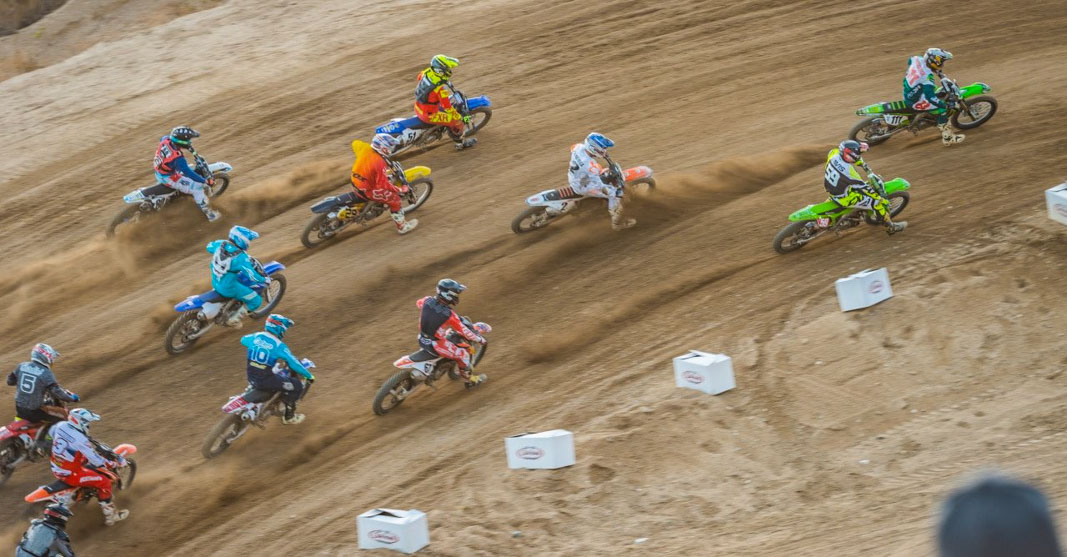 Beim Dubya USA World Vet Nationals 2019 in Glen Helen wurde ein weiterer Edison Dye Lifetime Achievement Award vergeben und zwar an Pro Circuit BOSS Mitch Payton – siehe Video!
HINWEIS: Das Video ist noch deaktiviert, damit keine unerwünschte Datenübertragung zu Youtube stattfindet. Zur Aktivierung bitte auf das Vorschaubild/Video-Link klicken. Damit werden Daten übermittelt, zu deren Art, Umfang und Verwendungszweck wir keineAuskünfte geben können. NOTE: The video is still deactivated so that no unwanted data transfer to YouTube takes place. To activate, please click on the preview image / video link. This transmits data about the type, extent and purpose of which we cannot provide any information.
---
HINWEIS: Mit Anklicken des Videos stellen sie automatisch eine Verbindung zu Youtube/Google her, was einen ungewünschten personenbezogenen Datenaustausch mit sich bringen kann. Weitere Infos unter: www.google.de/privacy
---
Am Sonntag war das Rennen, auf das alle warteten: Die 30+ Pro-Klasse. Es gab einige ernsthafte Konkurrente unter den 29 Startern. Mike Alessi gewann die Klasse mit 1-1. Jedoch schlug der 47-jährige Mike Brown eindrucksvoll zu, besiegte die jungen Wilden und landete auf dem sensationellen 2. Gesamtrang.
30+ Overall Results
Mike Alessi

(Hon)–1-1
Mike Brown (Yam)–2-2
Tim Tremblay (Yam)–3-3
Ivan Tedesco (Kaw)–7-4
Gary Sutherlin (KTM)–6-6
Jeff Loop (Yam)–5-7
Sean Collier (Hon)–9-5
Brad Anderson (Unk)–4-11
Dominic Desimone (Hon)–8-8
Dennis Stapleton (KTM)–10-9
Alex Malott (Yam)–12-10
Today Ring (KTM)–13-12
Bryce Huffman (Hon)–15-13
Michael Carter (Hus)–14-14
Mike Cunduri (Hon)–16-18
Matt Barber (KTM)–18-17
Jason Lutton (Yam)–19-19
Benny Breck (Hon)–11-27
Kris Keefer (KTM)–25-15
Oscar Valdez (Yam)–20-20
David Sousa (Hon)–21-21
Ed Foedish (Yam)–22-22
Dennis Jonon (Kaw)–DNF-16
Brett Stralo (Hon)–23-23
Ian Naccarato (Hon)–17-DNF
Kenneth Martin (Kaw)–24-24
Mark Brewer (Hus)–27-25
Mike Sleeter (Yam)–26-DNF
Darryn Durham (Yam)–DNS-26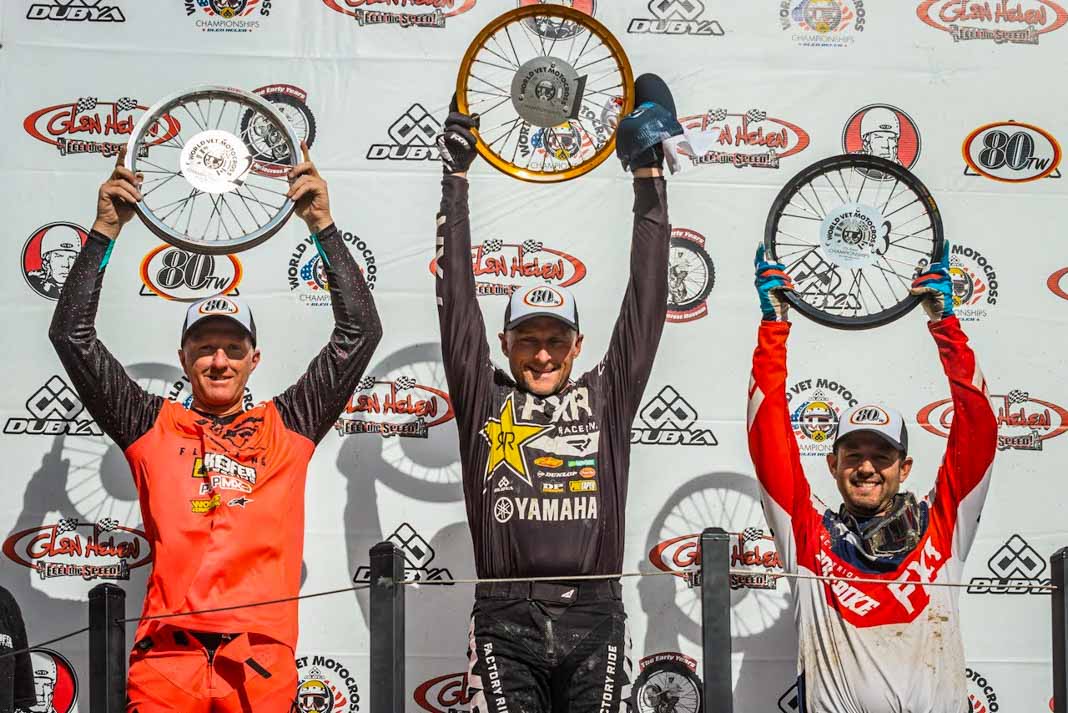 WORLD CUP OF NATIONS – RESULTS OVERALL
Das Team USA#2 gewinnt den World Cup of Nations zusammen mit Großbritannien und dem Team USA#1 auf dem Sieges-Podium. In den Ergebnissen unten geben die Nummern hinter den Namen die Gesamtposition der drei Fahrer eines Landes aus den zwei Rennen an, wobei die letzte Nummer die Gesamtpunktzahl darstellt: Die niedrigste Gesamtzahl gewinnt!
Team USA 2

(Jeff Loop, Kris Keefer, Craig Davis) –1-1-2-1-2-2=9
Great Britain (Brad Anderson, Kurt Nicoll, Brian Wheeler) –2-3-3-3-1-1=13
Team USA (Shaun Hillion, Mike Brown, Ed Foedish) –1–5-5-1-2-3-3=19
Team Brazil (Wellington Garcia. Richard Berois, Fabio Dos Santos) –1–4-4-4-5-7-6=30
Team France (David Sousa, Thierry Traccan, Arnaud Demonmahou)–7-8-6-4-4-18=47
Team Canada (Tim Tremblay, Robert Martin, Alain Bourdreau) –1–3-2-15-7-9-12=48
Team Canada 2 (Ryan Gauld, Steve Bulyovsky, Nic Wallis) –6-7-14-12-8-4=51
Team Puerto Rico 2 (Jon Lindberg, Jeff Molina, Ed Heacox) –14-16-10-10-5-5=60
Team Puerto Rico 1 (Carlobi Velez, Nick Luciano, Eddie Jaramillo) –15-14-8-8-14-9=68
Team Guam 1 (Charles Castloo, Zeke Daugherty, George Ellinger) –10-6-12-17-13-12=70
Team Puerto Rico 3 (David Cincotta, Todd Gravitt, Kevin Barda) –18-17-5-6-6-20=72
Team Holland (Ralf Schmidt, Rowdy Wagenaar, Oliver Gottbehut) –8-10-21-15-12-10=76
Team USA 3 (Brandon Kirkendal, Anthony Heckart, Chuck Heckman) –20-15-9-9-20-7=80
Team Australia (Steve Butler, Dan Alamangos, Dave Feeney) –11-12-19-11-16-14=83
Team Brazil 2 (Murillo French, Artur Aguilar, Marcio Campos) –12-20-16-16-10-11=85
Team Canada 3 (Ron Jansen, Dean Murphy, Matt Hahm) –9-11-18-18-15-15=86
Team Ireland (David O'Connor, Kenny Power, Gary Sullivan) –16-13-17-13-11-17=87
Team Iceland (Gunnlaugur Karlsson, Ragnar Seffansson, Haukur Thorsteinson) –17-20-7-19-11-16=90
Team Spain (James Farrell, Xavier Costa, Joaquim Sunol) –19-18-13-14-20-8=92
Team Northern Ireland (Jonathan McBride, Hugh Mc Dowell, William Burgess)–13-19-21-20-18-19=110
ALL RESULTS / ALLE ERGEBNISSE: LINK
Quelle / Source: Worldvetmx, MXA, Trevor Nelson