DIREKTLINK ENGLISH TEXT VERSION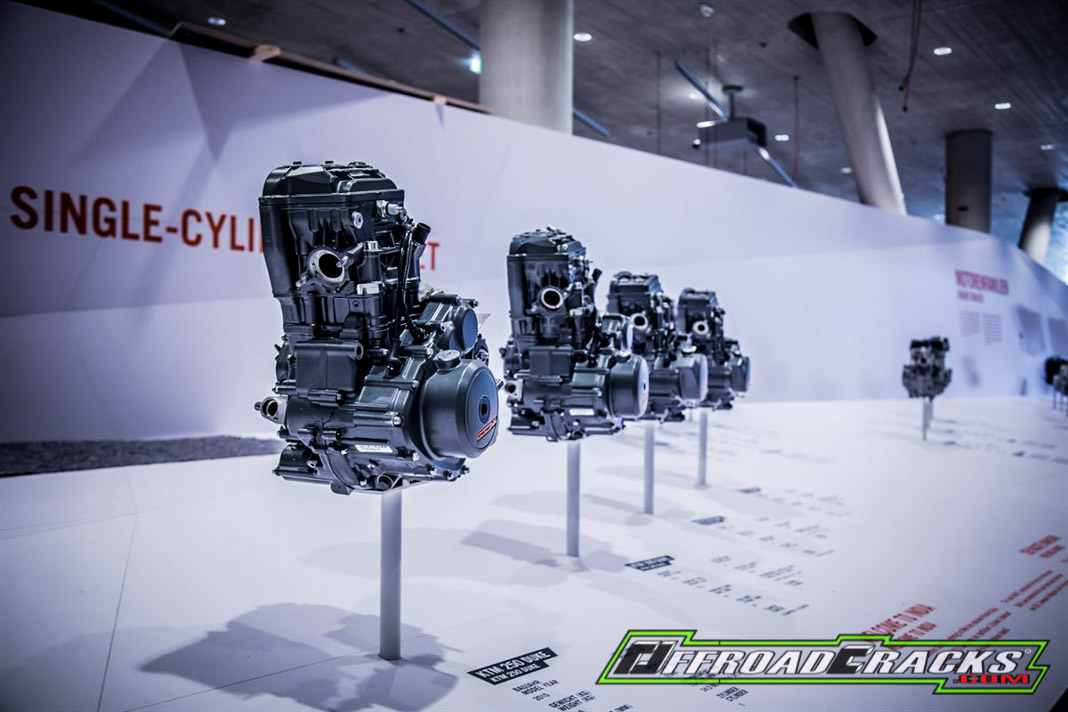 KTM schaut mit großer Vorfreude auf die Eröffnung der komplett neu entstandenen KTM-Markenwelt in der Heimatstadt des Unternehmens Mattighofen. Die Besucher der KTM Motohall erwartet ab Samstagmorgen 9 Uhr ein aufregendes Rahmenprogramm, das Stadtzentrum in Mattighofen wird sich in ein enthusiastisches Fahrerlager verwandeln und verspricht ein emotionales Erlebnis für die ganze Familie.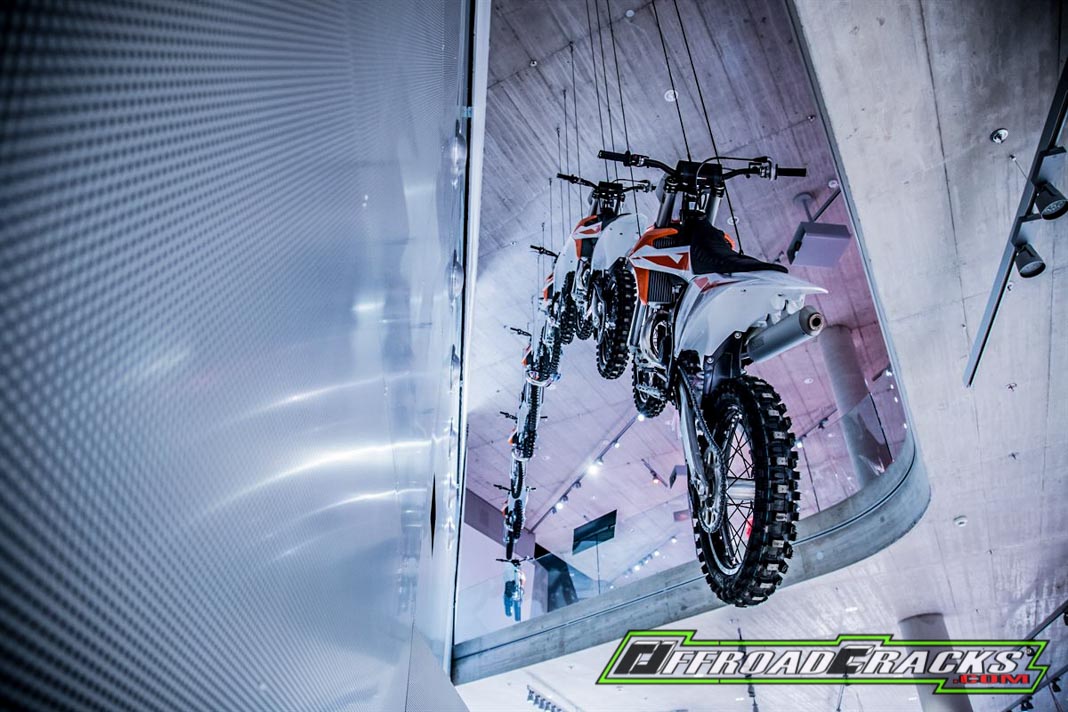 Vor allem bietet sich während des Eröffnungswochenendes die Chance, den großen Rennstars näher zu kommen. Die Rallye Dakar Sieger Matthias Walker, Sam Sunderland sowie Offroad-Held Giovanni Sala stehen während Bühneninterviews Rede und Antwort – und geben natürlich auch Autogramme. Mit dem in den USA lebenden Roger De Coster hat sich zudem die größte Legende des Motocross-Sports angesagt.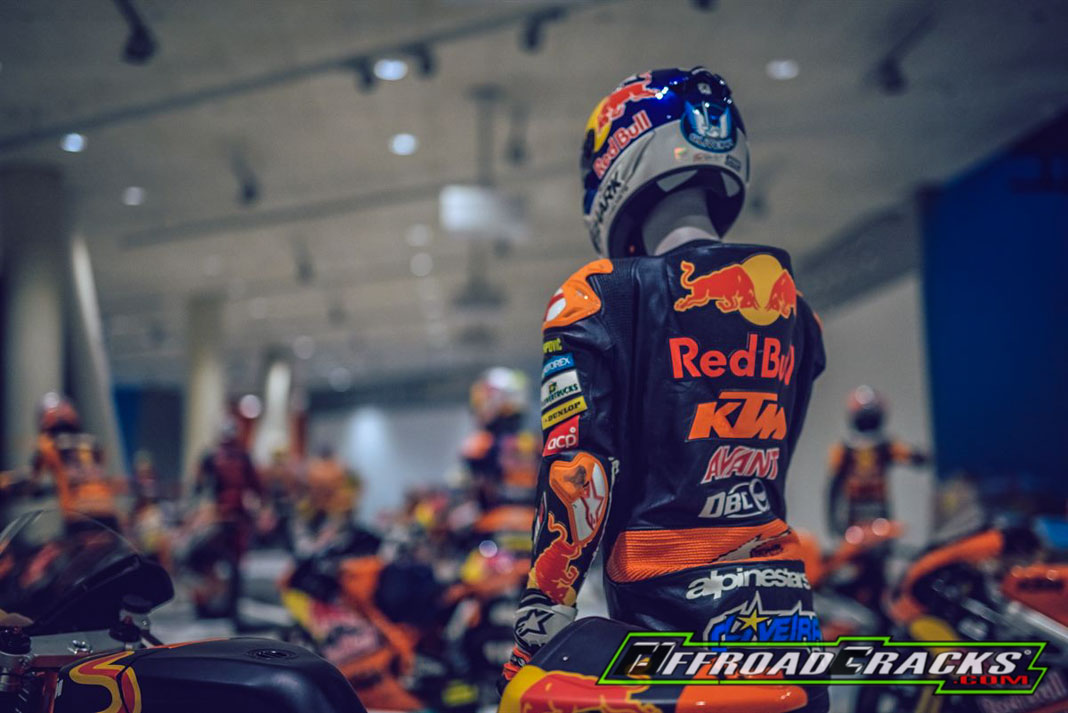 MotoGPTM Pilot Mika Kallio, Ex-Superbike-König Martin Bauer sowie die jungen Nachwuchsracer Maximilian und Andreas Kofler werden ebenfalls vor Ort sein und die Vertreter der Asphaltheizer darstellen.
Während des gesamten Wochenendes zeigt Stuntrider Rok Bagoroš auf seinen KTM DUKEs was es heißt, in Action zu sein. Ein Bike-Simulator mit VR-Brille sowie ein Simulator des KTM X-BOW laden zum Selbsttest ein. Auf die Fans von morgen wartet ein betreuter Kinder-Parcours während mit dem Innovation Lab im inneren der KTM Motohall ein großes Highlight zum technischen experimentieren wartet.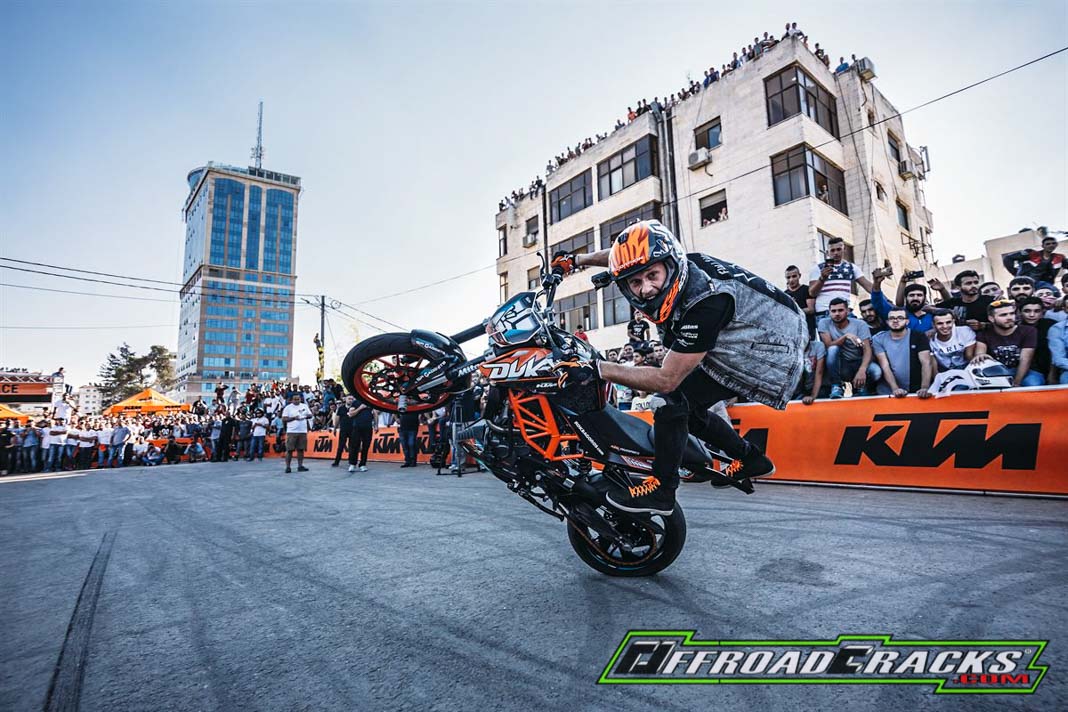 Überhaupt bietet die KTM Motohall auf rund 3000m2 Ausstellungsfläche, umgeben von einer begeisternden Außen- und Innenarchitektur – schon für sich Sensationen in Reihe. Historische wie topaktuelle Motorräder sowie die einzigartige Kollektion von Weltmeisterbikes aus Mattighofen werden nicht nur am Eröffnungswochenende eine magische Wirkung auf die Besucher haben.
Ein weiterer Grund, dem KTM Platz 1 einen Besuch abzustatten, ist ein Besuch im ebenfalls komplett neu geschaffenen Restaurant "Garage". Im Gegensatz zum allgegenwärtigen und extrem schnellen KTM-Modus gibt es hier Kulinarisches auch zum langsamen genießen.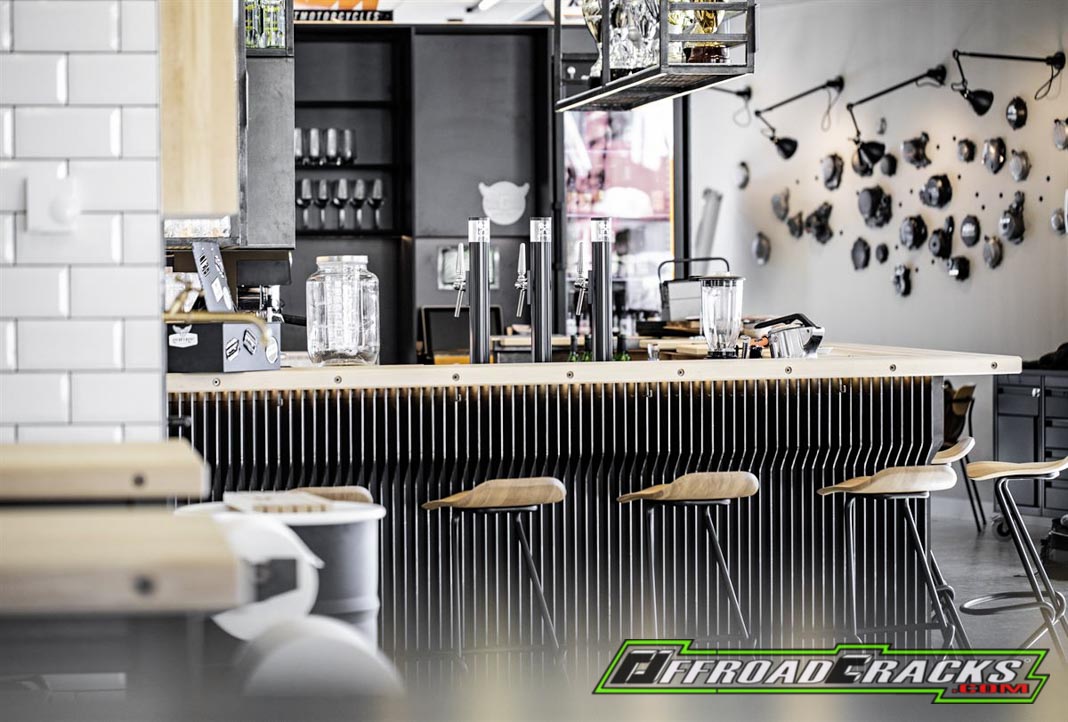 Neben dem Parkhaus am KTM Platz 1, dem Parkplatz am Wasseracker, einem eigenen Motorrad-Parkplatz direkt gegenüber der KTM Motohall gibt es am 11. und 12. Mai auch die Möglichkeit, die KTM-Mitarbeiterparkplätze hinter dem Ersatzteilzentrum zu nutzen. Hier wird ein Shuttle Service eingerichtet, der an den Eröffnungstagen zwischen 09:00 und 18:00 Uhr im 15 Minuten Takt fährt.
Öffnungszeiten
KTM Motohall am 11. und 12. Mai: 9-18 Uhr
KTM Motohall ab dem 14. Mai: Dienstag bis Sonntag, 9-18 UhrÖffnungszeiten Innovation Lab: Freitag 13-18 Uhr, Samstag und Sonntag 9-18 Uhr
Restaurant "Garage": Mittwoch, Donnerstag und Sonntag, 11-22 Uhr
Freitag und Samstag, 11-23 Uhr
Der reguläre Geschäftsbetrieb der "Garage" sowie der "Pit Box" beginnt ebenfalls am 14. Mai 2019.
Eintrittspreise KTM Motohall
Erwachsene 10 Euro (ermäßigt 7 Euro)
Kinder bis 14 Jahre: freier Eintritt
Familienticket: 25 Euro
Preise KTM Motohall Führungen (zzgl. Eintrittspreis)
Geführte Tour: 5 Euro / Person
Individuelle Tour: 90 Euro / Gruppe bis 20 Personen
Online Ticketbuchungen sind ab dem 13. Mai möglich.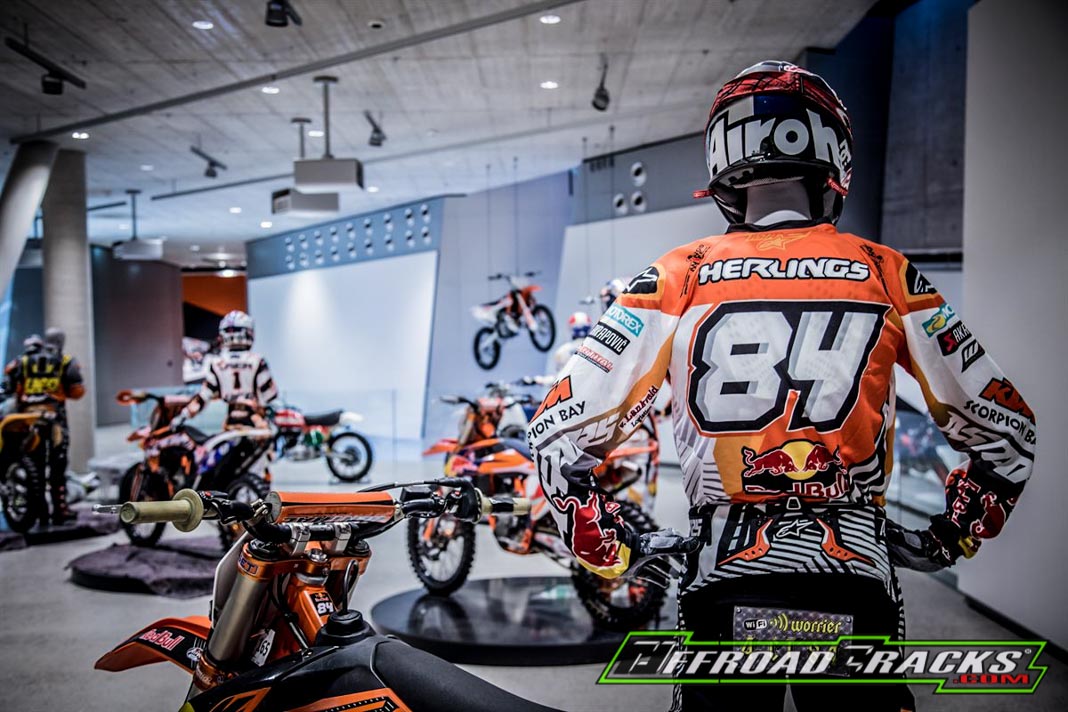 Aktuelle Informationen zu den Führungen & Preisen: www.ktm-motohall.com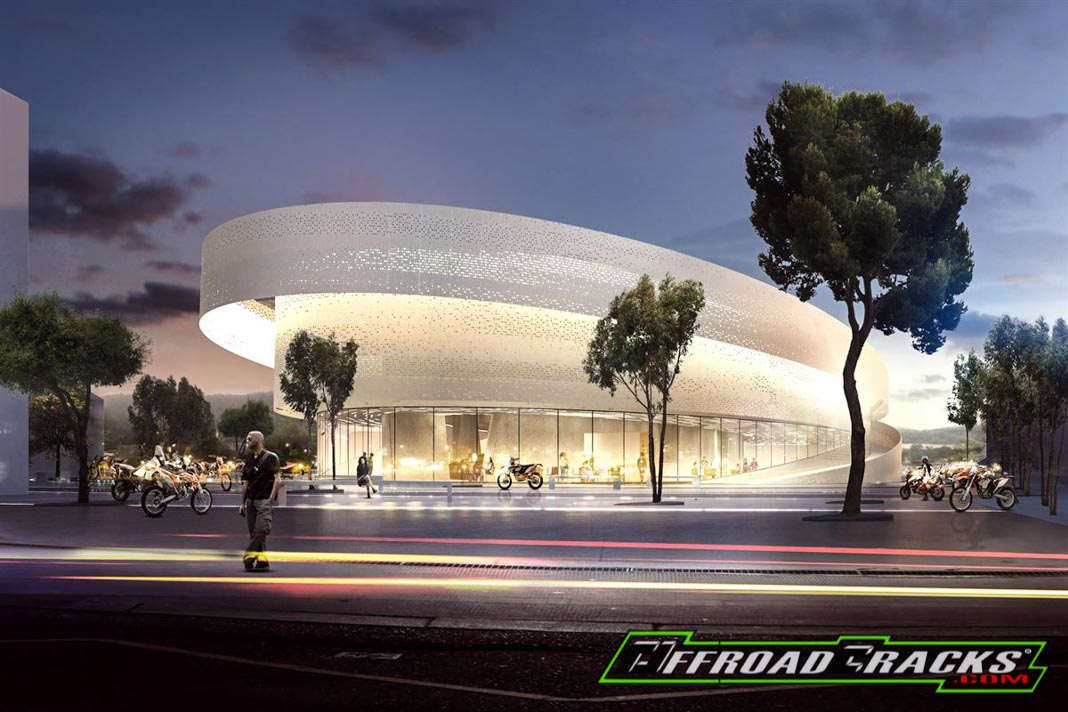 KTM looks forward with great anticipation to the opening of this completely new KTM brand world located right in the center of the company's hometown. Visitors to the KTM Motohall can expect an exciting supporting program from 9.00 am on Saturday morning when, the Mattighofen town center is transformed into an enthusiastic paddock experience that will offer an emotional experience for the entire family.
Most importantly, there will be an opportunity for a close-up and personal encounter with the big stars of racing. Dakar Rally winners Matthias Walker and Sam Sunderland, and offroad hero Giovanni Sala will answer questions during the on-stage interviews, and they will also be available to sign autographs for visitors. Roger De Coster, one of the great Motocross Sports legends who lives in the USA, has announced he will be present.
Heroes of the asphalt, MotoGPTM rider Mika Kallio, ex-Superbike King Martin Bauer and the up-and-coming junior racers Maximilian and Andreas Kofler will all be present at the big opening.
Stunt rider Rok Bagoroš will be riding his KTM DUKEs the entire weekend to show visitors just what pure action is like. A bike simulator with VR goggles, and even a KTM X-BOW simulator will be there to offer visitors the opportunity to test them for themselves. A supervised children's course awaits the fans of tomorrow, while inside the KTM Motohall there is the unique Innovation Lab that will be a big highlight for all those interested in technical experimentation.
Above all, the KTM Motohall offers around 3000m2 of exhibition space, set in an atmosphere of inspiring external architecture and interior design features that are poised to provide a series of sensations. The collection of both historical and cutting-edge motorcycles, and the unique collection of world championship bikes will work their magic on visitors far beyond the opening weekend of the museum.
Another reason to make the pilgrimage to 'KTM Platz 1' is a visit to the brand new "Garage" restaurant. It is here, that in contrast to the usual high-speed mode of all things KTM, that it will be possible to enjoy culinary excellence at leisure.
In addition to the parking garage at KTM Platz 1, the car park at Wasseracker, and a private motorcycle parking lot directly opposite the KTM Motohall, there will also be the opportunity to use the KTM employee parking spaces behind the Spare Parts Center on May 11-12. There will be a shuttle service at this location, which will operate every 15 minutes between the hours of 09:00 and 18:00 on the museum's two opening days.
General Information for Visitors to the KTM Motohall
Opening times of the KTM Motohall on May 11-12: 9:00-18:00 hours
Opening times of the KTM Motohall: from May 14, Tuesday to Sunday: 9:00-18:00 hours
Opening times of the Innovation Lab: Friday 13:00-18:00 hours, Saturday and Sunday 9:00-18:00 hours
Opening times for Restaurant Garage: Wednesdays, Thursdays and Saturdays 11:00 – 22:00 hours
Friday and Saturday, 11:00-23-00 hours
Regular service at the "Garage" and the "Pit Stop" also begins on May 14, 2019
Admission Prices for the KTM Motohall
Adults 10 euros (reduced 7 euros)
Children up to 14 years: free entry
Family ticket: 25 euros
Price for KTM Motohall Tours (plus entry fee)
Guided tours: 5 euros per person
Individual tours of groups up to 20 people: 90 euros
Online ticket reservations possible from May 13.
The latest information regarding tours and ticket prices: www.ktm-motohall.com
Bilder/Pictures: KTM