Nach einer überragenden Leistung in der vergangenen Woche war Ken Roczen vom Team Honda HRC zuversichtlich und bereit, beim fünften Lauf der AMA Supercross-Serie in Oakland/Kalifornien ein weiteres starkes Ergebnis abzuliefern. Obwohl er einen guten dritten Platz erzielte, hatte man dennoch nur verhaltene Emotionen im Team gezeigt. Als das Startgatter beim Hauptrennen fiel, setzte Roczen seine beeindruckende Serie an perfekten Starts fort und brachte seinen CRF450R zu einem weiteren Holeshot und in die verdiente Führung. Der Deutsche fuhr in der ersten Hälfte des Rennens über 20 Minuten makellos an vorderster Front, bis Eli Tomac in Runde 11 so viel Druck ausübte, dass Rocen die Führung abgeben musste. Roczen blieb aber auf Schlagdistanz, denn sobald Tomac einen Fehler machen würde, wäre man sofort zur Stelle. Und genau das passierte in Runde 15, als Roczen wieder die Führung übernahm. Duch einen Fehler seinerseits fiel er wieder auf Platz zwei zurück und wurde dann in der letzten Runde auch noch von Cooper Webb auf Platz 3 verdrängt.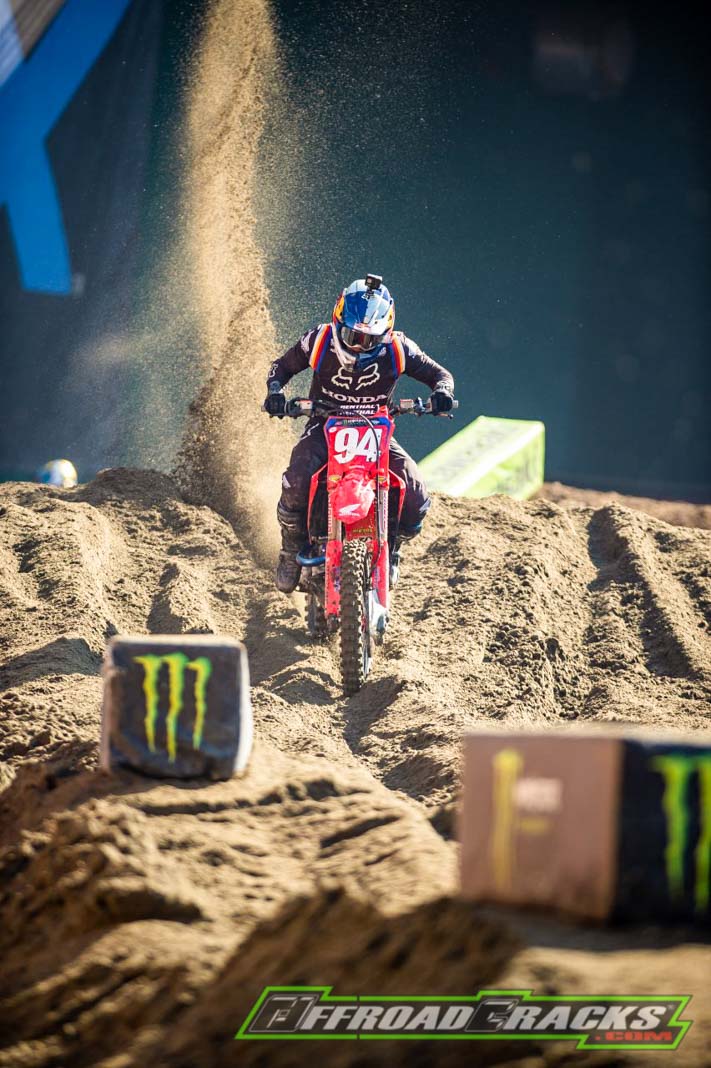 Erik Kehoe – Team Manager
"Der heutige Renn-Abend hatte seine Höhen und Tiefen. Ken war den ganzen Tag nicht wirklich glücklich mit der Strecke, aber trotzdem gewann er ein Heat Race und fuhr im Main Event gut. Es gibt ein paar spezifische Dinge, die wir am Motorrad für Ken verfeinern müssen, um es noch komfortabler zu machen, denn es gab einige Abschnitte, in denen er Probleme hatte und in denen er die meiste Zeit verlor. Aber insgesamt sind wir sehr nahe an dem gewünschten Setup dran. Wir haben zwar einige Punkte in der Meisterschaft verloren, waren jedoch immer noch auf dem Podium und führen, was als positiv zu bewerten ist. Wir werden also die Woche über weiterarbeiten und nach San Diego fahren."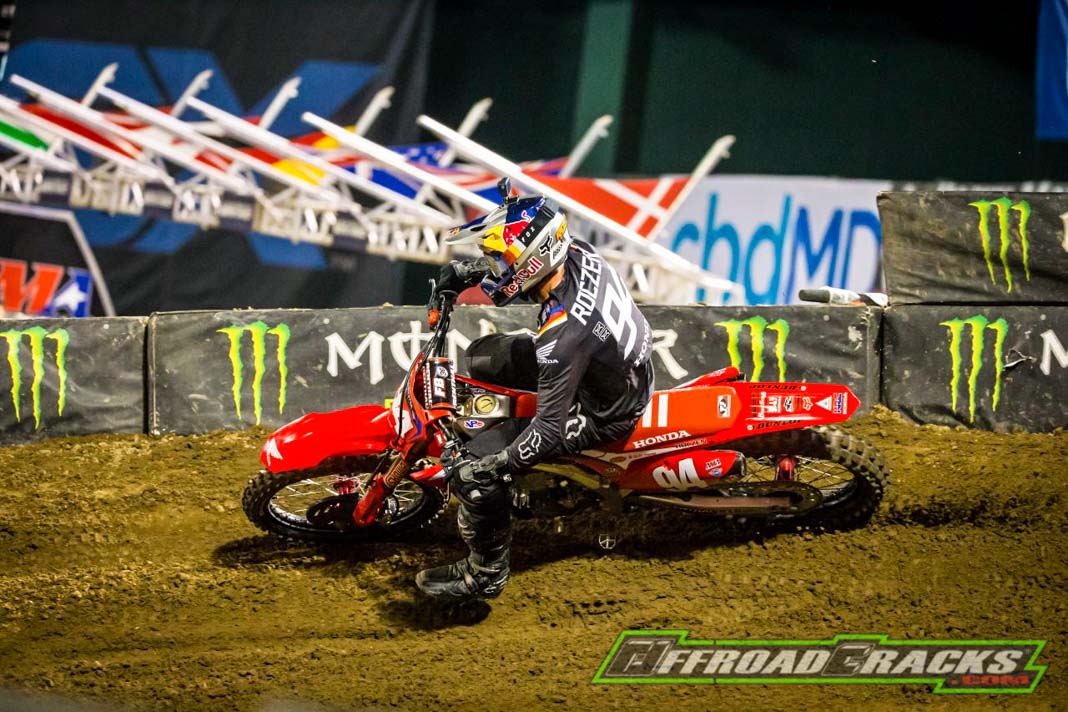 KEN ROCZEN's KOMMENTAR
"Heute Abend war alles ziemlicher Mist. Ich weiß nicht genau wo ich in der ersten Runde war, vielleicht auf dem neuen Platz. Ich habe mich gerade mit einem anderen Fahrer gebattelt, als sein Bike ausging und ich mit ihm kollidierte. Als er losfuhr, hatte mein Hinterrad ein Loch in die Auffahrt gegraben, und ich blieb stecken. Als ich dann loslegte, war ich ganz weit hinten auf Platz 22. Ich schaffte es zurück bis auf den 13. Platz – mehr war nicht möglich. Es ist so ein Mist, weil ich das Gefühl habe, dass ich im Moment wirklich gut fahre und wir eine großartige Woche auf der Teststrecke hatten. Das Motorrad ist fantastisch und ich bin sehr zufrieden mit den vorgenommenen Änderungen und wie sie funktionieren. In den letzten zwei Wochen war ich beim Start einfach furchtbar, also muss ich das besser machen. Ich denke, wenn ich wie zu Beginn des Jahres einige Starts hinbekomme, kann ich unter die ersten Fünf kommen. Ich bin für San Diego hochmotiviert. Es sind genau diese Rennen, die einen wirklich motivieren unter der Woche wieder hoch konzentriert an die Arbeit zu gehen."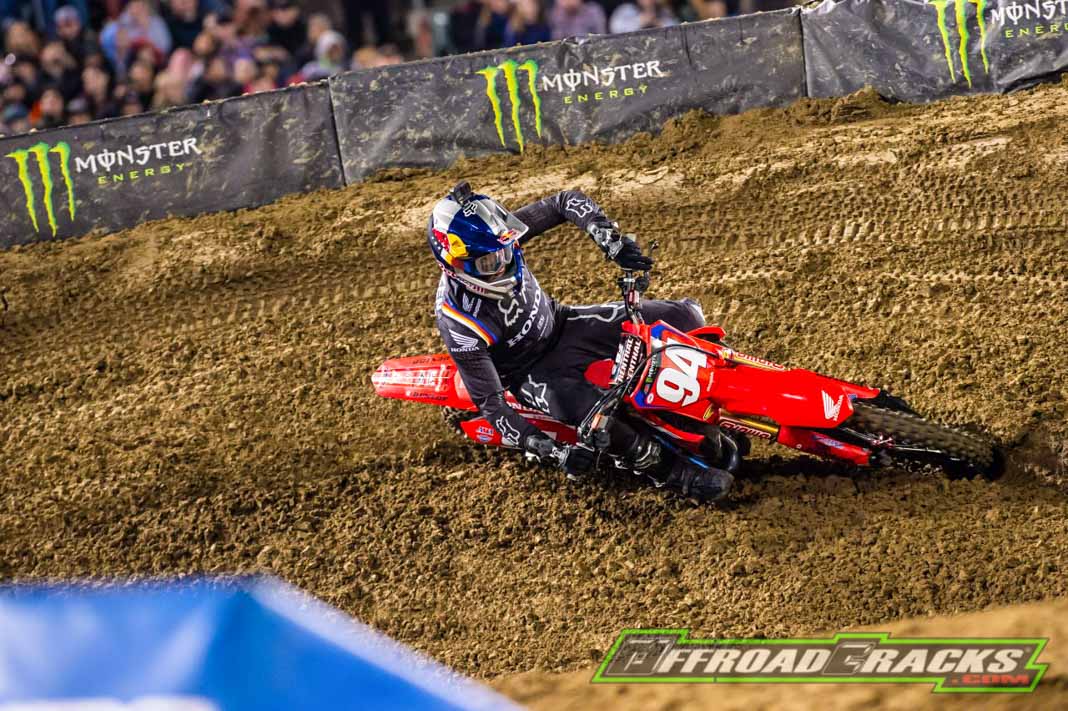 Jordan Troxell – Ken's Mechaniker
"Wenn wir das Gesamtbild betrachten, können wir nicht so euphorisch sein, totz dessen das Ken noch auf dem Podium gelandet ist und die Punkte für die Führung sicherte. Aber ich war definitiv nicht begeistert davon, wie das Rennen verlief. Es hätte jedoch schlimmer kommen können. Ken führte über die Hälfte des Rennens, also nehmen wir die positiven Eindrücke mit und werden einige Dinge für das nächste Wochenende verbessern, um dann noch stärker zurückzukommen."
Race-Highlights, Presskonferenz & Interviews: LINK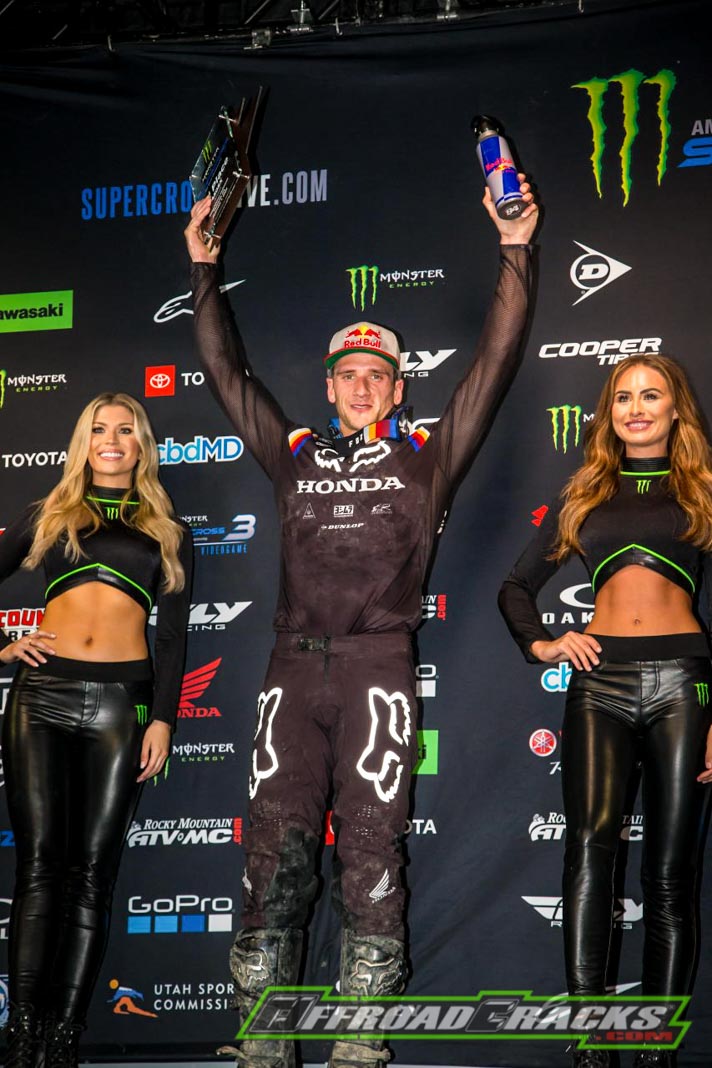 Results OVERALL / Tabellenstand OVERALL
POS.
#
RIDER
HOMETOWN
TOTAL POINTS
1
2
3
4
5
1
94

Ken Roczen

Clermont, FL
113
17
26
23
26
21
2
3
Eli Tomac
Cortez, CO
110
16
19
26
23
26
3
51
Justin Barcia
Greenville, FL
98
26
23
14
18
17
4
21
Jason Anderson
Rio Rancho, NM
96
18
21
18
21
18
5
1
Cooper Webb
Clermont, FL
95
21
11
21
19
23
6
9
Adam Cianciarulo
New Smyrna Beach, FL
90
23
16
17
15
19
7
27
Malcolm Stewart
Haines City, FL
75
14
17
15
16
13
8
10
Justin Brayton
Charlotte, NC
73
15
15
16
17
10
9
4
Blake Baggett
Grand Terrace, CA
69
19
14
9
13
14
10
16
Zach Osborne
Abingdon, VA
63
9
18
19
5
12
11
46
Justin Hill
Yoncalla, OR
61
12
12
11
11
15
12
15
Dean Wilson
Murrieta, CA
59
10
10
13
10
16
---
HINWEIS: Mit Anklicken des Videos stellen sie automatisch eine Verbindung zu Youtube/Google her, was einen ungewünschten personenbezogenen Datenaustausch mit sich bringen kann. Weitere Infos unter: www.google.de/privacy
---

Following a dominant performance last week, Team Honda HRC's Ken Roczen was confident and poised to deliver another strong result at round five of the AMA Supercross series in Oakland, California, and although he did manage a creditable third-place result, he and his team left with mixed emotions. When the gate dropped on the main event, Roczen continued his streak of strong starts, driving his CRF450R to another holeshot and early lead. The German rode smoothly up front for the first half of the 20-minute-plus-one-lap race but came under fire from Eli Tomac and relinquished the lead on lap 11. Roczen stayed close behind, which paid off when Tomac made a mistake on lap 15 and Roczen regained the lead, but late mistakes cost Roczen the lead to Tomac and then then runner-up position to Cooper Webb in the last turn.
Erik Kehoe – Team Manager
"Tonight had its highs and lows. Ken wasn't fully comfortable with the track all day, but even with that, he won his heat race and rode well in the main event. There are a few specific things that we need to refine on the bike for Ken, to make him even more comfortable, because there were a few sections that he struggled in, which is where he lost most of his time. But overall, we're very close. We lost some points in the championship; however, we were still on the podium and are in the lead, so that's positive.
KEN ROCZEN's statement
"Overall I'm happy to be on the podium. I've felt pretty good in previous weeks and today was different. I just felt a little slow in practice honestly, and wasn't really vibing too well with the track. It took me a little longer than normal to get comfortable and get everything down. With that being the case, I'm happy to have finished on the podium because it could've been worse. I'm definitely bummed I gave up some valuable points, but to still come away with the points lead is good. It was great to lead more laps, but I wasn't the fastest tonight and made some big mistakes, especially toward the end, which were costly. It allowed Cooper [Webb] to close in; when you're behind someone like he was, you can kind of pick your lines and set something up for a pass, which is what he did. Obviously, I'm not too happy about that but it's racing. I don't know what happened in the pass but somehow my foot got smashed or hung up and it was a stinger, but I'm not too worried about it. We'll keep an eye on it and if I need to, we'll get an X-ray to make sure everything is good. I'm looking at the big picture and we've been on the podium a bunch and are still in a good position overall."
Jordan Troxell – Ken's mechanic
"Looking at the big picture, we can't be too bummed on tonight because we still got on the podium and have the points lead. But in the moment, I definitely wasn't pumped on how the race ended. It could've been worse though. Ken led over half the race, so we're taking the positives and going to improve on some things for next weekend, to come back stronger."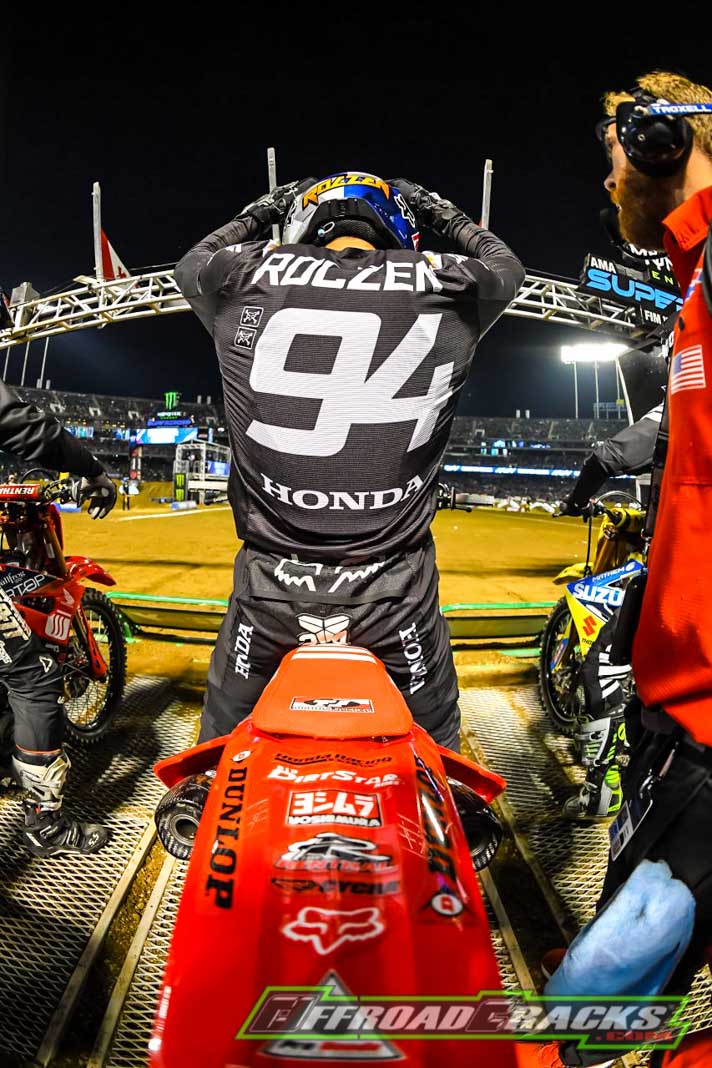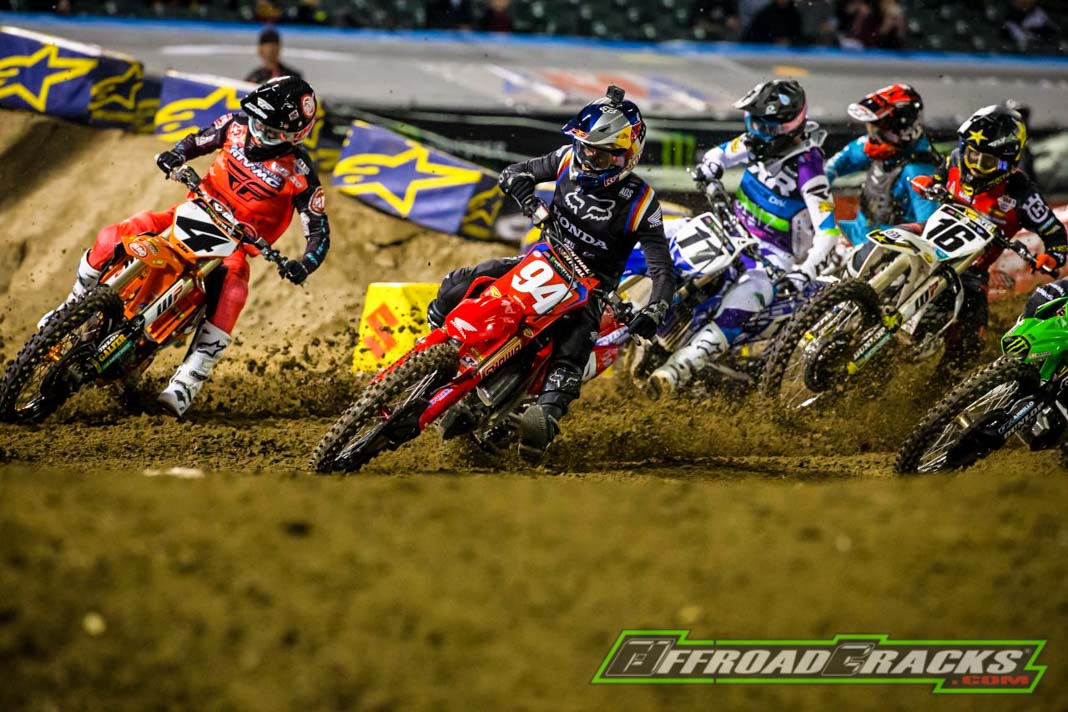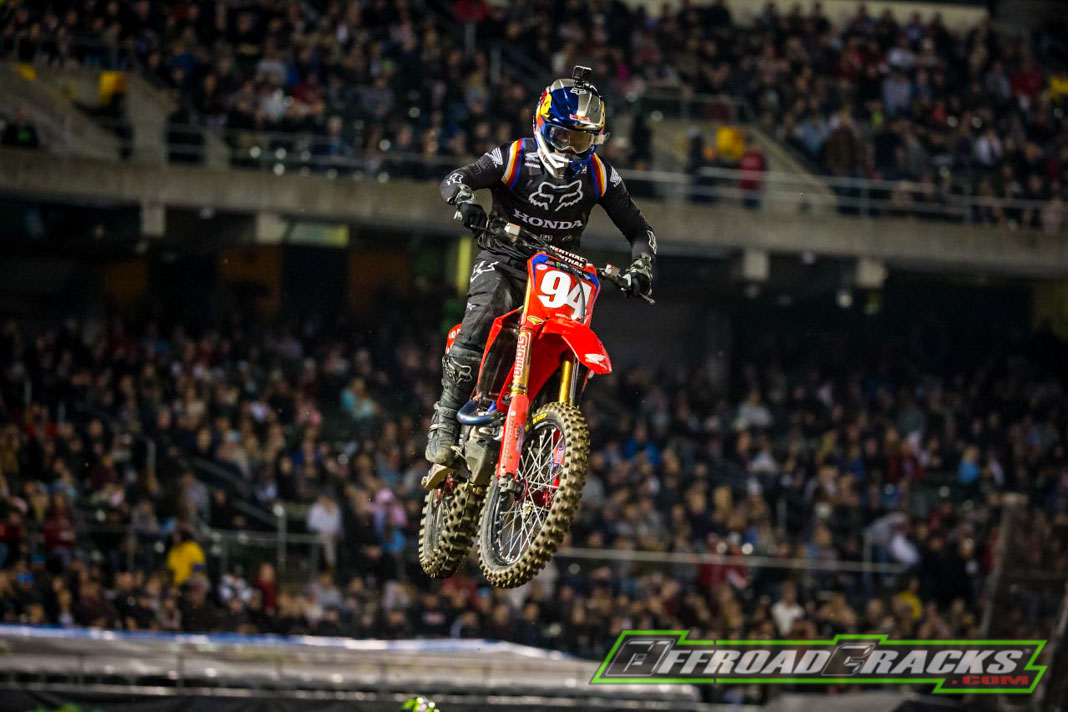 Quelle / Source: Team Honda HRC