Mehr Hubraum für Hondas Mini-Adventure-Bike. Dank überarbeitetem Lufteinlass, verbesserter Einlassnockensteuerung und neuer Auspuffanlage geht das neue Modell mit mehr Power und wesentlich stärkerem Drehmoment über den gesamten Drehzahlbereich an den Start. Die insgesamt kürzere Getriebeübersetzung wird durch einen längeren 6. Gang ergänzt, während eine Anti-Hopping-Kupplung das Hinterrad besser kontrollieren lässt. Das Handling ist durch die neue Schwinge und den flexibleren Rahmen, mehr Bodenfreiheit und Federweg sowie die überarbeitete Fahrposition auf jedem Terrain auf einem neuen Level. Der Kraftstofftank mit größerem Fassungsvermögen erweitert den Radius, der Sitz ist jetzt gummigelagert und zudem niedriger. Darüber hinaus gibt es nun auch Gummieinlagen für die Fußrasten. Der Lenker ist mit zusätzlichen Gewichten stabilisiert. Die Blinker sind jetzt flexibel montiert, um bei einem Sturz nicht so leicht zu brechen. Abgerundet wird das runde Gesamtpaket durch ein leicht ablesbares LC-Display. Das Leergewicht sinkt um 4 kg auf 153 kg.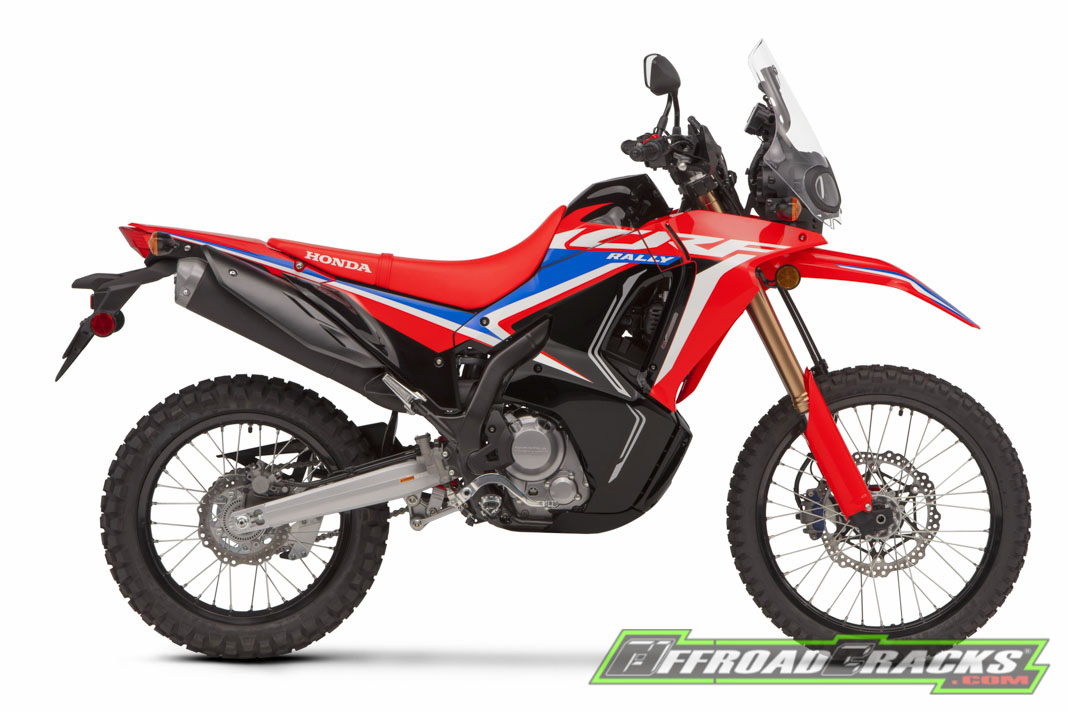 Ein vielseitiges Motorrad wie die CRF300 Rally glänzt auf jedem Terrain: Dank schlanker Proportionen und in Kombination mit einem hervorragenden Handling, gleitet sie leicht durch den dichten Stadtverkehr, während Federung, Bodenfreiheit und Sitzhöhe eine Menge Spaß und Komfort auf rauen Pisten versprechen. Die CRF eröffnet völlig neue Möglichkeiten unabhängig vom fahrerischen Können ihres Besitzers.
Die CRF250 RALLY, deren Styling-DNA direkt von der HRC CRF450 RALLY Dakar abstammte, basierte auf der CRF250L. Bei Markteinführung im Jahr 2017 definierte sie ein völlig neues Segment. Die Maschine vermittelte den Anschein, als könne sie bei der nächstbesten Wüstenetappe an den Start gehen und dabei gleichermaßen die beste Wahl für Fahrer sein, die ein leichtes, einfach handzuhabendes Adventure-Bike bevorzugen.
Im Jahr 2021 feiert neben der CRF300L* auch die CRF300 RALLY ihr Debüt. Sie ist leichter, leistungsstärker und noch besser ausgestattet. Egal ob man mit ihr die Welt umrunden will, oder nur den nächsten Block – die CRF300 RALLY ist startklar.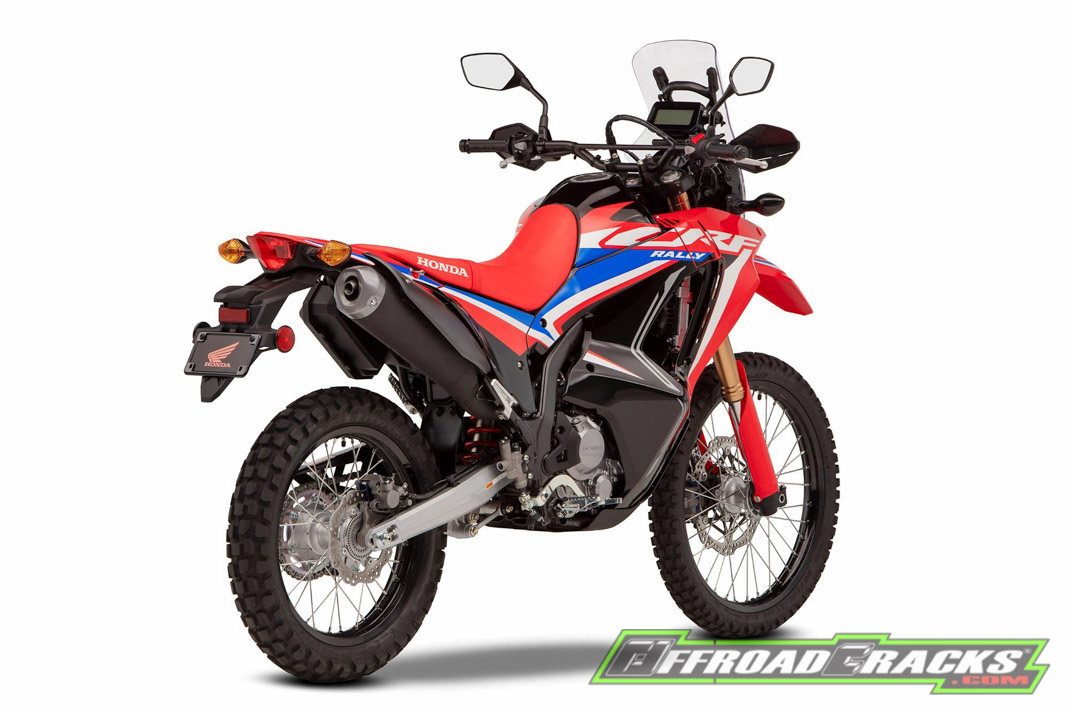 Der neue, 286 ccm große Motor der CRF300L verfügt über 10% mehr Spitzenleistung und 18% mehr Spitzendrehmoment. In Summe bedeutet dies eine Leistung von 27,3 PS (20,1 kW) bei 8.500 U/min (CRF 250 Rallye 25PS) sowie ein maximales Drehmoment von 26,6 Nm bei 6.500 U/min (CRF250 Rallye 22,6Nm). Für das deutliche Plus an Power, vor allem im mittleren Drehzahlbereich, tragen auch überarbeiteten Einlasssteuerzeiten sowie Lufteinlass und Abgasanlage bei. Die Gänge 1 bis 5 sind nun kürzer übersetzt, um das Ansprechverhalten zu verbessern. Dagegen ist der 6. Gang für entspanntes Cruisen bei höheren Geschwindigkeiten länger übersetzt. Durch den Einsatz einer Anti-Hopping-Kupplung gewinnt der Fahrer mehr Kontrolle über das Hinterrad. Zudem konnte der Kraftaufwand für die Bedienung des Kupplungshebels um 20% reduziert werden.
Die Gewichtsreduktion um spürbare 4 kg wird durch einen neuen Stahlrahmen samt Aluminiumschwinge und die neue untere Gabelbrücke realisiert. Hierdurch erhält die Maschine eine wesentlich bessere Steifigkeitsbalance und vermittelt eine hervorragende Rückmeldung an den Fahrer. Die Gabel der CRF verfügt nun über einen 10 mm längeren Federweg. Die Lenkgeometrie ist auf das neue Chassis abgestimmt.
Die CRF gefällt mit einer robusten Verkleidung, die den auf 12,8 l vergrößerten Kraftstofftank beherbergt sowie mit einem bequemen, breiten Sitz. Der markante asymmetrische Doppel-LED-Scheinwerfer und das neue LC-Display runden den Look ab. Die Sitzposition wurde optimiert, um das Handling im Gelände und in der Stadt weiter zu verfeinern.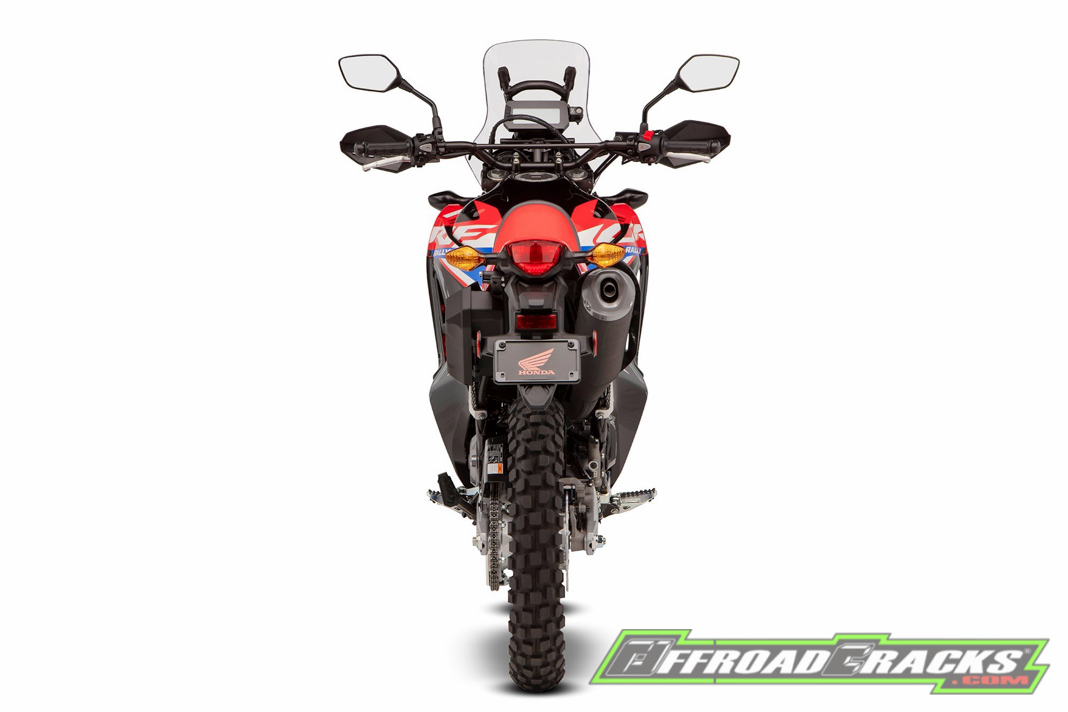 Die Hubraumvergrößerung des flüssigkeitsgekühlten Einzylinder-DOHC-Motors von 250 auf 286 ccm wird durch den größeren Hub von 63 anstatt 55 mm realisiert. Die Bohrung von 75 mm bleibt bestehen, ebenso das Verdichtungsverhältnis von 10,7:1. Die Spitzenleistung von 27,3 PS (20,1kW) wird bei 8.500 U/min erreicht, das Spitzendrehmoment beträgt 26,6 Nm bei 6.500 U/min (vorher 24,7 PS (18,2kW) bei 8.500 U/min und 22,6 Nm bei 6.750 U/min). Die Auswertungen der Prüfstandsläufe sprechen für sich: Der neue Motor ist ab 2.000 U/min in allen Belangen deutlich performanter als sein Vorgänger.
Um den verbesserten Durchzug des Motors zu nutzen und gleichzeitig Ansprechverhalten und Beschleunigung zu optimieren, sind die Gänge 1-5 kürzer übersetzt. Der 6. Gang ist dagegen für entspanntes Cruisen bei höheren Geschwindigkeiten länger ausgelegt. Die Anti-Hopping-Kupplung reduziert den Kraftaufwand am Kupplungshebel um 20 % und sorgt dafür, dass das Hinterrad beim schnellen Herunterschalten nicht blockiert – für maximale Kontrolle auf der Straße und im Gelände. Die Höchstgeschwindigkeit steigt von 129 auf 135 km/h an. Für den Sprint über 400 m benötigt die CRF 15,4 s und ist somit ganze 0,9 s schneller als die Vorgängerin.
Einlassseitig sind die Steuerzeiten überarbeitet. Diese Maßnahme fördert das Ansprechverhalten speziell im unteren bis mittleren Drehzahlbereich, dem in der Stadt und im Gelände am häufigsten verwendeten Drehzahlbereich. Zudem sind Luftfilter, Abgassystem (660 g leichter als die vorherige Version) und Zündzeitpunkt optimiert. Eine Iridium-Zündkerze und die präzise Zufuhr des Kraftstoffgemischs durch das PGM-FI-Einspritzsystem erhöhen die Verbrennungseffizienz und verbessern die Umweltbilanz.
Ein Offset-Zylinder reduziert interne Reibungsverluste. Der Kolben ist mit einem speziellen Oberflächenmaterial und einer zusätzlichen Molybdänbeschichtung versehen. Die Ölpumpe ist so konstruiert, dass sie Druckausgleich und Gehäuseentlüftung übernehmen kann. Im Bereich des Kurbelwellenzapfens kommt ein geteiltes, eingepresstes Metalllager zum Einsatz, während das Kurbelwellenlager über eine Buchse aus Gusseisen verfügt. Eine primäre Ausgleichswelle reduziert weitere Vibrationen.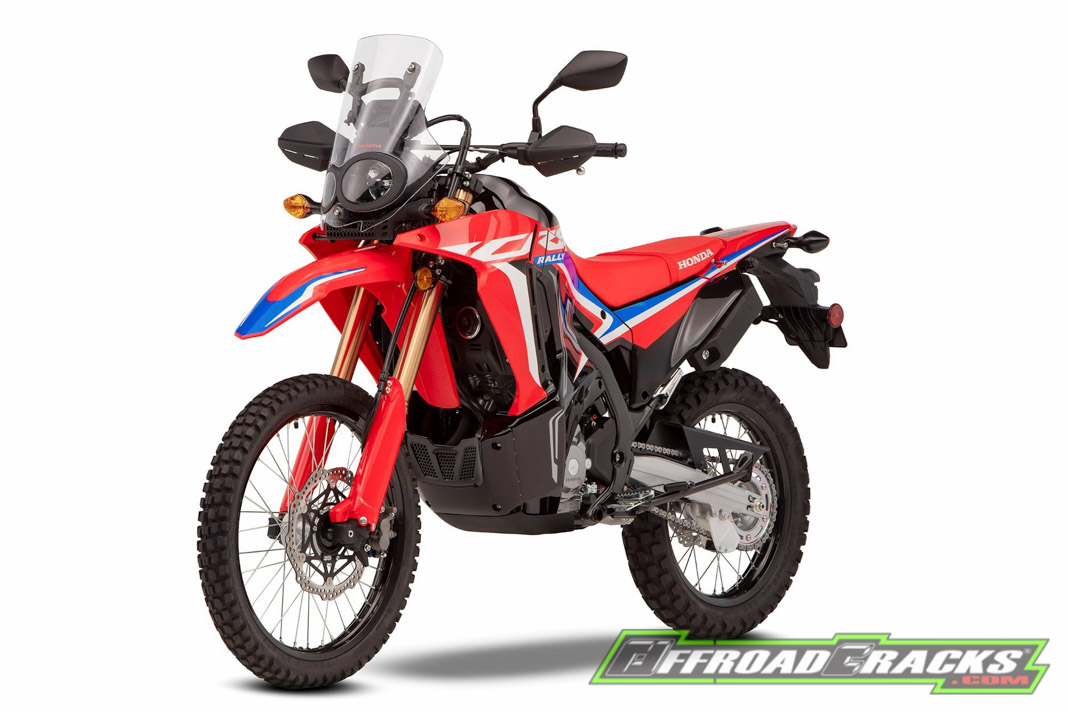 Das Kühlsystem arbeitet mit einem 10,7 kW starken Kühler, der sich auf der linken Seite des Motorrades befindet und durch einen Polypropylen-Grill mit Umlenkblechen – zur Verbesserung des Luftstroms – geschützt ist. Zudem wird ein Lüfter verwendet, der die Motortemperatur bei niedrigen Geschwindigkeiten, sowohl im Stau als auch bei höherer Belastung im Gelände, stabil hält.
Der Motor der CRF300 RALLY erfüllt die EURO5-Norm.
Insgesamt spart das Chassis der CRF300 RALLY 4 kg ein, das Nassgewicht beträgt nun 153 kg. Der Doppelschleifen-Stahlrahmen ist komplett neu und trägt ganze 2,15 kg zur Gewichtsreduktion bei. Der Rahmen ist so konstruiert, dass er 25 % weniger Seitensteifigkeit aufweist. Dies verbessert das Fahrgefühl und die Rückmeldung von Vorder- und Hinterrad an den Fahrer.
Die Optimierungen werden durch die Verringerung der Breite des Hauptrohres (-30 mm) und der Unterzüge (Durchmesser jetzt 25,4 statt 28,6 mm) erreicht. Zusätzlich ist die Breite des zentralen Versteifungsrohrs um 20 mm vermindert.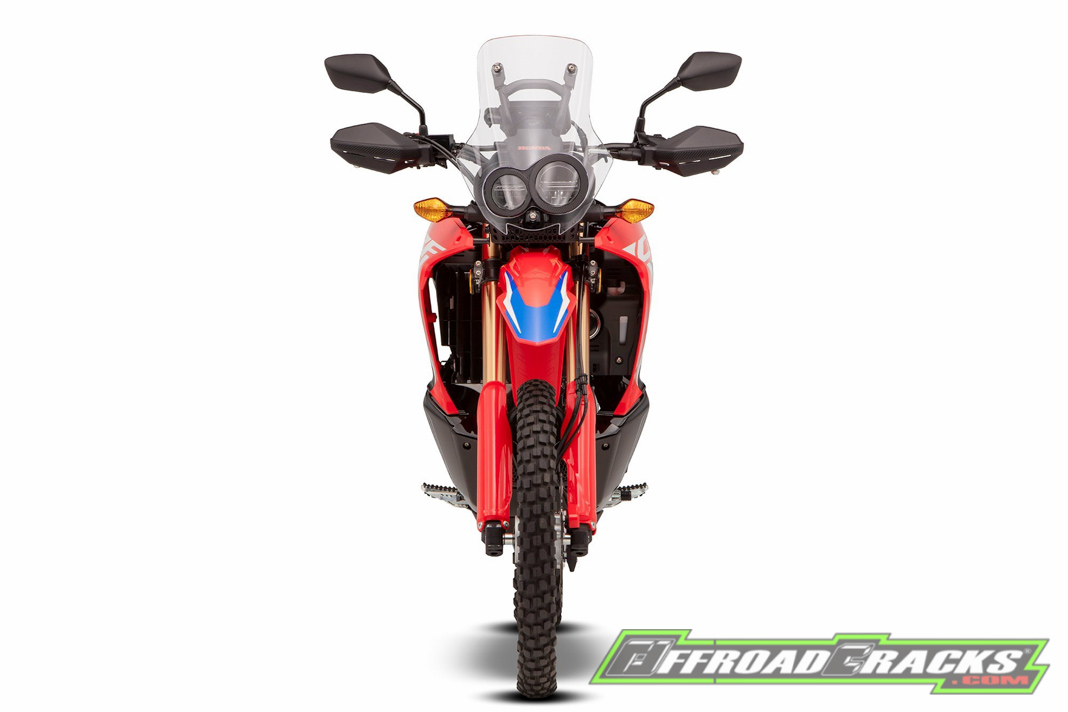 Die neue einteilige Schwinge aus Aluminiumguss ist nicht nur 550 g leichter, sie weist auch eine um 23 % verringerte Seitensteifigkeit und eine um 17 % reduzierte Torsionssteifigkeit auf. Außerdem ist sie direkt hinter dem Drehpunkt um 15 mm schmaler ausgeführt. Der glatte Querschnitt der Schwinge ermöglicht eine gleichmäßige Auslenkung unter Belastung. Die Kettenspanner bestehen aus gepresstem Aluminium. Die untere Gabelbrücke ist statt wie bisher aus Stahl aus Aluminium gefertigt, was 730 g an Gewicht einspart. Diese Gewichtsreduktion oberhalb des Schwerpunktes der Maschine führt zu einem agileren Lenkverhalten.
Die 43-mm-Showa-Upside-Down-Gabel begeistert mit 10 mm mehr Federweg (260 mm) gegenüber dem Vorgängermodell. Zusätzlich wurden Federstärke und Dämpfung überarbeitet, um den Einstellbereich für alle möglichen Fahrbedingungen zu erweitern. Die Pro-Link-Hinterradaufhängung verfügt über einen Federweg von ebenfalls 260 mm. Das Showa-Federbein ist eine Einrohrkonstruktion mit einem 40 mm Zylinder.
Die Bodenfreiheit wurde von 255 auf 275 mm erhöht. Rahmen und Motor sitzen nun 20 mm höher, was auf die Überarbeitungen des unteren Rahmenteils, des Kurbelgehäuses und der Ölablassschraube zurückzuführen ist. Lenkkopfwinkel und Nachlauf sind jetzt auf 27,5° und 109 mm (von 27,6°/ 113 mm) mit einem 10 mm längeren Radstand von 1.455 mm eingestellt.
Das Vorderrad bremst mit einer 296-mm-Einzelbremsscheibe mit Zweikolben-Festsattel, das Hinterrad mit einer 220-mm-Bremsscheibe mit Einkolben-Festsattel. Wie bei den CRF-Wettbewerbsmaschinen ist der hintere Hauptbremszylinder nun in die Konstruktion integriert, was zusätzlich Gewicht spart. Ebenfalls direkt von der CRF250R/CRF450R abgeleitet sind die Bremsscheiben mit Wellendesign, die mit herausragenden Selbstreinigungseigenschaften unter widrigen Bedingungen punkten. Das 2-Kanal-ABS ist serienmäßig.
Die leichten Aluminiumfelgen reduzieren die ungefederten Massen zusätzlich. Beim 2021er Modell wurde die Alumite-Oberfläche poliert, um eine leicht zu reinigende, glänzende Oberfläche zu erhalten. Enduro-Reifen mit Blockprofil (vorne, 80/100-21 51P und hinten 120/80-18 62P) bieten Traktion in nahezu jeder Fahrsituation.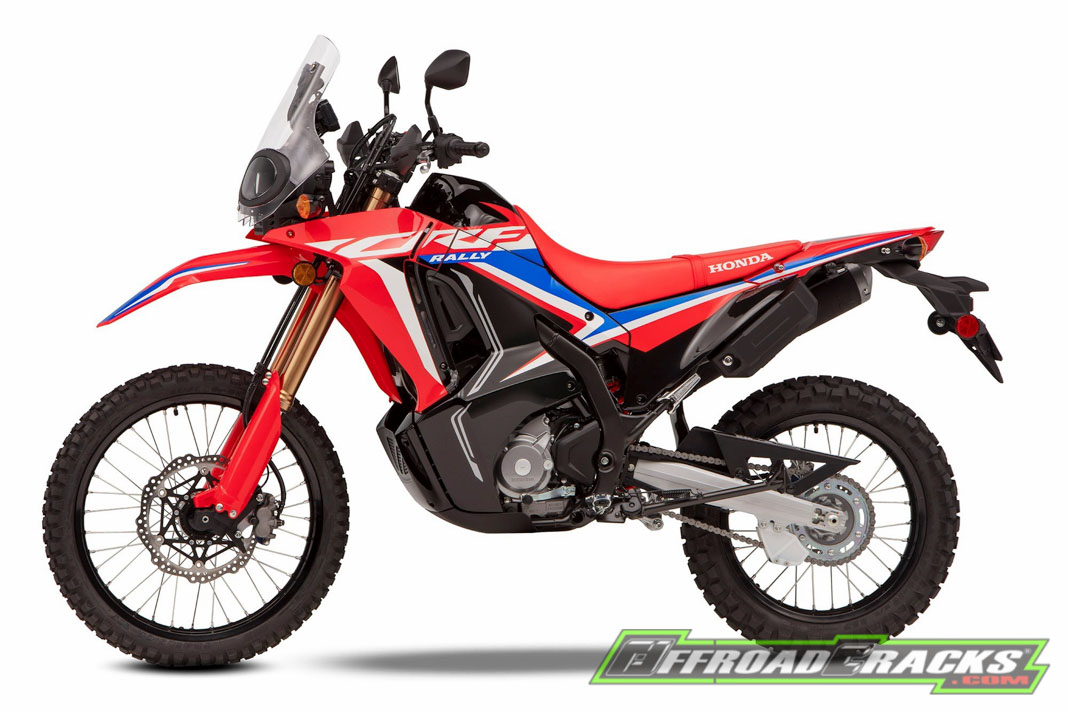 Das 21-Zoll-Vorderrad und das 18-Zoll-Hinterrad erhöhen die Stabilität in unebenem Gelände und ermöglichen bei Bedarf die Montage spezifischer Offroad-Bereifung.
Die CRF300 RALLY wurde entwickelt, um allen Widrigkeiten zu trotzen. Ihr Styling ist ein Ausdruck der Funktion. Abgeleitet von der CRF450 RALLY, bewahren der Flyscreen, die obere und untere Verkleidung sowie die Seitenverkleidungen den Fahrer effektiv vor den Elementen. Handguards bieten zusätzlichen Schutz, sowohl für die Hände als auch für den Brems- und Kupplungshebel. Eine Skid Plate sichert die Unterseite der Maschine; der Schalthebel verfügt über einen klappbaren Pin.
Die neue CRF bringt ihre Motorcross-Anleihen vor allem im Heck voll zur Geltung. Der Kennzeichenhalter ist deutlich kleiner, was satte 300 g Gewicht einspart. Weitere 110 g Reduktion bringt der aggressive, neue vordere Kotflügel. Der Kraftstofftank wächst im Volumen um 2,7 l auf 12,8 l. Bei einem Verbrauch von 3,1 l/100 km im WMTC-Modus ist eine potenzielle Reichweite von über 410 km möglich.
Der Sitz ist aus Komfortgründen gummigelagert und auch die Fußrasten sind jetzt mit Gummieinlagen versehen. Die Sitzhöhe beträgt 890 mm und ist damit 10 mm höher als bei der CRF300L aber 5 mm niedriger als bei der Vorgängerin. Der Sitz weist im vorderen Bereich das gleiche schmale Profil auf wie der der CRF300L, ist aber über die gesamte Sitzfläche 20 mm breiter für mehr Komfort auf längeren Etappen.
Für mehr Kontrolle sorgt die leicht veränderte Fahrposition: Der Lenker wurde etwas weiter nach hinten verlagert und die Fußrasten sind abgesenkt und ebenfalls nach hinten versetzt. Das erleichtert das Schalten auch in schweren Off-Road-Stiefeln. Zudem ist der Lenker der CRF300 RALLY mit Gewichten stabilisiert, um Vibrationen zu minimieren. Ebenfalls neu ist der Seitenständer. Er verfügt nun über eine 10% größere und jetzt auch klappbare Aufstandsfläche.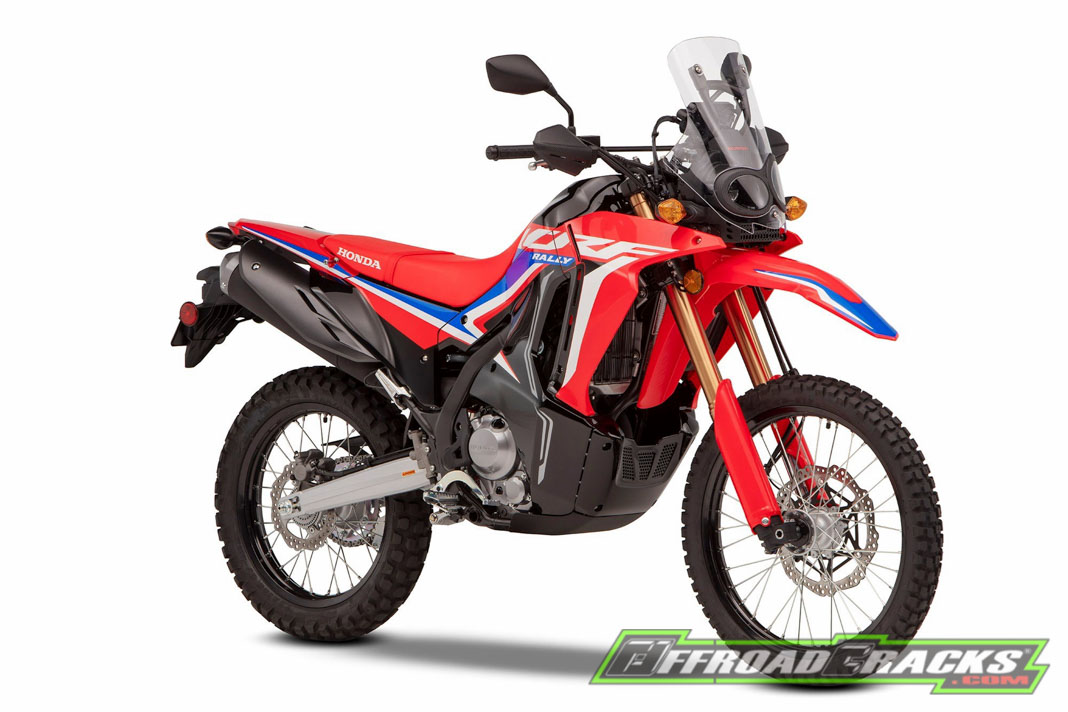 Ein neu gestaltetes, 70 g leichteres LC-Display mit großen schwarzen Ziffern auf einem gestochen scharfen weißen Display überzeugt mit hervorragender Lesbarkeit. Die Zahlen des Tachos sind mit 23 mm um ganze 6 mm größer als beim Vorgänger. Das Display beinhaltet eine Ganganzeige und zeigt Kilometerstand, Verbrauch und Durchschnittsgeschwindigkeit an. Zudem zeigt es eine Stoppuhr und einen Drehzahlmesser. Der kompakte, asymmetrische Doppel-LED-Scheinwerfer ist auf ein LED-Rücklicht abgestimmt. Auch die Blinker leuchten mit LEDs und sind jetzt flexibel montiert.
---

Increased cubic capacity for Honda's popular dual-purpose tool, plus revised air intake, inlet cam timing and exhaust system that extract more peak power and considerably stronger torque across the rev-range. Shorter gearbox ratios are topped with a taller 6th gear while an assist/slipper clutch allows confident control of the rear wheel. Handling on any terrain is improved with a new swingarm and more laterally flexible frame, increased ground clearance, longer travel suspension and revised riding position. Sharp new bodywork and graphics mark the 2021 upgrades, and there's a crisp, positive LCD instrument display. Kerb weight is reduced by 4kg to 142kg, making for a 13% improvement in power to weight ratio.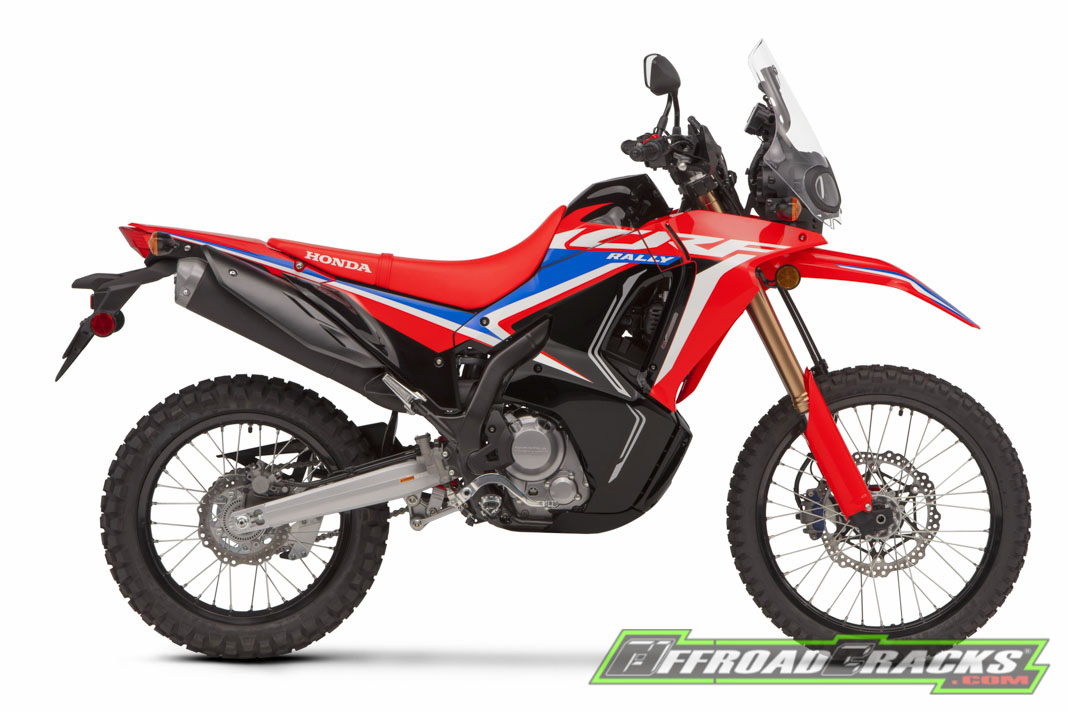 Now 286cc, the CRF300L's new engine produces 10% more peak power of 20.1kW @ 8,500rpm, and 18% more peak torque at 26.6Nm @ 6,500rpm. Inlet cam timing has been revised, alongside both air intake and exhaust system for much stronger mid-range torque and power. Gear ratios 1-5 are shorter, for improved response, while 6th is taller for more relaxed high-speed cruising. An assist/slipper clutch now manages the rear wheel under hard down changes and offers 20% less load at the lever.
A redesigned steel frame, aluminium swingarm and bottom yoke are major contributors to a 4kg overall weight loss and feature revised rigidity balance for feedback and feel. Steering geometry has been adjusted in detail to match, alongside longer travel front/rear suspension and increased ground clearance.
Sharp-edged bodywork features a slimmer tank and seat, and a new positive LCD instrument display. The riding position, too, has been altered to encourage the light steering manoeuvrability needed off-road and, just as usefully, around town.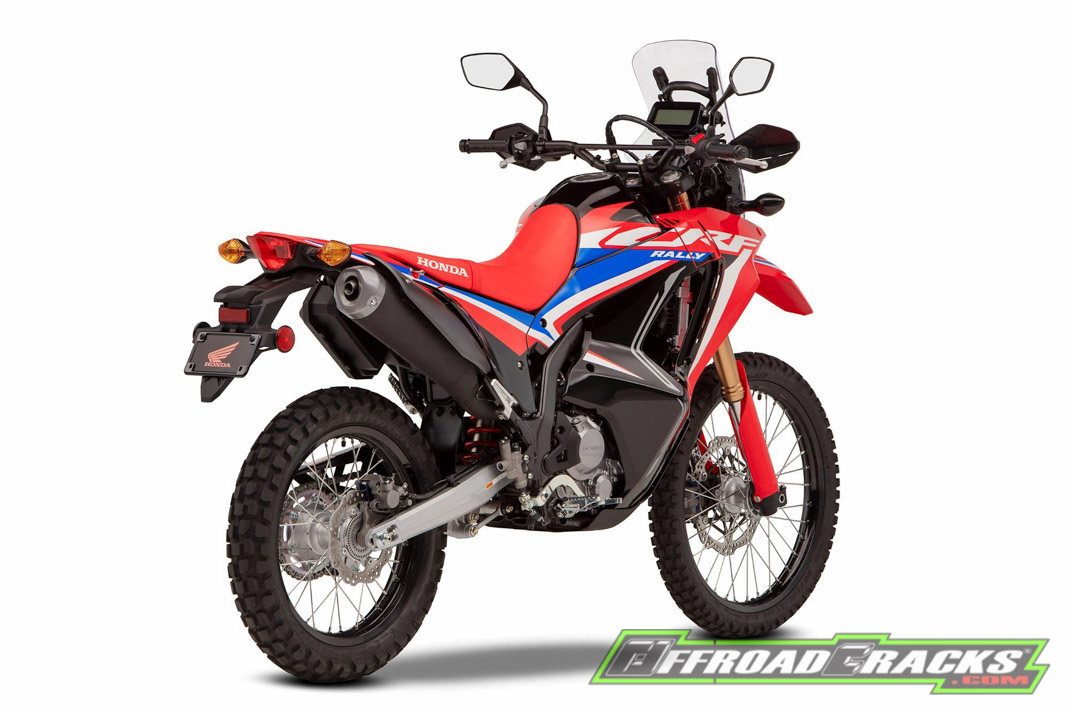 The essence of what makes a true dual-purpose motorcycle has long been in Honda's DNA. In the late 1970s the XL250S was launched – a bike providing genuine on-road usability with excellent off-road performance. The entire XL range that followed became legendary, and proved that combining an economical and easy-to-use single-cylinder four-stroke engine with a competent chassis created a motorcycle that was useful, versatile and, as riders the world over found, a great deal of fun.
Over a decade ago, exhaustive discussions within Honda R&D took place about the creation of a brand-new dual-purpose machine. The company's long history – in off-road competition and trail-ready machinery – was a useful touchstone when development of the bike first began.
Looking to the needs of customers came first. While some riders insist upon competition-level off-road performance, many others value ease of use, practicality and convenience. For weekday, urban environments they wanted a tough, practical bike with cutting-edge off-road style. But, come the weekend, it needed to provide a ticket to ride, wherever they wanted to go, on or off-road.
Honda's new dual-purpose bike was always viewed by its development team with global perspective. It not only needed a powerful and frugal engine, its chassis also had to have a broad and capable range. And it needed to be affordable, offering high quality and outstanding value for money, with low overall running costs a priority.
The CRF250L, launched across Europe in 2012, was just that motorcycle.
And Honda's engineers got the formula right. The CRF250L has proved a fruitful base platform which, as well as spawning a RALLY version*, enjoys consistent sales success around the world.
Time marches on, however, and now the new CRF300L takes the stage for 2021 – lighter, more powerful and with an array of detail improvements. It is every bit the do-it-all, dual-purpose motorcycle the CRF250L was. Just more so.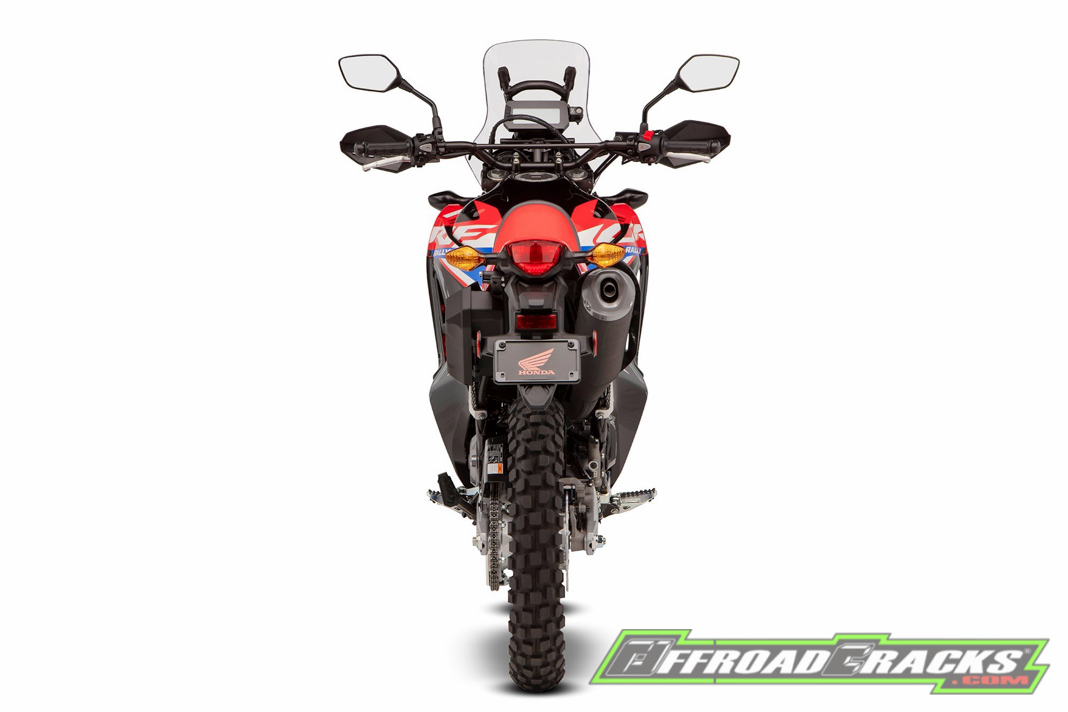 Now 286cc, the CRF300L's new engine produces 10% more peak power of 20.1kW @ 8,500rpm, and 18% more peak torque at 26.6Nm @ 6,500rpm. Inlet cam timing has been revised, alongside both air intake and exhaust system for much stronger mid-range torque and power. Gear ratios 1-5 are shorter, for improved response, while 6th is taller for more relaxed high-speed cruising. An assist/slipper clutch now manages the rear wheel under hard down changes and offers 20% less load at the lever.
A redesigned steel frame, aluminium swingarm and bottom yoke are major contributors to a 4kg overall weight loss and feature revised rigidity balance for feedback and feel. Steering geometry has been adjusted in detail to match, alongside longer travel front/rear suspension and increased ground clearance.
Sharp-edged bodywork features a slimmer tank and seat, and a new positive LCD instrument display. The riding position, too, has been altered to encourage the light steering manoeuvrability needed off-road and, just as usefully, around town.
An extra 14% cubic capacity for the single-cylinder, liquid-cooled DOHC engine – from 250cc to 286cc – is acquired by a 63mm stroke, as opposed to 55mm. Bore remains 76mm, as does compression ratio of 10.7:1. Peak power of 20.1kW arrives @ 8,500rpm, peak torque of 26.6Nm @ 6,500rpm (up from 18.2kW @ 8.500rpm/22.6Nm @ 6,750rpm). The full dyno graph curves tells the full story beyond the peak power and torque uplift: the new engine is considerably stronger, everywhere, from 2,000rpm up.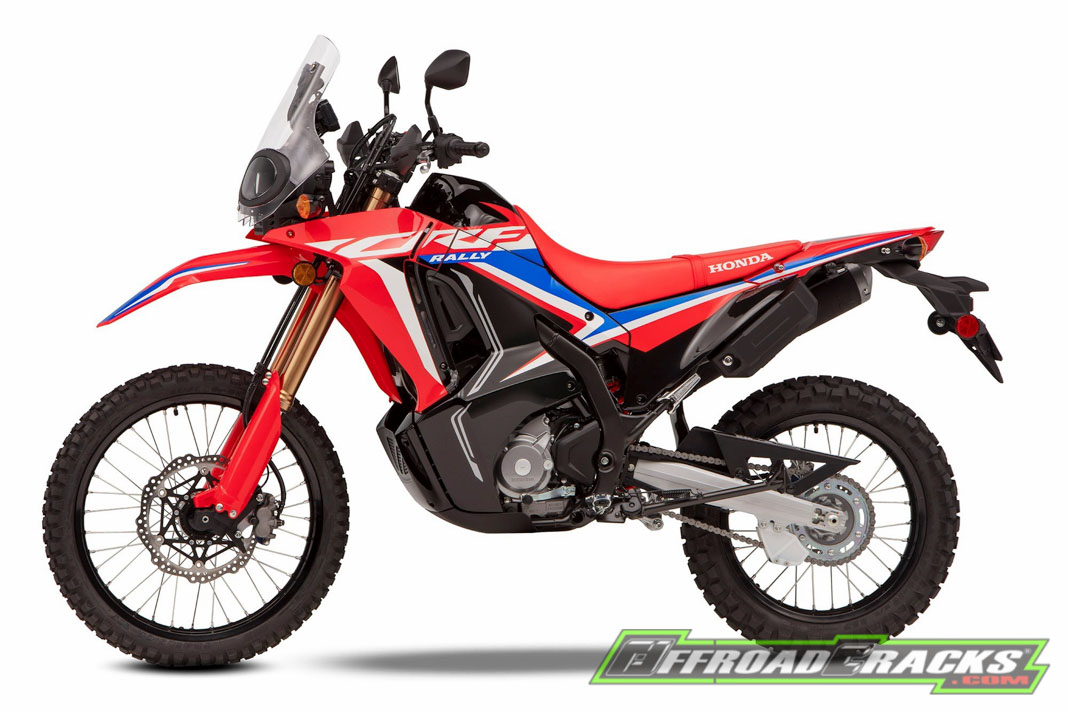 To match the engine's heavier punch and to smarten pick-up and acceleration, gear ratios 1-5 are shorter, while 6th gear is taller for more relaxed highway cruising. Addition of an assist/slipper clutch reduces lever load by 20% and manages rear wheel 'hop' on rapid downshifts – great for control, on or off-road. On the highway, top speed goes from 129km/h to 132km/h.
Revised timing of the intake cam specifically boosts low- to mid-range response – the rpm range most used around town or off-road – and works with redesigned air filter, exhaust downpipe (660g lighter than the previous design), muffler and ignition timing. An iridium spark plug, along with precise metering of fuel from the PGM-FI injection system, further enhances combustion efficiency and improves environmental credentials.
The engine uses an offset cylinder, reducing internal frictional losses, while the piston itself incorporates a special surface material, plus molybdenum coating. The oil pump features an internal relief structure that prevents aeration of relieved oil. The crank journal employs a half-split, press-fit metal bearing while the crank bearing uses a cast-iron bush. A primary balance shaft further reduces vibration.
The cooling system uses a 12.7kW heat-release radiator, sited on the left of the bike, protected with a polypropylene grill baffled to improve airflow. A thin guide-ring cooling fan is used to maintain even temperatures at low speeds, either in congested traffic or tricky off-road situations.
The CRF300L engine is fully EURO5 compliant.
A total of 4kg has been saved overall from the CRF300L's chassis, with wet weight of 142kg. The steel semi-double cradle frame is completely new and contributes 2.15kg to the weight loss. Just as importantly, to promote handling feel and connection to front/rear traction, its flexibility balance has been tuned with 25% less lateral rigidity.
This has been achieved with decreased width (-30mm) for the main down tube and smaller, 25.4mm diameter lower down tubes (from 28.6mm) plus a 20mm decrease in width across the central bracing tube.
To match, the one-piece cast aluminium swingarm is not only 550g lighter, it features a 23% reduction in lateral rigidity. It's also 15mm narrower just behind the pivot point and smooth, cross-sectional shaping is used to create uniform deflection. Extruded aluminium is used for the chain adjustment collar. The steel bottom yoke of the previous design has been changed for aluminium; this shaves 730g from an area high relative to the centre of gravity for faster steering response.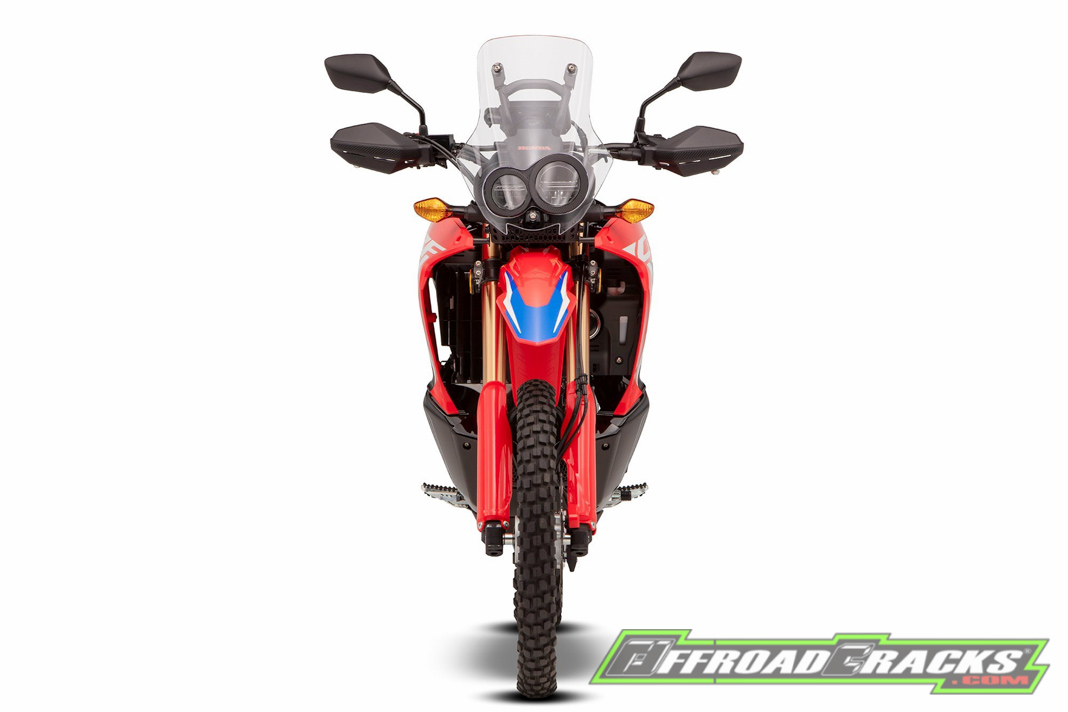 The 43mm Showa inverted fork gains 10mm of stroke to 260mm, with spring weight and damping settings revised for precise control over a wide range of terrain and speeds. Pro-Link rear suspension now features a 260mm axle stroke, from 240mm; the Showa shock absorber is a single tube design.
Ground clearance has been increased, from 255 to 285mm and the frame and engine sit 20mm higher, thanks to revisions to the lower frame, engine crankcases and oil drain plug. Rake and trail are now set at 27.5°/109mm (from 27.6°/113mm) with 10mm longer wheelbase of 1455mm. Turning radius is 2.3m.
The front brake uses a single 256mm disc gripped by a two-piston caliper, the rear a 220mm disc and single-piston caliper; in common with the CRF competition machines the rear master cylinder is now a lightweight, integrated design. The discs feature a wave design – also taken directly from the CRF250R/CRF450R – with exceptional self-cleaning abilities in adverse conditions. 2-channel ABS is standard.
Lightweight aluminium rims further reduce unsprung mass; for 2021 the Alumite surface has been polished to a gloss finish. Block pattern enduro-style tyres (front, 80/100-21 51P and rear 120/80-18 62P) provide traction in a wide range of riding situations.
The 21-inch front wheel and 18-inch rear increase stability on rough terrain and allow the fitment of more off-road specific tyres if required. Application of a machined rear sprocket and M8 bolts (instead of M10) plus hollow rear axle saves 240g and 160g respectively.
Drawing yet more inspiration from the racing CRFs, the CRF300L wears a crisp set of new bodywork and graphics. The 7.8L fuel tank is 190g lighter and slimmer than before to aid movement forward, and matched by a narrower forward seat section. The rear number plate bracket is also much reduced, for a 300g saving, while the aggressively shaped front mudguard is also lighter.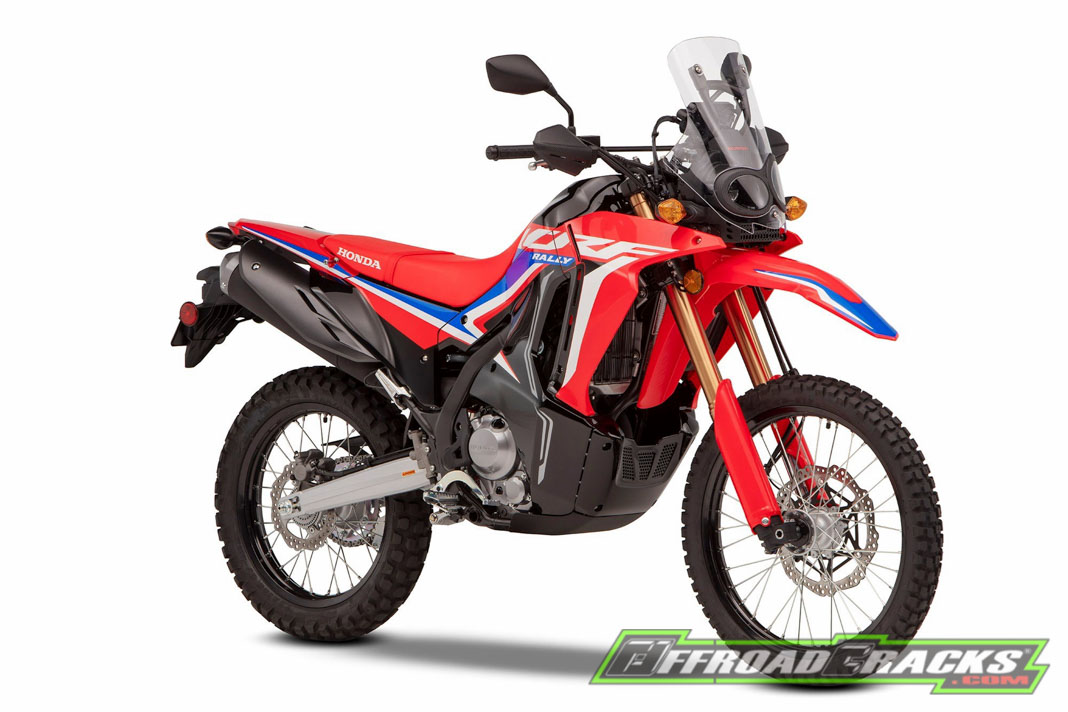 To foster easy, light control, the riding position has been subtly altered: the handlebars are have been pulled back slightly, while the foot rests have been lowered and also moved back, to make gear changes in heavy off-road boots easier. Seat height is increased 5mm, to 880mm, for a naturally upright 'rider triangle'. The side stand, too has been redesigned with a 10% larger area for its (new) folding footplate.
A redesigned, 70g lighter LCD display features large black digits on a crisp white display, for instant readability. The speedo numbers are also 6mm larger, at 23mm. Information includes gear position indicator, fuel mileage and consumption, average speed, stopwatch and rev-counter.
All specifications are provisional and subject to change without notice
Quelle / Source: Honda