Nachdem man ursprünglich nur vier Läufe geplant hatte und ein zusätzliches Rennen noch offen war, gibt der aktuelle Rennkalender sogar sechs komplette Rennen her.
Neben den altbekannten Austragungsorten stößt nun der legendäre Reisersberg im Bayerischen Wald dazu, womit erstmals ein Rennen in Bayern stattfindet. Durch den Austragungstermin, den 04.07.2020, schließt man auch die lange Sommerlücke zwischen Crimmitschau und Meltewitz am 13.09.2020.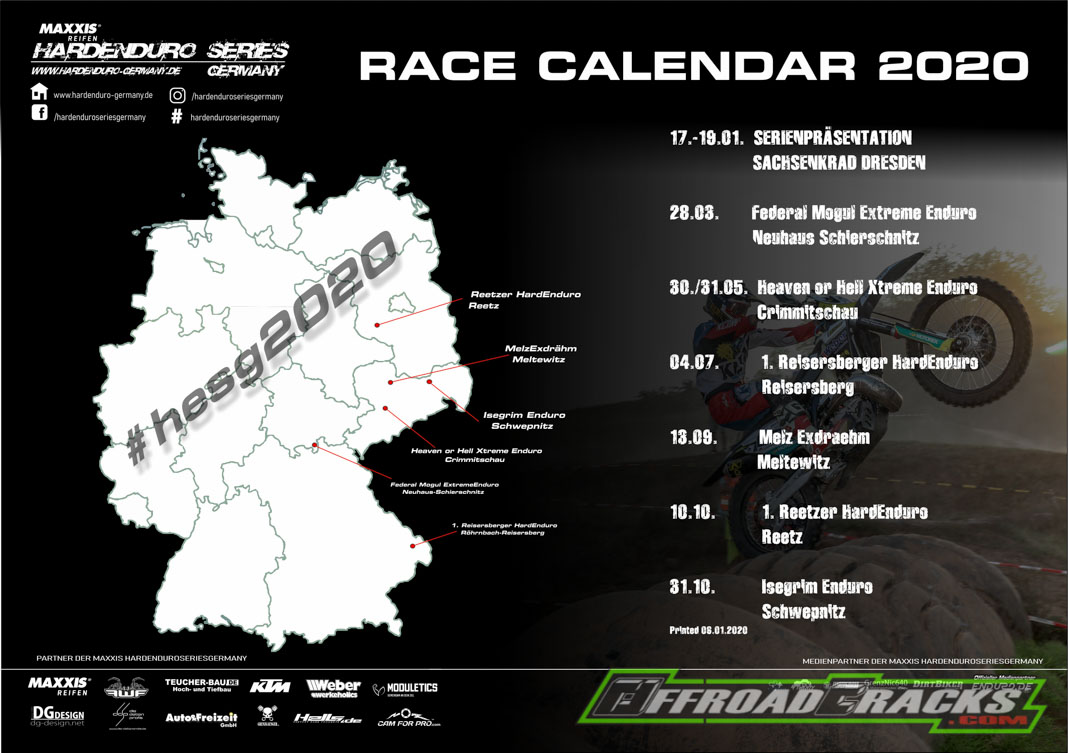 Hinzu kommt neben dem Hartboden am Reisersberg ein sandiges Geläuf im westlichen Brandenburg. Der Veranstaltungsort ist Reetz vom MSC Burg Eisenhardt und ist unter den Offroadern als "Sandmonster" bekannt. Dabei wird sogleich ein neuer Rennmodus eingeführt und zwar in Form eines Sprintenduros mit vorangehendem Prolog plus Extremtest und Etappe. Die Zeitnahme erfolgt dann wie im klassischen Enduro je gefahrene Runde.
Gestartet wir die HESG-Saison am 28.03.2020 in Neuhaus-Schierschnitz.
---

After planning only four races originally and one additional race was still open, the current racing calendar offers even six complete races.
In addition to the well-known venues, the legendary Reisersberg in the Bavarian Forest now joins and is the first race in Bavaria. The event, July 4th, 2020 also closes the long summer gap between Crimmitschau and Meltewitz.
In addition to the hard ground of Reisersberg there is a sandy area in western Brandenburg. The venue is Reetz from MSC Burg Eisenhardt and is known to off-roaders as 'sand monster'. A new racing mode will be introduced immediately, namely in the form of a sprint duro with a previous prologue plus extreme test and stage. The timekeeping will be similar as in the classic enduro modus for each driven lap.
The HESG season will start on March 28, 2020 in Neuhaus-Schierschnitz.
Quelle / Source: