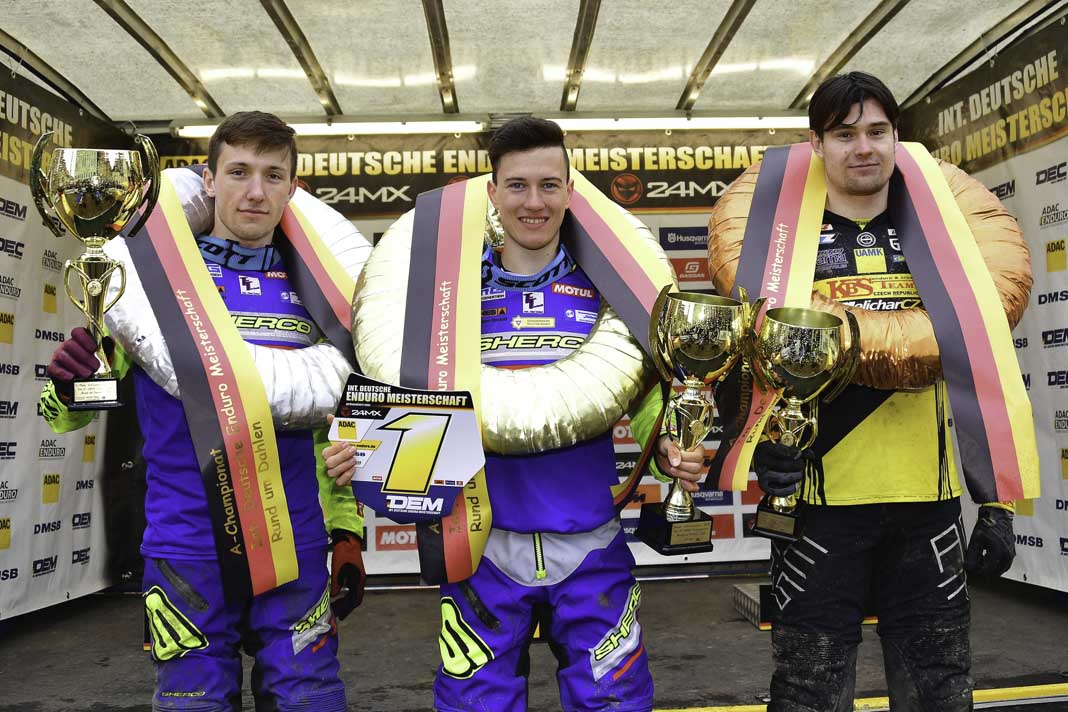 Die Int. 27. ADAC Geländefahrt "Rund um Dahlen" hielt wieder alles, was man sich von ihr versprochen hatte. Packende Rennaction und Spannung bis zum Schluss. Entgegen aller Vorhersagen spielte auch Petrus mit und hielt rund um die Heidestadt die Schleusen dicht. Nach mehreren Führungswechseln behielt am Ende der Chemnitzer Ex-Motocrosser Jeremy Sydow knapp die Oberhand über den Vorjahressieger Luca Fischeder aus Geringswalde. Dem Club-Fahrer des gastgebenden MSC Dahlen e. V. im ADAC Sachsen fehlten nach einer Gesamtfahrzeit von über acht Stunden und einer kumulierten Sonderprüfungszeit von etwas über einer Stunde nur rund 15 Sekunden.
Wie Jeremy Sydow sich zusätzlich über den Klassensieg in der kleinsten Hubraumklasse E1 freuen durfte, konnte Luca Fischeder für seinen Klassensieg in der E3 einen weiteren Pokal in Empfang nehmen. Gesamtdritter wurde der Tscheche Krystof Kouble, sodass auch der E2-Klassensieger bei der klassenübergreifenden Gesamtsiegerehrung (Championat) der Internationalen Deutschen Enduro Meisterschaft (DEM) vertreten war.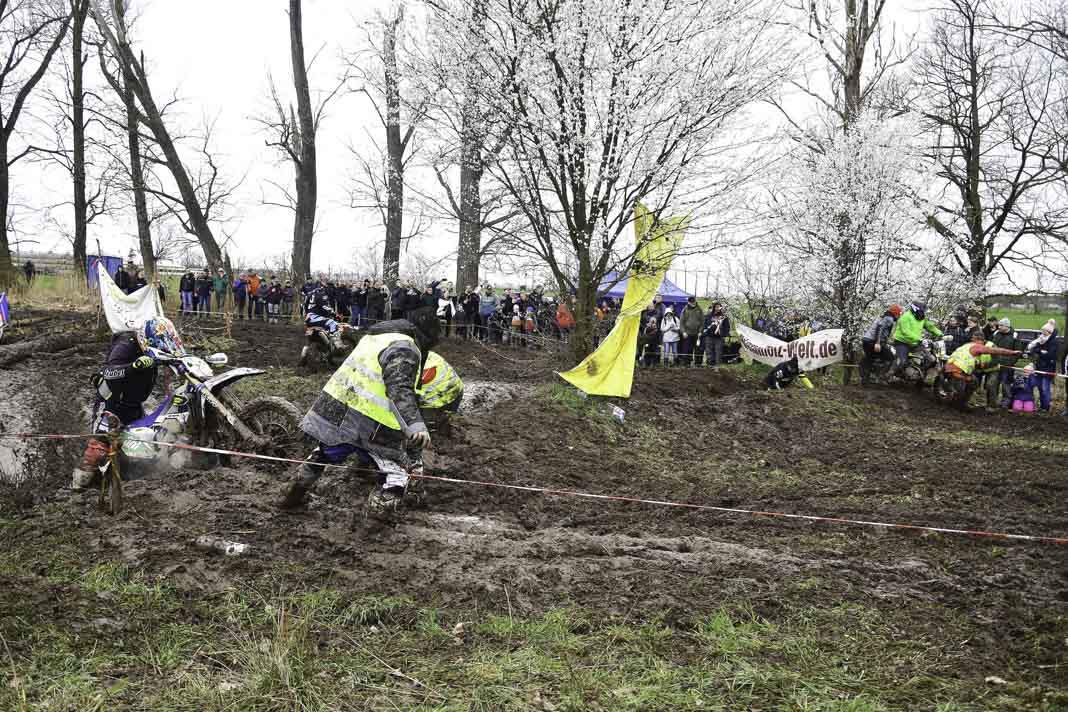 Pünktlich 8 Uhr hob sich die Startflagge zur diesjährigen Geländefahrt "Rund um Dahlen", dem zweiten DEM-Saisonlauf 2023. Bei der 27. Ausgabe der Kult-Veranstaltung machten die beiden Teamkollegen Jeremy Sydow und Luca Fischeder so weiter, wie sie beim Auftakt in Tucheim in Sachsen-Anhalt aufgehört hatten. Sie pushten sich gegenseitig zu Bestzeiten und trieben sich umgekehrt gegenseitig auch in Fehler. Am Ende hatte Jeremy Sydow 15,88 Sekunden Vorsprung vor Luca Fischeder. Dem Drittplatzierten Krystof Kouble fehlten schon über 1:30 Minuten.
Gesamtrang vier ging an Koubles "Klassenkameraden" Casper Lindholm aus Schweden, gefolgt vom E3-Zweiten Florian Görner aus Scharfenstein und dem Dritten der "Mittelklasse" Davide von Zitzewitz aus Karlshof. Als Gesamtsiebenter wurde der Routinier Edward "Eddi" Hübner aus Rochlitz Zweiter der E1. Hier komplettierte der Schwabacher Yanik Spachmüller das Klassenpodium, was in der E3 dem Rüdersdorfer Robert Riedel gelang.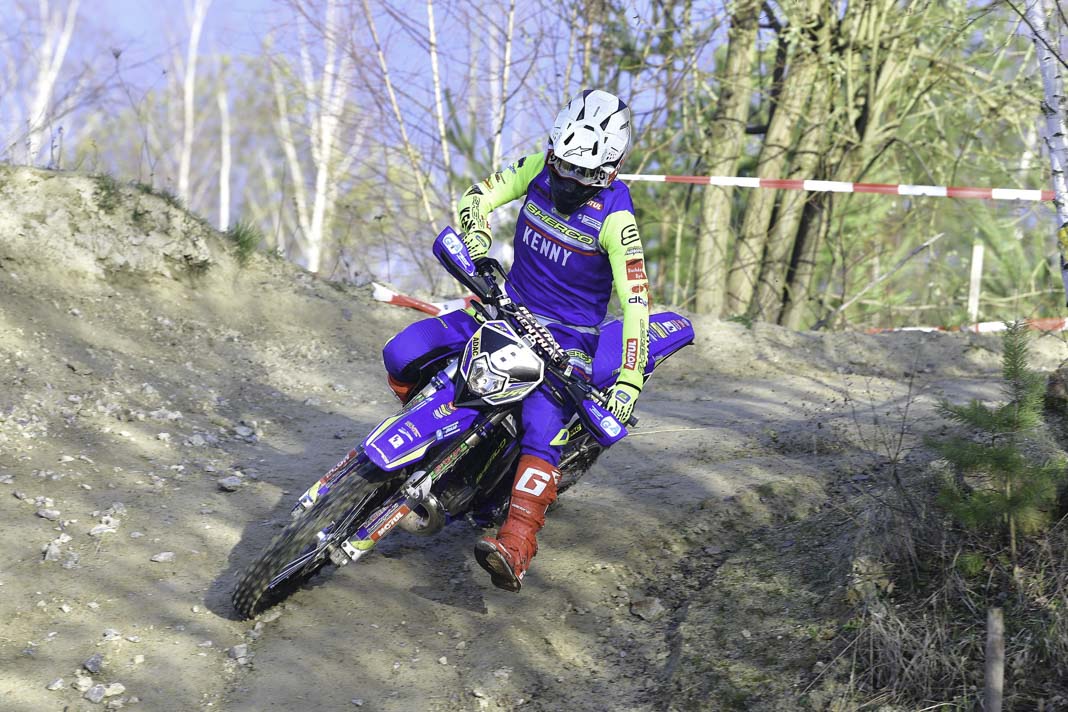 "Mit dem Sieg in Dahlen bin ich ringsum zufrieden", jubelte Jeremy Sydow nach der Zieleinfahrt und führte des Weiteren aus: "Es war ein sehr anstrengender Tag. Es ging wieder bis kurz vor Schluss nur um Sekunden mit meinem Teamkollegen. Wir haben beide in den Prüfungen ein paar Fehler gemacht, wodurch sich das immer wieder ausgeglichen hat. Am Ende bin ich noch einmal konstante Zeiten gefahren und konnte so meinen zweiten Championatssieg dieses Jahr holen. Wenn es ein bisschen hin und her geht, macht das auch viel mehr Spaß, als wenn einer vornweg fährt. Und für unser fahrerisches Niveau ist das auch besser. Die Veranstaltung war top. Sie war sehr gut besucht und es waren auch viele Fans von mir hier, die mich überall angefeuert haben. Das hat riesen Spaß gemacht."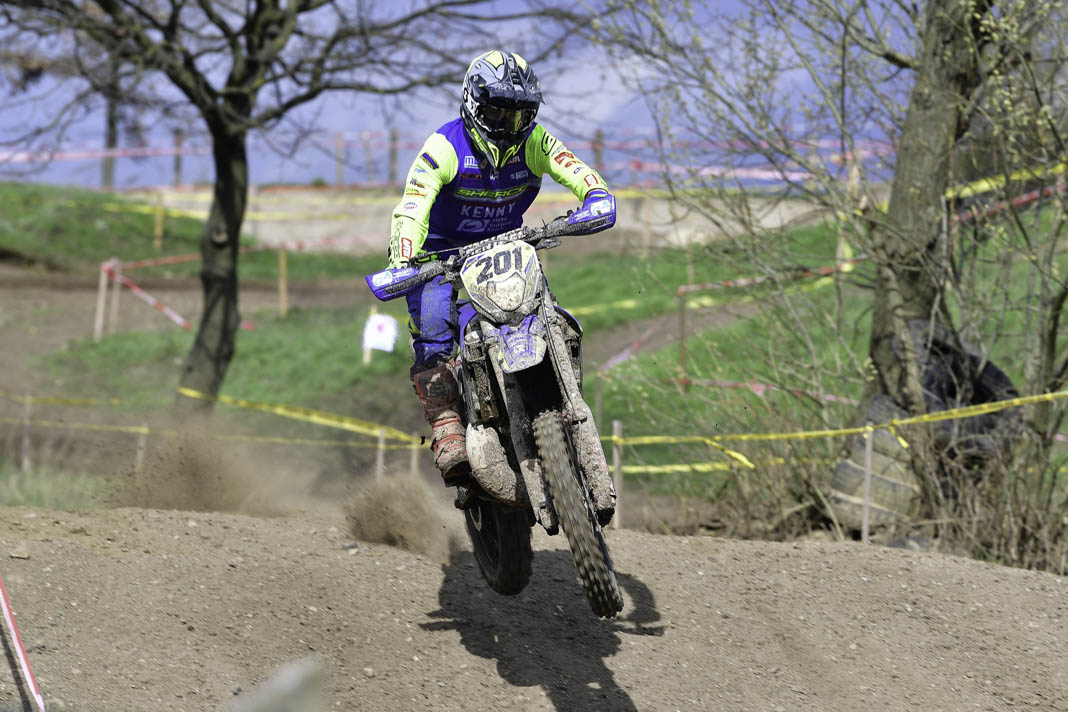 Nicht ganz zufrieden war der Vorjahressieger Luca Fischeder. Er sagte anschließend: "Der Tag hat super angefangen. Ich bin zwei gute Runden gefahren, doch als ich in Führung war, bin ich wohl etwas zu motiviert gewesen und hatte in den beiden nachfolgenden Prüfungen leider zwei Stürze. Vor den letzten beiden Prüfungen habe ich das Motorrad komplett im Schlamm versenkt. Da habe ich sechs, sieben Mann gebraucht, um es dort wieder rauszubringen. Dabei habe ich viel Kraft eingebüßt und konnte dadurch hinten raus nicht mehr das setzen, was ich wollte. Ich wollte dann aber auch nicht mehr zu viel riskieren, weil nächste Woche geht es bei der WM weiter. Auch ich muss sagen, dass es eine super Veranstaltung war."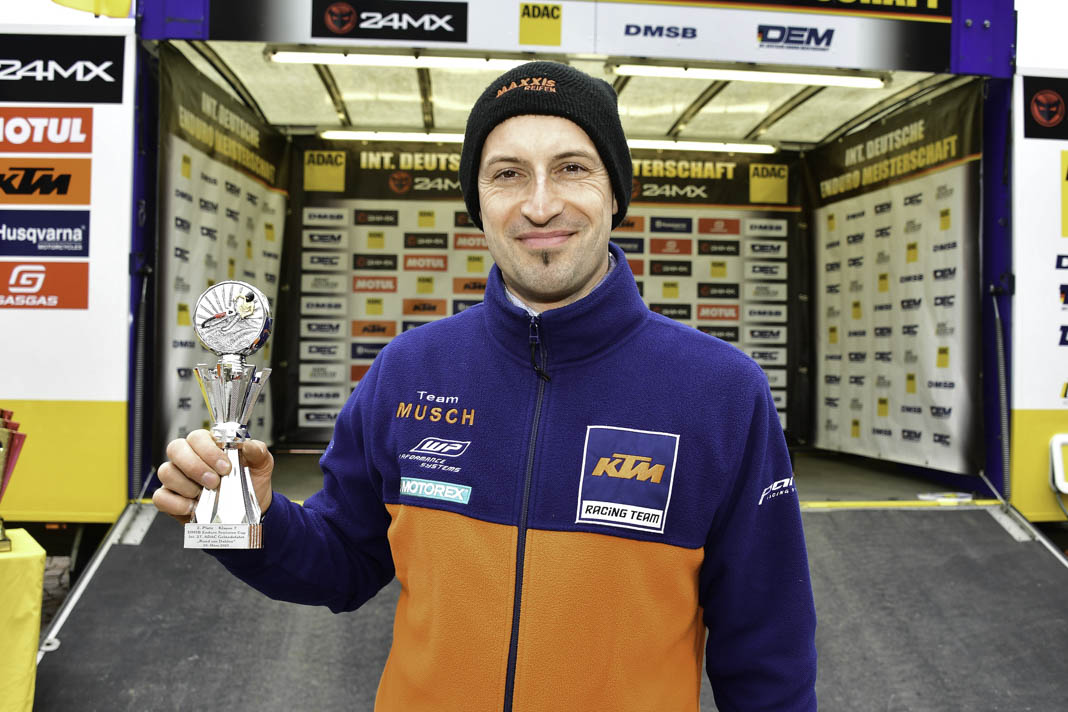 Einen weiteren zweiten Platz für den MSC Dahlen steuerte André Decker aus Lampertswalde bei. Dem seit dem 12. März 44-Jährigen gelang dies in der Klasse Senioren. "Das müsste meine 22. Geländefahrt hier in Dahlen gewesen sein. Natürlich freue ich mich, wenn ich wieder einen Pokal mit nach Hause nehmen darf. Es war sehr anspruchsvoll, und da wir diesmal den Kurs andersherum gefahren sind, kam es mir vor, als wäre es noch knackiger gewesen. Zeit zum Ausruhen hatte man praktisch gar nicht. Es war mal eine schöne Abwechslung", schilderte er seine Eindrücke.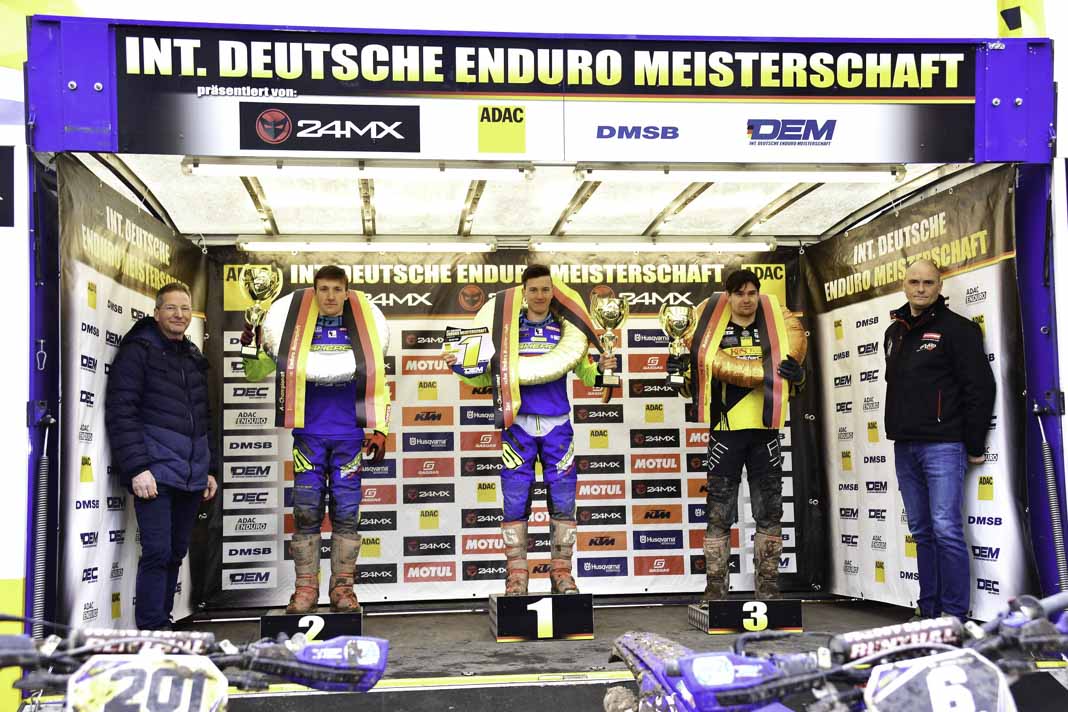 Am Ende einer wiederholt gut organisierten und rundum gelungenen Veranstaltung war es dem Vorsitzenden des MSC Dahlen, Lars Scholz, ein Bedürfnis, ein paar Dankesworte loszuwerden. Diese formulierte er so: "Als Erstes möchte ich ein ganz großes Lob an die vielen Helfer aussprechen, die ja nicht alle Vereinsmitglieder sind, uns aber als Freiwillige sehr nahe stehen. An dieser Stelle ein ganz herzliches Dankeschön, weil ohne die geht es nicht. Die Bedingungen waren die letzten Tage so schwer, wie wir es schon lange nicht mehr hatten. Es war ein sehr saftiger Boden, doch sie haben wieder eine spitzen Arbeit geleistet. Toll, dass sie wieder zur Stange gehalten haben. Es ist ja nicht nur der Aufbau, sondern jetzt auch der Abbau und die Re-Kultivierung, die genau so lange dauert. Ich bedanke mich auch bei den zahlreichen Zuschauern, den Behörden für die gute Zusammenarbeit und unseren Sponsoren. Wirtschaftlich ist das bei uns immer ein ganz heißer Tanz. Was wir bräuchten, wäre mal noch ein Großsponsor."
---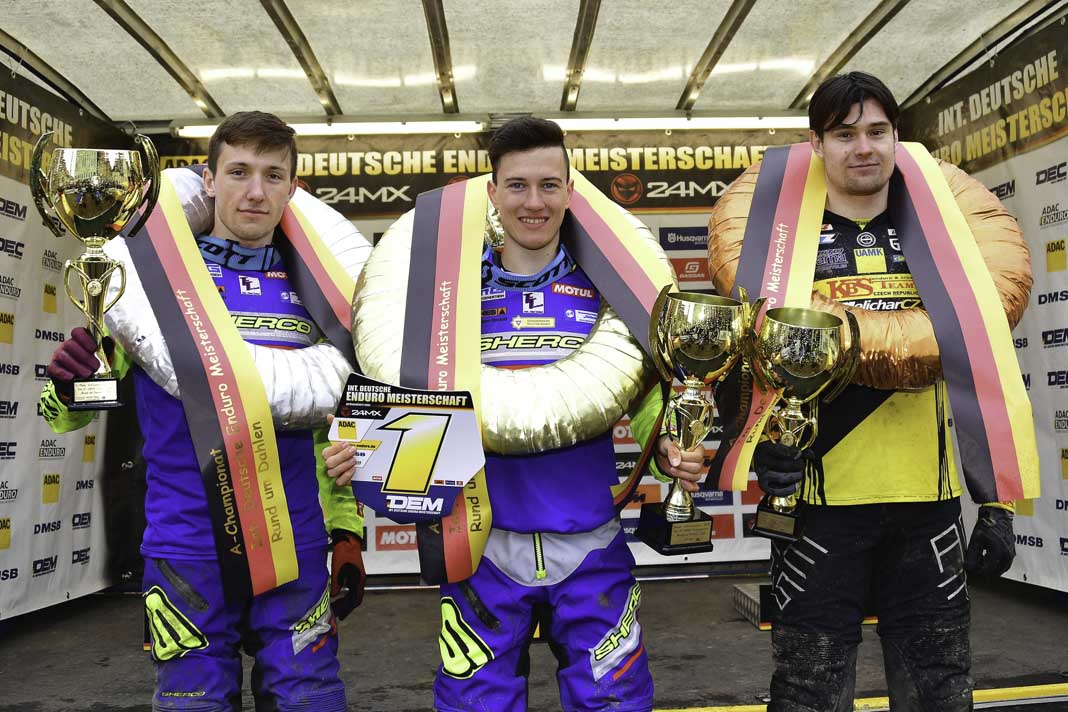 the international 27th ADAC Geländefahrt 'Rund um Dahlen' kept everything that was promised from her. Thrilling racing action and suspense until the end. Contrary to all predictions, Peter also played along and kept the locks around the heath town tight. After several leadership changes, Chemnitz ex-motocrosser Jeremy Sydow just barely got the better of last year's winner Luca Fischeder from Geringswalde. The club driver of the hosting MSC Dahlen e. V. in the ADAC Sachsen was only about 15 seconds short after a total driving time of over eight hours and a cumulative special stage time of just over an hour.
Just as Jeremy Sydow was also happy about the class victory in the smallest cubic capacity class E1, Luca Fischeder received another trophy for his class victory in the E3. The Czech Krystof Kouble was third overall, so that the E2 class winner was also represented at the overall award ceremony (championship) of the International German Enduro Championship (DEM) across all classes.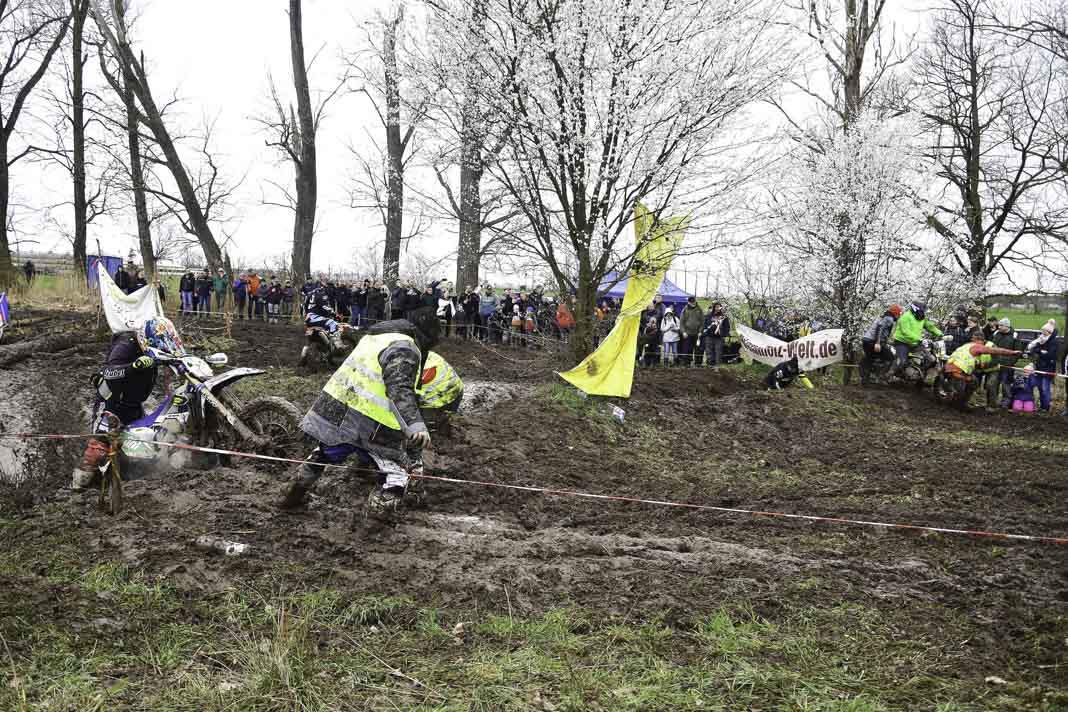 Exactly at 8 a.m., the starting flag for this year's cross-country drive "Rund um Dahlen", the second DEM season run 2023, was raised. At the 27th edition of the cult event, the two teammates Jeremy Sydow and Luca Fischeder continued as they did at the start in Tucheim stopped in Saxony-Anhalt. They pushed each other to best times and, conversely, drove each other to make mistakes. In the end, Jeremy Sydow was 15.88 seconds ahead of Luca Fischeder. Third-placed Krystof Kouble was over 1:30 minutes behind.
Fourth place overall went to Kouble's 'classmate' Casper Lindholm from Sweden, followed by E3 runner-up Florian Görner from Scharfenstein and third in the 'middle class' Davide von Zitzewitz from Karlshof. The veteran Edward "Eddi" Hübner from Rochlitz finished seventh overall in the E1. Here Yanik Spachmüller from Schwabach completed the class podium, which Robert Riedel from Rüdersdorf did in the E3.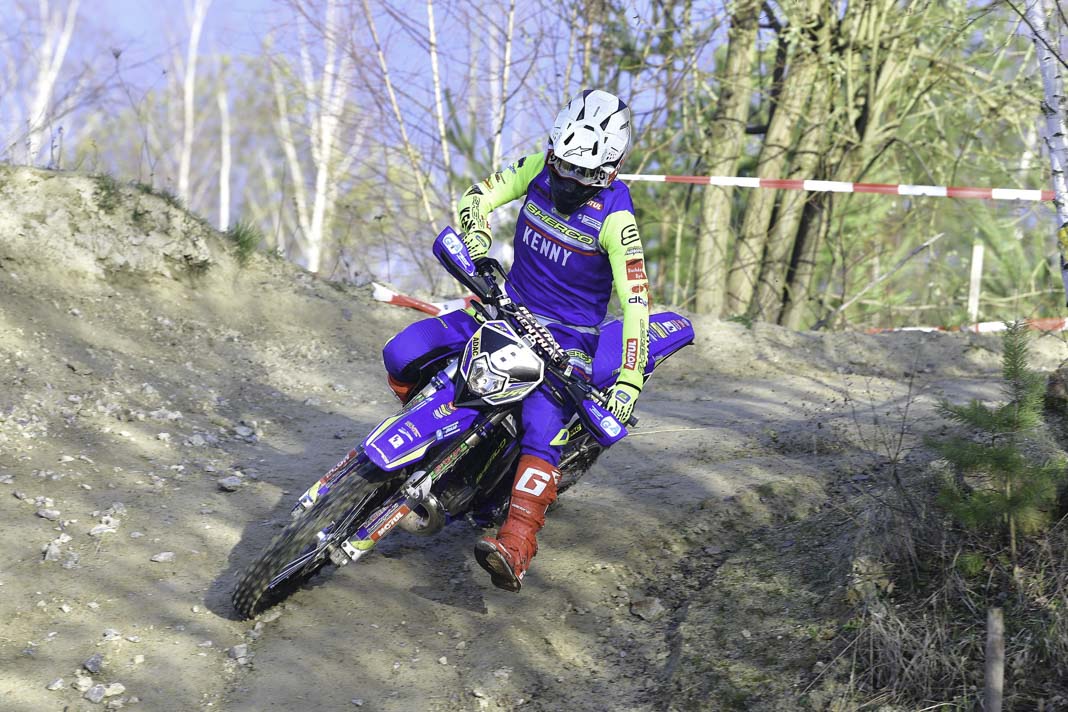 'I'm completely satisfied with the victory in Dahlen', Jeremy Sydow rejoiced after crossing the finish line and went on to say: 'It was a very strenuous day. It was only a matter of seconds with my team-mate until shortly before the end. We both made a few mistakes in the stages, which always made up for it. In the end I drove consistent times again and was able to win my second championship this year. Going back and forth a bit is a lot more fun than having someone in front. And that's better for our level of driving. The event was great. It was very well attended and there were also a lot of my fans here who cheered me on everywhere. That was great fun."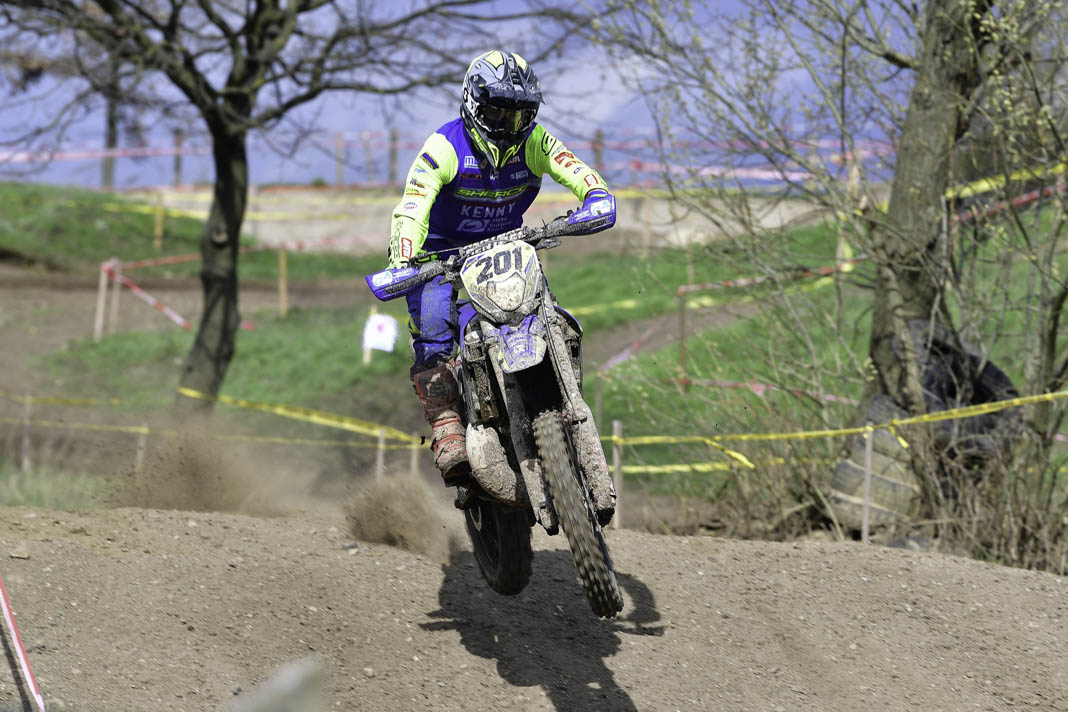 Last year's winner Luca Fischeder was not entirely satisfied. He said afterwards: "The day started great. I did two good laps, but when I was in the lead I was probably a bit too motivated and unfortunately I crashed twice in the two stages that followed. Before the last two stages, I completely buried the bike in the mud. It took me six or seven men to get it out there again. I lost a lot of power in the process and was therefore no longer able to set what I wanted at the back. But then I didn't want to risk too much, because the World Cup continues next week. I too have to say that it was a great event."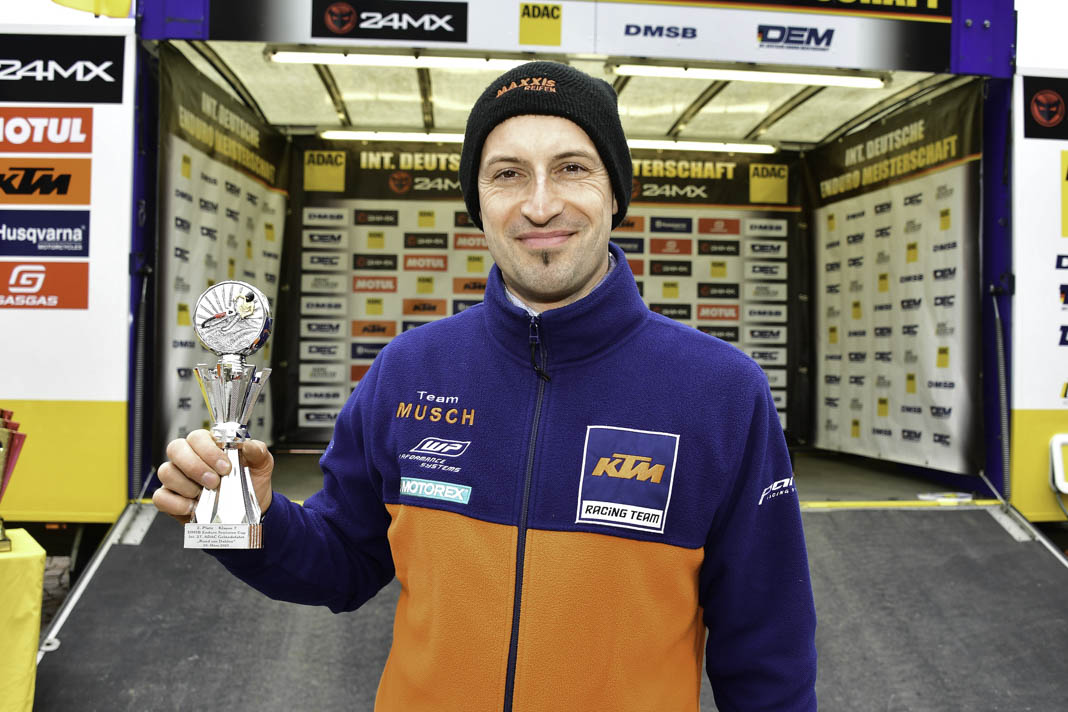 Another second place for MSC Dahlen was contributed by André Decker from Lampertswalde. The 44-year-old since March 12 succeeded in the seniors class. "That must have been my 22nd cross-country drive here in Dahlen. Of course I'm happy when I can take a trophy home with me again. It was very demanding, and since we drove the course the other way around this time, it felt like it was even more challenging. There was practically no time to rest. It was a nice change", he described his impressions.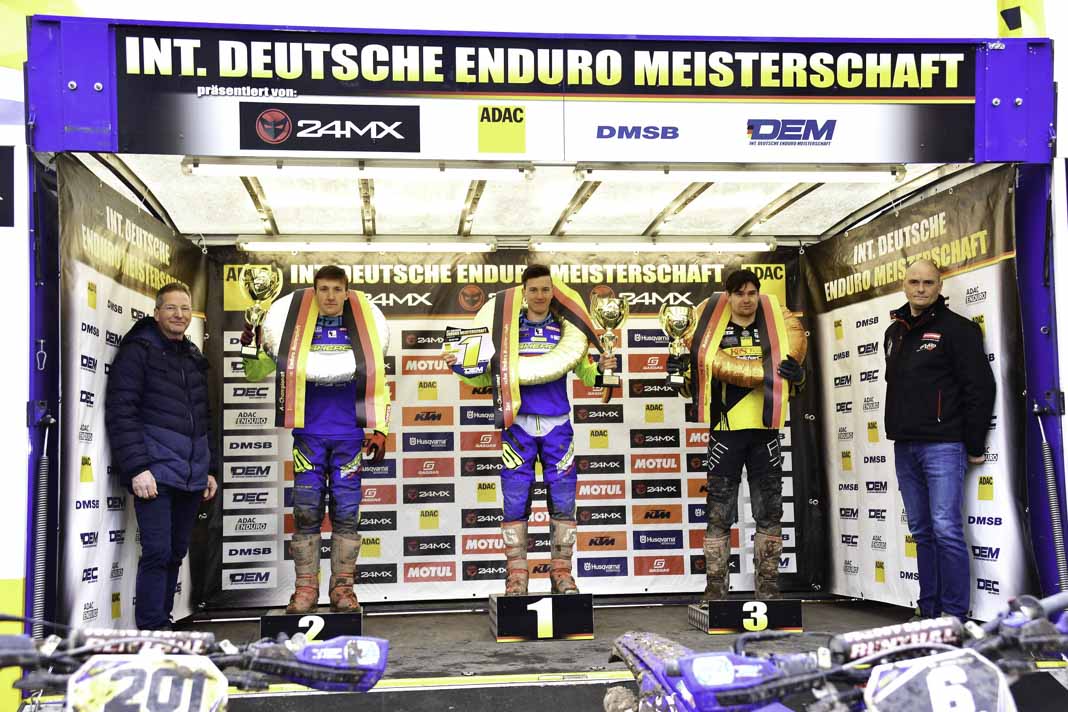 At the end of a repeatedly well-organized and all-round successful event, the chairman of the MSC Dahlen, Lars Scholz, felt the need to say a few words of thanks. He put it this way: "First of all, I would like to say a big thank you to the many helpers, who are not all members of the association, but who are very close to us as volunteers. At this point I would like to say a big thank you, because without them it wouldn't work. The conditions have been tougher the last few days than we've had in a long time. It was very juicy ground, but they did a great job again. Great that they stuck to their guns again. It's not just the construction, but now also the dismantling and re-cultivation, which takes just as long. I would also like to thank the numerous spectators, the authorities for the good cooperation and our sponsors. Economically, this is always a very hot dance for us. What we need would be another major sponsor."
Quelle / Source: Dahlen, Horn