ABESTONE Italy – Hardenduro Action 2021 recap

---
HINWEIS: Das Video ist noch deaktiviert, damit keine unerwünschte Datenübertragung zu Youtube stattfindet. Zur Aktivierung bitte auf das Vorschaubild/Video-Link klicken. Damit werden Daten übermittelt, zu deren Art, Umfang und Verwendungszweck wir keineAuskünfte geben können.
---
NOTE: The video is still deactivated so that no unwanted data transfer to YouTube takes place. To activate, please click on the preview image / video link. This transmits data about the type, extent and purpose of which we cannot provide any information.
---

Auf geht's zu Pizza, Pasta und Hardenduro! Die vierte Runde der FIM Hardenduro Weltmeisterschaft steht an und das Red Bull Abestone ist mit genialem Gelände nur so gespickt. Billy Bolt führt die diesjährige Meisterschaftsjagd an, während wir uns so langsam der Halbzeit der Hardenduro-Saison nähern.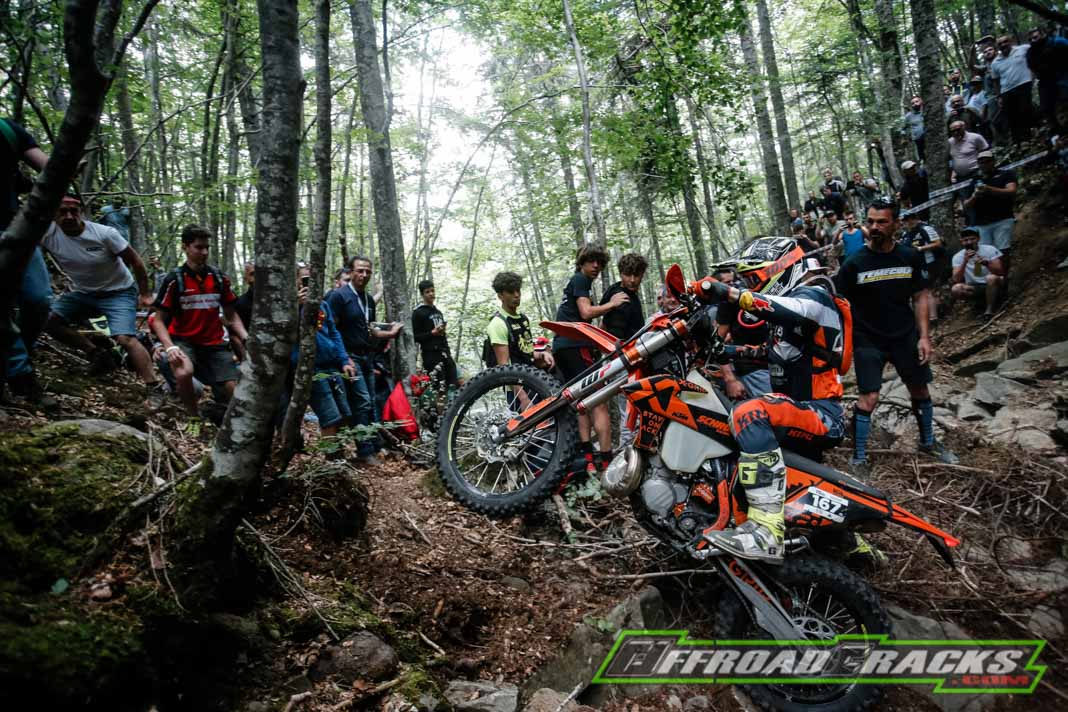 Das Red Bull Abestone bereitet sich auf seine zweite Ausgabe vor und ist dank seiner unglaublichen Landschaft, des heftigen Enduro-Terrains und der großartigen Gastfreundschaft bereits zu einer festen Größe in der Hardenduro-Szene geworden. Hoch oben in den toskanischen Bergen gelegen ist es ein seltenes Vergnügen, diese Trails mit der eigenen Sportenduro zu befahren. Von den Tiefen der Täler über satte Waldböden bis hoch auf die fast 2000 Meter hohen Berggipfeln bietet das Red Bull Abestone alles was das Hardenduro-Fahrerherz benötigt.
Nach der erfolgreichen Einführung in den Hardenduro-Kalender durch den erfahrenen Rennfahrer Michele Bosi hat die Veranstaltung für 2022 erneut an Bedeutung gewonnen. Unter Berücksichtigung des Feedbacks der Fahrer wird die Veranstaltung über drei Tage ausgetragen und bietet eine ausgewogene Balance für alle fahrerischen Levels der dort antretenden Fahrer.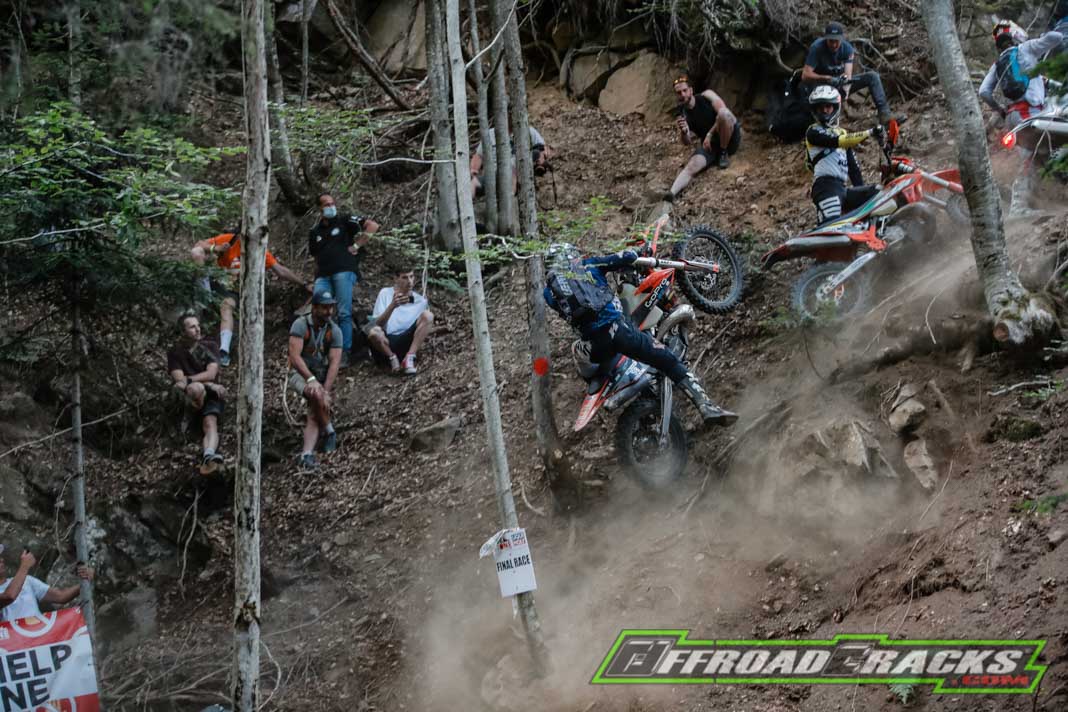 Der Freitag bietet den Teilnehmern die Möglichkeit sich auf der Hardenduro-Trainingsrunde in den Bergen aufzuwärmen und das Terrain zu erkunden. Am Samstag beginnt das Rennen mit der JUST1-Qualifikation. Ein unterhaltsamer 15 Kilometer langer Kurs wird zweimal morgens (Q1) und zweimal nachmittags (Q2) gefahren, wobei die Kombination der schnellsten Rundenzeit aus Q1 und Q2 für das Rennen am Sonntag zählt.
Die Top-30-Fahrer erreichen am Sonntagnachmittag das große LIQUI MOLY-Finale, während die Fahrer außerhalb der Top-30 am Sonntagmorgen das zweistündige MITAS-Finale bestreiten. Als zusätzlichen Bonus erhalten die Top 16 der JUST1-Qualifikation die Chance, am Samstagabend am Straight Rhythm Shootout teilzunehmen.
Als Höhepunkt diese Wochenendes werden sich alle Augen auf das LIQUI MOLY FINALE richten, um den Sieger der vierten Runde des Red Bull Abestone zu erleben. Die diesjährige spektakuläre Startzone befindet sich auf 1.953 Metern über dem Meeresspiegel an der Abestone-Gondelbahn. Die Fahrer müssen sich dann zwei Runden einer 31 Kilometer langen Strecke stellen.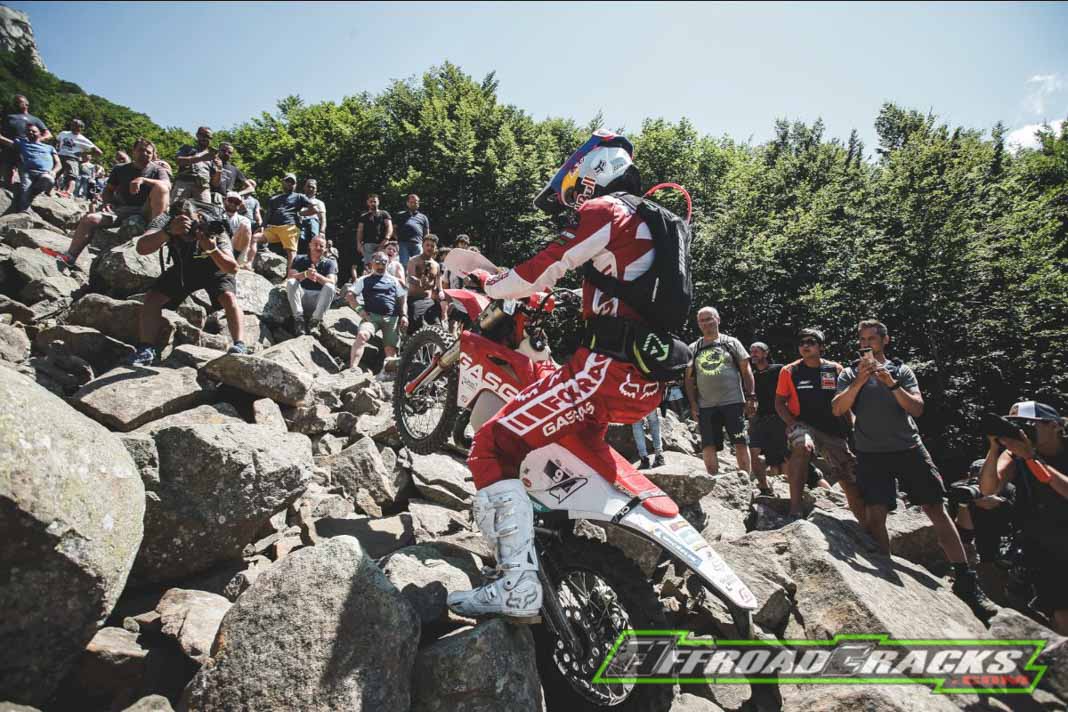 Bolt führt die Meisterschaft an
An der Spitze der Gesamtwertung ist das Rennen um die Punkte unglaublich eng. Billy Bolt von Husqvarna Factory Racing hat bislang die Oberhand über seine Rivalen mit einem Vorsprung von zwei Punkten vor Mario Roman von Sherco Factory Racing, während Manuel Lettenbichler von Red Bull KTM Factory Racing nur drei weitere Punkte dahinter auf dem dritten Platz liegt.
Trotz zahlreicher Verletzungen in dieser Saison muss Billy trotz seiner Führung noch seine echte Form finden. Er ist hungrig auf einen Sieg und will seinen Red Bull Abestone-Sieg von 2021 wiederholen. Roman ist dank seines Sieges beim Minus 400 in Israel bereits ein Laufsieger in dieser Saison. Nach seinem zweiten Platz beim Red Bull Erzbergrodeo wird er sicherlich beim Abestone auf Angriff blasen.
Obwohl Lettenbichler verletzungsbedingt den Saisonauftakt in Israel verpasst hat, konnte er in dem Kampf um die Meisterschaft zurückkehren. Diese Siege beim Xross Hardenduro als auch beim Red Bull Erzbergrodeo lassen ihn zu einer gefährlicher Kraft für Roman und Bolt werden. Die Jagd nach seinem dritten Sieg bei Red Bull Abestone könnte ihm auch die Meisterschaftsführung einbringen, sofern alles nach seinen Wünschen verläuft.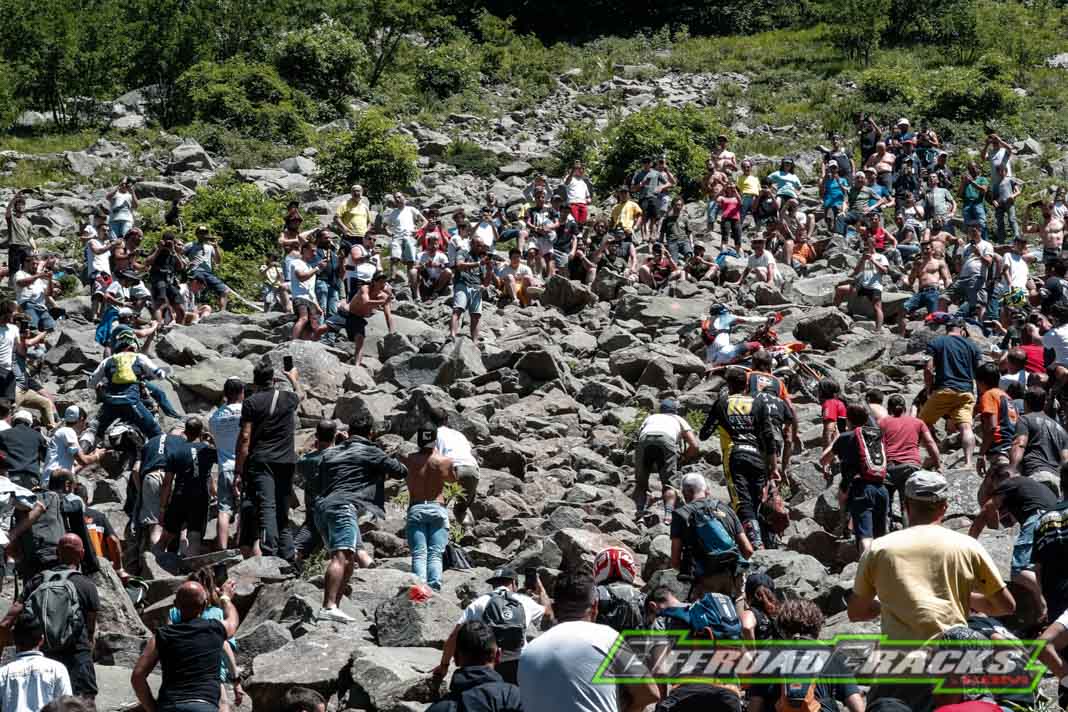 In der Junior-Klasse hat sich Matt Green von Rigo Racing als der Fahrer in dieser Saison erwiesen, den es zu schlagen gilt. Der junge Südafrikaner hat beide Juniorenrunden beim Xross Hardenduro und beim Red Bull Erzbergrodeo gewonnen und kämpfte sich auch in der Gesamtwertung der Profis unter die Top 10. Mitchell Brightmore (Rieju) und Suff Sella (KTM) vom AG Racing Team 89 belegen Rang 2 und 3 bei den Amateuren und werden versuchen Green in Italien zu schlagen.
Die vierte Runde der FIM Hardenduro World Championship findet vom 8. bis 10. Juli im italienischen Red Bull Abestone statt.
2022 FIM Hardenduro World Championship
Round 1: Minus 400 – Israel, April 5/6/7
Round 2: Xross Hard Enduro Rally – Serbia, May 18/19/20/21
Round 3: Red Bull Erzbergrodeo – Austria, June 16/17/18/19
Round 4: Red Bull Abestone – Italy, July 9/10
Round 5: Red Bull Romaniacs – Romania, July 26/27/28/29/30
Round 6: Red Bull TKO – USA, August 13/14
Round 7: Red Bull Outliers – Canada, August 27/28
Round 8: Hixpania Hard Enduro – Spain, October 7/8/9
---

Pizza, pasta, and Hard Enduro! It's time for round four of the FIM Hard Enduro World Championship and Italy's Red Bull Abestone. Husqvarna Factory Racing's Billy Bolt holds the lead in this year's championship chase as we head to the halfway point in the season.
Three days of fantastic Hard Enduro action await at Red Bull Abestone
Billy Bolt holds the HEWC points lead entering round four in Italy
Manuel Lettenbichler looks to make it three wins from three starts in 2022
Gearing up for its second edition, Red Bull Abestone has already become a firm favourite for Hard Enduro fans thanks to its incredible landscape, tough riding, and awesome hospitality. Nestled high up in the Tuscany mountains, it's a rare treat to ride these trails on dirt bikes. From deep on the forest floor to the ear-popping mountain peaks of almost 2,000 metres, Red Bull Abestone has Hard Enduro covered from all angles.
After being successfully introduced onto the Hard Enduro calendar by experienced racer Michele Bosi, the event has grown again in stature for 2022. Taking onboard rider feedback, the event will be staged across three days, offering a strong balance of riding to suit all abilities and tastes.
Friday offers the chance for competitors to stretch their legs on the Hard Enduro training loop in the mountains. Saturday will signal the start of the racing with the JUST1 qualification. An enjoyable 15-kilometre-long course will be ridden twice in the morning (Q1) and twice in the afternoon (Q2), with the combination of the fastest lap time from Q1 and Q2 counting towards Sunday's racing.
The top 30 riders will advance to the LIQUI MOLY grand final on Sunday afternoon, while those outside the top 30 race the two-hour MITAS final on Sunday morning. As an added bonus, the top 16 from the JUST1 qualification will get the chance to race in the Straight Rhythm shootout on Saturday evening.
Getting down to the business end of the weekend, all eyes will turn to the LIQUI MOLY FINAL to determine the round four winner at Red Bull Abestone. Creating a spectacular backdrop, this year's start line will be at 1,953 metres above sea level at the Abetone gondola. Riders will then face two laps of a track that's 31 kilometres long. With multiple signature sections to negotiate, it is set to prove quite the workout.
Bolt leads the championship chase to Italy
At the head of the standings, the points race is incredibly close as we enter the halfway point in this year's championship fight. Husqvarna Factory Racing's Billy Bolt holds the upper hand over his rivals with a two point lead over Sherco Factory Racing's Mario Roman, with Red Bull KTM Factory Racing's Manuel Lettenbichler just a further three points behind in third.
With numerous injuries to contend with so far this season, Billy has yet to show his true form despite leading. Hungry to pocket a win, he'll be aiming to repeat his Red Bull Abestone victory from 2021. Roman is already a race winner in 2022 thanks to his victory at Israel's Minus 400. He was a deserving runner-up last time out at Red Bull Erzbergrodeo and will look for more glory in Italy.
Despite missing the season opener in Israel due to injury, Lettenbichler has returned to the championship swinging. Victory at both Xross Hard Enduro and Red Bull Erzbergrodeo puts him as a danger man to both Roman and Bolt. Chasing his third win on the bounce at Red Bull Abestone could also earn him the championship lead too if everything goes his way.
n the Junior class it's Rigo Racing's Matt Green who's proven to be the rider to beat so far. The young South African has won both Junior rounds at Xross Hard Enduro and Red Bull Erzbergrodeo, while also fighting his way into the top 10 in the overall standings. Mitchell Brightmore (Rieju) and AG Racing Team 89's Suff Sella (KTM) are second and third respectively in points and will try to close Green down in Italy.
Round four of the FIM Hard Enduro World Championship takes place at Italy's Red Bull Abestone on July 8-10.
2022 FIM Hardenduro World Championship
Round 1: Minus 400 – Israel, April 5/6/7
Round 2: Xross Hard Enduro Rally – Serbia, May 18/19/20/21
Round 3: Red Bull Erzbergrodeo – Austria, June 16/17/18/19
Round 4: Red Bull Abestone – Italy, July 9/10
Round 5: Red Bull Romaniacs – Romania, July 26/27/28/29/30
Round 6: Red Bull TKO – USA, August 13/14
Round 7: Red Bull Outliers – Canada, August 27/28
Round 8: Hixpania Hard Enduro – Spain, October 7/8/9
Quelle / Source: FIM Hardenduro