DAY 2 – HARDENDURO-WM 2023: Billy Bolt kämpft sie alle nieder!
Nach dem Billy Bolt am ersten Fahrtag einen Navigationsfehler begann und ihm dadurch eine 43 minütige Zeitstrafe und folglich Rang 10 ereilte, sollte man eigentlich glauben, dass für ihn der Kampf um den Sieg bei derartig starker Konkurrenz gelaufen sein sollte. Doch wie man Billy Bolt mittlerweile kennt, warf er alles in eine Waagschale und zeigte allen Teilnehmer, das mit ihm nach wie vor zu rechnen ist.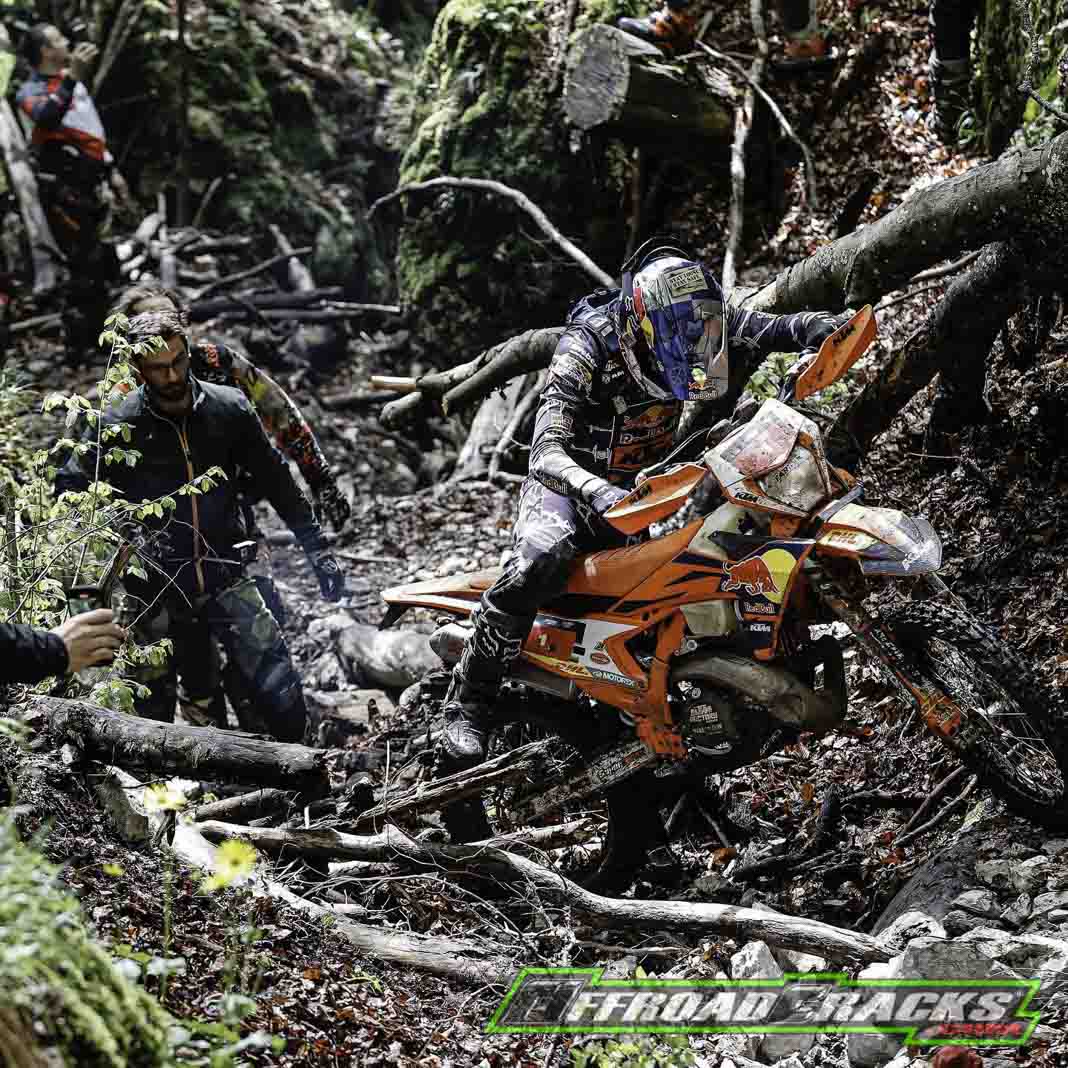 Nach dem gestrigen nassen und heftigen Tag sahen sich die Teilnehmer am zweiten Fahrtag mit deutlich verbesserten Wetterbedingungen konfrontiert. Eine neue 100 Kilometer lange Strecke führte die Fahrer erneut in das Herz des Tara-Gebirges. Während das trockenere Wetter die Bedingungen optisch verbesserten, waren die Strecken immer noch voller Schlamm und stellenweise extrem rutschig.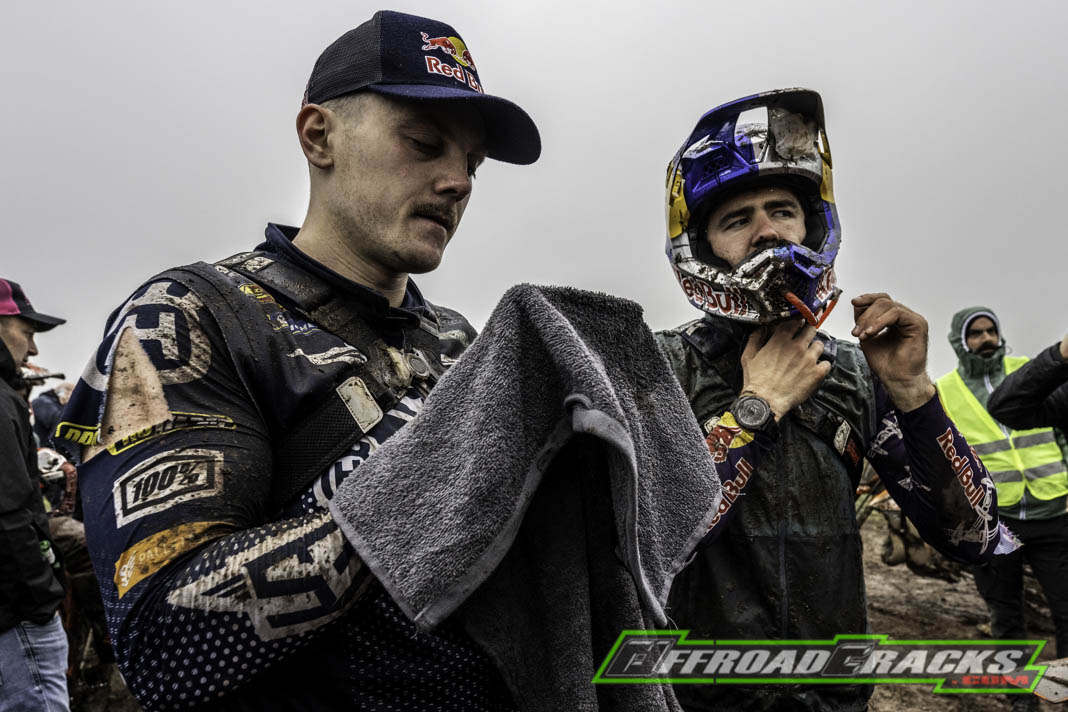 Billy Bolt war heute auf einer Mission, um die Hardenduro-Welt wieder zurechtzurücken. Der Brite, der als Zehnter startete, ließ sich nicht aus der Ruhe bringen und konnte sich schnell an seine größten Rivalen heranarbeiten. Bolt war im ersten gezeiteten Sektor der Schnellste und fuhr im Best-Style. Er arbeitete sich in der Bestenliste mit einer spektakulären Fahrt an die Spitze zurück und gab nach dem Mittagsservice noch einmal Vollgas. Als erneuter Bester im letzten Sektor holte er sich den Tagessieg und sprang damit in der Gesamtwertung vom neunten auf den sensationellen dritten Platz.
Auch Manuel Lettenbichler (KTM), der heute Morgen das Fahrerfeld mit Abstand anführte, war fest entschlossen seinen zweiten Tagessieg in Folge einzufahren. Der Deutsche überholte Bolt im zweiten gezeiteten Sektor und hatte im Ziel die schnellste Zeit im längsten Sektor des Tages gefahren. Obwohl er in der zweiten Hälfte des Tages ein wirklich starkes Tempo hielt, konnte er Bolt nicht niederringen, der mit einem Vorsprung von sechs Sekunden Bestzeit fuhr. Dennoch baute damit Lettenbichler seinen Vorsprung in der Gesamtwertung auf 25 Minuten vor Mario Roman und 35 vor Billy Bolt aus.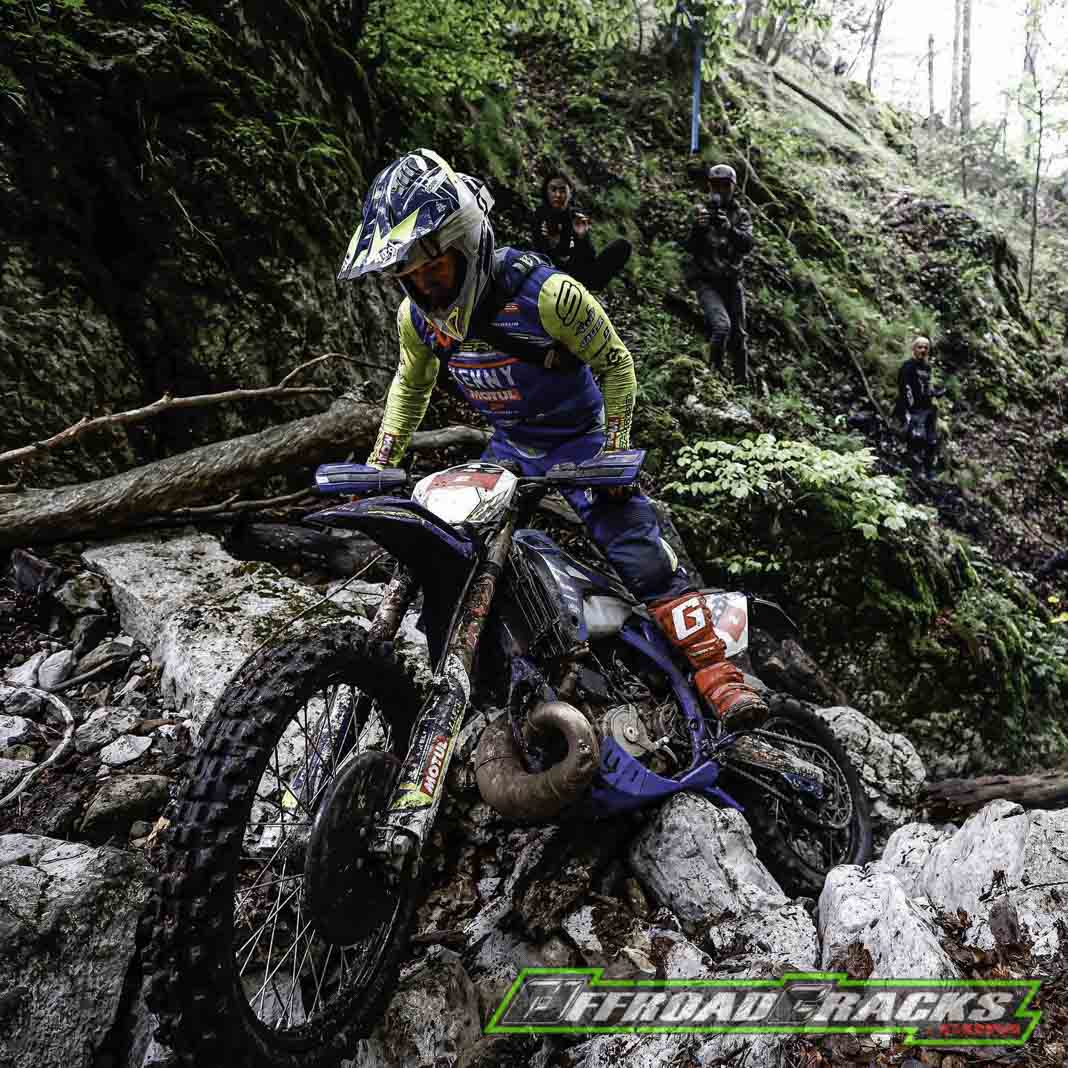 Für Mario Roman von Sherco Factory Racing war es ein weiterer durchweg starker Tag auf seinem Arbeitsgerät, während er sich durch die rutschigen Flussbetten und Anstiege kämpfte. Der Spanier startete heute Morgen als Zweiter und fuhr im zweiten Zeitabschnitt die schnellste Zeit. Ein Fehler gegen Ende ließ den Kontakt zum Spitzenduo Letti/Bolt abreißen, aber er hatte immer noch genug Power, um den dritten Platz zu belegen.
VIDEO HIGHLIGHTS
Während die Top Drei klar die Spitze im Fahrerfeld dominierten, war der Kampf um die Plätze vier bis sechs mit nur knapp drei Minuten Abstand äußerst eng. Nach einem harten gestrigen Fahrtag hat sich Trystan Hart von FMF KTM Factory Racing gut erholt. Der Kanadier ist immer noch dabei, sich in der Hardenduro-Rallye zurechtzufinden, hat aber gezeigt, dass sein Tempo hoch ist, wenn alles zusammenpasst. Der vierte Platz heute bringt ihn auch auf einen starken vierten Platz in der Gesamtwertung.
Teodor Kabakchiev vom ECONT Bulgaria beendete seinen Tag auf dem fünften Platz, während Michael Walkner von GASGAS nur eine Minute dahinter auf dem sechsten Platz ins Ziel fuhr. Allerdings wird Walkner enttäuscht sein, dass er in der Gesamtwertung vom dritten auf den sechsten Platz abgerutscht ist.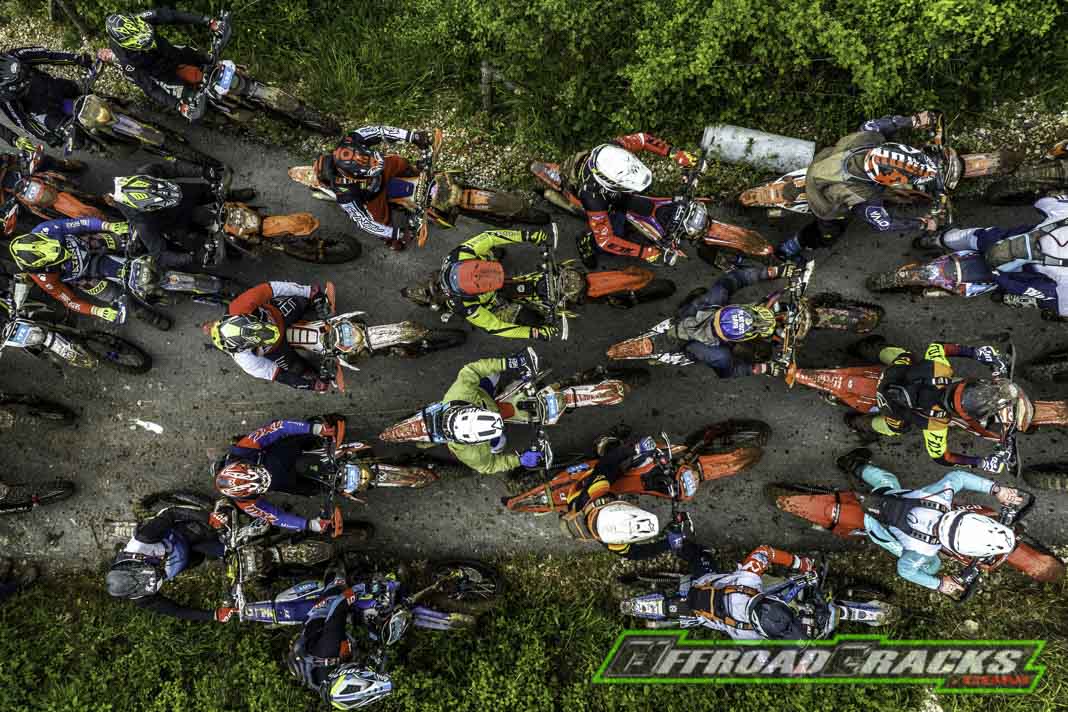 Führungswechsel bei den Junioren

In der FIM Hardenduro Junior World Championship gab es zahlreiche Veränderungen und einen neuen Führenden. Matthew Green von Rigo Racing machte viel Druck und das bekam auch die Konkurrenz zu spüren.Der junge Südafrikaner zeigte eine sehr beeindruckende Leistung und beendete seinen Tag als schnellster Junior mit dem achten Gesamtrang. Einen Tag vor Schluss ist er der neue Spitzenreiter der Junior-Kategorie. Robert Crayston (KTM) ist Gesamtzweiter, Marc Fernandez (KTM) Dritter.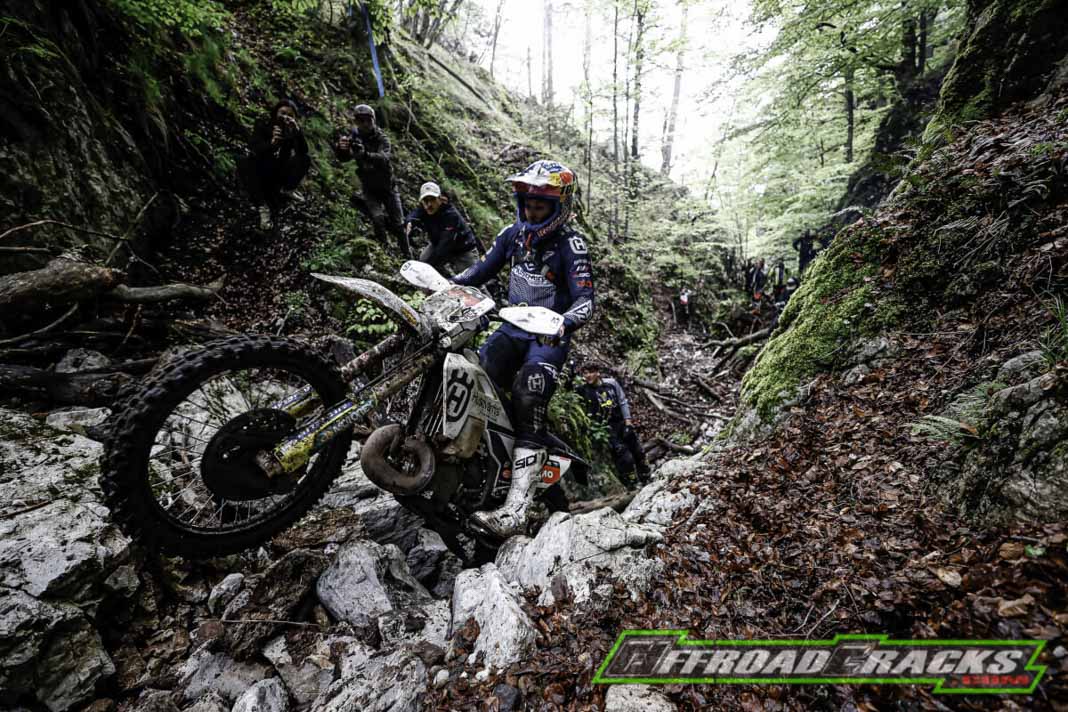 Billy Bolt (Husqvarna): "Ich habe heute Morgen von Anfang an hart gepusht und mich recht schnell in meinen üblichen Rhythmus wiedergefunden. Ich überholte Fahrer und wusste, dass ich im Gesamtergebnis gut abschnitt. Ich habe Mani den ganzen Tag über nie gesehen, aber als ich an Mario vorbei war, wusste ich, dass ich eine Chance auf den Sieg hatte. Es ist ziemlich cool, den Rückstand um sechs Sekunden zu verkürzen, aber es zeigt auch, wie sehr wir alle Druck gemacht haben."
Manuel Lettenbichler (KTM): "Nach dem Service war das Tempo viel höher als ich erwartet hatte. Es war schwer das eigene Tempo einzuschätzen, da ich als Erster auf der Strecke war, also fuhr ich einfach auf einem Niveau, mit dem ich mich am besten fühlte. Am Ende waren die Zeiten knapp, Billy gewann mit sechs Sekunden Vorsprung. Aber mein Gesamtvorsprung ist gut und ich fühle mich für den letzten Tag immer noch stark."
Mario Roman (Sherco): "Ich werde von Tag zu Tag mit meinem Fahren immer zufriedener. Ich fühlte mich den ganzen Tag stark. Als Billy mich einholte, fuhren wir lange zusammen. Leider habe ich einen Fehler gemacht und er ist davongekommen."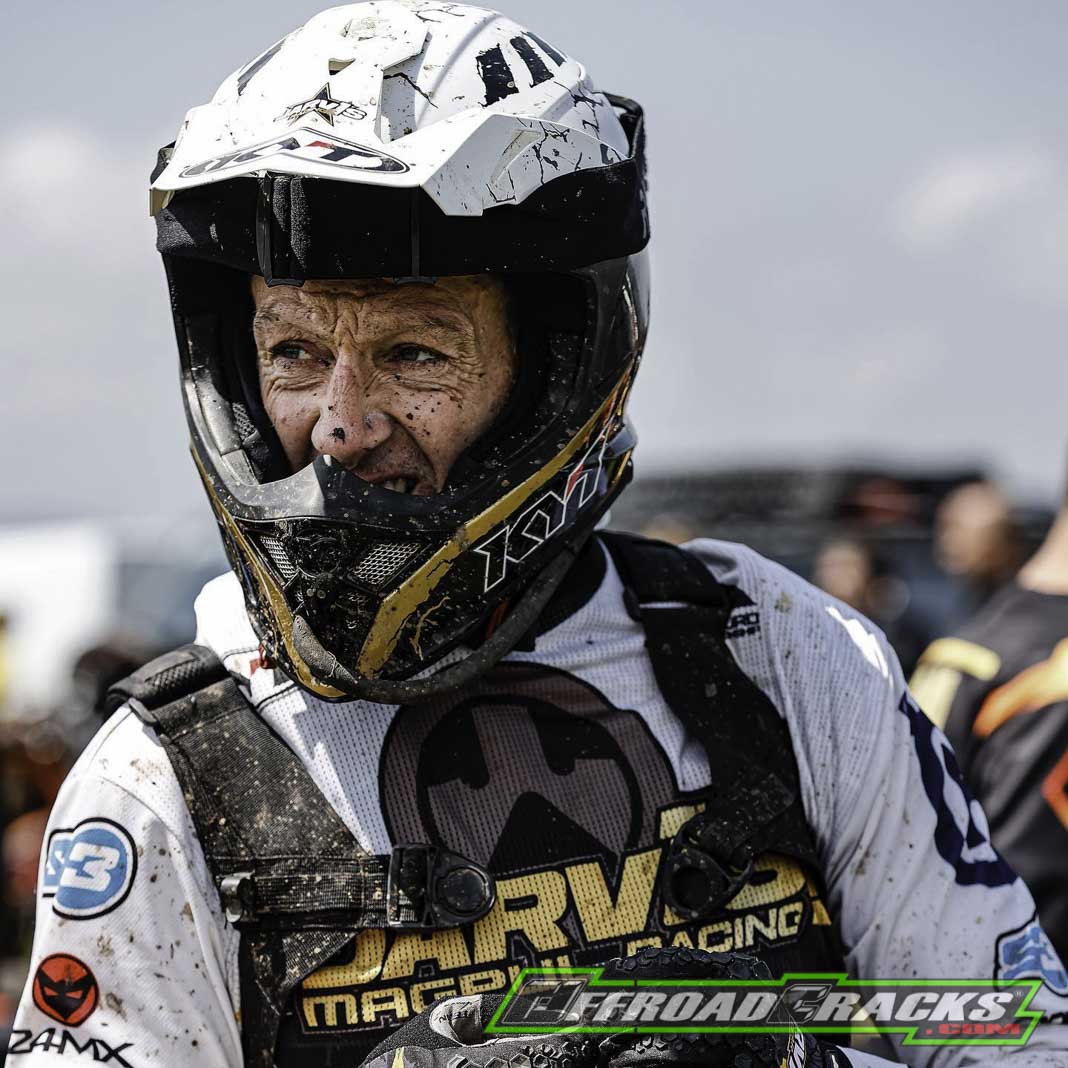 Ergebnisse: Xross Hard Enduro Rally DAY 2
Manuel Lettenbichler (KTM) 7:05:55.04
Mario Roman (Sherco) 7:30:57.97
Billy Bolt (Husqvarna) 7:40:27.61
Trystan Hart (KTM) 7:41:01.38
Teodor Kabakchiev (KTM) 7:42:53.54
Michael Walkner (GASGAS) 7:43:07.53
Graham Jarvis (Husqvarna) 8:02:08.75
Gesamtergebnisse (nach Tag 2)
Xross Hardenduro Rally 2023 - Day 2
2023 FIM Hardenduro World Championship
Round 1: Xross, Serbia – May 17/18/19/20 *
Round 2: Red Bull Erzbergrodeo, Austria – June 8/9/10/11 *
Round 3: Red Bull Abestone, Italy – July 7/8/9 *
Round 4: Red Bull Romaniacs, Romania – July 25/26/27/28/29
Round 5: Red Bull Outliers, Canada – August 26/27
Round 6: 24MX Hixpania Hard Enduro, Spain – October 13/14/15
Round 7: 24MX GetzenRodeo, Germany – November 3/4 *
* FIM Hard Enduro Junior World Championship supported by KLIM – Camp
---

DAY 2 – HARDENDURO-WM 2023: Billy Bolt the machine!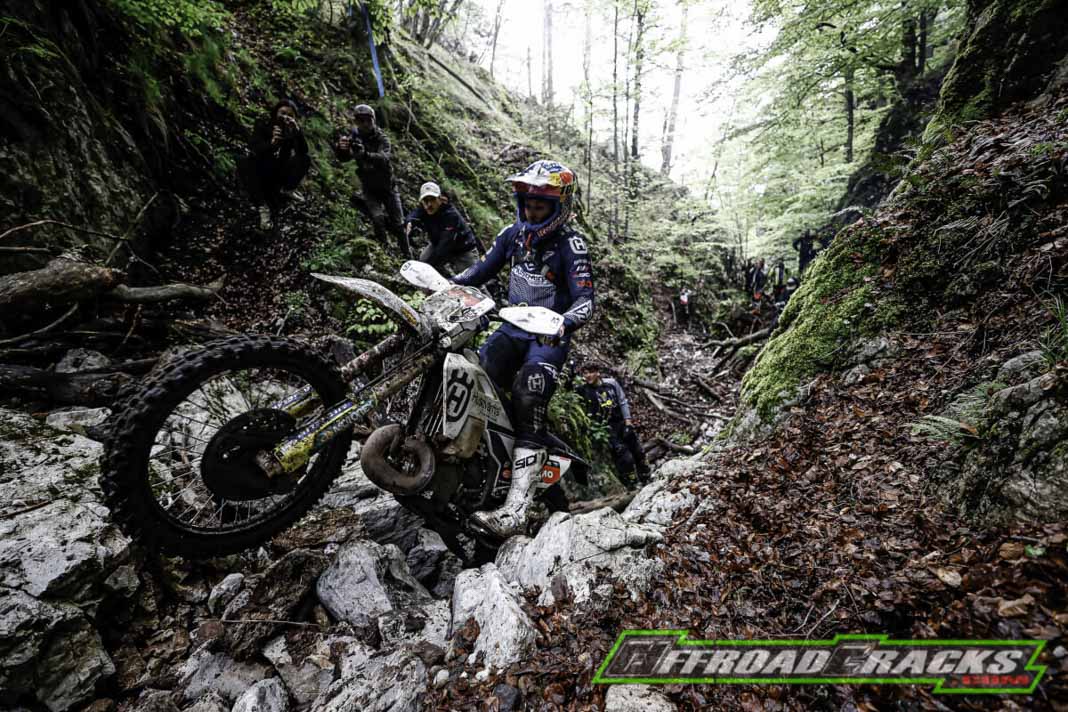 After yesterday's wet and wild day in the Tara mountains, competitors faced much improved weather conditions for Offroad Day Two at round one of the FIM Hard Enduro World Championship. A new 100-kilometre-long course took riders into the Tara mountain range for the Xross Hard Enduro Rally. While the drier weather helped, the tracks were still heavy with mud and extremely slippery in places.
Following his 43-minute penalty for a navigational error yesterday, Billy Bolt (Husqvarna) was on a mission to make amends today. Starting 10th on the road didn't faze the Brit and he was quick to make inroads into his rivals. Fastest in the first timed sector, Bolt was making good time in traffic. Working his way up the leaderboard, he pushed hard after the midday service. Topping the final sector, he took the day win and with it jumped from ninth to third in the overall classification.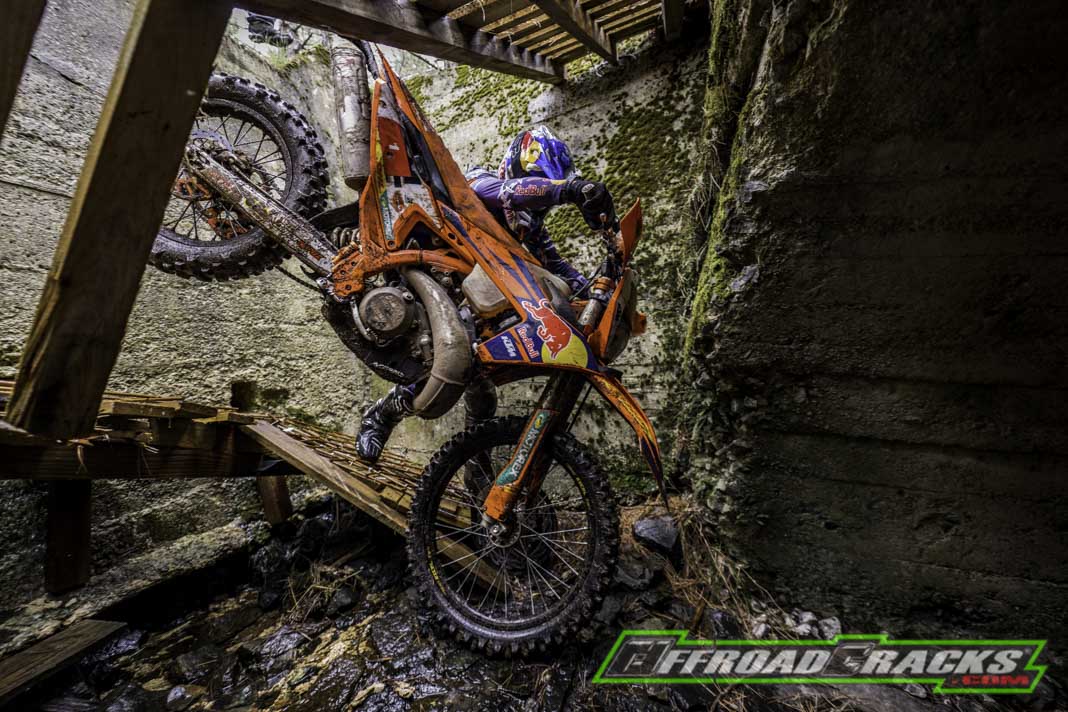 Leading the field of riders away this morning, Manuel Lettenbichler (KTM) was also in a determined mood to try and make it two day wins in a row. The German bettered Bolt on the second timed sector before importantly setting the fastest time in the day's longest sector as they arrived at service. Although keeping a strong pace in the latter half of the day, he just missed out to Bolt by six seconds. Nevertheless, finishing clear of closest rival Mario Roman (Sherco) by over eight minutes, Lettenbichler extends his overall lead at round one to 25 minutes with just one more day to go.
For Sherco Factory Racing's Mario Roman it was another consistently strong day at the office as he battled his way through the slippery riverbeds and mountain climbs. The Spaniard was second to start this morning and set the quickest time on the second timed sector. A mistake towards the end dropped him back from the leading duo, but he still had enough in hand to take third.
Three-way battle for fourth
While the top three were clear out front, the battle from fourth to sixth was tight with just under three minutes separating them. After a tough outing yesterday, FMF KTM Factory Racing's Trystan Hart regrouped well. The Canadian is still finding his feet in Hard Enduro Rally, but showed that when things come together his speed is there. Fourth today lifts him to a strong fourth in the overall classification.
ECONT Bulgaria's Teodor Kabakchiev ended his day in fifth, while GASGAS' Michael Walkner was just one minute behind in sixth. However, Walkner will be disappointed having slipped from third to sixth in the standings.
VIDEO HIGHLIGHTS
Change of leader in Juniors
In the FIM Hard Enduro Junior World Championship supported by KLIM there were plenty of changes with a new race leader emerging. Rigo Racing's Matthew Green was pushing hard and it showed.
The young South African put in a very impressive ride to end his day as fastest Junior with eighth overall. With one day to go, he's the new leader of the Junior category. Robert Crayston (KTM) is second overall, with Marc Fernandez (KTM) third.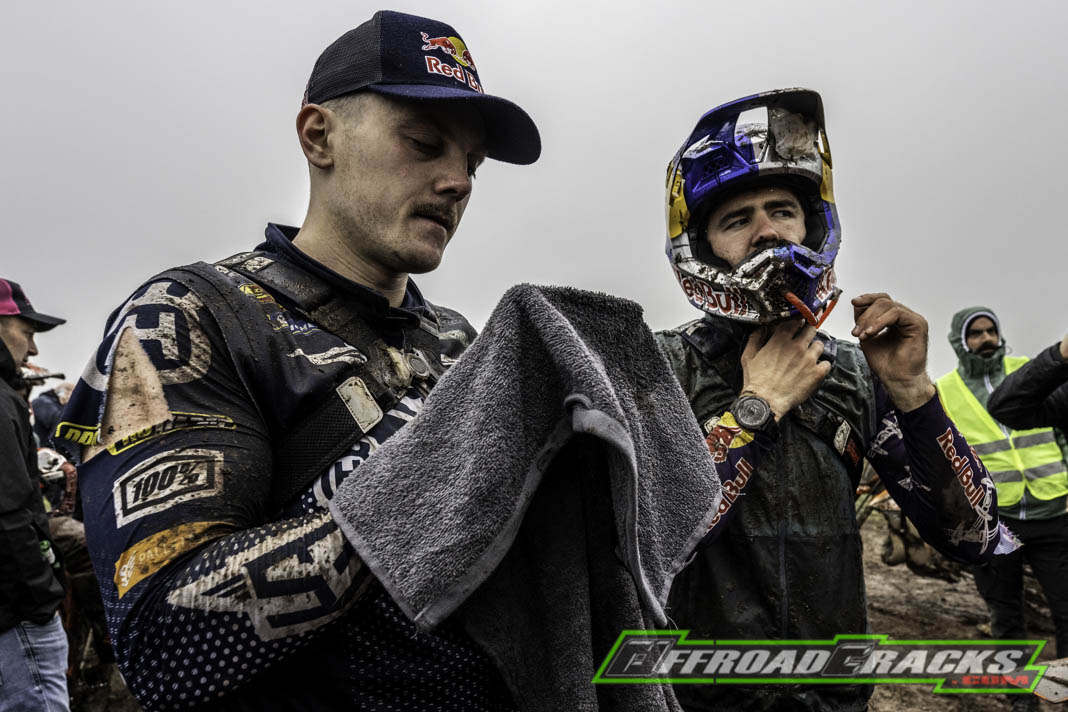 Billy Bolt (Husqvarna): "I pushed hard from the off this morning and settled into things quite quick. I was passing riders and knew that I was running well in the overall. I never saw Mani all day, but once I had got past Mario I knew that I had a chance of the win. To take it by six seconds is pretty cool, it shows how hard we were all pushing."
Manuel Lettenbichler (KTM): "After the service it was much faster than I expected. It was hard to judge the pace as I was first on the road, so I just rode to a level I was comfortable with. In the end the times were close with Billy winning by six seconds. But my overall lead is good, and I still feel strong heading into the final day."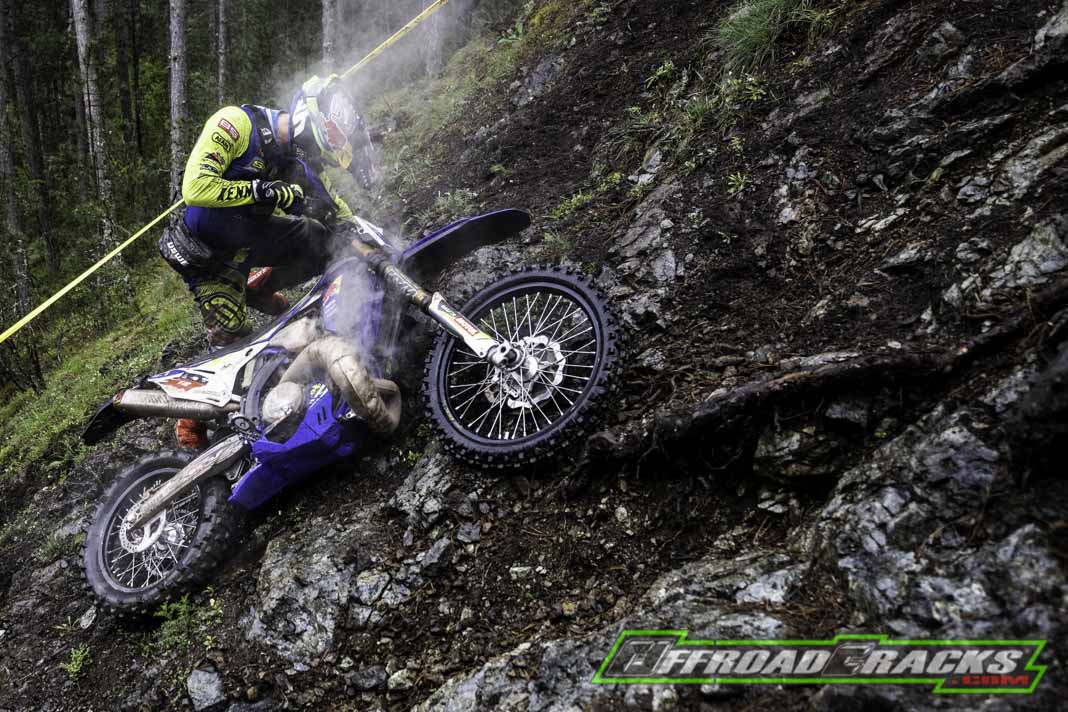 Mario Roman (Sherco): "More and more I'm pleased with my riding. I felt strong all day. When Billy caught up to me we rode together for a long time. Unfortunately, I made a mistake and he got away."
Results: Round 1 – Xross Hard Enduro Rally DAY 2
Billy Bolt (UK) 3:51:43,84
Manuel Lettenbichler (GER) 3:51,49,27
Mario Roman (ESP) 4:00:35,23
Trystan Hart (CAN) 4:03:52,98
Teodor Kabakchiev (BLG) 4:05:28,23
Michael Walkner (AUT) 4:06:27,89
Wade Young (RSA) 4:13:49,38
Matthew Green (RSA) 4:19:02,60 – Junior
Alfredo Gomez (ESP) 4:20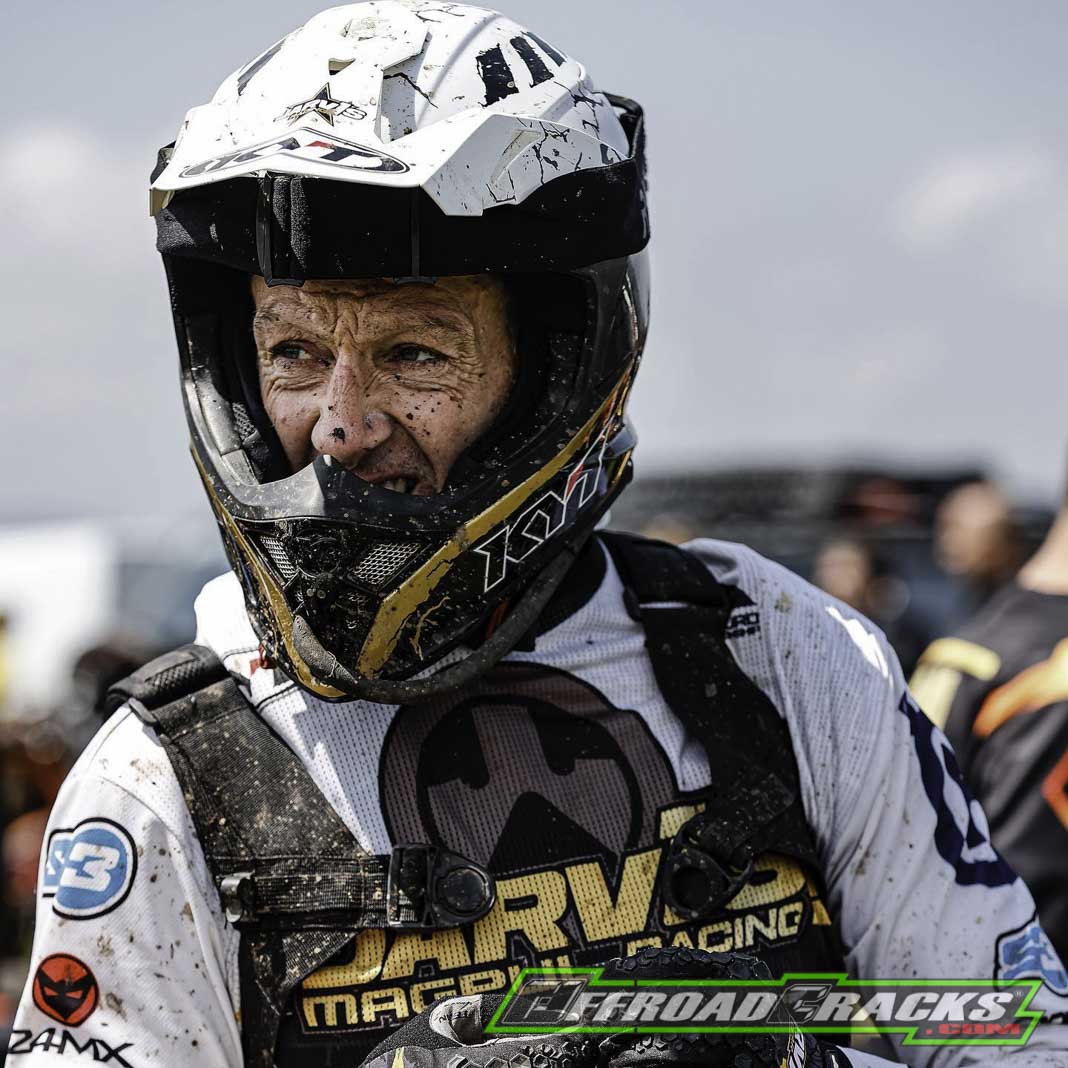 OVERALL RESULTS (after DAY 2)
 Manuel Lettenbichler (KTM) 7:05:55.04
Mario Roman (Sherco) 7:30:57.97
Billy Bolt (Husqvarna) 7:40:27.61
Trystan Hart (KTM) 7:41:01.38
Teodor Kabakchiev (KTM) 7:42:53.54
Michael Walkner (GASGAS) 7:43:07.53
Graham Jarvis (Husqvarna) 8:02:08.75
Alfredo Gomez 8:13:55.86
David Cyprian (KTM) 8:19:51.74
Will Hoare (GASGAS) 8:32:14.76
Xross Hardenduro Rally 2023 - Day 2
2023 FIM Hardenduro World Championship
Round 1: Xross, Serbia – May 17/18/19/20 *
Round 2: Red Bull Erzbergrodeo, Austria – June 8/9/10/11 *
Round 3: Red Bull Abestone, Italy – July 7/8/9 *
Round 4: Red Bull Romaniacs, Romania – July 25/26/27/28/29
Round 5: Red Bull Outliers, Canada – August 26/27
Round 6: 24MX Hixpania Hard Enduro, Spain – October 13/14/15
Round 7: 24MX GetzenRodeo, Germany – November 3/4 *
* FIM Hard Enduro Junior World Championship supported by KLIM – Camp
Quelle / Source: FIM Hardenduro, Red Bull