Als das es nicht ohnehin schon auf Grund des Corona-Hot-Spots sehr schwierig war das Event überhaupt am Laufen zu halten, schlug in der Nacht der Wettergott zu und verwandelte die Strecke in ein echtes Schlammparadies.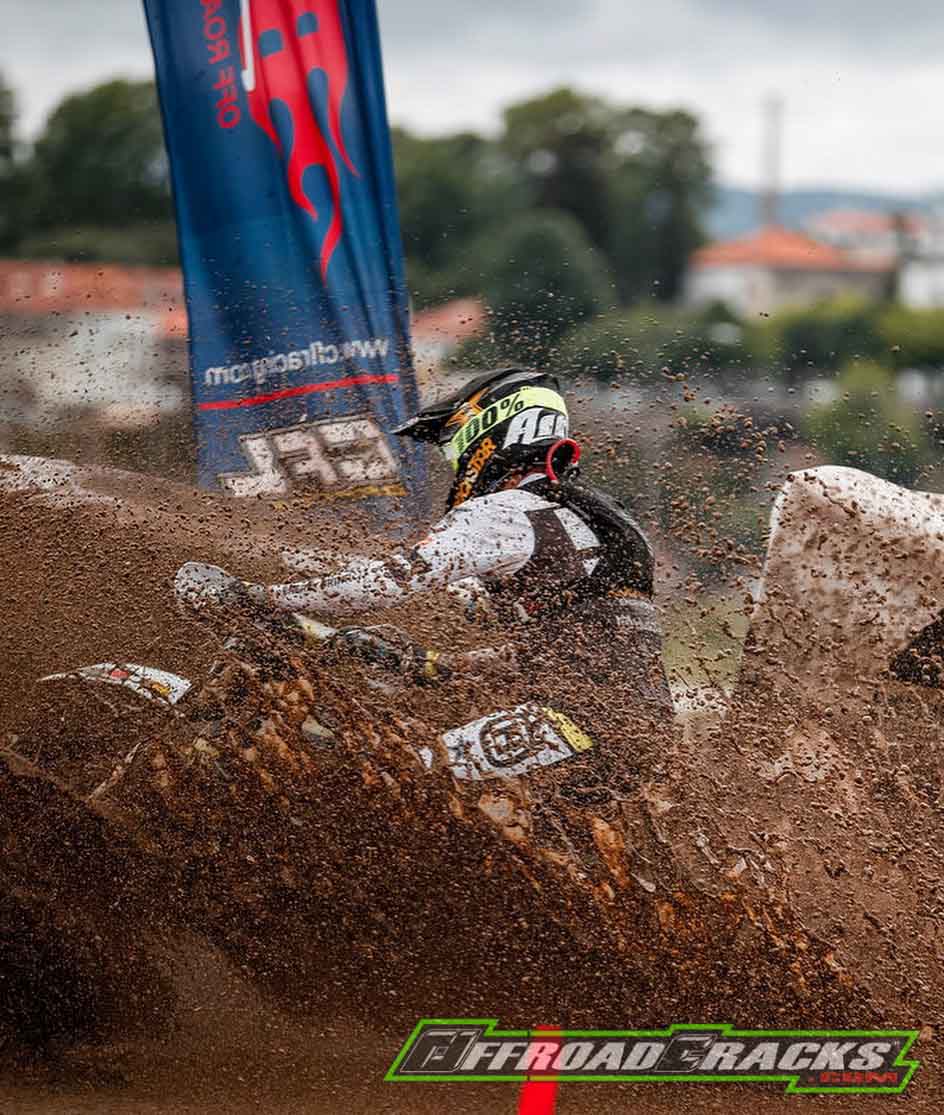 Das hatte zur Folge, dass Veranstalter und FIM einvernehmlich und aus Fairness-Gründen gegenüber des üblichen Hardenduro-Terrains aller weiteren Veranstaltungen vereinbart haben, dass in der ersten Runde der FIM Hardenduro Weltmeisterschaft keine Meisterschaftspunkte vergeben werden. Das Rennen wurde jedoch abgehalten und sorgte auf Grund der Bedingungen für Höchstspannung und erstaunliche Platzierungen bei den Spitzenpiloten.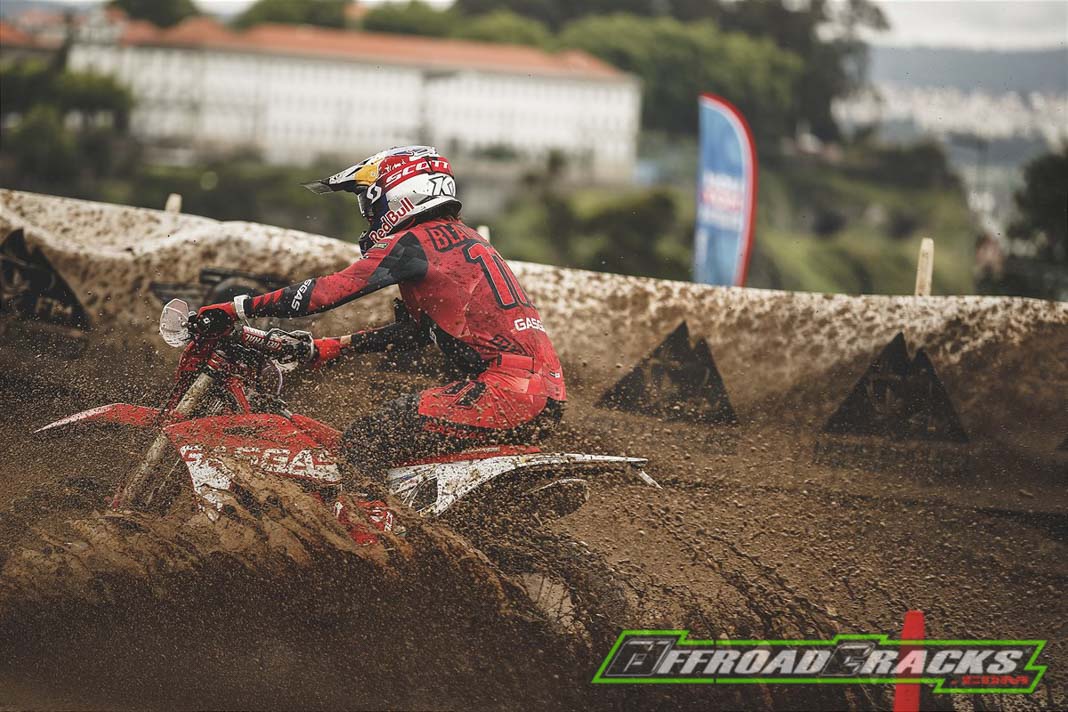 Husqvarna-Fahrer Bolt stürmte im Finallauf Nummer eins direkt zum überlegenen Sieg. Im zweiten Rennen untermauerte er seine Dominanz mit einem weiteren Start-Ziel-Sieg. Jedoch verhinderte ein früher Sturz im dritten Rennen die Ambitionen des Engländers, der einen Hattrick von 3 Siegen auf seinem Wunschzettel hatte. Trotz dessen schaffte er es noch auf den 2. Platz (!) vorzufahren und sich damit den Gesamtsieg beim wohl "außergewöhnlichsten" Extreme XL Lagares zu sichern. WM-Punkte gab es wie schon erwähnt keine, was dann aber sicherlich beim Erzbergrodeo der Fall sein sollte, sofern hier die Pandemie nicht auch noch ihre Muskeln spielen lässt – und das tut sie bereits: Hier alle Informationen zur Absage des Erzbergrodeo 2021: LINK!.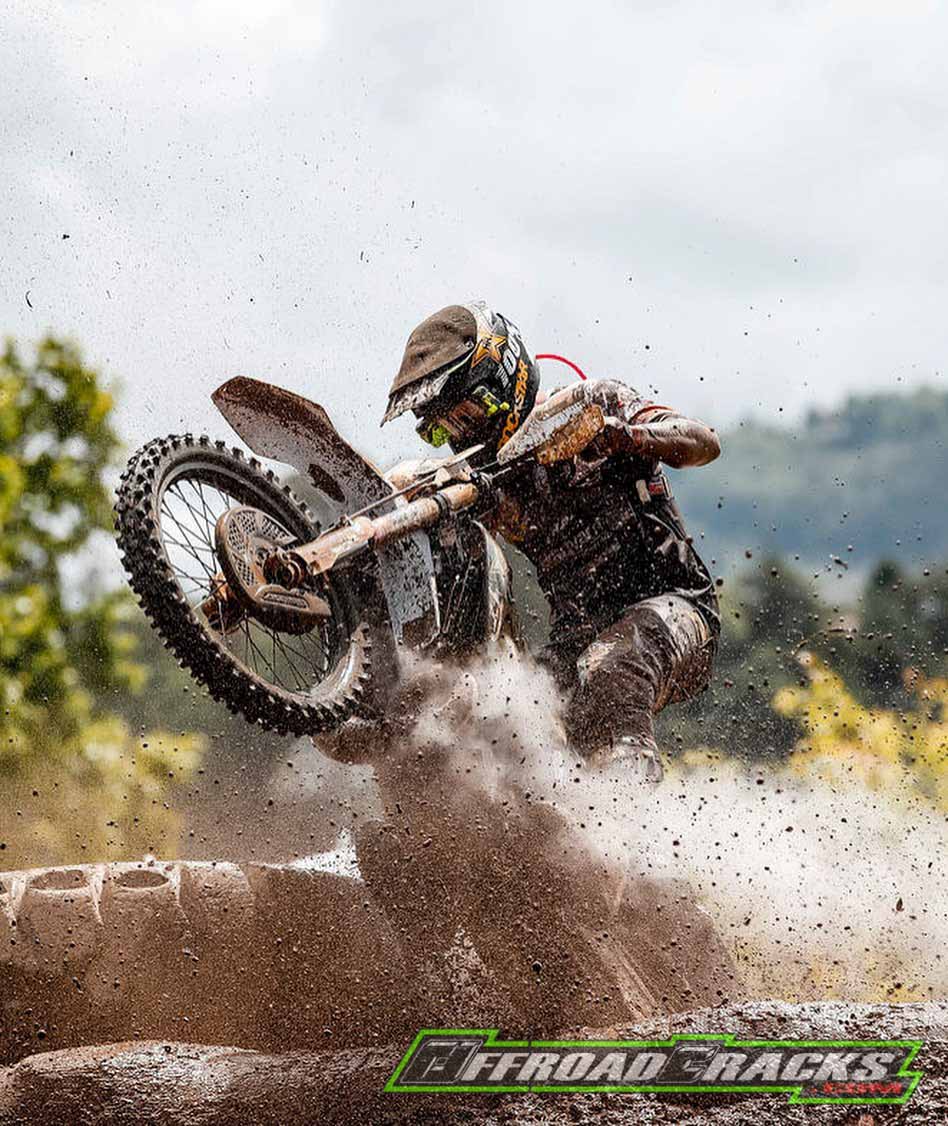 Hinter Billy Bolts eindrucksvoller Vorstellung entbrannte ein wahrer Kampf um die Podiumsplätze. Trotz eines schlechten achten Platzes im Lauf 1 begann Lettenbichler immer besser seinen Rhythmus zu finden. Als Zweiter im Finale 2 lieferte er endlich wie gewohnt ab und toppte dies mit einem Sieg in Rennen 3, so dass es für Gesamtplatz Zwei hinter Bolt reicht.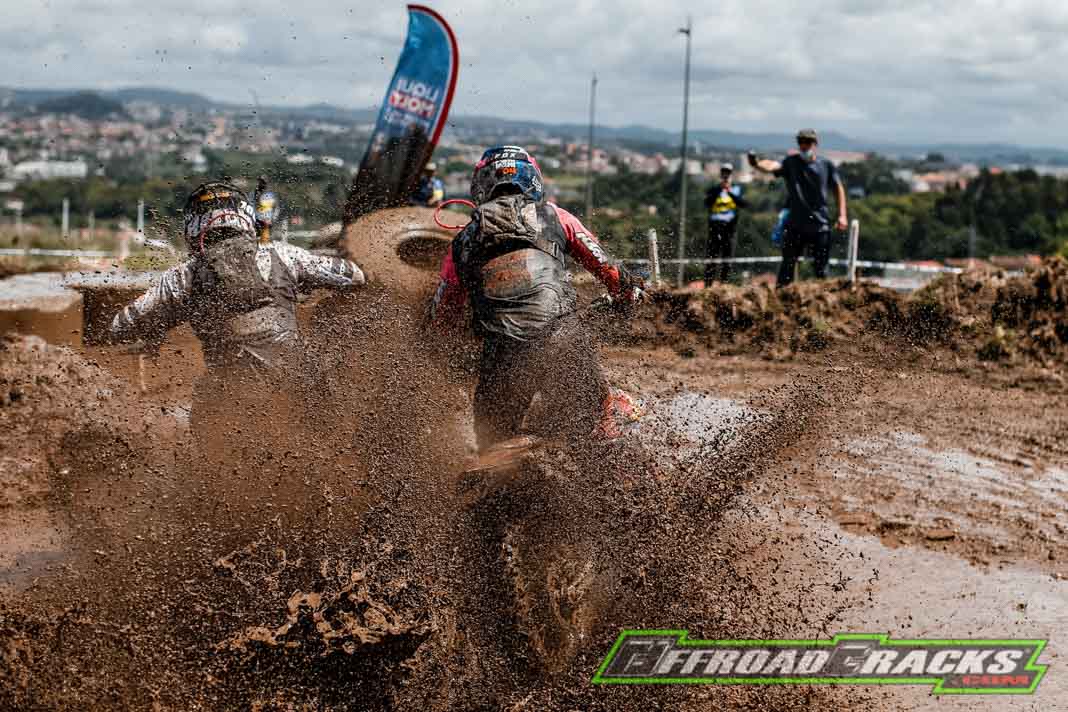 Trotz einer unangenehmen Qualifikation am Samstag war es Graham Jarvis, der für eine absolute Überraschung auf dem für ihn eigentlich ungeliebten Terrain und Rennmodus sorgt. Beständigkeit ist das Stichwort, denn mit drei vierten Plätzen sicherte sich das Hardenduro-Urgestein Graham Jarvis Gesamtrang drei – Respekt!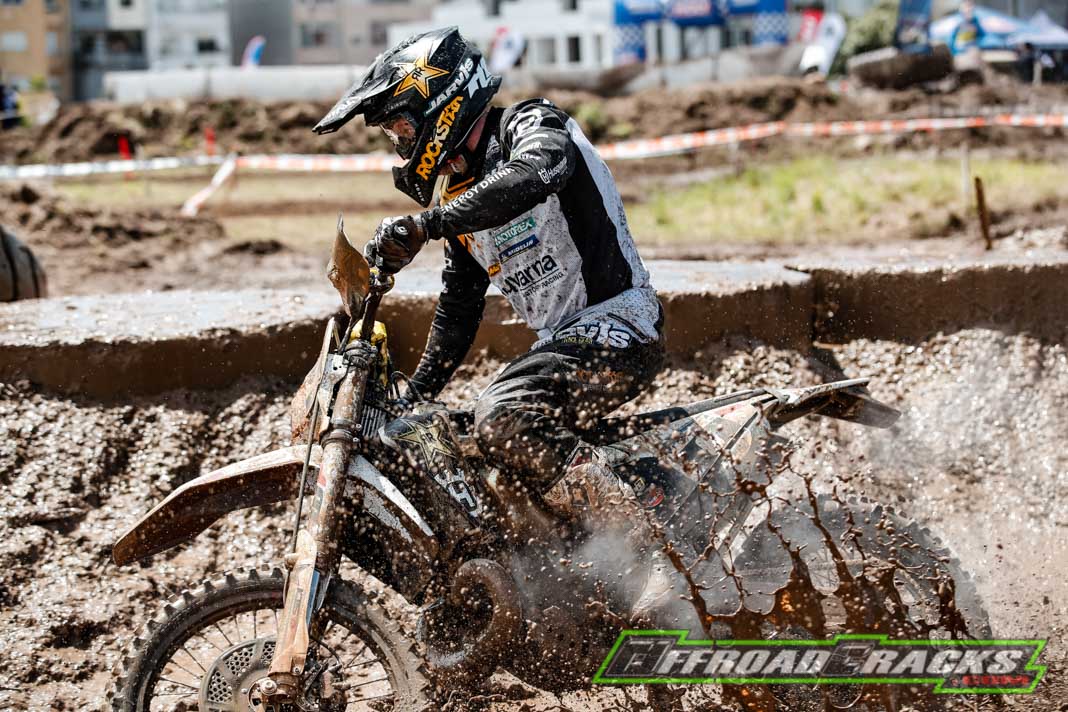 Wade Young von Sherco Factory Racing war ein weiterer Fahrer, der im Endurocross eine gute Leistung zeigte. Er startete schnell, platzierte sich wiederholt direkt hinter der Spitzengruppe und erreichte dank eines 4-3-5-Ergebnisses den vierten Gesamtrang. Alfredo Gomez von Rockstar Energy Husqvarna Factory Racing rundete die Top 5 ab.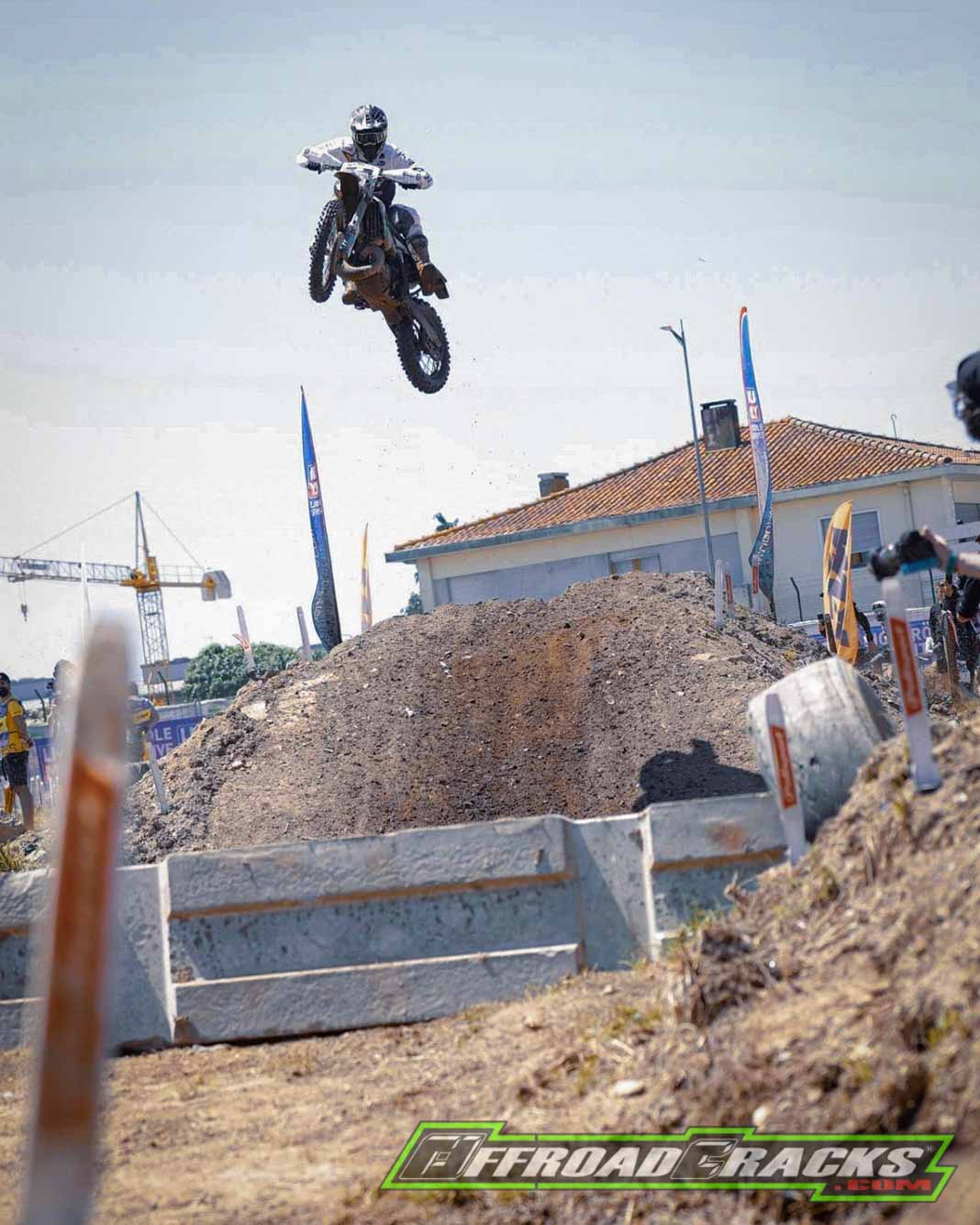 Billy Bolt: "Nach zwei guten Siegen ist mir der Gesamtsieg im letzten Rennen dank einiger Stürze fast entglitten. Meine Handschuhe waren so mit Schlamm verschmiert, dass es extrem schwierig war sich richtig am Lenker festzuhalten und gleichzeitig entsprechend schnell zu fahren. Aber ich wusste, dass ich genügend Zeit hatte zurückzuschlagen. Als ich dann auf dem zweiten Platz landete war klar, dass mir der Gesamtsieg nicht mehr zu nehmen war. Natürlich konnten wir nicht in den Bergen fahren, wie wir das eigentlich wollten, aber alle haben das Beste aus der Situation gemacht."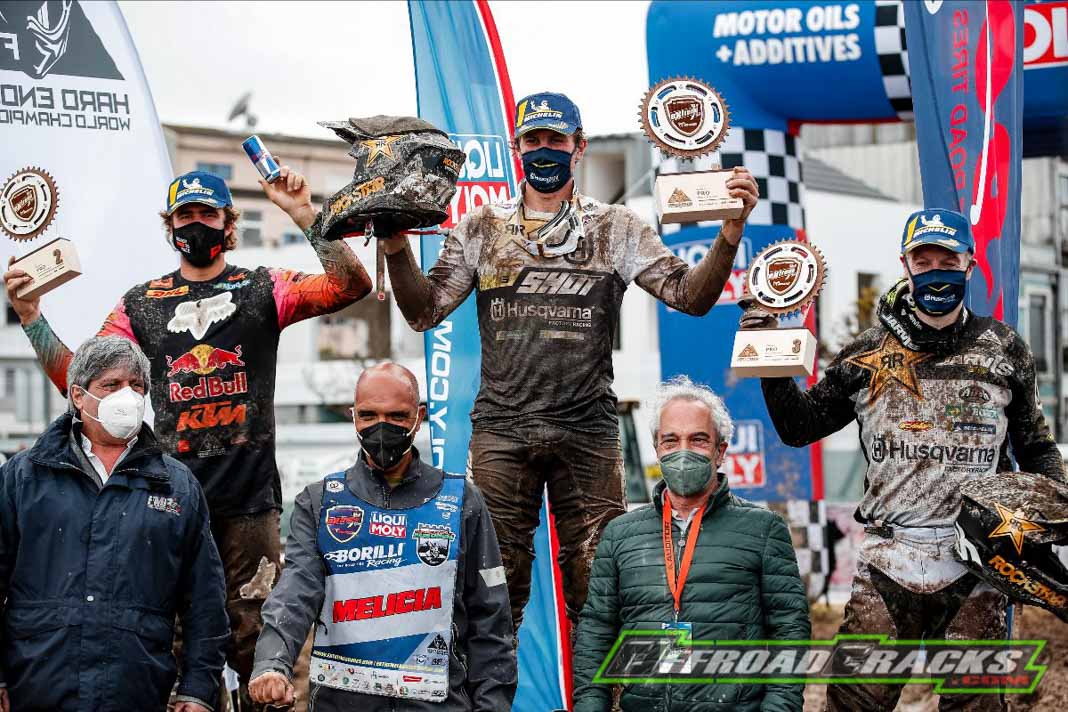 Manuel Lettenbichler: "Es war super dieses letzte Rennen noch zu gewinnen. Ich hatte einen guten Start und konnte Billy bis zum Schluss hinter mir halten. Ich wusste bis zum Rennende nicht, dass ich insgesamt Zweiter war und bin daher absolut froh über mein Abschneiden. Trotz allen Umständen war es ein richtig guter Tag mit viel Spaß. Vielen Dank an die Organisatoren, die trotz allen Widrigkeiten den Ball so am Laufen gehalten haben."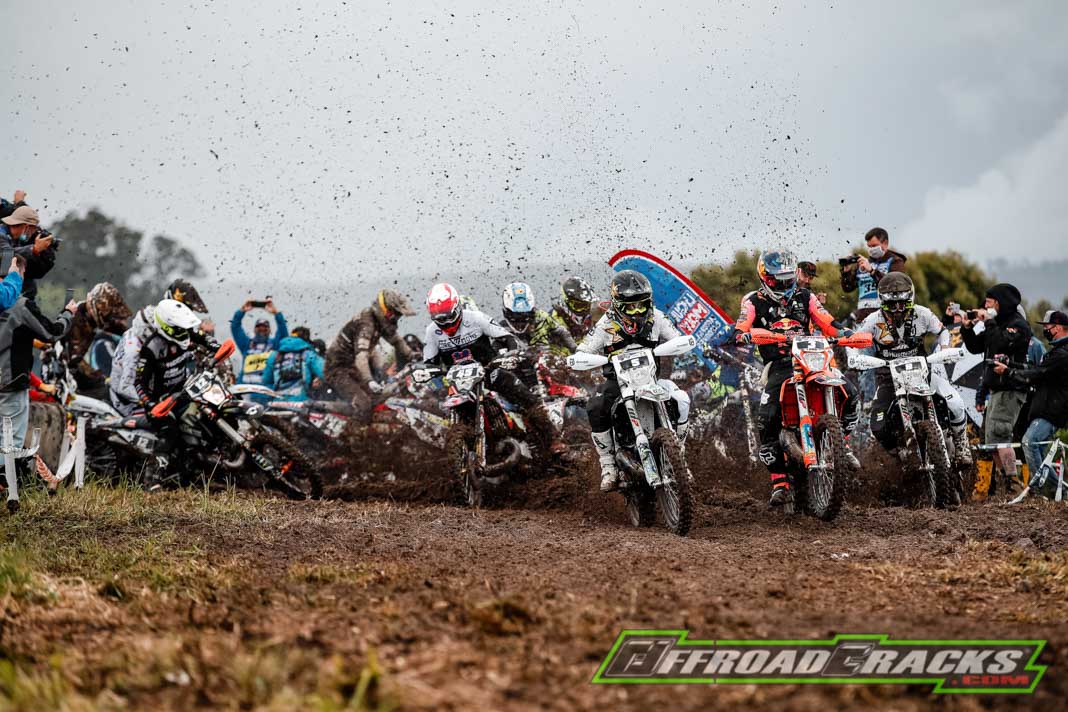 Graham Jarvis: "Nach der Nachricht am späten Donnerstagabend, dass das ursprüngliche Veranstaltungsformat nicht umgesetzt werden kann, haben meiner Meinung nach alle, insbesondere die Veranstalter, das Beste aus der schwierigen Situation gemacht. Die Berge sind wie jeder weiß eher für meinen Geschmack, dafür habe ich mich ehrlich gesagt über den erstaunlichen dritten Gesamtrang mehr als gefreut. Und ich glaube, ich habe auch einige andere überrascht. Der heutige Start war ein Bonus und hat mir geholfen, für den Rest der Serie wieder in die benötigte Rennsport-Denkweise zurückzukehren."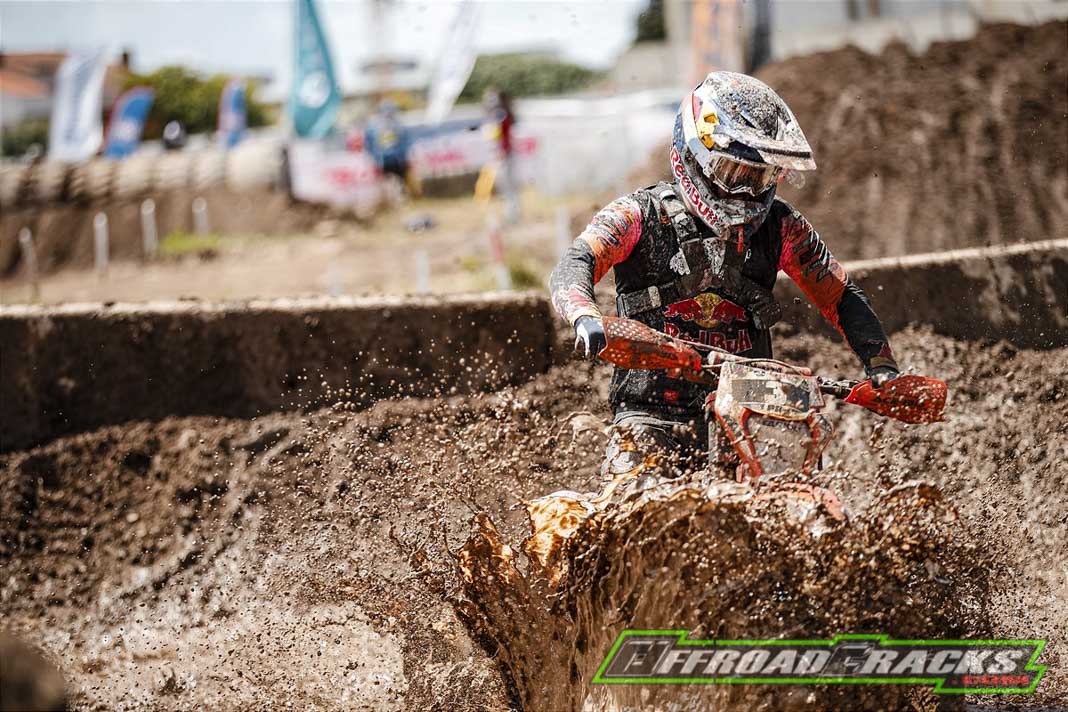 Winfried Kerschhaggl – Serienmanager der FIM Hardenduro-Weltmeisterschaft: "Wir alle, insbesondere der lokale Veranstalter haben alles versucht, um nach der Absage des ursprünglich geplanten Rennens eine wertige Alternative zu liefern. Angesichts der schlechten Wetterbedingungen, die zusätzlich das Ganze zu den bereits auftretenden Komplikationen noch verschärfte, entschied die FIM-Jury für diese Veranstaltung keine WM-Punkte zu vergeben. Diese Entscheidung beruhte auf der gemeinsamen Meinung, dass trotz der besten Bemühungenen der Organisatoren von der Veranstaltung kein gesundes und faires Verhältnis zu den anderen für die Meisterschaft geplanten Veranstaltungen und dem bestimmenden Charakter übrig blieb. Für viele war es ein schwieriges Wochenende, aber ich möchte der FIM-Jury und den Fahrern danken, die dem Veranstalter großen Respekt entgegengebracht haben, indem sie weiter gefahren sind."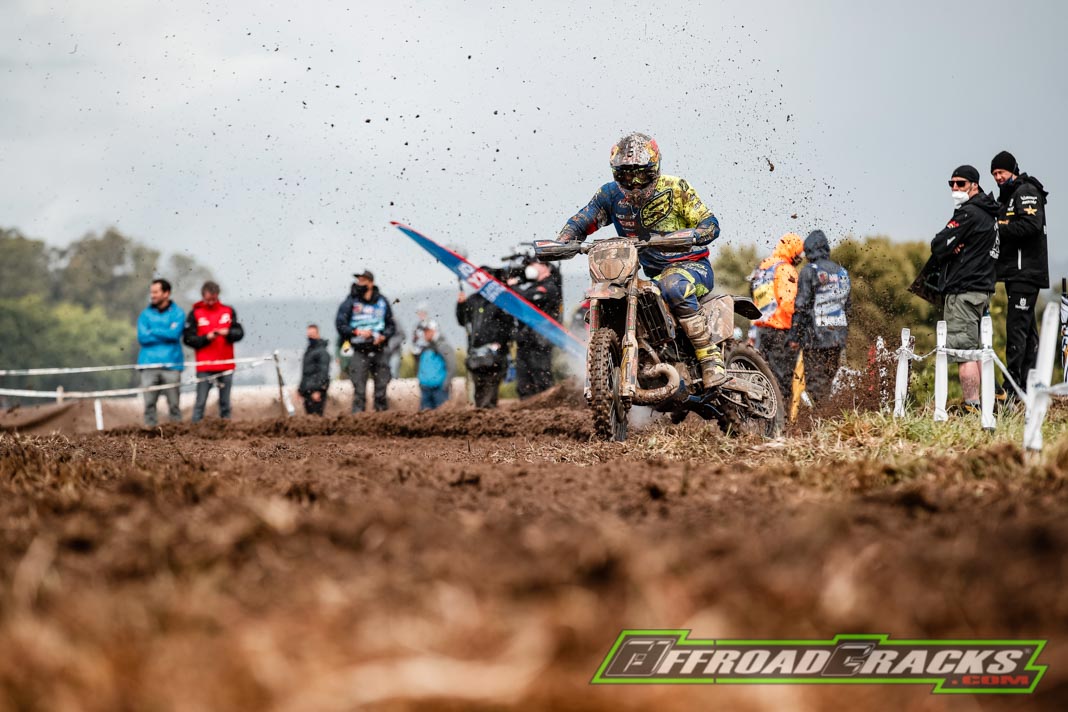 Taddy Blazusiak hat nach Schmerzen im Knie frühzeitig das Rennen beendet. Er wollte ebenso wie Jonny Walker, der schon eine Vorverletzung mit sich herumträgt kein erhöhte Verletzungsrisiko in Bezug auf die kommenden Rennen eingehen, zumal es auch keine WM-Punkte gab.
Alle Ergebnisse, auch aus deutscher Sicht
1. Finale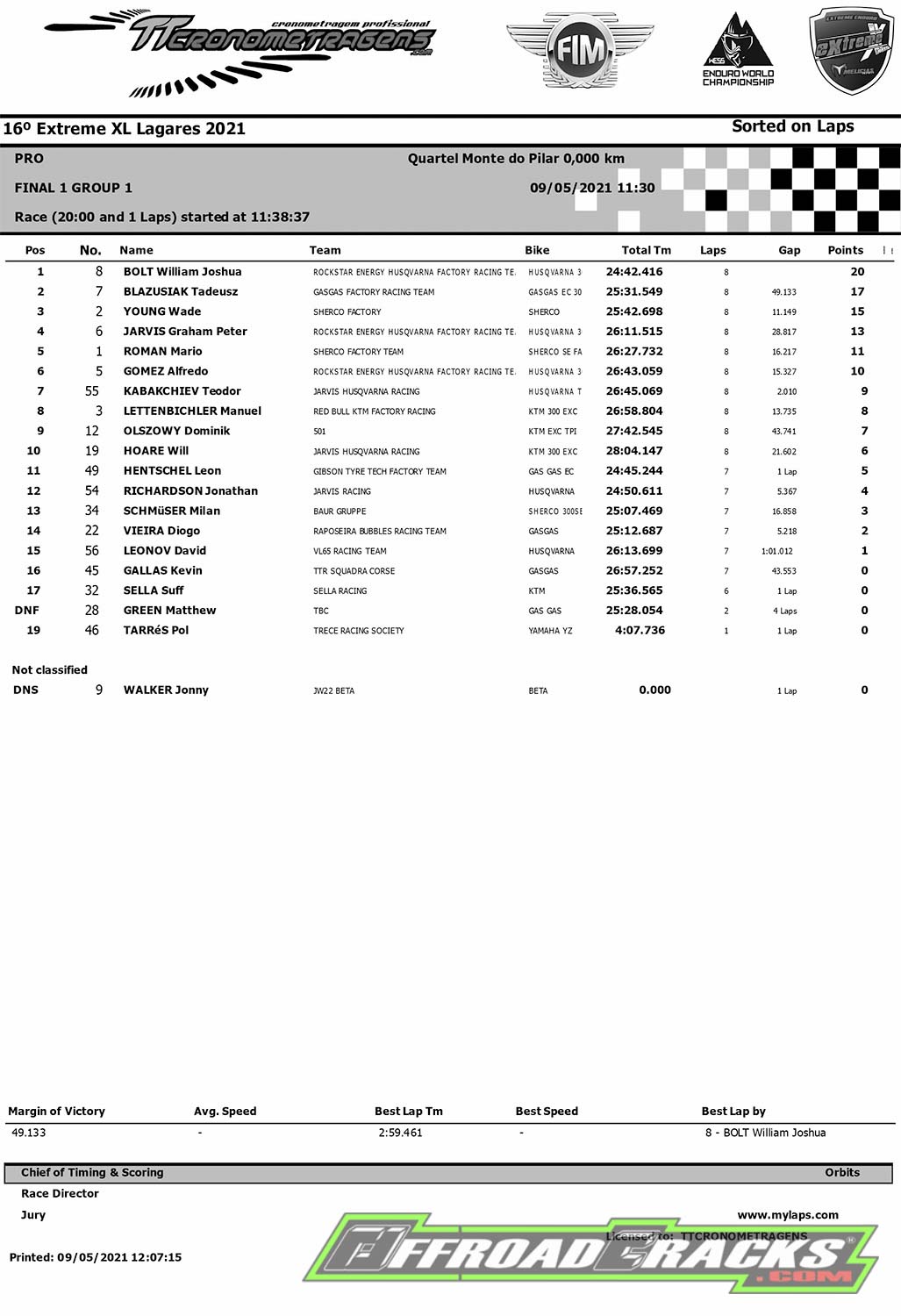 2. Finale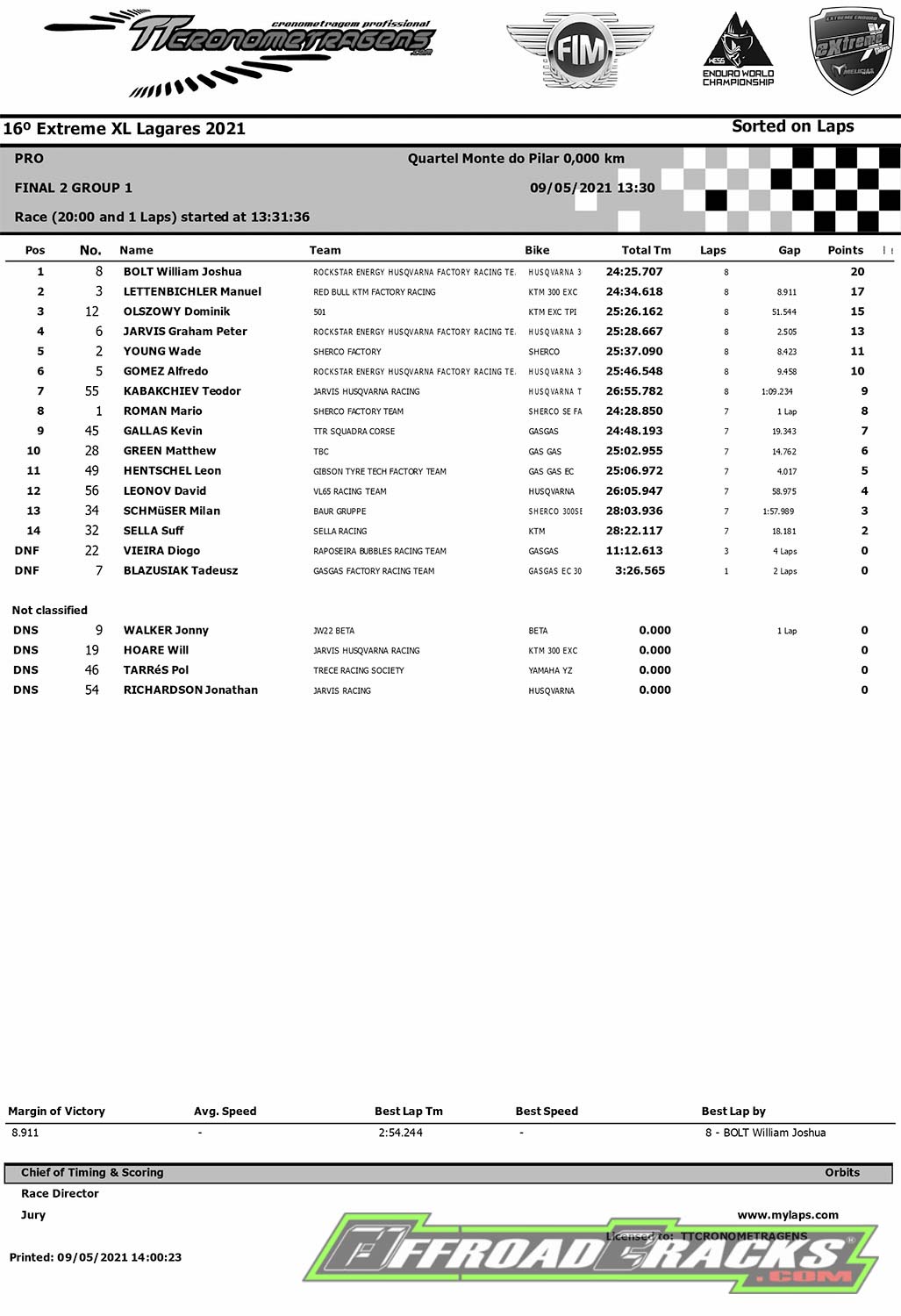 3. Finale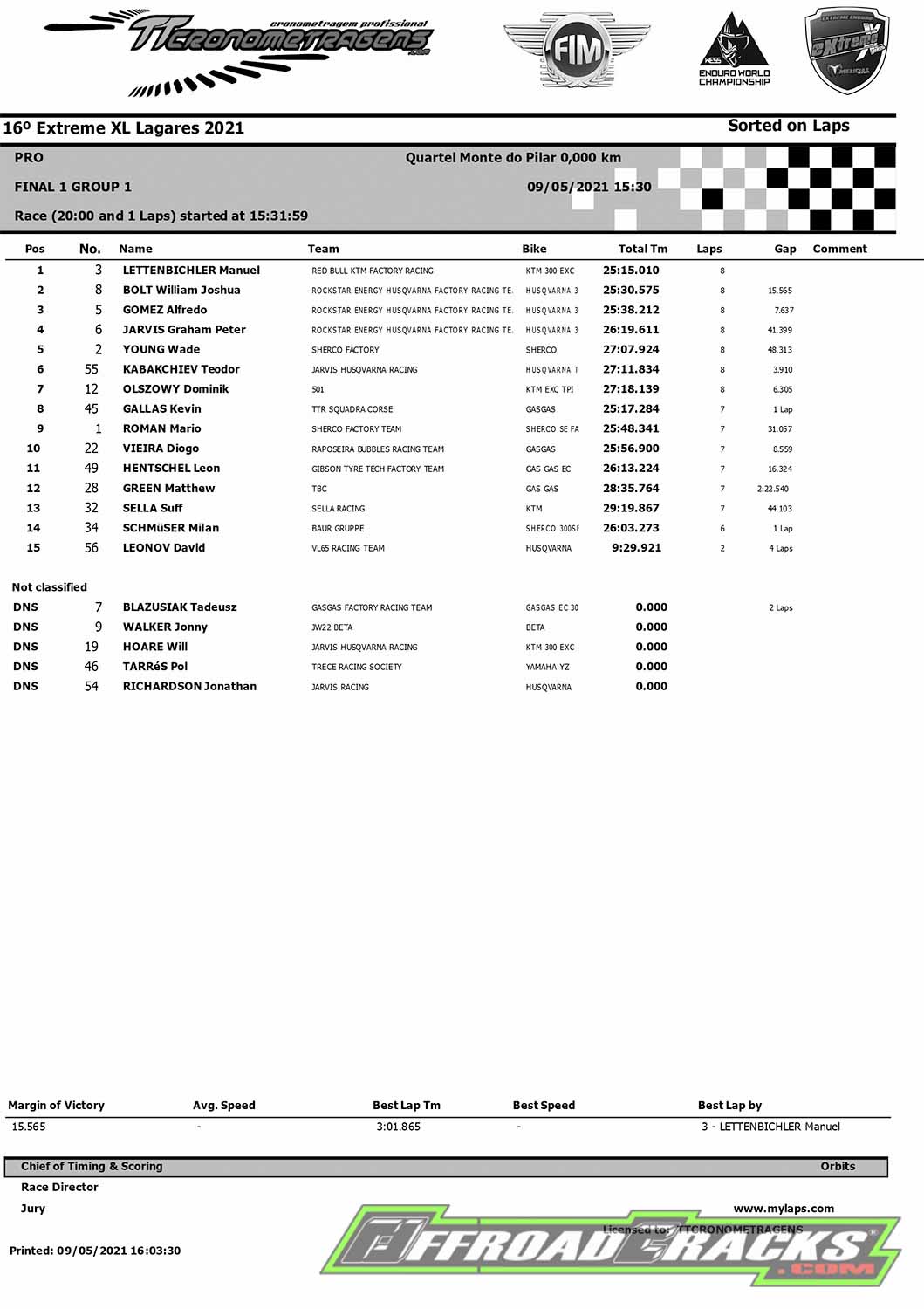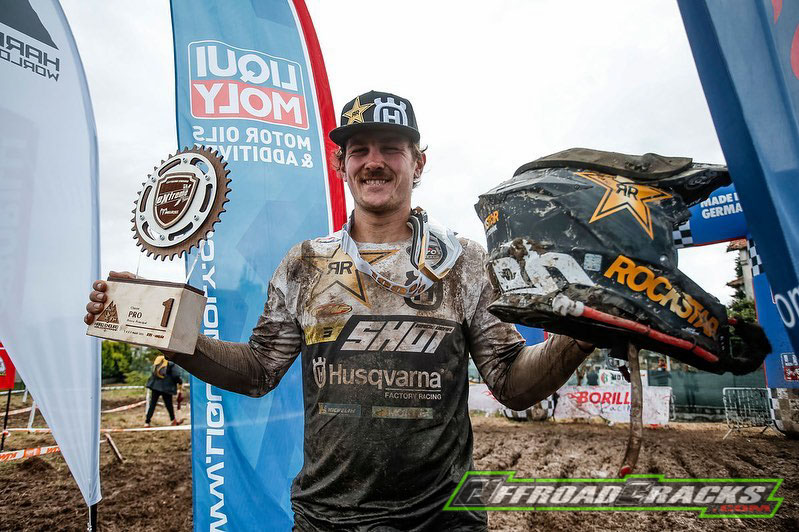 GESAMTWERTUNG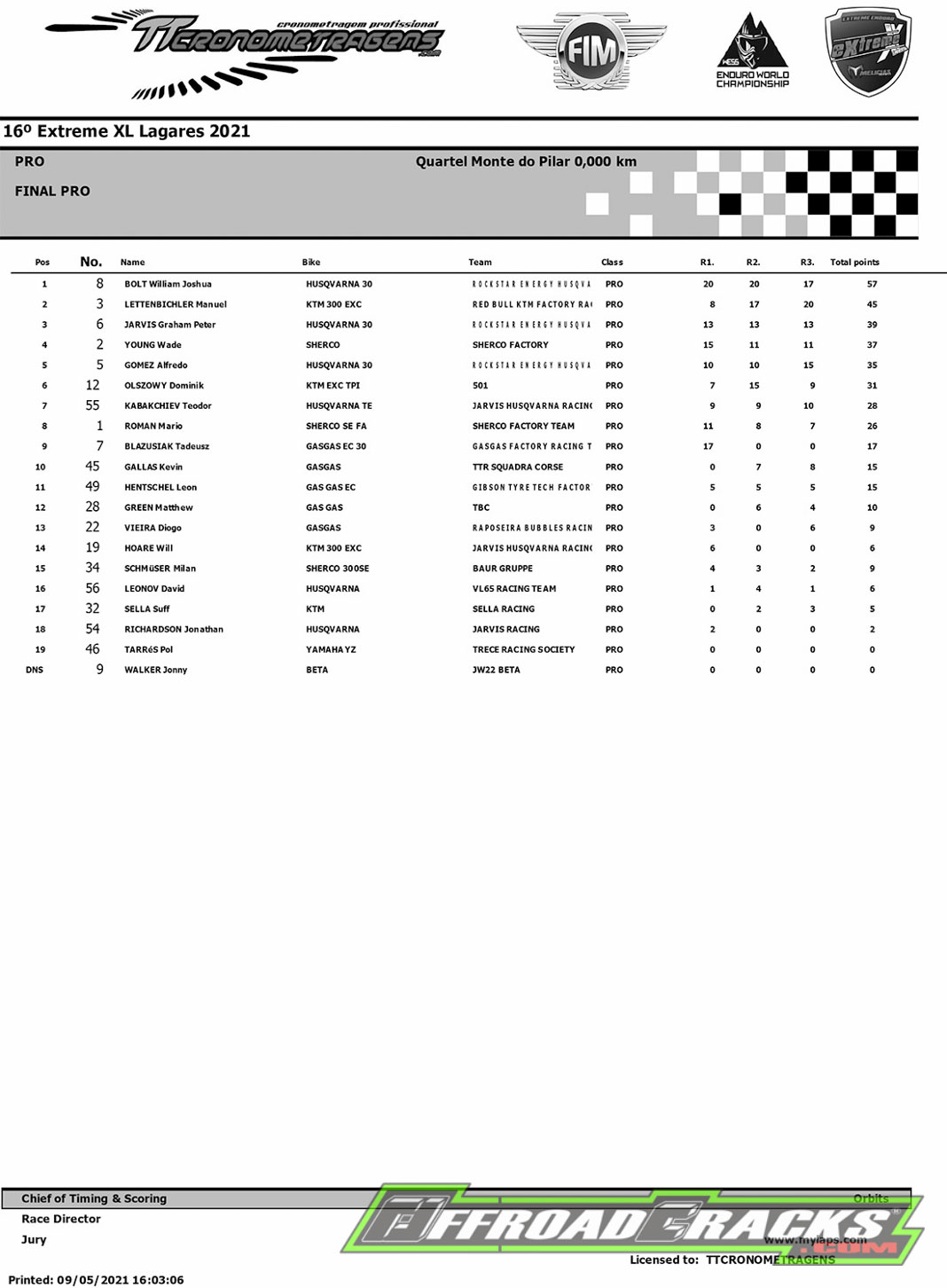 ---

When it wasn't already very difficult to keep the event going because of the corona hot spot, the weather gods struck that night and turned the route into a real mud paradise.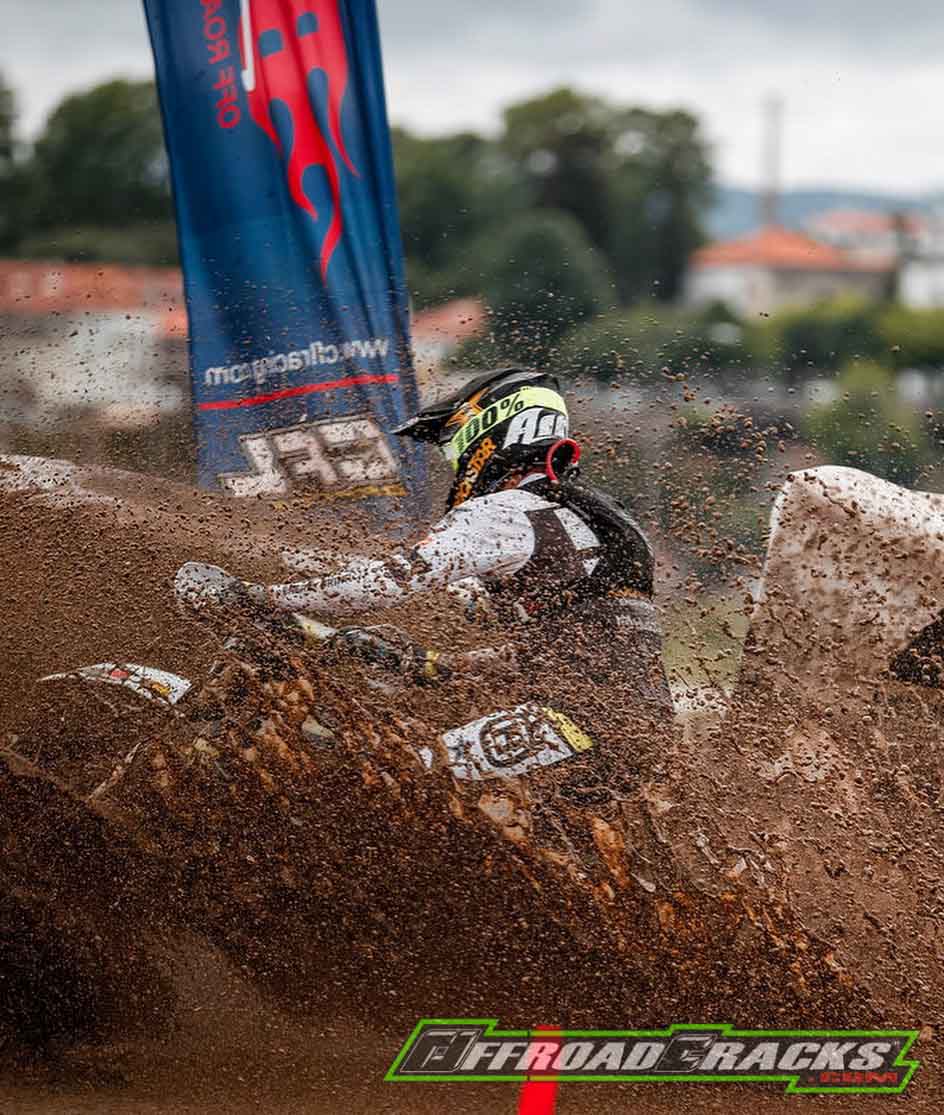 As a result, the organizers and FIM have mutually agreed and for reasons of fairness towards the usual hardenduro terrain of all other events that no championship points will be awarded in the first round of the FIM hardenduro world championship. However, the race was held and, due to the conditions, ensured maximum excitement and amazing placings among the top drivers.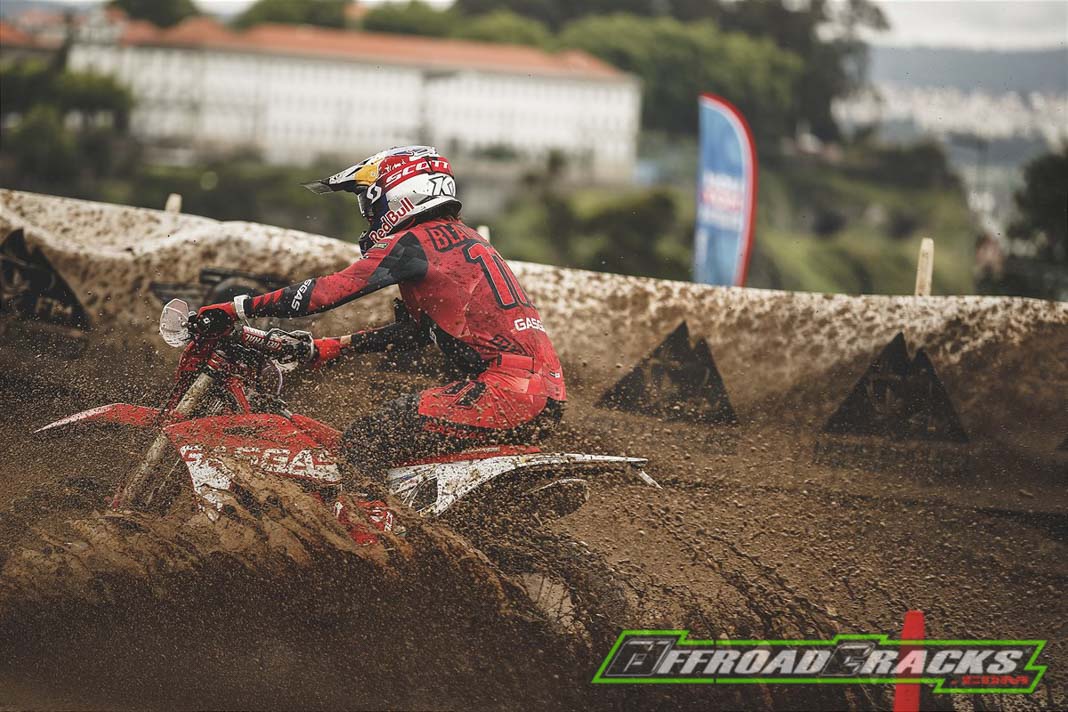 Husqvarna driver Bolt stormed straight to a superior victory in the number one final. In the second race he reinforced his dominance with another start-to-finish victory. However, an early fall in the third race prevented the ambitions of the Englishman, who had a hattrick of 3 wins on his wish list. Despite this, he managed to move up to 2nd place (!) And thus secure the overall victory in what is probably the 'most extraordinary' Extreme XL Lagares. As already mentioned, there were no world cup points, which should certainly be the case at the Erzbergrodeo, unless the pandemic also flexes its muscles here – and it already does: Here all informations about Erzbergrodeo cancellation 2021: LINK!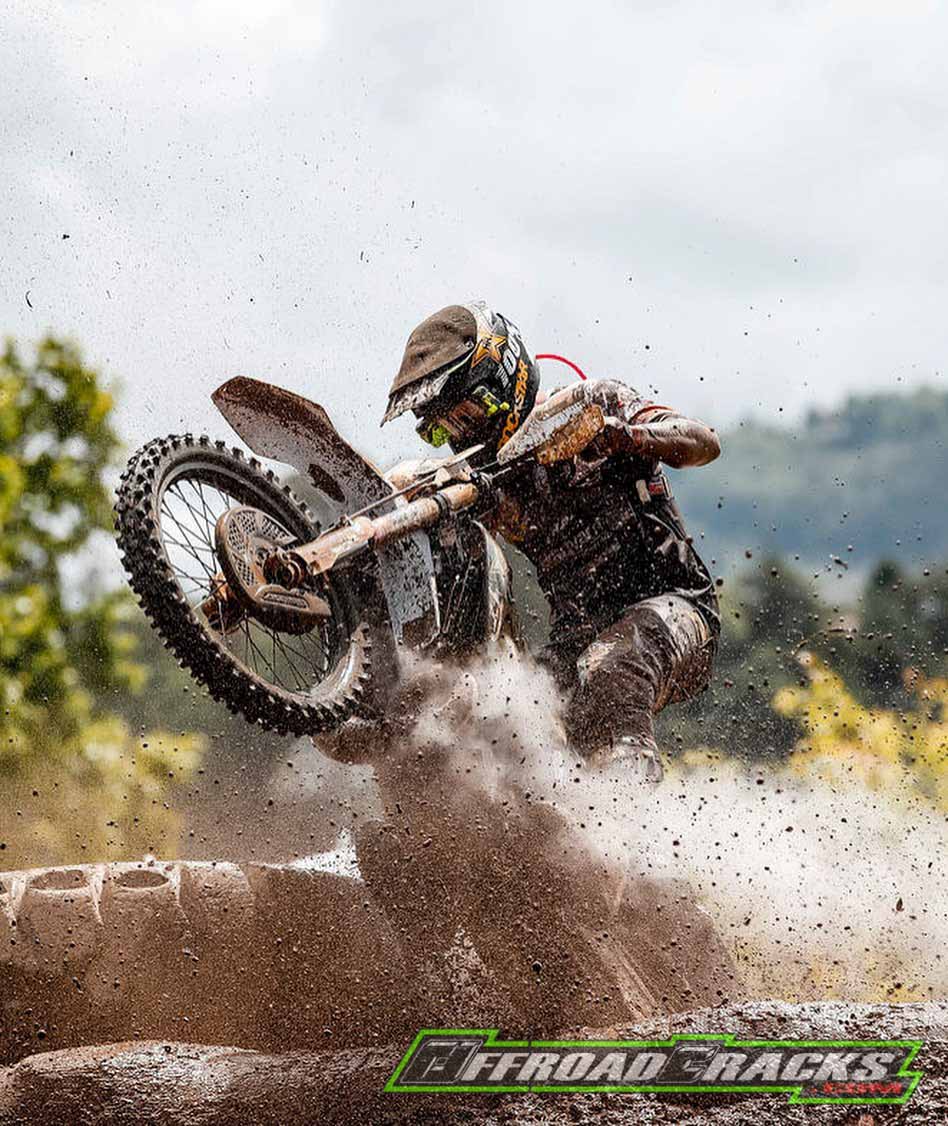 Behind Billy Bolt's impressive performance there was a real battle for the podium. Despite a bad eighth place in race 1, Lettenbichler began to find his rhythm. As second in final 2 he finally delivered as usual and topped this with a victory in race 3, so that it is enough for second overall behind Bolt.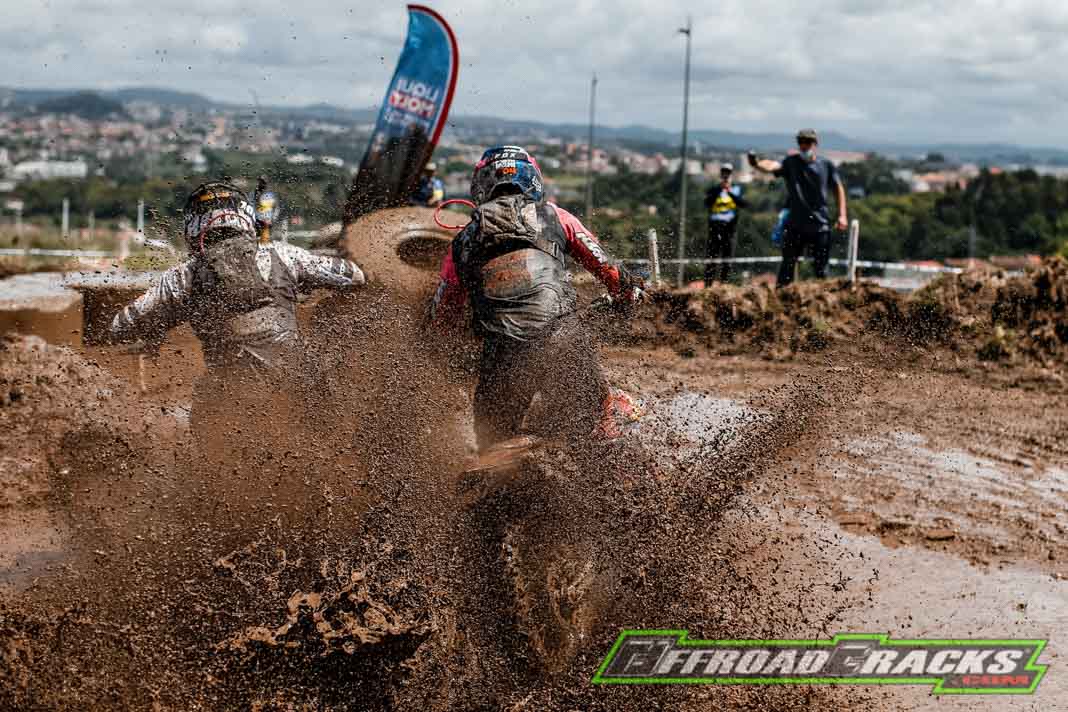 Despite an uneasy qualification on Saturday, it was Graham Jarvis who produced one of the surprise performances of the day. Proving himself a model of consistency, a trio of fourth place results earned him third overall behind Bolt and Lettenbichler.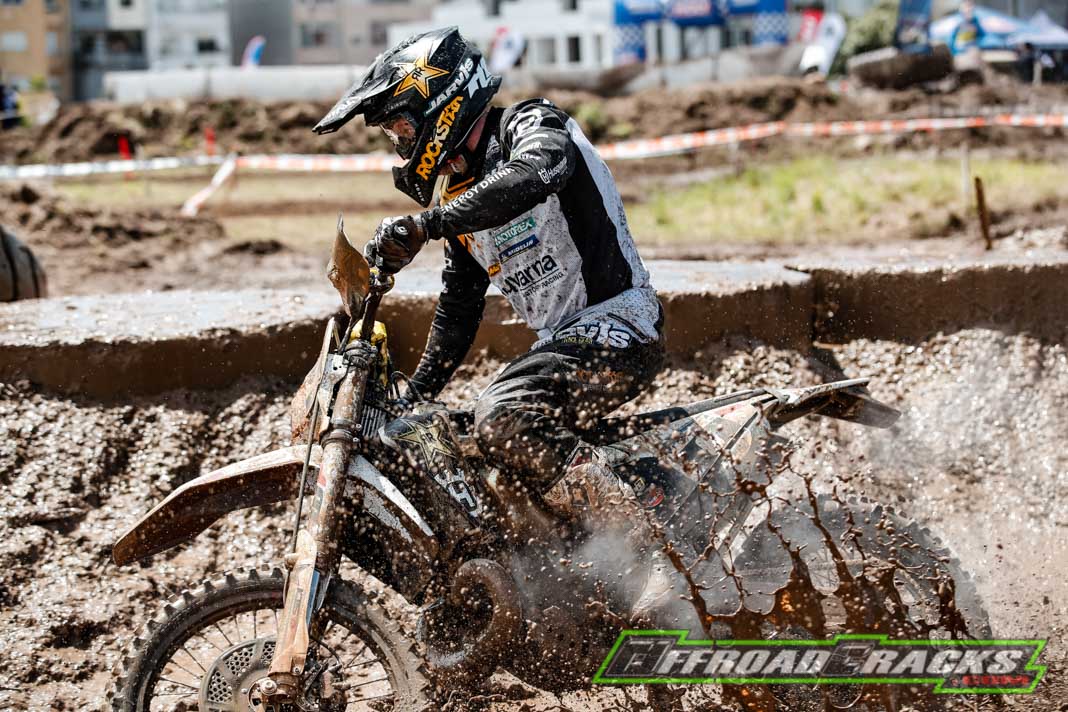 Sherco Factory Racing's Wade Young was another rider to perform well in the Endurocross. Fast starting, he repeatedly placed at the sharp end of the results and thanks to a 4-3-5 scorecard earned fourth overall. Rounding out the top five was Rockstar Energy Husqvarna Factory Racing's Alfredo Gomez.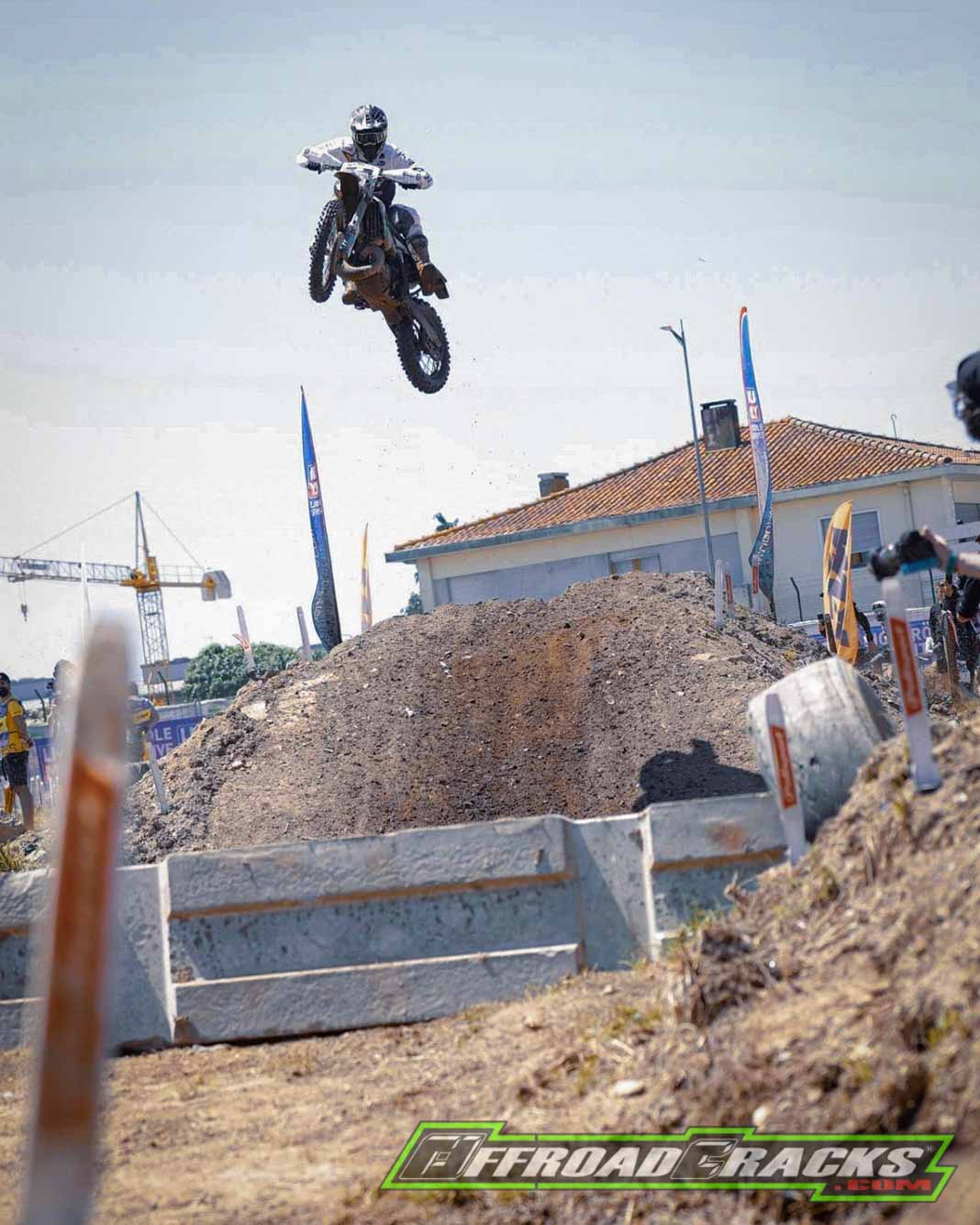 Billy Bolt: "After two good wins, the overall victory nearly got away from me in the final race, thanks to a couple of crashes. My gloves were muddy and it was hard to hang on and go fast. But I knew I had time to chip away and once I got into second I took it home for the overall win. Of course, we didn't get to race in the mountains like we wanted, but everyone made the best of the situation."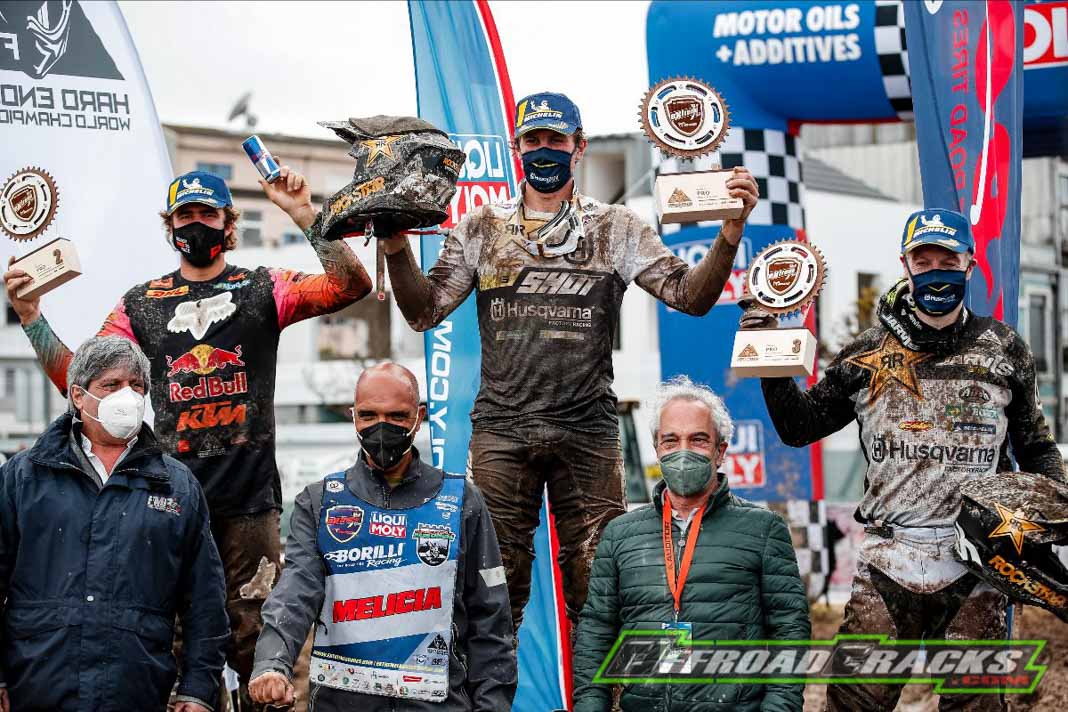 Manuel Lettenbichler: "It was sweet to win that final race. I had a good start and managed to hold off Billy at the end. I didn't know I got second overall until we finished so I'm super stoked about that. Despite everything, it turned into a fun day. Thanks to the organisers for keeping the ball rolling like they did."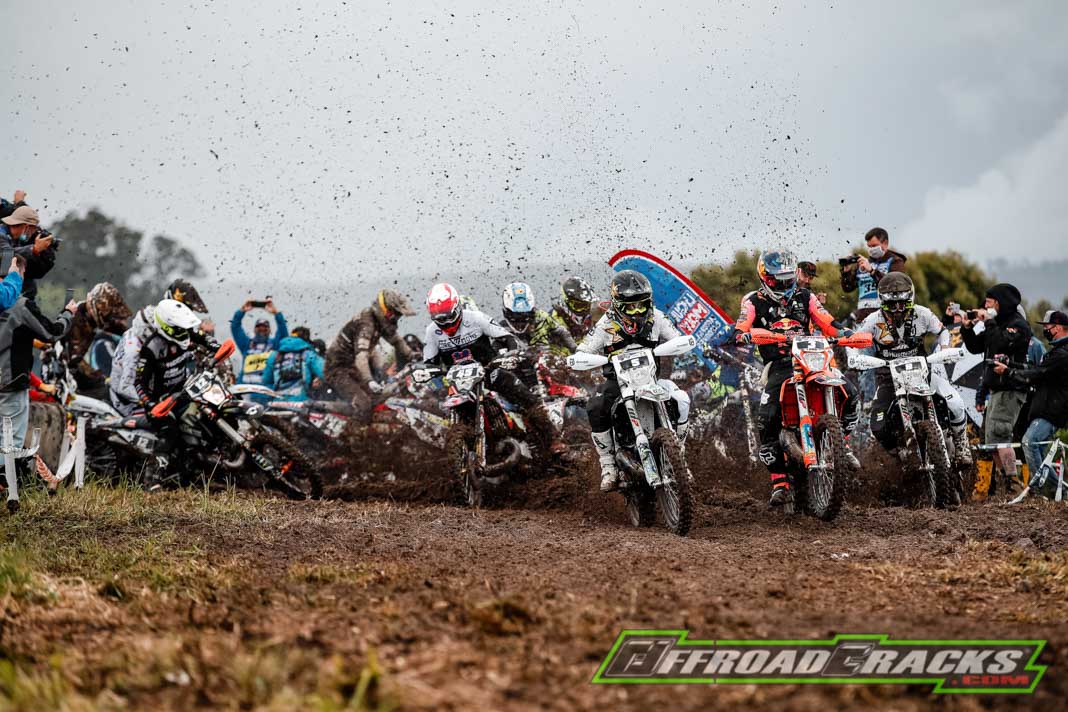 Graham Jarvis: "After the news late on Thursday evening that the original event format wouldn't go ahead, I think everyone, especially the event organisers, made the best of a difficult situation. The mountains are more my style, so to be honest I've surprised myself with third overall. And I think I surprised a few others too. Getting to race today was a bonus and helped me get back into that racing mindset for the rest of the series."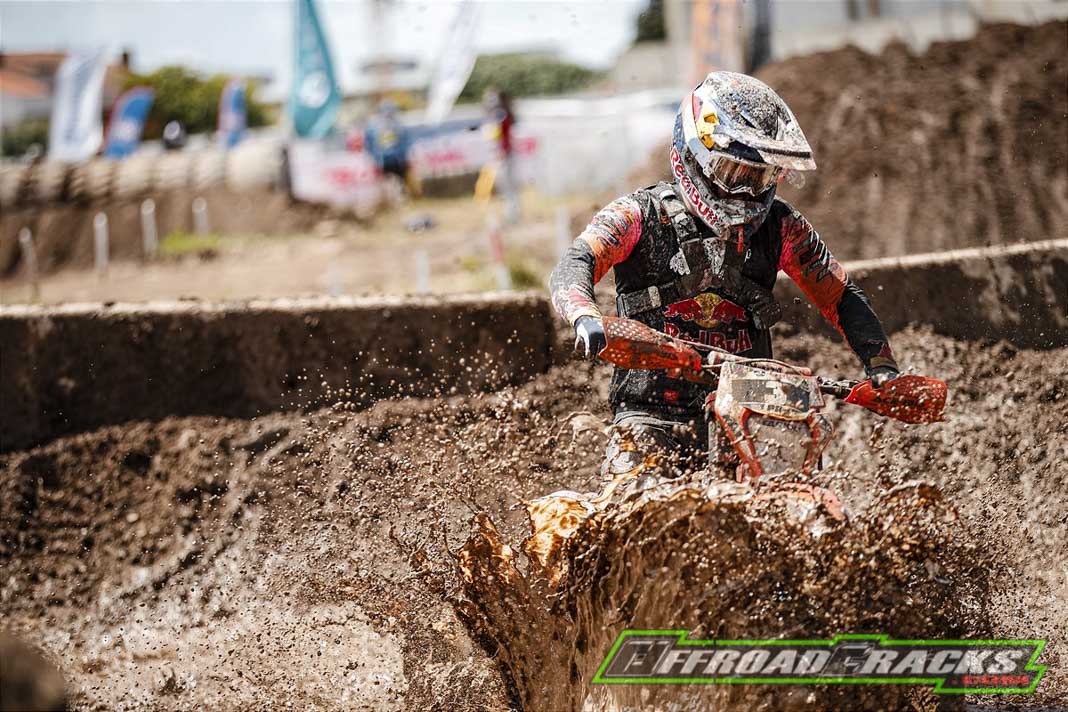 Winfried Kerschhaggl: "We all, especially the local organiser, tried everything possible to deliver a valid alternative of a race after the cancellation of the originally planned main event. With the bad weather conditions adding to the complications already faced, the FIM Jury decided to award no World Championship points for this event. This decision was based on the shared opinion that, despite the very best efforts of the organisers, what was left of the event was not a healthy and fair relation to the other events planned for the championship, and the defining character of these events. It's been a difficult weekend for many, but I want to thank the FIM Jury, and the riders who showed great respect to the organiser by racing on."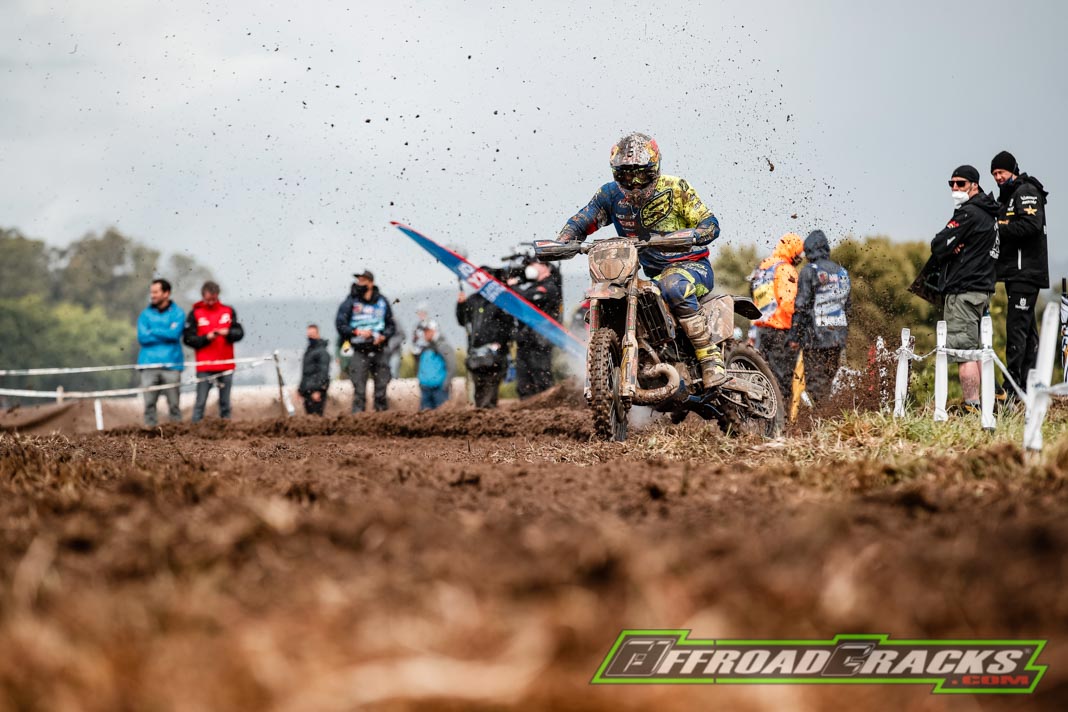 Taddy Blazusiak ended the race early after pain in his knee. Like Jonny Walker, who already had a previous injury, he did not want to take an increased risk of injury in relation to the upcoming races, especially since there were no championship points.
RESULTS
1. Final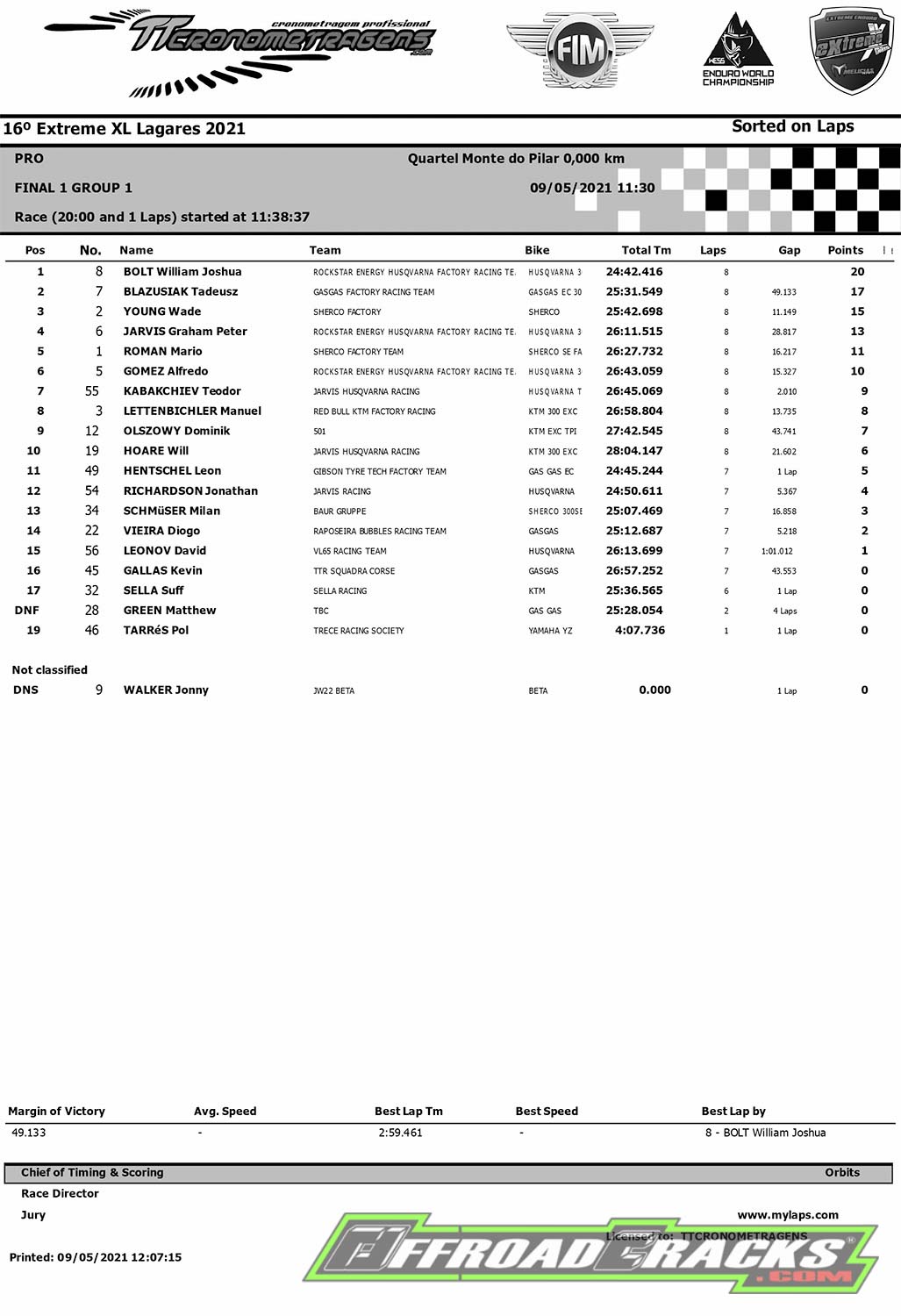 2. Final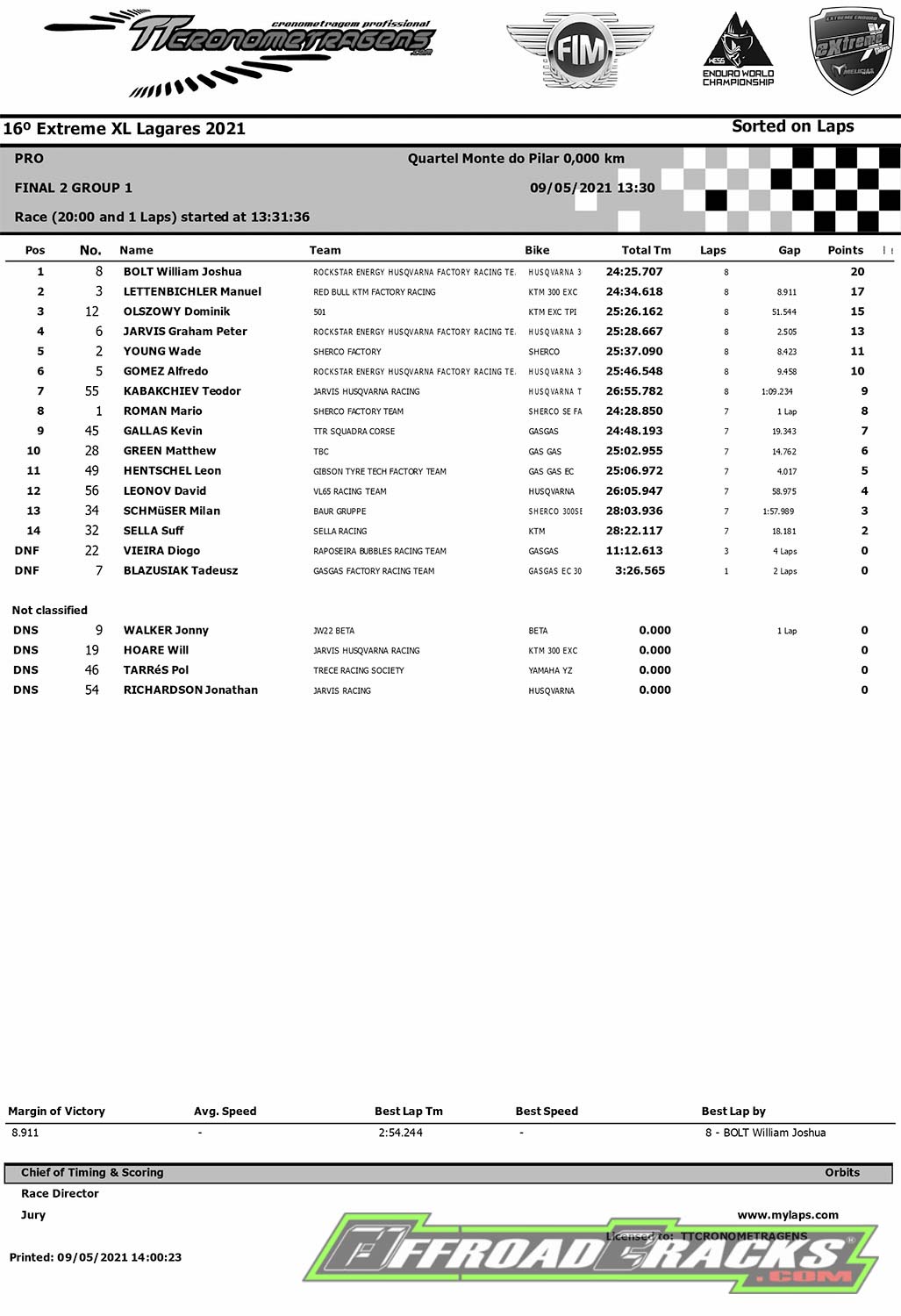 3. Final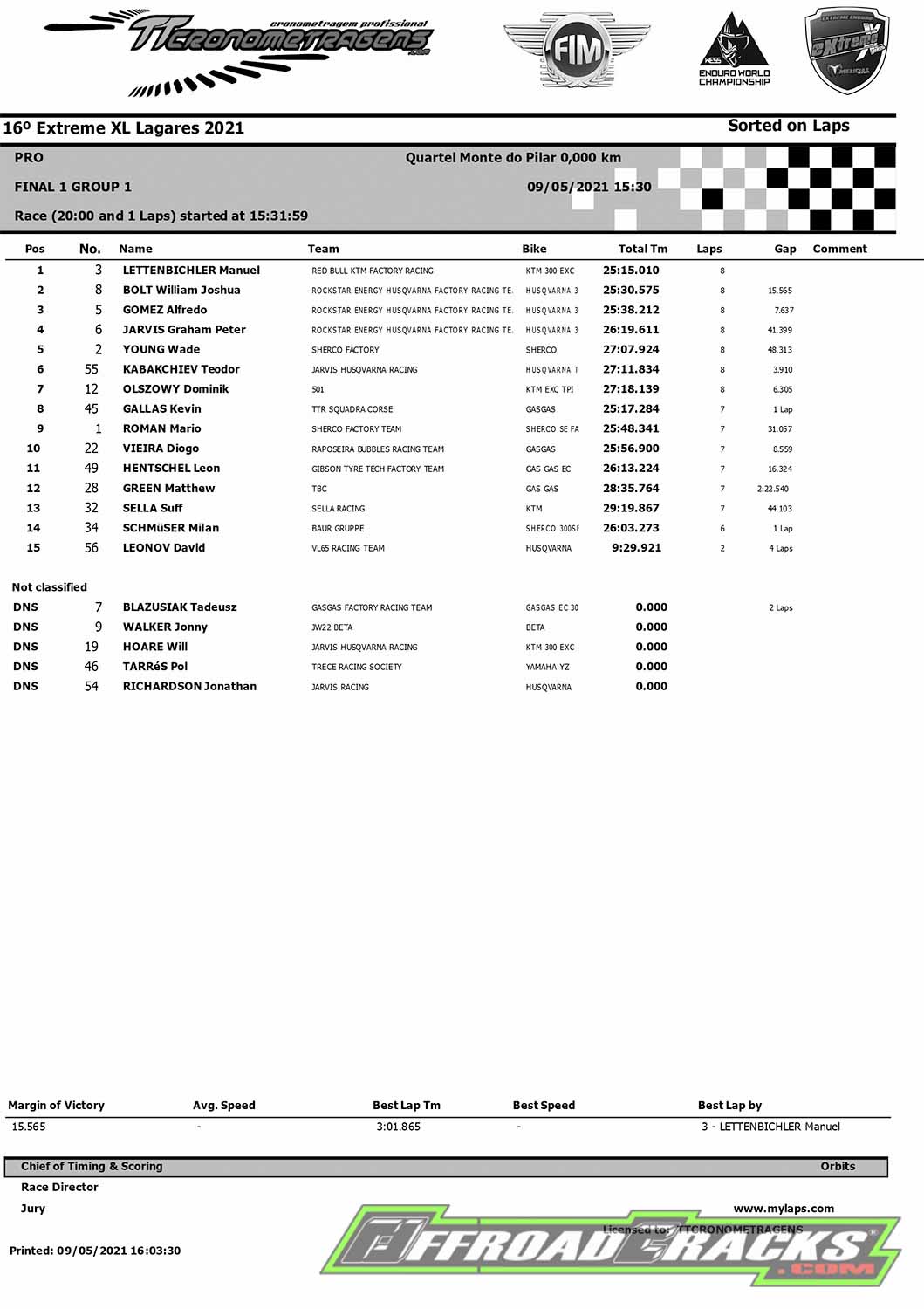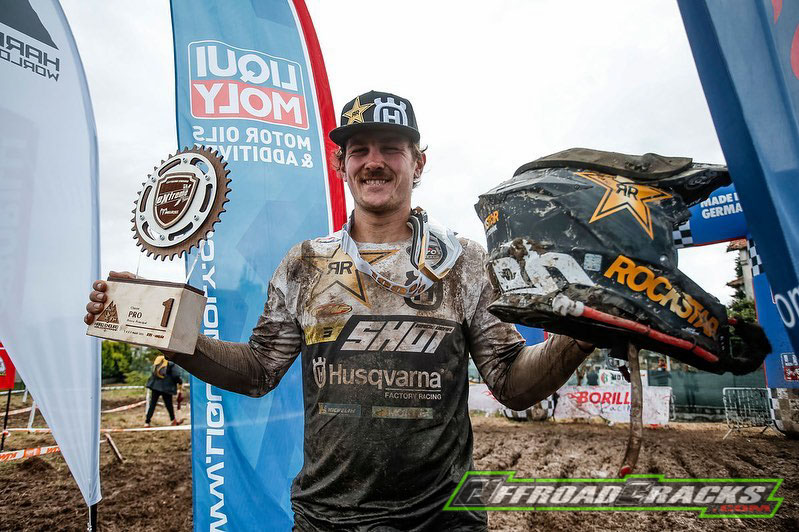 OVERALL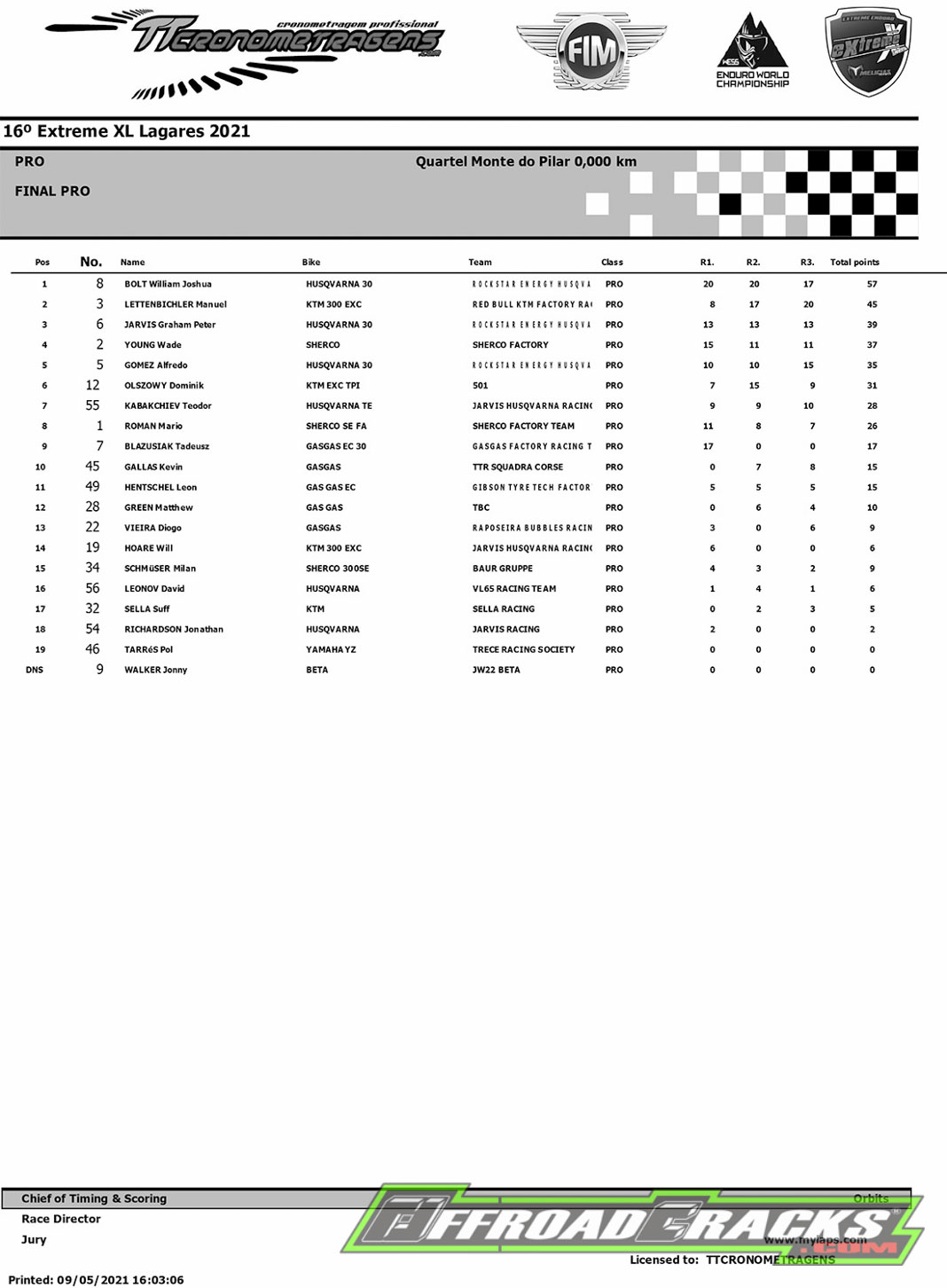 Source / Quelle: Red Bull, FIM Hardenduro, WESS, Extreme XL Lagares, Bolt