ENDRUO DM 2022 – TUCHHEIM
---
HINWEIS: Das Video ist noch deaktiviert, damit keine unerwünschte Datenübertragung zu Youtube stattfindet. Zur Aktivierung bitte auf das Vorschaubild/Video-Link klicken. Damit werden Daten übermittelt, zu deren Art, Umfang und Verwendungszweck wir keineAuskünfte geben können.
---
NOTE: The video is still deactivated so that no unwanted data transfer to YouTube takes place. To activate, please click on the preview image / video link. This transmits data about the type, extent and purpose of which we cannot provide any information.
---

Filip Bengtsson siegt vor Luca Fischeder und Davide von Zitzewitz in der Tageswertung in Tucheim. Dahinter folgt das Trio Yanik Spachmüller, Andreas Beier und Edward Hübner, die sich einen hoch spannenden Schlagabtausch um den E1 Klassensieg lieferten.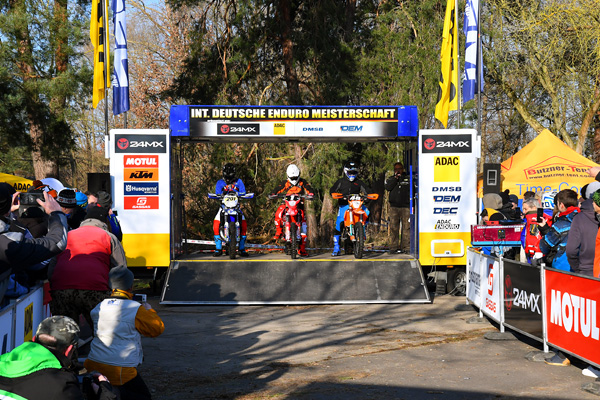 Kalt war es am Morgen, bei Temperaturen knapp unter dem Gefrierpunkt. Doch umso heißer ging es dafür auf der Strecke zur Sache. Die Sonderprüfung, wie auch die Etappe fuhren sich über den Tag immer weiter aus, so dass schier endlos tiefe Rinnen das Bild dominierten. Bedingungen, welche dem Tagessieger Filip Bengtsson offenbar voll in die Karten spielten. Der 30-Jährige ist erst im vergangenen Jahr vom Motocross- in den Endurosport gewechselt und nutzte den DEM-Auftakt, wie fünf weitere Schweden, zu einer persönlichen Standort-Bestimmung. "Es ist wie ein großer Familien-Ausflug", lacht der Husqvarna-Fahrer, der nur lobende Worte übrig hatte, "es war wirklich eine super Veranstaltung, ich habe es sehr genossen. Tolle Tests, schöne Etappe und nette Leute. Mit meiner eigenen Leistung bin ich natürlich sehr zufrieden. Ich hatte einen guten Flow. Nur ab und zu musste ich langsamere Fahrer überholen, was mich zu mancher ungewöhnlichen Spurenwahl zwang. Aber das war kein allzu großes Problem."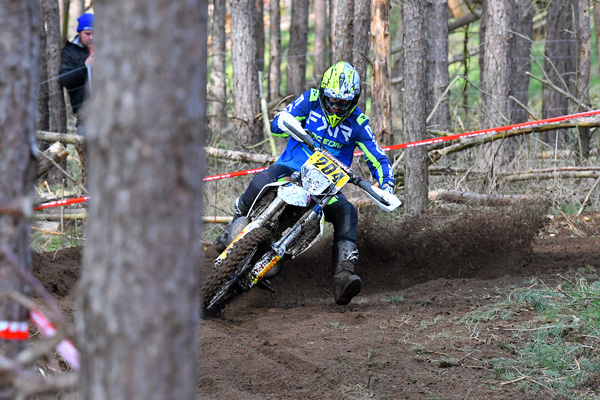 Luca Fischeder reihte sich an zweiter Position ein – im Championat wie auch in der Klasse E3. Der Sherco-Fahrer zeigte sich mit seiner Leistung recht zufrieden, wenngleich auch ein wenig selbstkritisch: "Es war ein guter Tag. Allerdings gab es  auch einige Prüfungen, in denen ich schon etwas Zeit habe liegen lassen. Vor allem im dritten Test mit den tiefen Sandrinnen. Hier mal gestürzt, dort ein wenig stecken geblieben. Es war nicht ohne."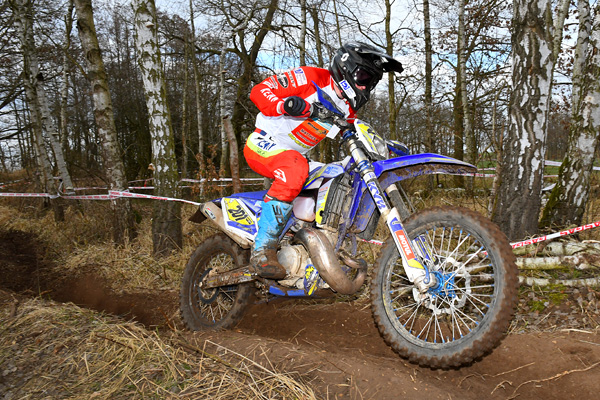 Tagesdritter und zudem Klassensieger in der E2 wurde Davide von Zitzewitz, der sich selbst ein wenig überrascht zeigte. "Ich hatte nicht allzu große Erwartungen. Zumal bei einem Arztbesuch vor zwei Wochen diagnostiziert wurde, dass zwar nach meinem Armbruch die Speiche komplett verheilt ist, die Elle aber nicht. Im schlimmsten Falle, wäre sie wieder gebrochen." Doch davon ließ sich der KTM-Fahrer nicht beeindrucken, auch nicht davon, dass er seine Maschine am Start bei den eisigen Temperaturen nicht rechtzeitig zum laufen brachte und dafür zehn Strafsekunden kassierte. "Es lief von Beginnan richtig gut, ich habe mir keinerlei Druck gemacht. Das Ergebnis ist natürlich super, ich bin extrem happy. Es fühlt sich gut an, nach so einer langen Pause wieder zurück und wieder voll da zu sein!"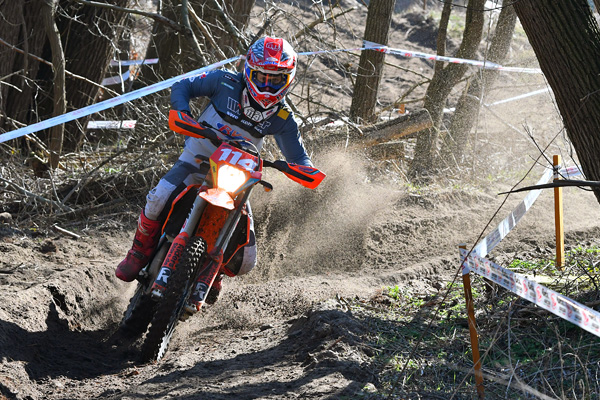 Tagesvierter wurde Yanik Spachmüller, der am Ende Andreas Beier noch um einen Platz verdrängen und so den E1-Tagessieg perfekt machen konnte. "Das hätte ich nicht erwartet. Ich war selbst überrascht, dass es von Anfang an so gut lief. In der zweiten Runde hatte ich einen kleinen Durchhänger, konnte mich dann aber wieder gut fangen und noch einmal attackieren", zeigt sich der GasGas-Fahrer sichtlich stolz.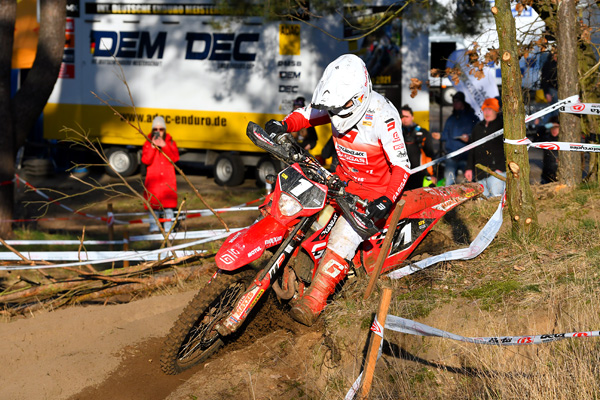 Andreas Beier auf der KTM war hingegen nicht ganz so glücklich: "Ich habe durch einen heftigen Abflug im drittletzten Test den möglichen Tagessieg verspielt, das ist extrem ärgerlich." Edward Hübner, knapp dahinter, attestiert hingegen seinen beiden E1-Konkurrenten, "eine starke Leistung von den zweien. Es war ein toller Fight. Ich denke, da steht uns in diesem Jahr noch einiges bevor", schmunzelt der KTM-Fahrer.
Siebenter im Championat wurde mit Casper Lindholm ein weiterer Gaststarter aus Schweden, gefolgt vom KTM-Trio Florian Görner, Chris Gundermann und Tilman Krause. Die Junioren-Kategorie gewann Milan Schmüser auf Sherco, der allerdings nur zu gern auch unter die Top Zehn gefahren wäre, aber dort dennoch respektabler Dreizehnter wurde. Die Chance dieses Ziel zu erreichen, besteht schon in drei Wochen bei "Rund um Dahlen", dann vielleicht auch wieder mit starker Konkurrenz aus Schweden? "Ich bin definitiv am überlegen", lacht Filip Bengtsson, der Tagessieger von "Rund um den Fiener" 2022.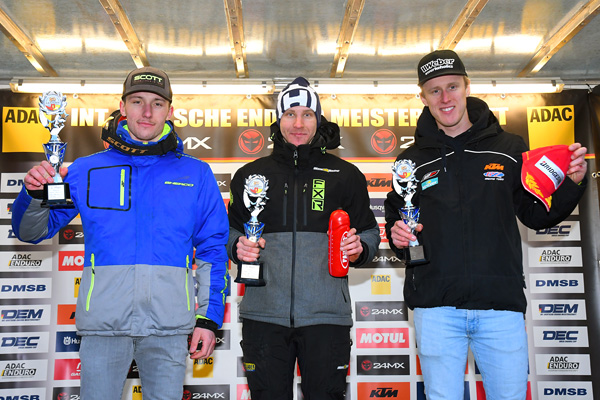 Alle Ergebnisse:
---

Filip Bengtsson wins the day's classification in Tucheim ahead of Luca Fischeder and Davide von Zitzewitz. Behind them is the trio of Yanik Spachmüller, Andreas Beier and Edward Hübner, who fought a very exciting exchange of blows for the E1 class victory.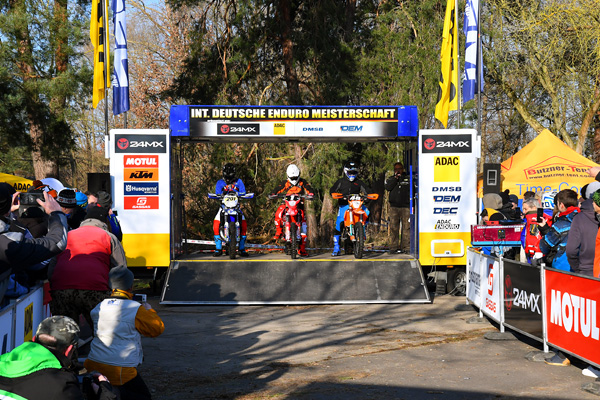 It was cold in the morning, with temperatures just below freezing. But things got all the hotter on the track. The special stage, like the stage, continued to develop throughout the day, so that seemingly endless deep gullies dominated the picture. Conditions that clearly played into the hands of the day's winner, Filip Bengtsson. The 30-year-old switched from motocross to enduro last year and, like five other Swedes, used the start of the DEM to determine his personal position. 'It's like a big family outing,' laughs the Husqvarna driver, who only had words of praise, 'it was really a great event, I really enjoyed it. Great tests, nice stage and nice people. Of course, I'm very happy with my own performance. I had a good flow. Only occasionally did I have to overtake slower drivers, which forced me to make some unusual lane choices. But that wasn't too much of a problem."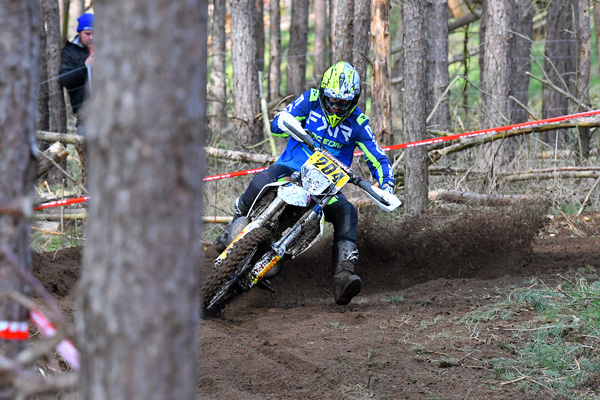 Luca Fischeder took second place – in the championship as well as in the E3 class. The Sherco driver was quite happy with his performance, albeit a little self-critical: "It was a good day. However, there were also some exams in which I lost some time. Especially in the third test with the deep sand channels. Fell down here, got stuck a little there. It wasn't without it.'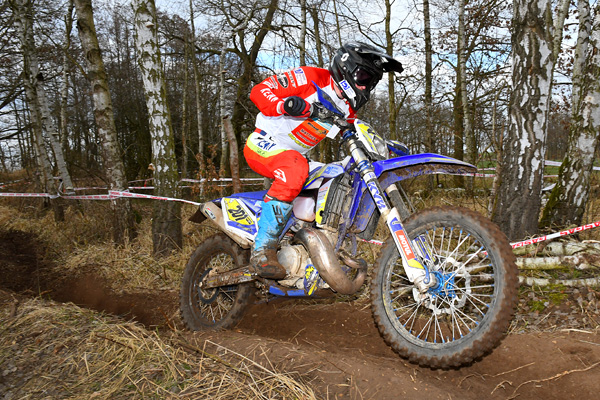 Third on the day and also class winner in the E2 was Davide von Zitzewitz, who was a little surprised himself. 'I didn't have too many expectations. Especially since during a doctor's visit two weeks ago it was diagnosed that although the radius of my arm had healed completely, the ulna had not. In the worst case, it would have broken again." But the KTM driver wasn't impressed by that, nor by the fact that he didn't get his machine running in time at the start in the icy temperatures and received a ten-second penalty for doing so. "It went really well from the start, I didn't put any pressure on myself. The result is great, of course, I'm extremely happy. It feels good to be back and back after such a long break!"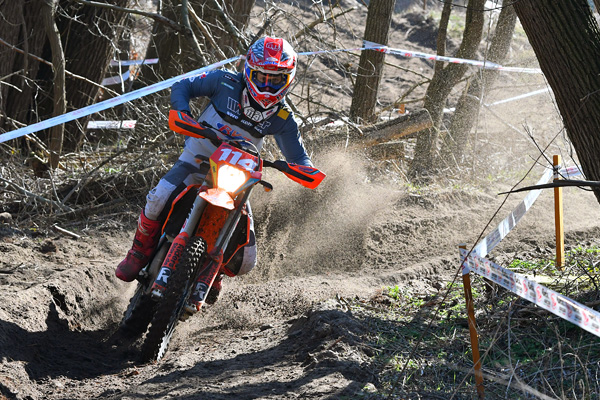 Fourth of the day was Yanik Spachmüller, who in the end pushed Andreas Beier down by one place and was thus able to complete the E1 day's victory. 'I would not have expected this. I was surprised myself that it went so well from the start. I had a bit of a slack on the second lap, but then I was able to catch myself and attack again," says the GasGas driver, visibly proud.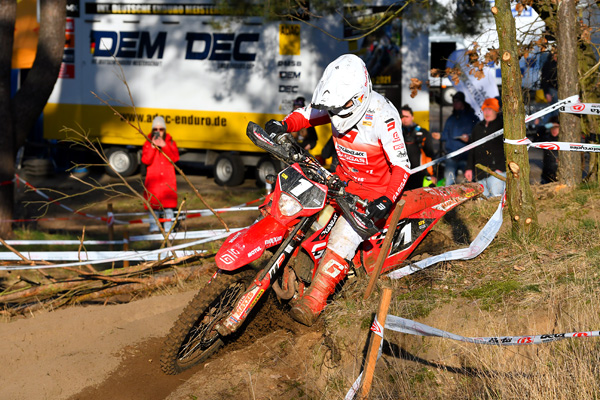 Andreas Beier on the KTM, on the other hand, was not quite so happy: 'I gambled away the possible day's victory due to a violent crash in the third to last test, which is extremely annoying.' Edward Hübner, just behind, attests his two E1 competitors, 'a strong one performance of the two. It was a great fight. I think we still have a lot ahead of us this year," the KTM rider says with a smile.
Another guest starter from Sweden, Casper Lindholm, finished seventh in the championship, followed by the KTM trio Florian Görner, Chris Gundermann and Tilman Krause. The junior category was won by Milan Schmüser on Sherco, who would have loved to finish in the top ten, but still finished a respectable thirteenth there. There's a chance of achieving this goal in three weeks' time with 'Rund um Dahlen', then maybe with strong competition from Sweden again? 'I'm definitely thinking about it,' laughs Filip Bengtsson, the day's winner of 'Rund um den Fiener' 2022.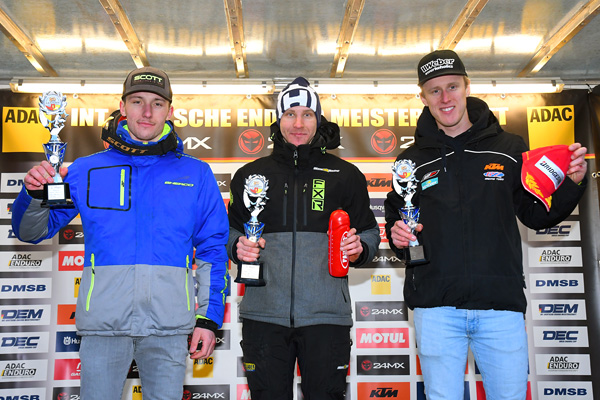 Quelle / Source: Enduro DM