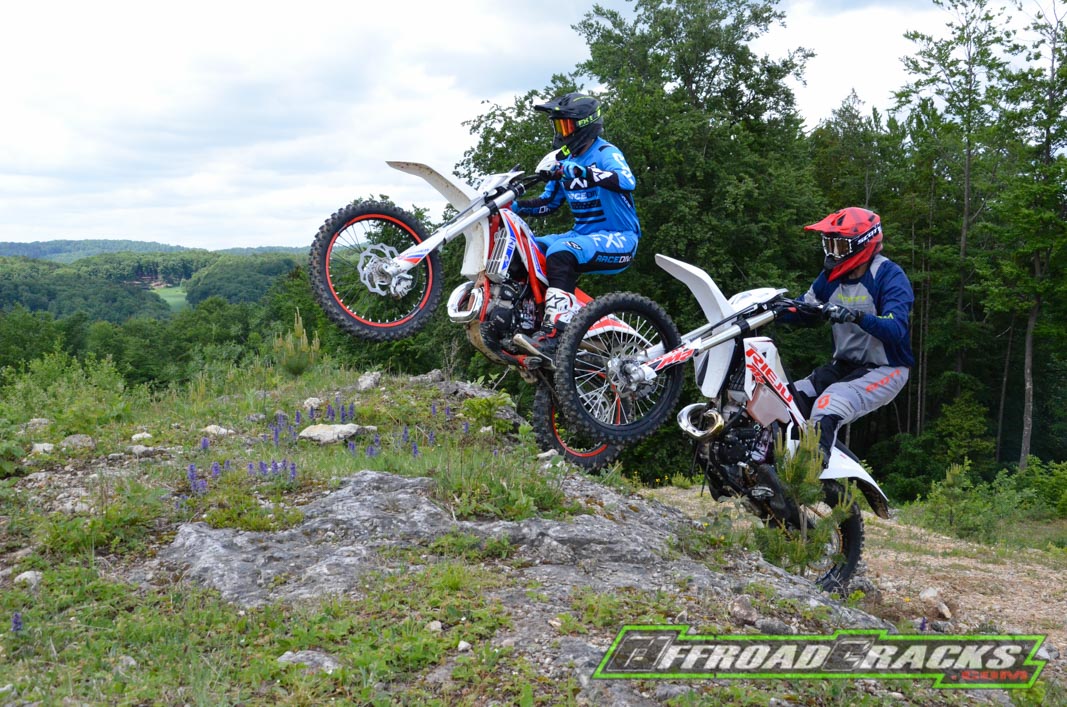 Weniger ist mehr für den Start in den Endurosport? Reduzierte Sitzhöhe, geringes Gewicht und angepasste Motorleistung machen es möglich. Wir haben uns die beiden besten Einsteiger-Enduros am Markt auf Herz und Nieren geprüft.
---
DIREKTLINKS / Direct links

TECHNISCHE DATEN / TECHNICAL SPECS
LEISTUNGSDIAGRAMME & PRÜFSTANDSLAUF / PERFORMANCE DIAGRAMS & VIDEO
WEITERE IMPRESSIONEN / MORE IMPRESSIONS
---
Schwindelerregende Sitzhöhen von satten 96 Zentimetern ist bei den heutigen Sportenduros  mit üppigen 300 Millimetern Federweg und mehr der gängige Standard. Doch für Körpergrößen unter 1,70 Meter oder als Einsteiger in den Endurosport kann es mit den klassischen Sportenduro schwierig werden die Kontrolle zu behalten, während man noch mit Fahrzeug, Fahrtechnik und dem Gelände beschäftigt ist. Da hilft es natürlich ungemein, wenn man in nahezu jeder Situation Bodenkontakt mit den Füßen halten kann, die Motorleistung seidenweich zu dosieren ist und das Fahrzeuggewicht kein Workout im Fitness-Studio voraussetzt. Und schon sind wir bei dem italienischen Hersteller Betamotor und dem spanischen Äquivalent von Rieju gelandet.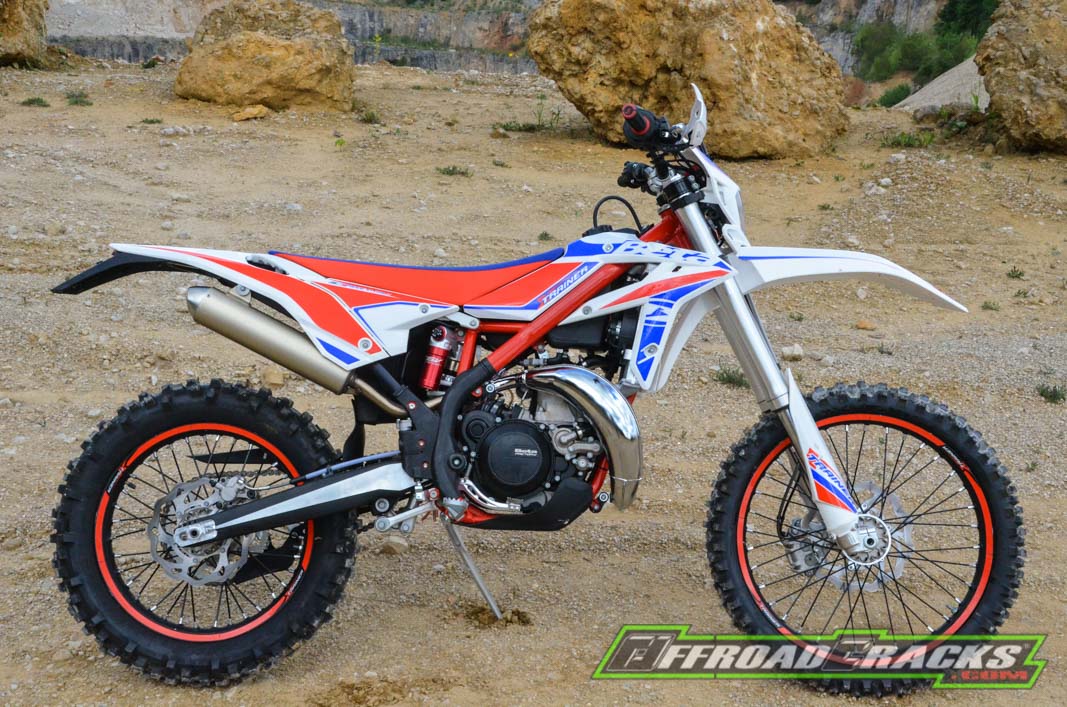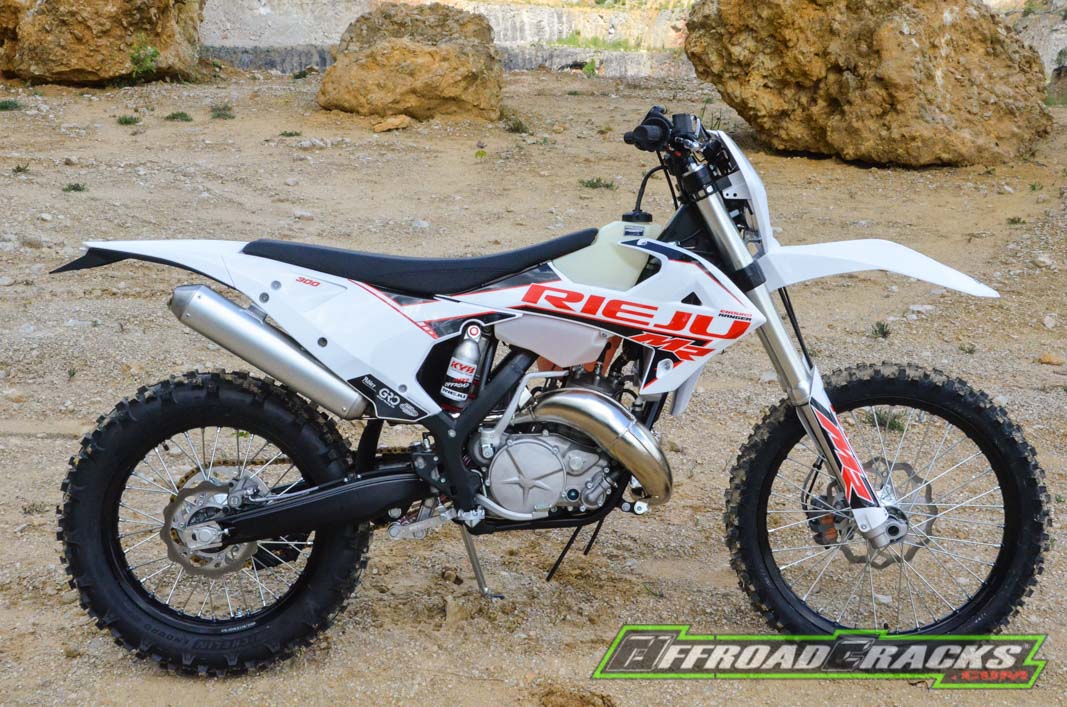 Deren Produkte erfüllen ab Werk genau diese speziellen Anforderungen und müssen nicht erst aufwändig mit Federwegskürzungen, samt Abpolsterung der Sitzbank und Anpassung der Motorleistung auf die persönlichen Bedürfnisse angepasst werden. Für dieses Anforderungsprofil fällt die  Beta 300 Xtrainer und die Rieju MR 300 Ranger exakt in das Beuteschema. Die Beta 300 Xtrainer besitzt eine Sitzhöhe von 91 Zentimetern, was aber wegen der soften und komfortablen Fahrwerks-Abstimmung nach dem Platznehmen noch um einige Zentimeter nach unten korrigiert werden darf. Die Rieju MR 300 Ranger aus Spanien bietet 92 Zentimeter, aber auch hier ist durch das Platznehmen des Fahrers eine Höhenkorrektur nach unten einzuplanen. Rieju realisiert diese Tatsache durch passende Kayaba-Federungskomponenten. Das bedeutet 270 Millimeter vorn und 280 Millimeter hinten.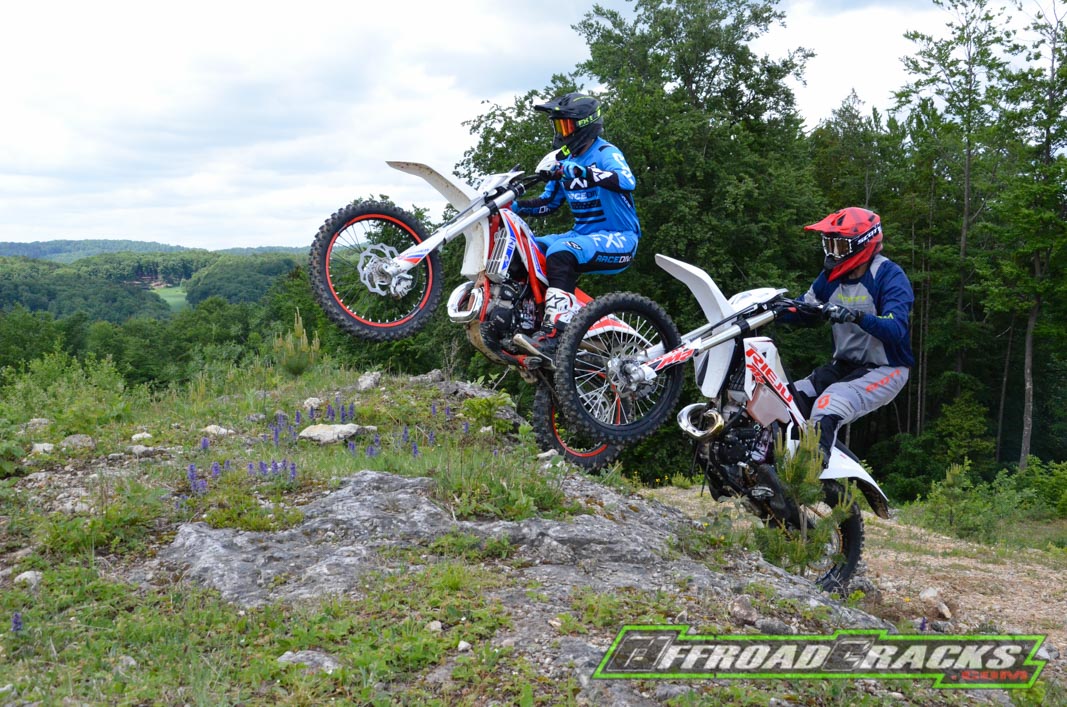 Da die Rieju den Rahmen der Sportenduros verwendet fällt ihre Silhouette entsprechend größer aus. Dagegen ist die Beta Xtrainer schon eine deutlich schmalere und kompaktere Enduro. Hintergrund? Bei der Italienerin kommt ein völlig neuer Rahmen im Deltabox-Design zum Einsatz, der sie deutlich schmaler in der Tank-Kühler-Kombination werden lässt. Trotzdem konnte man erstaunlicherweise eine Tankkapazität von 8,5 Litern realisieren.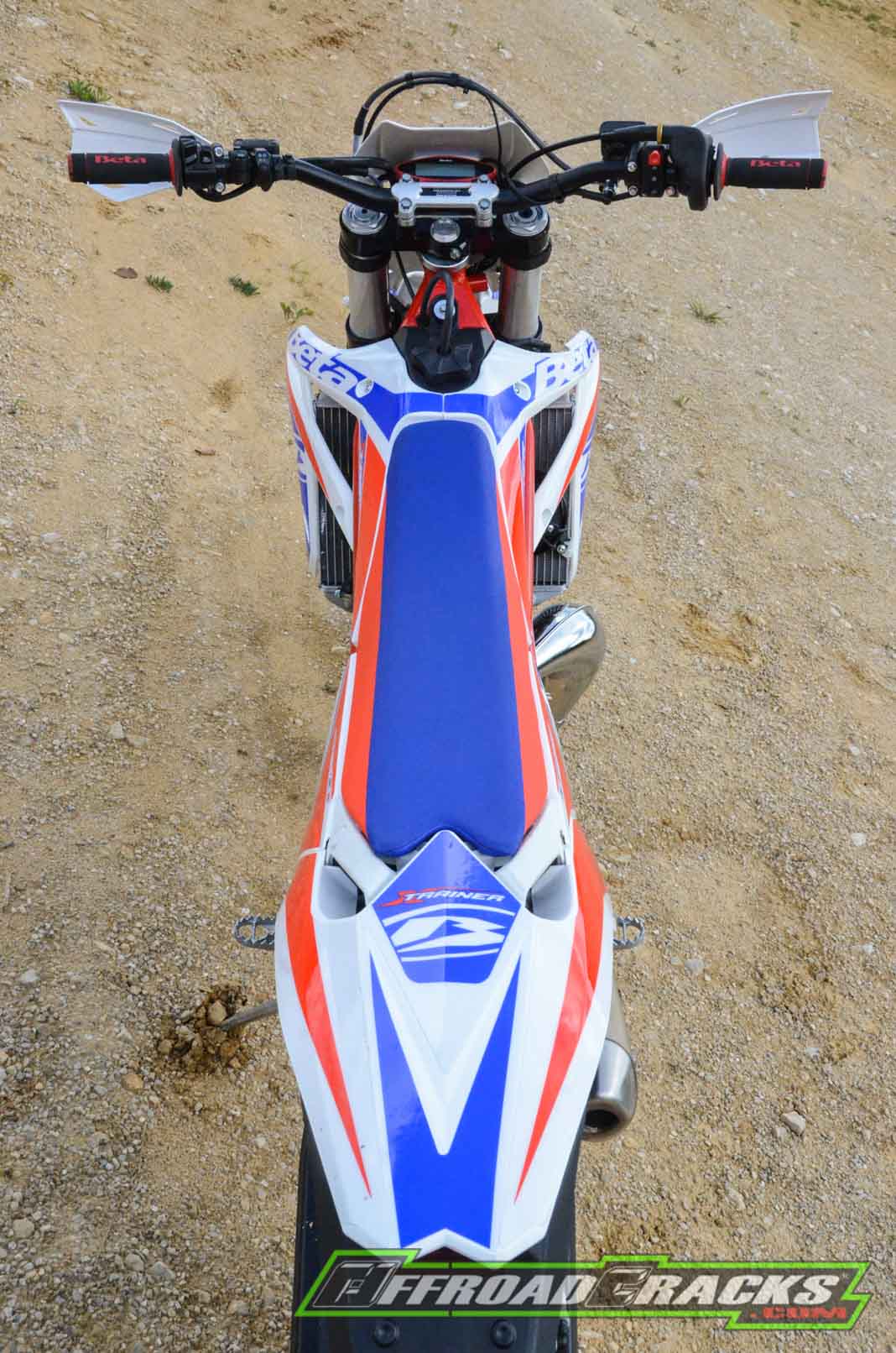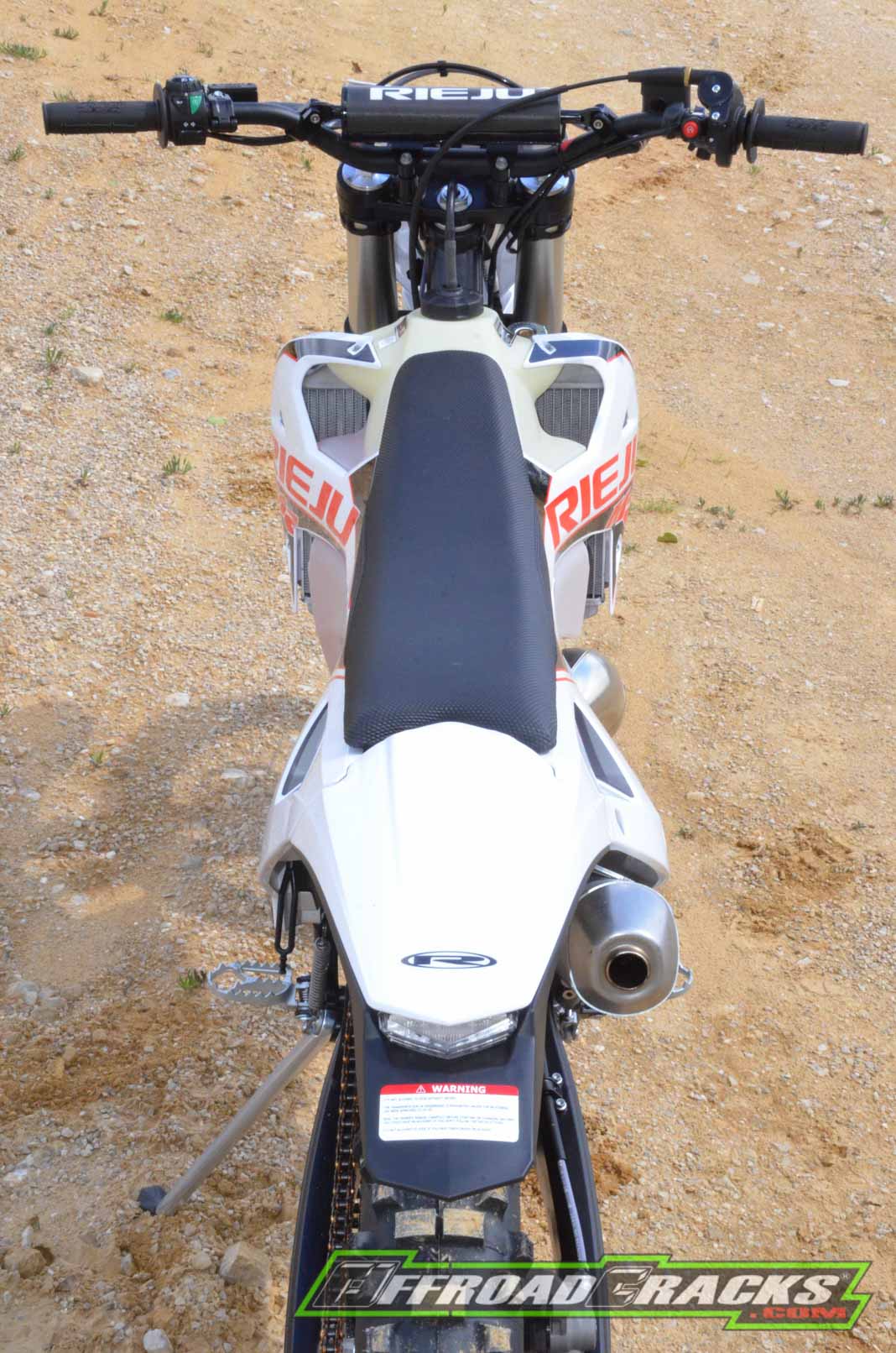 Das Herzstück mit 300 Kubikzentimetern Hubraum stammt von der Sportenduro und wurde hinsichtlich der Höchstleistung eingebremst. Das beinhaltet eine abgeänderte Verdichtung ein neues Zylinder-Design und ein pro Drehmoment designter Krümmer mit Schalldämpfer sowie eine voll einstellbare Auslasssteuerung.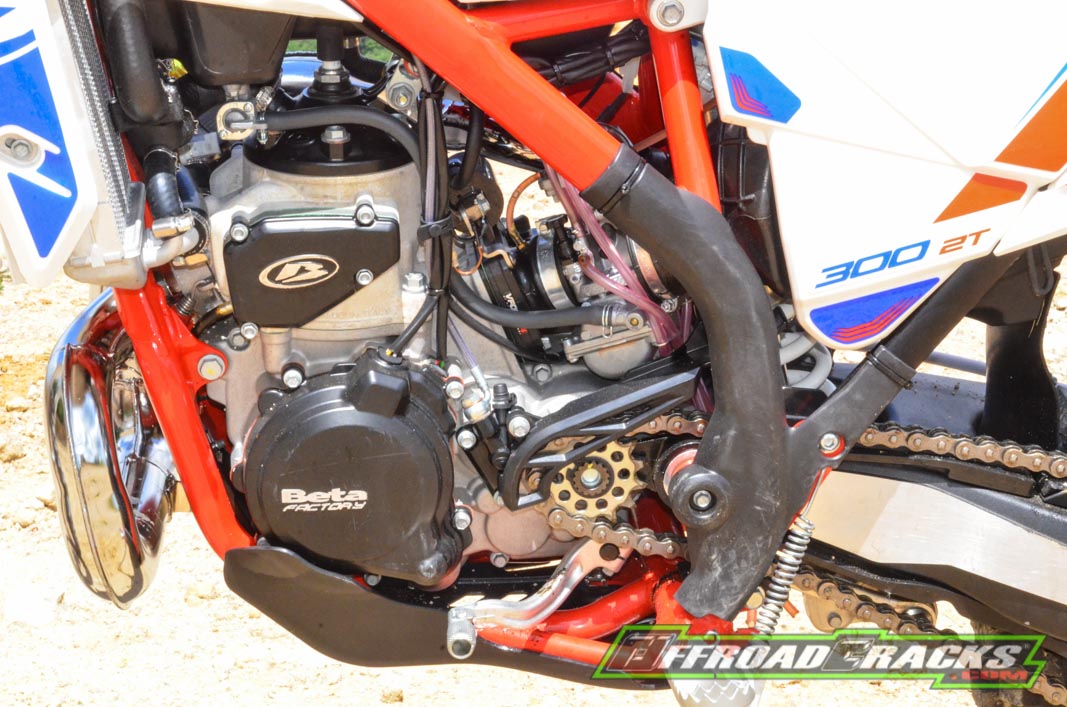 Annähernd Gleiches gilt für die Rieju, deren 300er Kraftwerk ebenfalls aus der Sportenduro-Riege stammt, in ähnlicher Form gedrosselt wurde und auch eine einstellbare Auslasssteuerung besitzt.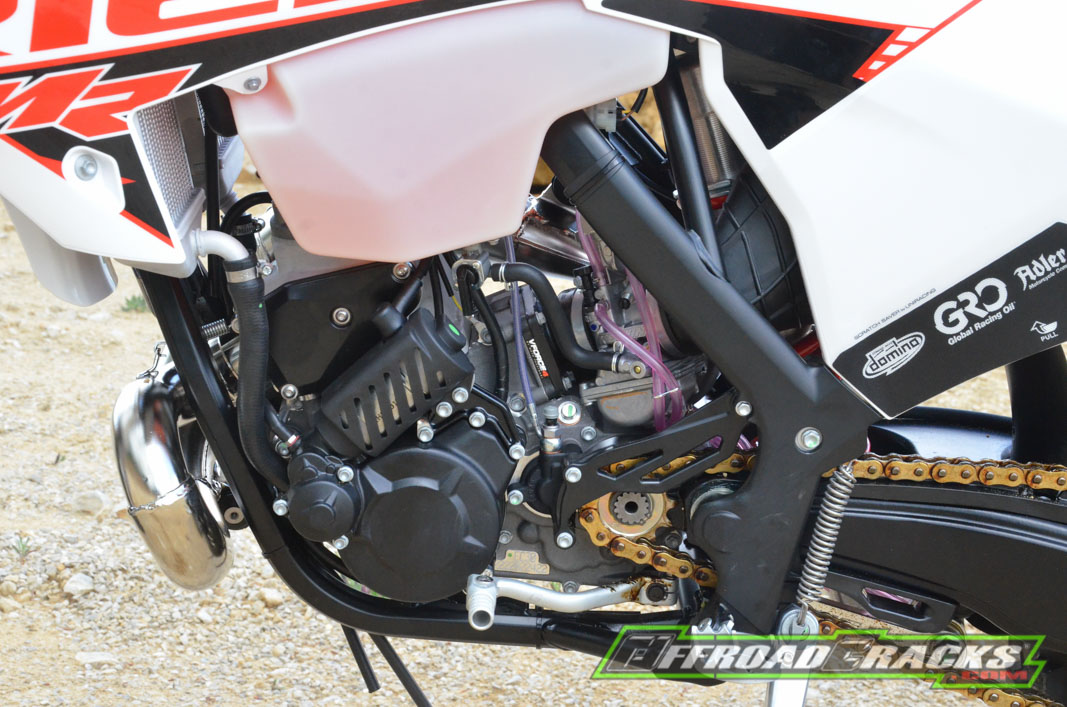 Doch letztendlich hängt alles davon ab, wie einfach die gedrosselte Motorleistung ab Leerlauf-Drehzahl dosierbar ist und dafür ging es zunächst auf den Leistungsprüfstand, um die Höchstleistung festzustellen.
LEISTUNGSDIAGRAMME
OC Leistungsdiagramme - BETA 300 Xtrainer & RIEJU MR 300 Ranger 2022_OC

DREHMOMENTDIAGRAMME
OC Drehmomentdiagramm - BETA 300 Xtrainer & RIEJU MR 300 Ranger 2022_OC

ACHTUNG: Hierbei handelt es sich um eine Messung auf einem Dynojet 250i Prüfstand. Bitte beachtet bei einem Leistungsvergleich mit anderen Fahrzeugen, dass je nach Prüfstandmodell/-Hersteller Abweichungen von bis zu zehn Prozent auftreten können. Deshalb führen wir zu absoluten Transparenz unsere Messung stets auf dem gleichen Prüfstand unter identischen Bedingungen durch!
Wie jedem bekannt sein dürfte, generieren die 300er Zweitakt-Sportenduros zwischen 47 und 51 PS an Spitzenleistung. Diese sind unter der Prämisse eines Einsteigers oder Umsteigers natürlich nicht gefordert. Die Beta darf als Erste ran und bleibt bei 36,6 PS hängen, während die Rieju bei 35,3 PS ihr Limit setzt. Doch viel wichtiger ist der Leistungsverlauf und hier hat man bei Beta einen hervorragenden Job gemacht, betrachtet man die überdurchschnittlich gleichmäßige Kurve im Diagramm. Hinsichtlich des Drehmoments generiert die Rieju 34,1 Newtonmeter, während die Beta mit 36,7 Newtonmeter deutlich darüber liegt. Nimmt man noch das geringe Fahrzeuggewicht von 115 bis 116 Kilogramm mit ins Kalkül, dann lässt sich schon einiges für den spielerischen Ersteinsatz im Gelände erahnen.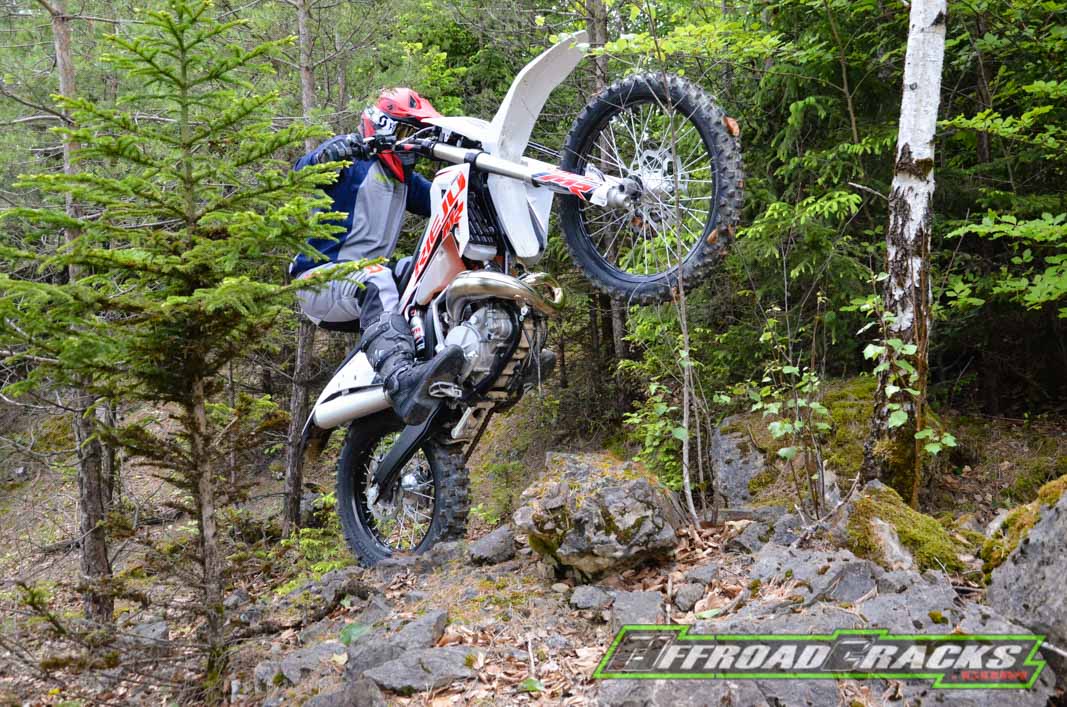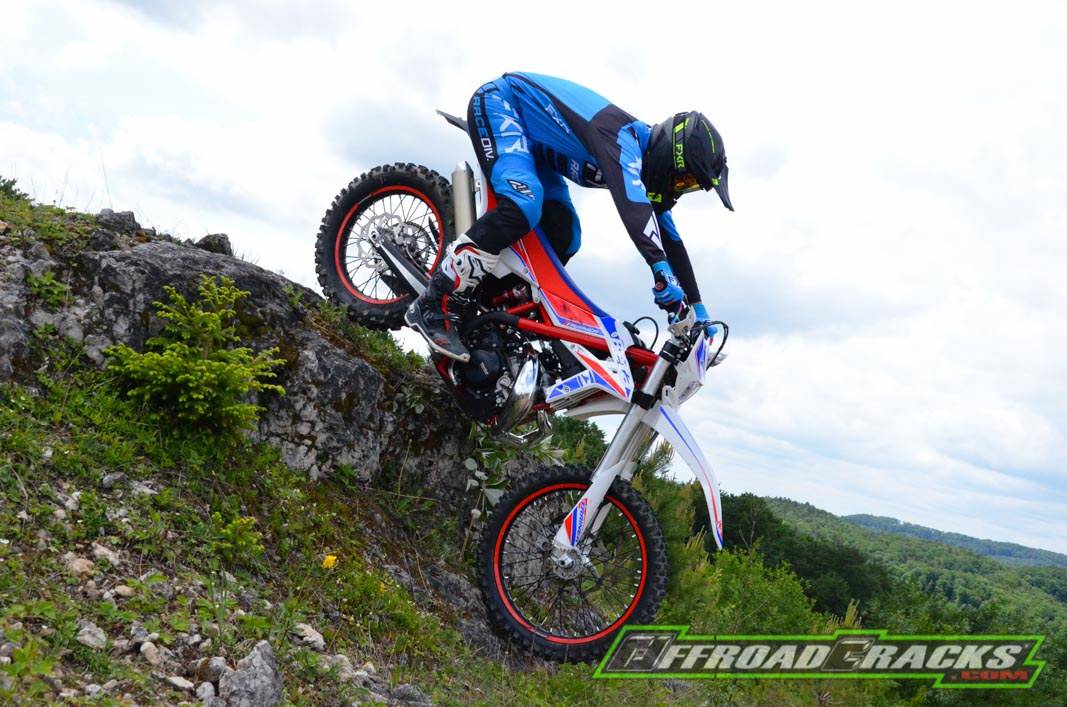 Genug der Zahlen und Fakten, denn jetzt heißt es probieren geht über studieren und der Spieltrieb kennt keine Grenzen. Los geht's mit der Spanierin: Der Elektrostarter befindet sich bei den Rieju-Sportenduros generell linksseitig am Multi-Licht-Schalter neben der Kupplungs-Armatur, was etwas Eingewöhnungszeit bedarf, da man intuitiv den Startknopf am rechten Lenkerende erwartet. Der Start über den zusätzlichen Kickstarter erfolgt mit einem beherzten Tritt genauso unspektakulär und kritikfrei. Bei Beta setzt man nur auf einen Elektrostarter, der tadellos agiert, während ein Kickstarter nachrüstbar wäre. Im Fahrbetrieb fallen sofort die ersten Unterschiede auf.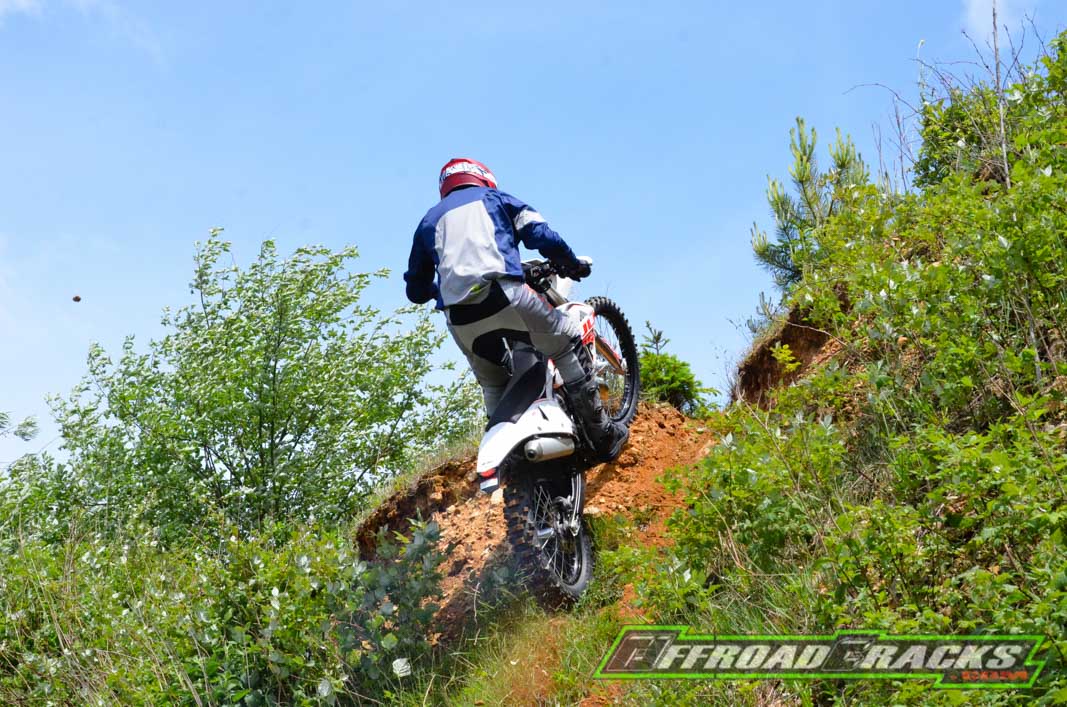 Die Beta fühlt sich schlanker und handlicher an, während die Rieju nur so vor Platzangebot für den Fahrer strotzt und eine Fahrstabilität aufweist, die begeistert. Dafür zirkelt die Beta dank kürzerem Radstand als die Rieju spielerischer um die Ecken. Auch spricht das Fahrwerk sensibler an und erweist sich als weicher.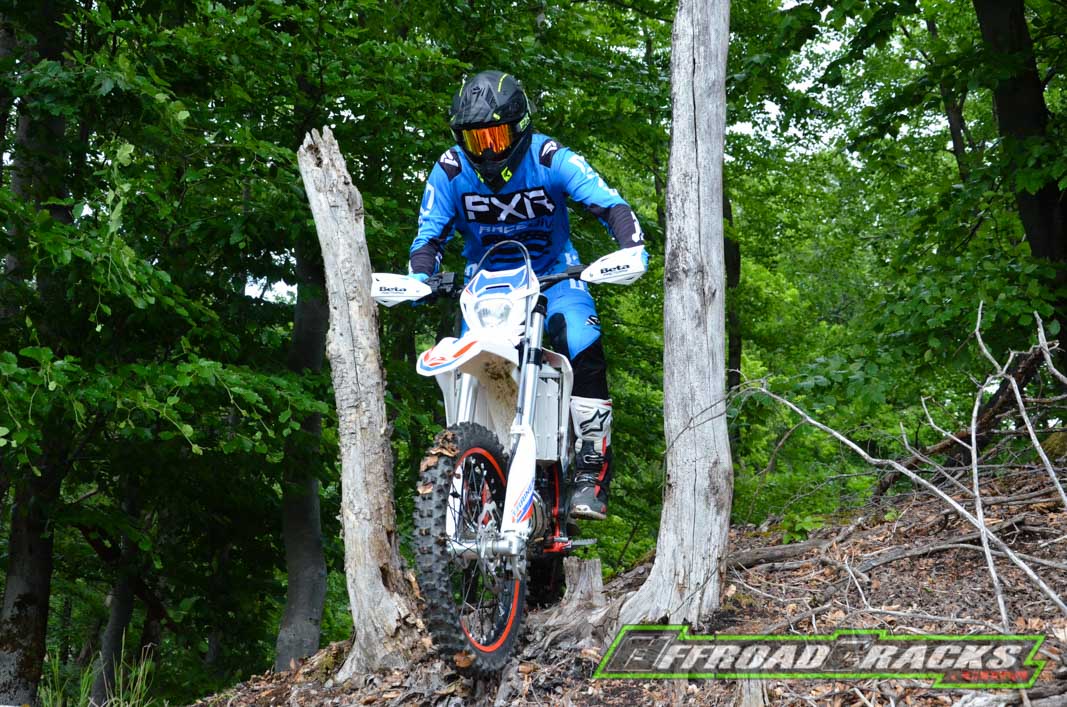 TECHNISCHE DATEN – BETA Xtrainer 300
Technische Daten BETA 300 Xtrainer 2022_OC#_optimize

TECHNISCHE DATEN – RIEJU MR 300 Ranger
Technische Daten Rieju MR 300 Ranger 2022_OC_ENG_optimize

Zu Berücksichtigen dabei ist, dass die Rieju nagelneu ist  und die Kayaba-Federelemente erfahrungsgemäß gut acht bis zehn Betriebsstunden Einfahrzeit benötigen. Trotzdem gefällt die Beta einen Tick besser hinsichtlich ihrer Ergonomie. An der Rieju ist der Lenker etwas zu stark nach hinten gekröpft, so dass man sich als erfahrener Endurist nicht ganz so zu Hause fühlt wie auf der Beta, die identisches Produkt wie bei den Sportenduros verwendet. Sicherlich sind das nur Nuancen, die aber dennoch nennenswert sind.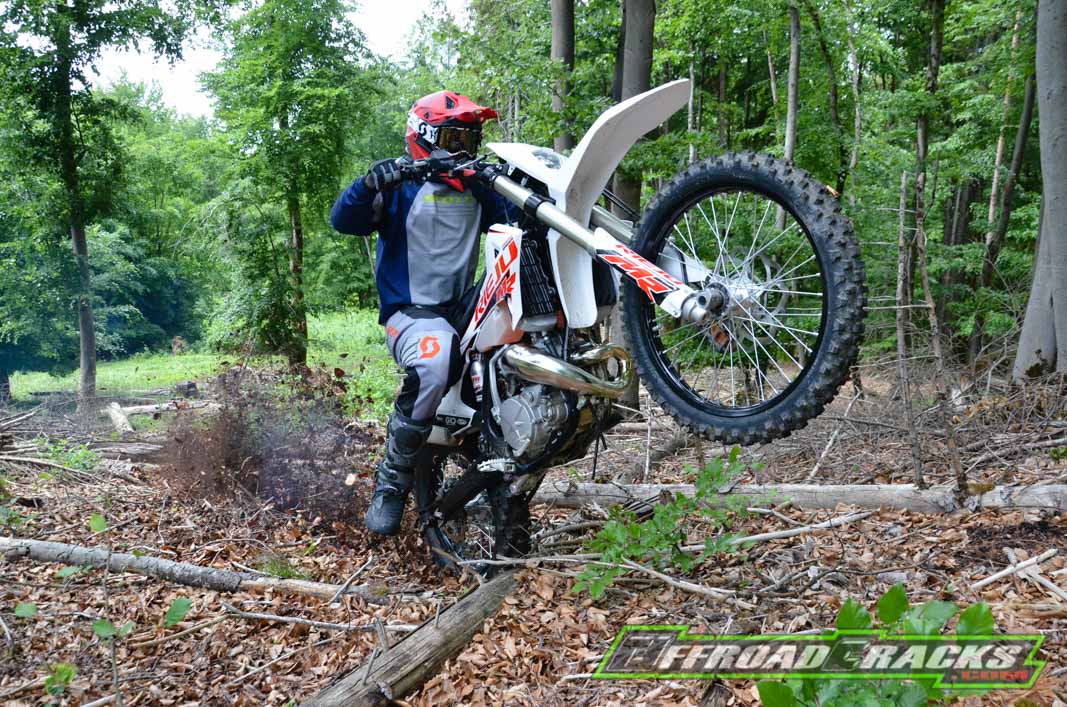 Nun aber zur Leistungsentfaltung. Die Beta läuft ab Leerlaufdrehzahl wie ein zahmes Kätzchen. Die Leistung lässt sich von Anfang an perfekt dosieren und dabei kann man auf eine beachtenswerte Traktion am Hinterrad setzen. Aber bei Ausnutzung der Höchstdrehzahl kann die Beta auch anders und liefert ein kleines Feuerwerk ab. Da kommt sofort der Gedanke auf, dass diese extrem einfach zu fahrende Einsteiger-Enduro sicherlich auch für den Hardenduro-Bereich durchaus eine Option wäre. Bietet sie doch für den versierten Fahrer unübersehbare Vorteile hinsichtlich Leistungsentfaltung, Abmessung, Sitzhöhe und Handling.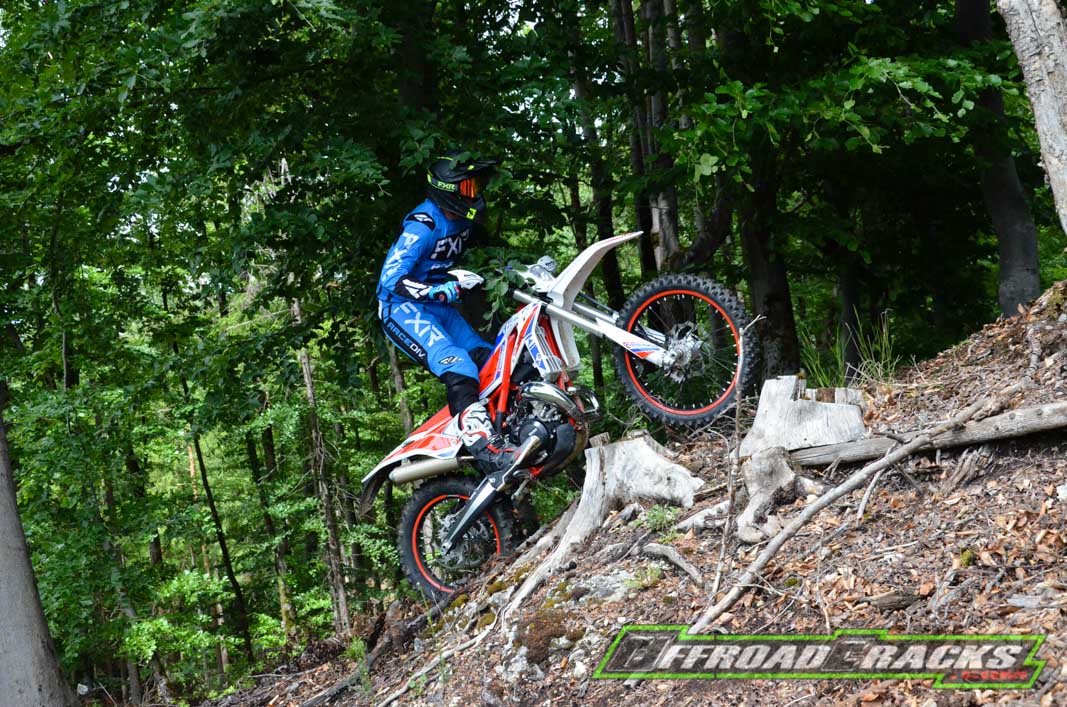 Nun zur Rieju, bei der gefühlt alles etwas gröber abläuft. Die Leistungsdosierung ist nicht ganz auf dem Niveau der Beta und auch das Handling erweist sich als etwas schwerfälliger. Klar, hier setzt man auch auf den großen Sportenduro-Rahmen. Dafür ist sie im direkten Vergleich mit höherer Fahrsicherheit gesegnet, was sich vor allem bei ordentlichem Tempo und beim Überfahren von Hindernissen bemerkbar macht. Hier wird die kompakte Beta schneller übers Vorderrad unruhig und durch ihre vergleichsweise weichere Fahrwerksabstimmung kommt auch früher mehr Bewegung in die Angelegenheit, was der Fahrer wieder ausgleichen muss.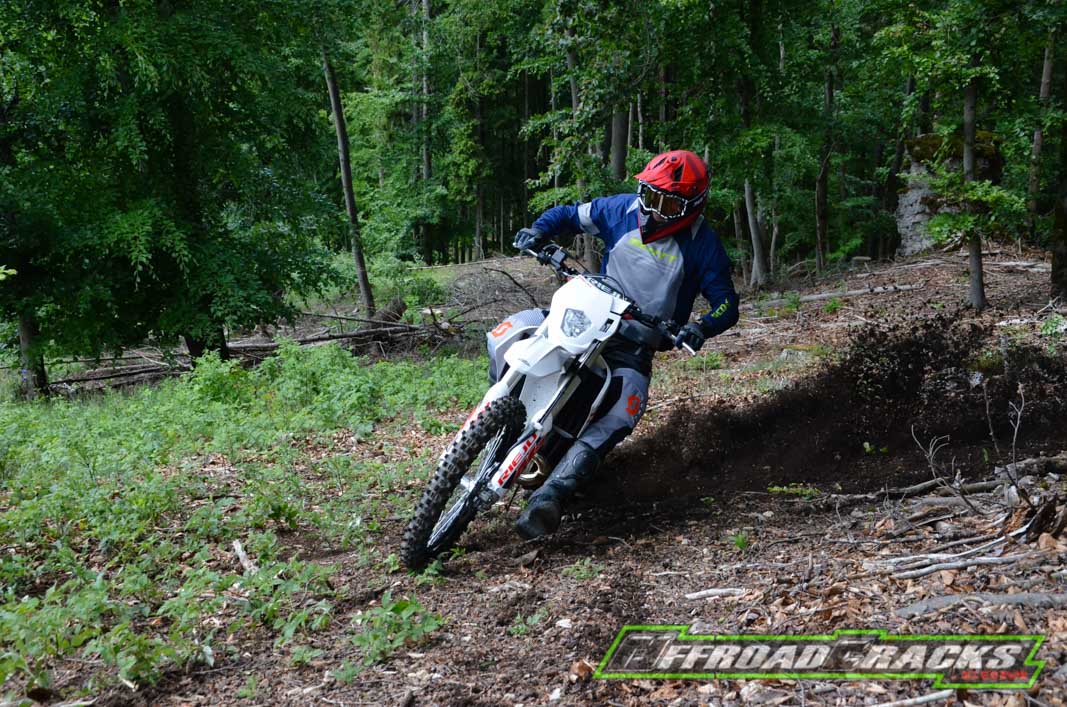 Nun zu den Ausstattungsunterschieden: Hier muss die Rieju etwas zurückstecken, da man bei der Beta weder mit einem Kunststoff-Motorschutz noch einem Elektrolüfter geizt. Hebelschützer sind an beiden Modellen serienmäßig verbaut, auch wenn diese aktuell an der der Rieju nicht montiert sind.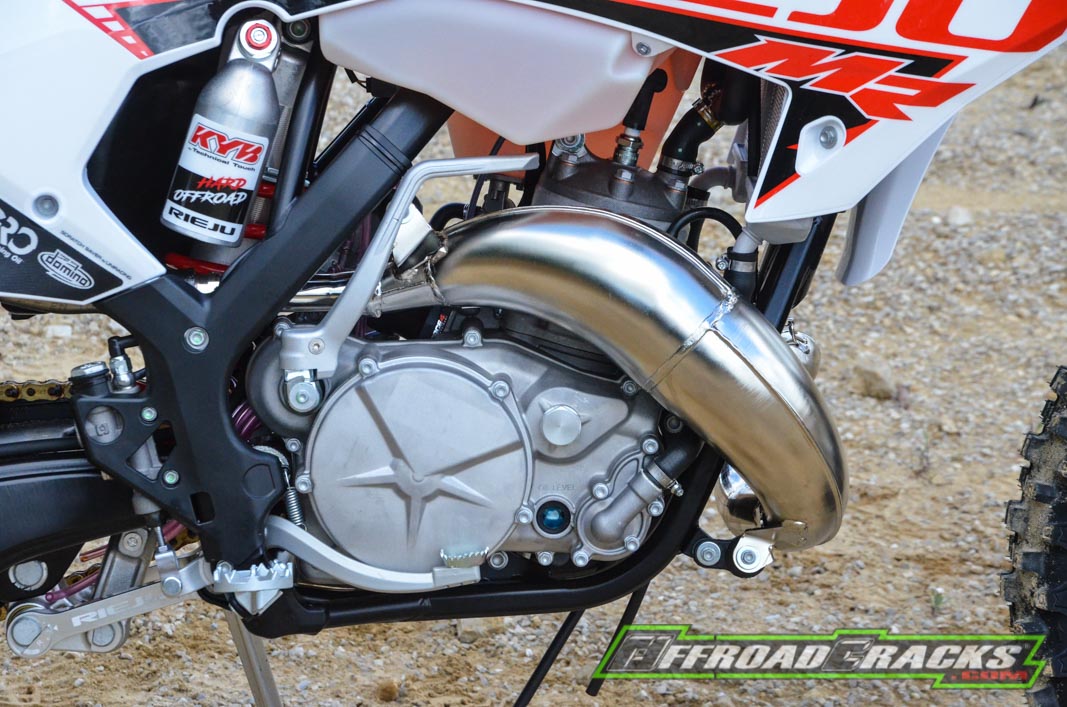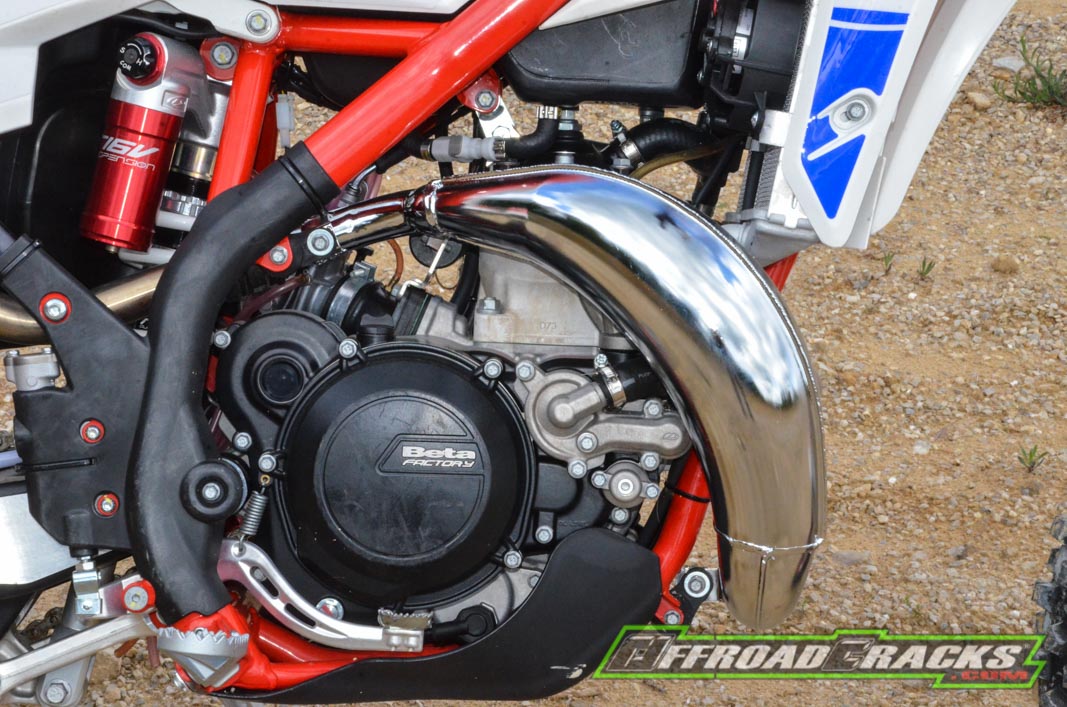 Natürlich müssen hinsichtlich der individuellen Anpassung der Federelemente etwas Abstriche gemacht werden, was aber im Gegenzug einen attraktiven Einstiegspreis möglich macht. Die Rieju besitzt im Vergleich zur Beta einen knapp 10 Liter großen Tank, während die Beta nur über ein Fassungsvermögen von 8,5 Liter verfügt, was aber wiederum für eine schlankere Fahrzeugsilhouette mitverantwortlich ist. Eine weitere Besonderheit der Beta ist die Getrenntschmierung. Das bedeutet kein Mixen des Öl-Kraftstoff-Gemisch vor dem Start wie bei der Rieju, sondern lediglich den Öltank unter der Sitzbank auffüllen und normales Super-Benzin in den Tank einfüllen. Den Rest übernimmt dann eine elektrische Ölpumpe zusammen mit dem Vergaser.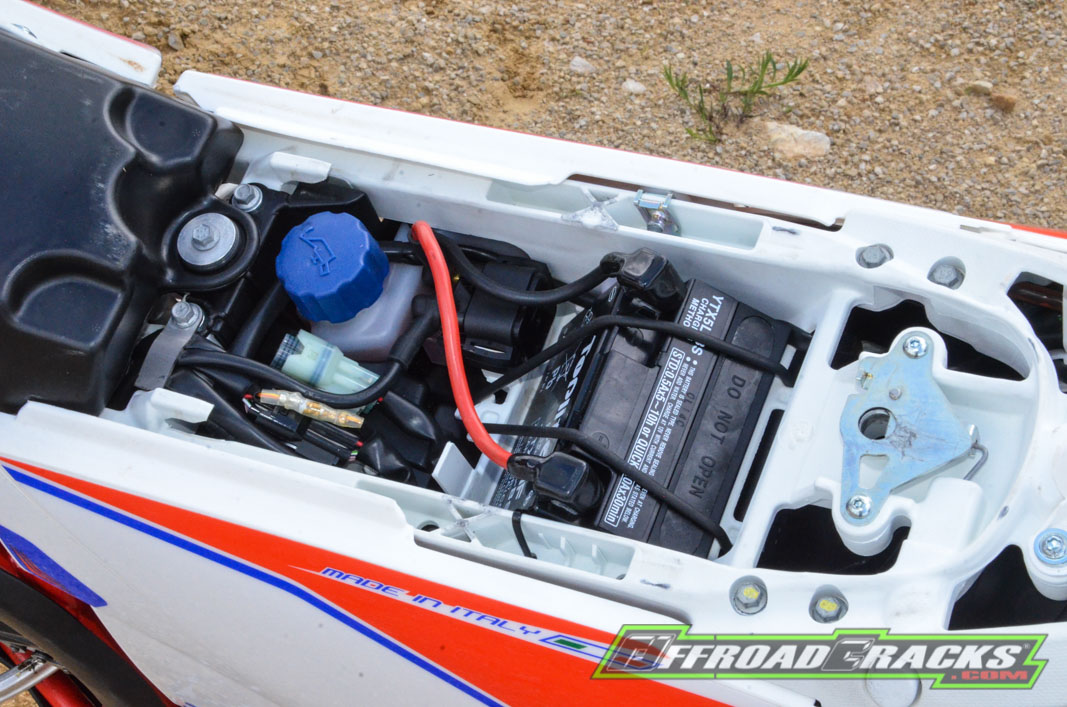 Was ebenfalls ein Plus für die Beta darstellt ist ein Mapping-Schalter, den man bei einer Einstiegsenduro nicht wirklich benötigt, aber für unterschiedliche Bedingungen sicherlich eine Hilfe darstellt. Nicht umsonst wird die Beta Xtrainer gerne auch von ambitionierten Piloten zu Trainingszwecken im anspruchsvollen Terrain herangezogen.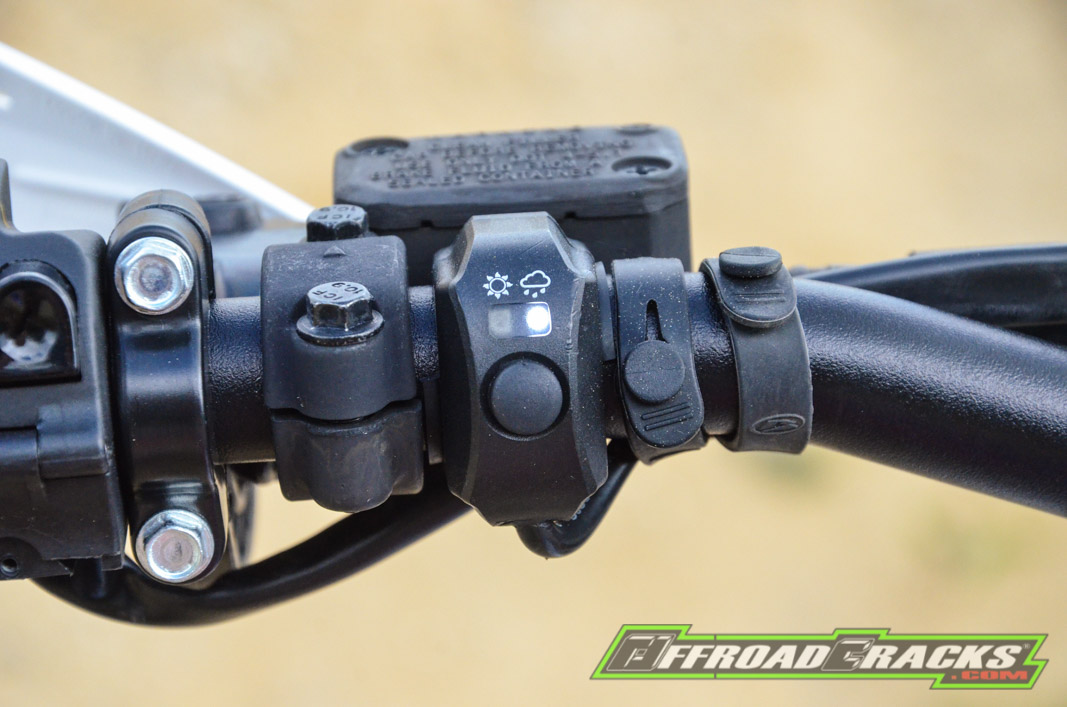 Während man bei ihr eine klassische Säure-Batterie vorfindet, setzt Rieju auf eine hochwertige und leichte Lithium-Batterie.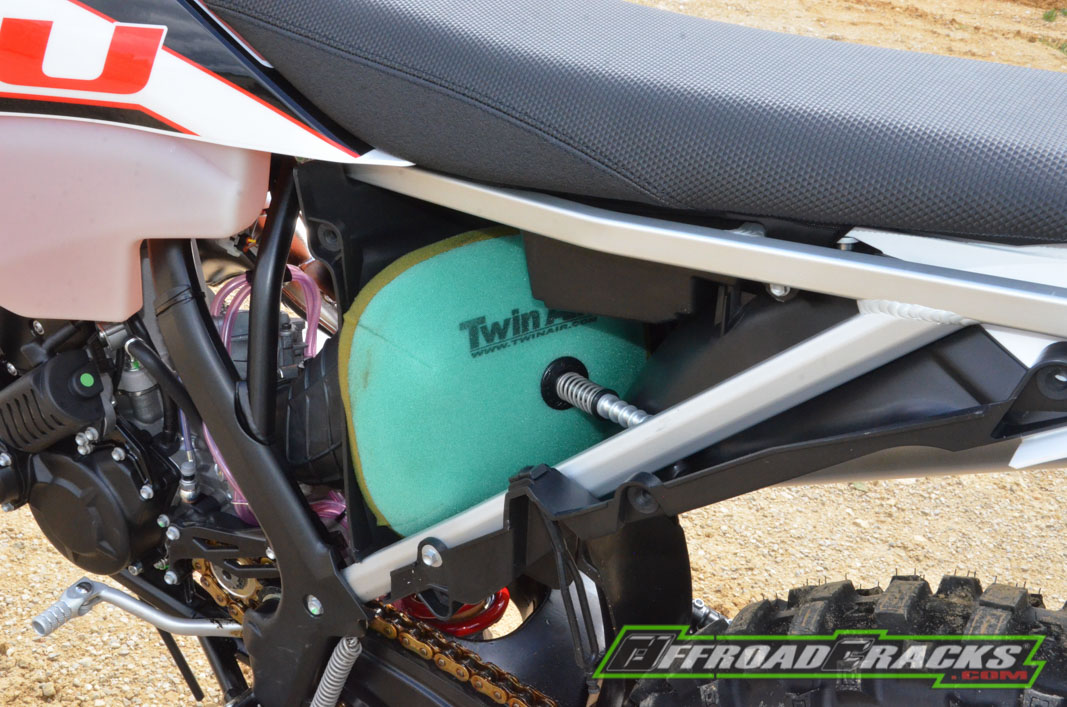 Nochmal zurück ins Gelände: Bergauf ist die Beta im trialartigen Gelände etwas einfacher zu bewegen wie die Rieju. Einmal auf Grund der exakt zu dosierenden Motorleistung, dem spielerischen Handling und der hervorragenden Traktion am Hinterrad.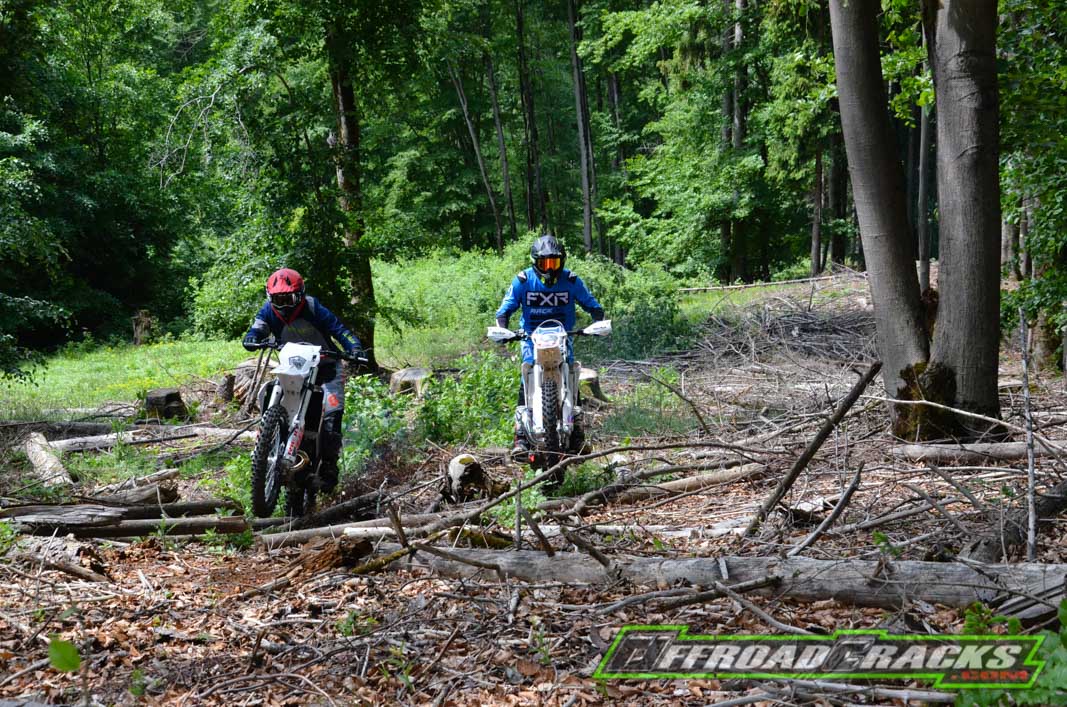 Sind es jedoch längere Auffahrt, dann kann die Rieju mit ihrem hervorragenden Geradeauslauf und Tempo definitiv punkten. Je nach Anforderung und Gelände-Abschnitt hat jeder der beiden Einsteiger-Enduros ihre Vor- oder Nachteile.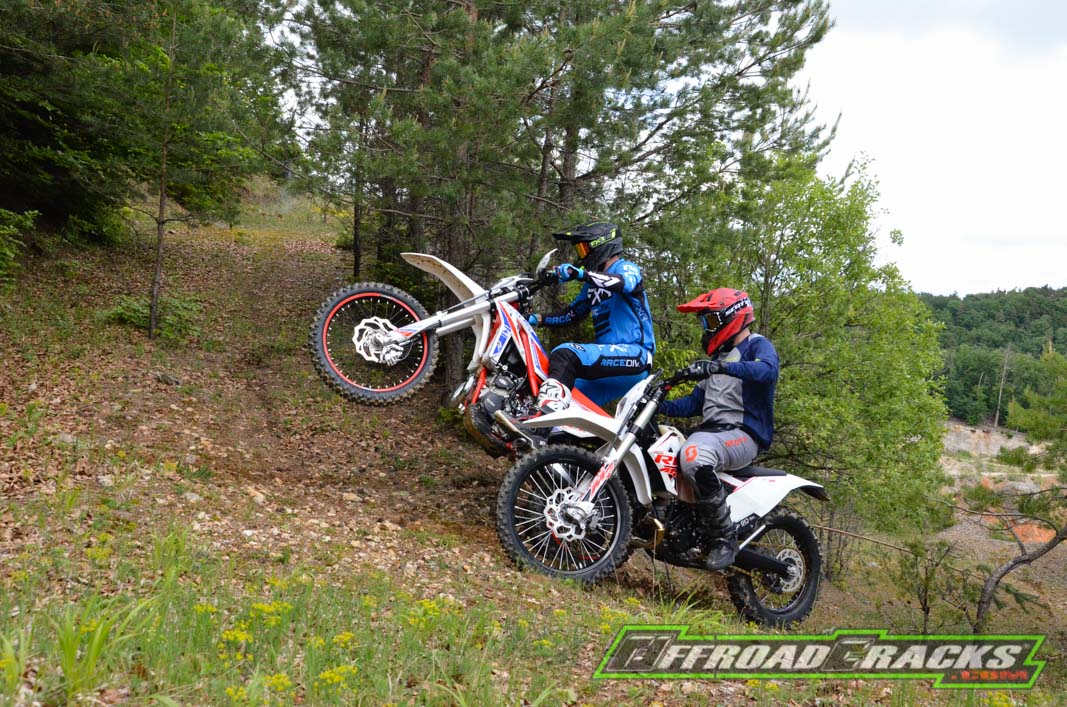 Was bedeutet das im Gesamtfazit?
Beide Konzepte ähneln sich in ihrer prinzipiellen Ausrichtung relativ stark und können dadurch über einen Großteil der Anforderungen mit solider Performance glänzen. Da man als Einsteiger weniger mit diesen unterschiedlichen Nuancen mangels Erfahrungen zu tun hat, können beide Modelle problemlos empfohlen werden. Aber auch die Körpergröße kann durchaus eine Rolle spielen.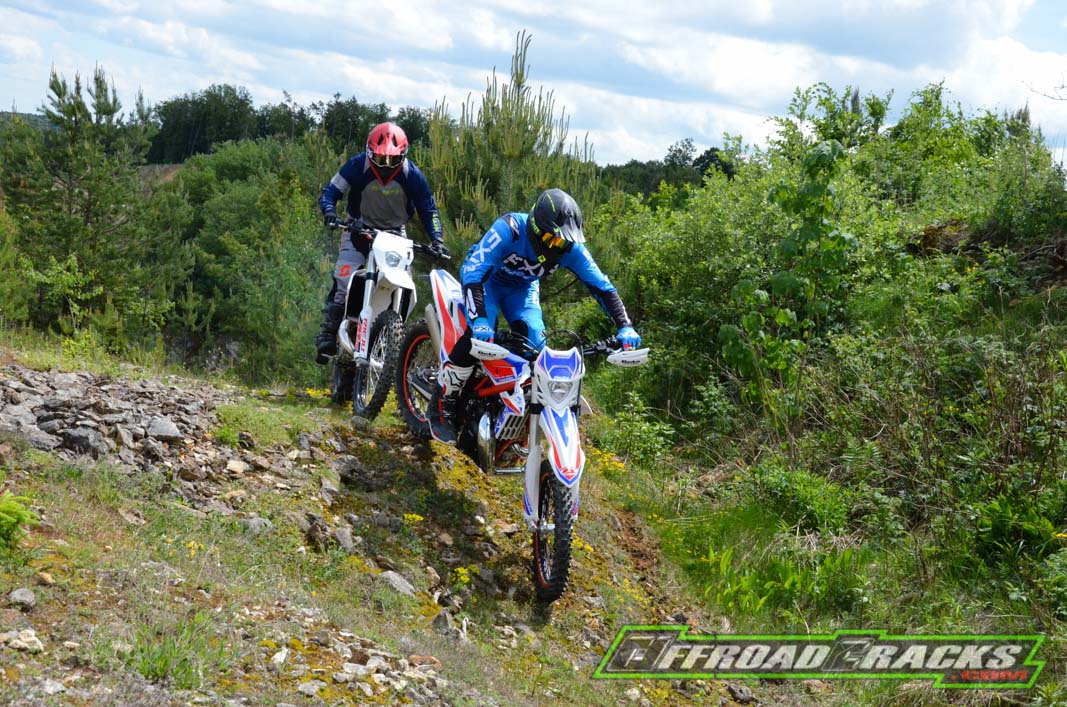 Werden beide Enduros von versierten Piloten genutzt, dann zeigen diese kleinen Unterschiede doch wieder vermehrt ihre Wirkung. Was mit der Ranger mit höherem Tempo mit Bravour gelingt, macht die Beta im trialartigen Terrain problemlos wett – zwei Bikes, die nicht unterschiedlich sein können, aber auch im Parallelflug den Einsteiger begeistern werden. Übersicht  DIREKT-LINKS
BEWERTUNG
PLUSMINUS BETA 300 Xtrainer 2022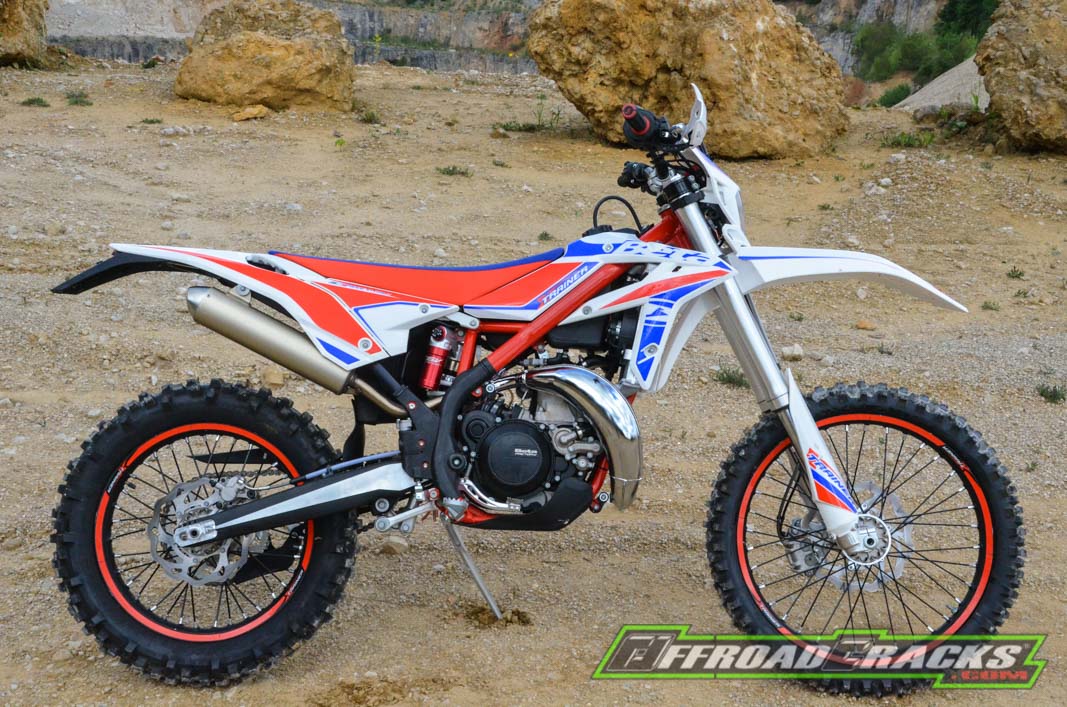 PLUS
Einwandfrei dosierbare Motorleistung
Konstanter Drehmomentverlauf
Traktion am Hinterrad
Spielerisches Handling
Ergonomie
Ausstattungsumfang
MINUS
Teilweise zu weiches Fahrwerks-Setup
Motorvibrationen bei höheren Drehzahlen
---
PLUSMINUS RIEJU MR 300 Ranger 2022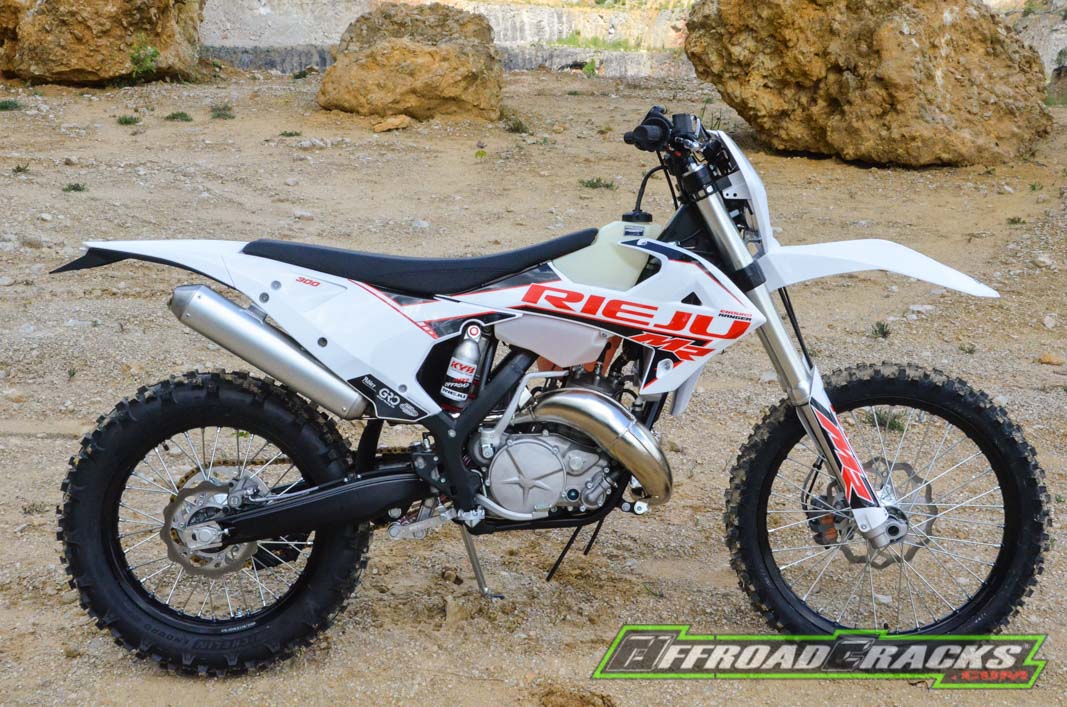 PLUS
Gut dosierbare Motorleistung
Überzeugendes Drehmoment
Breites nutzbares Drehzahlband
Hohe Fahrsicherheit
Federkomponenten mit Reserven
MINUS
Startknopf links
Lampenmaskendesign verbesserungswürdig
Motorvibrationen bei höheren Drehzahlen
PHOTO GALLERIE
---
Weitere Infos unter: www.BETAMOTOR.com & RIEJU Spanien
Bilder: OFFROADCRACKS.com
Kleidung & Protektion: FXR-Racing, Alpinestars, Scott, 24MX
Fahrzeug-Vorbereitung: Betamotor Italien
Leistungsmessung: MICRONSYSTEMS
"Wir bedanken uns für die professionelle Zusammenarbeit."
---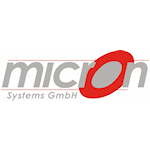 ---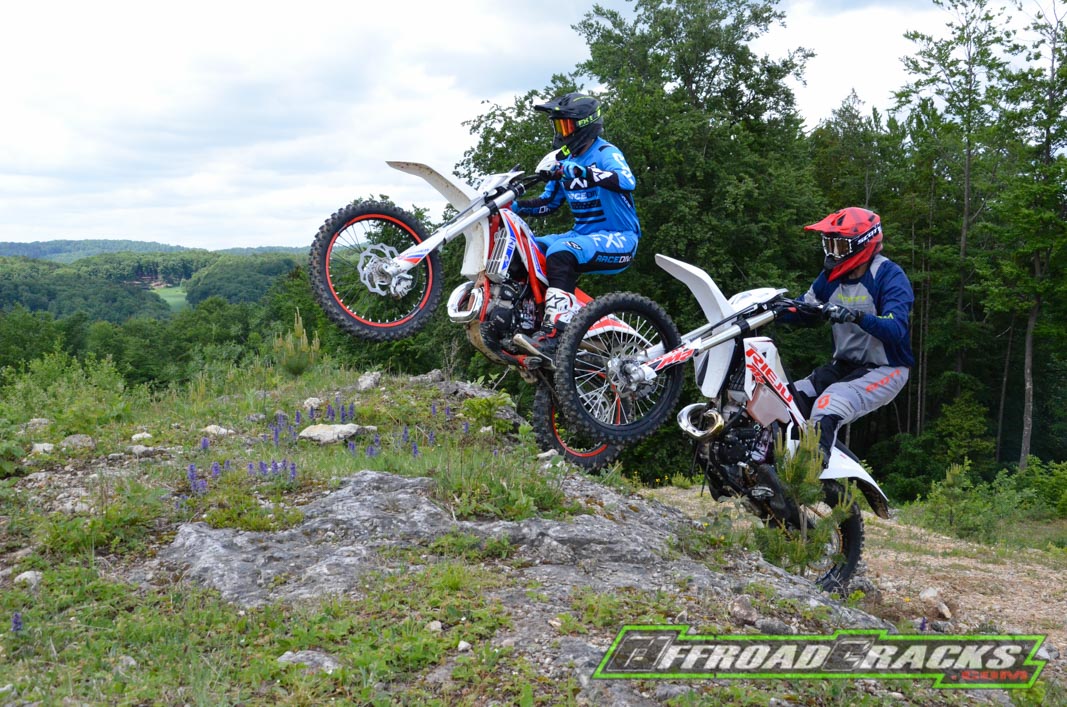 Less is more when starting out in enduro sport? Reduced seat height, low weight and adapted engine performance make it possible. We put the two best entry-level enduro bikes on the market through their paces.
---
DIREKTLINKS / Direct links

TECHNISCHE DATEN / TECHNICAL SPECS
LEISTUNGSDIAGRAMME & PRÜFSTANDSLAUF / PERFORMANCE DIAGRAMS & VIDEO
WEITERE IMPRESSIONEN / MORE IMPRESSIONS
---
A dizzying seat height of a full 96 centimeters is the standard for today's sports enduro bikes with ample 300 millimeters of spring travel and more. However, for body heights under 1.70 meters or as a beginner in enduro sport, it can be difficult to keep control with the classic sports enduro while you are still busy with the vehicle, riding technique and the terrain. Of course, it helps immensely if you can keep your feet in contact with the ground in almost every situation, the engine power can be dosed as smoothly as silk and the weight of the vehicle does not require a workout in the gym. And here we are with Italian manufacturer Betamotor and the Spanish equivalent of Rieju.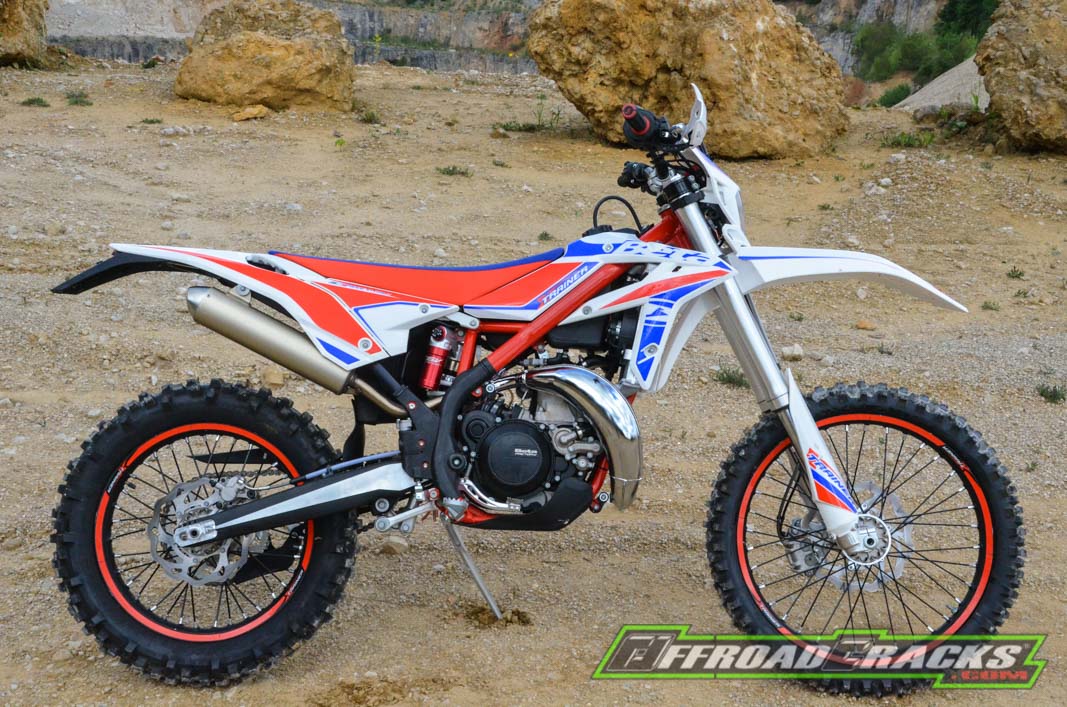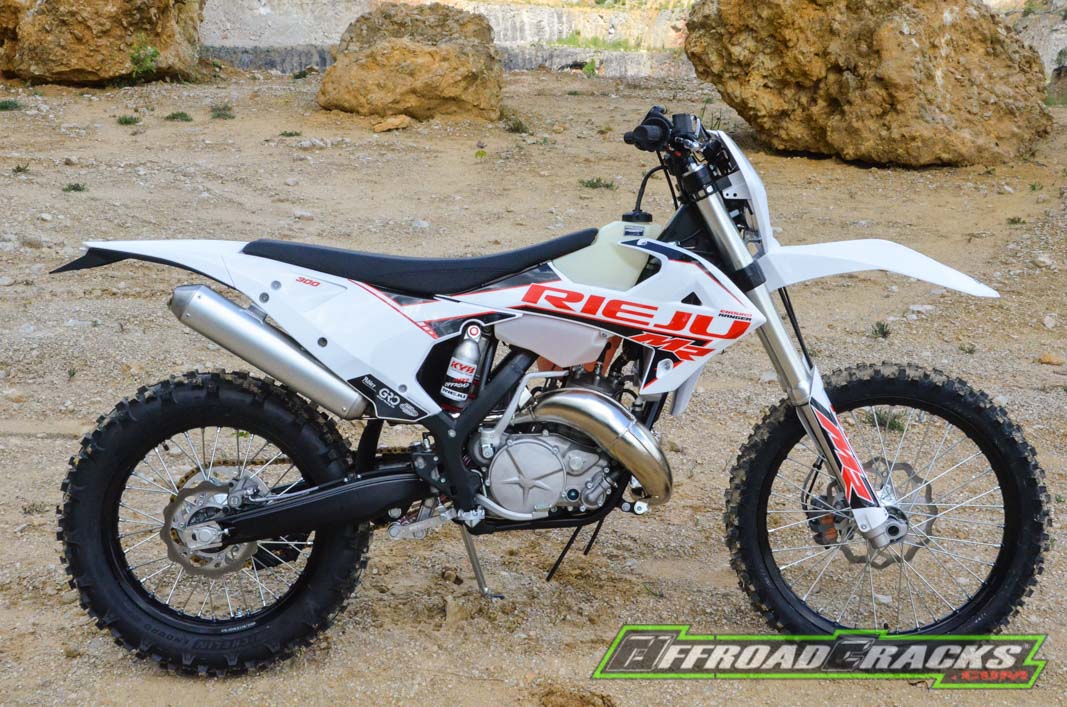 Their products meet exactly these special requirements right from the factory and do not have to be laboriously adapted to personal needs by reducing spring travel, including padding of the seat and adjustment of the engine output. For this requirement profile, the Beta 300 Xtrainer and the Rieju MR 300 Ranger fall exactly into the prey scheme. The Beta 300 Xtrainer has a seat height of 91 centimetres, but this can be lowered by a few centimeters after you have taken a seat due to the soft and comfortable suspenion setup. The Rieju MR 300 Ranger from Spain offers 92 centimetres, but here a downward correction in height should be planned for too when the driver sits down. Rieju realizes this fact with matching Kayaba suspension components. That means 270 millimeters travel at the front and 280 millimeters at the rear.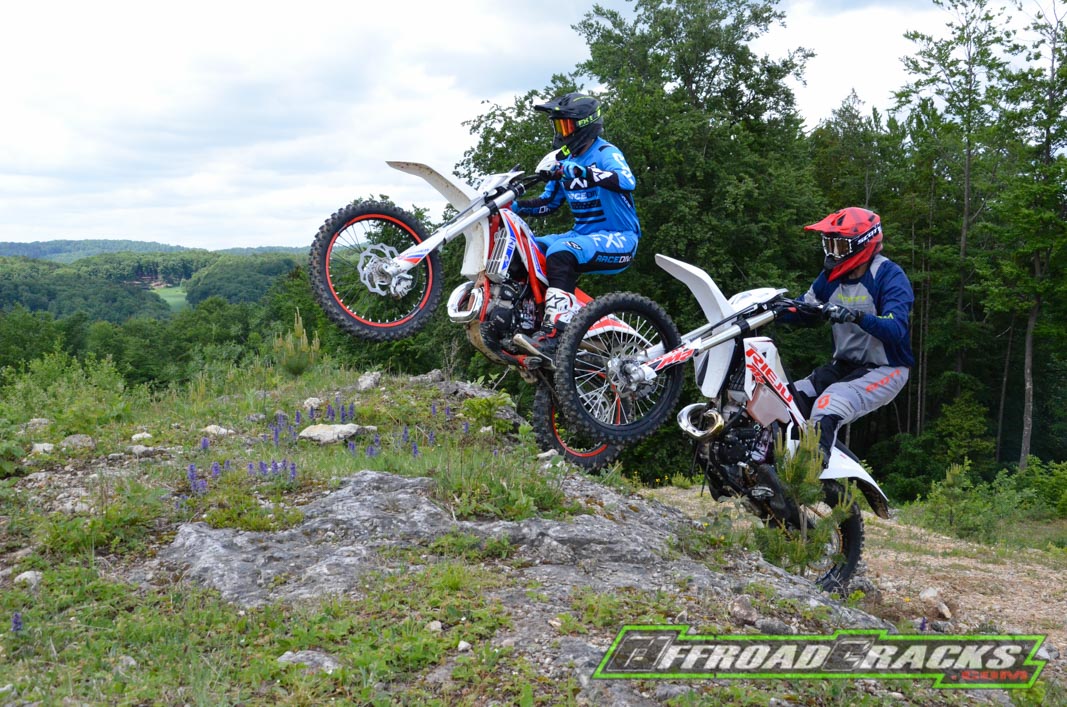 Since the Rieju uses the frame of the sports enduro, its silhouette is correspondingly larger. In contrast, the Beta Xtrainer is a significantly narrower and more compact enduro. Background? The Italian uses a completely new frame in Deltabox design, which makes the tank-cooler combination significantly narrower. Nevertheless, it was possible to achieve a tank capacity of 8.5 liters, surprisingly.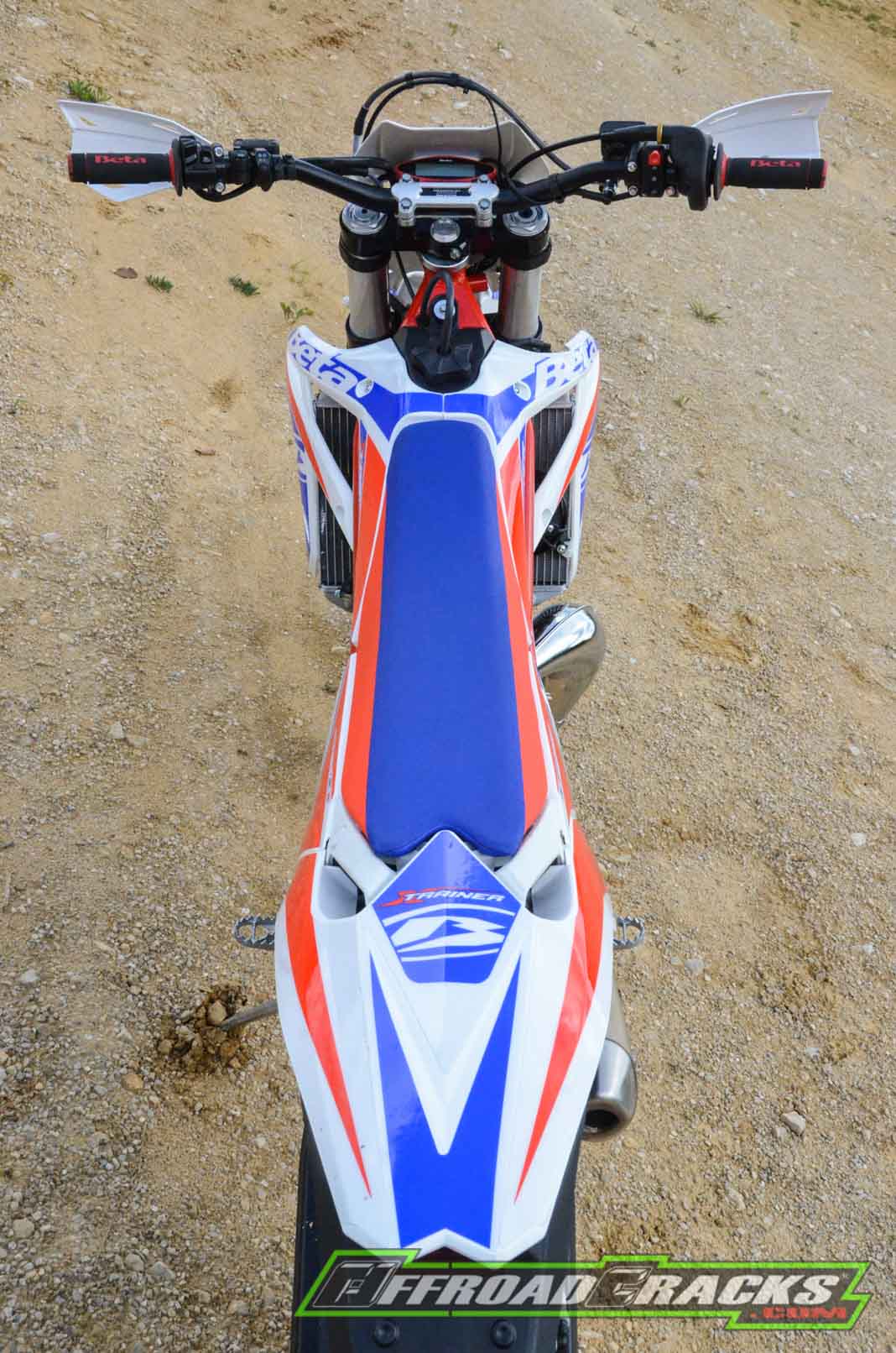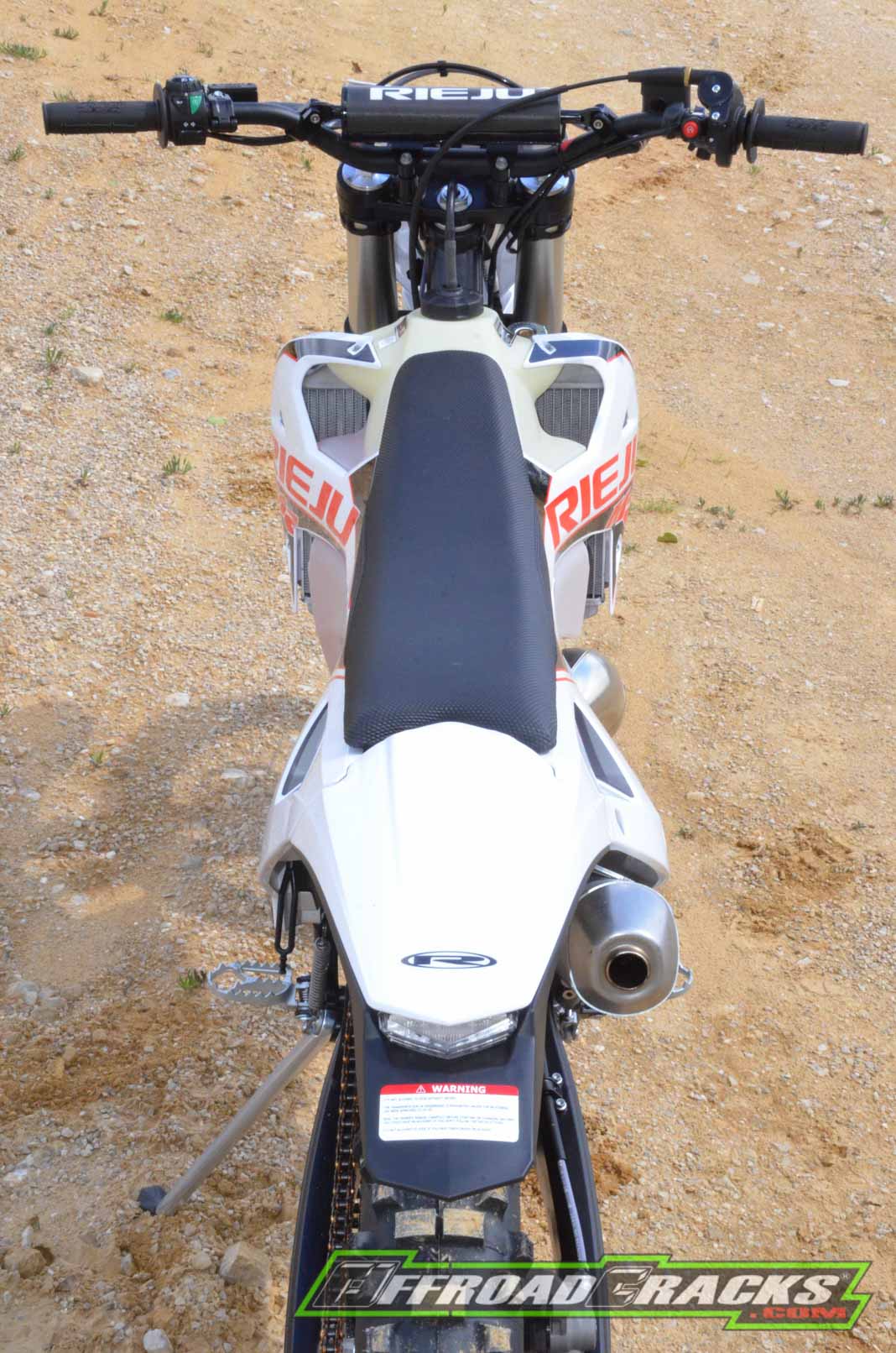 The heart, with a displacement of 300 cubic centimetres comes from the sports enduro and has been powered down in terms of maximum performance. This includes revised compression, a new cylinder design and a per torque designed manifold with silencer and fully adjustable exhaust control.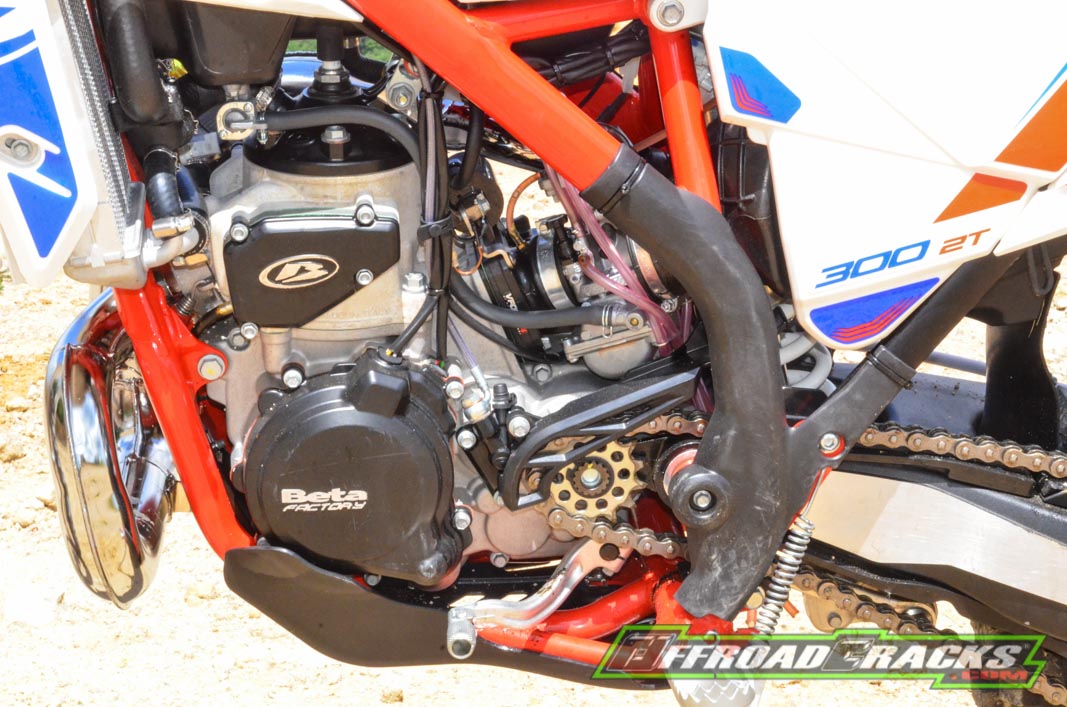 Almost the same applies to the Rieju, whose 300 power plant also comes from the sports enduro squad, was throttled in a similar way and also has an adjustable exhaust control unit.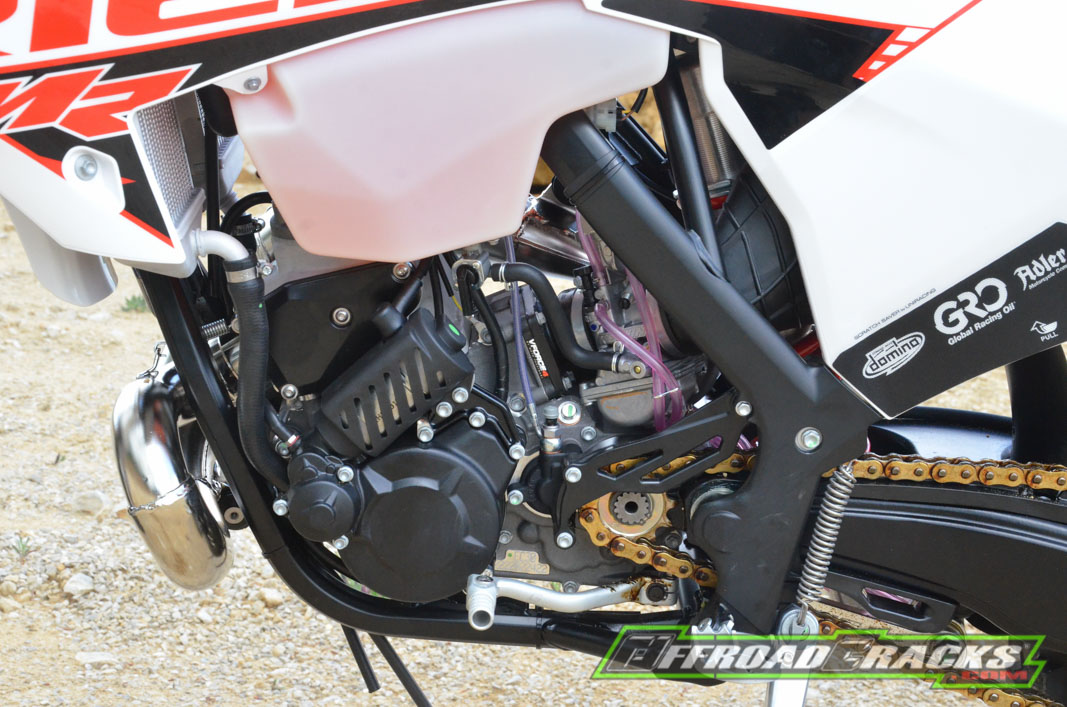 But in the end everything depends on how easily the engine power can be dosed from idle speed, and for this we first went to the dynamometer to determine the maximum power.
PERFORMANCE DIAGRAMS
OC Leistungsdiagramme - BETA 300 Xtrainer & RIEJU MR 300 Ranger 2022_OC

TORQUE DIAGRAMS
OC Drehmomentdiagramm - BETA 300 Xtrainer & RIEJU MR 300 Ranger 2022_OC

ATTENTION: This is a measurement on a Dynojet 250i test stand. When comparing performances with other vehicles, please note that deviations of up to ten percent may occur depending on the test bench model!
As everyone knows, the 300cc two-stroke sports enduros generate between 47 and 51 hp at peak power. These are of course not required under the premise of a beginner or switcher. The Beta gets to go first and gets stuck at 36.6 hp, while the Rieju sets its limit at 35.3 hp. But much more important is the performance curve and Beta has done an excellent job here, if you look at the above-average even curve in the diagram. In terms of torque, the Rieju generates 34.1 newtonmeters, while the Beta is significantly higher at 36.7 Newton meters. If you also take the low vehicle weight of 115 to 116 kilograms into account, then you can already guess a lot for the playful first use in the field.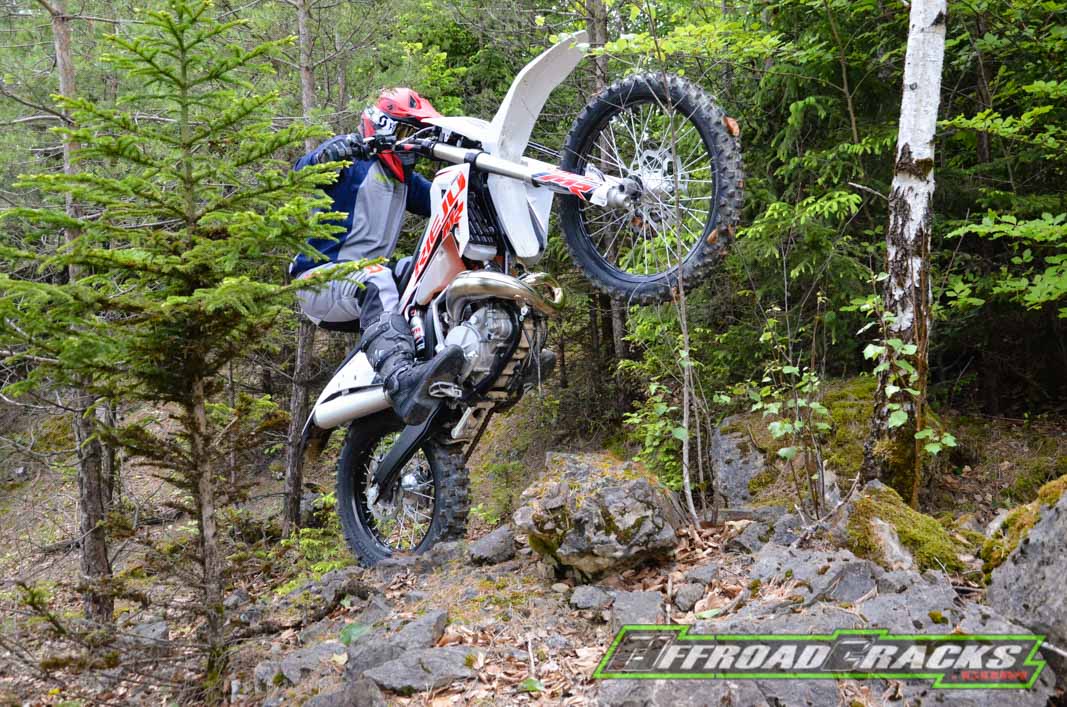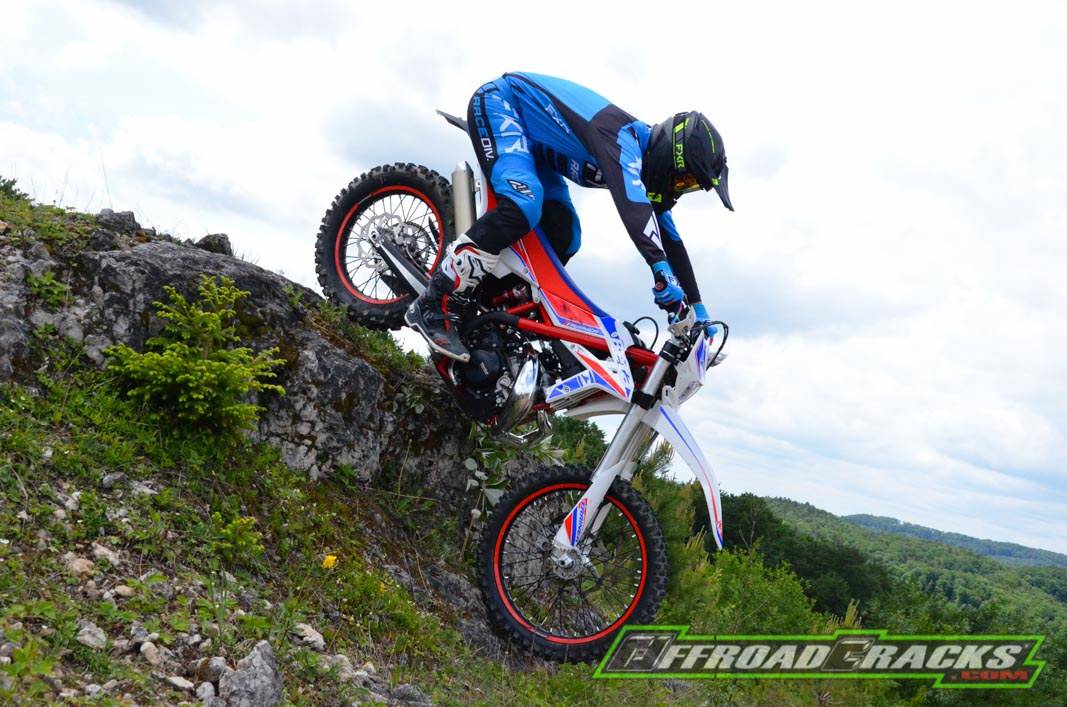 Enough of the facts and numbers, because now it's time to try and study and the urge to play knows no bounds. Let's start with the Spaniard: The electric starter on the Rieju sports enduros is generally on the left-hand side on the multi-light switch next to the clutch, which takes some getting used to, since you intuitively expect the start button to be on the right-hand end of the handlebars. The start via the additional kickstarter takes place with a courageous kick just as unspectacular and uncritical. With Beta you only rely on an electric starter that works perfectly, while a kick starter could be retrofitted. When driving, the first differences are immediately noticeable.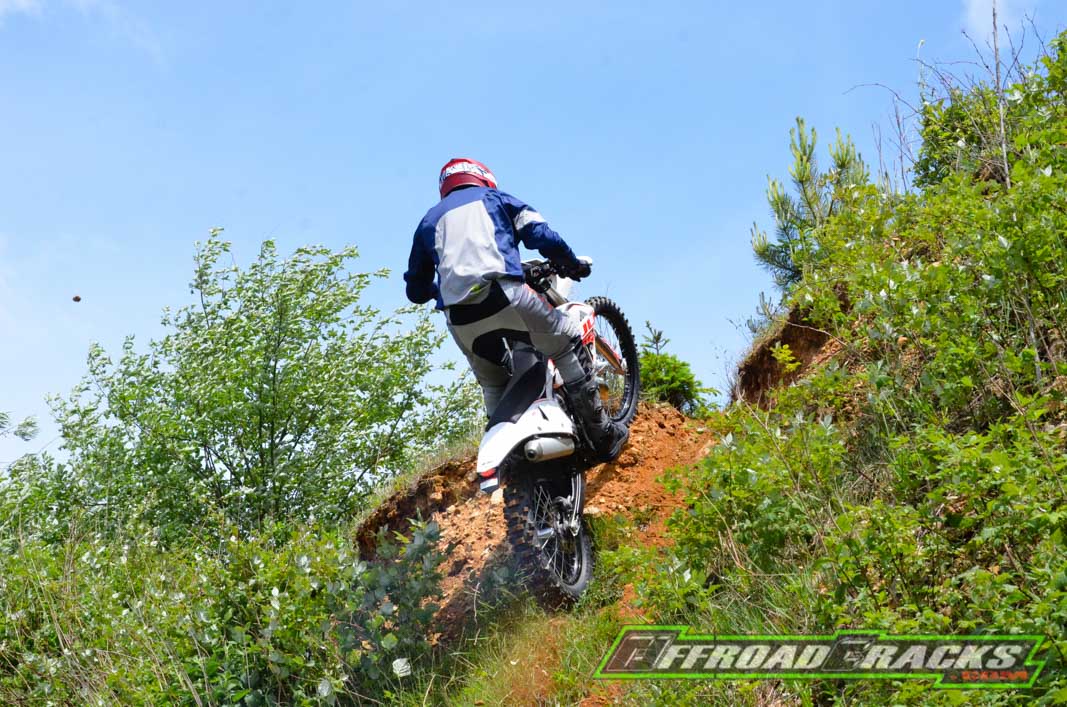 The Beta feels slimmer and more manageable, while the Rieju is bursting with space for the driver and has driving stability that inspires. On the other hand, the Beta circles corners more playfully thanks to its shorter wheelbase than the Rieju. The chassis also responds more sensitively and proves to be softer.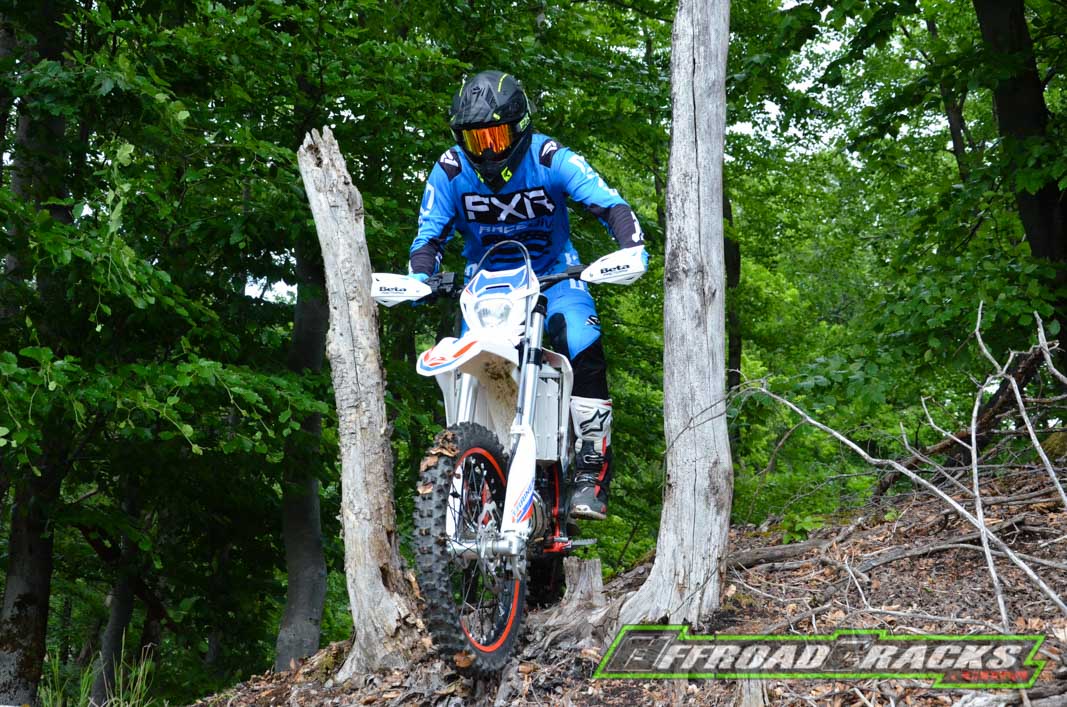 TECHNICAL SPECS – BETA Xtrainer 300
Technische Daten BETA 300 Xtrainer 2022_OC_ENG_optimize

TECHNICAL SPECS – RIEJU MR 300 Ranger
Technische Daten Rieju MR 300 Ranger 2022_OC_ENG_optimize

ATTENTION: This is a measurement on a Dynojet 250i test stand. When comparing performances with other vehicles, please note that deviations of up to ten percent may occur depending on the test bench model!
It should be borne in mind that the Rieju is brand new and that experience has shown that the Kayaba suspension elements need a good eight to ten operating hours to break in. Nevertheless, the beta is a bit better in terms of ergonomics. The handlebars on the Rieju are angled a little too far back, so experienced enduro riders don't feel quite as at home as they do on the Beta, which uses the same product as the sports enduros. Of course, these are just nuances, but they are still worth mentioning.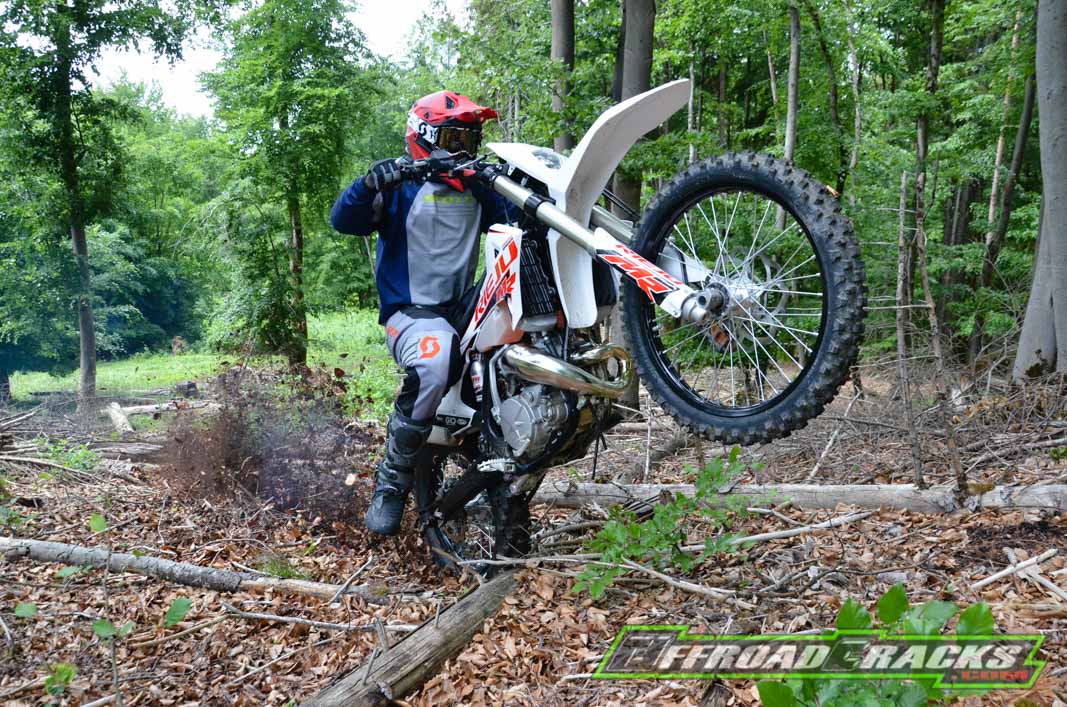 But now to the performance development. The Beta runs like a tame kitten from idle. The power can be dosed perfectly right from the start and you can rely on remarkable traction on the rear wheel. But when the maximum speed is used, the Beta can also do something different and deliver a little fireworks. The thought immediately arises that this extremely easy-to-ride entry-level enduro would certainly also be an option for the hard enduro sector. After all, it offers unmistakable advantages for the experienced driver in terms of performance development, dimensions, seat height and handling.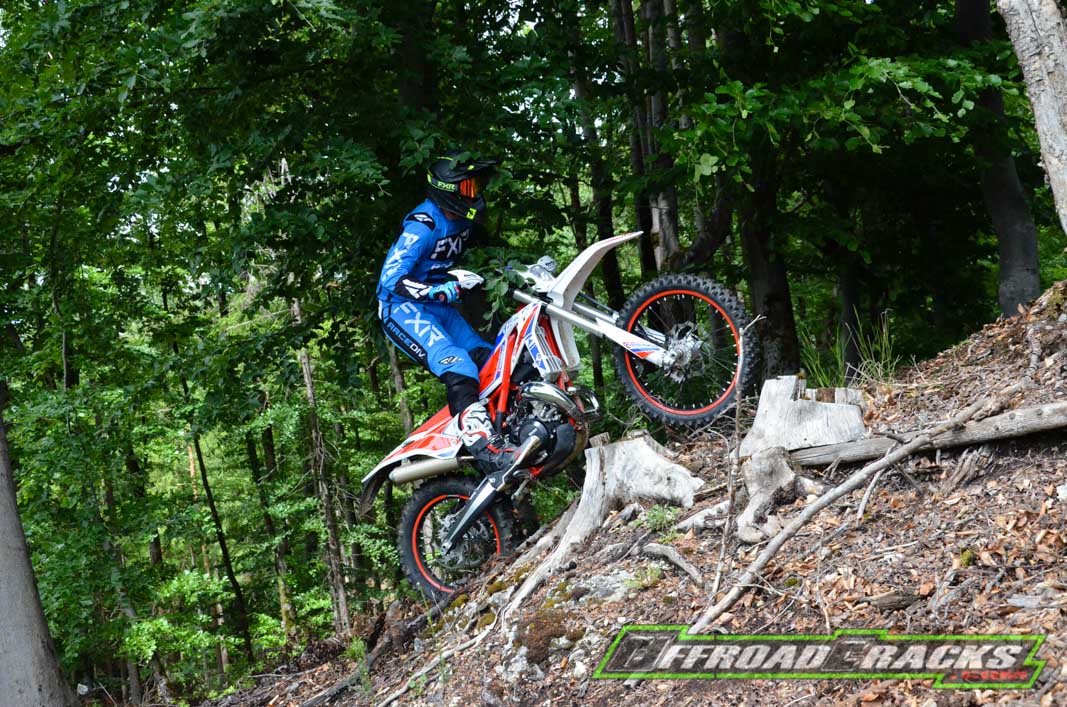 Now to the Rieju, where everything feels a bit rougher. The power dosing isn't quite on the level of the Beta and the handling is also a bit sluggish. Sure, here you also rely on the large sports enduro frame. In direct comparison, it is blessed with higher driving safety, which is particularly noticeable at a decent speed and when driving over obstacles. Here, the compact Beta gets restless more quickly over the front wheel and due to its comparatively softer suspension tuning, there is more movement in the matter earlier, which the driver has to compensate for again.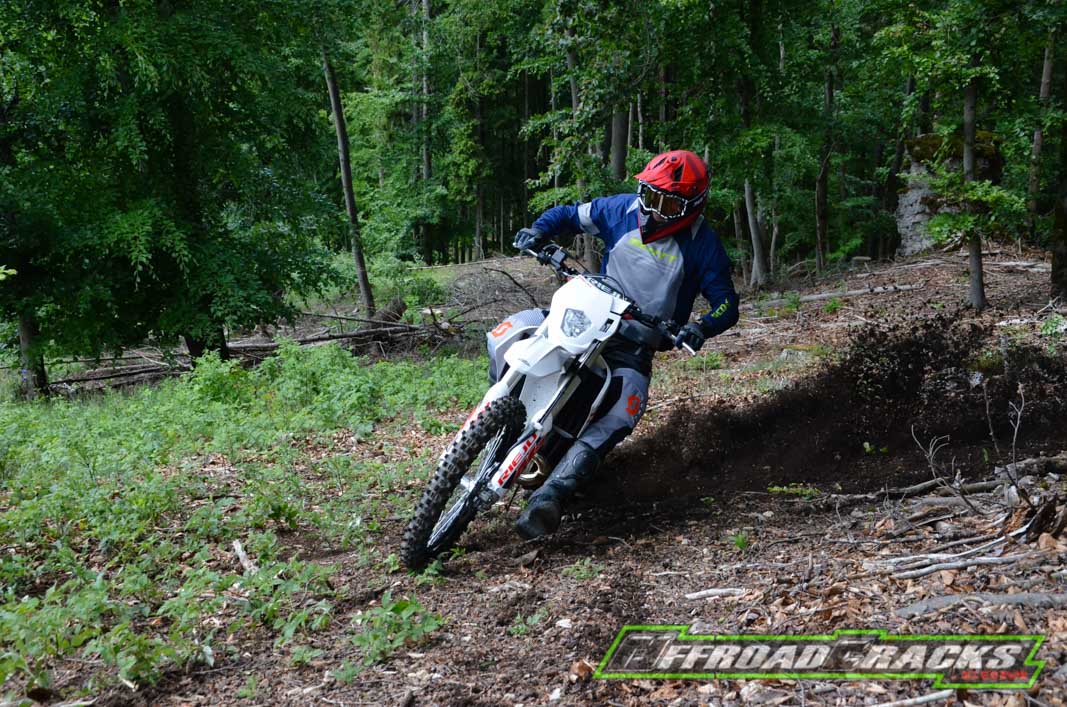 Now to the equipment differences: The Rieju has to back down a bit here, since the Beta is not stingy with a plastic motor protection or an electric fan. Lever protectors are installed as standard on both models, even if they are not currently installed on the Rieju.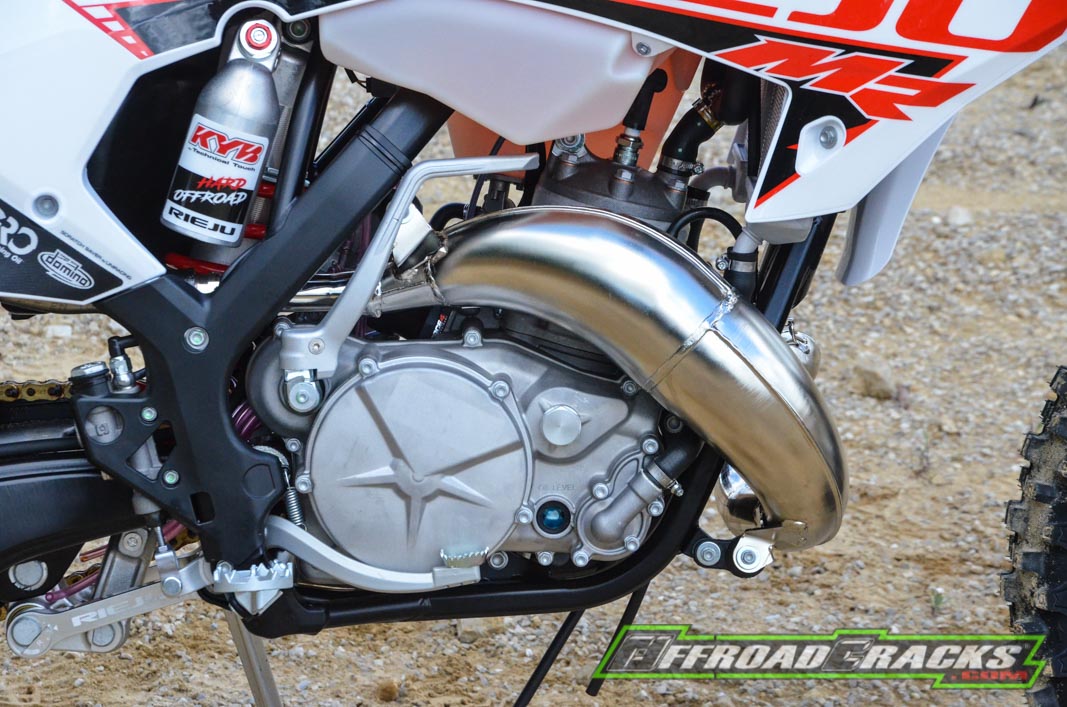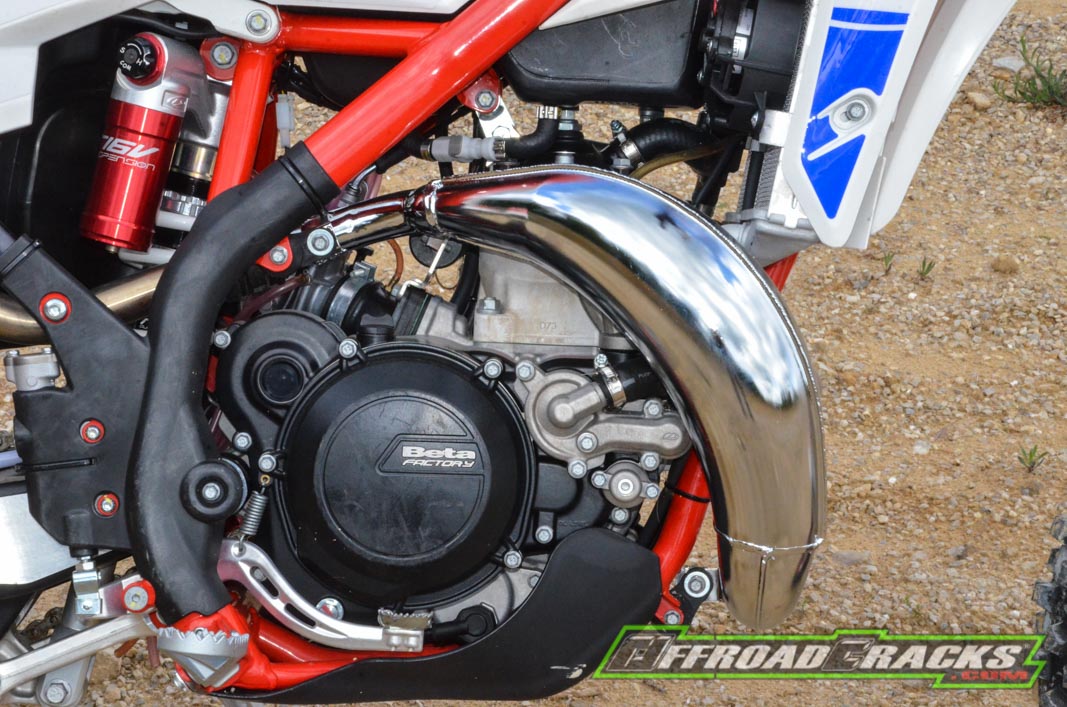 Of course, some compromises have to be made with regard to the individual adjustment of the spring elements, but in return this makes an attractive entry-level price possible. Compared to the Beta, the Rieju has a nearly 10 liter tank, while the Beta only has a capacity of 8.5 liters, which in turn is partly responsible for a slimmer vehicle silhouette. Another special feature of the Beta is the separate lubrication. This means no mixing of the oil-fuel mixture before take-off as with the Rieju, but simply topping up the oil tank under the seat and filling the tank with normal premium petrol. The rest is then taken over by an electric oil pump together with the carburetor.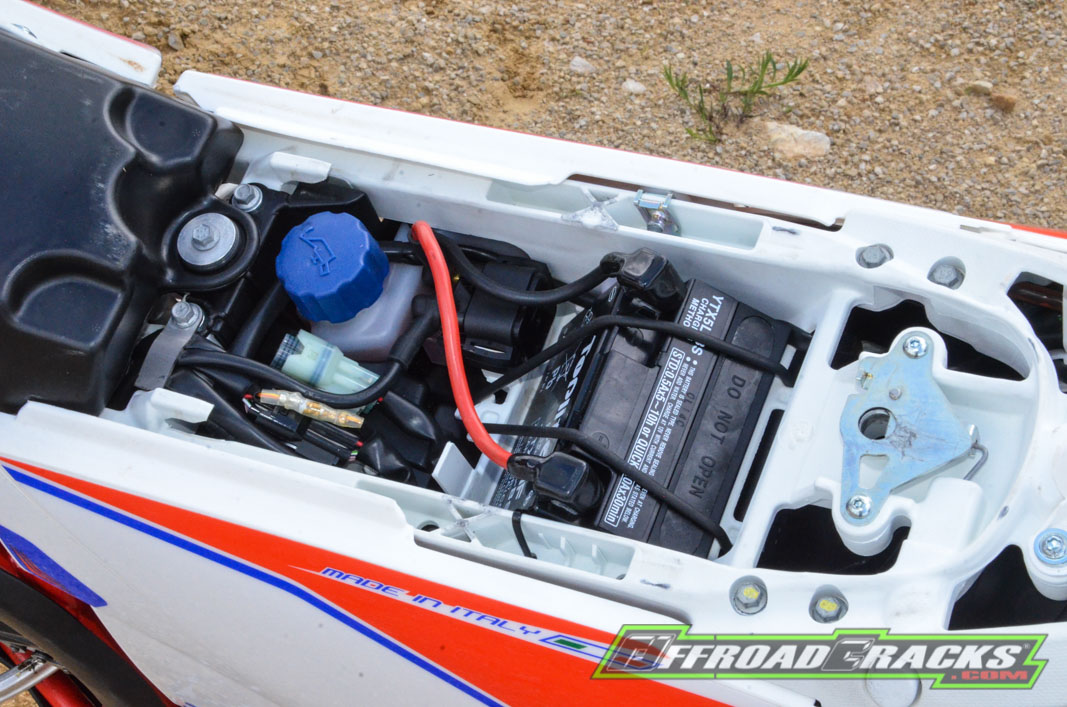 What's also a plus for the Beta is a mapping switch, which you don't really need on an entry-level enduro, but certainly helps for different conditions. It is not for nothing that ambitious pilots also like to use the Beta Xtrainer for training purposes in demanding terrain.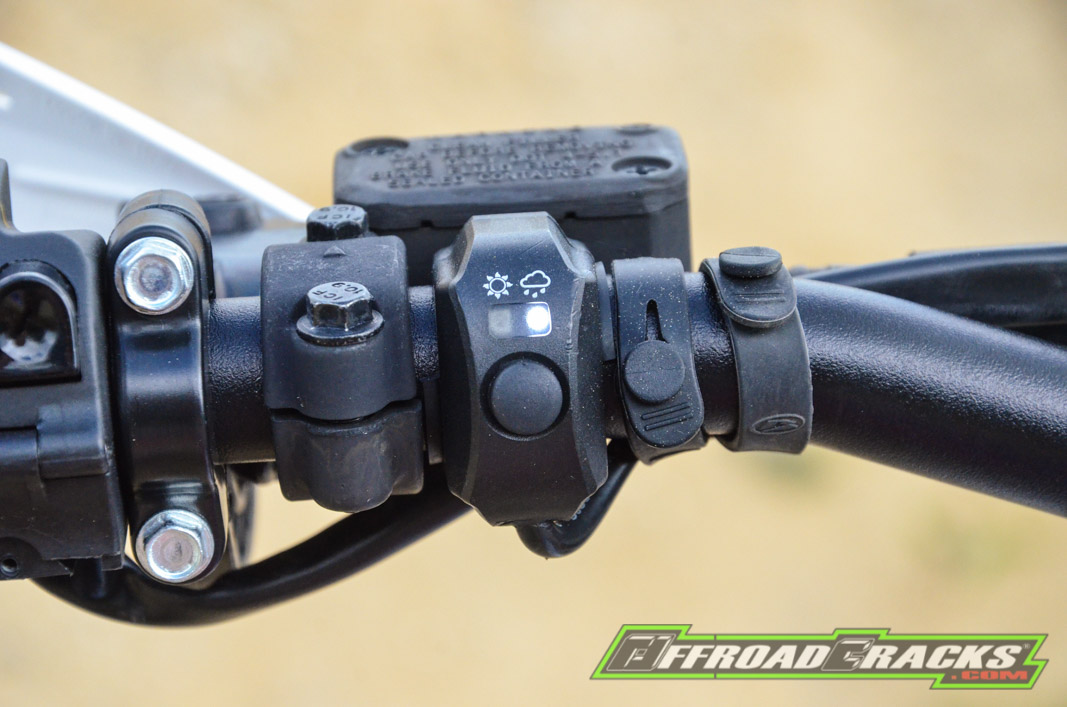 While you will find a classic acid battery, Rieju uses a high quality and light lithium battery.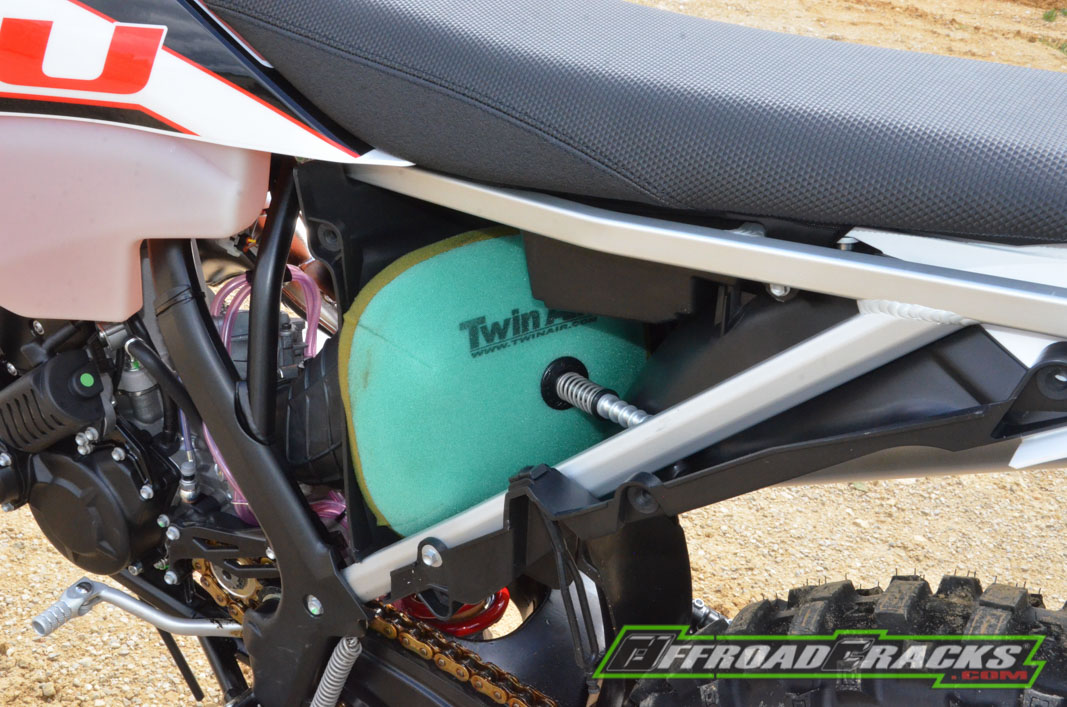 Back to the terrain again: the Beta is a little easier to move uphill in trial-type terrain than the Rieju. On the one hand because of the engine power that can be dosed precisely, the playful handling and the excellent traction on the rear wheel.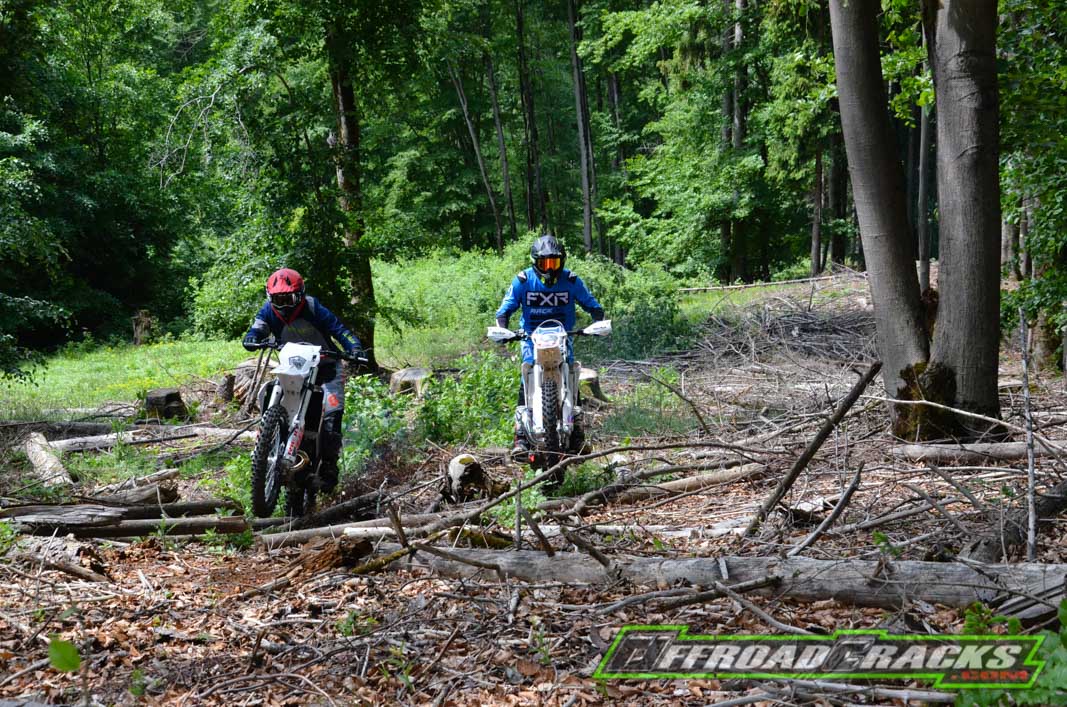 However, if there are longer ascents, then the Rieju can definitely score with its excellent straight-line stability and speed. Depending on the requirement and the terrain, each of the two entry-level enduro bikes has its advantages or disadvantages.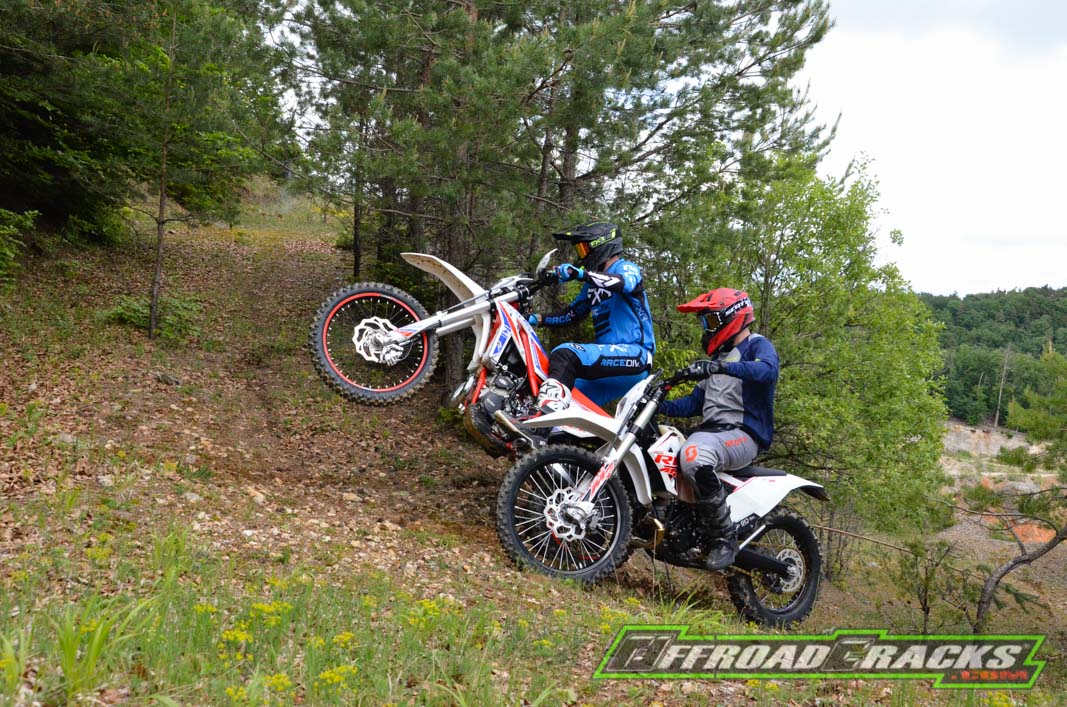 What does that mean overall?
Both concepts are relatively similar in their basic orientation and can therefore shine with solid performance over a large part of the requirements. Since, as a beginner, you have less to do with these different nuances due to a lack of experience, both models can be recommended without any problems. But body size can also play a role.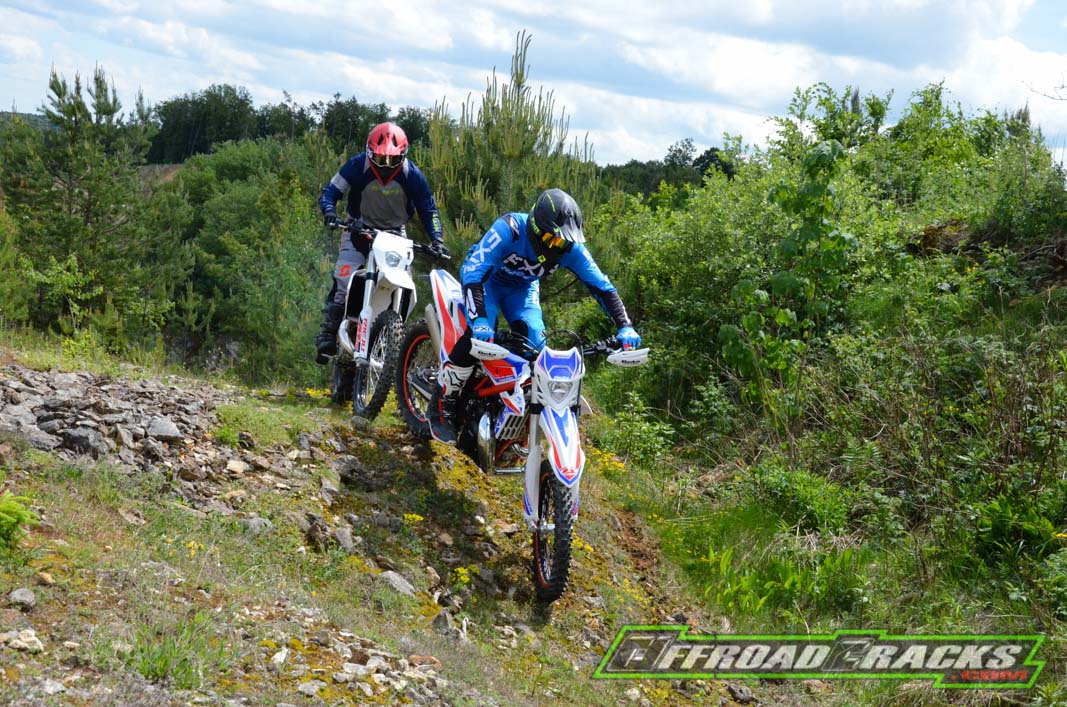 If both enduros are used by experienced pilots, then these small differences show their effect again. What the Ranger manages to do with flying colors at higher speeds, the Beta easily makes up for in trial-like terrain – two bikes that cannot be different, but will also inspire the beginner in parallel flight. BACK to DIRECT LINKS
RATING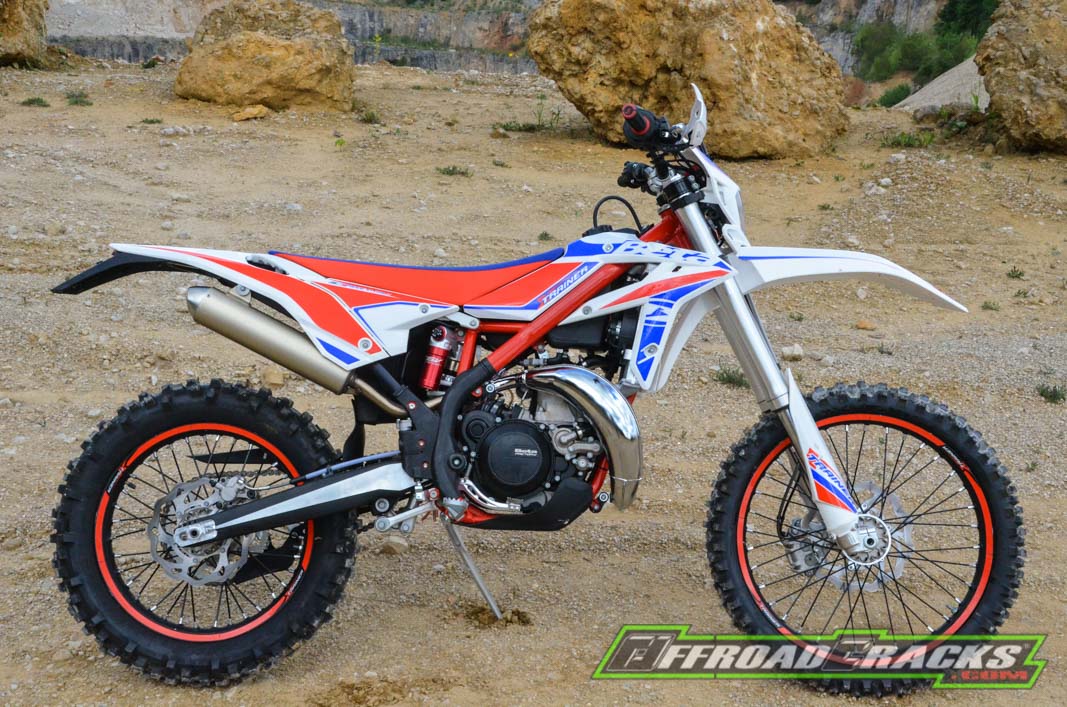 PLUSMINUS BETA 300 Xtrainer 2022
PLUS
Perfectly controllable engine performance
Constant torque curve
Rear wheel traction
Playful handling
Ergonomics
Range of equipment
MINUS
Partially too soft suspension setup
Engine vibrations at higher revs
---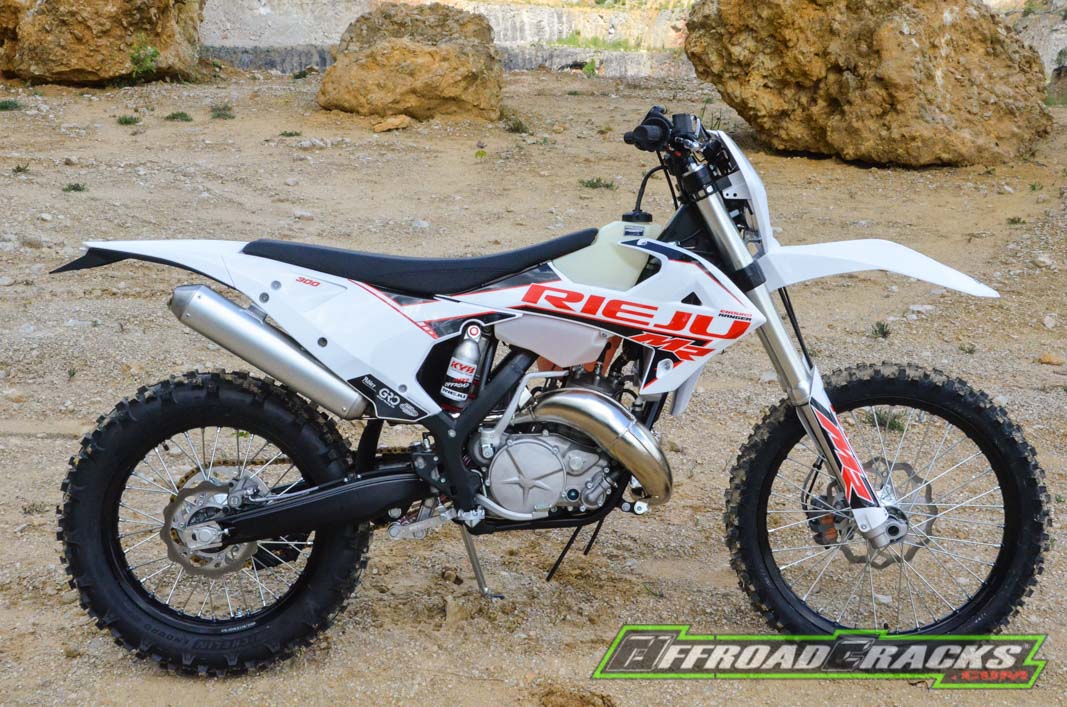 PLUSMINUS RIEJU MR 300 Ranger 2022
PLUS
Easily controllable engine power
Convincing torque
Wide usable rev range
High driving safety
Spring components with reserves
MINUS
Start button on the left
Lamp mask design needs improvement
Engine vibrations at higher speeds
PHOTO GALLERY
---
More information at: www.BETAMOTOR.com &

RIEJU SPAIN
Images: OFFROADCRACKS.com
Gear & protection: FXR-Racing, Alpinestars, Scott, 24MX
Vehicle preperation: Beta Italy
Performance test: Micronsystems
"We say thank you for the professional cooperation"
---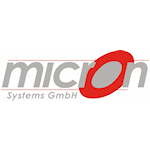 ---