Namibia testing
---
HINWEIS: Das Video ist noch deaktiviert, damit keine unerwünschte Datenübertragung zu Youtube stattfindet. Zur Aktivierung bitte auf das Vorschaubild/Video-Link klicken. Damit werden Daten übermittelt, zu deren Art, Umfang und Verwendungszweck wir keineAuskünfte geben können.
---
NOTE: The video is still deactivated so that no unwanted data transfer to YouTube takes place. To activate, please click on the preview image / video link. This transmits data about the type, extent and purpose of which we cannot provide any information.
---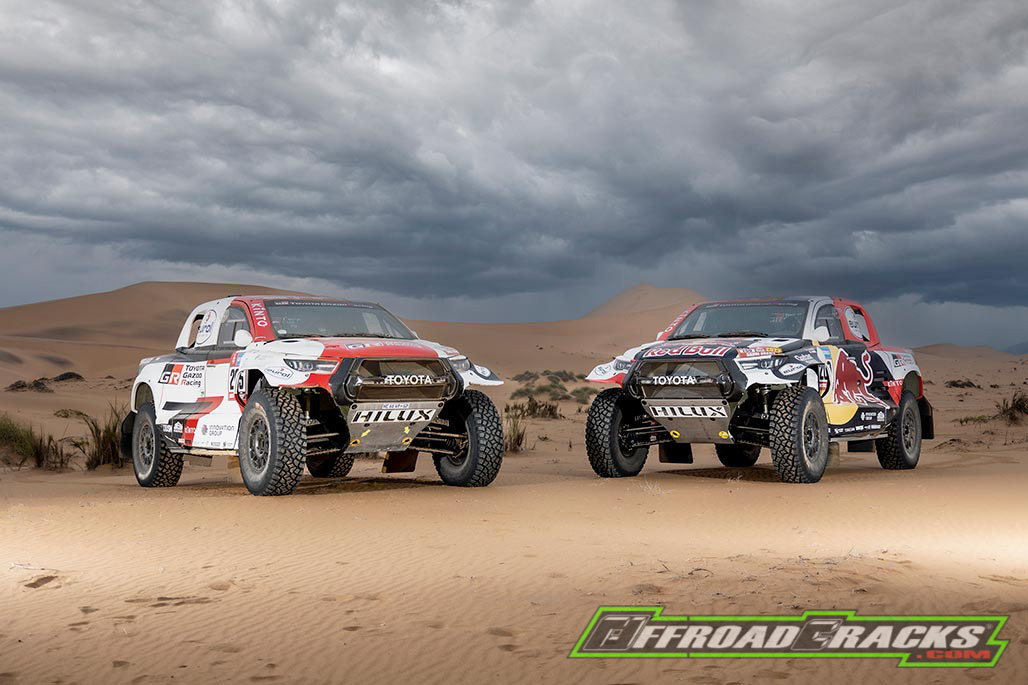 Toyota Gazoo Racing rüstet sich für die Titelverteidigung: Bei der Rallye Dakar 2023 in Saudi-Arabien geht das Team mit drei Toyota GR DKR Hilux T1+ an den Start. Unter ihnen die amtierenden Champions Nasser Al-Attiyah und sein Beifahrer Mathieu Baumel sowie die frischgebackenen südafrikanischen Rallye-Raid-Meister Giniel de Villiers und sein Co-Pilot Dennis Murphy. Henk Lategan und Brett Cummings komplettieren das Aufgebot von Toyota Gazoo Racing.
Die Rallye Dakar ist der Auftakt zur neuen Saison der Rallye-Raid-Weltmeisterschaft (W2RC), bei der Al-Attiyah und Baumel erneut bei den härtesten Cross-Country-Rennen antreten. Die beiden werden an allen fünf Läufen der W2RC-Meisterschaft teilnehmen, dazu zählen neben der Rallye Dakar die Abu Dhabi Desert Challenge Ende Februar, die Rallye Sonora in Mexiko Ende April und der Desafío Ruta 40 in Argentinien Ende August. Den Saisonabschluss bildet die Rallye Marokko im Oktober.
Die beiden anderen Crews werden den Rest der Saison in der südafrikanischen Rallye-Raid-Meisterschaft (SARRC) unter der Flagge von Toyota Gazoo Racing South Africa (TGRSA) fahren. Die Rennserie – eine der härtesten Rallye-Raid-Meisterschaften der Welt – ist ein wichtiger Bestandteil für die kontinuierliche Weiterentwicklung des Toyota GR DKR Hilux T1+. In der abgelaufenen Saison wurden Giniel de Villiers und sein Co-Pilot Dennis Murphy Champions, dicht gefolgt von Henk Lategan und Brett Cummings auf Platz zwei.
Um einen Leistungsausgleich zwischen den Teams der Klassen T1+ und T1U (Ultimate) zu schaffen, hat die FIA ihre Kriterien für die Fahrzeuge weiter verfeinert. Dadurch soll das Feld enger zusammenrücken und der Wettbewerb noch spannender werden. So wurde beispielsweise die Spitzenleistung sowohl bei den Fahrzeugen der Klasse T1+ als auch bei den T1U-Fahrzeugen um 30 kW (41 PS) reduziert und die Leistungskurven angepasst. Auch wurde die Höhenkompensation für T1+-Fahrzeuge mit Turbomotor abgeschafft.
Über die Saison 2022 konnte das Team den GR DKR Hilux T1+ in Bezug auf Qualität, Haltbarkeit und Zuverlässigkeit weiter verbessern. Mehr als 25.000 Renn- und Testkilometer absolvierten die Crews in der W2RC und der SARRC dabei.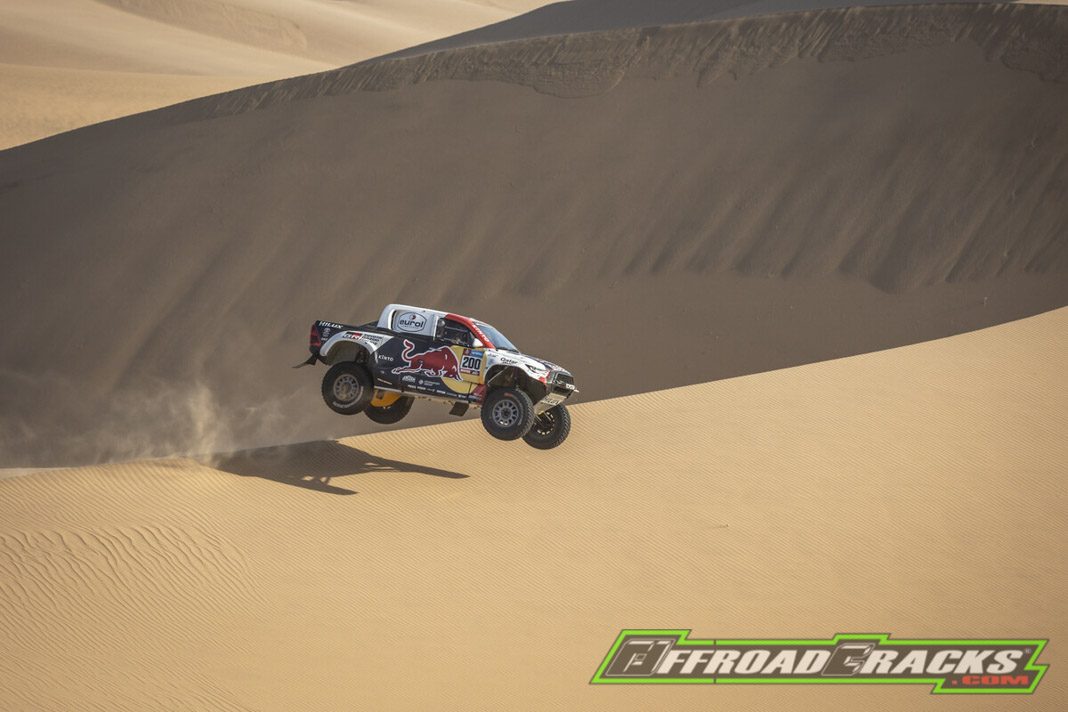 Für die neue Saison wurden die Differenziale, Aufhängungsteile und Querlenker des Fahrzeugs verstärkt. Auch die Abstimmung der Einzeldämpfer wurde überarbeitet, ebenso wie die Schaltvorgänge des Getriebes. Darüber hinaus wurde die Software optimiert und auf den neuesten Rennkraftstoff angepasst.
Neben den Fahrzeugen in den offiziellen Diensten von Toyota Gazoo Racing sind für die Dakar 2023 sieben weitere Privatteams mit einem GR DKR Hilux T1+ gemeldet. Diese Autos weisen ähnliche Ausstattungen und Spezifikationen auf wie die Wagen der Werksteams.
Auch im nächsten Jahr unterstützt Toyota Gazoo Racing erneut das Team Land Cruiser Toyota Auto Body (TLC). Im letzten Jahr holte sich das Team den neunten Sieg in Folge in der Klasse der Serienfahrzeuge. Für die erneute Titelverteidigung geht das Team bei der Ausgabe 2023 mit einem neuen Land Cruiser 300 GR SPORT ins Rennen.
Das Hino Team Sugawara trat bei der Rallye Dakar 2022 zum ersten Mal mit einem Fahrzeug mit Renn-Hybridsystem an und belegte in der Lkw-Klasse Platz 22. Für 2023 hat das Team das Hybridsystem noch einmal weiterentwickelt und will auf den Ergebnissen des Vorjahres aufbauen.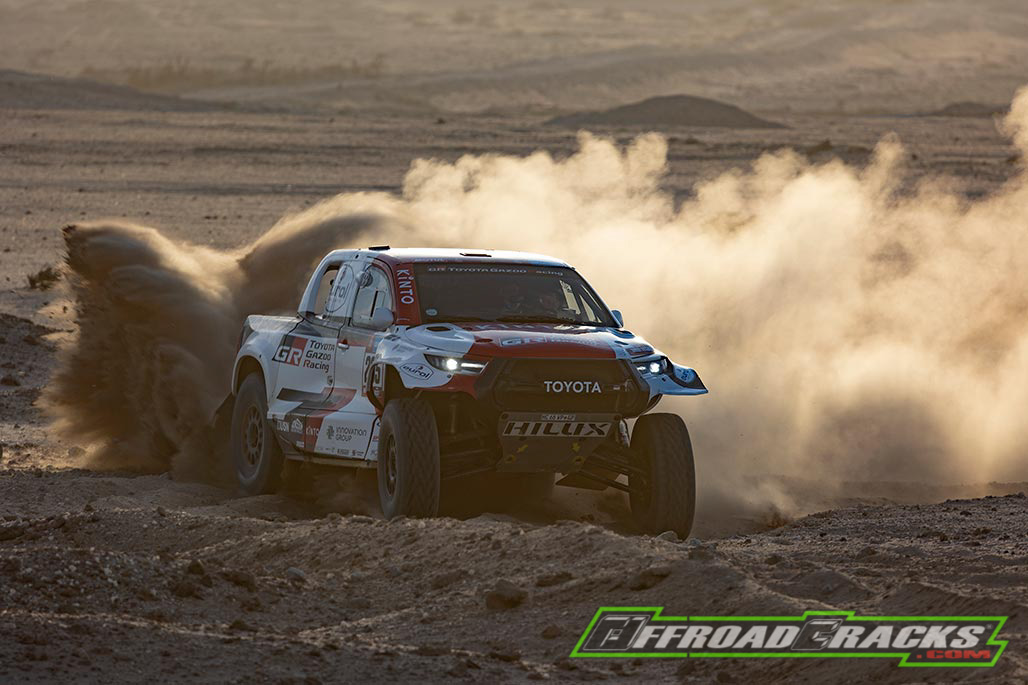 Die Dakar 2023 startet am 31. Dezember 2022 an der Nordwestküste Saudi-Arabiens, bevor sie ins Landesinnere in die Stadt Ha'il führt. Von dort aus führt die Route weiter in südöstlicher Richtung durch das berüchtigte "Empty Quarter", bevor sie am 15. Januar 2023 in nördlicher Richtung zum Ziel in Dammam führt.
"Die Saison 2022 lief für uns einfach fantastisch", so Alain Dujardyn, Teamchef bei Toyota Gazoo Racing W2RC. "Neben der Dakar konnten wir den ersten W2RC- und den SARRC-Titel gewinnen. Ich möchte allen drei Crews für ihre Leistungen in den beiden Serien danken. Sie haben sich stets weiterentwickelt und unser Technikchef Glyn Hall hat unermüdlich an der Verbesserung unseres siegreichen Rennwagens gearbeitet. Davon werden wir auch bei der Dakar 2023 profitieren."
"Wir freuen uns auf das härteste Autorennen der Welt und dass wir mit drei Crews am Start sind", ergänzt Glyn Hall, Teamchef und technischer Direktor bei Toyota Gazoo Racing Dakar & SARRC. "Wir haben im Laufe des Jahres hart an der Verfeinerung des GR DKR Hilux T1+ gearbeitet und sind gut auf das Rennen und die Konkurrenz vorbereitet."
Technische Daten GR DKR Hilux T1+
| | |
| --- | --- |
| Motor | V35A Serienmotor |
| Herkunft | Land Cruiser 300 |
| Motortyp | Twin Turbo, Benziner |
| Steuerregelung | Ladedruckbegrenzung durch FIA-Referenz-Leistungskurve |
| Leistung | 266 kW (362 PS) bei 5.100 U/min |
| Drehmoment | 620 Nm |
| Motorsteuerung | Motec |
| Getriebe | Sadev, sequenzielle Sechsgangschaltung |
| Differenziale | Sperrdifferenziale (vorne, Mitte, hinten) |
| Kupplung | Keramik-Doppelkupplung, 215 Millimeter |
| Konstruktion | Rohrrahmen |
| Radstand | 3.140 Millimeter |
| Gesamtlänge | 4.810 Millimeter |
| Gesamtbreite | 2.300 Millimeter |
| Gesamthöhe | 1.890 Millimeter |
| Gesamtgewicht | 2.000 kg, FIA-reguliertes Minimum (Trockengewicht) |
| Karosserie | Toyota Hilux Doppelkabine Pick-Up, Vollverbundwerkstoff |
| Vorderradaufhängung | Doppelquerlenker, 350 Millimeter Federweg |
| Hinterradaufhängung | Doppelquerlenker, 350 Millimeter Federweg |
| Räder | Evo Course, 17 Zoll |
| Bereifung | BF Goodrich, 37 Zoll |
| Tank | FT3 Safety Cell, 540 Liter |
---

TOYOTA GAZOO Racing is set to take on the 2023 Dakar Rally with a three-car team early in January. The reigning masters, Nasser Al-Attiyah and co-driver Mathieu Baumel, will return to lead the way together with newly crowned South African Rally-Raid Champion Giniel de Villiers and co-driver Dennis Murphy, as well as Henk Lategan and Brett Cummings.
This event will mark the start of the World Rally-Raid Championship (W2RC) 2023 season, with Nasser and Mathieu again taking on the world's toughest cross-country races.
The duo will be competing in all five rounds of the FIA's W2RC during 2023. The championship starts with the Dakar Rally in January, and will be followed by the Abu Dhabi Desert Challenge at the end of February; the Sonora Rally in Mexico during April and the Desafio Ruta 40 in Argentina at the end of August. The season will draw to a close with the Rally of Morocco, again scheduled for mid-October.
The two remaining crews will compete the rest of the season in the South African Rally-Raid Championship (SARRC) as part of TOYOTA GAZOO Racing South Africa (TGRSA), which also serves as a key component in the ongoing testing and development of the GR DKR Hilux T1+. In 2022, the seven-round SARRC was won by Giniel and the former champions Henk and Brett finished second in the championship considered one of the world's toughest rally-raid series.
The tough 2022 racing season offered TGR comprehensive opportunities to improve the Dakar-winning GR DKR Hilux T1+ in terms of quality, durability and reliability. In line with Toyota's ethos of "Making Ever-better cars", the team capitalised on more than 25,000km of racing and testing completed by its crews in both the W2RC and SARRC. Furthermore, the crews further built on their own competencies, thanks to 130 combined days on the road, securing both the W2RC and SARRC titles for the team.
For the 2023 season, the FIA has refined its criteria aimed at balancing the performance between the Class T1+ vehicles, and their counterparts in Class T1U (ultimate). The primary focus of the updated rules is to close up the field, making competition even tougher. For example, both the Class T1+ and T1U cars have had their peak power output reduced by 30kW. The power curves have been adjusted to blend the change proportionately, and the altitude compensation for turbo powered T1+ cars has been removed.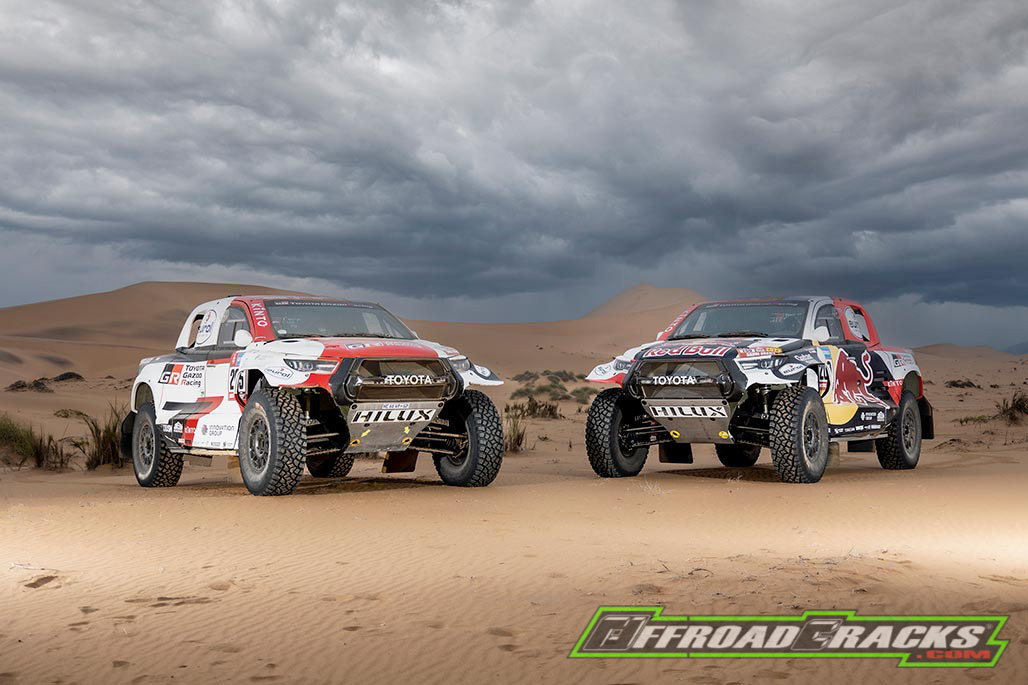 At the same time, TGR has been constantly upgrading the GR DKR Hilux T1+, with the aim of improving its quality, durability and reliability even further, ensuring that the car is fully prepared for the rigours of the Dakar Rally, the W2RC and the SARRC. As such, improvements have been made to the car's differentials, suspension parts and wishbones, which have been reinforced. The single damper setup has also been optimised, as has the transmission's shifting characteristics. Finally, the software has been tweaked to accept the latest racing fuel, and to ensure that the car conforms to the Balance of Performance requirements as set out by the FIA.
The team's commitment to the development of the GR DKR Hilux T1+ is reflected by the privateer racing community, with seven privately entered versions of the car signed up for Dakar 2023. These cars sport similar setups and specifications to the GR DKR Hilux T1+ campaigned by the factory entry.
TGR also supports Team Land Cruiser Toyota Auto Body (TLC), a rally team of Toyota Auto Body Co., Ltd. that competes in the Toyota Land Cruiser. In the 2022 Dakar Rally, it achieved its ninth consecutive victory in the production car category. In the 2023 Dakar Rally, the team will enter a new Land Cruiser 300 GR SPORT and aim for their 10th straight victory in the production car category.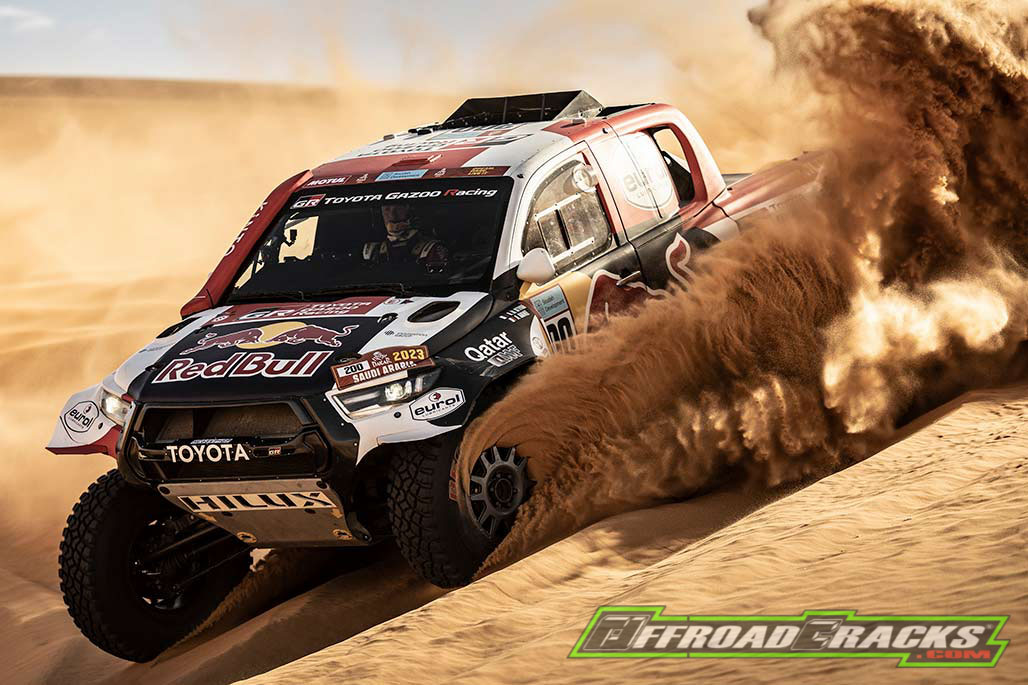 HINO TEAM SUGAWARA entered the 2022 Dakar Rally with a vehicle equipped with a racing hybrid system for the first time, and finished 22nd overall in the truck category. In the 2023 Dakar Rally, they will participate in a truck equipped with an improved hybrid system.
Dakar 2023 is set to start on 31 December, 2022 on the North Western coast of Saudi Arabia, before traveling inland towards the city of Ha'il. From there, the route continues in a South-easterly direction, bisecting the feared Empty Quarter, before finally swinging northwards towards the finish at Dammam, on 15 January, 2023.
QUOTES
Alain Dujardyn, TGR W2RC Team Principal:
"This year has been a fantastic one for us. We started by winning Dakar 2022, before adding the inaugural W2RC title to our list of achievements. Giniel also won the SARRC this year, and I would like to thank all three our crews for their respective achievements in both the W2RC and SARRC. They constantly pushed the limits for better, and the technical mastermind of Glyn Hall worked tirelessly to continuously improve our all-winning race car, making it ever-better in preparation for Dakar 2023."
Glyn Hall, TGR Dakar & SARRC Team Principal and Technical Director:
"Dakar 2023 is around the corner, and we are excited to take on the world's toughest automotive race with a three-car team in January. We've worked hard at refining our GR DKR Hilux T1+ over the course of the year, and we're confident that we are well-prepared to take on the rigours of the race, as well as our competition."
Nasser Al-Attiyah:
"Winning the 2022 W2RC title was my first goal, and I'm proud to say that we achieved it. Also, the car has been getting steadily better throughout the year, and with a final test in Namibia, I'm sure that we've locked in the best possible version of the GR DKR Hilux T1+yet. Now, all that remains is to go racing in Saudi Arabia."
Giniel de Villiers:
"This year has offered some tough challenges, especially in terms of the SARRC. With that said, we managed to prevail to win the 2022 title, and as such we've grown considerably as a team. The car has also matched our personal growth, and we are excited to be back at the Dakar Rally this January. Winning the SARRC title has affirmed our belief that we are in the mix for overall victory this January, and we can't wait for the race to start."
Henk Lategan:
"Dakar 2022 offered a steep learning curve, and I'm pleased with our experience earlier this year. Now, it is time to face the challenge yet again, but this year we are considerably more experienced, and the GR DKR Hilux T1+ is better than ever. Let's get going in Saudi Arabia!"
CAR NUMBERS:
200 – Nasser Al-Attiyah / Mathieu Baumel

205 – Giniel de Villiers / Dennis Murphy

217 – Henk Lategan / Brett Cummings
SPECIFICATIONS: GR DKR HILUX T1+ (2023)
Engine: V35A Production Engine
Donor: Land Cruiser 300
Engine Type: Twin Turbo, Petrol
Control Regulation: Boost Limited by FIA Reference Power Curve
Power: 266 kW @ 5,100 rpm
Torque: 620 Nm
Engine Management: Motec
Transmission: Sadev 6-speed, Sequential Shift
Differentials: All Limited Slip (front, centre, rear)
Clutch: Ceramic Twin Plate, 215 mm
Construction: Tubular Frame
Wheel Base: 3,140 mm
Overall Length: 4,810 mm
Overall Width: 2,300 mm
Overall Height: 1,890 mm
Overall Mass: 2,000 kg, FIA Regulated Minimum (dry weight)
Body: Toyota Hilux Double Cab Pick-Up, Full Composite
Front Suspension: Double Wishbone, 350 mm Travel
Rear Suspension: Double Wishbone, 350 mm Travel
Wheels: Evo Course, 17 inches
Tyres: BF Goodrich, 37 inches
Fuel Tank: FT3 Safety Cell, 540 litres
Quelle / Source: Toyota Gazoo Racing