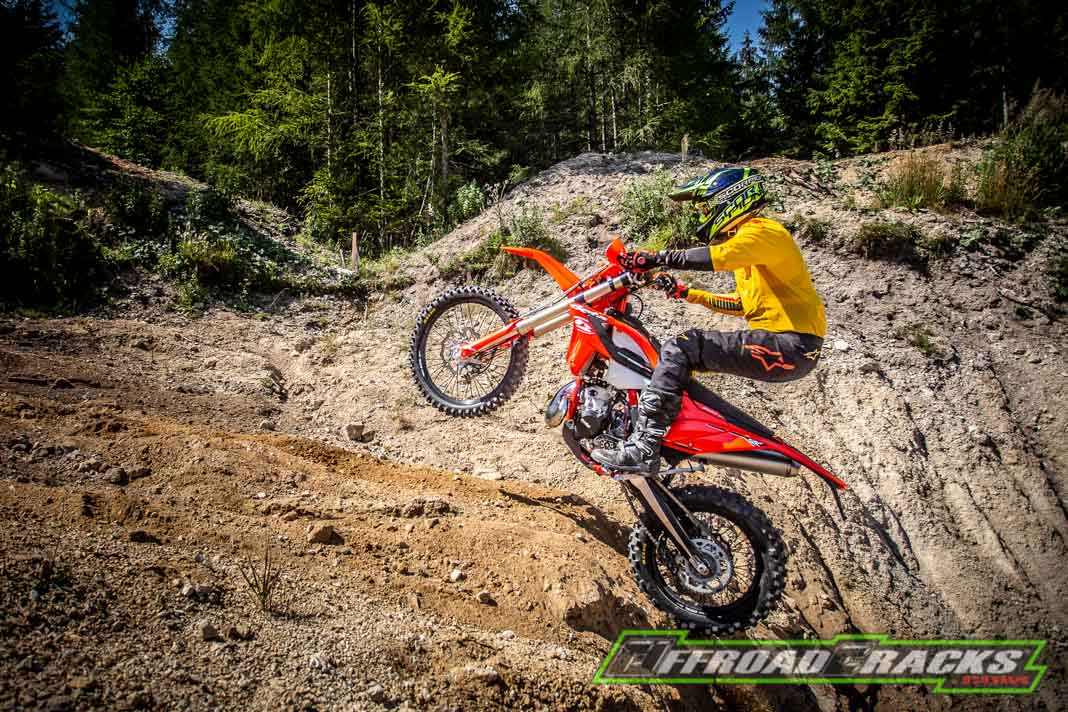 Erneut verschlug des die Beta-Offiziellen in die einmalige Offroad-Gegend rund um Rohr im Gebirge in Österreich, um den gut 17 Männern der inernationalen Fachpresse einen ersten Eindruck der BETA Sportenduromodellen 2023 auf passendem Terrain zu verschaffen. Einmalig deshalb, da das Terrain vor gut zwei Wochen als Austragungsort für den Österreichischen Enduro Cup herangezogen wurde. Diese Rennserie ist bekannt für allerleckerstes Offroad-Gelände, so dass auch viele Fahrer aus den angrenzenden Ländern gerne die weite Anfahrt nach Österreich zum Cup in Kauf nehmen. Denn dabei handelt es sich nicht um einen kompakten Rundkurs, auf dem der Drehwurm gratis mitgeliefert wird, sondern um weitläufiges Gelände von mehreren 100 Hektar, das einem Landwirt gehört, der nicht nur passionierter Enduro-Enthusiasten, sondern auch Beta-Besitzer ist.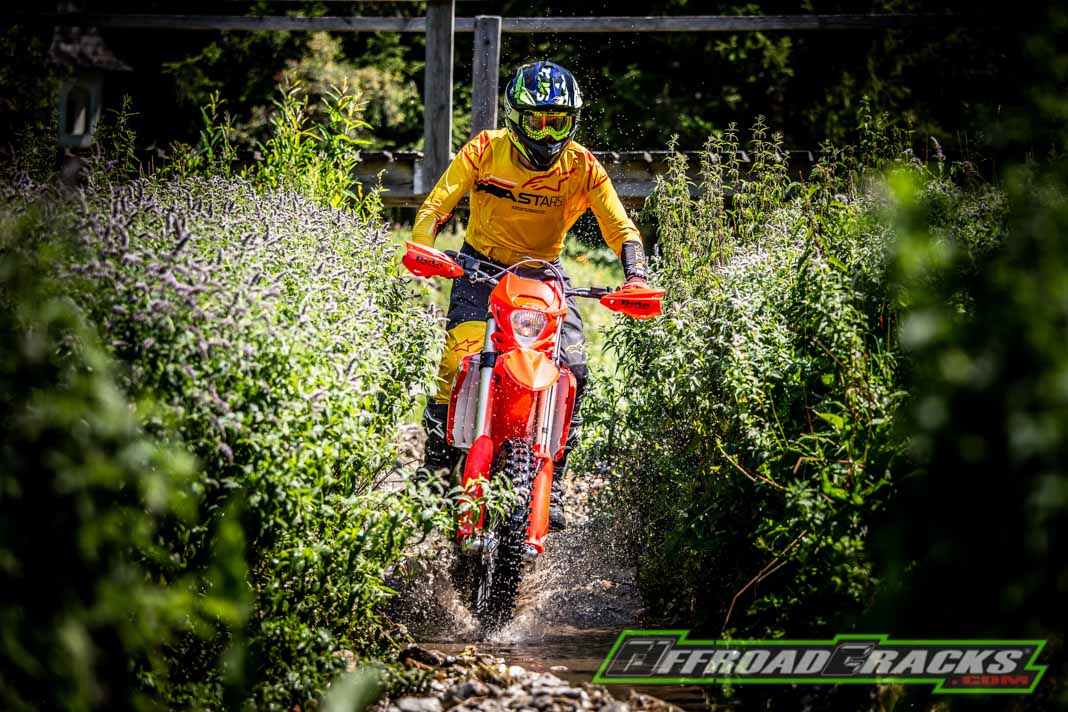 An insgesamt drei Tagen – 1 Presse- und 2  Händlertage – wurde im Rohr im Gebirge auf 650 bis 1.200 Metern mächtig Gas gegeben, um sich von möglichst vielen der Zwei- und Viertakt-Enduros einen Eindruck zu verschaffen. Dazu gab es wie üblich eine Vorstellung mit detaillierten Informationen zu den Bikes, Hintergründen, Marktentwicklung und Zukunfstplänen, Anschließend ging es zu den ersten freien Testfahrten auf einer markierten Runde, sowie geführten 1-Stunden-Touren  bis hin zu ausgewählten Fotostationen.
Und das dieses geniale Gelände unter besten Wetterbedingungen alles bereit hielt, was sich das Endurofahrer-Herz wünscht, war von vornherein klar. Egal ob Anstiege, steile Abfahrten, schnell Passagen, Wurzelwerk, Sprünge oder mit Speed auf Singletrails, die roten Offroad-Geräte aus Italien mussten alles geben, um ihre Treiber zu beeindrucken.
Hier diverse Eindrücke von den Fahrzeugen und dem Gelände:
Was gibt's Neue von den Italienern für 2023?
ZF-Gabel mit optimiertem Innenleben: Ölfluss-Engpässe wurden zur Optimierung des Bewegungsflusses beseitigt
ZF-Gabel mit größerem Einstellungsbereich, gesteigertem Komfort und mehr Stabilität
Neue Kühler-Tank-Verkleidung in kompakter Ausführung für mehr Bewegungsfreiheit
Neues Dekor
RR 125 2T
Schwungrad erleichtert
Kurbelwelle mit verringertem Durchmesser
Reduzierte Massenträgheit im Motor, dadurch schnelleres Hochdrehen möglich
Neues kompakteres Motorgehäuse mit optimiertem Einlass
Setup-Update der Auslasssteuerung

RR 250 & 300

bleiben technisch unverändert, da bereits in 2022 umfangreich modifiziert
RR 350-390-430-480 4T
Traktionskontrolle jetzt auch bei den Standard-Modellen für beide Mappings
Längerer Krümmer zur Steigerung des Drehmoments
Neue Mappings
PREISE 2023
Viertakter
• RR 350 EFI 2023 9.990 Euro
• RR 390 EFI 2023 9.990 Euro
• RR 430 EFI 2023 9.990 Euro
• RR 480 EFI 2023 9.990 Euro
Zweitakter
• RR 125 8.490 Euro
• RR 200 8.790 Euro
• RR 250 9.190 Euro
• RR 300 9.390 Euro
Verfügbarkeit: SOFORT
Und wie haben sich die neue 2023er Modell fahren lassen? Im Prinzip ziemlich ähnlich wie die Vorgängermodelle aus dem Jahre 2022, da die Änderungen überschaubar sind. Die Viertakter mit ordentlich Druck aus dem Drehzahlkeller, der wie bekannt stets bestens dosierbar ist. Die Zweitakter mit einer gewissen Leichtigkeit und überzeugenden Leistungsabgabe ab Leerlaufdrehzahl. Die 125er ist noch einen Ticken sportlicher geworden, da das Herzstück nun noch etwas schneller hochdreht. Optisch hat sich durch die schwarzen Akzente an der Tankverkleidung für 2023 durchaus etwas getan, was uns gefällt und immer wieder sticht dabei die enorme Traktion am Hinterrad hervor. Um jedoch detailliertere Aussagen treffen zu können, müssen wir das jeweilige Modell unserem intensiven Einzeltest mit allem Drum und Dran unterziehen. Wir bleiben dran…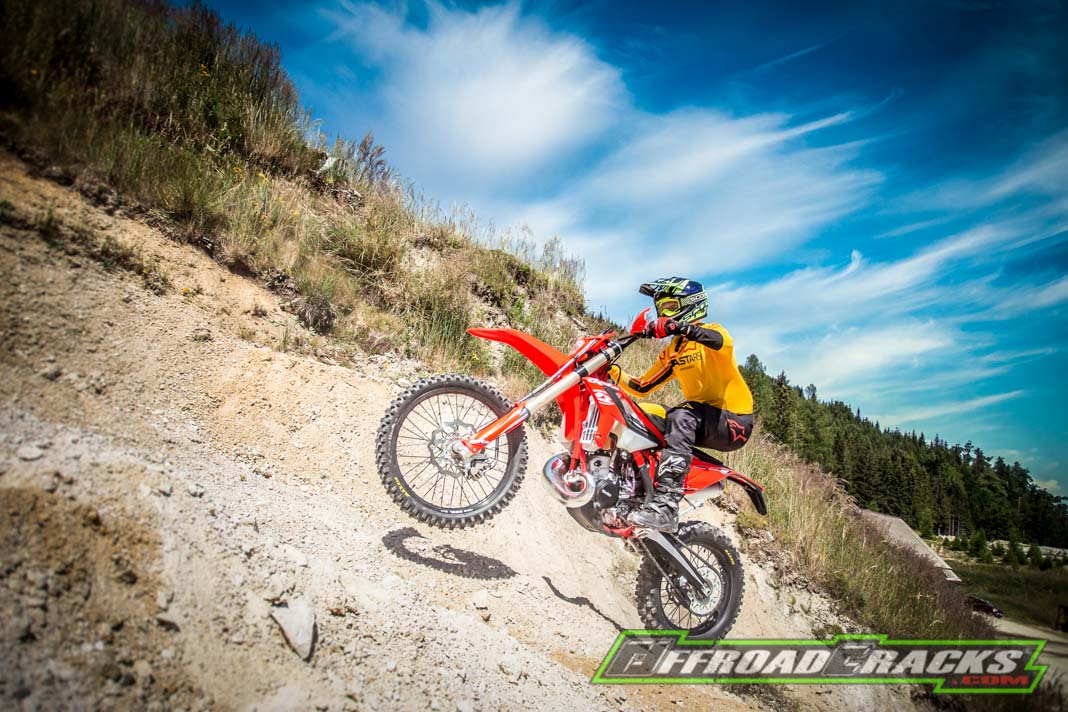 ---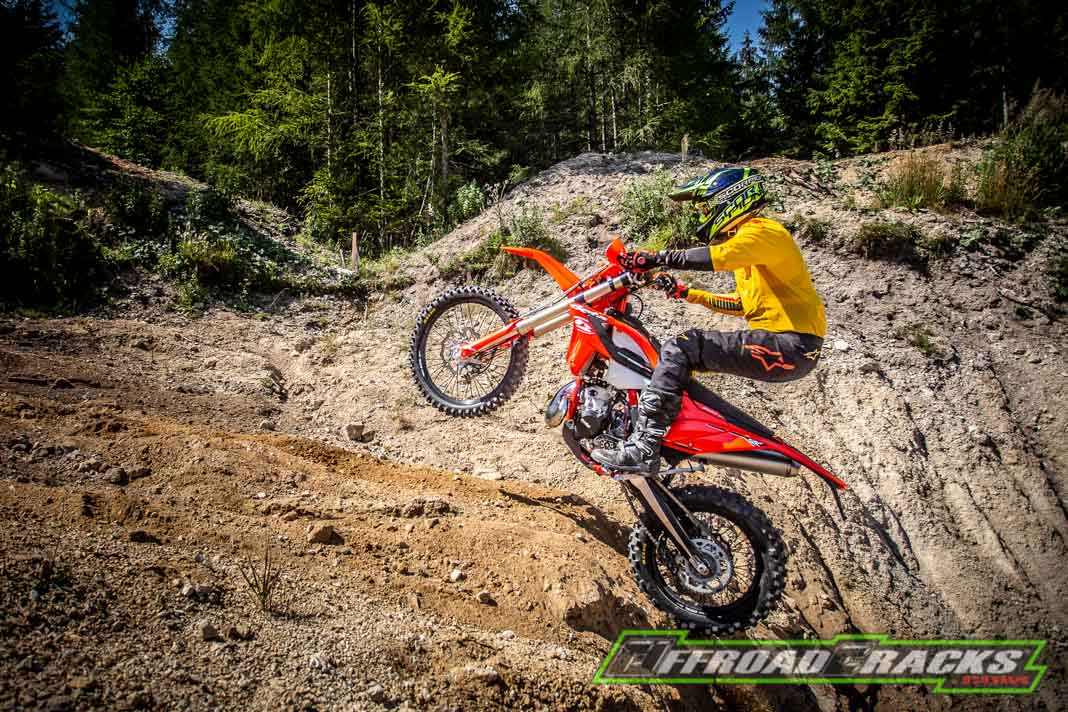 Once again, the Beta officials went to the unique off-road area around Rohr im gebirge in Austria to give the 17 or so men from the international trade press a first impression of the BETA sports enduro models 2023 on suitable terrain. Unique because the terrain was used as a venue for the Austrian Enduro Cup a good two weeks ago. This racing series is known for the most delicious off-road terrain, so that many drivers from neighboring countries are happy to make the long journey to Austria. Because this is not a compact circuit where the rotary worm is supplied free of charge, but extensive terrain of several 100 hectares that belongs to a farmer who is not only a passionate enduro enthusiast, but also a beta owner.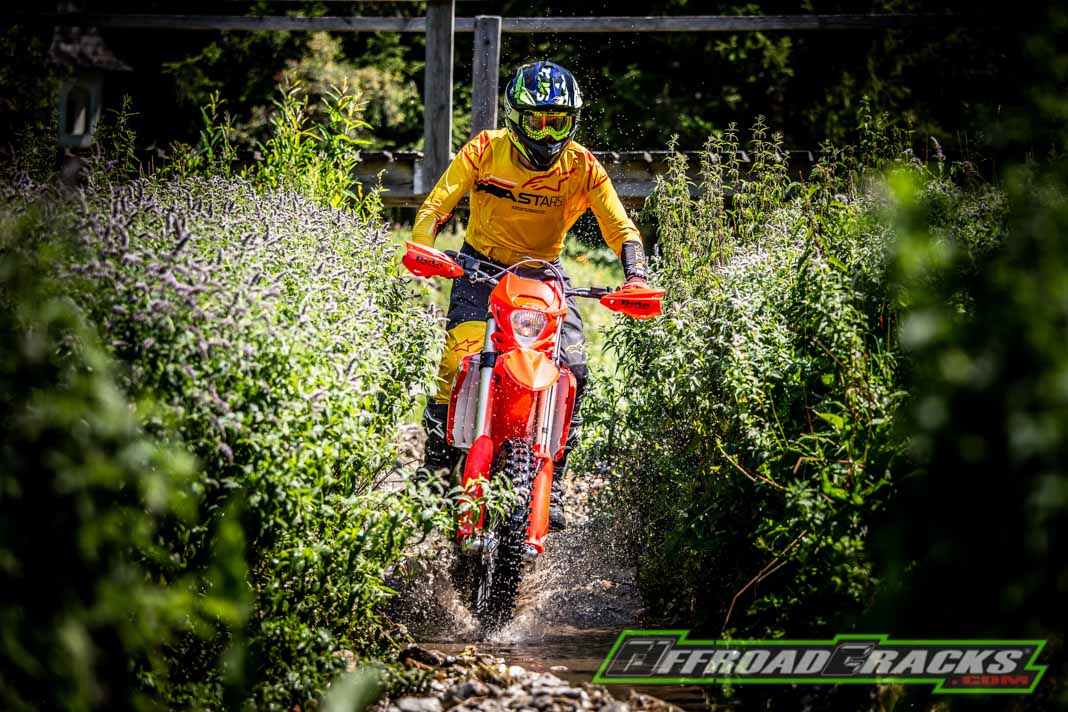 On a total of three days – 1 press and 2 dealer days – in the Rohr im gebirge at 650 to 1,200 meters, the gas was pumped to get an impression of as many of the two- and four-stroke enduros as possible. As usual, there was a presentation with detailed information about the bikes, background, market development and future plans. Then we went to the first free test rides on a marked lap, as well as guided 1-hour tours up to the photo productions.
And it was clear from the outset that this ingenious terrain, with the best weather conditions, had everything the enduro rider's heart could wish for. Regardless of whether it was uphill, steep descents, fast passages, roots, jumps or at speed on single trails, the red off-road machines from Italy had to give their all to impress their drivers.
Here are various impressions of the vehicles and the terrain:
What's new from the Italians for 2023?
ZF fork with optimized inner parts: Oil flow bottlenecks have been eliminated to optimize the flow of movement
ZF fork with a larger adjustment range, increased comfort and more stability
New radiator tank cover in a more compact design for better movement
New decals
RR 125 2T
Lightened Flywheel
Reduced crankshaft diameter
Reduced mass inertia in the engine, enabling faster revving
New, more compact motor housing with optimized intake
Setup-Update of the outlet control

RR 250 & 300

remain technically unchanged, as already extensively modified in 2022
RR 350-390-430-480 4T
Traction control also on the standard models for both mappings, now
Longer pipe to increase torque
New mappings
AVAILABLE: NOW!
And how did the new 2023 model so far? In principle quite similar to the previous models from 2022, as the changes are not so intense.The fourstrokes with a lot of torque from the low revs, which, as is well known, can always be optimally dosed. The twostrokes with a certain lightness and convincing power output from idle speed. The 125 has become a bit sportier, since the heart now revs up a little faster. Visually, the black accents on the tank cover for 2023 have definitely changed something that we like and again and again the enormous traction on the rear wheel stands out. However, in order to be able to make more detailed statements, we have to subject the respective model to our intensive individual test with all the trimmings. We stay tuned…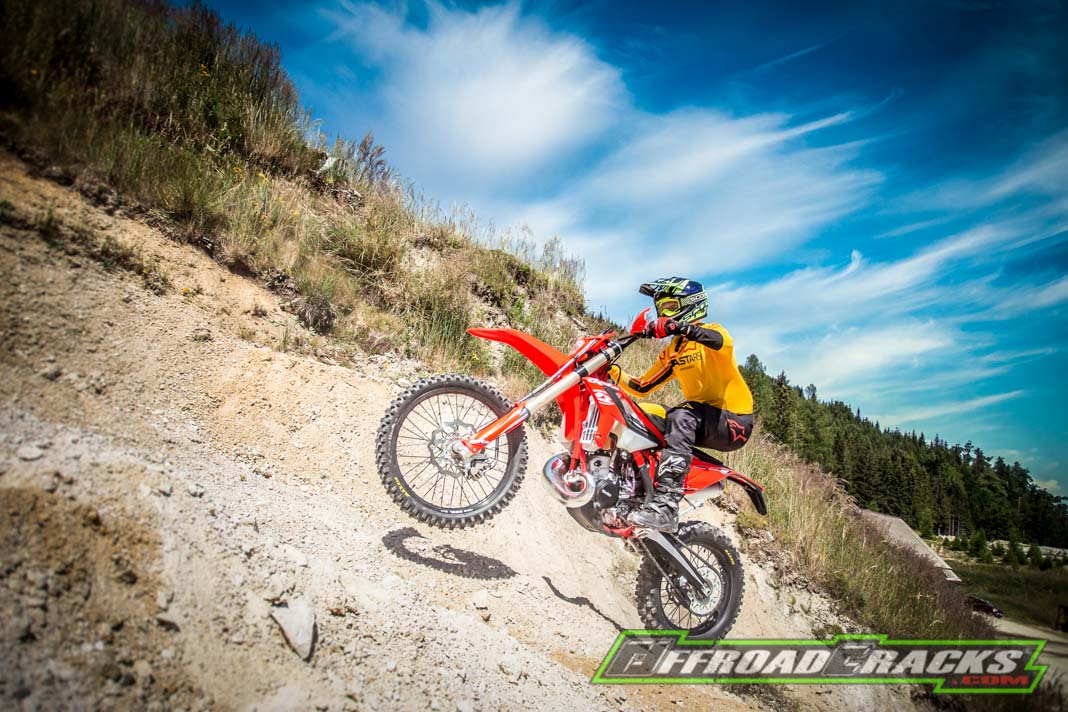 Quelle / Source: BETAMOTOR