Sealy, Texas – Hennessey Performance Engineering (HPE) hat dem Ford F-150 mit dem neuen Venom 775 Supercharger ordentlich Dampf unter die Haube gestopft.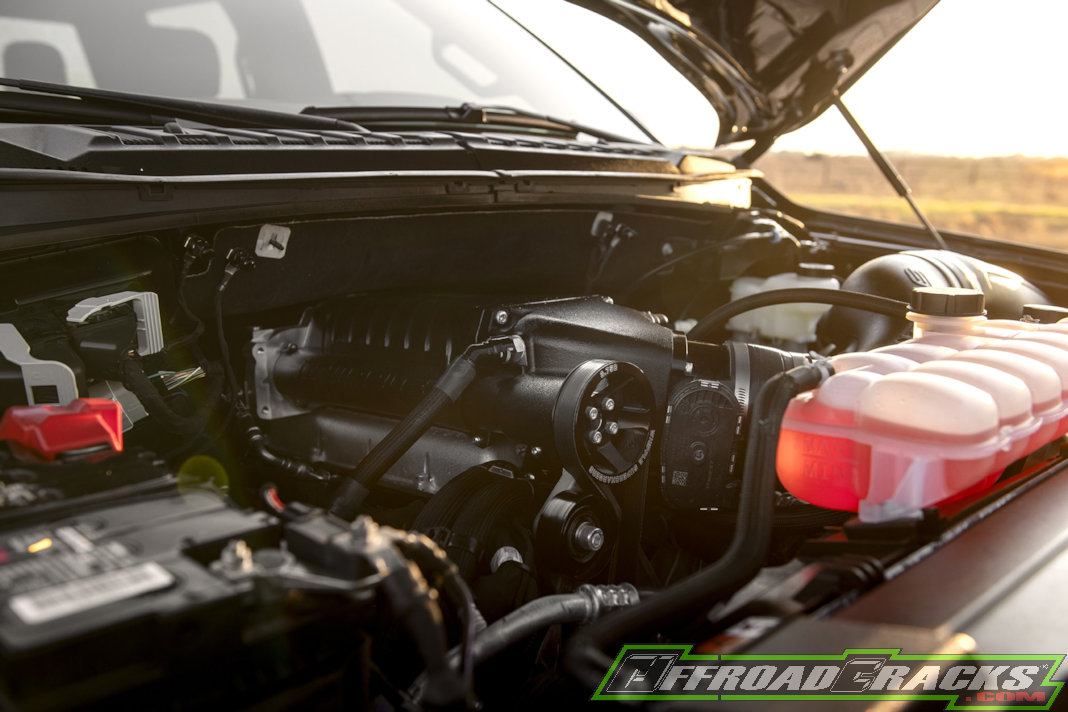 Die Hennessey-Techniker haben den regulären 5,0-Liter-Coyote F-150 in ein echtes Muscle-Car verwandelt, der für alle Bedingungen bereit zu sein scheint. Der werkseitige 395-PS reichten natürlich nicht aus und wurden durch einen 2,9-Liter-Kompressor auf sagenhafte 785 PS aufgepumpt. Der Motorraum ist dabei von einer speziellen Ram Air Haube abgedeckt.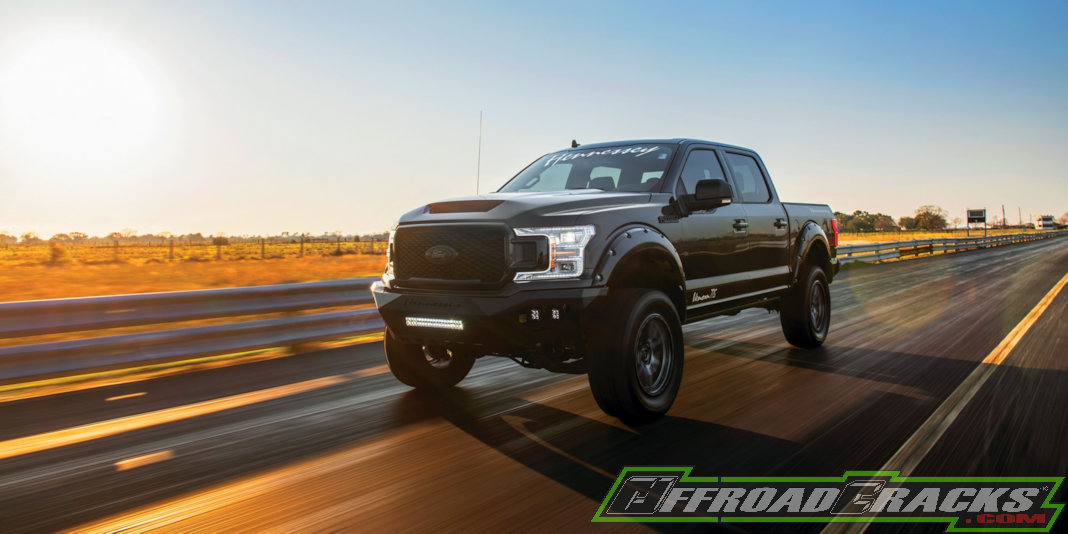 Nachdem Hennessey all diese Pferdestärken unter die Haube gepackt hatte, machte man sich an die Arbeit den Rest des Venom 775 mit allerlei Leckereien auszustatten. Für eine angemessene Verzögerung sind vorne riesige 15,1-Zoll-Bremsscheiben (38,4cm) mit 6-Kolben-Bremssätteln von Brembo im Einsatz. Zudem erhielt der Venom 775 einen sechs Zoll Lift-Kit (15,2cm), der die 20-Zoll-Felgen und 35-Zoll-Toyo-Reifen passend ins Fahrzeugbild integriert. Um ihm den einzigartigen Hennessey-Auftritt zu verleihen ist er mit eigenen Hennessey-Stoßfängern ausgestattet, die mit LED-Scheinwerfer versehen sind. Für den Einstieg wurden automatische Dropdown-Trittbetter eingebaut.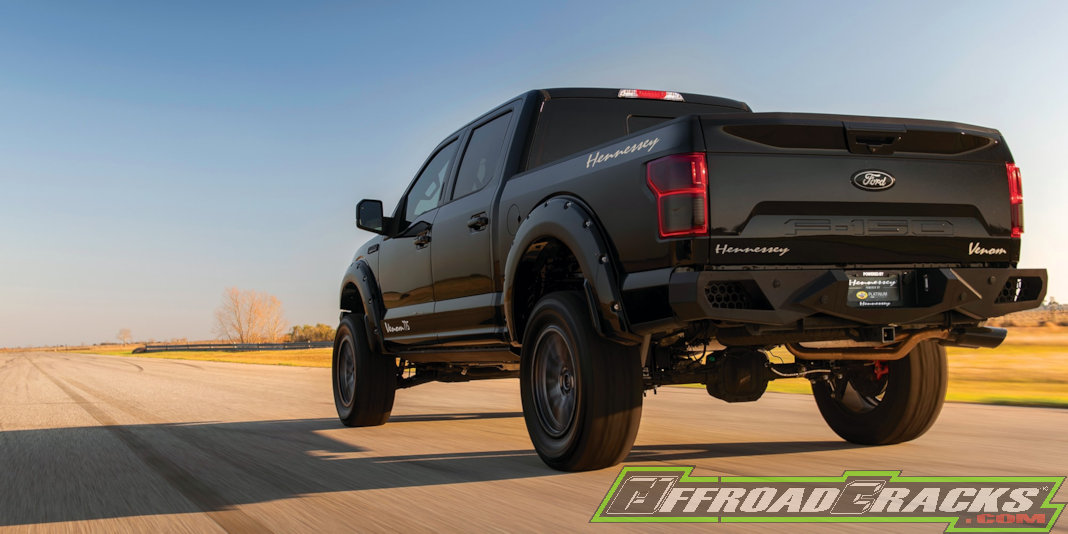 Der Innenraum des Trucks wurde ebenfalls mit einem Hennessey Venom Interior versehen. Bestehend aus Plüschleder, Wildledereinsätzen und individuell gestaltbaren Nähten – je nach Käufer-Wunsch.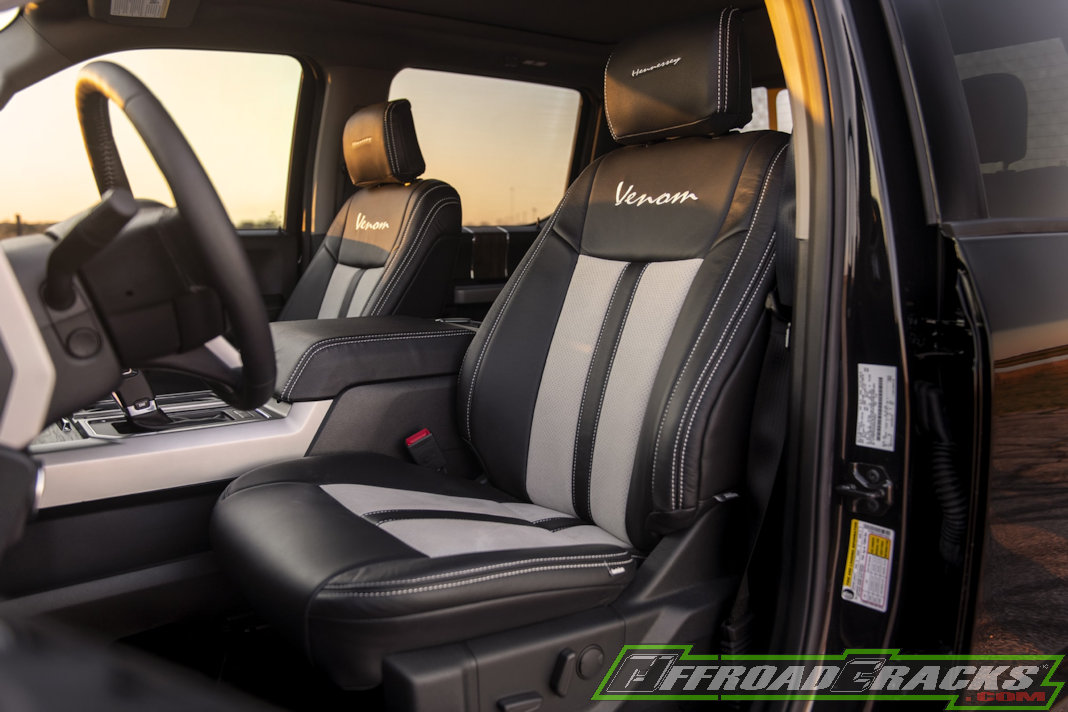 "Bei Hennessey Performance setzen wir alles daran, die Konkurrenz zu vernichten. Der Venom 775 ist der Höhepunkt dessen, wie der perfekte F-150 sein sollte", erklärte Gründer und CEO John Hennessey.
Für jeden Venom 775-Truck gilt eine Garantie von 3 Jahren / 36.000 Meilen für alle von HPE durchgeführten Upgrades.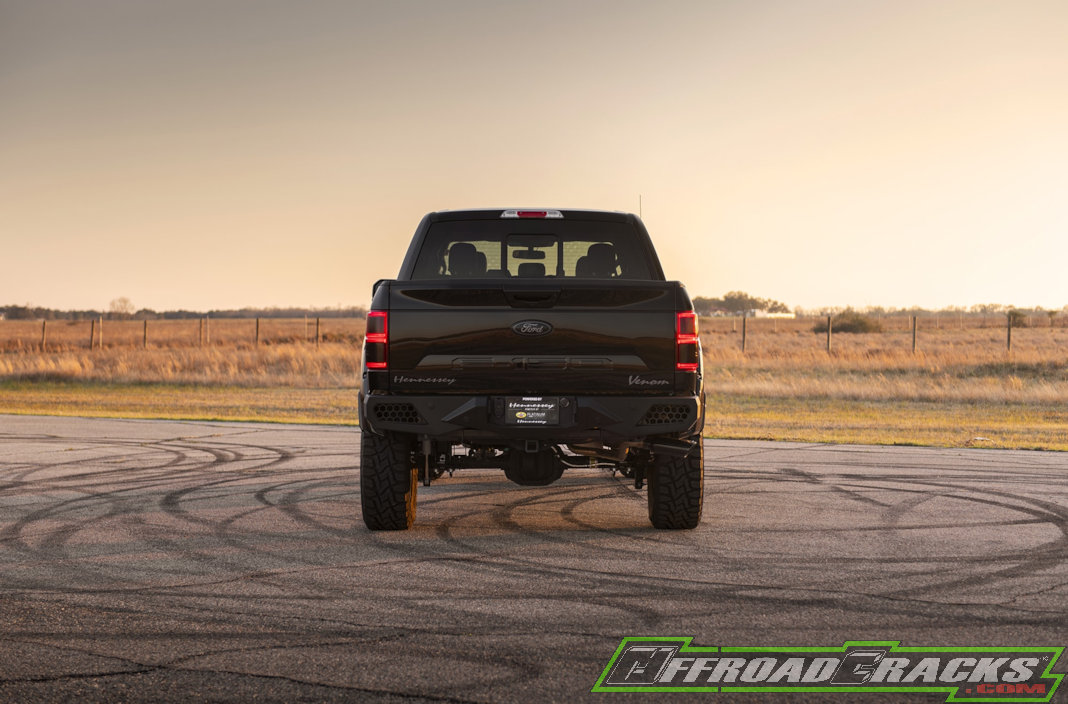 VENOM 775 SUPERCHARGED Specifications
775 bhp (785,7 PS) @ 7,000 rpm
0-60 mph: 4.0 sec.
¼ mile: 12.1 sec. @ 116 mph (186,7 km/h)
2.9 Liter Supercharger System
Erhöhter Ladedruck
Luft-Wasser-Intercooler
High-Flow Lufteinlass
Fuel Injector Upgrade
Fuel System Upgrade
Edelstahl Cat-Back Auspuffanlage
Professionelle Installation
HPE Motor Management Einstellung
Chassis Dyno Tuning & Straßen-Test
Exklusive Seriennummer- & Motor-Plakette
BREMBO 6-Kolben-Vorderradbremsanlage
Hennessey Frontstoßstange
5 LED Lights
20″ Felgen
35″ Toyo Offroad-Bereifung
6" Lift Kit (15,2cm)
Hennessey & Venom 775 Außendesign-Kit
3 Jahre / 36,000 Meilen Garantie (57.600 km)
Optionales Zubehör
VENOM® Individuelle Innenausstattung
VENOM® Ram Air Haube
VENOM® Heckstoßstange
Elektronisch ausklappbare Trittbretter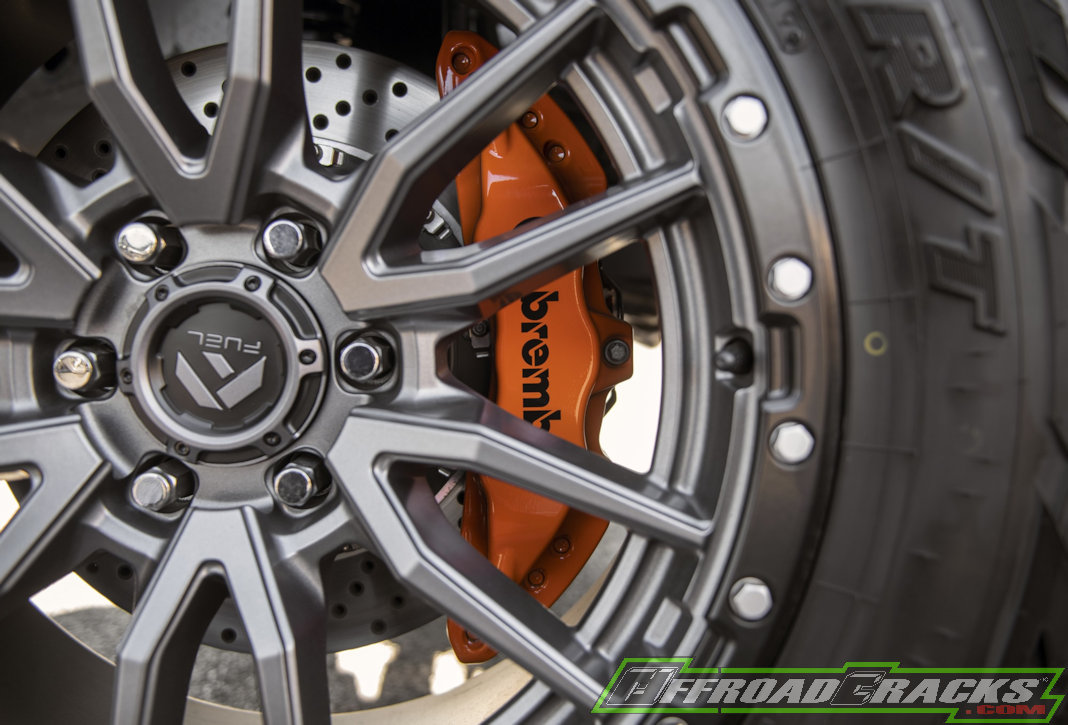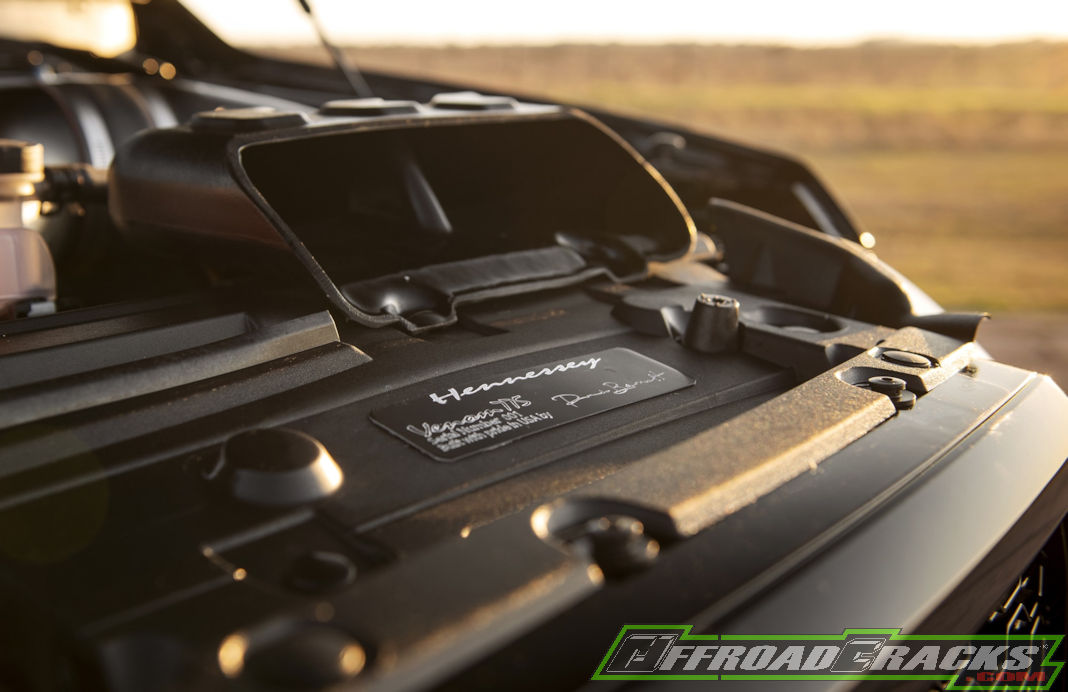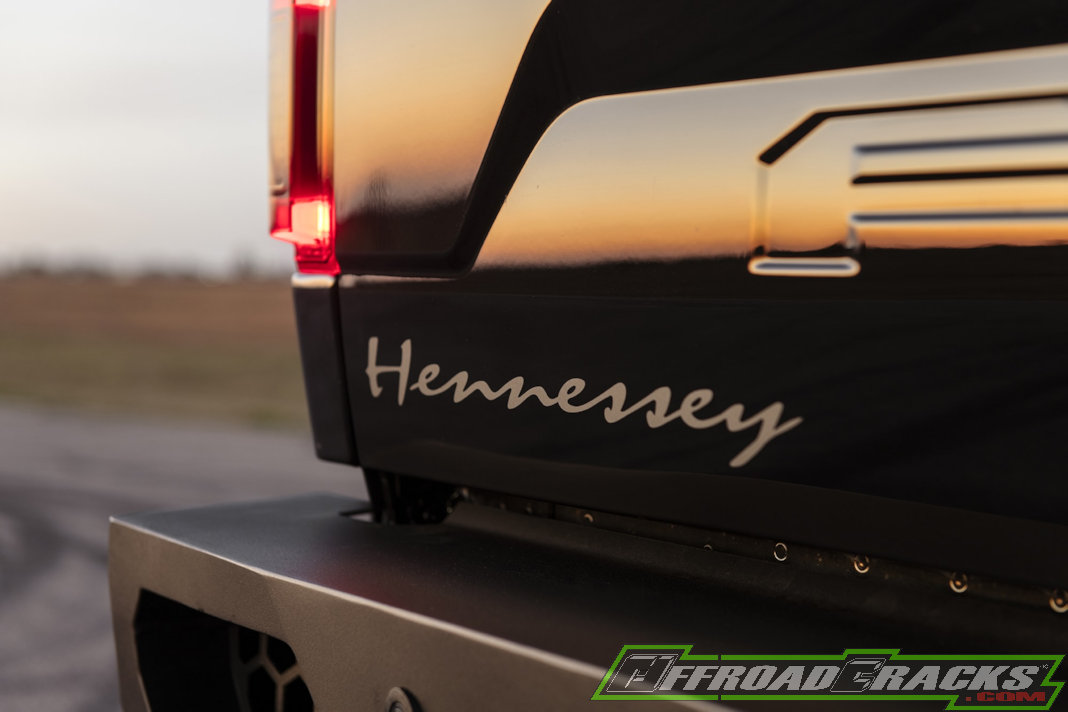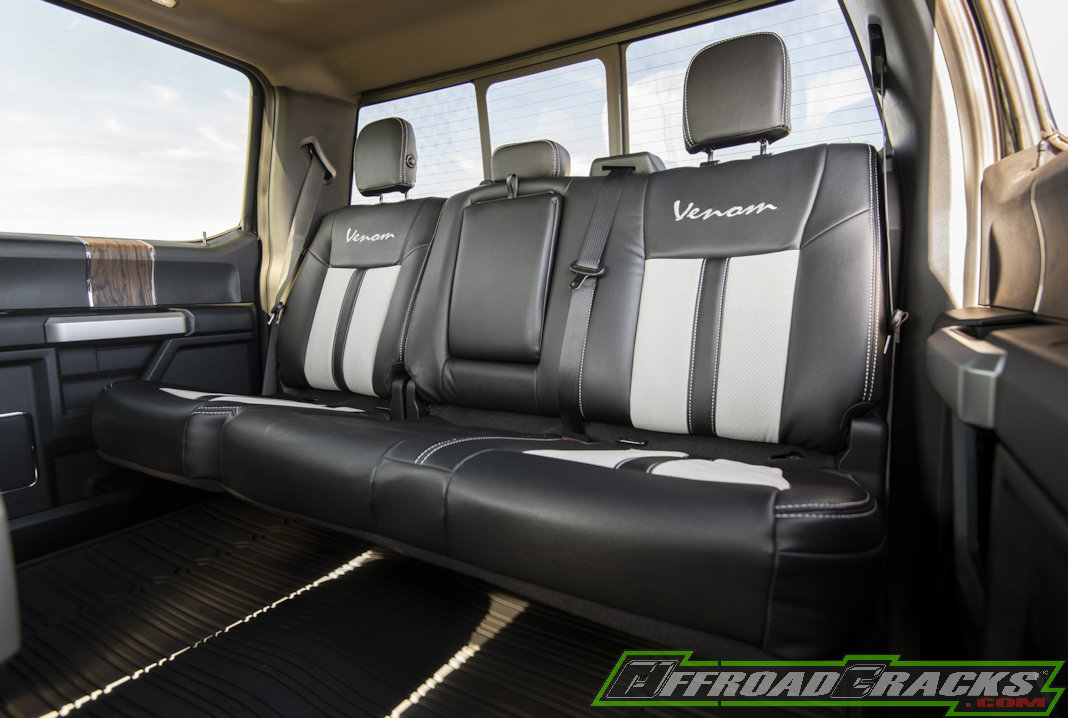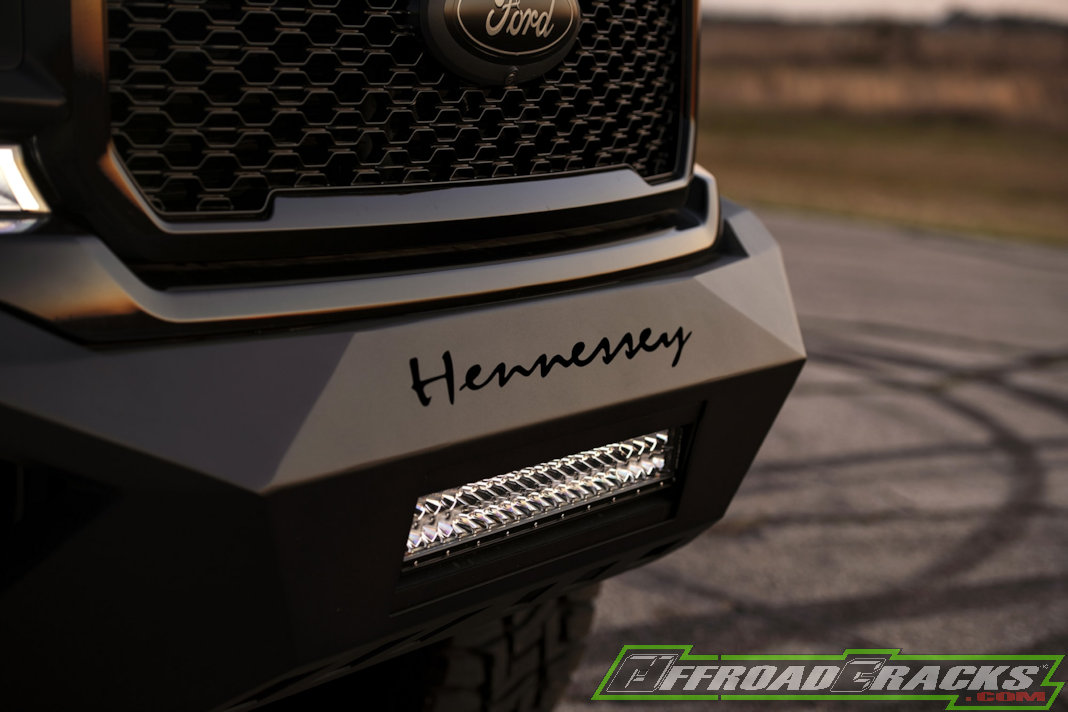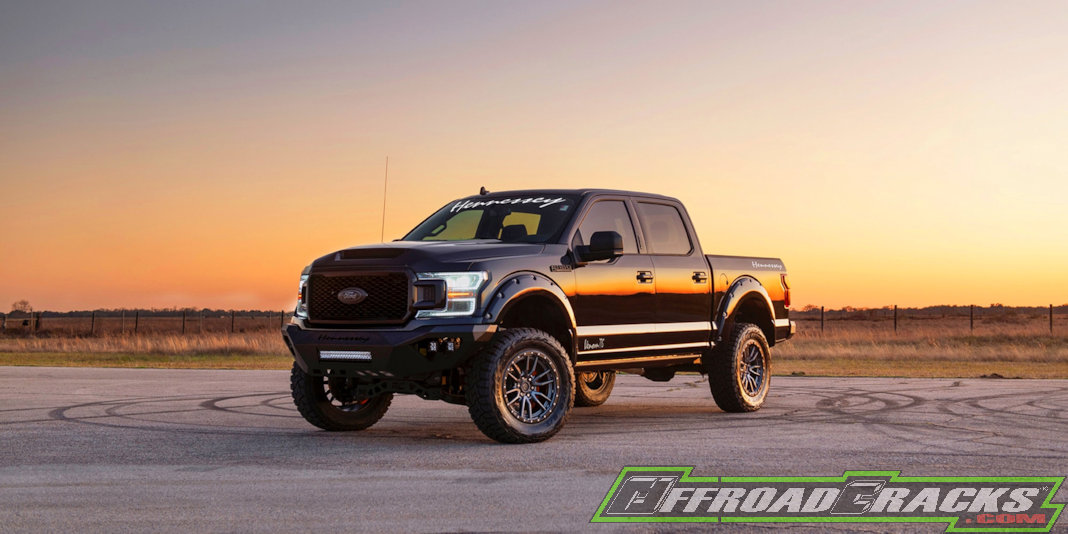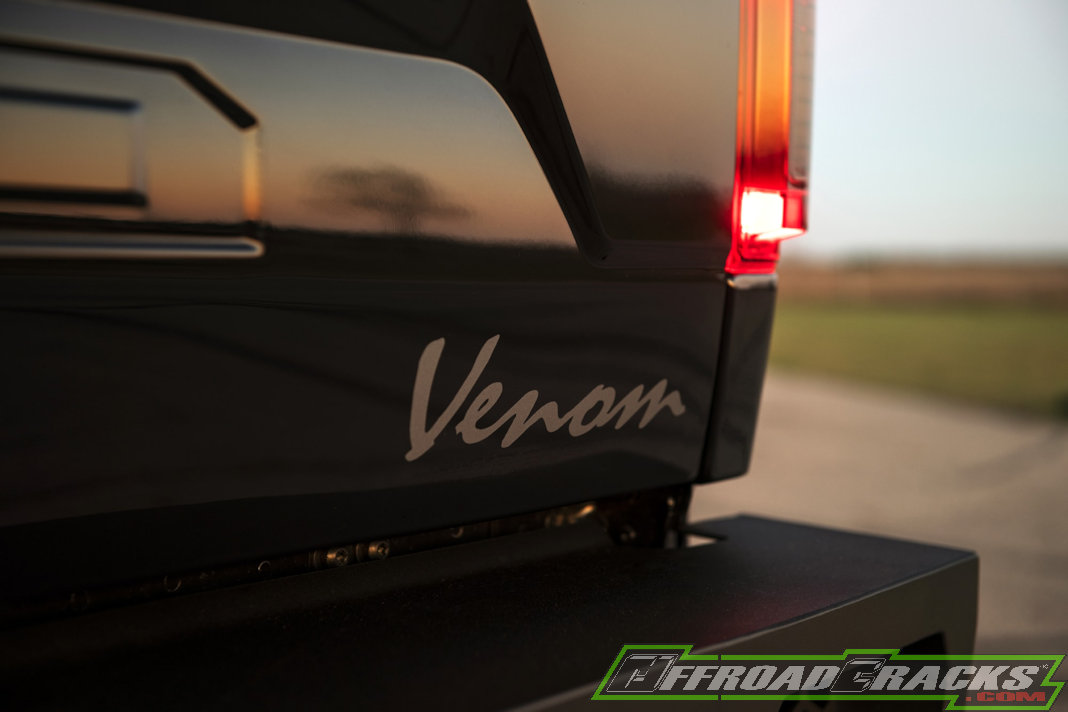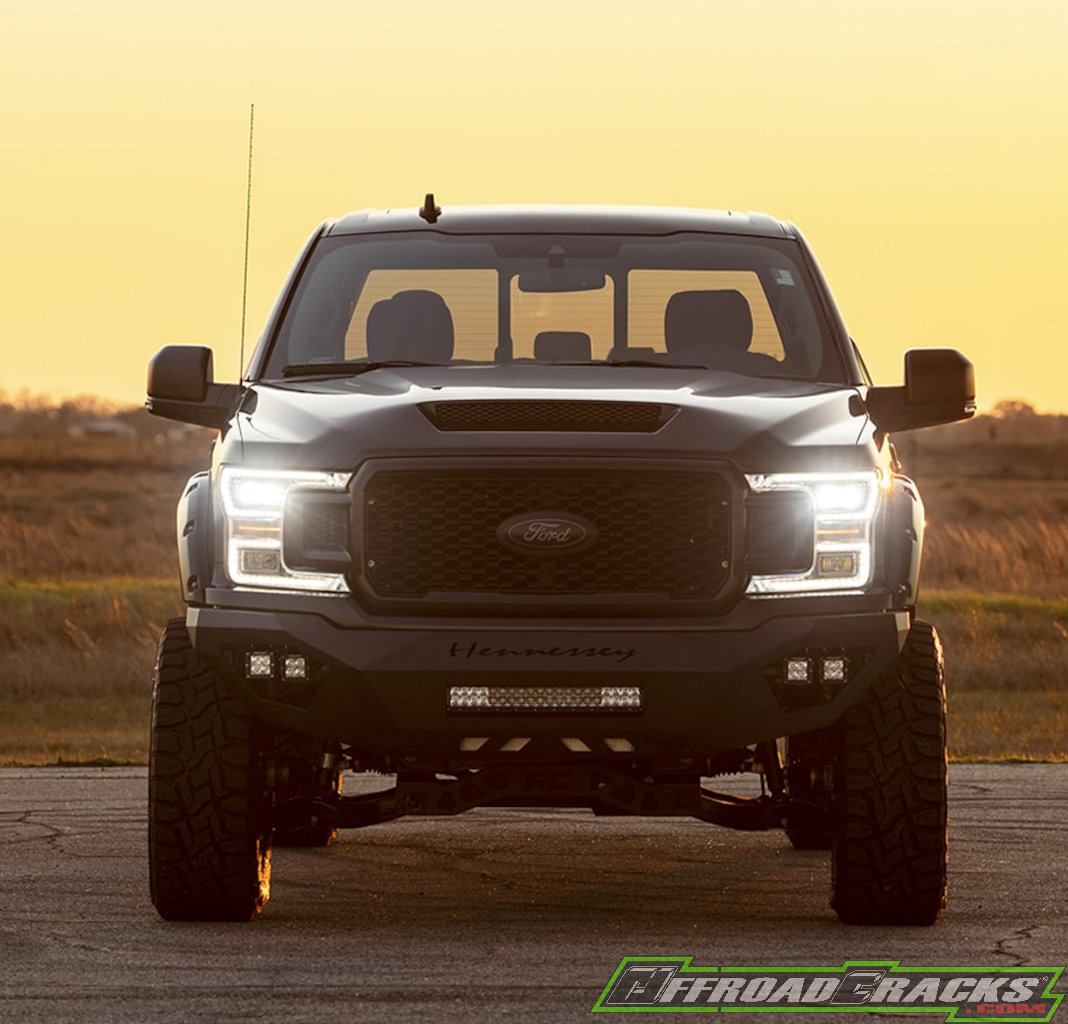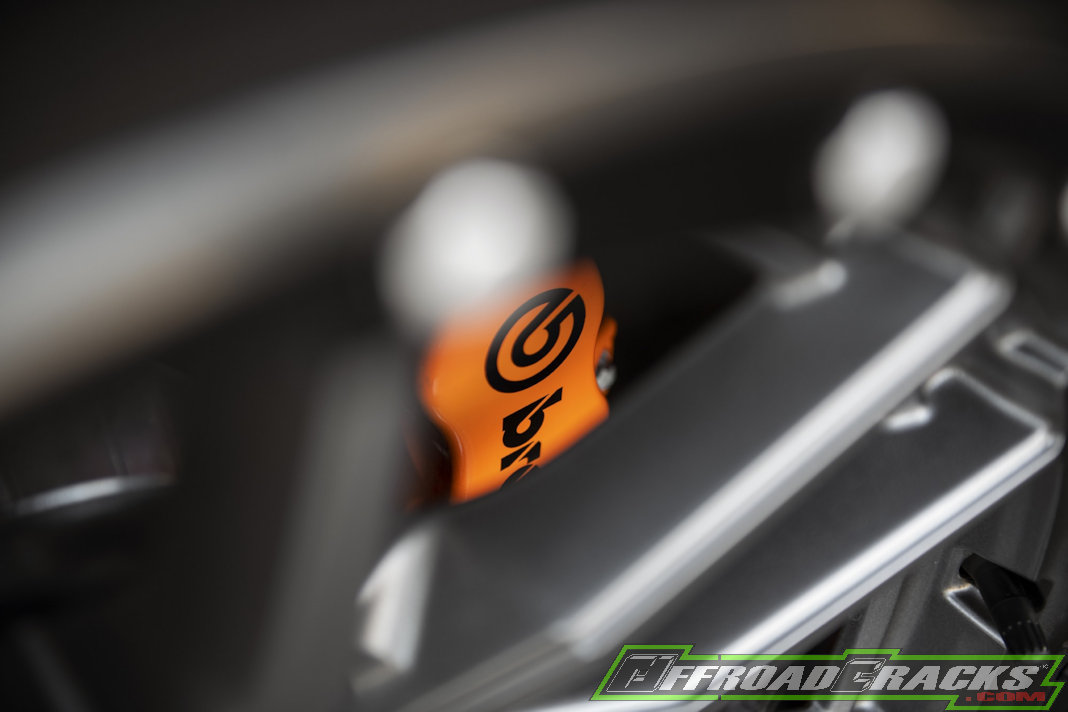 ---
HINWEIS: Mit Anklicken des Videos stellen sie automatisch eine Verbindung zu Youtube/Google her, was einen ungewünschten personenbezogenen Datenaustausch mit sich bringen kann. Weitere Infos unter: www.google.de/privacy
---

Sealy, Texas – Hennessey Performance Engineering (HPE) and team have put the power back into the F-150 with the new Venom 775 Supercharged Truck.
The Hennessey horsepower wizards have thoroughly converted the regular 5.0L Coyote F-150 into a fully-loaded muscle car fighter that is ready for all surfaces. The 395 factory horsepower engine was not enough and is now boosted to 775 horsepower using a 2.9L supercharger system. To wrap up the nose of this snarling beast, the engine bay is enclosed with a Hennessey paint matched Ram Air Hood.
After packing all that horsepower under the hood, Hennessey went to work on the the rest of the Venom 775 and outfitted it with all sorts of goodies. To slow it down, enormous BREMBO 15.1-inch rotors with 6-piston caliper brakes are equipped up front. To bring it closer to the sky, it is lifted by six inches all around and outfitted in all four corners with 20" wheels and 35" Toyo tires. To give it the unique Hennessey expression, it is fortified with front and rear Hennessey bumpers illuminated with LED lights. To improve the stance and ease of entry, automatic drop-down steps have been added on.
The interior of the truck has also been revamped with a custom Hennessey Venom Interior. Consisting of plush leather, suede inserts, and custom stitching; owners will surely be cozy as they blast along in their rocket ship truck.
"At Hennessey Performance we continue to push the envelope and crush the competition, The Venom 775, is the culmination of what the perfect F-150 should be," explained Founder and CEO John Hennessey.
Each Venom 775 truck comes with a 3 year / 36,000-mile warranty for all of the upgrades from Hennessey.
VENOM 775 SUPERCHARGED Specifications
775 bhp @ 7,000 rpm
0-60 mph: 4.0 sec.
¼ mile: 12.1 sec. @ 116 mph
2.9 Liter Supercharger System
Increase Boost Pressure
Air-to-Water Intercooler
High-Flow Air Induction
Fuel Injector Upgrade
Fuel System Upgrade
Stainless Steel Cat-Back Exhaust
Professional Installation
HPE Engine Management Calibration
Chassis Dyno Tuning & Road Testing
Serial Numbered Dash & Engine Plaques
BREMBO 6 Piston Front Brakes
Hennessey Front Bumper
5 LED Lights in Front Bumper
20 inch Wheels
35 inch Toyo OFF-Road Tires
6" Lift Kit
Hennessey & Venom 775 Exterior Graphics
Professional Installation
3 year / 36,000 Mile Limited Warranty
Optional Upgrades
VENOM® Custom Interior
VENOM® Ram Air Hood Installed
VENOM® Rear Bumper Installed
Electronic fold down steps Installed
Quelle / Source:Hennessey Performance