Seit nunmehr zwei Jahren haben wir eine ausgewählte Palette an Outdoor-, Kamera-, Laptop- und Drohnenkoffer mit teilweise vorkonfektionierten Schaumstoffeinlagen des Herstellers TOMCASE aus Langenargen am Bodensee im Einsatz. Egal ob auf der Ladefläche unseres Redaktions-Pickups, im harten Einsatz bei schonungslosen Verladevorgängen über Fließbänder in den Bauch eines Flugzeugs oder bei verschiedenen Rallye-Teilnahmen unter widrigsten Bedingungen bis hinzu dem wöchentlichen Einsatz bei unseren Fahrzeugtests.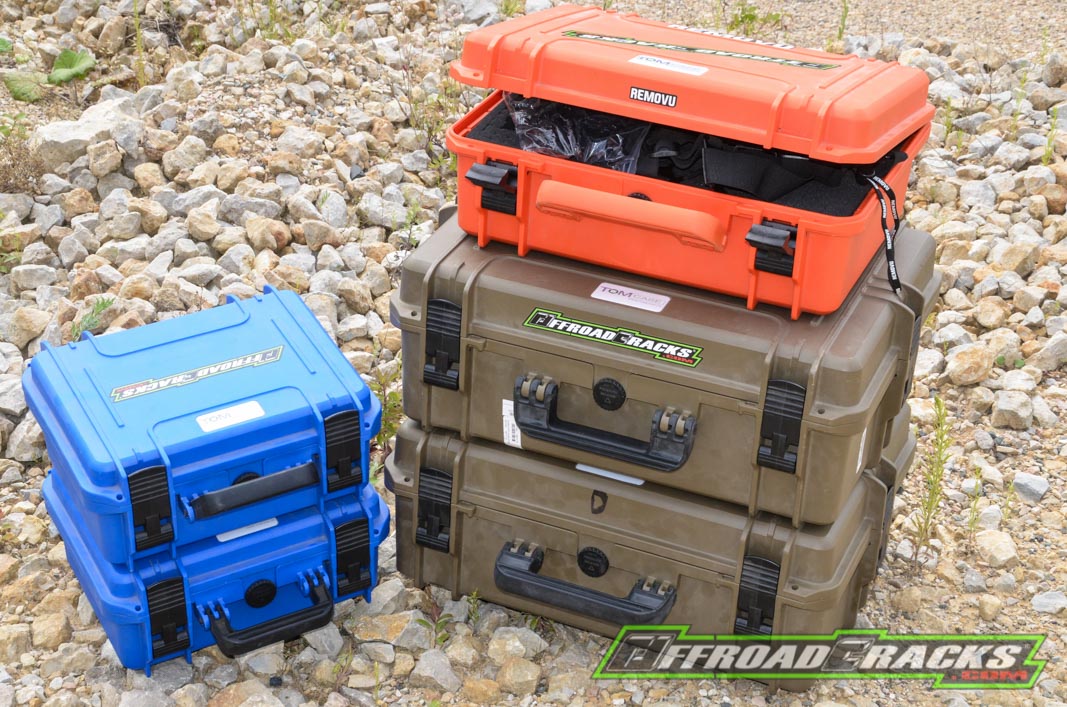 Was zeichnet die TOMCASE-Produkte aus? Ganz klar ihre Unverwüstlichkeit sowie ihre vielfältige Einsatzmöglichkeit für empfindliches Material wie in unserem Fall für unser hochwertiges Foto- und Film-Equipment bis hin zum Laptop und zahlreiches Zubehör.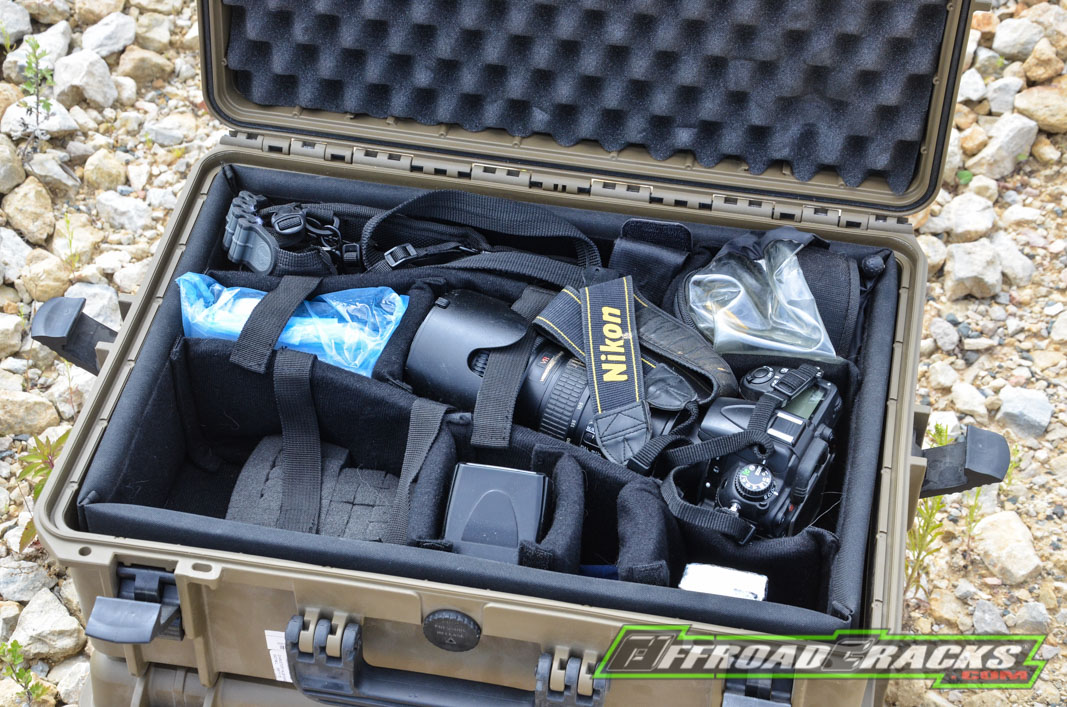 Alle die von uns eingesetzten Koffer sind 100% wasser- und staubdicht nach IP67 und besitzen ein vollautomatisches Druckausgleichsventil für den Flugverkehr. Besonders das durchgehende Voll-Scharnier an der Rückseite ist äußerst stabil was ebenso für die massiven Kunststoff-Verschlüsse gilt, die durch zwei seitliche Versionen bei größerem Koffermaß ergänzt werden und somit für geniale Stabilität und Dichtigkeit sorgen.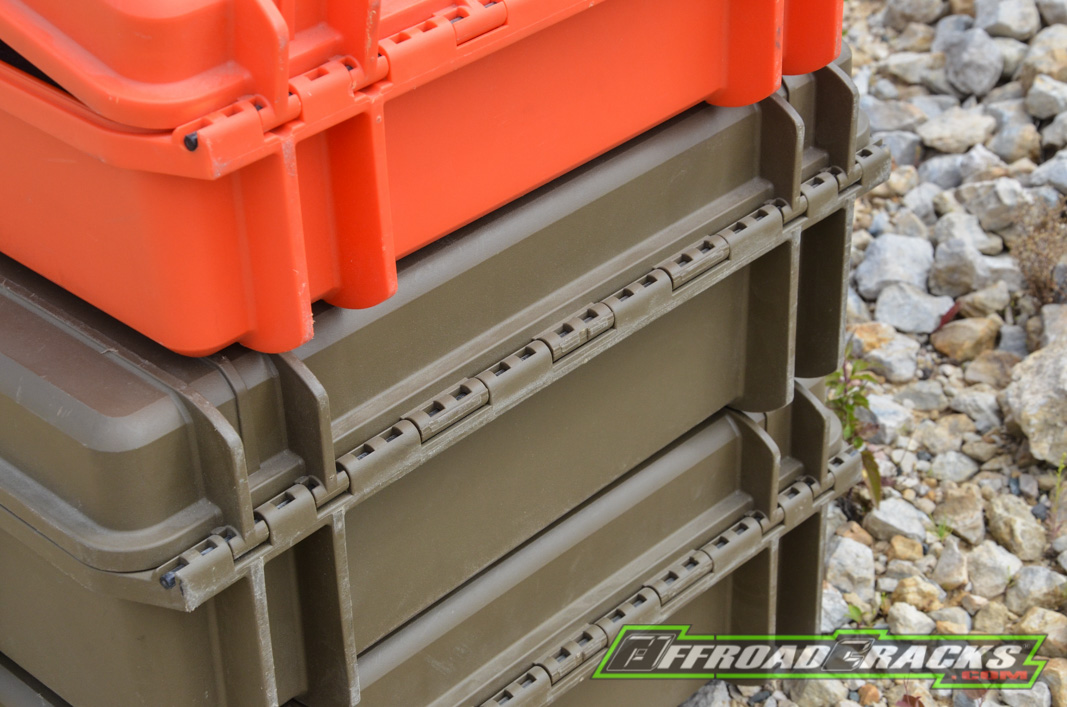 Super solides durchgehendes Scharnier mit belastbarem Kunststoff-Stift – keine Korossionsgefahr
Wer es ganz sicher haben möchte, kann an den vorhandenen Ösen Schlösser anbringen oder für optimierten Tragekomfort einen optionalen Tragegurt – den wir nicht getestet haben – nutzen. Geliefert werden die Koffer je nach Anforderung mit Raster- und Noppenschaum-Inlays. Speziell das Raster-Inlay ist für die individuelle Anpassung an das eigene zu transportierende Produkt zu empfehlen. In unserem Fall konnten wir für unseren Gimpel und Laptop die passende Aussparung im Schaum für eine optimale Passform und maximalen Schutz heraustrennen. Wer jedoch individuelle vorgeformte Schaumstoff-Inlays wünscht kann hier bei TOMCASE per Anfrage vorstellig werden und sich speziell für seine Bedürfnisse eine passende Version anfertigen lassen. Es werden auch Koffervariante mit Rollen und als Trolley ab Typ XT 520 angeboten, was die Handhabung bei Flugreisen enorm vereinfacht.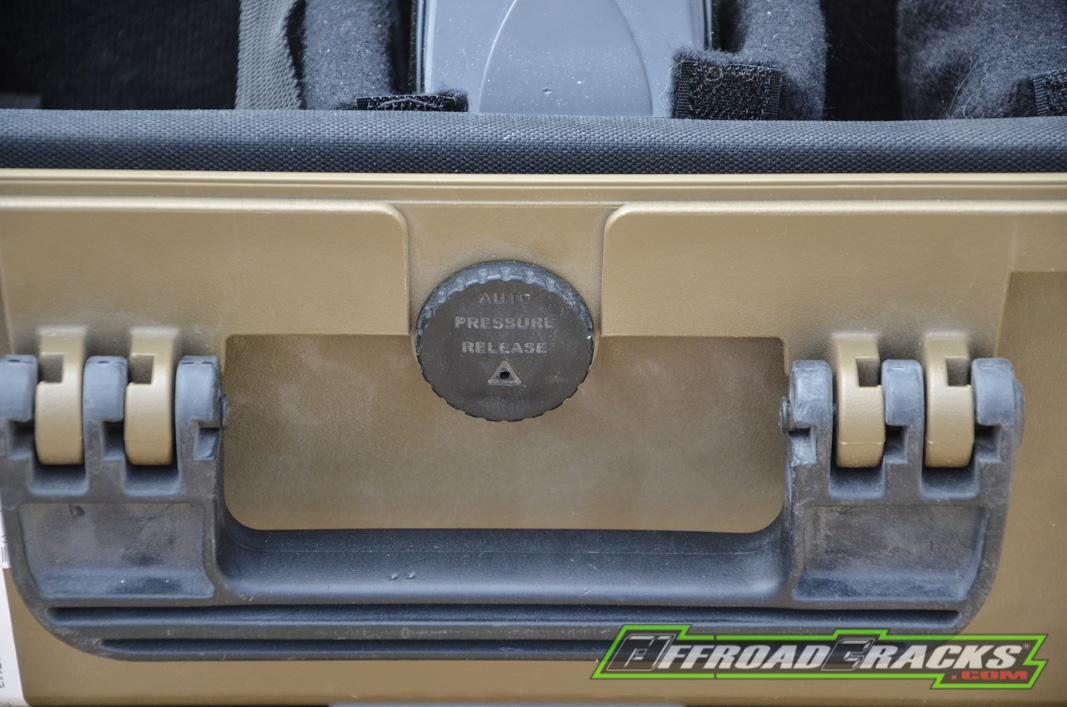 Vollautomatisches Druckausgleichsventil für den Flugverkehr
Im Einsatz befindliche TOMCASE-Produkte
Outdoor Case XT 505 Cam Sahara 500x350x194mm 4,9kg

ab 109 Euro

Outdoor Case Laptop XT 465 H 125 schwarz 465x335x125mm 2,6kg

ab 79 Euro

Outdoor Case Laptop XT 465 H 220 schwarz 465x335x220mm 3,4kg

Preis auf Anfrage

Outdoor Case XT 430 Orange ab 67 Euro 426x290x159mm 2,8kg

ab 76 Euro

Copter Case PH4-XT 505 Sahara 5,1kg

ab 169 Euro

Copter Case PH4-XT 505 Sahara Inlay

Preis auf Anfrage

GoPro Case XT Profi blau 300x225x132mm 1,8kg

Preis auf Anfrage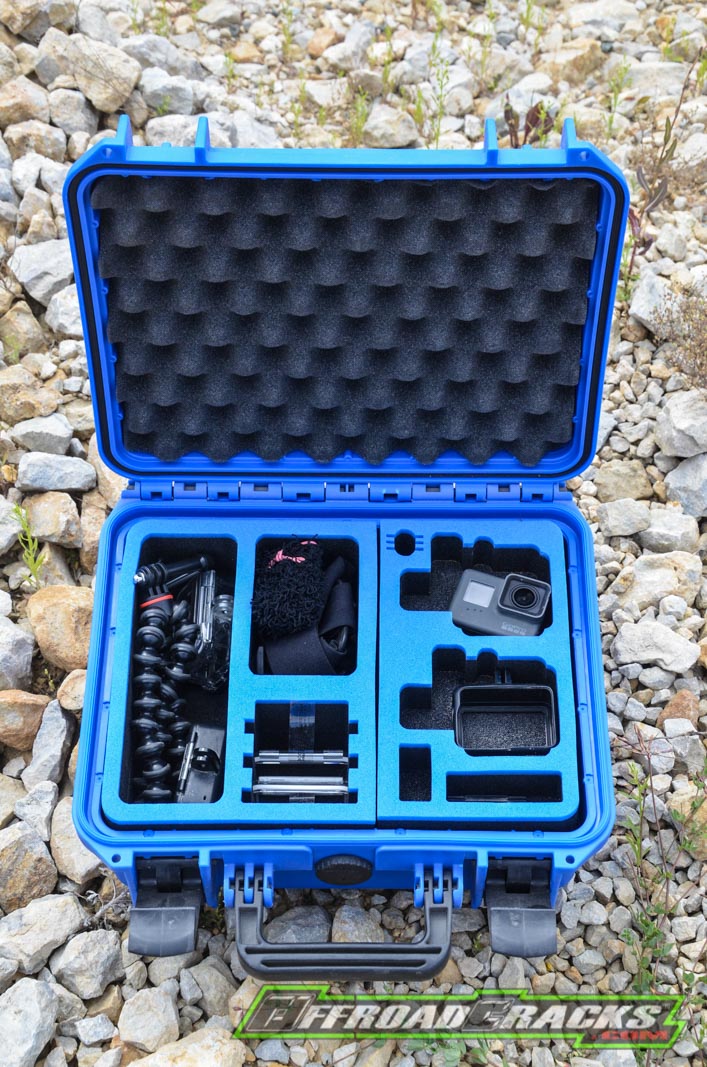 Produkt-Details
Schalgfestes Polypropylen
Einsetzbar von -30 bis + 90 Grad (-22°F bis 194°F)
Wasserdicht
Staubdicht
Bruchsicher
Zweistufige Schnappverschlüsse
Verschiedene Farben wählbar
Individuelle Inlays bestellbar
Korossionsbeständig
Vollautomatisches Druckausgleichsventil für den Flugverkehr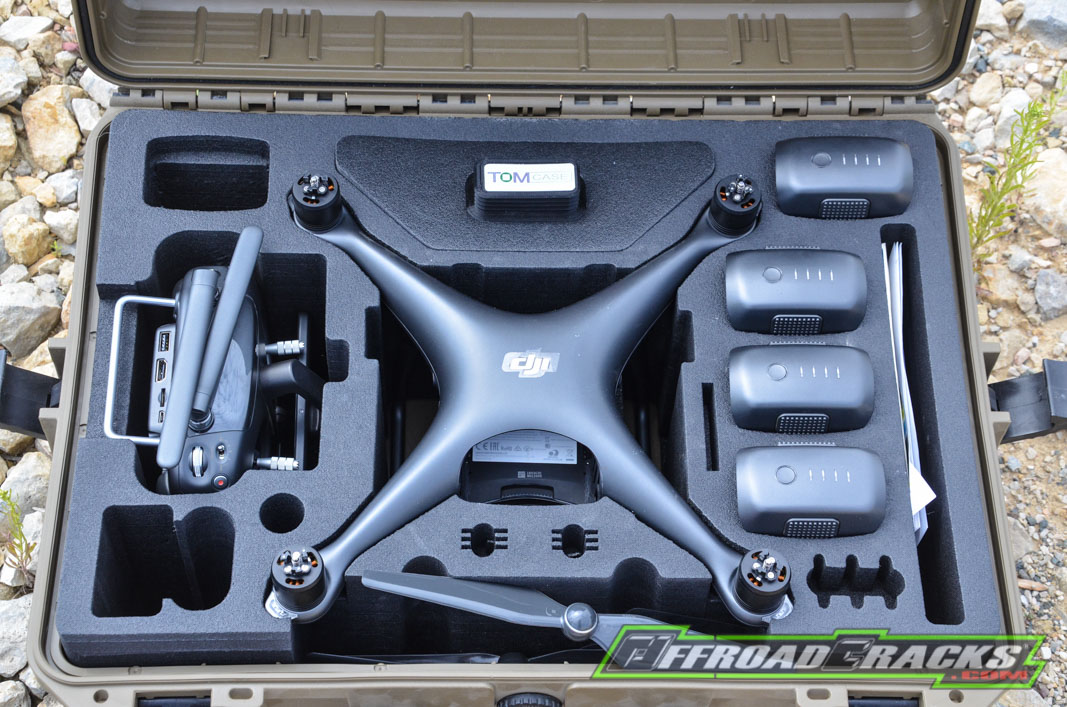 FAZIT
Nach gut 2 Jahren im Einsatz bei Flugreisen nach Übersee, Rallye-Teilnahmen, Tages-Trips, Offroad-Touren in Europa oder einem 24h-Rennen in England, egal ob bei Sonne, Staub, Schmutz oder Regen. Die TOMCASE Koffer haben Wort gehalten und unser Equipment perfekt geschützt und gleichzeitig den Transport und die Handhabung dank passender Inlays deutlich vereinfacht. Betrachtet man den Anschaffungspreis, so ist der damit verbundene Gegenwert zum Schutz der eigenen hochwertigen Produkte absolut empfehlenswert. Vor allem die Vielseitigkeit an Ausführungen und Möglichkeiten offerieren stets eine individuelle Lösung für die persönlichen Anforderungen. Ob teures Messgerät, Zeitnahme-Systeme, Ersatz-ECU oder einfach nur Video-Equipment bis hin zur kostspieligen Drohne. TOMCASE ist sogar mit seinen Produkten für die militärische Nutzung nach STANAG 4280 DEF-STAN 81-41 zertifiziert, was ihre Qualität nochmals untermauert. Wir möchten diese Koffer auf keinen Fall missen und werden sie auch zukünftig in unserem harten Redaktions-Alltag einsetzen – daher uneingeschränkt empfehlenswert!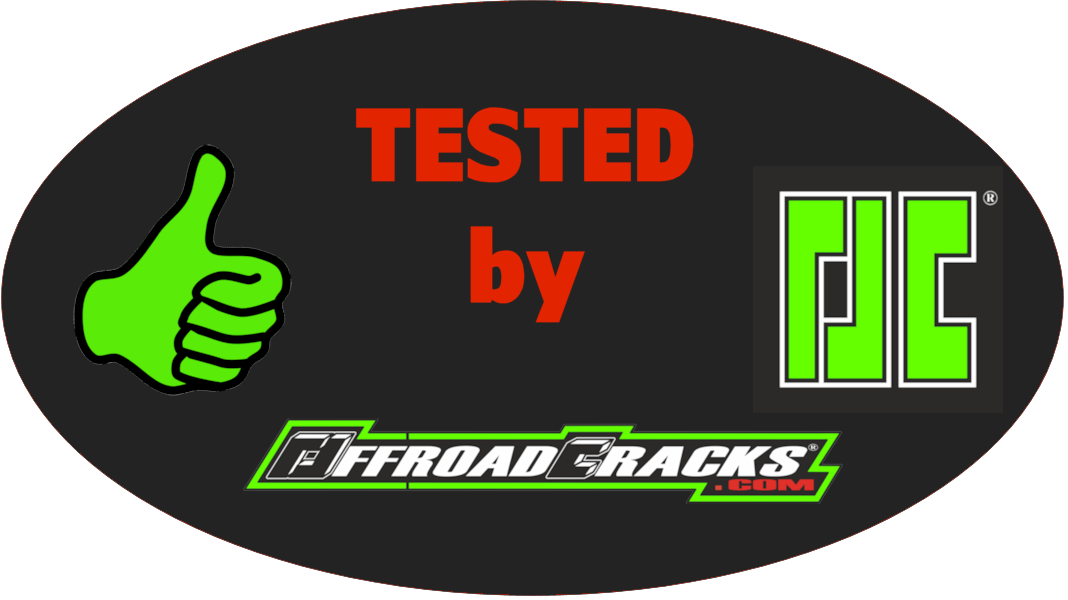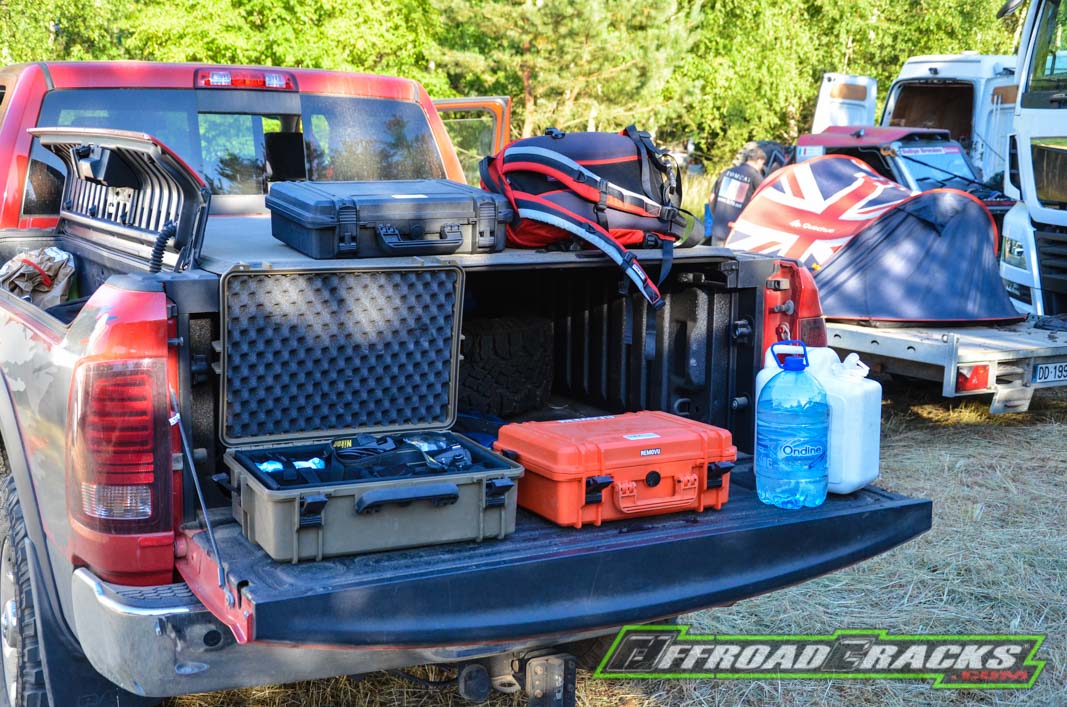 Bezugsquelle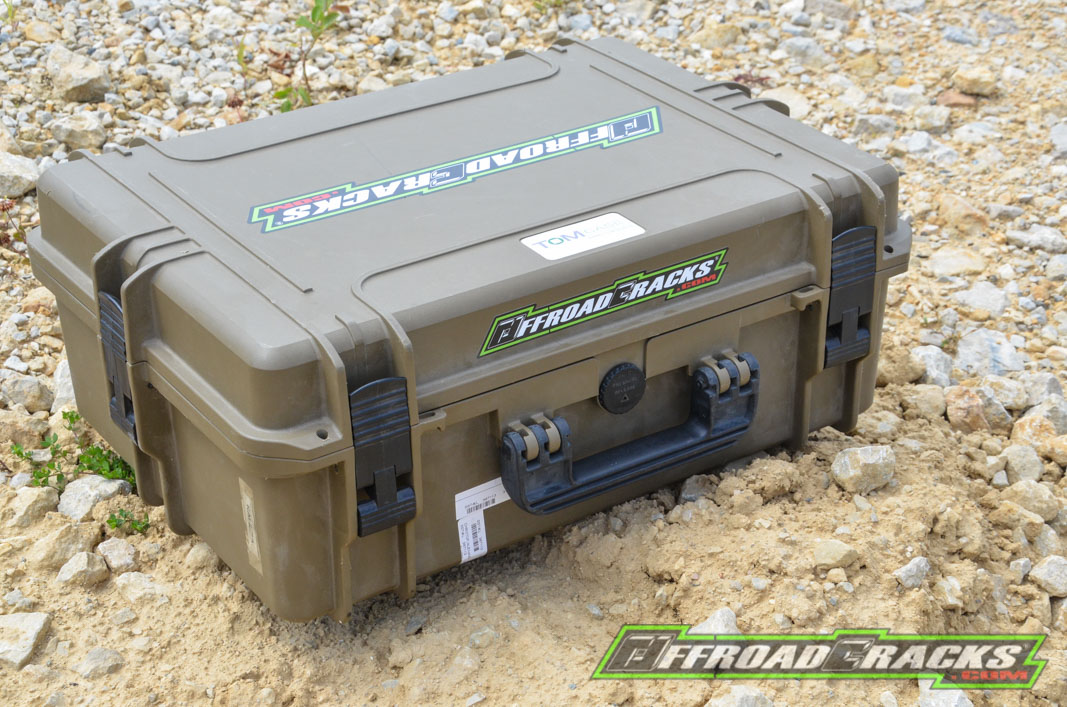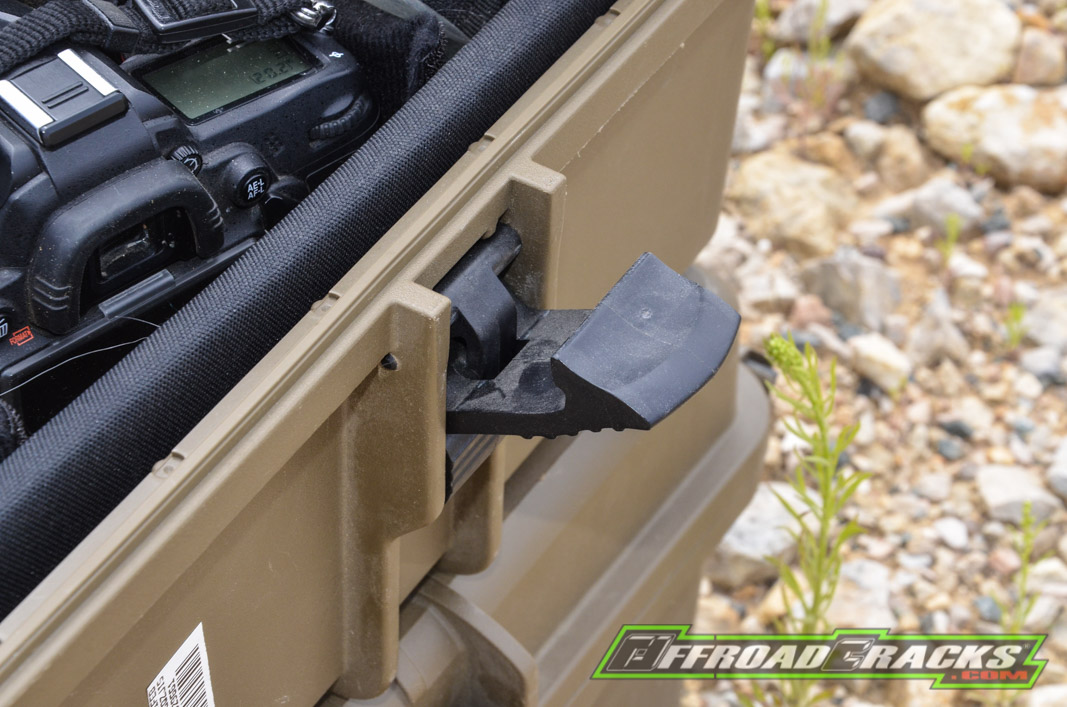 Massive zweistufige Kunststoff-Schnappverschlüsse – je nach Koffergröße aus zusätzlich an der Seite
---

For two years now we have been using a selected range of outdoor-, camera-, laptop- and drone cases with partially pre-assembled foam inserts from the manufacturer TOMCASE from Langenargen (Bodensee/Germany). Regardless of whether it is on bed of ​​our relentleeditorial pickup, in tough use with relentless loading processes in the cargo area of an aircraft or in various rally participations under the most adverse conditions up to the weekly use during our vehicle tests.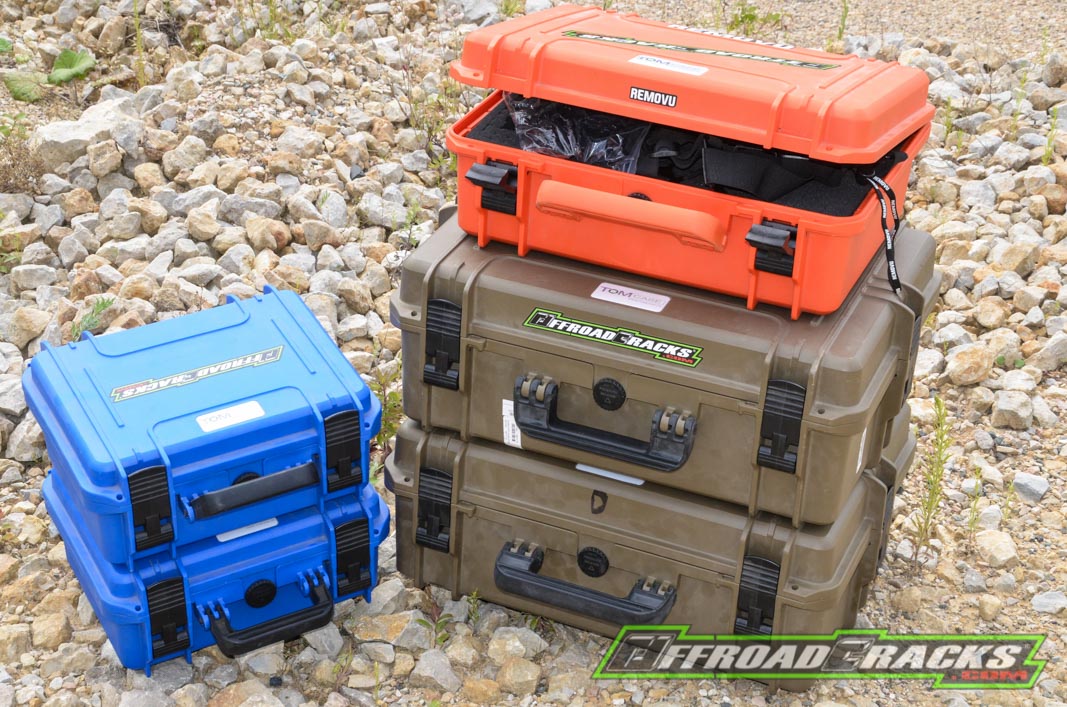 What distinguishes TOMCASE products? Clearly their indestructibility as well as their versatile use for sensitive material, as in our case for our high-quality photo and film equipment up to the laptop and numerous accessories.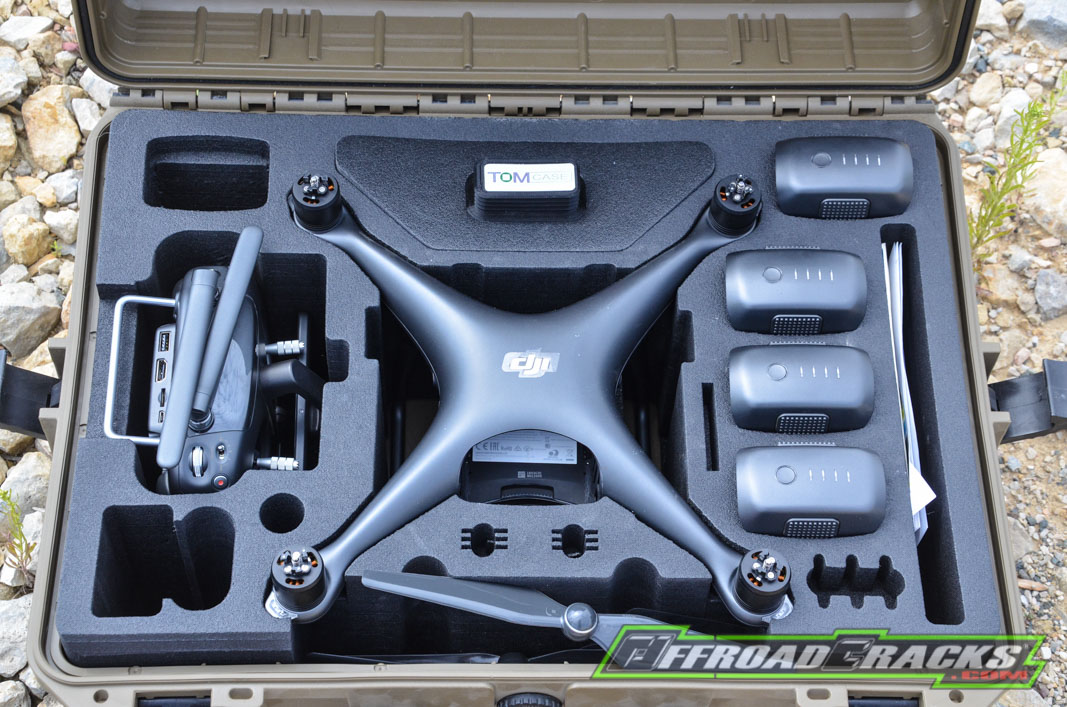 All of the cases we use are 100% waterproof and dustproof according to IP67 and have a fully automatic pressure compensation valve for travelling by plane. In particular, the continuous full hinge on the back is extremely stable, which also applies to the solid plastic closures, which are supplemented by two side versions at larger case sizes and thus ensure ingenious stability and tightness.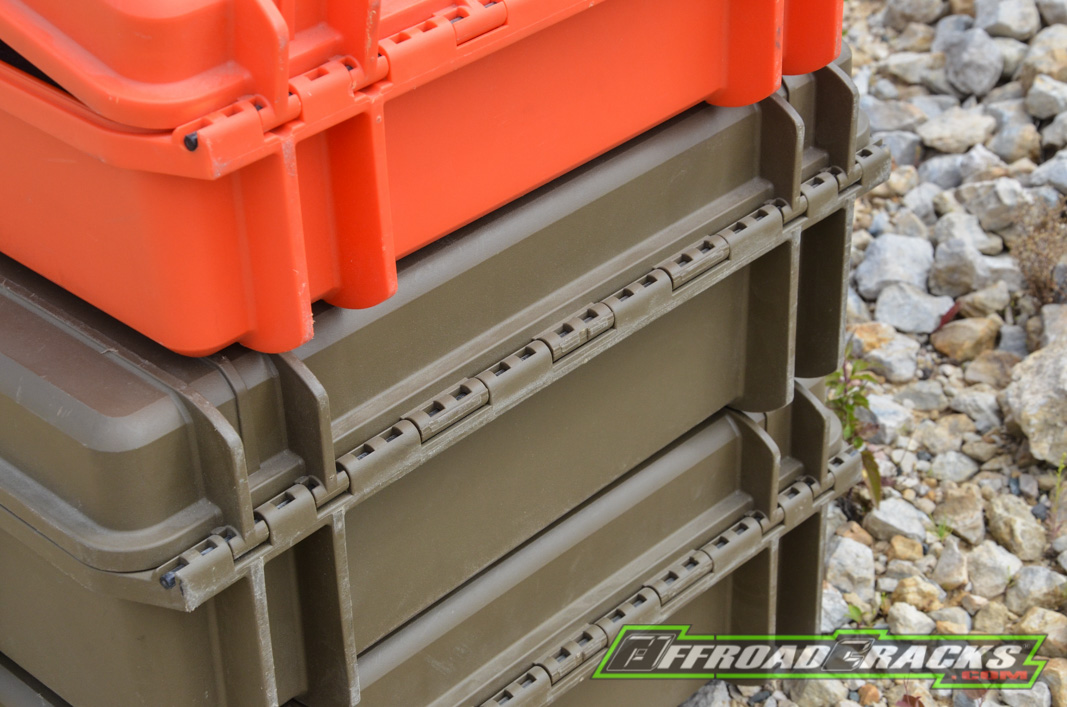 If you want to be sure, you can attach locks to the existing eyelets or use an optional carrying strap – which we have not tested – for optimized  carrying comfort. Depending on requirements, the cases are supplied with grid and nubbed foam inlays. The grid inlay is particularly recommended for individual adaptation to the product to be transported. In our case, we were able to cut out the appropriate recess in the foam for our gimple and laptop for an optimal fit and maximum protection. However, if you want individual preformed foam inlays, you can request TOMCASE for a suitable version made especially for your needs. Variants with wheels and as a trolley starting from type XT 520 and bigger are also offered, which greatly simplifies handling when traveling by air.
TOMCASE products in use
Outdoor case XT 505 Cam Sahara 500x350x194mm 4.9kg from 109 euros
Outdoor case laptop XT 465 H 125 black 465x335x125mm 2.6kg from 79 euros
Outdoor case laptop XT 465 H 220 black 465x335x220mm 3.4kg price on request
Outdoor case XT 430 Orange from 67 euros 426x290x159mm 2.8kg from 76 euros
Copter case PH4-XT 505 Sahara 5.1kg from 169 euros
Copter case PH4-XT 505 Sahara Inlay Price on request
GoPro case XT Professional blue 300x225x132mm 1.8kg price on request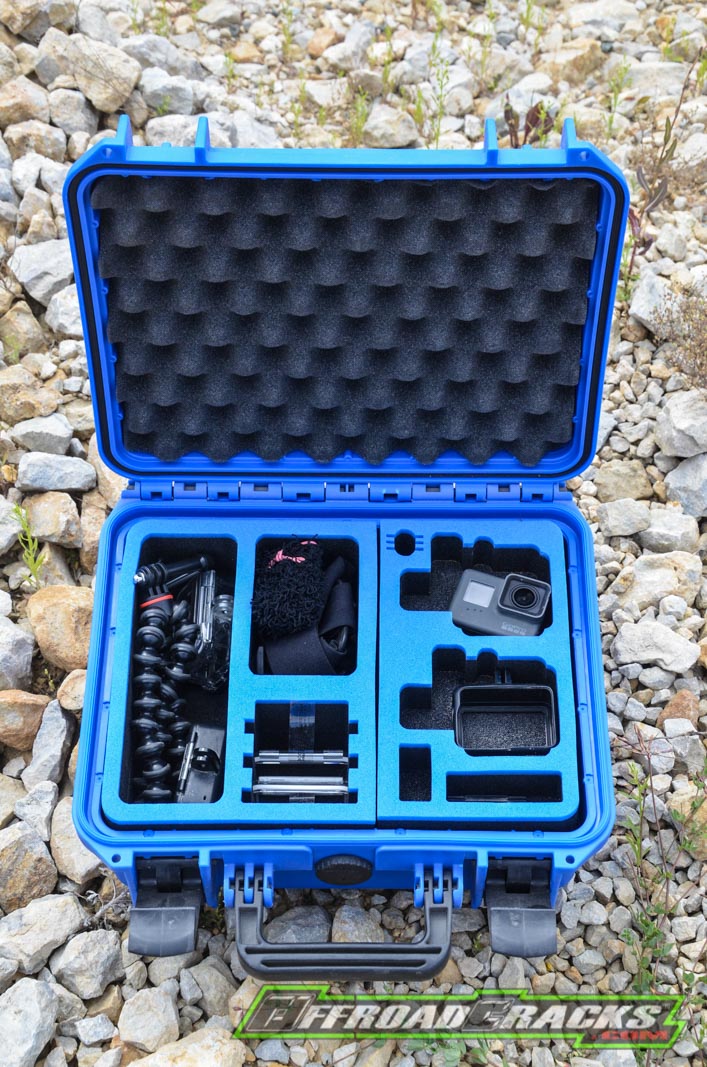 Product details
Soundproof polypropylene
Can be used from -30 to + 90 degrees (-22 ° F to 194 ° F)
Waterproof
Dustproof
Shatterproof
Two-stage snap locks
Different colors can be selected
Individual inlays can be ordered
Corrosion resistant
Fully automatic pressure compensation valve for air traffic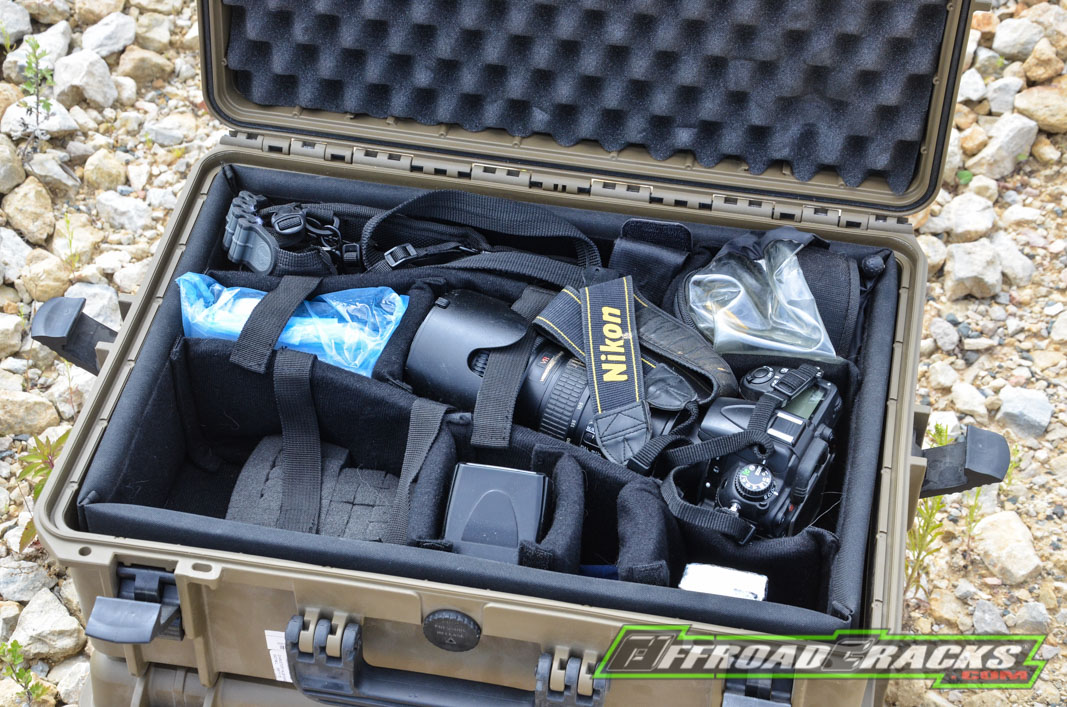 RATING
After a good 2 years in use for overseas air travel, rally participation, day trips, off-road tours in Europe or a 24-hour race in England, whether in the sun, dust, dirt or rain. The TOMCASE cases have kept their word and protected our equipment perfectly, while at the same time significantly simplifying transport and handling thanks to suitable inlays. If you consider the purchase price, the associated value for protecting your own high-quality products is absolutely recommendable. Above all, the versatility of designs and possibilities always offer an individual solution for personal requirements. Whether it's an expensive measuring device, timing system, replacement ECU or just video equipment or an expensive drone. TOMCASE is even certified with its products for military use according to STANAG 4280 DEF-STAN 81-41, which further underpins their quality. We do not want to miss these cases under any circumstances and will continue to use them in our tough everyday editorial work – so we recommend them without restriction!
Source of supply