GETZENRODEO 2021
---
HINWEIS: Das Video ist noch deaktiviert, damit keine unerwünschte Datenübertragung zu Youtube stattfindet. Zur Aktivierung bitte auf das Vorschaubild/Video-Link klicken. Damit werden Daten übermittelt, zu deren Art, Umfang und Verwendungszweck wir keineAuskünfte geben können.
---
NOTE: The video is still deactivated so that no unwanted data transfer to YouTube takes place. To activate, please click on the preview image / video link. This transmits data about the type, extent and purpose of which we cannot provide any information.
---

Für das letzte Rennen der FIM Hardenduro Weltmeisterschaft 2021 beim 24MX GetzenRodeo sorgte man für besondere technische Schmankerl auf dem Rundkurs, so dass es alles andere als einfach war.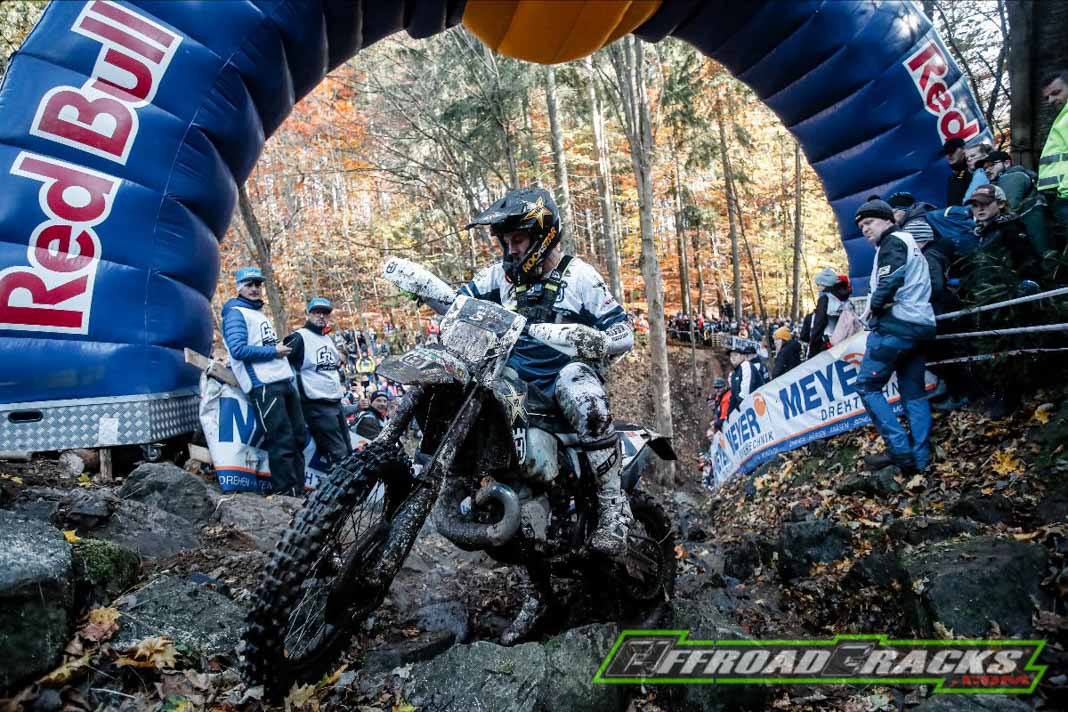 Das größte Highlight war natürlich der Fight um den ersten FIM Hardenduro Weltmeistertitel zwischen Billy Bolt und Manuel Lettenbichler – was letztendlich Bolt zu Teil wurde. Aber es gab noch viel mehr im Hintergrund des Rennens, das man so nicht auf der Uhr hatte.
Der Kampf um Platz drei!
Natürlich waren die Augen auf den Ausgang des diesjährigen Titelkampfs zwischen Billy Bolt und Manuel Lettenbichler gerichtet. Aber auch der Kampf um Platz drei ging heiß her. Mario Roman wusste, dass er vor seinem Sherco Factory Racing-Teamkollegen Wade Young den dritten Platz belegen musste und lieferte seine beste Fahrt der Saison ab. Wade kämpfte früh und musste sich ordentlich strecken, um sich den vierten Platz zurück zu erobern und in der Folge den dritten Gesamtrang in der Meisterschaft zu sichern.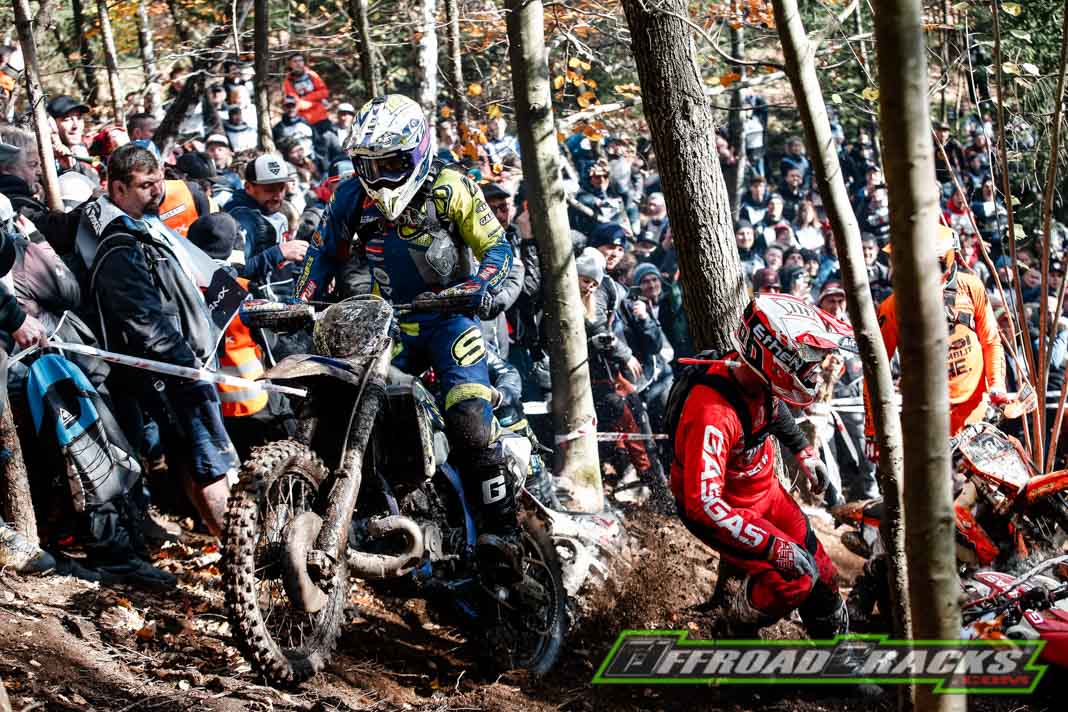 Top-5 Hersteller-Fight der Superlative
Es war großartig zu sehen, wie Husqvarna, KTM und Sherco ihren Platz auf dem letzten Podium der Meisterschaft 2021 eingenommen haben. Alle drei Hersteller feierten in dieser Saison einen Rennsieg. Rechnet man Beta noch hinzu, dann gab es insgesamt vier Hersteller in der Overall-Wertung 2021. Den Löwenanteil sicherte sich Sherco dank Wade Young und Mario Roman mit Platz drei und vier.
Bayern on top
Wie cool war Mani Lettenbichler's Fahrerausrüstung für das 24MX GetzenRodeo! In Anerkennung der Bedeutung seines Heimrennens hat FOX Racing alle Register gezogen, um ein wahrhaft bayerisches Outfit aus dem Boden zu stampfen.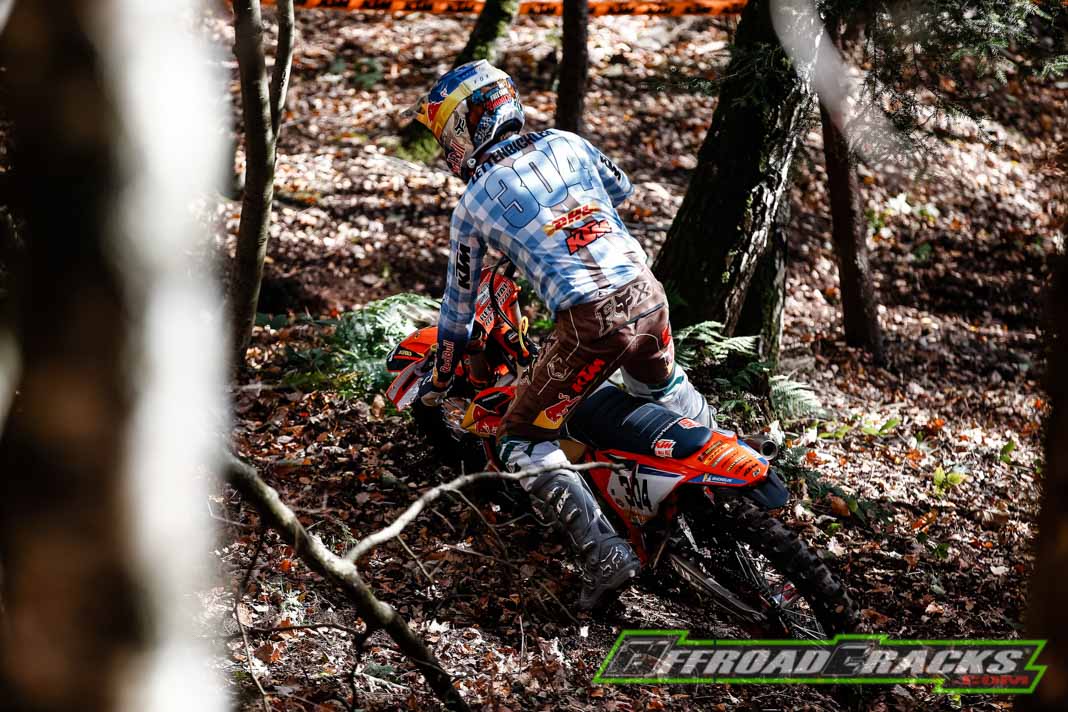 Vormittags-Qualifikation
Für das GetzenChamp-Rennen waren die Plätze begrenzt. Es standen nur 15 Plätze zur Verfügung. Allein das machte es während des zweistündigen Vormittags-Qualifikations-Kampfs zu einem echten Thriller – jeder wollte, aber nicht jeder konnte. Im Ziel war es Kevin Gallas, der sich gerade so den letzten Platz sichern konnte, während Matt Green äußerst knapp an ihm dran war. Der junge Südafrikaner zeigte sich jedoch mit seinem bekannten Optimismus und wurde von den Zuschauern schlichtweg für seine Leistung bejubelt.
Mut & Entschlossenheit
Der Held des Tages geht an den GASGAS unterstützten Fahrer Michael Walkner für seinen heroischen Ritt. Michael berichtete, dass eine Kollision mit einem anderen Fahrer zu Beginn des GetzenRace zu einem schwer verletzten Daumen führte. Trotzdem fuhr er nicht nur die Qualifikation, sondern belegte im GetzenChamp-Rennen einen beeindruckenden siebten Platz und sicherte sich damit den siebten Gesamtrang in der Meisterschaft.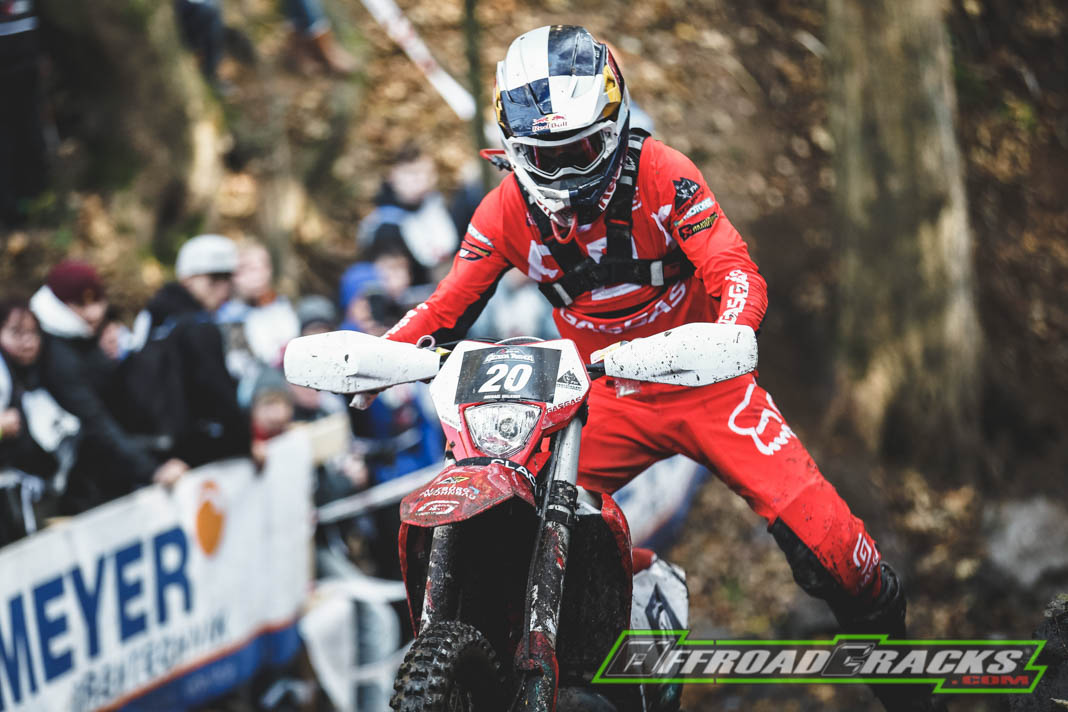 Olszowy und TTR
Eine interessante Nachricht für das Jahr 2022 kam von GetzenRodeo, als TTR Squadra Corse verkündete das junge Hardenduro-Talent Dominik Olszowy zu verpflichten. Olszowy hat in diesem Jahr einige großartige Leistungen gezeigt, vor allem den vierten Platz bei seinem Heimrennen HERO Challenge. Durch den Eintritt in ein hochprofessionelles Team wie TTR Squadra Corse wird es spannend werden, seine Entwicklung mitzuerleben.
2021 FIM Hardenduro Weltmeisterschaft (Endstand)
Billy Bolt (Husqvarna) 104pts
Manuel Lettenbichler 104pts
Wade Young (Sherco) 83pts
Mario Roman (Sherco) 76pts
Jonny Walker (Beta) 66pts
 Alfredo Gomez (Husqvarna) 63pts
Michael Walkner (GASGAS) 46pts
Teodor Kabakchiev (Husqvarna) 36pts
Taddy Blazusiak (GASGAS) 29pts
Dominik Olszowy (KTM) 24pts
2022 FIM Hardenduro World Championship – Provisorischer Kalender
Round 1: Minus 400 – Israel, April 5/6/7
Round 2: Xross – Serbia, May 19/20/21
Round 3: Red Bull Erzbergrodeo – Austria, June 16/17/18/19
Round 4: Abestone Hard Enduro – Italy, July 8/9/10
Round 5: Red Bull Romaniacs – Romania, July 26/27/28/29/30
Round 6: Red Bull TKO – USA, August (date TBC)
Round 7: Red Bull Outliers – Canada, August (TBC, zwei Wochen nach TKO)
Round 8: HERO Challenge – Poland, September 10/11 (location TBC)
Round 9: Hixpania Hard Enduro – Spain, October 7/8/9
---

It was all systems go for the final stop of the 2021 FIM Hard Enduro World Championship at Germany's 24MX GetzenRodeo. For a one-day race there was a lot packed in.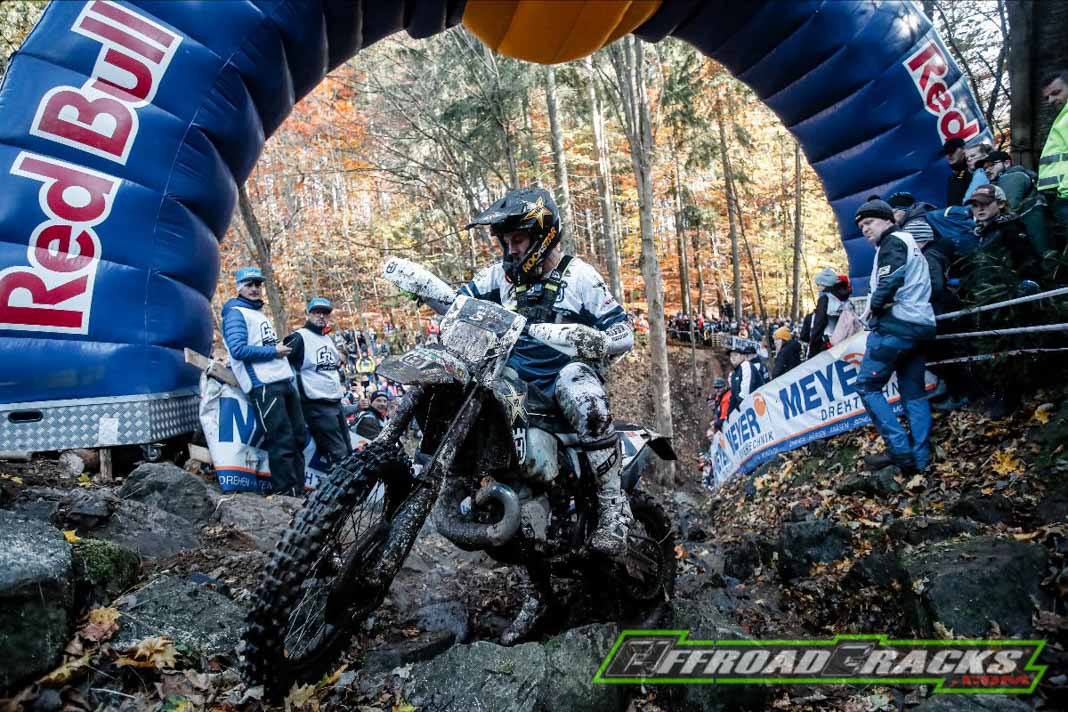 Of course the major highlight was the race to become the first FIM Hard Enduro World Champion between Billy Bolt and Manuel Lettenbichler, with Bolt grabbing that honour. But there was much more going on too. Here's our run down of the extra bits you may have missed in Germany…
The Fight For Third
Naturally eyes were focused on the outcome of this year's title bout between Billy Bolt and Manuel Lettenbichler. But the fight for the final step of the podium was heating up too. Mario Roman knew he was in with a shout of taking third from his Sherco Factory Racing teammate Wade Young and delivered his best ride of the season. Wade struggled early on and had to dig deep to get back to fourth to claim third overall in the championship.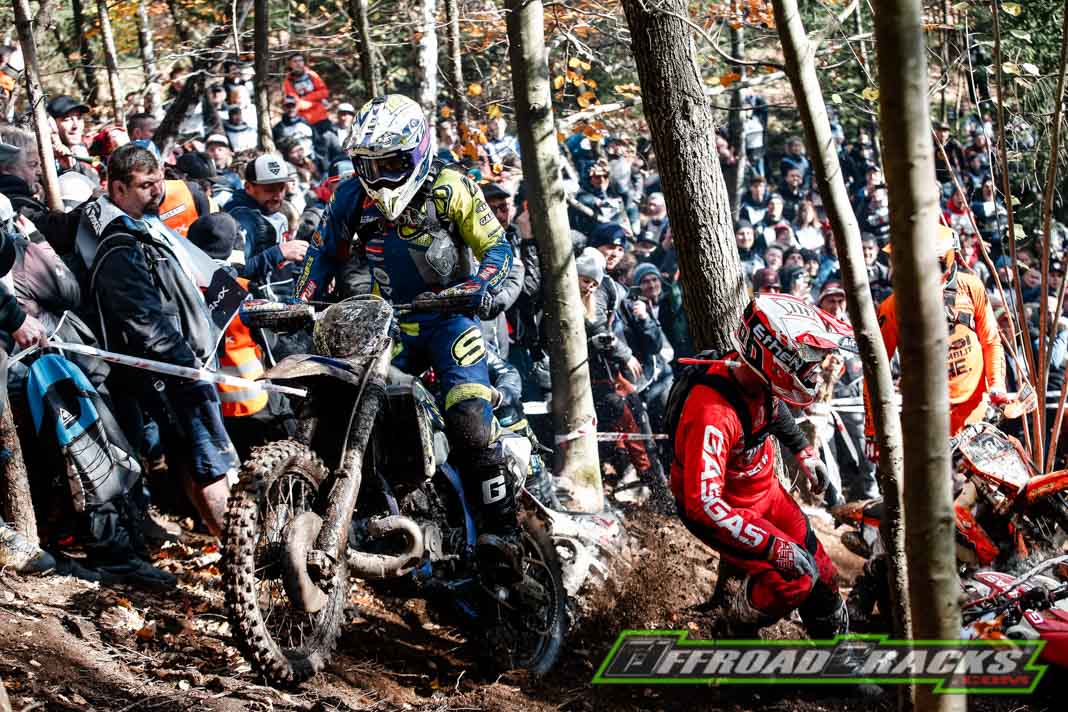 Busy Top Five
It was great to see Husqvarna, KTM, and Sherco take their place on the final championship podium. All three manufacturers enjoyed a race win this season. Add in Beta and there were four manufacturers inside the final top-five standings, too. Sherco grabbed the lion's share thanks to Wade Young and Mario Roman with third and fourth.
Sehr Geil Bavaria
How cool was Mani Lettenbichler's riding kit for 24MX GetzenRodeo! Acknowledging the importance of his home race, FOX Racing pulled out all the stops to design a truly Bavarian set of riding kit. We liked this a lot and hope to see more in the future.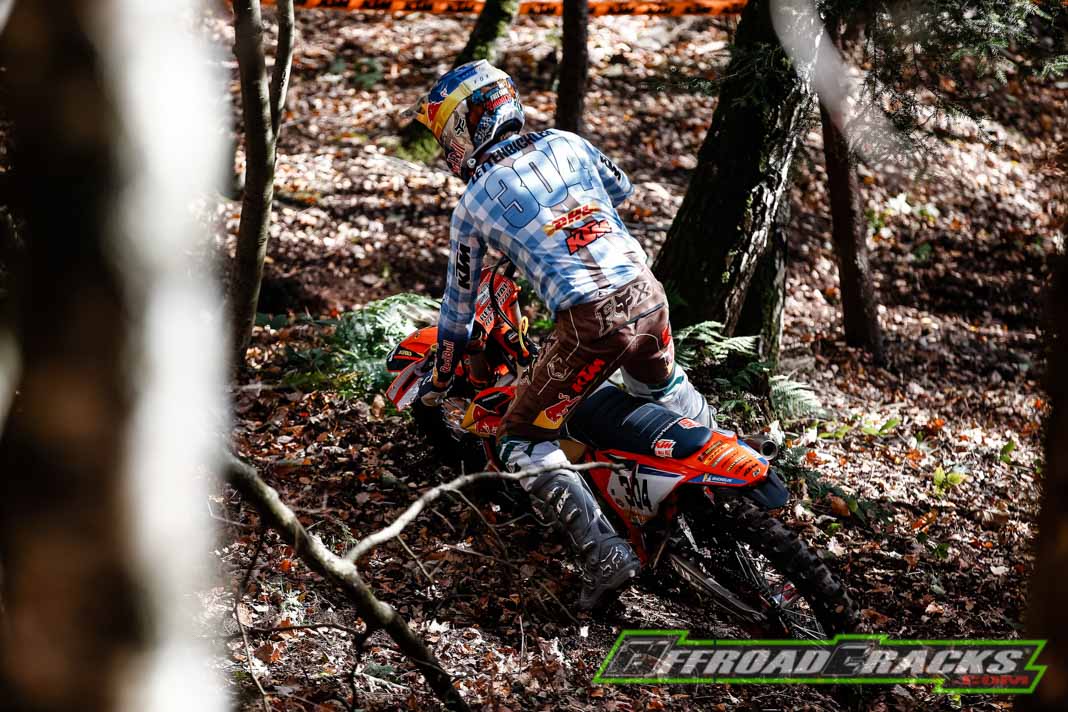 Morning Qualifier
Places were limited for the GetzenChamp race, with only 15 spots available. That alone made it an intense battle for track position during the two-hour morning qualifier. At the chequered flag it was TTR's Kevin Gallas who grabbed the final spot with Rigor Racing's Matt Green just coming up short. However, the young South African was his usual upbeat self and was quickly found cheering trackside for everyone that afternoon. Top work Matt!
Grit & Determination
A tip of the hat goes to GASGAS supported rider Michael Walkner for a heroic ride. Michael reported that a collision with another rider at the start of the GetzenRace resulted in a heavily injured thumb. Not only racing on to qualify, he placed an impressive seventh in the GetzenChamp race to secure seventh overall in the championship.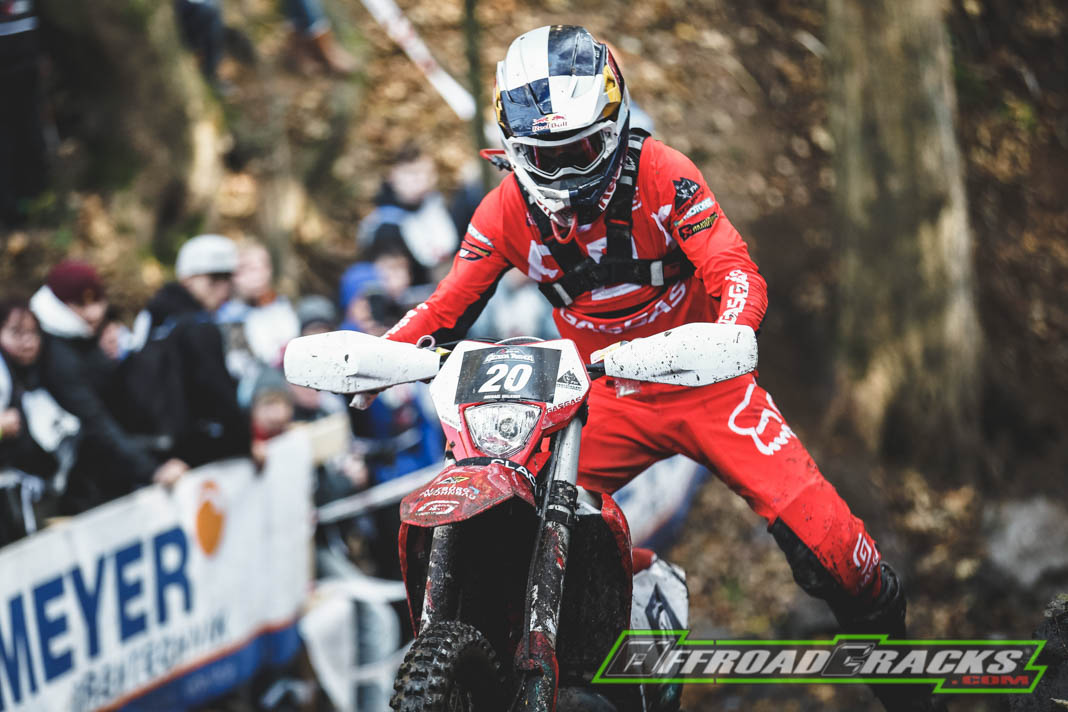 Olszowy joins TTR for 2022
Some welcome 2022 team news emerged from GetzenRodeo with TTR Squadra Corse signing young Hard Enduro talent Dominik Olszowy. Olszowy produced some great performances this year, most notably fourth at his home race HERO Challenge. By joining a highly professional team like TTR Squadra Corse it will be exciting to see him grow as a rider.
2021 FIM Hard Enduro World Championship (Final Standings)
1. Billy Bolt (Husqvarna) 104pts
2. Manuel Lettenbichler (KTM) 104pts
3. Wade Young (Sherco) 83pts
4. Mario Roman (Sherco) 76pts
5. Jonny Walker (Beta) 66pts
6. Alfredo Gomez (Husqvarna) 63pts
7. Michael Walkner (GASGAS) 46pts
8. Teodor Kabakchiev (Husqvarna) 36pts
9. Taddy Blazusiak (GASGAS) 29pts
10. Dominik Olszowy (KTM) 24pts
2022 FIM Hard Enduro World Championship, Provisional Schedule
Round 1: Minus 400 – Israel, April 5/6/7
Round 2: Xross – Serbia, May 19/20/21
Round 3: Red Bull Erzbergrodeo – Austria, June 16/17/18/19
Round 4: Abestone Hard Enduro – Italy, July 8/9/10
Round 5: Red Bull Romaniacs – Romania, July 26/27/28/29/30
Round 6: Red Bull TKO – USA, August (date TBC)
Round 7: Red Bull Outliers – Canada, August (TBC, two weeks after TKO)
Round 8: HERO Challenge – Poland, September 10/11 (location TBC)
Round 9: Hixpania Hard Enduro – Spain, October 7/8/9
Quelle / Source: FIM Hardenduro