RACE – Highlights
---
HINWEIS: Das Video ist noch deaktiviert, damit keine unerwünschte Datenübertragung zu Youtube stattfindet. Zur Aktivierung bitte auf das Vorschaubild/Video-Link klicken. Damit werden Daten übermittelt, zu deren Art, Umfang und Verwendungszweck wir keineAuskünfte geben können.
---
NOTE: The video is still deactivated so that no unwanted data transfer to YouTube takes place. To activate, please click on the preview image / video link. This transmits data about the type, extent and purpose of which we cannot provide any information.
---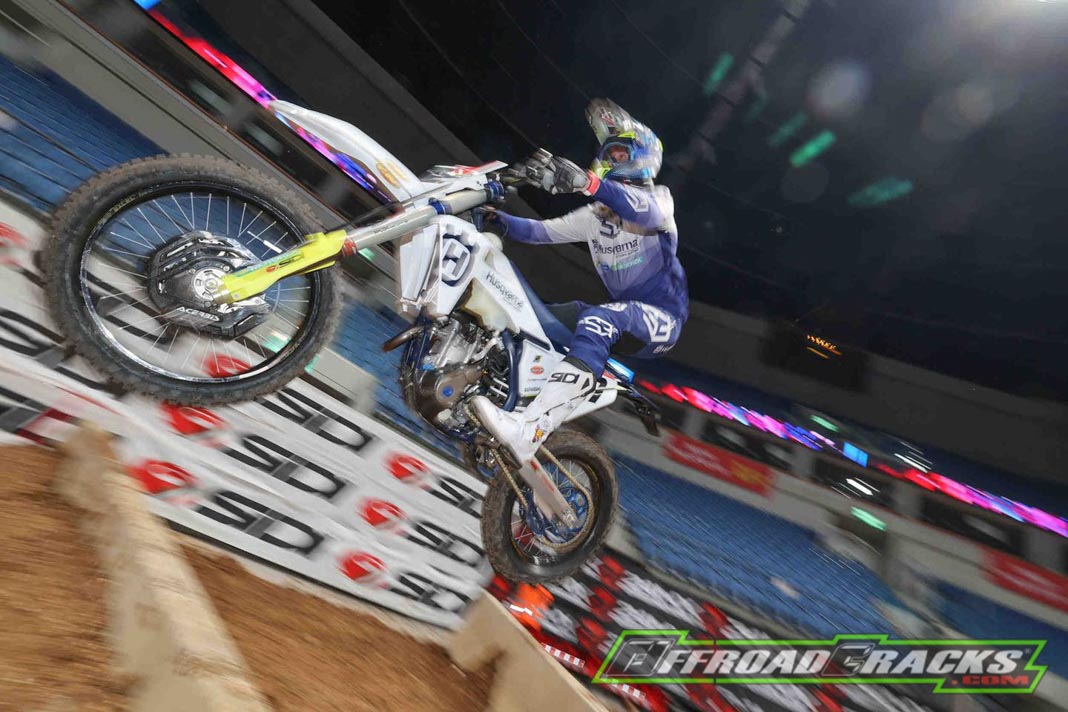 Für die Pais Arena in Jerusalem ist es das erste Mal, dass ein WM-Lauf zur Superenduro-Weltmeisterschaft abgehalten wird. Dementsprechend groß war der Andrang und die Erwartungshaltung seitens Organisator, Fahrer und Zuschauer.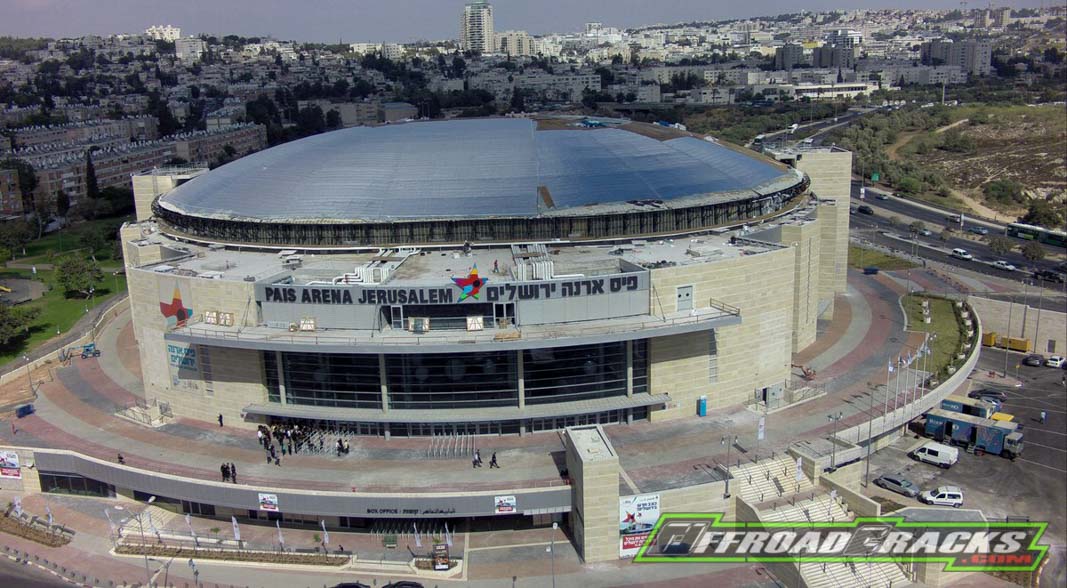 Der Abend begann wie gewohnt mit der SuperPole. Nach der schnellsten Runde im Zeittraining schien Taddy Blazusiak (POL/GasGas) in Topform zu sein und könnte als Siegesanwärter gehandelt werden. Leider verlor er wegen eines ausgegangen Motors an seiner GasGas sofort 10 Sekunden und das bedeutet Startplatz 7 auf einen äußerst engen und fordernden Kurs – das war alles andere als ideal.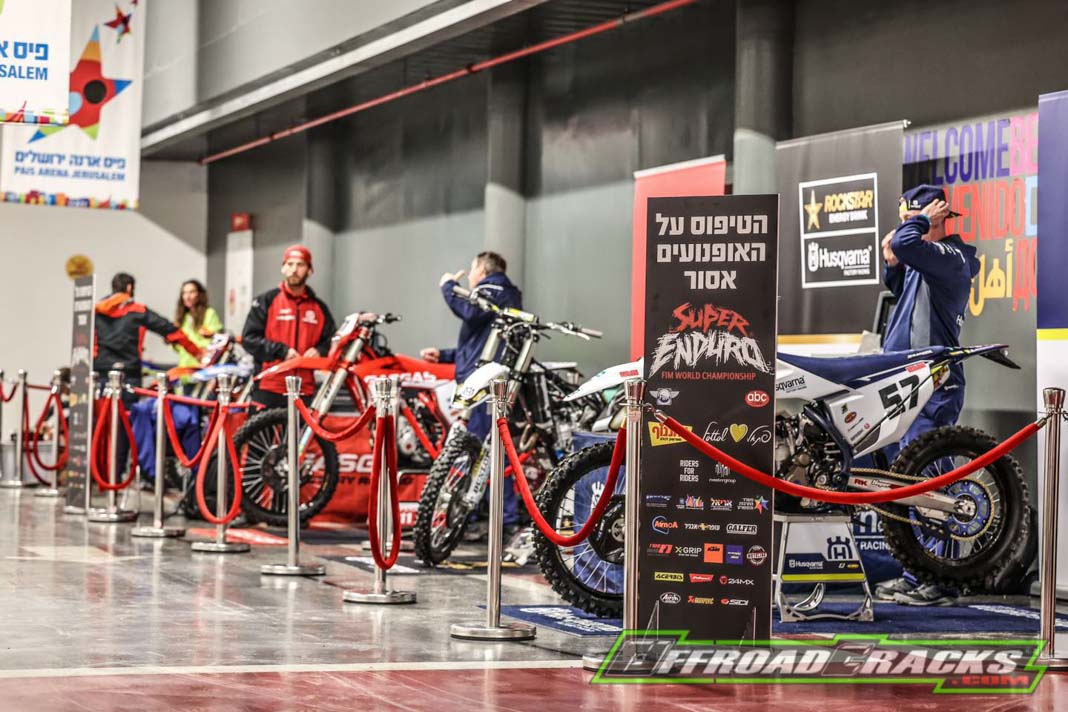 Und wie bereits geschrieben gewährte der "UNION JACK" in Form von Billy Bolt keine Gnade und knallte die schnellste Runde mit unter 34 Sekunden auf den trialartigen Kurs, was ihm die Bestzeit einbrachte. Gefolgt von Teamkollege Colton Haaker (USA/Husqvarna) Cody Webb(USA/Sherco) und Jonny Walker(GBR/Beta).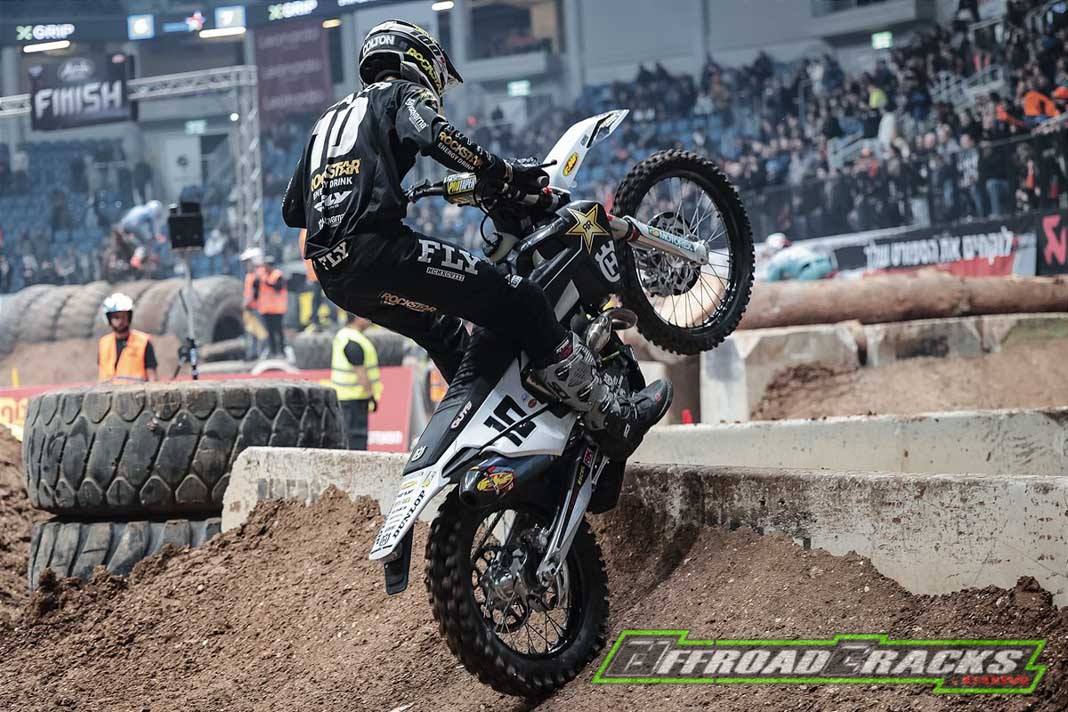 In den drei Rennen des Abends gab BOLT seinen Gegnern keinen Raum für mögliche Top Spots. Er sammelte drei Siege und zeigte souverän seine absolute Dominanz. Der Brite gab zu, dass er sich auf einer so engen und technischen Strecke wie in Jerusalem nicht ganz wohl fühlte. Er hat jedoch wieder einmal bewiesen, dass er sich schnell an die vorherrschenden Bedingungen anpassen kann. Die enge Streckenführung ließ keine Verschnaufpause für die Fahrer zu und brachte alle Profis ans absolute Limit.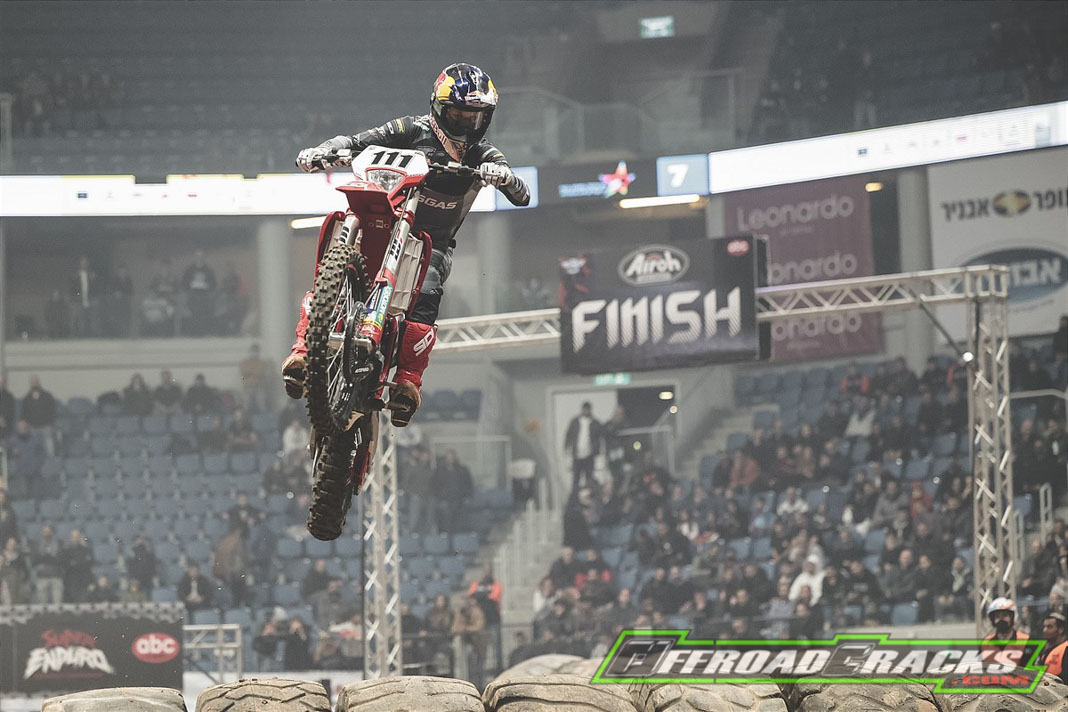 Colton Haaker hatte einen großartigen Start im ersten Rennen, indem er sich den Holeshot schnappte. Jedoch gab ihm sein englischer Teamkollege Billy Bolt die Schaufel und setzte sich sofort an die Spitze. Haaker musste dann wiederholte Versuche des immer besser werdenden Beta-Fahrers Jonny Walker abwehren, bis er seinen Motor abwürgte und Jonny in den Überholmodus gehen konnte. Tatsächlich sollte Walker an diesem Abend der stärkste Rivale von Bolt werden. Der "ewige Zweite Jonny Walker" zeigt bislang eine unglaubliche Konstanz, so dass er vielleicht in 2022 endlich den Titel holen könnte? Er wurde im ersten Rennen vor Cody Webb zweiter. Der große Amerikaner auf seiner Sherco schaffte es endlich seine 2022er Dämonen zu besiegen. Er überzeugte den ganzen Abend mit seiner fahrerischen Leistung und ist definitiv auf dem Vormarsch, auch wenn es bereits viel zu spät für den Titel ist.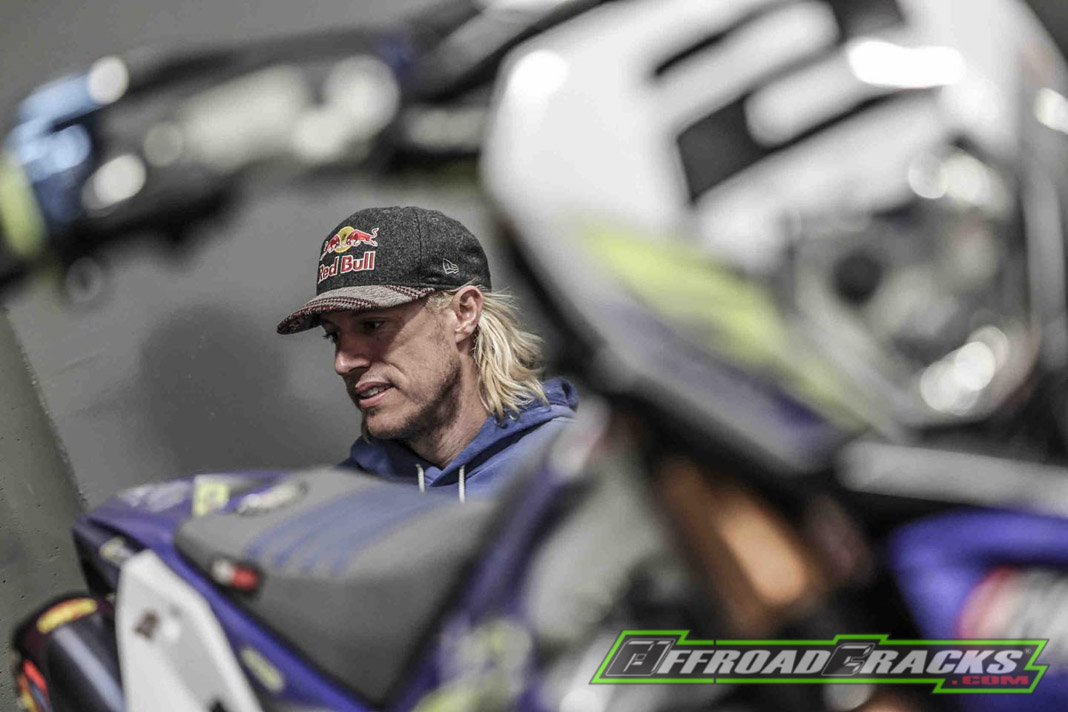 Die BOLT-Show wurde im zweiten Rennen mit dem Start in umgekehrter Startaufstellung  fortgesetzt. Taddy Blazusiak schoss los, als wenn es kein Morgen mehr gäbe und sicherte sich den Holeshot. Erneut würgte er jedoch den Motor seiner GasGas ab und kämpfte mit Schmerzen durch harte Unterarme, so dass er relativ schnell von Bolt und Walker überholt wurde. Der sechsmalige Weltmeister gab jedoch nicht so schnell auf und nach einem großen Kampf mit den beiden Briten hielt er sich auf dem wichtigen zweiten Platz, was er dank zweier Stürze von Walker ausnutzen konnte. Wieder einmal war es Billy Bolt, der als Erster über die Ziellinie fuhr gefolgt von einem unglücklichen Walker auf Platz 3.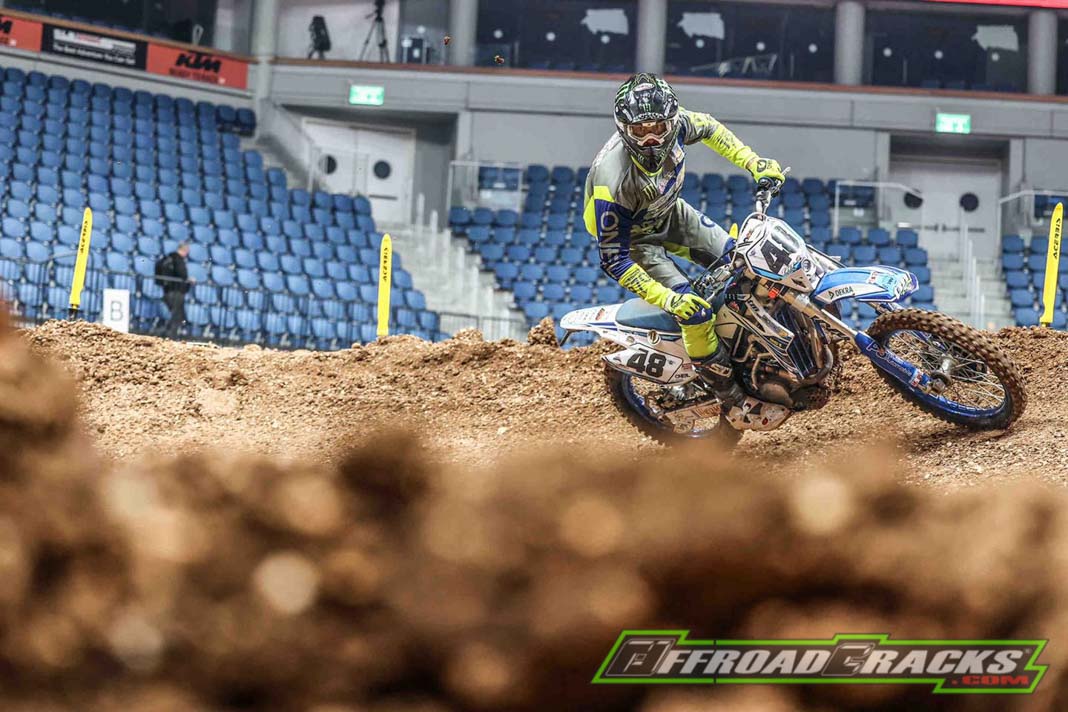 Das Sahnehäubchen für BOLT war nicht nur sein sauberer Sieg, sondern auch die Art und Weise, wie er es geschafft hat: Mit geringsten fahrerischen Fehlern, einen ruhigen und entspannten Stil spulte er routiniert seine Runden höchst effizient ab. Das letzte Rennen beendete er mit mehr als 18 Sekunden Vorsprung vor seinem nächsten Konkurrenten. Enduro-Fans auf der ganzen Welt sind sich einig, dass die Technik von Billy Bolt makellos ist und sich perfekt an alle Terrains und Rennbedingungen anpasst.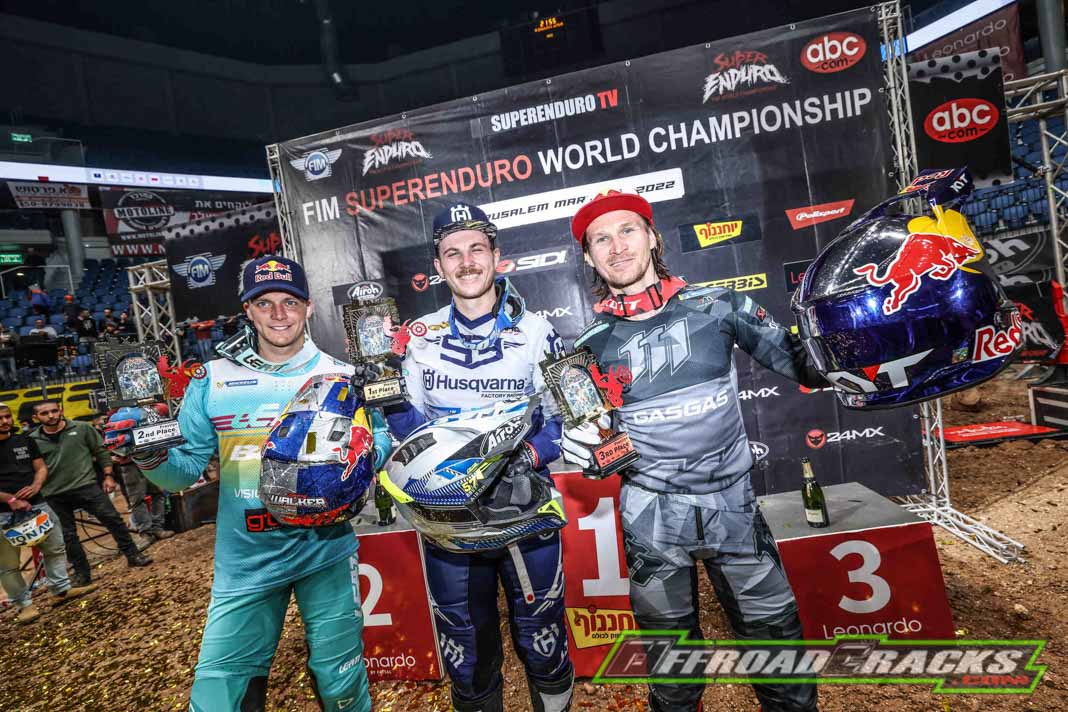 Sein Tabellenvorsprung beträgt nun satte 50 Punkte, was ihm beim großen Finale in Riesa ein sicheres Polster für den möglichen Titel verschafft. Das letzte Rennen in Israel sah auch einen großartigen Kampf zwischen Walker, Webb und Haaker, wobei der Beta-Fahrer die Amerikaner in Schach konnte und sich hinter Bolt auf den 2. Platz schieben konnte.Trotz des 3. Platzes im letzten Rennen verpasste Haaker von Husqvarna nur knapp einen Platz auf dem Podium. Taddy Blazusiak konnte sich dagegen trotz Sturz den 3. Gesamtrang sichern.
Ein Super-Talent: Der lokale Fahrer Suff SELLA stieg auf seiner KTM aus der Junior-Klasse auf, um sich vor seinen Fans in der Prestige-Klasse zu versuchen. Der 18-Jährige schnitt gut ab und belegte bei seinem Heim-GP den siebten Gesamtrang, wobei er einige erfahrene Profis schlug. Das nächste und letzte SuperEnduro-Event des Jahres 2022 wird eine weitere "Premiere" erleben, da es an zwei aufeinanderfolgenden Abenden in der SachsenArena in Riesa ausgetragen wird.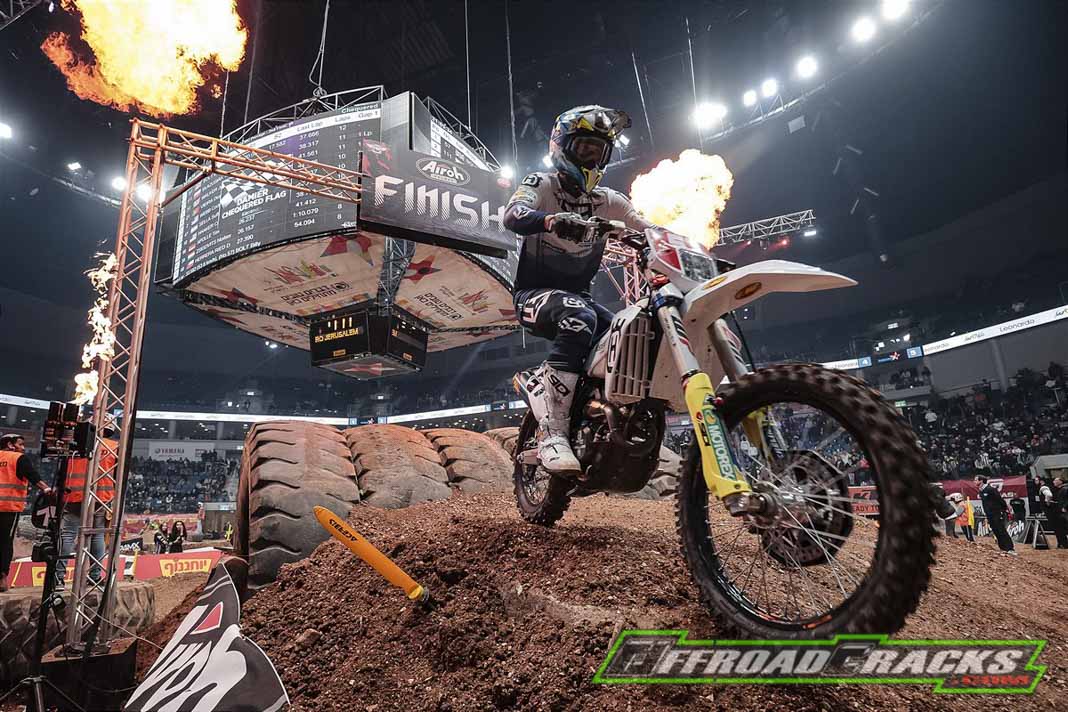 Billy BOLT (GBR-Husqvarna): "Mit meinem letzten Rennen bin ich besonders zufrieden. Ich hatte einen absolut perfekten Start und habe von da an wie gewohnt weitergemacht. Ich bin auch froh eine Veranstaltung ohne Sturz abgeschlossen zu haben. Ich möchte meinem Team danken, das unermüdlich daran arbeitet, mir jedes Mal ein perfektes Bike zur Verfügung zu stellen. Vielen Dank auch an meine Familie und meinen Partner für ihre stets unermüdliche Unterstützung."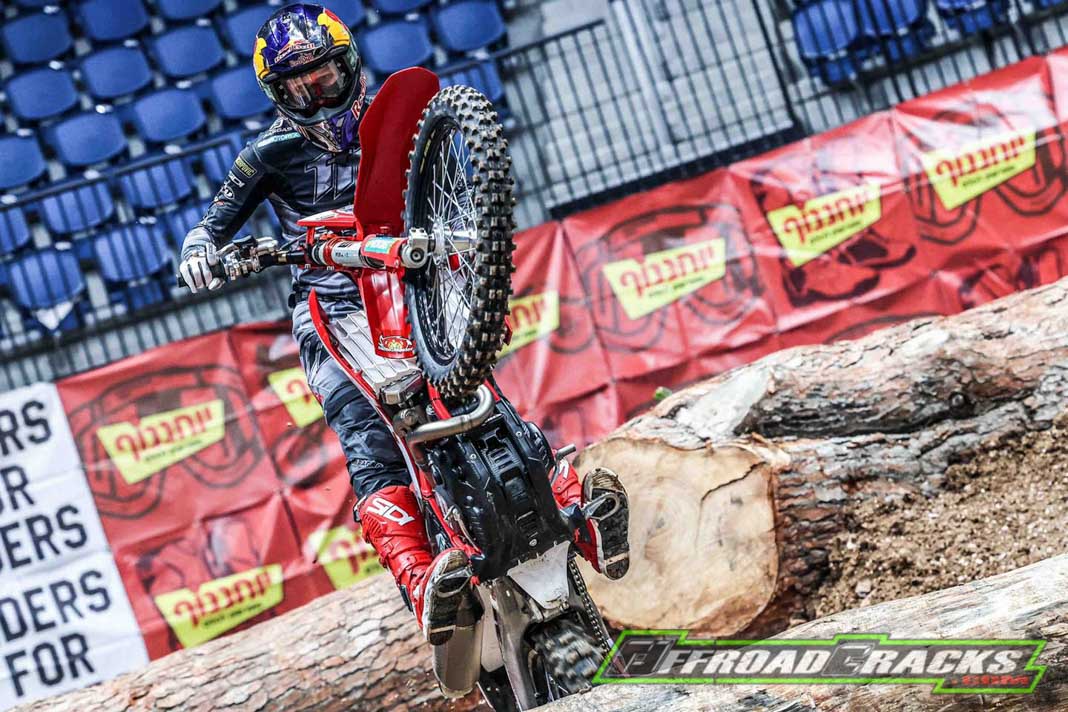 Taddy BLAZUSIAK (POL-GasGas): "Der Abend war schwierig, aber ich konnte wieder einmal beweisen, dass ich auch mit etwas Pech schnell genug bin, um vorne um Podestplätze mitzukämpfen. Wir hatten heute Abend einige physische und mechanische Probleme, aber nichts kann mich entmutigen, ich werde bis zur letzten Runde in dieser Saison kämpfen."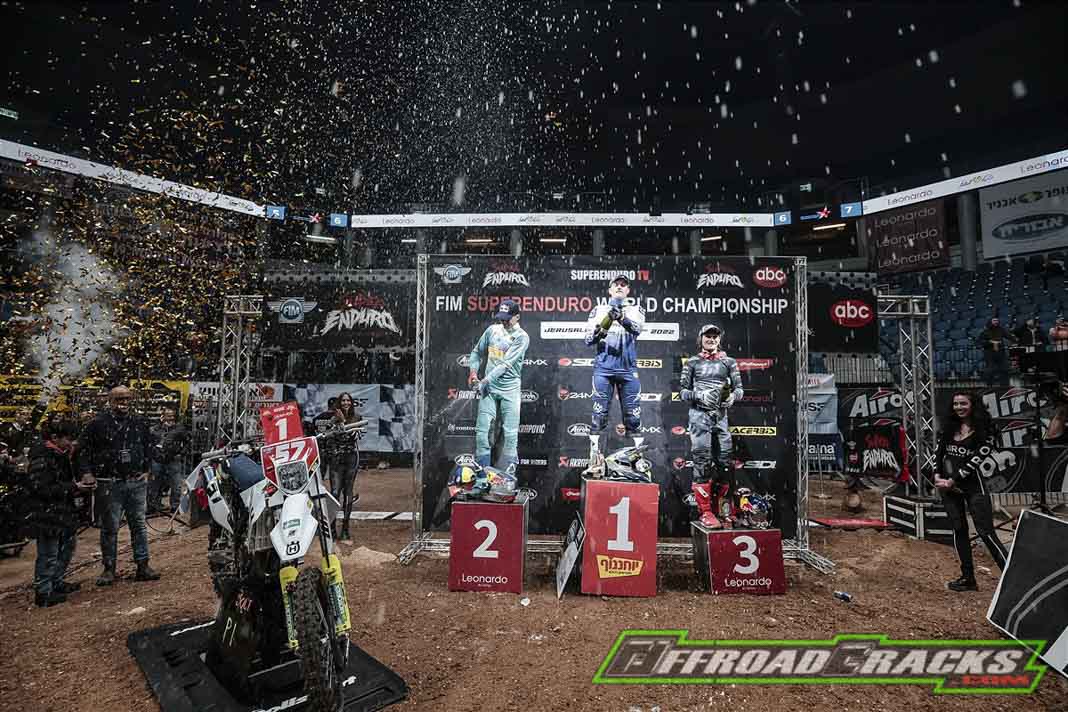 Gesamtwertung nach 3 von 5 Läufen
1. Billy Bolt (GB), Husqvarna, 186
2. Jonny Walker (GB), Beta, 136, (-50)
3. Taddy Blazusiak (PL), GasGas, 128, (-58)
4. Colton Haaker (USA), Husqvarna, 128, (-58)
5. Diogo Vieira (P), GasGas, 86, (-100)
6. Cody Webb (USA), Sherco, 85, (-101)
7. Tim Apolle (D), Beta, 69, (-117)
8. William Hoare (GB), GasGas, 56, (-67
)9. Manuel Lettenbichler (D), KTM, 48, (-138)
10. Diego Herrera (RCH), TM, 48, (-138)
---

An electric atmosphere filled the Pais Arena, and the competitors from the FIM SuperEnduro World Championship brought a crazy show for the enthusiastic spectators who witnessed the first ever SuperEnduro on Israeli soil. Billy BOLT (GBR-Husqvarna) continued the complete domination that he kicked off at the start of the season. The Brit now has a serious lead and is looking on his way to a second title in the Prestige class. Despite their best efforts, his rivals had no answer for him in Israel.
The organisers of the third round of the season followed everything to the letter, and were ready and waiting to provide riders and fans with the best experience. The evening began, as usual, with the Akrapovic SuperPole. After setting the fastest lap in timed practice Taddy BLAZUSIAK (POL-GasGas) seemed to be on top form, but unfortunately luck was not on his side and his GasGas came to a standstill as the engine stalled. Taddy therefore lost 10 seconds in SuperPole as the clock kept ticking. He was forced to start from 7th place in Race 1 and 3. The best time was set by none other than championship leader Billy BOLT, who managed to go under the 34 second mark (0'33.609). Behind him, his team-mate Colton HAAKER (USA-Husqvarna) also did well on the tight and tricky track, taking 2nd spot on the grid. Cody WEBB's technique worked wonders, and he set off from 3rd with his Sherco, just ahead of Jonny WALKER (GBR-Beta), 4th in SuperPole.
When it came to the three races of the evening, BOLT did not concede a single place to his opponents. He collected three wins, displaying confident domination. The Brit admitted that he wasn't completely comfortable on a track as narrow and technical as in Jerusalem. However, he proved once again that he is adaptable and can be quick and precise in any arena. The tight track left no recovery time and pushed the world's best to the limit. Colton HAAKER got off to a great start in Race 1 by grabbing the holeshot, but the Californian was quickly overtaken by his Husqvarna colleague. BOLT flew into the lead and scarcely looked back. HAAKER then had to see off repeated attempts from an on-form Jonny WALKER, with the Beta rider passing him with ease as Colton stalled his bike. In fact, WALKER was to be BOLT's strongest rival on the night. Still looking for his first crown, the Brit has shown great consistency this season. He finished 2nd in the first race, ahead of Cody WEBB who finally managed to conquer his 2022 demons, the American rider was convincing all evening and his performance is on the up, although too late to fight for the title.
The BOLT show continued in Race 2, the reverse grid start. Taddy BLAZUSIAK was quick to get off the line and he took the holeshot, but another stall from his GasGas and pain from arm pump meant he was quickly passed by BOLT and WALKER. However, the six-time World Champion does not give up easily and after a big battle with the two Brits, he clung onto a vital 2nd place, taking advantage of two late crashes from Walker. Once again, it was Billy BOLT across the line first, and an unlucky WALKER 3rd.
The cherry on the top for BOLT was not only his clean sweep but the way he managed it; with barely a single mistake, making every obstacle look easy, and with a calm and relaxed style. In the final race he finished more than 18 seconds ahead of his nearest opponent. Enduro fans all over the world agree that Billy BOLT's technique is flawless and adapts perfectly to all terrains and racing conditions. His championship lead is now a whopping 50 points, giving him a great chance at the grand finale in Riesa. The final race of then night in Israel also saw a great fight between WALKER, WEBB, and HAAKER with the Beta rider keeping the Americans at bay and coming out on top, finishing 2nd behind BOLT. He also took 2nd overall on the night. Despite finishing 3rd in the last race, Husqvarna's HAAKER narrowly missed out on an overall podium, just one point behind Taddy BLAZUSIAK. The Pole clung onto 3rd overall despite a crash in Race 3.
There were several highlights of the Jerusalem GP, especially the great organisation of this new event, which has already earned its stripes to become a long-term fixture in the FIM SuperEnduro World Championship calendar. The night also delighted fans, riders, teams and SuperEnduro promoters alike. And there was another reason for the home fans to cheer; local rider Suff SELLA on his KTM stepped up from the Junior class to try his hand at the Prestige class in front of his supporters. The 18 year old did well and finished 7th overall in his home GP, beating some seasoned pros.
The next, and final, SuperEnduro event of 2022 will see another 'first' as it will be contested over two consecutive evenings at the SachsenArena in Riesa, Germany. Make sure you don't miss the grand finale on March 19th and 20th, it's sure to be thrilling.

What They Said: 
Billy BOLT (GBR-Husqvarna): "I am particularly satisfied with my last race. I had an absolutely perfect start and took it from there. I'm also happy to have completed an event without a crash, not even an error really. I would like to thank my team who work tirelessly to provide me with a perfect bike every time. Thank you also to my family and my partner for their unfailing support, always."
Taddy BLAZUSIAK (POL-GasGas): "The evening was difficult, but I was once again able to prove that, even with some bad luck, I am fast enough to fight at the front for podiums. We had some physical and mechanical problems tonight but nothing can discourage me, I will fight until the last lap of this season."
OVERALL after 3 of 5 rounds
1. Billy Bolt (GB), Husqvarna, 186
2. Jonny Walker (GB), Beta, 136, (-50)
3. Taddy Blazusiak (PL), GasGas, 128, (-58)
4. Colton Haaker (USA), Husqvarna, 128, (-58)
5. Diogo Vieira (P), GasGas, 86, (-100)
6. Cody Webb (USA), Sherco, 85, (-101)
7. Tim Apolle (D), Beta, 69, (-117)
8. William Hoare (GB), GasGas, 56, (-67
)9. Manuel Lettenbichler (D), KTM, 48, (-138)
10. Diego Herrera (RCH), TM, 48, (-138)
PHOTO GALLERY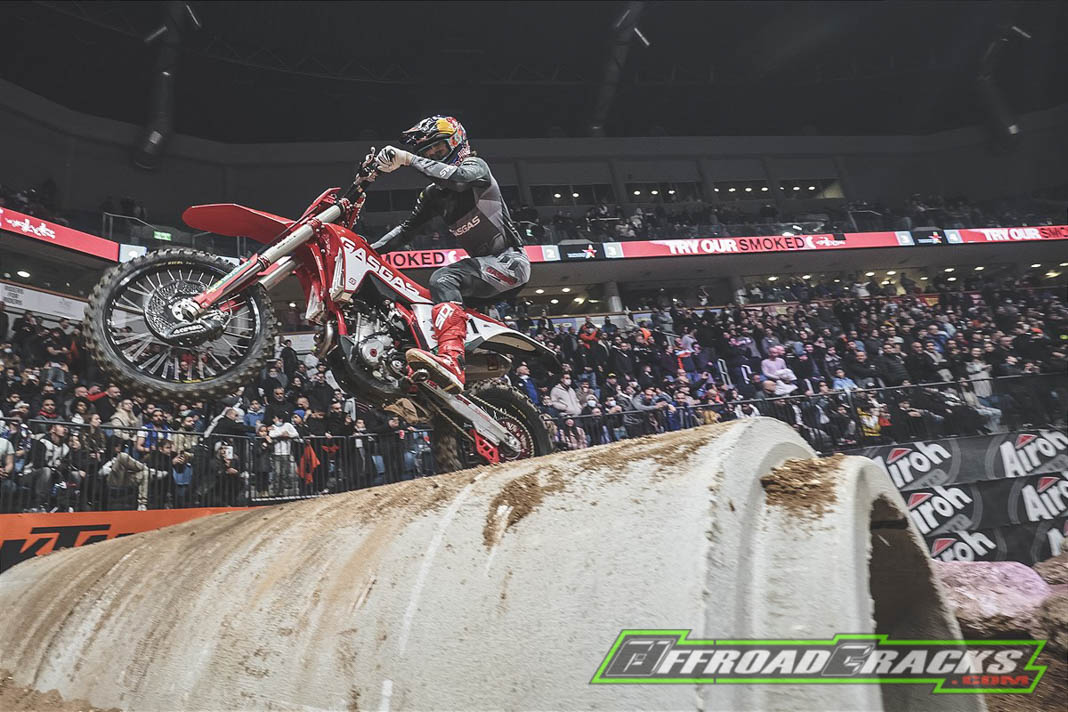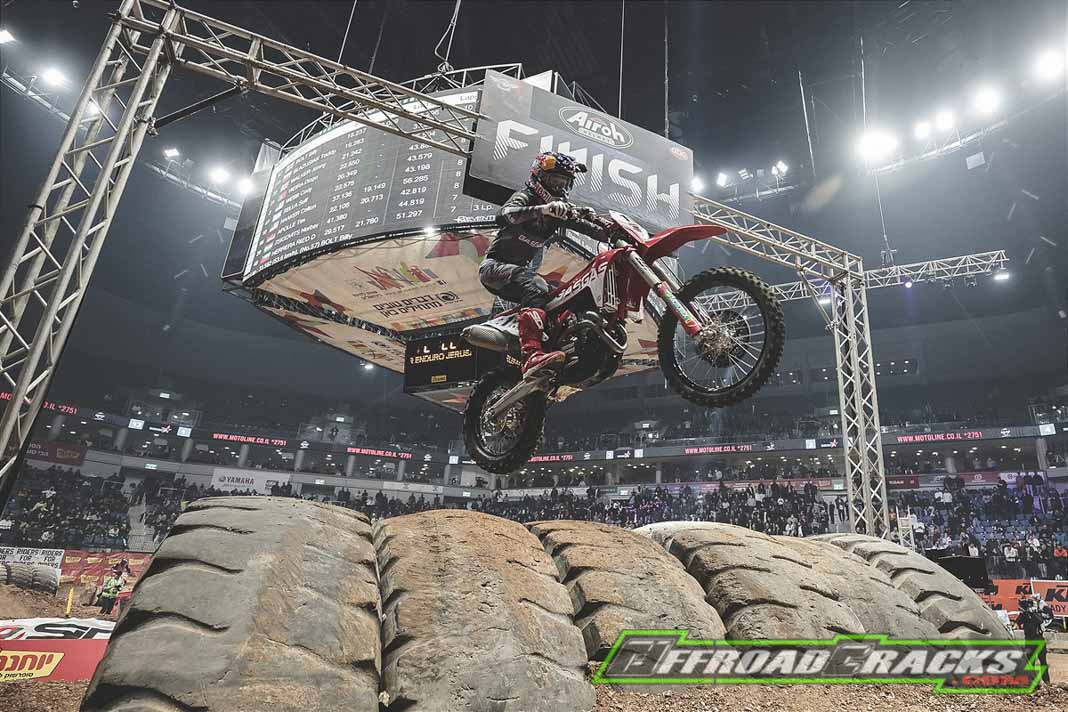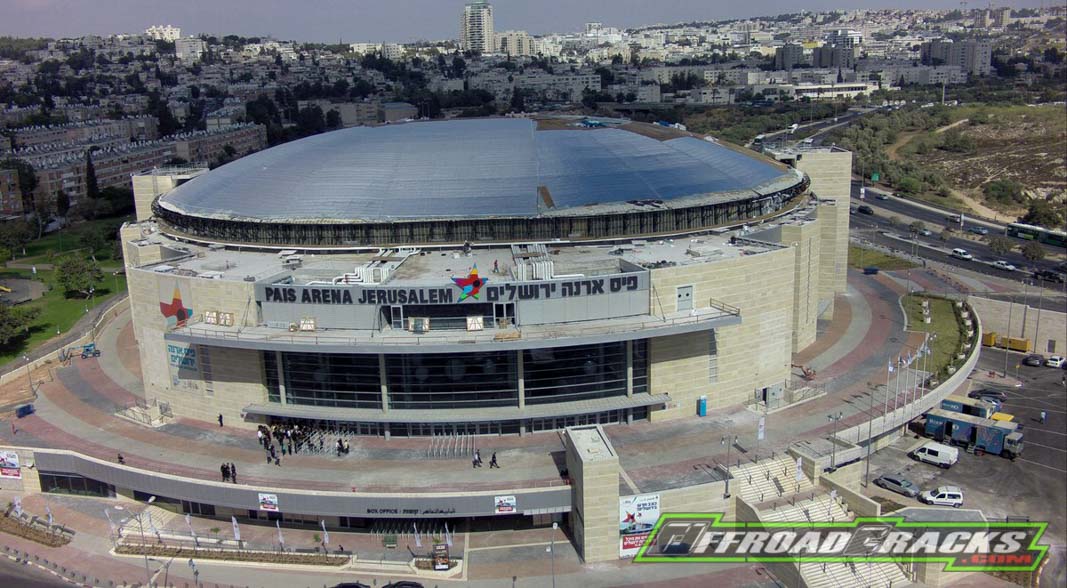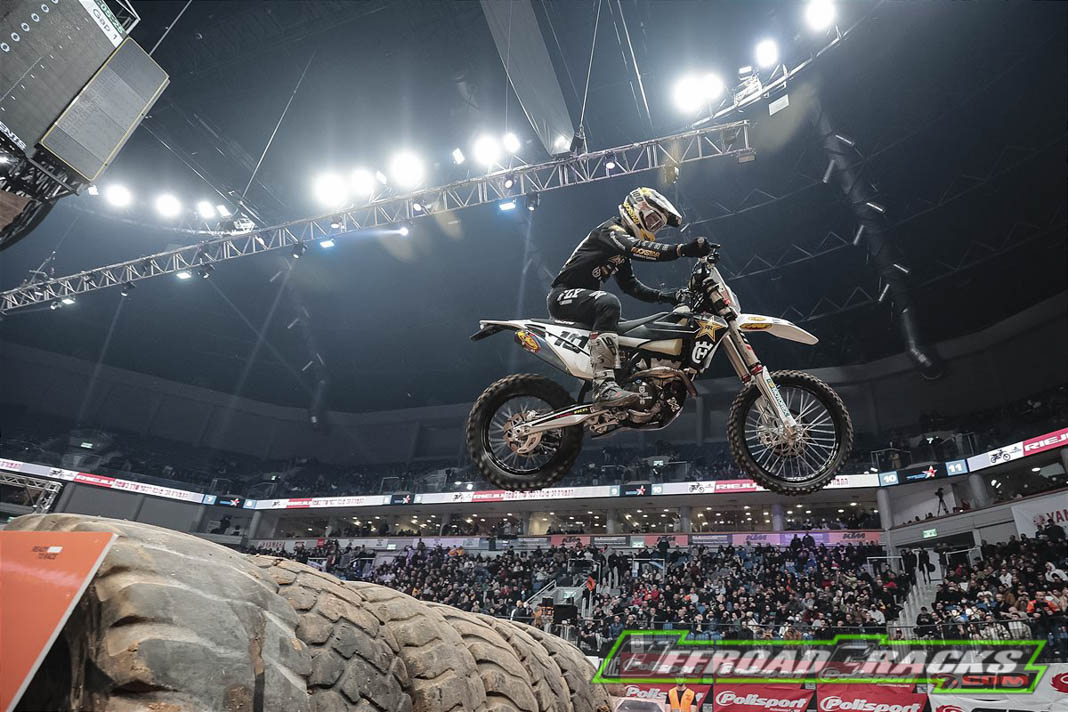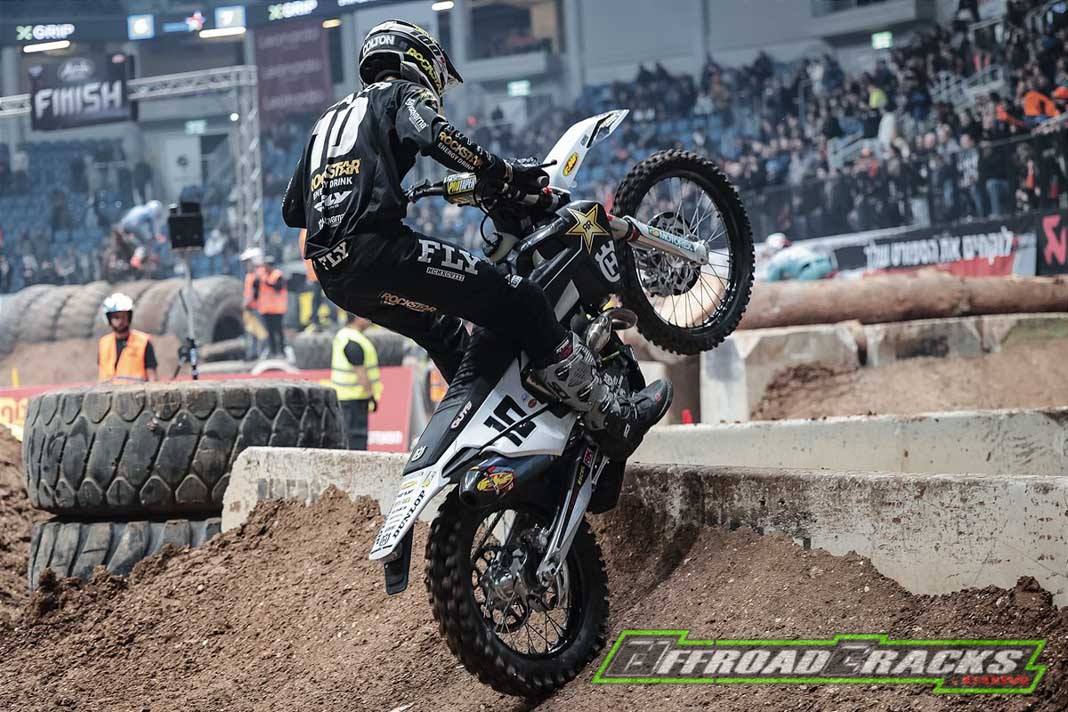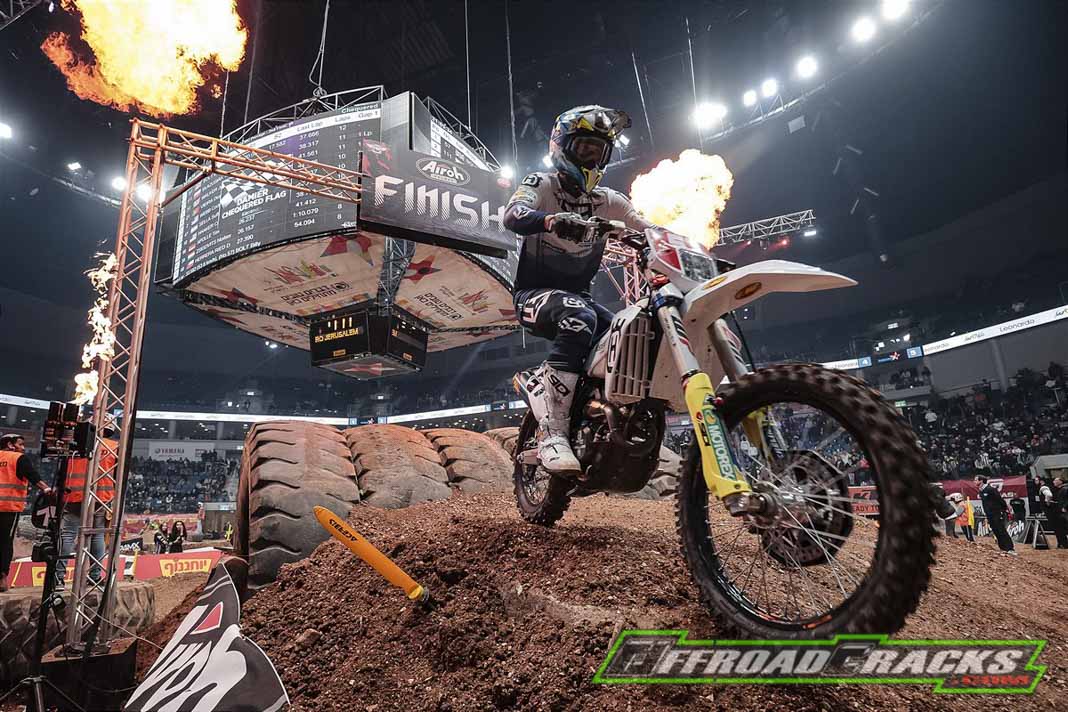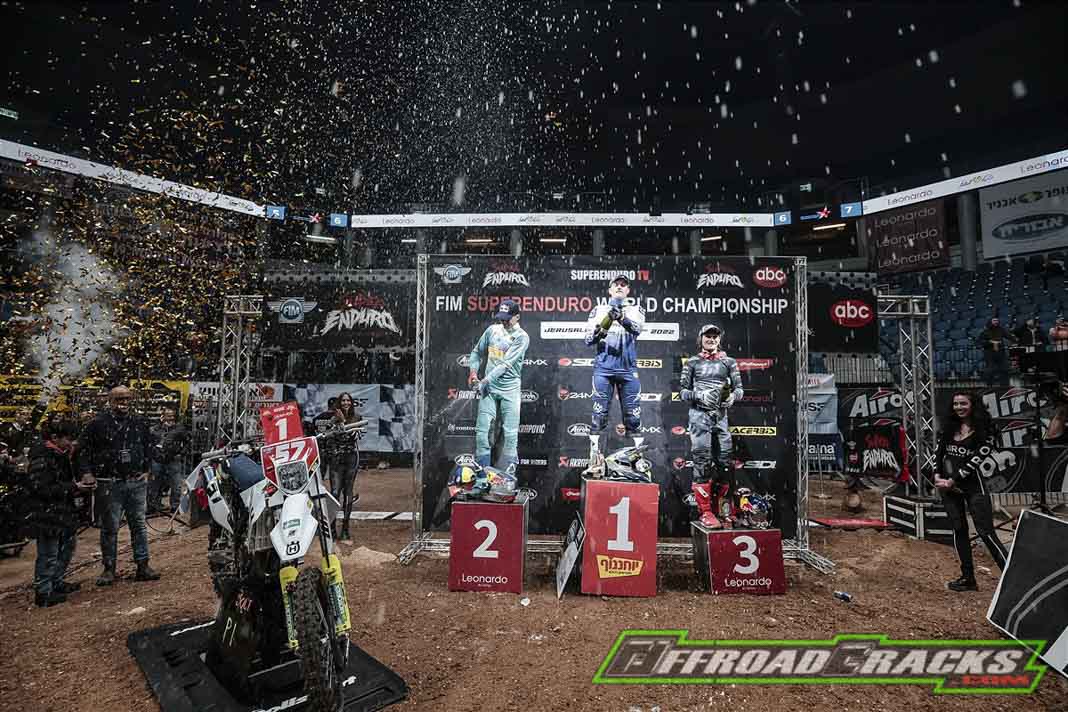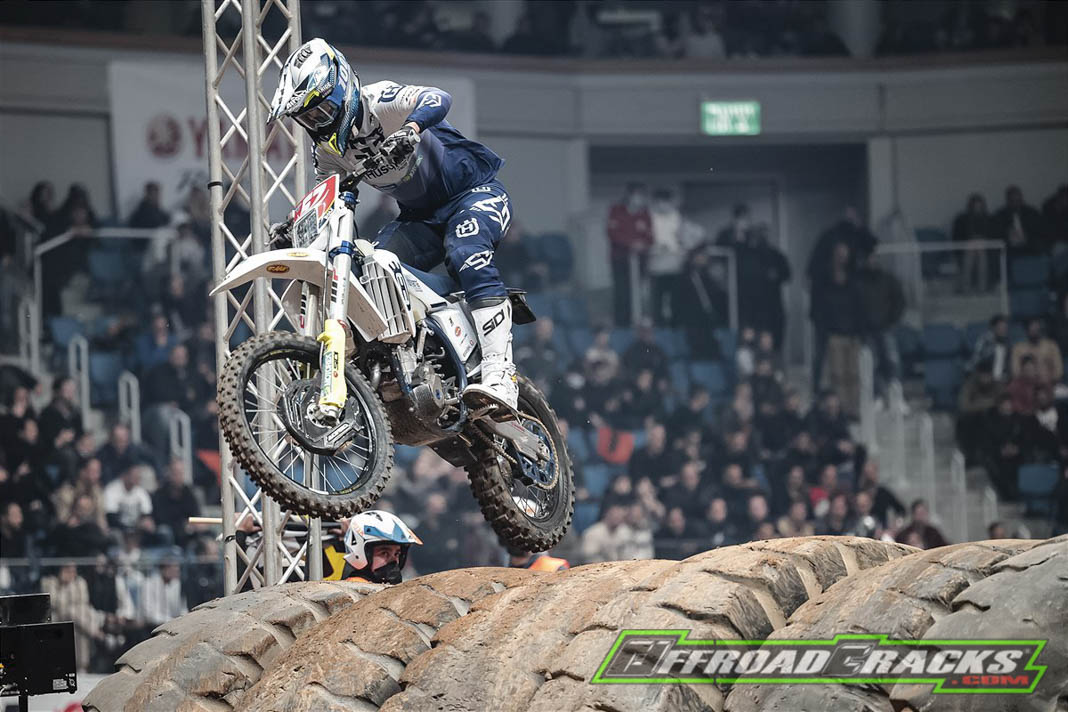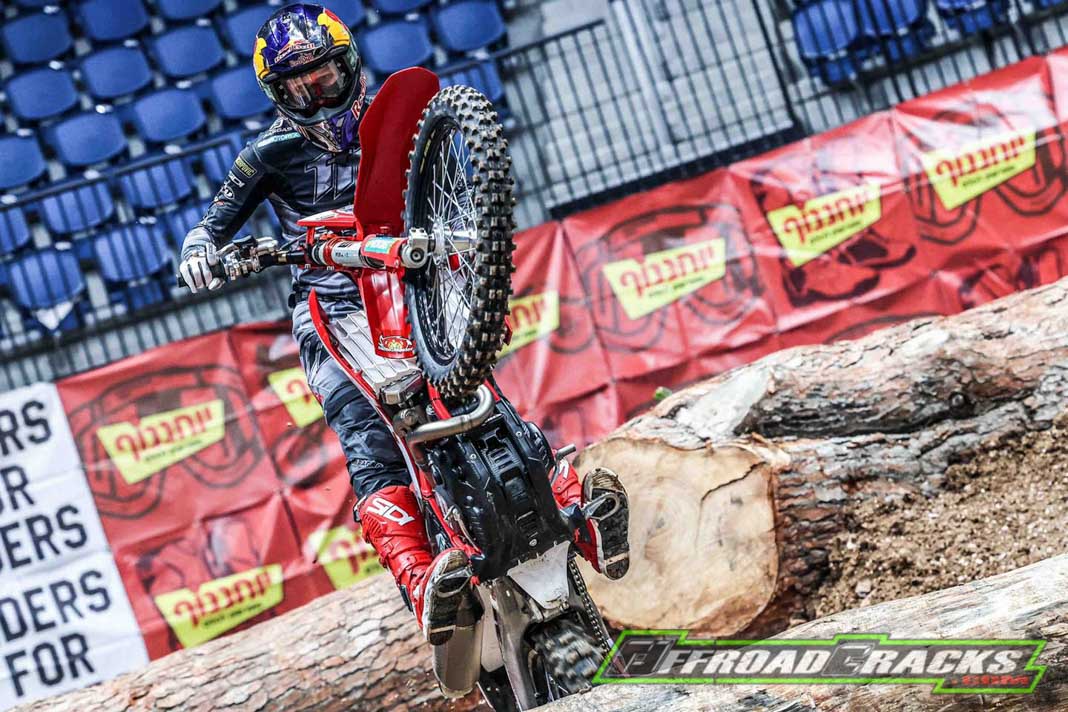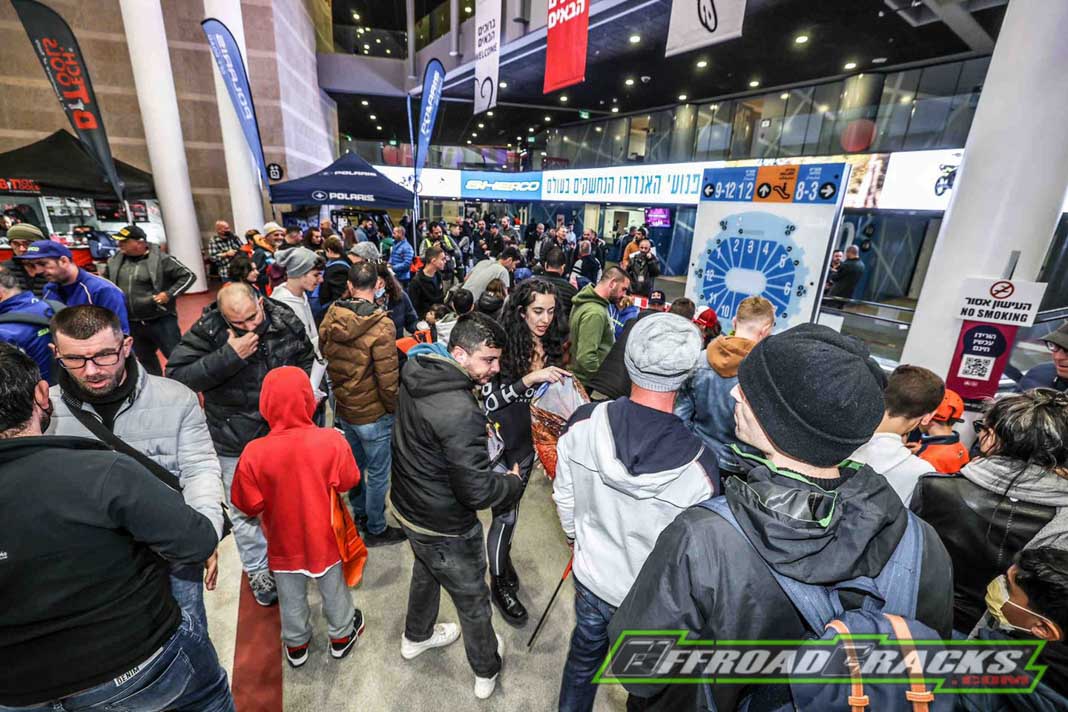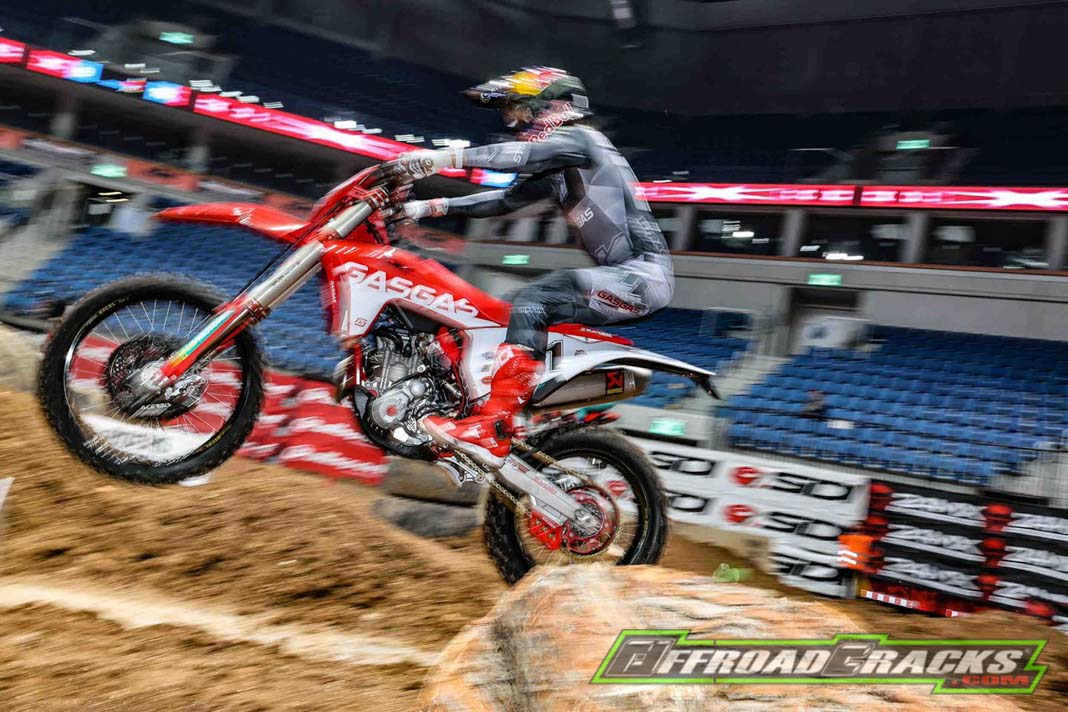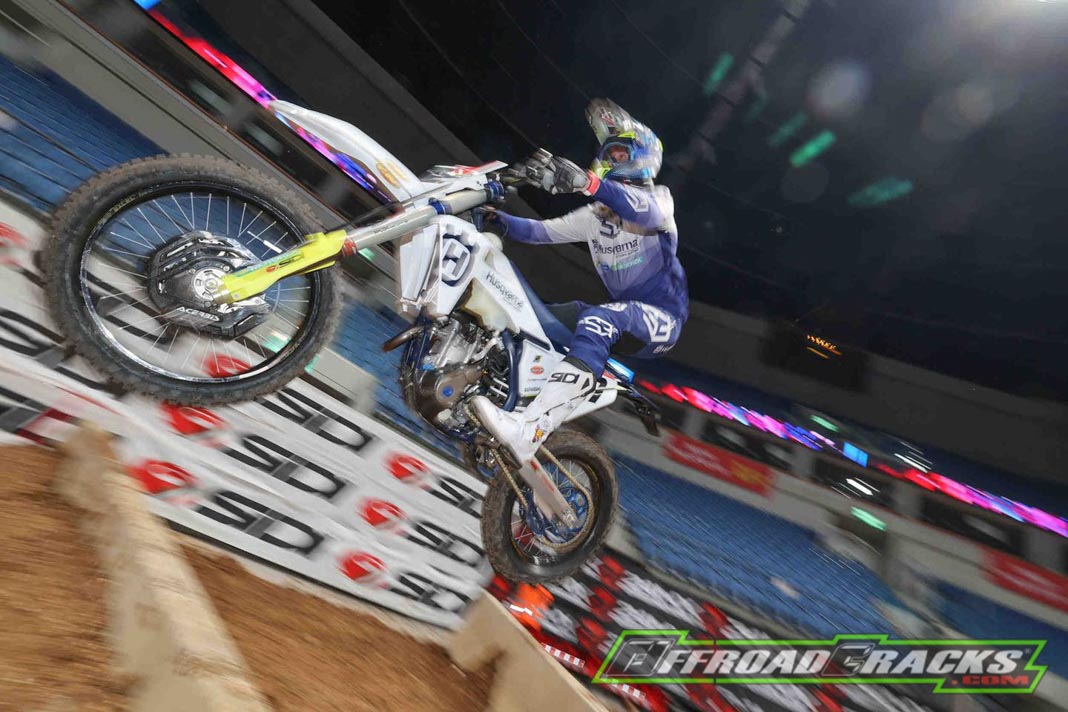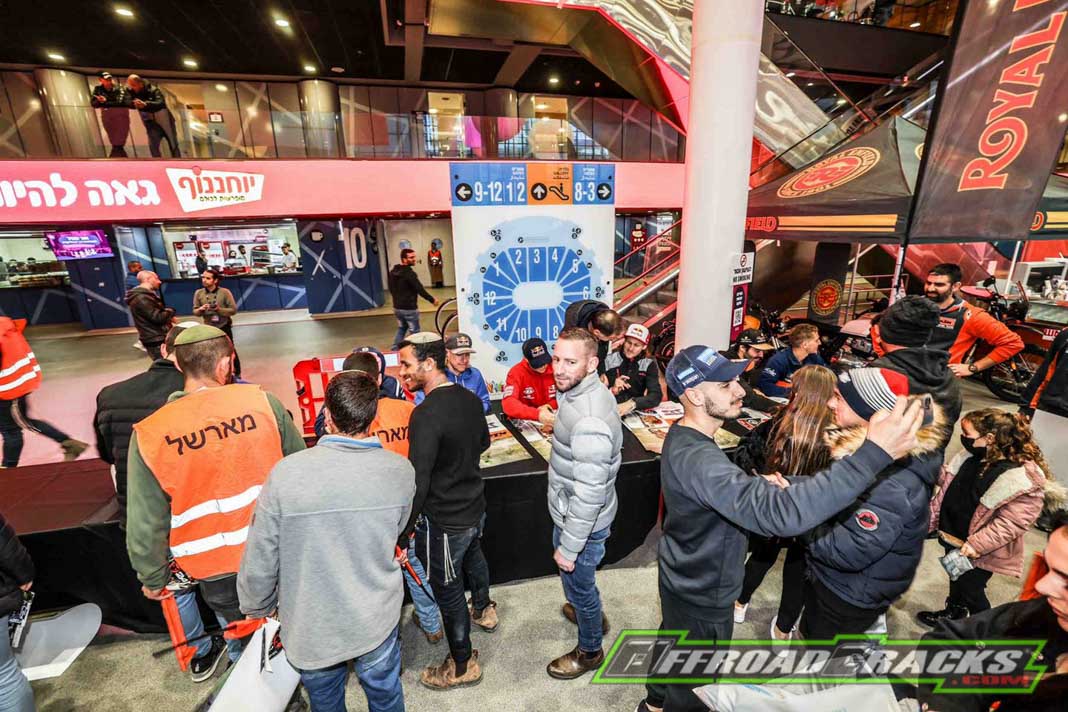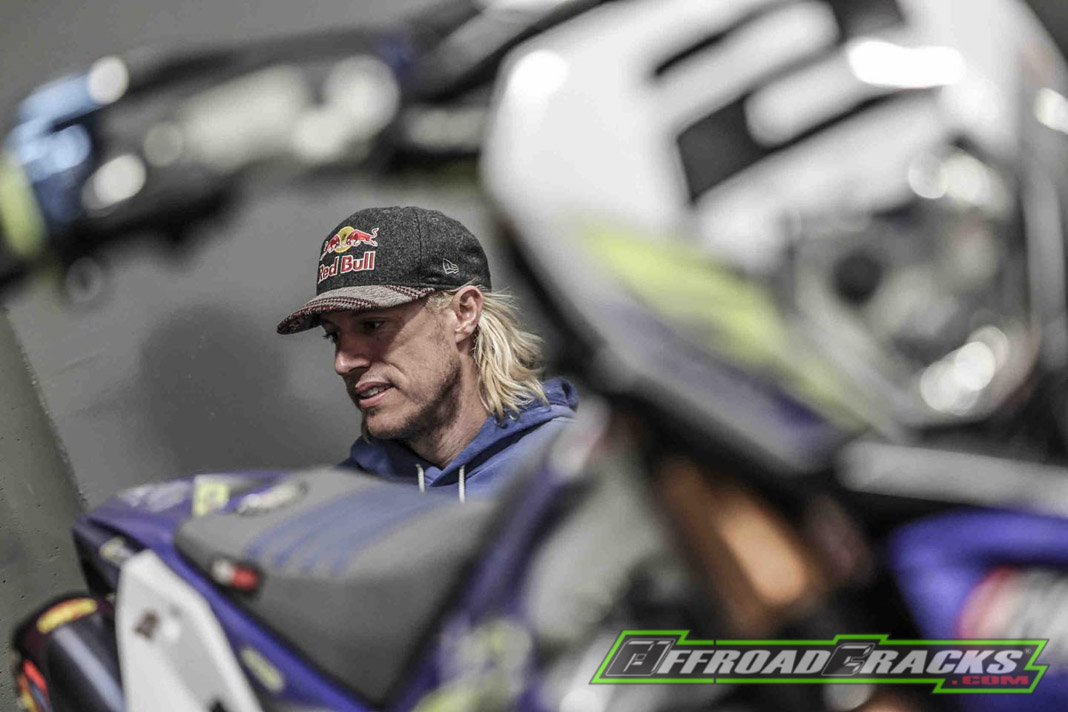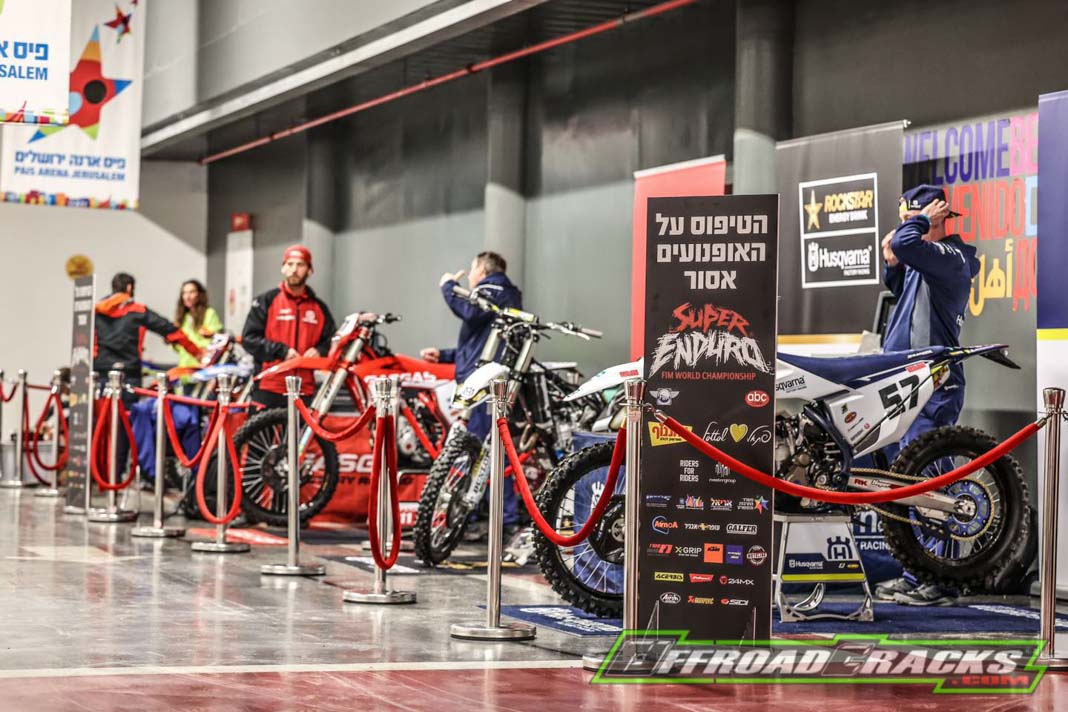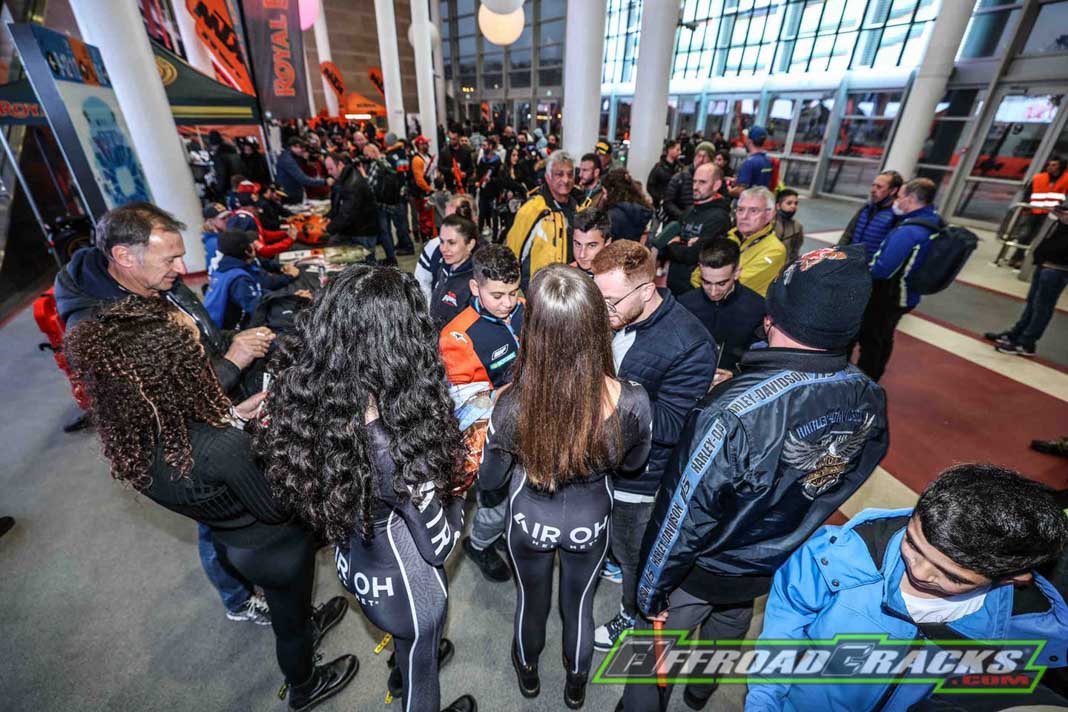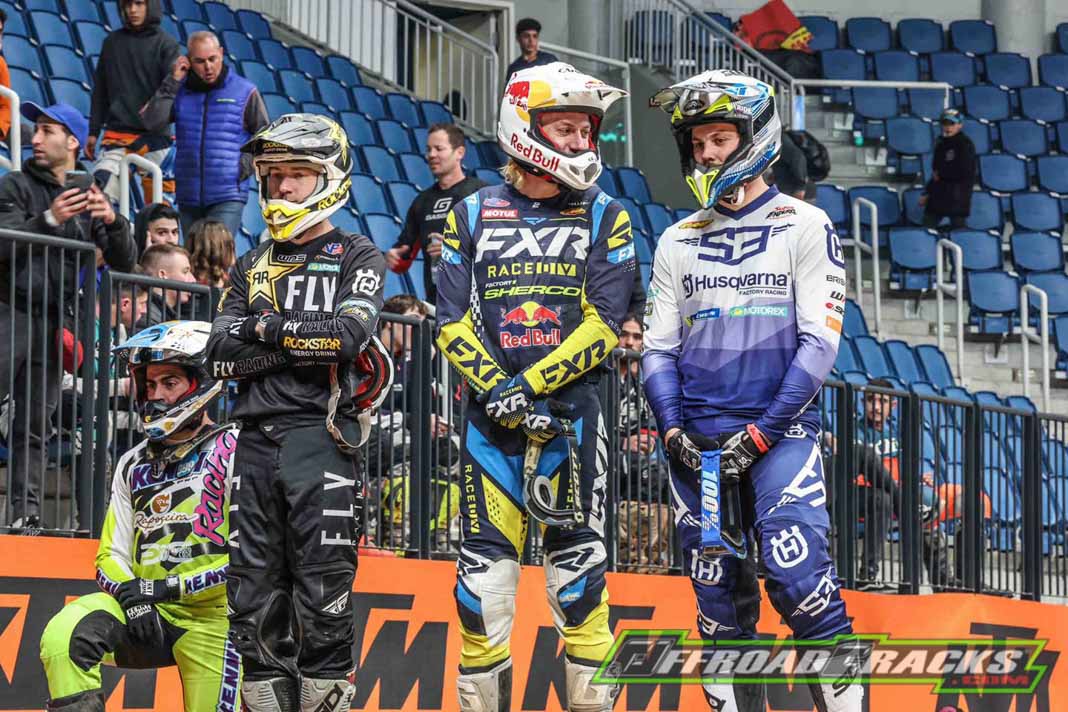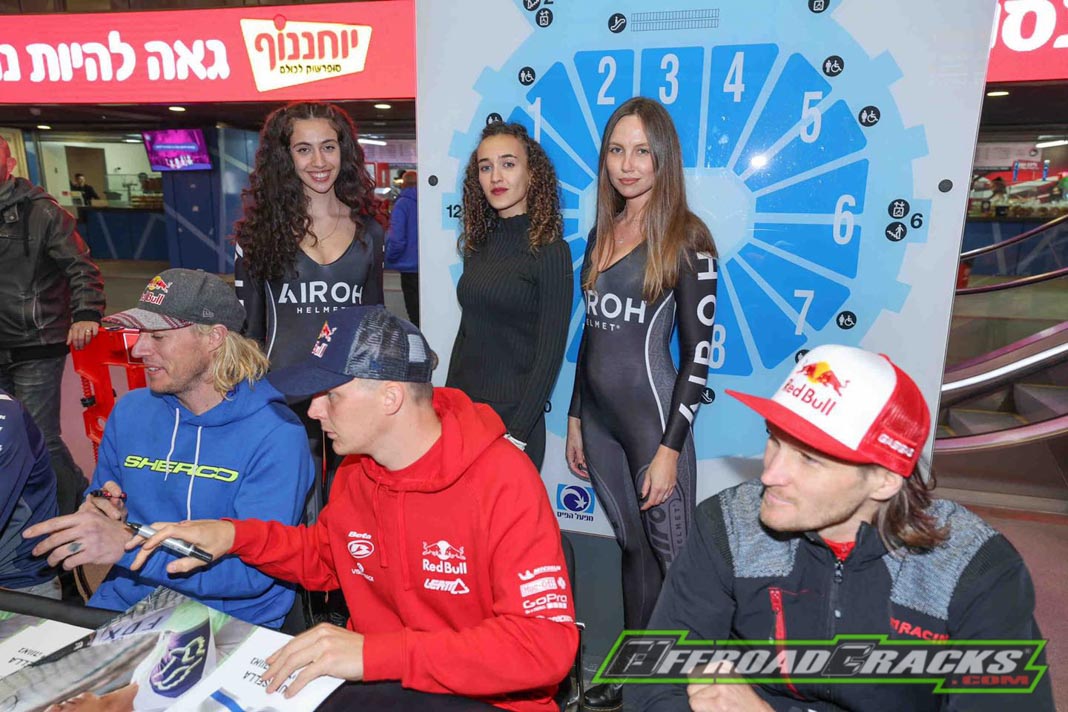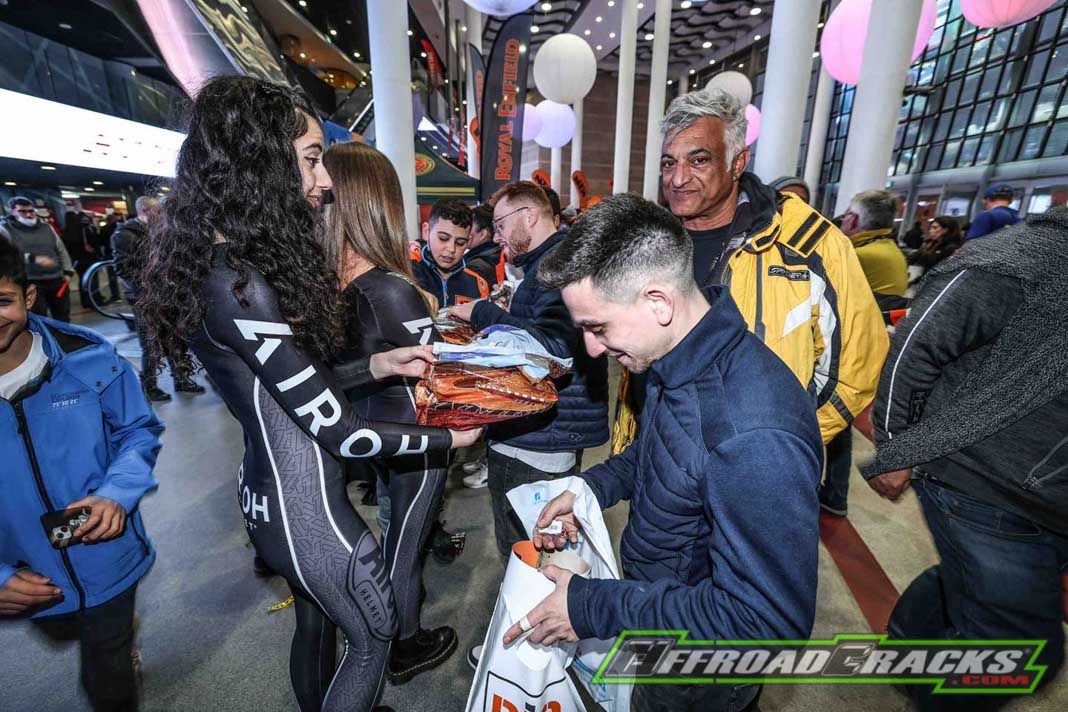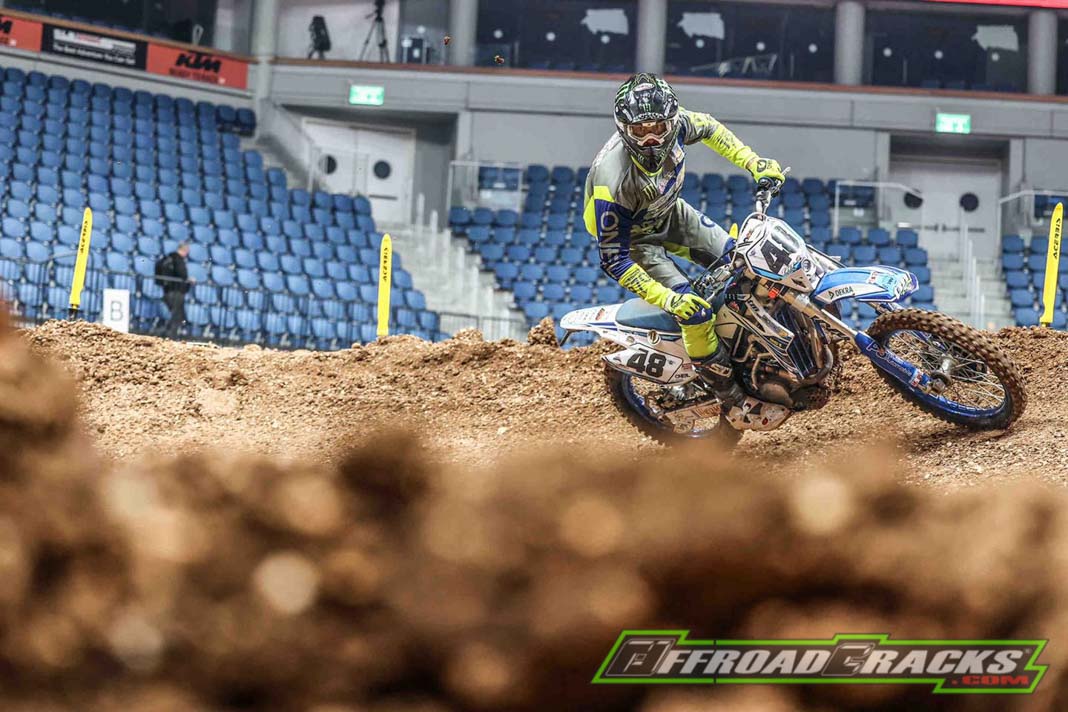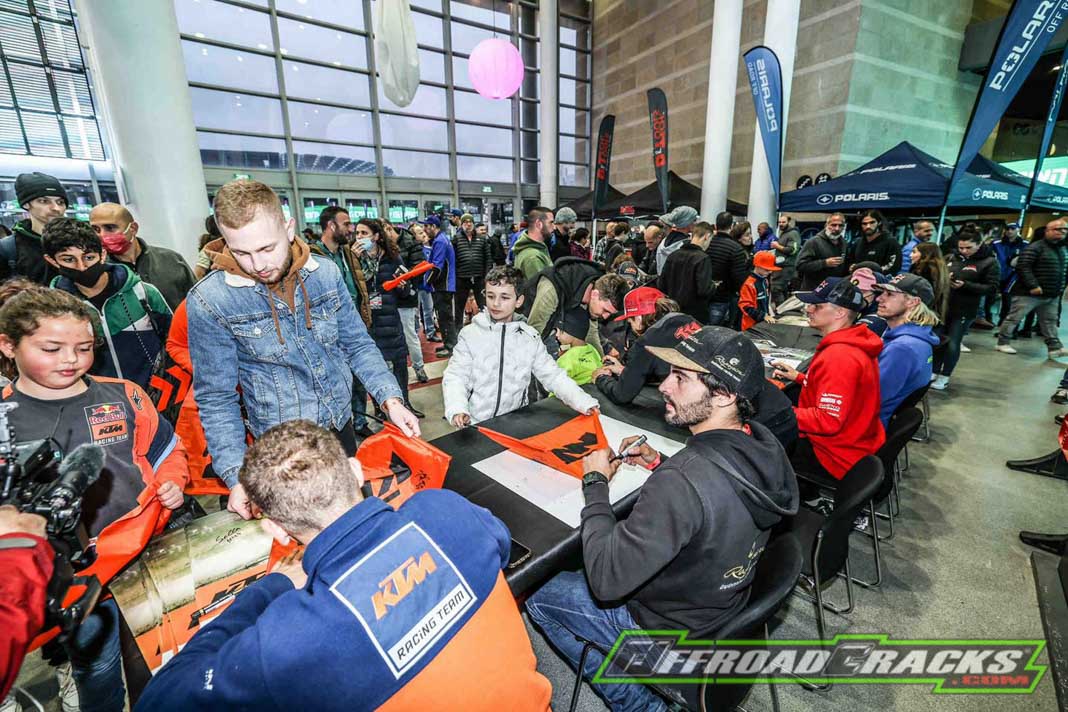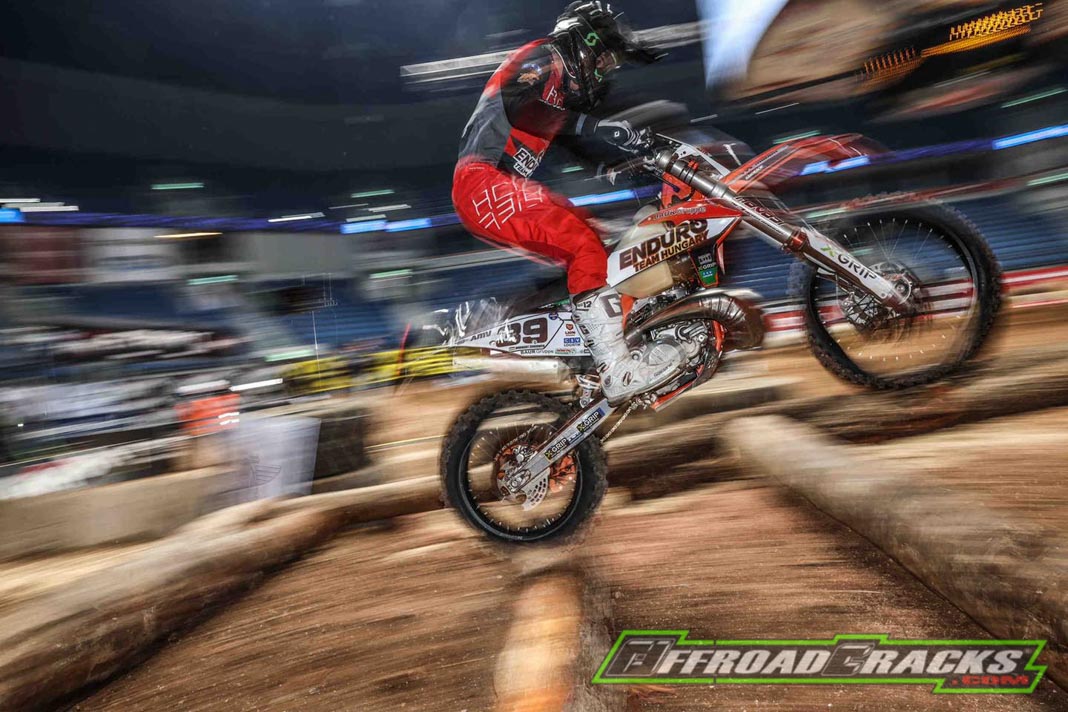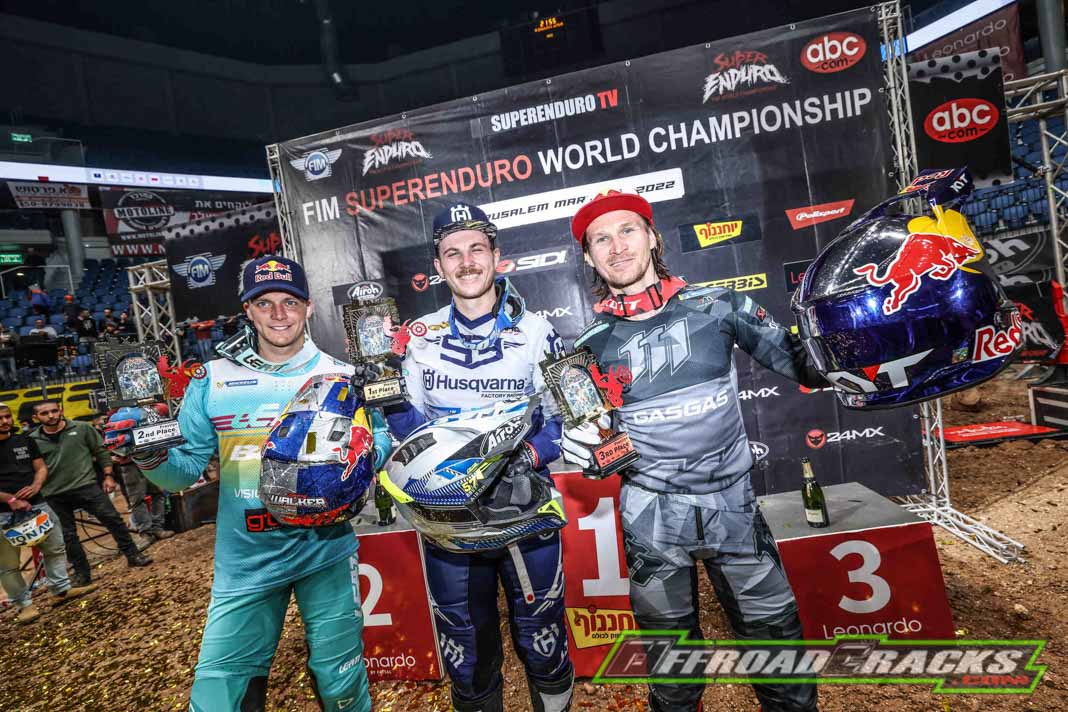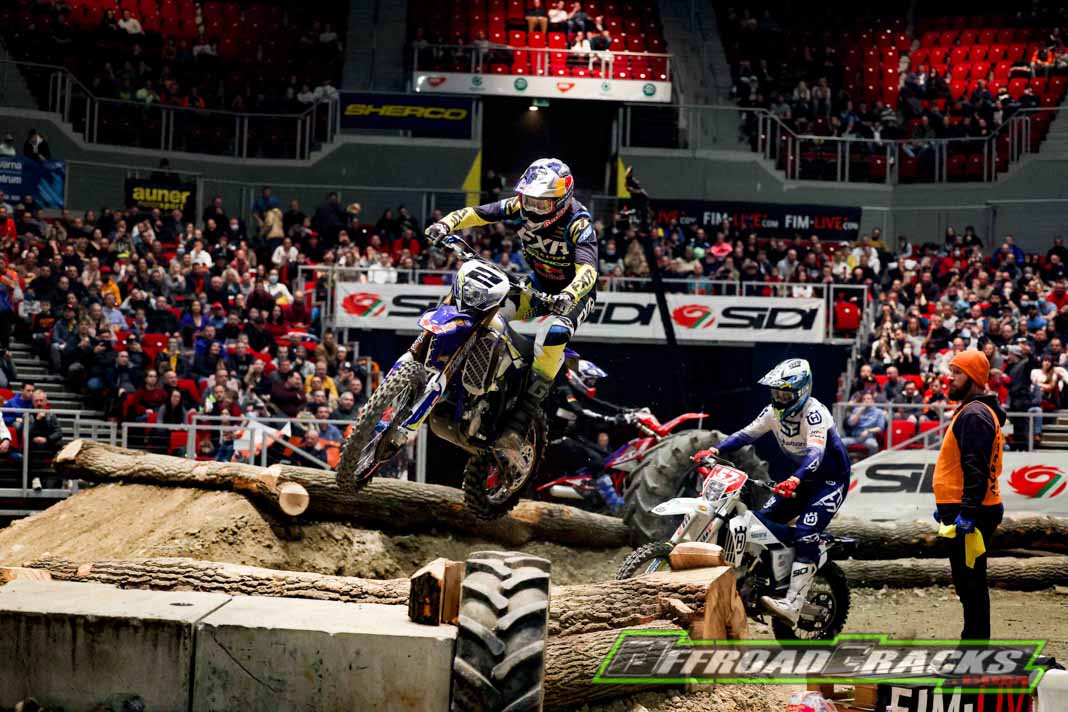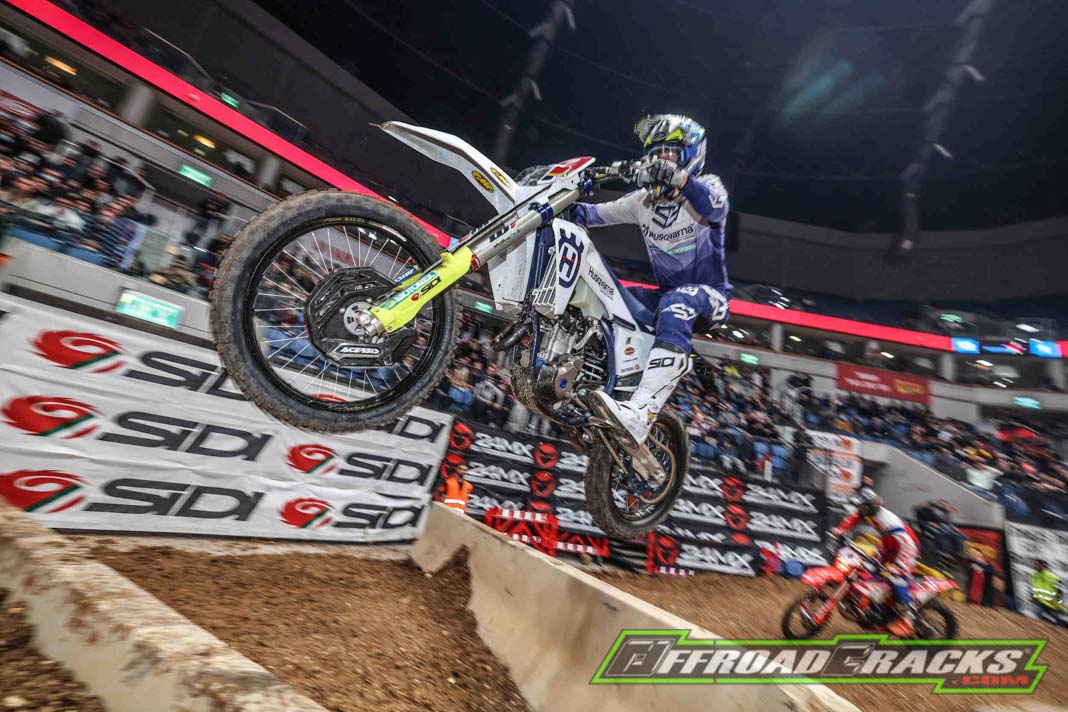 QUELLE / SOURCE: Husqvarna, GasGas, Superenduro