Steward Baylor holte seinen dritten Sieg in Folge auf der AmPro Yamaha und Kailub Russell sicherte sich vorzeitig seinen achten Meistertitel.
ERGEBNISSE / RESULTS – GNCC Round 11 MASON DIXON 2020
Mason-Dixon
Taylortown, PA – Round 11
01. XC1 Open Pro – Bike –

Class Results

Place
Nbr
Name
Hometown
Brand
Laps
Elapsed

1

514

STEWARD BAYLOR JR

HODGES, SC

YAM

6

02:54:41.934

2

530

BENJAMIN M KELLEY

HARWINTON, CT

KTM

6

02:54:43.739

3

001

KAILUB K RUSSELL

BOONVILLE, NC

KTM

6

02:56:38.690

4

989

THADDEUS DUVALL

WILLIAMSTOWN, WV

HQV

6

02:56:40.036

5

523

LAYNE MICHAEL

BOONVILLE, NC

YAM

6

02:57:15.350

6

114

JOSH V STRANG

AUSTRALIA, //

KAW

6

02:58:51.690

7

127

JORDAN ASHBURN

LIVINGSTON, TN

KAW

6

02:59:08.359

8

314

GRANT BAYLOR

HONEA PATH, SC

SHR

6

02:59:11.910

9

410

ANDREW R DELONG

BIRDSBORO, PA

HON

6

03:00:55.299

10

027

EVAN EARL

BLACKSBURG, SC

KAW

6

03:13:27.653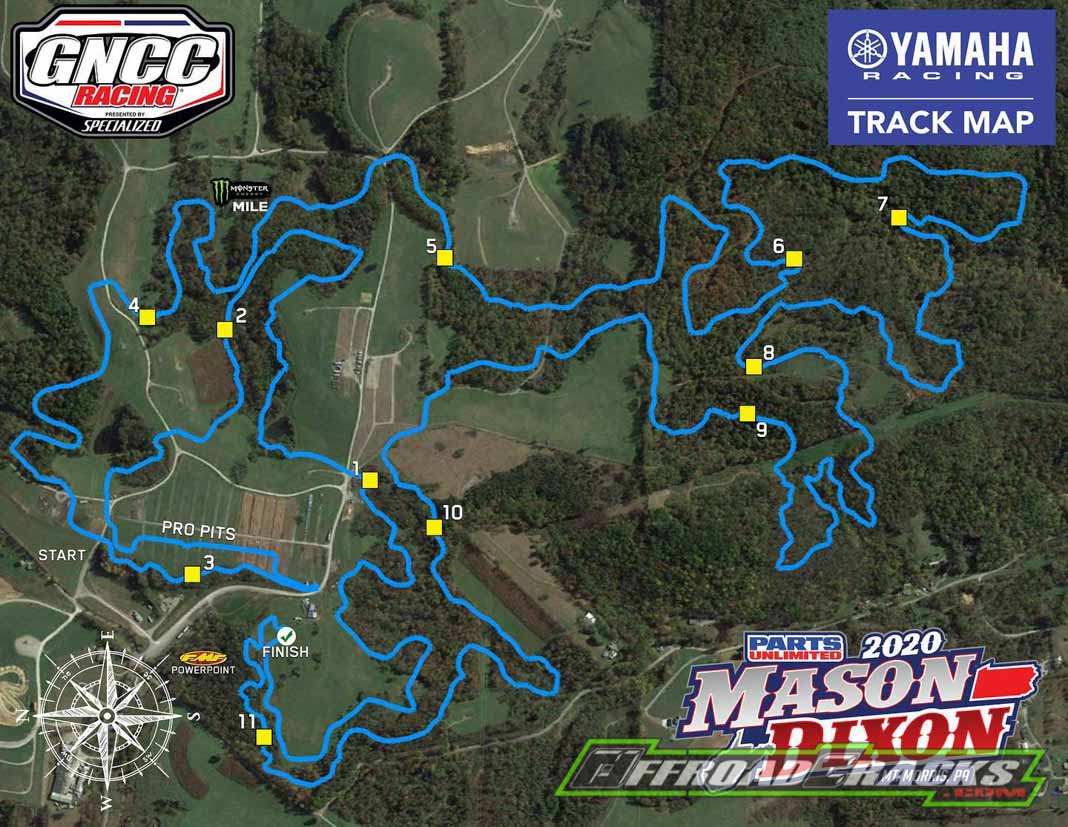 Rider points / Tabellenstand – GNCC 2020 after 11 of 13 rounds / nach 11 von 13 Rennen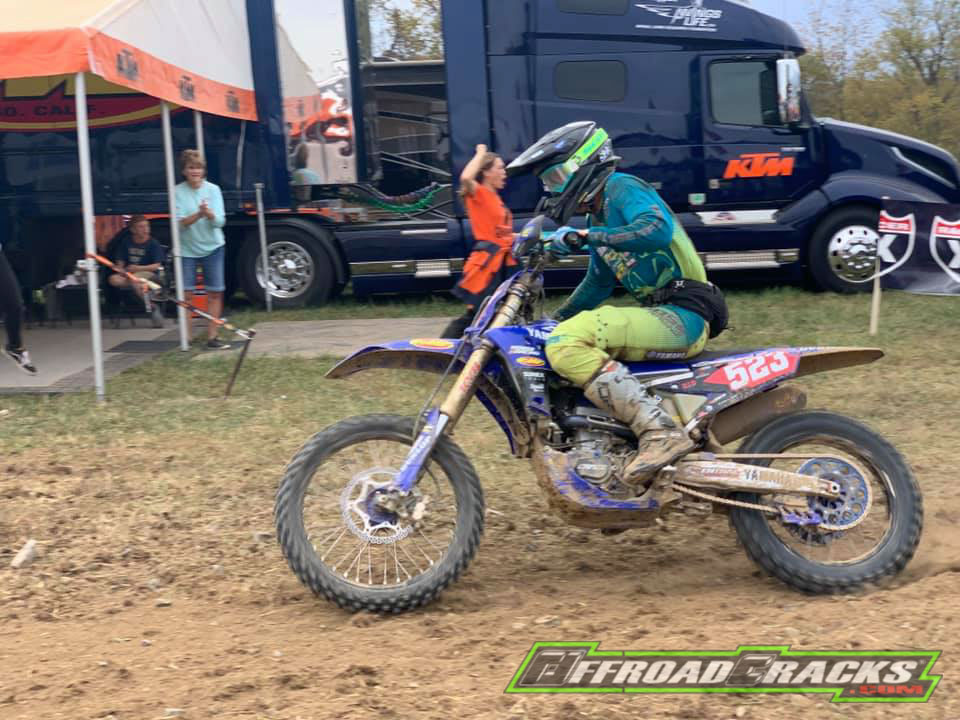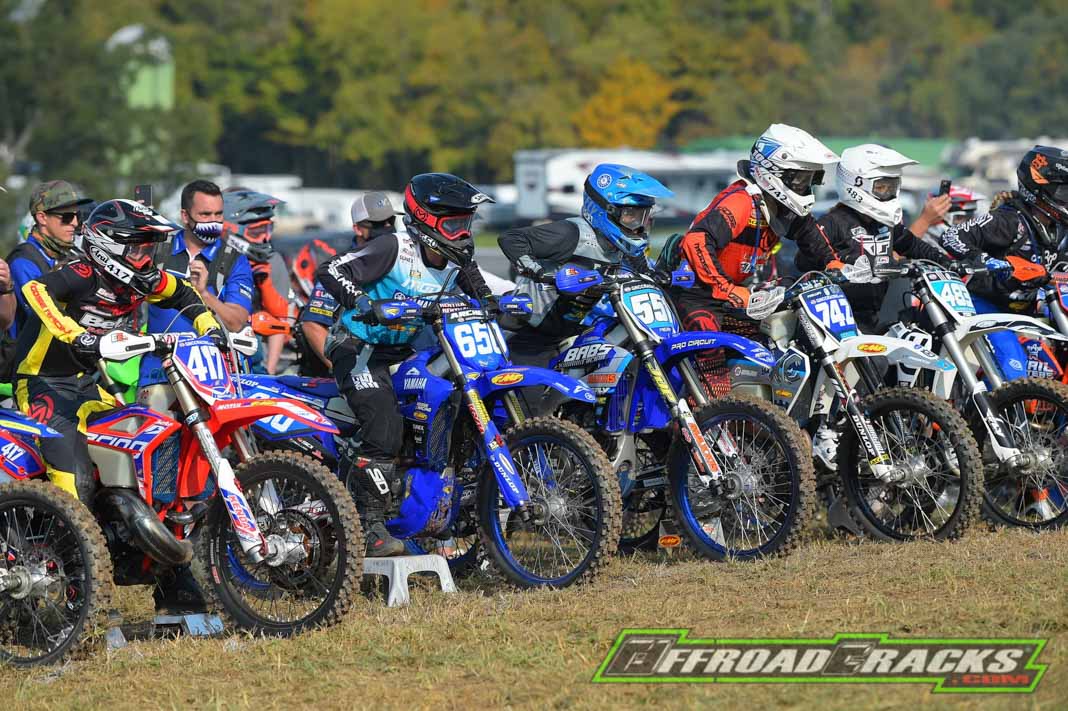 ---

How about the Mason-Dixon? It turned out to be a bit on the dusty side and by Sunday afternoon, the silt made a few places look and feel a bit like Florida sand. Maybe I'm just an oddball but I actually kind of enjoy riding in the loose, silty dirt like that and while it hides some rocks and roots some folks will agree they'll take that over the mud. Of course, I know quite a few of you would rather ride in the mud as well but hey, to each their own! Any weekend of racing, in any conditions is still better than doing anything else.
Mason-Dixon proved to be quite the exciting weekend of racing. We saw both the ATV and bike champions crowned in the form of Walker Fowler and Kailub Russell once again, and at the same time both XC2 battles are beginning to heat up as well. It's pretty cool to see Kailub Russell end his professional GNCC career as the champion once again, as going out on top is surely what many folks strive for, and being an eight-time champ at that is pretty incredible.
It seems as if eight titles is just about the pinnacle in any form of racing. While Bill Ballance and Ed Lojak both hold nine GNCC titles, there are a number of others who have eight titles across the board, earning them the nickname "8x". Barry Hawk holds seven GNCC ATV titles and one GNCC bike title, making him an 8x. Mike Lafferty and Dick Burleson both hold eight AMA National Enduro titles, making both of them 8x. Now, KR557 or KR1, can also be known as KR8x. I doubt he wants to stray from KR557, but 8x does have a good ring to it.
The XC3 class was also wrapped up this past weekend with Zack Hayes claiming the championship. Zack has been racing GNCC since his mini bike days and after claiming Top Amateur honors a few years ago, he tried his hand at the XC2 class for a couple of seasons before jumping into XC3 this season. It turned out really well for Zack as he now can add "2020 GNCC XC3 Champion" to his race resume.
Then there's Steward Baylor. Man, what a story. Since returning to the series, Stu now has three wins in three races and each of them have been a little bit different. At a tough and rocky Mountaineer, Stu worked his way into the lead on the second lap and rolled on to a big win, finishing over a minute ahead of Ben Kelley. Burr Oak saw some dry and dusty conditions, plus some nearly perfect areas and a long, tough and technical John Penton Section. Stu would lead that one wire to wire for the overall win, before securing a come from behind victory at a very dry and dusty Mason-Dixon GNCC.
The pit stops were one of the most interesting things about the Mason-Dixon. The KTM and Husky riders all made stops and changed out entire filters. Those bikes have easily accessible filters hidden just behind part of the side number plate, which essentially just pops in and out of place. The Kawasaki team was forced to make longer stops as access to the Kawasaki air filter is more traditional and requires removal of the seat.
The Yamaha guys, however, had the easiest stops of all. The Yamaha air filter is located high on the front of the motorcycle, just above the gas cap. The location of the Yamaha filter allowed them to finish the entire race without stopping for a filter. This came into play big time as it allowed Steward Baylor to make up extra time needed and come away with the Mason-Dixon win, and the fans were pumped.
The interesting thing about GNCC Racing is how accessible the pro riders are. It's normal to see them out milling about with everyone else, standing in the same sign up line as everyone else, and just generally enjoying the weekend the same as everyone else. This allows a certain amount of fan interaction, and in the past it seems as if just about everyone likes everyone. However, over the past few seasons it seems like people REALLY like Steward Baylor. When he came to the finish line to claim his third win in three races, the fans went nuts. This is cool to see, and its undoubtedly cool for Stu to experience as well.
Backing up to the air filter talk, it really is amazing how much of a difference it makes to have that air filter placed just a little further forward on the motorcycle. I put around 10 hours on my KTM sweep bike in a weekend and at these overly dusty races I always make a filter swap at least each morning, and sometimes halfway through the day. I made a filter swap in the middle of the 10AM race on Sunday, and when I washed it earlier this week it was still dirty enough that you couldn't read the Twin Air logo.
Quelle / Source: GNCC