VIDEO recap / Zusammenfassung

Baja California, der zweite Lauf der Western Series in San Felipe, Baja California war eines der herausforderndsten Rennen und ein 110-Meilen-Kampf (176km') durch Felsen, Schlick, Sand, Whoops und harter Konkurrenz. 35 der 4400 besten Unlimited Class-Rennfahrer gaben sich die Ehre und der zweifache King of the Hammers-Champion Loren Healy holte sich den Sieg.
Auf Healy folgten Raul und JP Gomez von Gomez Brothers Racing auf den Plätzen zwei und drei.
"Was für eine tolle Woche bei der Baja. Ich bin sehr stolz auf unser Team ", kommentierte Healy. "Wir sind alle zusammengekommen und haben viel Arbeit in den Vorlauf gesteckt, was sich schlussendlich ausgezahlt hat. Das Gelände hier unten ist unglaublich herausfordernd und meine King Shocks haben erneut bewiesen, dass sie jede Aufgabe meistern."
#83 Raul Gomez startete nach einem sehr schnellen Qualifikationslauf auf dem 10. Platz in den Renntag und duellierte sich mit Healy bis aufs Messer. Nur 42 Sekunden trennten die beiden an der Ziellinie. Nach einem dritten Platz bei King of the Hammers und dieser zweite Platz hier festigt er seinen dritten Gesamtrang in der Punktwertung.
Nachdem er die Qualifikationsrunde nicht beendet hatte, musste #82 JP Gomez von hinten starten, hatte aber einen fehlerfreien Lauf bis zum fünften physischen Ziel. Seine korrigierte Zeit brachte ihn auf den dritten Platz, nur zehn Minuten hinter Raul, nachdem er sich im Verlauf des Rennens durch den enormen Verkehr der anderen Teilnehmer gekämpft hatte – was für eine Leistung.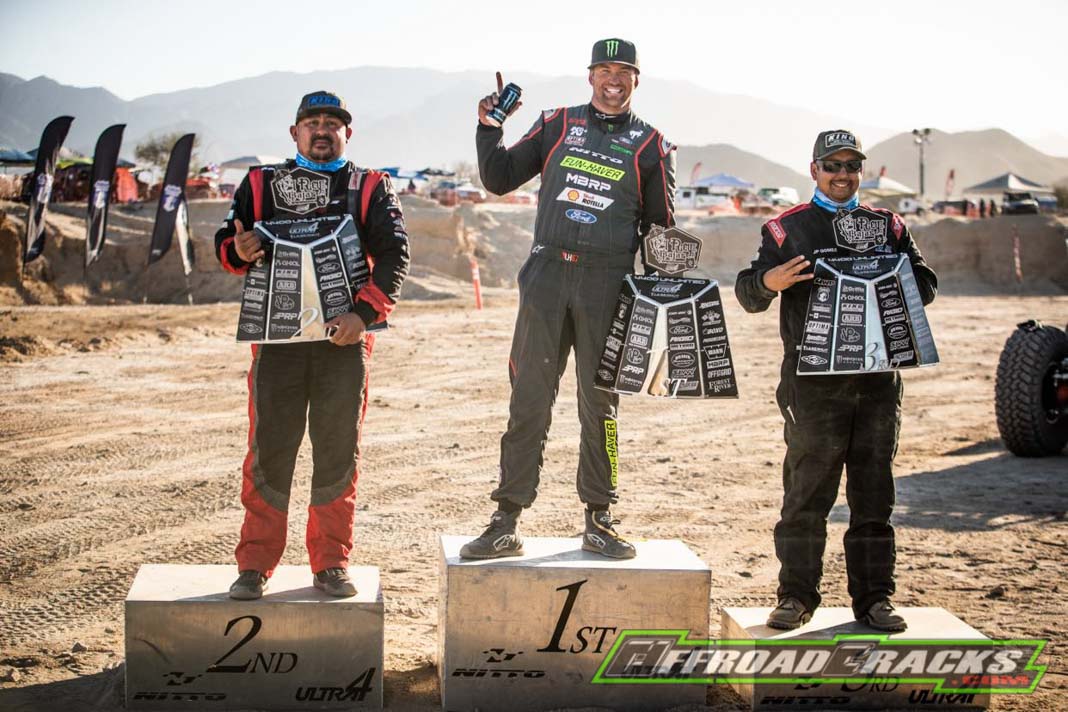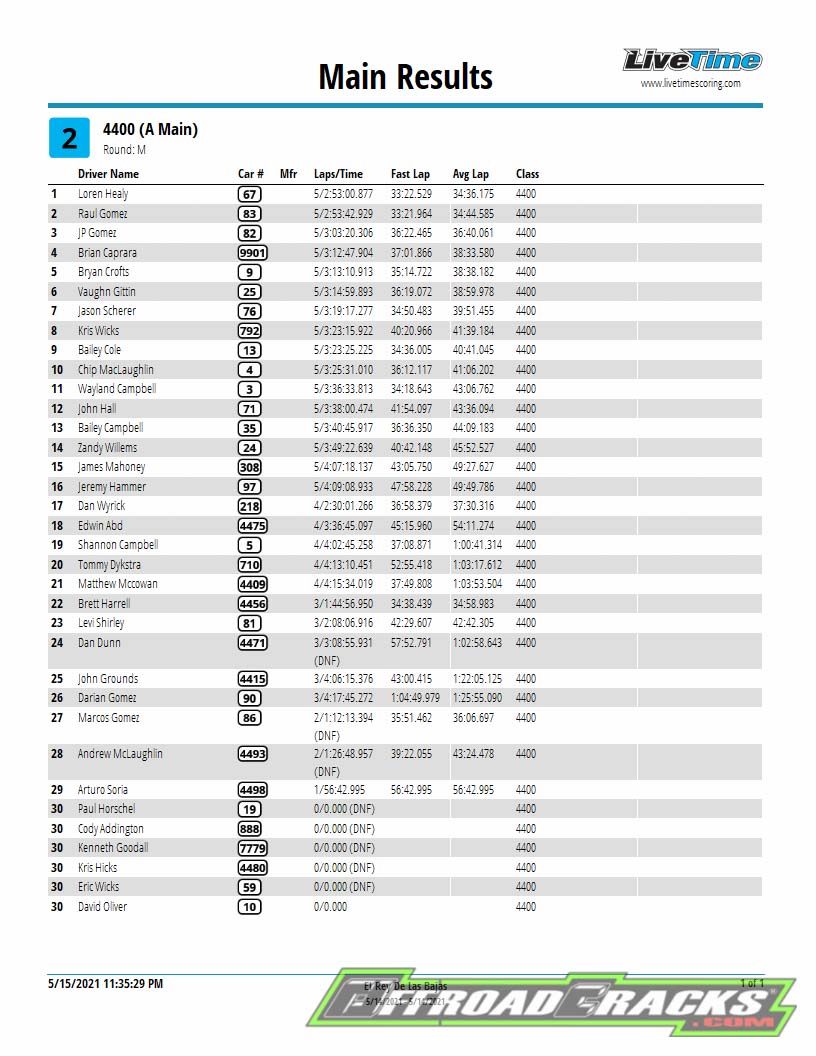 ---

Arguably one of the most challenging race series in the world, ULTRA4 Racing's second stop of the Western Series in San Felipe, Baja California was a 110-mile battle through rocks, silt, sand, whoops, and fierce competition. 35 of the top 4400 Unlimited Class racers took the green flag and at the checkered it was 2x King of the Hammers Champion Loren Healy in first place, putting King Shocks atop the podium once again.
Healy was followed by second and third place podium finishers Raul and JP Gomez of Gomez Brothers Racing. The podium finishes add to the five podium spots in the first two races, after taking 2nd and 3rd in Round 1 of the Western region in Moab, UT and a clean sweep at the infamous King of the Hammers earlier this February.
"What an amazing week in Baja. I'm super proud of our team," commented Healy. "We all came together and put in a lot of work with pre-running. The terrain down here is incredibly challenging and my King Shocks once again proved they love it down here. I got out front on the first lap, held my lead and paced off everyone else. Really pumped on a great week."
#83 Raul Gomez started in 10th position after a very fast qualifying run and on race day it was incredibly close with Healy. Just +00:00:42 separated the two at the finish line. After a third place finish at King of the Hammers, the second place finish marks his second straight podium finish for King Shocks and secures his top 3 spot in the point standings.
After not finishing the qualifying lap, #82 JP Gomez was forced to start from the back but had a flawless run all the way to a 5th physical finish. His corrected time landed him third on the podium, just ten minutes off Raul's pace after battling through tremendous lap traffic as the race played out.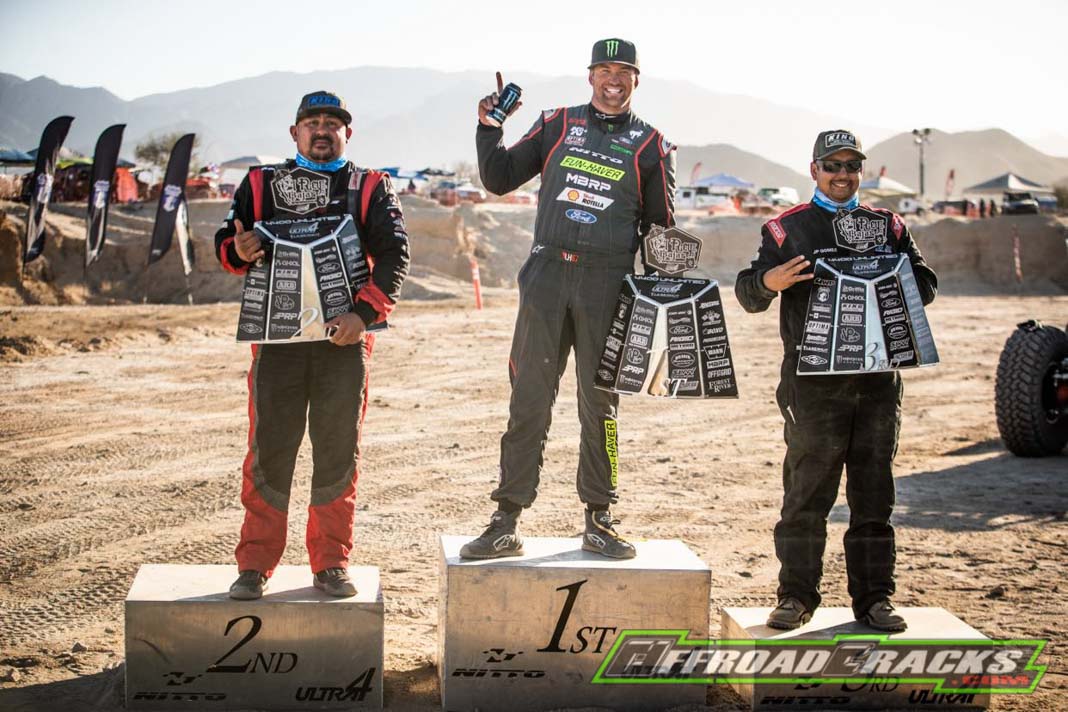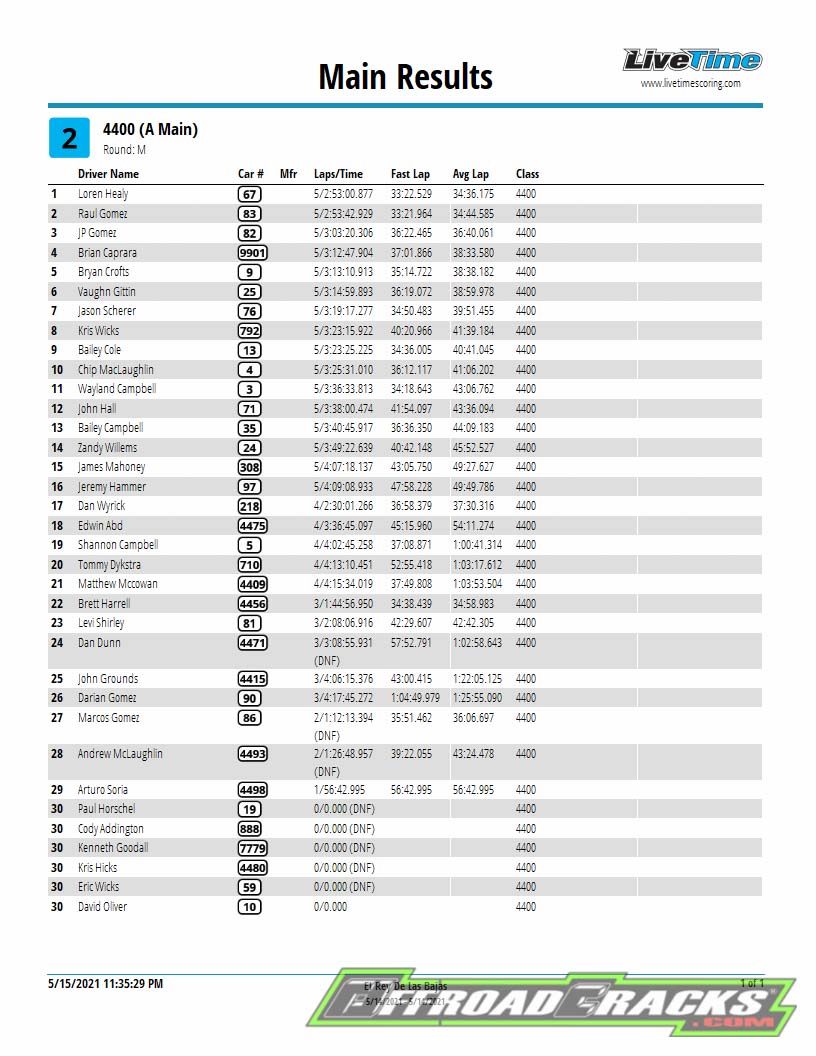 Photo gallery by Ultra4 Racing