Ultra4 Europe – KING OF POLAND 2021
---
HINWEIS: Das Video ist noch deaktiviert, damit keine unerwünschte Datenübertragung zu Youtube stattfindet. Zur Aktivierung bitte auf das Vorschaubild/Video-Link klicken. Damit werden Daten übermittelt, zu deren Art, Umfang und Verwendungszweck wir keineAuskünfte geben können.
---
NOTE: The video is still deactivated so that no unwanted data transfer to YouTube takes place. To activate, please click on the preview image / video link. This transmits data about the type, extent and purpose of which we cannot provide any information.
---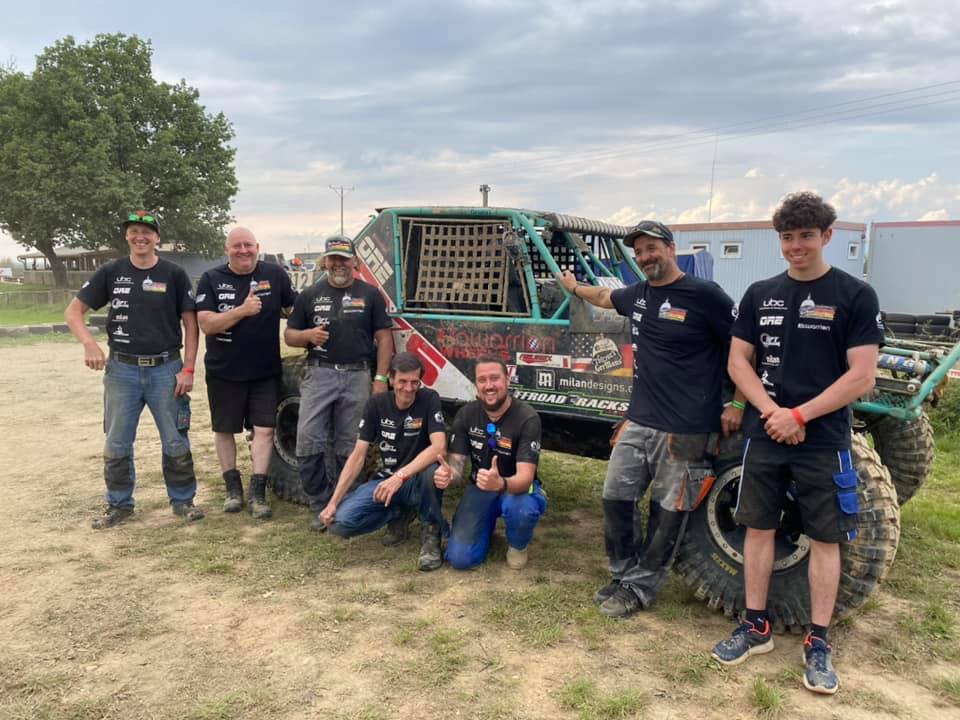 FINALER BERICHT by THE CRAZY GERMANS
Nachdem wir im Vorfeld mitbekamen, das sich einige Teilnehmer darüber beschwerten das die Ultra4 Organisatoren kurz vorher den Rennablauf geändert hatte, nämlich von ursprünglich 4 Einzelrennen a 1,5 Stunden am Samstag und 3 Einzelrennen a 1,5 Stunden am Sonntag, jetzt auf eine Samstagsdistanz von 8 Std und Sonntags nochmals 6 Std die jeweils an einem Stück gefahren werden mussten können wir im nachhinein sagen es war total geil und zugleich ziemlich hart, da wir eine größere Kilometer Distanz wie bei King of Hammers in Kalifornien gefahren sind!
Klar ist natürlich, dass man solch ein Rennen ohne gute Freunde, die auch gleichzeitig das Team bilden, nicht machbar ist! Es fing schon an wie jedes Jahr in Polen/Olszyna bei der KOP mit der Fahrervorstellung in der Stadt samt Bürgermeister, Polizei, Schule, Kindergarten und Anwohner!
Race time!
Nachdem wir am Freitag bei der Prologrunde auf dem 3.Platz landeten, was das ein hervorragender Startplatz für das 8h-Rennen am Samstag.
Und schon gab es nach der Hälfte der ersten Runde einen Schreckmoment. Beim Zurücksetzen funktionierte der Rückwertsgang nicht mehr und wir dachten es wäre schon vorbei. Nach kurzem überlegen und Funkverkehr mit der Box beschlossen wir weiter zu fahren! Alex, mein Beifahrer, musste einmal Aussteigen und unser Ultra4 von Hand zurück schieben, als wir die Einfahrt zur Felsen-Passage verpassten. Auch das Boxenteam musste uns alle 2,5 Std rückwerts in die Tankzone schieben – ansonsten war das kein Problem!
Nach 8 Std über Stock und Stein und unter Beachtung das es ein Langstrecken Rennen war und das Material am nächsten Tag nochmal 6 Std herhalten musste beendeten wir den ersten Tag auf Platz 1 mit 16 gefahrenen Runden!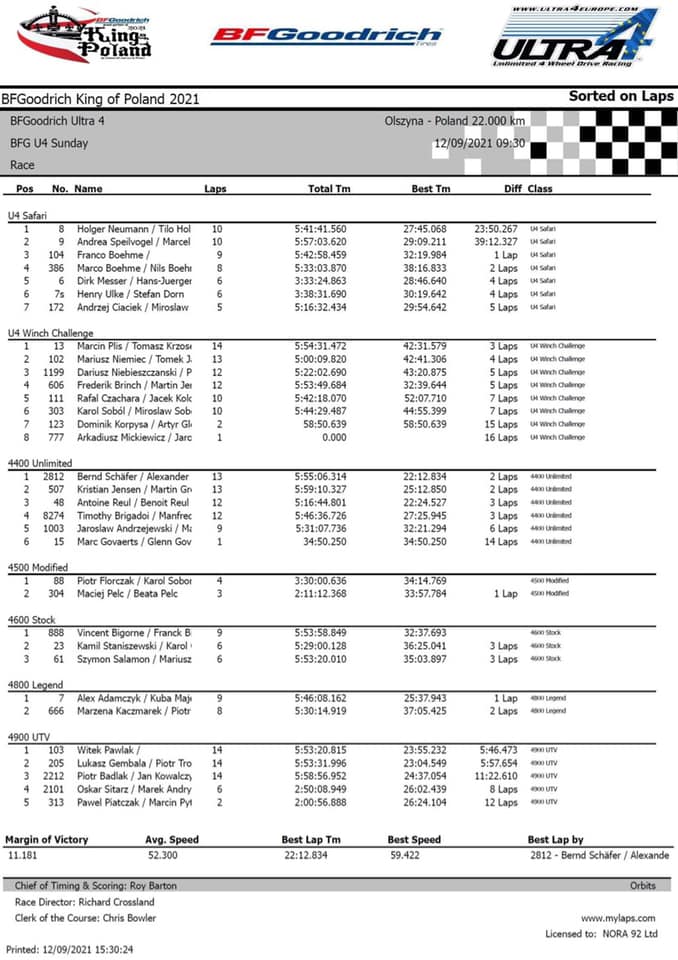 Abends musste nochmal alles geprüft werden was einen großen Service für Bremsen, Fahrwerk und Co bedeutete.
Am Sonntag ging es auf Platz 1 ins Rennen in der 4400er Klasse.  Alles lief in den 6 Std wie am Schnürchen und wir entschlossen uns bei jedem Tanken – wie auch am Vortag – genügend Zeit für eine kleine Durchsicht zu nehmen.
Als wir eine Stunde vor Schluss insgesamt 3 Runden Vorsprung zum Zweitplatzierten hatten, fehlte uns nur noch die schnellste Rennrunde die bis dahin das Team Reul mit ihrer Dieselbombe stellte, die richtig schnell waren. Wir mussten uns ganz schön anstrengen und unterboten diese um 12 Sekunden, bei einer Streckenlänge von 24 km, was OFFROAD einem Wimpernschlag gleich kommt!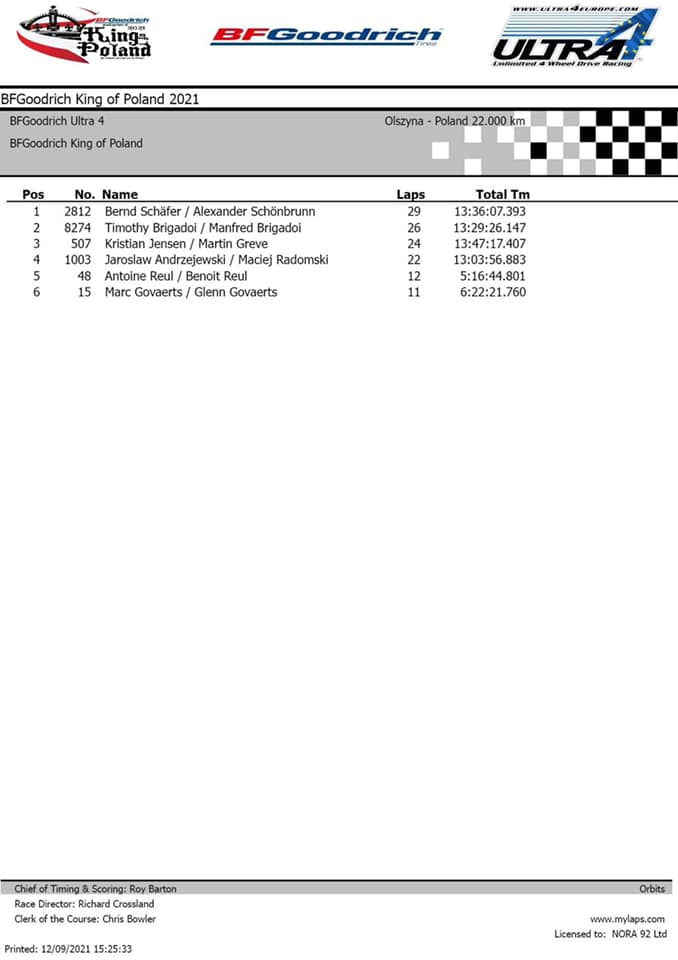 Quelle: The Crazy Germans