Hinter KING of HAMMERS 2021 steht noch immer ein großes Fragezeichen, doch man arbeite aktiv mit den Behörden und BLM zusammen, um eine erfolgreiche Veranstaltung sicherzustellen. Man möchte für  2021 einer der besten King of Hammers aller Zeiten präsentieren. Hoffentlich stellt sich Covid-19 nicht dazwischen! Deshalb präsentiert man auch schon einmal selbstbewusst den offiziellen Zeitplan für KOH 2021 – wird drücken die Daumen!
OFFIZIELLER Zeitplan KOH 2021
29. Januar bis 6. Februar 2021 | KING of the HAMMERS Wocke | Johnson Valley, CA.
31. Januar (Sonntag) | Can-Am UTV King of Hammer
1. Februar (Montag) | Das Shootout!
3. Februar (Mittwoch) | 4WP Every Man Challenge (4600, 4500, 4800)
4. Februar (Donnerstag) | Toyo Desert Invitational, präsentiert von Monster Energy (T1, T2, B1, B2) sowie eine Herausforderung der Klasse 11 (T4)
5. Februar (Freitag) | King of Hammer by OPTIMA-Batterien
6. Februar (Samstag) | King of Motos
Alle Ultra4-Rennen 2021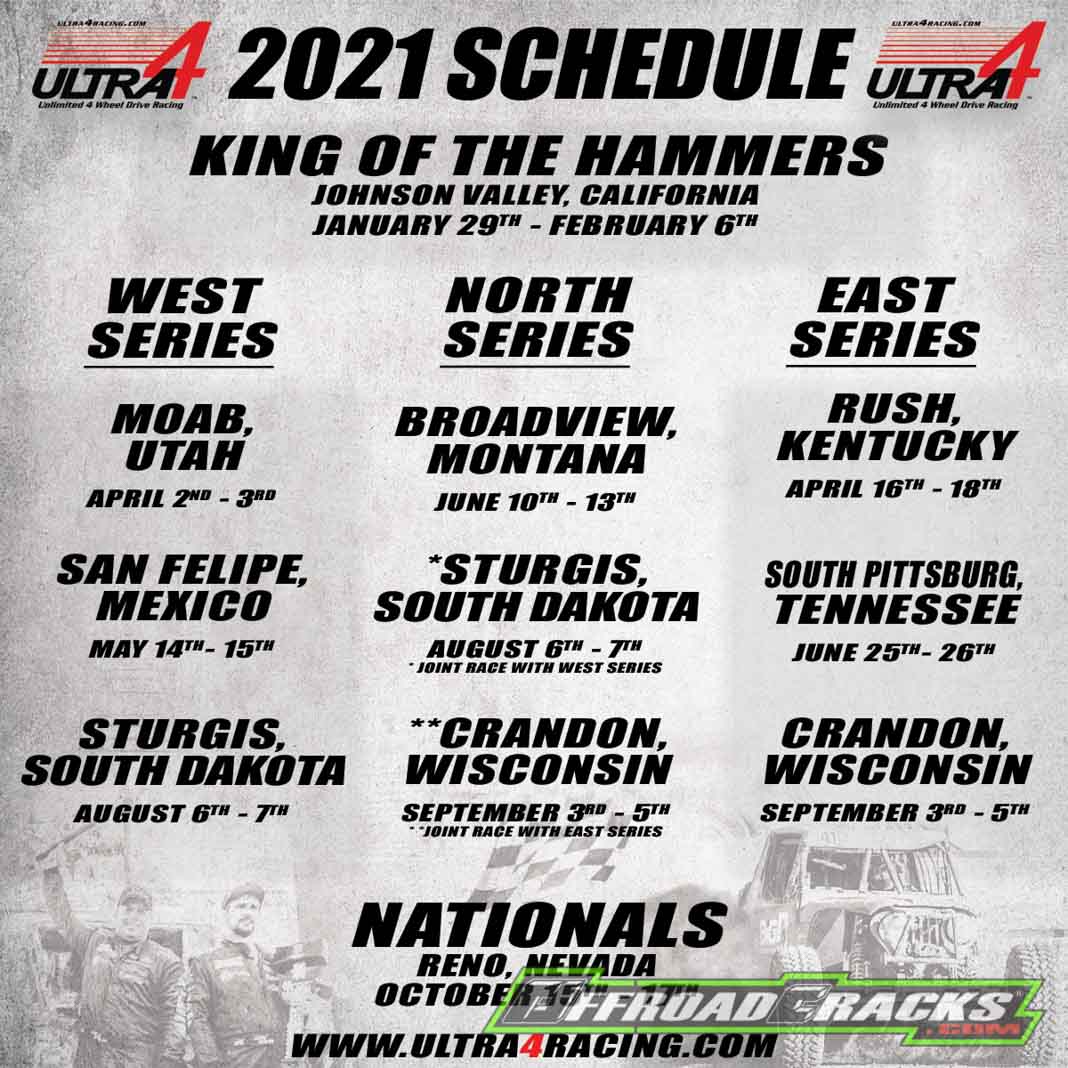 KOH 2020 – Wayland Campbell mit Vollgas durch die Wüste

---
HINWEIS: Mit Anklicken des Videos stellen sie automatisch eine Verbindung zu Youtube/Google her, was einen ungewünschten personenbezogenen Datenaustausch mit sich bringen kann. Weitere Infos unter: www.google.de/privacy
---

KOH is the big question everyone is asking. We are actively working with the county and BLM to ensure a successful, on time event. We are excited and encouraged that 2021 will be one of the best King of the Hammers ever. Hopefully Covid-19 will not intervene! That's why the official schedule for KOH 2021 is presented with confidence – we will keep our fingers crossed!
OFFICIAL Timetable KOH 2021
Jan 29–Feb 6, 2021 | King of the Hammers Week | Johnson Valley, CA
Jan 31 (Sunday) | Can-Am UTV King of the Hammers
Feb 1 (Monday) | The Shootout!
Feb 3 (Wednesday) | 4WP Every Man Challenge (4600, 4500, 4800)
Feb 4 (Thursday) | Toyo Desert Invitational, presented by Monster Energy (T1, T2, B1, B2), plus a Class 11 (T4) challenge
Feb 5 (Friday) | King of the Hammers, powered by OPTIMA Batteries
Feb 6 (Saturday) | King of the Motos
All Ultra4 races 2021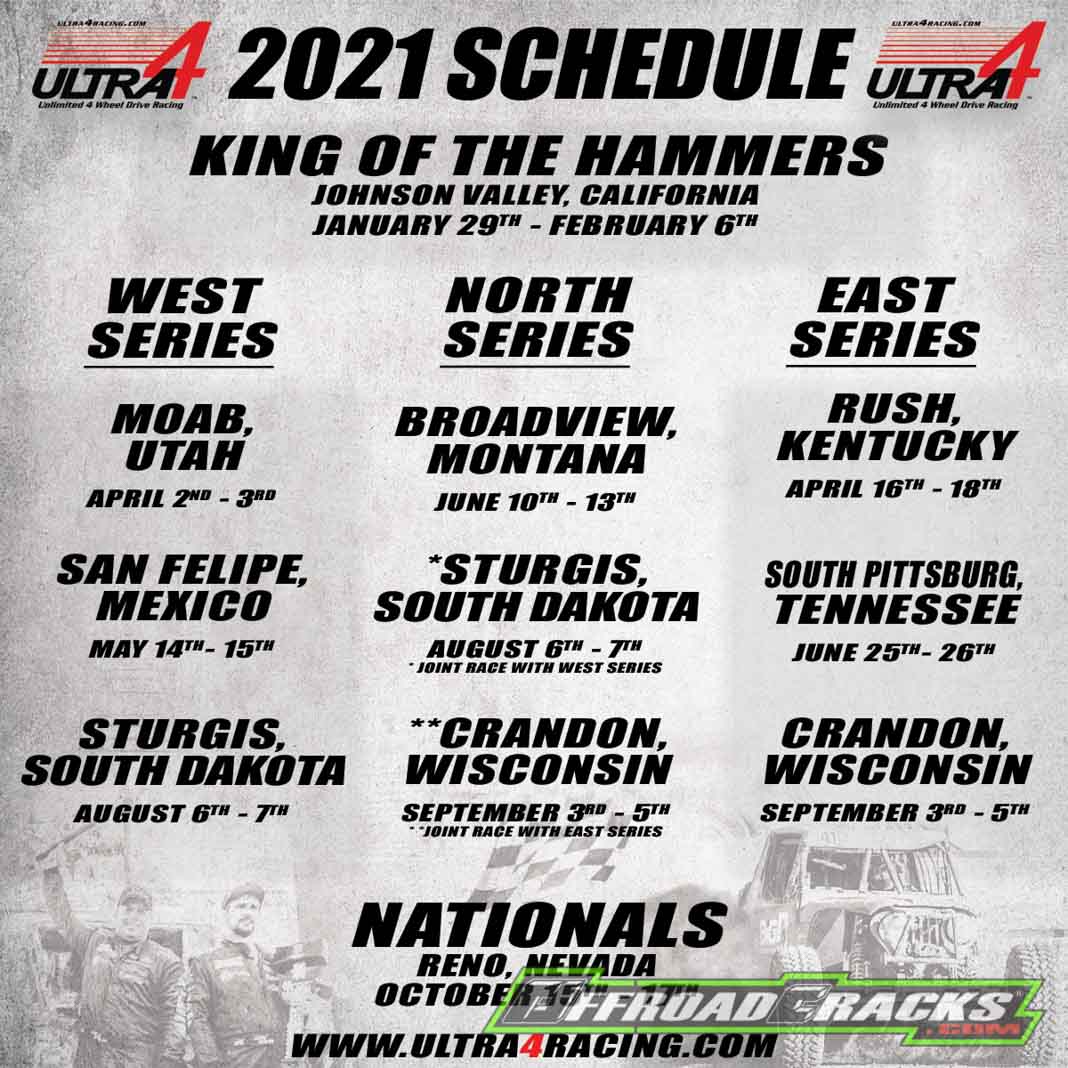 KOH 2020 – Wayland Campbell full throttle open desert
---
NOTE: When you click on the video, you establish a connection to YouTube / Google automatically, which can result in an undesired personal data exchange. Further information at: www.google.de/privacy
---
Quelle / Source: Ultra4