Die korrekte Spannung der Antriebskette reduziert nicht nur die Geräuschentwicklung, sondern verlängert vor allem die Lebensdauer des Sekundärtriebs…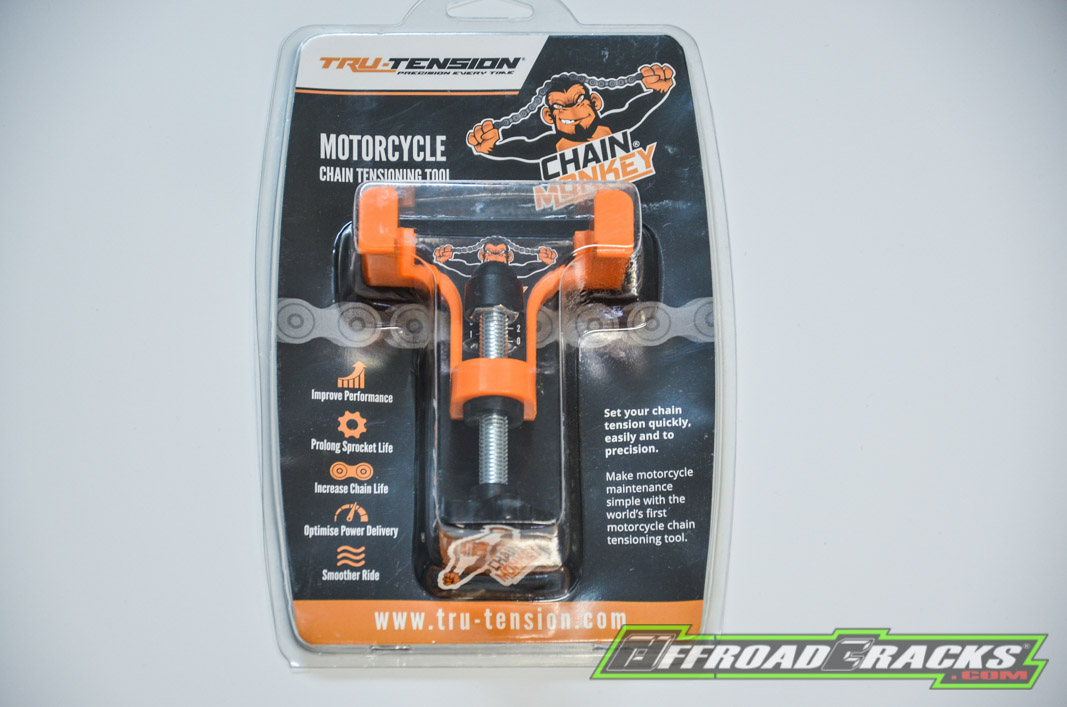 …natürlich ist das noch nicht alles. Denn eine korrekt gespannte Kette reduziert zudem die Reibungsverluste zwischen Kette und Kettenrad/Ritzel und sorgt auch für eine direktere Kraftübertragung an das Hinterrad. Nebenbei wird auch die Gefahr einer herunterspringenden Kette auf eine Maximum reduziert.
Wir haben deshalb vom englischen Hersteller Tru-Tension das Kettenspannwerkzeug Chain Monkey näher unter die Lupe genommen, da es eine vergleichsweise einfache Methode zur Feststellung des korrekten Antriebsketten-Durchhangs an jedem Motorrad unter nahezu allen Bedingungen ermöglicht. In Deutschland ist diese Tool über www.motorrad-ersatzteile24.de oder www.tru-tension.de zu beziehen.

Was benötigt man für die Anwendung?
Ein Paar Handschuhe, die Motorrad-Bedienungsanleitung, den passenden Schlüssel zum Lösen der Achsmutter am Hinterrad sowie zwei Gabelschlüssel für die Konter- und Einstellmutter der Kettenspanner an der Schwinge. Ist man zuhause in der Garage empfiehlt sich zudem Pressluft sofern vorhanden, andernfalls ein Reinigungsspray, um den Einstellbereich der Kettenspanner für eine exakte Einstellung zu säubern. Ein Kettenspray für die erneute Schmierung der Antriebskette versteht sich natürlich von selbst.
Hat man all diese Sachen parat, was ohnehin in jedem Werkzeugkasten eines Offroaders vorhanden ist, so kann die Kontrolle und Einstellung der aktuellen Kettenspannung vorgenommen werden. Nebenbei sei erwähnt, dass auf Grund der geringen Abmessungen die Mitnahme auf die große Tour oder zum klassischen Enduro-Training kein Problem darstellt.

Für den korrekten Durchhang sind die Angaben des Herstellers in Bedienungshandbuch zu berücksichtigen, die dann mit der Tabelle auf der Verpackungsrückseite des Chain Monkeys abzugleichen sind. Der dafür hinterlegte Wert ist mit der vorhandenen Skala auf dem Chain-Monkey mit dem schwarzen Konterring einzustellen.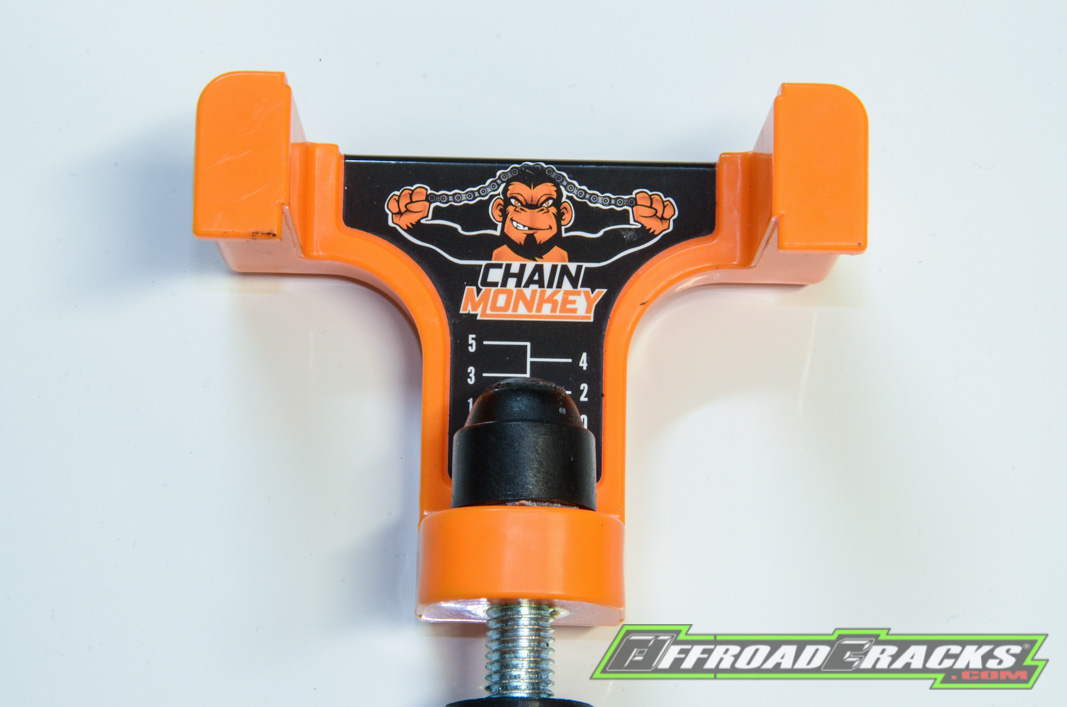 Anschließend wird der Druck-Stempel wieder in die Nullstellung gebracht, so dass er keinen Druck auf die Kette ausübt – wir haben hierfür bewusst auf eine stark verschlissene Antriebskette zurückgegriffen, da die Unterschiede dann besser sichtbar werden.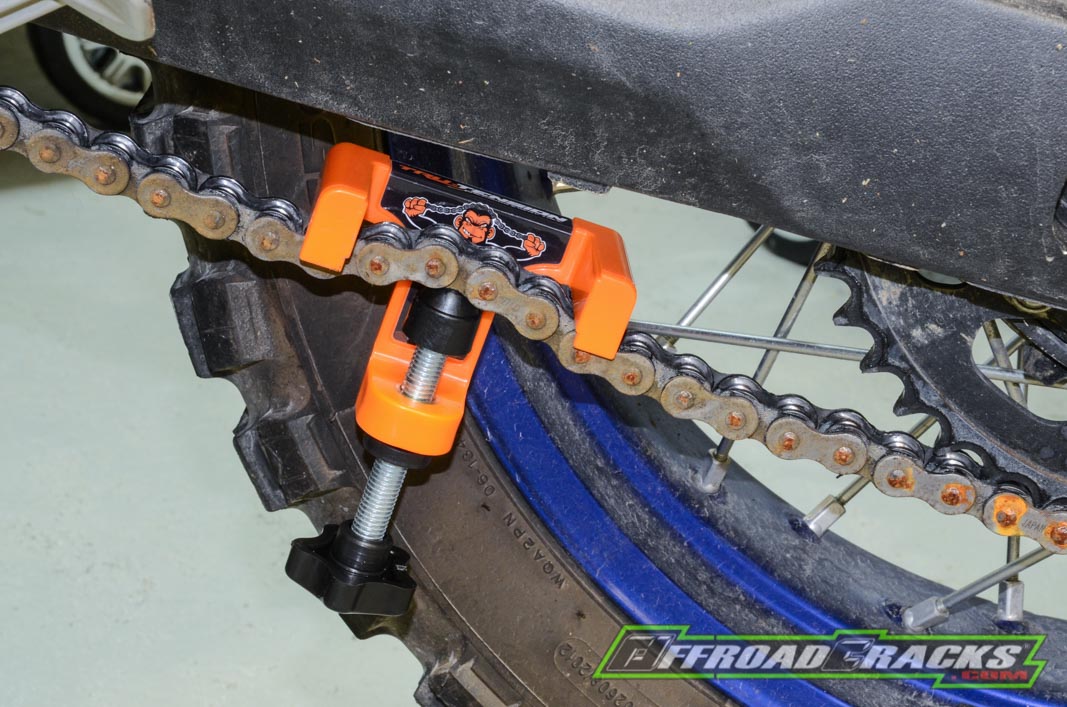 Danach wird die Kette zwischen den beiden Führungsstegen und dem Druck-Stempel gelegt, so dass Letzterer in die markierte Endstellung mittels Konterring gebracht werden kann. Dadurch ergibt sich eine starke Wölbung der Kettenglieder bei nicht korrekter Kettenspannung. Um nun die laut Herstellerangaben vorgegebene Spannung der Antriebskette zu erhalten sind die Achsmutter am Hinterrad und die Kontermuttern an den Kettenspannern zu lösen, so dass über die Einstellschrauben Zug auf die Kette gebracht werden kann. Ziel dabei ist die Kette so zu spannen, dass diese horizontal, also nahezu gestreckt den Chain Monkey durchläuft.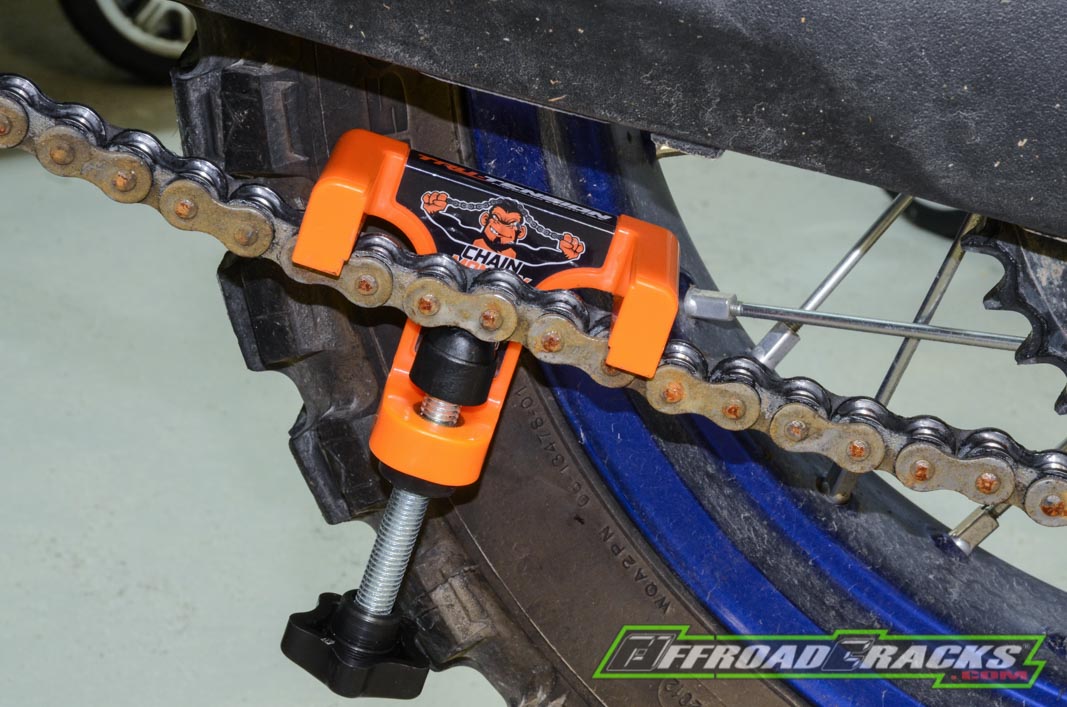 Natürlich ist dabei darauf zu achten, dass der Kettenspanner an den vorhandenen Einkerbungen an der Schwinge für eine gerade Kettenführung beziehungsweise Radführung ausgerichtet wird. Andernfalls greifen die Zahnräder nicht korrekt, sondern schräg in Laufrichtung der Kette ein, so dass hier enorme seitliche Kräfte auftreten, die den Verschließ und die Reibung maximal erhöhen. Leider sind diese Markierungen auf der Schwinge zur korrekten Ausrichtung des Rads nicht selten schlecht sichtbar oder durch äußerliche Einflüsse im Offroad-Einsatz abgeschliffen. Hierfür gibt es ein weiteres Tool, das wir demnächst vorstellen werden. Anschließend müssen die Kontermutter der Kettenspanner und die Achsmutter mit dem vom Hersteller vorgegebenen Drehmoment festgezogen werden. Nur so hat man den wohl idealen Zustand für einen korrekt geführten Sekundärtrieb.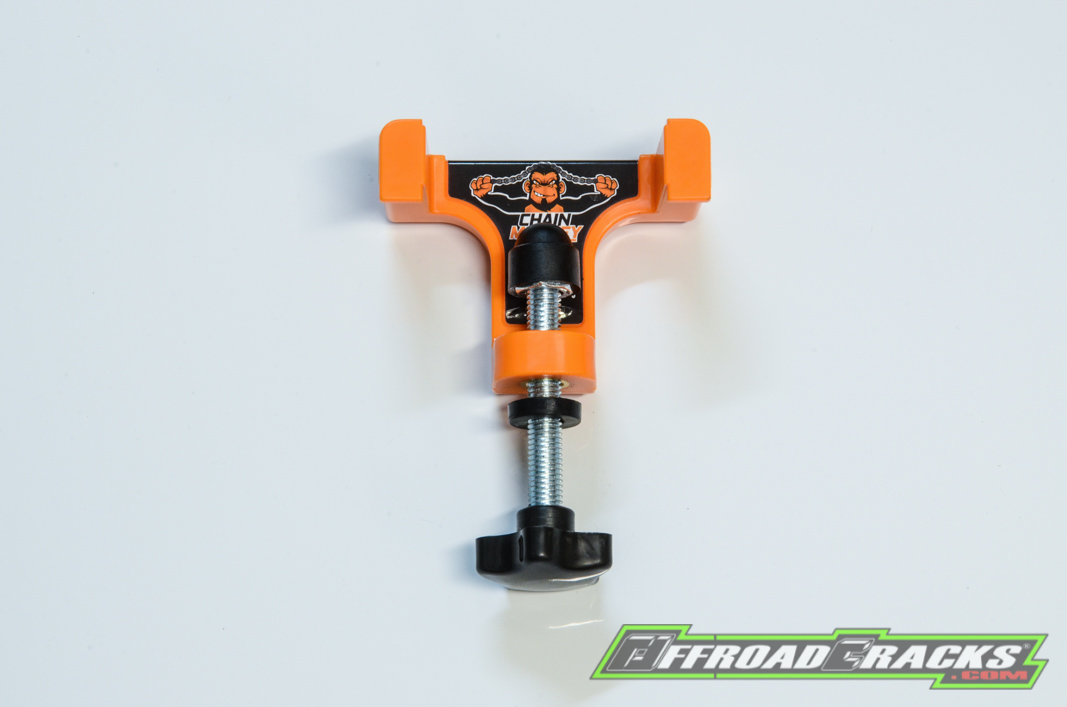 Natürlich ist für uns Offroader zu berücksichtigen, dass die Kettenspannung im tiefen Sand deutlich größer sein muss. Hier ist also auch der individuelle Einsatz zu berücksichtigen. Auf Grund der damit vereinfachten Kontrolle und Einstellung des Kettendurchhangs ist der Chain Monkey von Tru Tension uneingeschränkt empfehlenswert. Die Verarbeitung ist durchweg tadellos und überraschend stabil gefertigt.
BEZUGSQUELLEN


PREIS
TRU TENSION Chain Monkey: 32,49 €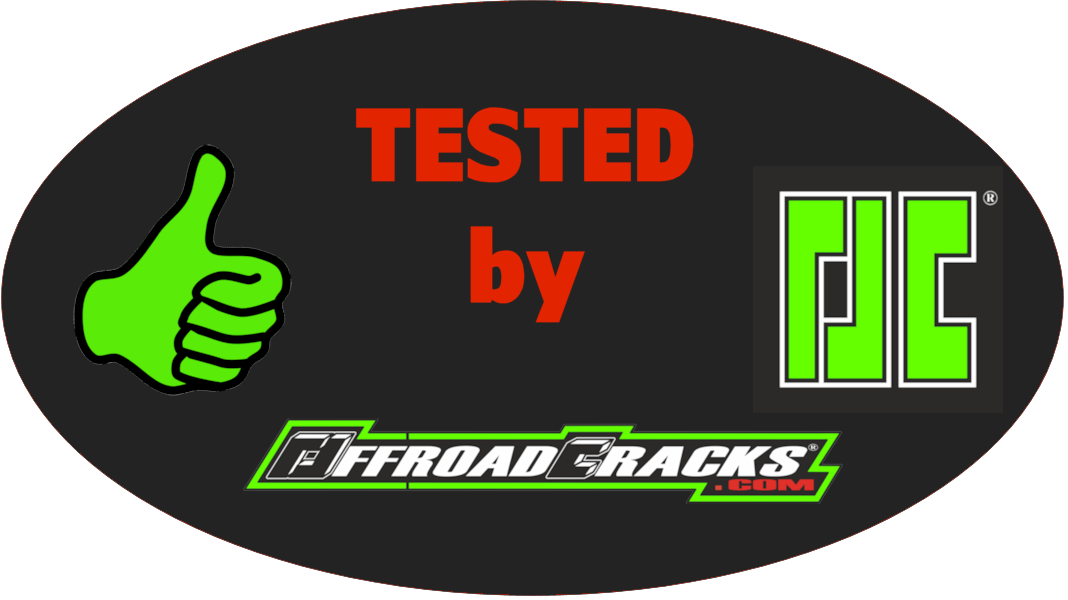 ---

Correct tensioning of the drive chain not only reduces noise, but also extends the durability of the secondary drive …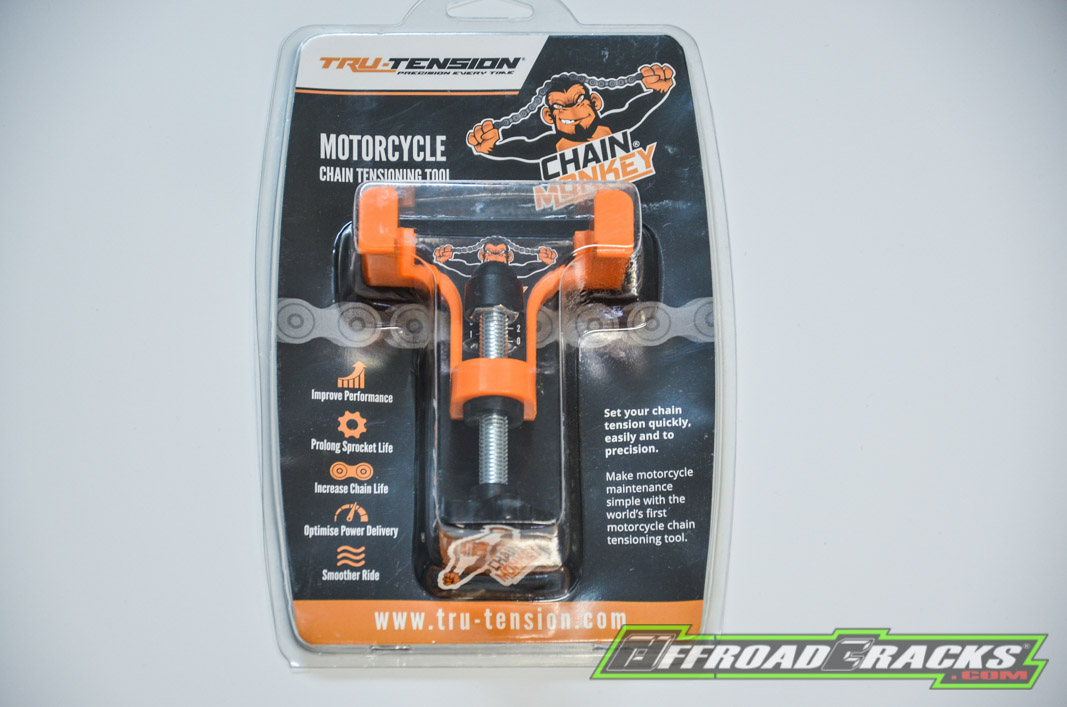 … of course that's not all. A correctly tensioned chain also reduces the friction losses between the chain and the chain wheel / sprocket and also ensures a more direct power transmission to the rear wheel. In addition, the risk of a chain jumping off is reduced to a maximum.
Therefore we have taken a closer look at the chain tensioning tool Chain Monkey from the english manufacturer Tru-Tension, as it enables a comparatively simple method to determine the correct drive chain sag on any motorcycle under almost all conditions. In Germany, this tool is available from www.motorrad-ersatzteile24.de or www.tru-tension.de.

What do you need for the usage?
A pair of gloves, the motorcycle owner's manual, the right wrench to loosen the axle nut on the rear wheel and two open-ended wrenches for the lock and adjusting nut of the chain tensioner on the swing arm. If you are at home in the garage, compressed air is recommended if available, otherwise a cleaning spray to clean the adjustment area of ​​the chain tensioner for an exact setting. A chain lube for relubricating the drive chain goes without saying.
If you have all these things ready, which is already available in every offroaders toolbox, the current chain tension can be checked and adjusted. It should also be mentioned that due to the small tool dimensions it is not a problem taking it on a big tour or for classic enduro training .

For the correct sag, the manufacturer's instructions in the operating manual must be taken into account, which must then be compared with the table on the back of the chain monkey's packaging. The item stored for this must be set with the existing scale on the chain monkey with the black counter ring.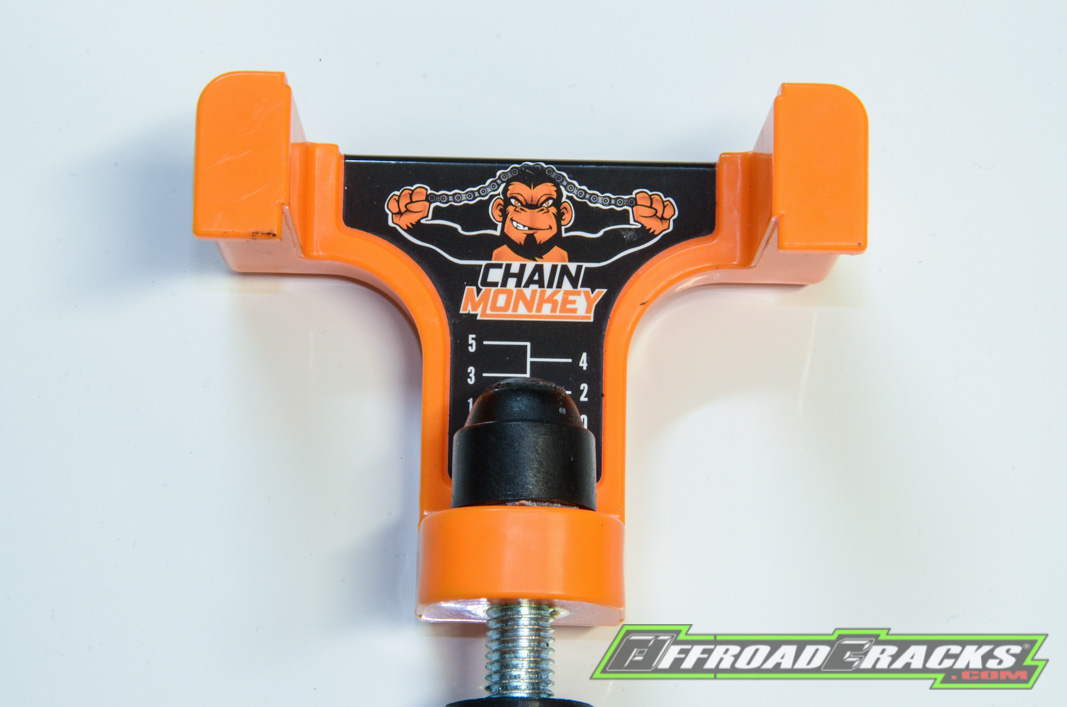 Then the pressure stamp is brought back to the zero position so that it does not exert any pressure on the chain – we have deliberately used a heavily worn drive chain for this, as the differences are then more visible.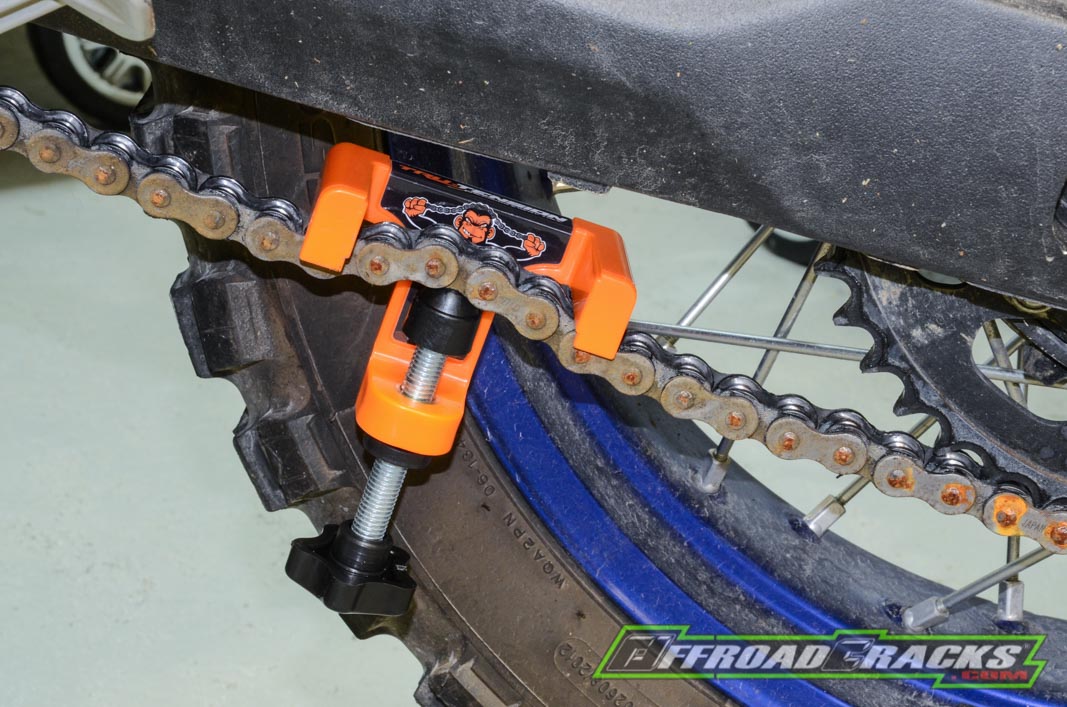 Then the chain is placed between the two guide bars and the pressure stamp so that the latter can be brought into the marked end position by the counter ring. This results in a strong curvature of the chain links if the chain tension is not correct. In order to maintain the tension of the drive chain as specified by the manufacturer, the axle nut on the rear wheel and the lock nuts on the chain tensioners must be loosened so that tension can be applied to the chain via the adjusting screws. The aim is to tension the chain so that it runs horizontally, i.e. almost stretched, through the Chain Monkey.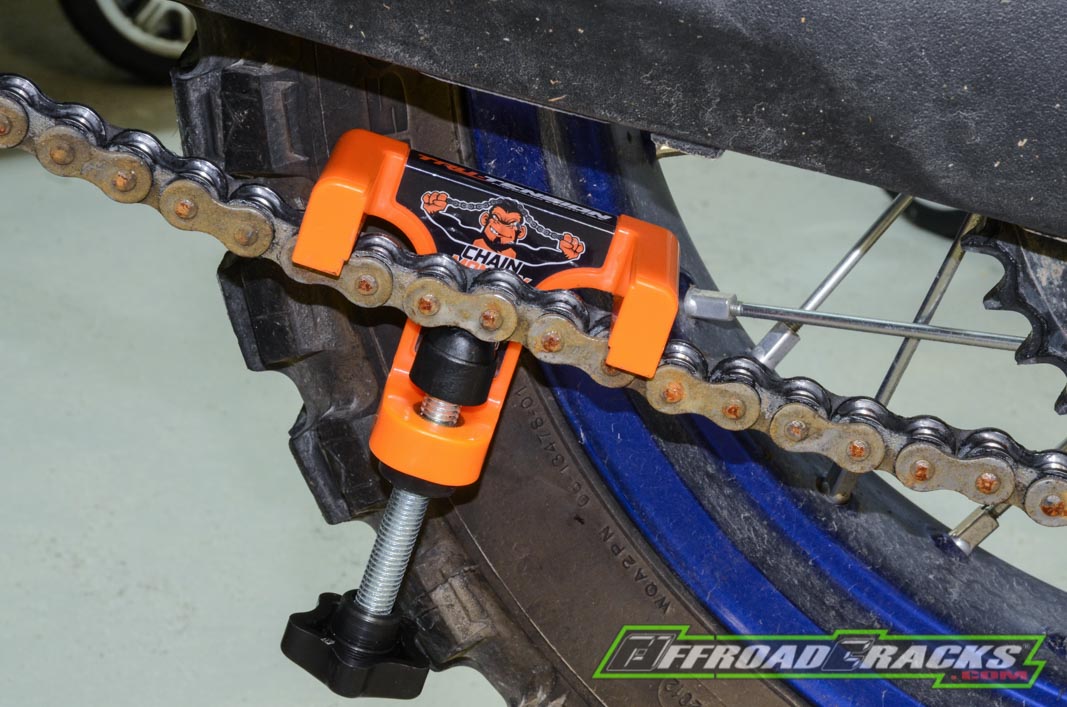 Of course, it must be ensured that the chain tensioner is aligned with the existing notches on the rocker for a straight chain guide or wheel guide. Otherwise, the gears will not engage correctly, but rather at an angle in the direction of travel of the chain, so that enormous lateral forces occur here, which increase wear and tear and friction to the maximum. Unfortunately, these markings on the swing arm for the correct alignment of the wheel are often difficult to see or are worn off by external influences in offroad use. There is another tool for this, which we will introduce soon. Then the lock nut of the chain tensioner and the axle nut must be tightened to the torque specified by the manufacturer. This is the only way to have the ideal condition for a correctly guided secondary drive.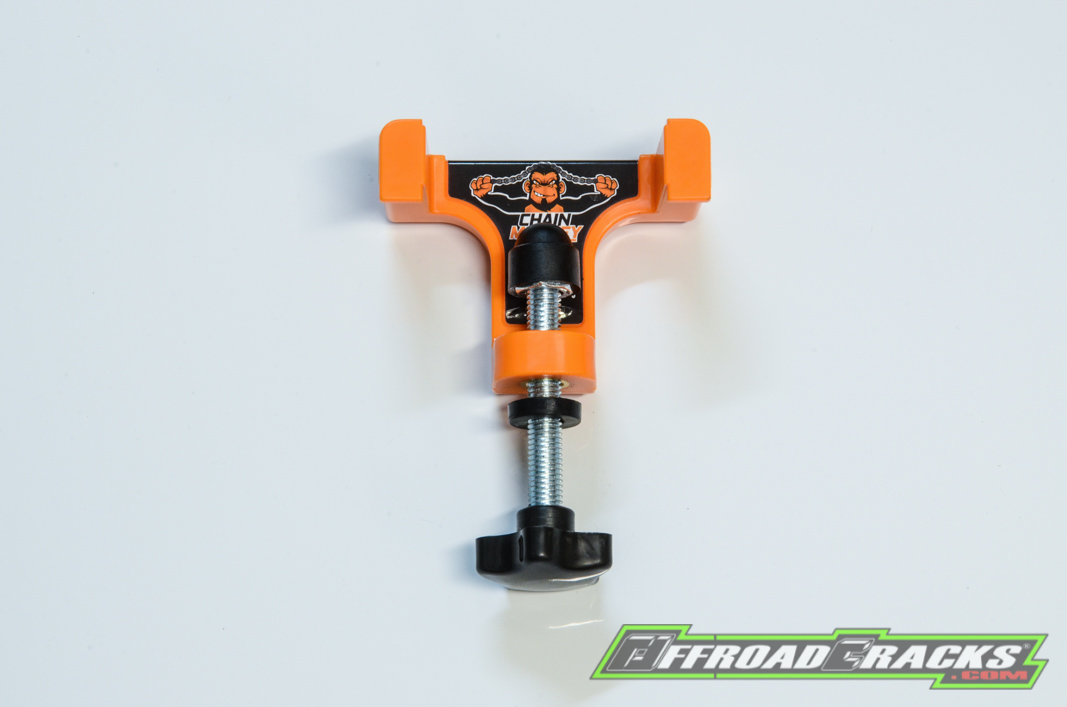 Of course, we off-roaders have to take into account that the chain tension must be significantly greater in deep sand. The individual use must also be taken into account here. Due to the simplified control and adjustment of the chain slack, the Chain Monkey from Tru Tension is unreservedly recommended. The quality is consistently flawless and surprisingly stable.
SUPPLIER

www.motorrad-ersatzeile24.de

www.tru-tension.de
PRICE
TRU TENSION Chain Monkey: 32,49 €